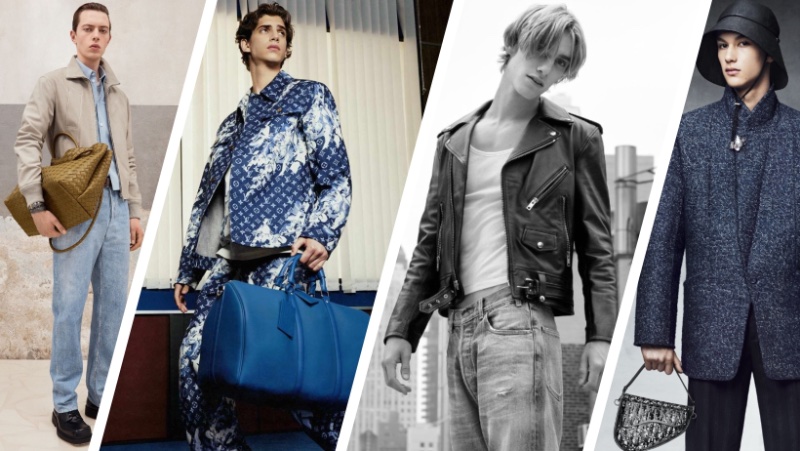 Consider this your passport to the exclusive world of luxury designer brands for men. Picture iconic fashion houses like Prada, Dior, and Louis Vuitton—destinations that stand as lighthouses for those craving sartorial excellence.
Our curated guide unveils top-tier designer clothing brands for men and offers inspiration for your next investment in style. Brace yourselves—the atmosphere teems with the thrill of discovery.
Top Luxury Designer Brands for Men
The international stage is adorned with a rich tapestry of designer brands, each offering its unique aesthetic and cultural narrative. French houses like Givenchy and Berluti exude Parisian sophistication, while British stalwarts like Burberry and Alexander McQueen marry tradition with innovation.
Across the pond, American labels like Ralph Lauren and Calvin Klein have redefined classic Americana. Among this illustrious list, Italian designer brands like Prada, Loro Piana, and Giorgio Armani contribute their brand of artisanal mastery and sartorial elegance, standing shoulder-to-shoulder with their global counterparts in shaping the versatile world of men's high fashion.
Acne Studios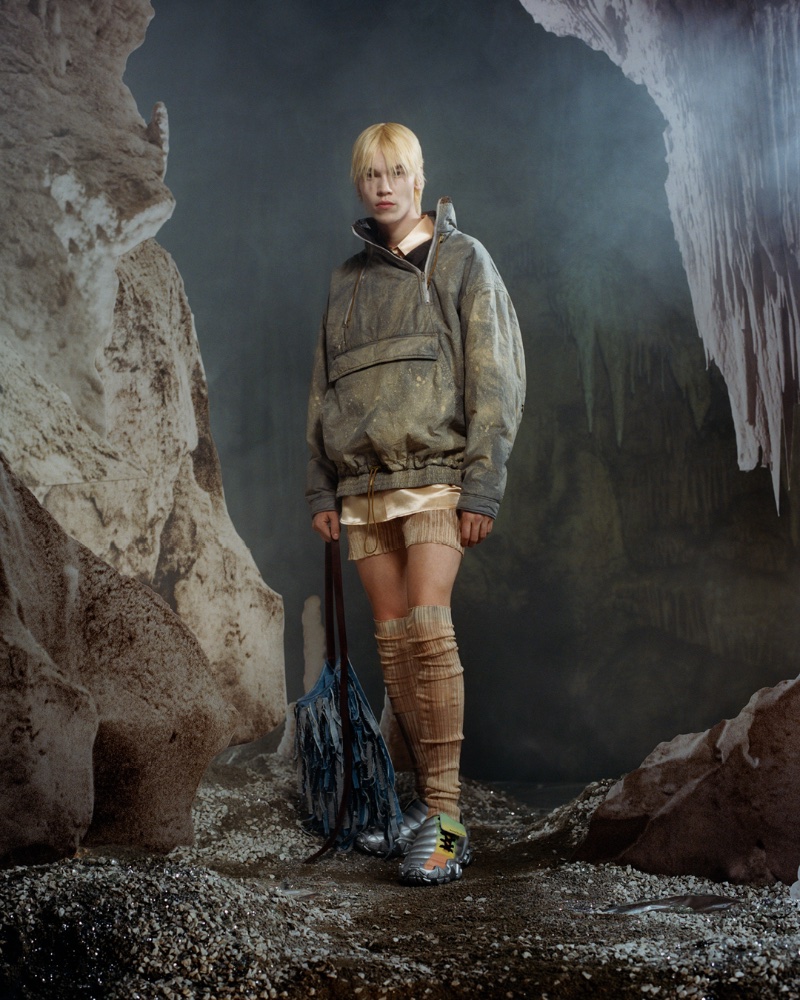 Founded in 1996 by Jonny Johansson and three friends in Stockholm, Acne Studios has grown into a global fashion powerhouse known for its distinct Scandinavian aesthetic with a unique edge. The brand's name, an acronym for "Ambition to Create Novel Expressions," encapsulates its ethos of pushing the boundaries of traditional fashion.
Acne Studios has a knack for reimagining wardrobe staples with a unique twist. From impeccably tailored suits to casual streetwear, their collections offer versatility and a sense of effortless cool.
Alexander McQueen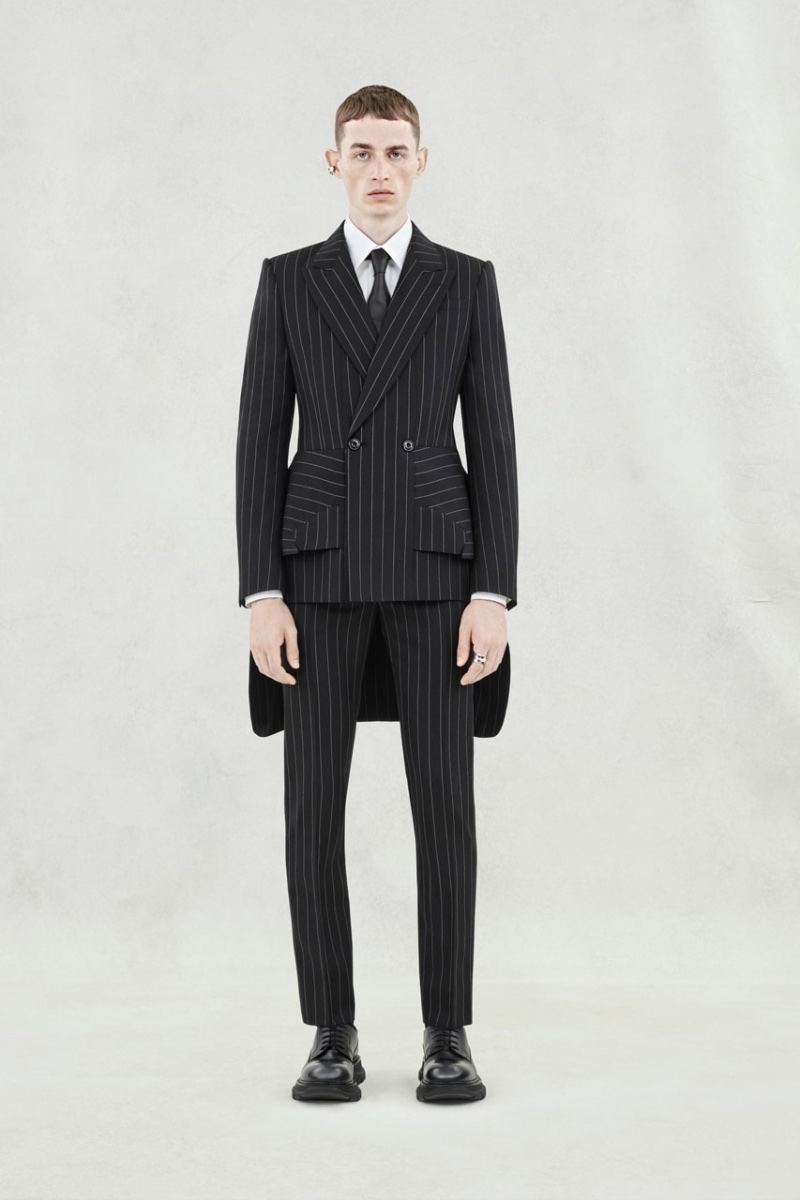 Alexander McQueen has carved a niche in a world of audacious designs and complex storytelling. Originating from the imaginative prowess of the late British designer Alexander McQueen in 1992, this fashion house has long been a magnet for men who veer towards the intricate and the theatrical.
Distinguished by its iconic skull motifs, finely honed tailoring, and an affinity for intermingling the morbid with the sumptuous, Alexander McQueen has been a trendsetter in men's fashion, tearing down established norms.
However, an era has drawn to a close. Sarah Burton, who had been with the house since its developing days and became Creative Director following McQueen's tragic demise, announced her departure in September 2023.
During her tenure, Burton meticulously balanced preserving the house's storied legacy while adding her flourish of artisanal craftsmanship and in-depth narrative. Now, the fashion world watches with bated breath to see who will pick up the mantle and guide the Alexander McQueen brand into its next chapter.
AMI Paris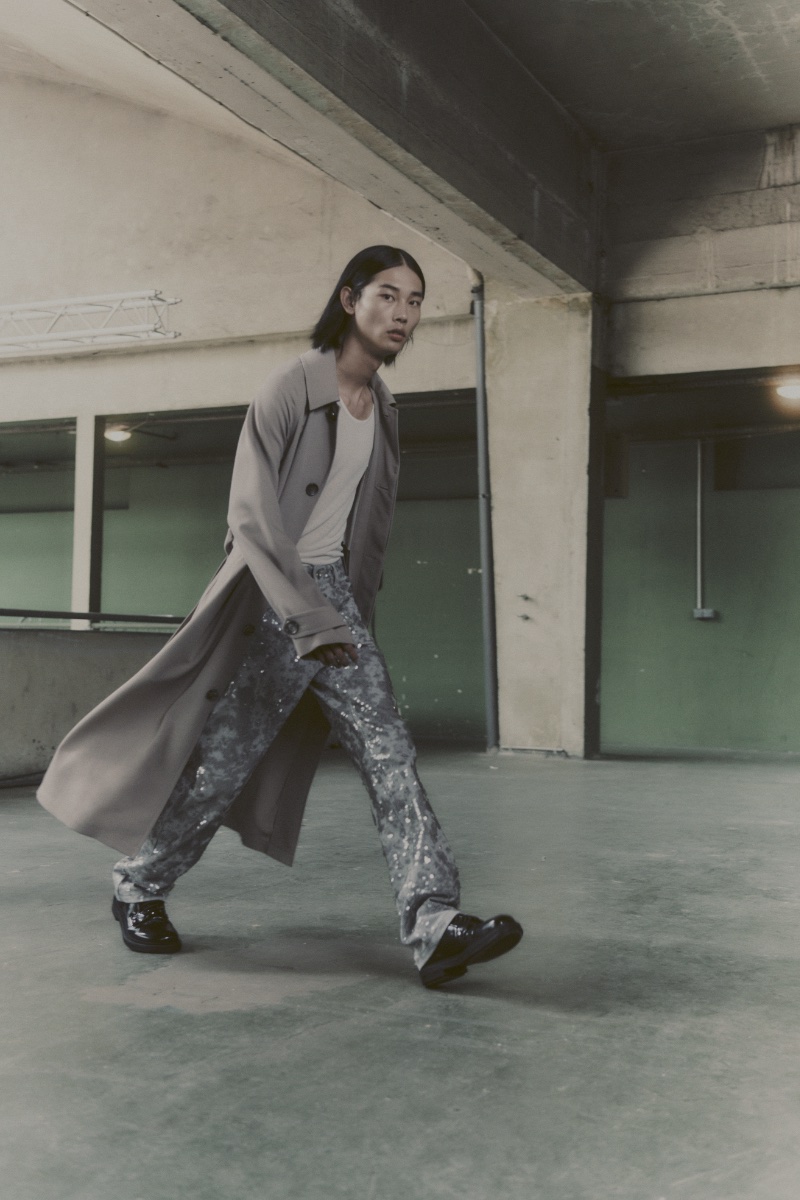 AMI Paris has carved a niche with a unique blend of classic and contemporary in the heart of Paris, a city renowned for its fashion sensibility. Founded in 2011 by Alexandre Mattiussi, AMI Paris targets the modern man who yearns for practical yet stylish pieces that transcend the seasons.
Mattiussi, an alumnus of prestigious houses like Dior, Givenchy, and Marc Jacobs, brings a dose of relatability to high fashion. He conjures a line-up that includes everything from crisply tailored suits to casual pullovers, all infused with an effortless Parisian flair that resonates with men seeking comfort and charisma in their wardrobes.
For AMI Paris, the key is subtle: a perfectly placed pocket, the ideal tapering of a trouser leg, or the nuanced shade of a knit sweater. This attention to detail creates a tapestry of timeless and refreshingly modern pieces.
AMIRI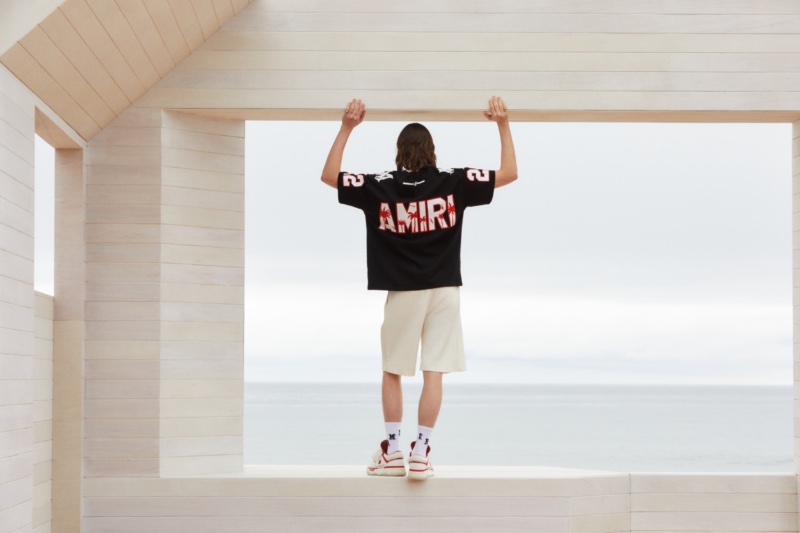 Founded in Los Angeles by Mike Amiri in 2014, the AMIRI brand encapsulates the grit and glamor of LA's rock 'n' roll culture. Known for its laid-back luxury, AMIRI became the go-to label for men who crave a blend of street edge and sartorial finesse.
Jeans distressed as if scraped along the sunbaked asphalt of the Sunset Strip and leather jackets reminiscent of backstage rendezvous are among its signature pieces. These are garments cut from the fabric of rebellion but tailored to perfection, offering a maverick sensibility for men who wish to rewrite the rules.
Amiri's collections speak to a restless spirit—the sort of man who easily navigates between rooftop soirées and underground gigs. The brand captures an innate dynamism, treating each garment as a canvas for storytelling.
Balenciaga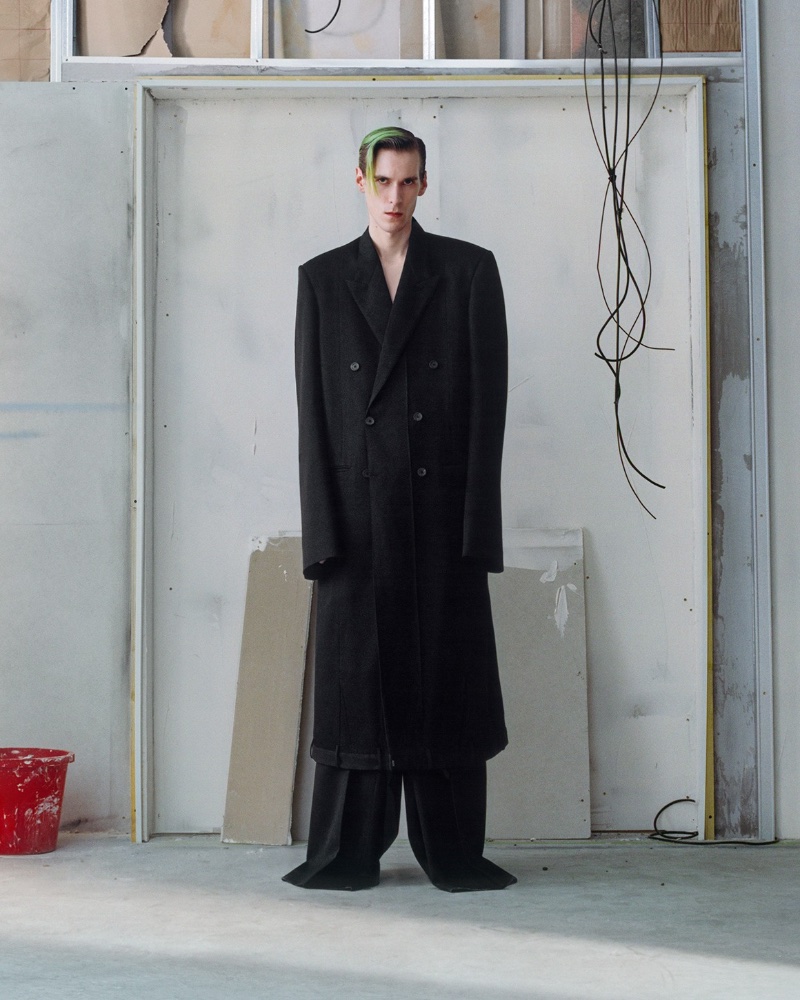 Founded in 1917 by Cristobal Balenciaga, the brand raised its flag in Spain before eventually finding its current home in France. Balenciaga has etched its name as a forerunner of contemporary style, notably winning admiration for its sought-after footwear.
Steering the creative helm today is Demna Gvasalia, a Georgian designer with a deft touch for streetwear-inflected outerwear and fashion-forward oversized attire. With Gvasalia's influence, Balenciaga transcends fleeting trends, commanding a blend of edgy sophistication.
Bally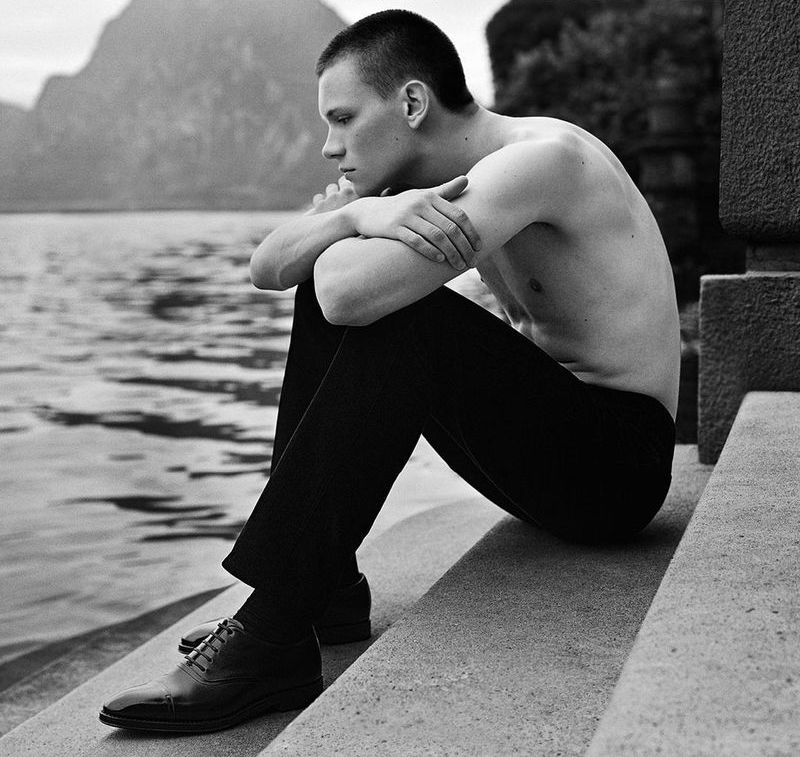 Tracing its roots back to 1851 in the Swiss town of Schönenwerd, Bally is a paragon of Swiss craftsmanship married to modern luxury. Founded by Carl Franz Bally, the brand initially specialized in meticulously crafted footwear, setting a high bar for quality and durability.
Over the years, Bally has expanded its repertoire to include leather goods, accessories, and ready-to-wear clothing, all while maintaining its foundational commitment to excellence.
Today, Bally's collections serve as a sartorial passport for the modern man, offering a curated blend of timeless elegance and contemporary flair. Whether a pair of iconic loafers or a sleek leather jacket, each piece is a testament to the brand's dedication to detail and rich heritage.
Balmain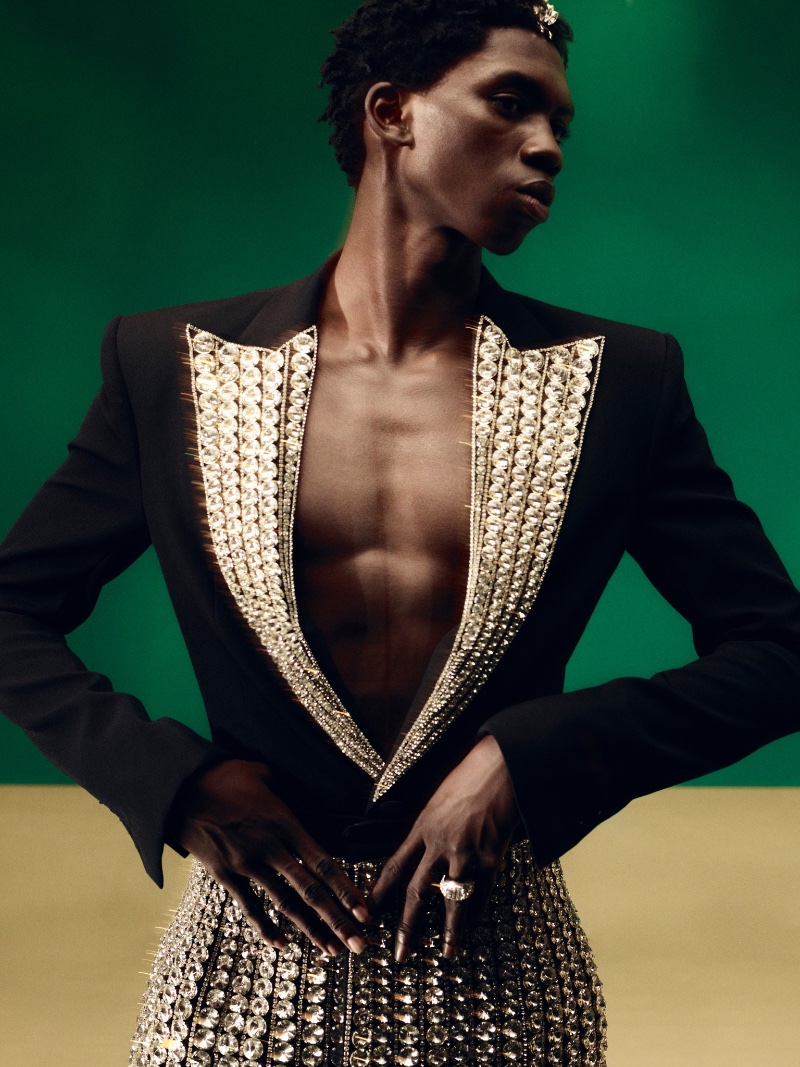 The story of Balmain extends far beyond the fashion runways, tracing its origin back to 1945 when Pierre Balmain founded it. For men who consider clothing a form of artistry, Balmain became synonymous with luxury.
Christophe Decarnin took the brand's reins in the early 2000s, signaling a seismic shift in direction. His creative tenure was marked by strong-shouldered silhouettes, metallic embroidery, and jeans that were anything but casual.
Decarnin paved the way for a glamorous aesthetic pushing men's fashion's boundaries. Taking the baton from Decarnin, Olivier Rousteing assumed control in 2011 as the creative director.
Under Rousteing's direction, the brand further consolidated its luxurious reputation while adding an unmistakable youthful energy. Rousteing is known for his love of ornate embellishments, intricate patterns, and the ability to make military styles utterly chic.
Berluti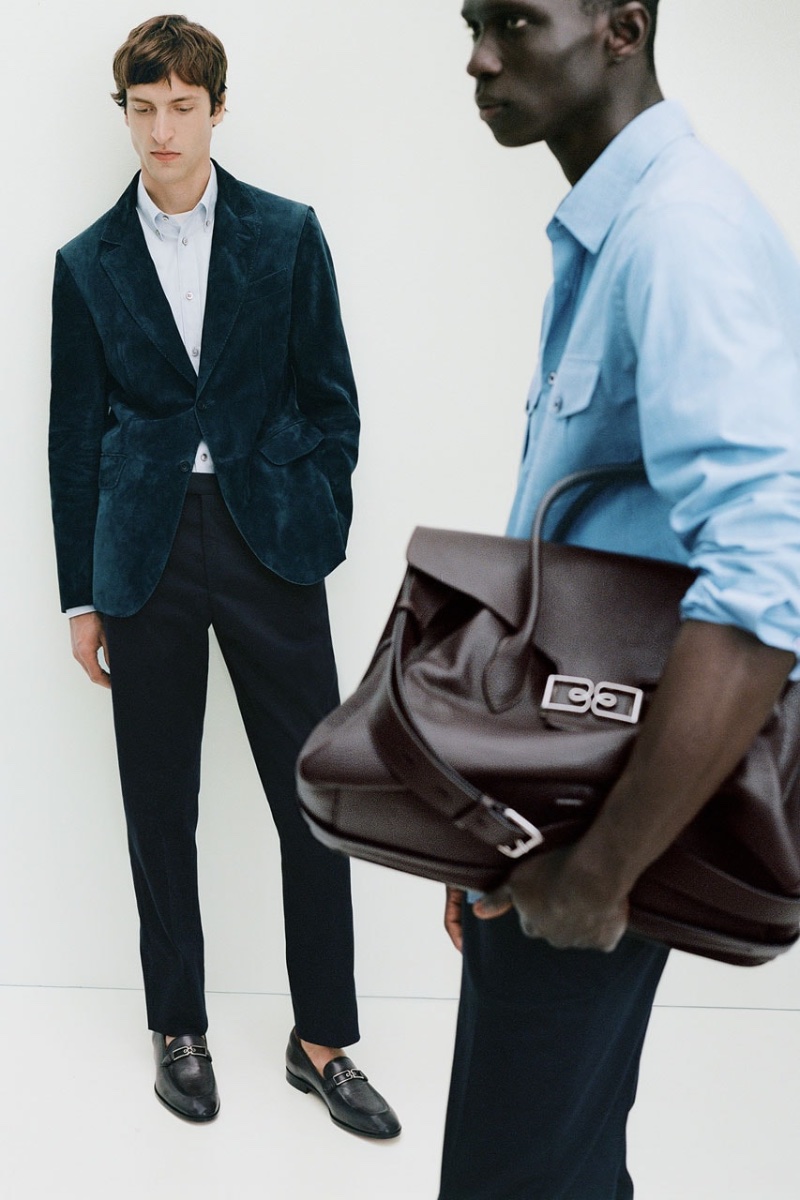 Founded in 1895 by Italian bootmaker Alessandro Berluti, Berluti is a luxury fashion house celebrated for its exceptional craftsmanship. Initially renowned for exquisite footwear, Berluti's legacy is deeply rooted in the art of shoemaking, a heritage that continues to shape the brand's menswear collections.
Under the creative direction of Haider Ackermann from 2016 to 2018 and later Kris Van Assche from 2018 to 2021, Berluti's approach to menswear extended to combine classic tailoring with a modern sensibility, resulting in clothing that exudes sophistication and understated luxury.
Bottega Veneta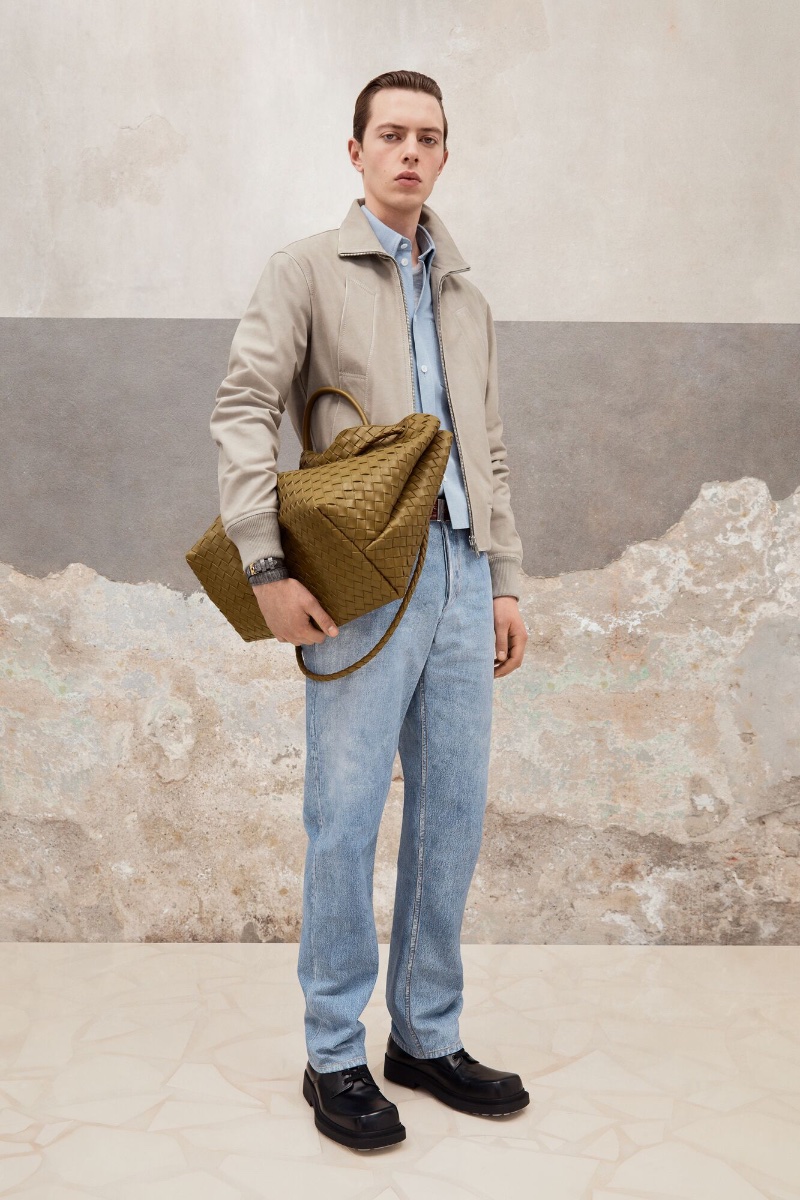 Bottega Veneta, the iconic Italian fashion house founded by Michele Taddei and Renzo Zengiaro in 1966, has been a symbol of understated luxury and impeccable craftsmanship since its inception.
Under the creative leadership of Tomas Maier, who assumed the role of creative director in 2001, Bottega Veneta's reputation for timeless elegance and unmatched quality soared to new heights. Maier's tenure was marked by a dedication to the brand's heritage of artisanal leatherwork and the creation of the renowned intrecciato weave, a signature of Bottega Veneta's handbags and accessories.
Maier's ability to fuse tradition with modernity made Bottega Veneta a preferred choice for those who appreciated discreet luxury. Following Tomas Maier's footsteps, Daniel Lee took the helm as creative director in 2018, injecting a fresh and contemporary sensibility into the brand.
Lee's vision revitalized Bottega Veneta, becoming a coveted label among fashion enthusiasts. His minimalist yet innovative designs, such as the Pouch and the Lido sandal, garnered widespread attention and cemented Bottega Veneta's position as a leader in modern luxury.
In 2021, Matthieu Blazy stepped into the role of creative director, inheriting the legacy of two remarkable predecessors. As the brand continues to evolve, Bottega Veneta remains a beacon of sophistication and craftsmanship in high fashion.
Brioni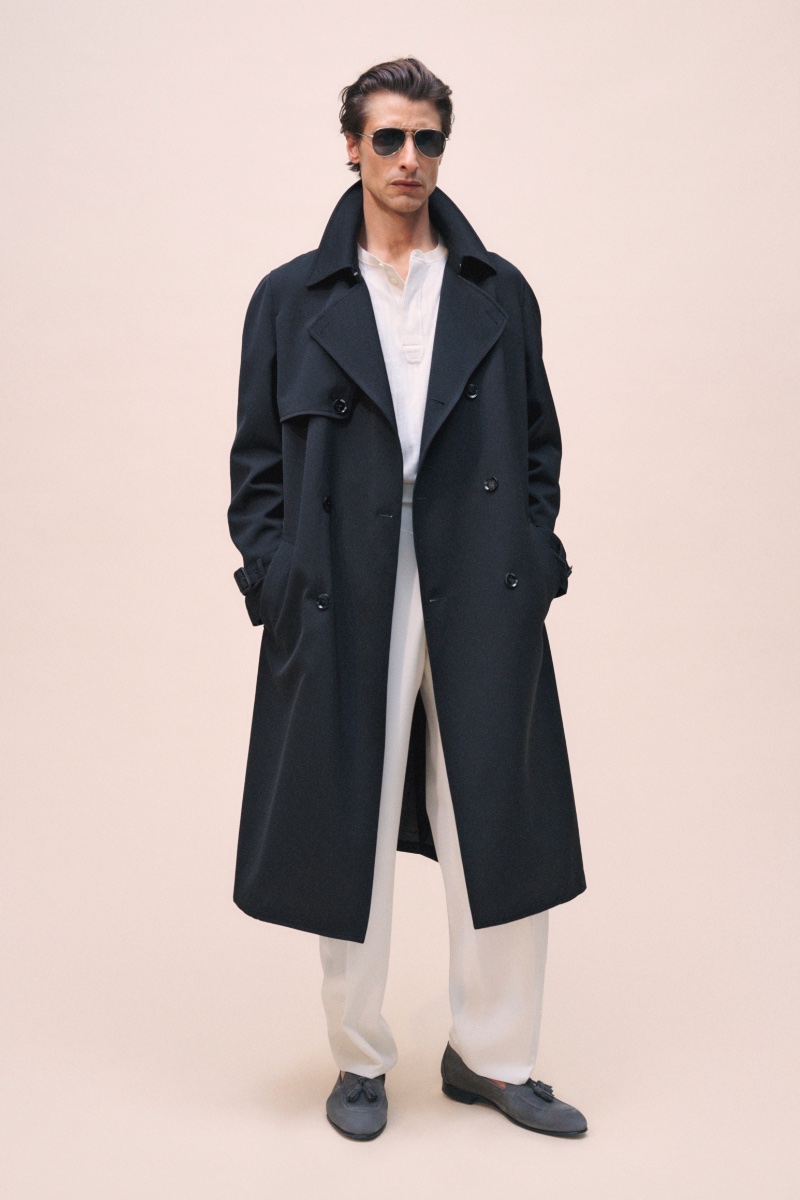 Brioni, an illustrious Italian fashion house, was established in 1945 by tailor Nazareno Fonticoli and entrepreneur Gaetano Savini. Renowned for its exceptional tailoring and sartorial expertise, Brioni quickly earned a reputation as a symbol of Italian elegance and craftsmanship.
The brand's commitment to impeccable construction and luxurious fabrics has made its bespoke suits a favorite among discerning gentlemen and high-profile figures worldwide. Over the years, Brioni has played a significant role in shaping men's fashion, emphasizing timeless style and attention to detail.
Brioni dressed James Bond in several films, including Thunderball and Casino Royale, further solidifying its association with sophisticated menswear. With a legacy spanning nearly eight decades, Brioni continues to set the standard for refined menswear, offering a range of tailored clothing, shirts, accessories, and luxury goods that embody the essence of Italian luxury and style.
Brunello Cucinelli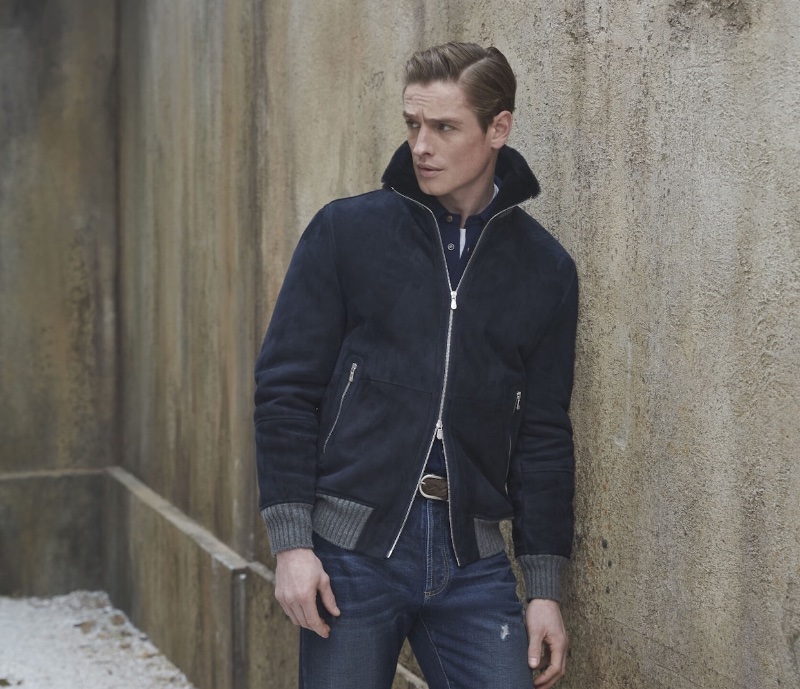 In the picturesque Italian village of Solomeo, nestled among the rolling hills of Umbria, Brunello Cucinelli, often referred to as the "King of Cashmere," built a fashion empire based on the principles of humanistic capitalism and the belief that luxury should be imbued with a sense of ethical responsibility.
Founded in 1978, the eponymous brand Brunello Cucinelli has become synonymous with the finest cashmere garments and a philosophy that places human dignity and craftsmanship at the core of its mission.
Brunello Cucinelli's collections encompass a wide range of menswear, from impeccably tailored suits and sportswear to accessories, all exuding a sense of timeless elegance and impeccable quality.
Burberry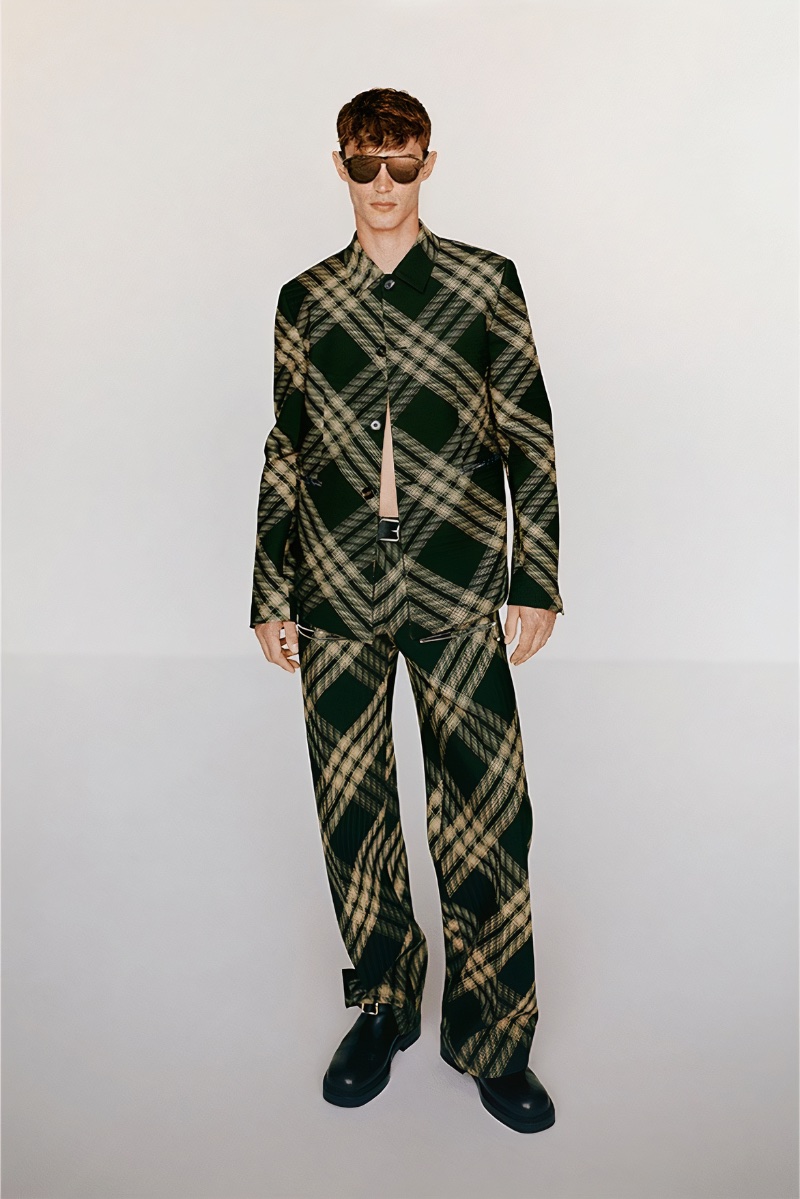 In 1856, Thomas Burberry founded the enduring British luxury brand, carving out its reputation with the invention of gabardine fabric and the iconic trench coat. Fast forward to the 21st century, and Christopher Bailey assumed the creative helm in 2001.
Bailey's vision seamlessly integrated digital advances with Burberry's historic pedigree, particularly in men's fashion. Riccardo Tisci became Chief Creative Officer in 2018, adding modern finesse via streetwear influence to Burberry's deeply rooted British aesthetics.
In a move that captured industry attention, Daniel Lee was named Chief Creative Officer in 2022. Acclaimed for his groundbreaking work at Bottega Veneta, Lee's appointment promised a refreshing new era for Burberry.
The brand's classic core remains unaltered, but with Lee at the helm, the expectation is a fresh infusion of contemporary style. The stage is set for a fascinating fusion of Burberry's timeless design and Lee's modernist sensibilities.
Calvin Klein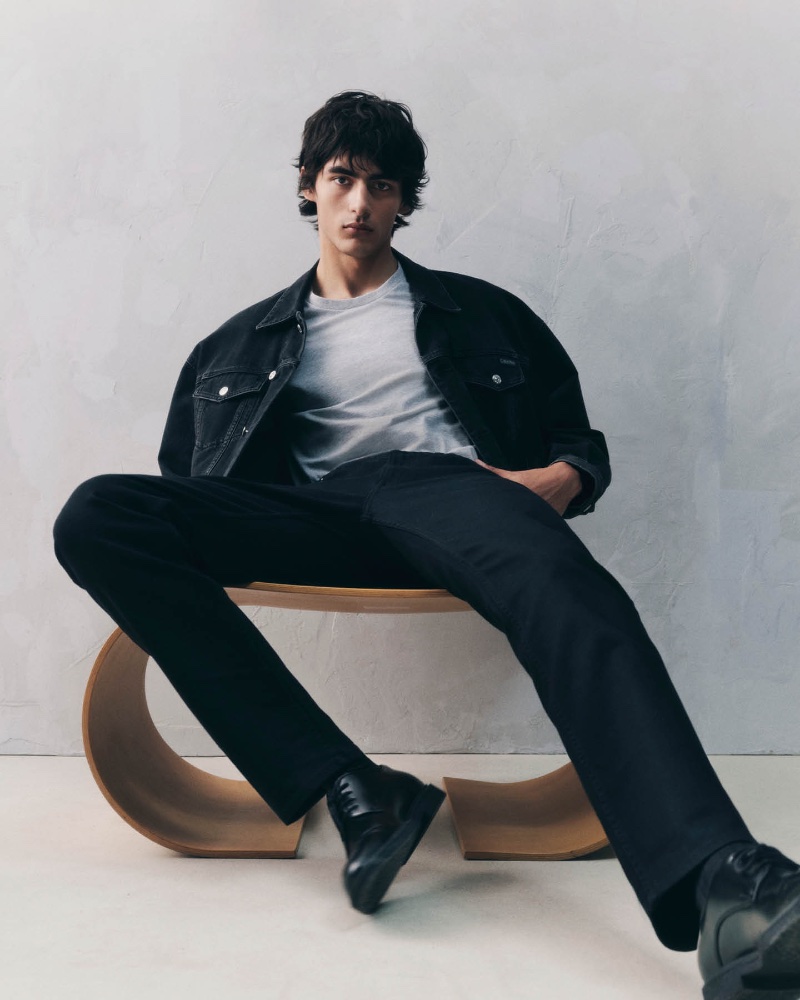 Calvin Klein, a titan of American fashion, was founded in 1968 by designer Calvin Klein himself. The brand has become iconic for its minimalist, clean-cut aesthetic that redefined how we view fashion. Calvin Klein's menswear collections have consistently been at the forefront of this transformation.
Notably, the brand made waves with its Calvin Klein Jeans line, revolutionizing denim wear. Extending its men's offering, Italo Zucchelli played a pivotal role as the creative director of the Calvin Klein Collection menswear line from 2004 until 2016.
Zucchelli's tenure witnessed an evolution of the brand's menswear, maintaining its signature sleekness while experimenting with new styles and silhouettes. In 2016, the arrival of Raf Simons as the new creative director marked a significant moment for Calvin Klein.
Simons' vision and innovative approach to fashion invigorated the brand. His departure in 2018 marked the end of an era. Still, Calvin Klein remains a beacon of American style and creativity, with designers like Willy Chavarria joining the team to shape its future.
Celine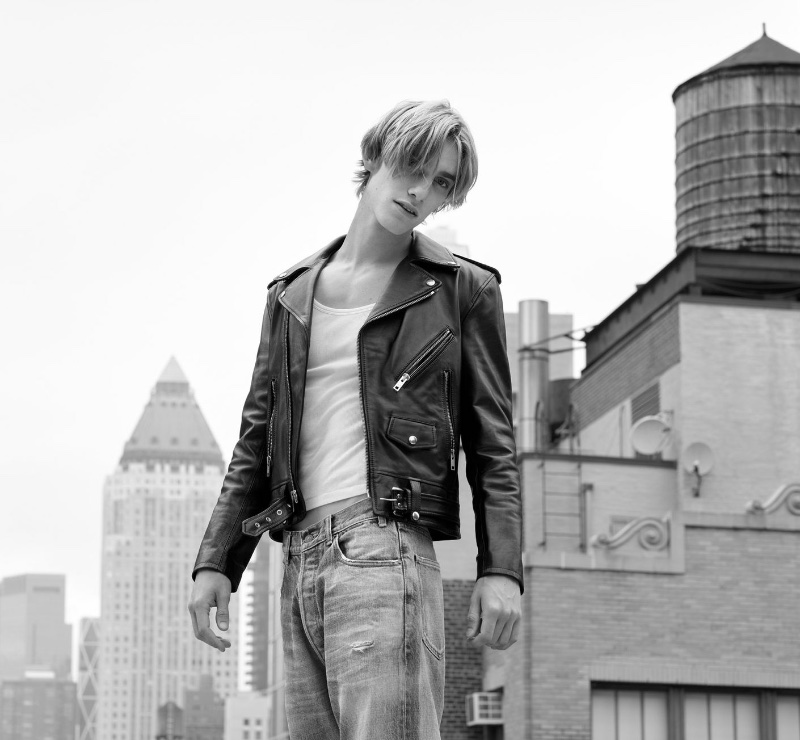 Founded in 1945 by Celine Vipiana in France, Celine stands as a storied name in high fashion. While the brand has seen various designers at its helm, Hedi Slimane has been its creative, artistic, and image director since February 1, 2018.
Under Slimane, the brand experienced a seismic shift that echoes the currents of today's fashion. Although Slimane is renowned for his slender silhouettes, his menswear launch for Celine features a diverse offering of shapes that still pay homage to traditional tailoring, all while infusing a touch of rock 'n' roll flair.
The brand's catalog, which spans everything from jackets to bags, encapsulates a modern aesthetic, marking a new era in Celine's ever-evolving narrative.
Comme des Garçons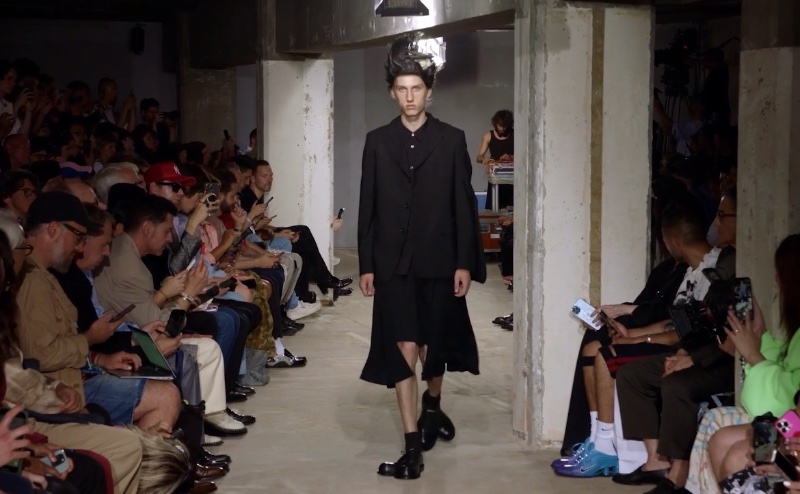 Comme des Garçons, the avant-garde fashion empire, stands as a testament to the boundless creativity and innovation of its founder, Rei Kawakubo. Established in Tokyo in 1969, the brand burst onto the global fashion scene in the 1980s with its radical, deconstructive designs that challenged conventional notions of clothing.
Rei Kawakubo's visionary approach to fashion introduced unconventional silhouettes, asymmetry, and an exploration of the "in-between" spaces of fashion, transcending gender norms and redefining the very essence of clothing. Comme des Garçons became synonymous with pushing boundaries and reimagining apparel possibilities.
Under Rei Kawakubo's unwavering artistic direction, Comme des Garçons has expanded into an empire with multiple lines and collaborations, each reflecting a distinct facet of the brand's ethos.
From the playful and accessible Comme des Garçons Play, known for its iconic heart logo, to the high-concept Comme des Garçons Homme, the brand's diverse offerings cater to a wide range of fashion enthusiasts.
Dior Men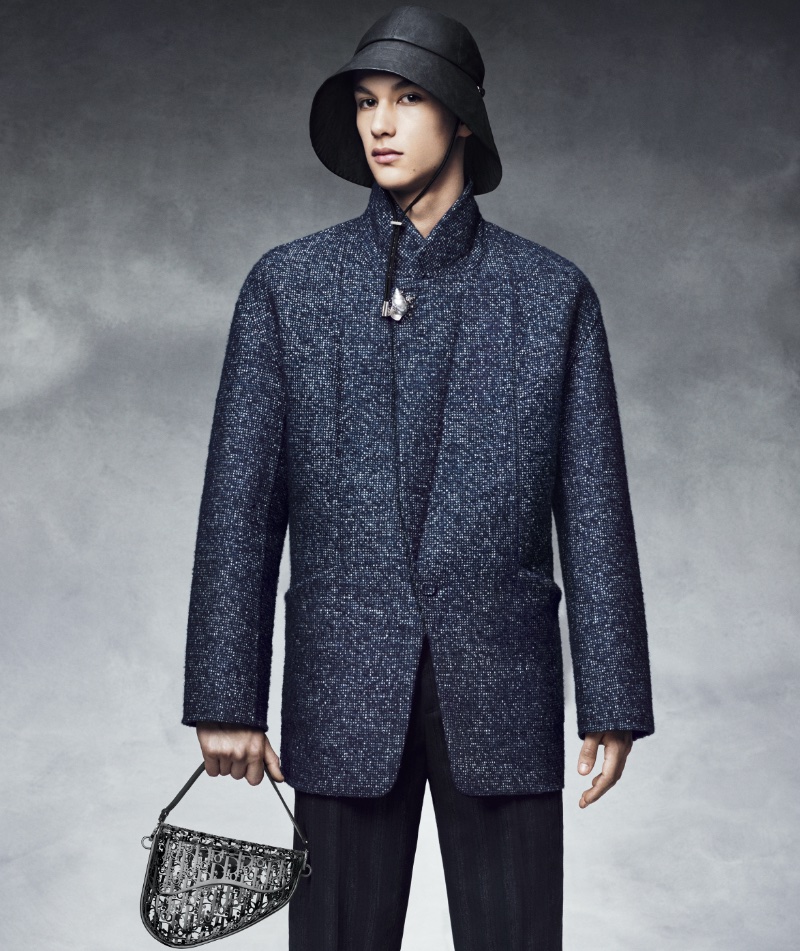 Dior Men, previously known as Dior Homme, under the creative direction of Hedi Slimane and Kris Van Assche, serves as a specialized alcove within the broader fashion empire, dedicated solely to menswear.
Dior Men distinguishes itself through its signature bee logo, which decorates clothing and accessories. Abstaining from the monochrome tendencies of its luxury peers, Dior Men readily embraces a palette of vibrant colors.
At the design vanguard of Dior Men is Kim Jones, an innovator whose sartorial brilliance has graced the likes of K-pop sensation BTS on their global stage. Jones has also assumed the mantle of Artistic Director for Fendi's women's line, bringing his unique flair to multiple fashion fronts.
Dolce & Gabbana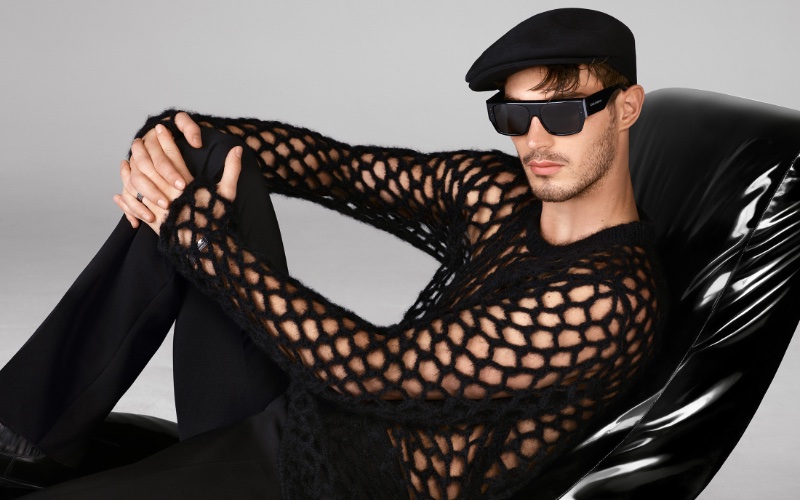 In 1985, the Italian fashion scene welcomed the advent of Dolce & Gabbana, the creative brainchild of Domenico Dolce and Stefano Gabbana. The pair, who met five years prior, first dabbled in designing leotards, swimwear, and underwear before broadening their artistic scope to encompass a full spectrum of clothing and accessories.
By 1992, Dolce & Gabbana made a significant move into men's fashion with a debut collection, diversifying their sartorial portfolio. The brand's aesthetic vision merges classic tailoring with a contemporary affection for streetwear and adventurous prints.
Dolce & Gabbana's impact extends beyond apparel, shaping the fragrance landscape with iconic offerings. Among them, their men's fragrance Light Blue stands out, elevated to legendary status through captivating campaigns featuring David Gandy.
Dries Van Noten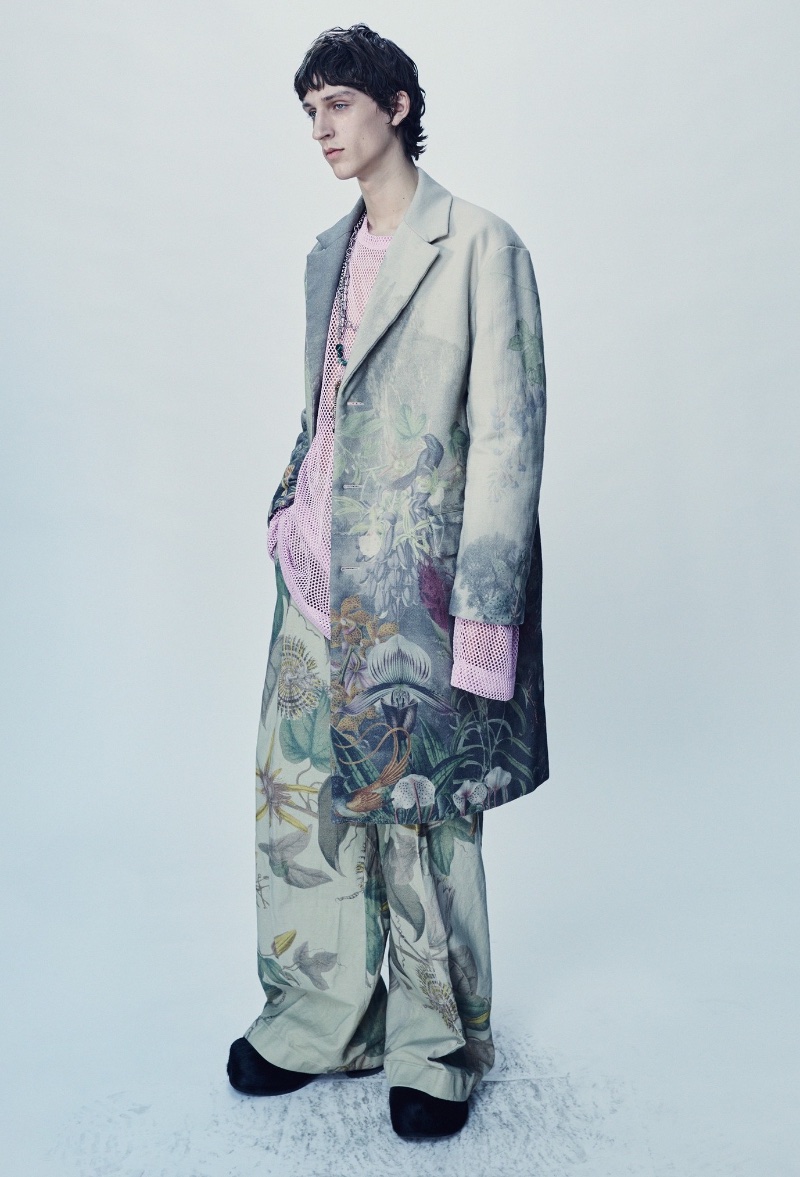 Dries Van Noten, a member of the storied Antwerp Six, has been crafting an artistic narrative in the fashion world since he founded his label in 1986. Known for his intricate use of textiles, embroidery, and lush prints, Van Noten tailors not just clothes but emotion for men who seek layers of complexity in their wardrobe.
Van Noten's creations often defy seasonal trends, opting for timeless pieces that balance luxury and restraint. The brand's menswear lines exhibit a rich interplay of color and texture, often juxtaposed with meticulously tailored silhouettes.
From floral-embellished overcoats to subtly embroidered suits, Dries Van Noten offers a sartorial vocabulary for the modern man who leans toward visual storytelling. With each collection, the designer invites men into a world of nuanced elegance, where each garment serves as a tactile diary entry in contemporary fashion.
Dsquared2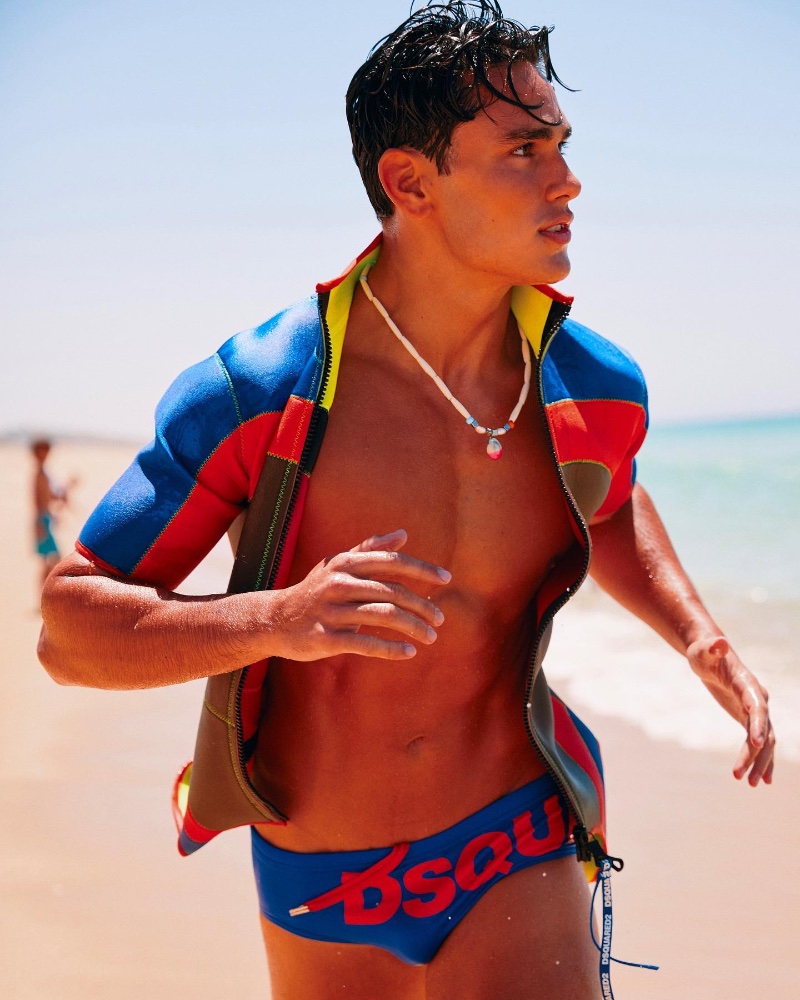 Canadian twins Dan and Dean Caten catapulted into the fashion world with their Italian fashion house, Dsquared2, founded in 1995. The brand quickly gained traction with its audacious designs that exude modernity and strength.
While Dsquared2 offers a range of products, including eyewear and bags, the focus is predominantly on men's fashion—from swimsuits and shoes to ready-to-wear pieces. Women's and children's lines complete the brand's dynamic portfolio.
Dunhill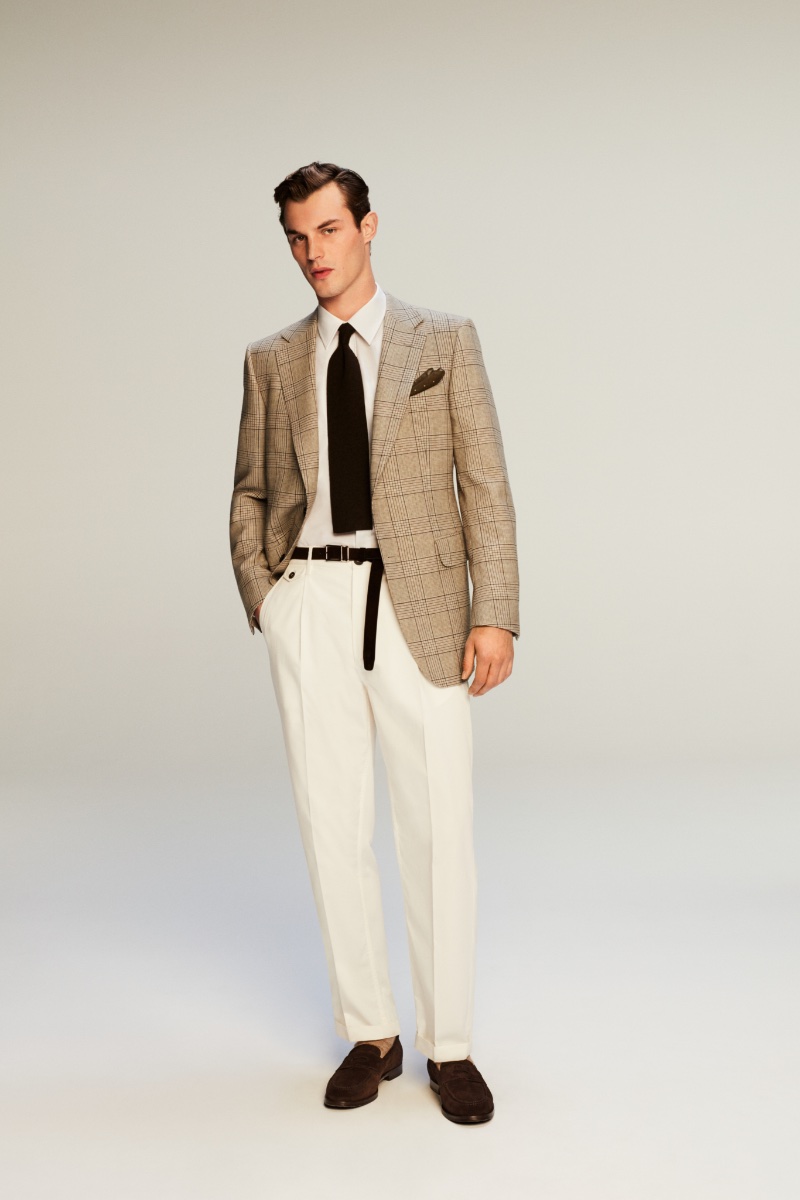 Dunhill, a quintessentially British luxury brand, boasts a heritage from 1893 when Alfred Dunhill founded it. Over the years, Dunhill has become synonymous with exceptional craftsmanship and timeless elegance, setting the standard for men's fashion and accessories.
With a commitment to contemporary refinement, Dunhill has navigated the ever-evolving landscape of men's fashion while staying true to its roots. Creative directors such as Kim Jones, Mark Weston, and Simon Holloway have brought their unique visions to the brand, blending modernity with Dunhill's legacy of sophistication.
Etro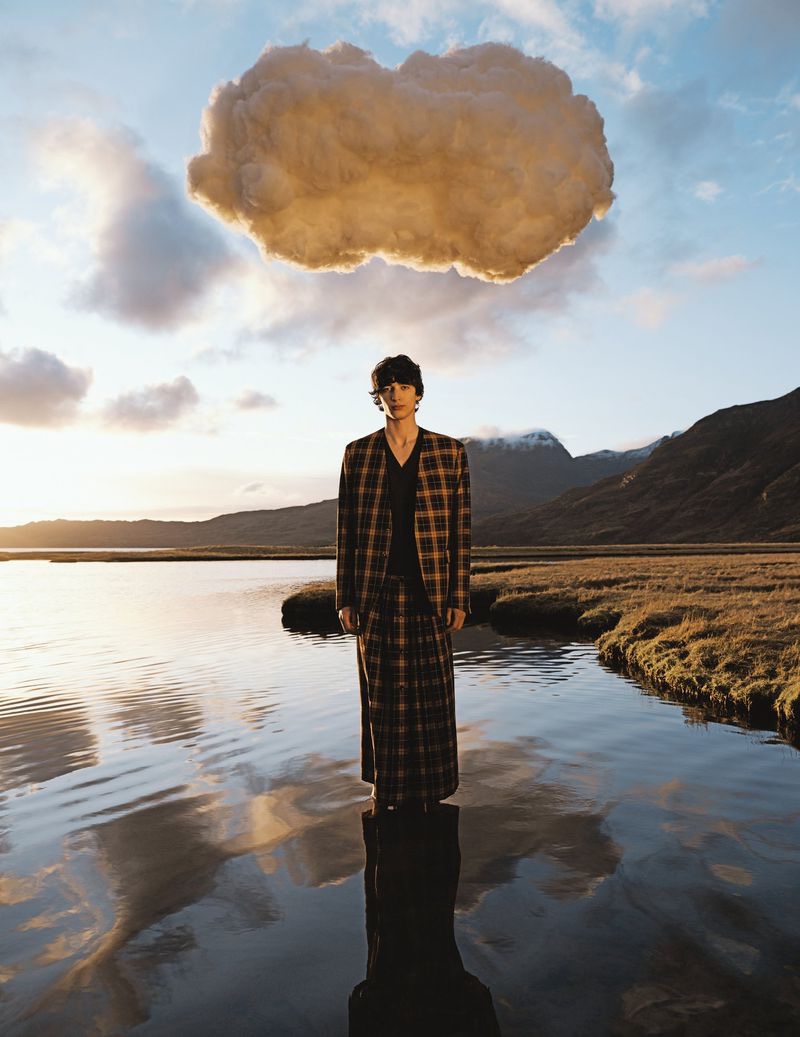 Founded in 1968 in the heart of Milan, Etro has carved a distinctive niche in the fashion world with its vibrant and eclectic designs. The brand's signature paisley patterns, rich textures, and bohemian flair have made it a beacon of creativity and individuality.
Under the creative direction of Kean Etro, who held the reins from 1990, Etro cultivated a unique blend of traditional craftsmanship and innovative, free-spirited design. However, in May 2022, a new chapter unfolded for Etro as Marco De Vincenzo assumed the role of creative director, ushering in a fresh perspective and creative energy.
De Vincenzo's inaugural collection for Etro, unveiled in Milan, showcased his ability to infuse the brand's storied heritage with a contemporary twist.
Fendi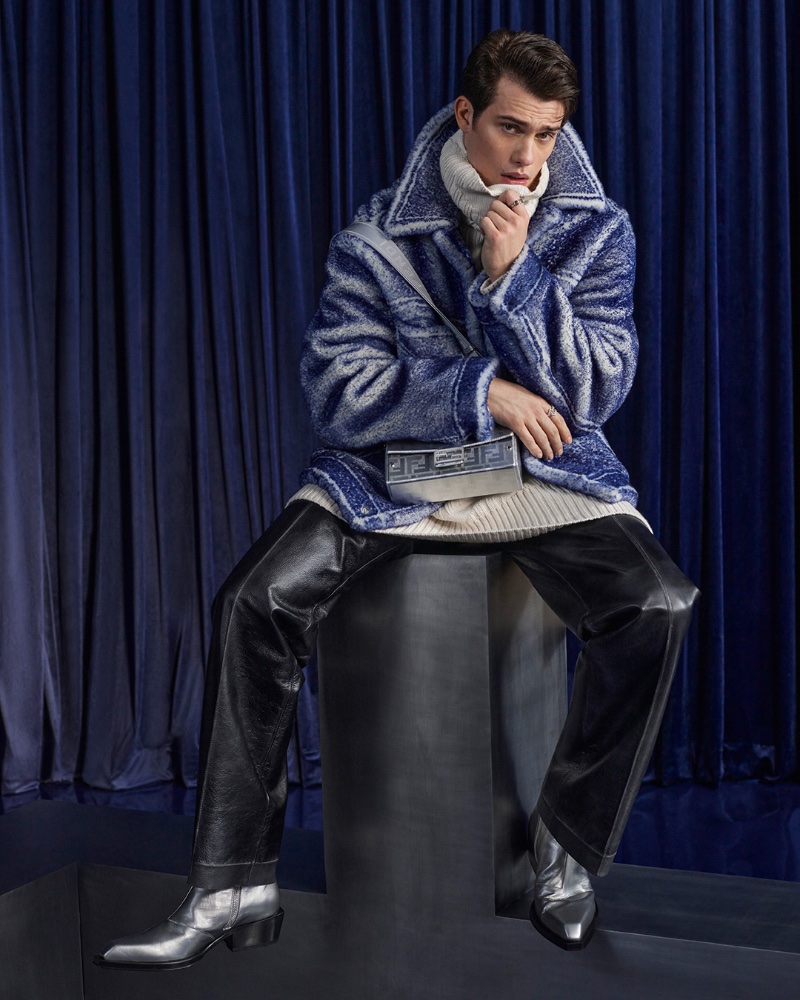 Fendi, the illustrious Italian luxury fashion house, has a storied history of exceptional craftsmanship and timeless sophistication. The brand was founded in Rome in 1925 by Adele and Edoardo Fendi, and it gained acclaim for its exquisite fur creations.
However, it was under the creative direction of Karl Lagerfeld in the 1960s that Fendi embarked on a transformative journey in the world of high fashion. Lagerfeld's innovative vision gave birth to the iconic double "F" logo and solidified Fendi's status as a global fashion authority.
Silvia Venturini Fendi ensures that Fendi's menswear offerings seamlessly blend contemporary aesthetics with the brand's rich heritage. With Fendi's guidance, Fendi remains at the forefront of luxury fashion, captivating fashion enthusiasts with its peerless craftsmanship.
Ferragamo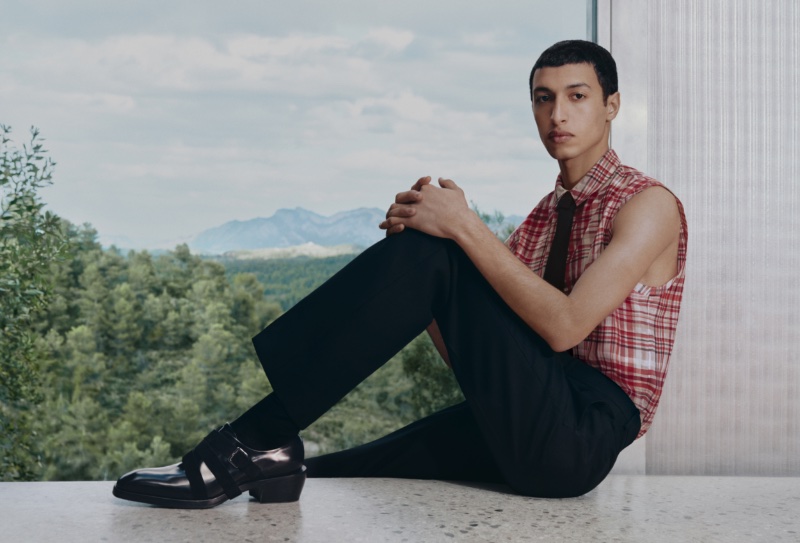 Ferragamo, previously Salvatore Ferragamo after its founder, has a heritage rooted in exceptional shoemaking and leather artistry and has been an icon in men's fashion since its inception.
Over the years, creative directors like Massimiliano Giornetti (2010-2016), Fulvio Rigoni (2016-2018), and Paul Andrew (2019-2021) have navigated the brand's course, each continuing an evolution of its storied legacy.
The brand entered a new chapter when Maximilian Davis assumed the creative director role in March 2022. Davis, already a name mentioned among the A-list, brings a signature style defined by precise tailoring and intricate textures.
Davis' debut collection was an exhilarating foray into modern fashion while respecting Ferragamo's rich, nearly century-old heritage. With Davis at the helm, Ferragamo is embracing design evolution and marking a moment of progress in an industry often scrutinized for its limited diversity.
Giorgio Armani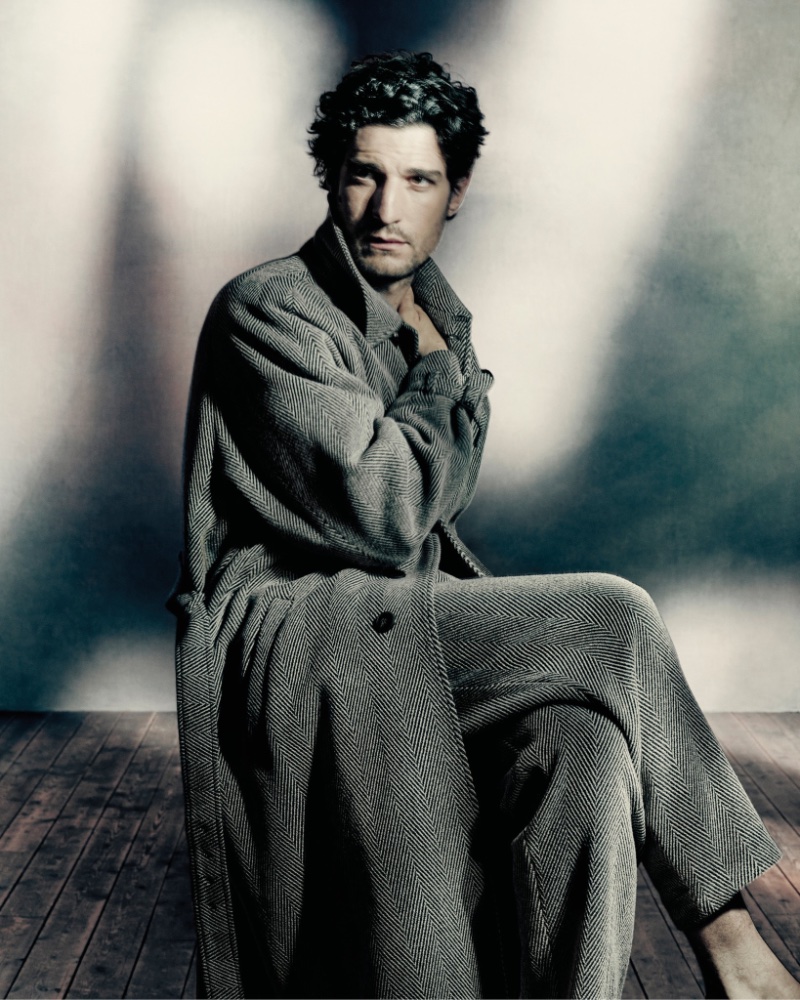 For those captivated by a union of modern ingenuity and enduring elegance, Giorgio Armani serves as the epitome of sartorial distinction. The brand emerged from Milan on July 24, 1975, founded by Giorgio Armani and his close collaborator, Sergio Galeotti.
This monumental partnership bore fruit three months later, with Armani revealing his first men's ready-to-wear collection for the spring and summer of 1976 under his revered name. With a personal net worth estimated at an astonishing 11.8 billion USD, Giorgio Armani himself stands among the wealthiest figures in fashion.
This financial acumen manifests across various products—from athletic wear to high-street fashion and opulent luxury lines—each adorned with the brand's signature bird-shaped logo. Beyond mere ornamentation, this symbol amplifies Armani's commitment to style and sophistication, reflecting the designer's formidable legacy.
Givenchy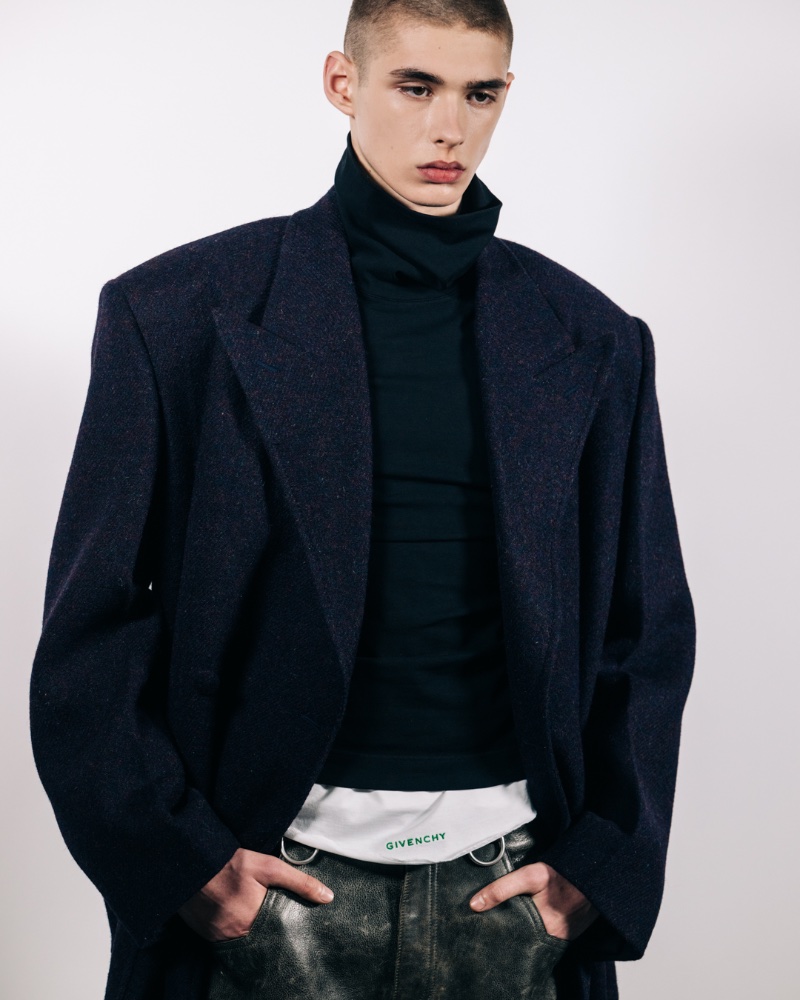 Givenchy, the esteemed French luxury fashion house, has witnessed notable creative shifts under the guidance of its various creative directors. Riccardo Tisci, who assumed the role in 2005, brought a bold and edgy aesthetic to the brand, fusing streetwear influences with high fashion sensibilities.
During his tenure, Tisci's designs were marked by intricate detailing, dark romanticism, and a fascination with gothic elements, earning him critical acclaim and a dedicated following.
Following Tisci's departure in 2017, Clare Waight Keller took the reins as creative director. She brought a more refined and minimalist approach to Givenchy, emphasizing clean lines and a timeless elegance.
In 2020, Matthew M. Williams stepped into the role of creative director, infusing Givenchy with his signature blend of streetwear and luxury aesthetics.
Gucci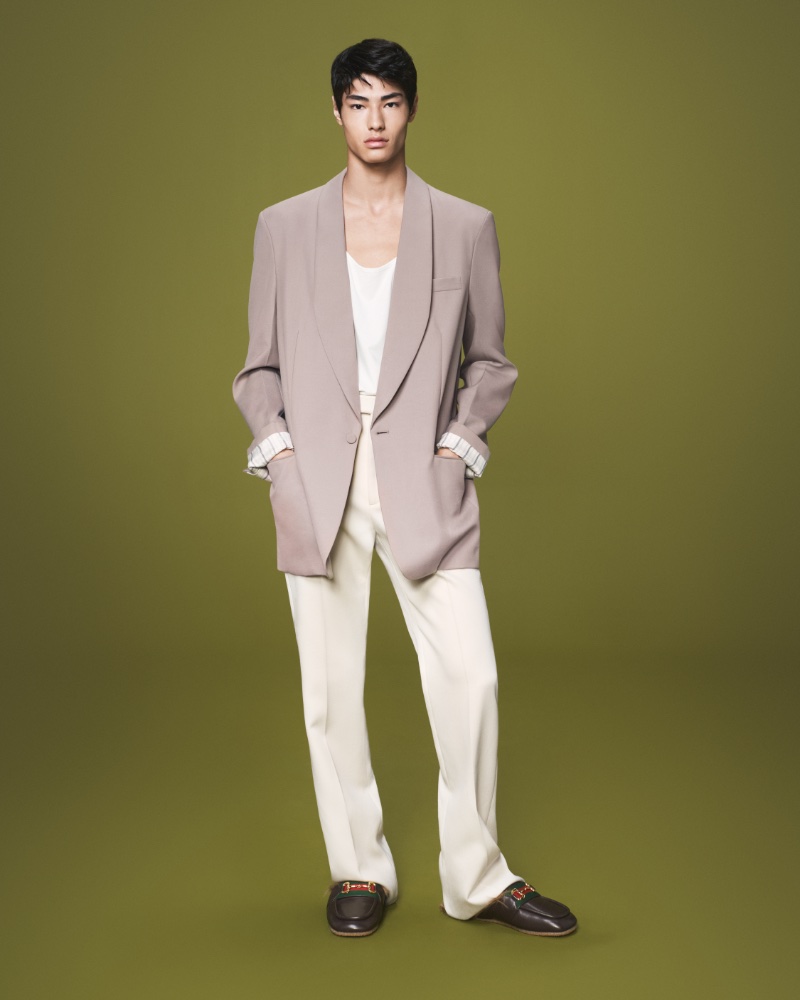 Nestled in Florence, Italy, Gucci stands as a cornerstone in fashion, currently as part of the prestigious French luxury group Kering. Since its establishment in 1921 by Guccio Gucci, this brand has become influential in 21st-century fashion.
Alessandro Michele, celebrated for his kitschy and print-heavy aesthetic, shaped the brand's creative ethos from January 2015 until November 23, 2022. Sabato De Sarno, the new creative director, has stepped in with an eye for bringing understated glamour back to the forefront of the brand.
Gucci's offering is as multifaceted as its history, featuring everything from luxurious luggage and elegantly designed shoes to chic hats and sophisticated attire. This vast product range encapsulates the brand's complex aesthetic narrative, which continues to evolve.
Hermès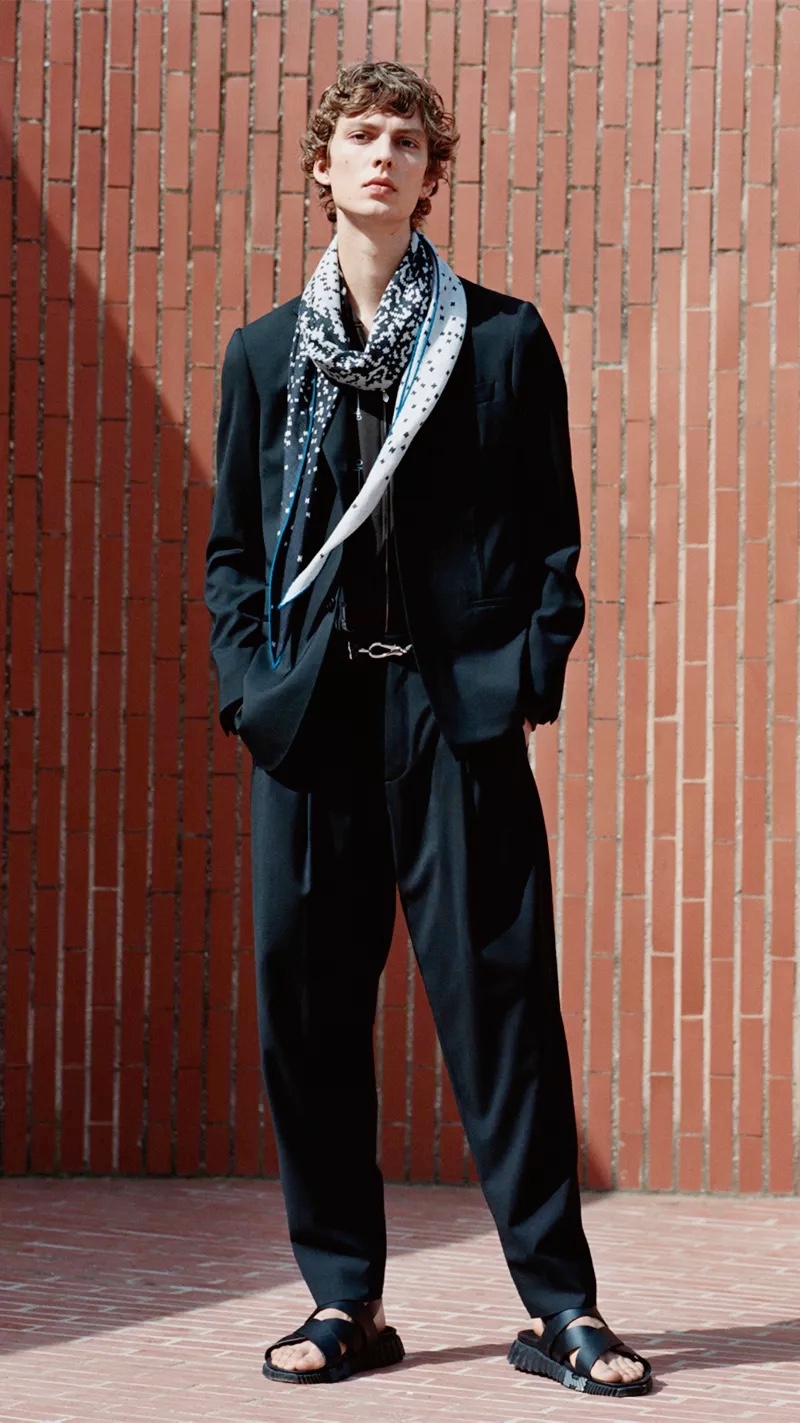 Founded in 1837 by Thierry Hermès, the brand first entered the French market as a harness workshop. Today, Hermès is a titan in the luxury fashion industry, universally adored for its meticulously crafted handbags, menswear, scarves, and ties.
Veronique Nichanian, the artistic director since 1988, shapes the Hermès aesthetic with a masterful hand. The Hermès man is a figure of understated luxury and timeless elegance.
Hermès' man embodies sophistication with a wardrobe that leans towards classic cuts accentuated by unique details. Nichanian's designs capture this essence, merging traditional craftsmanship with contemporary flair, resulting in aspirational and wearable pieces.
Hugo Boss
Hugo Boss, a name that has graced men's fashion since 1924, hails from Germany but has claimed international prominence. With its HUGO and BOSS lines, the brand has carved a niche in the upscale market with its sophisticated tailoring and a versatile range of products that extends from suits to casual wear and even fragrances.
The man donning Hugo Boss embodies a sense of self-assuredness, his clothing choices characterized by clean lines, unembellished designs, and a muted yet impactful color palette. Recent years have seen Hugo Boss shift gears to embrace a more modern aesthetic without diluting its core values of craftsmanship and elegance.
Hugo Boss has made concerted efforts to align itself with sustainability, implementing environmentally friendly manufacturing processes and materials. This evolution signals not just an adaptation to market trends but a nuanced understanding of a new kind of consumer—a man who appreciates the classic but is also rooted in the concerns of the present, seamlessly merging the best of both worlds.
Issey Miyake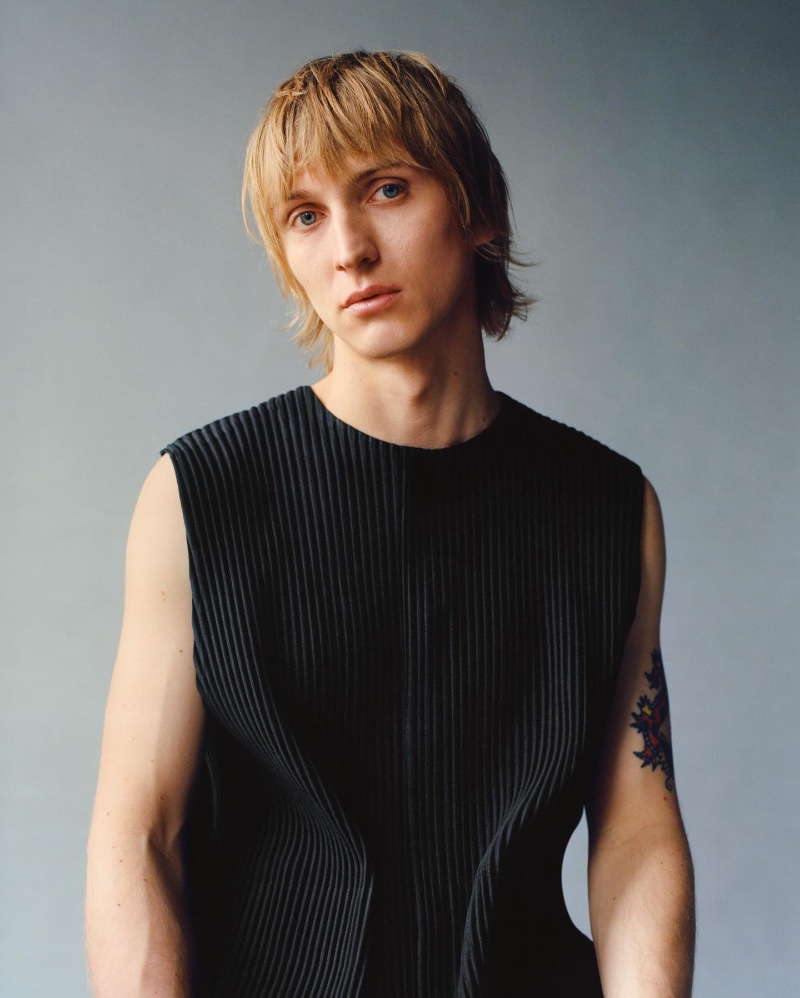 The renowned Japanese fashion designer Issey Miyake has left an enormous mark on the fashion world with his avant-garde designs and innovative approach to clothing. He founded his eponymous brand, Issey Miyake, in 1971, and from the very beginning, he challenged conventions and redefined the boundaries of fashion.
Miyake's designs often explored the relationship between the human body and clothing, resulting in visually striking garments that were also exceptionally comfortable and functional. One of Miyake's most iconic innovations was his use of pleats, a signature element in his collections.
Miyake introduced the world to "Pleats Please," a technique that involves creating permanent pleats in clothing through a unique heat treatment process. This breakthrough revolutionized fashion and made garments more versatile and easy to care for.
Jil Sander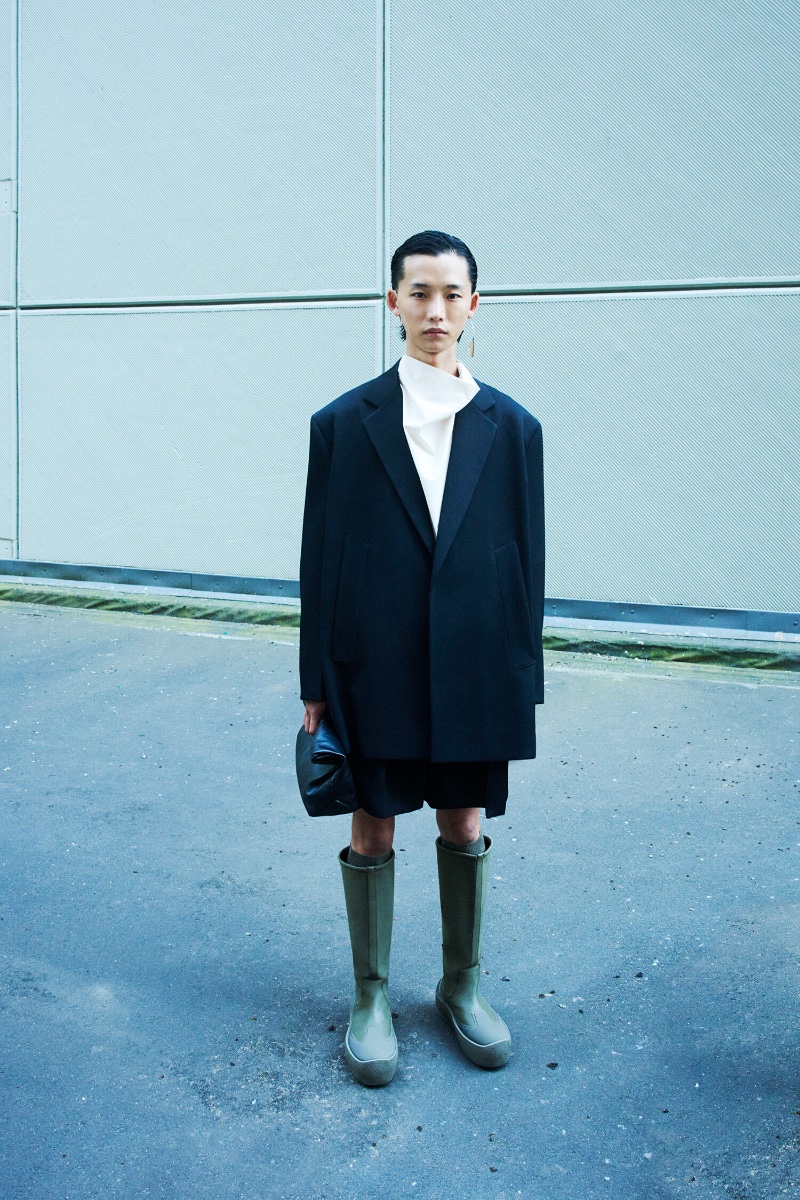 Jil Sander carved a unique space in men's fashion, building its reputation on minimalist aesthetics and uncompromising quality since its inception in 1968. The founder, Jil Sander herself, pioneered the "less is more" ethos, creating garments that spoke volumes through their understated elegance.
In 2005, Raf Simons took the helm and broadened the brand's vocabulary, introducing conceptual complexity to the label's minimalist roots. His influence was transformative, adding an intellectual depth that appealed to the cerebral man seeking more than just clothes but identity statements.
In 2017, Lucie and Luke Meier, founders of OAMC, took over the creative direction, further sculpting the brand's future while paying homage to its past. The Meiers have distilled their unique sense of modernity into the collections, offering men a blend of technical craftsmanship and emotional subtlety.
JW Anderson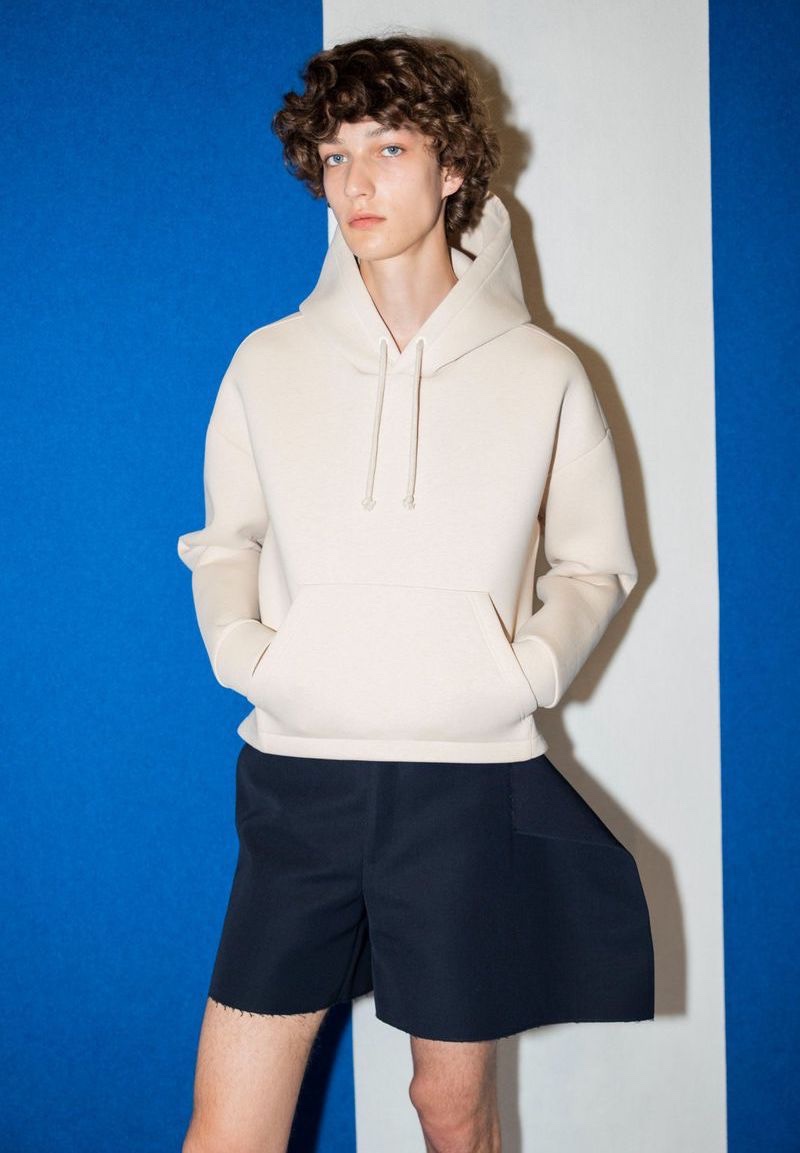 Founded in 2008 by Jonathan Anderson, JW Anderson stands as a hallmark of innovative British design. Anderson, a Northern Ireland native, initially embarked on a career in acting before diving into the world of fashion, and perhaps it's that theatrical background that lends a sense of drama to his designs.
Aimed at the discerning man with a penchant for the avant-garde, the brand has continually pushed the boundaries of men's fashion. It's a destination for those who relish in pieces that challenge conventional definitions, whether through unexpected fabric combinations, deconstructed forms, or a kaleidoscopic array of colors and textures.
Kenzo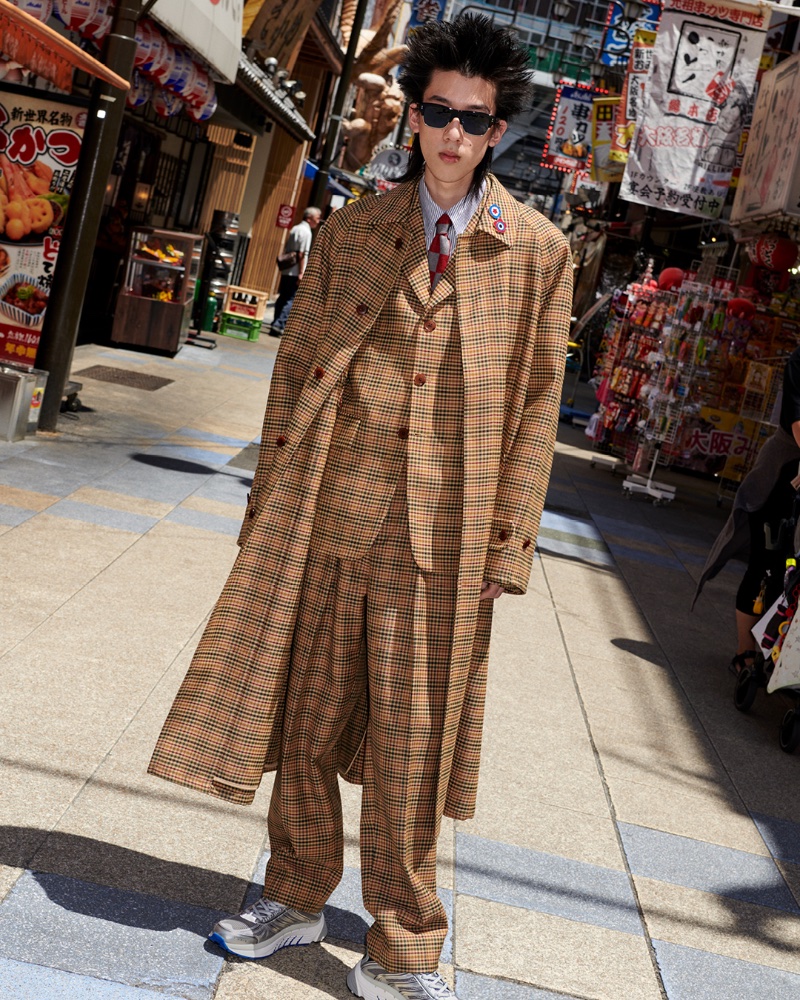 Kenzo, a brand synonymous with vivid prints and intricate textiles, was founded in 1970 by Japanese designer Kenzō Takada. Takada captivated the fashion world until 1999, laying the groundwork for what the label represents today.
Various design talents followed Takada's tenure, bringing their touch to Kenzo's legacy. Gilles Rosier and Roy Krejberg took the helm for women's and men's lines, respectively, from 1999 to 2003, followed by Antonio Marras, who led from 2004 to 2011, infusing his signature romanticism into the collections.
The dynamic duo of Humberto Leon and Carol Lim, best known for Opening Ceremony, took over in 2012, steering the ship until 2019 with a fresh lens that resonated with a younger demographic. Starting from 2019, Felipe Oliveira Baptista took the role, veering the brand toward a luxurious sportswear aesthetic until his departure in 2021.
Then, the torch was passed to Nigo in 2021, an industry legend renowned for his streetwear vision. Nigo's work nods to the brand's roots while pushing the envelope in bold directions.
Lanvin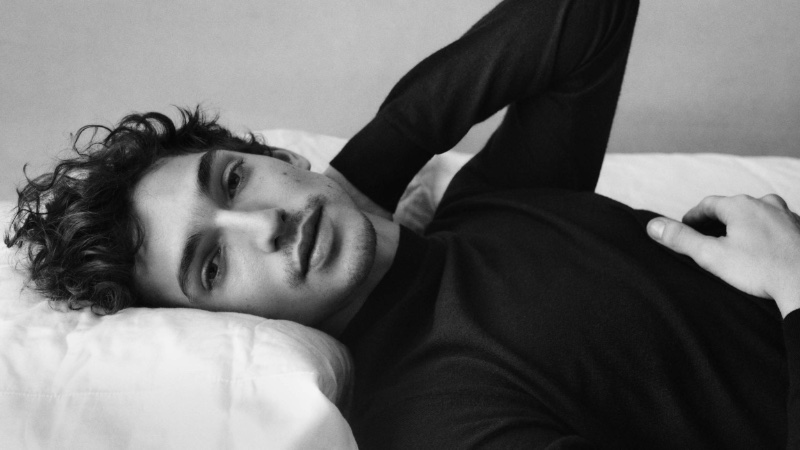 Lanvin, founded in 1889, is France's oldest couture house rooted in Parisian elegance. Initially founded by Jeanne Lanvin, it has seen multiple transitions but has maintained a certain regality.
When Elber Albaz took the helm in 2001, he revitalized Lanvin with his knack for impeccable tailoring and a unique understanding of the modern man. His work was a narrative of masculinity, detailed with finely crafted materials and a rich texture.
Lanvin remains a resonant name, retaining its penchant for craftsmanship and a uniquely Parisian savoir-faire. Albaz left in 2015, but his influence is still palpable, like the lingering notes of a complex cologne.
Each season reveals collections combining the brand's storied past with a current verve, like a vinyl jazz record spinning in a sleek, minimalist apartment.
Loewe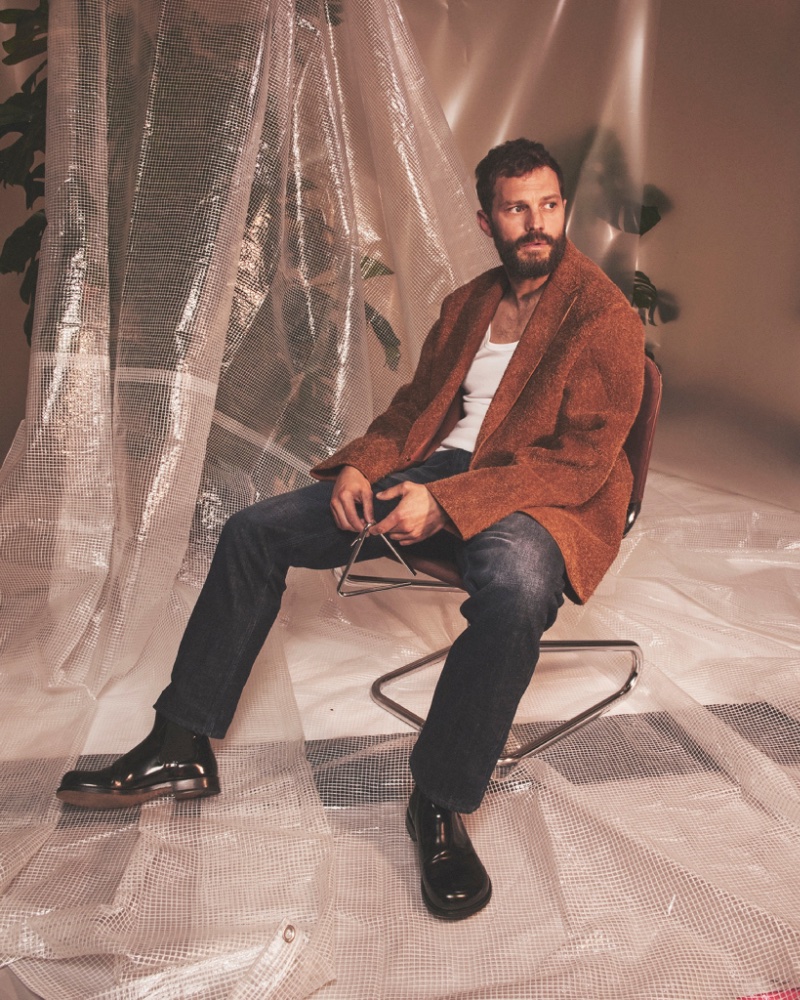 Loewe, a Spanish luxury house with roots tracing back to 1846, offers a compelling blend of traditional craftsmanship and modern innovation. The brand, primarily recognized for its meticulous leather goods, underwent a remarkable transformation when Jonathan Anderson took the helm as Creative Director in 2013.
Anderson, who also runs his namesake brand JW Anderson, has since rejuvenated Loewe, infusing it with artistic flair and whimsy that resonate with a new generation of fashion-savvy men. The brand's menswear lines present a fresh interplay between classic and contemporary, often featuring clever textile manipulations and a cultivated sense of proportion.
Loro Piana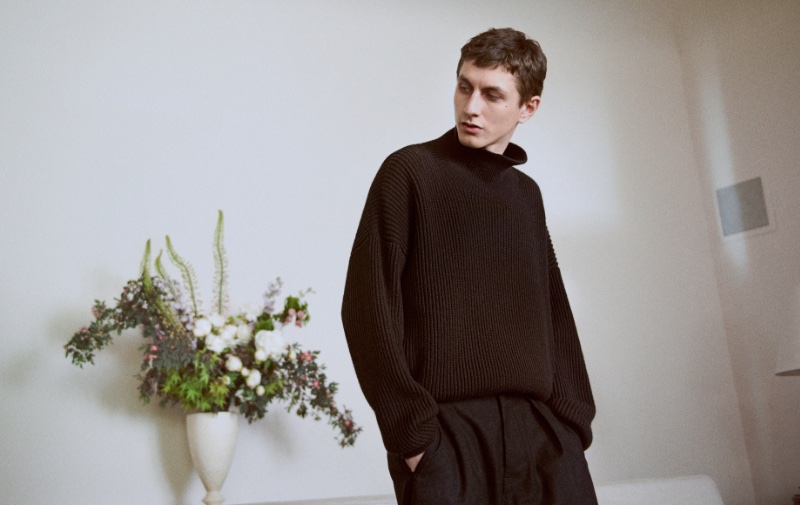 Founded in 1924 in the northern Italian town of Quarona, Loro Piana is a revered luxury brand synonymous with the finest cashmere and wool products worldwide. Guided by a passion for excellence in craftsmanship, the Loro Piana family established a textile business specializing in creating some of the most luxurious fabrics, including the renowned Baby Cashmere.
Loro Piana's commitment to sourcing the highest quality raw materials, from Mongolian cashmere to Australian Merino wool, has earned it a reputation for producing exceptionally soft, warm, and luxurious garments.
Louis Vuitton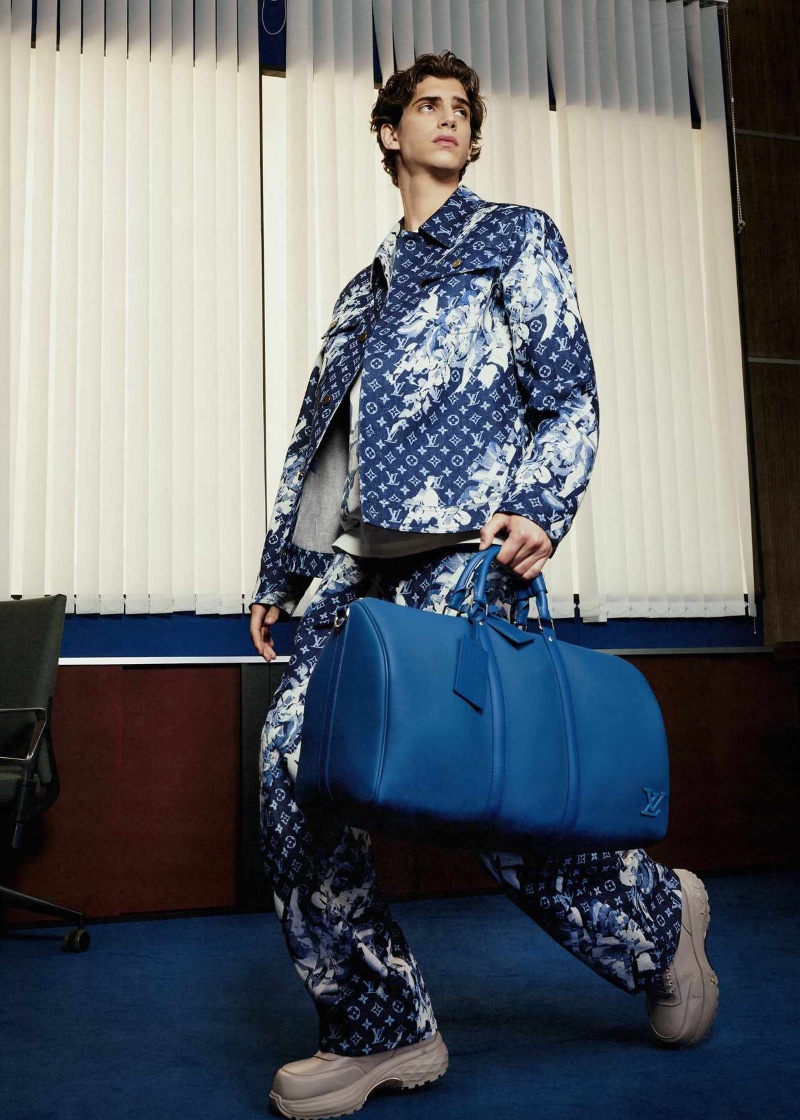 Founded in 1854 by its namesake, Louis Vuitton initially made its mark with high-quality bags before seamlessly expanding into men's ready-to-wear. The iconic LV monogram is often the defining element across collections.
Kim Jones served as the men's artistic director from 2011 to 2018 and shaped the brand's modern menswear vision. His legacy was built upon by Virgil Abloh, who led from 2018 until his untimely passing.
Abloh's work infused the brand with streetwise sensibilities that still resonate today. In February 2023, Pharrell Williams took up the creative mantle, launching his first collection at Paris' Men's Fashion Week in June of the same year.
Maison Margiela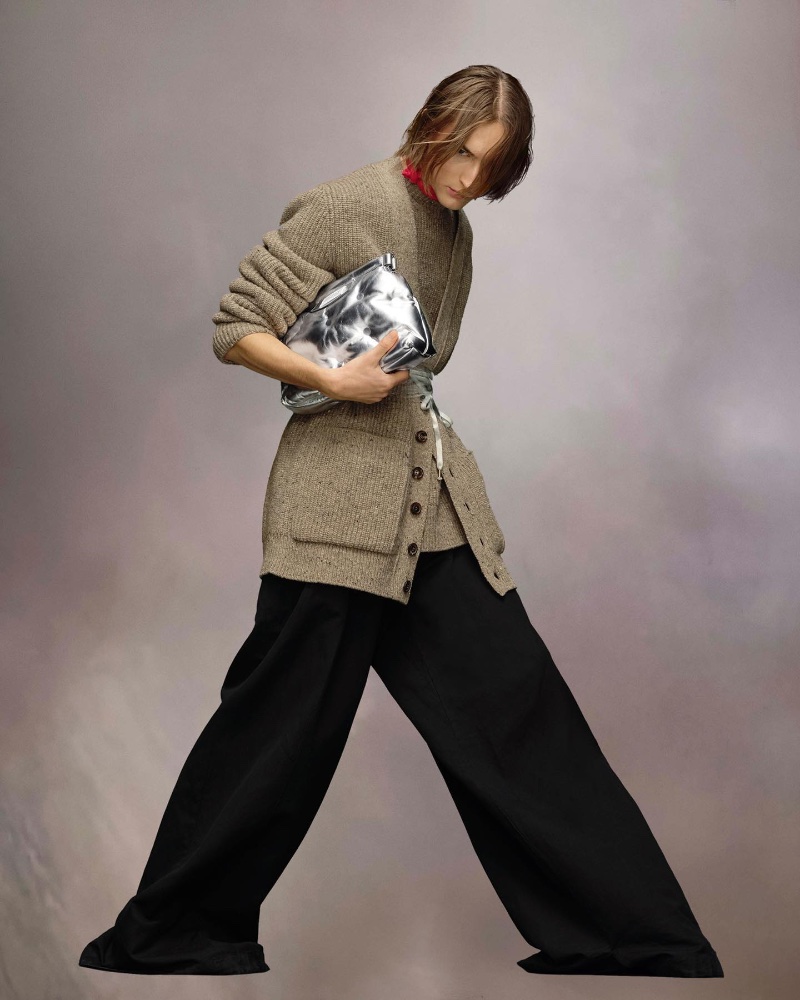 Maison Margiela, known initially as Maison Martin Margiela, was founded by the enigmatic Belgian designer Martin Margiela in 1988. Martin Margiela was a visionary figure in the fashion world, known for his aversion to the spotlight.
Margiela's absence from the public eye, often obscured by his iconic white lab coat, added an air of mystique to the brand. Margiela pioneered deconstructionist fashion, challenging established norms by creating garments that questioned traditional notions of form, function, and identity.
Margiela's work was groundbreaking, with signature touches like exposed seams, oversized proportions, and garments constructed from unconventional materials. The concept of anonymity was central to the brand, with Margiela's identity deliberately kept in the shadows.
While Martin Margiela himself departed from the fashion world in 2009, his legacy endures through the Maison Margiela brand, which continues to push the boundaries of what fashion can be under the creative direction of designers like John Galliano.
Missoni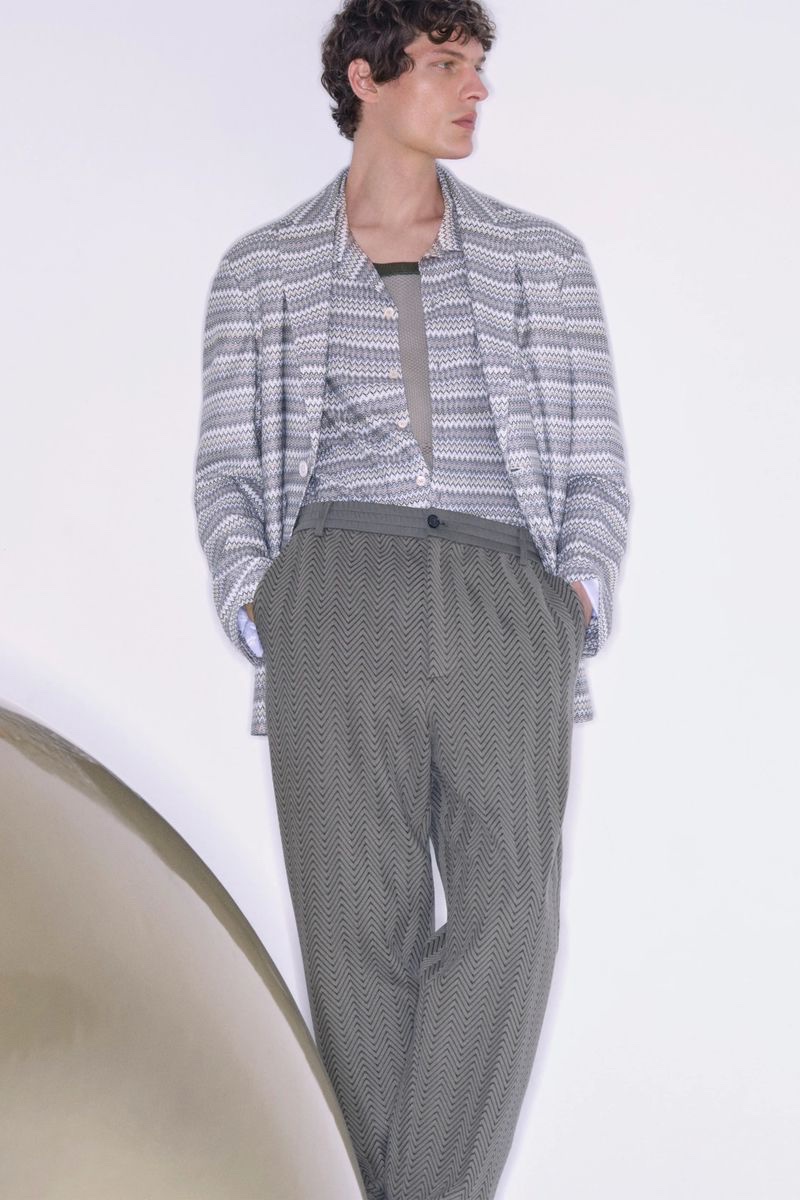 Founded in 1953 by Ottavio and Rosita Missoni, the Italian fashion house Missoni is celebrated for its distinctive knitwear and pioneering use of bold and vibrant patterns. The brand's signature zigzag patterns and colorful stripes have become iconic in fashion, reflecting the Missoni family's passion for art and design.
From its origins as a small knitwear workshop, Missoni has grown into a global fashion powerhouse known for its unique blend of luxury and creativity. One of the key elements that sets Missoni apart is its dedication to craftsmanship and attention to detail.
Each garment is meticulously crafted, often featuring intricate patterns that require expert precision. This commitment to quality has earned Missoni a reputation for producing some of the industry's most luxurious and sought-after knitwear.
Over the years, the brand has expanded its offerings to include a wide range of clothing, accessories, and even home décor, all infused with the same vibrant and artistic spirit that defines Missoni.
Moncler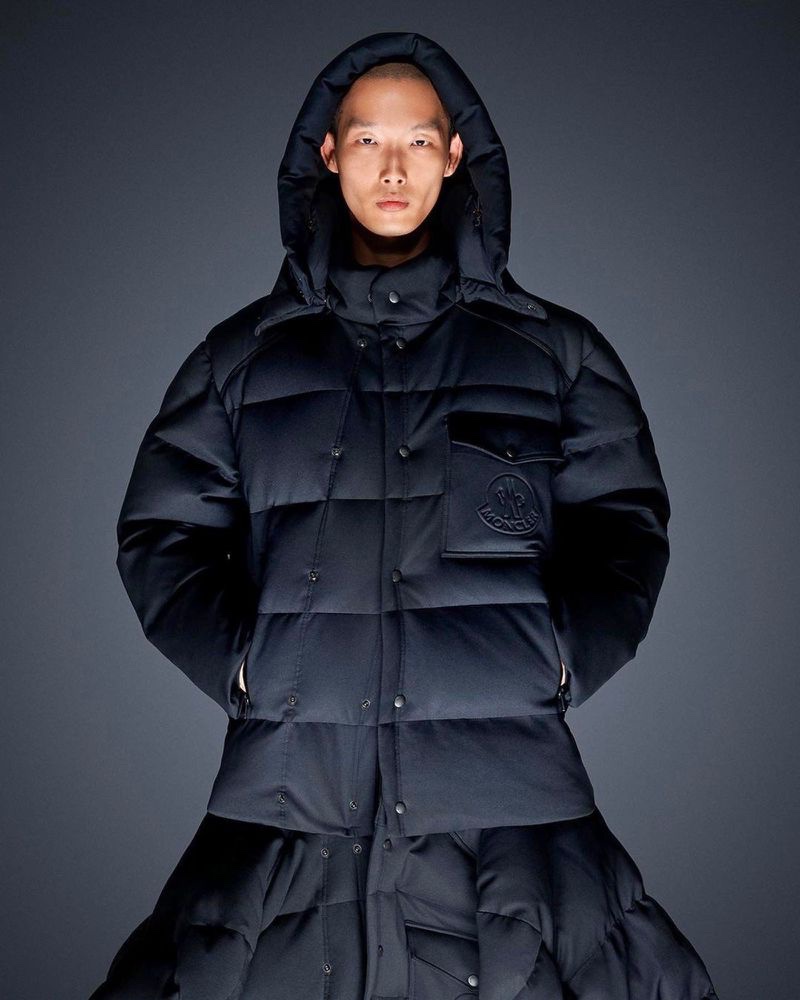 Established in 1952, Moncler began its journey in a small mountain village near Grenoble, France, initially crafting quilted sleeping bags and tents for mountaineers. As time unfolded, the brand pivoted toward luxury outerwear, developing an unmistakable blend of functionality and style.
Moncler's down jackets have become nothing short of cultural symbols, offering men warmth and a dash of urbane sophistication. What truly sets Moncler apart is its ability to innovate.
Moncler has launched unique projects like the Genius line, a collaborative platform inviting designers to reimagine Moncler's iconic down jacket. Through such ventures, Moncler captures the essence of modern luxury while constantly refreshing its aesthetic appeal.
Off-White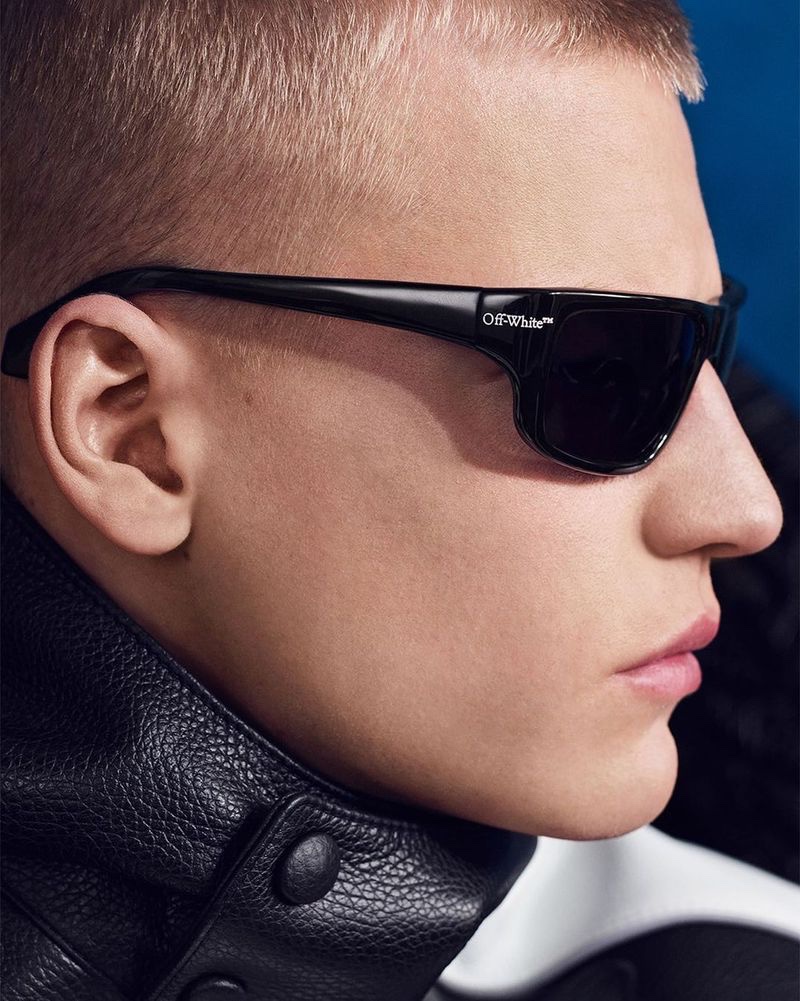 Emerging from the visionary depths of Virgil Abloh, Off-White burst onto the fashion scene in 2012 as a temple of streetwear. The brand swiftly evolved into a haven for men seeking the unconventional—think of deconstructed jackets, graphic hoodies, signature "QUOTES," and zip-ties.
Off-White gave men a dialect to articulate their style, which flowed seamlessly from skate parks to fashion weeks. It stands at the confluence of urban culture, art, and high fashion, constantly challenging and redefining the borders of each.
Yet, a shadow falls over this groundbreaking narrative with the untimely loss of Virgil Abloh in 2021. He was not just a designer but an alchemist, turning everything he touched into cultural gold.
Off-White's enduring impact suggests that its voice will continue to resound, shaping and reshaping the contours of men's fashion in years to come.
Paul Smith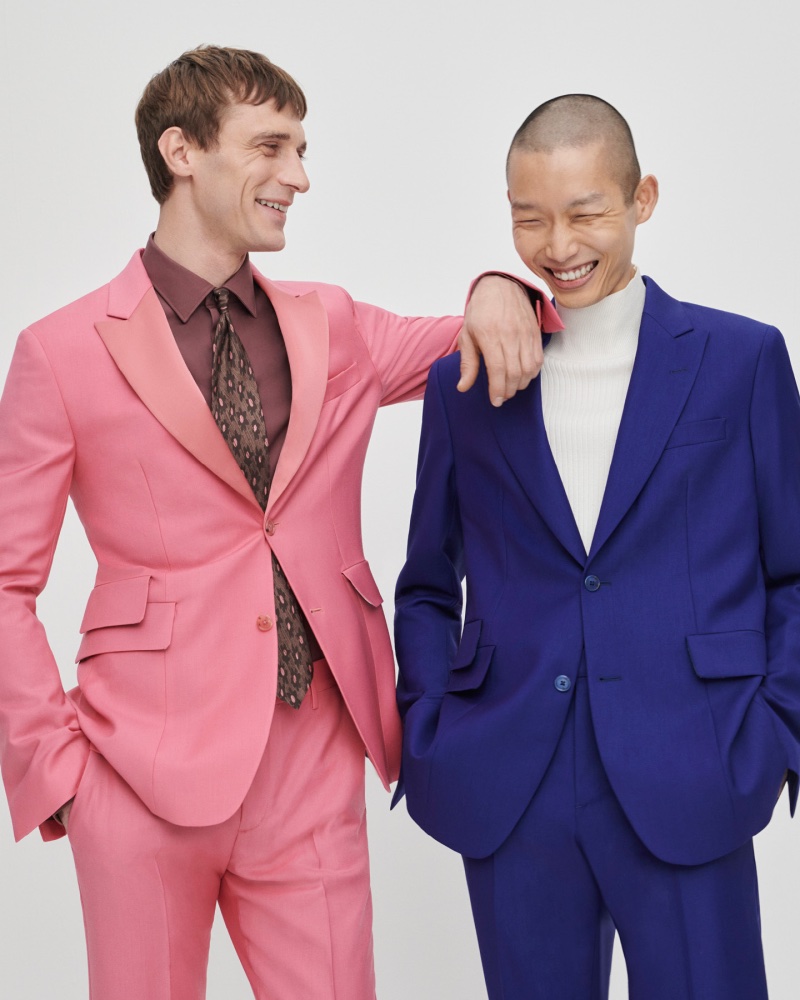 Sir Paul Smith, a true icon in British fashion, founded his eponymous brand, Paul Smith, in 1970. With a flair for creativity and a keen eye for design, Smith embarked on a journey that would forever change the landscape of men's fashion.
Smith's distinct style, characterized by his playful use of color and pattern, namely his trademark stripes, quickly gained recognition and popularity. One of Paul Smith's signature traits is his ability to infuse classic tailoring with a sense of whimsy.
Paul Smith's collections often feature unexpected details, such as colorful linings, vibrant socks, and quirky accessories, adding a touch of eccentricity to the traditional elegance of British menswear. Over the years, his brand has expanded beyond clothing to include various products, from fragrances and eyewear to furniture and even bicycles.
Prada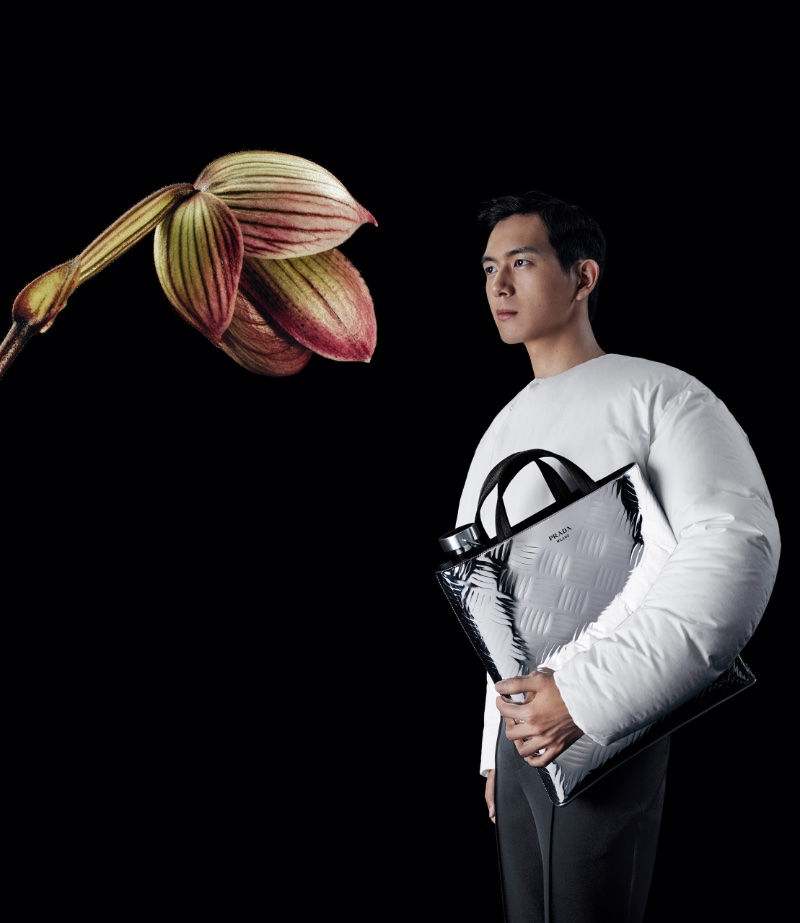 In 1913, Mario Prada laid the first stone of what would become a fashion empire in the heart of Italy. Prada is synonymous with timeless luxury today, especially famed for its exquisite leather handbags.
Yet, handbags are merely a facet of this illustrious brand's offerings, which span fragrances, sunglasses, apparel, jewelry, footwear, and timepieces. A Prada design exudes a unique blend of sophistication and restraint, qualities that are undeniably worth the brand's steep price tag.
Miuccia Prada and Raf Simons currently guide the brand's aesthetic. Miuccia, an Italian billionaire and a patron of contemporary art, holds the title of creative director, while Raf Simons, a Belgian designer and a member of the influential Antwerp Six, shares in steering the brand's creative voyage.
Together, they orchestrate a symphony of luxe minimalism and intricate craftsmanship.
Ralph Lauren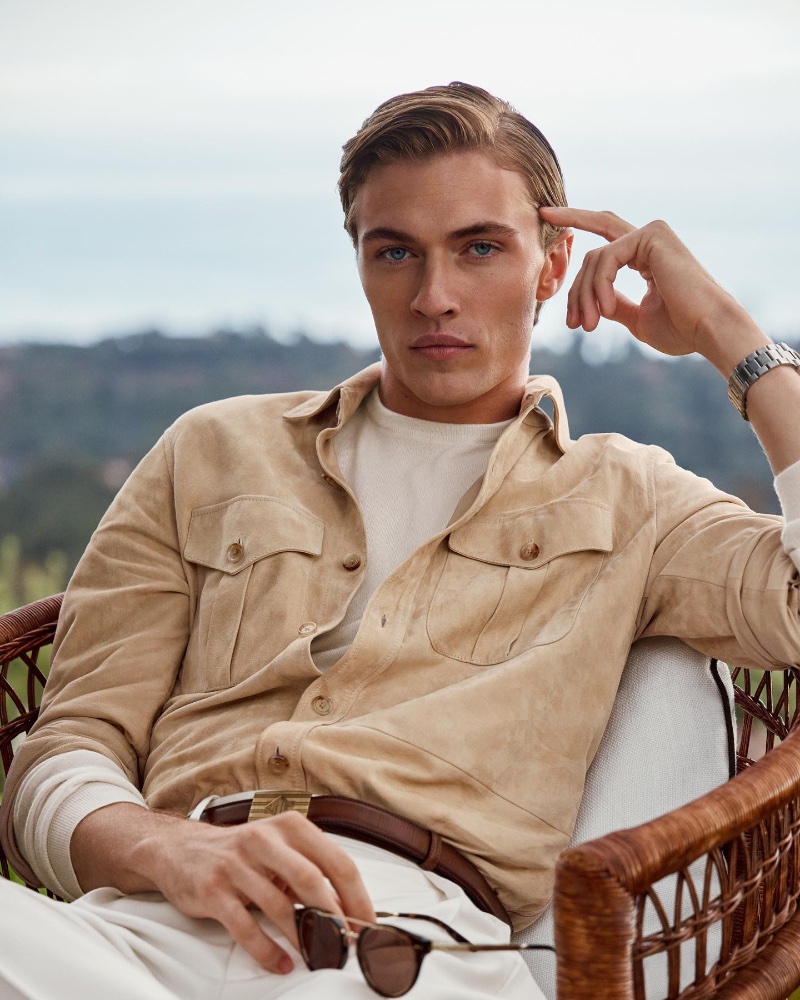 Ralph Lauren has long been a beacon of American sartorial sensibilities, capturing the essence of the American dream in each thread and stitch. While Polo remains a preppy cornerstone, the brand showcases its range through multiple labels, each with a unique aura.
For men interested in a more luxurious and precisely crafted aesthetic, Ralph Lauren Purple Label sits atop the brand's offerings like a crown jewel. The suits are sartorial sculptures that convey power, poise, and understated sophistication.
But for those with a penchant for rustic yet refined styles that draw from America's rich history, RRL serves as another magnetic pull within the Ralph Lauren universe. Named after Ralph and Ricky Lauren's Colorado ranch, RRL delves deep into Americana, offering vintage-inspired denim, workwear, and accessories.
Rick Owens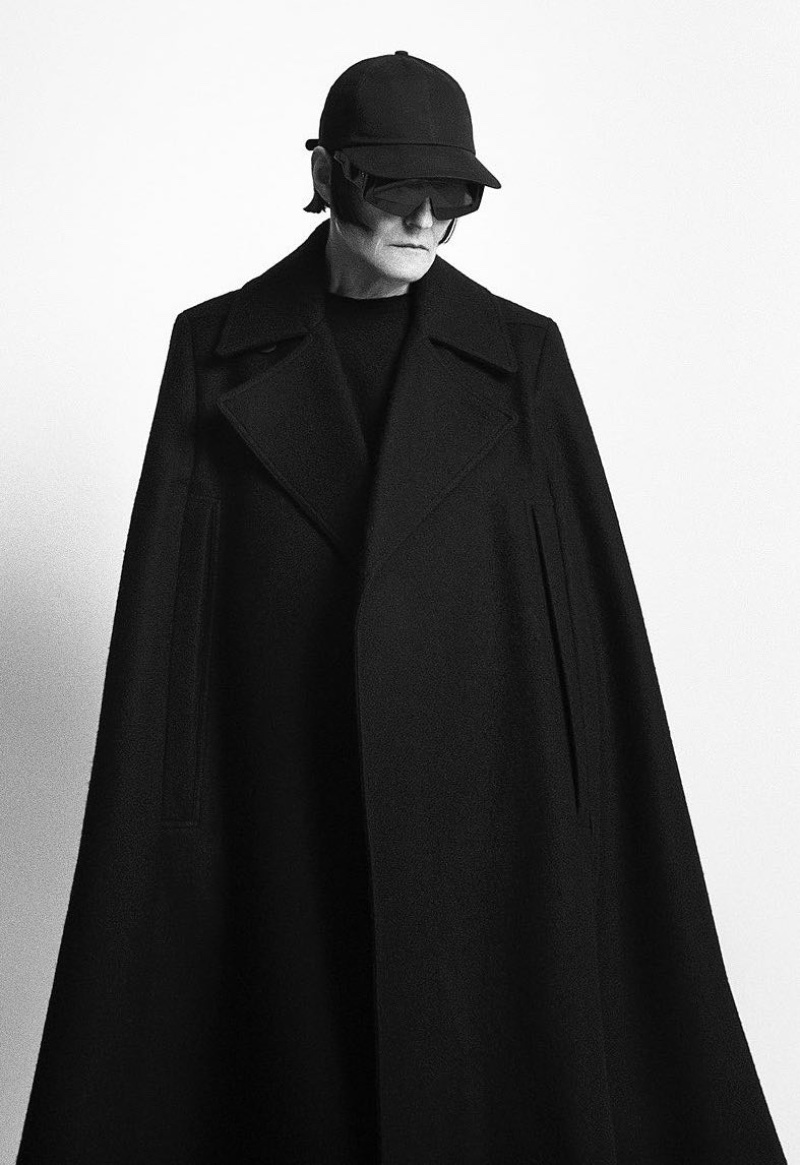 Rick Owens, the maverick of modern fashion, has carved a unique niche in the industry with his dark, avant-garde aesthetic. Born in California and based in Paris, Owens brings a sense of artistic rebellion to men's fashion.
Owens' designs since 1994, often characterized by monochromatic palettes and unconventional silhouettes, defy traditional norms, making a bold statement for those who revel in pushing the boundaries of style. Owens' fearless approach to fashion has earned him a dedicated following among men who appreciate his unapologetically edgy vision.
Roberto Cavalli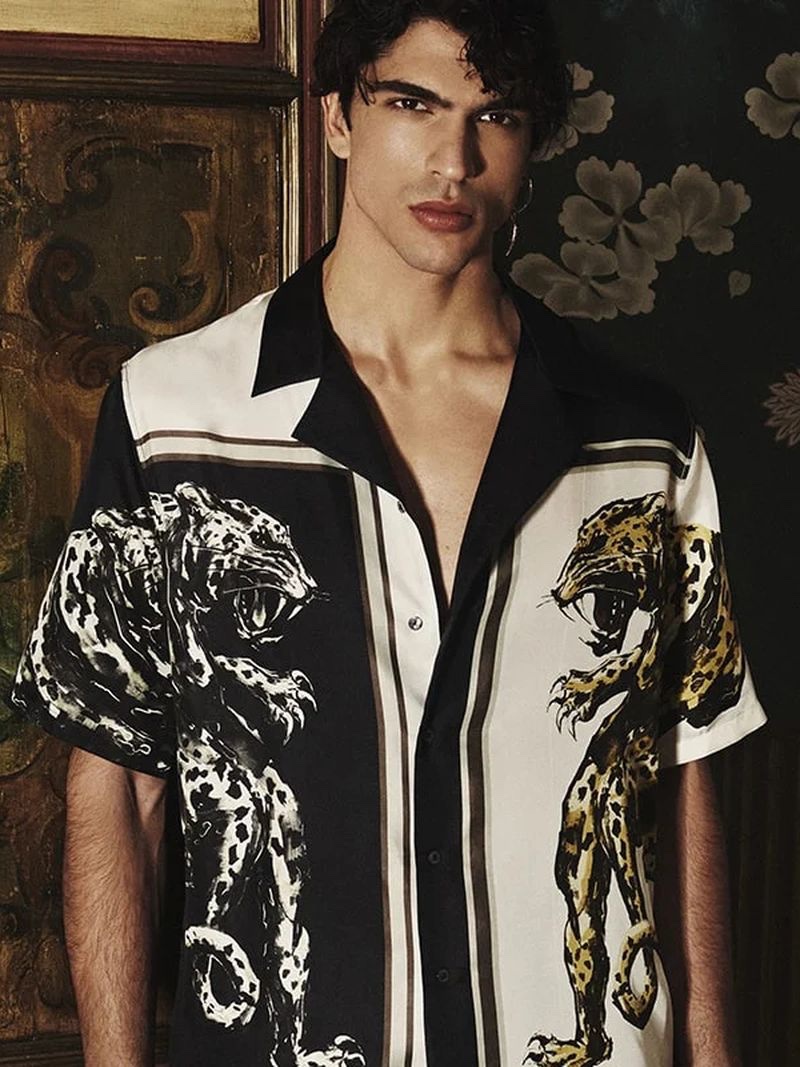 The iconic Italian fashion house Roberto Cavalli has been a symbol of bold, exotic prints and luxurious creations since its inception. Founded by the eponymous designer in 1970, the brand quickly gained recognition for its flamboyant style, epitomized by animal prints, leather, and embellishments.
Over the years, Roberto Cavalli has evolved under the guidance of various creative directors, each leaving their mark on the brand's unique aesthetic. Peter Dundas, who served as the creative director from 2015 to 2017, brought a sense of bohemian glamour to the label, infusing it with a free-spirited vibe.
Dundas was succeeded by Paul Surridge, who took the reins from 2017 to 2019, steering the brand toward a more modern and streamlined direction. Fausto Puglisi, appointed as the creative consultant in 2020, contributed to the brand's evolving identity.
In 2023, Paul Surridge returned as the creative director, bringing his expertise to reinvigorate Roberto Cavalli's distinctive style.
Saint Laurent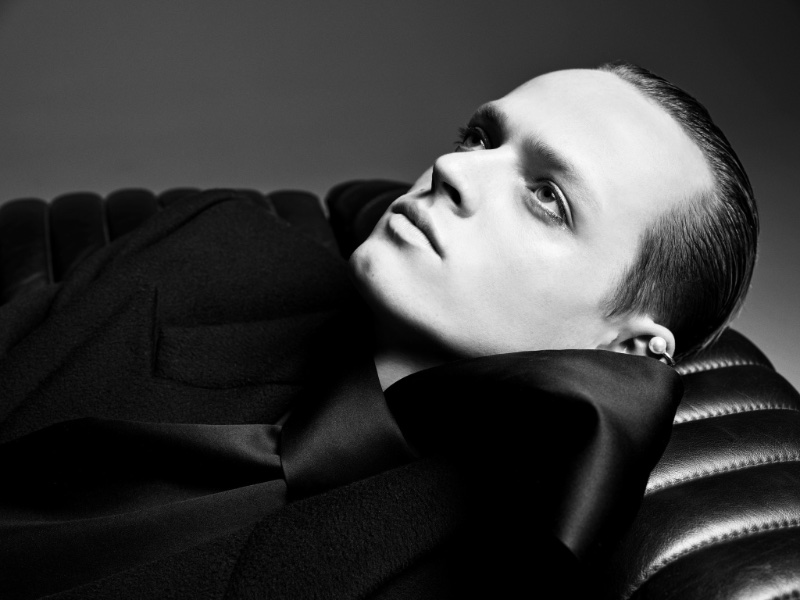 Making its grand entrance in 1961, Yves Saint Laurent emerged as a force in ready-to-wear fashion, later adding a beauty segment managed by L'Oreal. The brand's gold logo, a vertical interlocking of Y, S, and L, symbolizes its fusion of '90s nostalgia and modern sensibilities.
This unique blend results in garments that are as singular as sophisticated. A transformative chapter in the brand's narrative came in 2012 when Hedi Slimane stepped in as creative director and rebranded Yves Saint Laurent to Saint Laurent Paris.
This era soaked the brand in Slimane's rock 'n' roll glamour, refashioning the Parisian maison from the ground up. The torch was passed to Anthony Vaccarello in 2016, who has upheld and elevated the brand's reputation.
In Vaccarello's inaugural year, the brand witnessed a staggering revenue surge of over 25.3 percent. Under Vaccarello's direction, Saint Laurent continues to encapsulate a magnetic allure, seamlessly uniting legacy with innovation.
Stone Island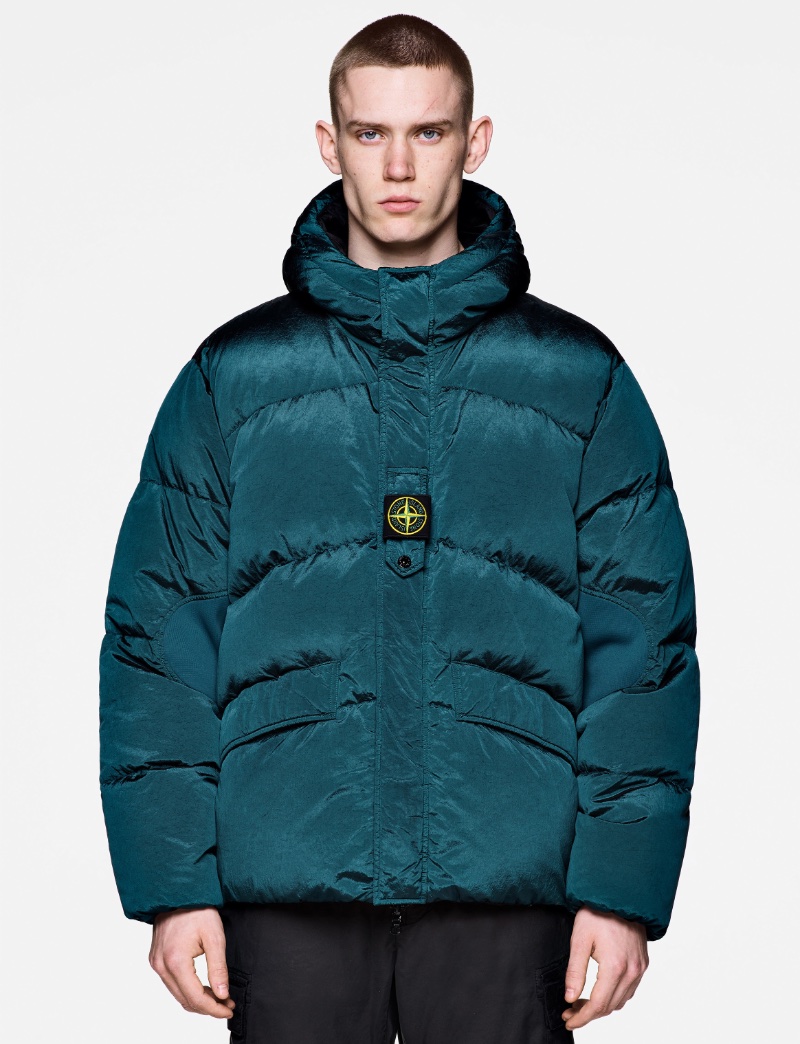 Stone Island, a brand synonymous with innovation and technical expertise in menswear, was established in 1982 in Italy by the visionary designer Massimo Osti. From its inception, Stone Island has been a pioneer in pushing the boundaries of what clothing can achieve, particularly in fabric technology and performance.
Central to the brand's identity is its commitment to research and development, resulting in the creation of innovative materials and treatments. Stone Island's iconic compass logo, displayed prominently on its garments, represents its unwavering dedication to exploration and experimentation.
Stone Island's dedication to innovation has led to groundbreaking advancements, such as garments made from heat-sensitive fabric that change color in response to temperature variations or highly reflective materials for enhanced visibility. These technical achievements have made Stone Island a favorite among outdoor enthusiasts and garnered a dedicated streetwear following.
Thom Browne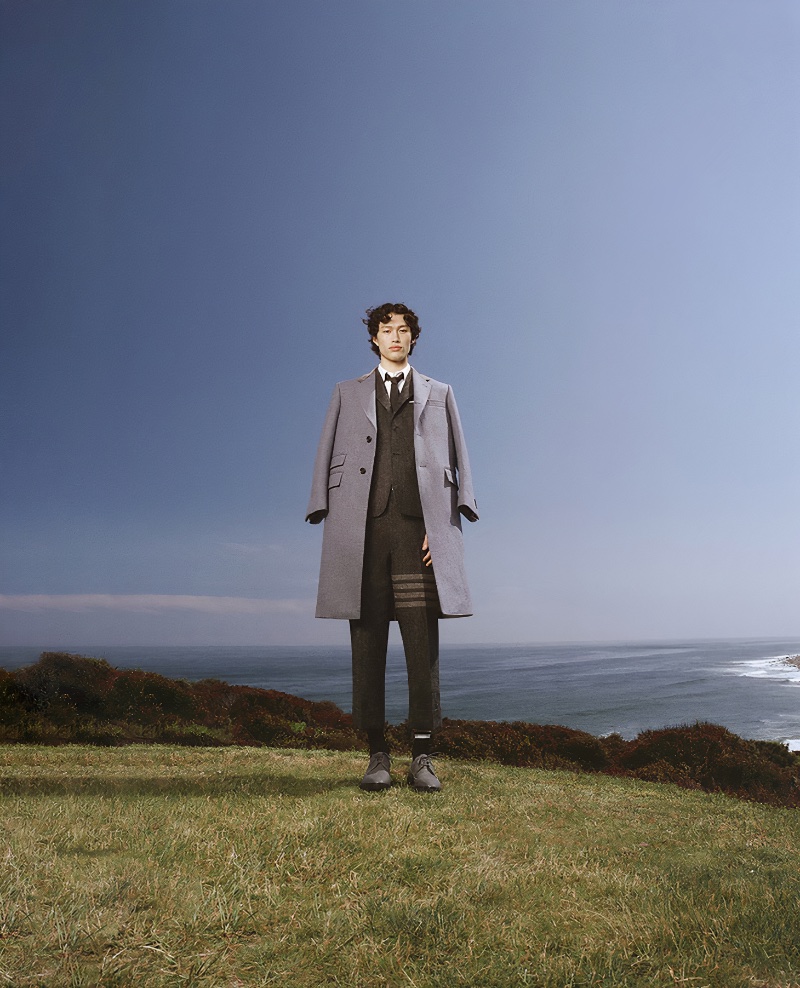 Thom Browne, a visionary in men's fashion, is renowned for his distinct take on traditional tailoring. His eponymous brand, founded in 2001, has made waves with its iconic skinny gray suit, a design that challenged the conventional silhouette of menswear.
Browne's signature gray suit, characterized by its cropped pants and shrunken blazers, breathed new life into classic tailoring, propelling the designer to the forefront of American fashion. Browne's meticulous attention to detail and commitment to craftsmanship have become hallmarks of his work.
In 2018, the Ermenegildo Zegna Group acquired an 85% stake in the Thom Browne brand, with Thom Browne holding the remaining 15% stake. This strategic partnership allowed Browne to continue as the brand's chief creative officer while gaining access to Zegna's expertise in fabrics, manufacturing support, and global reach to expand its retail network.
Tod's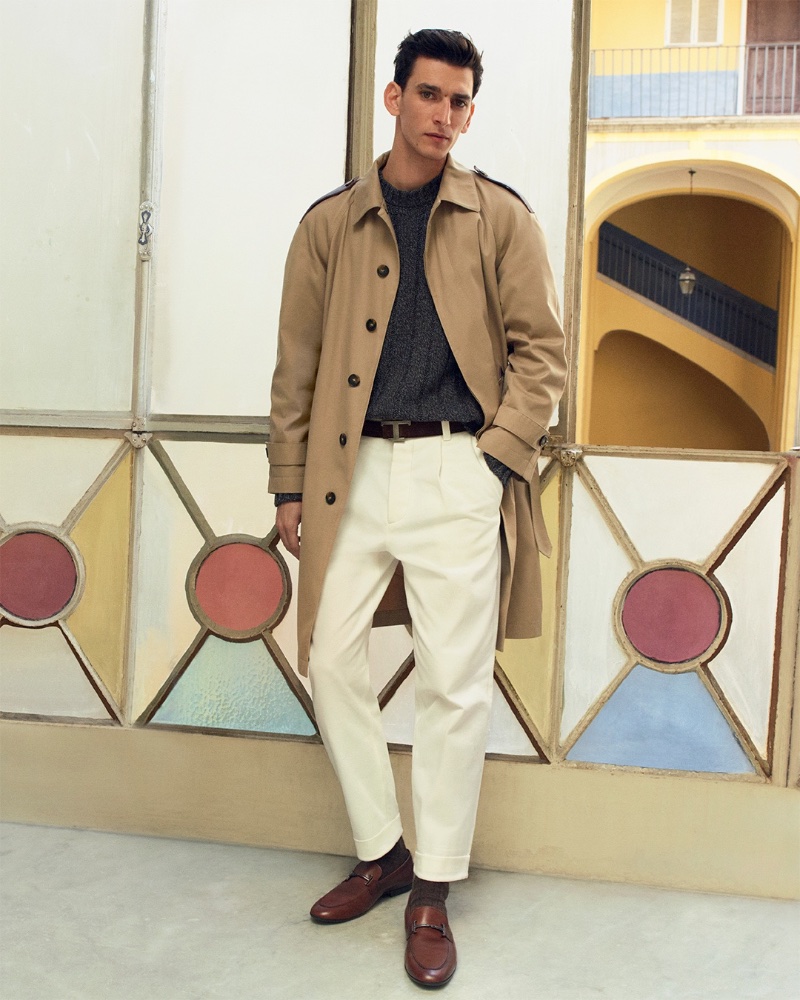 Tod's, the Italian luxury brand, has long been celebrated for its impeccable craftsmanship and timeless designs. Founded in 1900 by Diego Della Valle, the brand quickly became a symbol of Italian elegance and quality.
At its core, Tod's is known for its exceptional leather goods, particularly its iconic driving shoes, which blend comfort and style effortlessly. These shoes, characterized by their signature pebble sole, have become a symbol of casual sophistication.
Over the years, Tod's has expanded its product offerings to include a range of clothing and accessories. Tod's has also welcomed various creative directors who have added unique touches to the brand's heritage.
While maintaining its focus on traditional Italian craftsmanship, Tod's has stayed relevant in the ever-evolving fashion industry.
Tom Ford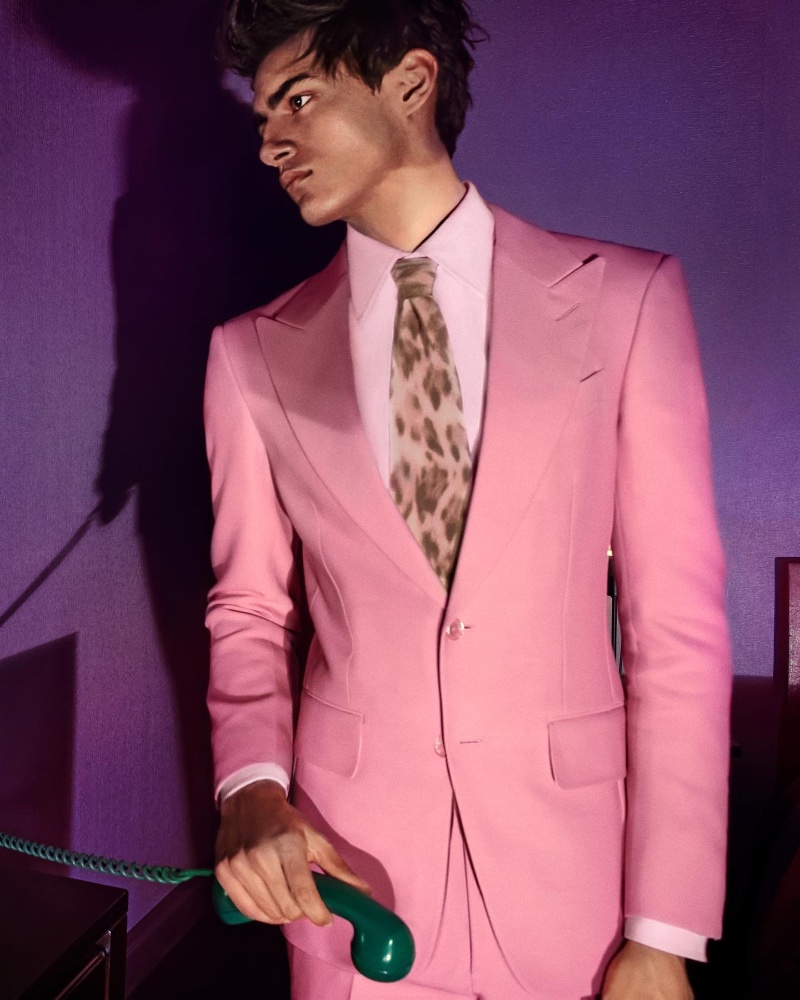 Tom Ford, a name synonymous with sophistication and timeless elegance, made an unforgettable mark on the fashion industry with the 2005 founding of his eponymous label. His departure from the brand in 2023 marked the end of an era in luxury fashion.
Known for his impeccable tailoring, exquisite craftsmanship, and penchant for the sensual, Ford elevated men's fashion to an art form. His designs exuded an aura of refined masculinity, appealing to the modern man who sought to blend classic style with contemporary sensibilities effortlessly.
Valentino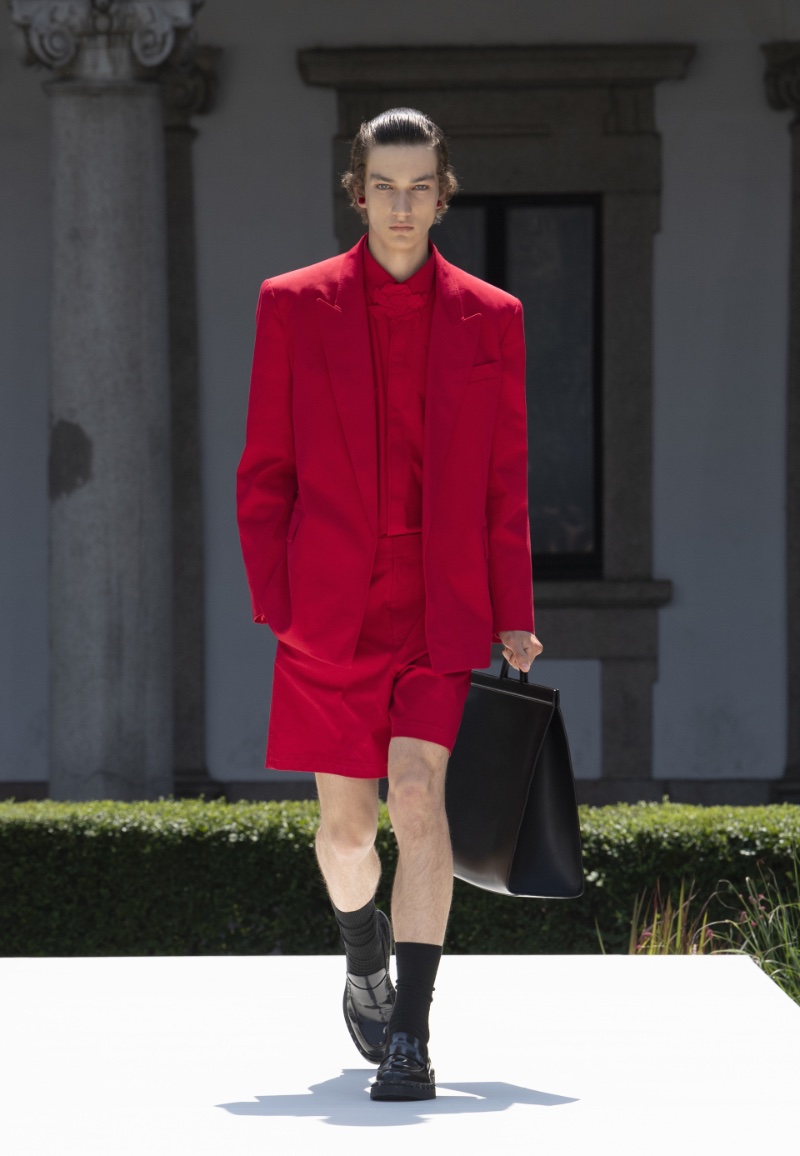 Valentino, synonymous with timeless elegance and luxury, has been a pillar of Italian fashion since its inception in 1960 by the legendary designer Valentino Garavani. The brand is celebrated for its exquisite craftsmanship, meticulous attention to detail, and commitment to creating clothing that embodies the essence of Italian style.
Valentino's menswear collections are a testament to the brand's dedication to sartorial excellence, offering a refined and sophisticated aesthetic that appeals to discerning men worldwide. Under the creative direction of Pierpaolo Piccioli since 2016, Valentino has continued to evolve while staying true to its heritage of luxury and glamour.
Versace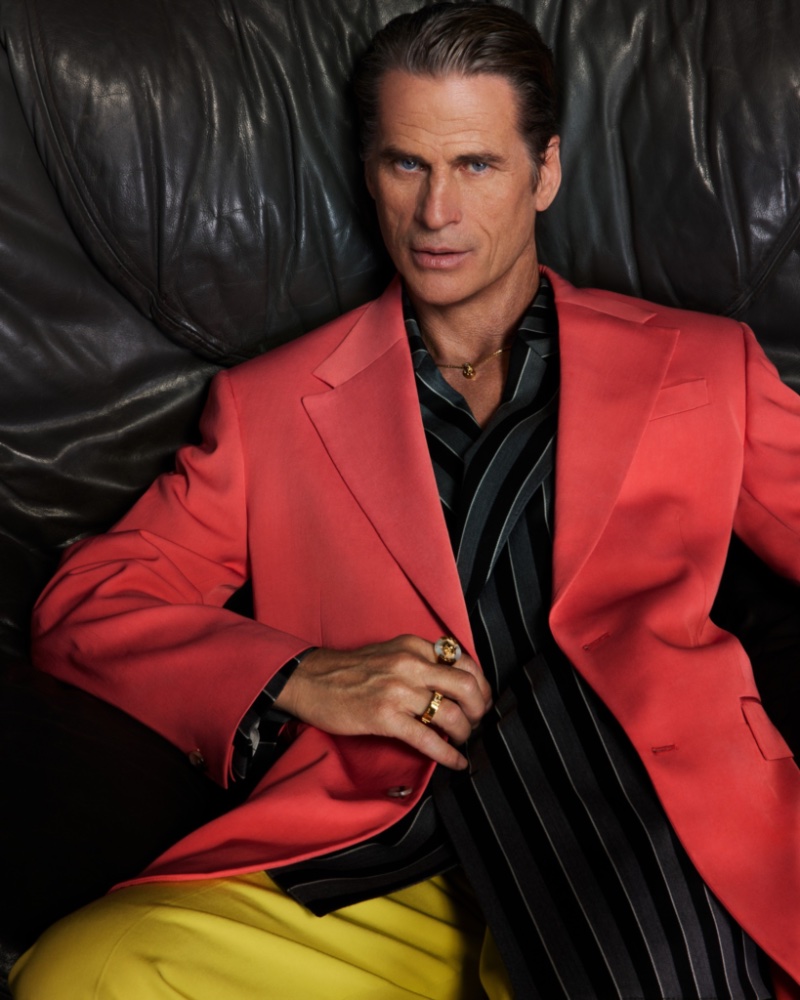 Versace is a vibrant language for those who speak bold and refined tones. Founded in 1978 by the late Gianni Versace, the fashion house remains anchored by his sister, creative director Donatella Versace, and his brother, CEO Santo Versace.
Together, they've built an indelible legacy that's even been embraced by cultural titans like Michael Jackson. When it comes to the Versace man, envision a sartorial stage illuminated by opulence and audacity, where luxurious fabrics boast the brand's signature Medusa and Greca motifs.
This character shines through their expansive offerings, from impeccably tailored suits and intricate silk shirts to statement accessories and evocative fragrances. In the world of Versace, the man who dons these pieces doesn't just wear fashion—he embodies a daring luxury.
Yohji Yamamoto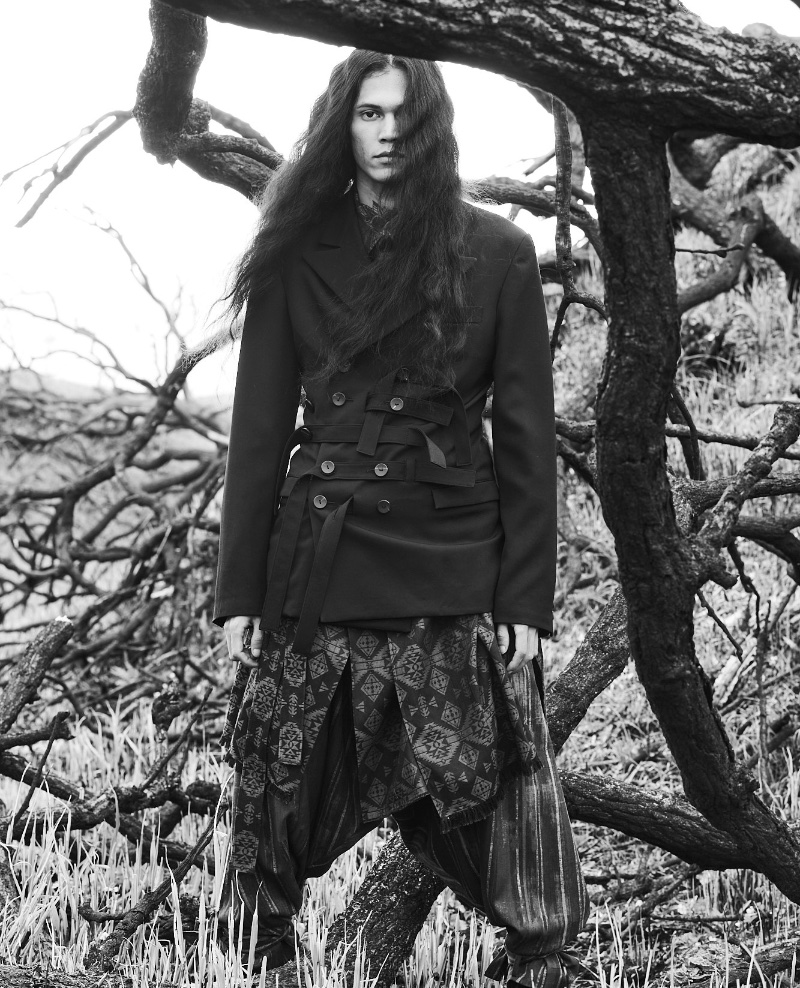 Yohji Yamamoto, a true maverick in the fashion world, has carved out a distinctive niche that defies conventions. Since founding his eponymous brand in 1972, this Japanese designer has consistently pushed boundaries, challenging established norms and championing a style characterized by avant-garde and oversized silhouettes.
Yamamoto's designs reflect the idea that clothing should transcend mere aesthetics, conveying deeper emotions and stories. Yamamoto's commitment to craftsmanship and his penchant for black as a canvas have become iconic elements of his work.
Throughout his career, Yamamoto has also ventured into collaborations, notably joining forces with Adidas to create the Y-3 line, which seamlessly blends high fashion with sportswear influences.
Zegna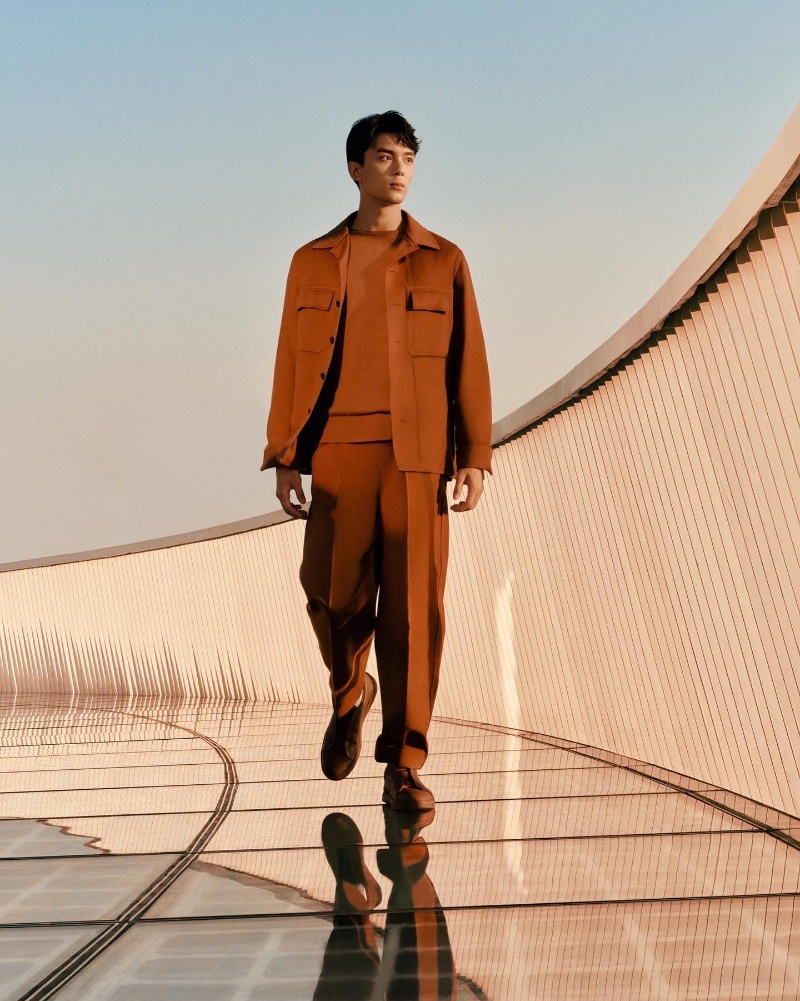 Zegna, known initially as Ermenegildo Zegna, presents a masterclass in understated elegance. Launched in the fabric-obsessed corners of Italy in 1910, this brand crafts minimalist designs that skillfully dodge the extravagance of flashy logos.
Zegna is a sanctuary for men who lean toward the subtle intricacies of style over overt showmanship. The label's artistic director, Alessandro Sartori, orchestrates this atmosphere with a deft touch, paying homage to tradition while steering the brand into contemporary waters.
This marriage of old and new can also be seen in the brand's environmental initiative, Oasi Zegna. A testament to Zegna's commitment to sustainability and environmental stewardship, Oasi Zegna is a nature reserve supported by the brand.
Oasi Zegna stretches 100 square kilometers in the Alpine hills, symbolizing the brand's dedication to natural beauty and Italian heritage. Even within its fashion collections, the ethos of Oasi Zegna—respect for nature and tradition—is reflected through the fibers, underscoring the brand's holistic approach to luxury.
Luxury Designer Clothing Brands at a Glance
Men's luxury fashion spotlights not merely brands but the leaders of style—from Prada's narrative-rich designs to Tom Ford's polished opulence and AMI Paris's understated elegance. As this chapter concludes, we hover between the time-honored and the groundbreaking.
Consider Saint Laurent, where the spirit of rock 'n' roll gets tailored into every seam, or Bottega Veneta's harmonious blend of classic artisanship and present-day aesthetics. Berluti's shoemaking virtuosity endures, as does Etro's spirited kaleidoscope of design, transcending mere trends to etch their marks on cultural memory.
Rather than serving as endpoints, the exits of titanic creative directors, like Sarah Burton at Alexander McQueen, forecast fresh beginnings for luxury designer brands. Every meticulously crafted garment in this evolving landscape of luxury invites men to articulate their narratives, fanning the undying allure of designer fashion into a ceaseless blaze.