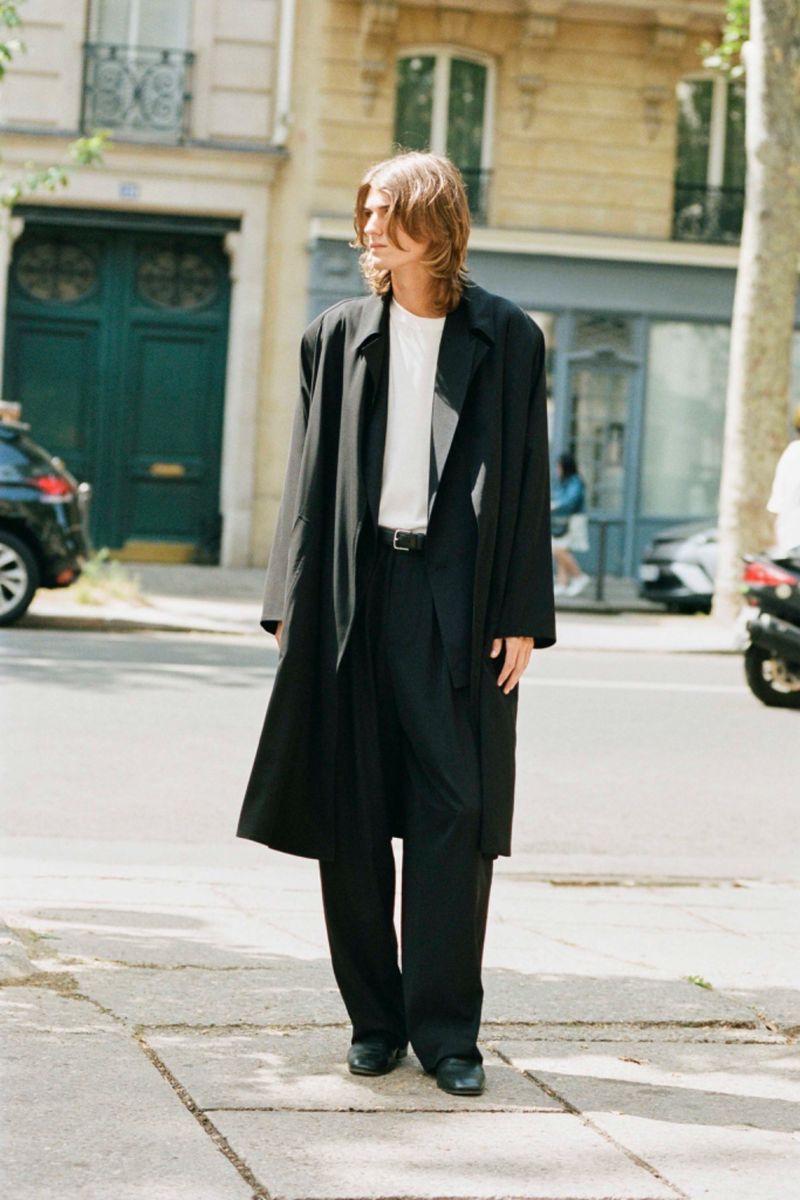 Minimalism is more than a fashion trend; it is a philosophy, a mindset, a style of living. It emphasizes purity, simplicity, and the celebration of 'less is more.' The minimalist style for men manifests as an aesthetic that prioritizes form, functionality, and understated elegance over excess and flamboyance.
This narrative takes us through the understated heart of men's fashion, offering a comprehensive exploration of minimalism's history, key figures, and defining characteristics. In an era increasingly drawn to extravagance, it's an homage to the subtle elegance of simplicity.
Unpacking the principles that shape minimalist design—form, functionality, and an uncomplicated allure that finds beauty in basics—this narrative introduces us to an approach that reveres 'less is more.' Further, it acquaints us with various brands championing this stripped-back narrative, pushing boundaries, and setting trends with their pared-down collections.
What Defines Minimalist Style for Men?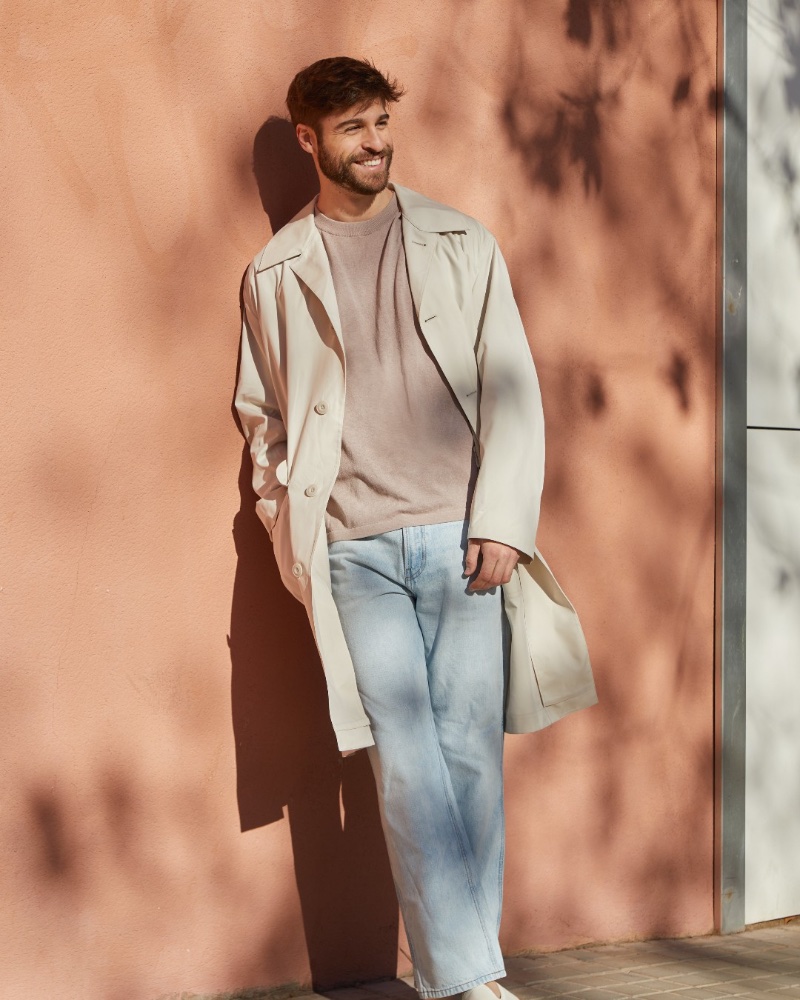 Several essential elements define men's minimalist style, including clean lines, balanced movement, thoughtful texture combinations, manipulated volume and proportion, and the strategic use of color.
Pure Lines: The Art of Simplicity
The minimalist aesthetic hinges on the concept of simplicity. Clean, structured lines are a vital component of minimalist fashion. Whether it's a crisp button-down shirt, a tailored suit, or a sleek pair of trousers, the emphasis is always on the purity of the garment's form, devoid of unnecessary embellishment or detail.
Movement of Garments: Balance of Structure & Fluidity
Minimalism is not just about rigidity; it also acknowledges the importance of movement and fluidity. The balance between structured pieces and those with a more relaxed fit is vital to the minimalist aesthetic. This balance could manifest as a structured blazer paired with relaxed-fit trousers, creating a harmonious blend of rigidity and flexibility.
Texture Combinations: Adding Depth & Interest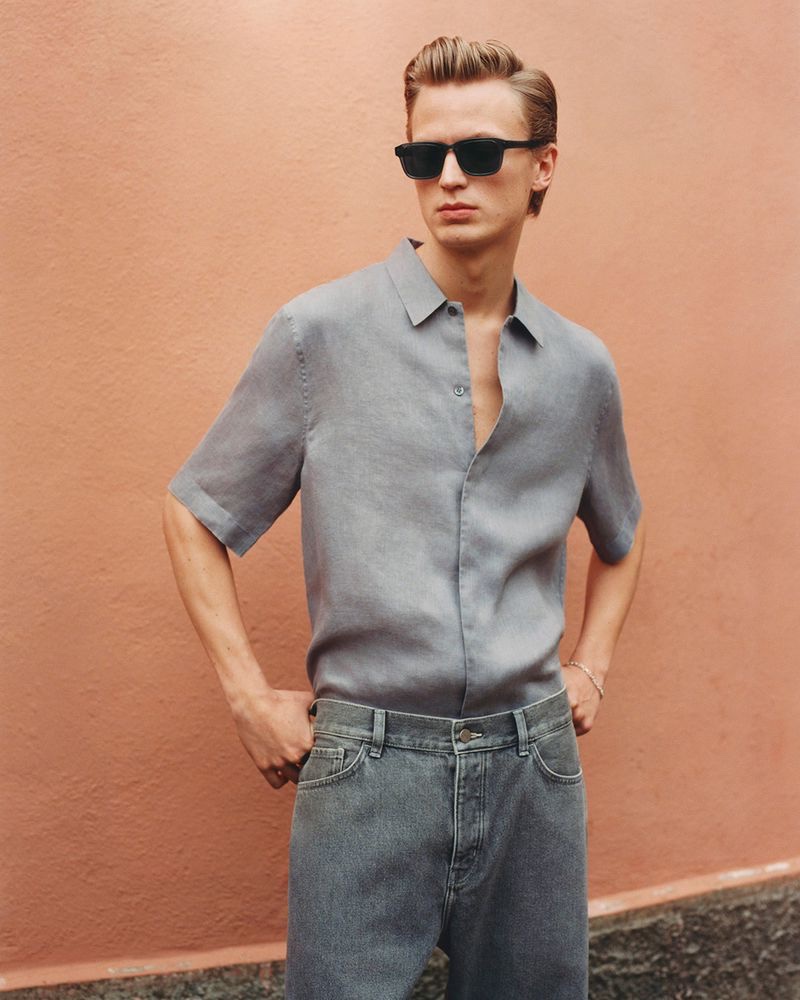 While minimalist design shies away from patterns and prints, it utilizes texture to add depth and interest. The combination of different materials—say, the smoothness of silk against the ruggedness of denim can create a visually appealing contrast, enhancing the minimalist aesthetic's visual impact.
Volume & Proportion: The Game of Shapes
Another fundamental principle in minimalist fashion is the manipulation of volume and proportion. It's about playing with shapes and forms to create visual interest without relying on excess. For instance, oversized coats paired with slim-fit trousers or boxy shirts paired with fitted jeans are excellent examples of this principle.
The Power of Color: The Dominance of Neutrals
Color plays a significant role in the minimalist aesthetic, with neutrals dominating the palette. Black, white, grey, beige, and navy are commonly used, creating a calming, cohesive look. These colors' versatility makes them ideal for creating a functional capsule wardrobe—another nod to the minimalist philosophy.
Minimalistic Style: Purity & Simplicity in Design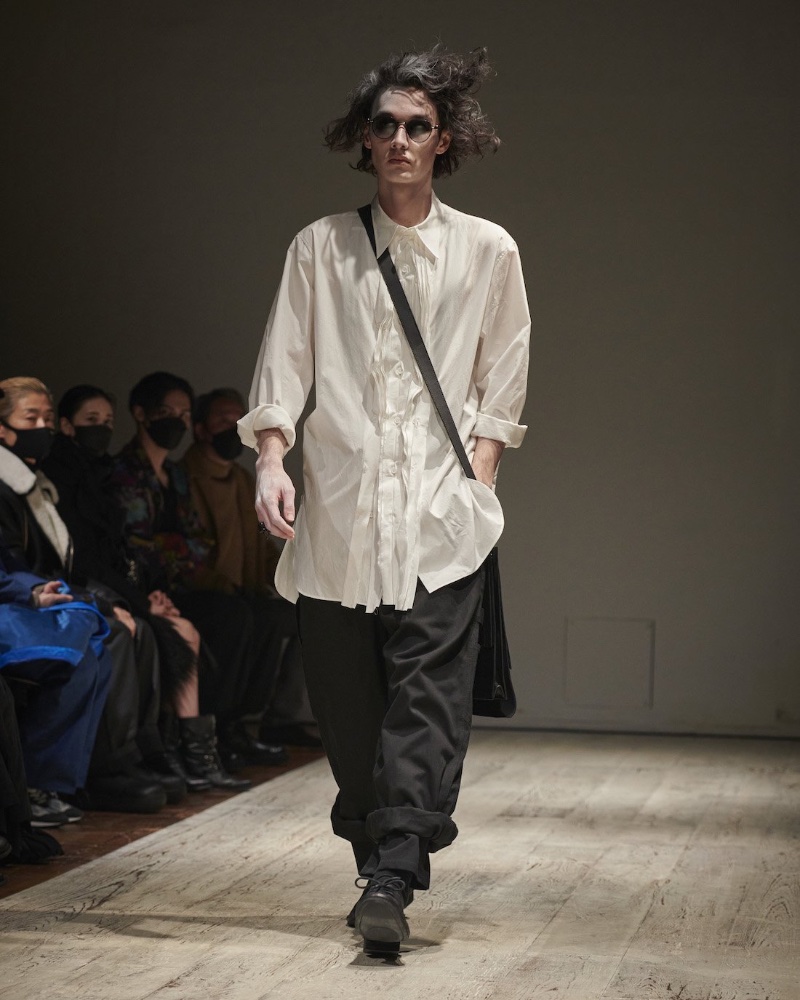 Minimalism in fashion took root during the post-war period, when a yearning for simplicity, functionality, and a fundamental approach to life was prevalent. Key designers from Japan, Europe, and America adopted this spirit and incorporated it into their design ethos.
Figures of profound influence, such as Yohji Yamamoto, Rei Kawakubo, Jil Sander, Maison Margiela, Helmut Lang, and Calvin Klein, played a significant role in the minimalist fashion narrative. Each, with their distinct outlook and cultural imprint, has enriched the minimalist aesthetic, making it a compelling facet of the global fashion landscape.
Yohji Yamamoto
Japanese designer Yohji Yamamoto holds a prominent position in men's minimalist fashion. He's known for his oversized silhouettes and devotion to black, creating an aesthetic that feels both stark and profound.
Yamamoto's designs draw heavily from traditional Japanese clothing, with garments that often resemble kimonos or samurai outfits. His style gives a new definition to minimalism, expressing a distinctive, elegant simplicity that never feels drab or lifeless.
Maison Margiela
Maison Margiela, a French fashion house founded by Martin Margiela, is another big name in minimalist fashion. The label is well known for its deconstructionist approach, creating designs that strip away the unnecessary and focus on the fundamental elements of the garment. Despite their simplistic exterior, each piece is often intricately constructed, emphasizing the importance of craftsmanship and attention to detail in a minimalist fashion.
Rei Kawakubo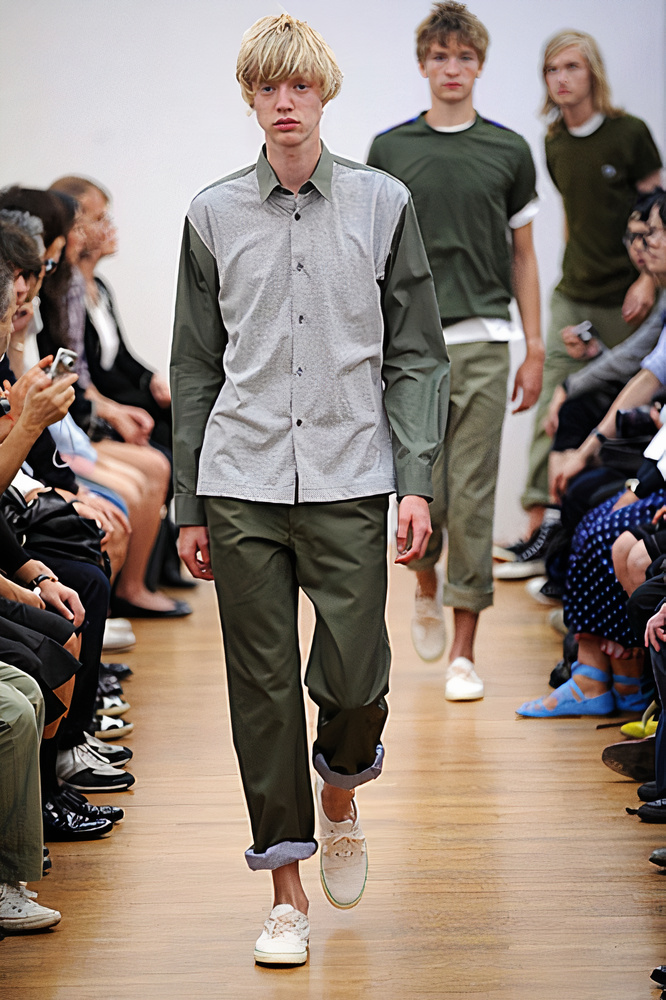 Rei Kawakubo, another influential designer from Japan and founder of Comme des Garçons, has left her indelible mark on the minimalist fashion scene. Stark black-and-white color schemes, unconventional shapes, and a distinct lack of ornamentation characterize her minimalist work.
Kawakubo's designs are about more than just the clothes themselves—they often challenge societal norms and push the boundaries of what is traditionally considered "fashion." She once said, "I work in three shades of black," highlighting her dedication to simplicity and rejection of excess.
Helmut Lang
Austrian designer Helmut Lang brought an avant-garde edge to minimalism in the 90s. His designs were marked by monochromatic palettes, precise cuts, and high-tech fabrics, which earned him a reputation for forward-thinking style. Lang's work played with proportions and structures, presenting a more aggressive form of minimalism that retained an understated elegance.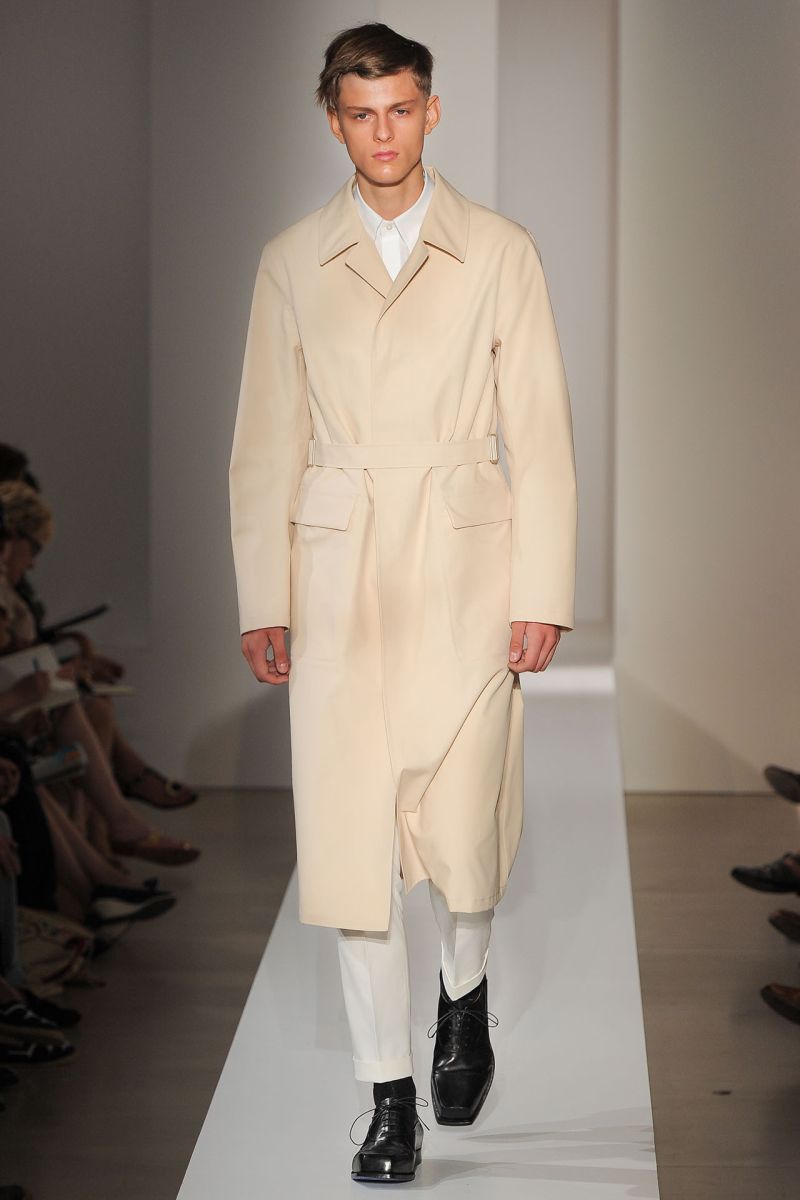 Jil Sander
Known as the 'Queen of Less,' German designer Jil Sander made a career from her pared-down aesthetic. Clean lines, muted colors, and high-quality materials marked her collections.
Sander's designs prioritize form and function, evident in her simplistic yet striking menswear. Her uncomplicated designs made her a favorite among those seeking minimalist style without sacrificing sophistication or quality.
Calvin Klein
Lastly, American designer Calvin Klein has significantly impacted minimalist fashion. He's renowned for his clean, all-American aesthetic—simple lines, neutral colors, and a focus on comfort.
Klein's approach to design emphasized simplicity and wearability, making 90s minimalism accessible to a broader audience. His iconic ad campaigns, featuring pared-down attire against stark, empty backdrops, encapsulate his minimalist philosophy: less is indeed more.
Modern Minimalist Brands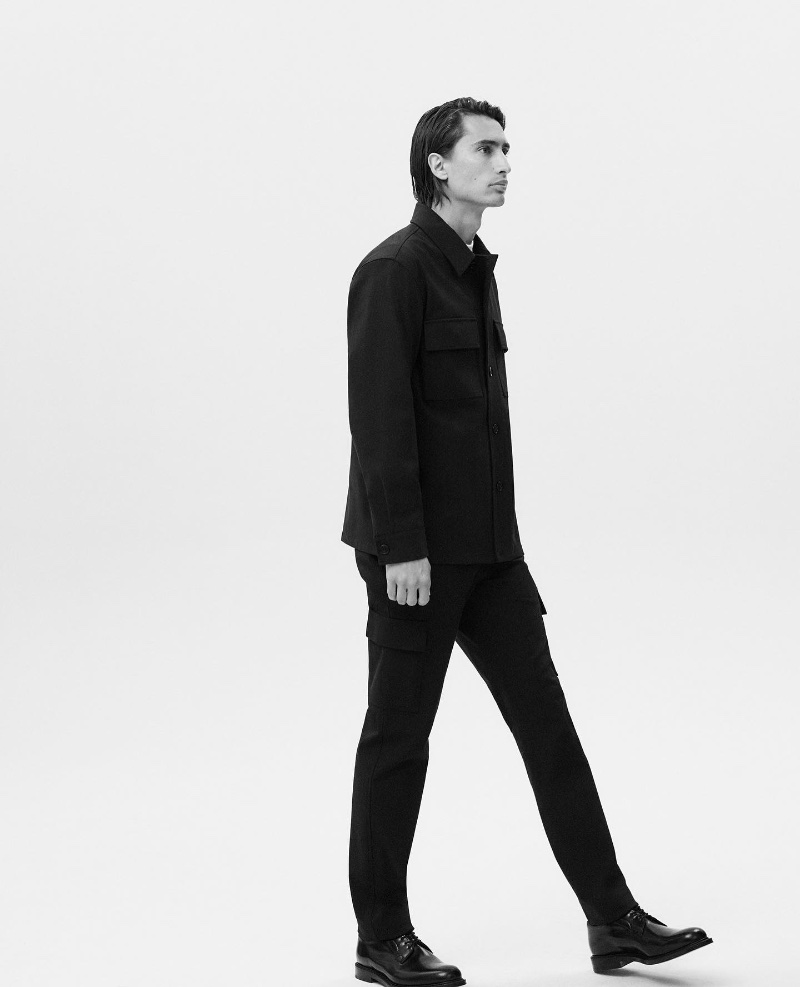 When it comes to modern minimalist fashion, there are a variety of brands available at different price points that sculpt the landscape of pure design. Minimalist style isn't about what you don't wear; it's about the eloquent silence, the comfort, and the subtle, elegant details. It's about Theory, The Row, Jil Sander, COS, and UNIQLO. Each of these brands has its unique voice within the minimalist narrative. Let's unravel the story of each.
Theory
When it comes to minimalist fashion, Theory is a trailblazer. The brand, born in New York, has a straightforward principle—clothes should make you feel good wearing them.
Their men's collection is a subtle cocktail of sharp, clean lines, muted colors, and high-quality fabrics. Take, for example, their classic dress shirts and tailored trousers. The elegance lies not in flashy patterns or loud colors but in the fit, the fabric, and the craft. Every piece from Theory says, "I am simple, but significant."
The Row
Luxury and minimalism have a unique meeting point: The Row. Conceived by the Olsen twins, The Row takes a step back from loud design into the world of understated sophistication.
The brand exudes serene comfort with its clean lines, subtle tones, and impeccable tailoring. The menswear, be it their signature cashmere knitwear or soft suiting, carries an air of quiet confidence. This is the brand for those who let their personality do the talking, not their clothes.
Jil Sander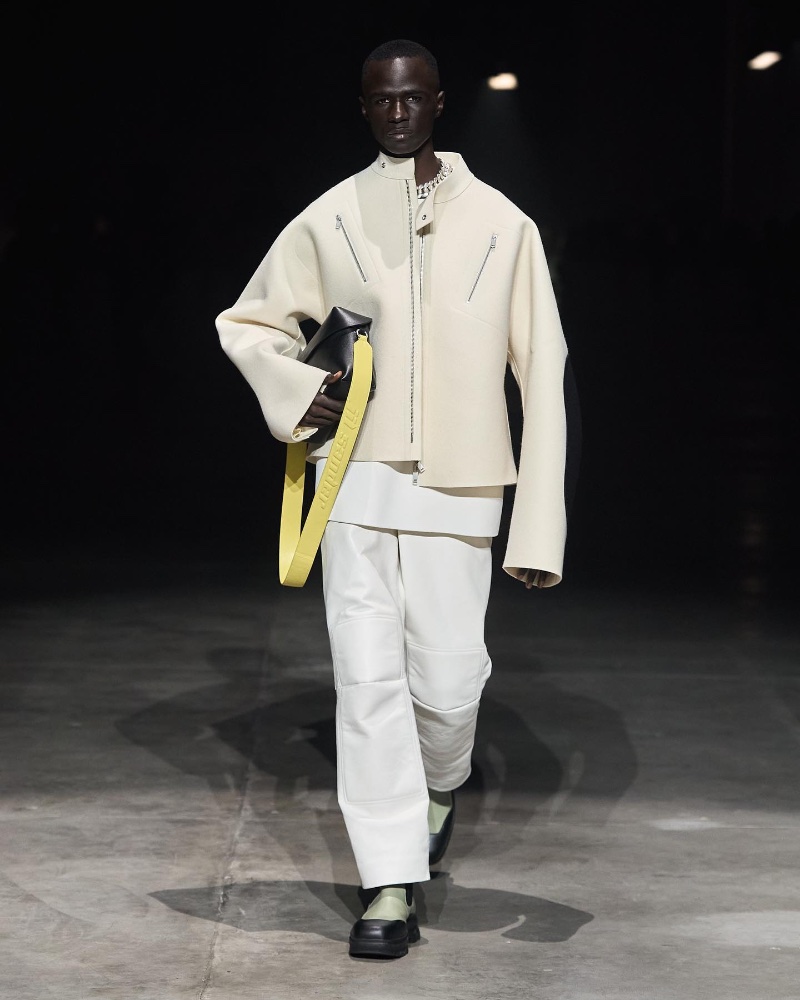 Jil Sander is another powerhouse in the realm of minimalist design. While the label may not be designed by Sander anymore, it still encapsulates her minimalist design ethos. This brand goes beyond just clothing; it encapsulates a lifestyle. It finds beauty in simplicity, championing a less-is-more philosophy.
From their impeccably cut shirts to their beautifully minimal outerwear, every piece is designed to be timeless. There's a sense of tranquil balance in Jil Sander's creations. When you wear Jil Sander, you're not just wearing a piece of clothing. You're embodying an idea, a concept of style that speaks volumes through its silence.
COS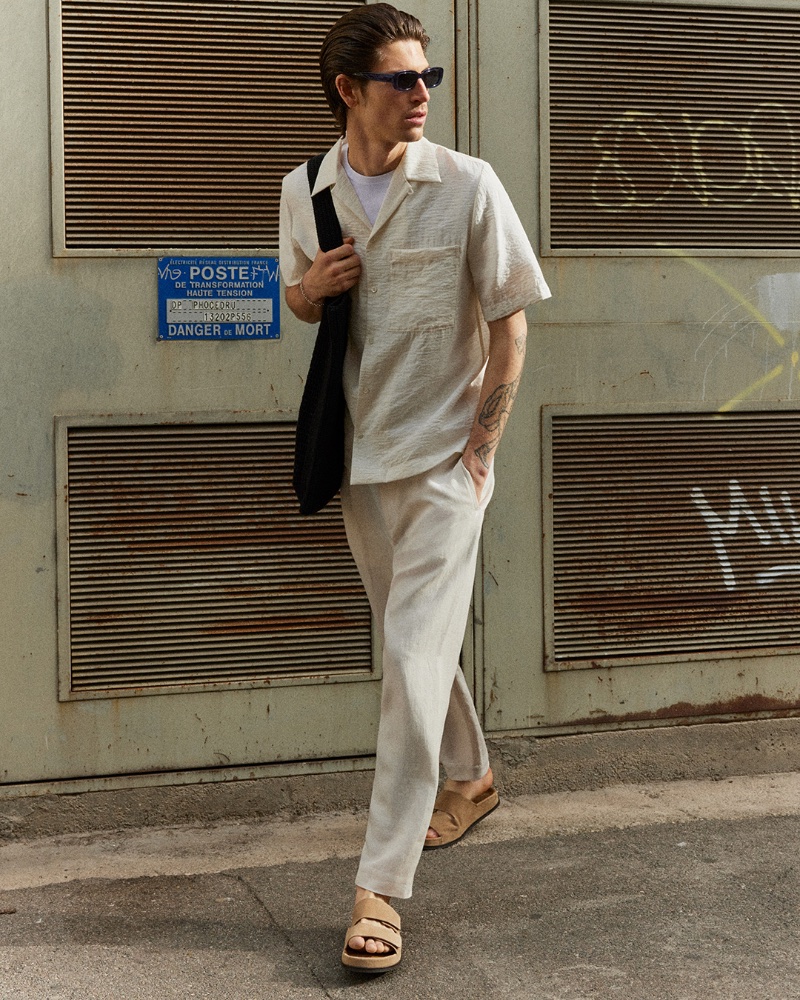 COS stands as a beacon of affordability in the world of minimalist fashion. This Swedish brand masterfully bridges the gap between quality and accessibility. Their men's line is a treasure trove of simple, functional pieces that don't compromise on style.
The designs are sleek, modern, and streamlined, whether it's their classic cotton tees or well-crafted denim. COS is where functionality meets aesthetics in a harmonious dance. It's minimalist fashion that doesn't break the bank.
UNIQLO
UNIQLO, a brand hailing from Japan, redefines simplicity with an extraordinary level of attention to detail. Their collections are a testament to minimalist principles, emphasizing functionality, quality, and affordability. The materials, the cuts, and the color palette align with a vision of simplicity.
They offer everything from basic tees and denim to their well-known Heattech and Airism ranges, known for their comfort and performance. UNIQLO is a brand that believes that less is indeed more. You'll find a celebration of simplicity in every stitch and seam.
Final Words
Minimalism in men's fashion isn't simply a passing trend—it's a philosophy, a way of life. It's a testament to the power of simplicity, the elegance of subtlety, and the depth of functionality.
As this piece details, minimalist fashion is a profound, ongoing dialogue—a testament to the design that finds strength in restraint. It reveals the remarkable talent of designers who have created beauty through simplicity and contemporary brands continuing their legacy.
Through this exploration, we discover that in minimalist fashion, less isn't merely more—less is everything. Simplicity here isn't just a style statement; it's an eloquent silence, a calm comfort, a quiet luxury, and a celebration of the uncomplicated. It's about embracing a less-is-more ethos, a lifestyle that values purity, and a style narrative as profound as it is pared down.