In a world that continually merges boundaries, the pre-fall 2024 collection by Louis Vuitton emerges as an adaptable titan, redefining the rules of menswear. An offering from the dedicated in-house men's design team, Studio Prêt-à-Porter Homme, the collection strikes a chord with the modern man's need for a wardrobe that embraces fluidity and transition.
The season confronts the stark illustrations of professional and casual dress codes, harmonizing these different worlds into a unified, fresh aesthetic. This vision comes alive in the reinterpretation of Louis Vuitton's signature Epi leather. Corduroy-like slashes interrupt the pristine texture, breathing transformative energy into men's suiting and bomber and pilot jackets.
The iconic monogram of Louis Vuitton features prominently, embossed on statement outerwear. The antiquated office with a set design by Sophear Van Froment becomes the backdrop for this innovative display, evoking a rebellious spirit that rebels against uniformity and traditional constraints.
Louis Vuitton Pre-Fall 2024 Collection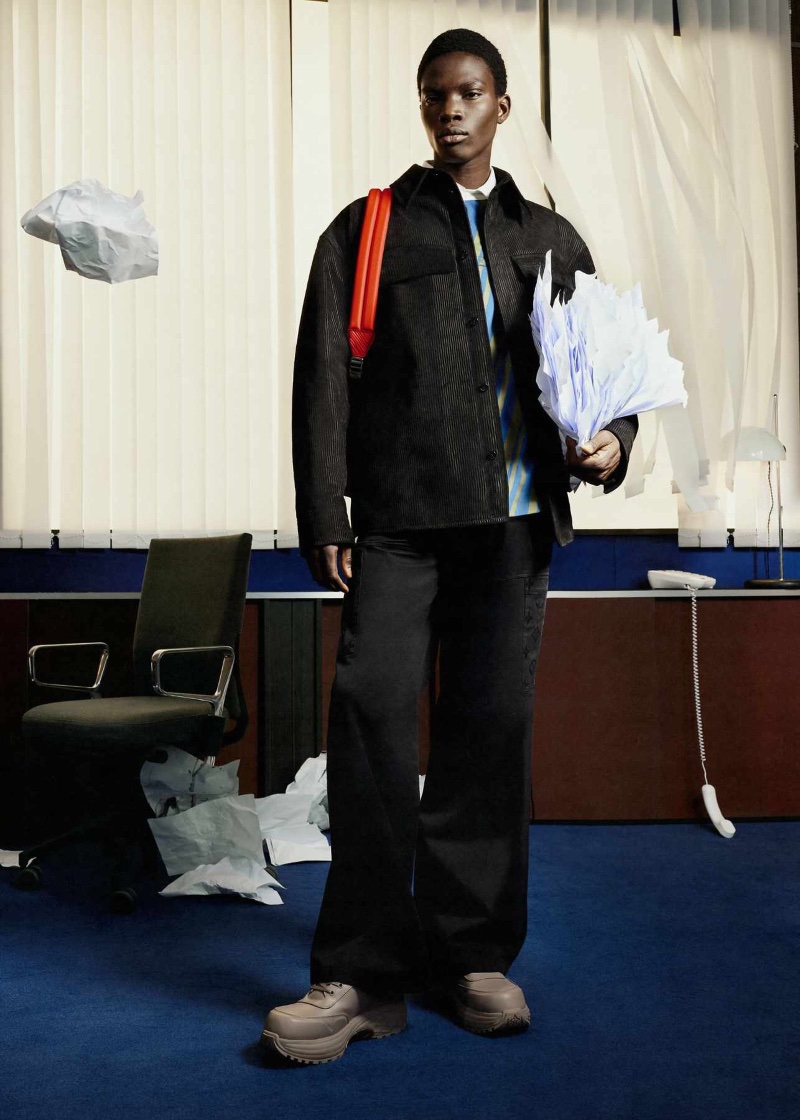 Dan Beleiu photographs Louis Vuitton's vision for the season, collaborating with art director Lucie Matussiere and capturing models Dara Gueye, Hedi Ben Tekaya, and Jay Jang. The trio embodies the fashion house's modern man as they don menswear styled by Marq Rise.
Denim sets emerge in this collection as unconventional champions. Adorned with intricate botanical artwork, these pieces paint a new narrative for work attire—where casual comfort melds seamlessly with a sophisticated aesthetic.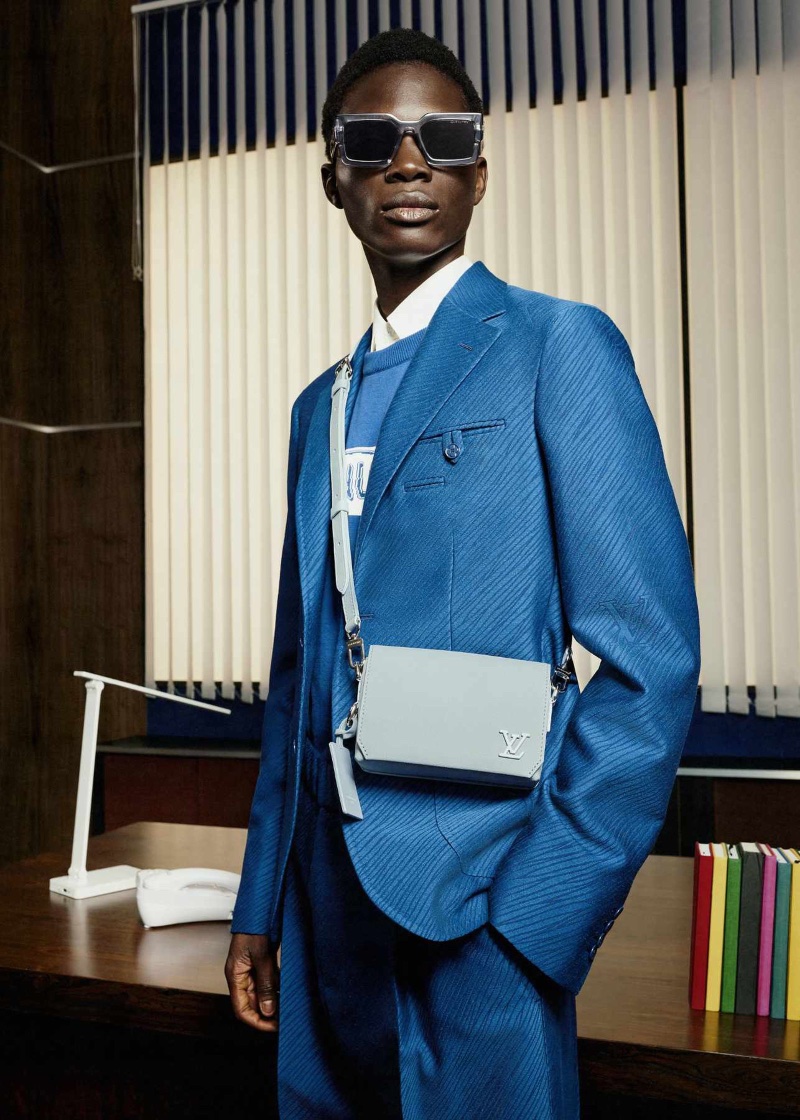 In this collection, even the accessories bear the mark of innovation. Louis Vuitton's Epi leather evolves into a striking Maxi Epi texture, applied to the Christopher backpack, Alma bowling bag, Monceau shoulder bag, Steamer bag, and Polochon tube bag. Bold and unapologetic in colors like light blue, olive green, and taupe, these bags highlight Louis Vuitton's mastery of leatherwork.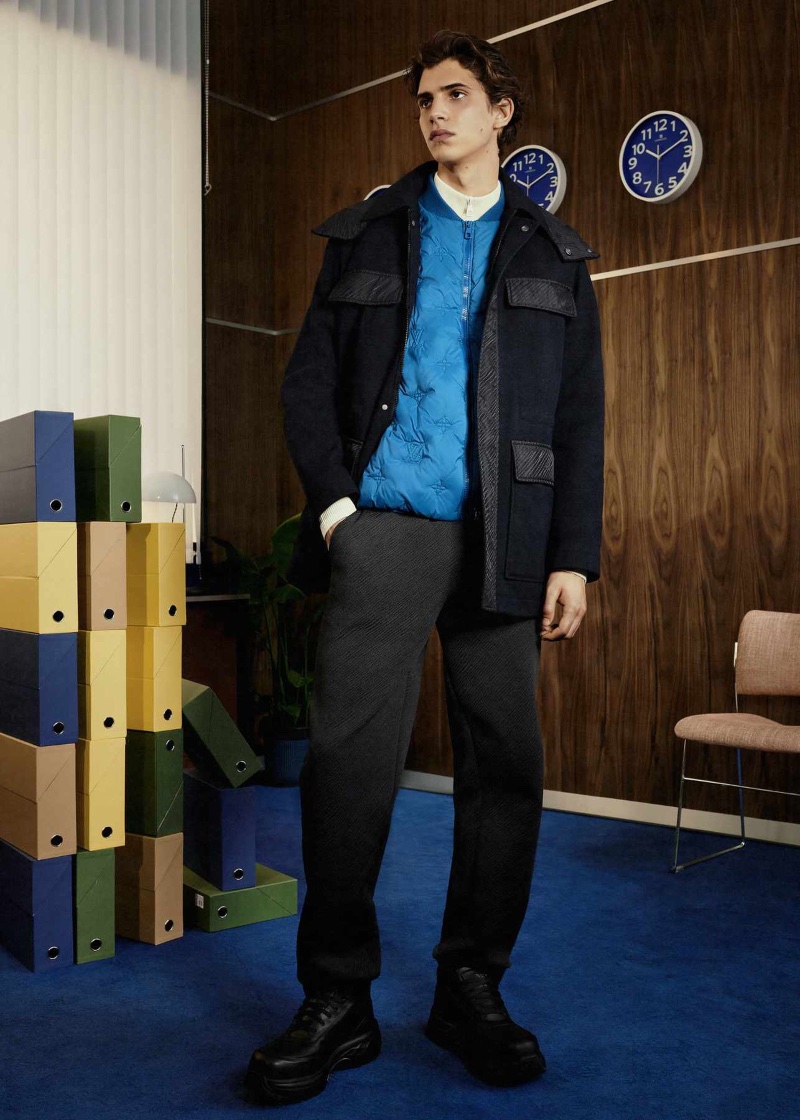 Meanwhile, footwear within the collection mirrors its hybrid ethos. Sneaker soles inspired by LV Discovery motifs and the LV Pacific slip-on blend comfort and elegance in perfect harmony, further reinforcing the collection's vision of adaptable style.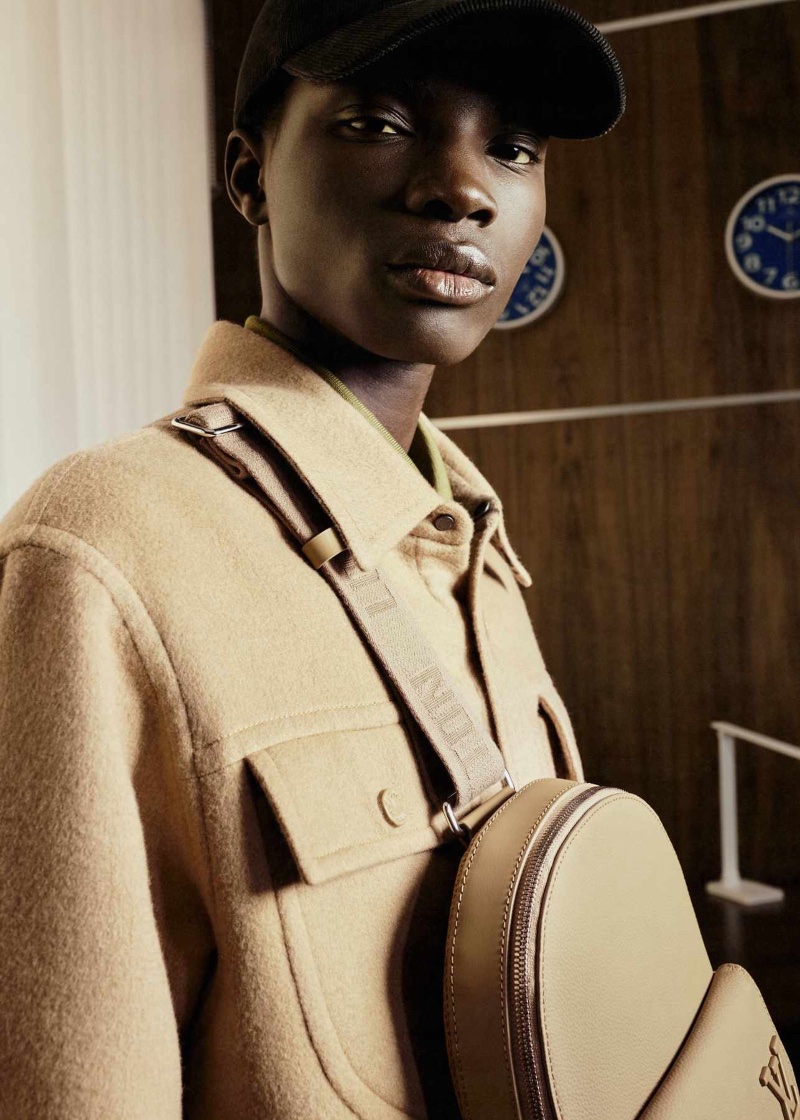 As the world transitions to an increasingly flexible lifestyle, Louis Vuitton's pre-fall 2024 collection serves as a timely response to this shift. It champions the man who dares to break fashion boundaries and live a work-play lifestyle.