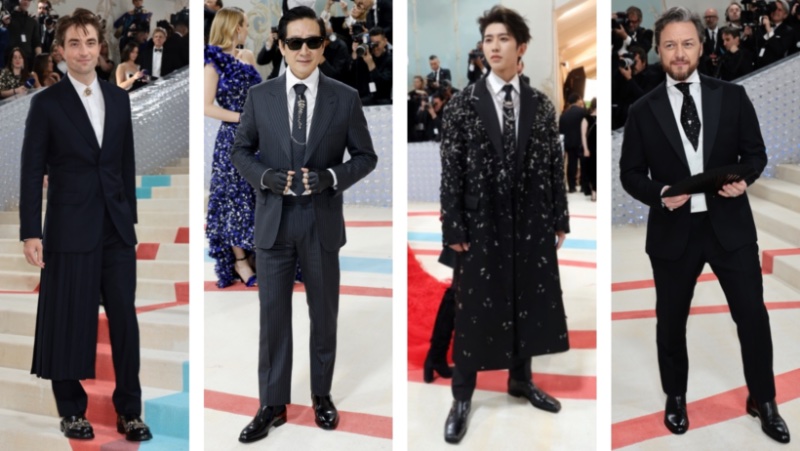 The 2023 Met Gala, held at the Metropolitan Museum of Art in New York, was a star-studded affair celebrating the theme "Karl Lagerfeld: A Line of Beauty," paying tribute to the legendary designer and photographer who passed away in 2019.
2023 Met Gala Men's Fashion
Men's fashion took center stage, with attendees donning ensembles that honored Lagerfeld's timeless elegance and unique style—from Alessandro Borghi's exquisite Gucci tuxedo to Ke Huy Quan's striking Dior Men suit, the evening showcased the very best in men's fashion.
A diverse mix of tailored suits, innovative fabrics, and eye-catching accessories, the outfits worn by these distinguished gentlemen perfectly embodied Lagerfeld's iconic style and spirit, making for an unforgettable evening of fashion and glamour.
Alessandro Borghi in Gucci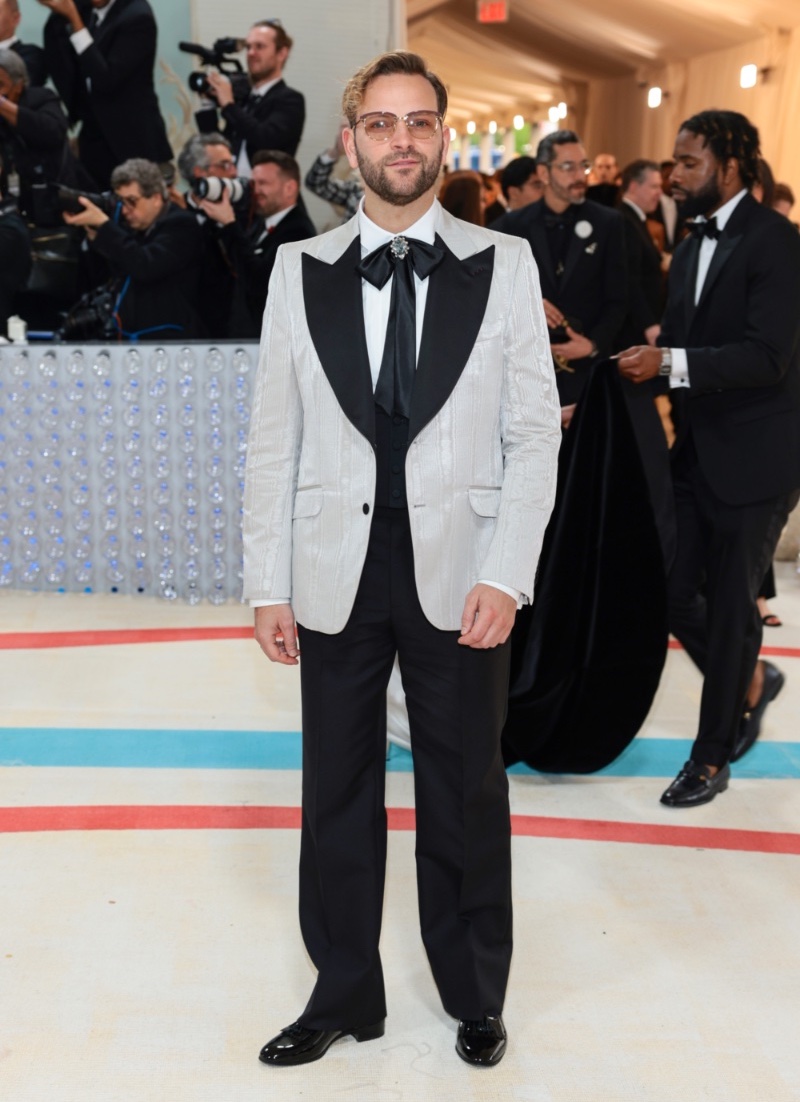 Alessandro Borghi, a familiar face in Gucci, graced the 2023 Met Gala in New York City with an exquisite ensemble. His attire featured a custom single-breasted tuxedo jacket, a timeless black waistcoat, and impeccably tailored trousers, all elegantly paired with a crisp white shirt.
A$AP Rocky in Gucci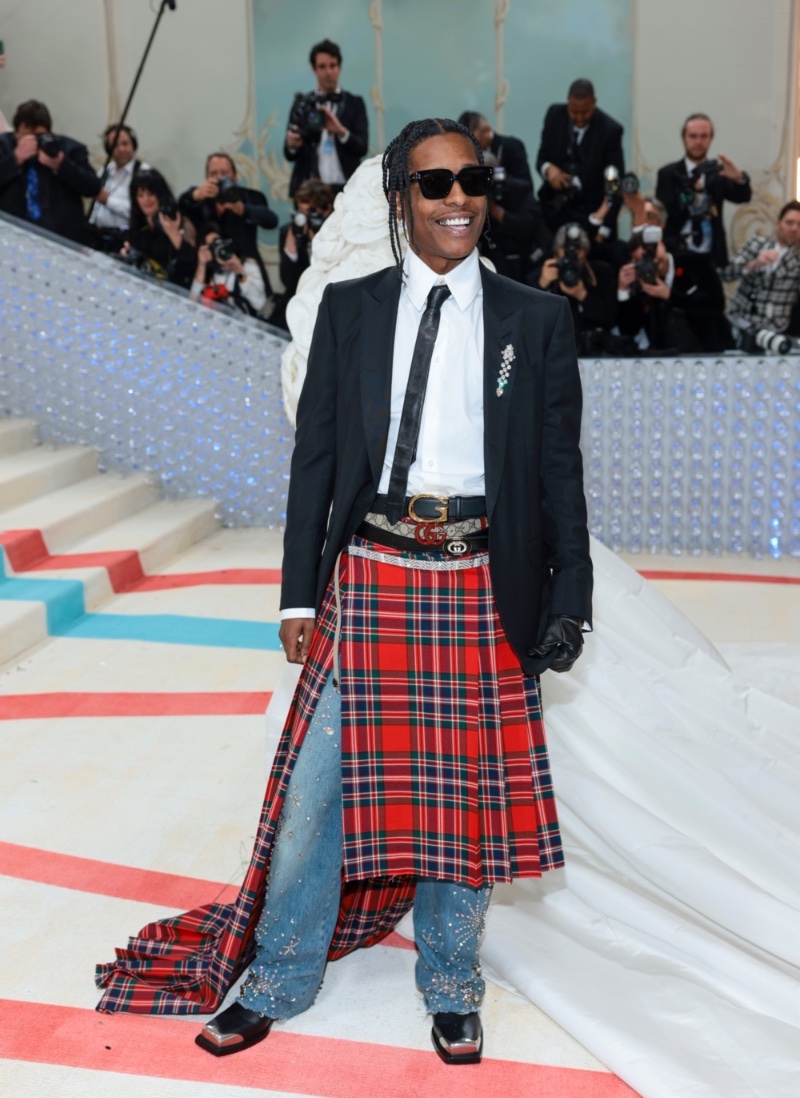 Channeling the iconic flair of Karl Lagerfeld, A$AP Rocky donned a single-breasted Gucci jacket, a sharp white shirt, and a sophisticated black tie. He added a touch of rebellious charm with a tartan skirt in red layered over casual denim jeans. To further accentuate his ensemble, A$AP Rocky sported an array of Gucci belts and a pair of leather boots.
Cai Xukun in Prada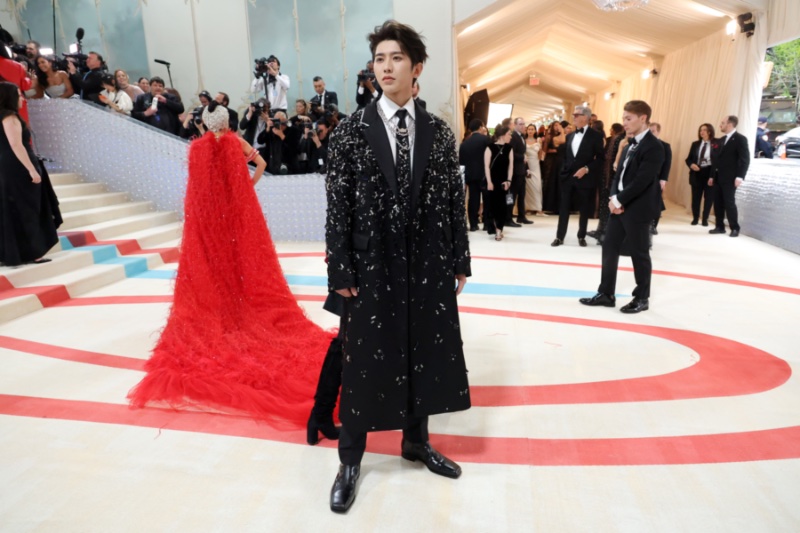 Chinese singer Cai Xukun captivated onlookers at the 2023 Met Gala in a phenomenal Prada ensemble. A recent campaign face for the Italian brand, Cai wore a black radzmire crystal embroidered coat with black satin lapel accents.
Cai's attire included a white cotton poplin shirt, black panama mohair trousers, and a black crystal embroidered tie. Cai exuded elegance and style by finishing his look with Prada Symbole silver chain necklaces and black brushed leather Chelsea boots.
Dwyane Wade in Prada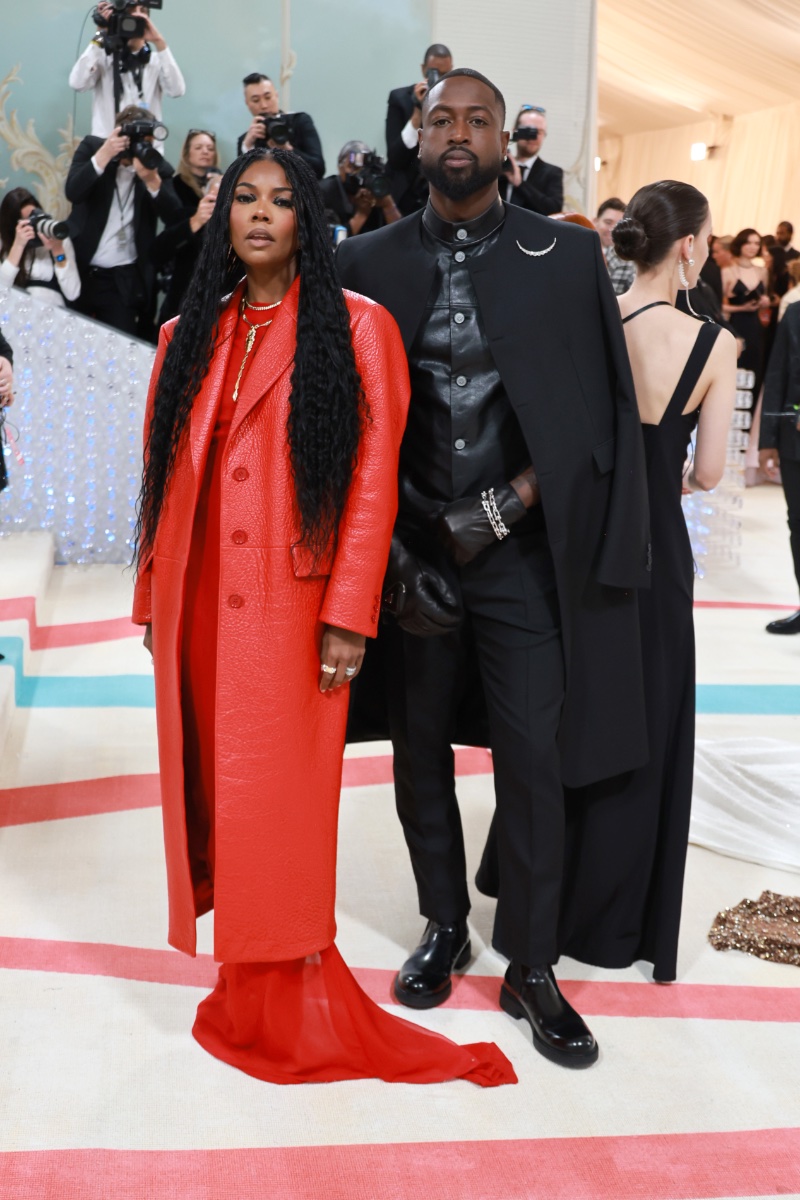 A dynamic duo on the red carpet, Dwayne Wade and his wife, Gabrielle Union, displayed their sartorial expertise at the 2023 Met Gala, donning Prada ensembles. Wade sported a black panama mohair coat with a black leather gilet adorned with silver button accents. His look was perfected with black panama mohair tuxedo trousers, black leather gloves featuring pocket details, and black brushed leather Chelsea boots.
Harrison Dickinson in Dunhill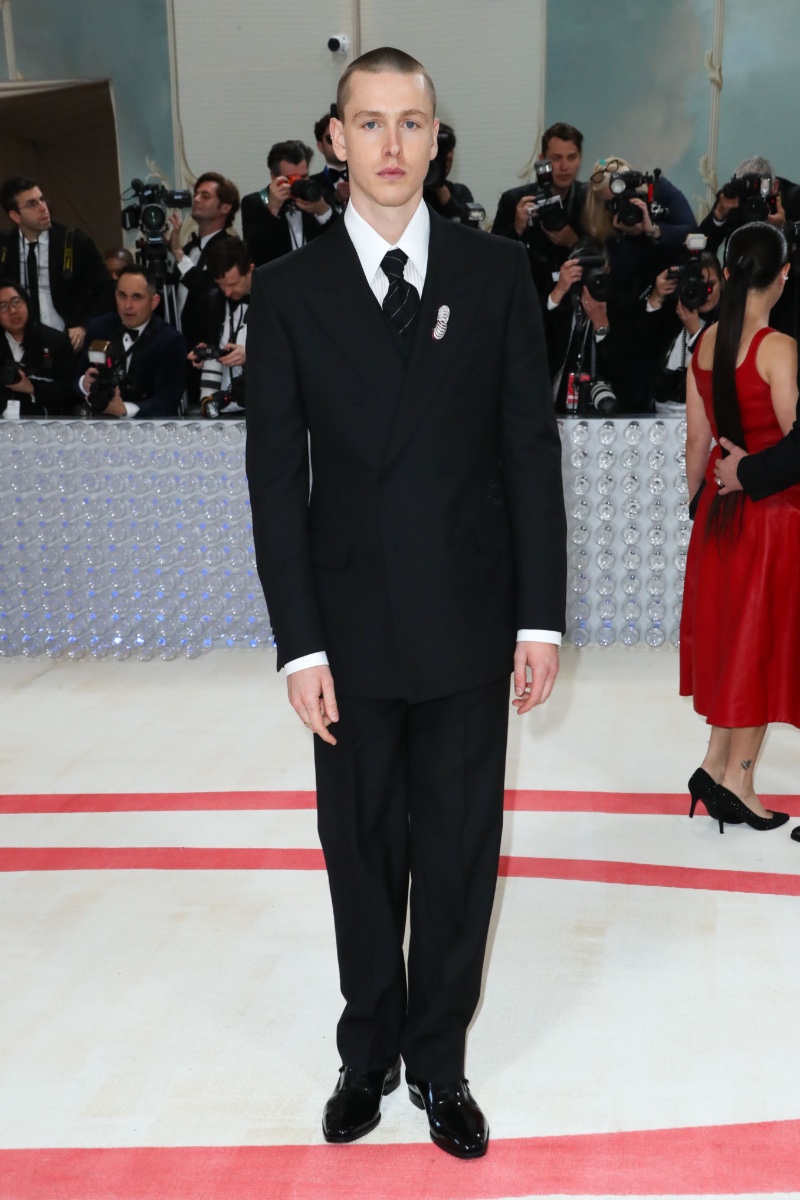 British actor Harris Dickinson showcased an impeccably tailored custom double-breasted three-piece Dunhill suit at the 2023 Met Gala. The design of Dunhill's creative director, Simon Holloway, the ensemble paid homage to Karl Lagerfeld's early fashion sensibilities, drawing inspiration from the personal style of Count Robert de Montesquiou.
Epitomizing sartorial finesse, Dickinson's attire featured a black barathea double-breasted jacket, a well-fitted waistcoat, and evening trousers. Complementing the ensemble, a white half-spread point collar shirt in needlepoint striped poplin, a black chalk stripe fine worsted wool tie, and black handmade evening oxford shoes were worn. The dandy look was elevated with a Cartier Tank Must watch and a pair of Cartier Tradition Ecus Comptes clip-brooches.
Idris Elba in Gucci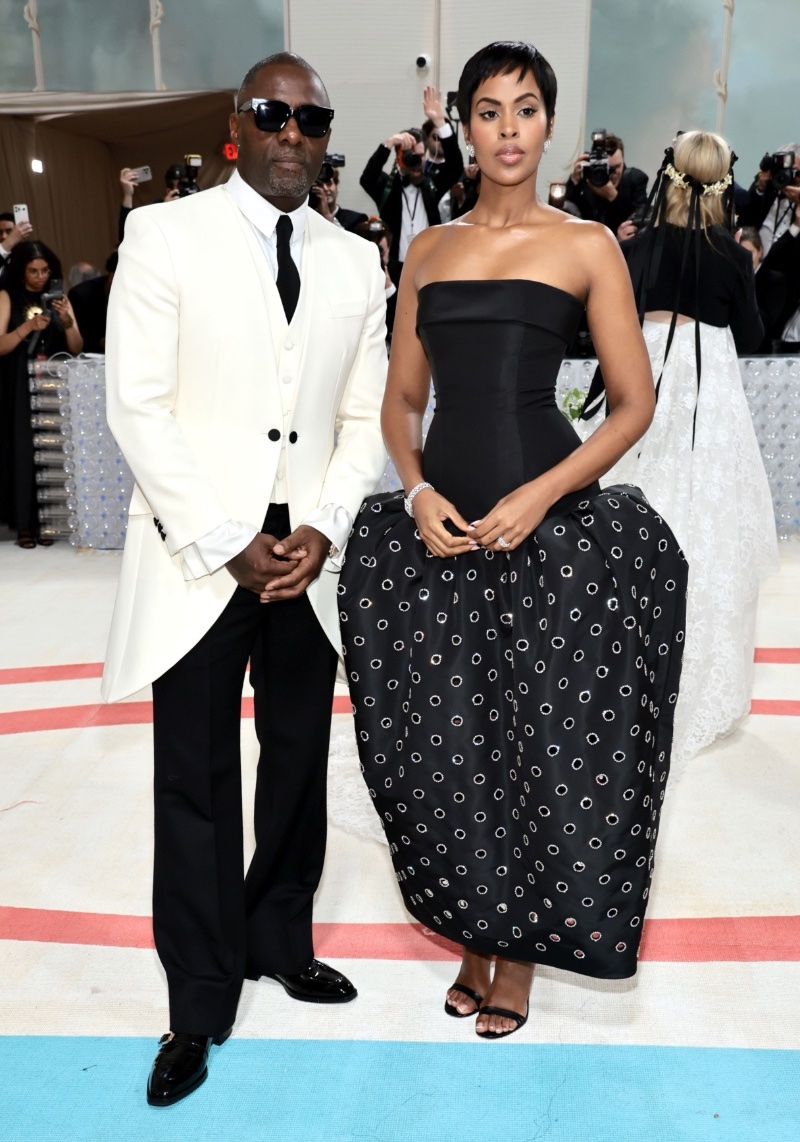 Idris Elba appeared strikingly at this year's Met Gala, wearing a custom white morning coat and matching waistcoat. The ensemble was complemented by sleek black trousers and a refined white shirt adorned with ruffles. Elba's outfit was impeccably accessorized with a Gucci High Watchmaking yellow gold and diamond watch and a pair of stylish Gucci sunglasses, elevating his entire look to a new level of sophistication.
James McAvoy in Dunhill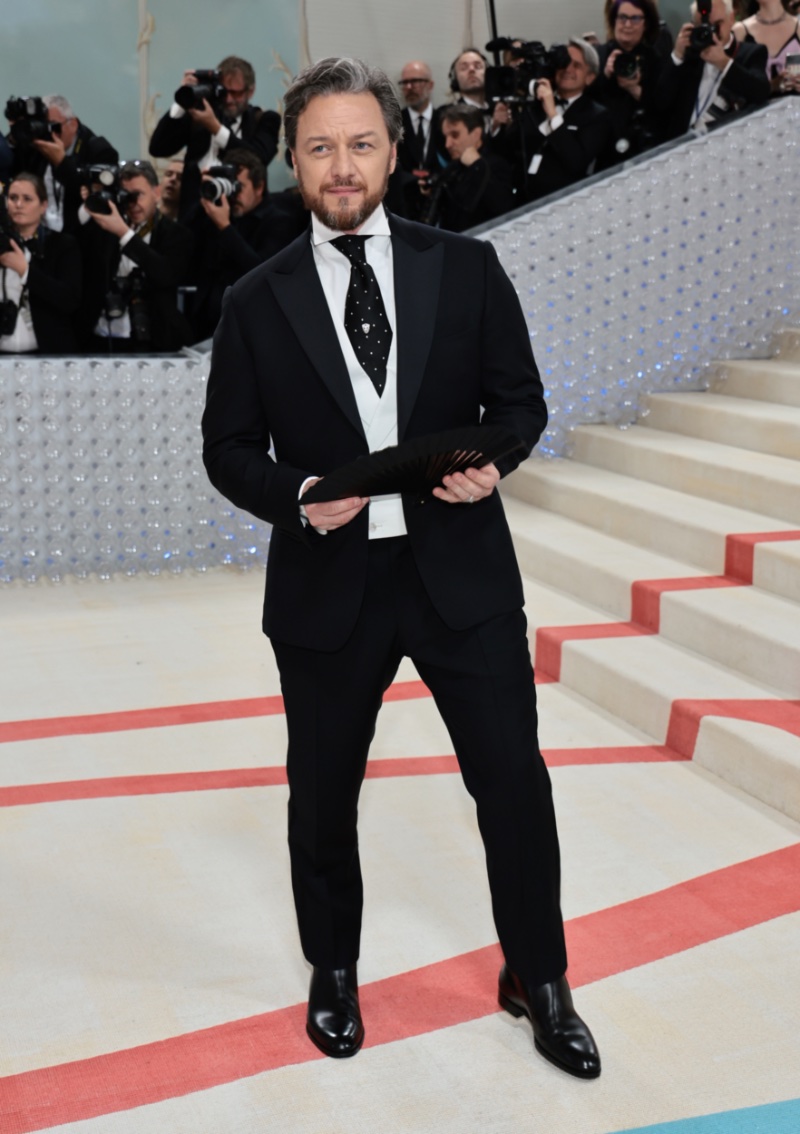 The charismatic James McAvoy channeled his inner gentleman at the 2023 Met Gala, donning a bespoke Dunhill midnight blue merino wool and mohair single-breasted evening jacket and tailored evening trousers.
McAvoy sported a white Marcella tailored waistcoat alongside the elegant attire, a white cotton voile wing-tip collar shirt, a black and white wide silk polka dot tie, and black handmade jodhpur boots. The ensemble, exuding a regal air, was accentuated by a Panthère de Cartier pocket jewel and the new Reverso Tribute Chronograph by Jaeger-LeCoultre.
Jeremy Strong in Prada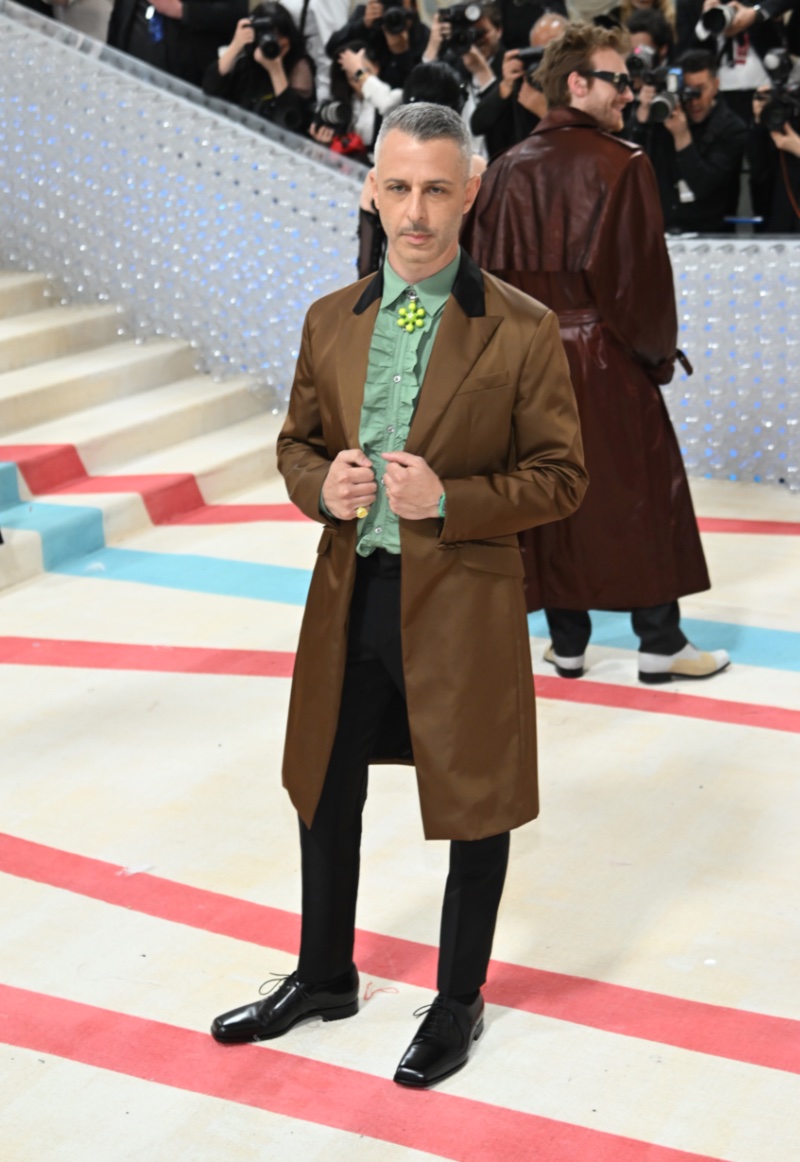 Injecting a splash of unusual color into the 2023 Met Gala, Jeremy Strong donned a custom caramel nylon evening coat with a black satin collar detail designed by Prada. The Succession star paired this with a jade light poplin ruffle shirt, black kid mohair tuxedo pants, and black brushed leather oxford shoes.
Ke Huy Quan in Dior Men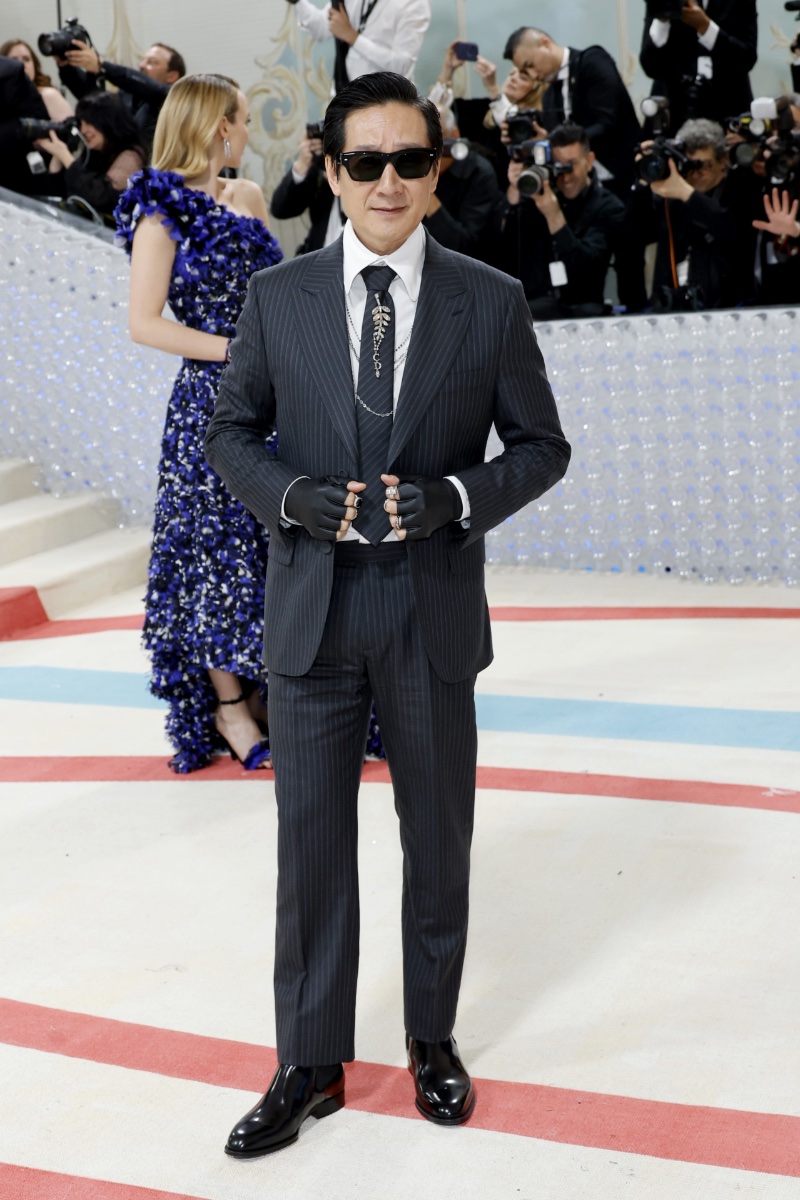 Embodying the spirit of Karl Lagerfeld, Oscar winner Ke Huy Quan captivated in a custom Dior Men black striped wool peak lapel suit, coupled with a white cotton wide collar shirt. He accessorized with a black striped silk wide tie, a silver brooch bearing CD initials, black leather fingerless gloves, and black leather boots, which completed his striking appearance.
Kodi Smit-McPhee in Prada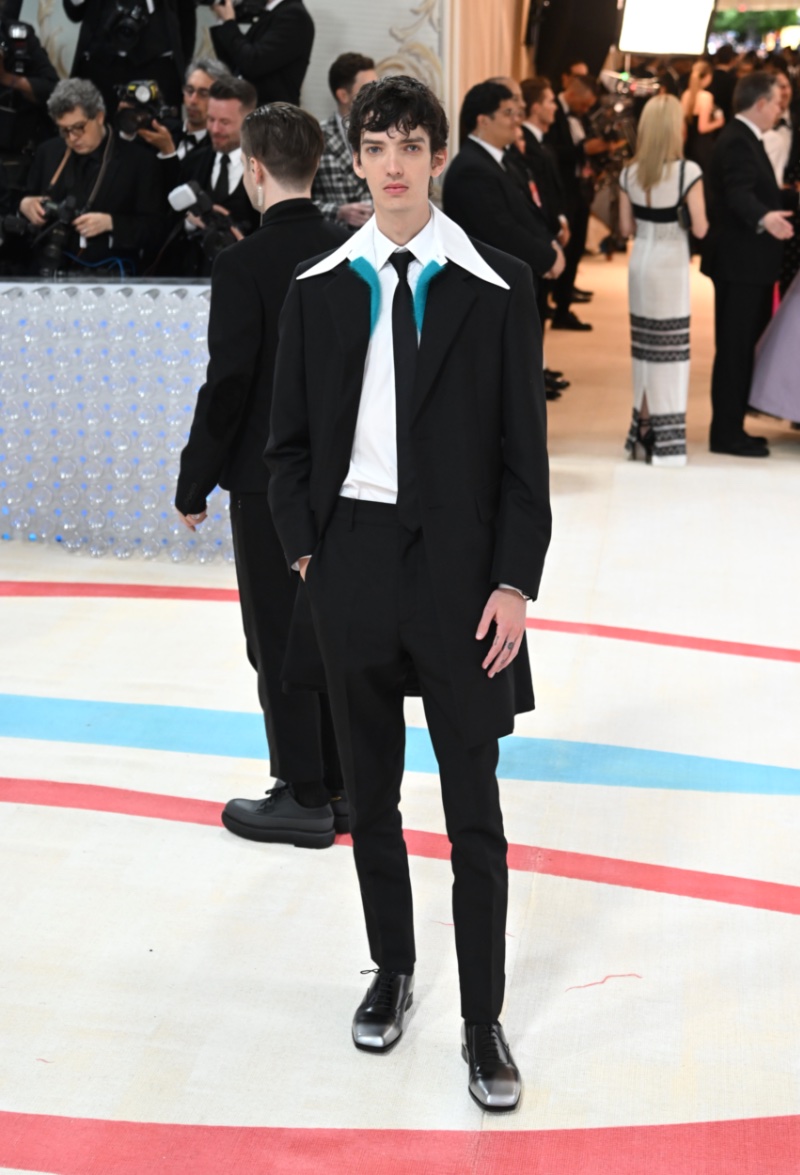 Kodi Smit-McPhee, no stranger to fashion-forward attire, graced the 2023 Met Gala in a Prada creation. The Australian actor, acclaimed for his role in The Power of the Dog, wore a black panama mohair coat featuring a white poplin collar and a pop of turquoise knit detail. Smit-McPhee's ensemble was completed with black panama mohair pants, a black faille tie, and black and silver brushed leather oxford shoes.
Maluma in Hugo BOSS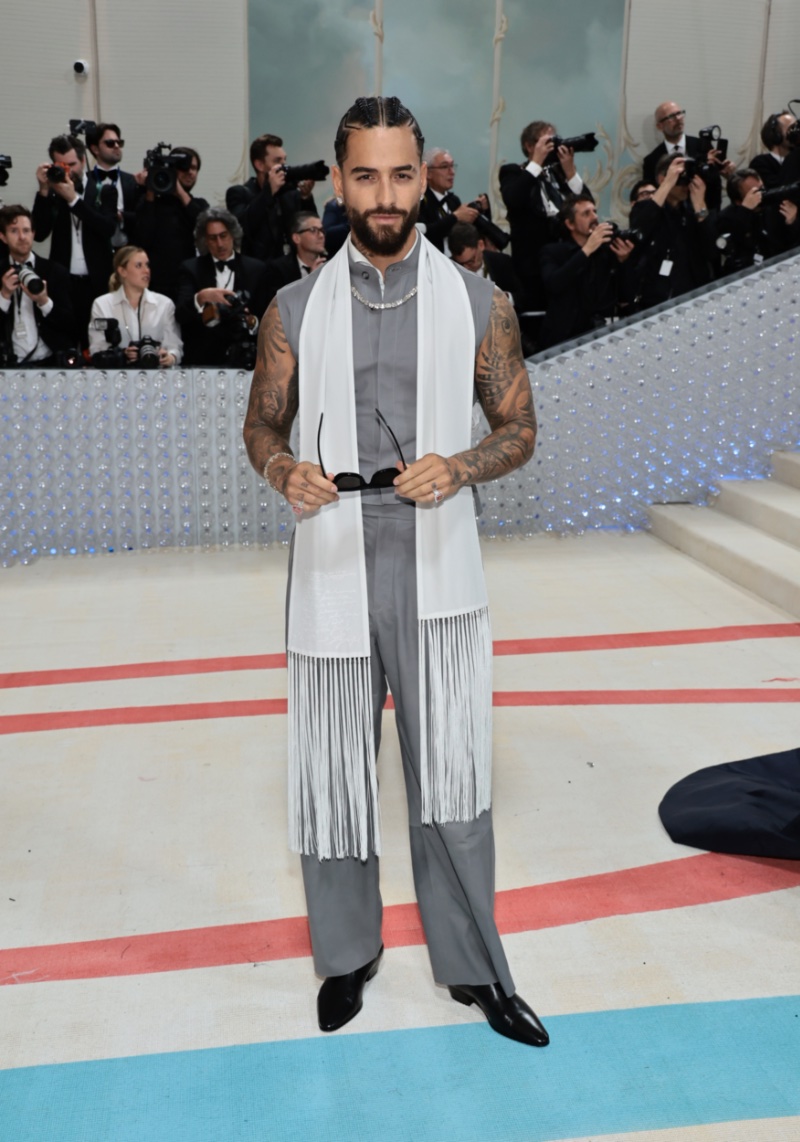 The recent Met Gala saw Colombian singer Maluma, a current campaign star for BOSS, cutting a dashing figure in an elegant Hugo Boss ensemble. For this illustrious event, the Hugo Boss SVP of Creative Direction, Marco Falcioni, drew inspiration from a spring-summer 1998 lookbook, which was captured by the legendary lens of Karl Lagerfeld.
Maluma's sophisticated attire showcased a refined plastron and coordinating trousers, both meticulously tailored in sumptuous grey leather. Adding a fringed silk scarf lent a touch of finesse to the overall look.
Matteo Berrettini in BOSS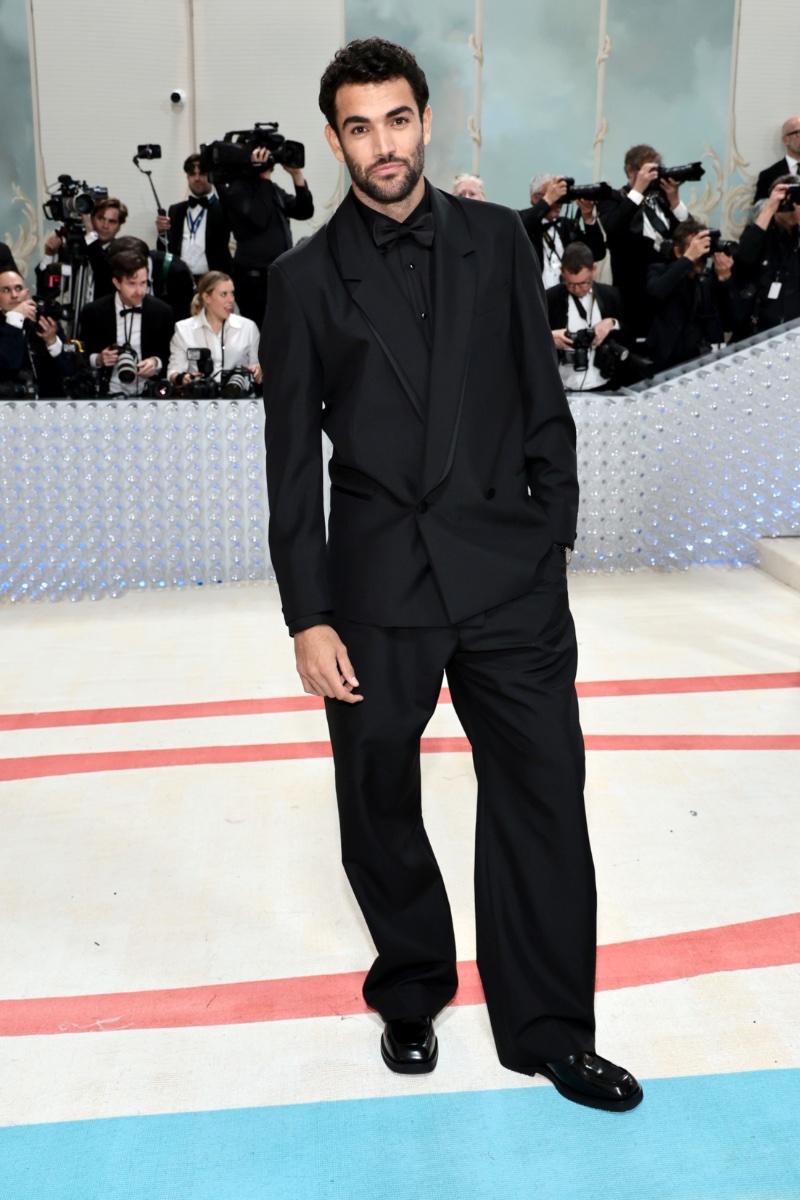 As a BOSS brand ambassador, Matteo Berrettini graced the Met Gala in an exclusive, custom-designed ensemble that perfectly exemplified the label's penchant for sartorial excellence. Berrettini's choice of attire embraced the contemporary, relaxed silhouette trend, making a bold statement in an all-black composition. The look was completed with a double-breasted jacket, wide-leg trousers, and a bow tie.
Patrick Mahomes in BOSS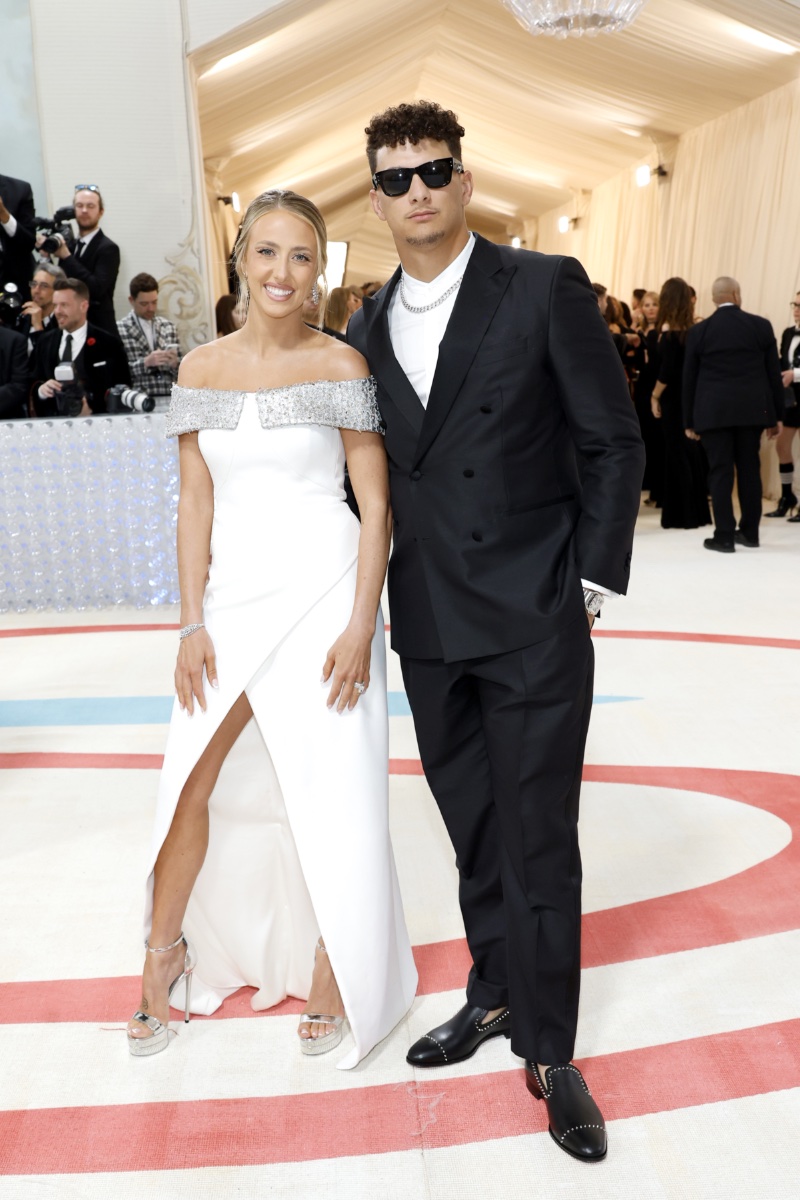 Channeling the monochromatic mood of Lagerfeld's iconic black-and-white photography, BOSS designed striking looks for Patrick Mahomes and his wife, Brittany. Patrick exuded effortless refinement in a silk, double-breasted suit featuring peak lapels, accompanied by a clean white shirt with a concealed placket and studded leather loafers.
Rami Malek in Prada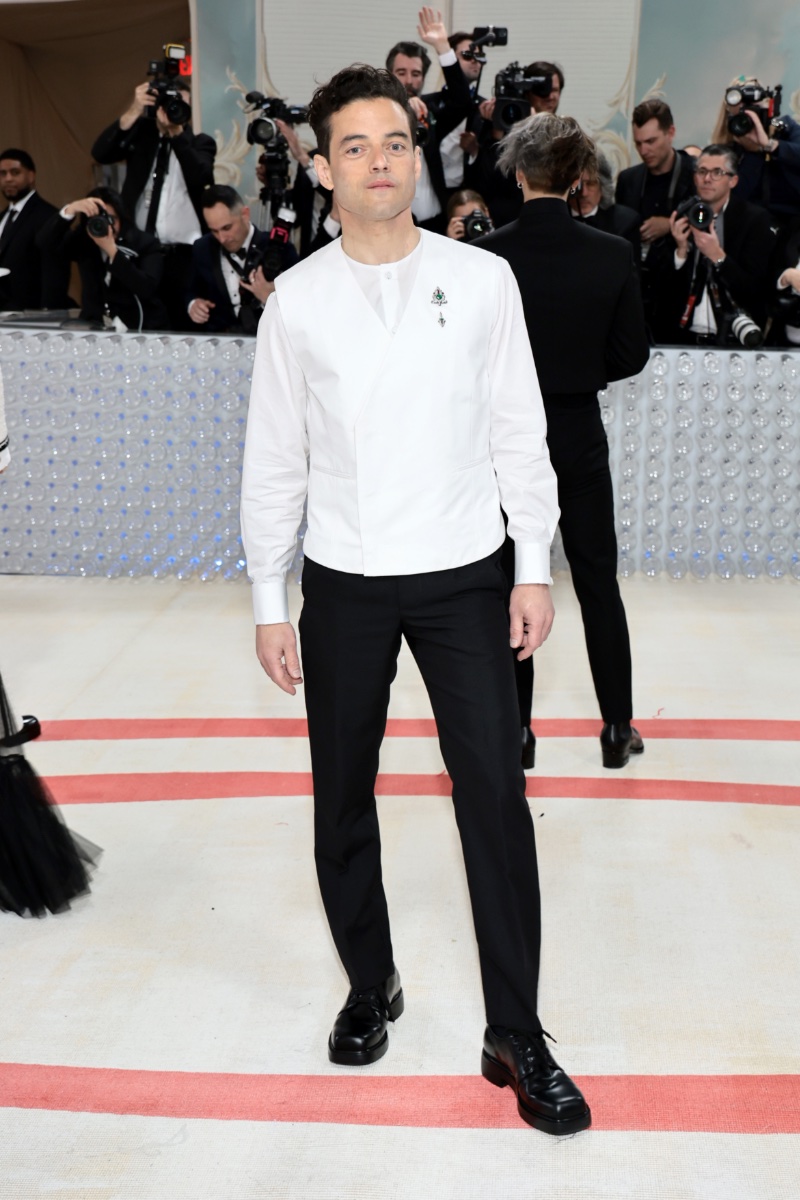 A loyal patron of the fashion house, Rami Malek, who has appeared in Prada advertising, opted for the iconic label at the Met Gala. Malek embraced a striking contrast in a black-and-white ensemble. The actor donned a white poplin shirt and vest, black mohair panama trousers, and black brushed leather derby shoes.
Robert Pattinson in Dior Men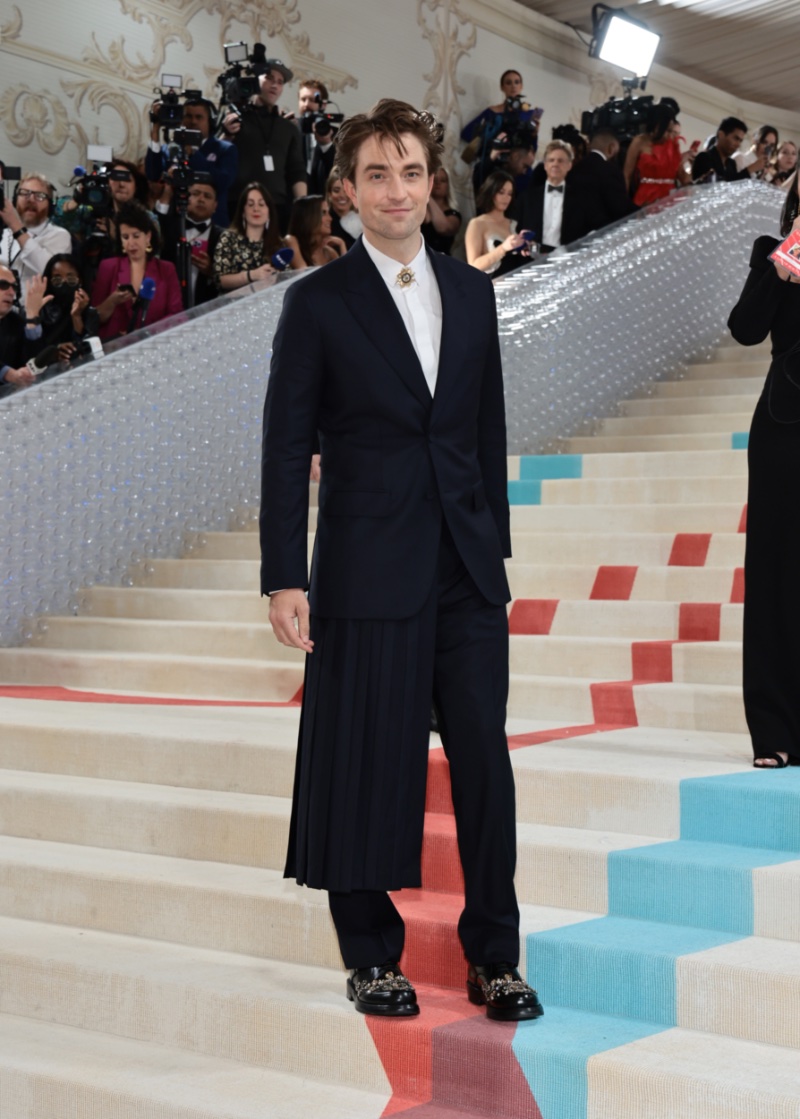 Dior Men certainly made its presence felt at the 2023 Met Gala, with brand ambassador Robert Pattinson leading the charge in a custom fall 2023 Dior ensemble. The British actor cut a dashing figure in a midnight blue virgin wool and linen peak lapel suit, harmoniously paired with a coordinating wool and linen long kilt. The star of The Batman polished off his refined look with a white cotton classic collar shirt, a gold brooch, and black leather Carlo derbies.
Roger Federer in Dior Men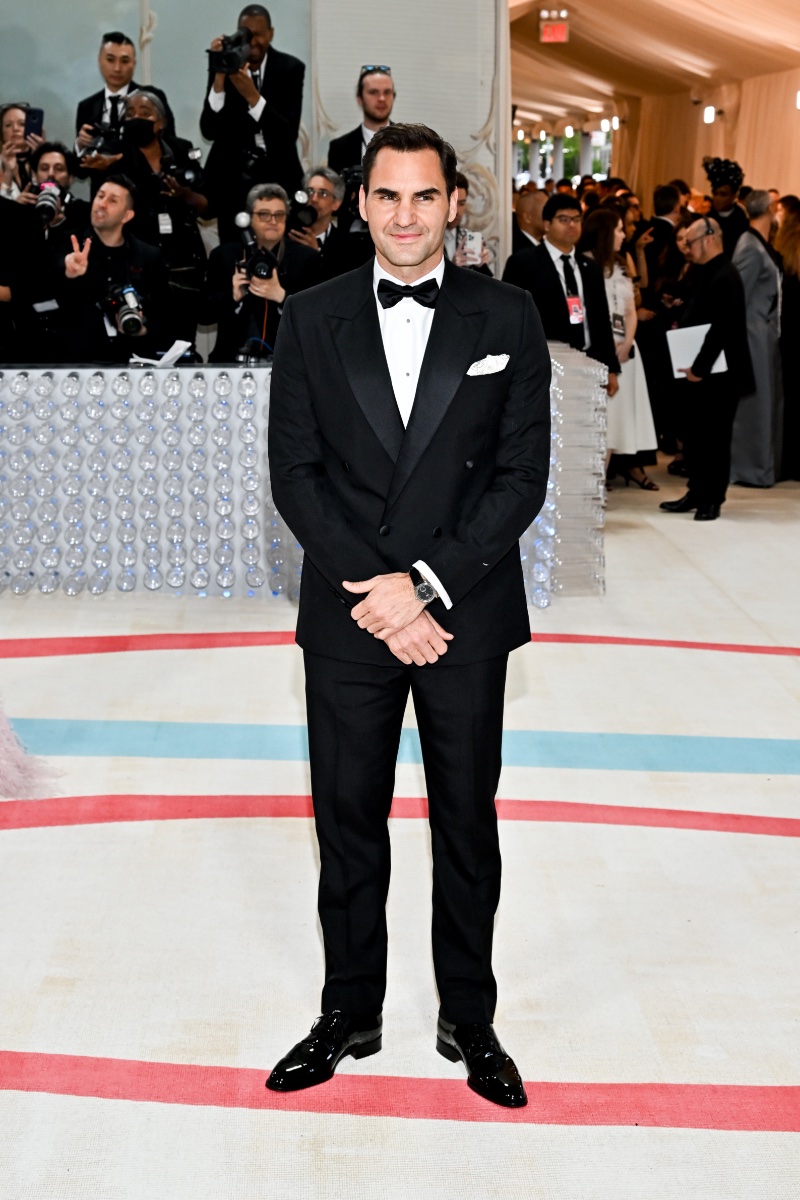 Switching gears from his trademark UNIQLO aesthetic to a more time-honored formal attire, Roger Federer donned a custom Dior Men black wool peak lapel double-breasted tuxedo, thoughtfully lined with Karl Lagerfeld sketches. The tennis icon also sported a white cotton classic collar shirt with plastron and mother-of-pearl jewelry buttons, a black silk bow tie, a white silk printed pocket square, and black patent leather derbies.
Simu Liu in Atelier Versace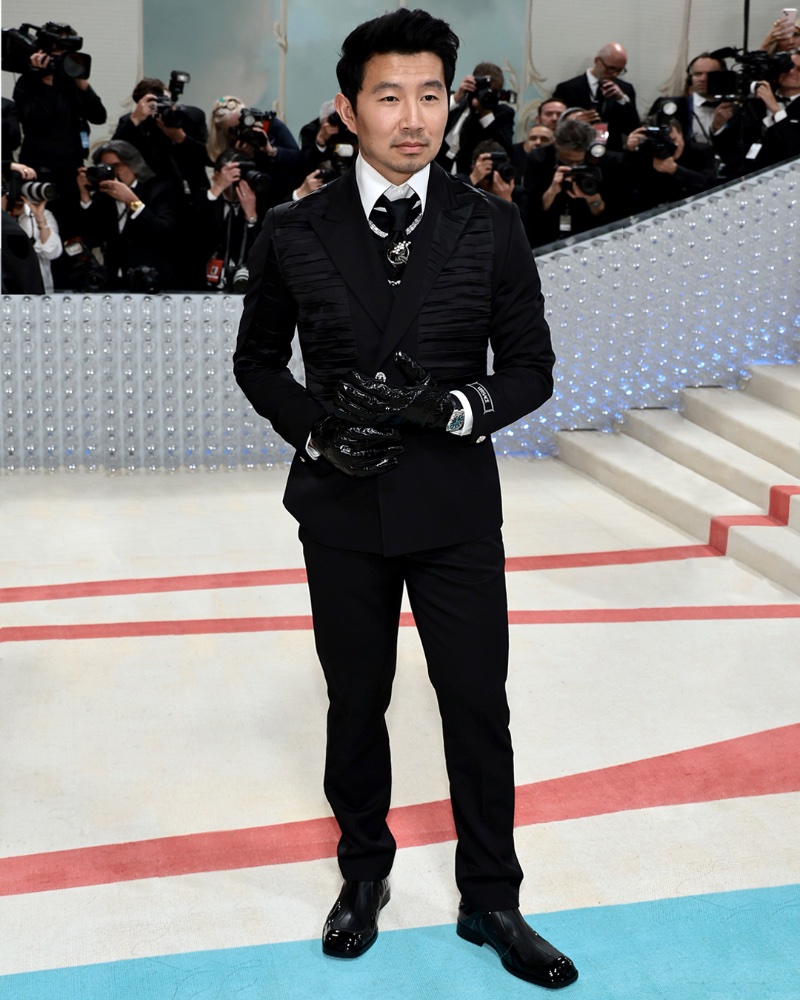 Best known for his role as Shang-Chi in Shang-Chi and the Legend of the Ten Rings, Simu Liu dazzled at the 2023 Met Gala, offering a stylish tribute to the inimitable Karl Lagerfeld. The Canadian actor donned an exquisite custom Atelier Versace tuxedo, exuding luxury and refinement.
Liu's Grain de Poudre wool single-breasted blazer boasted a peak lapel, gleaming silver Medusa buttons, silk satin plissé embellishments, and an unmistakable Versace tailoring label. This impeccably crafted jacket was paired with coordinating smoking pants featuring a silk side stripe, a high-neck collared shirt, and crocodile-embossed leather gloves.
The ensemble was brought to a polished conclusion with leather and patent boots, ensuring that Liu's presence on the red carpet was unforgettable and undeniably elegant.
Tom Sturridge in Dior Men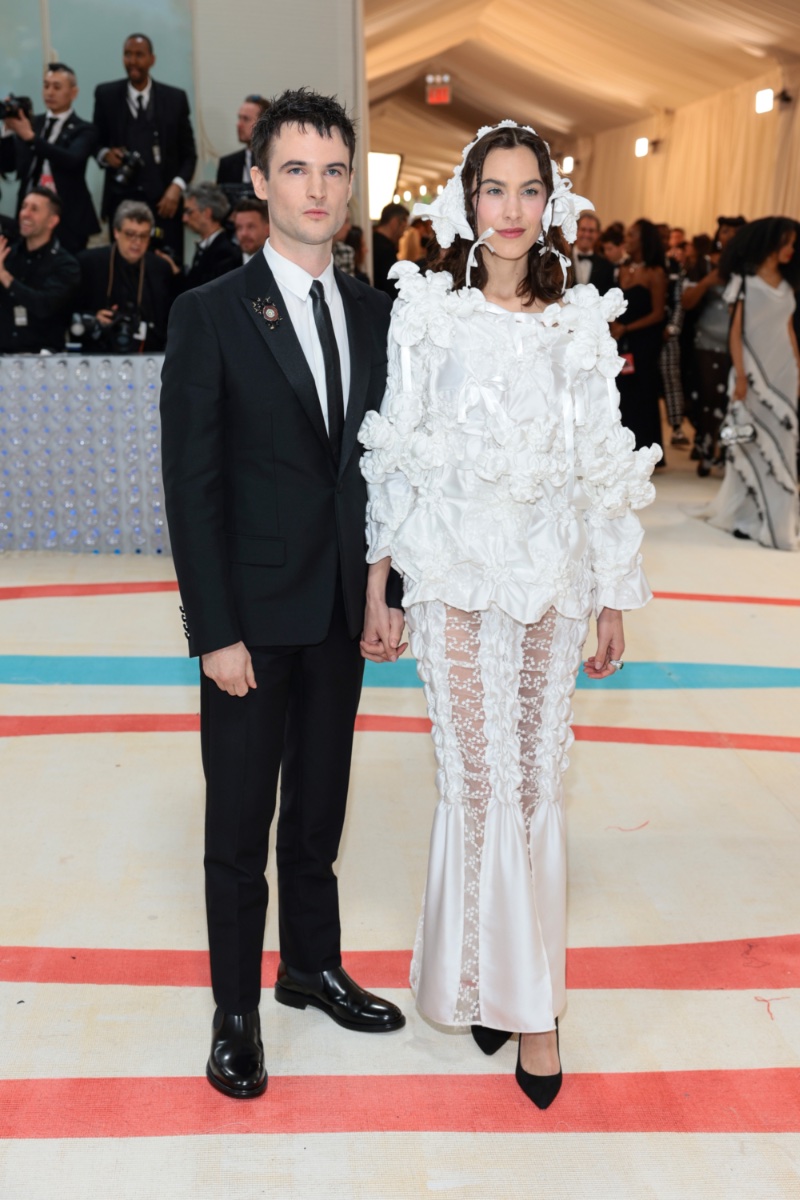 Exuding sophistication, Tom Sturridge graced the red carpet alongside his girlfriend, Alexa Chung. Sturridge sported a Dior Men black wool peak lapel tuxedo, complemented by a white cotton classic collar shirt, black silk tie, black resin and gold-finish brass coral brooch, and black leather Chelsea boots.