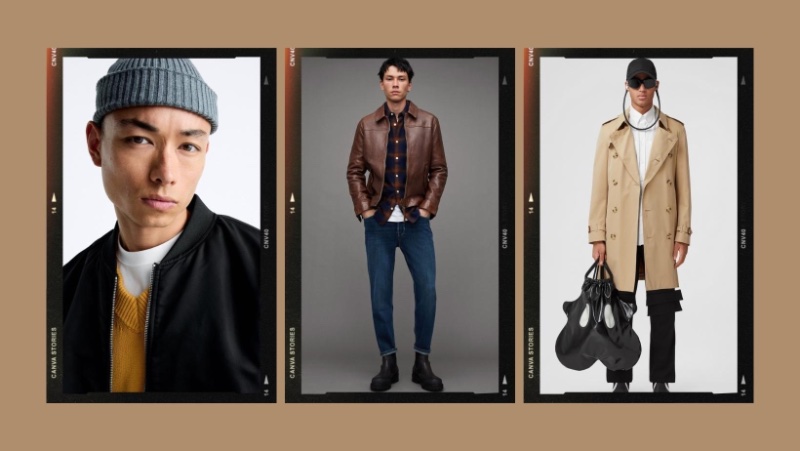 As autumn leaves blanket the streets, men's fall fashion emerges as an intricate dialogue between comfort and style. This season isn't merely a transitional phase from linen to wool. It's a curated exhibition of ensemble mastery—from the finesse in layering to the calculated choice of outerwear that defines your presence.
Men's Fall Fashion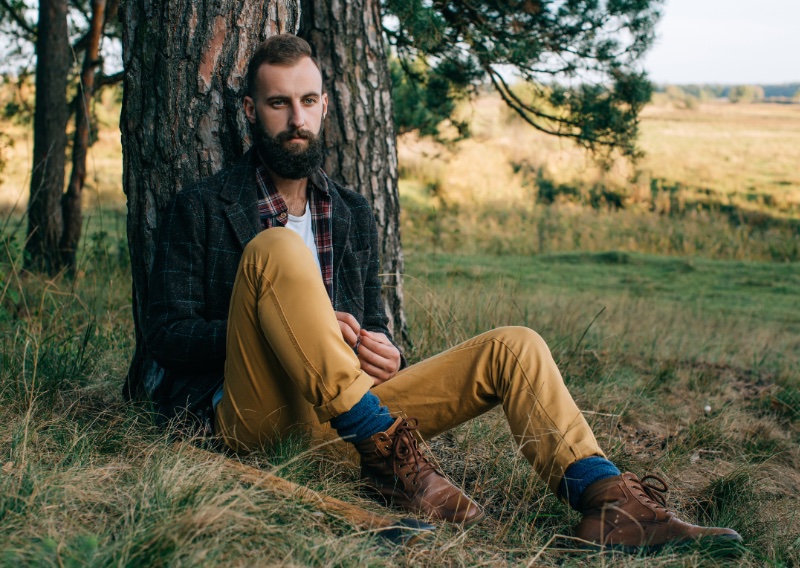 As fall unfolds, style isn't just about the clothes you wear but also the subtle power of the right accessories and shoes. Think of grooming as the final touch that completes your look, and consider jeans as your go-to for the season's diverse events.
Each choice you make adds depth to your overall fashion narrative.
The Art of Layering
As you transition from summer to fall, layering evolves from a simple tactic to an art form. Summer staples like t-shirts and shorts can still be in your fall wardrobe. The key is to layer them thoughtfully with season-appropriate items like jackets, sweaters, and pants.
Don't hesitate to play with textures and fabrics like corduroy to add depth to your look. Fall is all about warm, earthy tones that mirror the changing landscape. Effective layering adds nuanced depth to your look, turning each outfit into a sartorial statement.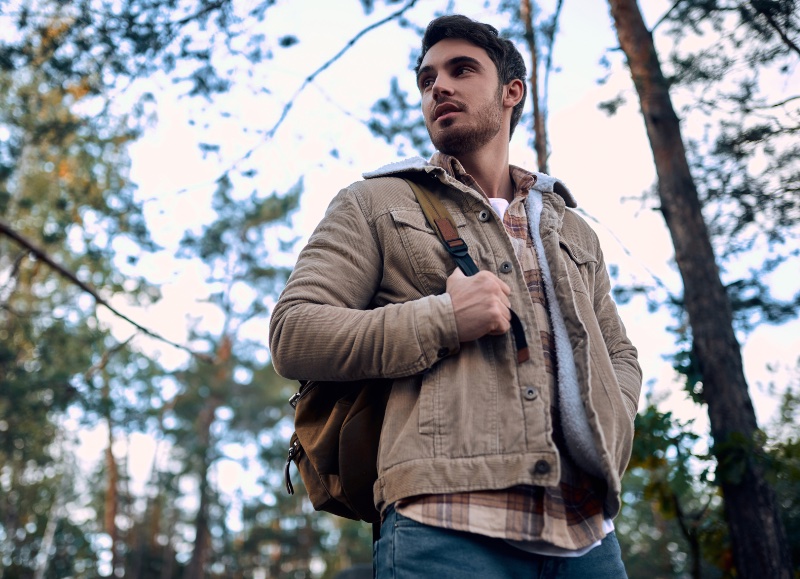 Start with a base layer like a lightweight long-sleeved shirt or thermal top to set the foundation. From there, the game is in the mix and match of fabrics. Pair warm materials like wool or flannel with lighter fabrics such as cotton to create a balanced, textured ensemble.
Outerwear plays a crucial role in this layered approach. Whether it's a classic trench coat adding a touch of elegance or a leather jacket offering an edgier vibe, the right outerwear can elevate your layered look.
But remember, proportions matter. Balance the lengths and thicknesses of each garment to ensure a visually cohesive outfit that's as stylish as warm.
Fall Fashion Trends & Fresh Takes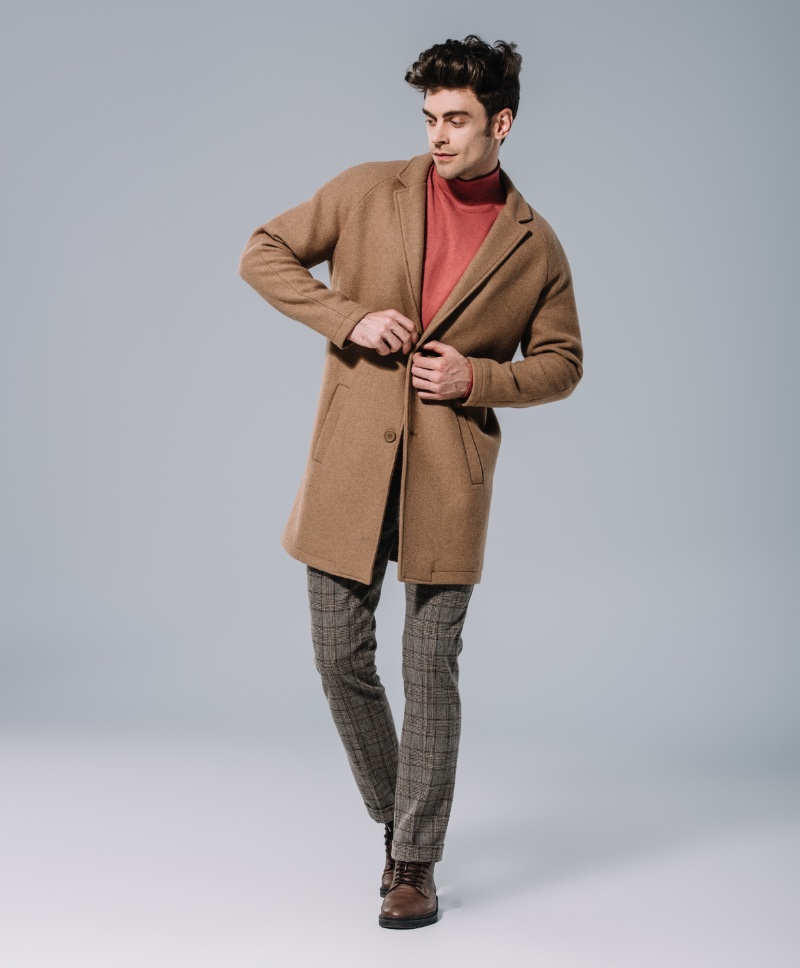 As autumn's chill sets in, the season's fashion landscape is anything but cold and dreary. This fall's color spectrum leans into comfort and audacity, offering a range of hues that can be mixed and matched to suit any mood or occasion.
Autumn Colors
Cool blues and greens offer a soothing counterpoint to the era's stresses, while traditional autumnal shades like pumpkin spice and ripe persimmon bring warmth to the cooler days. For those who find solace in the familiar, muted, and deep colors like indigo and grey remain steadfast choices.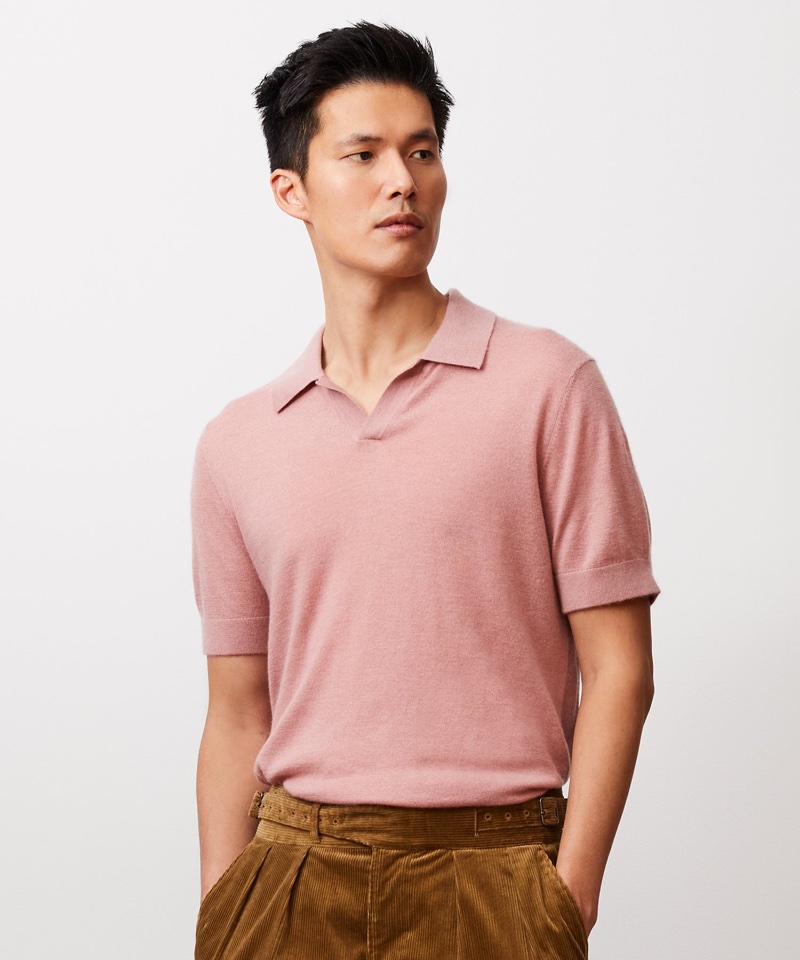 Yet, the season also flirts with maximalism, daring to introduce bolder shades like shock pink and apricot into the male wardrobe. And for the purists, monochrome styles in shades of brown offer a timeless, go-to option, with burgundy leading the way.
Material & Fit
But color is just one element in the complex equation of men's fall fashion. Patterns and fabrics are evolving to add depth and texture to the season's looks. Heritage-inspired stripes and plaids continue to hold their ground but with a twist: this year, they're joined by novelty prints like leaves and florals, which adopt darker, tonal hues for a more subdued impact.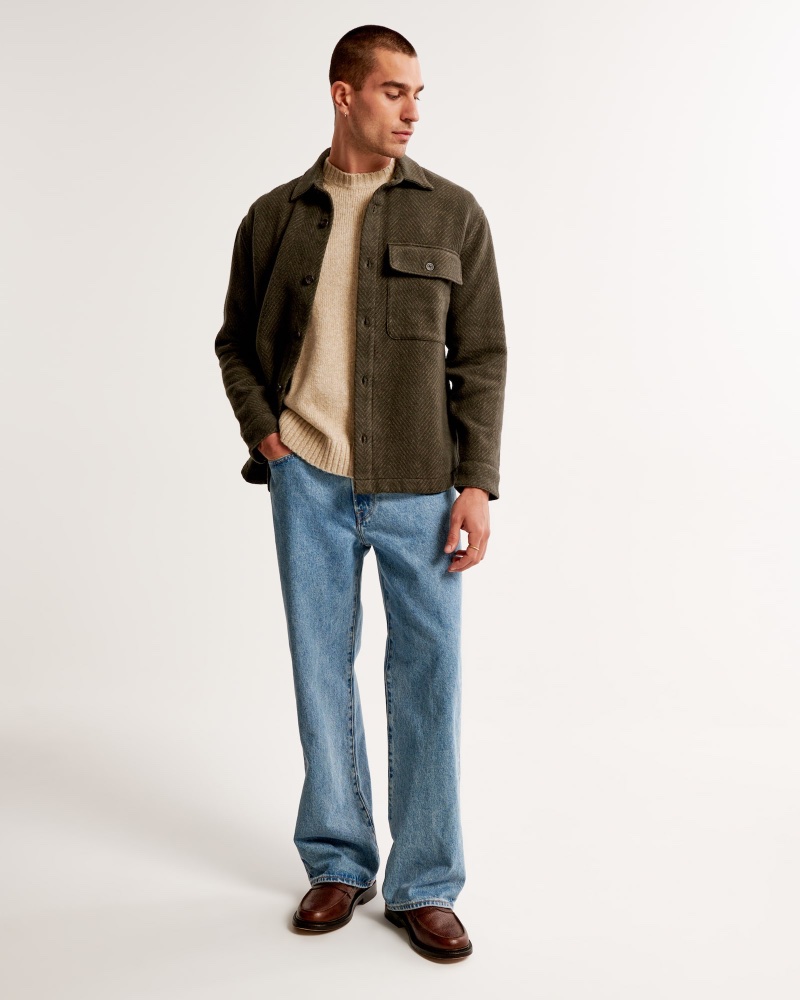 Once you've secured your foundational pieces, it's time to sprinkle in some of the season's hottest trends. Consider incorporating a pair of baggy jeans into your casual wear rotation. They can add a touch of '90s nostalgia while offering a relaxed fit for weekend outings.
The Building Blocks of Fall Style
As autumn's tapestry unfolds, your wardrobe should be a curated collection that mirrors this seasonal transformation. The essence of a well-rounded fall wardrobe isn't merely in acquiring new pieces but in assembling a versatile and elegant set of essentials. Below is a comprehensive guide that marries foundational items with fresh trends:
Trench Coat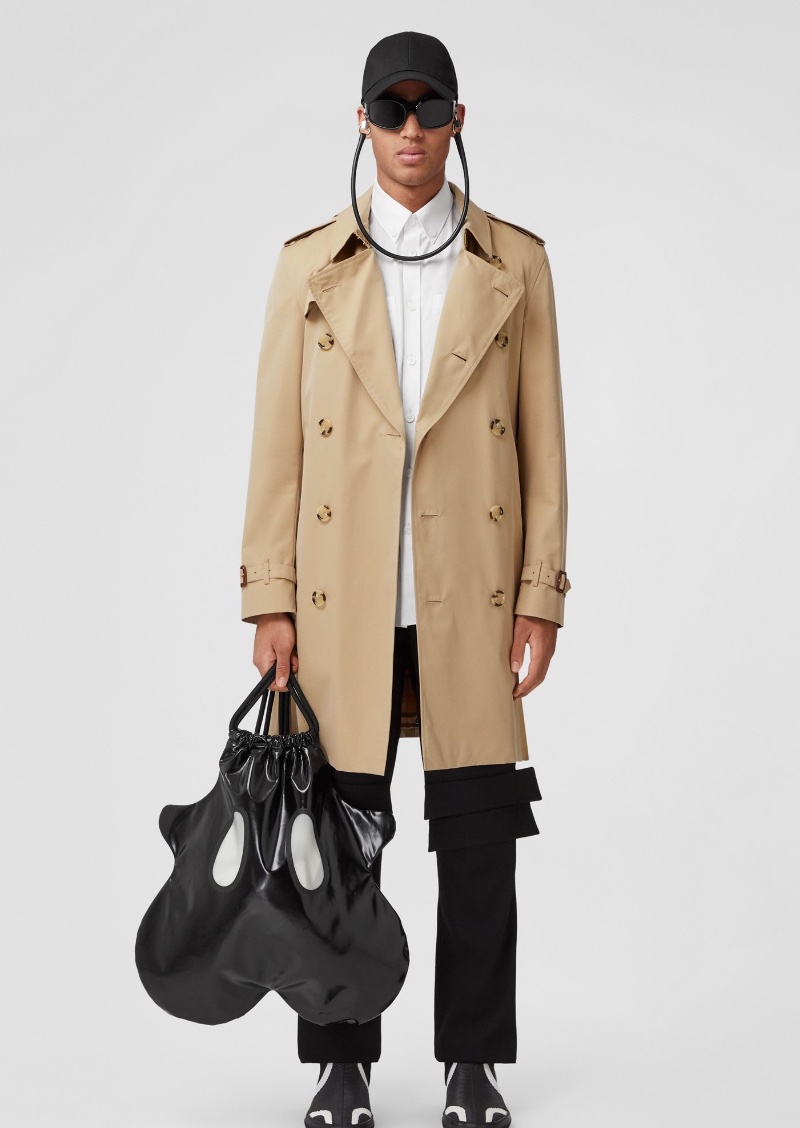 A high-quality trench coat is more than just a garment. It's a statement of style that also offers the practicality of warmth. This timeless piece effortlessly adapts to various looks, making it a long-term investment that transcends the season.
Leather Jacket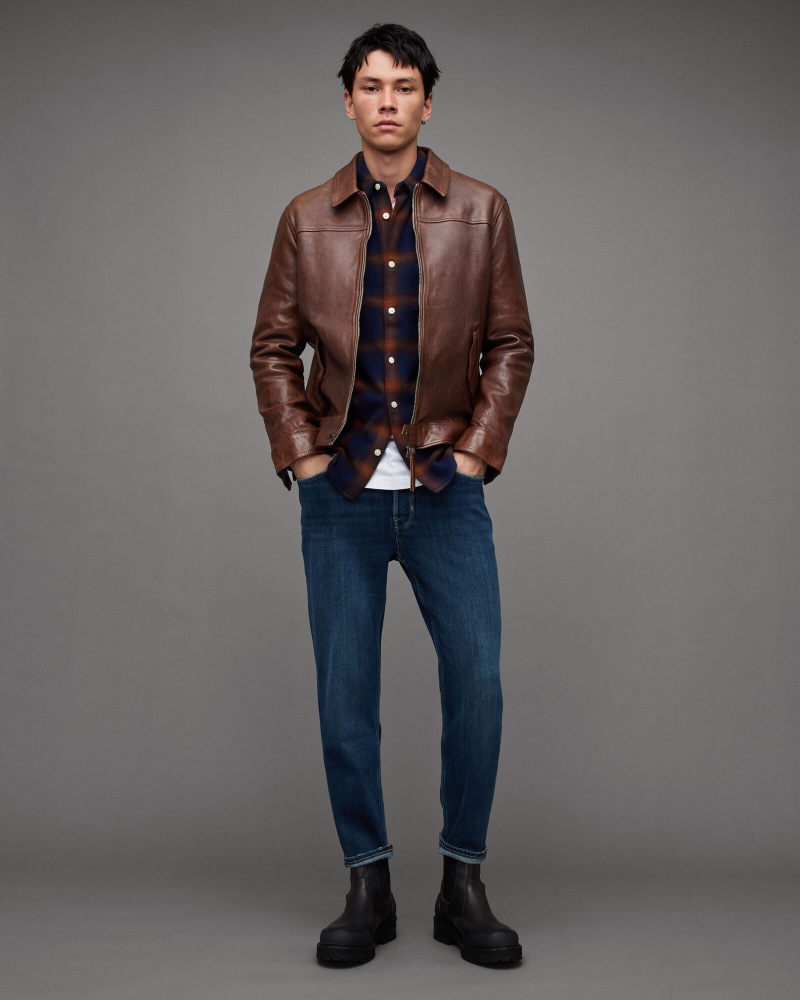 The leather jacket serves as an edgy counterpoint in your fall wardrobe. It's a transformative piece that adds a layer of complexity to any outfit, making it a statement that goes beyond mere seasonal trends.
Button-Down Shirt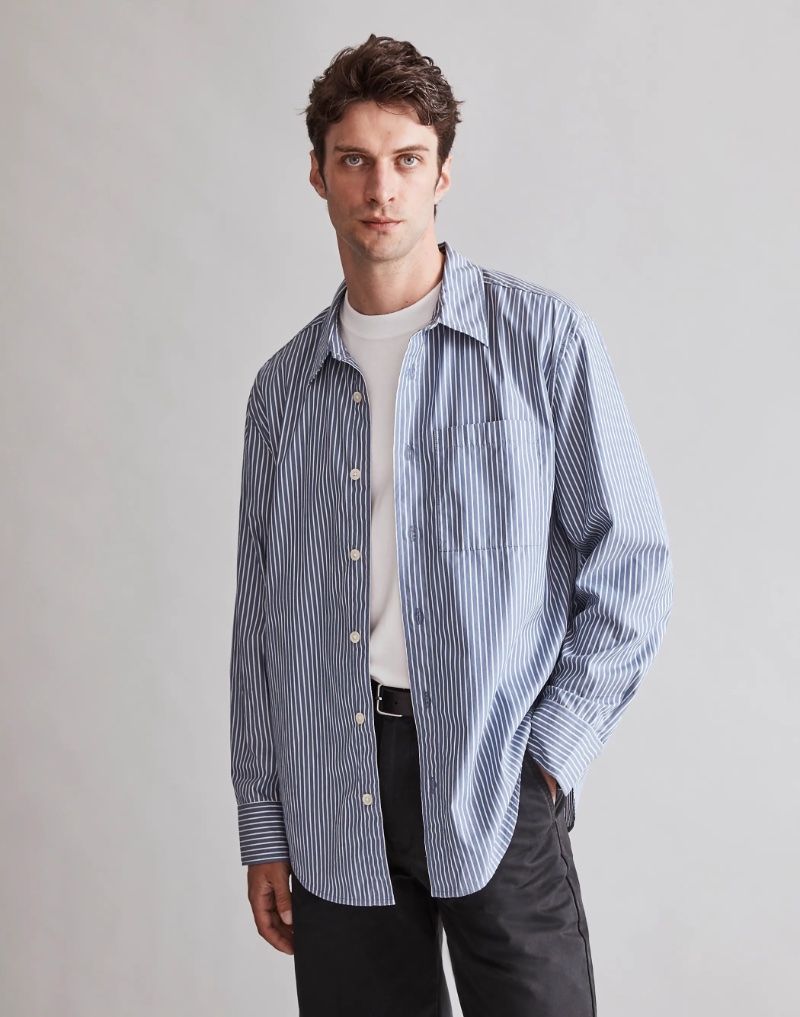 The button-down shirt is a versatile staple that can navigate work and leisure settings. Whether you opt for classic hues like white and light blue or seasonal patterns, this piece offers a balance of formality and ease.
Chinos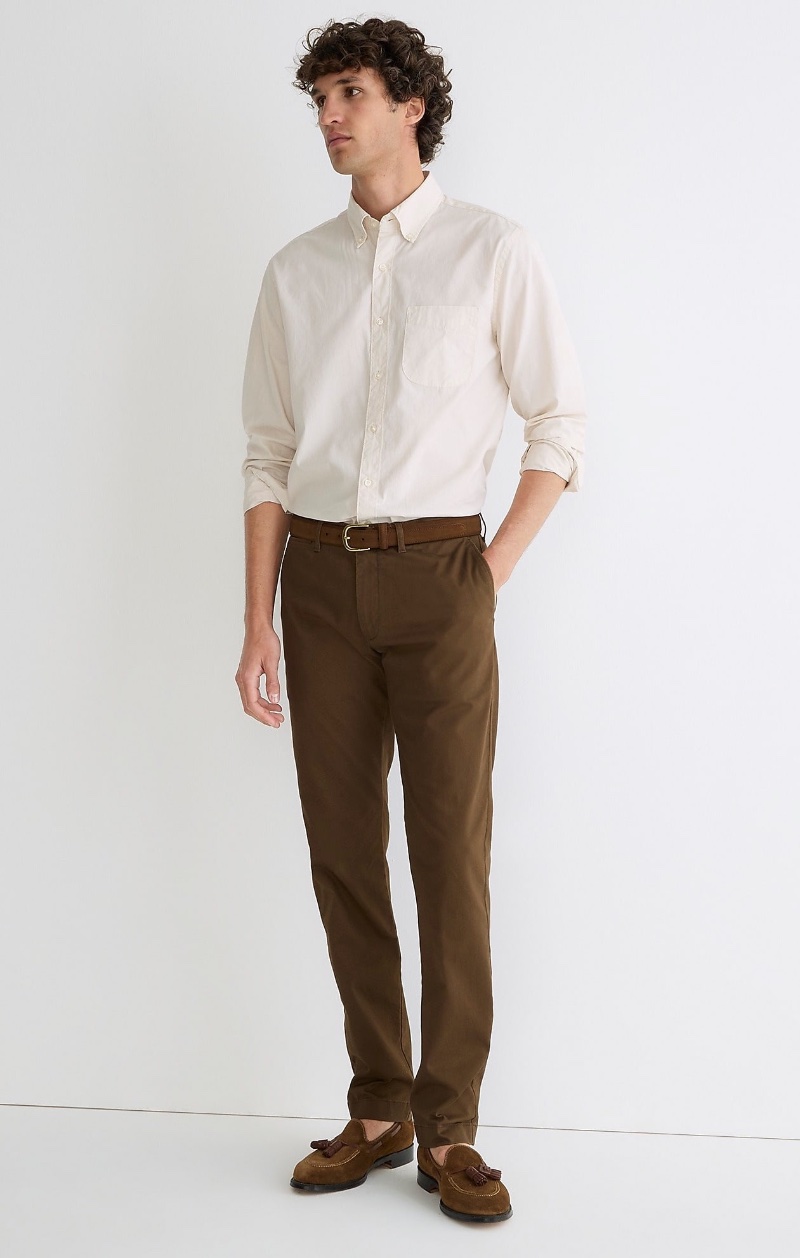 Chinos provide a smart alternative to jeans, offering a touch of sophistication without compromising on comfort. Their versatility makes them a valuable addition, capable of pairing with both casual tees and formal shirts.
Denim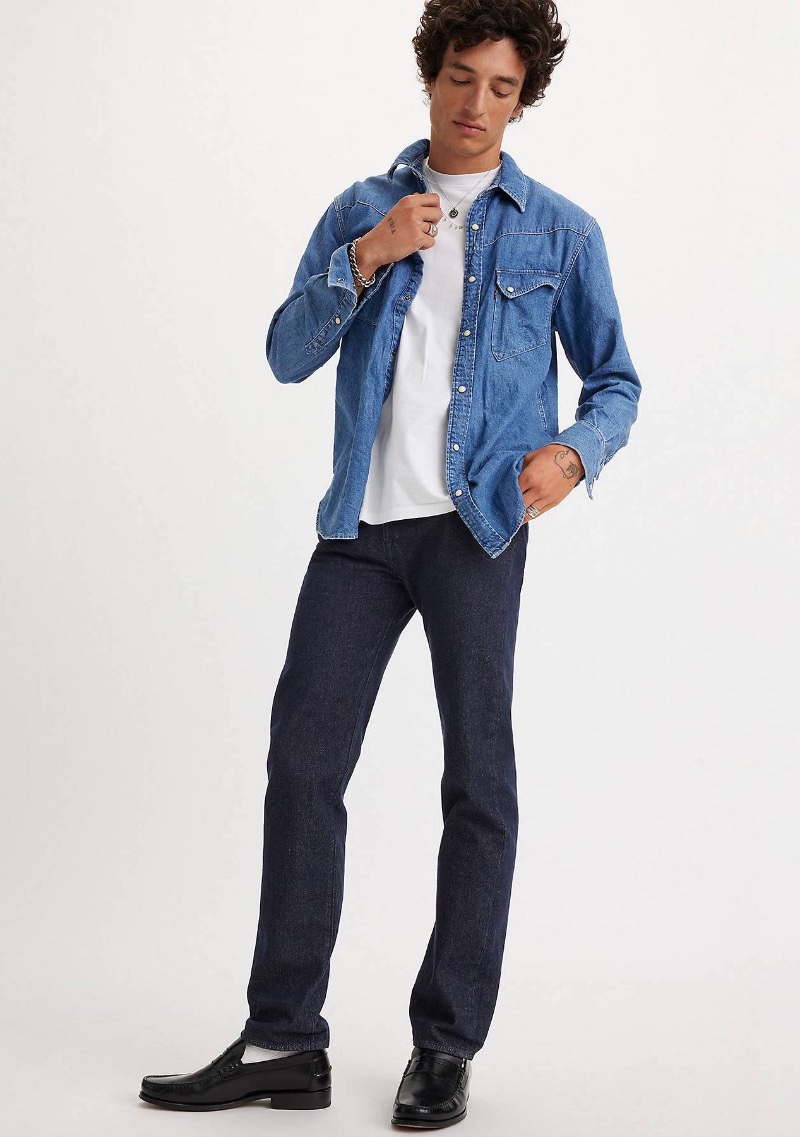 A well-fitted pair of dark jeans is the cornerstone of casual elegance when autumn arrives. Their adaptability allows for an easy transition between casual and formal, serving as a reliable base for your seasonal wardrobe.
Flannel Shirt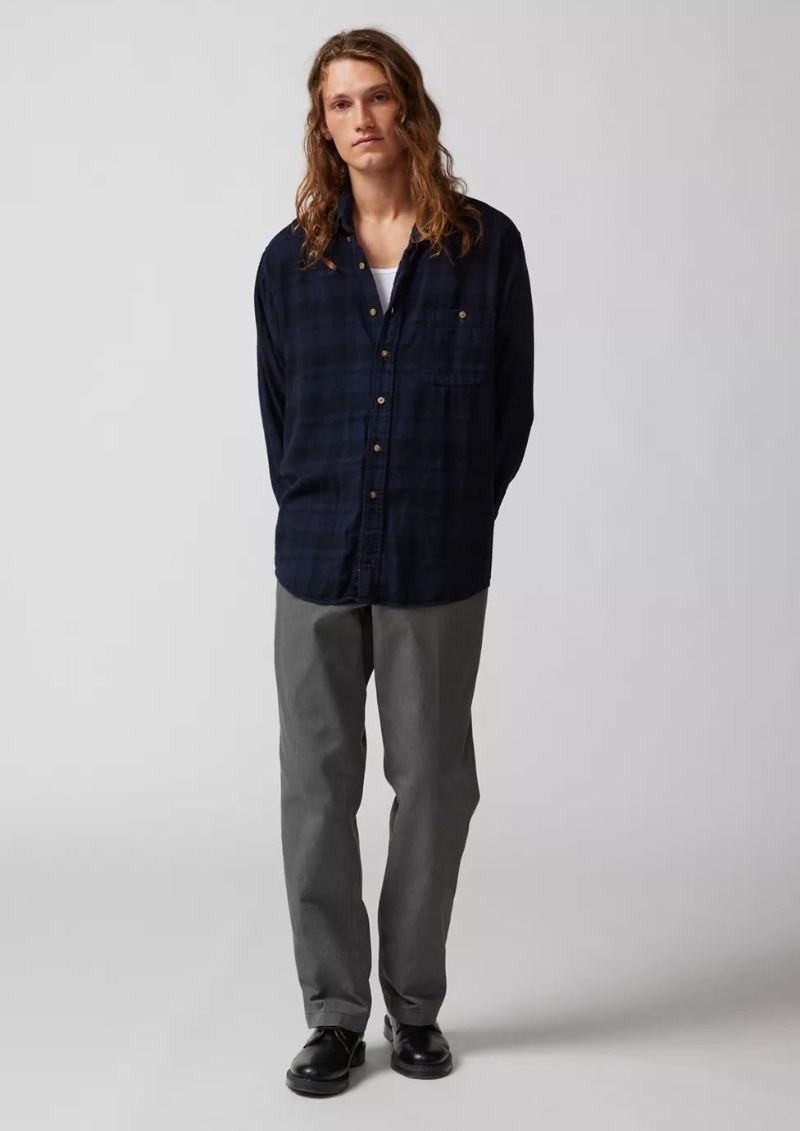 A flannel shirt offers both warmth and a rustic charm. Opting for a classic pattern like plaid ensures this piece can be a flexible addition, suitable for layering or standing alone.
Sweater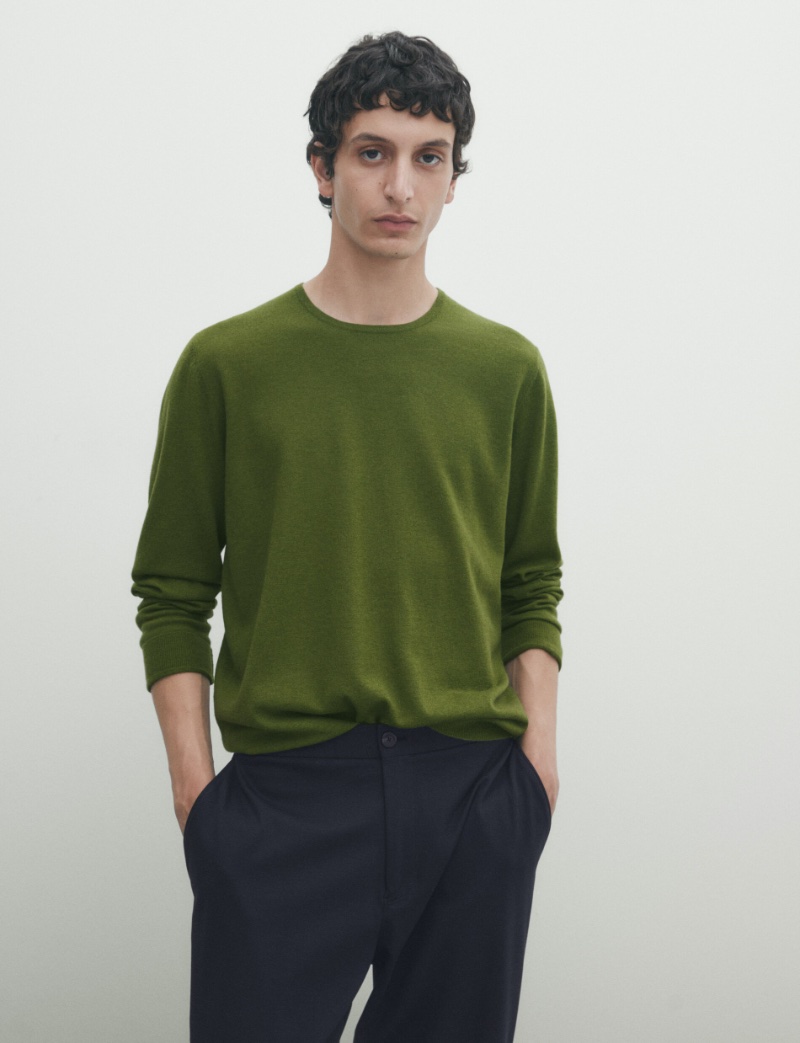 A quality knit sweater in a neutral shade is a source of warmth and a versatile piece that complements almost any ensemble. The sweater, especially the turtleneck, adds a layer of texture and sophistication, making your outfit comfortable and refined.
Layering Tees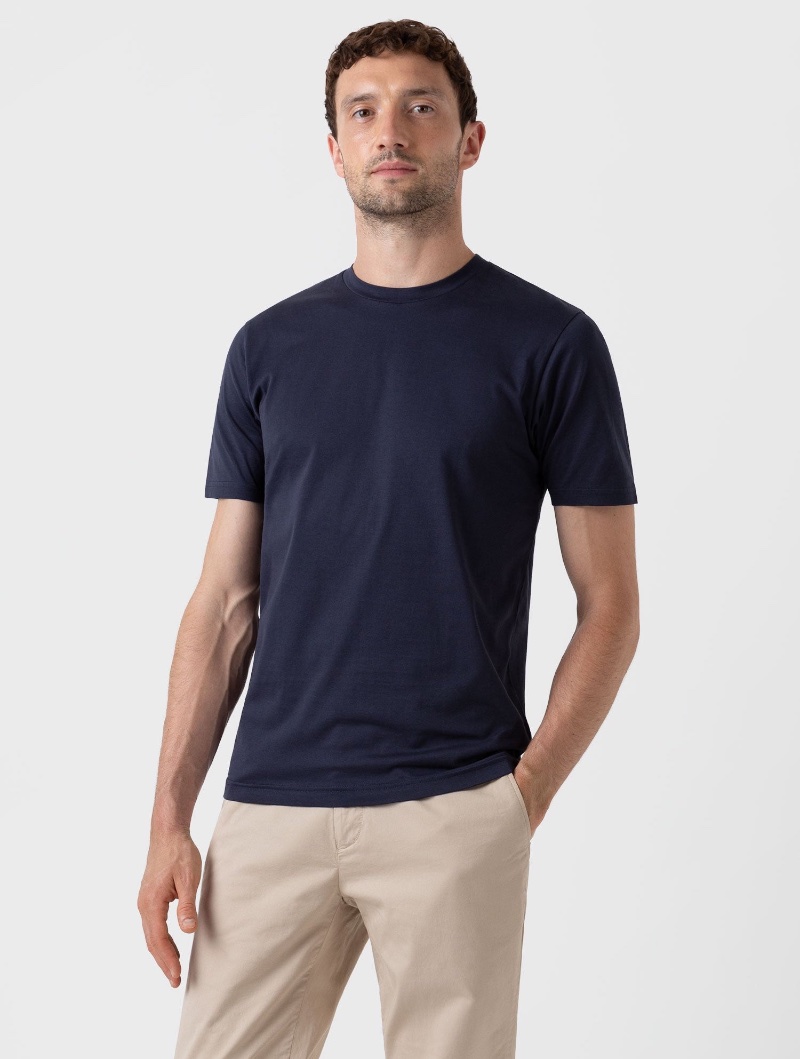 Basic tees in neutral tones are the unsung heroes of your wardrobe, providing a foundation for layering under shirts, sweaters, or jackets. They offer both warmth and a subtle touch of style.
Fall Fashion for Every Occasion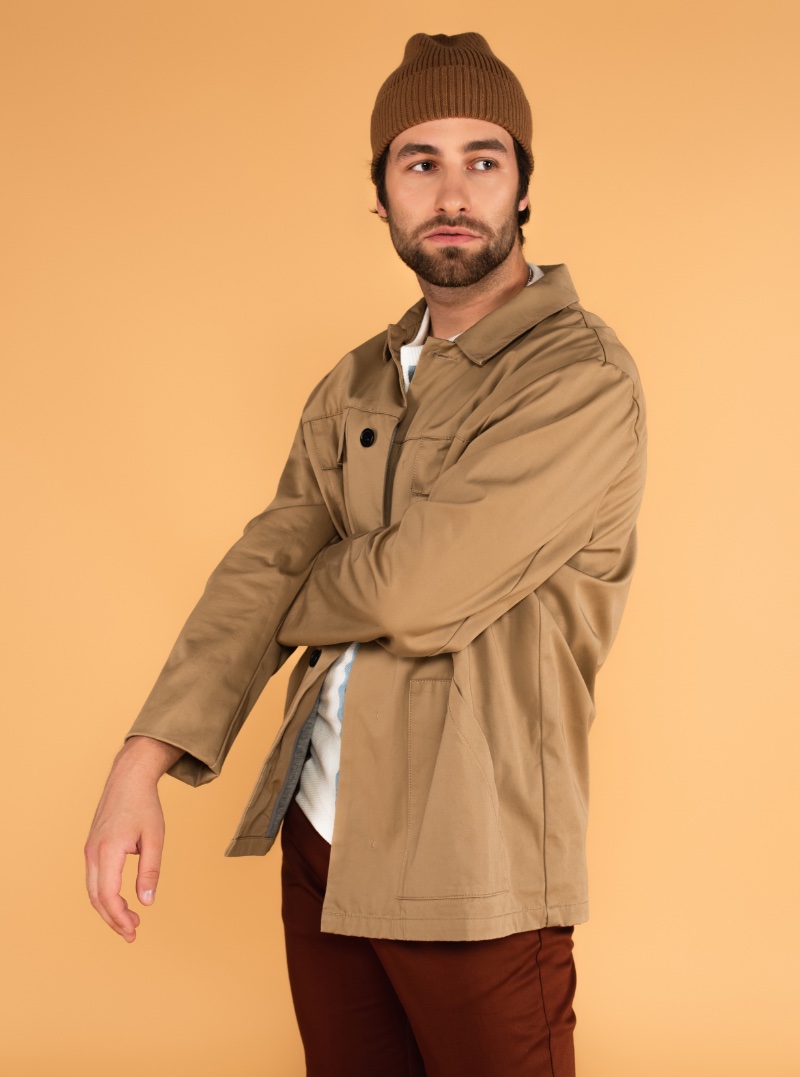 As the season shifts, so should your wardrobe. Fall is a time of transformation, offering many opportunities to adapt your style to various settings.
Whether it's a casual weekend outing, a formal event, or a day at the office, the season's fashion trends provide ample inspiration for crafting the perfect outfit.
Casual But Stylish Outfit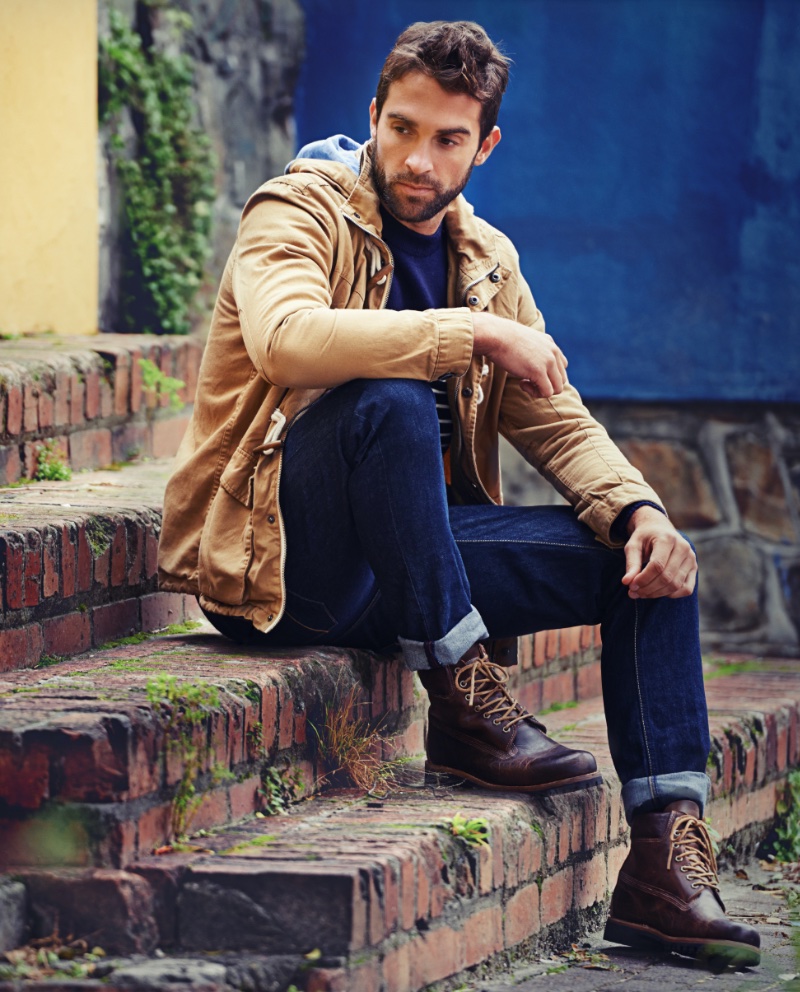 For casual settings, the key is to combine comfort with style. A long-sleeve t-shirt paired with a light bomber, duffle coat, or denim jacket offers a laid-back yet polished look. On the bottom, opt for chinos or dark jeans, and complete the ensemble with a pair of sturdy boots.
Alternatively, a flannel shirt paired with jeans and sneakers captures the essence of fall comfort. Consider a sweater over a button-down shirt with chinos or corduroy pants for a more layered approach.
Formal Attire: Classic & Contemporary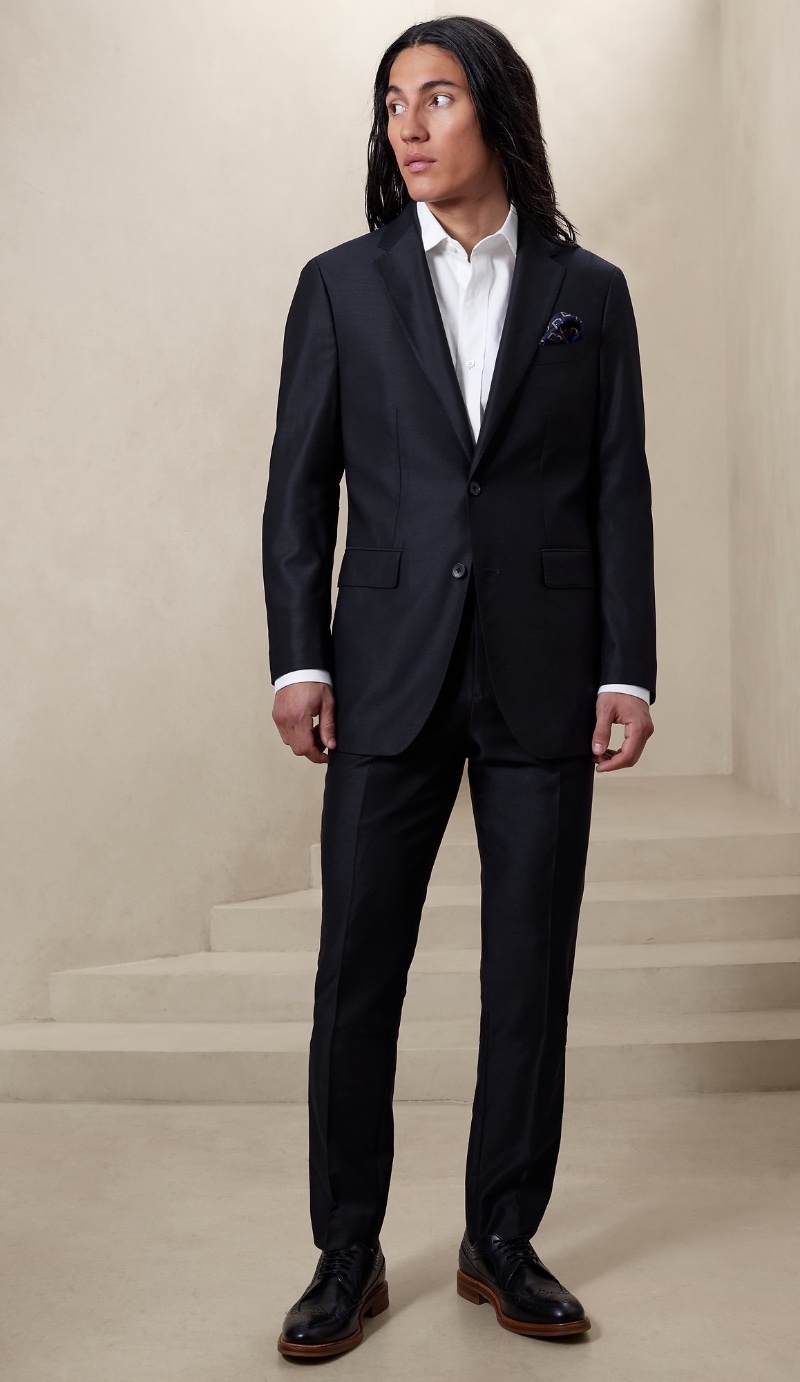 When the occasion calls for something more formal, a well-tailored suit in a neutral color like navy or charcoal is a timeless choice. Pair it with a crisp dress shirt and quality dress shoes to complete the look.
Consider swapping the dress shirt for a fine-gauge knit for those looking to modernize their formal attire. This subtle change can transform the vibe of your suit, making it feel less business-like and more contemporary.
Smart Work Attire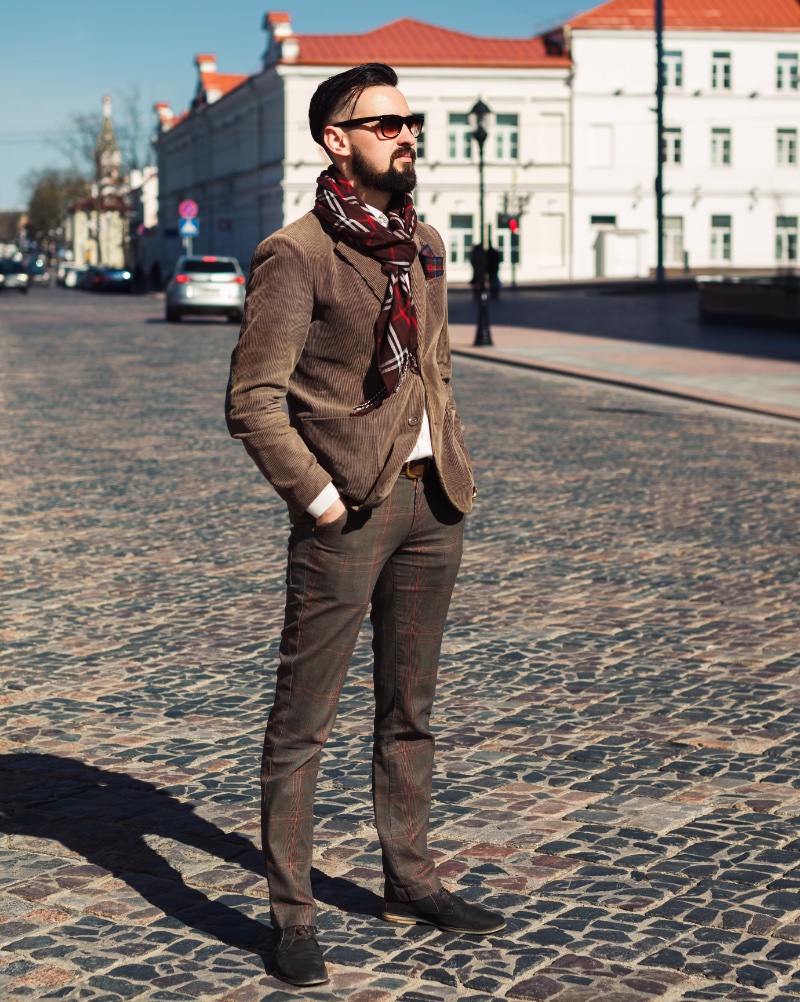 Navigating workwear during fall involves a delicate balance between comfort and professionalism. Elevate everyday pieces with more upscale elements or a dash of flair for a smart-casual look.
The result should be an outfit that's a notch above your daily wear but still comfortable and reflective of your style. A blazer or sports coat paired with dress pants and shoes for more formal work settings can always go right.
The Versatile Look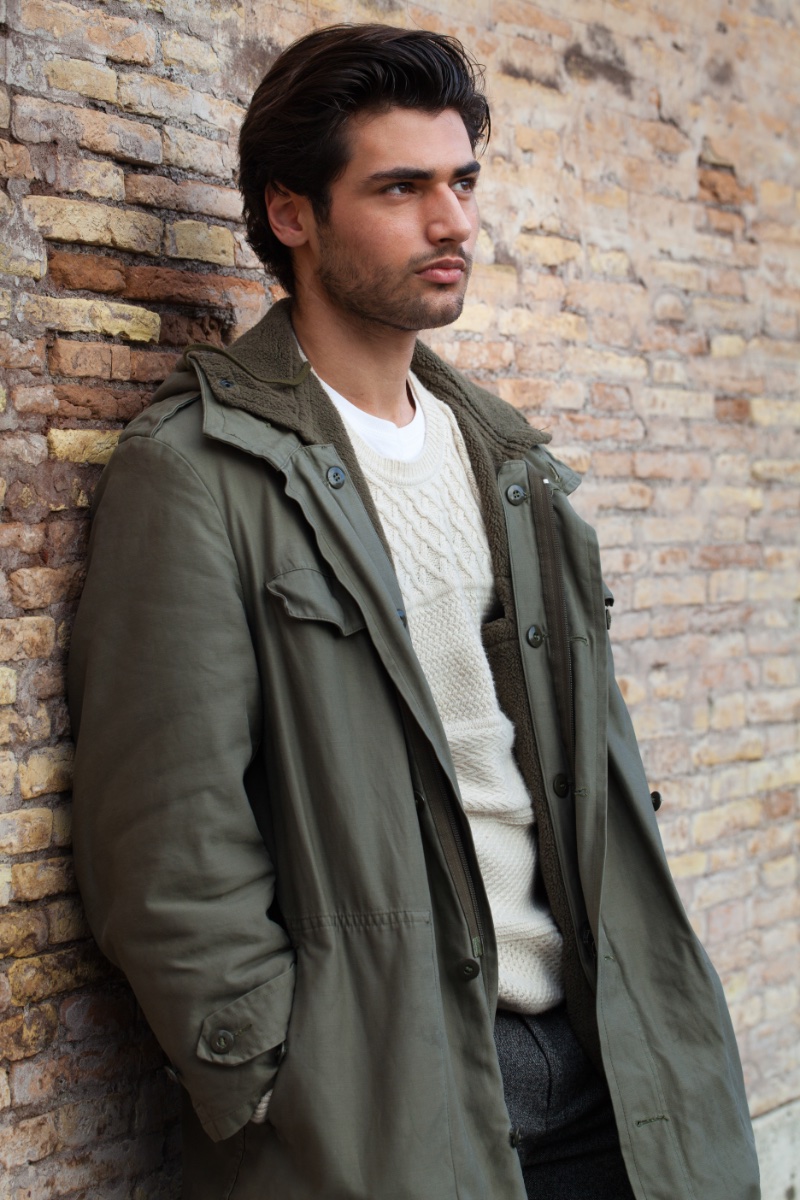 Navigating the social calendar during fall can be something other than a sartorial challenge. Consider a chunky knit sweater paired with dark-wash jeans and sturdy boots for a casual outing. Add a lightweight jacket and a stylish beanie to round off the look.
The Business Casual Ensemble
Business casual affairs call for a more refined approach: a tailored blazer layered over a button-down shirt or top and chinos, accented with a lightweight scarf and finished with leather loafers.
The Smart-Casual Ensemble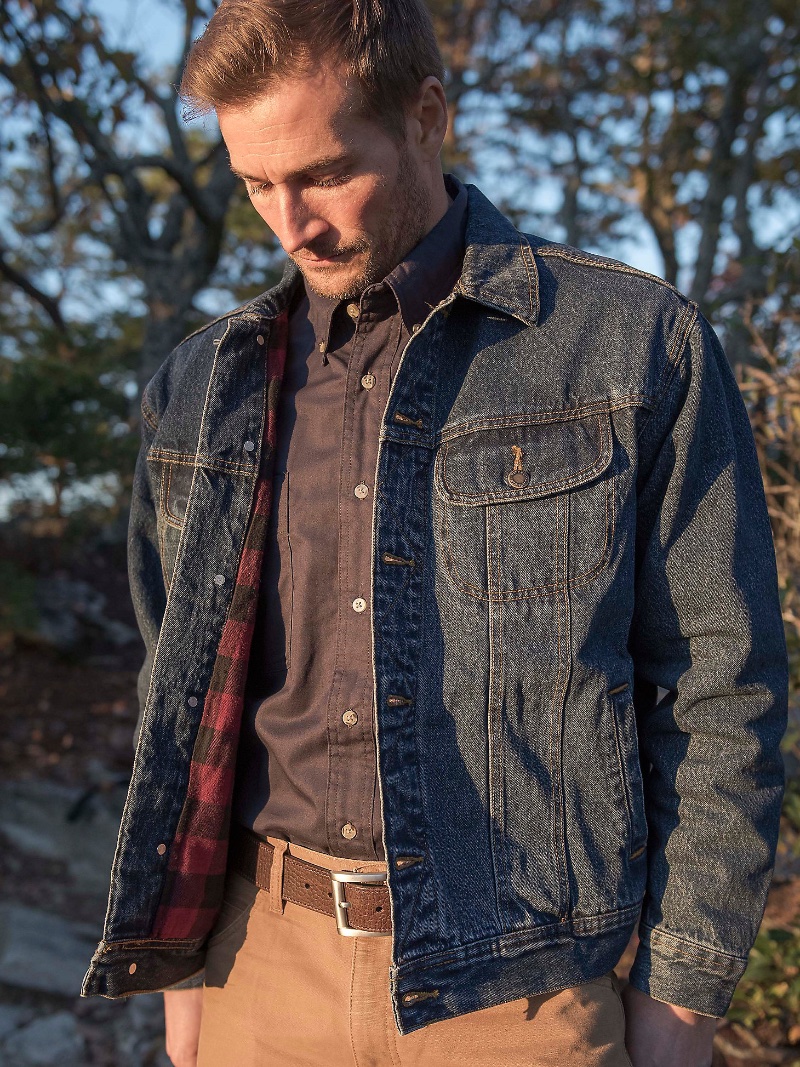 For those smart-casual events, a well-fitted denim jacket over a button-up shirt and trousers offers a versatile base. Suede desert boots, a statement belt, and a wristwatch are the final brushstrokes on your autumnal canvas.
The Many Faces of Fall Jeans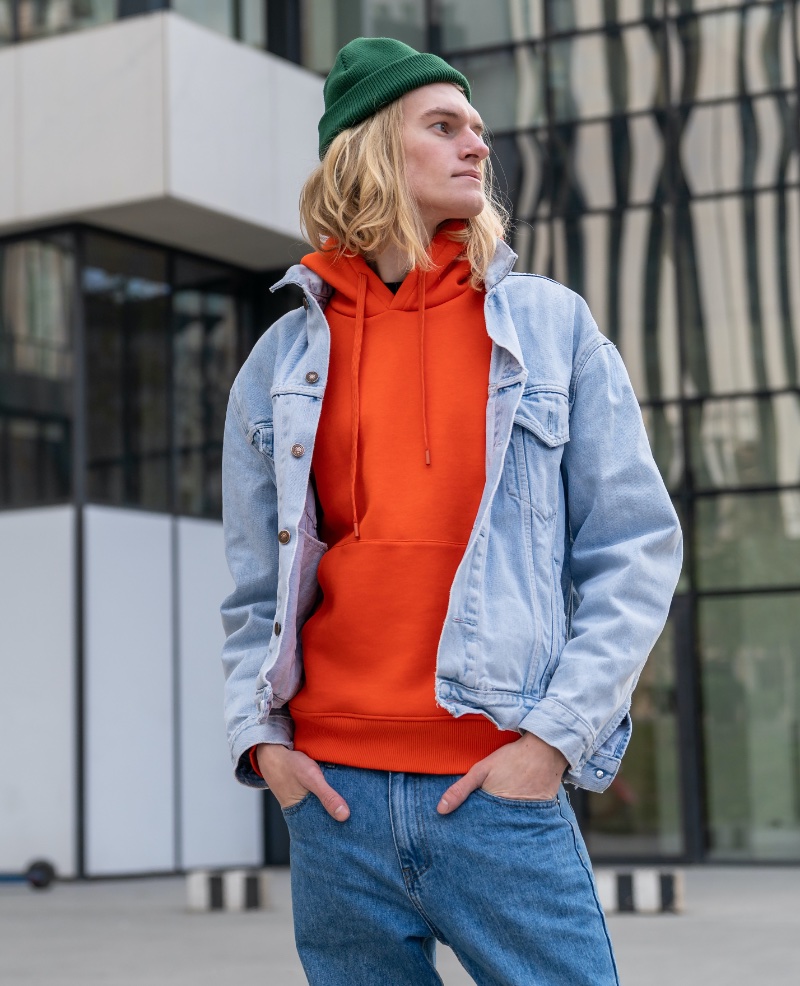 This fall, jeans offer a departure from the expected, serving as canvases that invite transformative styling. This moment in the fashion calendar calls for more than just minor adjustments—it demands a full-scale reconsideration of shape and hue in your denim repertoire.
Modern Silhouettes: Beyond the Usual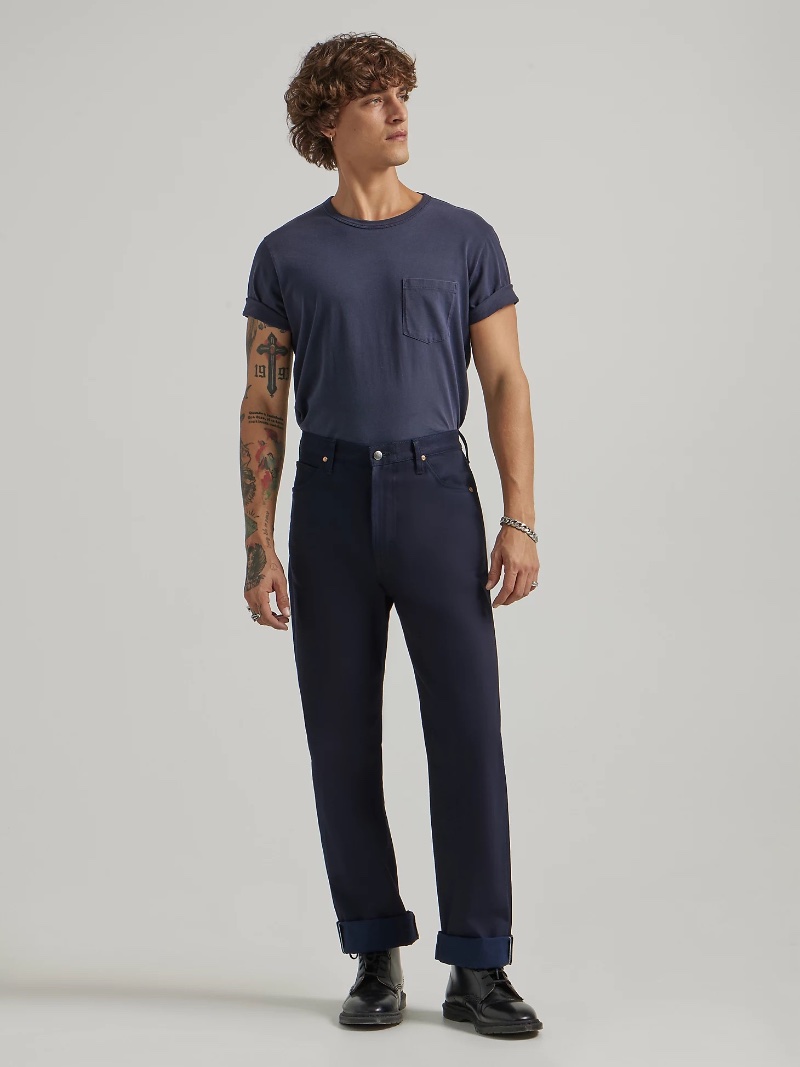 Veering away from the ubiquity of slim and straight styles, consider tapered jeans a balanced option between ease and aesthetics. Boot-cut jeans contribute a retro flair when teamed with ankle boots, whereas baggy jeans provide unforced comfort.
Fresh Hues: Seasonal Twists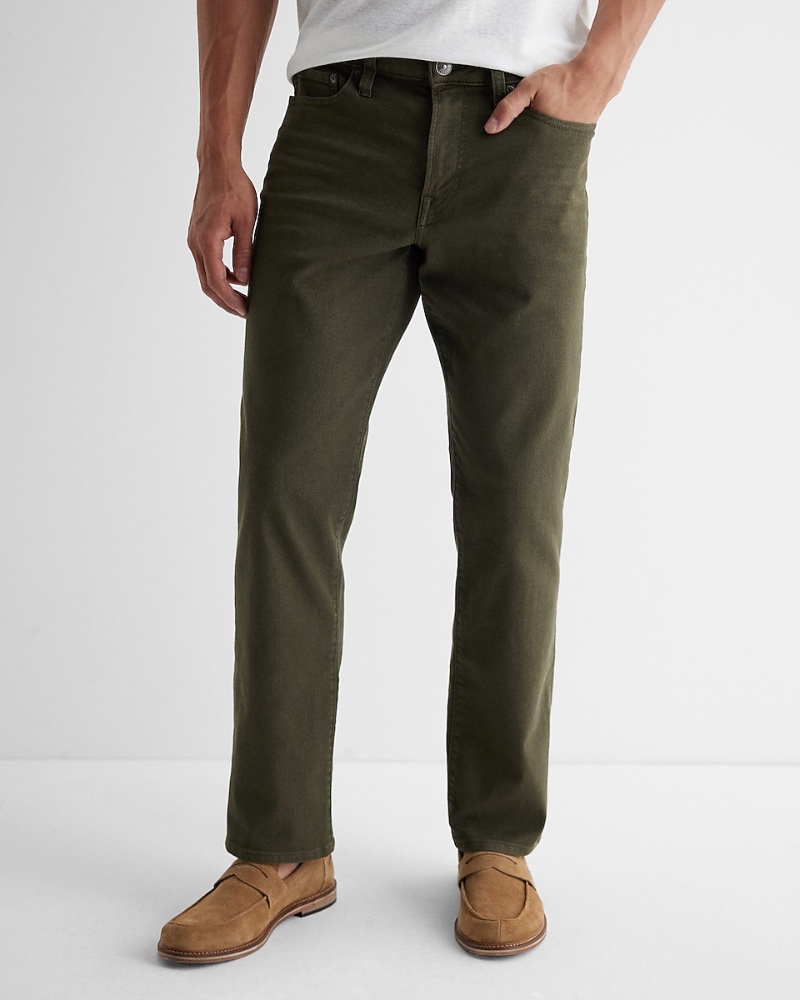 Move past the pervasive blues and blacks to welcome the deeper, richer colors of the season. Shades like olive and burgundy introduce new dimensions to your wardrobe and subtly echo the turning leaves and shorter days.
Elevating Your Outerwear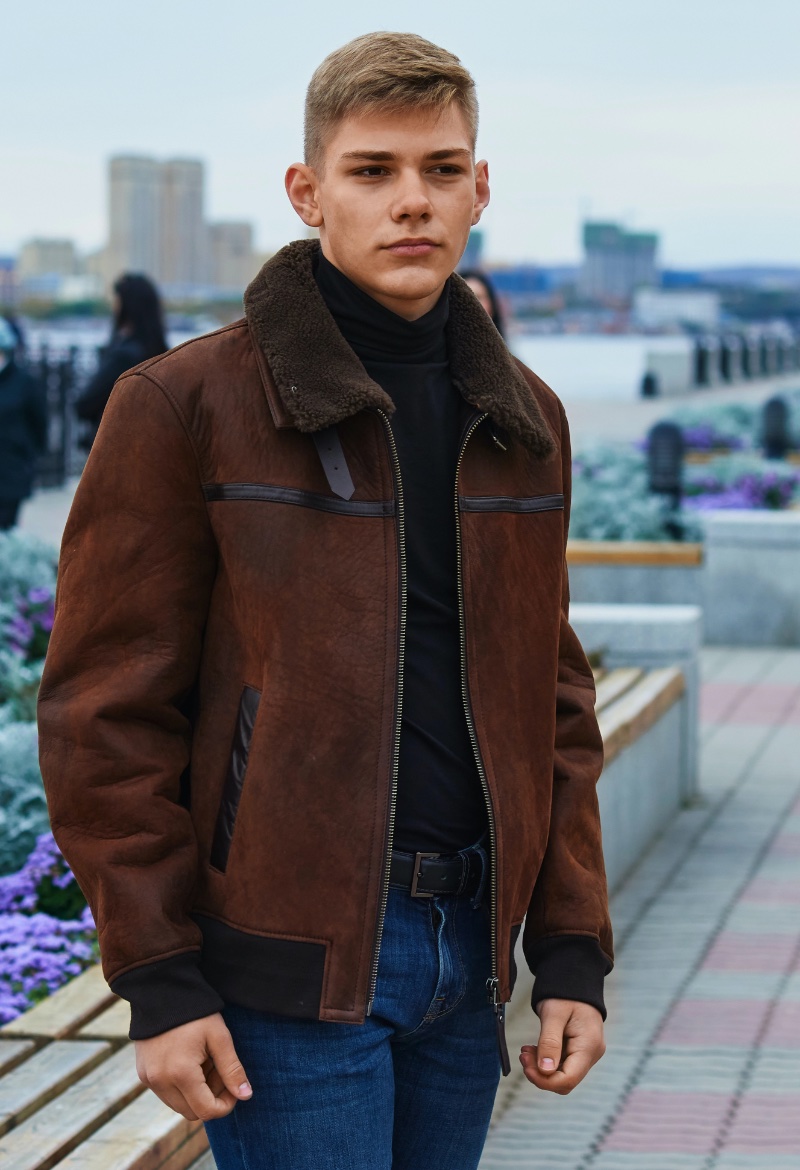 The art of outerwear extends to how well it integrates with the rest of your fall wardrobe. A leather jacket paired with dark wash jeans and a basic t-shirt can create an effortlessly timeless look.
For those seeking elegance, a wool coat with a neutral-colored scarf and gloves can elevate your ensemble to a cozy sophistication.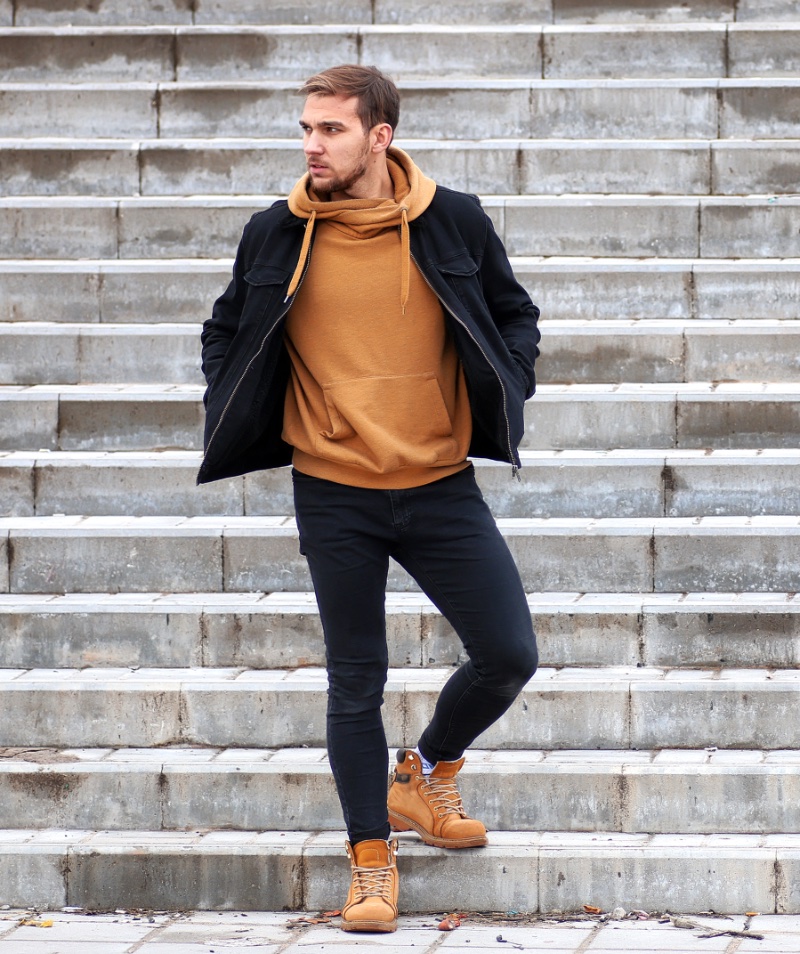 When selecting outerwear, consider the overall color palette of your outfit. The right piece can complement or provide a striking contrast, adding layers of complexity to your look.
And don't shy away from mixing casual and formal elements. The juxtaposition can result in an outfit that's uniquely yours and undeniably stylish.
Stepping into Autumn: Fall Footwear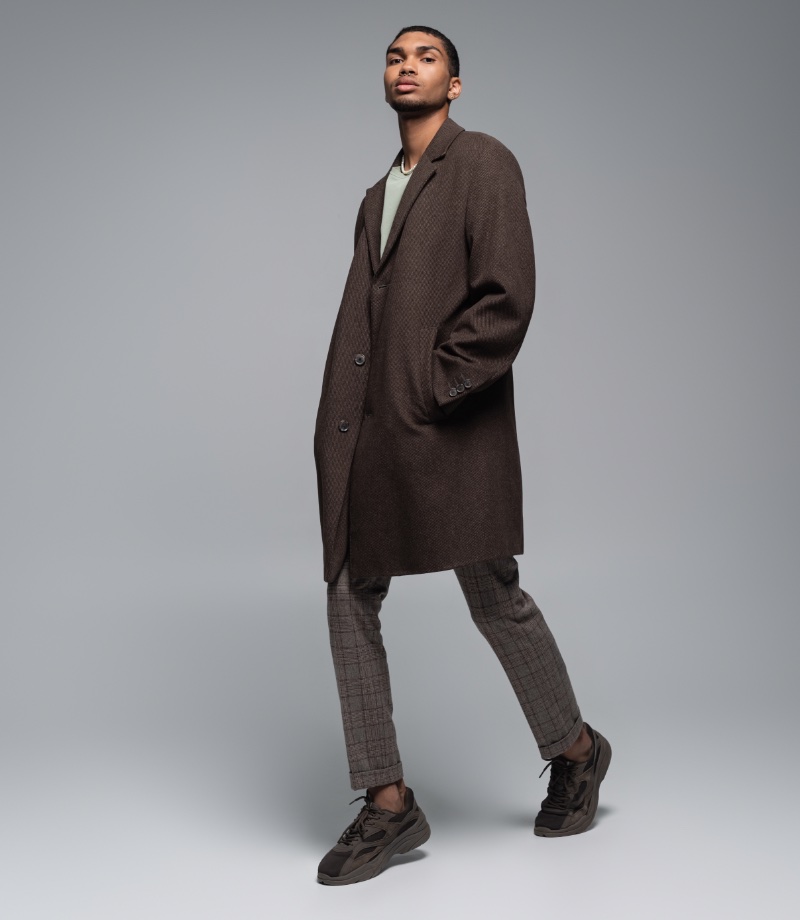 As the landscape transforms with fall colors, so should your footwear. The season offers a rich tapestry of options that elevate your style while keeping your feet comfortably shielded from the elements.
From the rugged appeal of boots to the laid-back vibe of sneakers and the versatile charm of loafers, autumn's footwear trends offer something for every occasion and mood.
Boots: The Quintessential Fall Staple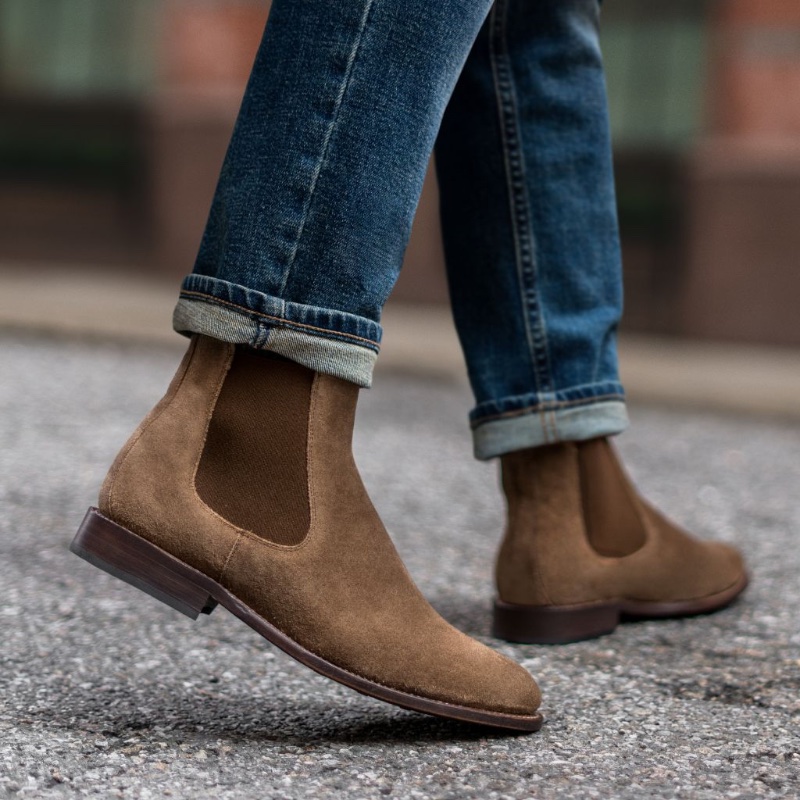 Boots are to fall what sandals are to summer—an indispensable part of your wardrobe. The range is broad, from the sleek sophistication of suede Chelsea boots to the rugged durability of combat or hiking boots.
Each style serves a purpose and sets a tone. Chelsea boots, for instance, can add a refined touch to your ensemble, while hiking boots are your go-to for outdoor adventures.
Sneakers: The Casual Contender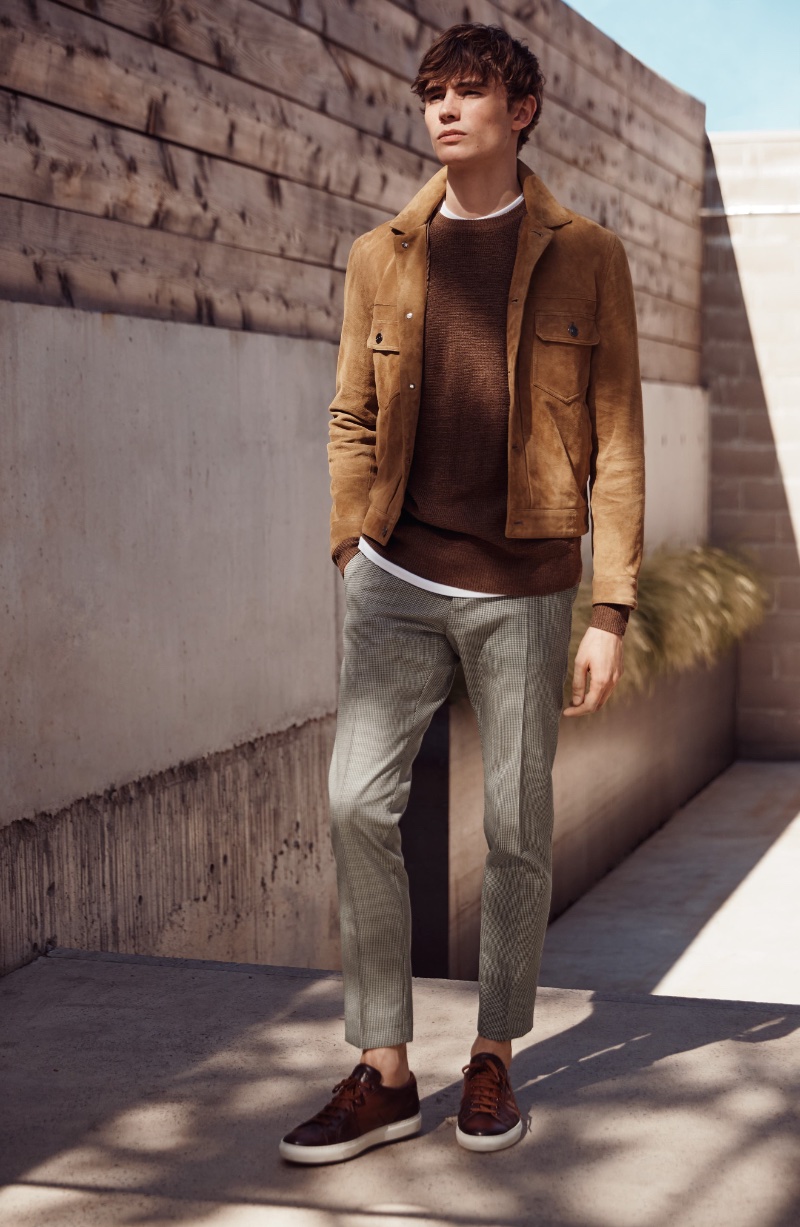 Sneakers offer a more relaxed approach to fall fashion. This season, minimal brown sneakers make waves, offering a subdued yet stylish alternative to traditional fall colors. For those looking to inject a bit of flair into their casual outfits, colorful trainers are also a popular choice.
Loafers: The Jack-of-All-Trades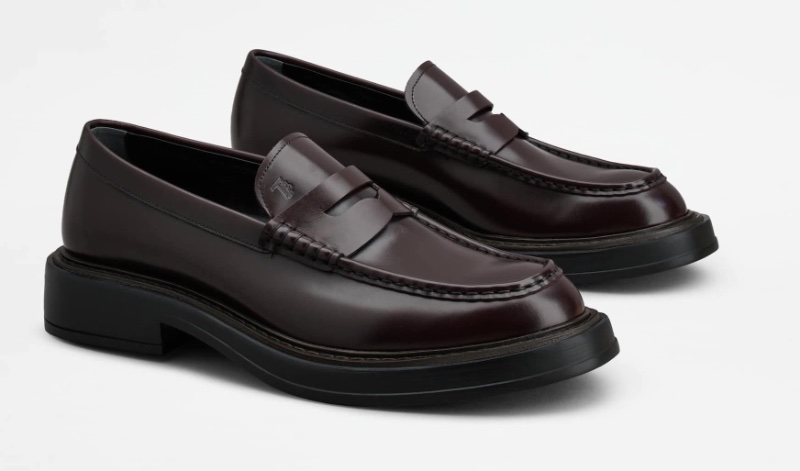 Loafers occupy that sweet spot between casual and formal, making them a versatile addition to your fall wardrobe. Casual loafers can effortlessly complete a laid-back look, while dress loafers can step in when the occasion demands something more refined.
The Finishing Touches: Essential Accessories
As autumn leaves begin to fall, the importance of accessories in men's fashion rises. These finishing touches serve a dual purpose: they offer practical benefits like warmth while elevating your style quotient. The right accessories can transform a good outfit into a great one, adding layers of complexity and interest.
Headwear: More Than Just Warmth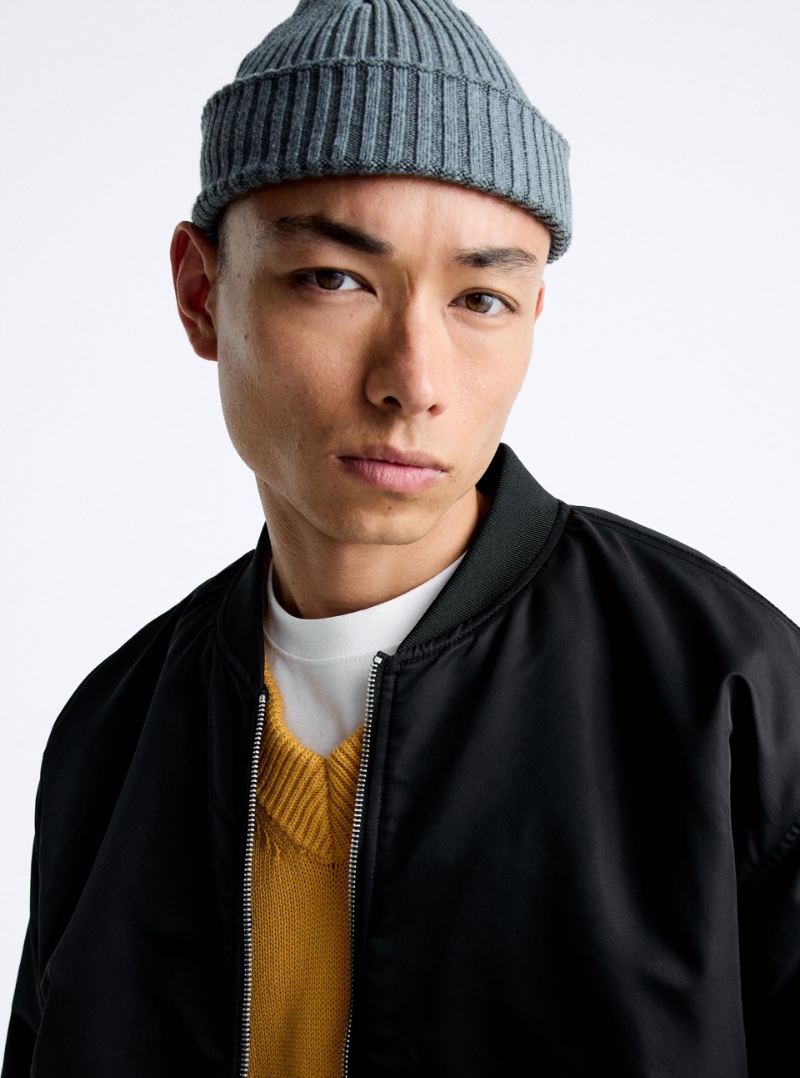 Regarding hats, the choices are as varied as the falling leaves. A well-chosen hat keeps you warm and injects a dose of style into your ensemble. Whether it's the timeless elegance of a fedora or the laid-back vibe of a beanie, your choice of headwear can serve as the exclamation point to your fall outfit.
Scarves: The Versatile Statement Piece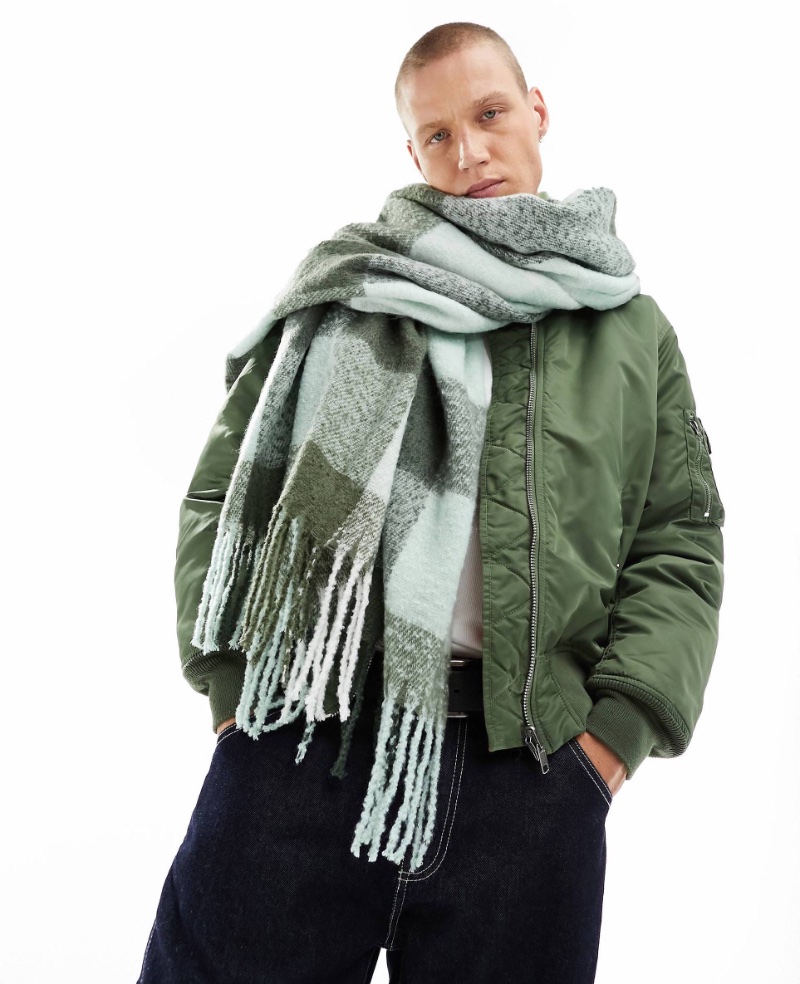 Scarves offer more than just a shield against the cold. They're an opportunity to introduce color, texture, or pattern into your look. Whether it's a cozy knit scarf for a casual day out or a patterned piece that adds sophistication, the right scarf can be a game-changer.
Gloves: The Intersection of Function & Style
As temperatures dip, gloves become a non-negotiable. But practicality doesn't have to come at the expense of style. Opt for gloves that offer both insulation and aesthetic appeal. Whether a pair of sleek leather gloves or something more rugged, the right pair can complement your overall look while keeping your hands toasty.
Belts: The Understated Game Changer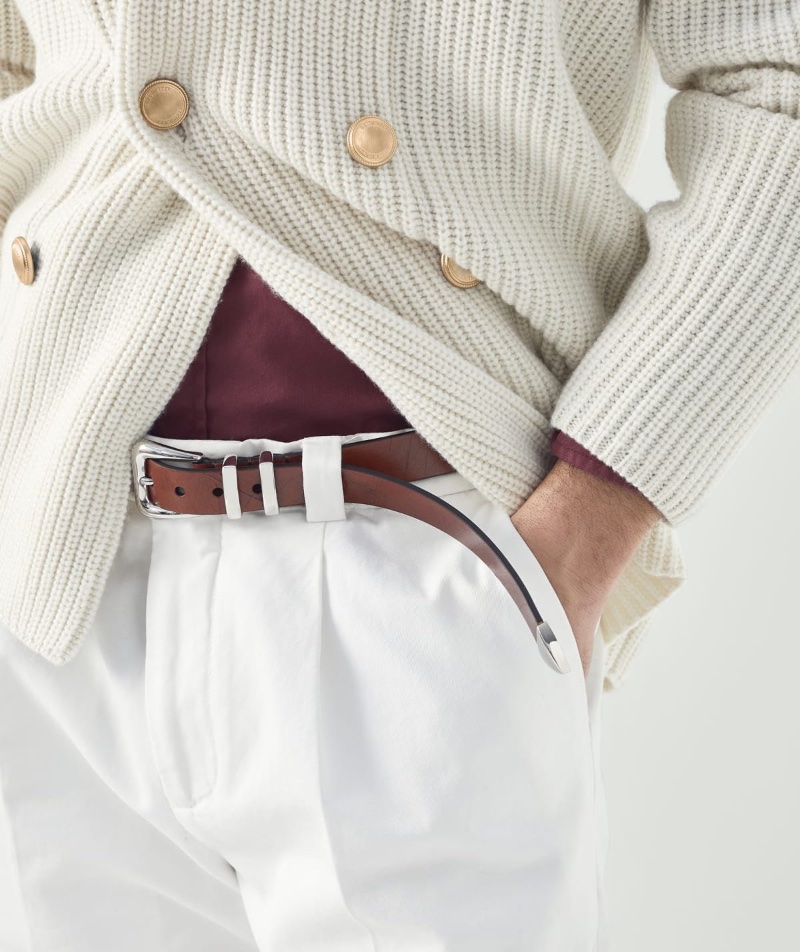 Often overlooked but never to be underestimated, a good belt can serve as the final brushstroke in your fall fashion masterpiece. A leather belt in earthy tones can offer a subtle yet impactful finishing touch, pulling together various elements of your outfit into a cohesive whole.
A Seasonal Shift: Grooming & Hairstyle Trends
As the air grows crisp and the leaves descend, your grooming routine should be ripe for a seasonal shift. Fall ushers in not just particular hurdles in skin care, facial hair upkeep, and hairstyling. It also opens up an aromatic world of opportunities with its fall colognes.
Think warm, woody scents that echo the richness of the season. These thoughtful adaptations can elevate your aesthetic appeal and empower you with renewed confidence as you stride through autumn's social engagements and professional endeavors.
Skincare: Fortifying Against Fall's Harshness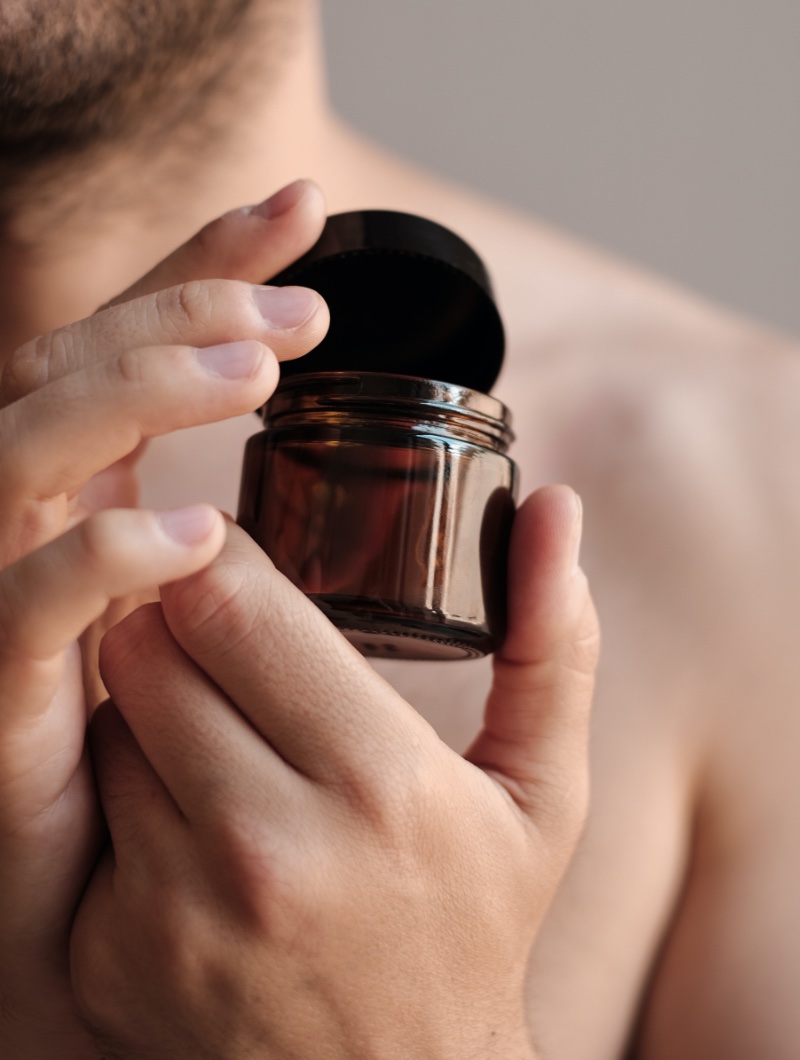 The autumn season can be unforgiving on your skin, making a robust skincare routine more crucial than ever. Moisturizing takes center stage—opt for a high-quality moisturizer to keep your skin hydrated and resilient against the elements.
Consider incorporating a facial scrub into your regimen to refine your complexion further. This will help exfoliate dead skin cells, leaving your face refreshed and ready for whatever fall throws your way.
Facial Hair: The Art of Maintenance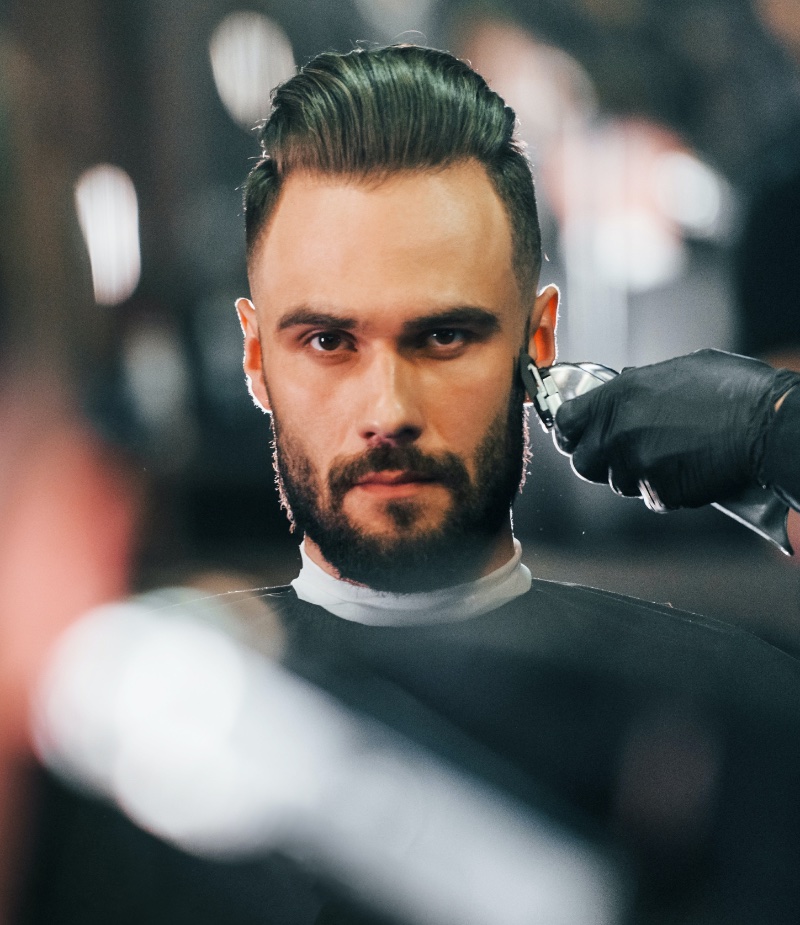 For those sporting facial hair, fall is the time to keep it in impeccable shape. Regular trims are a must to maintain a neat appearance. Complement this with quality beard oil to keep your beard or mustache soft, shiny, and well-conditioned.
Hairstyles: Embracing Texture & Volume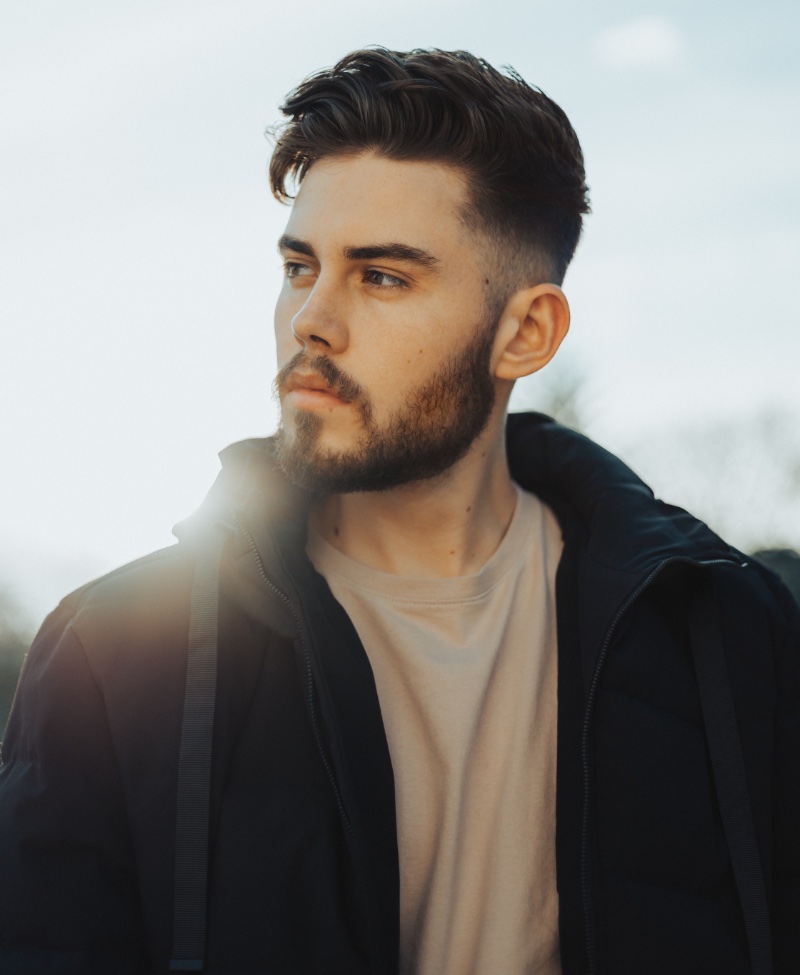 When it comes to hair, this season is all about texture and volume. The trend leans towards a more relaxed, messy look, achievable through layered haircuts. This style adds a contemporary edge and offers versatility, making it suitable for casual and formal settings.
While texture and volume may be the aesthetic goals for the season, the foundation of these trend-forward styles rests firmly on the health of your hair. The cornerstone of any great hairstyle is healthy hair. Invest in a good quality shampoo and conditioner to maintain a lustrous sheen.
For an added layer of nourishment, consider a weekly hair mask treatment. This will give your hair the nutrients it needs to stay healthy and vibrant throughout the season.
Your Fall Fashion Playbook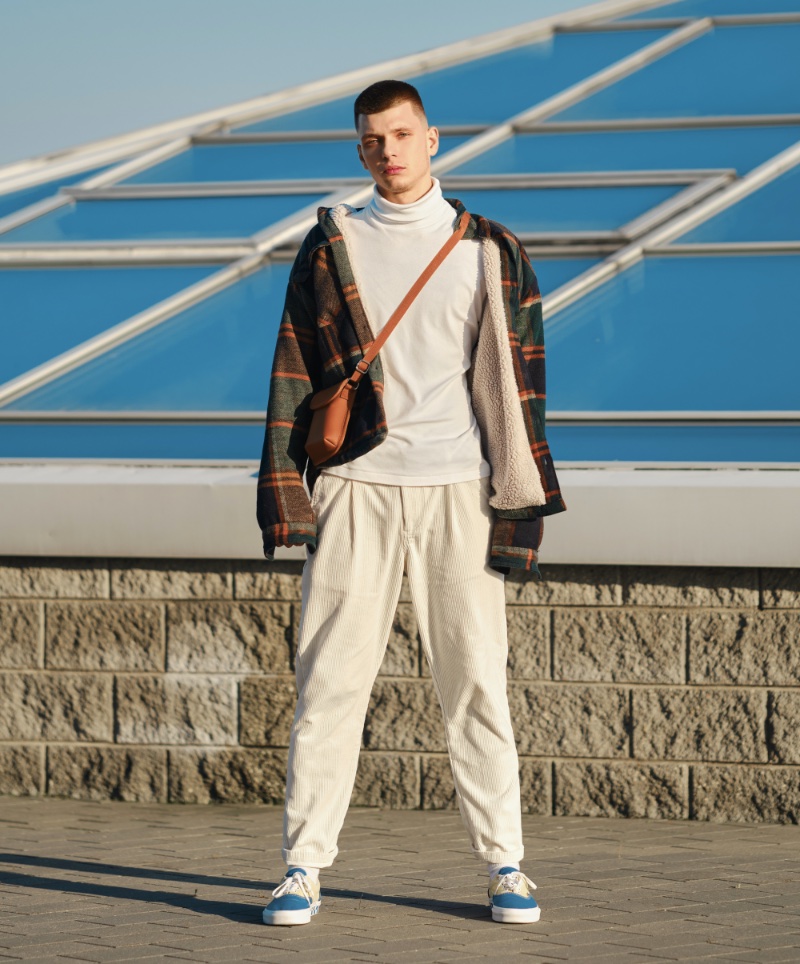 Autumn ushers in a sartorial playground rich in colors and styles, offering you the canvas to craft your aesthetic narrative. From the sturdiness of boots to the sophistication of a tailored coat, each choice serves as a chapter in your autumn fashion journey.
Yet beyond the textiles and trends, remember that the artistry lies in how these elements are composed. As you engage with the world this fall, allow your wardrobe to do more than clothe you—let it reflect your adaptability and spirit in a season ripe with fashion possibilities.