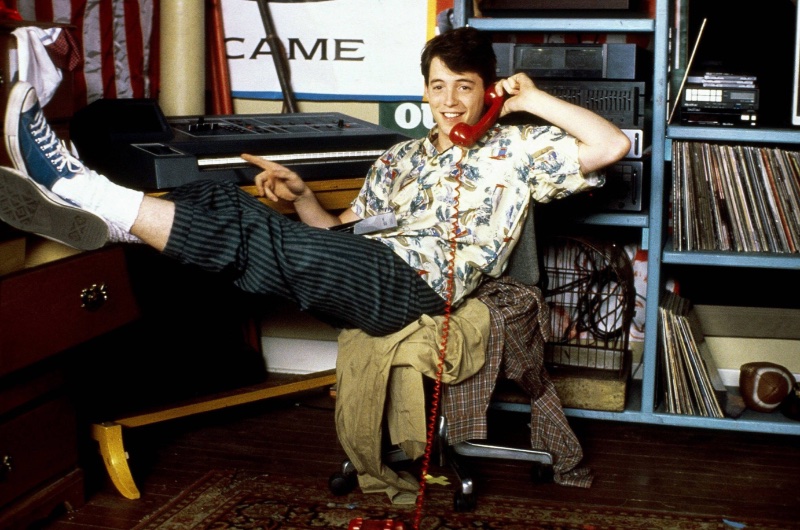 If you're a fan of bold colors, loud patterns, and eclectic style, the 80s must be your favorite decade for fashion. Dressing up was more than just putting on clothes; it was a way to make a statement. Remember that scene from American Psycho where Patrick Bateman obsesses over his business card? That's how serious men were about their fashion.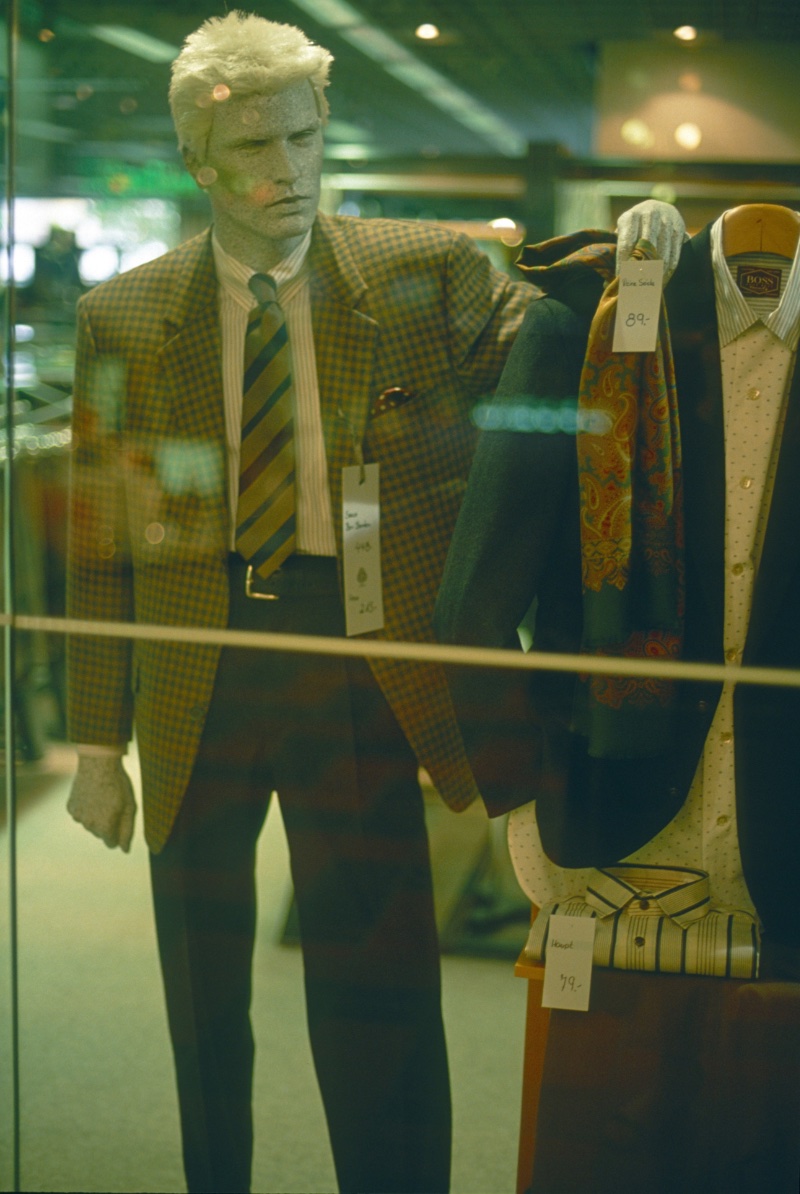 The eighties were all about excess. Men wanted to stand out and be seen as flourishing and powerful. This was reflected in the boldness of their clothing choices. Suits with broad shoulders and accessories in bright hues became commonplace in offices across America.
The preppy look also made a comeback, with polo shirts, khakis, and boat shoes becoming staples of the upper-class wardrobe. But not everyone wanted to dress like a business person or prepster. Films like The Breakfast Club showcased the diversity of youth fashion, from preppy to rebellious.
The punk rock movement and hip-hop groups like the Beastie Boys greatly influenced men's fashion during the decade. Leather jackets, gold chains, ripped jeans, snapbacks, and band t-shirts were all part of this edgy style that rejected conformity.
80s Fashion for Men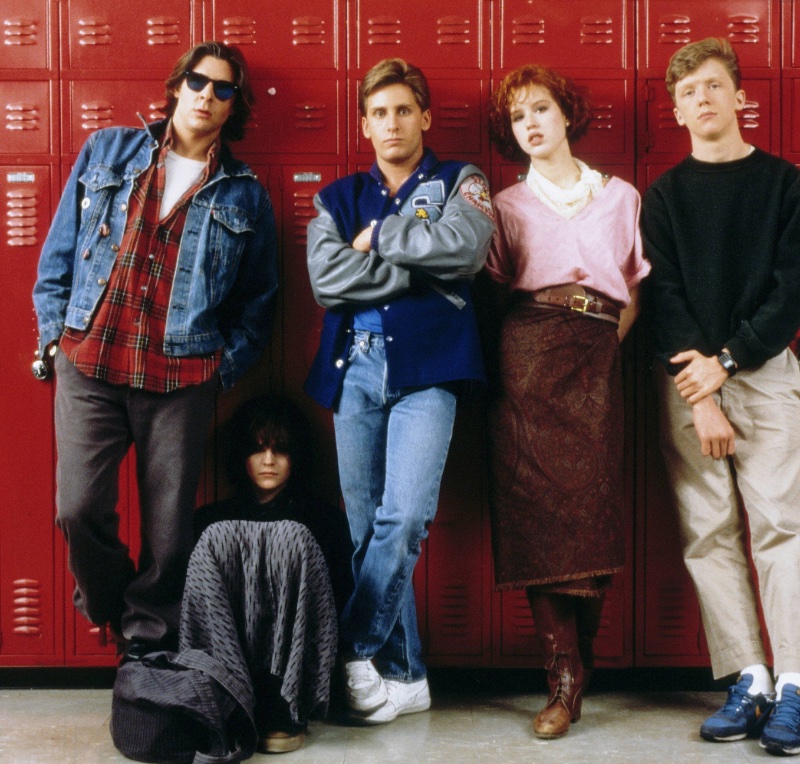 Fashion wasn't just about looking good but also a form of self-expression. It allowed men to show off their personality and individuality through what they wore. Brands also played an important role in fashion during this era. Ralph Lauren's POLO brand was also popular among preppy guys who wanted to look sophisticated yet casual.
Music and movies were other big influencers on men's fashion during this period. Michael Jackson's Thriller video introduced us to red leather jackets and the one-glove trend, while Tom Cruise in Top Gun made bomber jackets and aviator sunglasses cool. In a way, fashion during the 80s was a rebellion against the conservative styles of the past.
Men wanted to have fun and express themselves, even if it meant looking a little wild or unconventional. And looking back on it now, we can't help but appreciate the unique style choices that came out of this decade.
Key 80s Trends
Power Dressing: Suits, Shoulder Pads & Bold Colors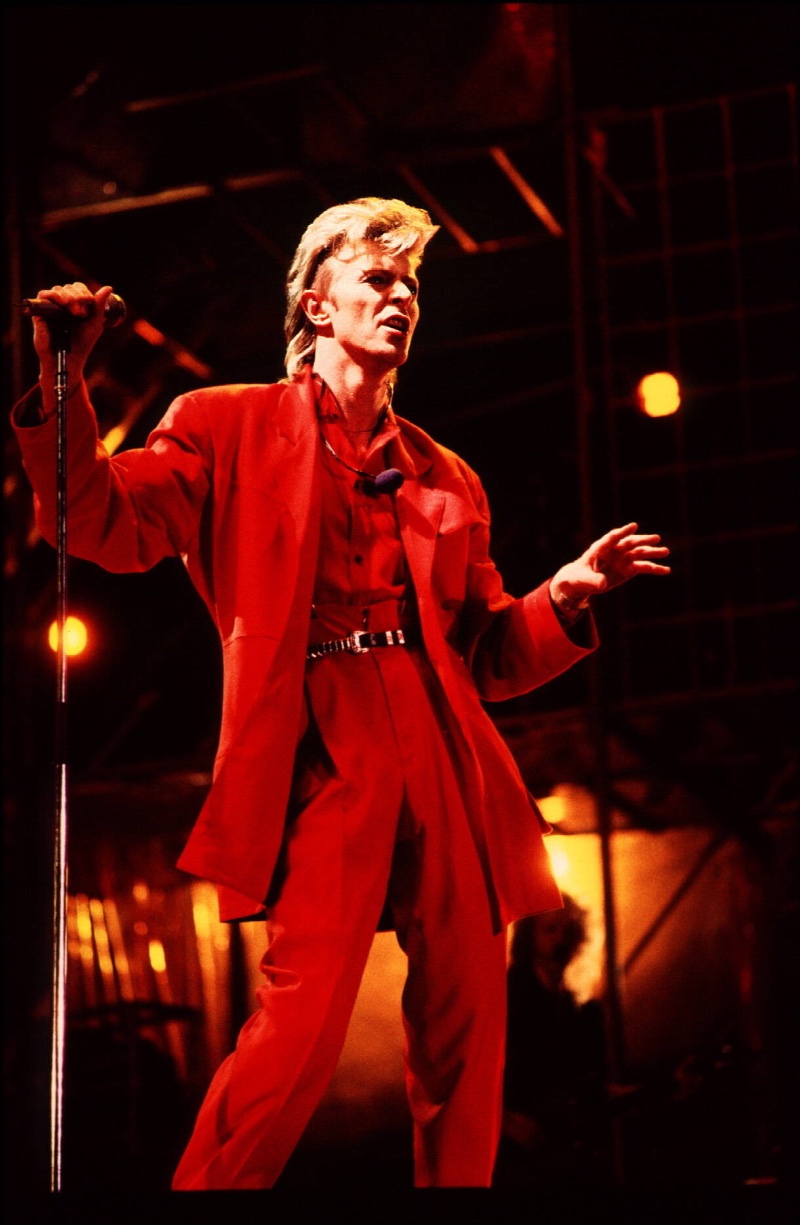 When someone says 80s fashion, the first thing that probably comes to mind is power dressing. This was the era of big hair, bold shoulders, and bright colors, as well as iconic style influencers like David Bowie. The power suit was the must-have item for any working man, and it wasn't complete without a pair of shoulder pads to make you look broader and more powerful.
Popular brands like Giorgio Armani, who dressed Richard Gere in the iconic film American Gigolo, led the way in revolutionizing men's suiting. These oversized blazers were often accompanied by equally bold ties in bright hues like neon pink or electric blue. Pinstripe suits and oxford shirts also played a significant role in the power dressing movement.
But it wasn't just about the suits. Power dressing also meant dressing up your casual wear with sophisticated touches like oversized blazers or vests. It was about projecting an image of success and sophistication in everything you wore.
Preppy Style: Polo Shirts, Khakis & Boat Shoes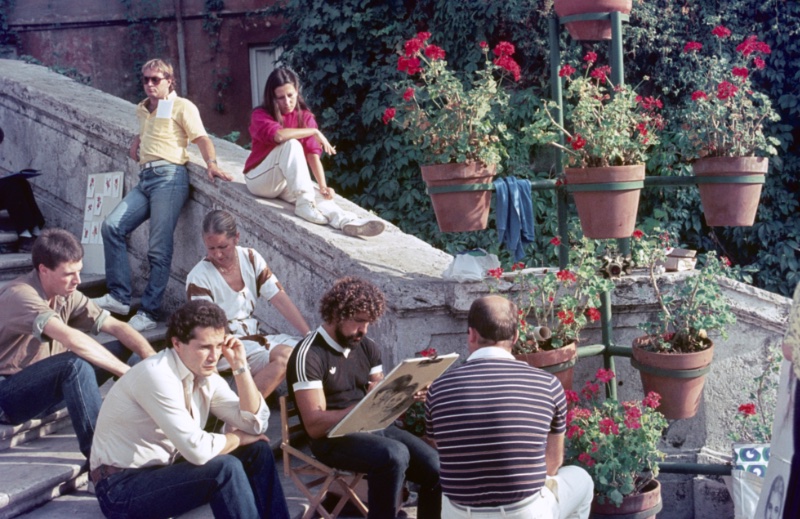 While power dressing was all about projecting an image of professional success, the preppy style was more about projecting an image of casual sophistication. Think polo shirts with popped collars, khaki pants, shorts, and boat shoes.
This style was heavily influenced by Ivy League fashion from the 1950s and 60s but updated for a modern audience in brighter colors like pastel pink or mint green. The clothing might have been casual, but there was still an emphasis on quality materials like cashmere sweaters or silk ties.
Punk Rock Influence: Leather Jackets, Ripped Jeans & Band T-shirts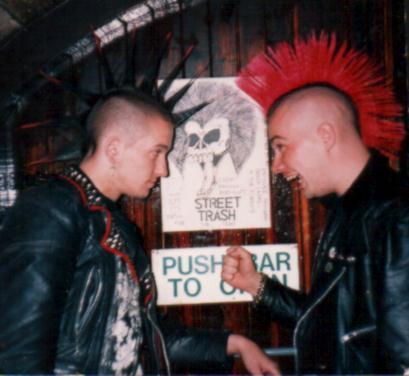 While power dressing and preppy style dominated mainstream fashion in the 80s, plenty of men rejected these trends in favor of something more rebellious. Punk rock greatly influenced men's fashion during this decade, with leather jackets being one of the most iconic pieces.
Ripped jeans were also a staple among punk fashion and band t-shirts featuring artists like The Ramones or The Sex Pistols. This was a fashion trend that was all about rejecting mainstream norms and embracing a more countercultural look.
But it wasn't just about the clothing. Punk rockers also tended to have more extreme hairstyles like mohawks or shaved heads, and they often wore heavy black eyeliner or other makeup to express their rebellious spirit.
The Crossover of Fashion Trends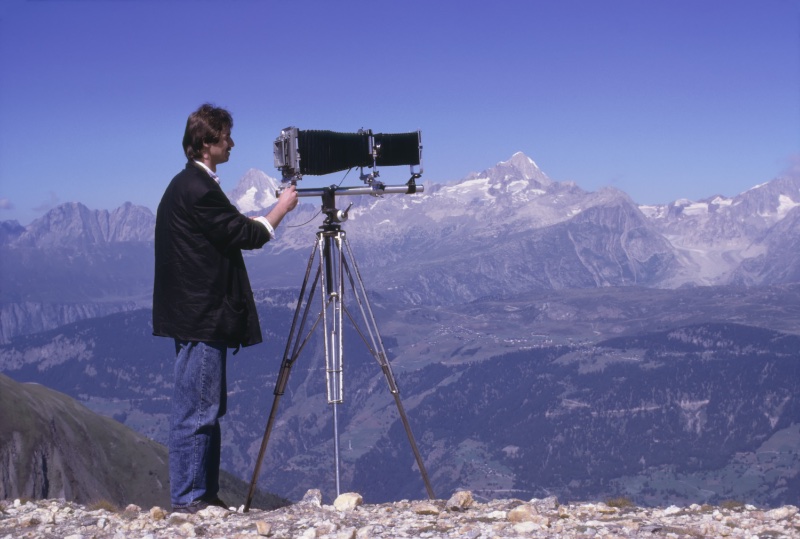 While each fashion trend had its distinct style and attitude, there was also some crossover between them. For example, power dressing could sometimes incorporate elements of preppy style with polo shirts worn under suit jackets. And punk rockers might pair torn jeans with a blazer for a rebellious and sophisticated look.
It's important to remember that fashion wasn't just about following one trend or another. It was about experimentation and individual expression, whether dressed up in a power suit or in ripped jeans and a band t-shirt.
Popular Men's Clothing
The color palette of the 80s men's fashion has truly stood the test of time. Popular styles during this era included bold and vibrant colors and frequent patterns. This retro look influences fashion today, with young people often drawn to these eye-catching styles. Solid colors were also prevalent, offering a timeless casual look.
Athletic Wear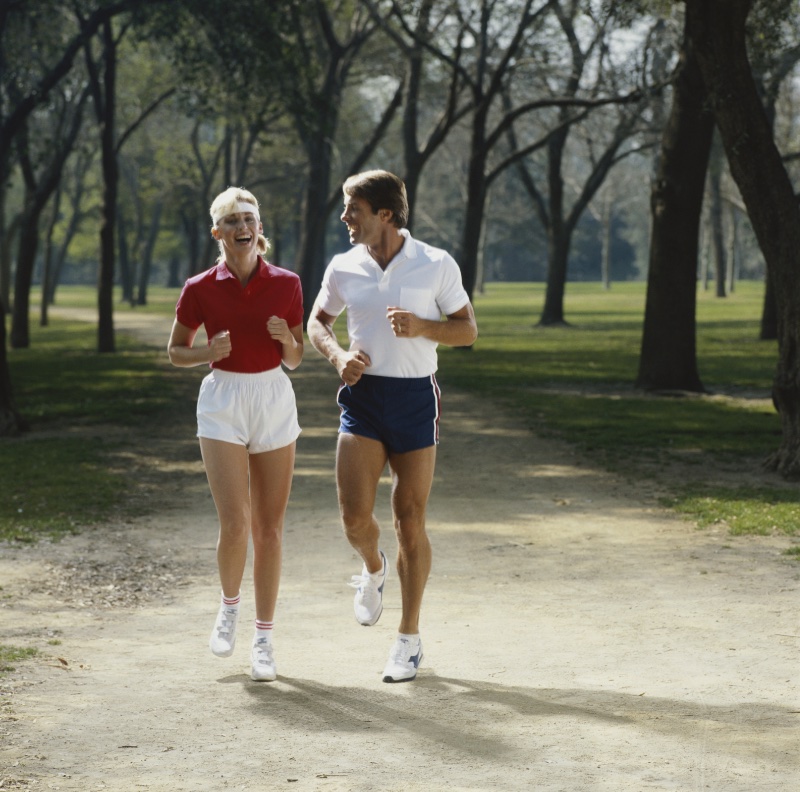 Athleisure and workout fashion was at the forefront of the 1980s, with sportswear becoming popular for everyday wear. Tracksuits, athletic shorts, workout tanks, and more were commonly worn for exercise and casual attire, blurring the lines between fashion and function. The popularity of athleisure has only grown since the 80s, with modern brands offering stylish and comfortable options for fitness enthusiasts and fashion lovers alike.
Denim Jackets, Vests & High-Waisted Jeans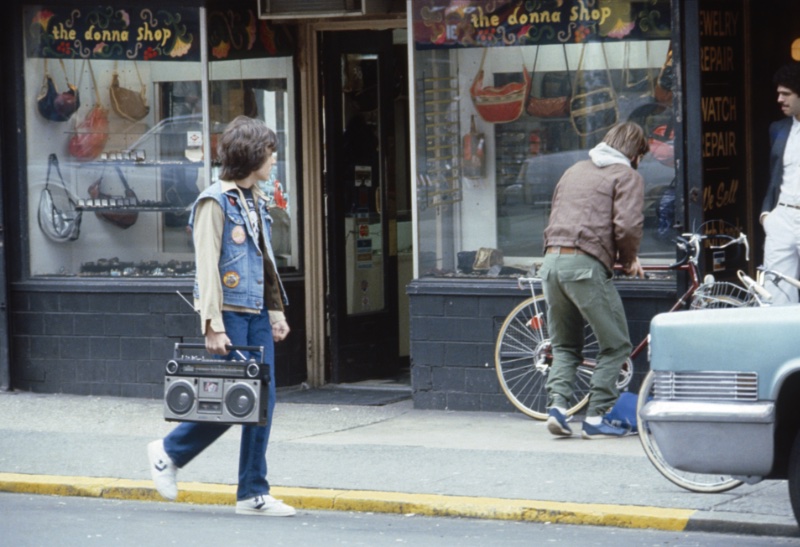 The 80s were a golden era for denim, with double denim looks and acid-wash jeans becoming some of the most popular men's styles. Denim jackets and vests paired with high-waisted jeans created a fashionable and versatile outfit, perfect for a night out or a casual day at work.
Sweaters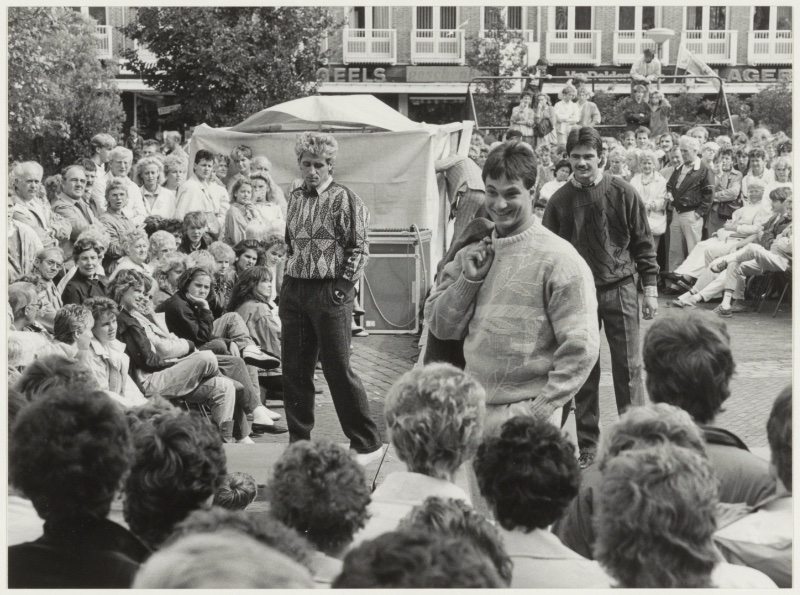 Sweaters played a prominent role in men's style, with preppy fashion trends emphasizing the importance of layering. Crewneck sweaters, V-necks, and cardigans in solid colors or simple patterns were often worn over button-down shirts for a polished yet relaxed look.
Parachute & Hammer Pants
Parachute and Hammer pants, popularized by MC Hammer, were a defining look, offering a unique and comfortable alternative to traditional denim jeans. These pants were characterized by their baggy fit and distinctive cinched ankles, which made them particularly popular among dancers and performers. The influence of these styles can still be seen in modern harem pants, which maintain a similar aesthetic.
T-shirts
Graphic tees and shirts with slogans became increasingly popular, allowing men to express their personalities and interests through clothing. The versatile and comfortable nature of t-shirts has ensured their lasting popularity casually.
Members Only Jackets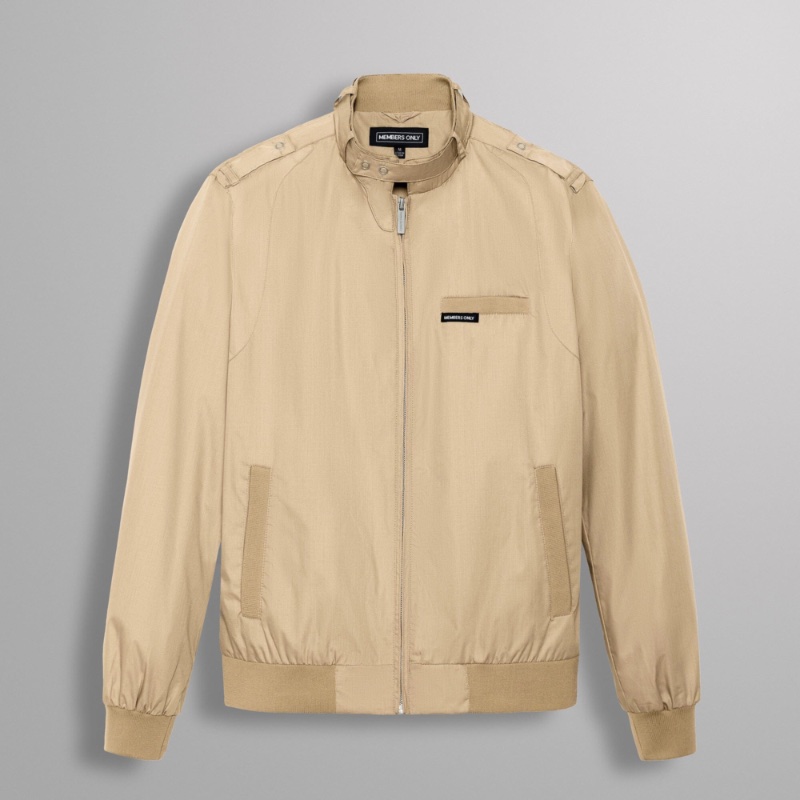 Members Only jackets were everywhere—from TV shows to music videos to everyday life. These lightweight jackets had a distinctive ribbed collar and cuffs, a zippered front, and two slanted pockets. Not only did they look stylish with their sleek design, but they also came in various colors—from basic black to bright yellow.
Plus, they were versatile enough to pair with almost any outfit—whether you were going for a preppy look or a punk rock vibe. Today's fashion trends may have moved on from Members Only jackets, but their iconic status will always be remembered as one of the most memorable 80s fashions.
Varsity Jackets
Varsity jackets were iconic, capturing the essence of casual fashion and preppy style. These jackets, often featuring bold lettering and team logos, were trendy among young people. Paired with white sneakers or high tops, the varsity jacket remains a staple in popular men's style even today.
Printed Shirts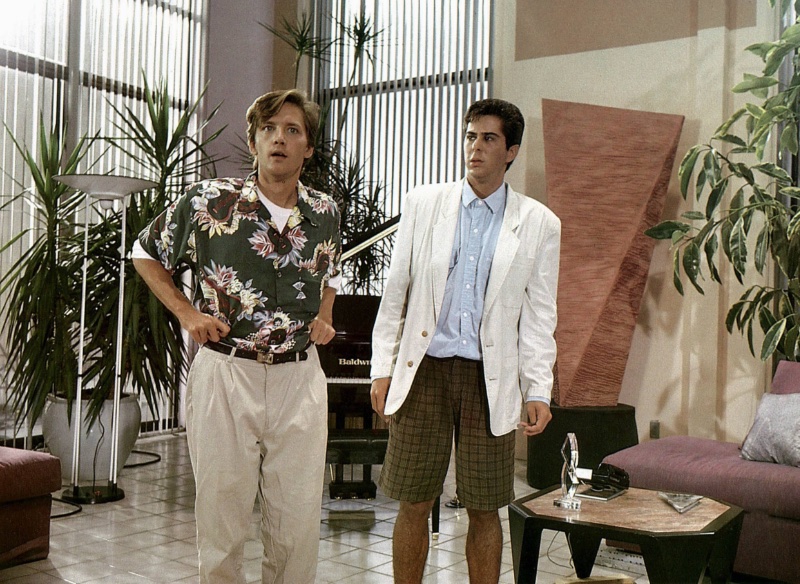 Hawaiian shirts and other printed button-down shirts were all the rage as men sought to make a statement with their wardrobes. Hawaiian prints, in particular, brought a fun and tropical vibe to the casual look, often paired with blue or black jeans. As these styles have persisted, movie stars and everyday individuals alike have continued to embrace the lively prints.
Short Shorts
Short shorts were a staple, showcasing a more daring and athletic side to the casual look. These shorts were often worn in solid colors or with bold patterns. Although the lengths have varied over time, the popularity of athletic shorts has remained consistent.
Iconic Accessories
Ray-Ban Wayfarer Sunglasses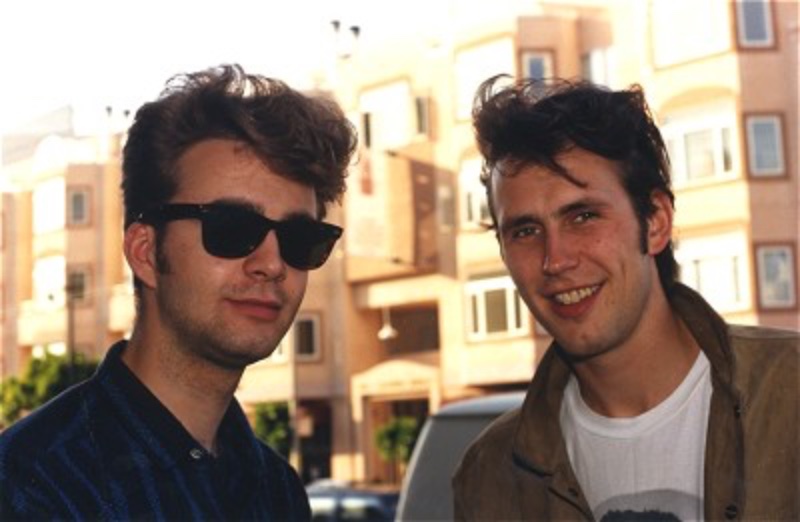 No trendy outfit was complete without a pair of Ray-Ban Wayfarer sunglasses. These iconic shades were first introduced in the '50s, but it wasn't until Tom Cruise wore them in the popular movie Risky Business that they became a must-have accessory.
The black frames exuded coolness and sophistication; everyone from musicians to actors to everyday people began sporting them. The popularity of Wayfarers continued throughout the decade and into the 90s.
They were so iconic that over 30 years later, they're still considered a fashion staple. Today, you can find Wayfarers with different frame colors and lens tints for a modern twist on this classic look.
Casio Digital Watches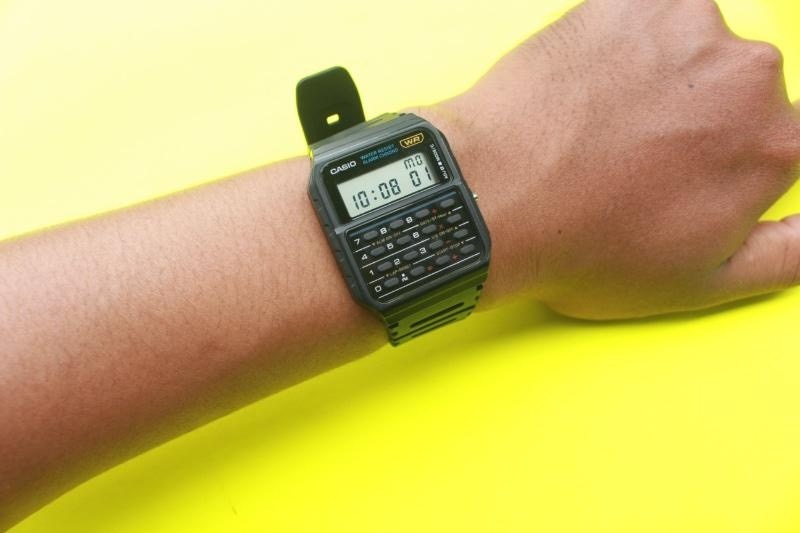 Casio digital watches were all the rage in the '80s—not just because they were functional timepieces but also because they looked cool on your wrist. The sleek design and digital display made them stand out from traditional watches. Plus, many Casio models came with extra features like stopwatches and calculators.
One of the most popular Casio models was the Casio G-Shock watch. Its durable design makes it perfect for athletes and outdoor enthusiasts alike. It can withstand shocks, water damage, and extreme temperatures while looking stylish on your wrist.
Today's smartwatches may offer more features than an old-school Casio watch, but there's something nostalgic about wearing one of these classic timepieces.
Converse Chuck Taylor Sneakers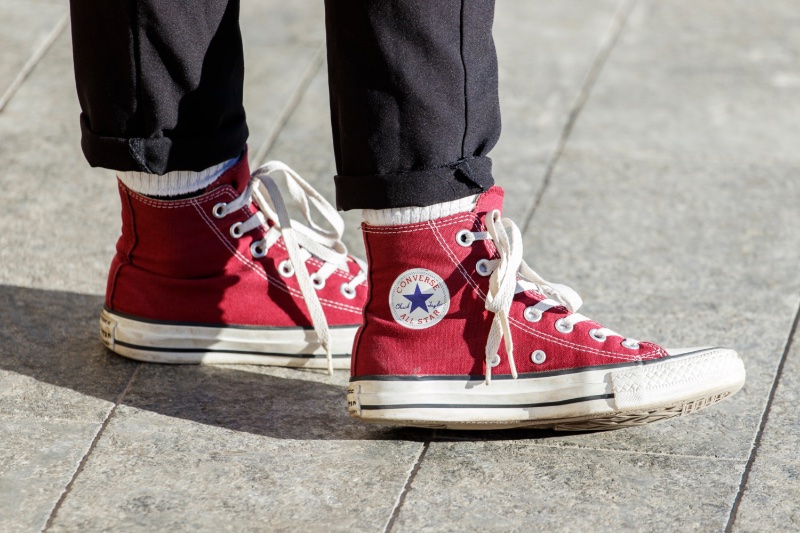 Converse Chuck Taylor sneakers have been around since the early 1900s. However, they didn't become fashion icons until the '80s. Their simple yet stylish design made them perfect for pairing with jeans, shorts, or even suits (if you were into the power dressing trend). The most popular Chuck Taylor style was the high-top version.
They came in various colors and patterns—from basic white to neon green. Plus, they were affordable and durable, so you could wear them daily without worrying about ruining them. Today, Chuck Taylors remain a popular choice for casual and dressy outfits. You can find them with added features like extra cushioning or waterproof materials, but the classic design remains unchanged.
1980s Hair for Men
For men's hair, the eighties were a time of excess, neon colors, and unique hairstyles. Hair was about taking risks and standing out from the crowd. Here are some of the most iconic hairstyles from that decade:
Mullet Haircut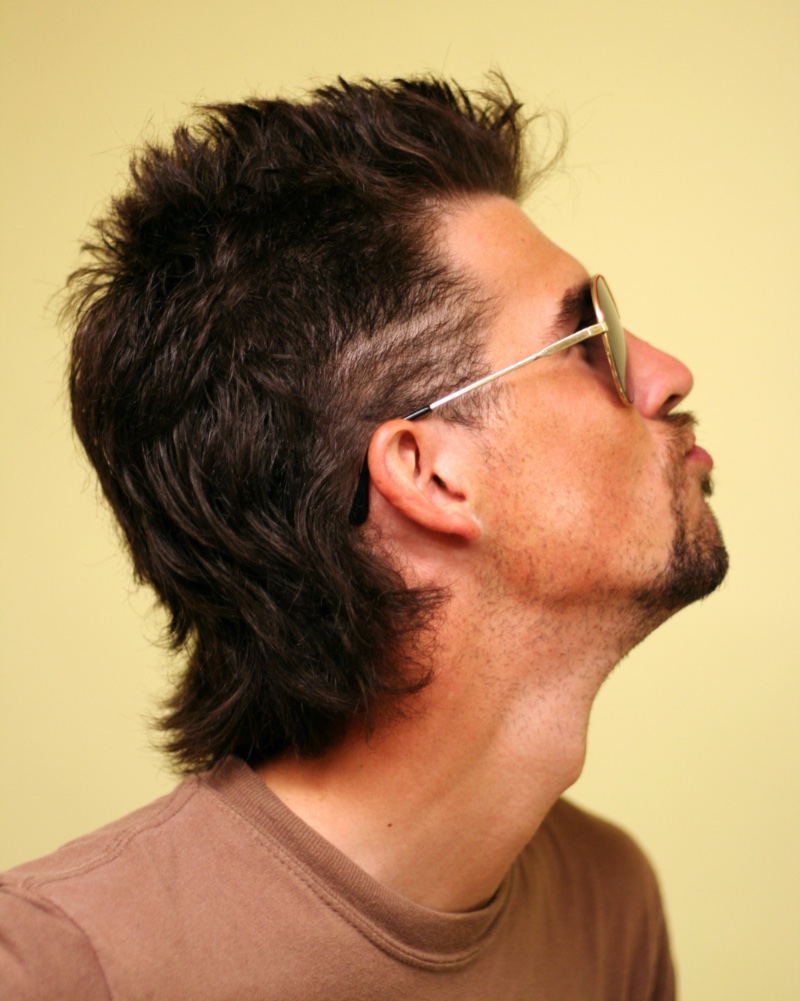 The mullet haircut was characterized by short hair on top and long hair at the back. Think Billy Ray Cyrus or MacGyver—they rocked a style mullet. The mullet was often paired with a mustache for maximum impact.
It was also popular to have shaved sides with a long strip of hair down the center, creating a "racing stripe" effect. While it may seem like an outdated hairstyle now, the mullet had its heyday in the 80s and remained a cultural touchstone.
Spiky Hair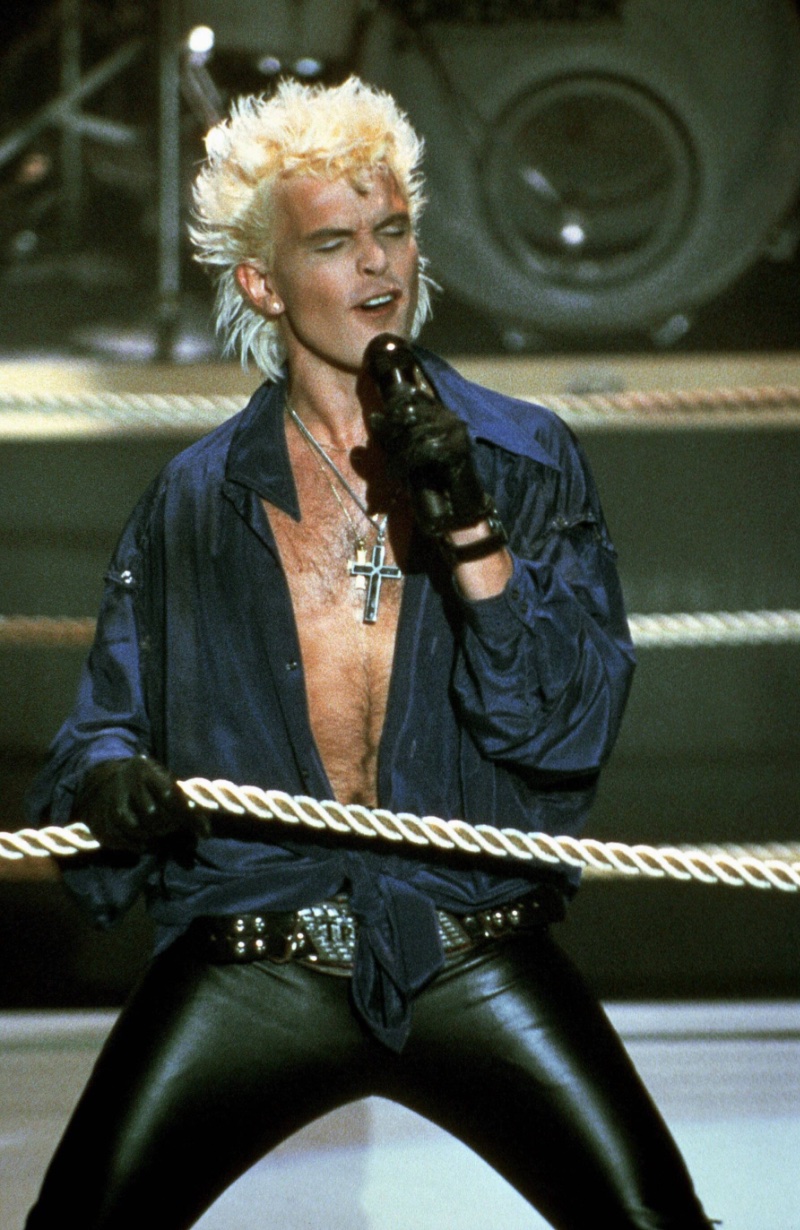 Spiky hair was another popular hairstyle for men. This involved using gel or mousse to create sharp spikes on top of one's head. This look was often paired with an undercut or shaved sides to make the spikes stand out even more.
It could be seen in everyone from punk rockers to preppy kids trying to add a rebellious edge to their look. Creating this hairstyle required a lot of product and maintenance—spiky hair wasn't just something you could wake up with naturally.
Side-parted Hair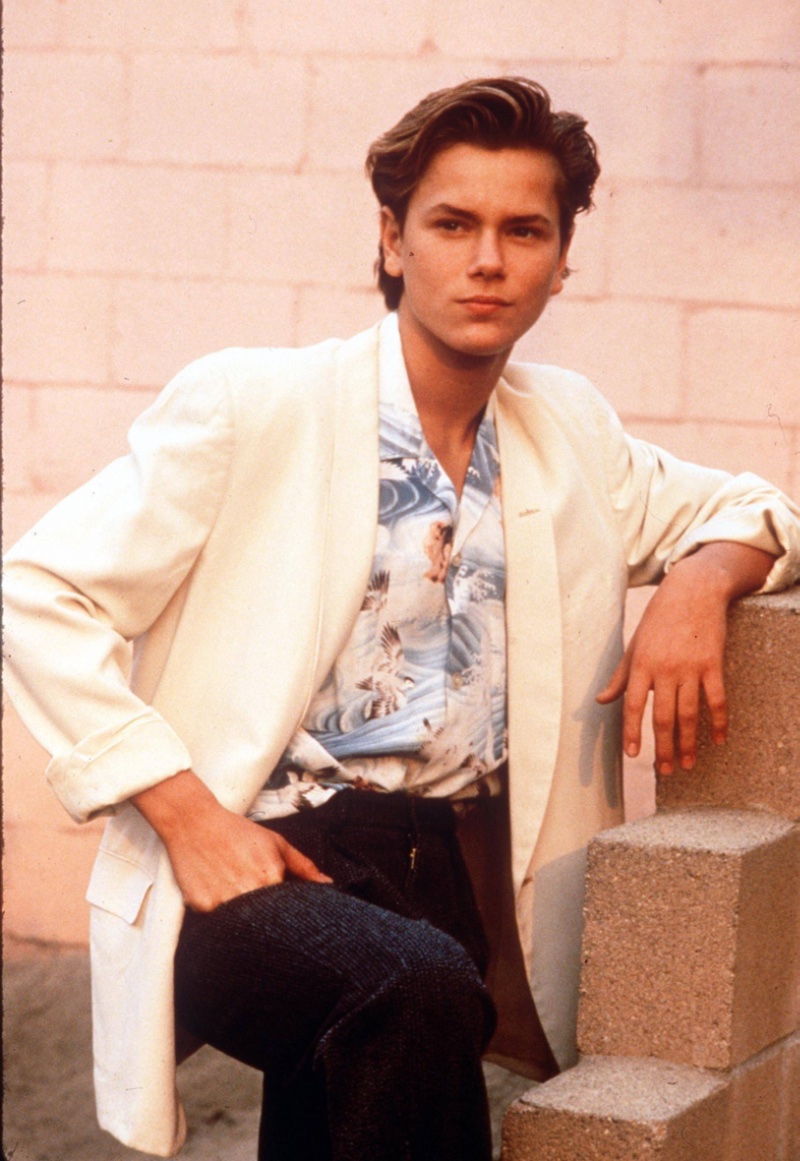 For those who preferred a more classic look, side-parted hair with a comb-over was another popular choice. An off-center part, this style involved combing one's hair from one side of the head to the other. The part would be prominent, creating two distinct sections on either side of your head.
Pop Culture Influences on Fashion
Miami Vice: Suits & T-Shirts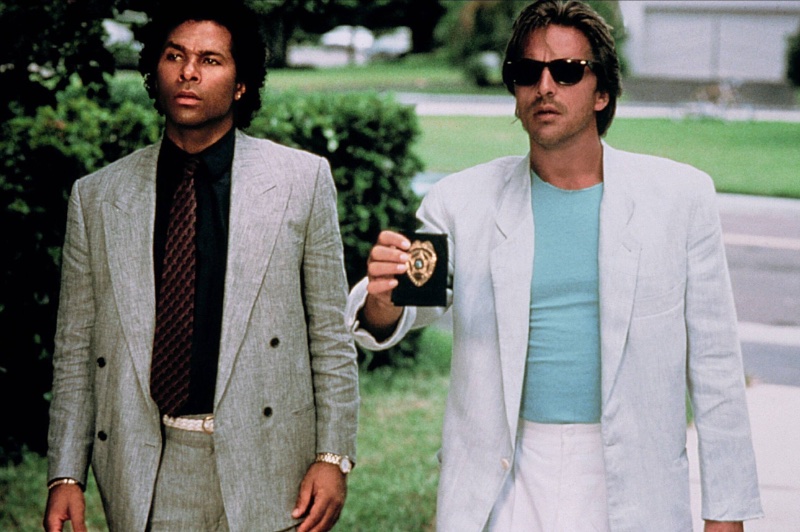 It's hard to talk about 80s fashion without mentioning Miami Vice. This hit TV show was known for its slick, stylish take on crime-fighting, and style was no exception. One of the most iconic looks from the show was the colored suit jacket paired with a t-shirt and white pants.
It might sound ridiculous now, but it was cool back then. The colored suits and t-shirts were fitted and bold, often in shades like pink, blue, or yellow. The look was completed with sleek aviator sunglasses and loafers without socks. Don Johnson's character Sonny Crockett became a style icon, inspiring many men to copy his look.
Michael Jackson's Thriller: The Red Leather Jacket
Another significant influence on fashion was Michael Jackson's Thriller music video. In this iconic video, Jackson wore a red leather jacket that quickly became one of the most sought-after fashion items of the decade. The jacket featured a lot of zippers, buckles, and other embellishments that made it stand out.
However, it wasn't just the jacket that people copied. Jackson also popularized another trend that became synonymous with his name: wearing one glove, whether black or white leather or sequined fabric, a single glove worn on the one hand became a must-have accessory.
Tom Cruise in Top Gun: Bomber Jackets & Aviator Sunglasses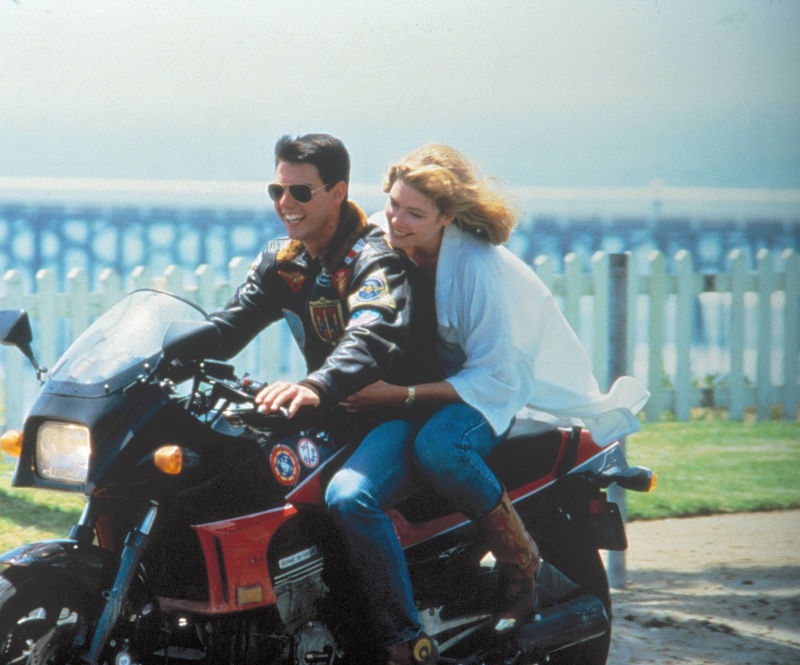 Tom Cruise in Top Gun made bomber jackets cool again. The movie followed Cruise as Maverick, an ace fighter pilot for the Navy who wears iconic bomber jackets both on- and off-duty around Naval Air Station Miramar.
These jackets were often customized with patches and other details that showed off the wearer's personality. Another trend inspired by Top Gun was the popularity of aviator sunglasses.
Maverick and his fellow pilots wore these iconic sunglasses in the air and on the ground, inspiring men everywhere to adopt them as their go-to shades. Pop culture influences significantly impacted how men dressed during the 80s.
Whether it was Miami Vice's colored suit jackets or Michael Jackson's one-glove trend, these fashions became part of an irresistible cultural phenomenon many groups embraced. Even today, you can still see echoes of these trends in a modern style—proof that everything old truly does become new again.
Subcultures that Influenced 80s Men's Fashion
Hip-Hop Culture: Adidas Tracksuits, Kangol Hats & Gold Chains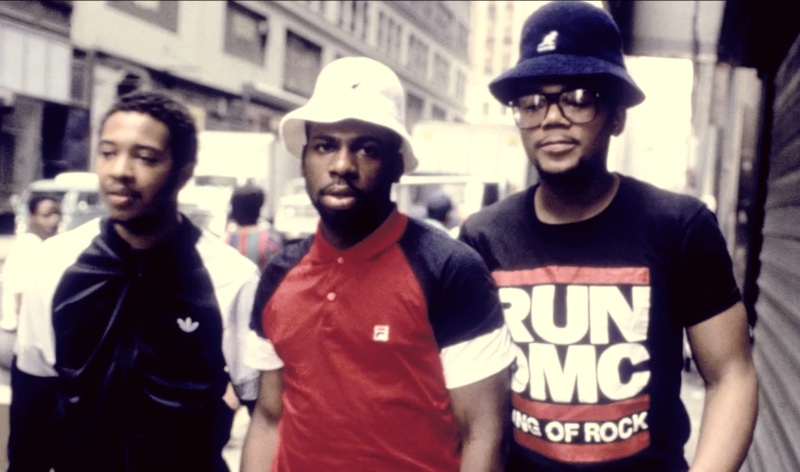 Hip-hop culture emerged from the Bronx in the late 70s and early 80s, and the fashion that came with it quickly spread across the nation. The style was focused on comfortability and freedom of movement—loose-fitting clothing like Adidas tracksuits was everyday wear.
Kangol hats were also popular among hip-hop artists—they were often worn backward or tilted to one side for added flair. Gold chains symbolized wealth and success for rappers like Run DMC, who wore multiple chains around their necks.
In addition to these staples, other popular items included bright-colored shell-toe sneakers (specifically Adidas Superstars), oversized t-shirts worn over long-sleeved shirts or turtlenecks, and bucket hats. This fashion trend helped shift hip-hop from a music genre to a cultural phenomenon that still influences fashion today.
New Wave Music Scene: Skinny Ties, Trench Coats & Fedoras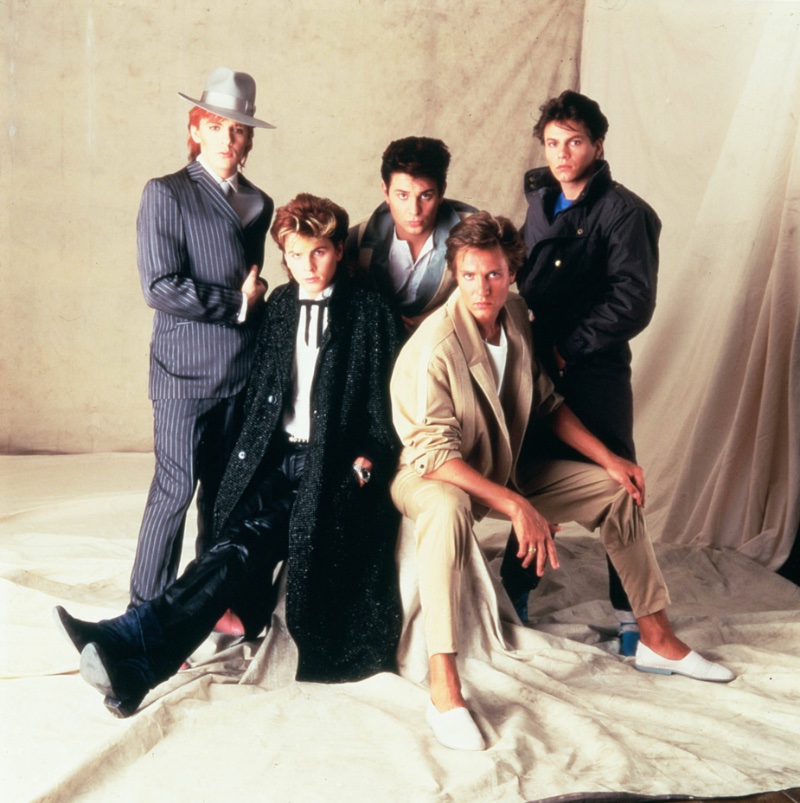 The New Wave music scene emerged in the late 70s as punk rock evolved into more synthesizer-driven sounds emphasizing style. Androgyny was embraced by male and female performers in this genre—skinny ties worn over collared shirts became a defining look for men.
Trench coats were also popular during this period—often paired with fedora hats for a classic yet contemporary look. Accessories such as suspenders or braces worn over button-up shirts added a stylish touch.
This trend eventually made its way into mainstream fashion when bands such as Duran Duran began to gain popularity across the globe. The New Romantics movement was born—merging elements of punk rock aesthetics with new-wave sensibilities.
Heavy Metal Scene: Black Leather Jackets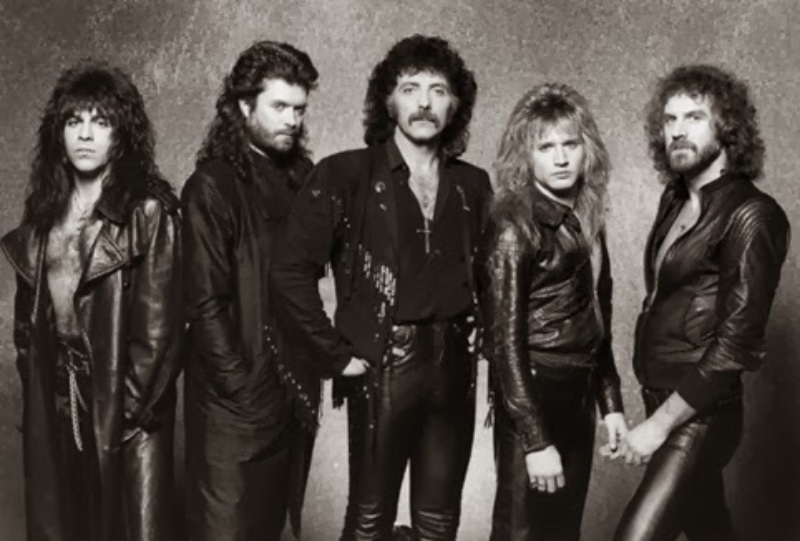 The heavy metal scene was perhaps the most straightforward in fashion—black was the go-to color for everything from t-shirts to leather jackets. Band logos were often emblazoned across clothing items to support one's, favorite group. Biker jackets were trendy among metalheads—offering both protection and style.
Studded belts, tight pants, and combat boots were also commonly worn by fans of the genre. While 80s rock fashion wasn't as influential as hip-hop or new wave, it still left an undeniable impact on alternative culture that can still be seen today.
Final Words
Looking back on the dynamic era of 80s men's fashion, we can appreciate the creativity and boldness that characterized the decade. With trends ranging from power dressing to punk rock, men's fashion was a means of self-expression and rebellion against previous conservative styles.
Influenced by pop culture icons and driven by a desire for individuality, the 80s brought forth a variety of unique looks that continue to inspire fashion today. Ultimately, the decade celebrated experimentation and a fearless approach to style, leaving a lasting impact on men's fashion and self-expression.