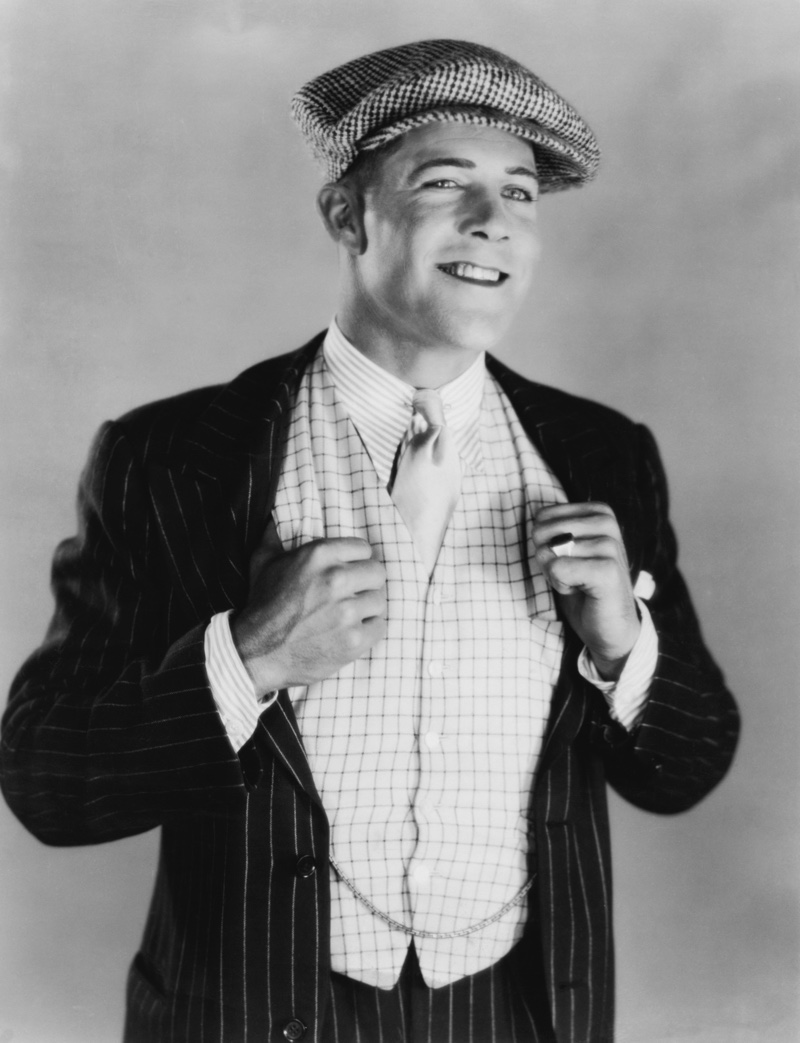 The 1920s was a time of significant change, including men's fashion. After the end of World War I, men began to embrace a more casual style that featured bright colors and bold patterns. 1920s men's fashions contrasted with the traditional dark suits that had been popular for generations. Men embraced more brilliant hues, and tailoring became much looser than it had been previously.
The 1920s saw a significant shift from conservative clothing to something more daring and stylish—an attitude still resonates today! As economic growth flourished, new clothing production developments allowed tailored suits to become accessible to all types of people. This opened up many possibilities regarding styling and dressing for formal occasions.
The rise of department store catalogs gave rural men access to the latest trends in clothing and enabled them to dress according to their individual style preferences. The roaring twenties set a trend that has since been emulated by many generations, as timeless pieces from this era remain popular today.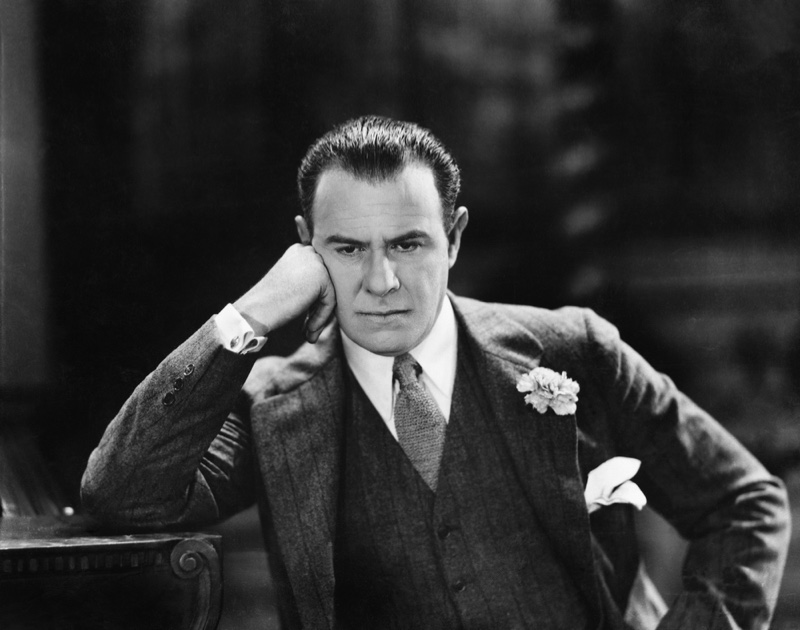 1920s Men's Fashions: Historical Context
Department stores such as Sears, Roebuck, and Montgomery Ward exposed the nation to changing fashion trends. The American Dream and pursuit of financial success also sent people to big cities, contributing to business culture and the growing fashion industry. Around this time, famous suit brands such as Brooks Brothers and Jos. A. Bank also gained momentum.
With some retailers gravitating towards unbranded products, which gave them more substantial profits, brand-name manufacturers had to take a stand. To reach out to the customer and emphasize that quality should always be prioritized over cost, they used newspapers, magazines, and radio, asking their audience, "Do you prioritize price or value?"
British Fashion & the Prince of Wales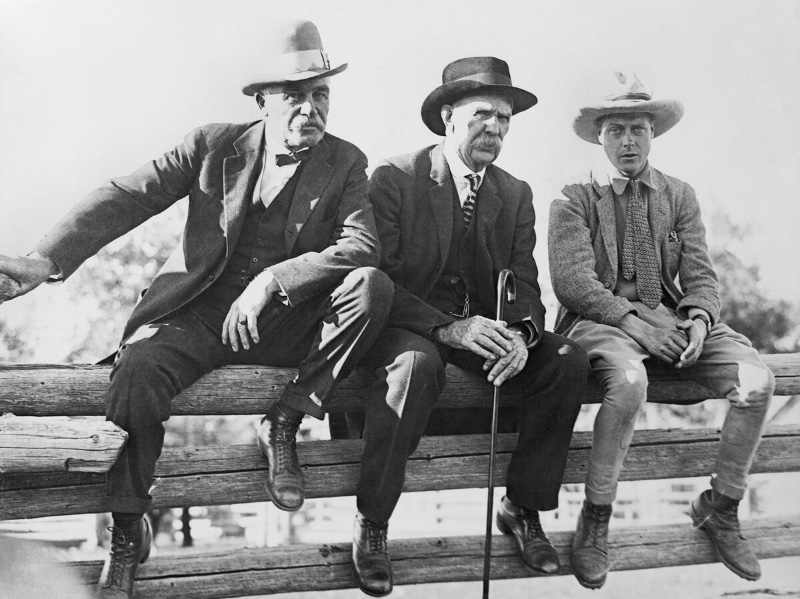 During the 1920s, menswear was profoundly impacted by British fashion trends. The decade saw a dandyish, tailored look that was classic and timeless. Suits were constructed with careful attention to detail, while linen, tweed, and wool fabrics provided the perfect backdrop for stylish accessories. These quintessentially British looks were matched with sharp accents of color through ties, bow ties, and pocket squares.
In the twenties and thirties, one man had unparalleled control over trends in fashion: none other than Edward VIII, Prince of Wales. For nearly twenty years, he was a treasure trove of ideas for menswear makers on both sides of the Atlantic—so much so that it's rumored that an American elite commissioned Schölte (the Royal Tailor) to make exact copies of every outfit worn by him! His visit to America in 1923 further solidified his impact there, ramping up trade with Britain while simultaneously inspiring many men's interest in style.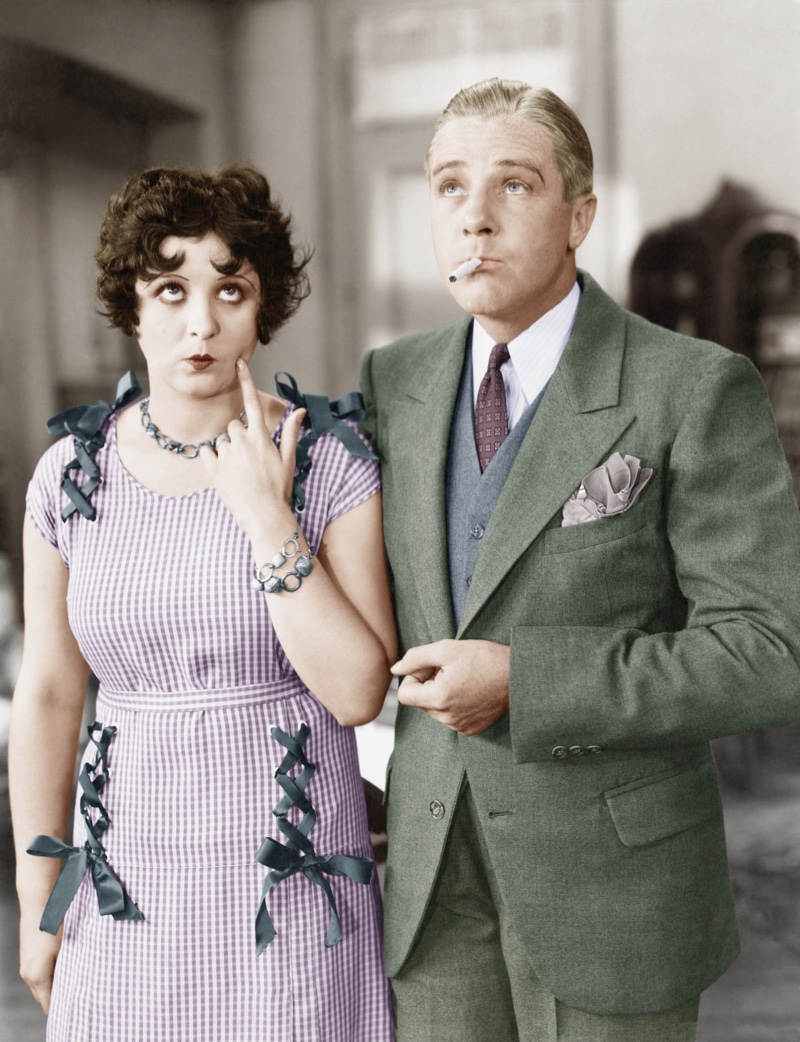 Suiting Trends
During the 1920s, men's fashion was all about looking dapper and fashionable. The male of this trendy decade aimed to appear young and slim, so they adopted the snug-fitting natural shoulder suit that had been popular in recent years. Men had many clothing choices, from pinstriped suits with white shirts and striped neckties to fedoras and spats.
The Three-Piece Suit: The Ideal Vest
The 1920s required men, who were en vogue, to wear a three-piece suit. It was unthought-of to wear a suit and have your dress shirt showing. Dress shirts were covered with a high v-neck waistcoat or a knit vest. The knit vest, which came in various colors, was especially popular with golfers and continues to be today.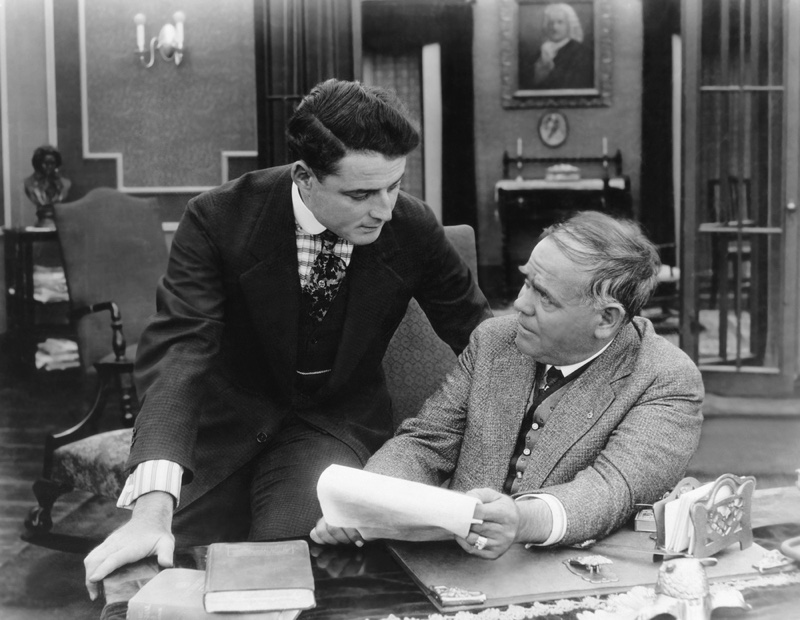 The Tailored 20s Menswear Jacket
During the Roaring Twenties, jackets were crafted with incredible attention to detail. Usually constructed from wool tweed or heavy wool fabric, these jackets featured narrow natural shoulders, wide lapels, and a set of flap pockets. Meanwhile, the suit jacket cinched at the waist for a more tailored look. Both single-breasted and double-breasted styles had three to four buttons as a finishing touch.
From the pinstripe suit to herringbone jackets, the '20s were fashionable for men. The signature detail of the 1920s jacket was its top button which led to the notch lapels. Mature men typically chose classic navy blue, brown, and medium gray suits, while younger generations opted for more modern hues like grey-blue, tan, or even pale gray.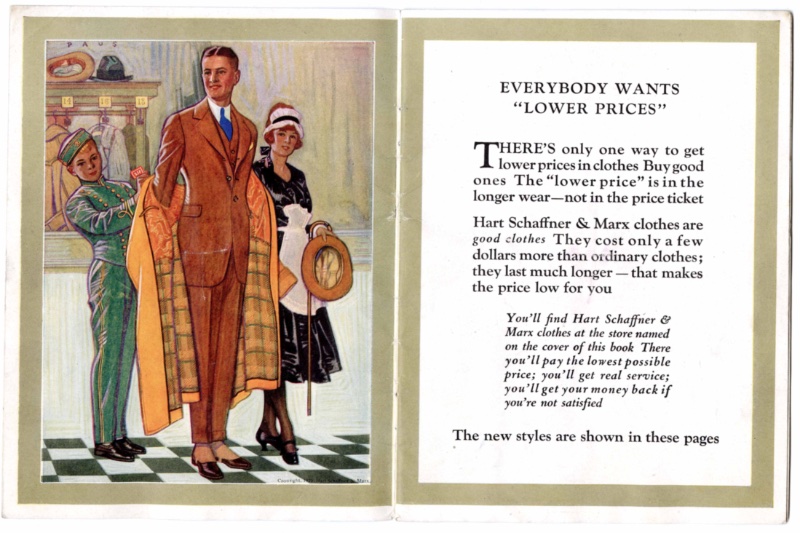 Popular Colors
Men expressed their fashion sense in the roaring twenties through various shades and silhouettes. Neutral colors like navy, brown, and gray were complemented by lighter colors such as ivory, with bright colors such as pastel blue, mustard yellow, and olive green—often used when accessorizing.
Typically men would wear light colors during the warmer months and darker colors for winter. Overall, the 20s saw an abundance of experiments with style, from cropped suits to wide-legged trousers—furthering the opportunity for self-expression through clothing.
The Black Suit
In the 1920s, men were typically reserved, wearing all black for funerals. It was seen as a sign of respect and mourning to wear all-black attire at a funeral. During this era, most people believed it was inappropriate to wear black clothing on occasions other than a funeral or similar somber event.
In addition, the traditional color scheme for men's suits during this period was grayscale colors like navy blue and charcoal gray—with no true blacks in sight.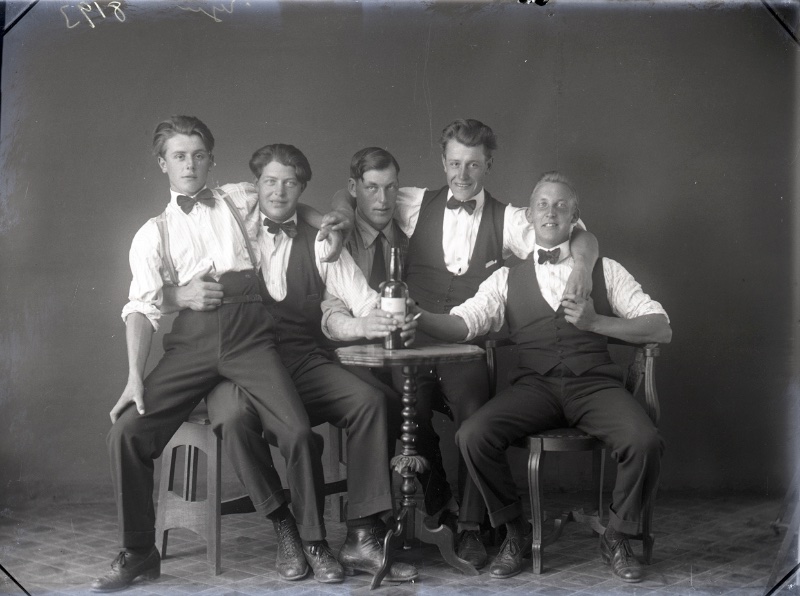 Pants & Trousers
Traditional trousers featured cuffs and two single pleats near the waistband, followed by a sharp front leg crease—exposing solid or argyle pattern socks that were worn high and held with sock garters; trousers were hemmed to reveal the ankle.
High-waisted pants of the time were secured with a belt or suspenders. The 1920s saw a shift from narrow pant legs to wider ones as the decade progressed.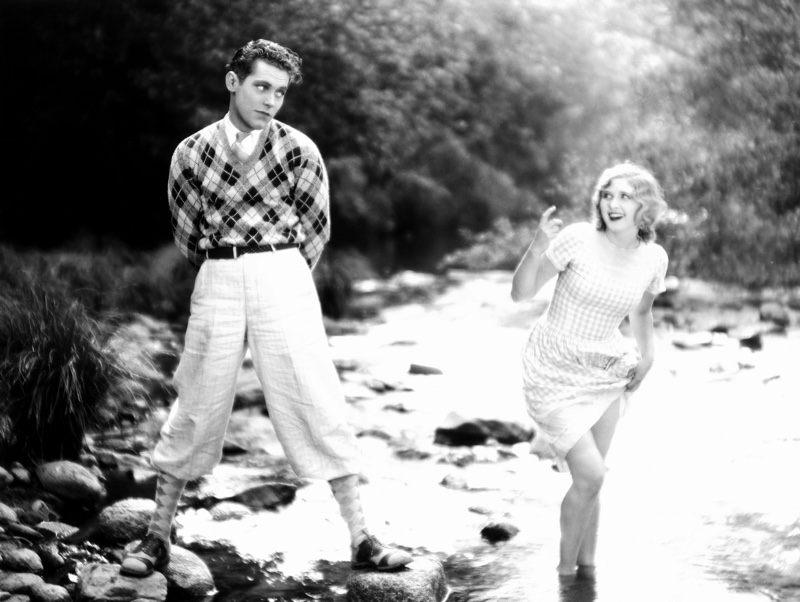 Casual Pants
For casual occasions, men wore popular pants such as knickerbockers, also known as plus fours or knickers. These 20s-style trousers usually end just below the knee with a large cuff at the bottom. They could be paired with suspenders for a classic look or an elastic waistband for more comfort.
Knickerbockers typically came in neutral colors like brown and navy blue but could also be found in bolder patterns such as plaid or wide stripes. Men wore them with high socks that reached over their calves, adding even more style to their outfits!
The youth of the late 1920s embraced a wider trouser style, sporting "oxford bags," which featured a narrow waist and voluminous legs. These were typically worn with sporty footwear such as sneakers or canvas shoes.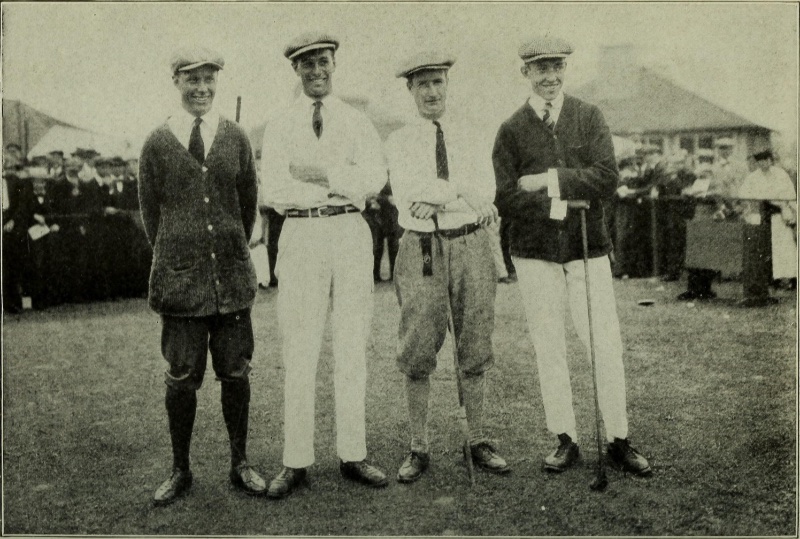 White Pants
White pants were trendy amongst men during the Roaring 20s as well. This trend had its roots in the pre-war years when it was considered fashionable for wealthy gentlemen to wear light-colored trousers with their summer suits.
However, by the mid-1920s, white pants had become a staple for all men regardless of social class or profession. They could be seen everywhere, from casual outings to formal occasions, and quickly became an essential part of any man's wardrobe.
The style continued to be popular well into the 1930s and 40s before fading as trends changed again.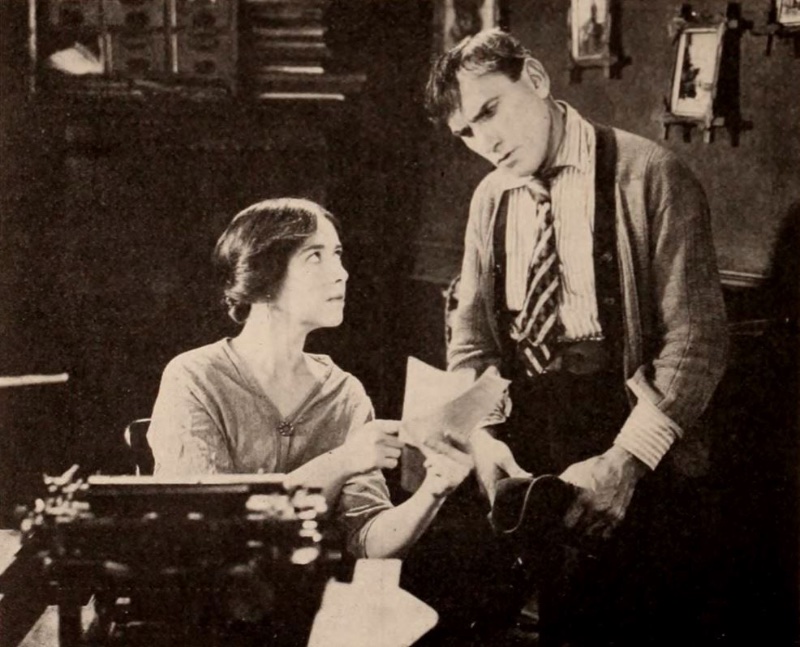 Shirt Trends
Surprisingly, the dress shirt during the 1920s was playful, with various colors available. Striped shirts were popular styles. Men mixed vertical stripes and solid colors for a splash of personality, incorporating colors as diverse as pink and yellow into their wardrobes. Shirt collars were usually round (club collars), free, or pointed. The Great Gatsby also made the mandarin shirt popular during this time.
Casual Shirts
The 1920s were an era of great fashion and style, with men's clothing becoming more relaxed and casual with softer fabrics. During this time, men's shirts reflected the trend toward comfort and convenience. Button-down shirts were typically made of cotton or linen fabric in plain colors such as white, blue, brown, or grey.
The collar was either a straight-pointed or soft lapel-style collar that could be worn open at the neck for a more casual look. Men commonly used collar pins to ensure their collars stayed in place and looked neat. The sleeves were usually short but could also be longer, depending on the desired style.
Overall, men's shirts during this period had a classic yet modern feel—perfect for formal occasions and everyday wear.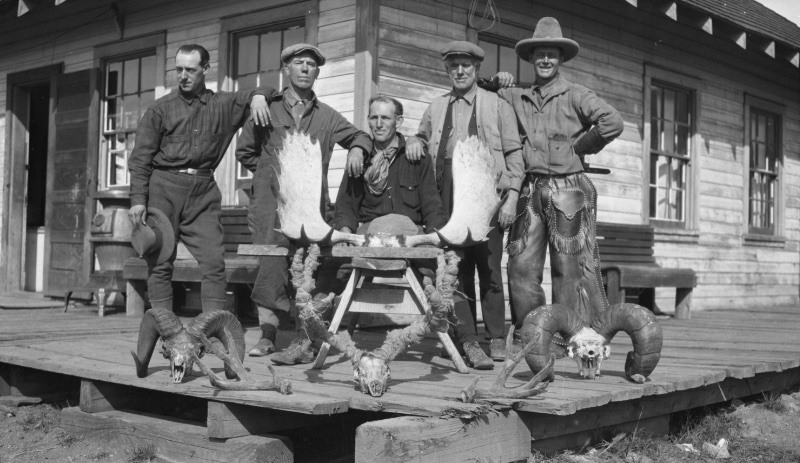 The Country Jacket
In the 1920s, country jackets for men were an essential part of any man's wardrobe. These timeless pieces provided a stylish and comfortable layer that could be dressed up or down depending on the occasion.
Country jackets typically featured earthy colors like brown, green, and navy blue, with standard features such as leather buttons, slanted pockets, and tweed fabric. The classic design of these jackets made them perfect for outdoor activities such as hunting or fishing, but they also looked great when paired with trousers and a collared shirt for more formal occasions.
Whether you're looking to take on a new hobby or add some vintage flair to your wardrobe, investing in one of these timeless country jackets will make you look dapper, no matter the occasion.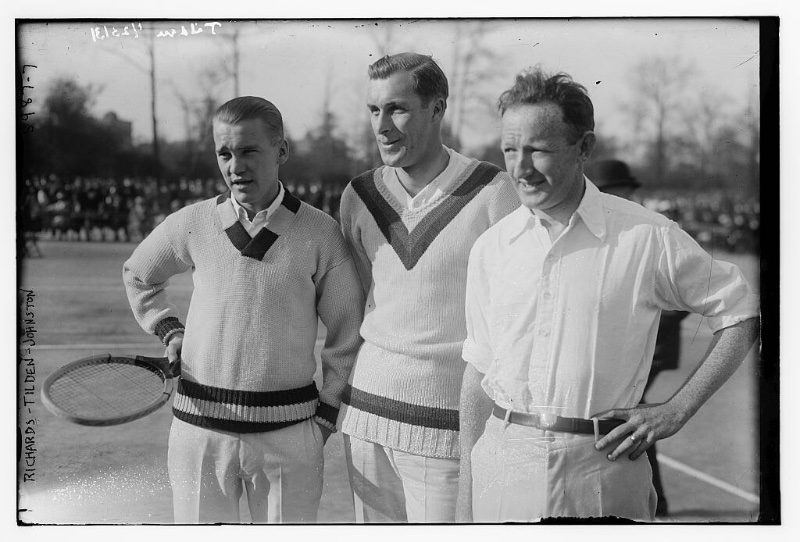 Sweaters
In the 1920s, sweaters for men were all the rage. These versatile garments had a unique style that set them apart from other era clothing. The popular types included V-neck pullovers and cardigans; some styles with huge shawl collars featuring an unstructured design with no buttons or zippers.
They were often made of wool or cotton and featured bold patterns in bright colors such as red, blue, and yellow. Men would pair these sweaters with dress shirts, trousers, suspenders, and loafers for a fashionable look that was perfect for any occasion.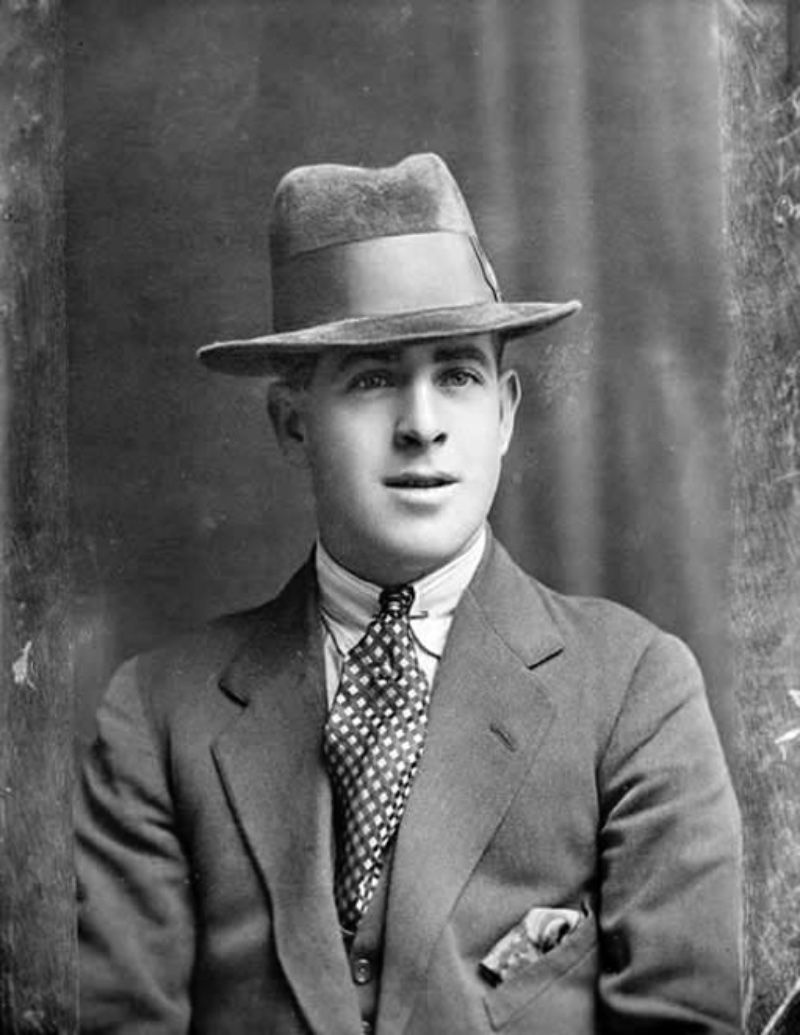 Suit Accessories: Ties, Pocket Squares + More
Bow-ties and neckties ruled the 1920s, available in solid colors, striped or polka dot varieties. The choice accessory was as colorful as men's dress shirts. Ties were narrow and often cut short. In addition to square-end knit ties, silk scarves were also popular to wrap as neckpieces.
In the 1920s, gloves and pocket squares were popular fashion accessories to personalize one's style. In contrast to current trends, bright colors such as red were a hit among men who wore collar pins and cufflinks as accessories. More neutral tones like dark greens and light browns were favored as well.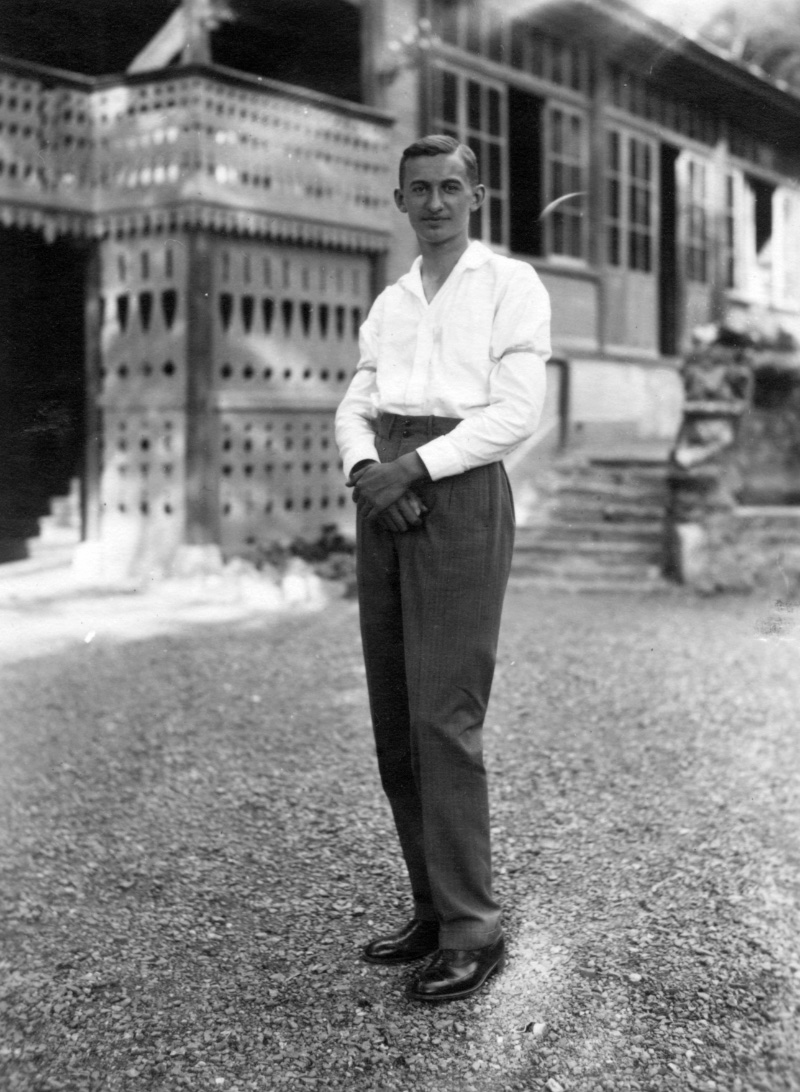 Armbands, also known as sleeve garters and sleeve cuffs, also made a splash in men's fashion during the 1920s. Armbands were made of silk or velvet fabric and worn around the wrist to add color and texture to an outfit. Sleeve cuffs were also popular during this period, typically crafted from wool or cotton fabric and designed to be rolled up for a more casual look.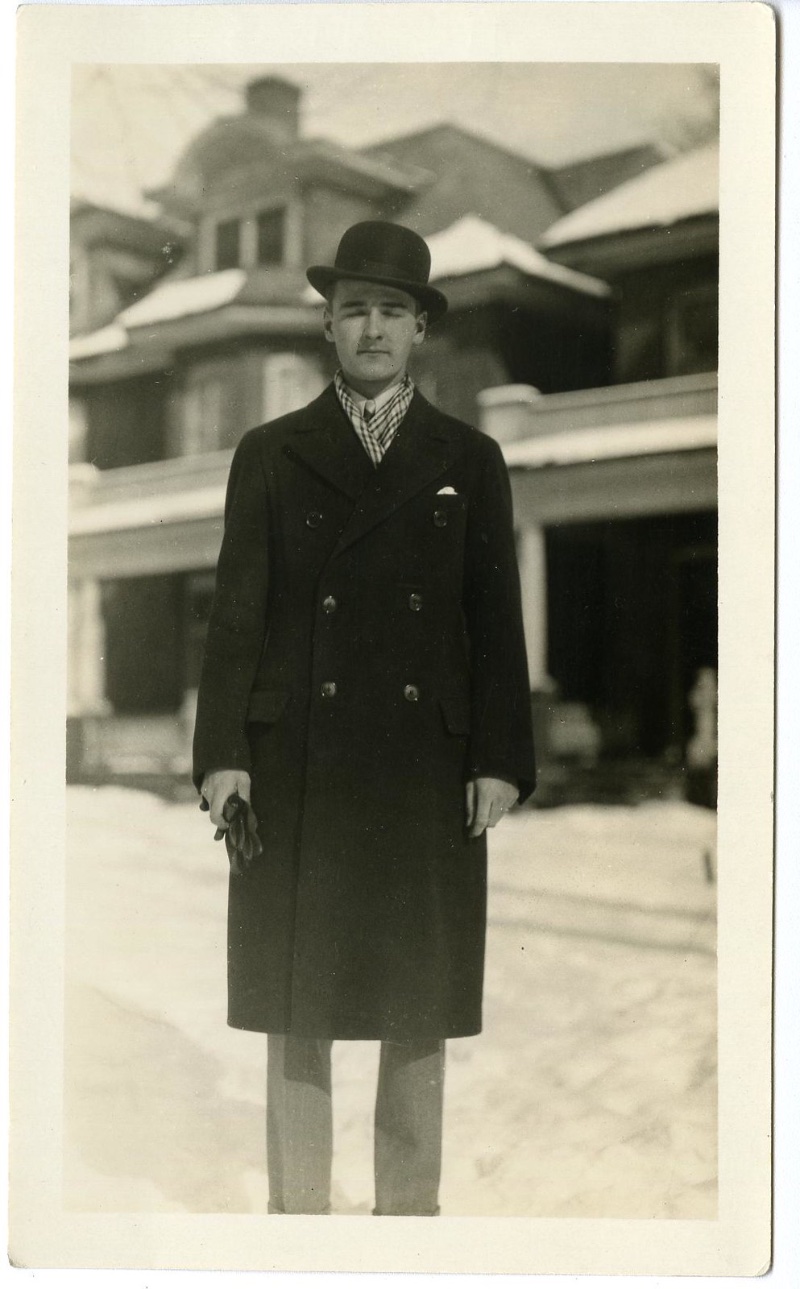 Hats
In the 1920s, men's hats were a fashion statement that could not be ignored. During this era, the hat was an essential part of any man's wardrobe and was worn for formal and casual occasions. The most popular hat style during this period was called a fedora, which had a wide brim and a soft crown made from felt or straw.
Other popular types included bowler hats, flat caps, top hats, homburgs, straw boater hats, and Panama hats. These stylish headpieces often feature unique details such as feathers or ribbons to make them stand out even more. Men in the 1920s took great pride in their appearance, and wearing a fashionable hat completed their look with sophistication and class.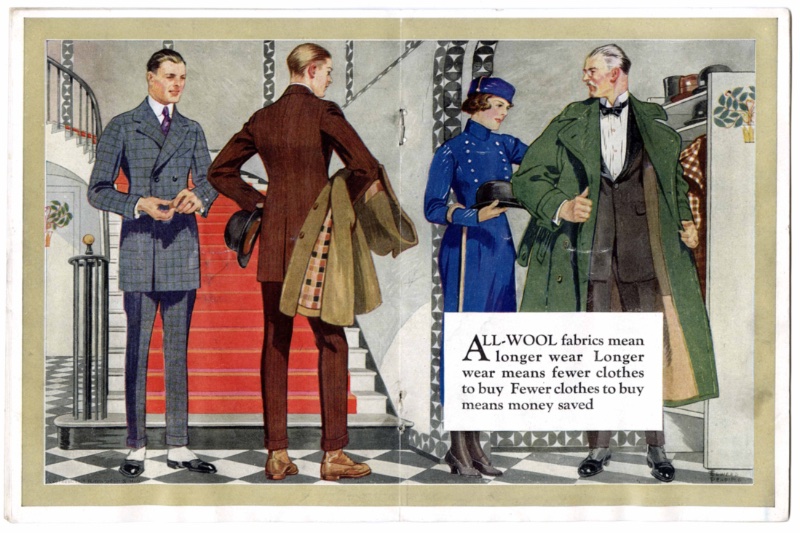 Art Deco en Vogue
The 1920s saw a massive shift in men's fashion as the era of Art Deco began to take hold. As modernism moved into the mainstream, men embraced new styles and silhouettes that were more streamlined and geometric than ever before. Tailoring became sharper, with broad shoulders and narrow waists emphasized through structured garments such as double-breasted suits.
Bold prints like pinstripes, checks, or geometric patterns were also featured heavily in menswear during this period, while fabrics such as silk or velvet added an extra level of sophistication to any outfit. In addition to these classic designs, men's accessories transformed, too—pocket squares and hats made from materials like straw or felt lent an air of distinction when paired with two-tone shoes, which were popular then.
All these elements combined make it easy to see why Art Deco fashion for men was so influential during this decade.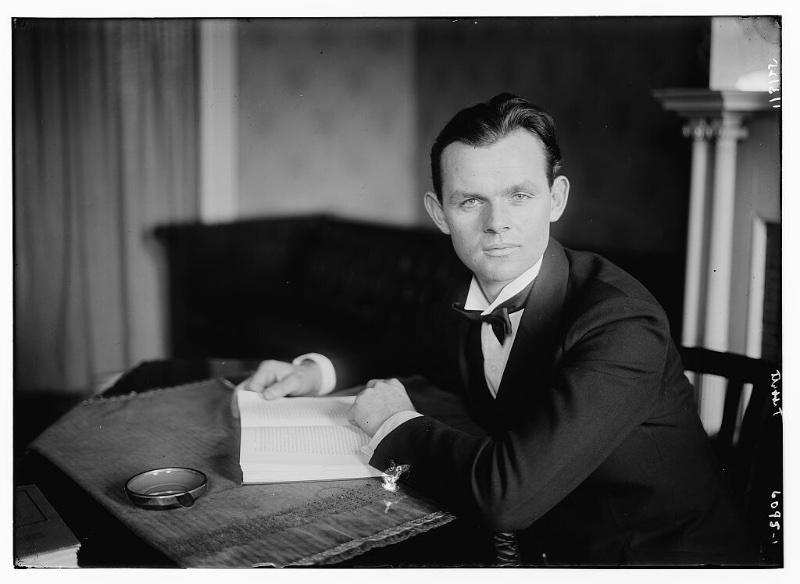 Clothing Trends
The 1920s was a decade of contrasts, and the fashion trends for men reflected this. While women's fashions were becoming more daring and dazzling, men's styles remained relatively conservative. However, some new trends in men's clothing emerged during the Roaring Twenties that set it apart from previous decades.
Detachable Shirt Collars
In the 1920s, shirts with detachable collars were all the rage among fashionable men. Detachable collars made it easy to switch out different styles depending on occasion or taste. For example, one could have a crisp white collar for formal occasions, while another might feature a fun patterned fabric like diagonal stripes for more casual events. These detachable collars had to be starched before wearing to maintain their shape, making them an ideal choice for those who wanted to look sharp at any time of day or night with a stiff collar.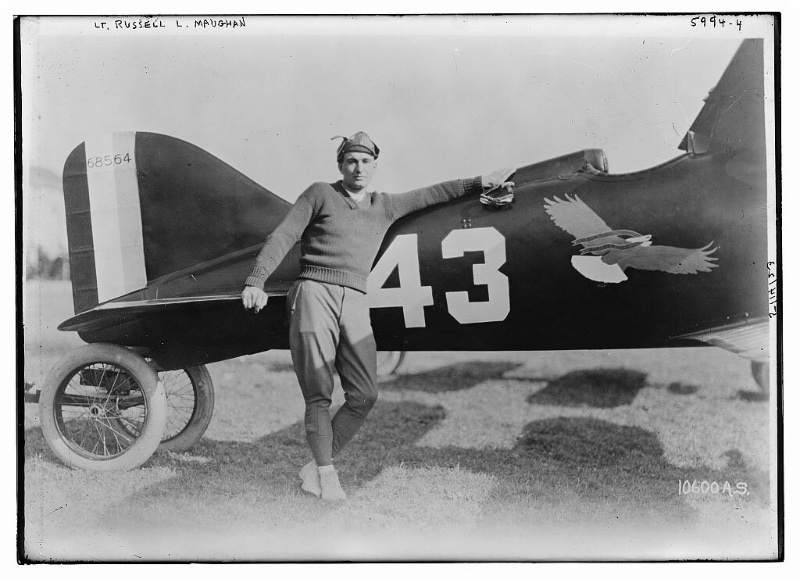 Casual Dress
The introduction of sportswear as casual wear and mainstream fashion was one such trend. Men would don sweaters paired with pleated trousers or knickers while out on leisurely activities such as golfing or boating. Also popular among stylish gentlemen were double-breasted suits with wide jacket lapels, fedoras, and shoe spats to complete the look. These iconic fashion pieces remain timeless staples in modern-day menswear even today!
Collarless Vests
The 1920s were a time of great fashion innovation, especially for men's clothing. One of the defining pieces of that era was the collarless vest, which became popular with young men as an alternative to traditional suits.
The vests could be worn over a shirt and tie or on their own as part of a more casual look. They featured short collars and often had buttons down the front in contrasting colors, giving them an eye-catching style that made them stand out from other garments.
The fabric used for these vests ranged from lightweight linen to heavier woolen materials, making them suitable for all occasions during the 1920s.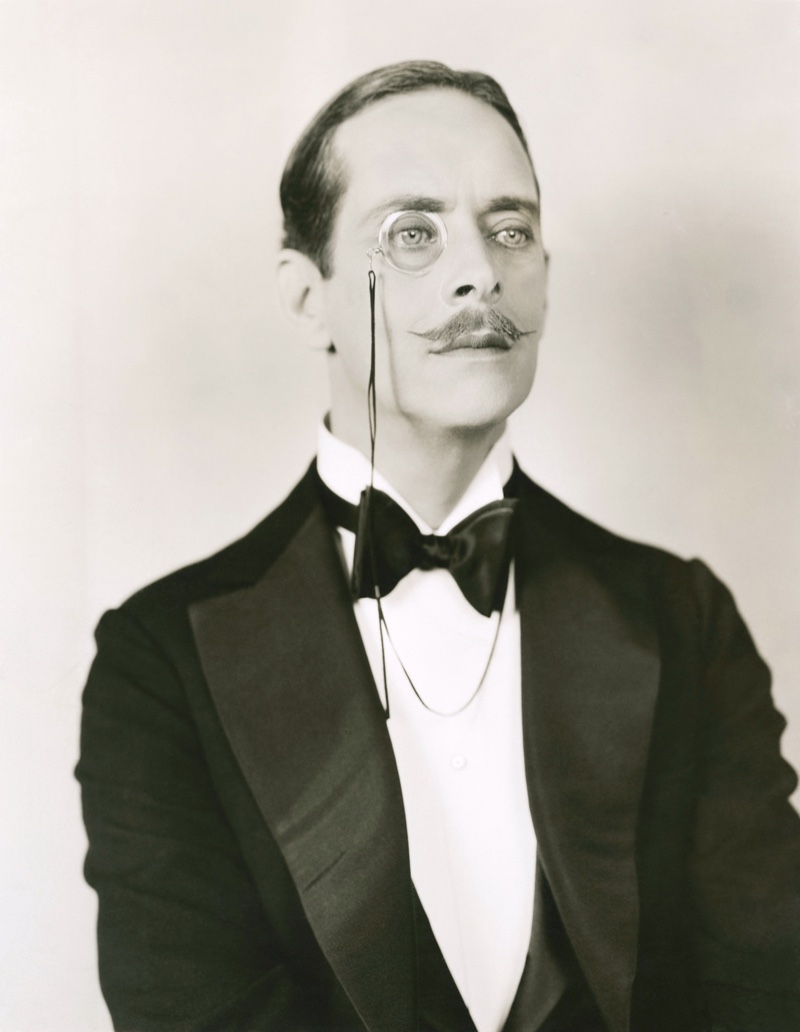 Dressing for Formal Occasions
During the 1920s, fashion underwent a significant transformation, and men's formal attire was no exception. During the decade, men's fashion included classic styles such as dinner jackets, morning suits, and tuxedo jackets, as well as contemporary looks inspired by Hollywood stars and fashion icons such as Douglas Fairbanks and Rudolph Valentino.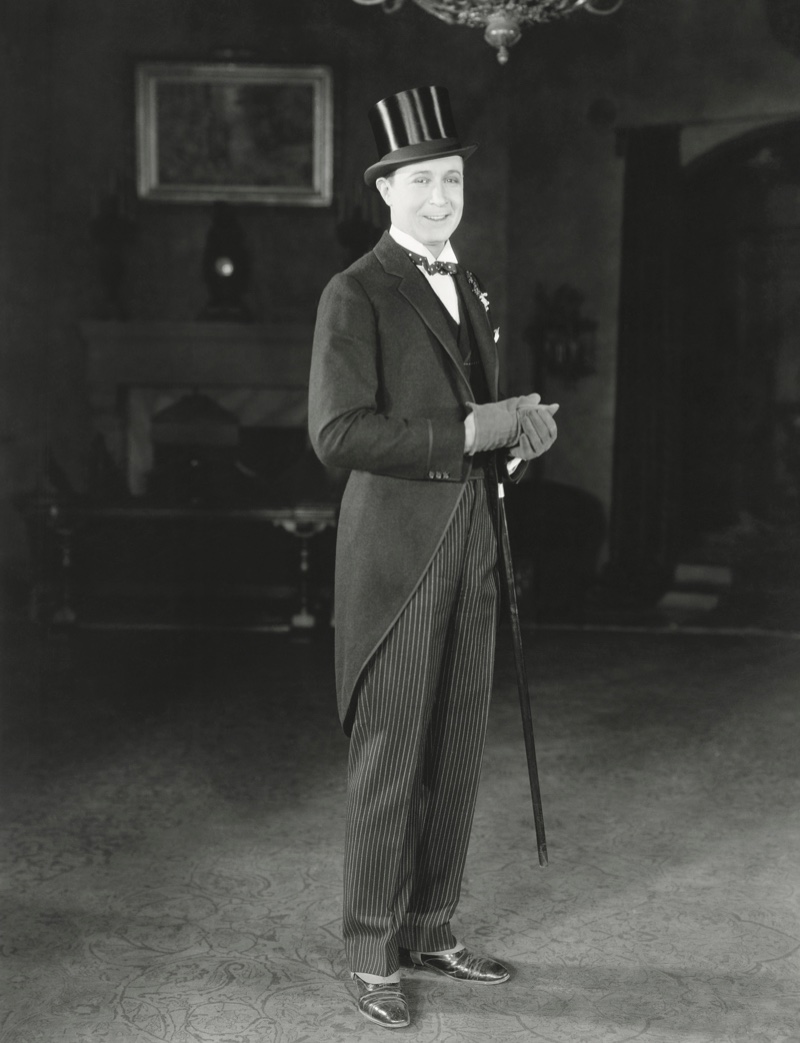 Morning & Evening Suits
A 1920s-style morning suit typically included a tailcoat with peaked lapels and higher buttons, a waistcoat, striped trousers, and a shirt with a stiff wing collar and dress cuffs. The ensemble was usually finished with accessories such as an ascot or bow tie, pocket watch, and shoe spats.
In contrast, an evening suit was usually much more understated and simple, with a classic tailcoat, regular collar, cuffs, flat-front trousers, and a pleated shirt. Both styles are typically worn with dress shoes such as oxfords or black patent shoes.
Special Occasions
Special occasion outfits for men during this era typically consisted of sleekly cut suits with wide lapels, double-breasted vests, and bold patterned ties. Men also often accessorized their looks with felt hats, pocket watches, suspenders or braces, spats (leather covers worn over shoes), canes or walking sticks, and gloves. These classic elements combined to create an iconic look that is still admired today.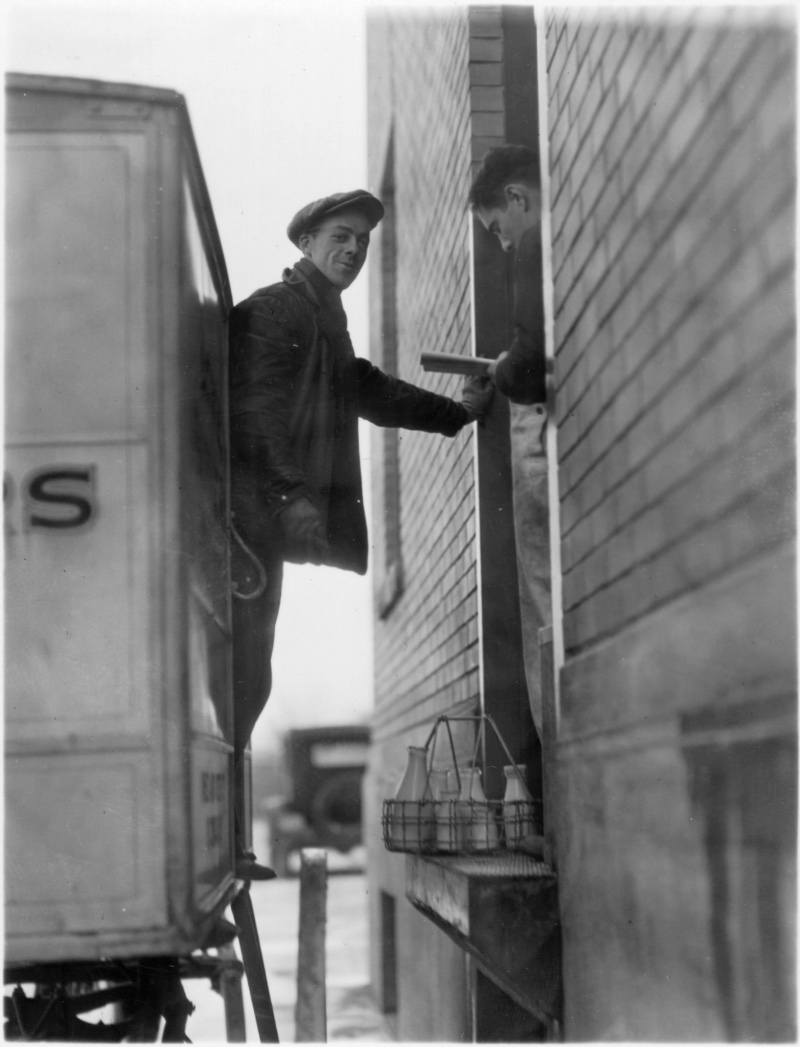 A Class Divide
In the 1920s, as America was transitioning from a rural to an urban society, there were apparent differences in style between middle-class and working-class men. The former tended to be more conservatively dressed than their counterparts; they favored suits and ties with hats, whereas working-class men typically wore overalls or work clothes.
Middle-class men also had access to better quality clothing fabrics, such as wool or linen, that cost more money but lasted longer than cotton garments and synthetic materials worn by the working classes. Additionally, middle-class men often took pride in keeping up with fashion trends, while those of lower economic means often stuck to classic looks that never went out of style.
As a result of these differences in dress code and fashion sense, two distinct looks emerged during this period: one for the wealthy elite and another for the everyday man on the street.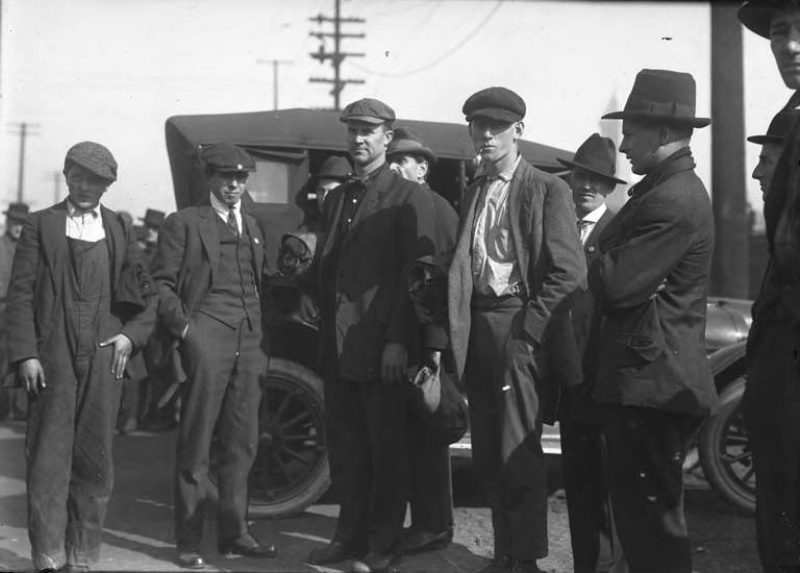 Workwear
In the 1920s, men's workwear reflected the era's changing attitudes and values. Men embraced new styles of dress that were more casual and comfortable than previous generations. The look was practical but stylish, with workwear pants and shirts in relaxed silhouettes made from lightweight materials like cotton twill or linen.
Work shirts included chest pockets with button-down flaps, jackets featured wide lapels and patch pockets, and ties were often knitted for added texture. Hats—from bowlers to fedoras—were popular accessories for completing any man's work wardrobe in the 1920s.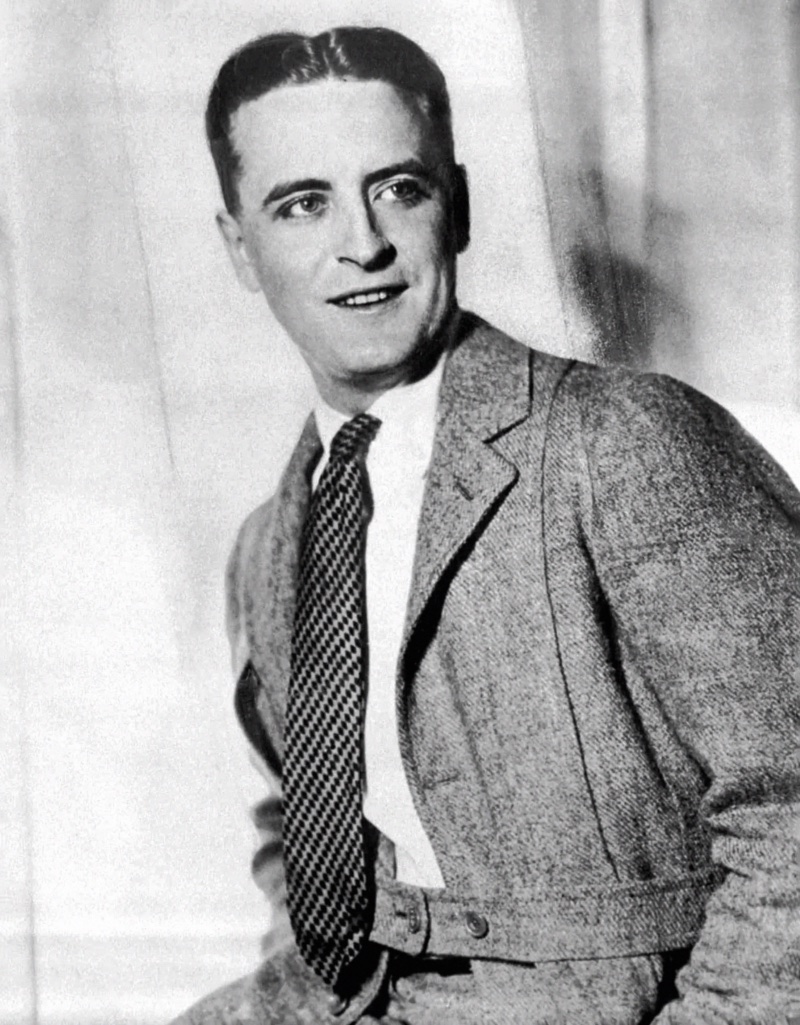 Dandy Peacock
F. Scott Fitzgerald was an American writer and socialite who rose to fame in the 1920s during the Jazz Age. His novels The Great Gatsby and This Side of Paradise are considered masterpieces of 20th-century literature and remain widely read today. He also had a flair for fashion that set him apart from other men of his time.
In the 1920s, Fitzgerald often wore fashionable tweed suits with ascot ties or cravats paired with two-tone shoes and spats. To complete his look, he would top off his ensemble with a fedora hat and walking stick.
While these styles were common among wealthy men at the time, F. Scott Fitzgerald put extra effort into perfecting them—making him one of the most stylish men in history!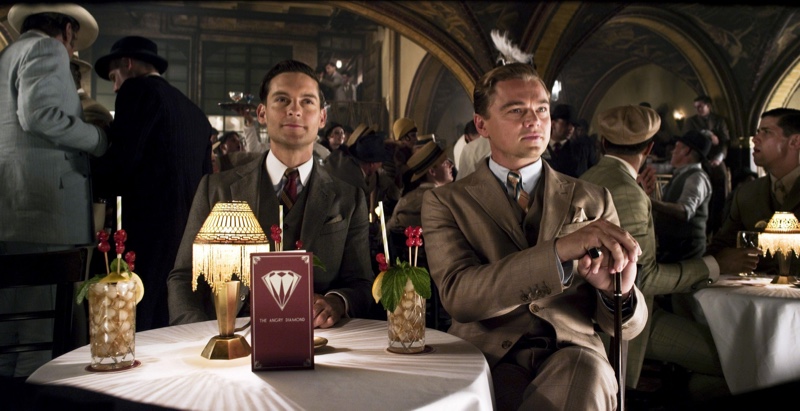 Pop Culture
For filmmakers, the '20s provide a wealth of inspiration regarding men's fashion, with iconic looks that include tailored suits, flat caps, vests, and double-breasted jackets. From Boardwalk Empire to Peaky Blinders, many popular shows have featured memorable characters wearing 1920s-inspired clothing that has become iconic within the industry.
Movies and TV series are often inspired by 1920s men's fashion, as the wardrobe choices of their characters mirror authentic designs worn during this period. Additionally, vintage patterns frequently recreate this era's classic look.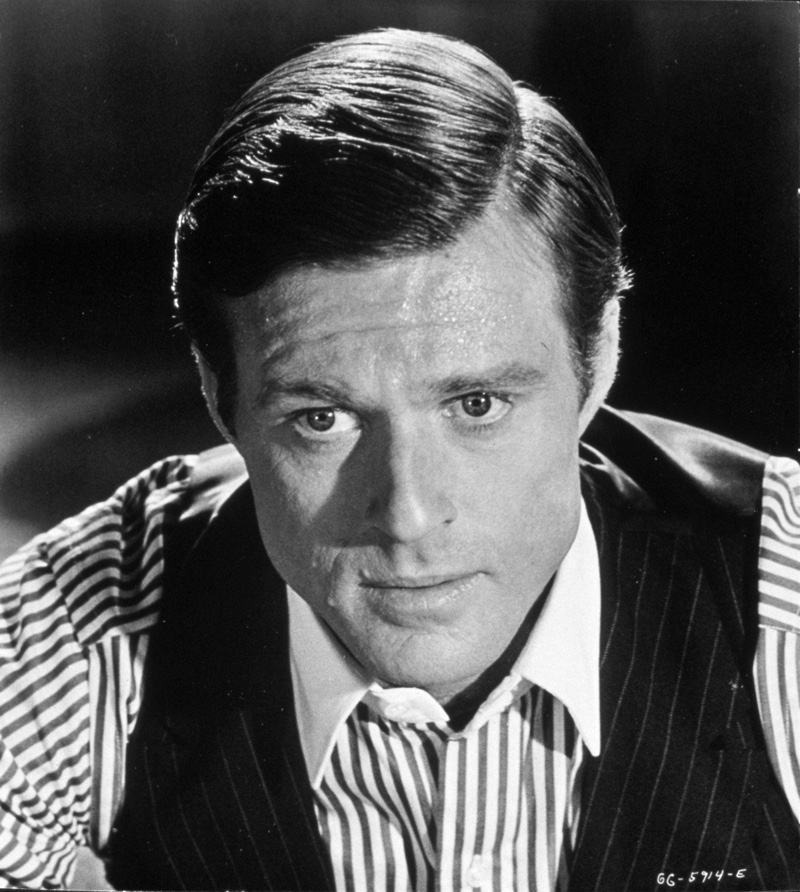 The Great Gatsby
In the two film adaptations of F. Scott Fitzgerald's The Great Gatsby, following the first in 1926, men's fashion in the 1920s is showcased in various ways. The 1974 film, directed by Jack Clayton, takes a more subtle approach to the costumes and fashion, while the 2013 film by Baz Luhrmann focuses on a much bolder display of the costumes and style.
In the 1974 version of The Great Gatsby, men's fashion in the 1920s is portrayed more subtly. The costumes are classic and timeless, with suits featuring wide lapels, double-breasted jackets, and trousers with cuffs. The muted colors often feature earth tones such as browns, tans, and grays. Accessories such as pocket squares, hats, and ties are also essential elements of the look.
The overall effect is one of sophistication and class. Men's fashion in the 1920s was about looking sharp and well-dressed, focusing on quality fabrics and tailoring. The look was timeless and elegant, emphasizing subtlety rather than ostentatiousness featured in Luhrmann's adaptation. The likes of dapper actors such as Douglas Fairbanks and Rudolph Valentino popularized this style of dress.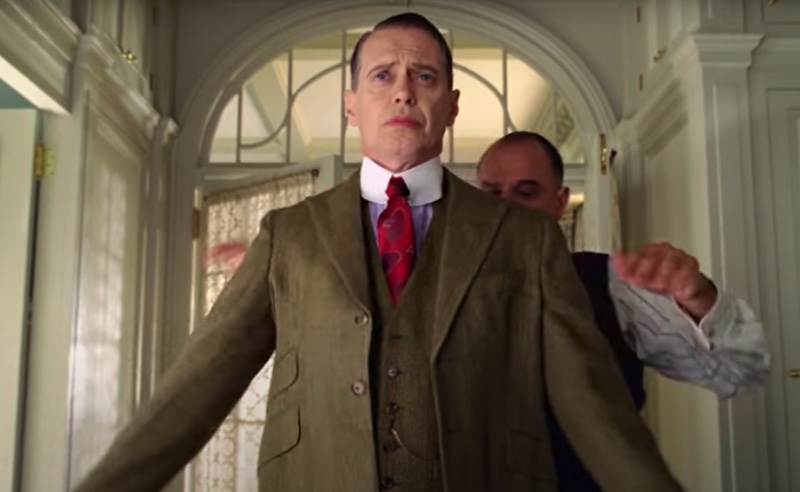 Fashion Style in Boardwalk Empire
Boardwalk Empire is one of the most popular television shows to showcase men's fashion from the 1920s. The critically-acclaimed series follows Prohibition-era gangsters in Atlantic City during the Roaring Twenties, with characters sporting a range of stylish and sophisticated looks typical of the era. One particular standout is politician turned gangster Nucky Thompson.
Steve Buscemi plays Thompson, and he often wears a range of vests and double-breasted suits while pretending to be a respectable businessman. Thompson's outfits are based on actual designs worn in the 1920s, with the show's costume designers using vintage patterns as inspiration for the ensembles that Nucky wears.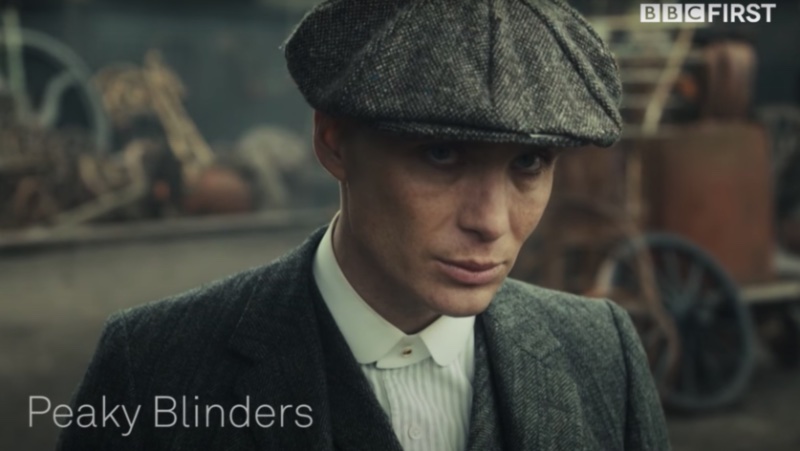 Peaky Blinders Fashion Inspiration
Another popular television show showcasing men's fashion from the 1920s is Peaky Blinders. The show follows a gangster family in Birmingham, England, during the aftermath of World War I and features a range of stylish looks typical of this era. Peaky Blinders' lead character Thomas Shelby, played by Cillian Murphy, has become well-known for his signature style, which includes flat caps and tailored suits with waistcoats.
The costumes used on the show are based on actual designs worn in 1920s Britain and often feature intricate details such as pocket watches or lapel pins to give an authentic look. With its classic combination of sharp tailoring and vintage accessories, Peaky Blinders offers viewers an insight into what fashionable men were wearing in this decade while remaining true to its gritty storyline.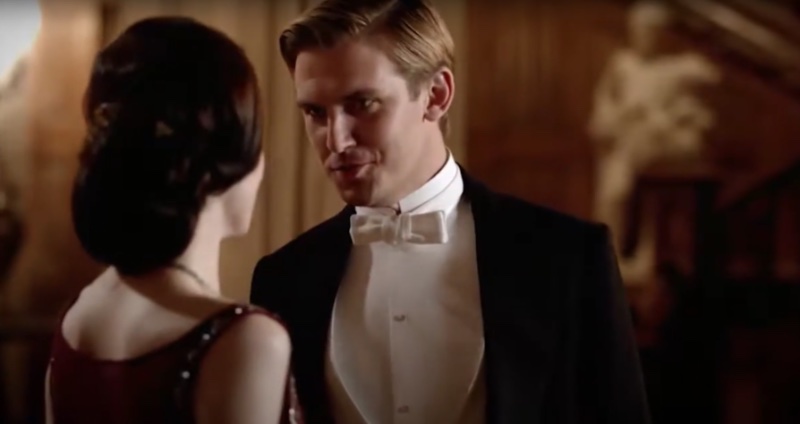 Downton Abbey
The 1920s style featured in season three of Downton Abbey is iconic and timeless. Men's era fashion was characterized by sharp lines, tailored suits, and a focus on creating a distinguished look. From the dapper three-piece suits to the high-collared dress shirts with single, double, and French cuffs that were popular then, men's fashion during this period was all about sophistication.
These styles not only gave off an air of elegance but also served practical purposes such as keeping warm in cold climates or providing extra protection from windy weather. The 1920s look for men may have been born out of necessity, but it eventually became integral to modern-day style and culture.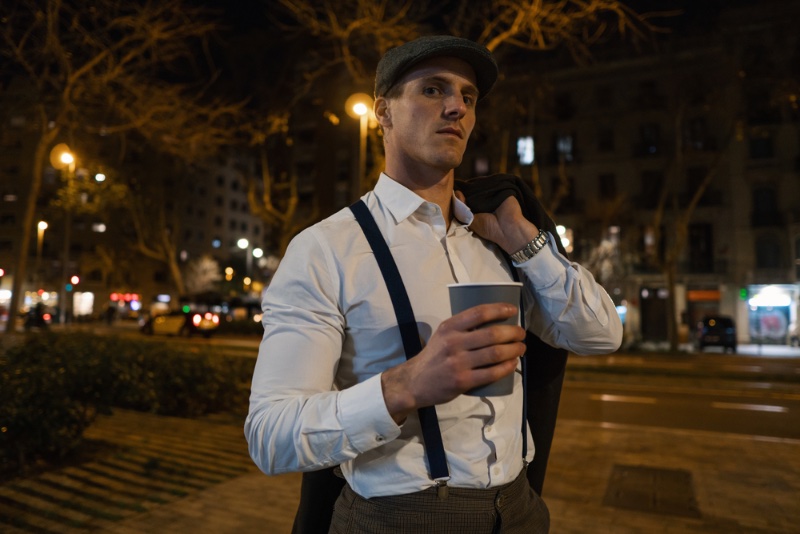 What is 1920s Fashion? How to Apply It Today
The key elements of 1920s men's fashion included sharp lines, tailored suits, and a focus on creating a distinct and sophisticated look. Popular styles of the era drew inspiration from vintage patterns and incorporated details such as pocket watches, lapel pins, bow ties, fedoras or flat caps, and brogues.
Prevailing trends often influenced 1920s fashion in men's fashion. This period saw the emergence of several styles and trends, many of which remain popular and relevant today.
One of the key features of 1920s clothing for men was a focus on tailoring and form-fitting silhouettes. The classic double-breasted suit became a staple in wardrobes, while the three-piece suit, which included a jacket, waistcoat, and trousers, was also popular.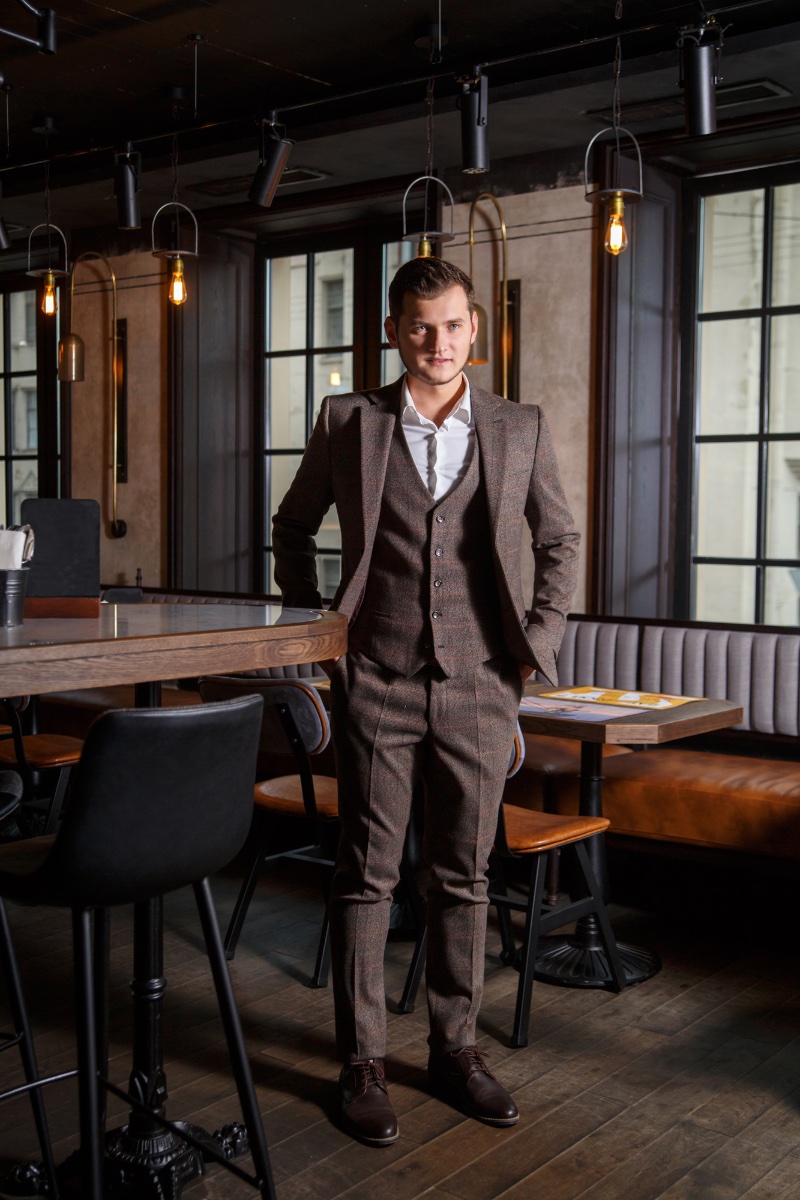 Final Words
The 1920s was a decade of fashion evolution for men, as trends moved away from the traditional and towards stylish silhouettes with tailored suits.
From Douglas Fairbanks to Rudolph Valentino, Steve Buscemi in Boardwalk Empire to Cillian Murphy in Peaky Blinders, Downton Abbey's three-piece suit to modern interpretations of classic looks, it is clear that this era left an indelible mark on menswear.
The timeless style and sophistication of 1920s fashion continue to be relevant today—so don your best double-breasted suit or flat cap and join the roaring twenties.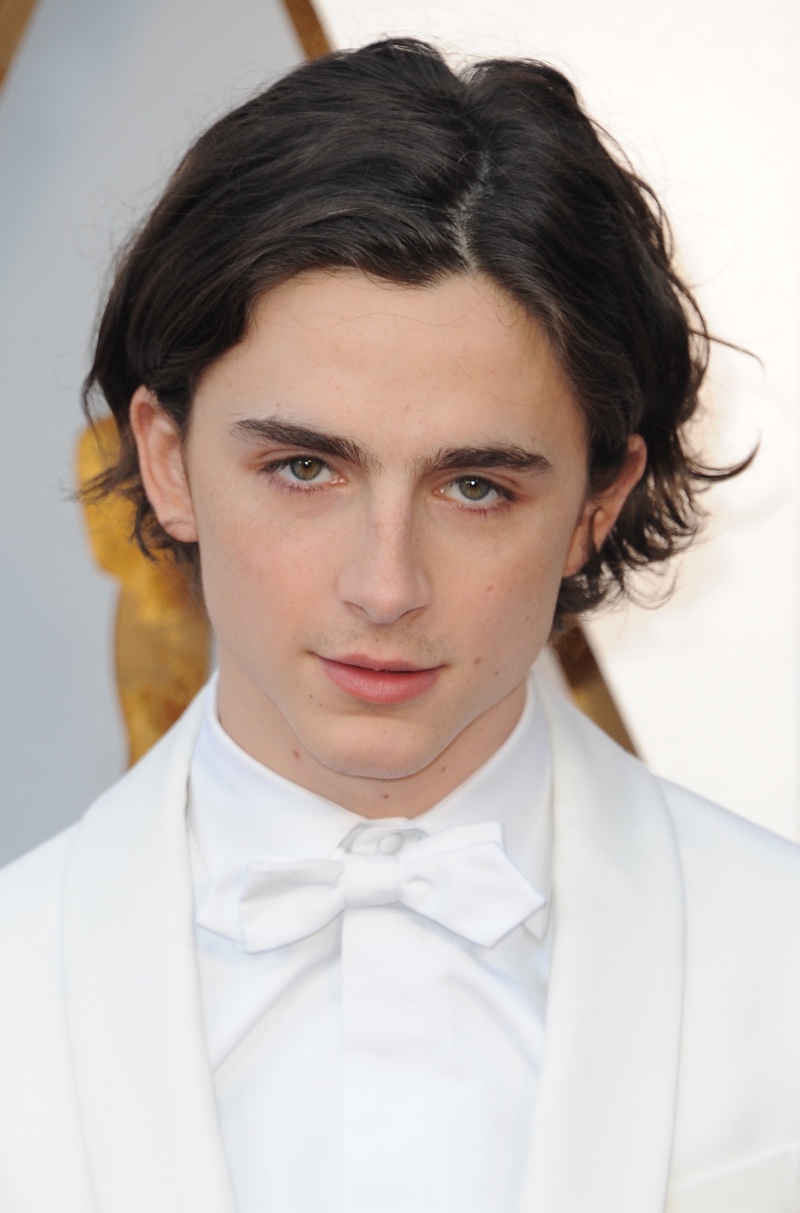 You can get the 1920s style today by stepping up your suiting game. Films such as The Great Gatsby by director Baz Luhrmann to HBO television series Boardwalk Empire make sure the roaring decade lives on.
Wear a bow tie or a pop of color with a pocket square for a modern 1920s men's fashion look. Try pairing your suit with a smart fedora or flat cap and some brogues for a dapper outfit. And don't forget the pocket watch! With all these elements combined, you'll be ready to channel the 1920s in style.​