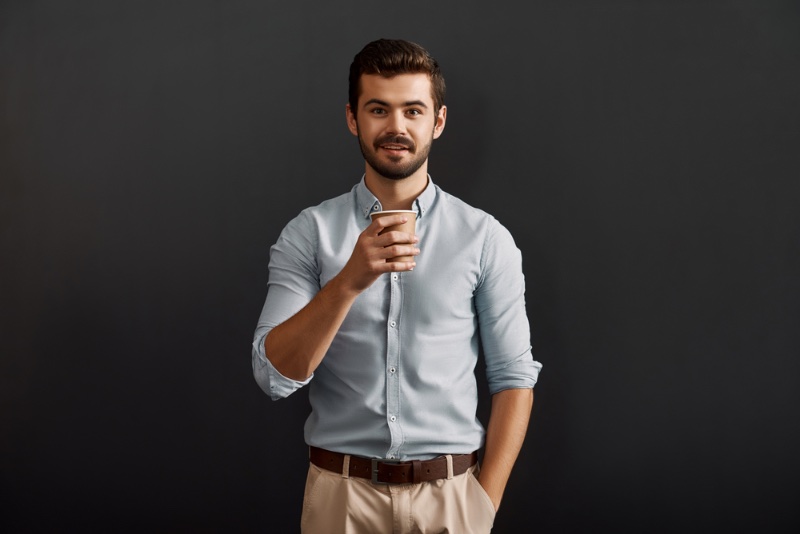 As our society progresses and workspaces continue to adjust their dress codes, so does the concept of business casual for men. Rather than donning Don Draper's formal attire with a sartorial suit and a shirt-tie combo, men have been given more freedom in dressing choices.
Despite this progress, however, there remains an element of uncertainty regarding the exact rules for such business occasions. There are no rigid guidelines or excuses for wearing overly professional clothing like trousers or t-shirts.
The History of Business Casual Dress Codes
Since the early 1900s, business casual attire has been en vogue. This shift was necessitated by business people being forced to launder their suits more often than before. This was due to a shortage of dry cleaners during World War I.
With men relegated to wearing more practical clothing in work environments, they began taking jackets and ties off and adopting more comfortable clothes like sweaters, button-down shirts, and slacks.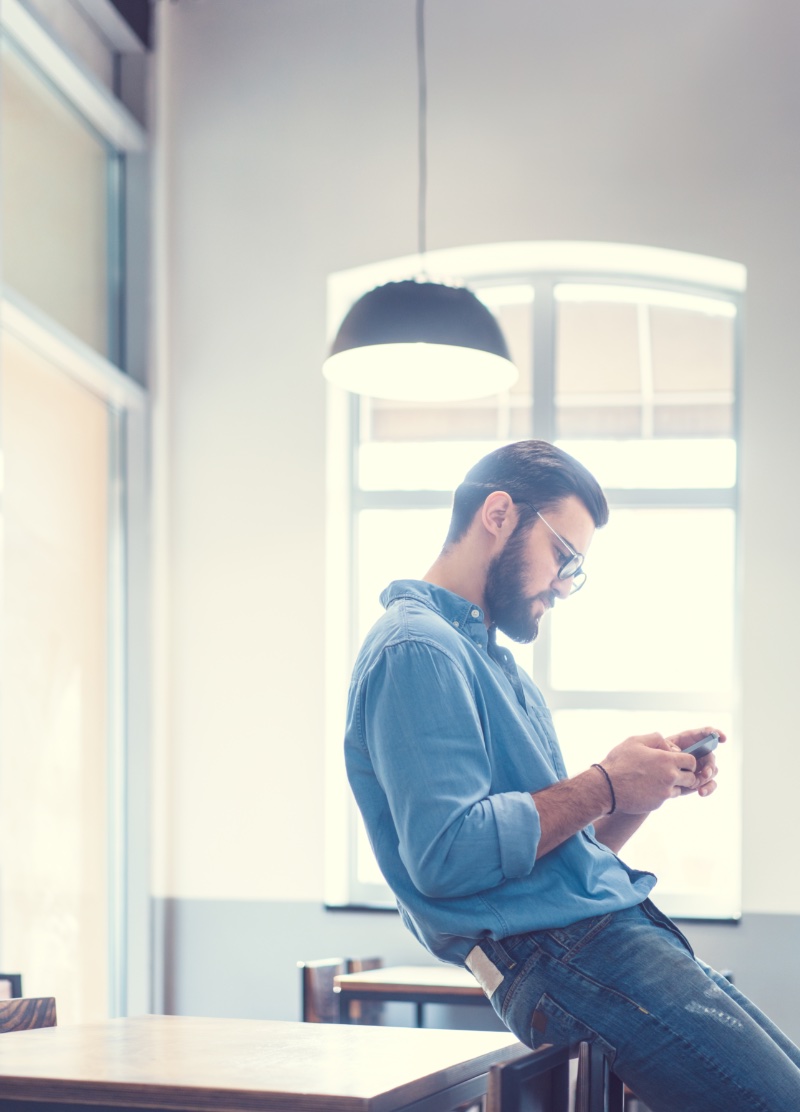 Casual Friday & Other Dress Code Changes
The history of business casual for men is closely intertwined with the introduction of Casual Fridays. During World War II, as more and more men were enlisted in the armed forces, it became increasingly difficult to find suitable clothing options for those who remained in jobs outside the military.
This marked the beginning of what is known today as business casual attire. Since then, Casual Fridays has become popular among companies seeking a relaxed dress code without compromising professionalism.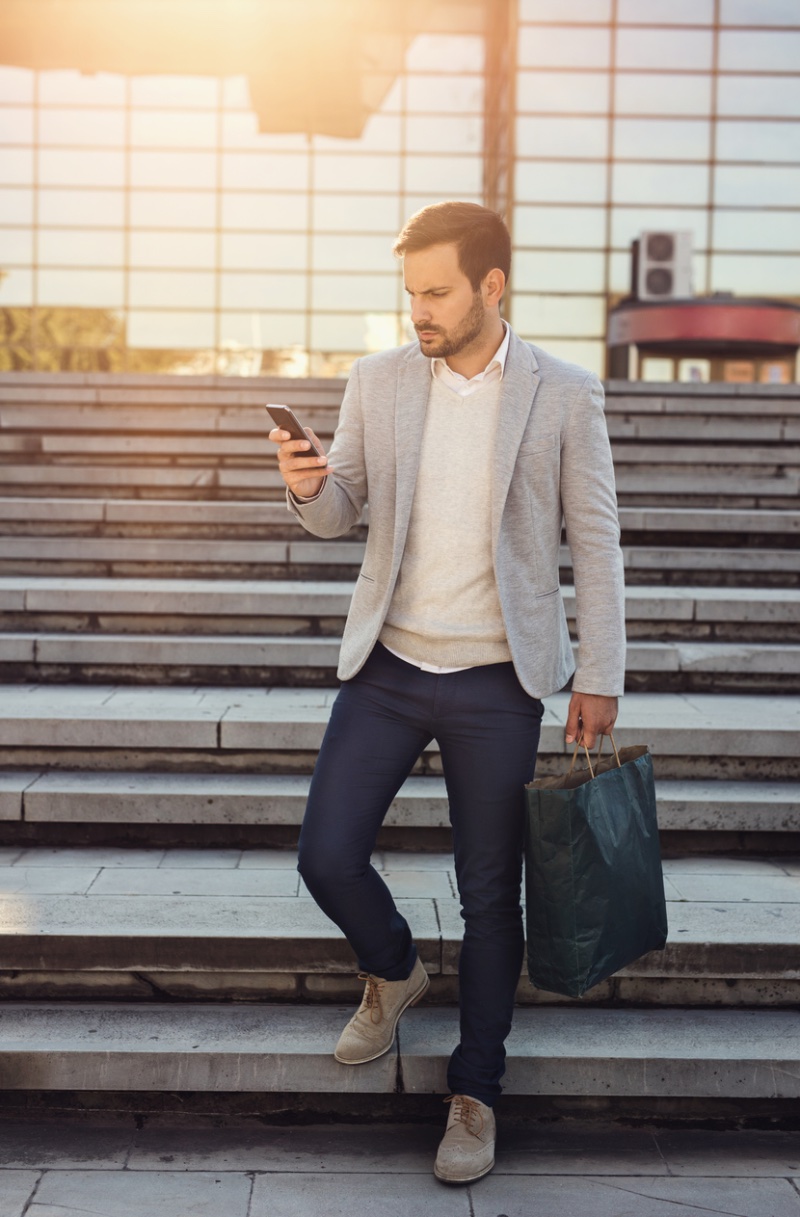 The modern business casual trend began to catch on during the late 1970s and 1980s. Companies like IBM implemented "Casual Friday" as an official company rule during this time. With more men being allowed to wear sports coats and dress shirts, the menswear industry saw increased profits by selling more casual clothing.
Casual Work Attire
Over time, fashion trends have steadily shifted towards the incorporation of other casual yet polished pieces into business dressing, such as khakis and loafers. Today, men's business simple style has become an essential part of any modern wardrobe and remains highly popular for occasions like job interviews and Casual Fridays.
Today's business wardrobe for males is much more flexible than in the early 20th century. With the rise of technology and digital communication, many workplaces have adopted a more relaxed dress code that allows men to wear more comfortable clothing while maintaining professional standards. However, there remains to be some uncertainty around the exact rules for this business dress style.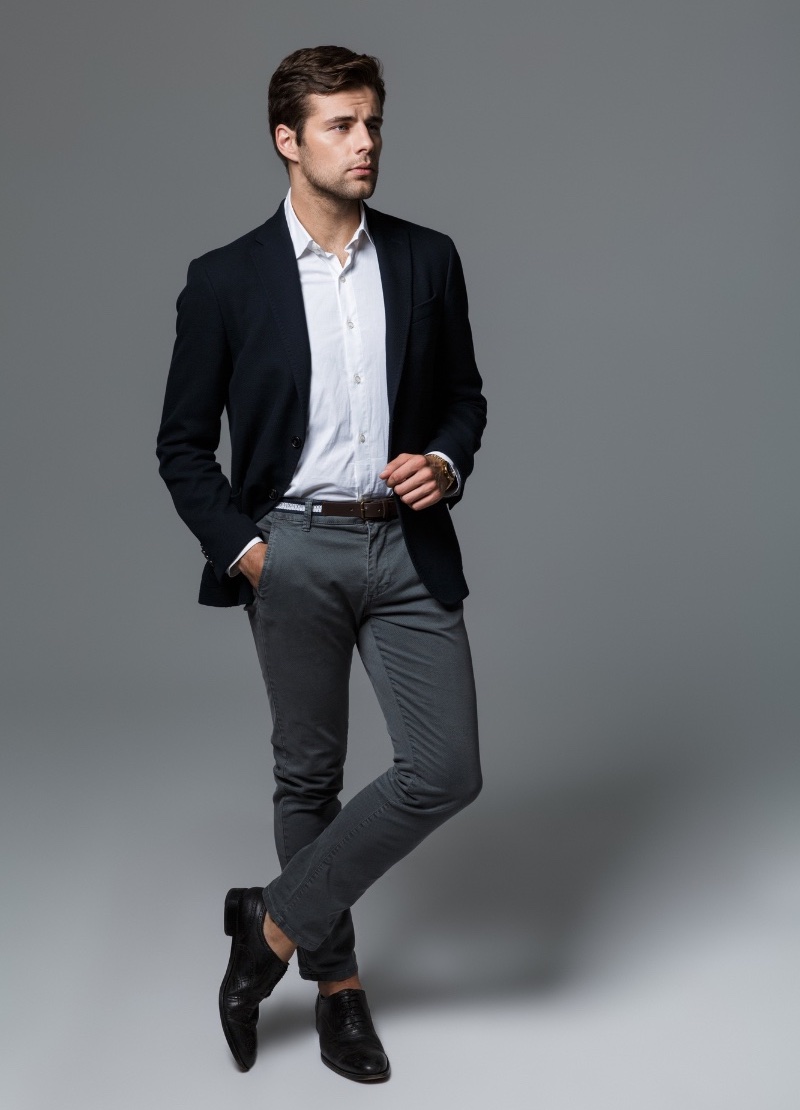 Modern Business Casual Attire
For men, business casual dress typically includes tailored slacks, button-down shirts, knitted sweaters, and blazers. It is essential to stick to high-quality pieces that fit well and look polished, as these are the critical elements of a professional appearance in any environment.
To successfully navigate the ideal business wardrobe, it is essential to be mindful of your workplace's specific guidelines and standards for dress. Research what is expected in your office or industry, and use this knowledge to guide your choices when getting dressed each morning. Attention to the little details makes you feel confident and comfortable while maintaining a professional appearance.
So whether you're heading to the office, an important meeting, or a networking event, remember that the perfect appearance is all about balancing and choosing comfortable and stylish pieces. With some preparation and attention to detail, you can feel confident wearing any outfit.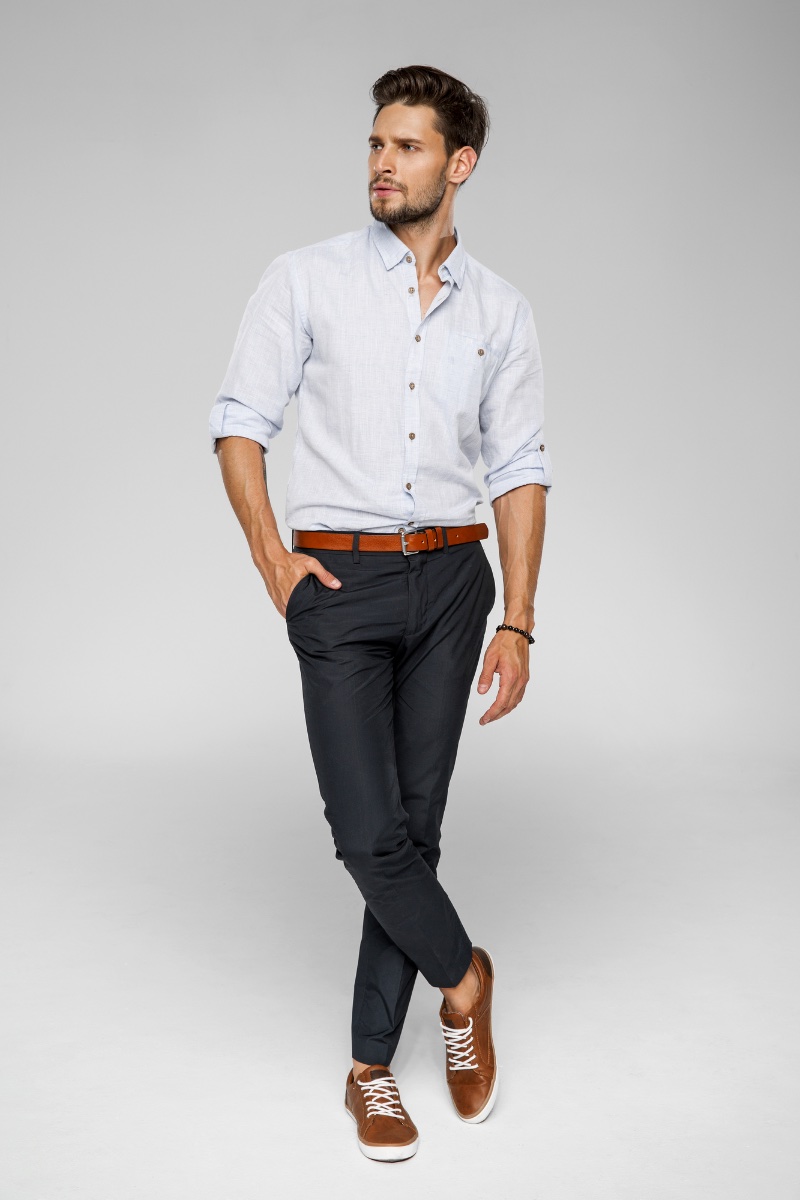 The Essential Business Casual for Men Guide
A well-curated wardrobe is essential for mastering contemporary office looks. Start with two or three pairs of neutral-colored trousers and a few button-down shirts.
Depending on how often you need to dress up, stock up on blazers or sports coats that fit well and can be paired with your trousers. Add subtle touches of personality with patterned socks, ties, and pocket squares.
Don't forget comfortable and timeless shoes. Quality leather loafers are an excellent choice for business looks. Combined, these wardrobe essentials will keep you looking sharp in the office for any occasion.
Here are some essential pieces to consider when building your business wardrobe: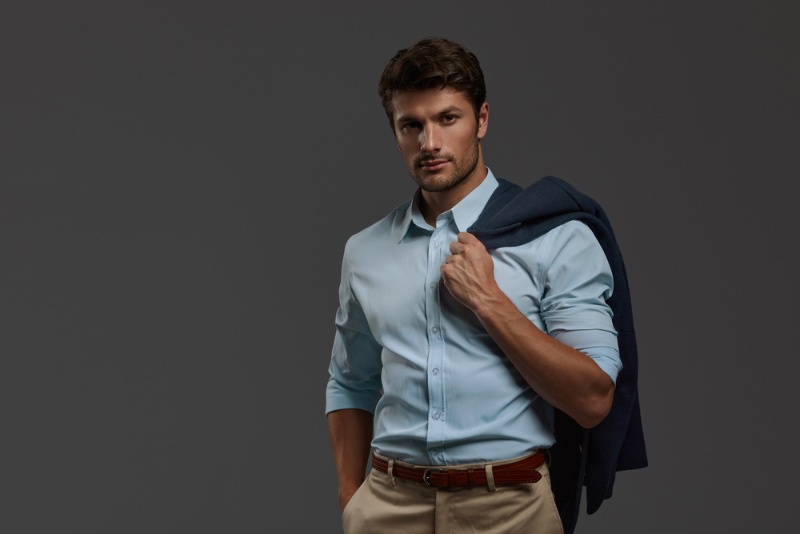 Button-down Shirts
Button-down shirts are a classic choice for business looks, as they can be paired with slacks or chinos for a polished appearance. Color is essential when finding the perfect shirt for men.
In general, muted or neutral colors like navy, grey, beige, and black are considered timeless and appropriate for most professional situations. These shades are easy to wear with slacks or chinos and always look polished.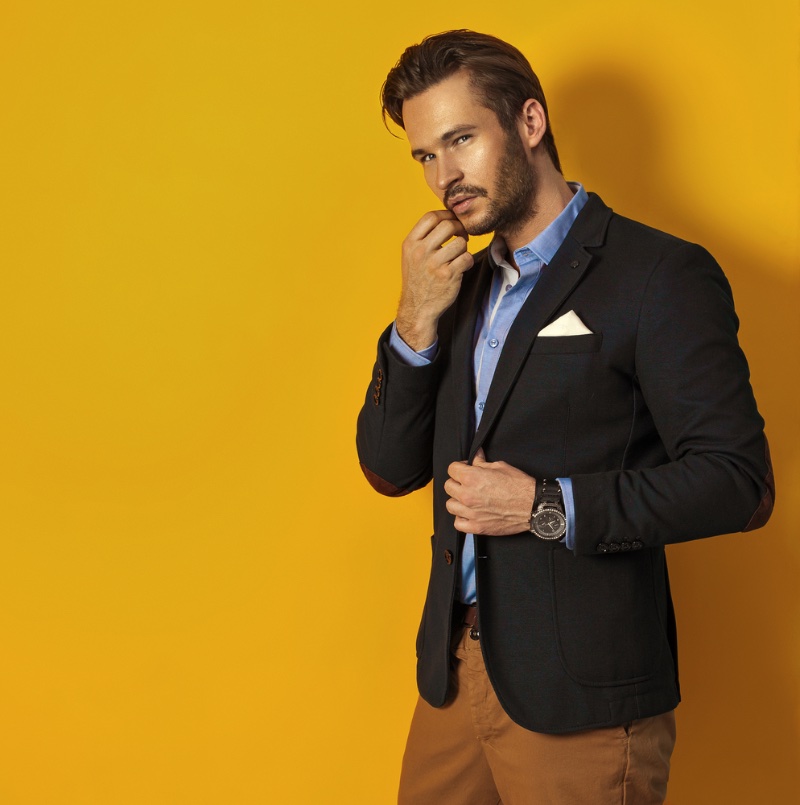 Blazers & Sports Coats
Blazers are the ultimate pieces for a smart casual business look. Go for one in mid-gray and another in navy blue—both will be great staples to have in your wardrobe. Team the blazer with trousers or chinos, polo shirts or Oxford weave shirts, and leather loafers for an ultra-smart ensemble.
If you prefer a more relaxed take, layer a sports coat over a luxury T-shirt and pair it with jeans and sneakers. Don't forget a coordinating belt and pocket square—this will add a finishing touch to your outfit!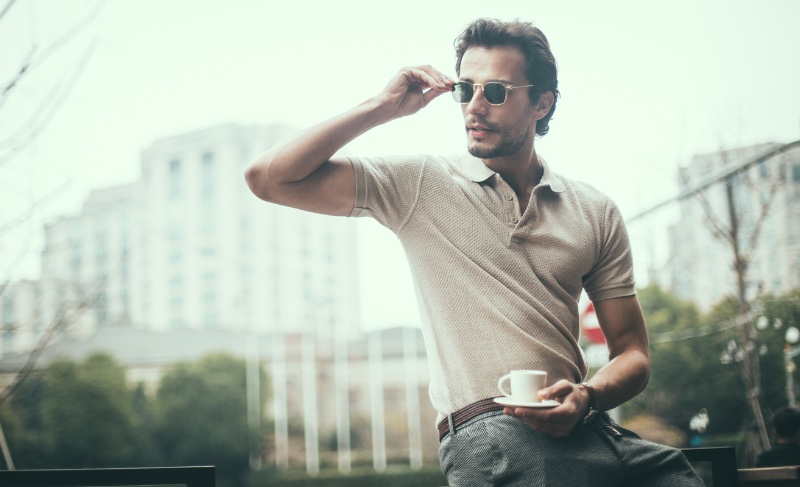 Polo Shirts
Polo shirts are a great way to change your typical ensemble and add comfort to your business look. They are chic and can also be layered with other clothing, such as a suit jacket or knit sweater, for added warmth or sophistication. For instance, pairing a polo shirt with a lightweight blazer will instantly elevate your look while maintaining professionalism.
Similarly, layering a knitted sweater over the top of your polo will give you extra warmth on colder days while still looking polished and professional. In terms of color, muted shades like navy blue, gray, beige, and black are always safe. You can quickly transition from day to night with just a few simple changes.
Oxford Shirts
Oxford shirts are an effortless go-to for any man's business wardrobe. These classic button-up shirts feature a subtle texture and come in various colors and models, from solid white to bold plaid prints.
Oxford shirts are incredibly versatile and can be easily incorporated into different looks—they look equally good with trousers, khakis, or jeans. They can be dressed up or down depending on the occasion.
For a more formal look, opt for an oxford shirt with French cuffs that you can accessorize with cufflinks. Alternatively, keep it casual by pairing yours with sneakers or boat shoes and your favorite denim jacket. Whatever the occasion, an oxford shirt is sure to leave you looking polished yet comfortable.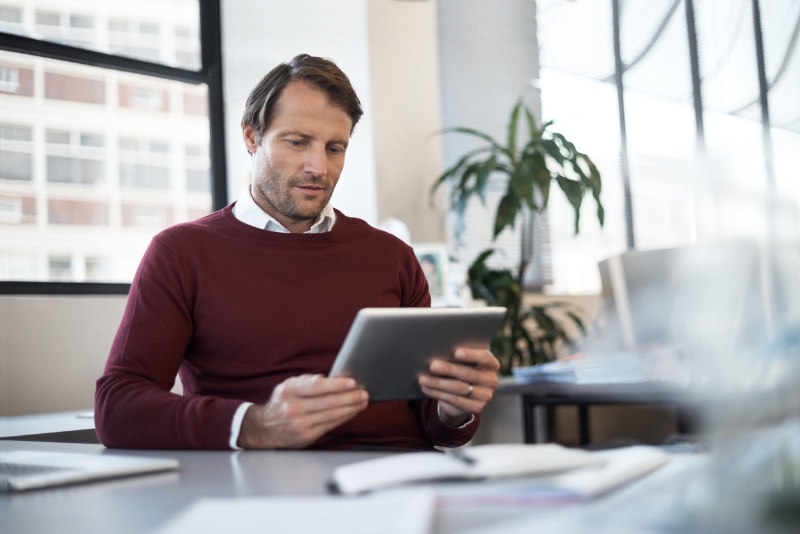 Sweaters
Sweaters are a great way to remix your business outfit. Whether you're looking for extra warmth in winter or a lightweight option during spring and summer, these sweaters come in various weights to perfectly complement your blazers or shirts.
Furthermore, sweaters come in various colors and types, making them highly versatile when creating the perfect outfit. From muted hues like navy blue or grey to bolder shades like red or green, there is something for everyone when selecting the fitting sweater for your business casual wardrobe.
Casual Chinos
When it comes to men's business, chinos are practical because they can be dressed up or down depending on what look you're going for. Stick to neutral colors like navy, olive, taupe, and khaki, as these will pair well with most shirts and shoes.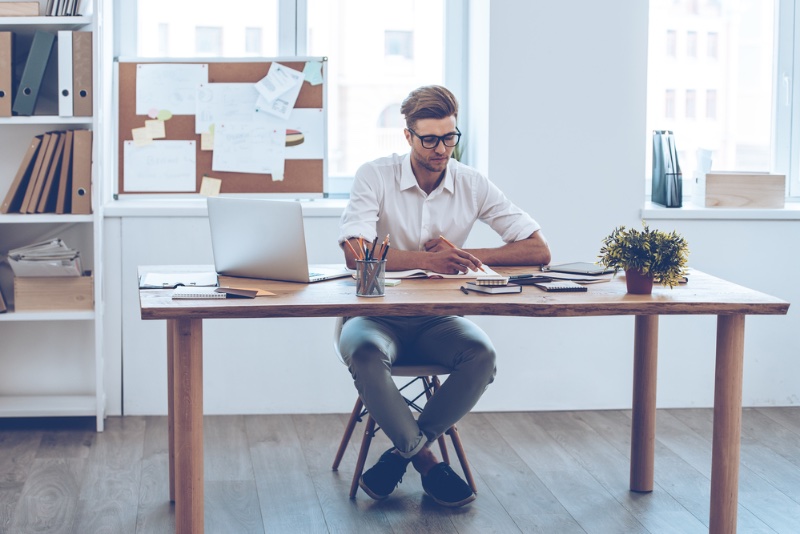 For a more casual office outfit, wear a slim-fit chino in either a flat front or pleated finish. To dress them up for important business meetings, pair your chinos with a dress shirt and sport coat.
Complete the ensemble with polished loafers or lace-up leather shoes, and you'll be sure to make an impression. Chinos offer versatility and timeless style, making them an essential item in every man's closet.
Men's Pants or Slacks
Slacks are a critical addition to any business wardrobe. Choose a pair of wool trousers, corduroy pants with a fine wale, or plain front dress slacks in neutral colors like grey, black, or navy for a more traditional option. Opt for patterned or pinstriped slacks in subtle shades and prints if you want to bring more personality to your outfit.
As with all business casual attire, the fit is critical: the waist should sit comfortably, and the fabric should lay flat down the leg without bunching or bagging. Finish off the look with leather loafers and belts that match your shoes.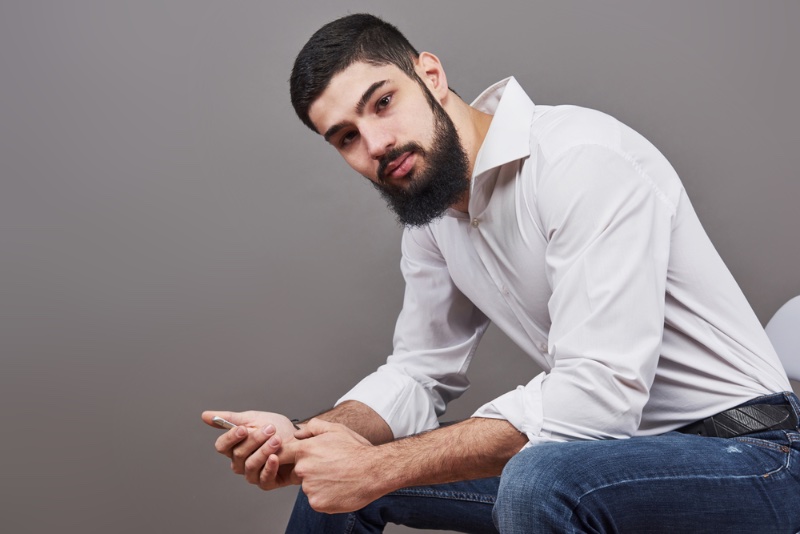 Jeans
Jeans are versatile and great for the office and leisure. To ensure you look smart and stylish, opt for a dark wash with little to no fading or distressing that fits neatly around the waist and with a straight leg. 
Avoid overly baggy or relaxed-fit jeans, as they can appear too casual for the office. When you want to look more dressed, try pairing your jeans with a crisp button-up shirt and leather shoes to create an effortless yet polished look.
If you're daring, choose a pair of slim-fit jeans in a bold color, such as burgundy or navy blue, and add texture by accessorizing with suede loafers. You can also opt for Chelsea or Chukka boots. No matter what you go for, well-fitted jeans can help you look sharp while still feeling comfortable all day long.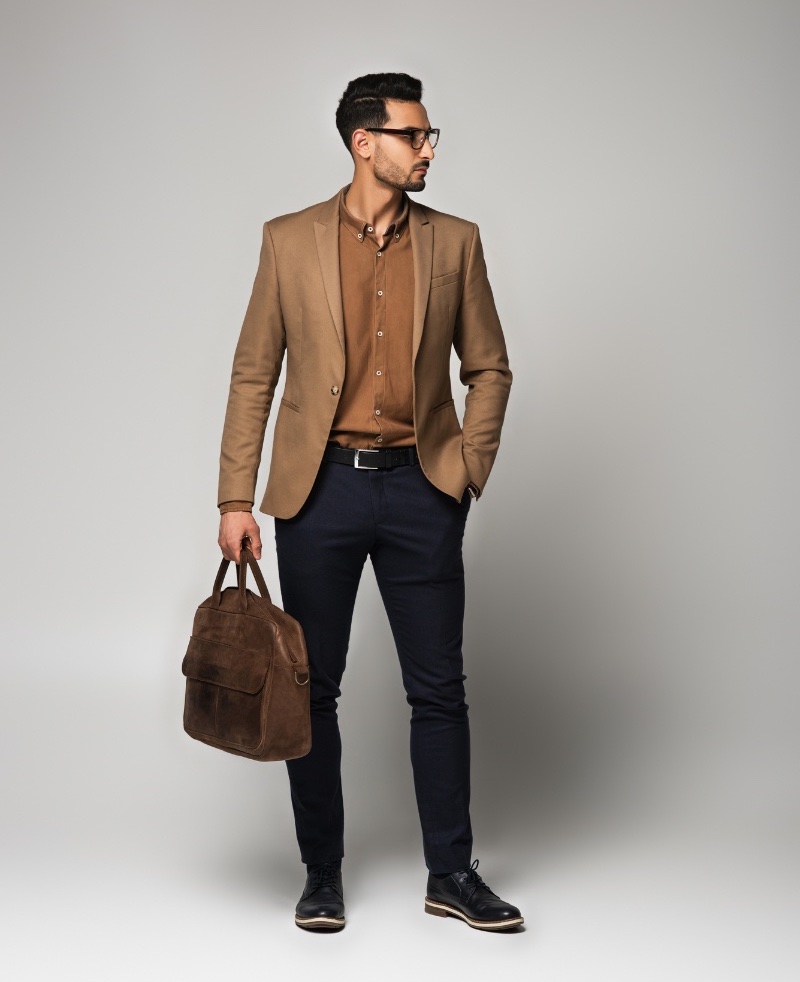 Business Casual Accessories
Often, accessories are vastly overlooked when building a business look. However, accessories provide an excellent opportunity to infuse your business outfit with personality. If you want to add a hat or scarf to your ensemble, select neutral shades such as black or grey for an understated aesthetic.
Adding subtle details like small buttons or plain prints can inject personality into the outfit. To elevate your attire further, accessorize with elegant glasses and bags that will complete your ensemble without overpowering.
Leather Belts
Accessories are an essential part of men's business casual. To keep your appearance sharp and professional, opt for a classic belt in black, brown, or tan leather—make sure it coordinates with other elements in your outfit. A good tip is to match the belt buckle with rings and cuff links.
Jewelry at Work
Jewelry is a fantastic way to add a bit of personality to your business ensemble. If you want to keep it subtle, opt for classic pieces such as a gold or silver watch and minimalistic bracelets or rings.
You can wear watches with leather bands that coordinate with your shirt's or necktie's colors. Alternatively, you can choose pendants in geometric shapes and metals like stainless steel, which are also subtle yet stylish. Above all else, remember that when it comes to men's jewelry—less is more!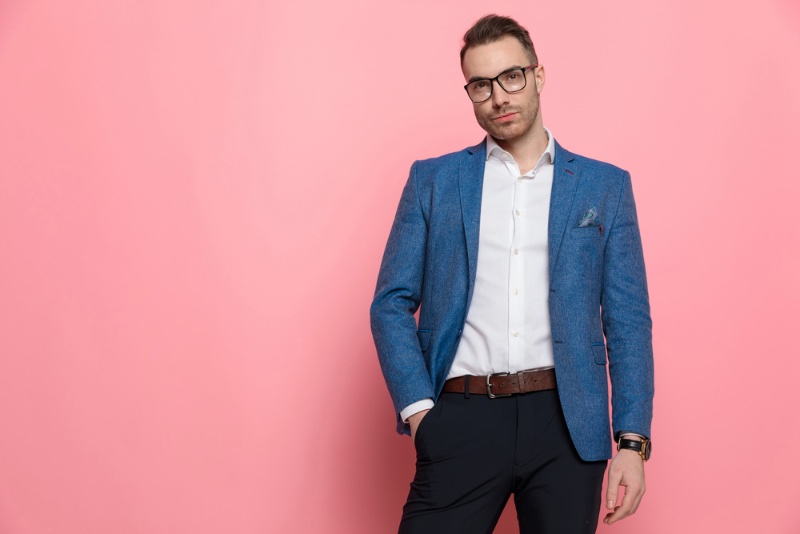 Casual Pocket Squares
Pocket squares are a fashion accessory with a long and storied history. Initially worn by wealthy gentlemen of the Victorian era to signify their status, pocket squares are seen as timeless classics. They add a touch of color and texture to suits and jackets, adding character and personality that can otherwise be lacking in formal attire.
With so many unique styles and designs available, there's a pocket square for everyone—meaning even the most conservative dressers can benefit from some contemporary flare.
Business Casual Ties
Accessories for men can also include ties, which are essential for any professional event. Choose classic and timeless colors like navy blue or grey to achieve a polished look that exudes professionalism. When wearing a tie, ensure it matches the occasion perfectly and is styled appropriately.
With these simple tips and guidelines, you'll be able to build up a savvy business wardrobe that is versatile, comfortable, and polished! Whether you're new to business casual clothing or are just looking for some fresh ideas for your next office outfit, remember to pay attention to the little details so that you always look your best at work.​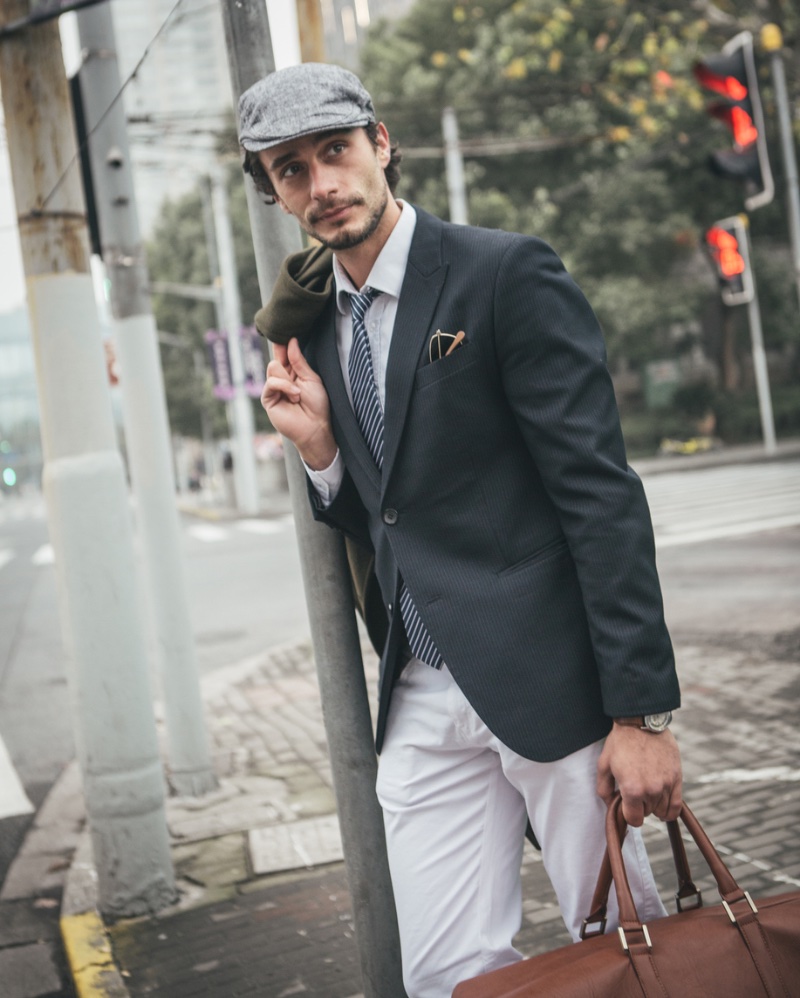 Hats
Hats are a great way to top off an ensemble, and there are plenty of styles and shapes to choose from. Fedora, Panama, and pork pie hats are all classic options that can be worn with tailoring or more everyday items such as chinos or jeans.
Try a smart trilby or bowler style if you want to pair your hat with a formal suit. Be sure to think about the fabric, too—wool felt and leather are both elegant options with an air of sophistication.
Socks
Don't overlook your socks when it comes to men's business styling. Opt for plain cotton socks in neutral tones like black, white, or grey—this will keep your look timeless and professional.
If you want to add a dash of personality without compromising the business style code, opt for subtle patterns or colored socks. Contrasting hues such as navy blue or dark brown are practical options that will ensure you still look sharp in the office.
Remember to ensure your socks fit properly and match your trousers and shoes.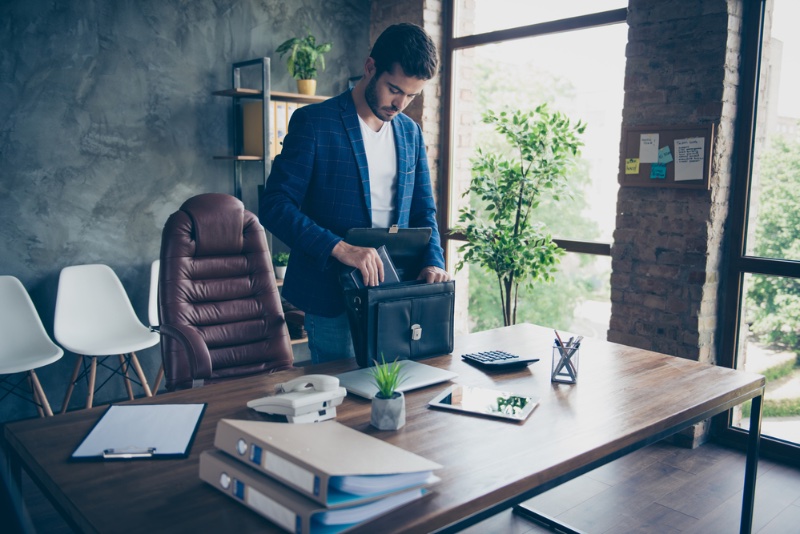 What Types of Bags Are Ideal for the Office?
When choosing the perfect bag for the office, there are a few key factors to consider. For starters, you want to ensure that your bag is functional and can store all your important work essentials, such as documents, files, laptops or tablets, smartphones, writing utensils, and more.
Additionally, it would be best if you considered the style of your bag. Some bags are better suited for specific seasons or occasions than others. For example, a briefcase may be ideal for professional meetings and business travel, while a classic backpack might be more appropriate for casual Fridays or everyday use.
Other considerations when choosing an office bag include:
Material type (leather tends to look more professional than canvas).
Color (neutral shades like black, brown, or gray are usually the most appropriate).
Size (larger bags might be more practical for carrying several items, while smaller options may be better suited for minimalistic looks).
When choosing an office bag, it is essential to consider both function and style to create the perfect look for your professional wardrobe.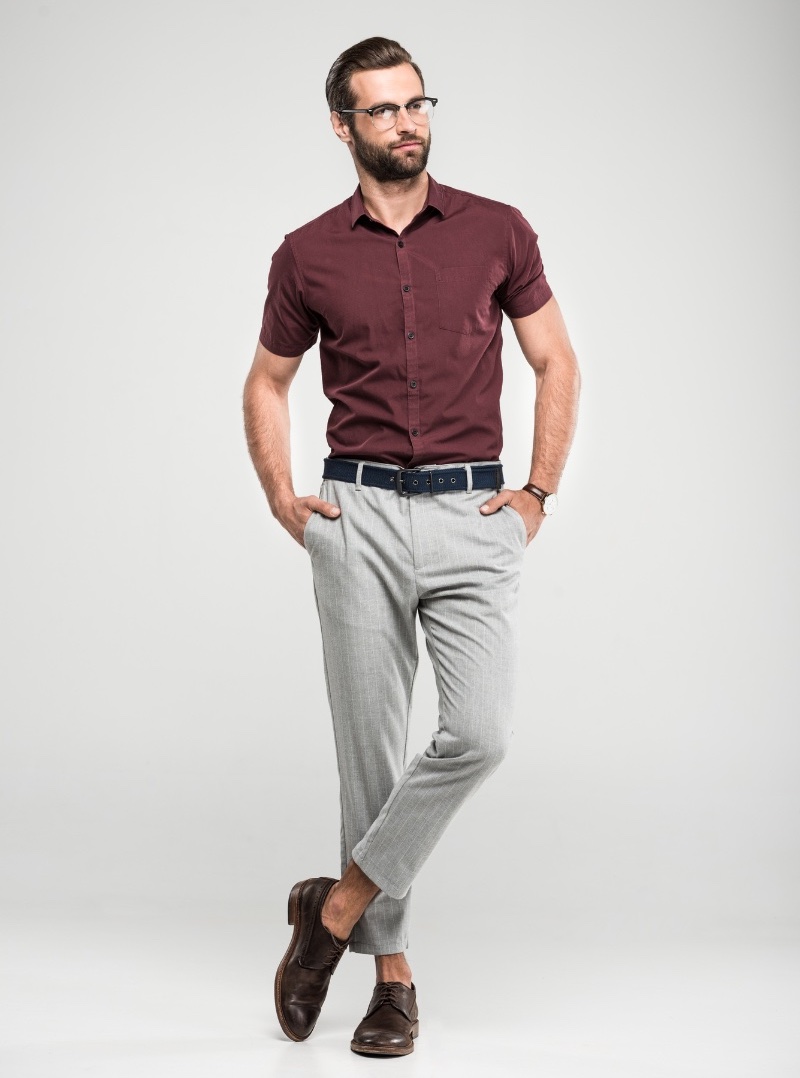 Business Attire Shoes
Regarding business shoe styles for men, there are various options available. From classic loafers to comfortable sneakers and contemporary loafers, the perfect pair of shoes is for any man looking to appear professional.
Oxfords and wingtips can be dressed up with a suit or denim, while boat shoes offer a nautical-inspired look that pairs well with shorts in the summer. Brogues bring a formal finish to any ensemble, while monk straps provide a modern twist.
For those seeking something even more unique, moccasins or espadrilles will make sure you stand out from the crowd. Whether you opt for timeless designs or daring looks, there's something for every man.
Oxford Shoes
Oxford shoes are a timeless classic perfect for the modern man's business wardrobe. With their traditional shape and eye-catching details, they add understated elegance and sophistication to any look.
Whether you wear a pair of sleek black Oxfords or rich brown cap-toes, these shoes suit your professional look. The flexible leather uppers and comfortable cushioned insoles offer extra comfort and support, making them ideal for days in the office or at formal events. Oxford shoes will quickly become one of the cornerstones of your dress wardrobe.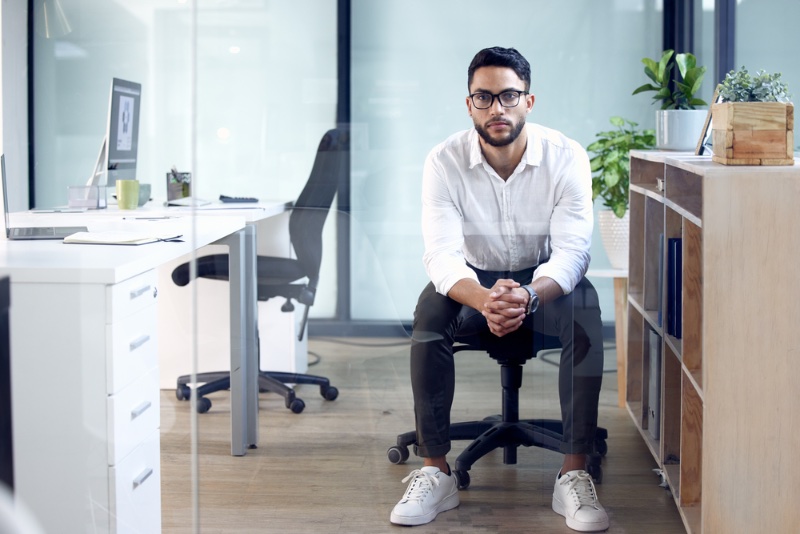 Sneakers
Sneakers are an underrated option for the modern man's business wardrobe. Whether you choose classic white trainers or more colorful options, these shoes reflect a laid-back attitude. The comfortable construction and breathable fabrics offer all-day comfort, making them ideal for days spent in the office.
With an array of styles to choose from, there is something for everyone. Whether you prefer low-tops or high-tops, canvas or leather, sneakers provide a sleek and stylish option that will let you stand out from the crowd without sacrificing comfort.
Desert Boots
Men's desert boots provide a smart alternative to formal shoes for business ensembles. Combining the comfort and feel of casual footwear with the sophistication of a dress shoe, desert boots provide the perfect balance between style and convenience.
Their timeless silhouettes and versatile colors can be dressed up or down to suit any occasion—making them great for days spent in the office, dinners out, weddings, and more. Whether you choose smooth leather or suede desert boots, these shoes can quickly become a crucial part of your wardrobe rotation.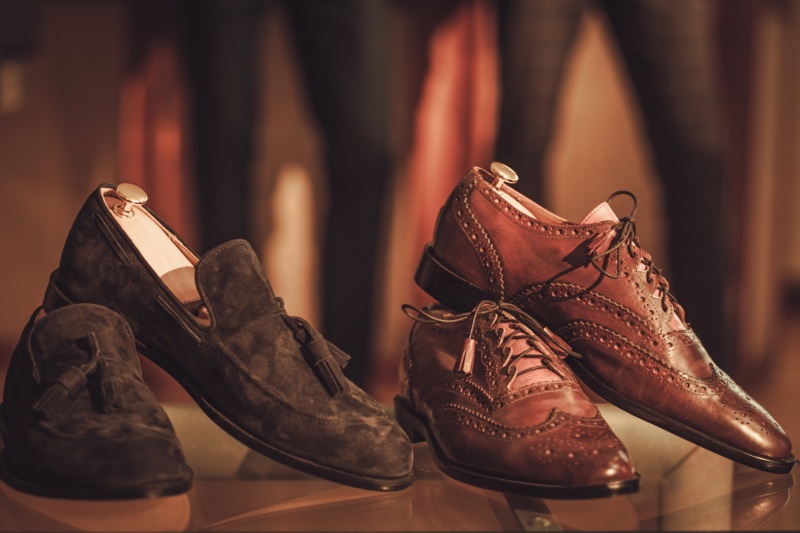 Dress Business Loafers
Loafers are essential in any man's business wardrobe. With their sleek lines and versatile colors, loafers offer a sophisticated look without sacrificing comfort. From classic tasseled versions to the penny and slip-on styles, these shoes are perfect for any occasion.
Whether you choose suede or leather loafers, they can easily be dressed up or down, depending on the situation. Their lightweight construction and flexible soles make them an excellent choice for days spent in the office, while their timeless style makes them perfect for evenings out. Loafers will keep you looking stylish and feeling comfortable at all times.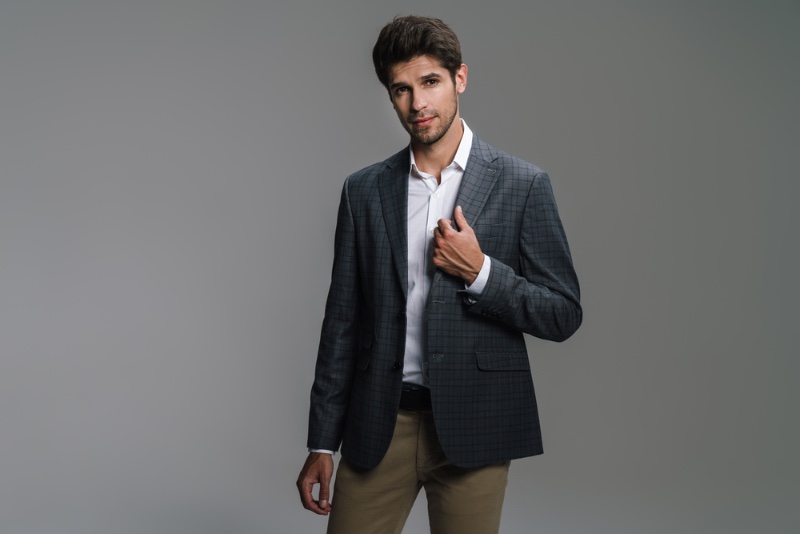 What Colors Are Best for a Business Wardrobe?
While there is no one "right" color for business ensembles, muted hues like navy blue, grey, beige, and black are popular choices as they are timeless and versatile. Additionally, lighter shades like white or cream can work well during the warmer months of spring and summer.
When deciding on the best colors for your business wardrobe, always keep in mind the tone of your office and choose clothing that aligns with this vibe. For instance, if you work in a more relaxed environment with a more laid-back dress code, you may opt for brighter colors to inject some personality into your professional style with trendy attire.
Lastly, don't forget to consider accent pieces like scarves or ties to add interest to your outfit and further personalize your look. With the right colors and a little creativity, you'll be able to build up a polished and put-together business wardrobe that fits your style perfectly.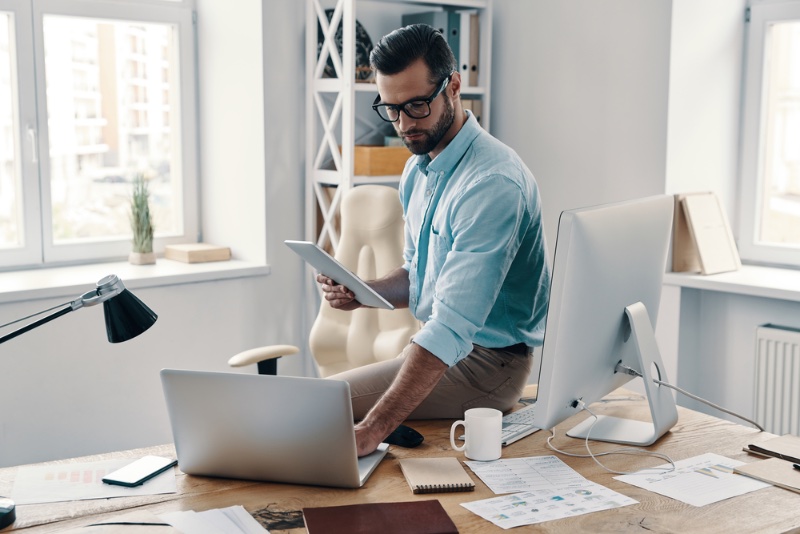 Does Business Affect Grooming Practices?
When selecting an outfit for a business occasion, should you consider the current state of your grooming? How might this affect men who sport beards? While there are no strict guidelines on grooming practices during business events, how you present yourself can affect how others perceive you.
For example, men with beards should consider shaving or trimming their facial hair to maintain a neat and professional appearance. Similarly, it's essential to take care of your hygiene and avoid wearing overly casual clothing, such as t-shirts and sneakers. After all, the main goal is to appear approachable and professional at the same time while also showing off your business style.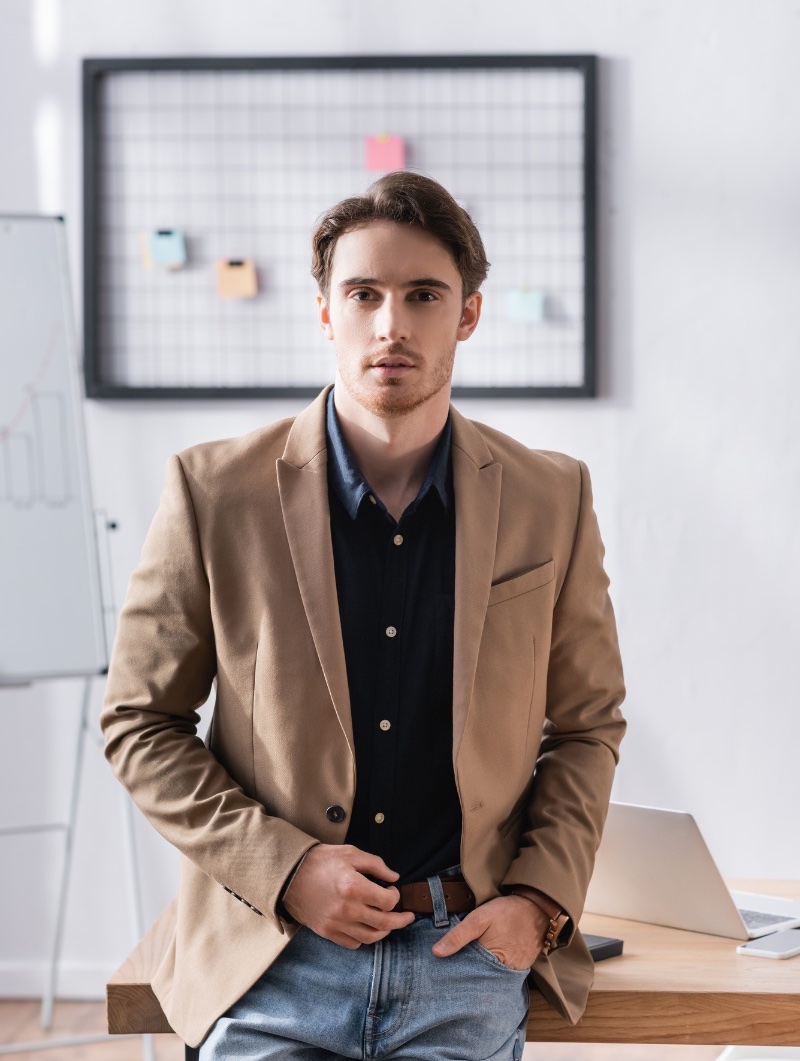 Office Culture & Business Style
Office culture significantly impacts how men's business style is interpreted. While there may be universal guidelines in terms of what types of clothing are considered appropriate, the exact dress code can vary greatly depending on the organization.
For example, some professional workplaces may require their employees to stick to more traditional dress codes that limit color and pattern choices. In contrast, others may have a more relaxed policy allowing for more colorful business options.
When thinking about what to wear, it is also essential to consider the type of work carried out in the office. Specific industries with frequent customer interactions will often enforce stricter rules than those working primarily with colleagues or behind-the-scenes roles.
Ultimately, each individual needs to consider their related office culture when planning their wardrobe to dress appropriately for their particular environment.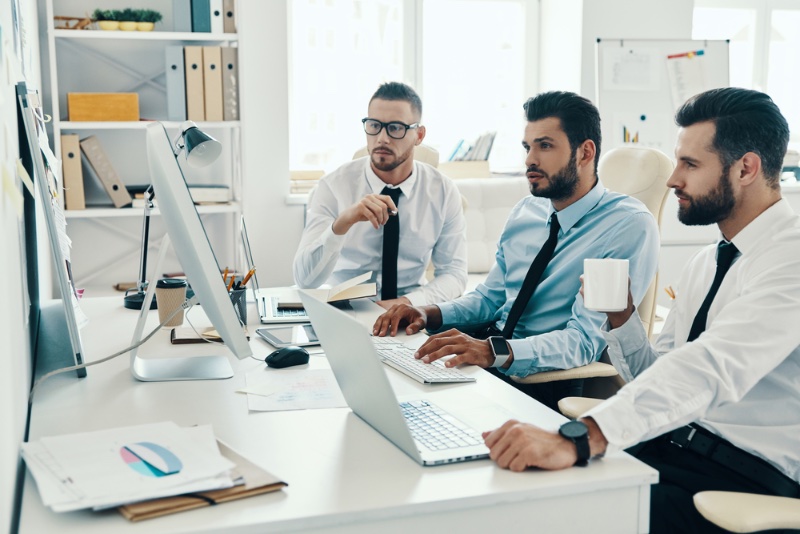 Common Questions About Business Casual
What is business casual for a man?
Business casual attire for men typically consists of dress slacks or chinos, a button-down shirt, and dress shoes. Other accessories, such as a belt, tie, and dress watch, can also be incorporated to complete the look. Choosing conservative colors and styles for your attire is essential, as bright or vivid clothing may be seen as unprofessional.
Can men wear Casual Pieces Like jeans?
Men can sometimes wear jeans, but it is generally best to avoid denim if possible. Depending on the workplace, darker or more relaxed colors and styles may be acceptable. However, it's always best to check with your employer beforehand to ensure you comply with the dress code policy.
What should men not wear?
Men should generally avoid wearing several items, including t-shirts, shorts, flip flops or other casual footwear, and athletic clothing. Additionally, avoiding over-accessorizing or wearing flashy jewelry or accessories is best, as these may be seen as too informal for a professional setting. As always, checking with your employer or the event host to confirm the specific dress code is essential.​
What is the dress code?
A business casual dress code typically refers to a formality slightly less formal than a traditional business ensemble but still more polished and professional than casual or athleisure wear. This typically includes tailored slacks or chinos, button-down shirts, blazers or cardigans, and other similar clothing items in more muted colors and styles. Generally, it is best to avoid overly casual clothing items or accessories when dressing for a business occasion.
The Future of Professional Style
Many experts forecast that the future dress code will be far more lenient than ever. As competition for jobs increases, employers must offer relaxed attire standards to secure talented individuals and maintain their interest in working with them. Millennial men feel much less constrained by conventions than preceding generations did.
So, what does the future of business dressing entail? One opinion is that it could reduce numerous workplace dress codes in formality until one particular style becomes collaborative practice. Business casual has become the new standard for corporate outfits. This transformation makes sense when you look back through time and analyze the history of office wear regulations.
Final Words
Men's business casual is a timeless and versatile look that can be adapted to any occasion. It can be achieved with carefully chosen classic pieces such as shirts, trousers, ties, leather shoes, and subtle accessories like jewelry, belts, and scarves. With the right balance of formality and personal flair, you'll be able to create an authentic and unique look.
Business casual attire can be a great way to stay professional and comfortable. While there may be some variation depending on your industry or work environment, choosing clothing that is conservative, appropriate for the office setting, and fits well with your style preferences is essential.
To ensure you have dressed appropriately for any business occasion, it is best to check with your employer or event host ahead so that you know what standards to follow. And as always, remember that feeling confident and comfortable in your outfit will help you perform at your best.