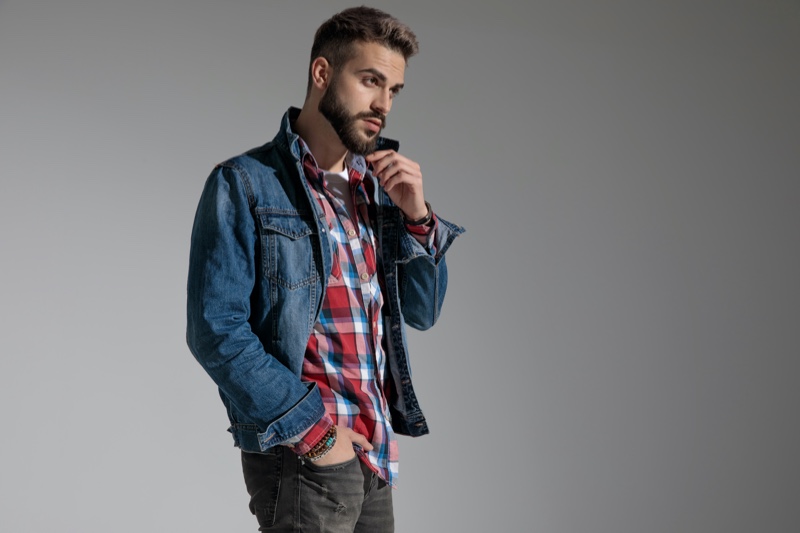 Fellas, it's time to step up your denim game. The denim jacket is a men's clothing staple that should be in every wardrobe, but it's often misunderstood. How do you elevate it from a casual weekend look to a sharp, sophisticated statement?
The secret is all in the details. From pairing men's denim jackets with suitable pants to selecting the perfect wash or color, we've got expert tips to help nail jean jacket outfits for men. Gentlemen, are you ready to expand your horizons with denim jackets?
The men's jean jacket is the ultimate chameleon piece, quickly transitioning from laid-back casual to dapper formal. Pair jean jackets with simple shirts for a relaxed, breezy vibe, or dress it up with a sharp shirt and tie. The clothing possibilities are endless.
To help inspire your next look, we've rounded up the most incredible denim jacket outfits featuring our favorite celebrity and model style muses.
Introducing the Jean Jacket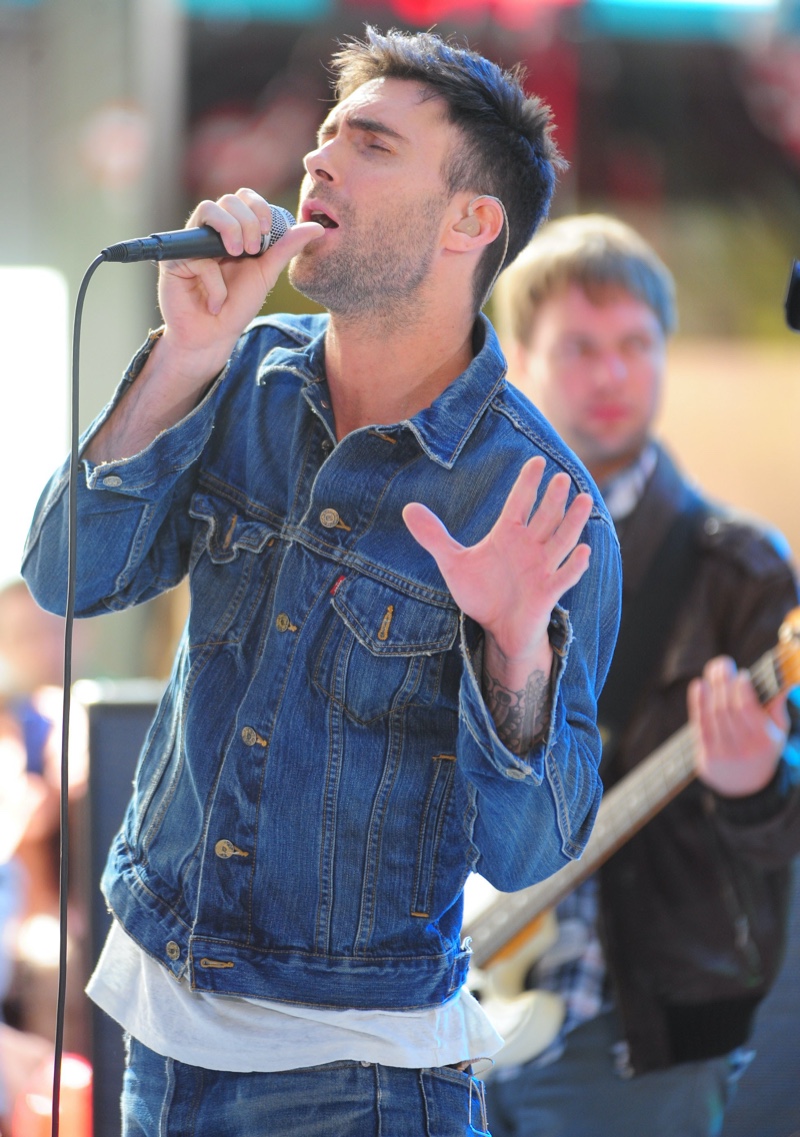 Have you ever wondered about the origin of the men's denim jacket? It's a fascinating story that begins in the Wild West, where Levi Strauss & Co. introduced its denim jackets as rugged work shirts for gold miners and cowboys in the early 1900s.
Over the years, this jacket has become a staple, with Levi's at the forefront of its style and affordability. So, when shopping for the perfect denim jacket, look for the hallmark of quality—the distinctive red tab on the breast pocket. Trust us; you won't regret it.
The Year-round Denim Jacket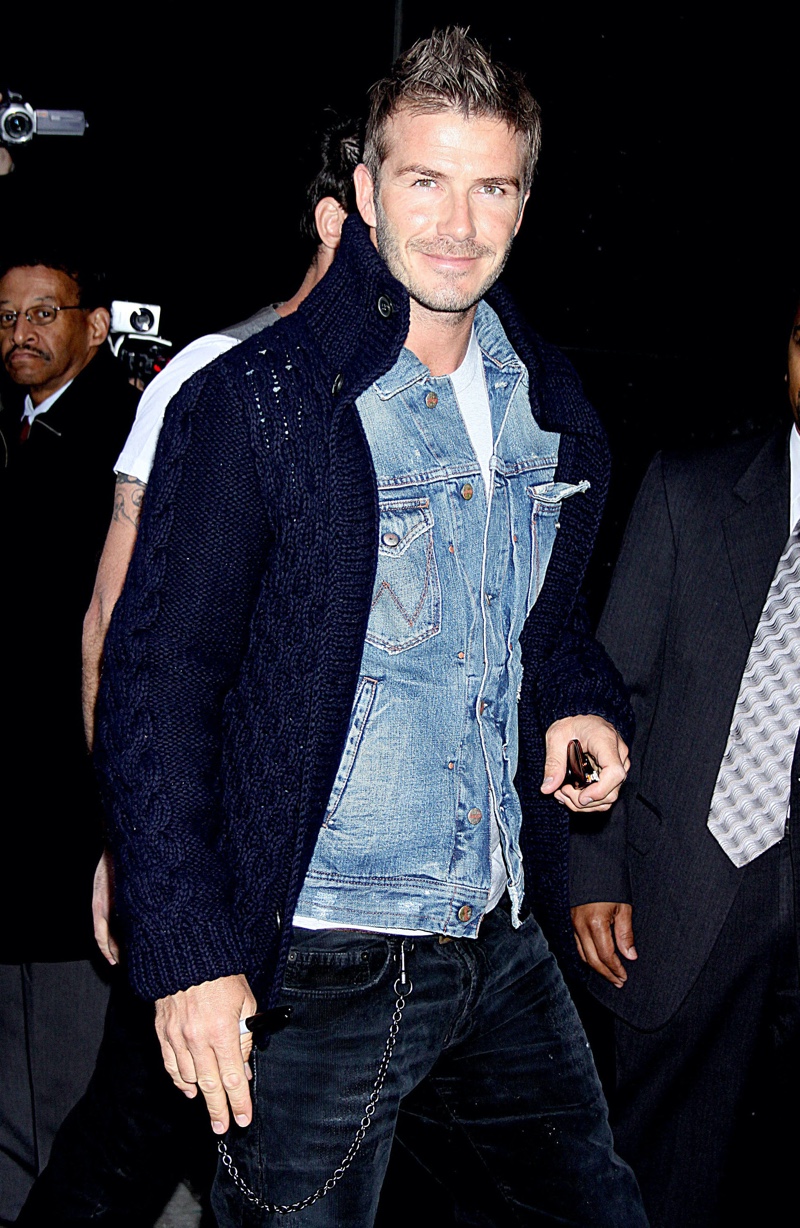 A denim jacket is a must-have in any fashionable man's wardrobe, especially as the seasons change. The jacket adds versatility to your outfits as the perfect layering option to wear for those chilly summer-to-fall nights.
Wear a light-hued jacket to elevate your leisurewear game. When winter rolls around, switch it up with a darker jacket paired with cozy clothing essentials like a sweater or flannel shirt.
How to Match Denim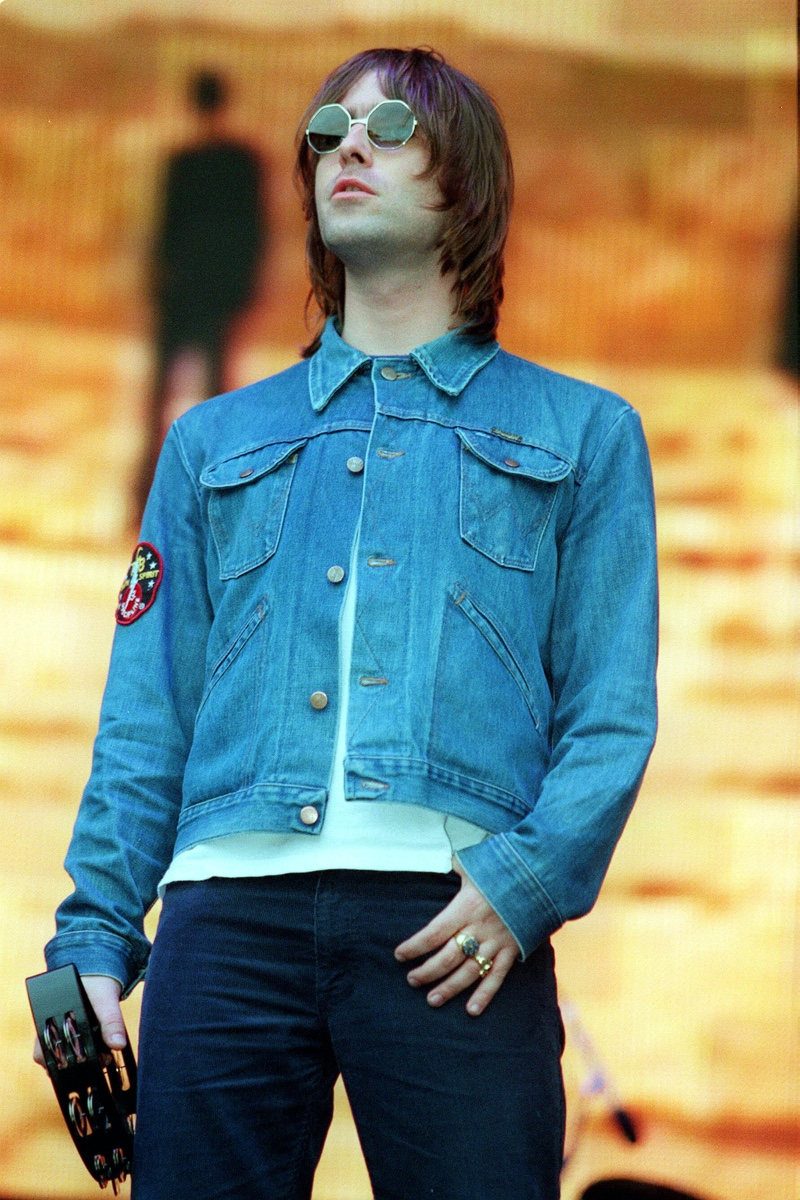 When it comes to denim, the Canadian Tuxedo—a denim-on-denim outfit of a denim jacket paired with denim jeans—may be a classic, but it's not always the most sophisticated choice. Avoid the obvious. Instead, switch things up by pairing different shades and washes of denim for a bold and casual outfit.
In a classic Canadian Tuxedo outfit, the denim jacket and jeans typically match denim fabric; however, denim doesn't need to coordinate precisely in more modern interpretations. Try pairing your classic indigo-blue denim jacket with wool pants, khakis, or chinos for a more refined approach.
If you must stick to jeans, opt for white or black denim for a sharp contrast. Consider denim in different colors for another option. The key to mastering casual denim is to mix it with confidence.
Jean Jacket Outfits for Men
For the discerning gentleman, the classic denim jacket is a versatile and fashionable staple in any clothing wardrobe. Whether paired with other denim pieces, layered with outerwear, contrasted with leather or dressed up with suit trousers, the possibilities for styling this jacket are endless. In this guide, we'll explore a variety of contemporary approaches to elevate your denim game and outfits.
Mix Denim Jacket & Jeans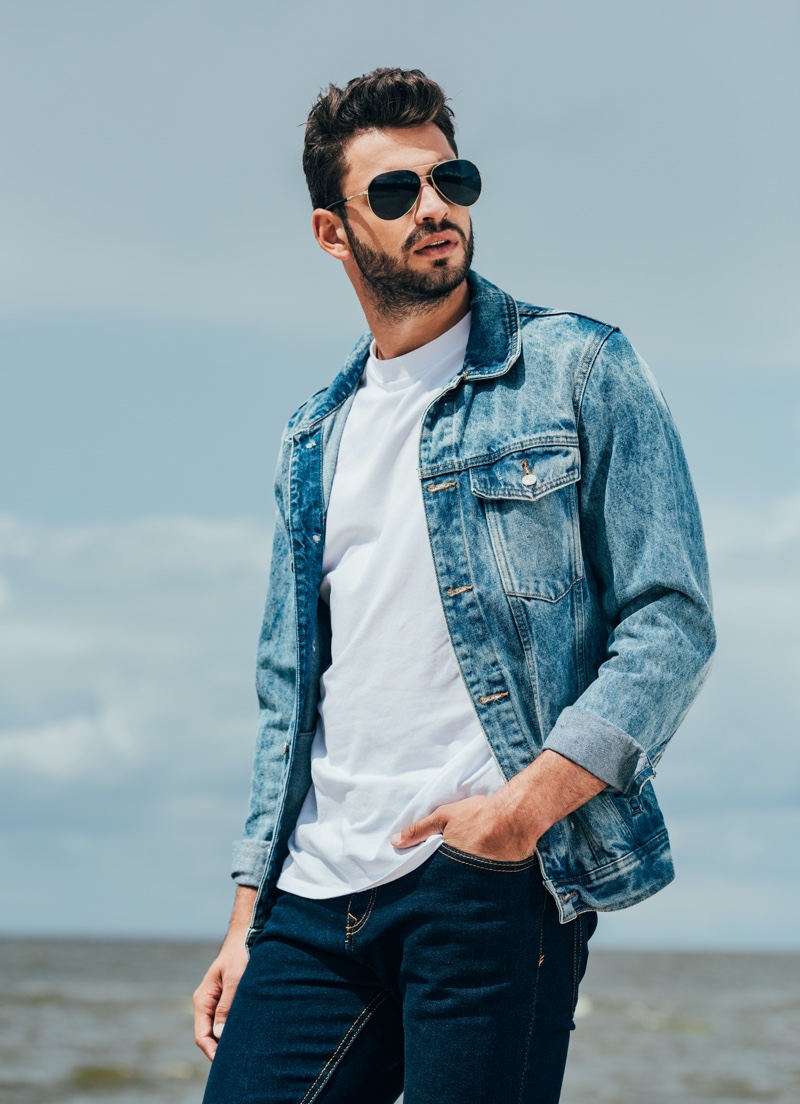 Double denim, done right, is a timeless outfit that always stays fashionable. The key is to play with light and dark washes for added depth and dimension. A mid-wash denim jacket paired with indigo blue jeans and a crisp white t-shirt is a winning combination that exudes effortlessness. This classic outfit is a nod to denim's timeless appeal and versatility.
Warm Layers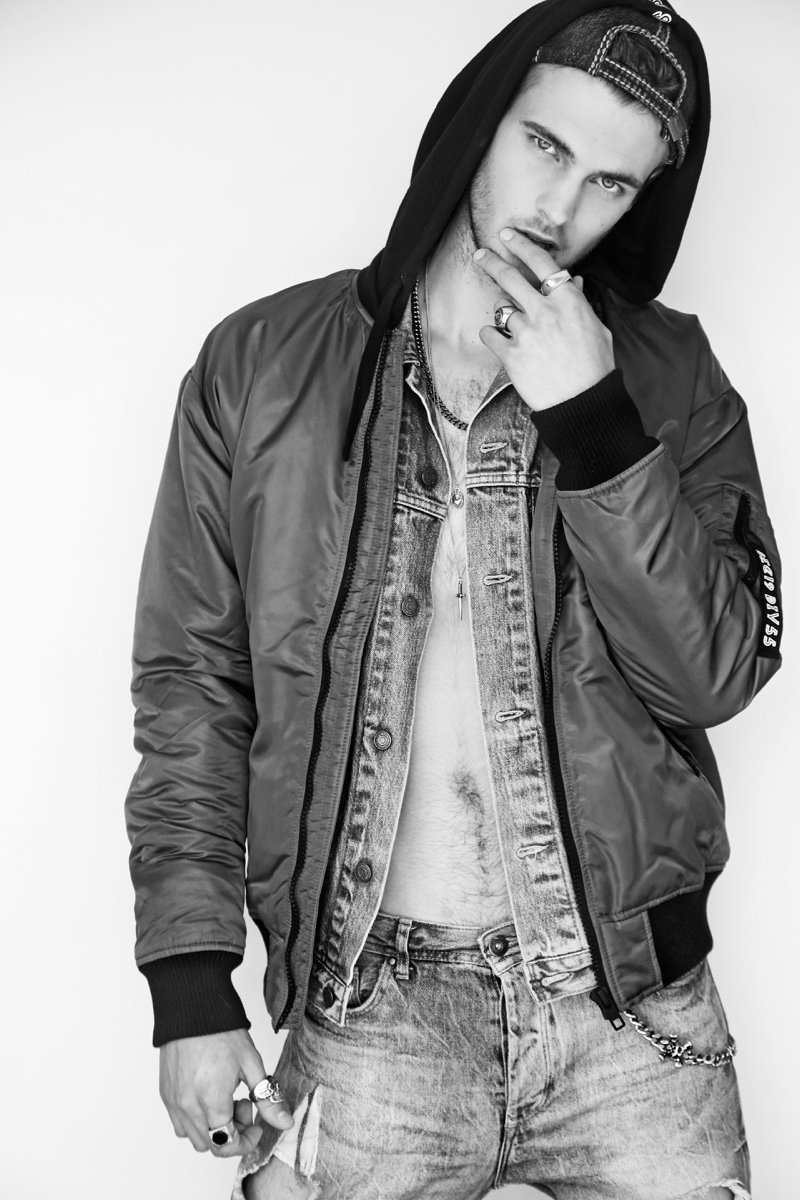 When the temperature drops, don't let your style suffer. Stay warm while looking sharp by layering your denim jacket with other jackets. A denim jacket paired with a bomber or puffer jacket is a modern and fashionable way to beat the chill. For a casual vibe, layer your denim jacket over a hoodie for warmth and comfort. These easy layering tricks will keep you looking and feeling good, no matter the weather.
Shirt & Tie Denim Jacket Outfits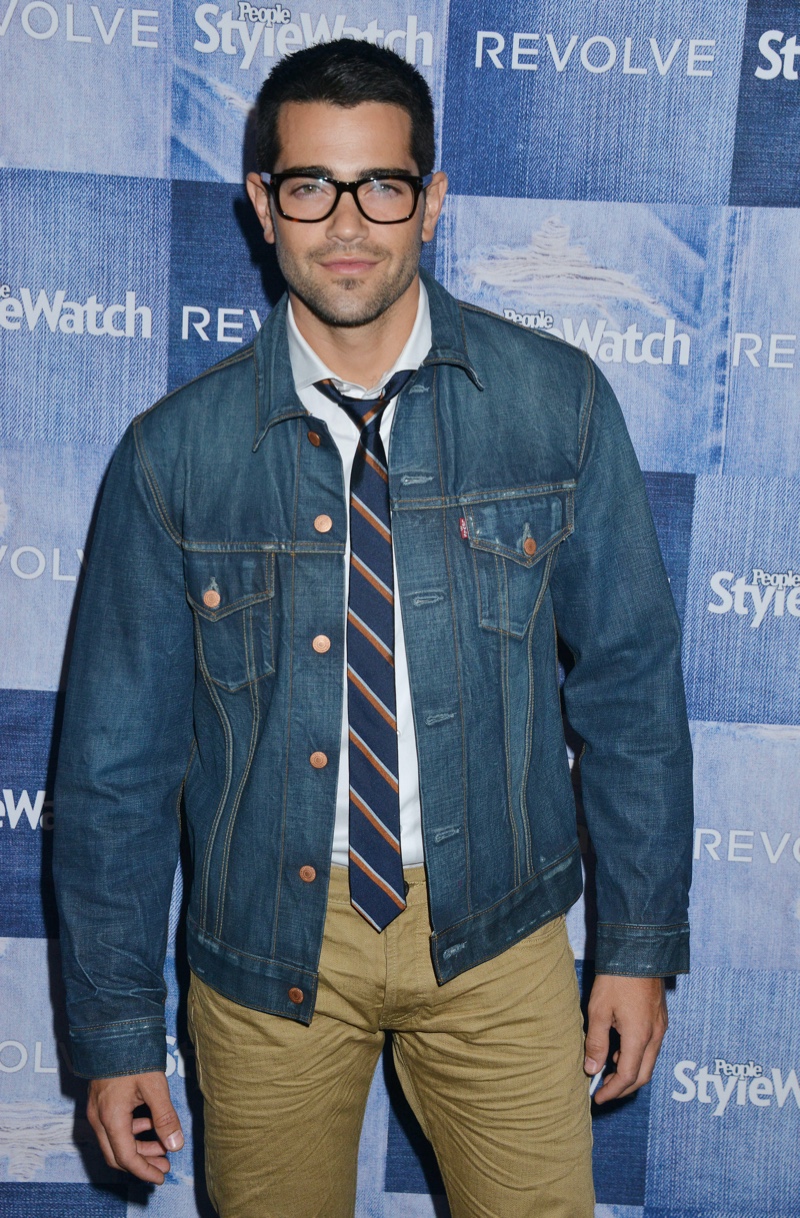 This preppy outfit may be a blast from the past, but it still holds a special place in our hearts. Try incorporating a denim jacket if you want to channel your inner prepster. Wear your denim jacket with a crisp shirt and tie for a polished and smart vibe.
Complete the look with chinos or corduroy pants to add texture and dimension. This timeless outfit nods at classic American style and will turn heads. So, embrace your love for everything preppy and try this outfit.
Add a Coat
Layering underneath your coats is essential to staying warm and stylish when the winter chill sets in. Elevate your outfit by combining your favorite denim jacket with a coat. The key to successful layering is choosing your pieces wisely, allowing you to transition your jacket look from dressed-up to casual effortlessly.
Pair your denim and coat with a crisp shirt and tie for a sophisticated ensemble. For a more relaxed option, switch up your jacket with a cozy sweater or flannel shirt. Errand day ahead? Ground your casual jacket look with a stylish pair of simple joggers. With their effortless charm, these versatile pants will complete your outfit effortlessly. No matter how you choose to layer, you'll be ready to conquer the cold in style.
Summer White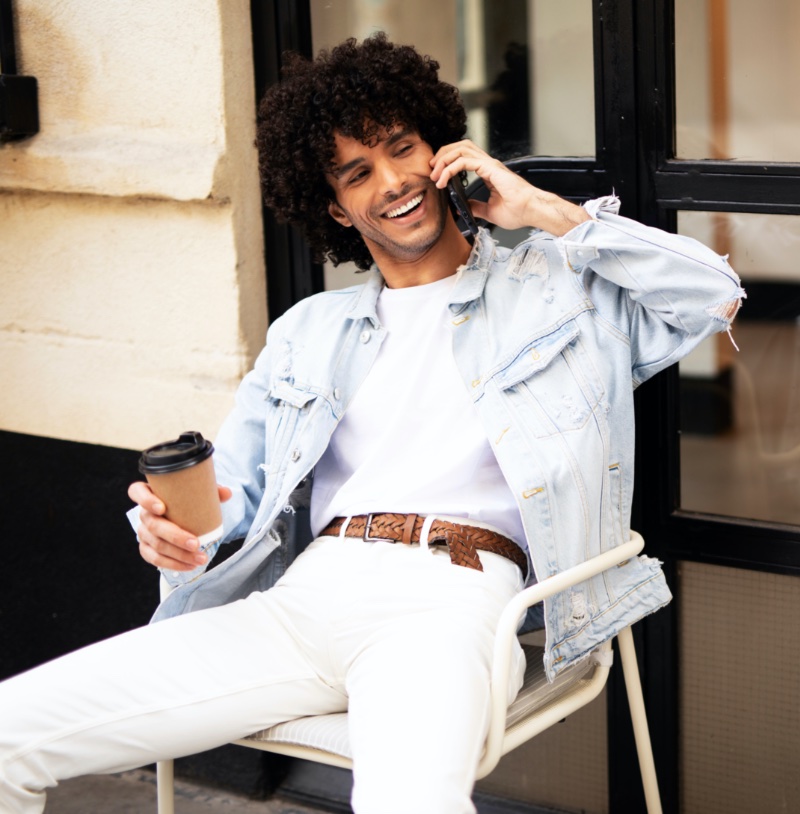 Monochrome dressing exudes sophistication and style, and an all-white outfit is a timeless classic. However, it's time to take it up a notch by incorporating denim into the mix. Opt for a light-washed denim jacket paired with crisp white jeans, and prepare to be showered with compliments. Trust us; this fresh twist on white denim will elevate your flair with jackets.
Featuring the Leather Jacket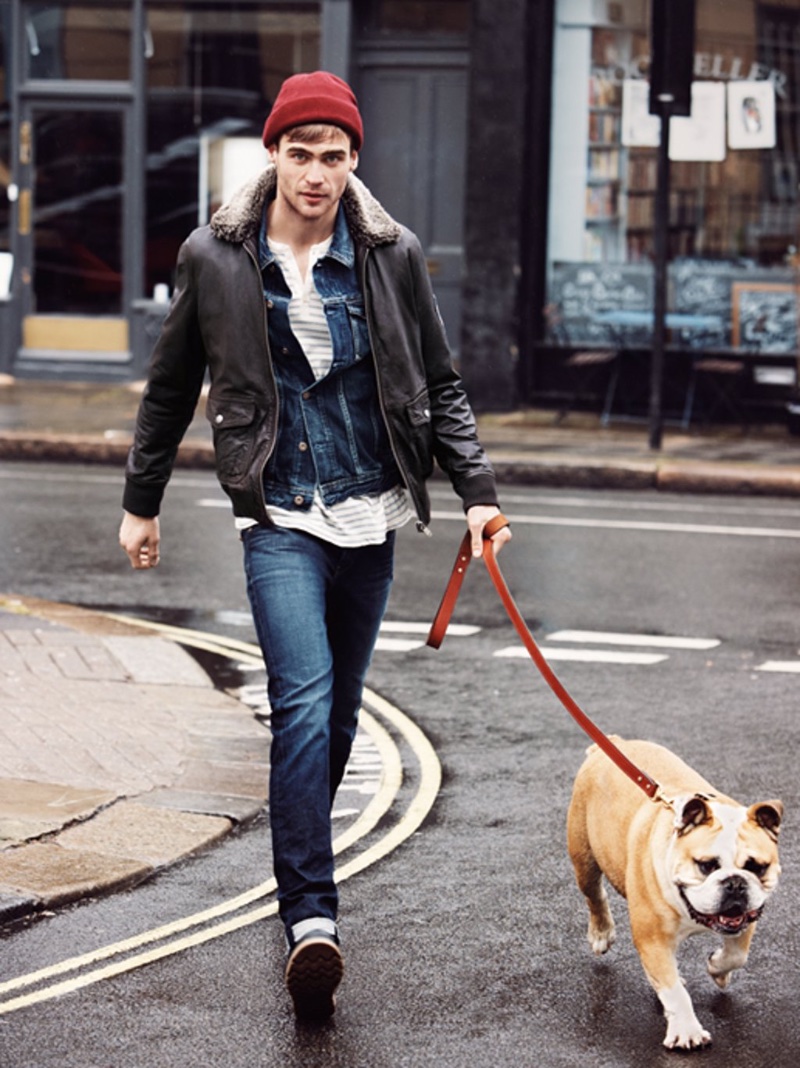 For those looking to showcase their layering prowess with jackets, why not add a touch of classic rebellion to your everyday look with leather? The casual pairing of a denim jacket with a leather jacket exudes a relaxed, carefree vibe while showcasing a keen eye for fit and attention to detail. Master the art of layering and stand out from the crowd. It's a look that's truly out of this world.
Denim Jacket on Denim
Denim duos are timeless, but it's time to shake things up. Instead of wearing the classic denim shirt or jacket with jeans, try layering denim on top for a bold and unexpected casual men's look. A denim shirt paired with a denim jacket creates a denim statement that will turn heads.
Whether you prefer matching denim or playing with different washes, this jacket look is a great way to refresh your wardrobe and express your style. So, step out of your comfort zone and embrace the denim-on-denim jacket trend in a new and exciting way.
Triple Denim Jacket Outfit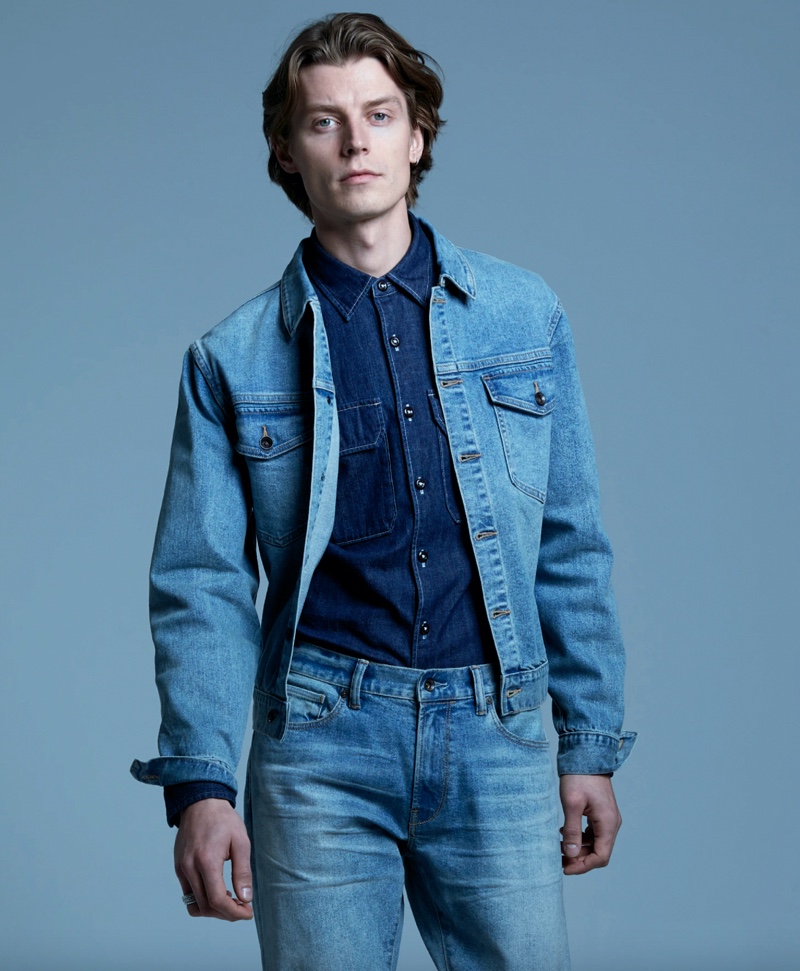 Denim on denim is always a classic, but why wear two layers when you can go for the trifecta? A denim shirt, denim jacket, and jeans are a casual triple threat that will make a bold statement wherever you go. Looking to channel your inner cowboy? Try adding a modern western shirt for stylish flair.
Feel free to mix and match washes for a unique jacket look. The streets are your runway, so make a statement and show the world your love for denim. This daring look for jackets is a must-try for anyone looking to up their style game and make a lasting impression.
The New Formal Denim Jacket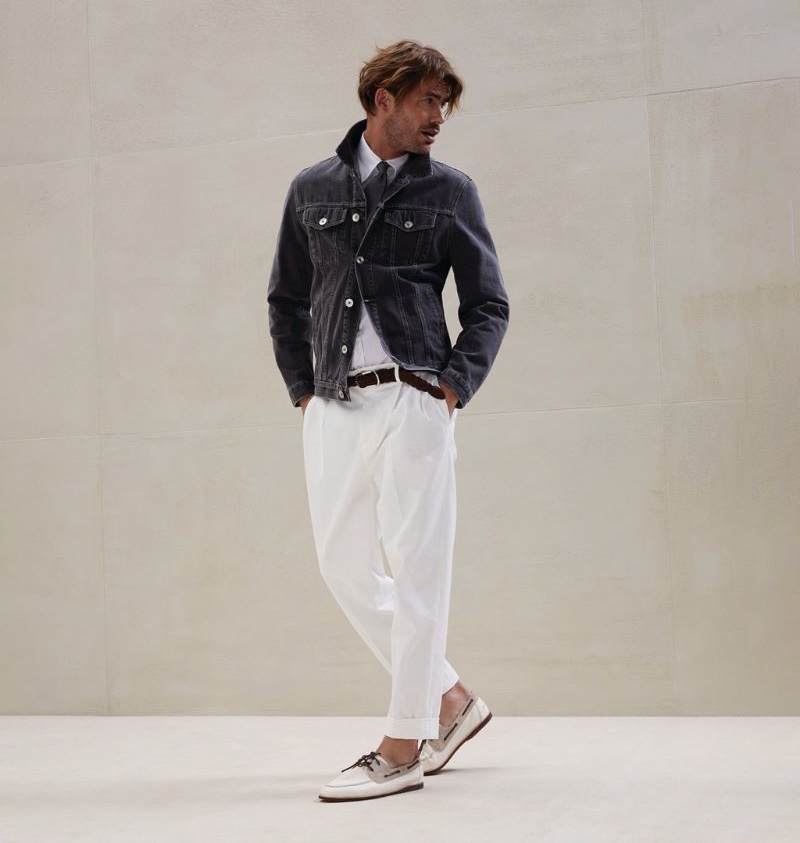 As a dapper gent on the prowl for a fresh spin on your formal outfit, consider swapping out your conventional blazer for a sleek denim jacket. Elevate the outfit with a polished pair of loafers for a sharp, casual take on traditional attire.
Denim Suit & Jeans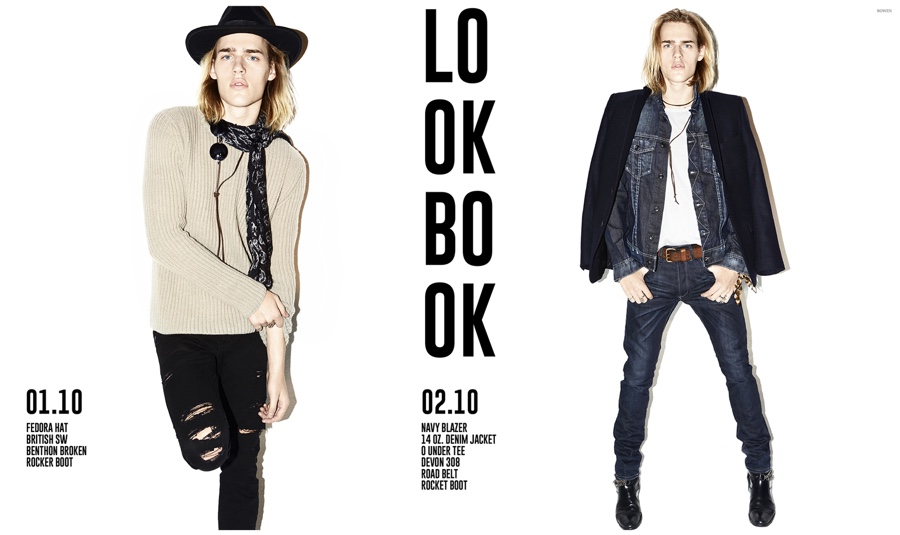 For the stylish man who values tailoring but seeks to put a contemporary spin on his outfit, why not keep your trusted blazer in the mix and switch up your trousers? Opt for a pair of fitted jeans and wear your denim jacket beneath your suit jacket for a bold, trendsetting look. Who knows, you might turn heads and become the talk of the town.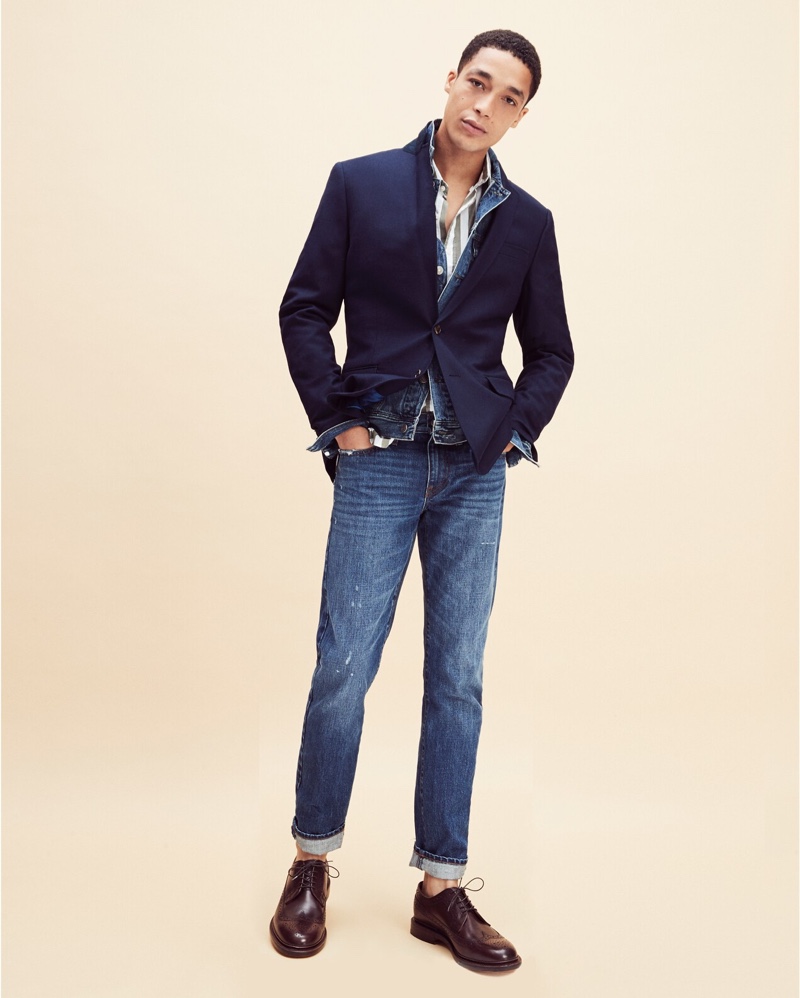 Black & Blue Denim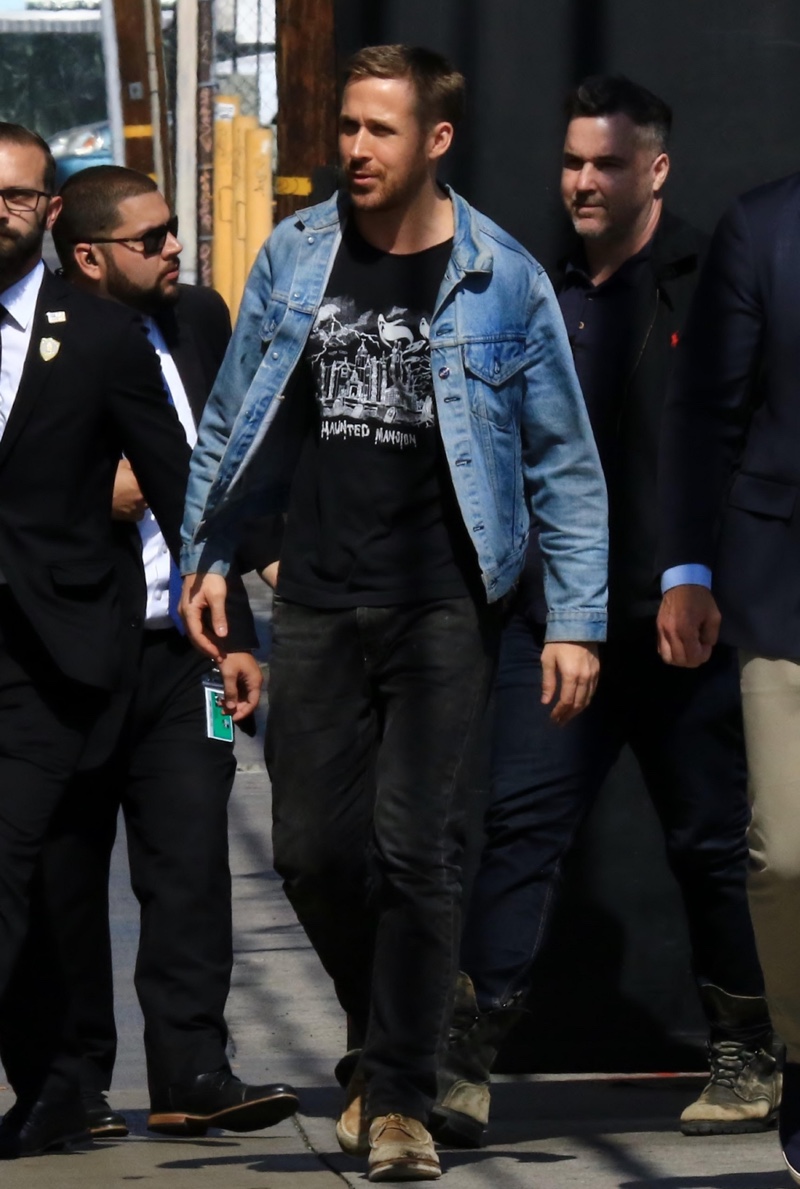 For the effortlessly cool dresser, take a cue from men's style icon Ryan Gosling and wear your classic blue denim jacket with all-black clothing. This casual combo could be as simple as black jeans and a classic band tee or elevate the jacket outfit with a sharp black button-down. With black denim, you'll exude effortless style in no time.
The Canadian Tuxedo Remixed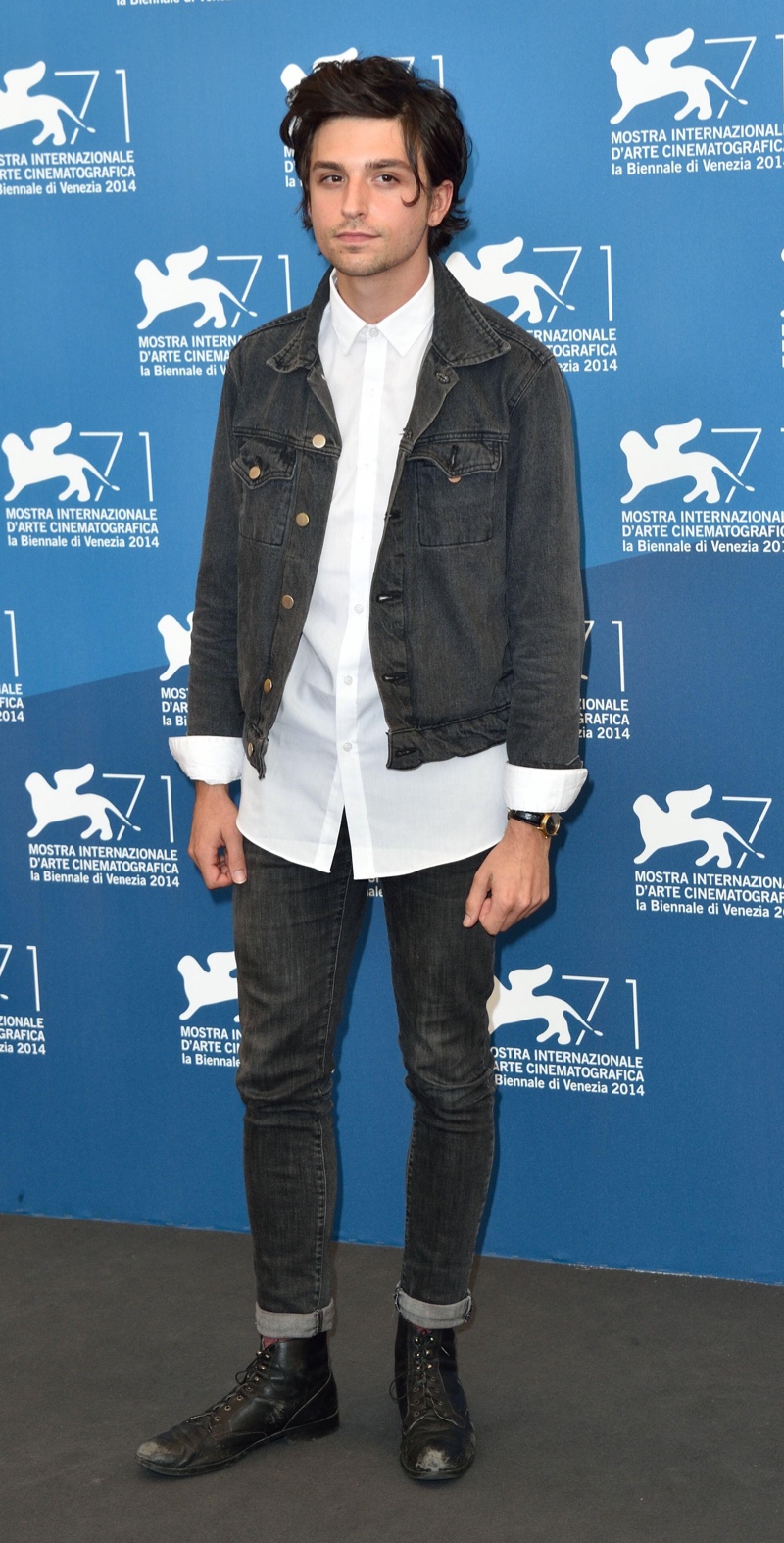 Ready to bring the iconic Canadian Tuxedo jean and jacket outfit into the contemporary arena? Embrace current proportions and make a statement with a shirt in a contrasting color featuring a longer length than your jacket. This bold yet minimal approach to the timeless denim-on-denim jacket outfit will keep you stylishly on point.
Shop Denim Jackets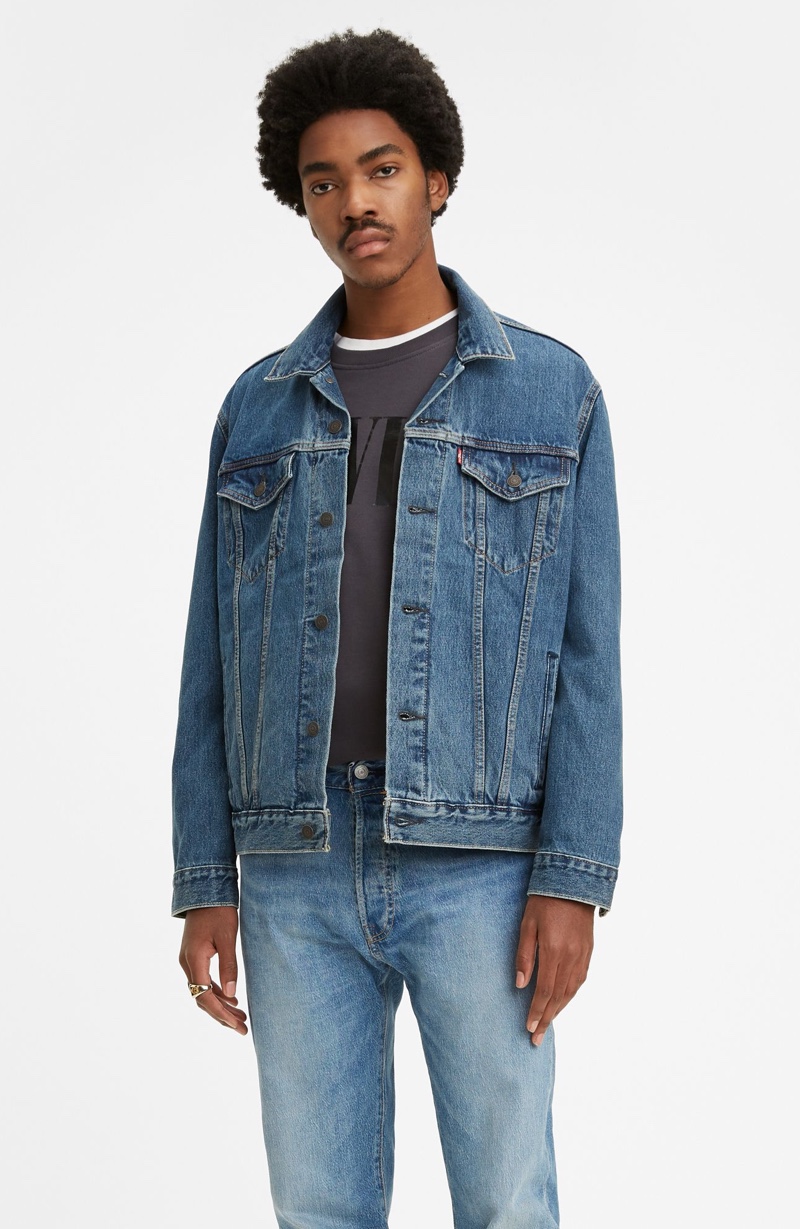 The search for the perfect classic denim jacket is a pursuit that requires both style savvy and an eye for quality. With many men's options available online, sorting through the vast sea of denim jackets can be overwhelming.
Fear not, dear reader, for we've scoured the virtual racks and hand-selected a few of our favorite denim jackets. Whether you're in the market for a traditional cut, an updated take on the classic, or a standout statement piece, these jacket selections are sure to elevate your casual denim game.