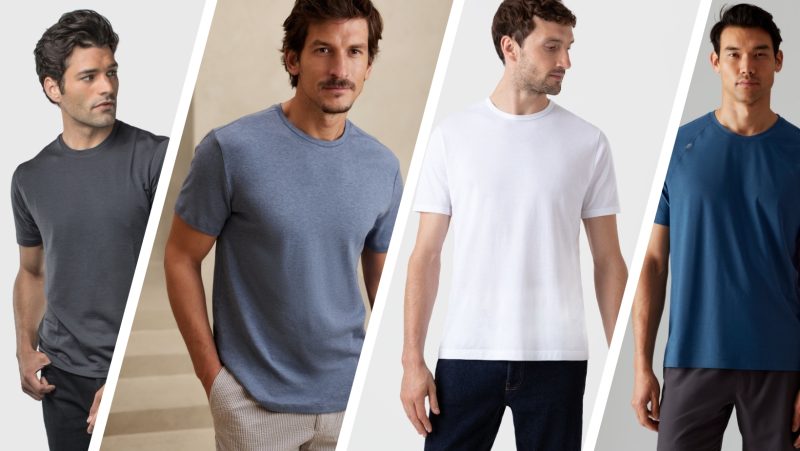 If there's one garment that's a non-negotiable in every man's wardrobe, it's undoubtedly the T-shirt. This humble piece of clothing has transcended its origins as an undershirt and has become a staple in modern fashion—a blank canvas that can be dressed up or down, layered, or worn alone.
Best T-Shirts for Men
With countless brands and designs vying for space in your closet, finding the best t-shirts for men can seem like a Herculean task. In this comprehensive guide, we will explore some of the best men's T-shirt brands and provide you with the knowledge to make the right choice for your style, comfort, and budget.
UNIQLO: The Pioneer of Affordable Basics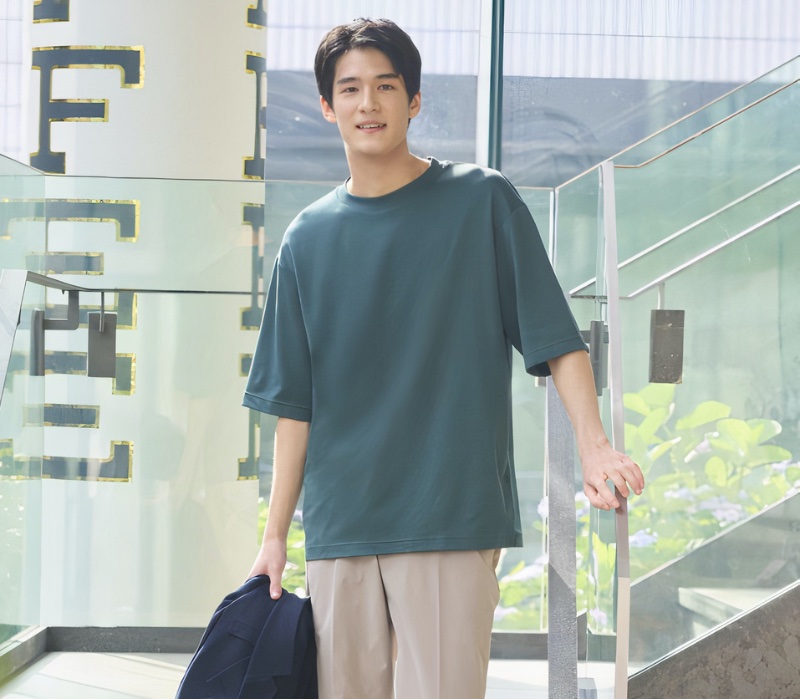 UNIQLO, a renowned brand from Tokyo, is celebrated for its high-quality clothes that are kind to your pocket. The gem in their lineup is the U AIRism Cotton Oversized Crew Neck Half-Sleeve T-Shirt. This shirt results from the hard work of a group of talented international designers stationed in Paris, guided by Artistic Director Christophe Lemaire.
The shirt features a sleek, narrow crew neck and fashionable half-length sleeves. The relaxed look of the wide fit and dropped shoulders make this shirt stand out. What sets it apart is the fabric. The double-faced material doesn't wrinkle, ensuring you look fresh throughout the day. And how does it feel? It's as light and airy as a gentle breeze.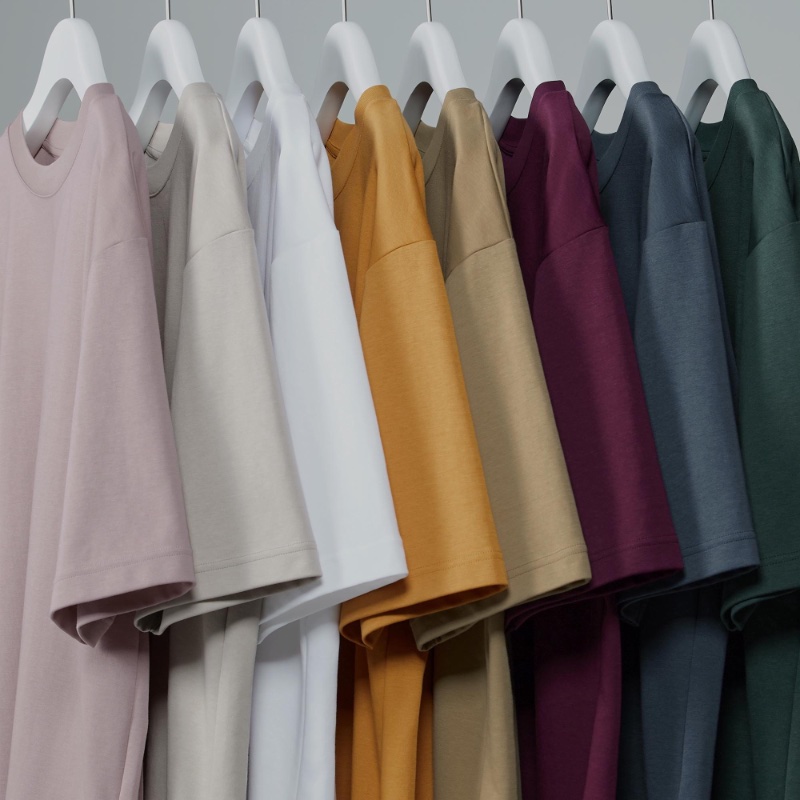 But this shirt isn't just about looks. It's made from recycled polyester, making it a more eco-friendly fashion choice. People rave about its comfortable fit, making it a favorite for those trying oversized shirts for the first time. Just a heads-up: it's wise to avoid the dryer to keep it looking its best. In short, this UNIQLO shirt is a stylish, comfortable, and green addition to any wardrobe.
Key Features of the U AIRism Cotton Oversized Crew Neck Half-Sleeve T-Shirt:
Sizes: XXS-3XL
Material: A blend of 53% Cotton and 47% Polyester (with 30% using recycled polyester fiber)
Available Colors: 12
Price: $19.90
Alex Crane: The Warm Weather Tee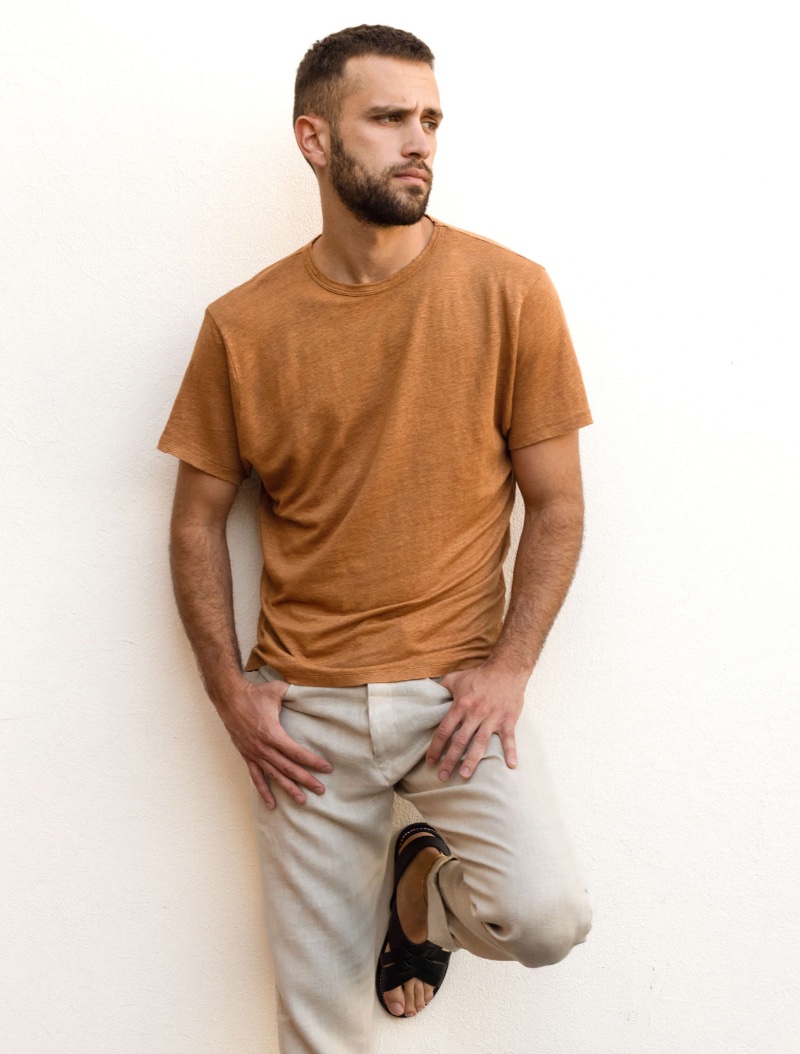 Embrace warm weather in the Alex Crane Sun Tee, celebrating sustainable craftsmanship and style. Fashioned from 100% French linen, this t-shirt offers unmatched quality and comfort. The sustainable nature of the materials shines through in the natural pigments used for dyeing, deriving from minerals to provide rich, vibrant hues.
Every inch of this t-shirt speaks of its superior quality—surpassing even high-end brands like Sandro, as some of their satisfied customers noted. The Sun Tee transforms the linen experience. Imagine a fabric lighter than a summer breeze, with a soothing texture that feels like a second skin.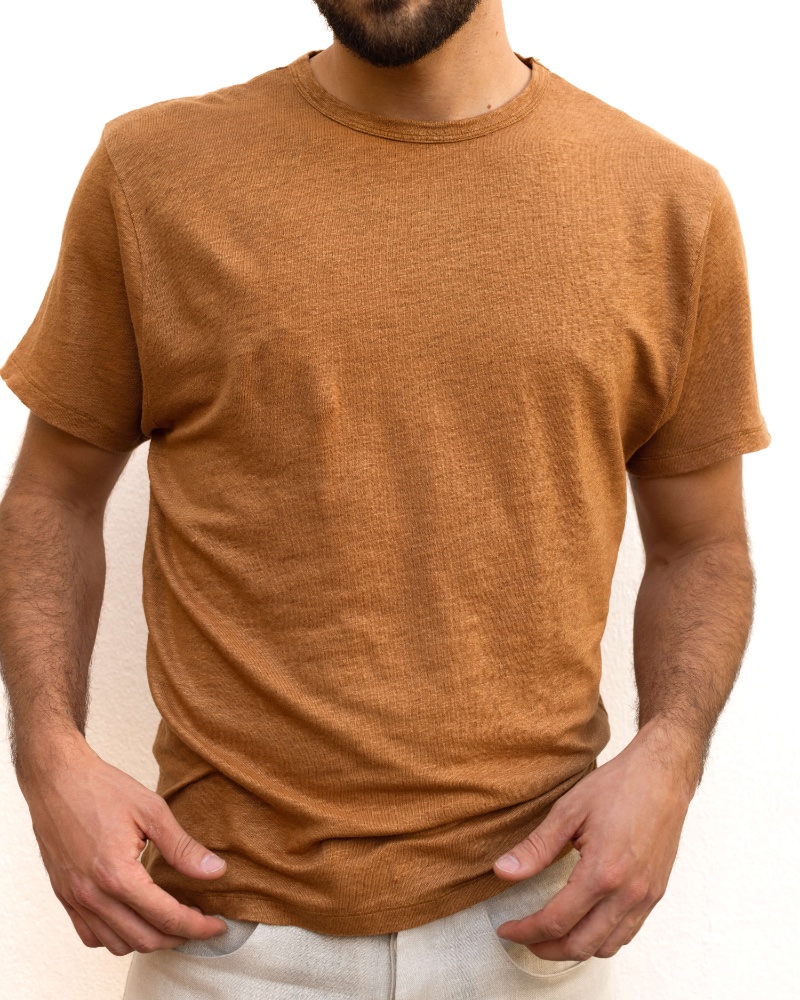 The design process, which includes knitting, cutting, and sewing, happens in Portugal. This European influence is evident in the final product, which encapsulates a balance of style and comfort. The Sun Tee is sized to drape lightly over your frame, leaning into a relaxed fit in vogue.
Every review echoes the same sentiment—lightweight, breathable, and with a soft hand feel that leaves you wanting more. Though light and soft, some may wonder about its durability. But rest assured, this t-shirt is crafted with care and intended to stay with you for many summers. Try it for yourself and discover why many are filling their closets with multiple colors of the Sun Tee by Alex Crane.
Key Features of the Alex Crane Sun Tee:
Sizes: XS-2X
Material: 100% French Linen
Available Colors: 12
Price: $75
Everlane: The Champion of Ethical Fashion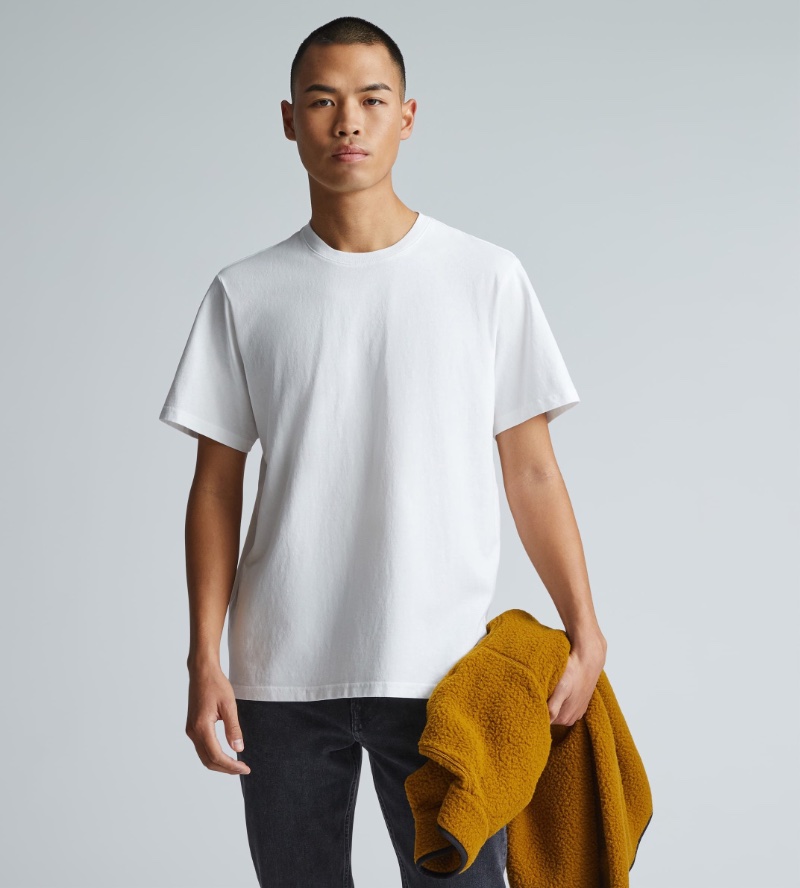 Up next is Everlane, a well-regarded brand for its refreshing honesty and dedication to ethical production. Everlane's range of sustainably made T-shirts hit the mark on style and comfort, with the Premium-Weight Crew as a prime example. This 100% cotton, heavyweight tee is ideal for those seeking a T-shirt with a bit more structure and sturdiness but who don't want to compromise on comfort.
Every piece in the Premium-Weight line is constructed to endure. They begin with a hefty 6.2 oz cotton, creating a dense, durable knit with a dry texture destined to grow softer over years of wear. The difference in quality and feel is palpable each time it's worn.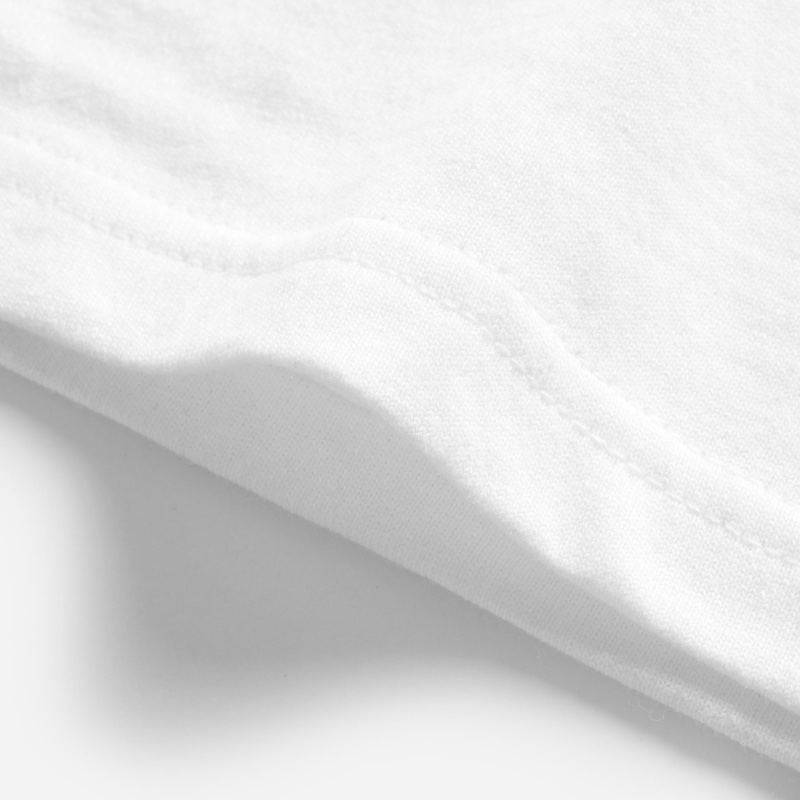 Customers can't seem to get enough of the shirt's excellent construction. The praise doesn't stop at its looks but extends to the fit. People appreciate the shirt's perfect fit, especially those tall and slim. Reviews also highlight the exceptional quality of the fabric, especially its substantial weight.
Even after the first wash, the shirt holds its form with minimal shrinkage, though those on the taller end might find it a bit on the shorter side. The Premium-Weight Crew from Everlane is an investment that's worth every penny.
Key Features of the Everlane Premium-Weight Crew:
Sizes: XS-XXL
Material: 100% Cotton
Available Colors: 11
Price: $45
Unbound Merino: The Wool Choice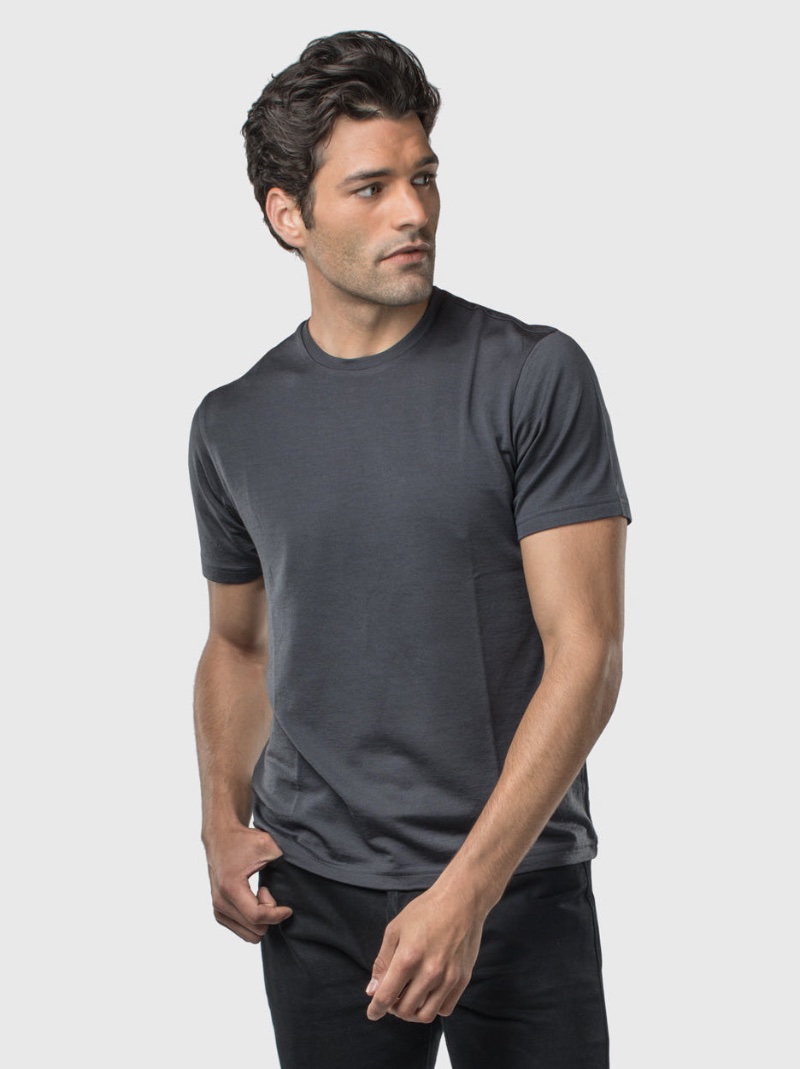 Step into the extraordinary with Unbound Merino's Merino Wool Crew Neck T-Shirt, an embodiment of simplicity and high performance. The shirt is a wonder of 100% merino wool, demonstrating the fabric's miraculous versatility. This isn't your average wool—ultra-fine at 17.5 microns, and 190gsm in weight, it's a tactile delight. It's a consistent performer, from trails to beaches to bars, providing comfort in various environments.
Feedback from wearers is resoundingly positive: they praise the shirt's softness, ability to resist unpleasant odors, and even its rapid drying capabilities. One reviewer described the Unbound Merino Tee as feeling better than most Merino tees and mentioned only minor pilling after washing. Another commented on its suitability for travel, requiring just a few in a carry-on to meet various dress codes and climates.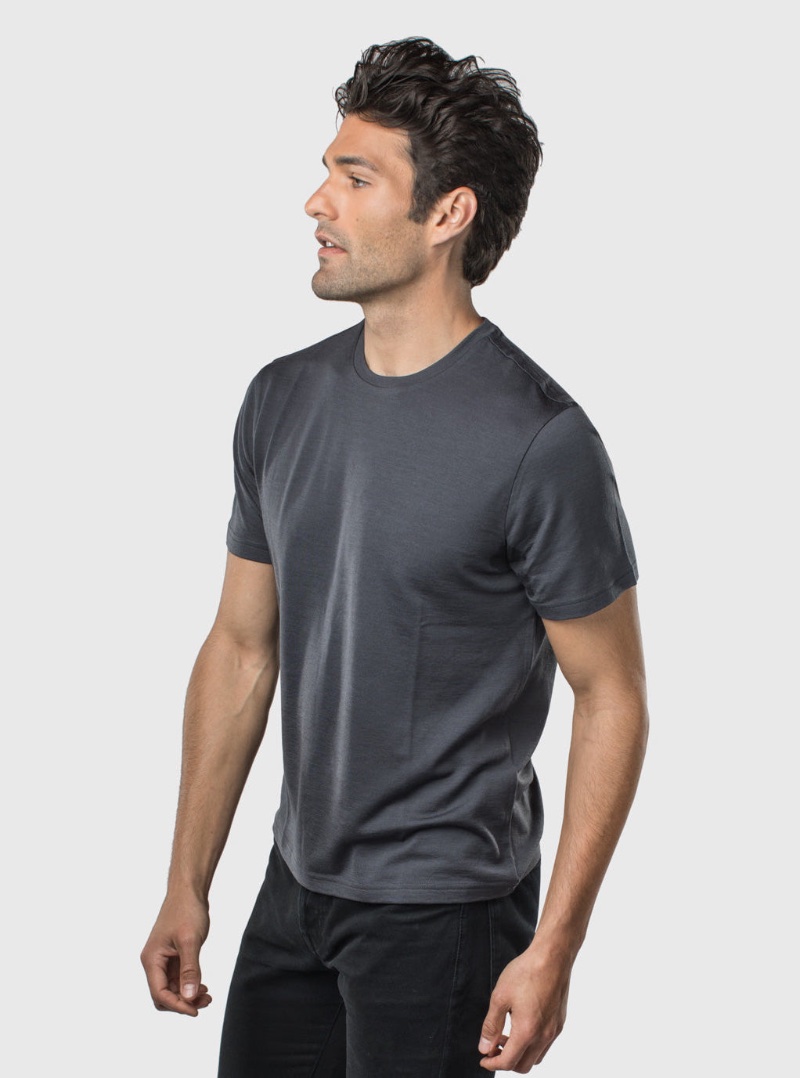 With Unbound Merino, sustainable sourcing is a priority. They derive their wool from independent, cruelty-free farms, ensuring your comfort doesn't come at an ecological or ethical cost. This shirt doesn't just make a statement but invites you to become part of a larger narrative—one of responsible fashion, travel-ready convenience, and exceptional quality.
Key Features of the Unbound Merino Merino Wool Crew Neck T-Shirt:
Sizes: S-XXL
Material: 100% Merino wool jersey
Available Colors: 6
Price: $88
Mott & Bow: The Connoisseur of Comfort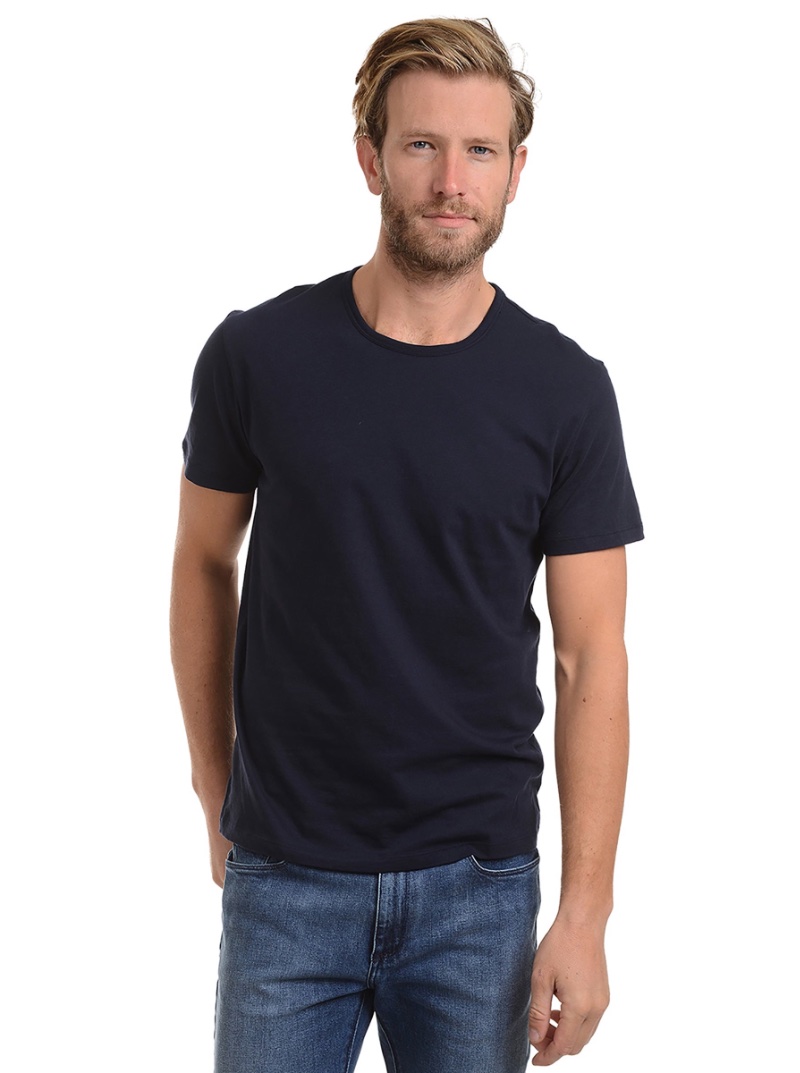 Coming from the bustling city of New York, Mott & Bow is recognized for its comfortable and fashionable t-shirts. The Classic Crew Driggs Tee stands out from their lineup, revered for its remarkable softness and enduring quality.
The Driggs is more than a tee; it's a daily luxury. Crafted from 100% Peruvian combed cotton, it feels as soft as butter against the skin. This t-shirt brings a substantial fabric weight of 140 grams, ensuring durability without compromising comfort. The result is a t-shirt that is neither too slim nor too loose but just right.
What makes the Driggs stand out, even more is its resilience. It's prewashed, meaning it retains its perfect fit even after a spin in the wash. Plus, the bound neck design ensures it remains as it should, wear after wear.
Key Features of the Mott & Bow Classic Crew Driggs Tee:
Sizes: XS-XXL
Material: 100% Combed Cotton
Available Colors: 21
Price: $40
Rhone: The Maestro of Performance T-Shirts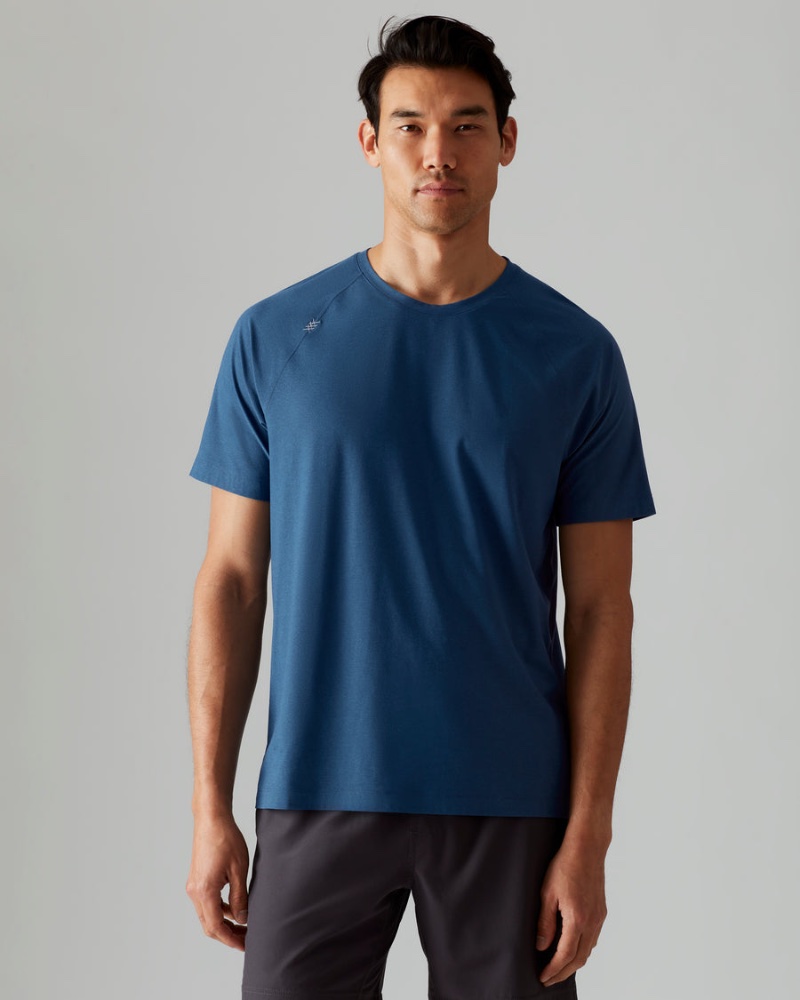 When it comes to performance wear, Rhone is a frontrunner. One prime example is their Reign Short Sleeve T-shirt, a perfect fusion of function and style. It's engineered with features that enhance your comfort, whether running a marathon or running errands.
The Reign isn't just a tee; it's like a second skin. It offers the softness of a well-loved t-shirt, made with a soft jersey blend that efficiently wicks moisture away. This shirt also boasts UPF50+ sun protection and Rhone's exclusive GOLDFUSION™ Anti-Odor technology, keeping you fresh for longer stretches between washes.
The design details are just as impressive: raglan sleeves ensure unrestricted movement, and straddle stitching means no annoying chafe from seams. It's more than just a shirt; it's a shield, a comforter, and a companion for your active life.
From the glowing reviews, the Reign Short Sleeve T-shirt hits all the right notes. Customers rave about its superb comfort, praising it as one of the most comfortable shirts they've ever worn. The tee's longevity also gets notable commendation, with one reviewer proudly mentioning his Reign shirts remain in great shape even after two years. Style-wise, it also scores high, with reviewers noting its versatility and the unmatched quality of Rhone's colors.
Key Features of the Rhone Reign Short Sleeve:
Sizes: S-XXL
Material: Nylon, Polyester, Elastane
Available Colors: 27
Price: $68
Public Rec: The Everyday Athletic Crew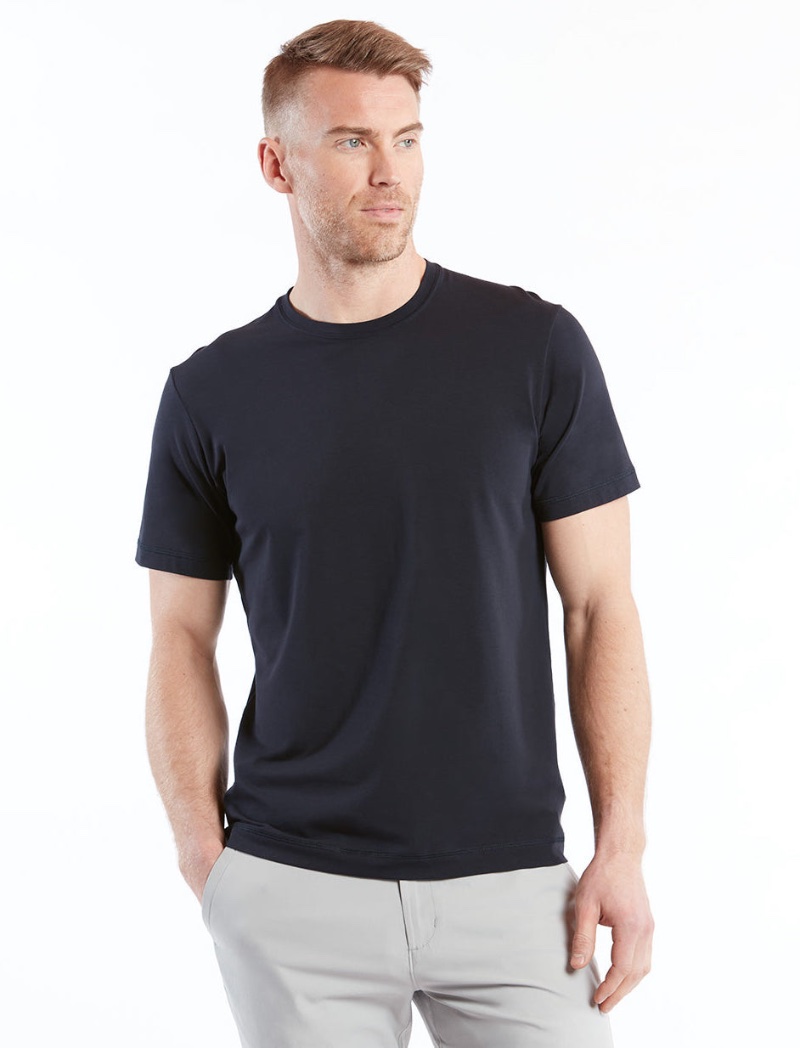 Public Rec brings a relaxed vibe to the athletic tee space with its Go-To Crew. This t-shirt epitomizes soft strength, featuring a custom blend of Pima Cotton for softness, TENCEL for durability, and a touch of Spandex that gives a hint of stretch for a superior, flexible fit. Crafted carefully, the flatlock stitching further expresses the brand's commitment to a seamless finish and enduring strength.
Many would argue there's something poetic about the feel of a Public Rec tee against your skin. It carries a richness, an inherent luxury that turns a casual t-shirt into a high-end wardrobe essential. One user declares it the "best tee shirt on the market," while another commends its "premium look and feel." An inherent versatility is another hallmark, with the Go-To Crew equally suited to a workout or a night out.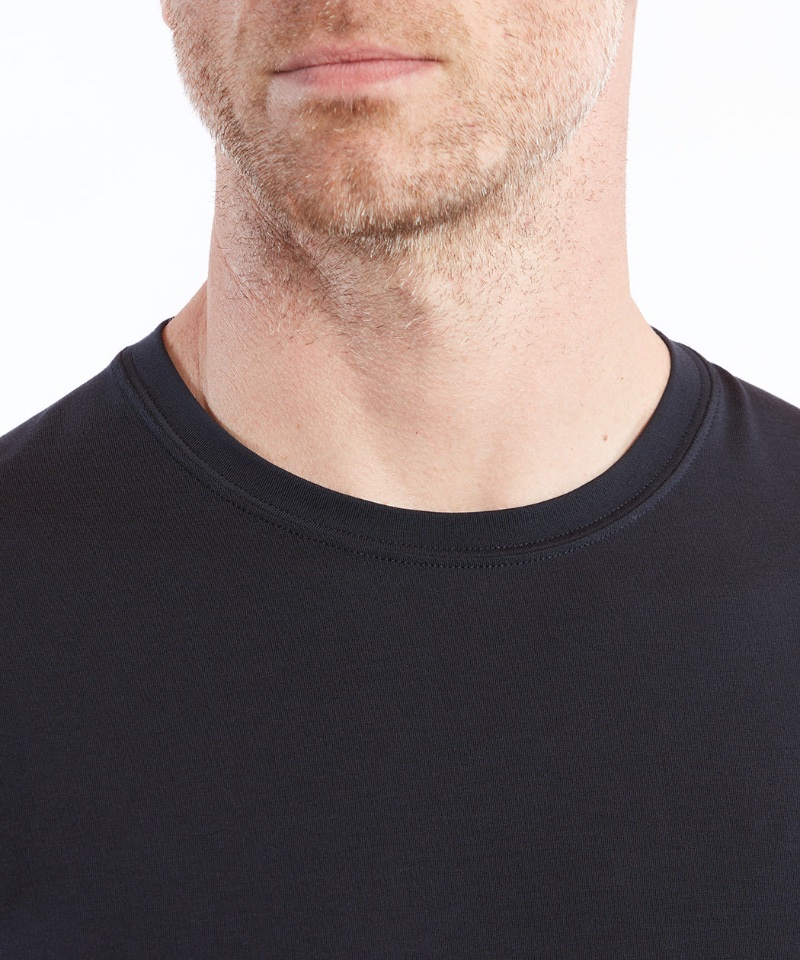 Users consistently admire the tee's form-fitting yet relaxed fit, a subtle equilibrium between style and comfort. From the neckline that feels right to the perfect weight of the fabric, Public Rec has crafted a tee that meets and exceeds expectations across the board. A great fit with neutral color tones and a stretch that enables free movement are just some reasons the Public Rec Go-To Crew is praised by its wearers, becoming a staple in wardrobes worldwide.
Key Features of the Public Rec Go-To Crew:
Sizes: S-XXL
Material: 69% Pima Cotton, 23% TENCEL®, 8% Spandex
Available Colors: 6
Price: $54
Ash & Erie: The Specialist for Shorter Men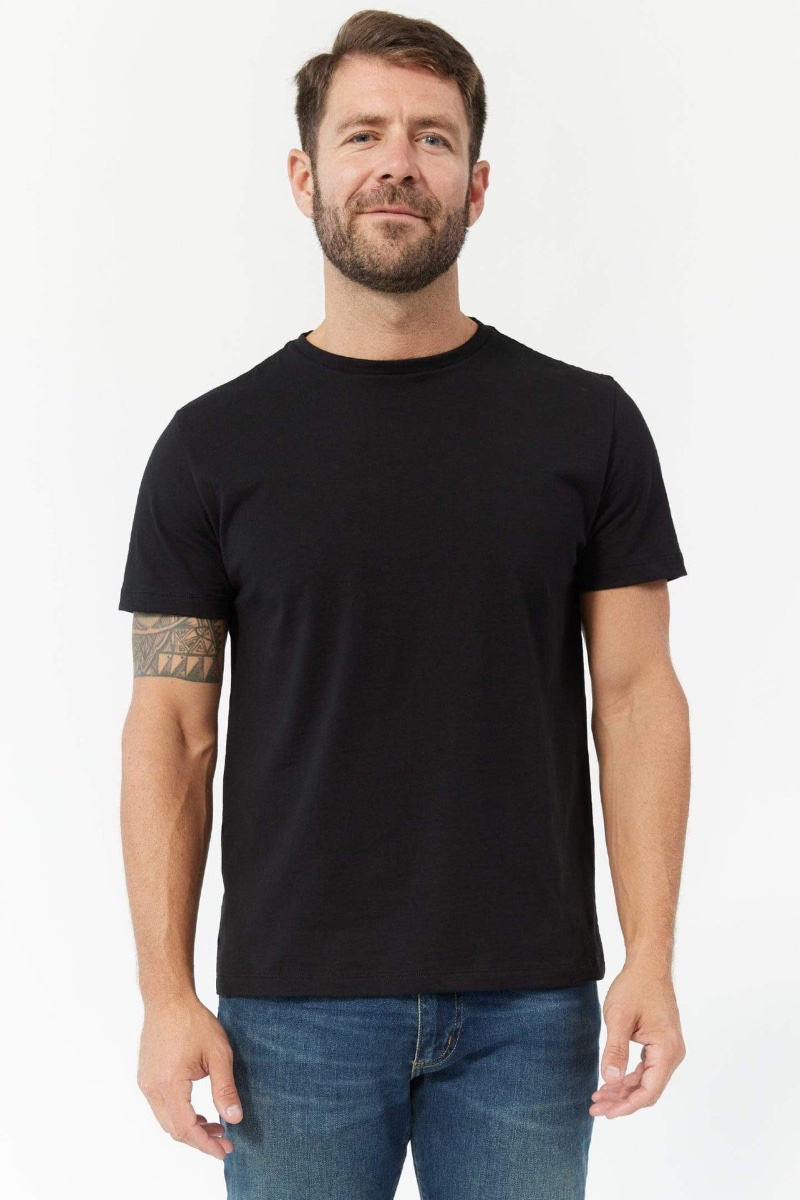 Shorter gents, meet your perfect match in t-shirt form: the Pima Cotton Crew Neck Tees from Ash & Erie. Expertly tailored for those standing 5'8″ and under, this t-shirt promises a harmonious balance between luxury and function.
This shirt is crafted from 100% premium Pima cotton fabric and offers superior comfort. The cotton is so soft that you won't want to remove it once it is on. Its super-soft touch and drape add to the delight, making it a standout choice for casual wear.
From the fitting rooms of Ash & Erie, it's clear that their attention to detail pays off in customer satisfaction. Reviewers praise the tee's exceptional fit, frequently highlighting how the shirt makes them look "fit and proper." Its comfort hasn't gone unnoticed either, with users calling it their "new go-to T-shirt."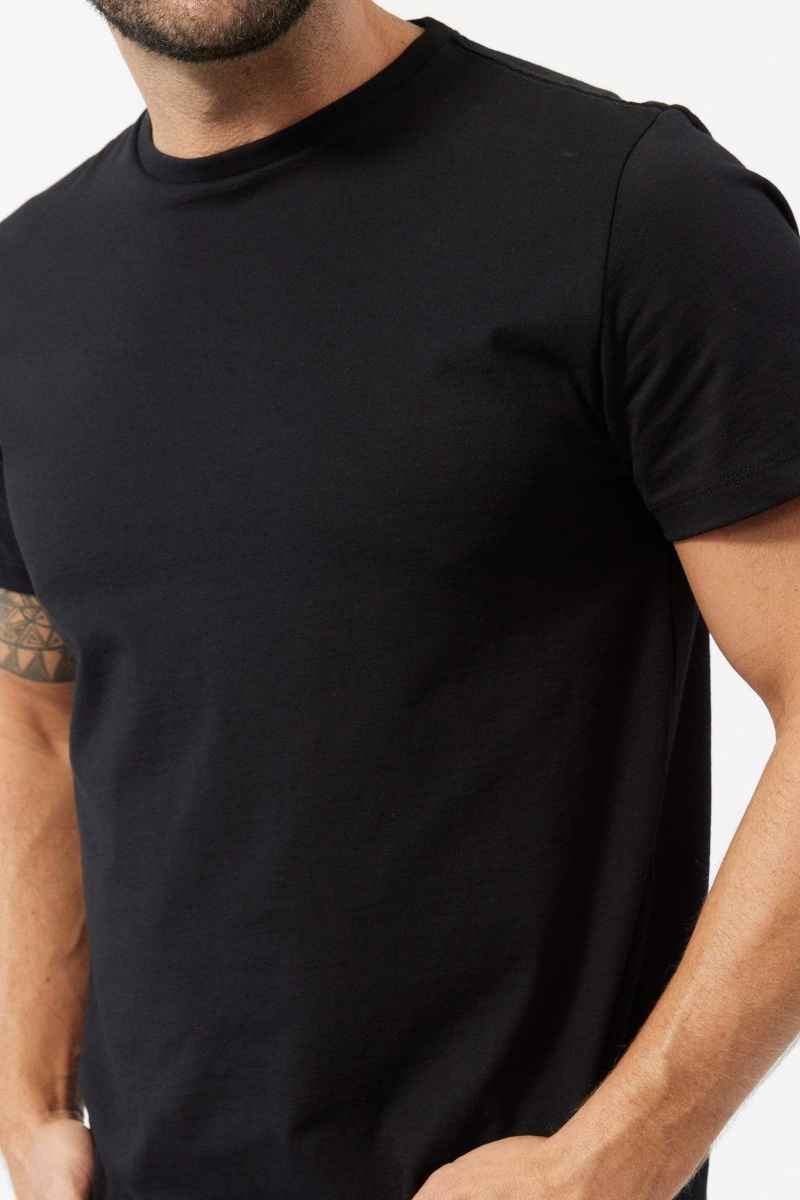 Quality also emerges as a common theme in reviews. Users applaud the high-quality fabric and the color range, with one reviewer pointing out the "very nice color." Customers repeatedly show their trust in the brand, with several expressing eagerness to make repeat purchases.
In a world where one-size-fits-all often falls short, Ash & Erie is a relief for men of smaller stature. The brand recognizes that good things come in small packages, and with their Pima Cotton Crew Neck Tees, they deliver on this belief, one perfectly fitting t-shirt at a time.
Key Features of the Ash & Erie Pima Cotton Crew Neck Tee:
Sizes: XS-XXL
Material: Pima Cotton
Available Colors: 13
Price: $45
Banana Republic: The Master of Versatility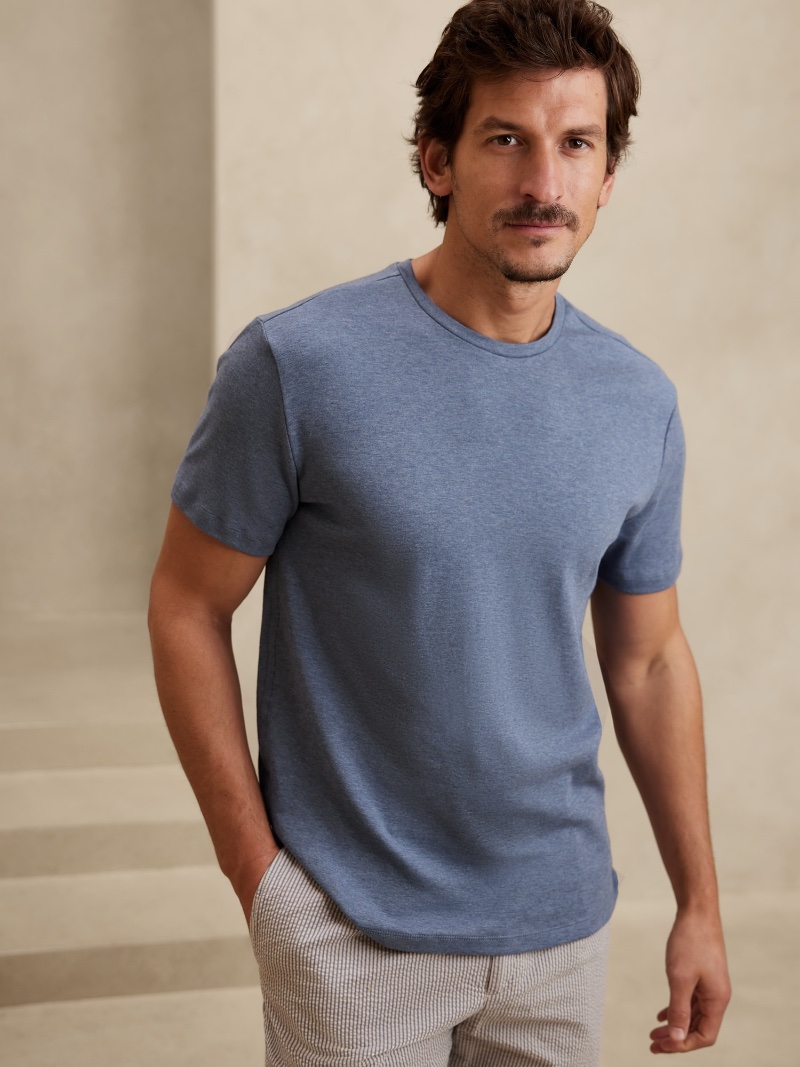 Dressed up or down, Banana Republic's Luxury Touch T-Shirt is a versatile staple for any wardrobe. This t-shirt is crafted from the brand's luxury-touch cotton jersey, a fabric acclaimed for its unparalleled softness and smooth finish that looks polished. The shirt features a classic crew neck and a straight hem, enhanced with side vents for easy movement.
When it comes to the sensory experience, users consistently applaud the softness of the fabric, expressing delight at how it feels against the skin. This t-shirt's comfort isn't missed either, with users hailing it as a perfect "everyday shirt." Not just a t-shirt, it's described as an "incredible shirt," which signifies its ability to fit into various occasions effortlessly.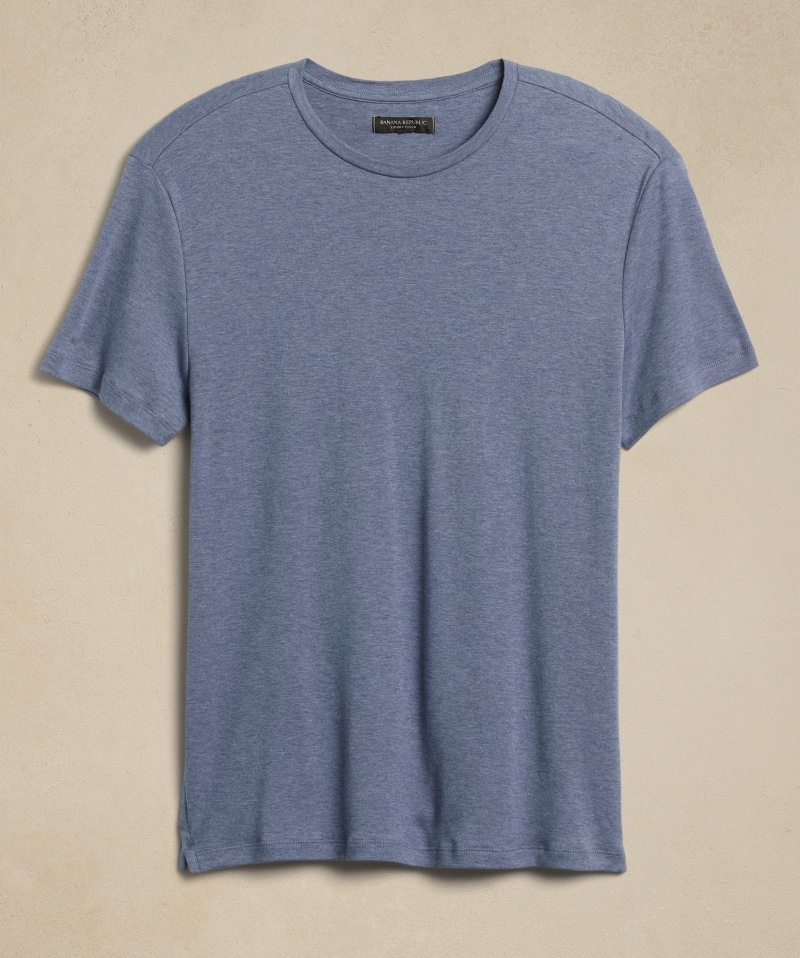 However, be aware of the sizing. Some customers have pointed out that the t-shirt runs a half size too large compared to standard Banana Republic sizes. One customer also noted that the t-shirt might feel too long for those of average height, so remember this when selecting.
Regardless, the consensus is that the Luxury Touch T-Shirt is worthwhile. A mix of comfort, quality, and style, it's a tee that elevates your daily ensemble with an air of sophistication.
Key Features of the Banana Republic Luxury Touch T-Shirt:
Sizes: XS-XXL
Material: 100% Cotton
Available Colors: 4
Price: $40
Express: The Trendsetter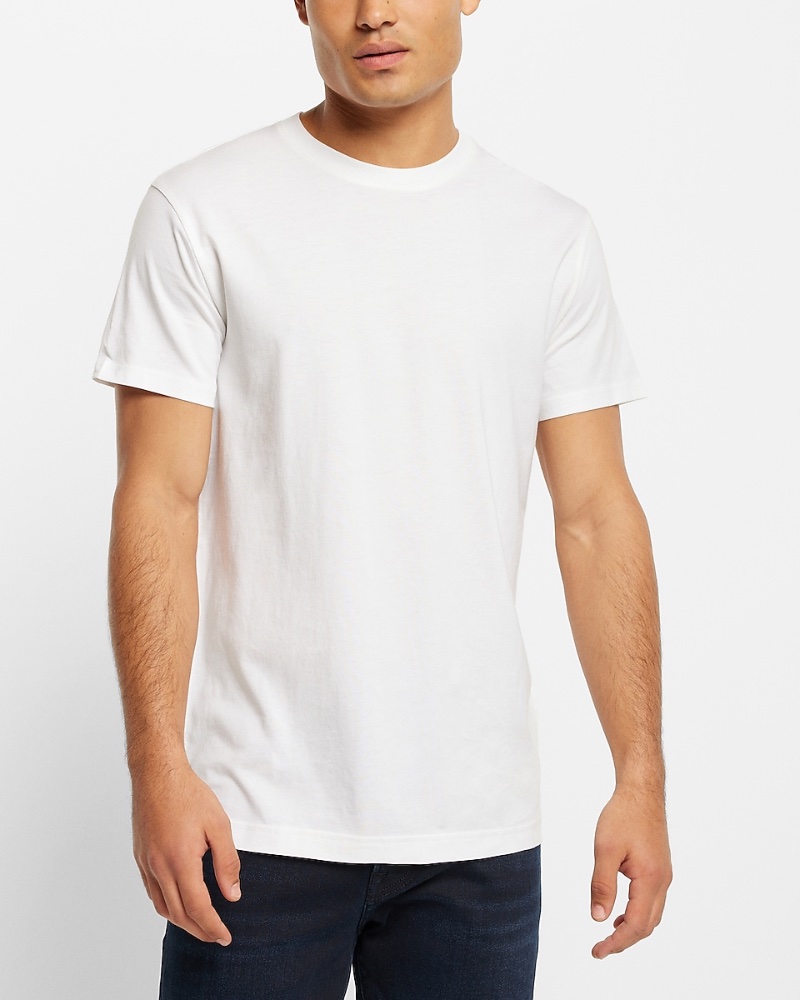 Express's Crewneck Perfect Pima Cotton T-Shirt is your ticket to stylish, affordable comfort. Constructed from 100% premium Pima cotton, this tee exudes quality in every stitch. It offers a smooth, silky touch and ample stretch for comfort, making it an ideal t-shirt for daily wear. You can layer it under sweaters, button-down shirts, and jackets or wear it standalone for a minimalist look.
The experience of wearing this t-shirt is like a gentle hug, thanks to the inherent stretch that ensures comfort throughout the day. Its silky feel is frequently mentioned by customers who find it incredibly soft and comfortable. Though some suggest it feels like an undershirt, that same quality lends itself well to layering, underscoring its versatility.
A caveat to note, though, is the thinness of the material. While many love the lightweight feel for warmer days, some note it might not provide the desired opacity.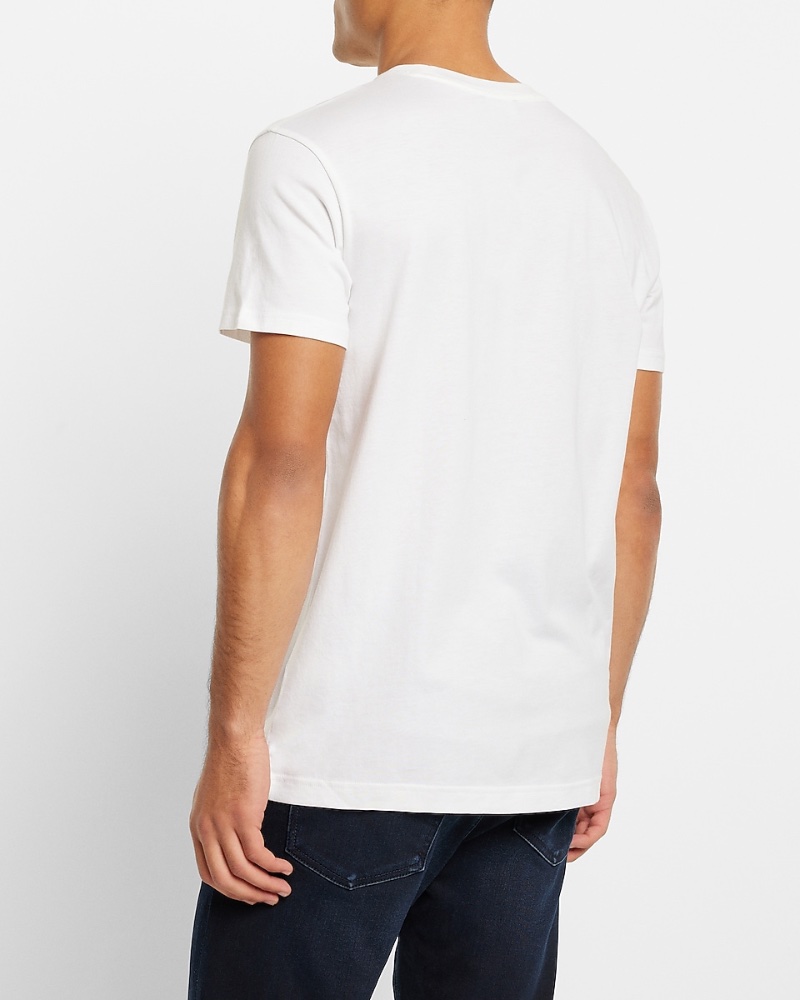 The Crewneck Perfect Pima Cotton T-Shirt's fit receives high praise, fitting true to size according to many. However, it's worth noting that one customer recommended waiting for a sale due to its relatively high price point for a basic tee.
Visually, the shirt presents an array of vibrant color options. Customers appreciate this, with one raving about the "gorgeous" Sangria Pink color and another praising the color's durability even after multiple washes. However, the shirt's aesthetic appeal extends beyond the palette, with customers noting it "looks great" whether worn alone or layered.
Key Features of the Express Crewneck Perfect Pima Cotton T-Shirt:
Sizes: XS-XXL
Material: Pima Cotton
Available Colors: 18
Price: $38
Sunspel: The Luxury Choice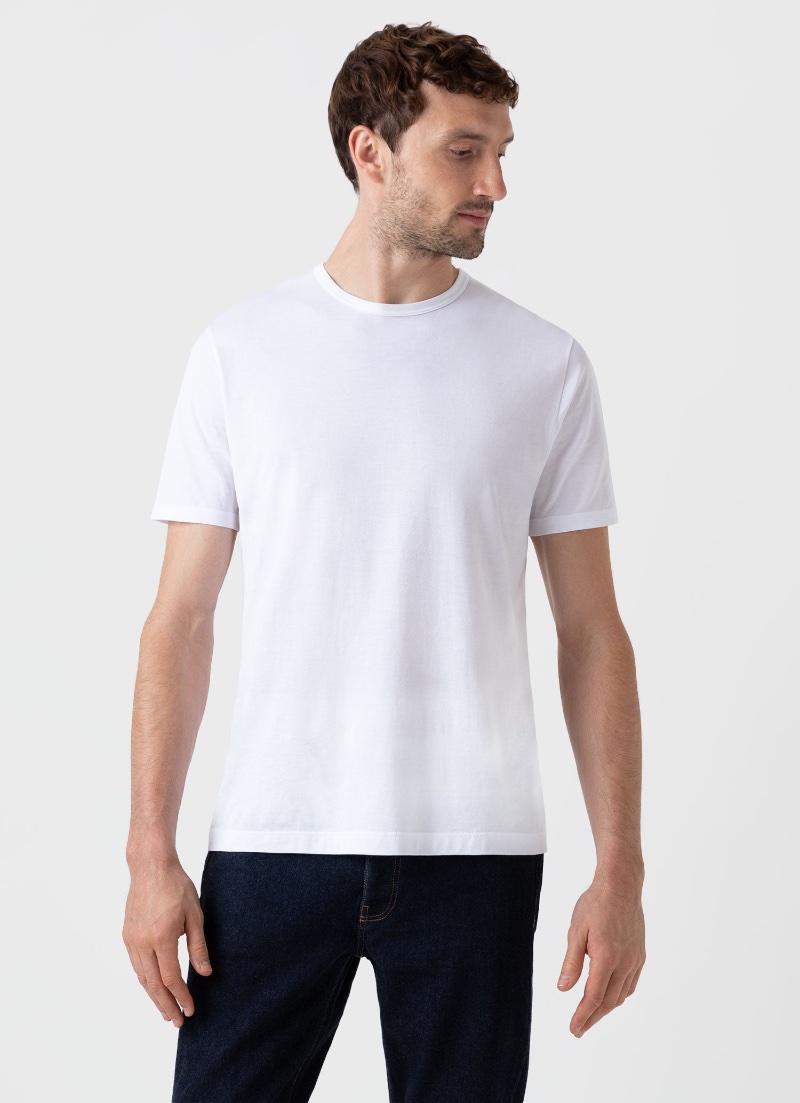 Sunspel's Classic T-Shirt is a masterclass in craftsmanship and refined luxury. It's a product of the Sunspel factory in Long Eaton, England, handmade with an unrivaled commitment to quality. The brand's dedication to excellence began in 1908 with the creation of the world's first luxury T-shirt, a lineage of which the Classic T-shirt is a proud continuation.
This shirt is spun from 100% Supima Cotton, known for its extra-long staple. This variety of cotton, sourced from a single farm in sunny California, is revered for its supreme softness and durability. Every fiber can be traced to its origin, reflecting Sunspel's commitment to sustainability and transparency.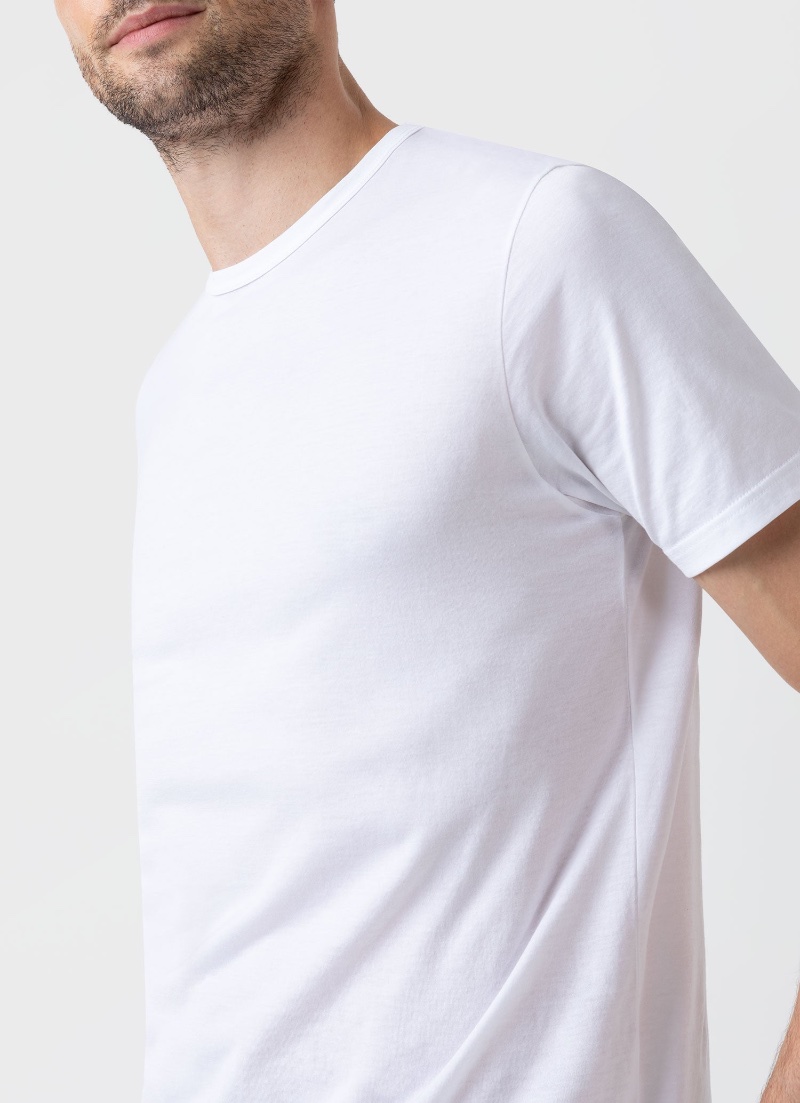 Despite its remarkable durability, the Sunspel specialty fabric offers a sense of airy lightness. It feels exceptionally smooth against the skin, creating an unrivaled intimate comfort. This isn't just a t-shirt; it's an embrace of luxury that refuses to compromise comfort.
The shirt's classic fit is fundamental to every wardrobe. It's the kind of piece that you can reach for without a second thought, knowing it will always fit just right. Sunspel's Classic T-Shirt is not just a garment but an assertion of taste and value, underlining the belief that the perfect T-shirt exists. And it resides in the heart of Sunspel's collections.
Key Features of the Sunspel Classic T-Shirt:
Sizes: XXS-XXXL
Material: 100% Supima Cotton
Available Colors: 25
Price: £85
CDLP: The Designer Pick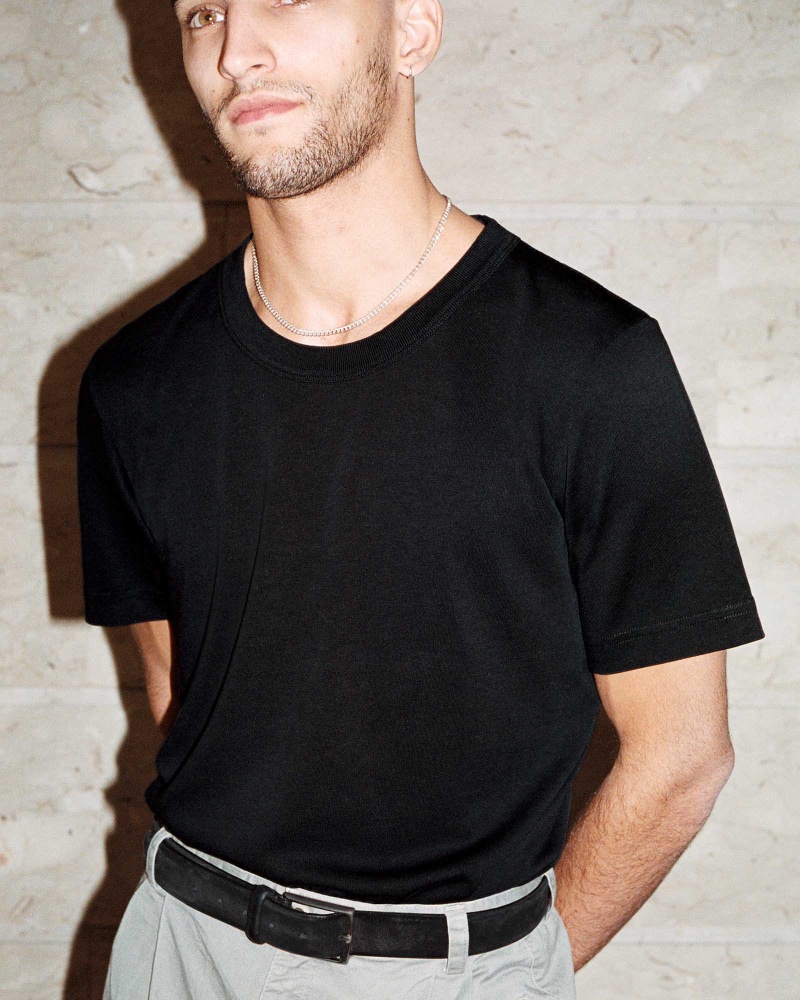 CDLP's 330 gsm Heavyweight T-Shirt blends sustainable fashion and premium design. With its regular fit and crew neck, it takes comfort to a new level. The shirt is crafted from a unique blend of lyocell and Pima cotton. Lyocell, sourced from certified renewable wood sources, offers silk-like softness and breathability, perfect for any weather condition.
Pima cotton is included for its extra-long fibers, providing a natural drape and gentle embrace on the wearer's silhouette. The resulting heavyweight garment breathes and retains its shape and color over time. The t-shirt will naturally fade with time, adding to its unique, vintage appeal.
Key Features of the CDLP Heavyweight T-Shirt:
Sizes: XS-XXL
Material: 67% TENCEL™ Lyocell, 33% pima cotton
Available Colors: 5
Price: $100
Final Words on Best Men's T-Shirts
The quest for the perfect T-shirt is a personal journey, as the best t-shirts for men are subjective and depend on individual style, body type, and budget. However, armed with this guide, we hope that you'll be able to find a brand that ticks all your boxes. From the affordable basics of UNIQLO to the luxury offerings of Sunspel, there's a T-shirt out there for every man.