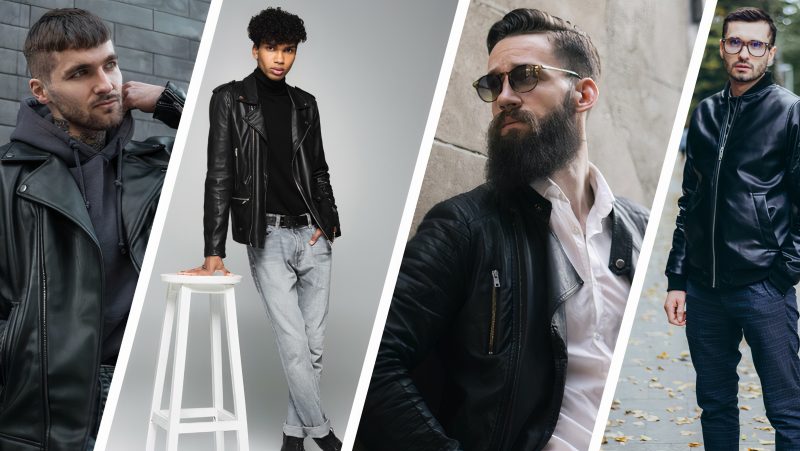 Men's fashion often strikes a delicate balance between functionality and aesthetics, and one wardrobe staple that brilliantly encompasses both aspects is the leather jacket. Synonymous with effortless style and rugged charm, leather jacket outfits for men have stood the test of time, transcending fleeting fashion trends.
This comprehensive guide will explore the diverse range of leather jackets available and how to integrate them into your style. Whether you're seeking a way to express your unique persona or simply after a versatile addition to your wardrobe, you'll find a wealth of inspiration in the following sections.
Leather Jacket Outfits for Men: Personal Style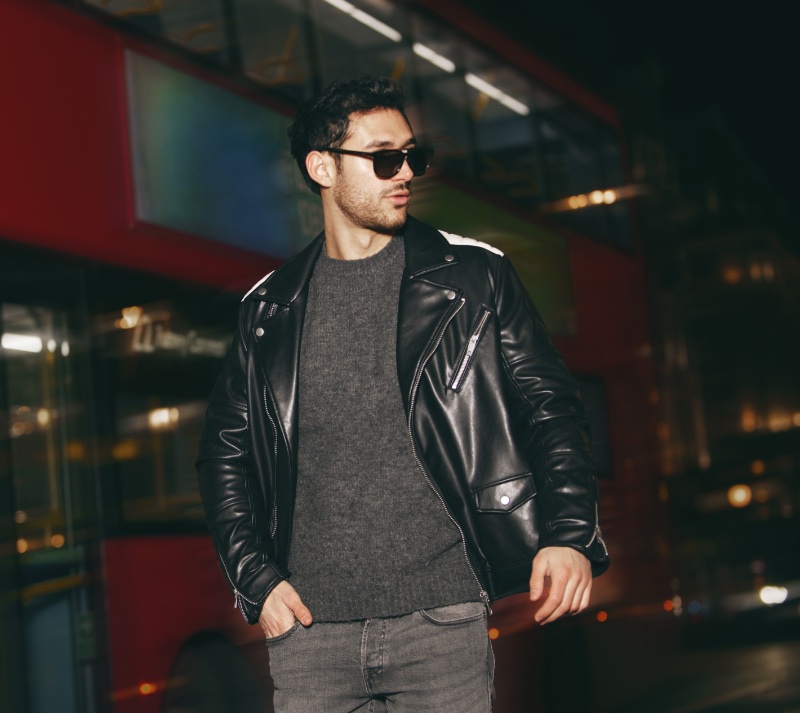 Choosing the quintessential leather jacket that matches your aesthetic is akin to embarking on a sartorial journey of self-discovery. It's not just about draping a piece of leather over your shoulders but about wearing your personality on your sleeve.
Shaped by a storied past and imbued with an indomitable spirit of rebellion, the leather jacket serves as a canvas on which countless men have painted their distinctive styles. It's no wonder that everyone from Hollywood heartthrobs to rock 'n' roll legends donned it with panache, and so can you.
Selecting the Right Style
However, selecting the ideal leather jacket style is a crucial task that requires thoughtful consideration. The cut, the fit, the color, and the overall design can profoundly influence how the jacket looks and makes you feel. Here's a guiding principle: the perfect leather jacket complements your body shape, enhances your best features, and embodies your unique character.
The Ideal Fit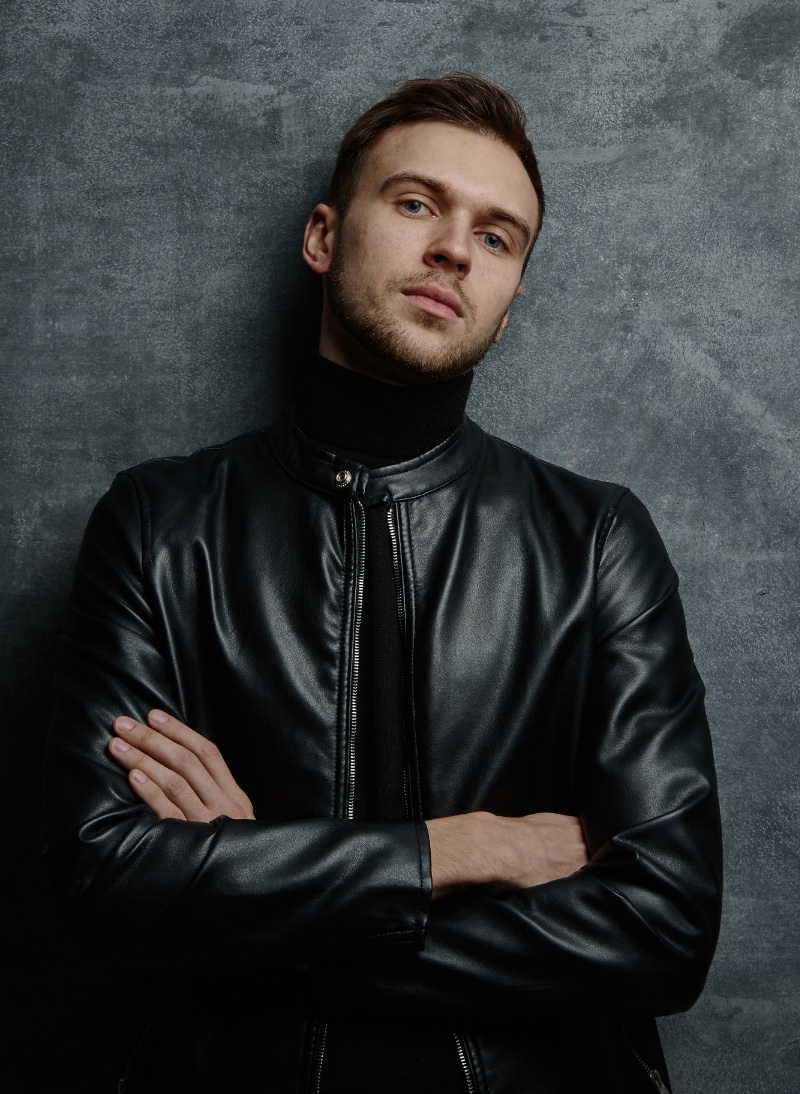 Start by evaluating the fit—it should feel like a second skin, closely hugging your body contours without restricting your movement. For most men, a slim or tailored-fit leather jacket strikes the right balance between comfort and style, creating a sleek, universally flattering silhouette. If you're going for a biker or bomber style, ensure it has a slightly loose fit to accommodate layering but not too much to look baggy.
Preferred Cut
Next, the jacket's cut plays a significant role in defining its overall appeal. Classic cuts like the moto or the biker, characterized by asymmetrical zips and broad lapels, evoke a sense of rugged coolness. For those seeking a more polished look, a racer or cafe racer style, with its minimalistic design and band collar, can be an excellent choice.
Color Options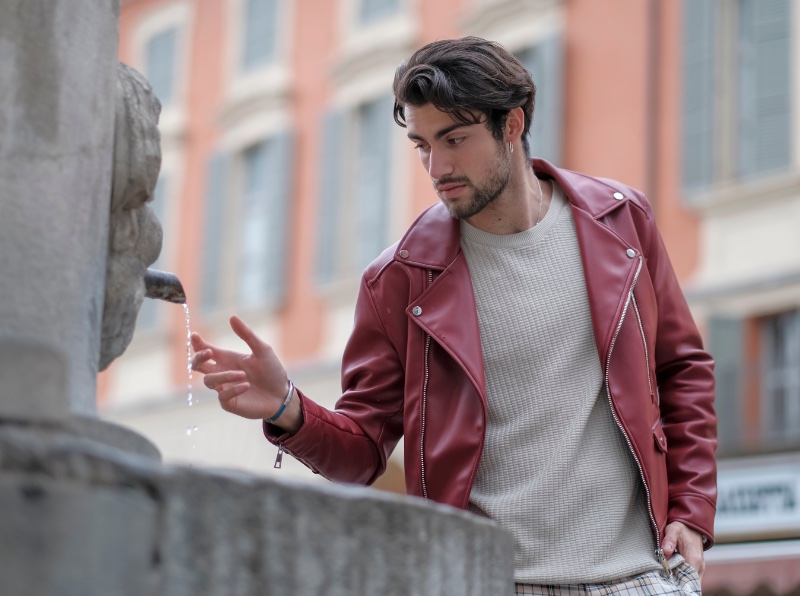 Regarding color, black and brown reign supreme for their versatility and timeless appeal. However, don't shy away from exploring other shades, such as oxblood or tan, particularly if they resonate with your personal style palette.
Details
Lastly, consider the details. These could be anything from quilted shoulders to decorative zippers or stud embellishments. While these elements add a distinctive touch, they should never overwhelm the jacket's basic design.
Leather Coordination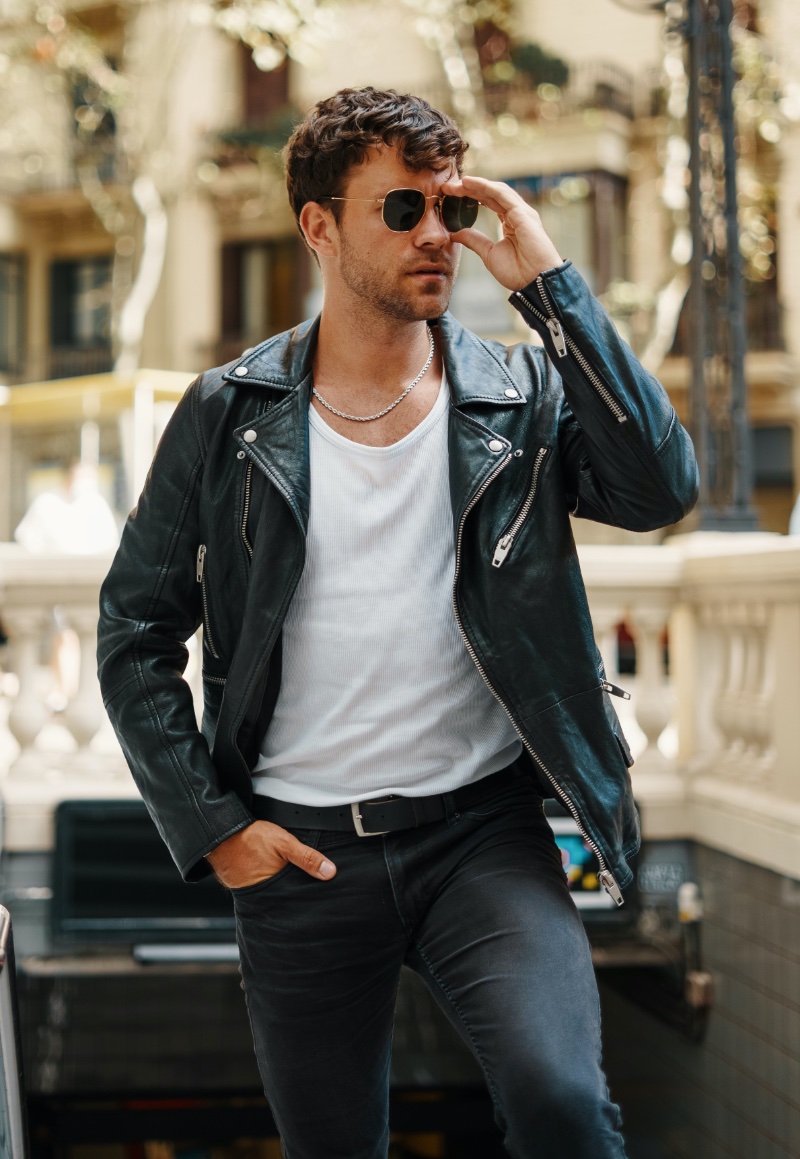 Harmonizing the color palette of your outfit is crucial when wearing multiple leather pieces. Generally, the rule of thumb is to match the color of your leather accessories, such as belts or shoes, with your leather jacket. For instance, if you don a classic black leather jacket, opt for black leather shoes and a belt.
This creates a seamless look and contributes to a cohesive outfit. However, it's not a hard-and-fast rule. You can also play with complementary shades within the same color family, like dark brown boots with a lighter tan jacket for a bit of contrast. It's important to remember that simplicity is essential for color coordination.
Avoid using too many different colors, as this can lead to a cluttered appearance. Experiment within your comfort zone and find what works best for your unique style.
Leather Jacket Outfits Inspiration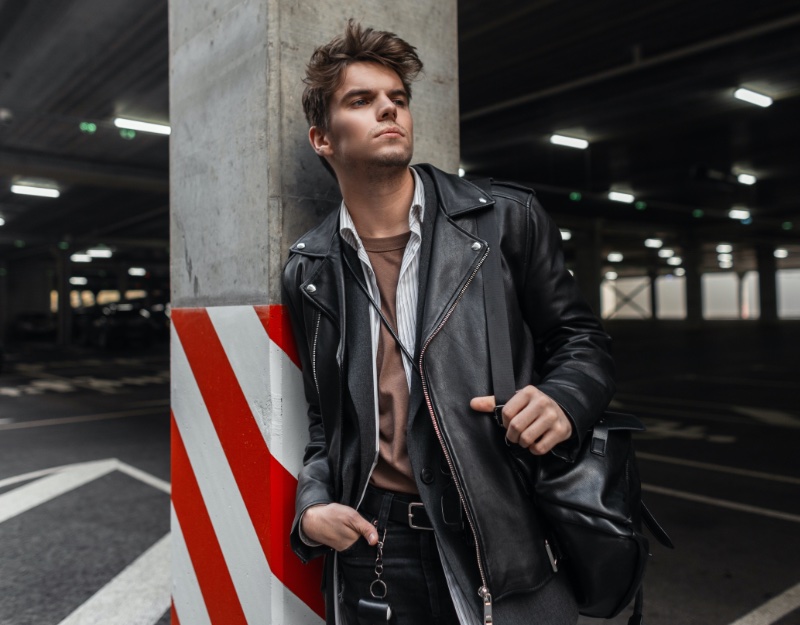 Unleash the versatility of a leather jacket with this diverse guide. From the timeless trio of a jacket, white tee, and jeans to unexpected ensembles with collared shirts or plaids, these outfit inspirations cater to casual and formal settings. Master the art of balance, fit, and style with these suggestions, transforming your leather jacket into the cornerstone of your wardrobe.
The Classic Trio: Leather Jacket, White Tee & Jeans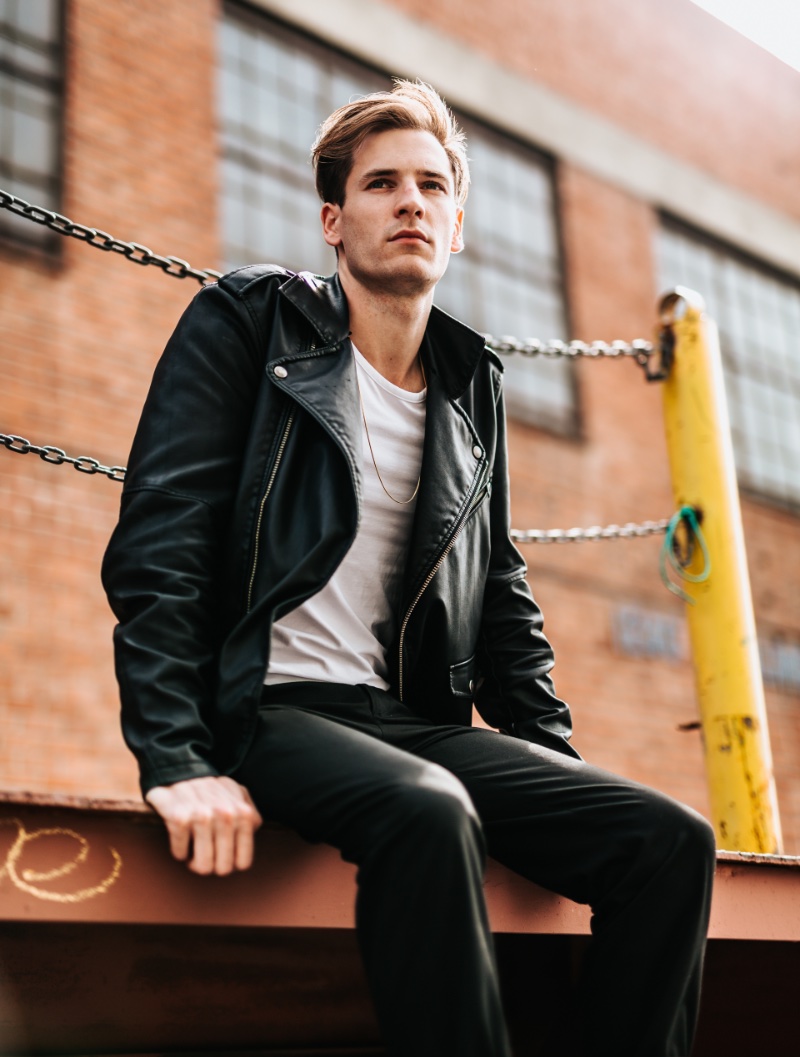 The allure of the timeless ensemble of a leather jacket, a white tee, and jeans is undeniable. It's a wardrobe classic favored by style icons and fashion enthusiasts for its effortless coolness. Here, the white tee serves as a neutral base, highlighting the distinct features of the leather jacket, while jeans lend a relaxed vibe to the overall look.
This outfit works seamlessly with different styles of leather jackets, be it a rugged biker, a sleek racer, or a comfy bomber. Ensuring each piece fits well is crucial for this ensemble—the tee should be snug but not tight, the jeans should be slim or straight cut, and the jacket should align with your shoulders and waist.
A pair of sunglasses and some lace-up boots or casual sneakers are all you need to complete this look. The simplicity of this trio—a leather jacket, white tee, and jeans—not only reflects the timeless appeal of these staples but also provides ample room to showcase your style.
Biker Jacket & Jeans with a Collared Shirt
Adding a crisp white collared shirt to the classic biker jacket and jeans combo is an effective way to upgrade your outfit. The shirt is a backdrop that lets the jacket's rugged appeal stand out while infusing a touch of formality into the ensemble.
This combination strikes a perfect balance between edgy and elegant. The shirt collar, subtly visible under the jacket, provides a polished contrast to the casual jeans. This versatile look can seamlessly transition from day to night and from casual to semi-formal settings.
Smart Appeal with a Sweater
Layering a leather jacket with a sweater and collared shirt creates a sophisticated ensemble perfect for crisp, cool days. This combination of items offers warmth and style, showcasing your ability to master the art of layered dressing.
Start with a crisp collared shirt as your base layer. Choose a neutral color like white or light blue for versatility. Then layer a thin, fitted sweater over it. Stick to solid, understated colors to let the leather jacket shine. The collar peeking out from the sweater adds a refined touch.
Finally, put on your leather jacket. The final defining layer adds an edge to the ensemble. Ensure the jacket fits well over your layers without looking bulky or restricting movement. Pair this look with your favorite jeans, chinos, and leather boots for a polished, weather-ready outfit.
Double Denim: Denim Shirt & Jeans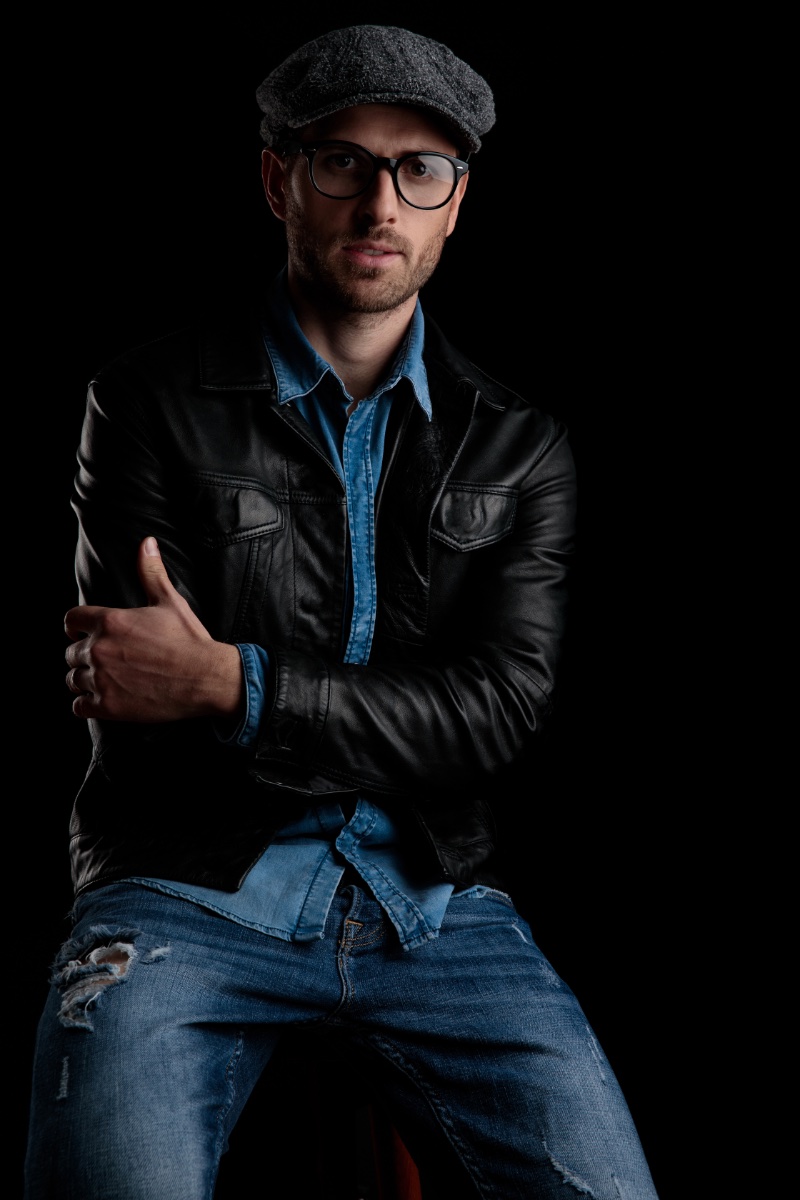 Venturing into a double denim outfit with a leather jacket presents an exciting twist on an edgy classic. This combination, often termed the 'Canadian Tuxedo,' embraces a fashion-forward style statement that's both rugged and stylish.
Begin with a denim shirt and jeans–varying the denim shades can prevent the look from becoming monotonous and add visual interest. A lighter shirt paired with darker jeans is a tried-and-true approach. The leather jacket adds a dimension of texture and depth to the outfit, breaking up the denim and adding an extra layer of intrigue.
Whether it's a clean-cut racer, a classic biker, or a casual bomber, the jacket should complement the denim pieces rather than overpower them. Stick to classic colors like black or brown for your jacket to maintain an easy-to-style ensemble.
Embracing the All-Black Aesthetic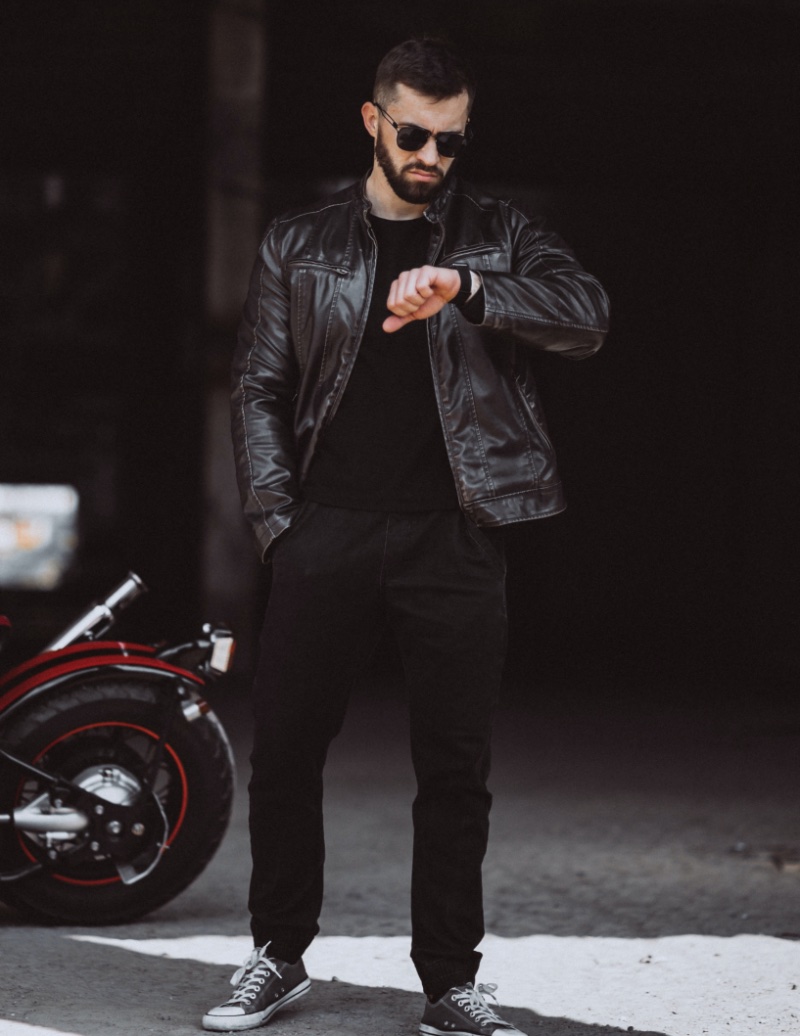 Creating an all-black outfit with a leather jacket can be a powerful fashion statement that's as classic as edgy. The monochromatic look exudes a sense of sleek sophistication and rebellious charm that few other styles can match. Begin with a black leather jacket and a black t-shirt or turtleneck for a streamlined effect.
Pair these with black jeans or trousers to maintain the single-tone theme. If you're feeling adventurous, you could even opt for distressed black jeans for a rugged appeal. Finish the look with black footwear, boots, loafers, or sneakers.
Remember, using varying textures and shades is the key to pulling off an all-black outfit. For example, a glossy leather jacket paired with matte black jeans and a soft cotton tee can add depth and interest to the outfit.
Mix It Up with a Plaid or Patterned Shirt
Integrating a plaid or patterned shirt into an outfit with a leather jacket allows you to mix textures and patterns for an enriched, visually exciting look. A plaid button-down or flannel shirt brings a sense of warmth and casualness to the outfit, contrasting the slick, edgy appeal of the leather jacket.
Choose a pattern that isn't too overwhelming to ensure the leather jacket remains the ensemble's star. Classic plaid patterns in subdued colors or simple stripes can be a great choice. Ensure the shirt and jacket combination doesn't look too bulky or uncomfortable when layering. A slim-fit or tailored jacket can help maintain a sleek silhouette.
Or Tie a Shirt Around Your Waist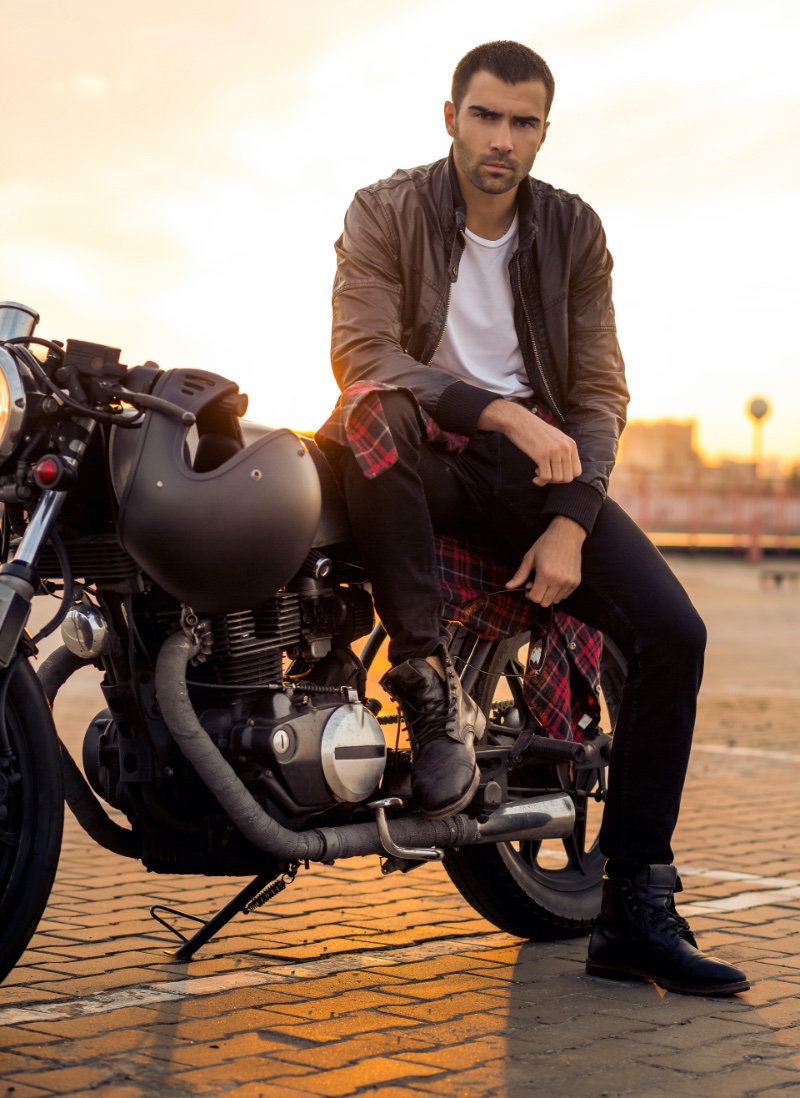 Adding an unexpected twist to your outfit, a shirt tied around the waist can be a unique accessory when paired with a leather jacket. This style move adds color and texture to your ensemble and provides an extra layer for unexpected weather changes.
Whether it's a flannel, plaid, or solid-color shirt, the key is to select a shirt that complements the rest of your outfit. Consider the colors in your ensemble and choose a shirt that matches these hues or provides a complementary contrast. Ensure the shirt is tied securely around your waist with the arms hanging at the back to prevent it from unraveling as you move.
Layer with a Hoodie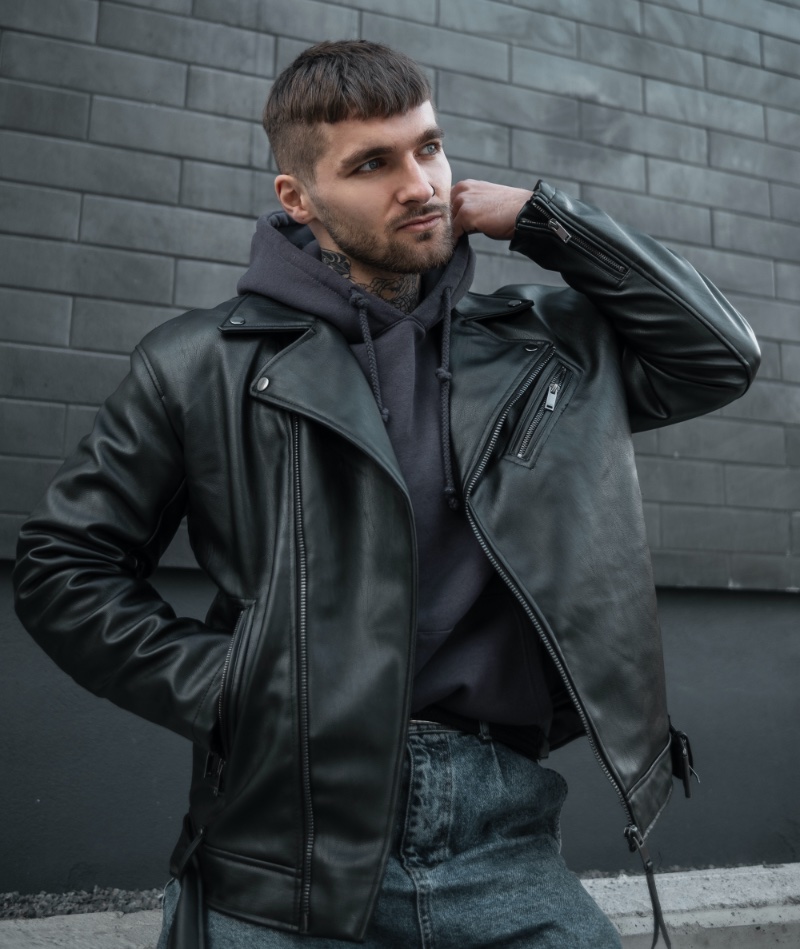 Pairing a leather jacket with a hoodie offers a contemporary approach to the layered look, blending casual comfort with a touch of urban sophistication. This combination can create a stylish contrast, melding the leather jacket's edgy vibe with the hoodie's relaxed feel.
Choose a hoodie in a neutral color like black, grey, or white to maintain a versatile palette that complements the jacket. Alternatively, a pop of color can add an unexpected twist to the ensemble. The hoodie can be worn with the hood out over the jacket's collar for an ultra-casual style or tucked in for a cleaner silhouette.
Finish off the look with jeans and a pair of boots or sneakers, and you have an outfit that's as stylish as cozy. Whether heading out for a casual weekend brunch or a night out with friends, a leather jacket paired with a hoodie is a modern classic that offers both style and comfort.
Dress It Up with Trousers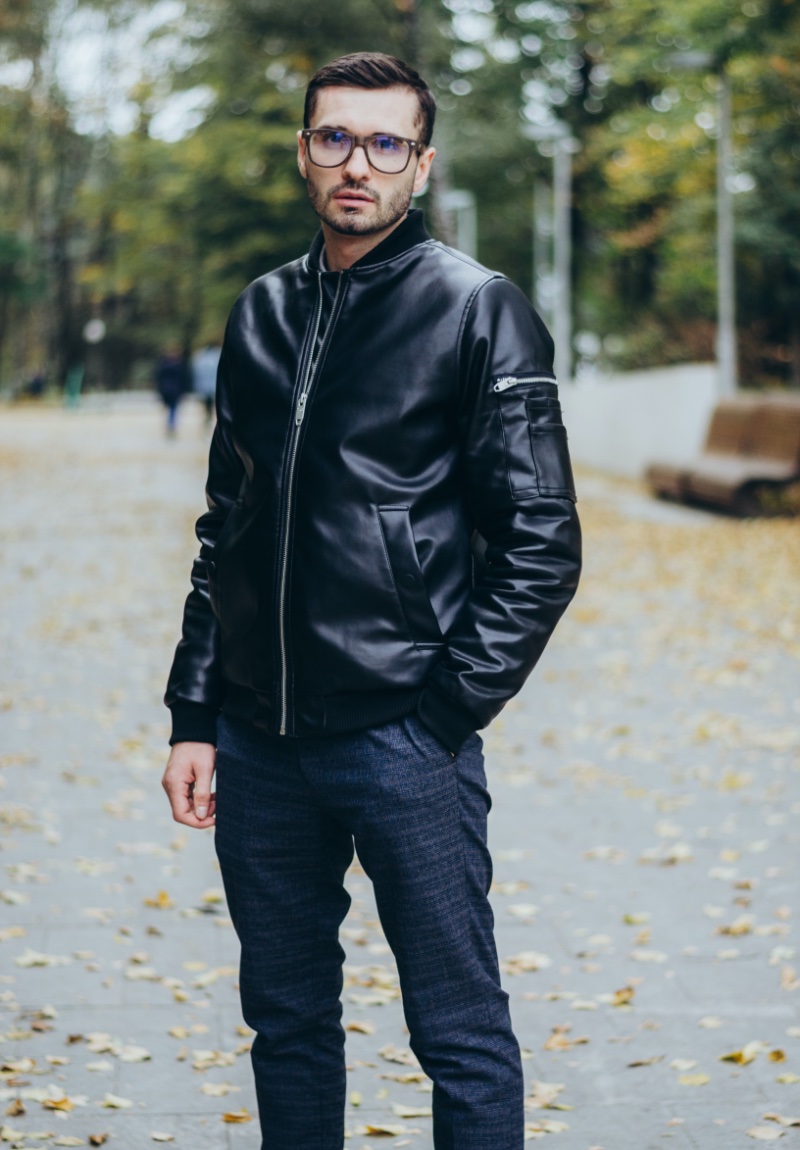 Pairing a leather jacket with solid-colored or patterned trousers is an excellent way to dress up your outfit, transitioning effortlessly from a casual day look to more formal evening attire. This combination balances the jacket's edgy appeal and the trousers' sophistication.
For solid trousers, opt for colors like black, navy, or charcoal for a sleek and professional look. If you're feeling more adventurous, consider patterned trousers—pinstripes, checks, or subtle plaids can add an element of interest to your ensemble.
The key here is balance. If your trousers are patterned, keep the rest of your outfit, including your shirt and shoes, relatively simple to avoid clashing. Conversely, if your trousers are solid, experiment with a patterned or brightly colored shirt.
Add Elegance with a Chic Turtleneck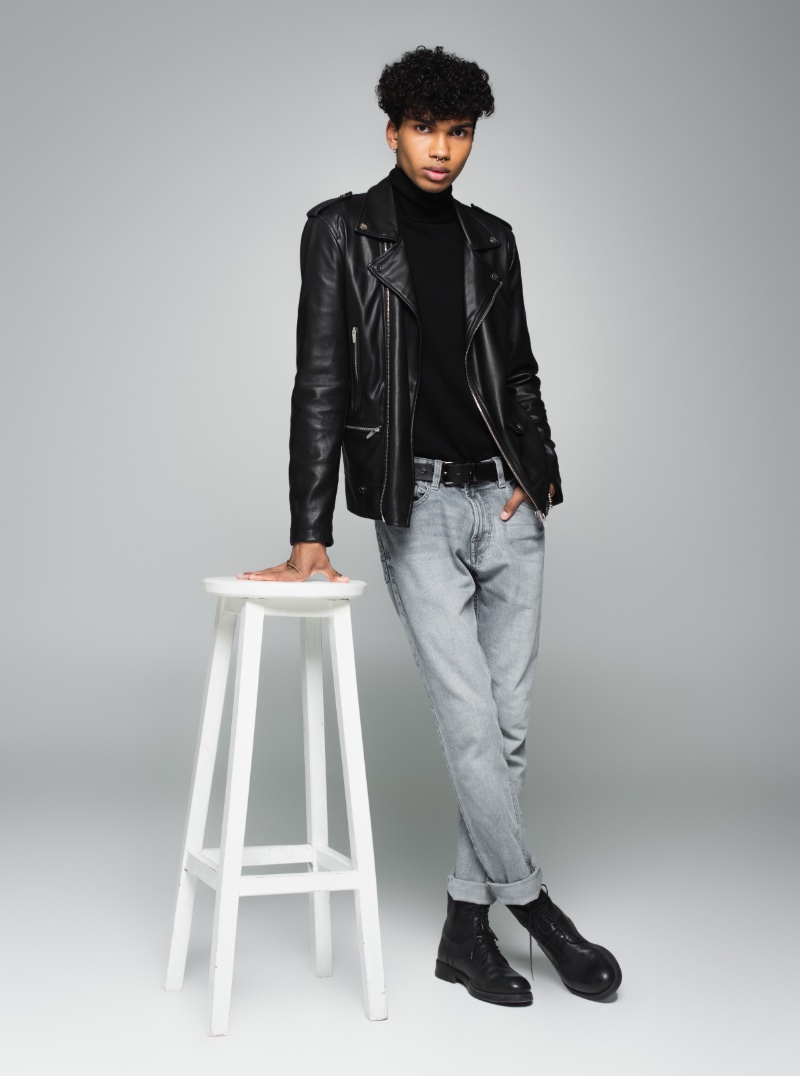 Pairing a leather jacket with a turtleneck sweater offers an intriguing blend of sophistication and edge. This combination is perfect for the cooler months, providing warmth without sacrificing style.
Choose a slim-fit turtleneck to ensure it fits comfortably under your jacket. Neutral colors like black, white, or gray are timeless and versatile but don't hesitate to explore richer hues like burgundy or navy for a more daring look.
The key to successfully pulling off this ensemble is to let each piece complement the other. The sleek silhouette of the turtleneck enhances the jacket's edgy appeal, while the leather jacket lends a rugged contrast to the turtleneck's sophistication. Finish this look with jeans, tailored trousers, smart boots, or dress shoes.
Don a Shirt, Tie & Racer Jacket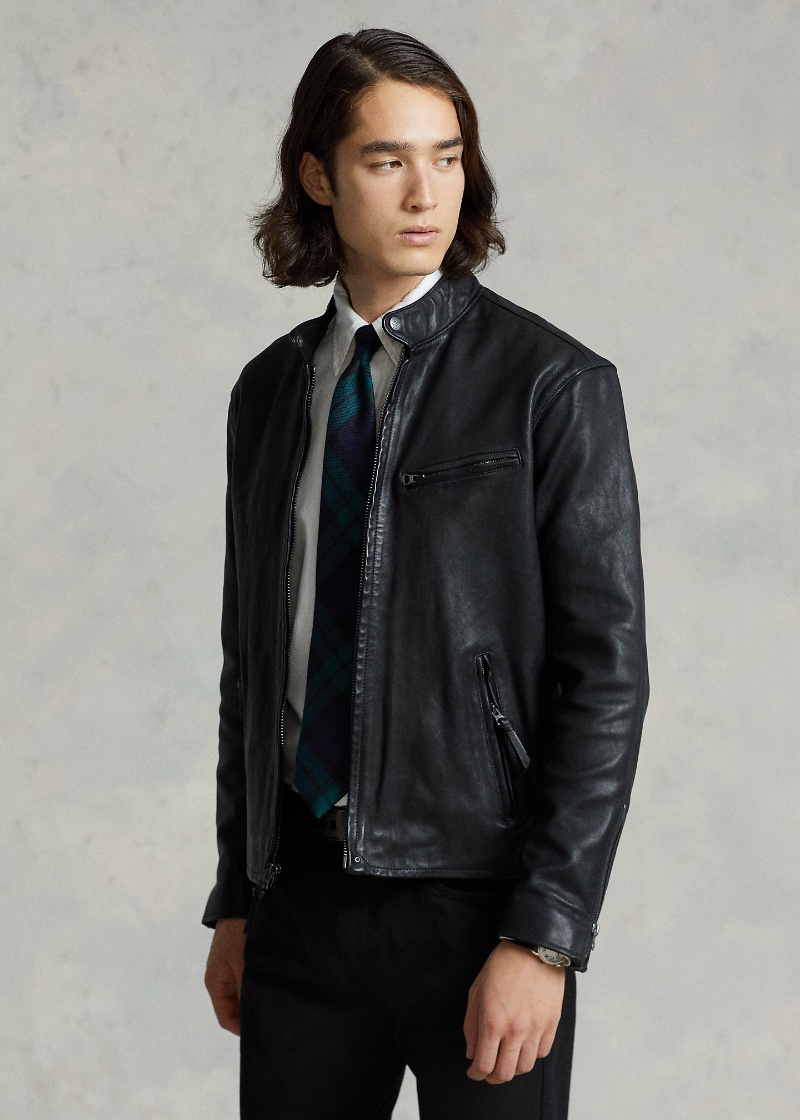 Pairing a leather jacket with a shirt and tie is an excellent way to balance business and casual style. This unexpected combination brings a fresh and modern twist to traditional office wear, proving that a leather jacket can be just as versatile as any blazer.
Begin with a crisp, well-fitted shirt and a complementary tie. While a classic white shirt is a safe bet, explore other colors or subtle patterns to inject personality into your look. The tie can either match or provide a tasteful contrast to your shirt.
Over this, wear your leather jacket. Opt for a cleaner, more streamlined jacket style like a racer or a cafe racer to maintain the formality of the look. The jacket should fit well, not too tight but not too loose, allowing the shirt and tie to sit comfortably underneath.
Finish the ensemble with tailored trousers, dark denim, and smart shoes. The juxtaposition of a tie and leather jacket brings an innovative touch to your look, perfectly suitable for a smart-casual workplace or a creative professional setting.
So, when you want to dress up without being too formal, remember this stylish combo of a leather jacket, shirt, and tie.
Final Words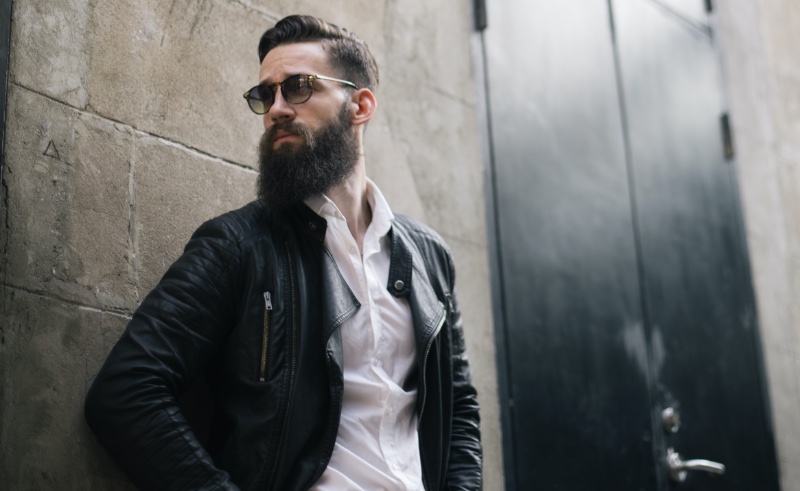 Mastering the art of styling leather jacket outfits for men can take your style game to unprecedented heights. While the leather jacket's inherent appeal lies in its rugged allure, its strength is versatility. The right leather jacket can effortlessly set the tone for your look, be it a casual brunch, a semi-formal business meeting, or a lively night out.
Understanding how to pair this iconic piece with the rest of your wardrobe will allow you to explore your style potential and express your individuality. From classic black and brown to the more daring hues of oxblood or tan, remember that the best leather jacket resonates with your aesthetic and speaks volumes about your character.