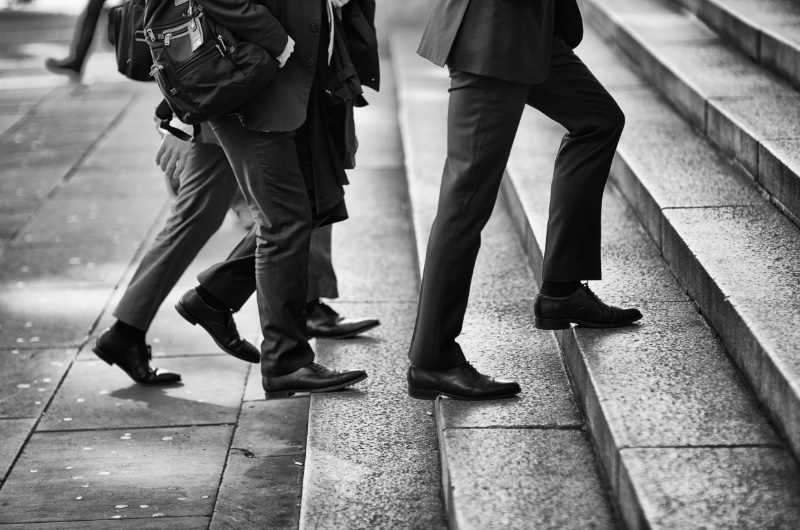 Navigating the different types of dress shoes for men requires a keen understanding of elegance, function, and personal expression. Whether one seeks an Oxford's classic allure or a Chelsea boot's modern charm, the types of men's dress shoes offer a rich tapestry of possibilities. From construction techniques to unique details, this guide explores various dress shoe styles and types, ensuring an insightful journey into this essential aspect of men's fashion.
Types of Dress Shoes for Men
Embracing the art and heritage of men's dress shoes, there is a multitude of styles, each reflecting different facets of elegance, comfort, and personality:
Oxford Shoes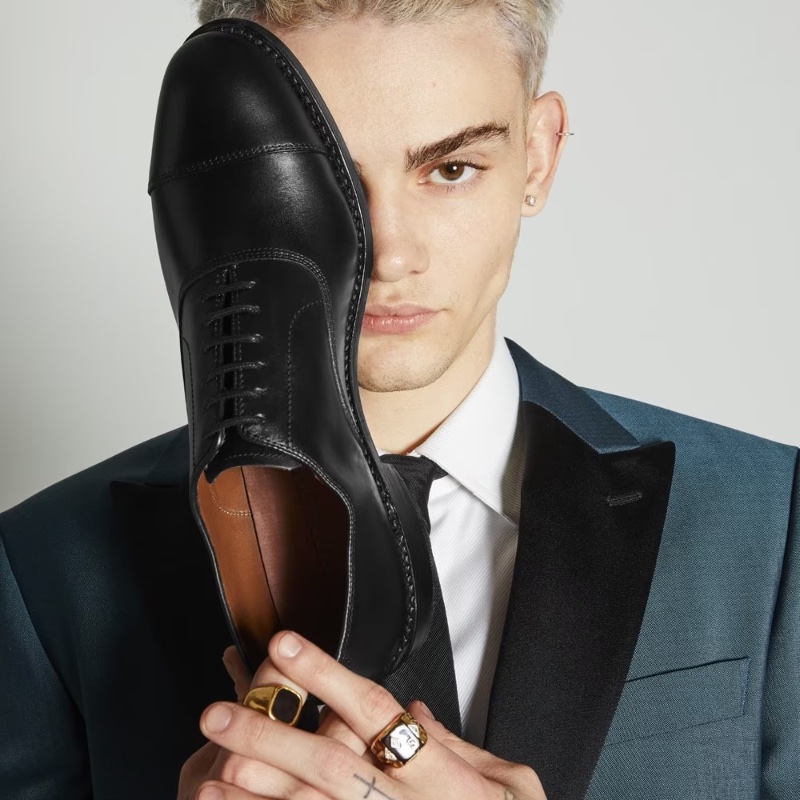 The Oxford epitomizes men's formal footwear, defined by its closed lace design and often crafted in patent leather. It symbolizes timeless elegance, and its clean lines and sophisticated appearance have made it an essential element in the well-dressed man's wardrobe.
The Oxford's appeal transcends generations, offering a classic finish for formal attire that has cemented its reputation as a must-have—reflecting classic refinement, whether for a gala event or a business meeting.
Derby Shoes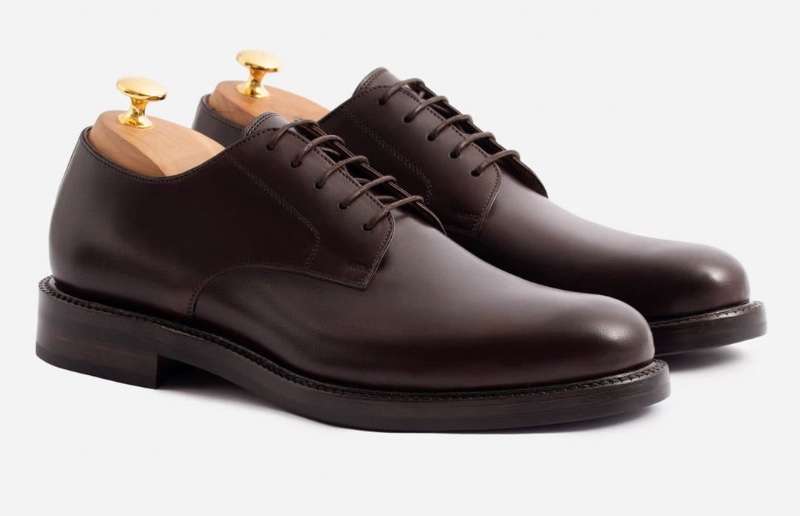 Contrasting the closed lacing system of Oxford Shoes, which offers a sleek and formal appearance, Derby shoes, characterized by open lacing, presents a versatile choice in men's dress shoes. Their more rugged appearance serves both form and function, suitable for various occasions. The Derby's adaptability ensures wearers can transition between different environments without sacrificing elegance or comfort.
Brogue Shoes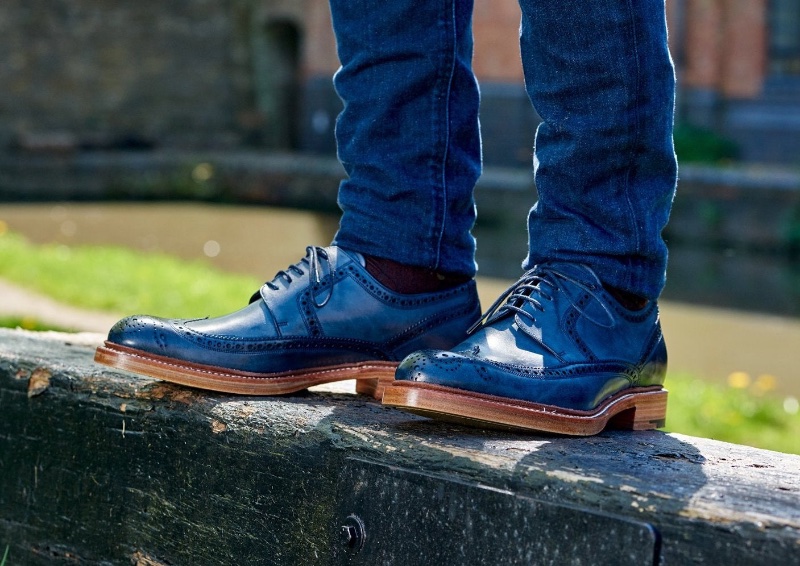 Brogue shoes are known for their decorative perforations, offering a blend of flair and tradition. Often found in Oxford and Derby styles, Brogues provide formal or relaxed wear options. Their distinctive design allows for personal expression within the classical bounds of dress shoes.
The appeal of Brogues extends beyond mere aesthetics to their rich cultural lineage, tracing back to the Scottish and Irish countryside. This connection to heritage and their versatile styling make them a preferred choice for those wishing to explore unique elements of elegance.
Monk Straps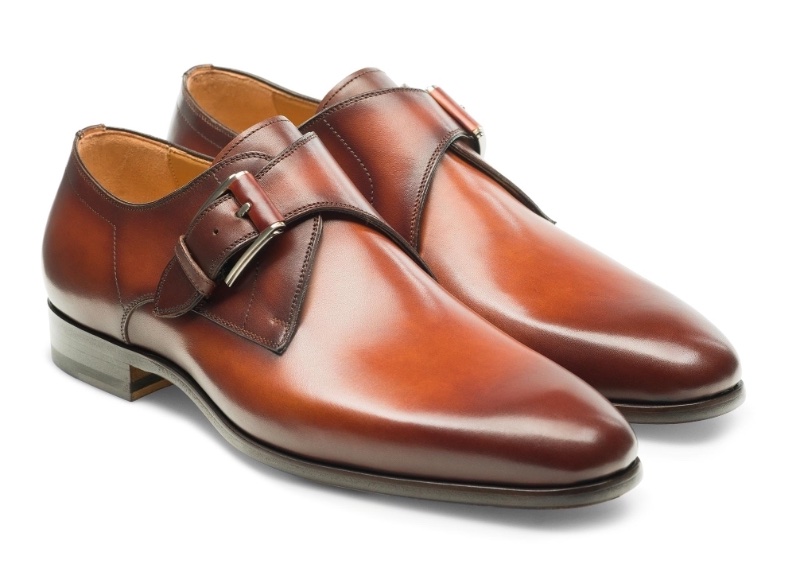 Monk Straps' buckled design adds a contemporary touch to men's footwear. Balancing formality with uniqueness, they align well with various ensembles and resonate with those seeking personality in their wardrobe.
These shoes stand out for their innovation and timeless elegance. Their versatility ensures a strong presence in modern styling, making them an appealing choice for those who appreciate originality and classic fashion principles.
Loafers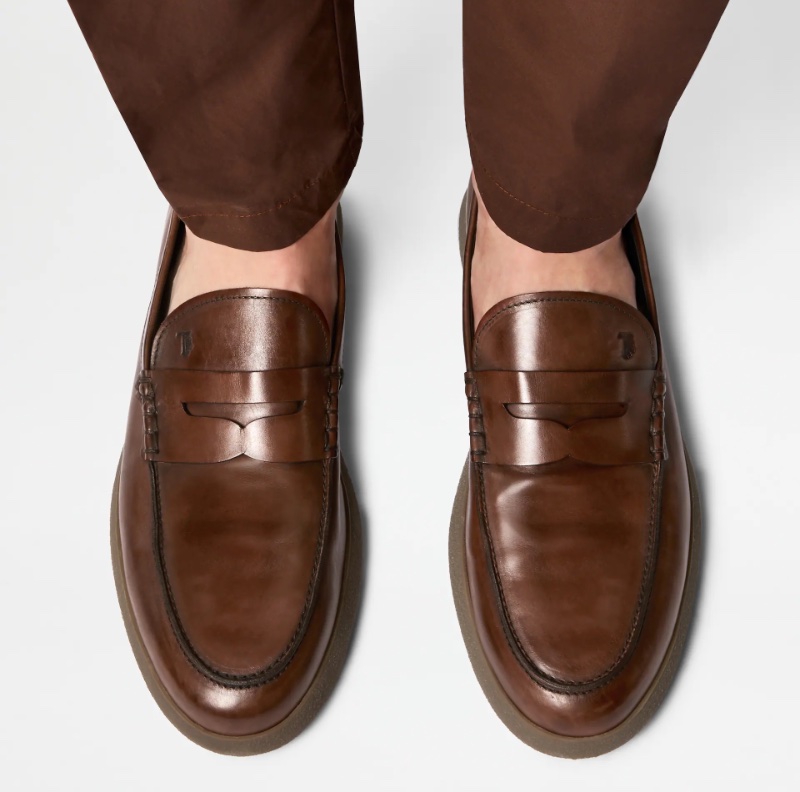 Loafers, known for their slip-on design, offer comfort with various style expressions. The age-old dilemma of wearing loafers with or without socks, or even with invisible socks, continues to be a conversation piece in men's fashion, reflecting the loafer's versatile nature. From classic designs to high-end brands, loafers cater to those seeking a relaxed yet refined look.
Their accessibility and adaptability to different contexts have made them emblematic of ease and sophistication. Their enduring appeal lies in their ability to balance casualness with elegance, suitable for various outfits and occasions. Loafers continue to be a testament to a segment of dress shoes that effortlessly marries convenience with style.
Chukka Boots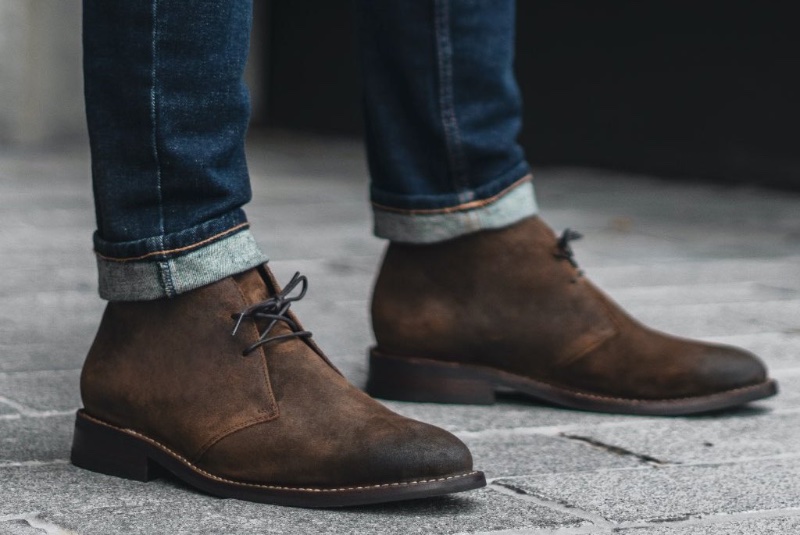 Chukka boots, a standout choice within men's footwear, are ankle-high boots with a minimalistic design that typically consists of two or three eyelets for lacing. Often crafted from materials like suede or calfskin, their unadorned charm lends a relaxed and comfortable feel, making them well-suited for everyday wear.
The design of Chukka boots, with its rounded toe and simple lines, is adaptable to various outfits and occasions, whether paired with casual jeans or slightly more formal trousers. Their ease of wear and classic aesthetic embodies a timeless appeal that transcends fleeting trends, allowing them to maintain relevance in the ever-changing landscape of fashion.
Chelsea Boots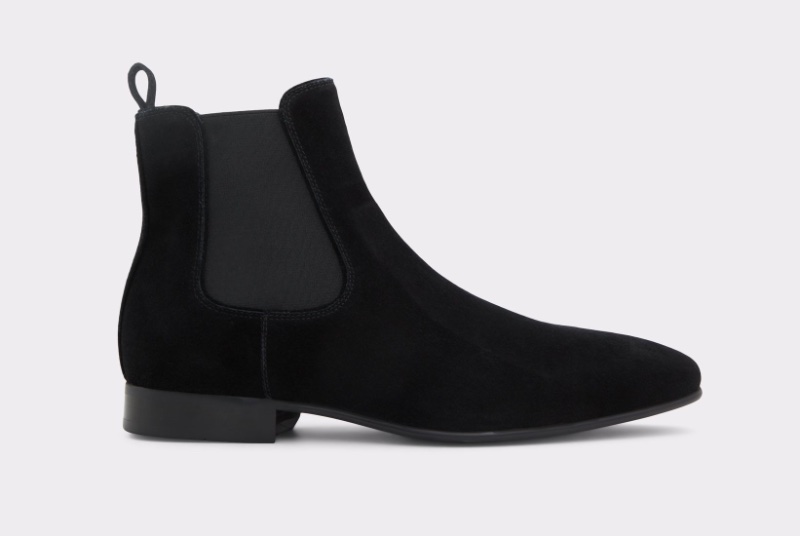 Chelsea boots make a statement with their sleek design and elasticated gusset. This fusion of boldness with classic sophistication has made them a modern favorite, offering a versatile and fashionable option.
Their practicality and unique design enable them to complement various outfits, from tailored attire to casual wear. Chelsea boots are a testament to adaptability and style, reflecting a shift in men's fashion where tradition and innovation merge.
Blucher Dress Shoes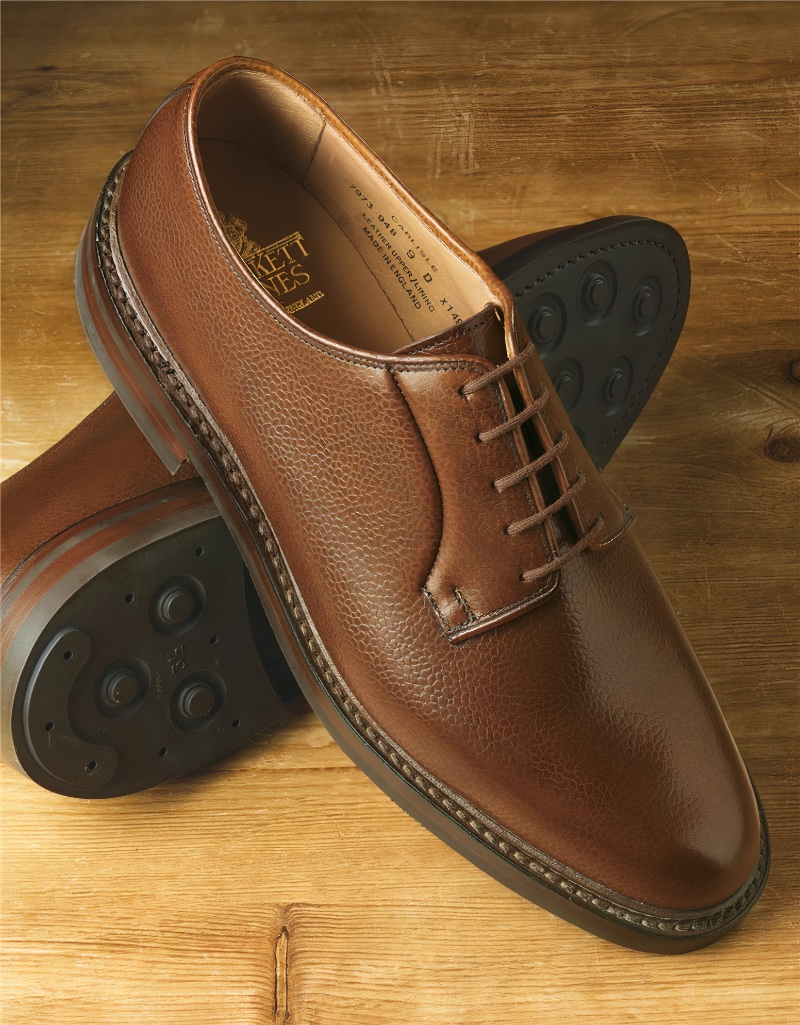 Blucher Dress Shoes, while resembling Derby shoes, possess a defining difference. Unlike Derby shoes, where the quarters are sewn on top of the vamp, Bluchers are marked by their specific open-lacing system, where the leather flaps bearing the shoe's eyelets are sewn on top of the vamp itself.
This design imparts to Bluchers a blend of comfort, elegant appearance, and a unique stylistic edge that stands out from the Derby. Whether worn for semi-formal events or casual outings, these shoes represent a sound choice for modern gentlemen in the diverse landscape of men's fashion.
Dress Boots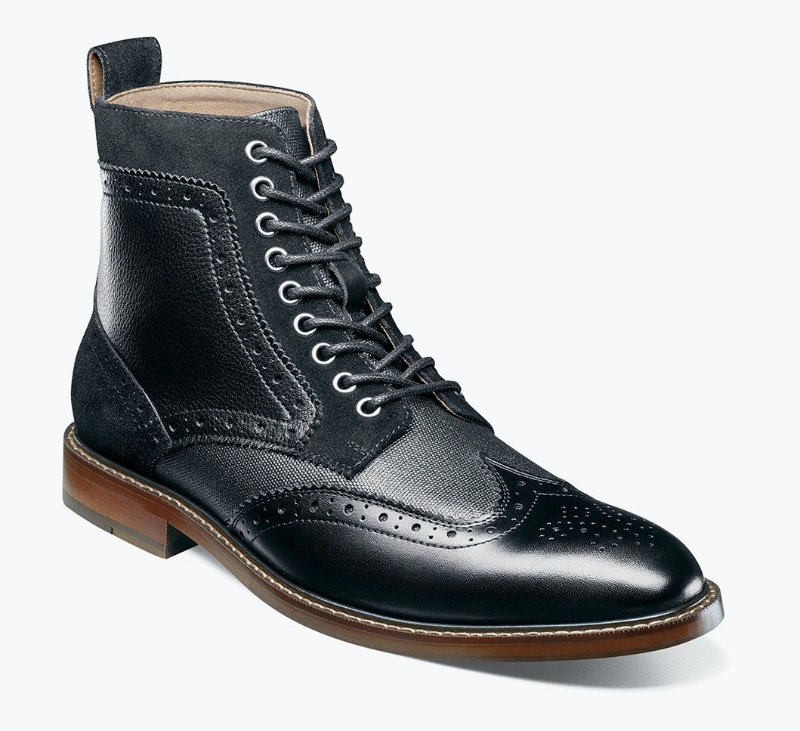 Dress Boots, a remarkable fusion within men's dress shoes, blend the elegance of formal footwear with the sturdiness and rugged appeal of boots. Typically rising above the ankle, these boots are crafted from high-quality leather or suede, imbuing them with a sophisticated appearance.
The design incorporates elements like polished finishes, refined lacing, and a sleek profile, setting them apart from more casual boots. Attention to construction techniques and the specific sole design, often a slim leather or durable rubber, adds depth to their appeal, ensuring comfort and longevity.
Opera Pump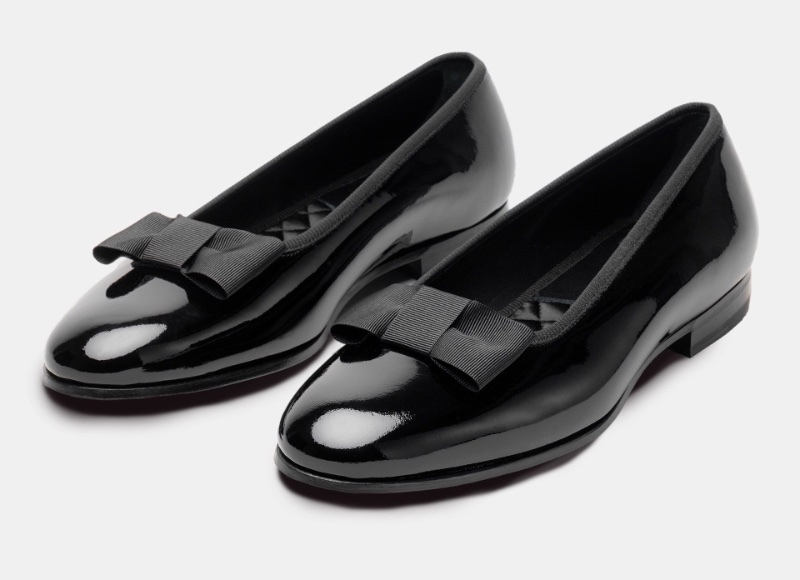 The Opera Pump, a quintessential symbol of traditional elegance in men's dress shoe styles, is a slip-on shoe characterized by its low-cut design and distinctive bow or ornamentation on the vamp. Often crafted from patent leather or fine calfskin, this shoe adheres to high-level formality and is a specialized choice for ceremonial occasions and grand events, such as opera galas or black-tie affairs.
The Opera Pump's unique status within the dress shoe spectrum adds grace and luxury to the wearer's ensemble without sacrificing comfort. Its singular design, rich history, and connection to European high society continue to make it a sought-after option for those appreciating the finer aspects of style.
One Piece Oxford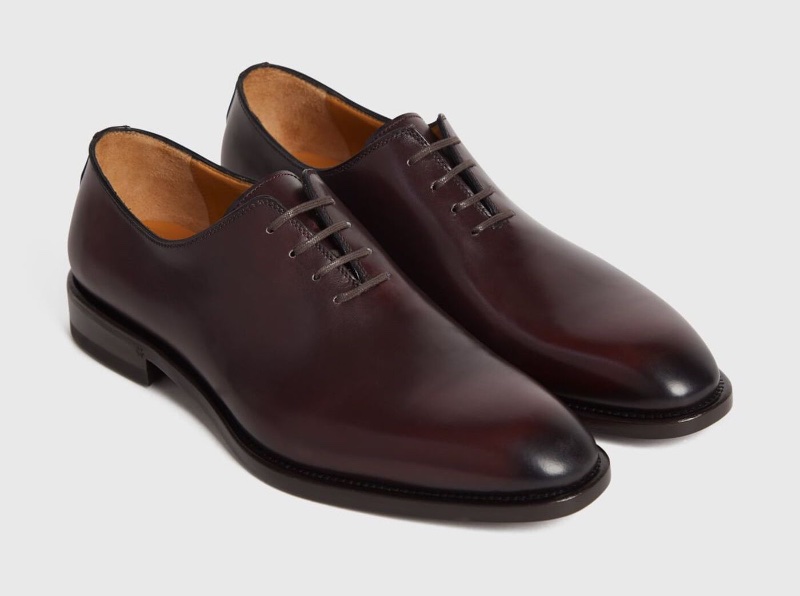 One Piece Oxfords shine with simplicity and refined elegance. The seamless design, crafted from a single piece of leather, sets this shoe apart within men's dress styles. Perfect for formal events, One Piece Oxfords allow for a subtle yet striking statement, reflecting understated sophistication.
Their uniqueness lies in the precision of craftsmanship and the attention to detail that enhances their visual appeal. One Piece Oxfords elevate the world of men's dress shoes, offering a unique choice for those looking to combine tradition with modern elegance.
Wingtips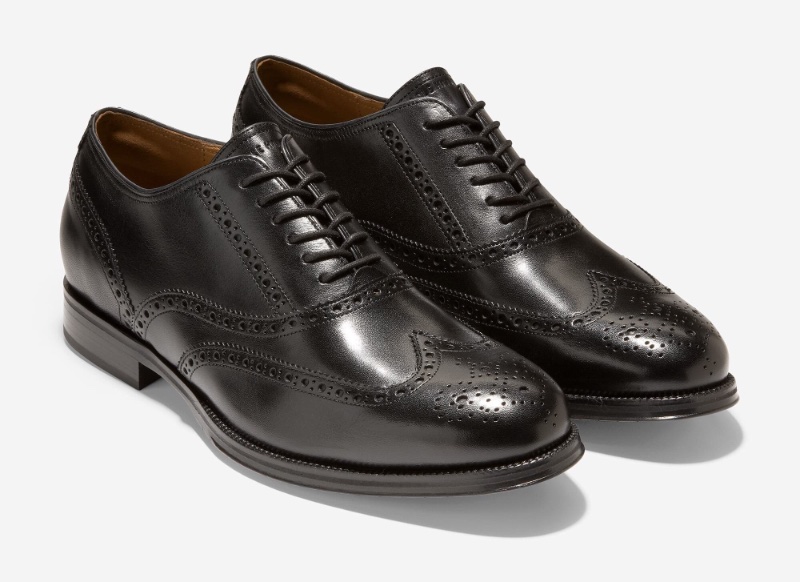 Wingtips, a distinguished choice in men's dress shoes, are named for their extended toe cap design resembling a bird's spread wings. This unique design, often adorned with decorative perforations known as broguing, gives the shoes their stylish appearance and adds texture and visual interest.
Crafted from quality materials like leather or suede, Wingtips blend tradition and modernity, making them suitable for various occasions, from business meetings to casual outings. The design intricacies and historical connections, dating back to the early 20th century, resonate with those seeking to explore fashion with classic elegance.
Whether paired with a tailored suit or dressed down with jeans, Wingtips provide a tasteful and adaptable option that aligns with both contemporary trends and time-honored styles.
Types of Shoes: Details & Construction
Understanding men's dress shoe styles goes beyond the broad categories. A deeper appreciation of the details, craftsmanship, and construction techniques enriches one's insight into types of dress shoes.
Toe Types
Stepping into the nuanced world of toe types in men's footwear, the subtle details help define a shoe's character and style. From the sleek simplicity of a plain toe to the decorative flair of tassels and kilties, these design elements offer a window into personal expression and taste, shaping the aesthetics of each shoe to suit various occasions and preferences.
Plain Toe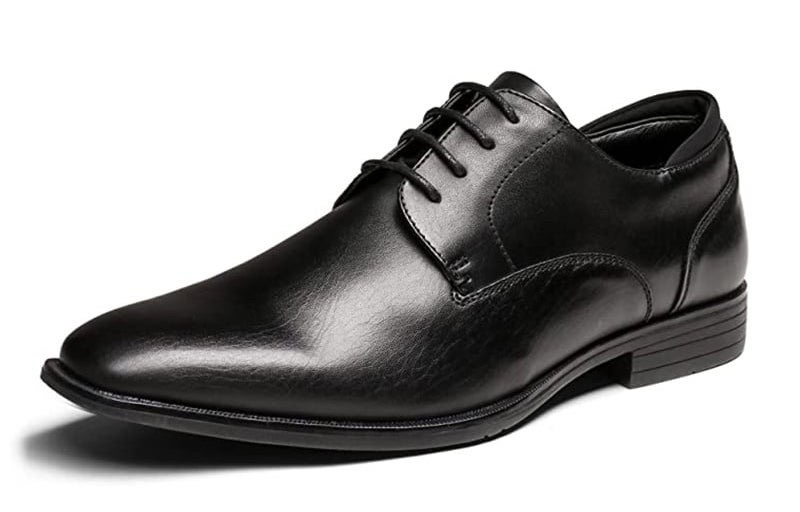 The hallmark of simple elegance, the plain toe is devoid of any seams or adornment across the toe, providing a sleek and uncluttered appearance. This understated design suits the most formal occasions, fitting seamlessly with traditional and modern aesthetics.
Cap Toe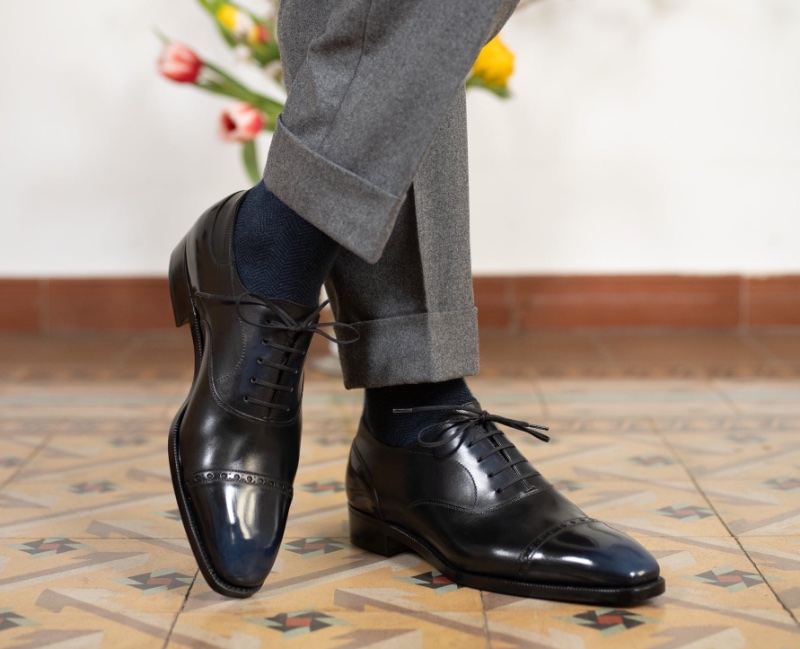 Defined by an extra piece of leather stitched over the front of the shoe, the cap toe adds a touch of versatility and style. The added detail can be subtle or more pronounced, making it adaptable across various events, from business meetings to casual gatherings.
Wingtip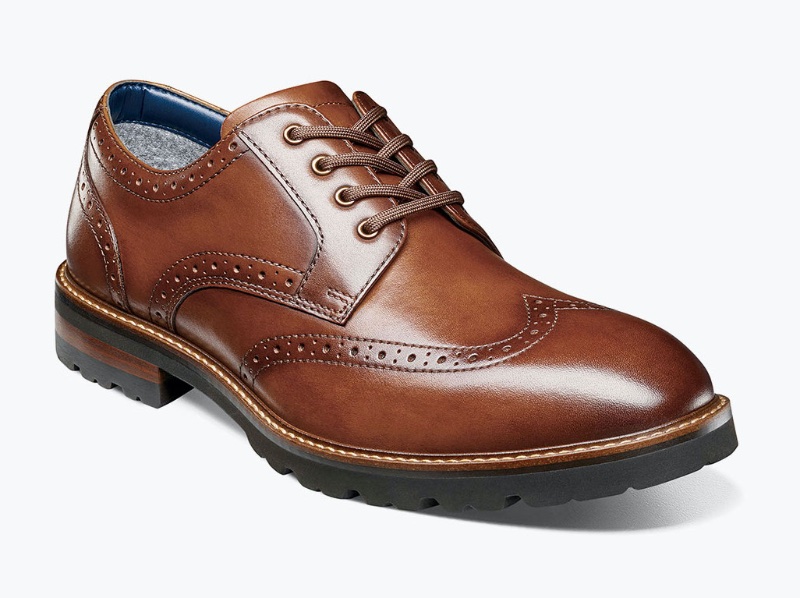 Recognized for its extended toe cap design resembling bird's wings, wingtips provide a stylish and less formal choice. The decorative perforations, or broguing, add personality and flair, resonating with those seeking a classic yet lively option.
Tassels & Kilties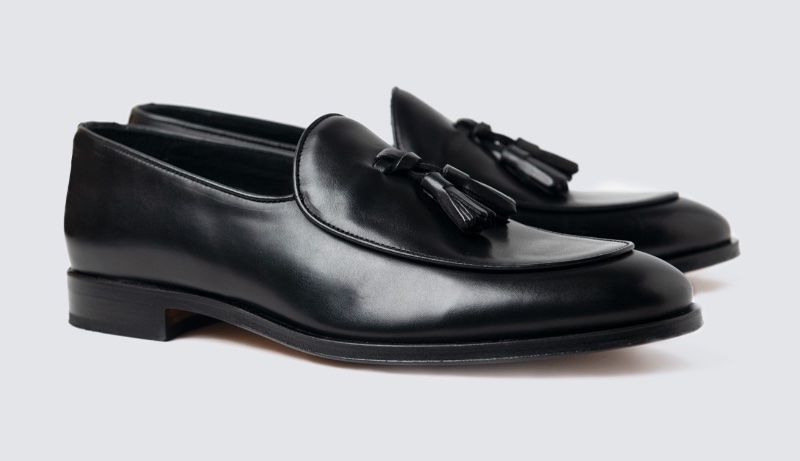 These unique additions refer to decorative elements attached to the shoe, such as tassels on the laces or a fringed leather tongue known as a kiltie. While they can elevate a shoe's design by imparting an individual touch, they may also overwhelm if not balanced with the overall style.
Construction Techniques
Delving into the artistry and engineering behind men's footwear, intricate construction techniques contribute to aesthetics and functionality. From the Goodyear Welt's robust durability to the Blake Stitch's sleek profile, each method tells a story of craftsmanship, tradition, and innovation, imparting unique characteristics.
Goodyear Welt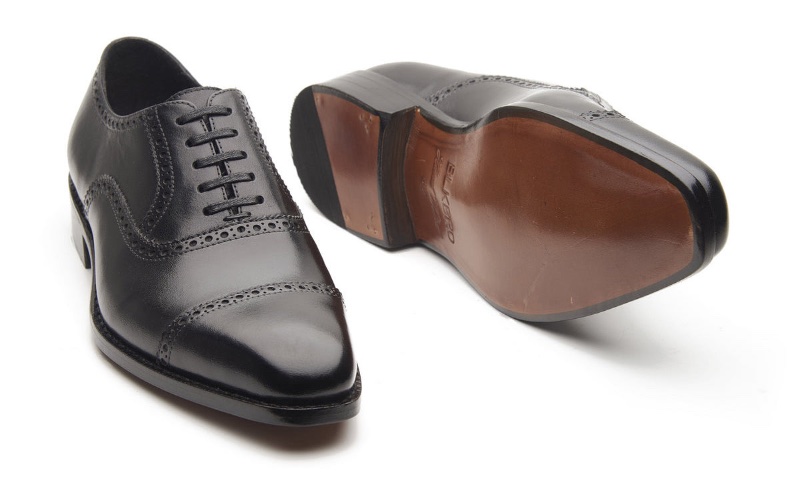 A symbol of traditional English craftsmanship, the Goodyear Welt method involves stitching a leather strip, or welt, to both the upper and the sole, ensuring a durable and long-lasting connection that allows for repeated resoling, thus extending the shoe's life.
Blake Stitch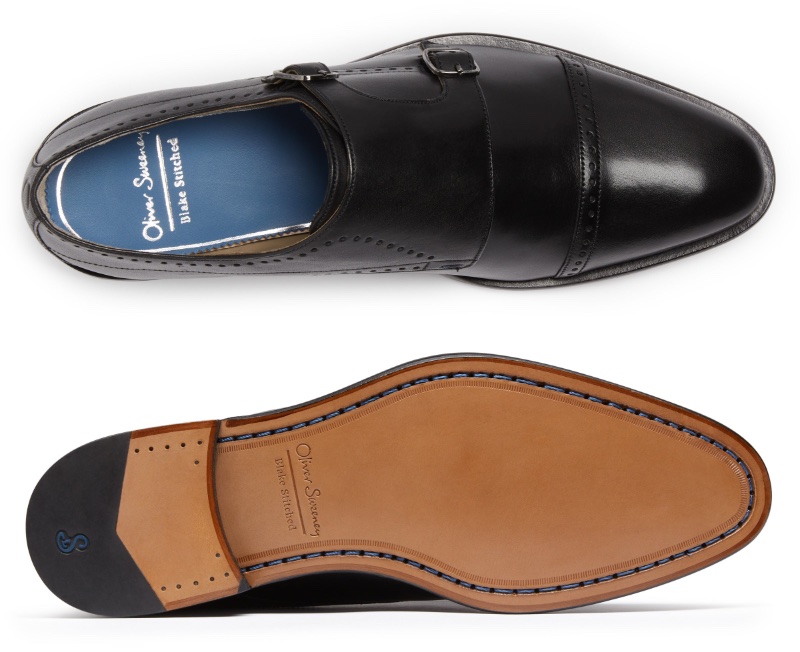 The Blake Stitch technique sews the outer sole directly to the upper, exuding Italian flair, creating a sleeker profile. This method results in a lighter and more flexible shoe, adding a refined continental touch suitable for both dressy and casual wear.
Norwegian Welt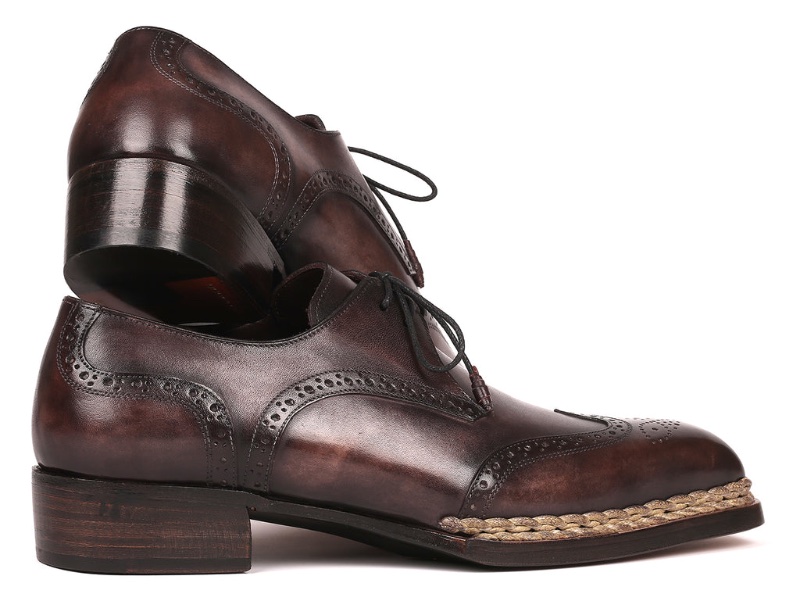 A construction technique esteemed for being waterproof and exceptionally sturdy, the Norwegian Welt stitches both the upper and inner soles together before attaching a second, visible welt to the outer sole. Often found in boots and outdoor footwear, this method is a rugged and dependable option offering performance and aesthetic appeal.
Sole Types
The foundation of footwear, leather and rubber soles are essential in aesthetic appeal and functional effectiveness.
Single & Double Leather Soles
Single Leather Soles are elegant and sleek, providing a refined appearance suitable for formal wear but may be less practical in wet or slippery conditions. On the other hand, Double Leather Soles offer more protection and durability. The double leather sole is thicker and more suitable for outdoor wear or rougher terrains without compromising style.
Rubber Soles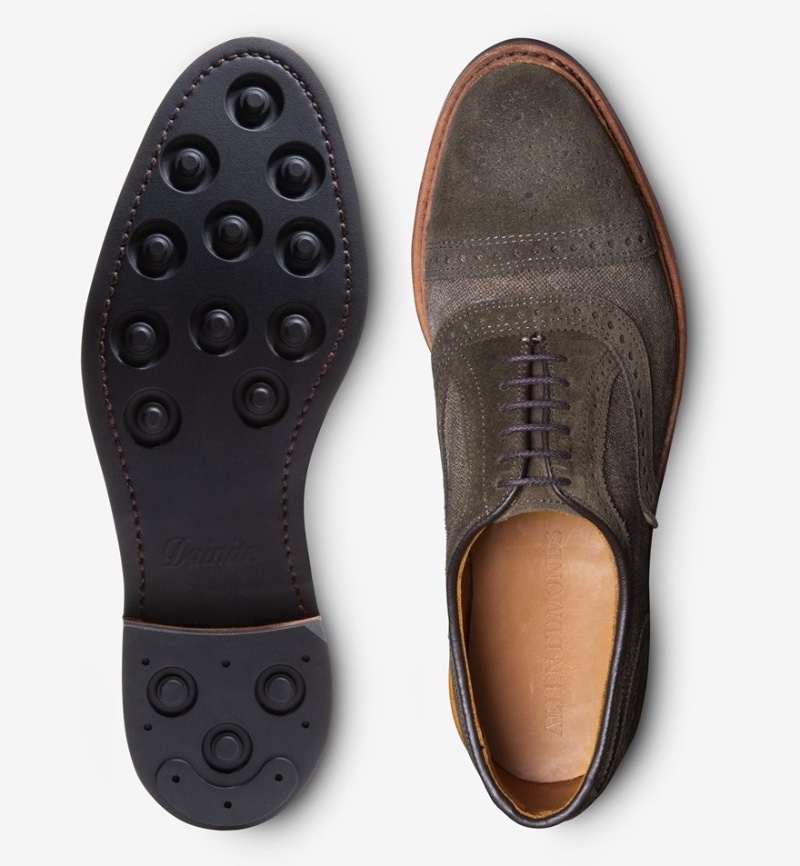 Emphasizing practicality, the Rubber Sole provides increased grip and durability, making it a versatile choice for various environments. Whether in casual or dress shoes, its resistance to wear and ability to absorb shock make it adaptable.
Men's Dress Shoe Styles Overall
Exploring the different types of dress shoes for men entails a journey through elegance, versatility, tradition, and innovation. From the refined grace of the Oxford to the modern charm of the Chelsea boot, the types of men's dress shoes provide an enriching exploration of fashion and personal expression.
Understanding the dress shoe types ensures a deeper appreciation for craftsmanship, aesthetics, and the timeless nature of footwear. As tastes and trends evolve, these insights into types of dress shoes stand as valuable guideposts reflective of personal style and need.