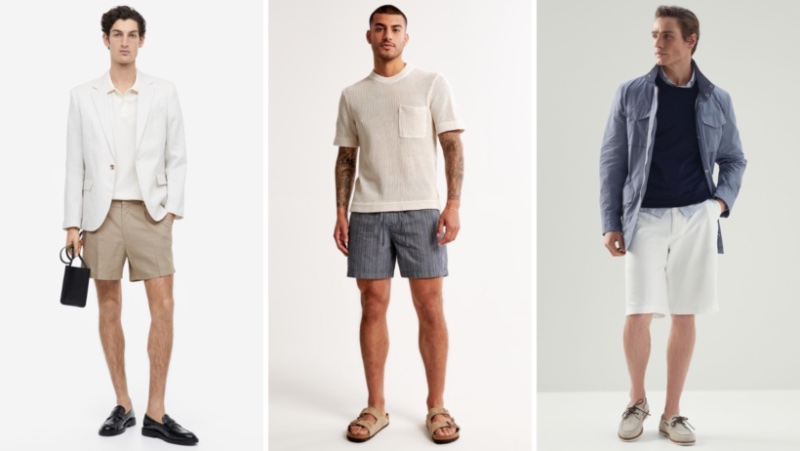 The arrival of spring and summer heralds the season of men's shorts. Light, breezy, and comfortable, a well-fitting pair of shorts symbolizes warm-weather leisure in these rejuvenating seasons. Embark with us on an adventurous exploration through the eclectic world of men's shorts: from the practical utility of cargo shorts to the timeless elegance of chino shorts, the dynamic versatility of athletic shorts, the rugged personality of denim shorts, and beyond.
We're here to unravel the intricate nuances of cut, style, fabric, and fit, leading you toward the perfect pair of shorts that suits your body and aesthetic. Whether hitting the gym, lounging at a beach, or attending a casual event, the right pair of shorts can elevate your style quotient while keeping you cool and comfortable. So, let's dive in and explore the vast world of men's shorts.
The Art of Men's Shorts Outfits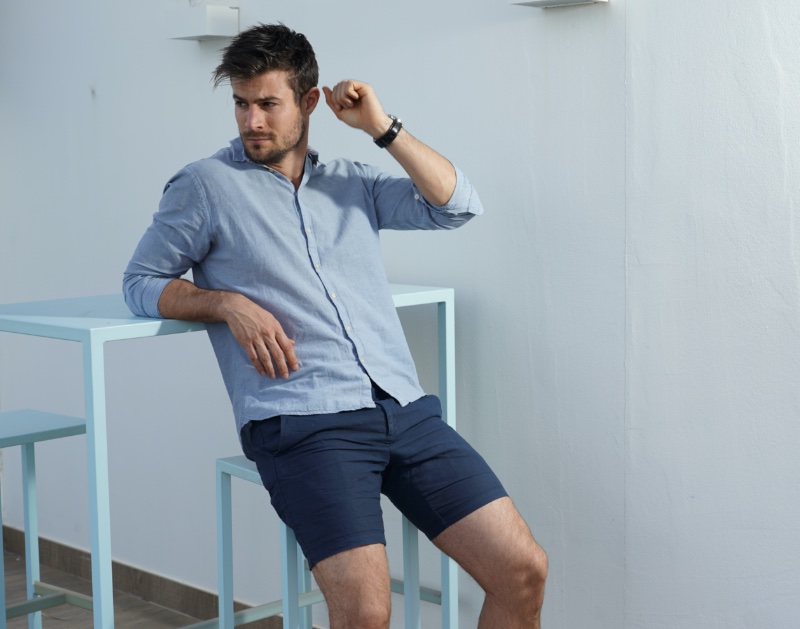 The key to pulling off shorts with style is understanding when and how to wear them. Contrary to popular belief, shorts are versatile and can be dressed up or down to suit various occasions. Here are a few guidelines to help you navigate the terrain:
Decoding the Dress Code
While shorts may not be the first choice for formal events or business meetings, they're perfectly acceptable for casual occasions or when the weather demands. Think beach vacations, picnics, weekend outings, or hot summer days in the city.
The rule of thumb is to wear shorts when the temperature, location, or environment calls for it and when you're not involved in formal or business-related activities.
Fit Matters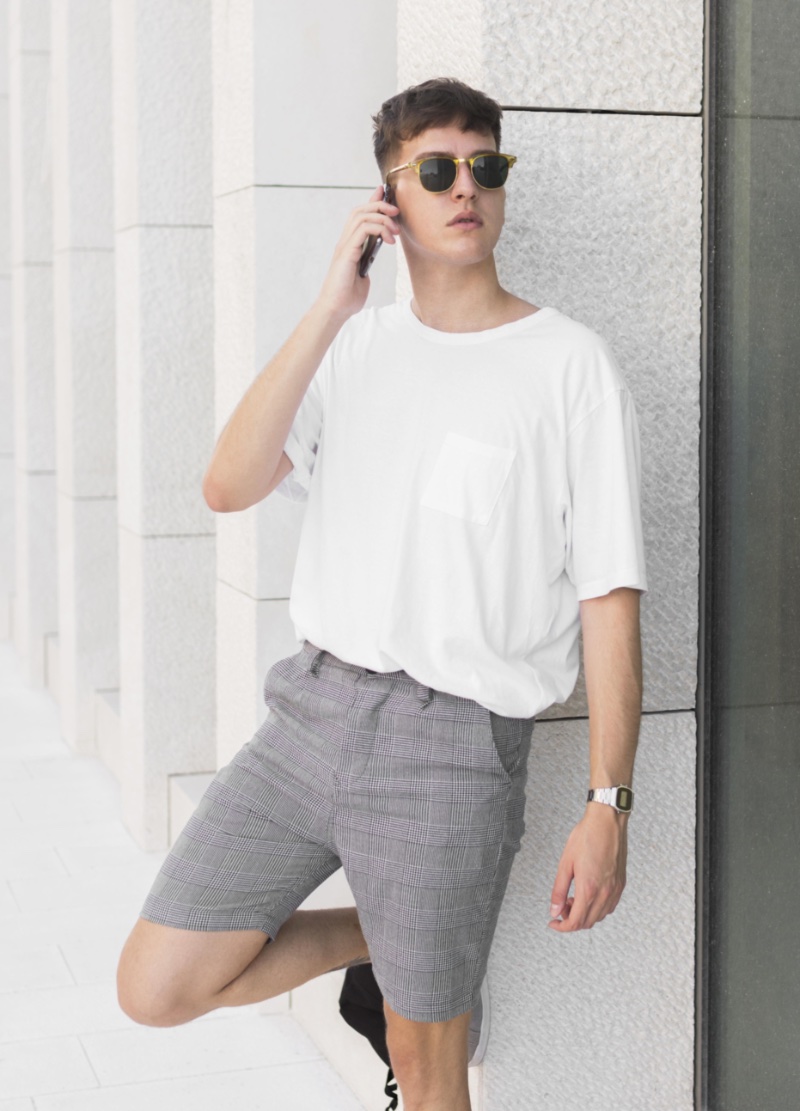 A fashionable pair of shorts should complement your style and provide comfort. Length is an important factor, and while there's no universal rule, shorts that offer a timeless appearance extend to slightly above the knee. For those with a daring fashion sense, slightly shorter shorts, hitting one to two inches above the knee, can also be a stylish choice.
In terms of fit, gone are the days when baggy shorts were a fashion faux pas. As numerous luxury fashion brands show us, shorts with a relaxed, loose, or oversized fit can be just as fashionable and aesthetically pleasing.
These styles can add an element of calm and coolness to your ensemble. So, whether you prefer the form-fitting allure of tailored shorts or the casual chic of a more relaxed fit, go with what suits your style, ensuring movement and comfort are never compromised.
Material Considerations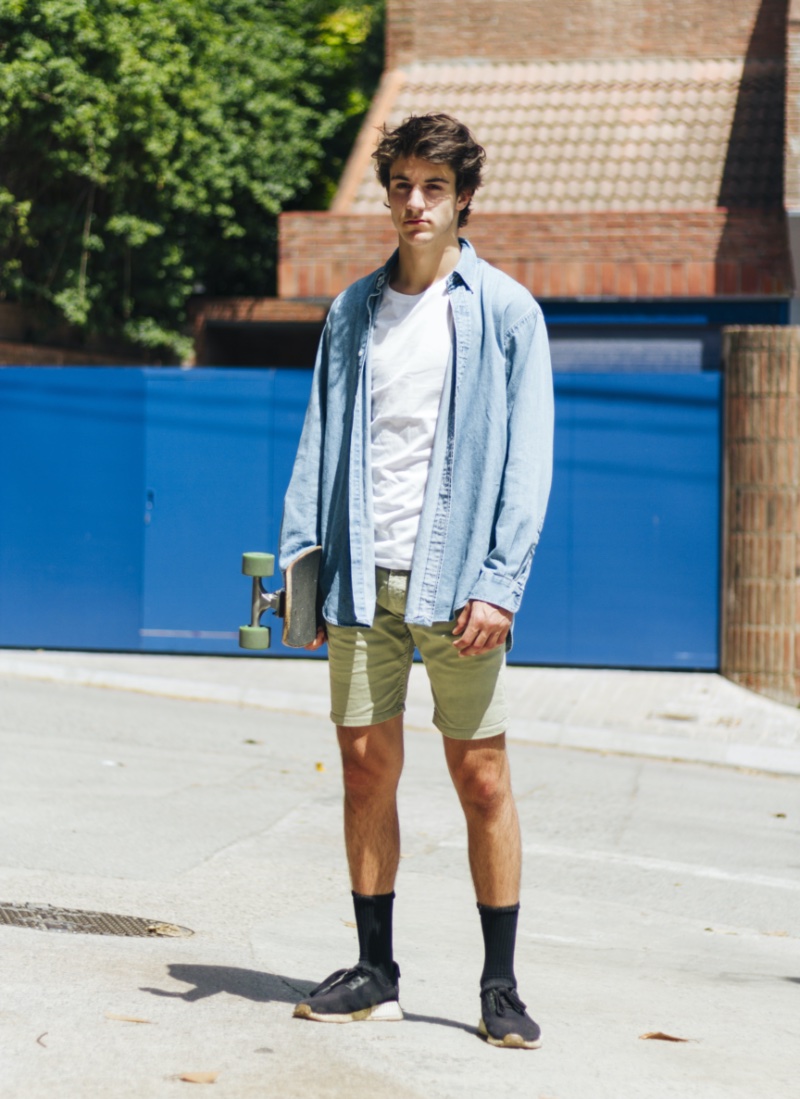 Let's delve into the materials commonly employed in men's shorts, examining their impact on aesthetics and comfort and how they adapt to different circumstances, ensuring they perfectly meet your needs.
Cotton
Cotton is a classic short choice, especially for smart casual styles like chinos or tailored shorts. Known for their breathability and effortless nature, cotton shorts can seamlessly blend with various outfits, from Oxford shirts to polo tees.
Linen
Linen shorts are a summer staple. With their lightweight fibers and open weave, linen shorts offer superior breathability, making them ideal for hot, humid conditions. While white linen shorts can add a touch of sophistication to your ensemble, colored linen shorts offer a more casual vibe.
Denim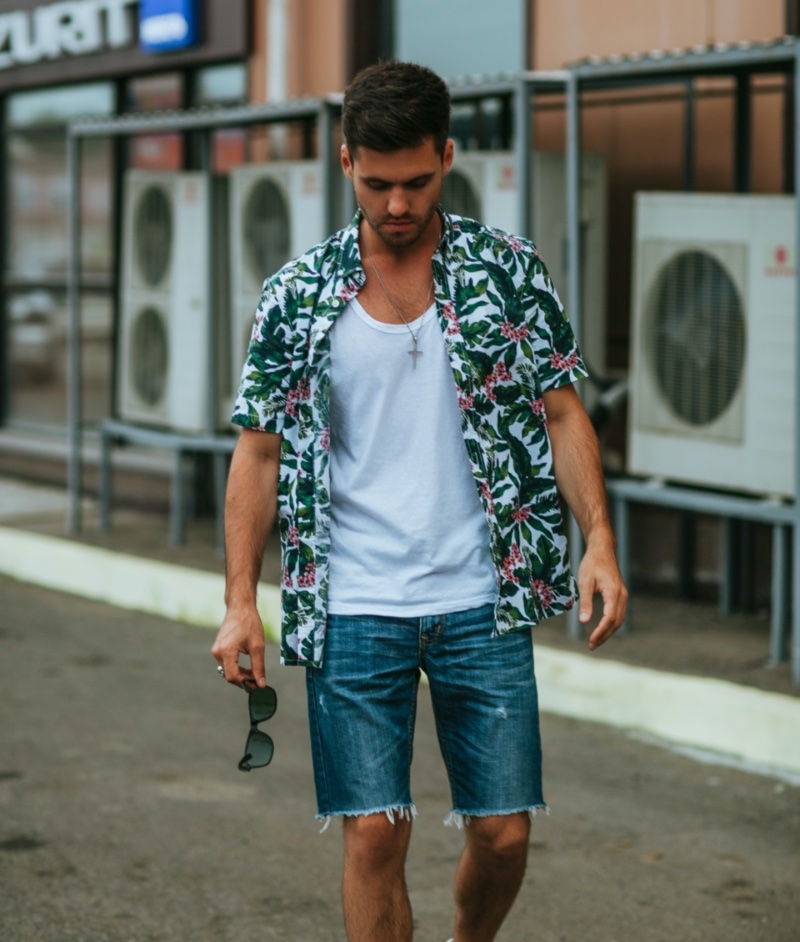 Denim or jean shorts are back on the fashion radar, offering a rugged yet stylish alternative to traditional shorts. Whether you prefer a clean-cut pair or DIY cut-offs, denim shorts can add a touch of individuality to your summer wardrobe.
Performance Fabrics
Performance fabrics are excellent for more functional styles like cargo or gym shorts. Materials like coated nylon are water-resistant, making them ideal for outdoor activities or workouts.
Unraveling the Styles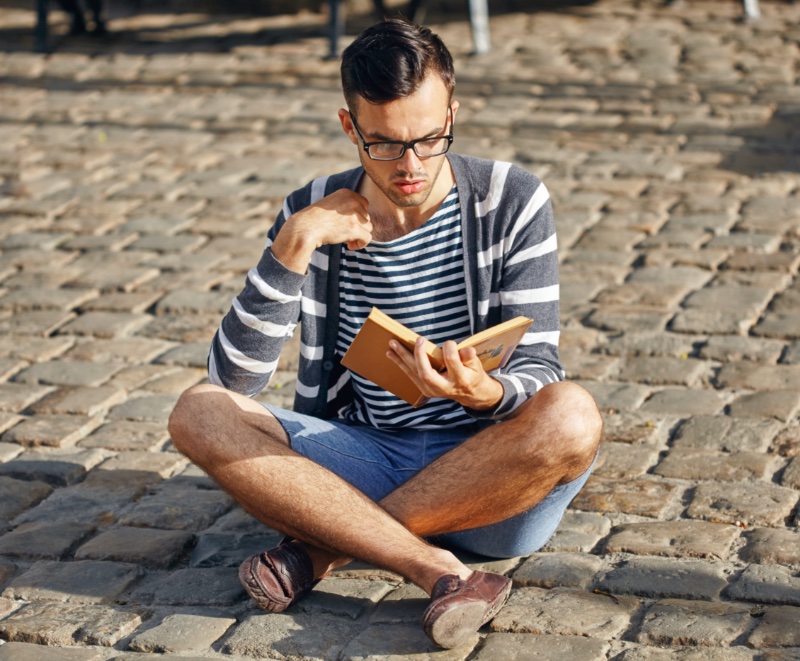 Let's embark on a stylistic journey through the diverse realm of men's shorts. Each style, unique features, and specific fabric serves a different purpose and matches various occasions, making your wardrobe versatile and ready for the sunny season.
Chino Shorts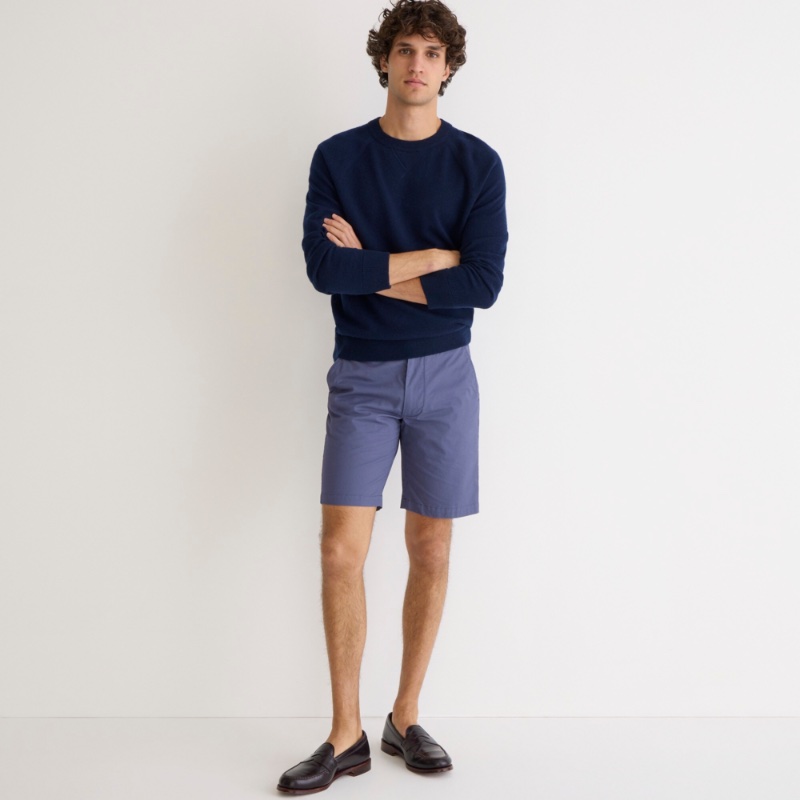 Chino shorts embody timeless style, sharing the same fabric as their longer counterparts. These shorts are a perfect choice for both casual and weekend activities. Sporting a subtle design, they feature a straightforward waistband with belt loops and a sleek, flat-fronted structure that extends neatly toward the knees. In addition, slanted side and rear pockets add a practical element to their relaxed and effortless appeal.
Bermuda Shorts
Bermuda shorts, named after their origin, lend themselves to smart and casual settings. With a typical length that hovers just above the knee, these shorts exude an elegance that is difficult to replicate. Ideal for summer parties, casual Fridays at the office, or a classic golf look, Bermuda shorts present a refined silhouette that effortlessly combines comfort and class.
Wear them with a crisp button-down shirt and loafers for a more refined ensemble, or pair them with a polo shirt and sandals for a relaxed yet stylish appearance. Their versatility makes them a must-have addition to your summer wardrobe.
Tailored Shorts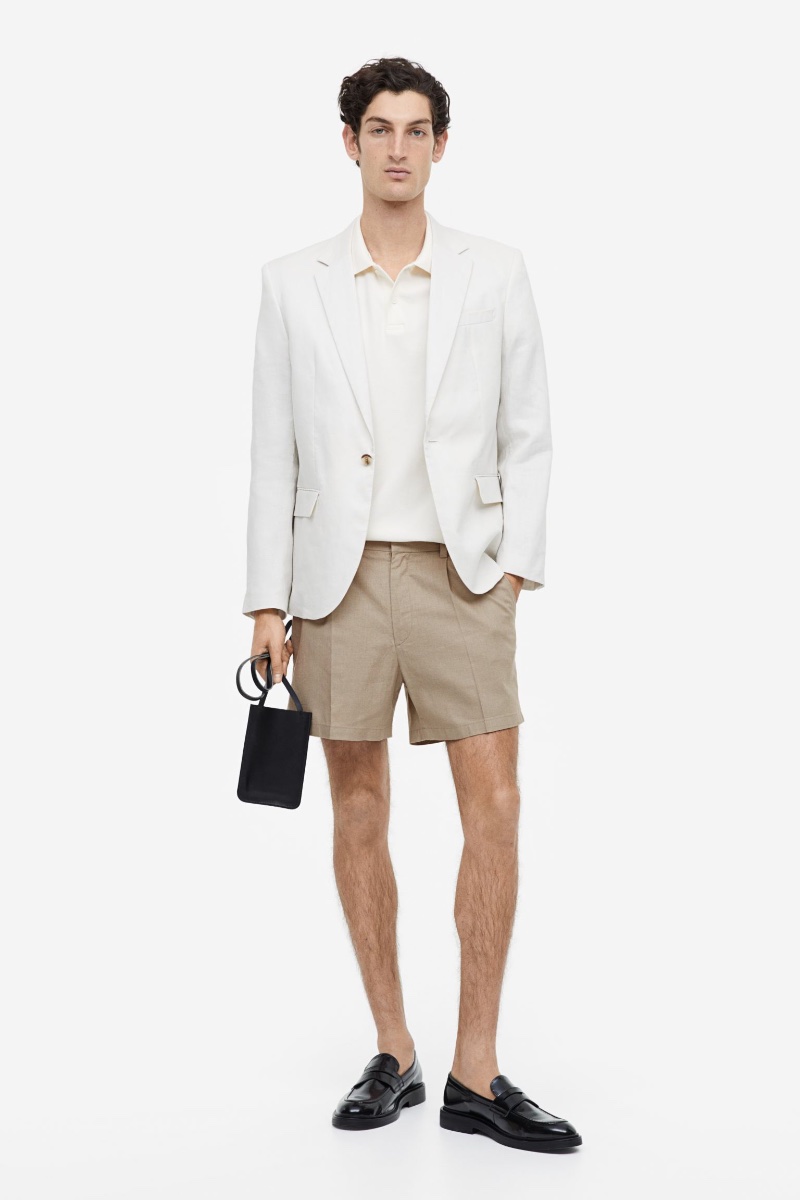 The introduction of tailored shorts has revolutionized the fashion world, presenting a seamless blend of elegance and ease that effortlessly transitions between casual and formal environments. Leading fashion labels are pushing the envelope by constructing these shorts from premium materials such as cotton twill and linen blends, elevating their appearance and enhancing their adaptability.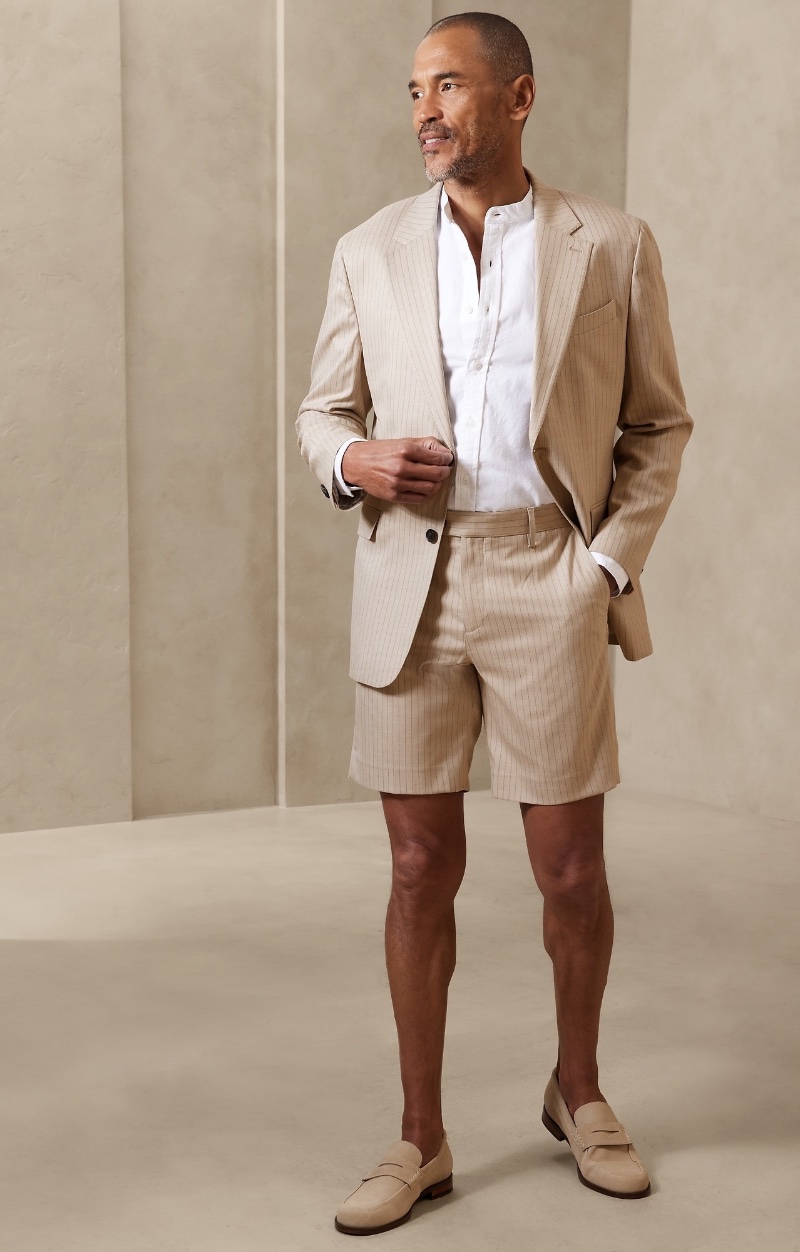 What truly sets tailored shorts apart is their adaptability. They can be dressed up for formal occasions or casual outings, making them a key player in a stylish man's wardrobe. Many fashion-forward brands offer tailored shorts with matching suit jackets for an elevated look. This short suit ensemble can be paired with a crisp shirt and tie, offering a refreshing take on formal attire especially suited to warmer climates.
However, the natural charm of tailored shorts lies in their everyday appeal. They can be easily paired with simple pieces such as knitted polo shirts or crew necks, creating a smart-casual look perfect for a brunch date, a weekend gathering, or a relaxed office setting. They maintain an air of elegance without feeling overly formal, striking an ideal balance between comfort and style.
Swim Shorts / Board Shorts
Whether catching waves or lounging by the pool, swim and board shorts offer a fashionable and functional solution for your waterside needs. Far from being solely swimwear, these shorts can easily transition from the beach to a casual daytime look with minimal effort.
Board shorts, longer and typically more vibrant in design, are excellent for a surf-inspired look. Meanwhile, swim shorts often boast a shorter length and can come in many colors and patterns. Pair them with a loose linen shirt and espadrilles for a quick transformation from beach bum to summer chic.
Cargo Shorts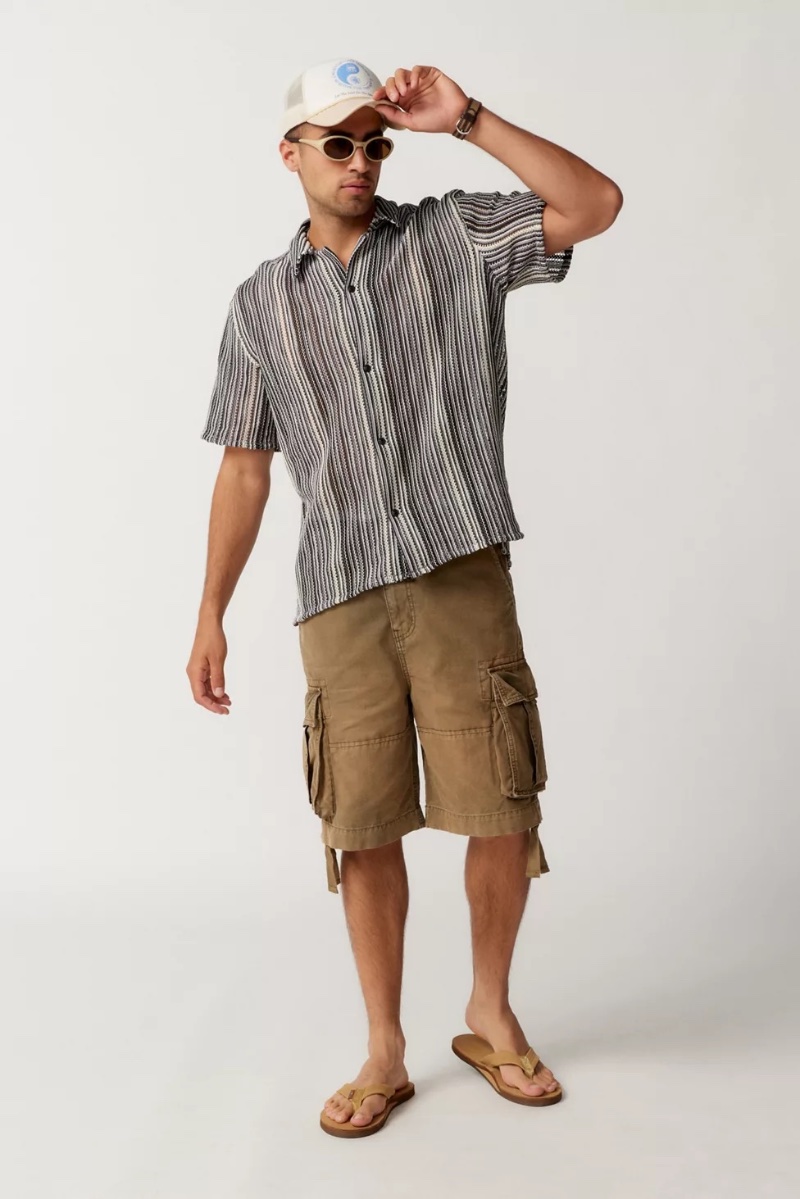 Don't be daunted by the strong appeal of cargo shorts. With a nod to the 90s Y2K trend reemergence, these shorts return to men's fashion, fitting right into the contemporary shift towards more relaxed and comfortable silhouettes. A well-selected pair of slim-cut cargo shorts can be a functional yet fashionable piece in your wardrobe.
Defined by practical side pockets, cargo shorts are notably versatile—equally fit for outdoor escapades, leisurely day trips, or globe-trotting adventures. Embrace this revived trend and make a stylish nod to nostalgia with a pair of cargo shorts.
Drawstring Shorts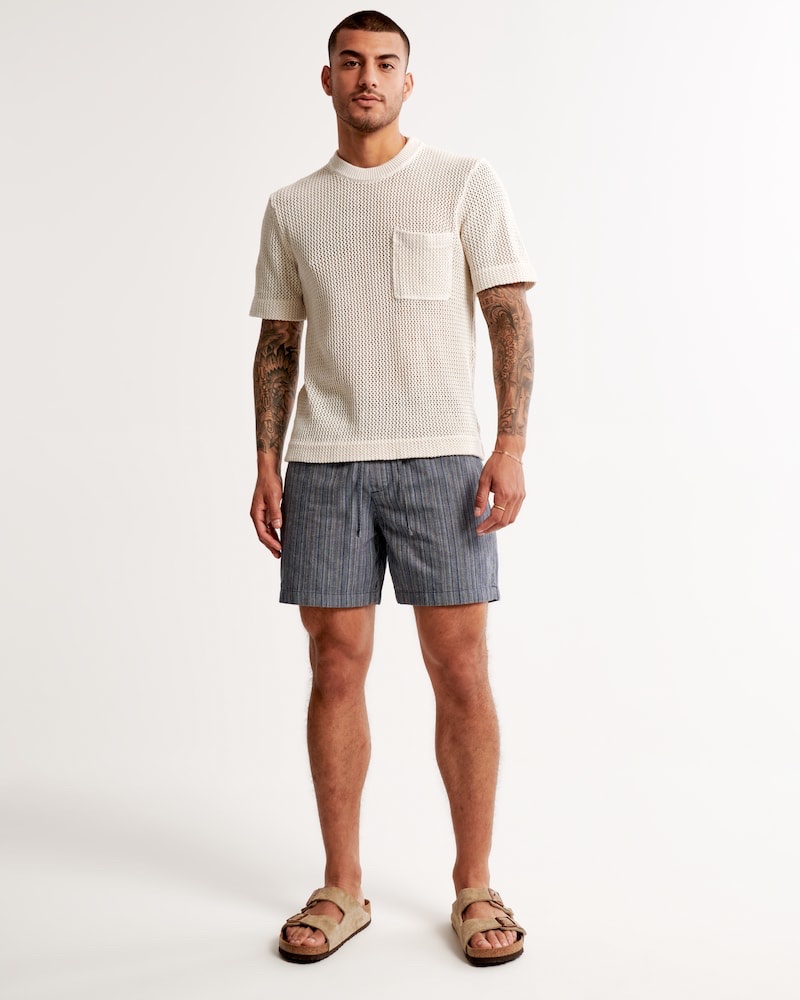 Drawstring shorts are the epitome of casual comfort during summer months and beyond. Their relaxed fit and adjustable waistband make them flexible for various activities, from lounging at home to outdoor adventures. They come in different materials—from lightweight linen to breathable cotton, even sportier nylon, and performance fabrics for athletic pursuits.
The relaxed design pairs seamlessly with many footwear options, from the simplicity of slide sandals or flip flops for an effortless beach-ready look to casual sneakers for a more street-ready vibe. The versatility of drawstring shorts also extends to style: they're available in various colors, prints, and lengths, allowing for personal customization. They are a summer wardrobe staple that combines comfort, functionality, and style uniquely.
Athletic Shorts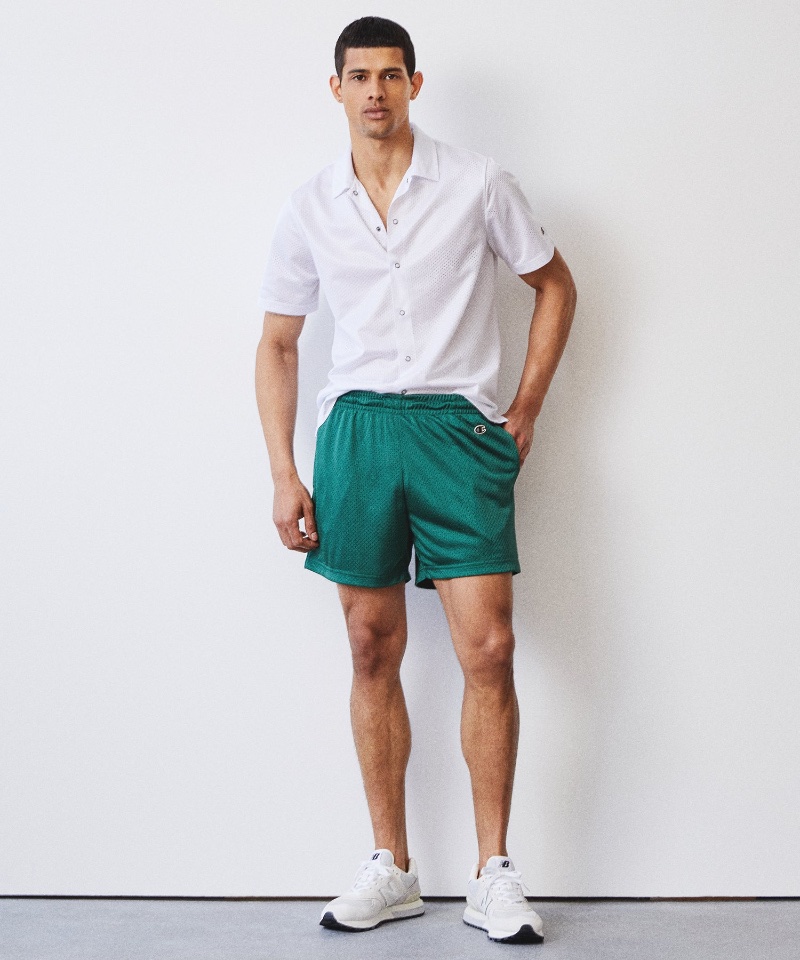 A cornerstone of the thriving athleisure trend for men, athletic shorts bring the perfect blend of comfort, functionality, and style. Created with the needs of fitness enthusiasts, these shorts feature stretchy fabric that adapts to your every move, paired with quick-dry capabilities crucial for gym sessions or running routes.
However, their appeal extends far beyond the realm of physical activities. With the rising popularity of athleisure, athletic shorts have carved out a place in everyday wardrobes, merging the line between workout gear and casual wear. Whether you're chasing fitness goals or simply seeking a relaxed, sporty vibe, a thoughtfully chosen pair of athletic shorts can be a versatile and stylish addition to your wardrobe.
Denim Shorts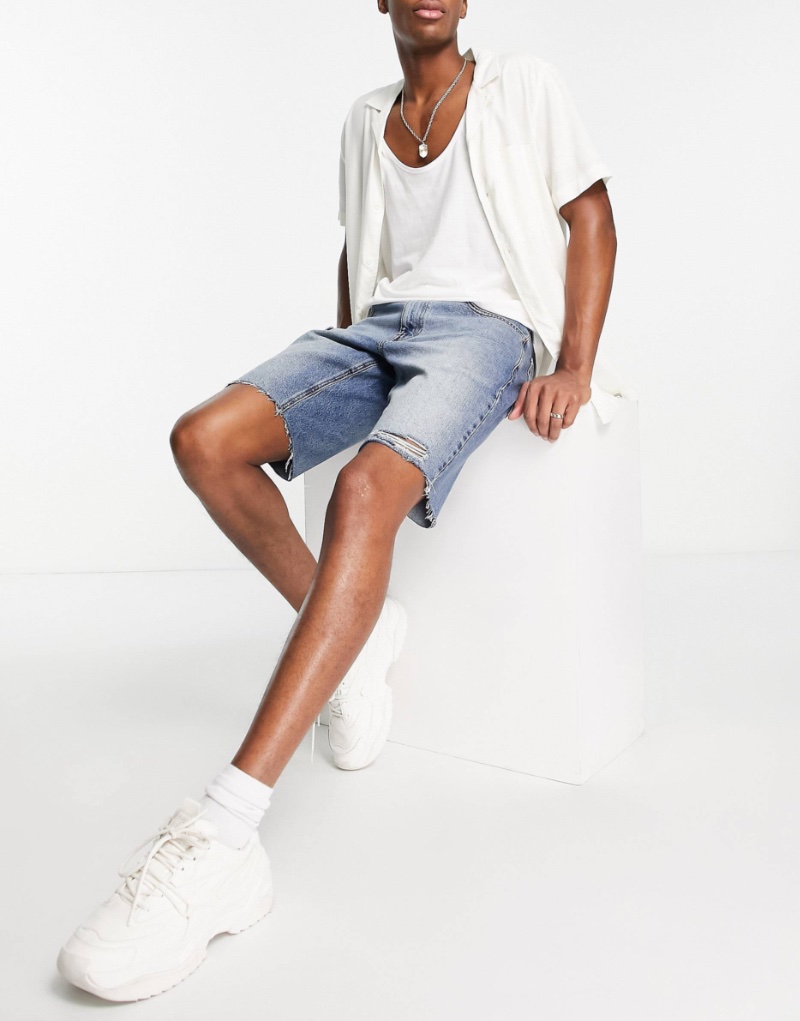 Denim shorts are back on the fashion scene, offering a robust, stylish twist to men's shorts. These versatile pieces add a rugged charm to your summer look. When styled with intention, they can elevate a simple outfit to something distinctive, adding a touch of personality to your warm-weather wardrobe.
Whether you're into the sleek look of factory-made pairs or the rebellious edge of DIY cut-offs, denim shorts are a surefire way to make a style statement.
Prints & Patterns: The Bold & Beautiful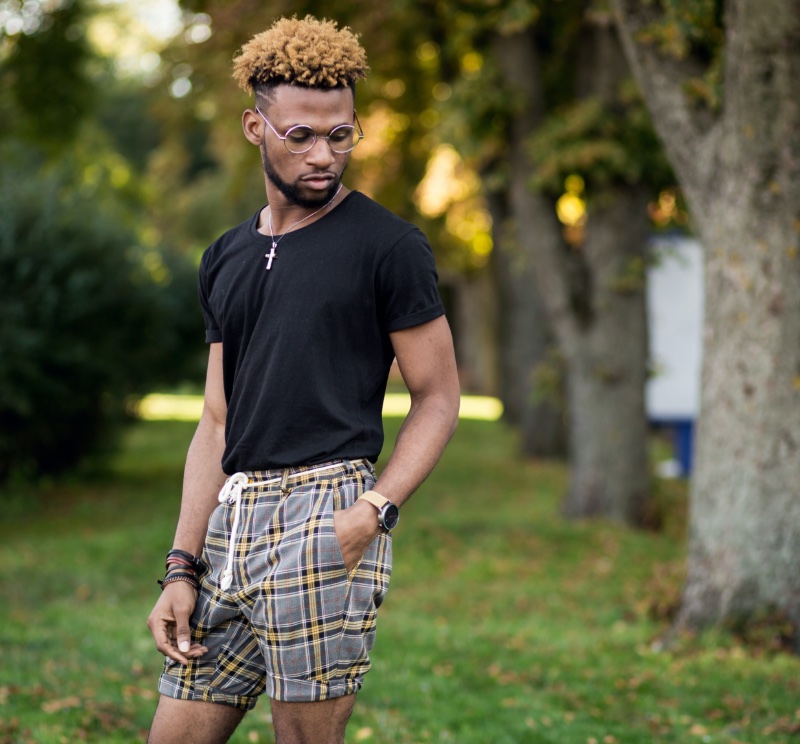 While solid-color shorts are a staple in any man's wardrobe, embracing prints and patterns can offer a playful twist to your summer outfits. Stripes, especially in nautical hues, project a classic seaside feel. For those looking to make a bolder statement, tropical, floral, and geometric patterns can provide a fun focal point for your ensemble.
Pair your patterned shorts with a simple, solid color top to avoid clashing. This allows your shorts to be the show's star without overwhelming the senses.
On-Trend Outfit Inspiration
Now that we've covered the basics of wearing shorts let's explore some on-trend outfit ideas to help you rock your shorts in style:
Sportswear-Inspired Shorts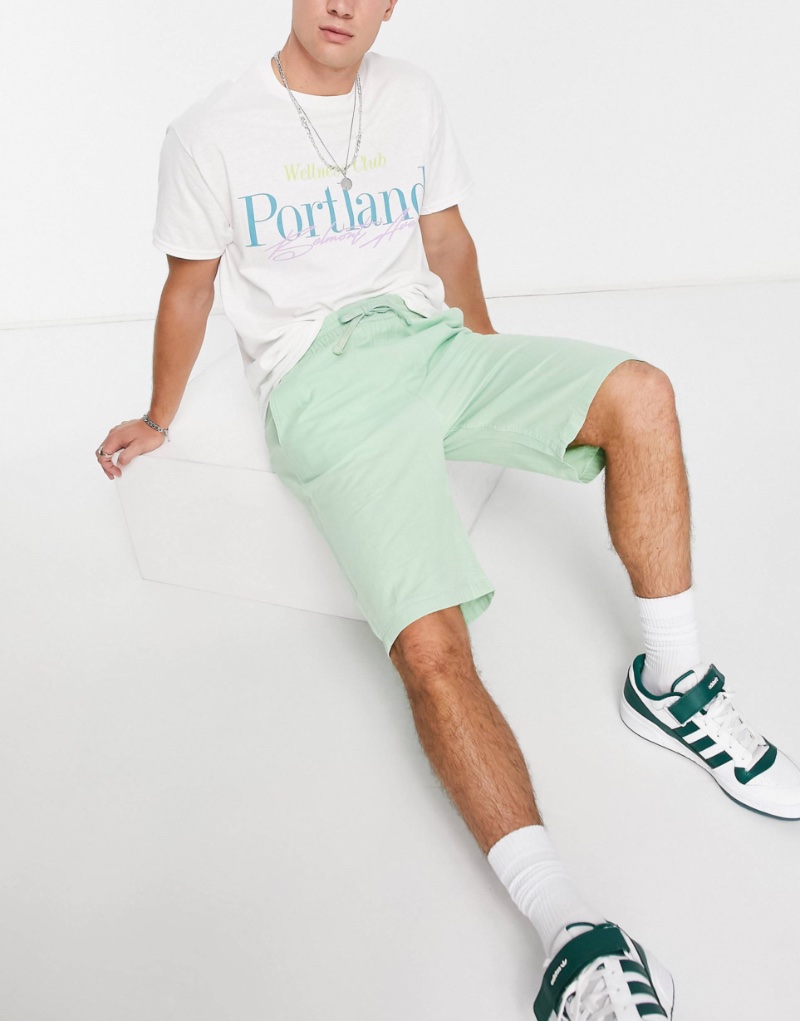 A pair of sportswear-inspired drawstring shorts can be the summer garment you didn't know you needed. Pair them with a printed T-shirt and retro sneakers for a comfortable casual look.
Monochrome Outfits with Shorts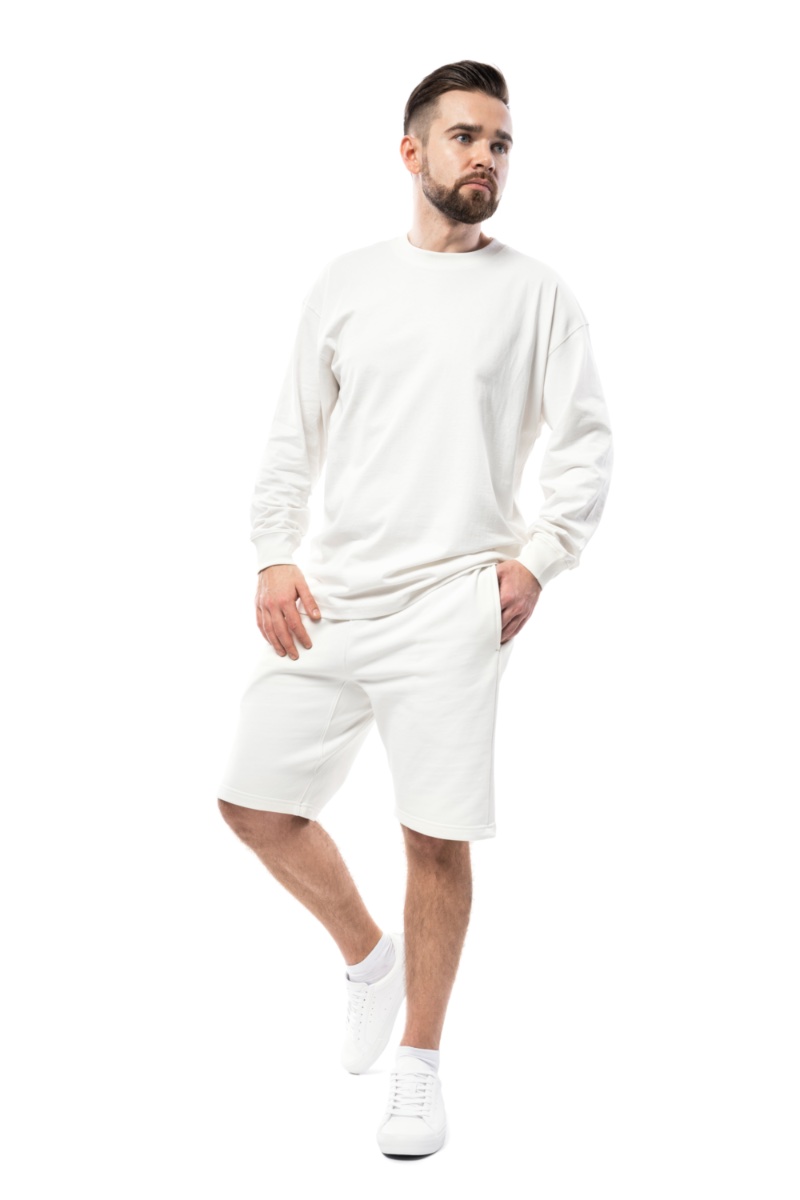 A monochrome outfit can make your shorts look more stylish. Choose one color or color family and wear it from head to toe. This simple trick can make your outfit look more thoughtful and intentional.
Shorts with a Short-Sleeve Button-Down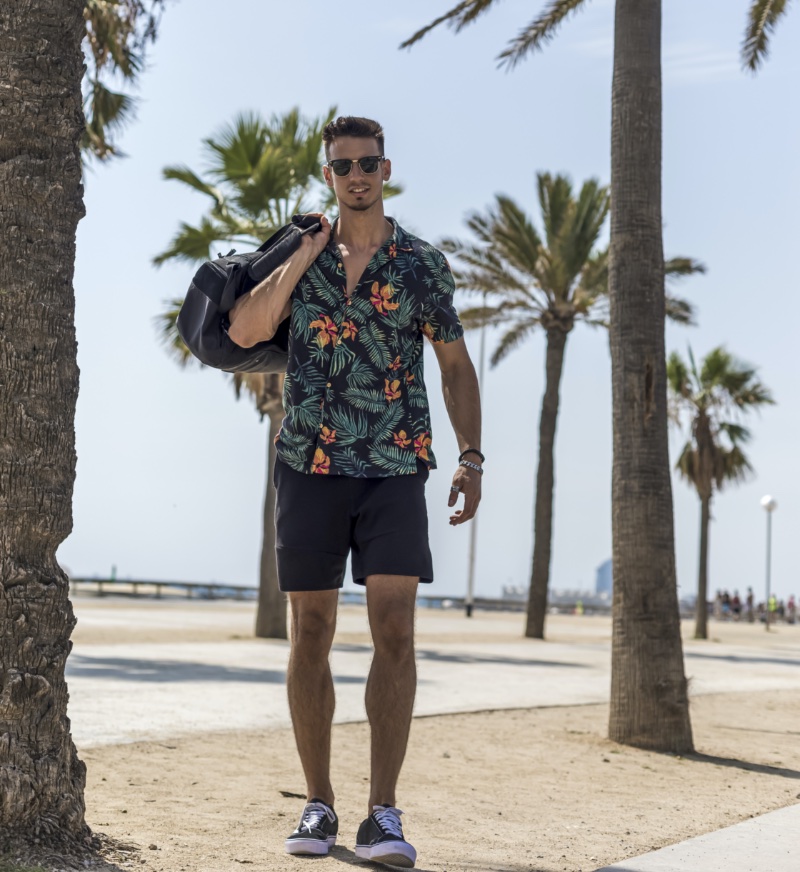 Pairing your shorts with a short-sleeve button-down shirt can help you look more put together with barely any effort. This combination works great with neutral-colored shorts and can make your shorts look a little more tailored.
Shorts with a Sweater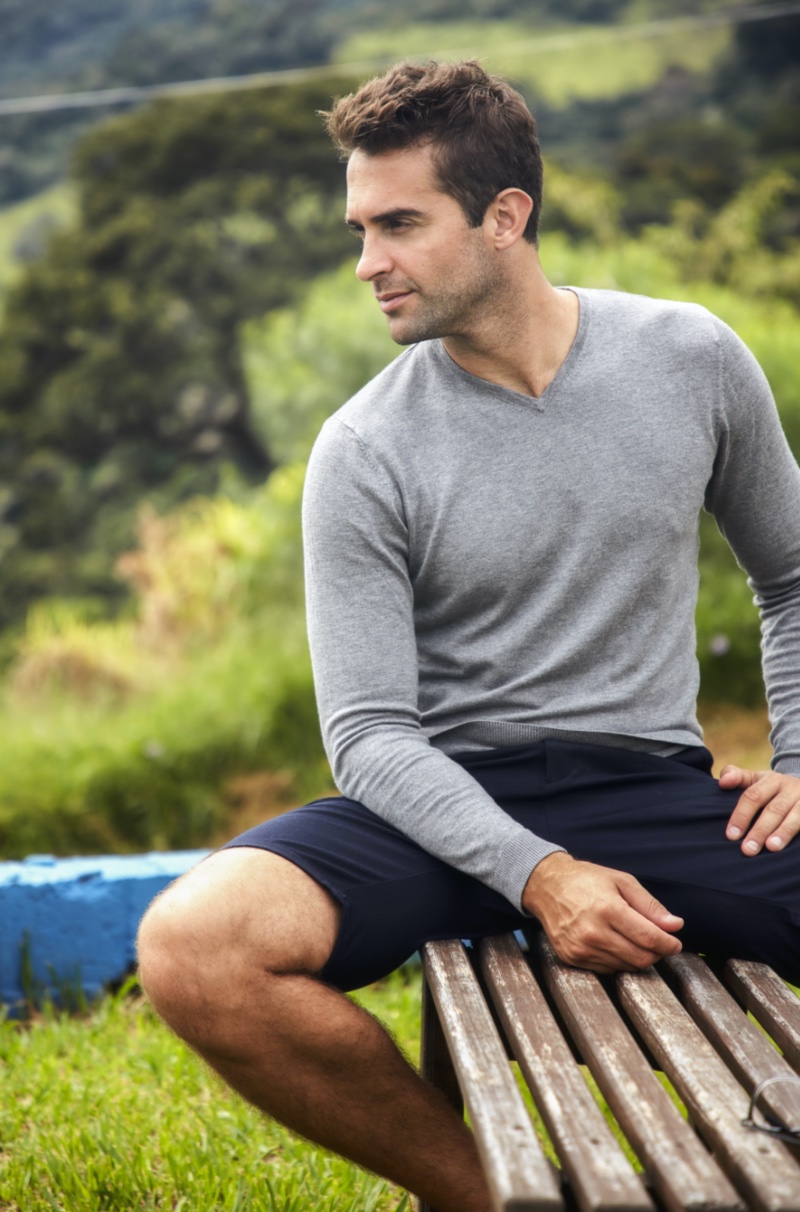 Shorts can complement various clothing items, from cardigans and polo shirts to sweaters. Try pairing a sweater with well-fit shorts for an elegant variation of casual style. This outfit offers a more refined option while retaining the traditional allure of relaxed dressing.
Coordinating Shorts with Matching Sets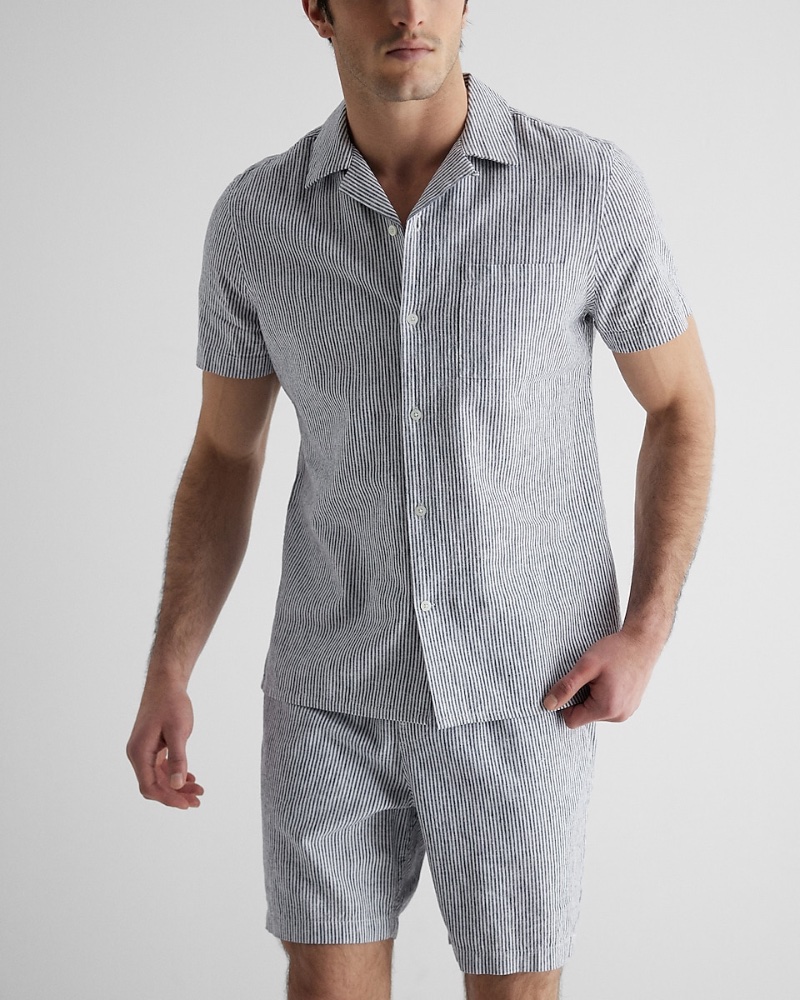 Consider experimenting with a CO-ORD or coordinated outfit featuring a matching top and bottom set for a unique summer fashion statement. This approach simplifies your morning routine, allowing you to put together your attire effortlessly and shift your attention toward selecting the perfect accessories.
Belts & Shorts: The Perfect Match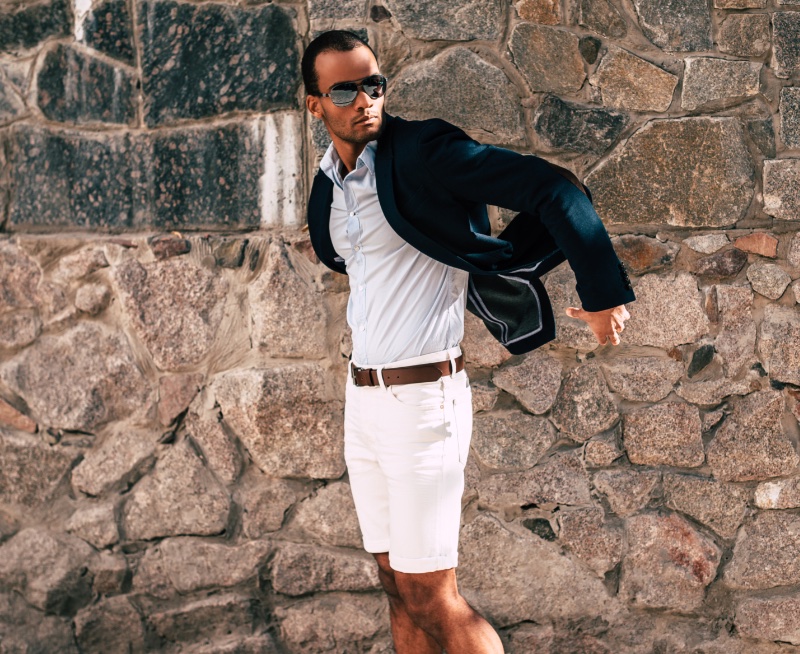 A well-chosen belt can tie your shorts ensemble together, adding a neat, finished look to your outfit. For chinos or Bermuda shorts, a classic leather belt would be perfect. Consider a canvas belt for a casual vibe if you don cargo or denim shorts. The belt serves a functional purpose and can act as a style statement, defining your waistline and adding structure to your overall look.
Shorts Etiquette: Know Your Boundaries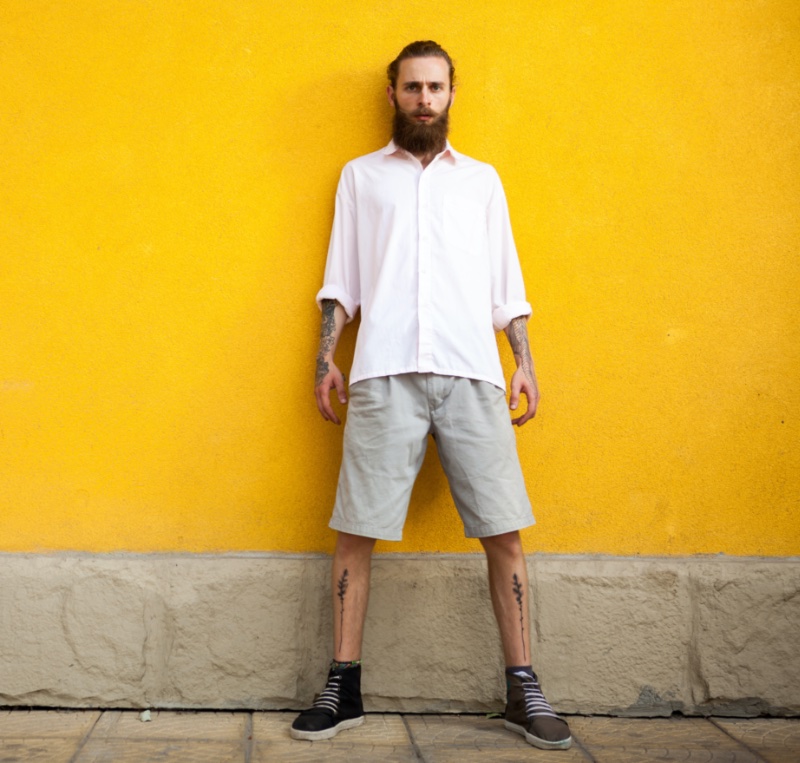 While shorts offer fantastic comfort and freedom, it's essential to understand when and where they're appropriate. Generally, shorts are perfect for casual outings, beach vacations, barbecues, and sporting events. However, unless explicitly stated, they're usually not the best choice for business settings, formal events, or specific religious or cultural sites.
Also, remember the length—anything too short might risk appearing unprofessional, while too long might venture into capris. Balance and context are essential when integrating shorts into your stylish wardrobe.
The Best Foot Forward: Shoes to Pair with Shorts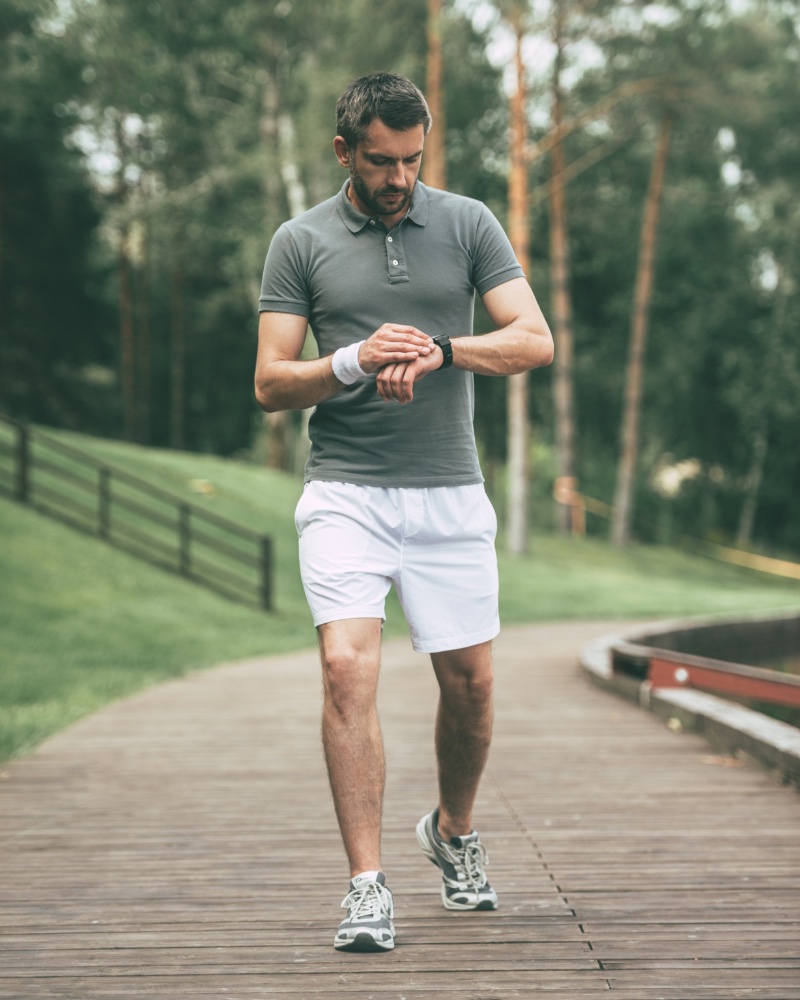 Achieving the right balance in your ensemble often boils down to one key element: footwear. Shoes can significantly enhance your overall look when paired effectively with your shorts. The perfect shoe-short pairing can make you stand out, providing a polished finish to your summer outfit. Here's a curated guide to help you navigate the myriad of footwear options available:
Sneakers: Casual & Versatile
While simple canvas sneakers remain a reliable go-to option for their comfort and adaptability, considering a variety of sneaker styles can open up a realm of possibilities. Slip-on Vans or low-top Converse shoes bring an effortlessly cool vibe to a casual look. Wear athletic shorts with running sneakers or minimalist trainers for a sportier edge. Opt for clean, well-maintained sneakers to maintain an element of chic even in your most laid-back looks.
Boat Shoes: A Touch of Class
With their preppy aesthetic, boat shoes can elevate your shorts outfit, especially when aiming for a semi-formal or dressy casual appearance. They pair particularly well with chino or tailored shorts, offering an air of sophistication without seeming too formal. Whether at a summer barbecue or a relaxed dinner by the beach, boat shoes can be your trusty companion.
Espadrilles: Summer's Favorite Footwear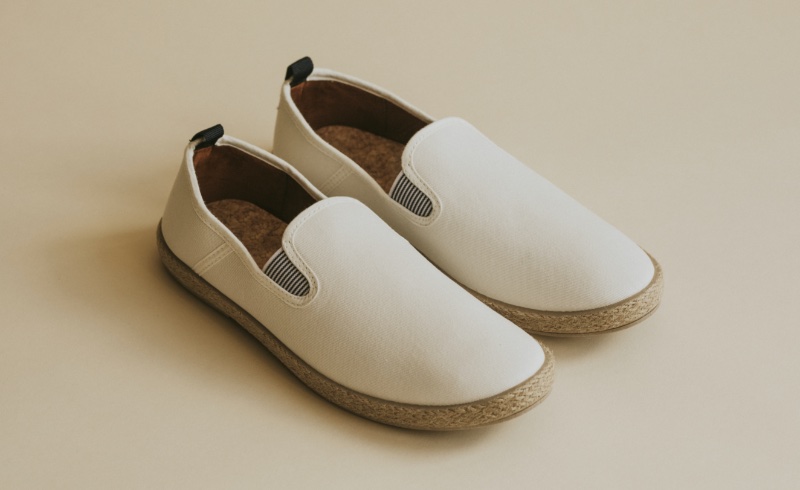 As quintessential summer shoes, espadrilles are a perfect match for your shorts. They are lightweight, breathable, and in various colors and styles to suit your taste. They work exceptionally well with linen shorts, creating a breezy, beach-ready look. Consider teaming your denim shorts with a sleek pair of black or navy espadrilles for a more cosmopolitan vibe.
Penny Loafers: Adding a Refined Touch
Penny loafers can bring an elegant twist to your shorts outfit. A classic pair in leather can add depth to a smart-casual look, especially when worn with tailored shorts and a crisp button-down shirt. For a more relaxed look, suede penny loafers can make for a polished yet comfortable ensemble paired with chino shorts and a polo shirt.
Driving Mocs: Laid-back Comfort
With their casual and 'easy-going' aesthetic, driving moccasins, or mocs, are perfect for those seeking a relaxed vibe during summer days. Paired with cargo shorts or denim cut-offs, they can help you achieve a 'chilled-out' look. The comfort of driving mocs makes them ideal for weekend getaways or strolls in the park.
Sandals: Embrace the Breeze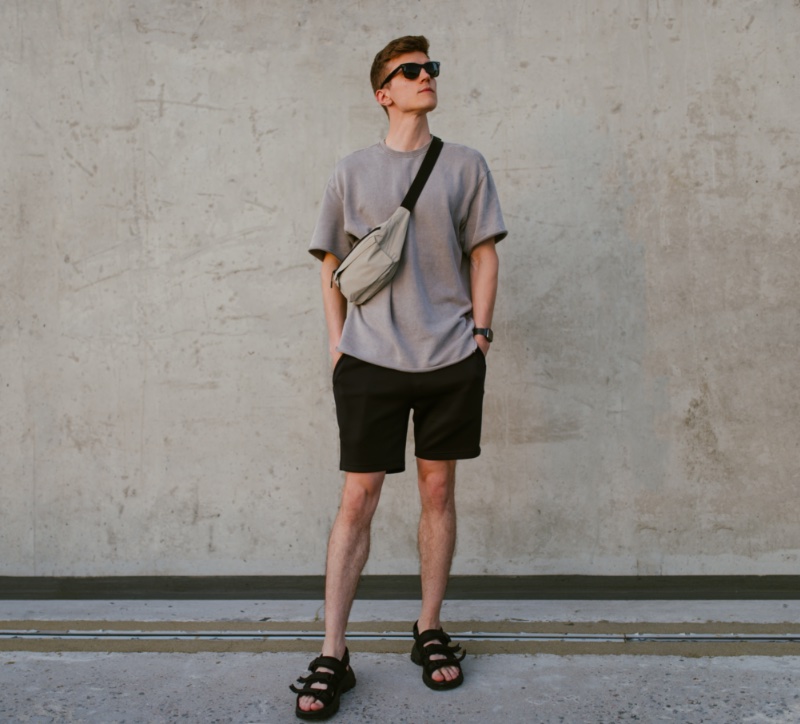 Nothing screams summer more than a pair of well-chosen sandals. They provide a breezy, comfortable option when the heat is on and offer an easy-going vibe that pairs well with shorts.
Slide Sandals: For a quick and easy option, slide sandals never go out of style. They pair wonderfully with athletic shorts for a gym-ready look or swim trunks for a beach day. They're often available in various designs, from plain to patterned, allowing for a hint of personality in your ensemble.
Gladiator Sandals: For those seeking a bolder style statement, gladiator sandals can be an intriguing choice. These pair well with shorts that hit above the knee, allowing the sandals to shine. They're an excellent match for festival outfits or bohemian-inspired looks.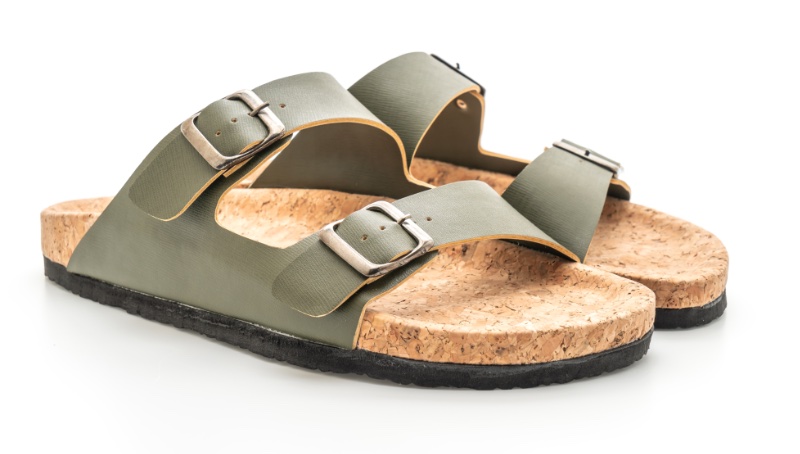 Birkenstock-Style Sandals: A timeless choice, the Birkenstock-style sandal is renowned for comfort and style. These sandals can be paired with virtually any type of shorts, from denim cut-offs to cargo styles, making them an incredibly versatile summer staple.
Leather Sandals: For a dressier vibe, consider leather sandals. They can add a refined touch to tailored shorts, creating a smart-casual look perfect for summer social events.
Flip Flops: While they might be the most casual option, they still have their place. Ideal for the beach or pool, they're best paired with swim shorts or relaxed, lightweight cotton shorts for a truly laid-back vibe.
Final Words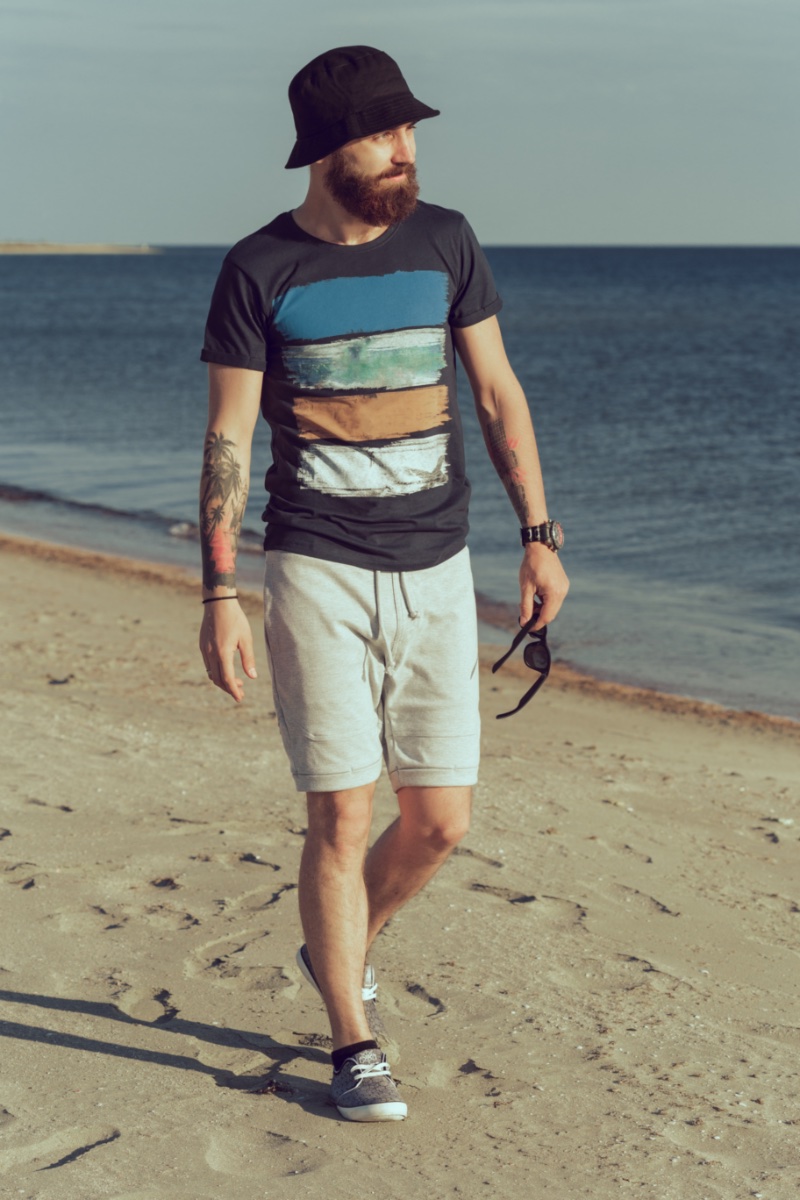 Dressing in shorts is a style statement that transcends the mere utility of comfort and coolness. It's an art form, an expression of one's style, and a reflection of the fluid nature of contemporary fashion. With various materials, fits, and styles, men's shorts offer an avenue for creativity and personal expression while ensuring comfort and practicality.
From the laid-back appeal of cargo shorts to the sleek elegance of tailored ones, from the rugged charm of denim to the breezy luxury of linen, each pair tells a story and has a place in your wardrobe. Paired with the right accessories, shoes, and tops, shorts can lead to infinite outfit possibilities, making them an essential part of any man's summer attire.
So, as the warm seasons beckon, embrace the world of shorts with open arms, wear them with confidence, and let them express your style and personality. Remember, fashion is not just about following trends, it's about comfort and feeling good in what you wear—and a well-selected pair of shorts can do just that.