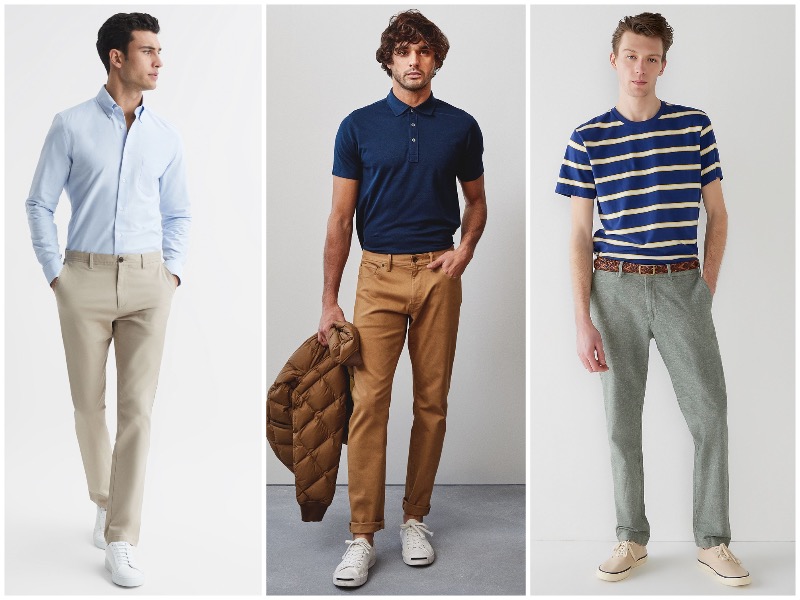 Chinos have long been a go-to wardrobe, offering style and comfort for casual and semi-formal occasions. From the 1800s, these lightweight and breathable pants have evolved from military uniforms to fashionable attire for men worldwide. This guide explores the history of chinos, the various fit and fabric options, styling tips, and advice for selecting the perfect pair for different body types.
We'll also advise you on caring for your chinos to ensure they remain a long-lasting addition to your wardrobe. So whether you're dressing up for a formal event or seeking a casual alternative to jeans, learn why chinos are an indispensable choice for the modern man.
What Are Chinos?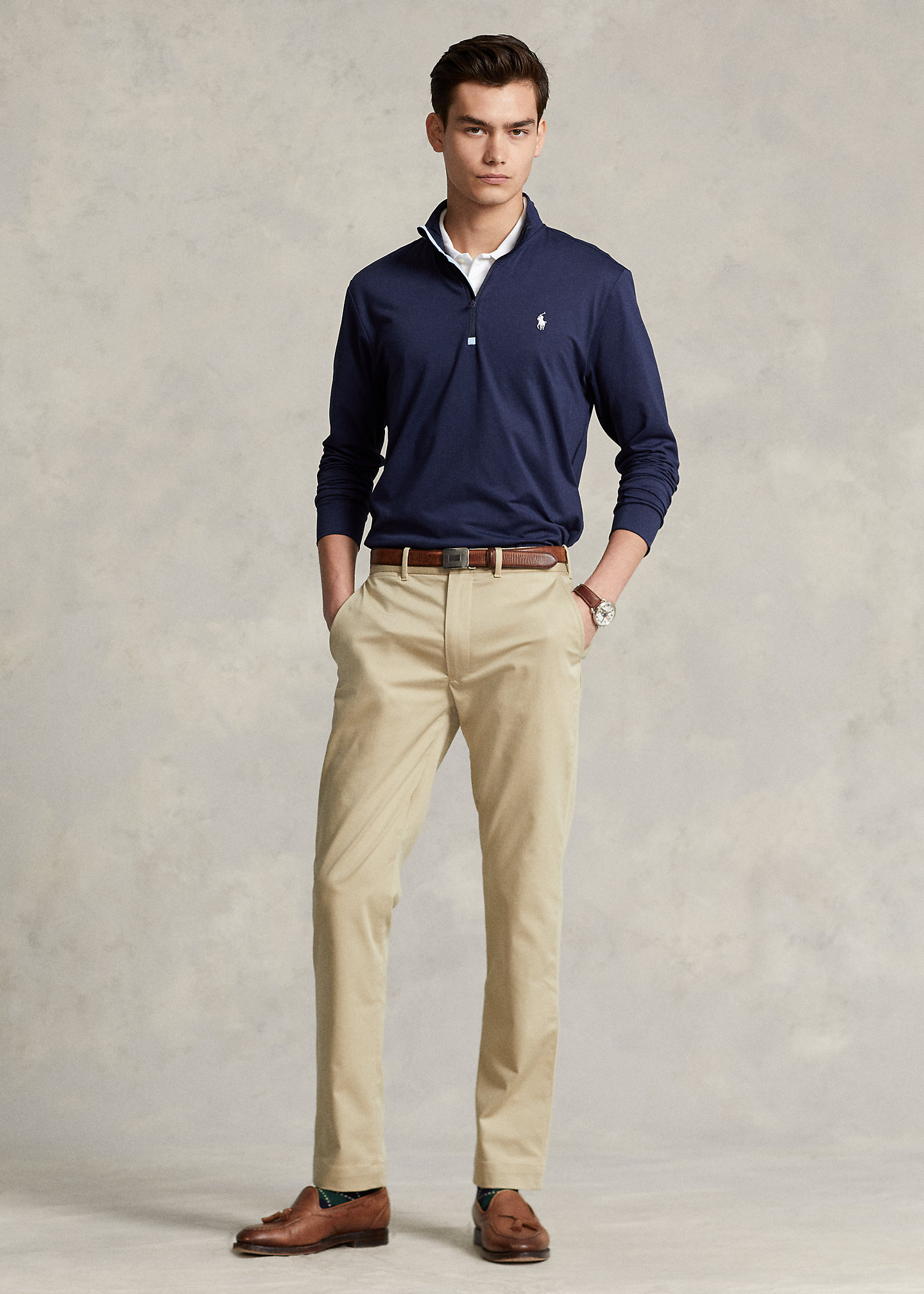 Chinos are a versatile and timeless wardrobe staple that combines style and comfort effortlessly. Initially designed for military use, these pants have become popular for casual and semi-formal occasions. Typically made from a cotton or cotton-blend fabric, chinos offer a lightweight and breathable feel, making them perfect for year-round wear.
They are characterized by their clean lines, flat-front design, and minimal detailing, which provide a polished and sophisticated appearance. Available in various fits, colors, and patterns, chinos have become a go-to option for those seeking a fashionable alternative to jeans or dress pants.
Whether dressed with a blazer and dress shoes or a simple T-shirt and sneakers, chinos effortlessly adapt to any ensemble, making them a must-have addition to any wardrobe.
The History of Chino Pants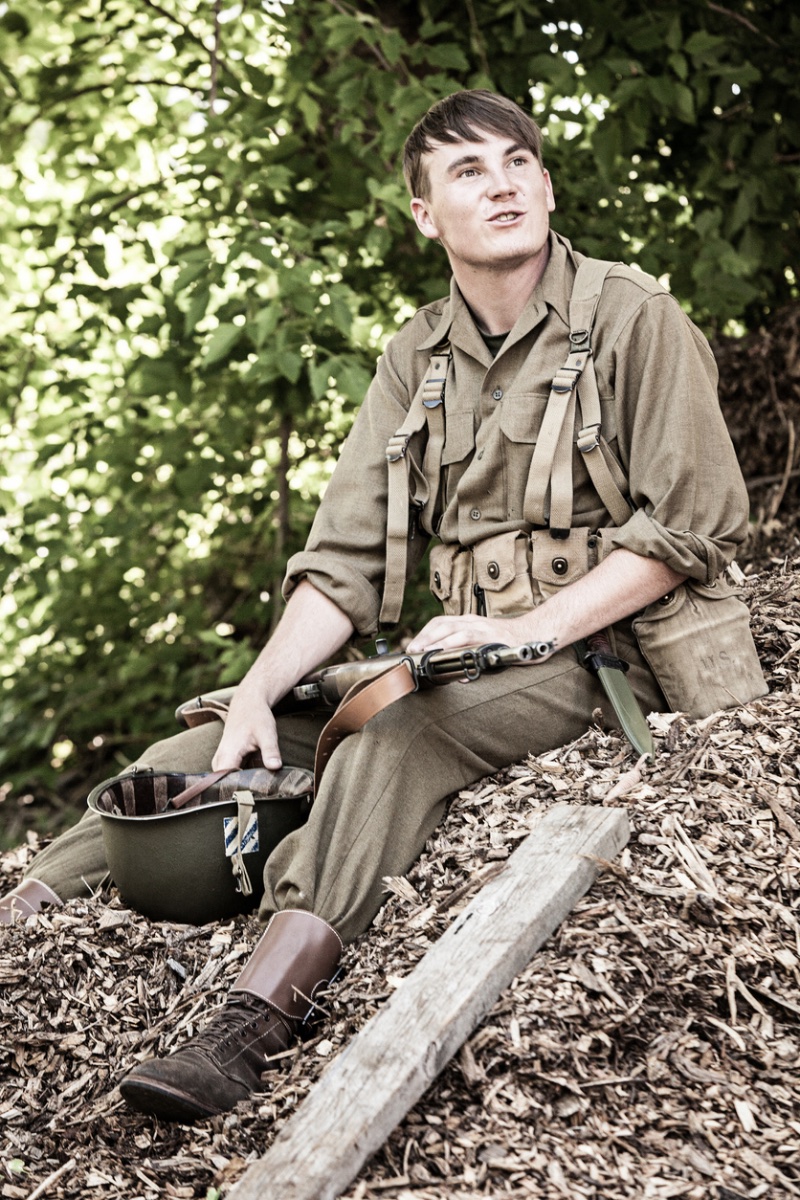 Chino pants have a long history that dates to the 1800s. Initially, they were made for British and French military uniforms in India. Practical, the pants were made of twill fabric that was lightweight and durable. During World War II, chino pants became popular among American soldiers, who appreciated their practicality and comfort.
After the war, chinos transitioned into mainstream fashion, cherished by civilians for their versatility and classic style. Often, chinos are associated with khakis due to their shared military origins, similar design features, and standard functionality. However, despite this association, there are notable differences.
Visible stitching, a lighter-weight fabric, and various colors typically identify chinos. At the same time, khakis are generally heavier, more rugged, traditionally in a tan or beige color, and have hidden stitches. These distinctions make chinos a more formal option compared to casual khaki.
Chino Options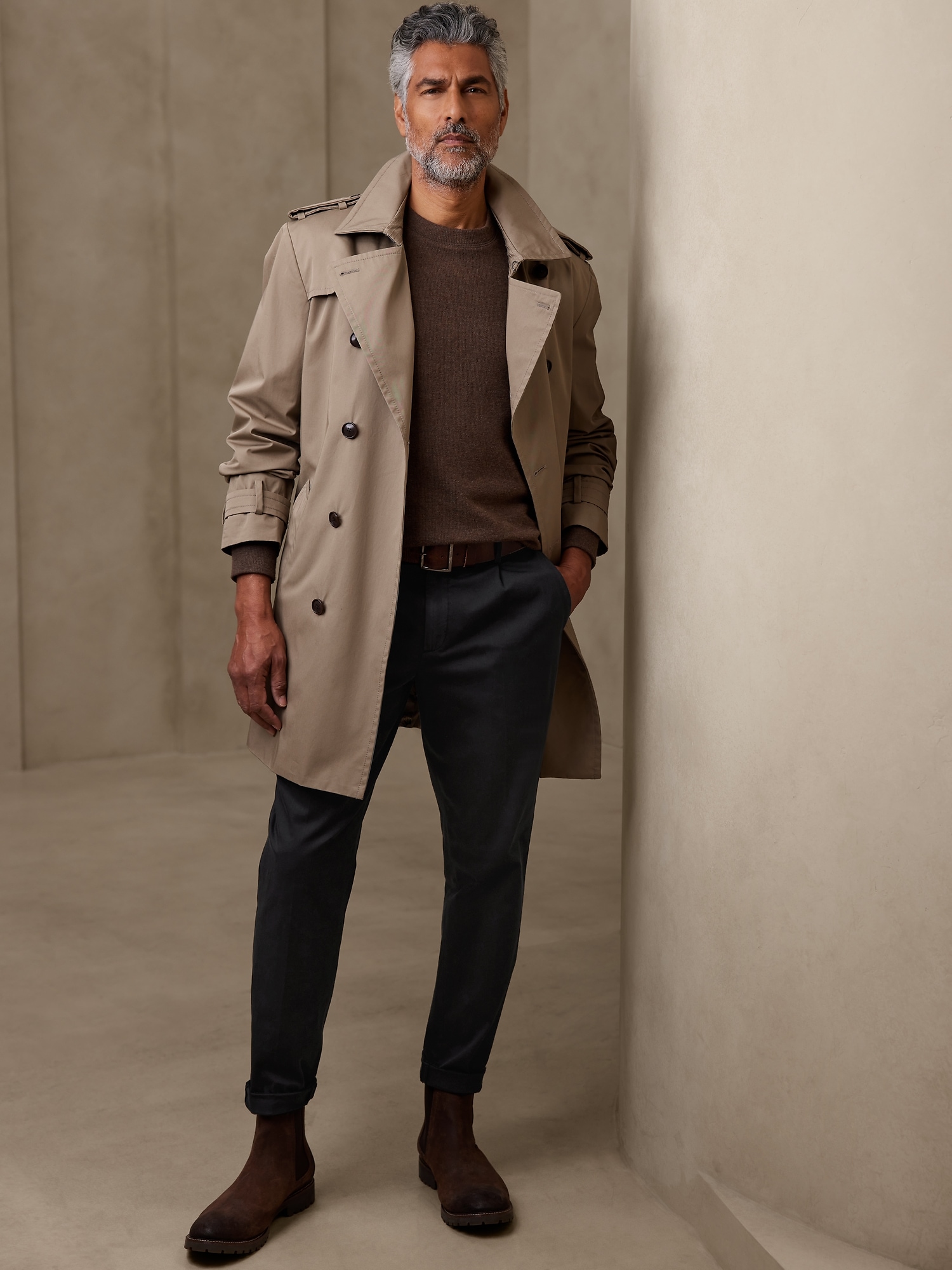 Chinos are a versatile wardrobe staple, offering various options to suit your style and preferences:
Fit
Slim-fit chinos: An excellent choice for a tailored look that hugs your body. They accentuate your silhouette while maintaining a polished appearance.
Straight-fit chinos: A perfect balance between slim and relaxed fits, straight-fit chinos provide a comfortable and classic look.
Relaxed-fit chinos: Prioritizing comfort, relaxed-fit chinos give you a laid-back vibe and plenty of room to move.
Fabric
Cotton chinos: Lightweight, comfortable, and breathable, cotton chinos are a classic choice for warm-weather wear.
Twill chinos: Slightly heavier and more structured, twill chinos offer a refined feel perfect for cooler temperatures.
Stretch chinos: A modern take on the classic chino, stretch chinos combine the comfort of cotton with added flexibility, making them ideal for all-day wear.
Colors & Patterns
While popular colors for chinos include khaki, navy, beige, and olive, don't be afraid to experiment with bolder hues and patterns. Consider adding a pop of color or a unique pattern to your wardrobe for a fresh and stylish look.
Styling Chino Pants for Men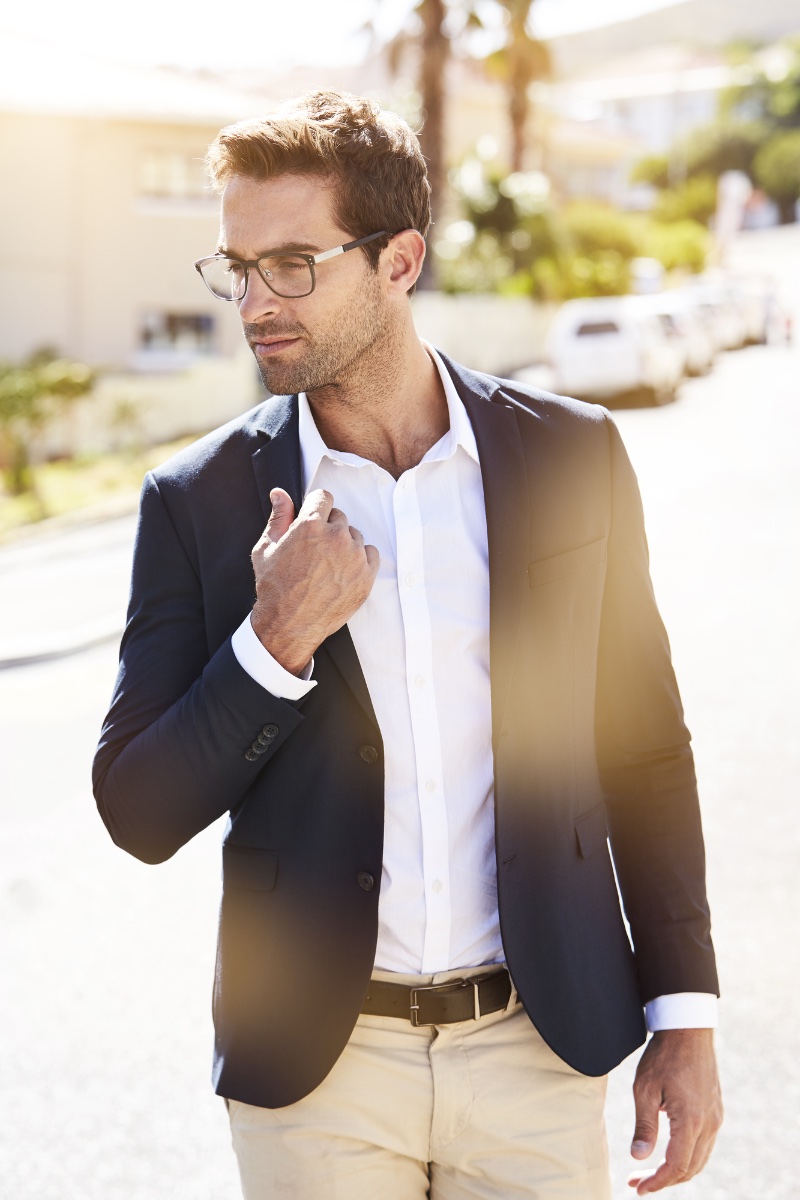 Chinos can be dressed up as dress pants or worn casually, depending on the occasion. Pair them with a dress shirt and blazer for a classic look for professional settings or formal events like weddings.
A solid-colored dress shirt in white or blue is a safe option, but you can also experiment with different patterns and colors to add some personality to your outfit. A blazer in a neutral color like navy or gray is a timeless choice, but you can also opt for a bolder color or pattern to make a statement.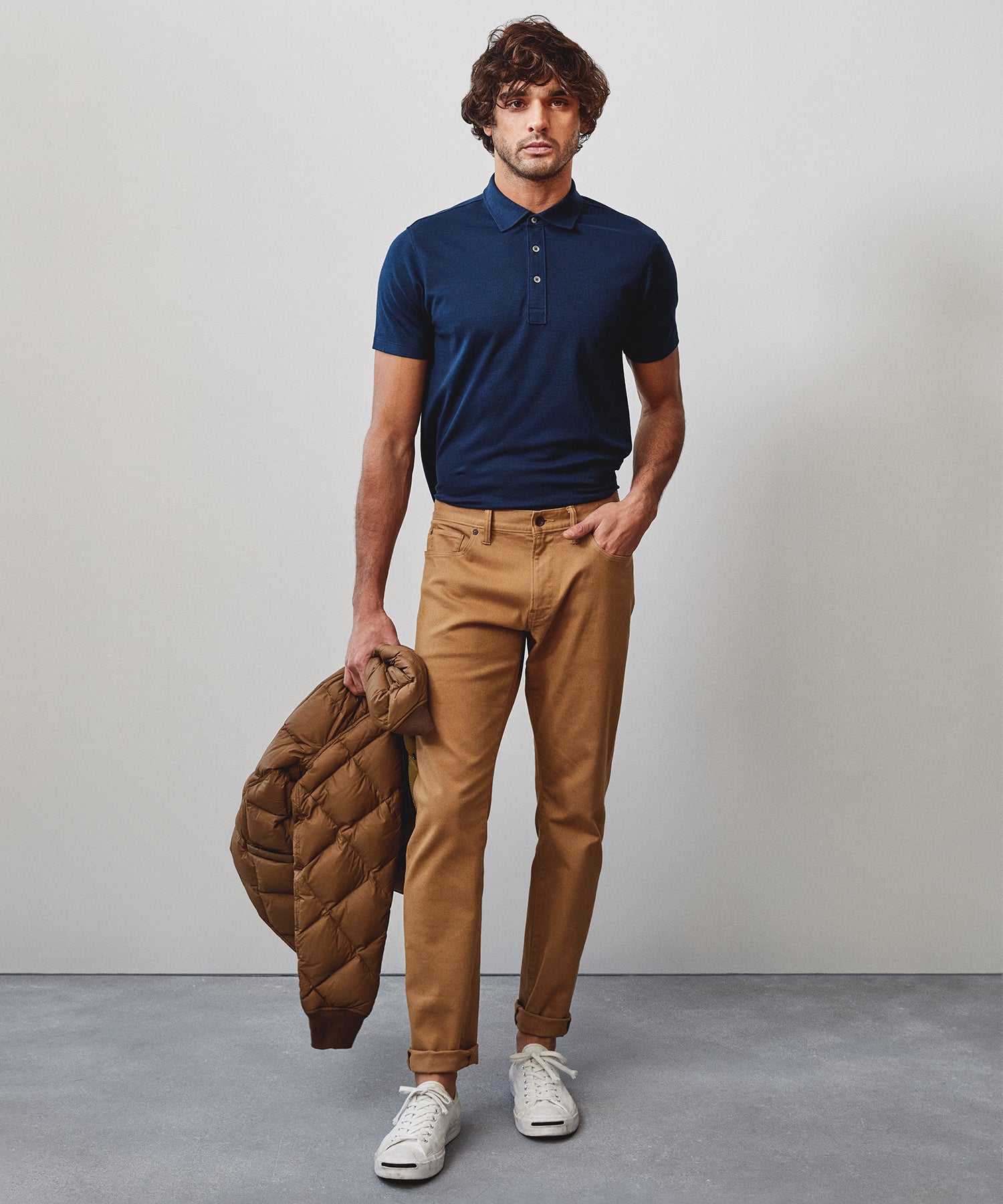 For a casual approach, a pair of chino pants can be worn with a t-shirt, polo, sneakers, or boots for a relaxed outfit. A plain white or black t-shirt is a versatile option paired with any color of chino pants, while graphic tees can add personality to your outfit.
Sneakers or boots in a neutral color like white, black, or brown are the perfect complements to chinos, but you can also experiment with different styles to find what works best for you. Accessories like belts, shoes, and hats can add personality to your chino outfit.
A brown leather belt is a classic choice that goes well with most chino colors, while a black leather belt can add some edge to your look. Shoes like loafers or oxfords can give your outfit a dressier feel, while sneakers or boots can add a more casual touch. A snapback hat or beanie hat can add flair to your ensemble and keep you warm during cooler weather.
Chinos for Different Body Types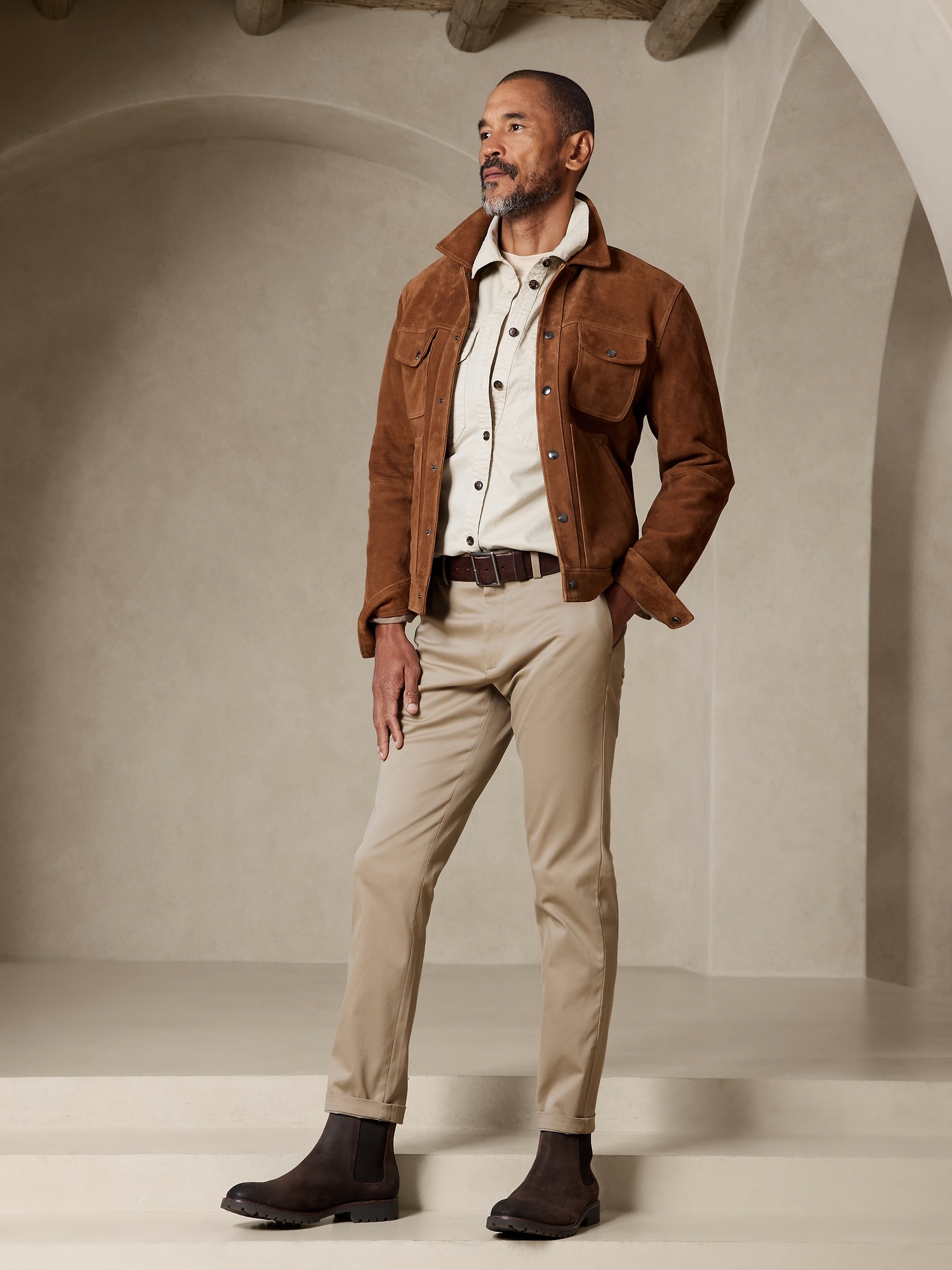 No matter your body type, chino pants can be a great addition to your wardrobe. Here are some tips for how to choose suitable chinos:
Tall: Choose a pair of chinos with a longer inseam to avoid looking too short. Straight-fit or slim-fit chinos are a good choice for tall men, providing a flattering silhouette.
Short: Opt for chinos with a shorter inseam to avoid looking too long. Choose a slim-fit or straight-fit style to elongate your legs.
Athletic: Look for chinos with a bit of stretch to accommodate your muscular thighs. Straight-fit or slim-fit styles work well for athletic builds.
Slim: Slim-fit chinos are a good choice for slim men, as they provide a flattering fit without being too tight. Experiment with different colors and patterns to add some variety to your wardrobe.
Big & Tall: Choose a pair of chinos with a higher rise and a relaxed fit to accommodate your size. Avoid slim-fit styles, as they can be too tight and uncomfortable.
When creating a flattering silhouette, it's essential to balance proportions. Pairing chinos with a fitted shirt or jacket can help to create a streamlined look while avoiding baggy or oversized clothing that can prevent you from looking sloppy.
Best Chinos for Men: J.Crew Pants
Selecting the best chinos for men largely depends on individual taste and preference. J.Crew is an excellent starting point if you're searching for a pair. Renowned for its versatile and stylish offerings, this fashion brand provides an array of colors and fits, including slim, straight, and even giant-fit options.
Slim-fit vs. Straight-fit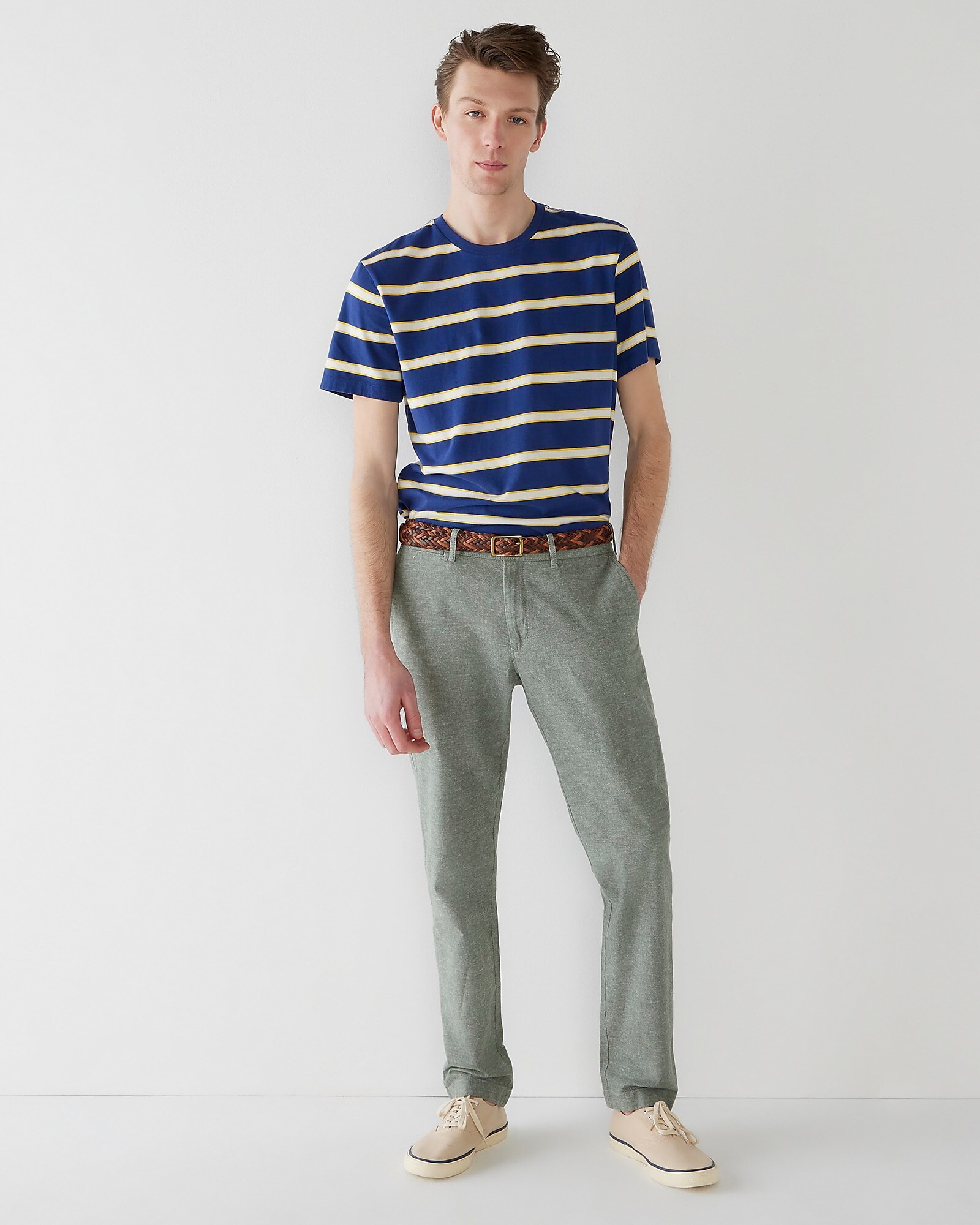 Slim-fit and straight-fit chinos offer distinct advantages, catering to different preferences and body types. Slim-fit chinos provide a more tailored appearance, closely following the body's contours, making them an excellent choice for those seeking a modern, polished look.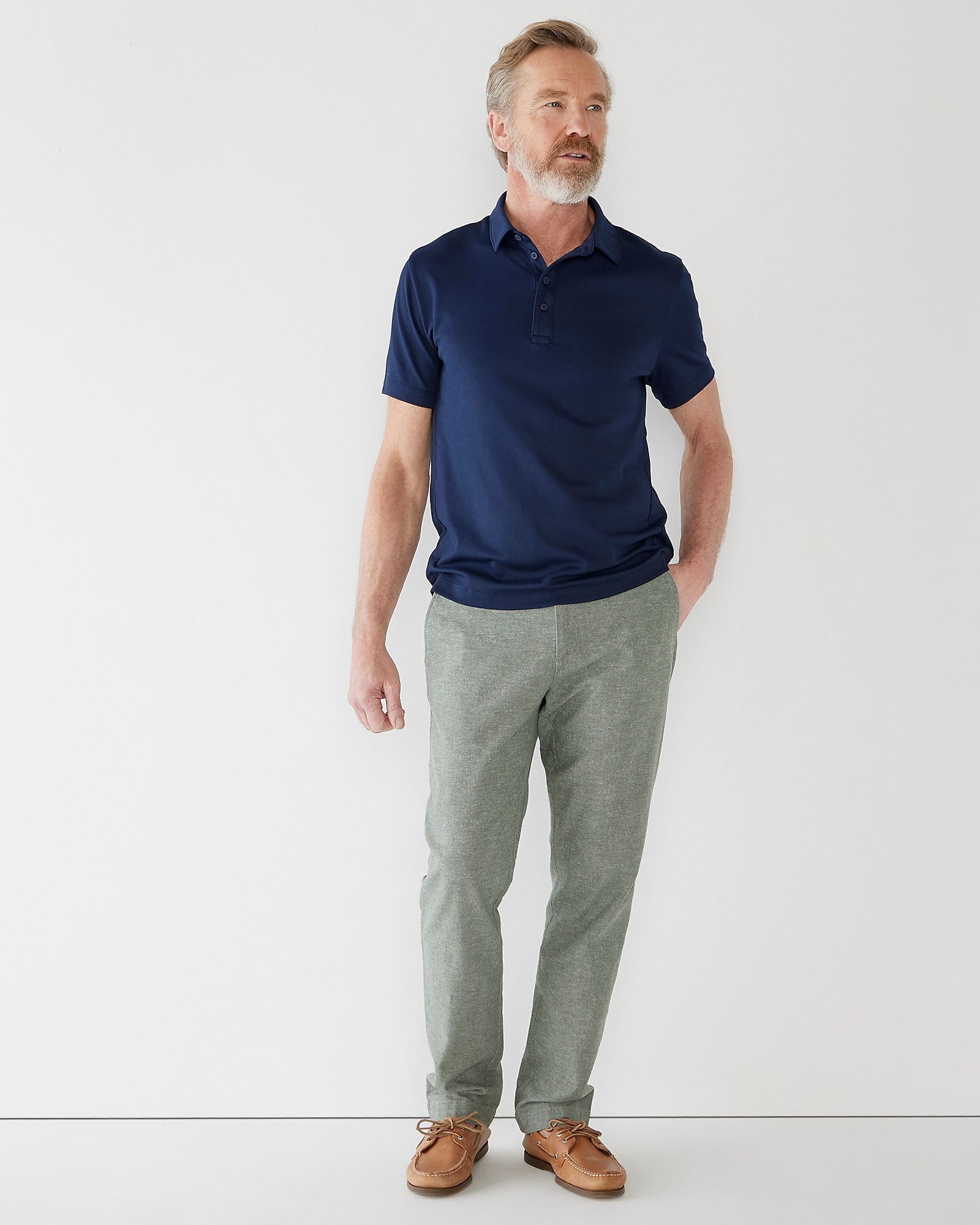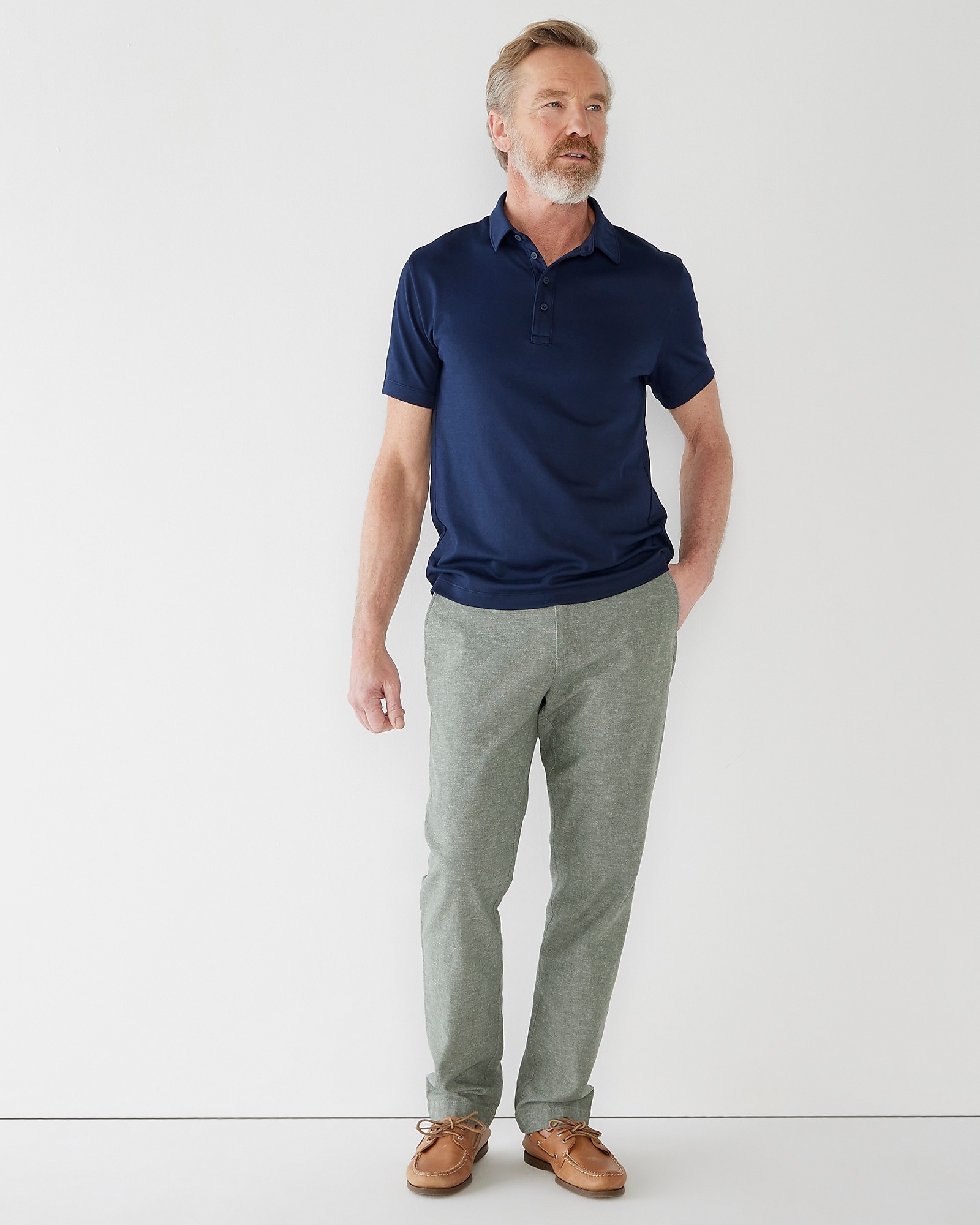 On the other hand, straight-fit chinos balance comfort and style, offering a classic silhouette with a slightly looser fit around the thighs and legs. While both types are versatile and fashionable, it ultimately comes down to personal taste and the desired comfort level.
Relaxed-fit vs. Giant-fit Chinos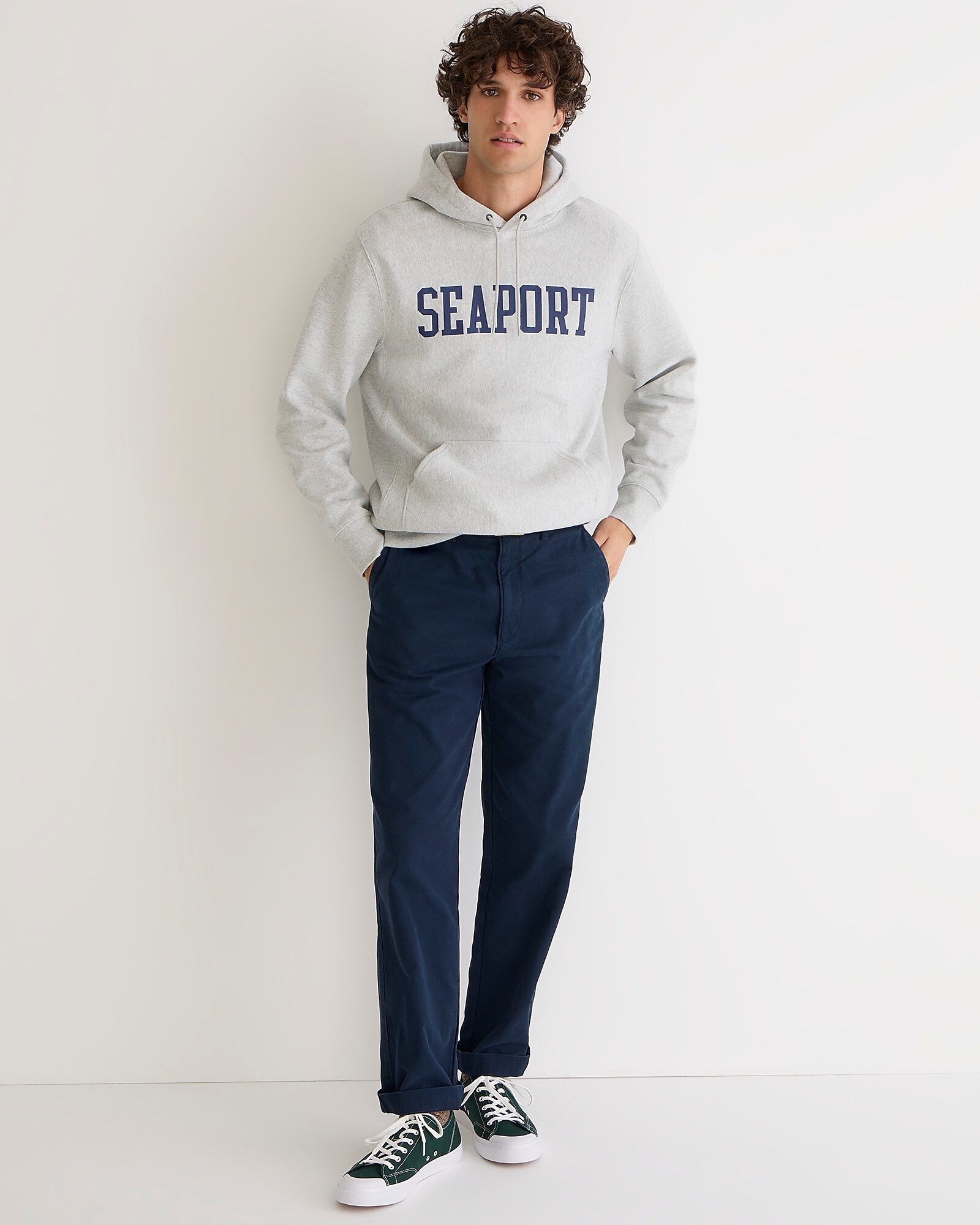 Relaxed and giant-fit chinos cater to those who prioritize comfort without sacrificing style. Relaxed-fit chinos offer a more laid-back feel, featuring a roomier cut in the seat, thighs, and legs, making them perfect for individuals who prefer a bit more freedom of movement.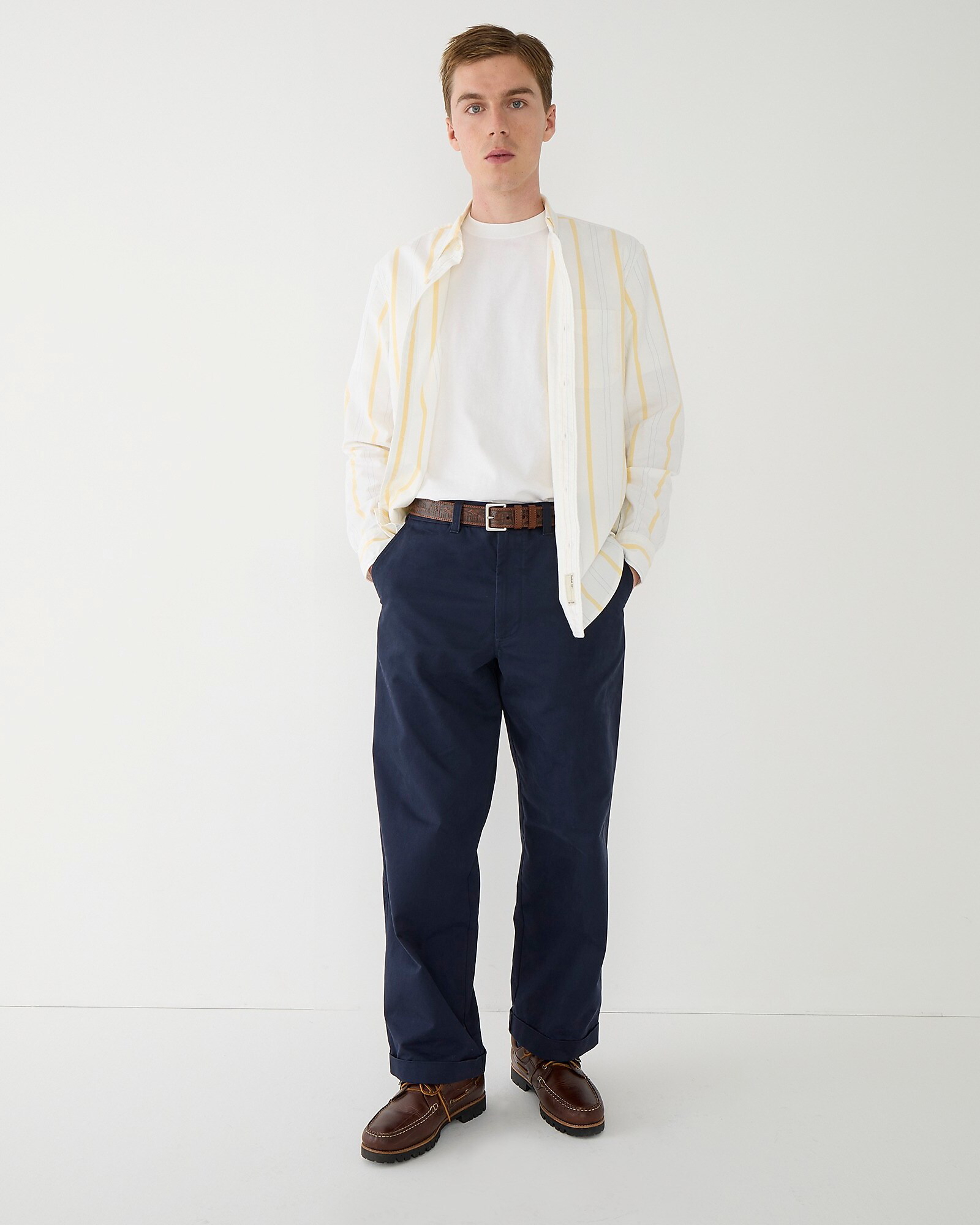 Giant-fit chinos, on the other hand, take comfort to the next level with an even more generous cut, providing ample space for maximum ease and flexibility. While both options emphasize comfort, your choice between relaxed-fit and giant-fit chinos will depend on your preference for fit and the spaciousness you desire.
Chino Care
Chino pants for men are versatile modern essentials, but they require proper care to maintain their appearance and extend their lifespan. Follow these tips to ensure that your chinos stay looking their best for years to come:
Washing
When washing chinos, it's best to err on the side of caution. Wash them in cold water on a gentle cycle to prevent them from shrinking or losing their shape. Avoid using hot water, which can damage the fabric and cause it to fade. You can also add a small amount of mild detergent to the wash, but be sure not to overdo it, as too much soap can leave a residue on the fabric.
Drying
Once you've washed your pants, it's essential to dry them properly. Hang them to dry or lay them flat to prevent them from shrinking in the dryer. If you use a dryer, set it to a low heat setting and remove the chinos as soon as they're dry to prevent any damage to the fabric.
Ironing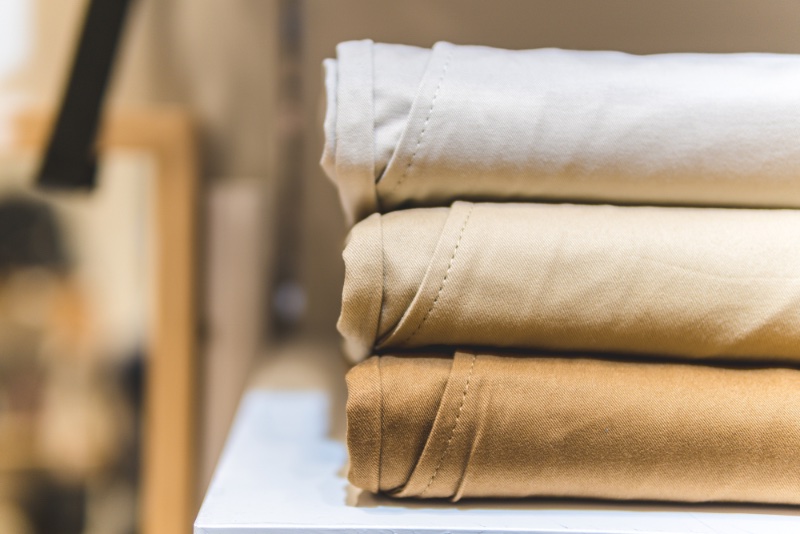 If your chino pants become wrinkled, you can easily iron them to restore their smooth appearance. However, using a low heat setting is essential to avoid damaging the fabric. You can also use a pressing cloth to protect the material while ironing.
Storage
There are a few things to remember when storing. First, ensure your chinos are clean and dry before putting them away. Next, fold them neatly or hang them up to prevent wrinkles from setting in. Finally, store them in a cool, dry place to avoid any damage from moisture or humidity.
Common Mistakes to Avoid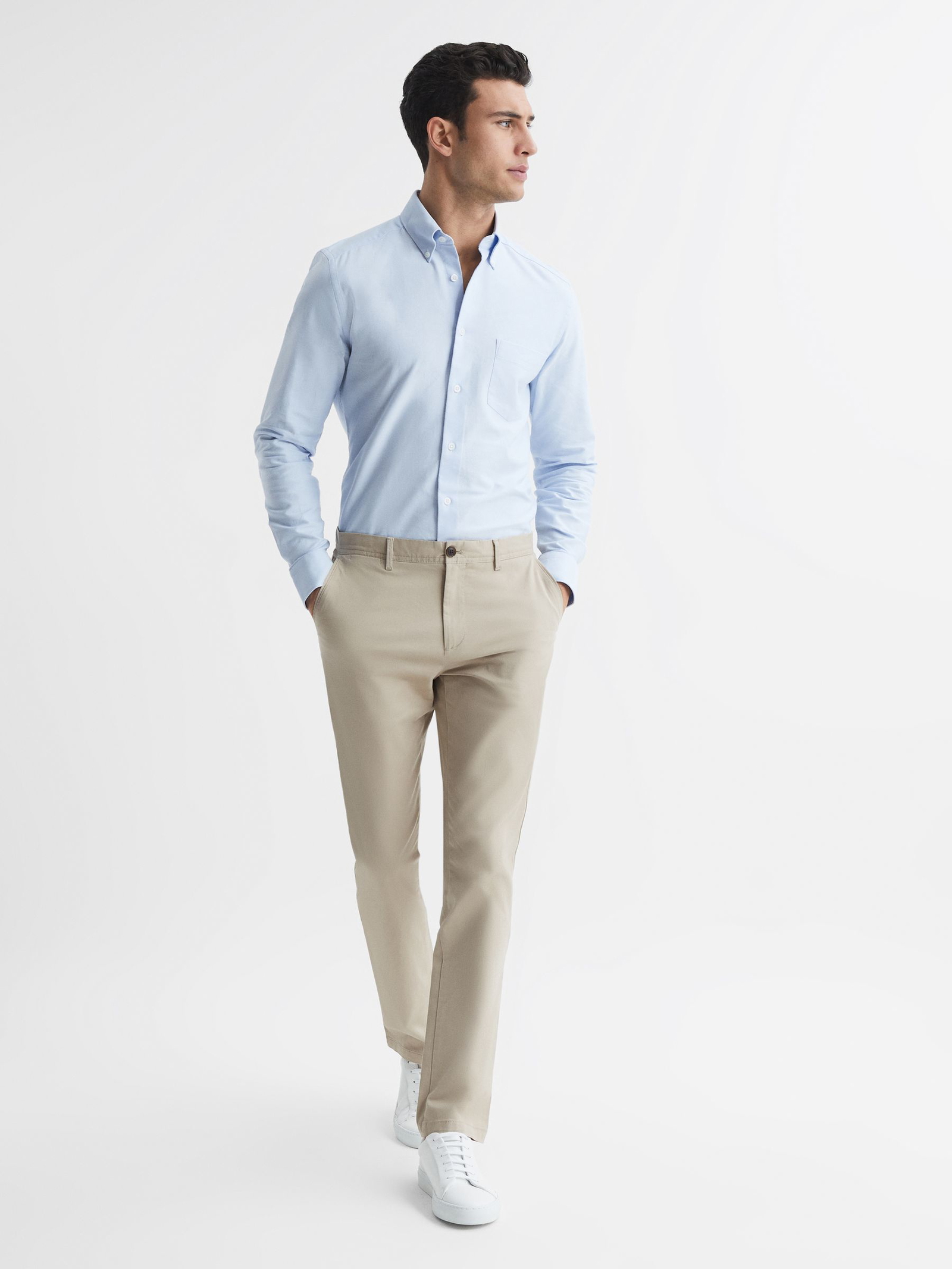 While it's essential to take care when washing and storing chinos, it's also essential to avoid common mistakes that can damage the fabric. For example, using bleach or fabric softener can cause the material to lose its color or texture. Additionally, avoid exposing your pants to direct sunlight for extended periods, which can cause the fabric to fade.
Final Thoughts on Chino Pants for Men
Chino pants are a versatile and timeless addition to any man's wardrobe. With their comfortable fit and classic style, they can be dressed up or down to suit any occasion. Whether attending a formal event, wearing them as work pants, or keeping them casual on the weekend, chinos are the perfect go-to pants.
With a rich history dating back to military use and a wide range of fits, colors, and fabrics available, chinos have become a go-to option for men seeking a fashionable alternative to jeans or dress pants. With proper care, these pants can last for years, making them a valuable addition to any wardrobe.