Corduroy is one of the oldest fabrics in the world, and it's been a favorite for generations. It's a sturdy cloth made from woven cotton fibers to create raised ridges on both sides of the fabric—perfect for a timeless pair of men's corduroy pants.
These ridges give corduroy its signature look, ranging from fine to thick and from subtle to striking, depending on how many wales the material contains. This makes the fabric perfect for men's corduroy trousers.
Men's Corduroy Pants
So, what are men's corduroy pants? Cords for men are cotton or cotton blend pants with a corduroy-like texture—often used in casual clothing such as jeans and khakis.
Men's cords come in all styles and colors. They add variety to your wardrobe and are versatile for work and play.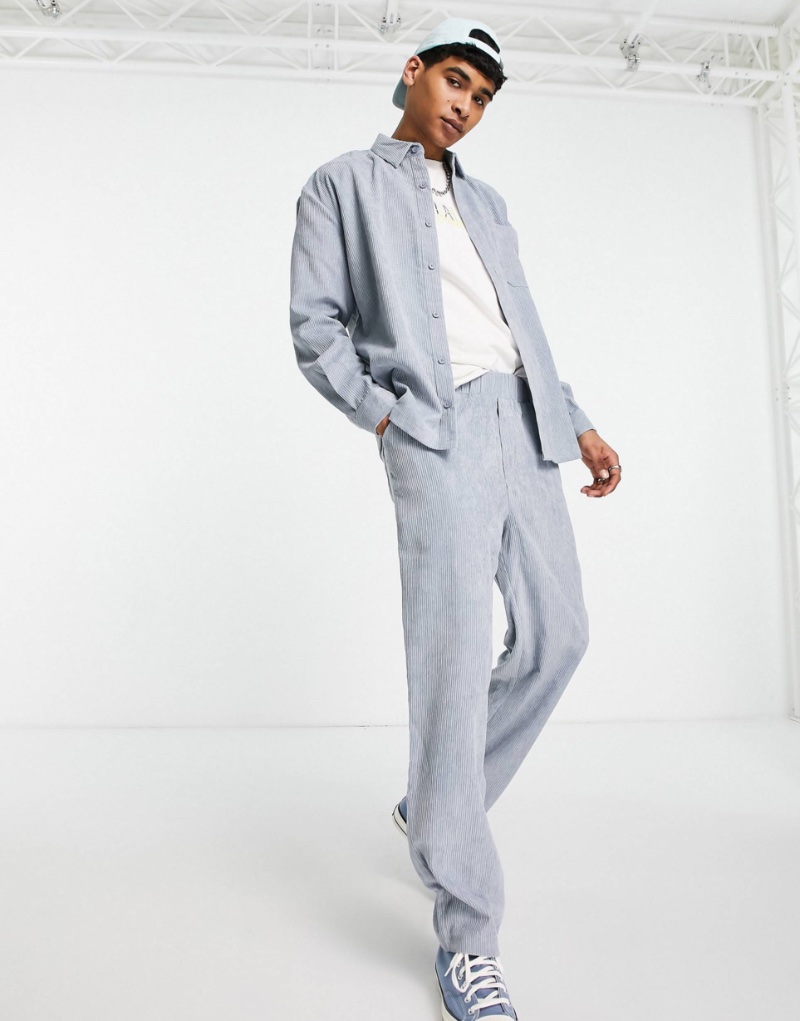 If you don't have men's cord pants in your closet already, it may be time to browse a men's fashion catalog or visit your closet store!
Men's corduroy is a popular product with different weights, thicknesses, and wales (the number of ridges per square inch).
The most common weight is 8 oz. The average thickness is 1.5″. The most common wale is the classic.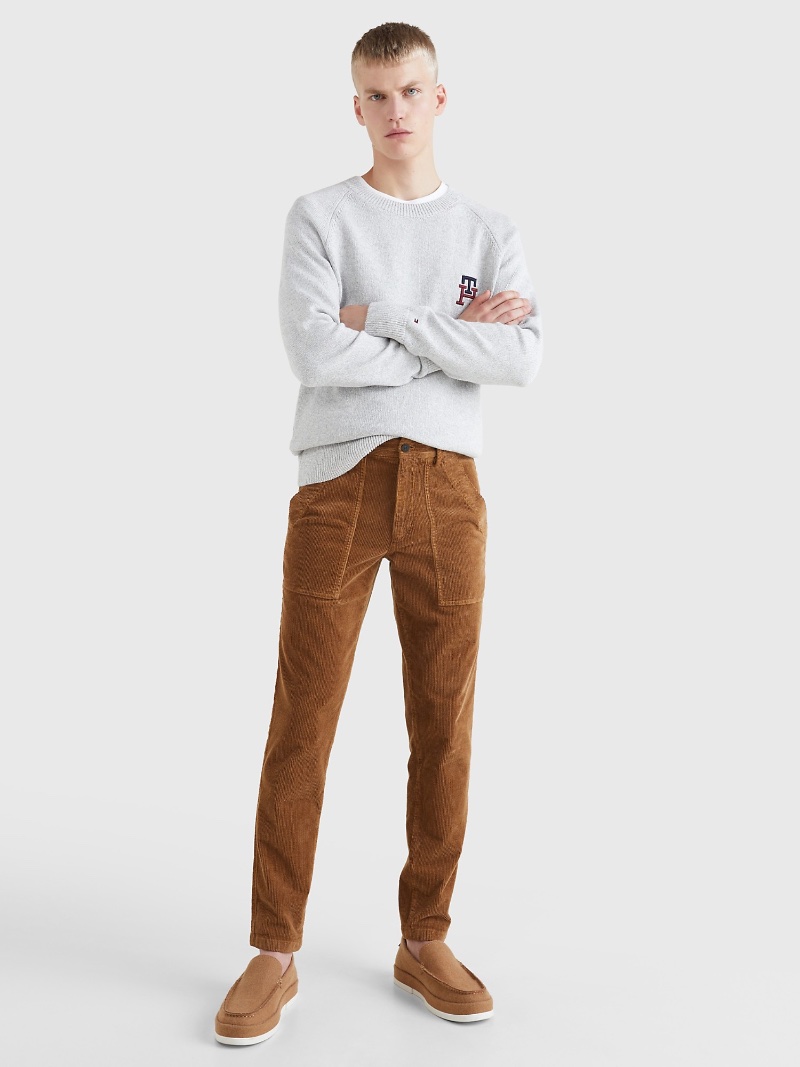 Corduroy Pants Styles
The classic style is a flat front with a zipper fly.
The modern style features tapered legs that end at the ankle.
Slim-fit corduroy pants have straight legs; they're narrower through the hip and thigh area than the classic cut but not as narrow as skinny jeans.
Boot-cut cords are wider at the hem than in the thigh region, which makes them ideal for guys who like to wear high-top sneakers or boots with their pants.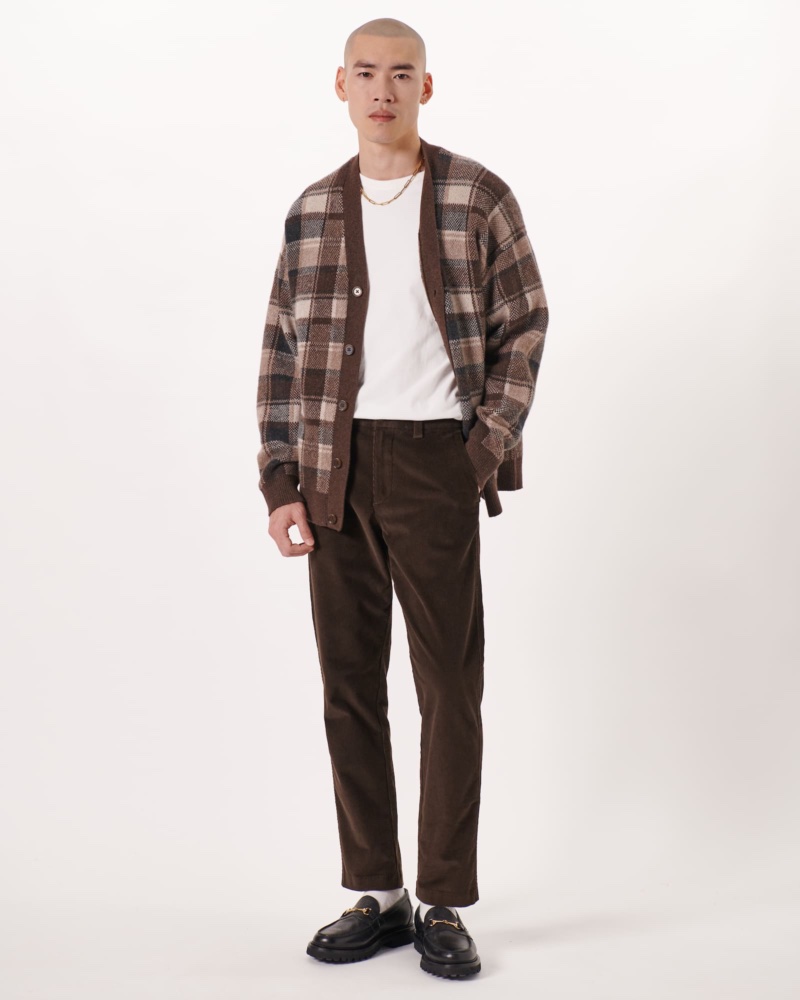 How to Style Corduroy Pants
Men have the incredible luxury of styling corduroy pants in an infinite number of ways, unlike some fabrics that limit their options. Wearing corduroy pants for the office is a smart and classic look. Versatile cords are also ideal when going out in town. You can even wear men's dress corduroy pants for a semi-formal occasion.
The best way to style corduroy pants is by selecting a good-fitting pair and combining them with complementary pieces. For a casual men's corduroy pants outfit, try pairing your cords with a simple t-shirt, polo shirt, or button-down shirt and sneakers or loafers. Add a sport coat or blazer with a collared shirt and dress shoes to dress up the look.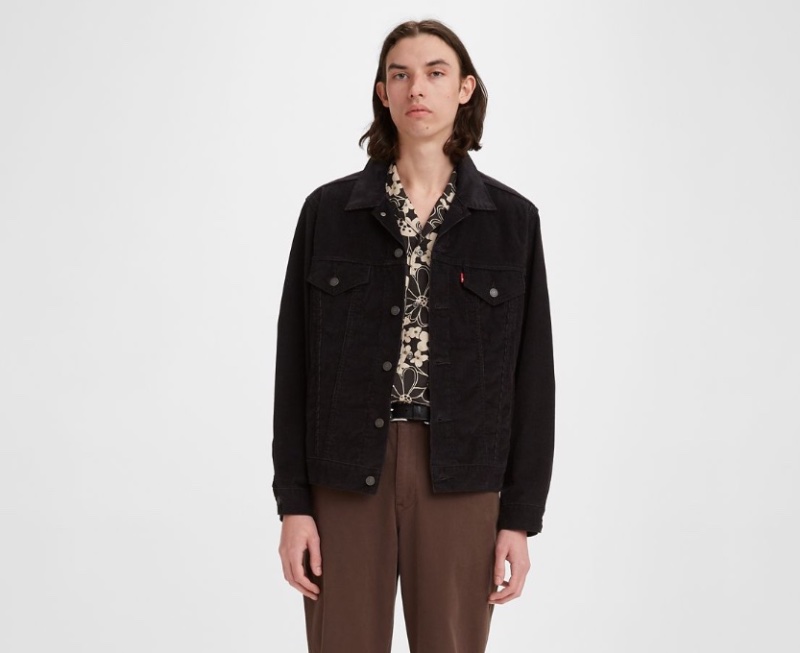 Corduroy jackets can also add a classic look to any outfit. For a more formal look, pair men's corduroy trousers with a tailored blazer, an Oxford-style shirt, and loafers or dress boots. Whatever the occasion, there is no limit to how creative you can get when styling men's corduroys.
Once you have your favorite men's cord slacks, you can finish the look with an appropriate accessory, such as a pocket square, belt, or hat, and you're ready to go! With corduroy's classic style and timeless feel, it can quickly become your go-to seasonal staple. So don't be afraid to experiment and find your unique way of styling corduroy pants.
Shoes to Wear with Men's Corduroy Pants
While corduroy pants are, by nature, casual wear, a pair can be dressed up a bit with the right shoes.
The key to choosing shoes that look good with men's corduroy pants is to stay away from dress shoes like wingtips or oxfords.
Go for something more laid-back but stylish—like boots or loafers.
That said, if you're looking for an even more casual look than sneakers or boots allow (especially if you're wearing your cords on the weekend), it might be time to invest in some suede chukka boots.
These fashionable leather shoes offer the comfort and style of sneakers without sacrificing your smart look—and they pair perfectly with cords!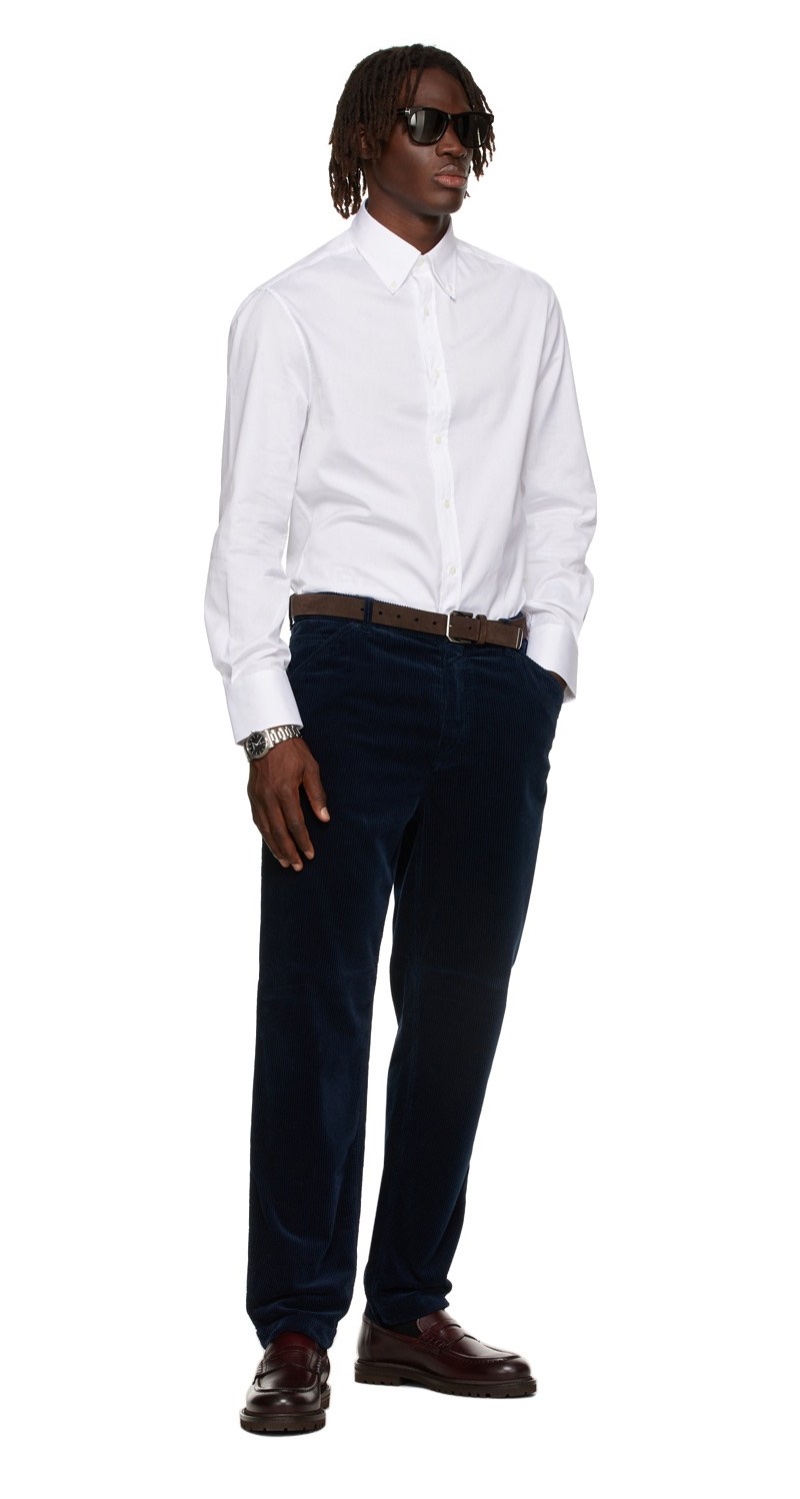 Best Corduroy Pants
Even if you haven't worn cords since high school, it's time to add a pair to your shopping list.
Corduroy is a versatile, durable fabric that's easy to care for and comfy to wear, making it an ideal alternative to denim in wintertime—a perfect time for trying out a fresh men's corduroy outfit.
Cords are also available at a great price. Browse our favorites from amongst the best men's corduroy pants below:
Todd Snyder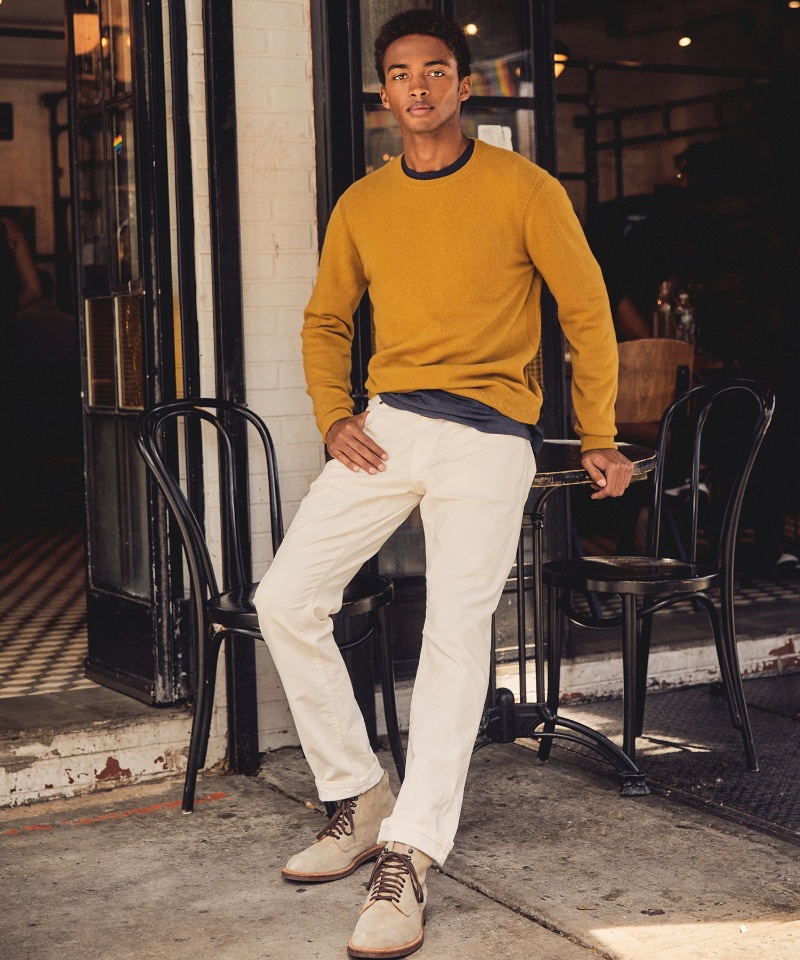 J.Crew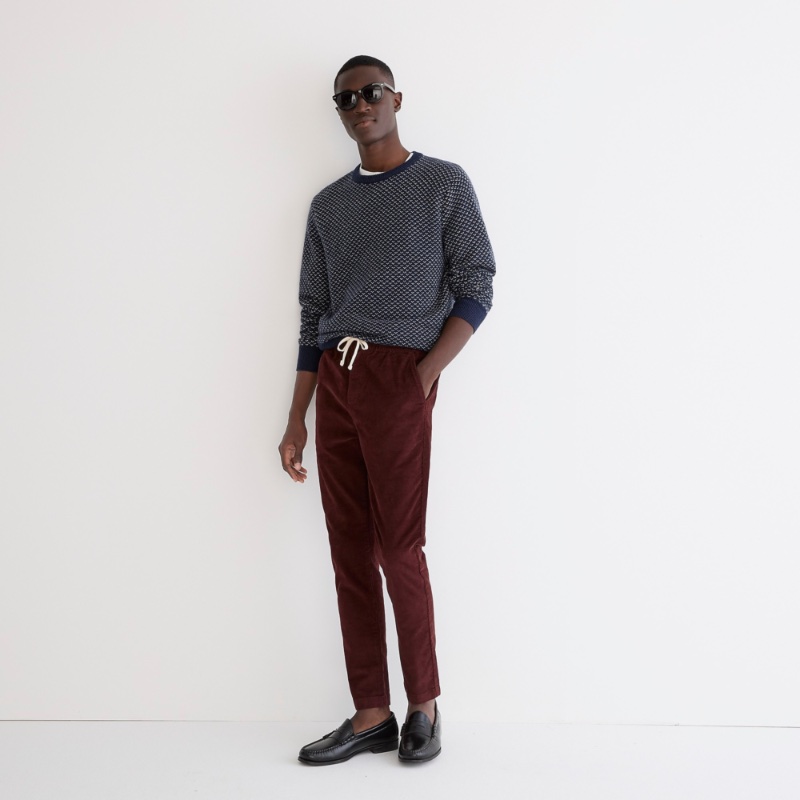 Polo Ralph Lauren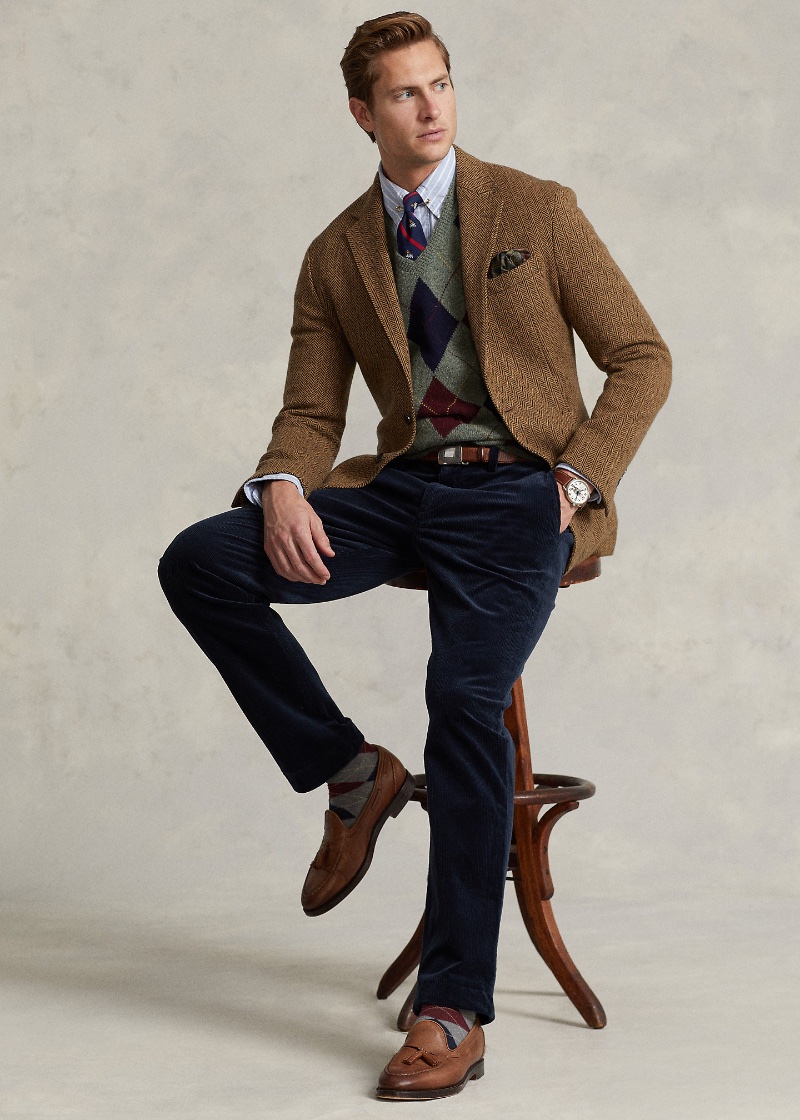 Common Questions
Are corduroy pants business casual?
Whether or not corduroy pants are considered business casual depends on several factors. For example, the fabric and cut of the pants should be appropriate for an office setting. A thick-wale, heavier-weight corduroy pant in a tailored fit may be suitable for a business casual setting, while a thinner wale and more relaxed fit may not be.
Additionally, the color of the corduroy pants should be appropriate for a business setting; neutrals such as khaki and navy are usually the safest choice. Finally, accessories like a belt or a blazer can help make the outfit more professional if corduroy pants are worn in a business casual setting.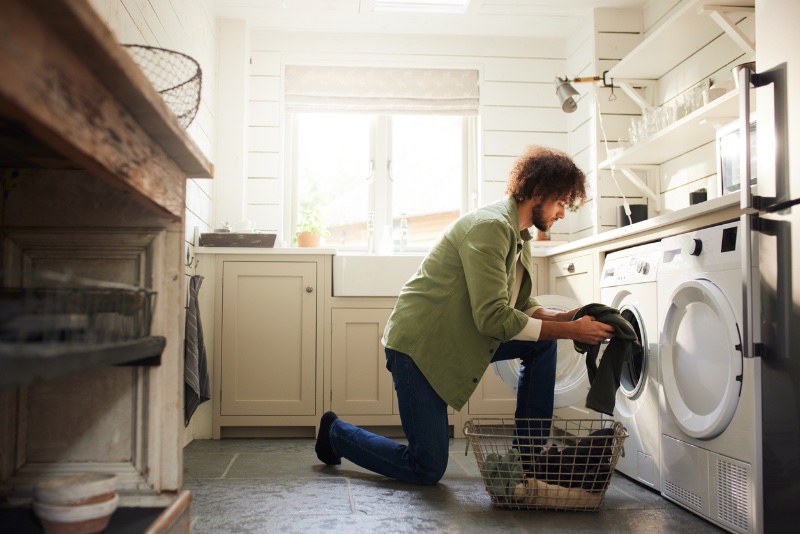 How do you wash corduroy pants?
Corduroy pants should be washed gently in cold water with mild detergent and not be placed in the dryer. When caring for corduroy, steer clear of washing it with items that may produce lint, such as towels and fleece. This is because corduroy can be a magnet to attract fluff.
Hang corduroy pants to dry, as the heat from the dryer can cause them to shrink. Dark-colored corduroy pants are recommended to be washed separately from other items to avoid dye transfer.
Turning the pants inside out before washing them may also be beneficial to protect the fabric from wear and tear. Finally, spot-clean any stains as soon as possible using a mild detergent or stain remover.
Do corduroy pants stretch or shrink?
If you're starting with corduroy, it might seem comparable to denim in terms of its ability to stretch and conform. However, corduroy does not offer the same leniency as other fabrics—it must fit perfectly at the time of purchase.
Avoid pants that are either too tight or baggy; both can be uncomfortable and unflattering on your frame. To ensure the best outcome when shopping for cords, always ensure they feel comfortable before making a purchase.
And to keep your corduroy looking its best, wash it at the proper temperature—otherwise, you risk shrinking along the length of the fabric.
Final Words
Corduroy's timeless appeal comes from its classic look, sturdy construction, and affordable price, but what sets this fabric apart is its versatility: it goes with everything from sweatshirts to chinos—so don't worry if you don't have your whole wardrobe planned out yet!
Better yet, this style staple is easy to attain. You can look for corduroy pants at stores like H&M. Then you can pull on some cords and prepare for whatever life throws you!