Suppose you are a fashionable guy who is aware of the full range of brands specializing in men's fashion and all the styles that are en vogue. In that case, it can completely be daunting to determine what brand to turn to purchase your essential items.
If you are serious about the kind of materials and ethical work practices used, choosing which manufacturer to go with—especially for everyday items—is a task that will require some research.
You might be concerned with whether the brand is focused on sustainability, whether they give back to the public, or even if they use ethical manufacturing and shipping processes.
While it might seem as though men do not consider these issues when purchasing their clothing, it is a prevalent concern among many male consumers who are wondering which company to support for their daily fashion needs.
Given that all of this information may not always be clear or transparently shared, we can share with you all the essential items you need. And even lead you to the best places to get those men's performance apparel staples for your everyday outfits.
Pale Blue Shirt
One of the items that every man needs in his wardrobe—a truly essential workday item—is the standard work shirt in pale blue. This item can be paired with many colors, including a beige, gray, or navy suit and ties of all different shades. This item is necessary to keep your wardrobe adequately held together.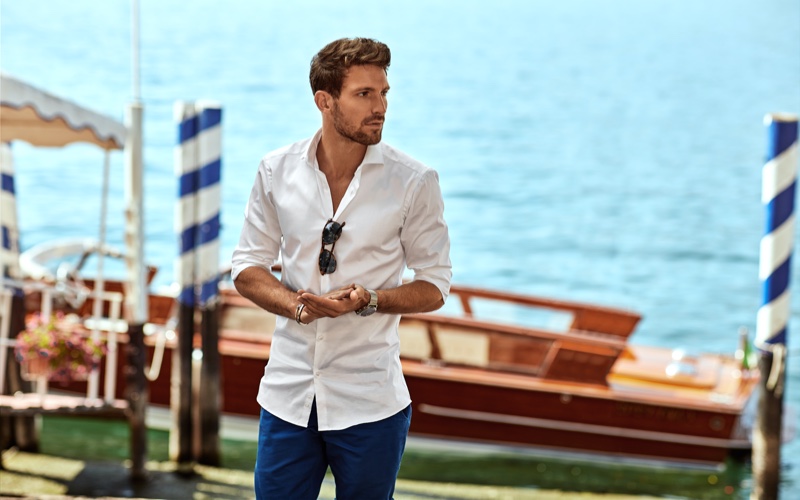 White Button-Down Shirt
Along with that standard blue shirt, we also suggest having a classic white button-down shirt in your closet. This item is great under a suit—whether you need it for a more casual look, as part of a crew neck jumper, or for a dressier work or event suit. Like the pale blue shirt, white button-down shirts are so versatile and ideally should be cut from thick, soft cotton.
Denim Jacket
If you have a more relaxed look that you are going for, we suggest opting for a denim jacket. Whether it's got that brand new or worn out look, this item can be worn under an unlined navy blazer, over a simple tee, or even opposite of a pair of jeans in a different hue so that the two colors don't clash or look corny.
Wool-Flannel Trousers
For an equally laid-back look, why not opt for wool flannel trousers? One can wear these items with a plain white tee or a navy blazer over the top. These trousers are undoubtedly the epitome of bridging that casual and formal look.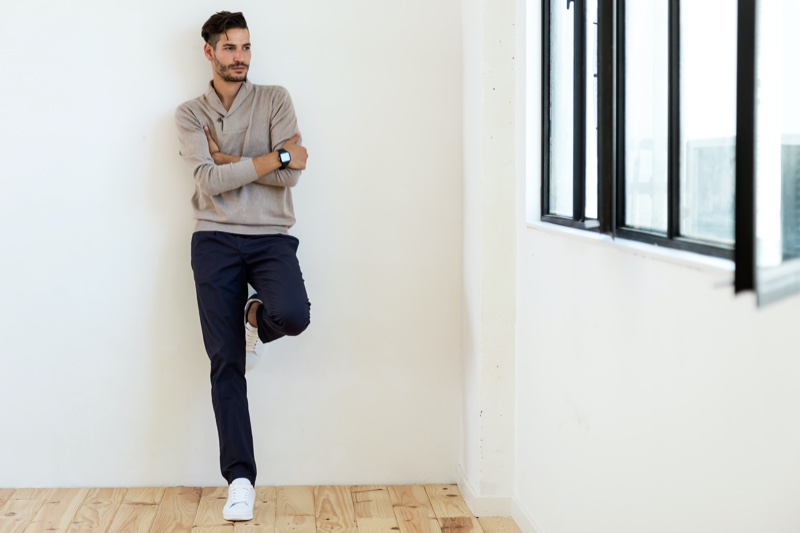 Slim Navy Chino Trousers
If you aren't much into jeans, a great alternative might be slim navy chino trousers. These pants are ideal for any season and weather type. You can also easily pair them with a simple shirt, jacket, or even bomber jacket in the colder months.
Beige Trench
Another excellent option for your basic look is a beige trench coat. These aren't just items for women. These double-breasted trench coats are perfect for light weather, and they will help you keep the rain at bay while still looking as sharp as ever when it is paired with a simple tee and jeans.
Slim Indigo Selvedge Jeans
While a good and sturdy pair of jeans should be slim, they shouldn't be too stiff or tight so that it inhibits movement. A classic pair of dark selvage denim will meet each criterion while ensuring that you still look fashionable.
Solid Color Sneakers
While it's great to have colorful sneakers, we also recommend having a set or two of solid-colored sneakers. White is always a great option, though you can also opt for black or a standard brown. These neutral items are easy to pair with a range of outfits.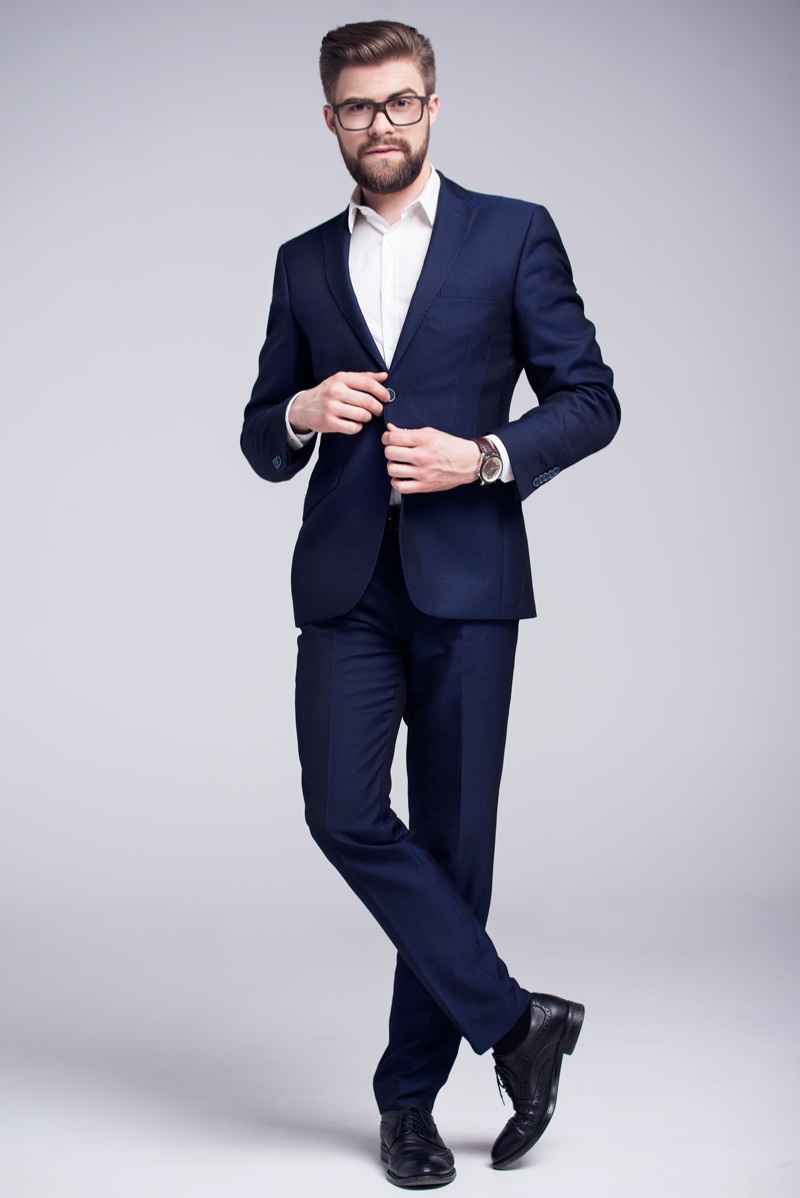 Navy Blue Suit
If you have a job where you are expected to wear a suit, then the standard rule is that you should always have more than one option to turn to. We suggest having a navy blue, single-breasted option on access at all times in your closet.
Quality White T-Shirt
Another must-have item is a classic white t-shirt crafted from high-quality cotton. Not only will you be happy to feel that smooth feeling against your skin, but it will match your many outfits and won't suffer every time it enters your washing machine.
Navy Blue Crewneck Jumper
While one of the most versatile items in your closet is surely the white button-down shirt, another is the crewneck jumper that can be purchased in a range of colors. We suggest having one in navy blue, as it can be worn with pretty much anything.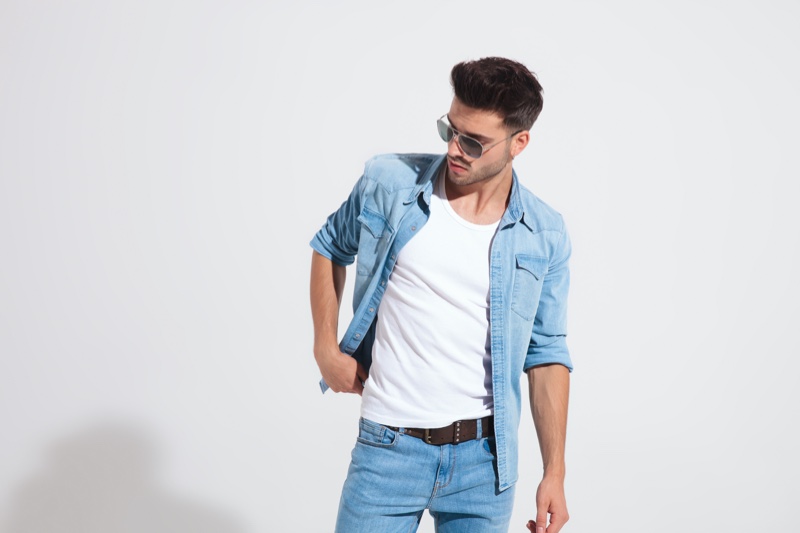 Black Wayfarer Sunglasses
Are you looking to top off your clothes with an utterly cool accessory? The best way to do this is to get a pair of sunglasses that suit every face well: classic black Wayfarers. If you purchase any set of frames, make sure it is a pair of these. We recommend going with the original Ray-Ban brand as they are the most recognizable and reliable.
Navy Blazer
If you are looking for a great must-have item for those colder months, we recommend having a navy blazer made of brushed cotton in your closet. You can't ever go wrong with this item!
Brown Suede Chelsea Boots
A final suggestion for your closet is a pair of chic and easy-to-wear brown suede Chelsea boots. These shoes are great with jeans or a pair of slacks, and they are pretty well a round-the-year essential item.