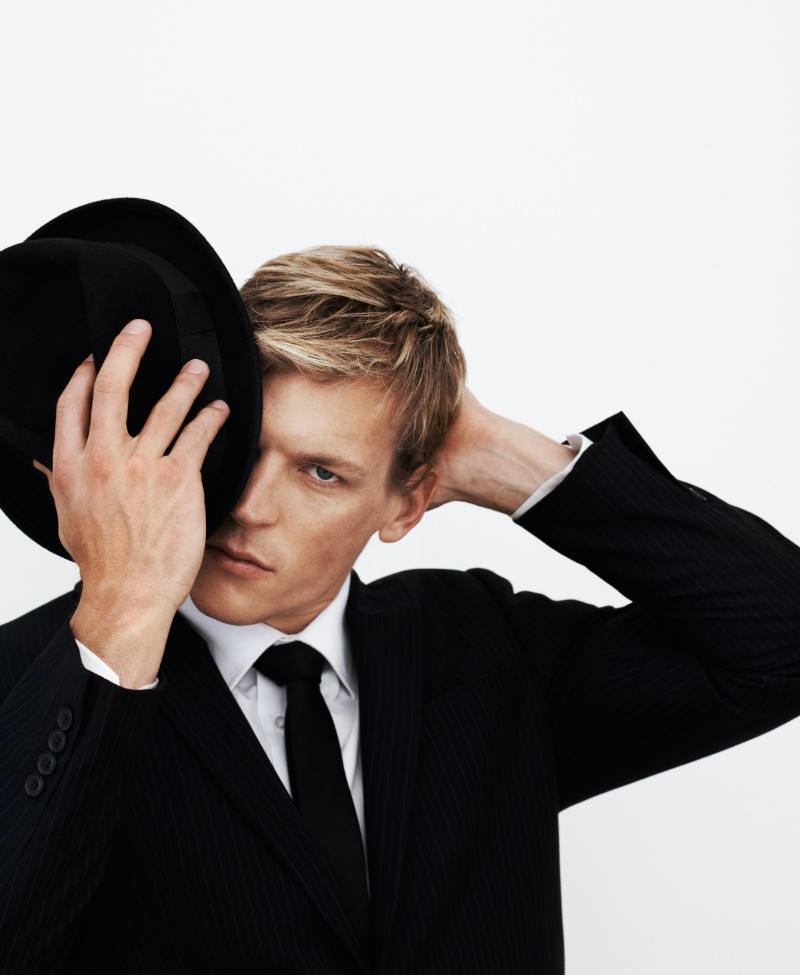 Regarding accessorizing, many men's hat styles are an excellent way to make a statement and complete an outfit. From casual to formal occasions, a well-chosen hat can add an extra dimension of style and sophistication to any look. And with so many types of hats in various styles and materials, they are versatile accessories that can be worn year-round.
Types of Hats for Men
Whether you prefer the classic elegance of a fedora or the laid-back cool of a snapback, there's a hat out there to suit your taste and personality. So, without further ado, let's look at the must-have hats for men:
Ascot Caps
Men's Ascot caps, called Cuffley caps, are distinct from the elaborate headwear seen at the Royal Ascot races. This style, instead, refers to a traditional men's cap known for its classic elegance and subtle sophistication. Typically constructed with a hard, sewn-down brim and a softer, rounded crown, these caps are made from materials like wool, tweed, or leather, giving them a sturdy yet refined appearance.
The Ascot hat's versatile design suits it for various occasions, from casual outings to formal settings. It has become a favorite among men seeking a hat that combines the comfort of casual wear with the polished look of something more dressy.
Baseball Caps & Snapbacks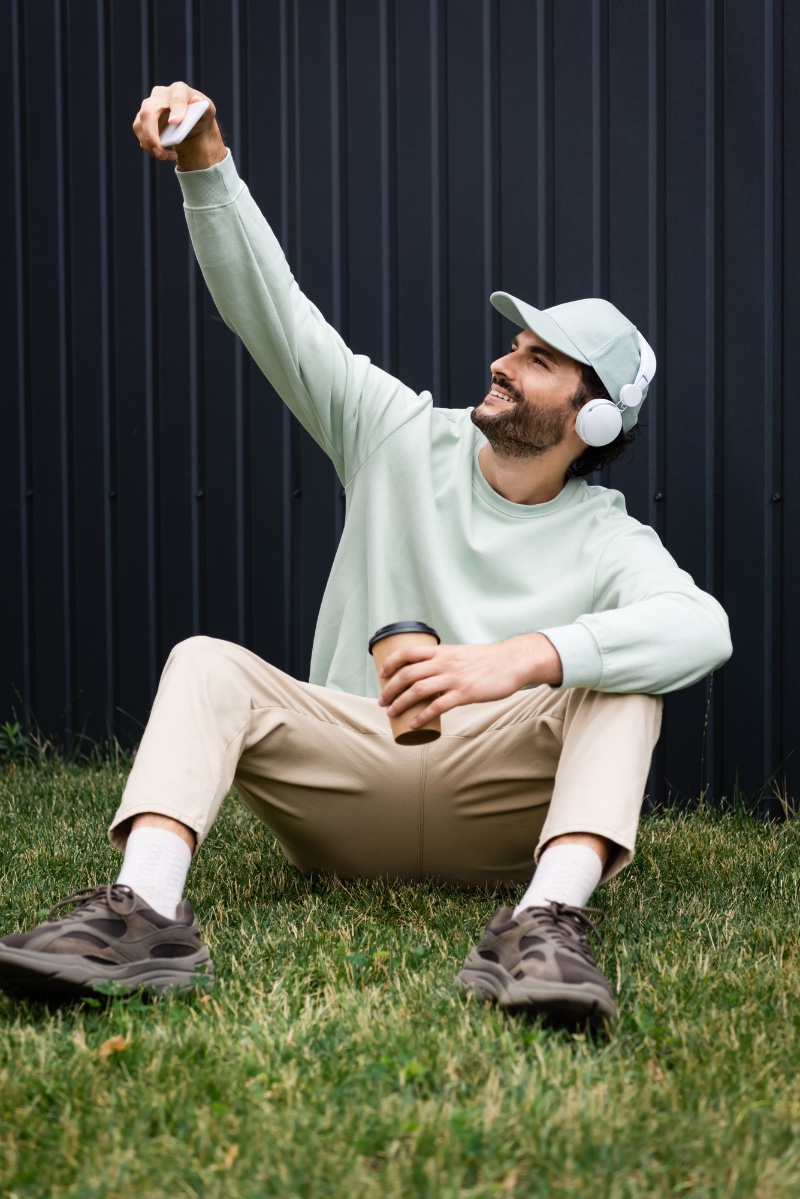 Baseball caps, known for their rounded crown and stiff bill, are essential accessories for a sporty look, protecting against the sun's glare. They pair seamlessly with casual outfits—shorts, jeans, t-shirts, or button-downs. Snapbacks, a specific baseball cap with an adjustable plastic strap, offer a versatile option that fits various head sizes, including those with larger heads.
Baseball caps are staples in sports teams' apparel stores, while snapbacks have carved a unique place as an essential element of the street style tradition currently trending in fashion, like the icon hat. Both styles, whether a classic baseball cap or the more trendy snapback, can be worn by men who want to express their sporty or casual aesthetic. Their shared structure yet distinct features make them valuable additions to men's fashion.
Berets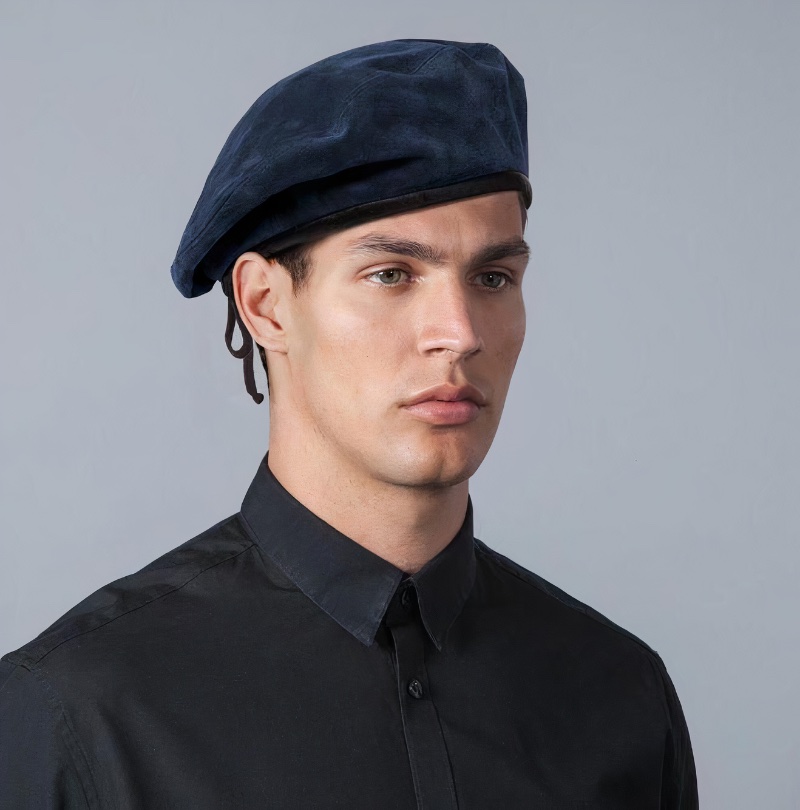 Berets, with their distinct flat-crowned shape, have become a symbol of effortless chic and artistic flair. Often made of wool, cashmere, or cotton, they can be worn in various ways, tilted to one side or pulled down, allowing for personal expression and style. Their simple design makes them versatile, suitable for casual and more polished ensembles, and appealing to individuals who appreciate European elegance.
The beret's rich history extends beyond fashion, serving as an emblem for military units worldwide, particularly within elite forces. Its association with artists and intellectuals further cements its reputation as a hat that transcends mere accessory status. From the bustling streets of Paris to the runways of high fashion, the beret continues to be a beloved and timeless choice for those seeking a hat that melds tradition, sophistication, and a hint of artistic whimsy.
Boater Hats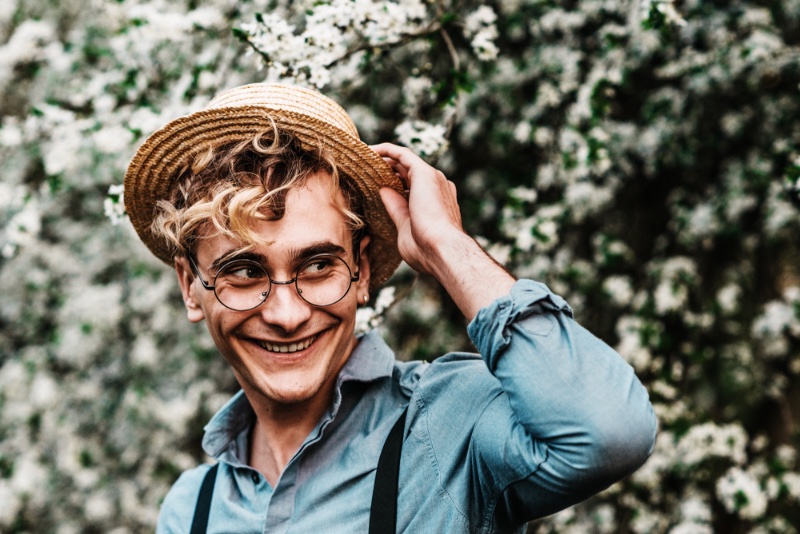 Boater hats are a timeless men's hat style that has been around for over 100 years. They feature a wide brim, flat crown, and stiff straw-like material—usually straw but also wool, cotton, or synthetic fibers. Boater hats tend to be light in color, with natural straw tones being the most common; however, they can also come in darker hues like black or navy.
Boater hats come in various styles, some with a flat brim and others with an upturned brim. Some may also feature decorative bands or ribbons around the base of the crown for added visual interest. Boater hats are perfect for outdoor events like weddings, picnics, or boat outings; they may be worn casually alongside more relaxed clothing.
Beanies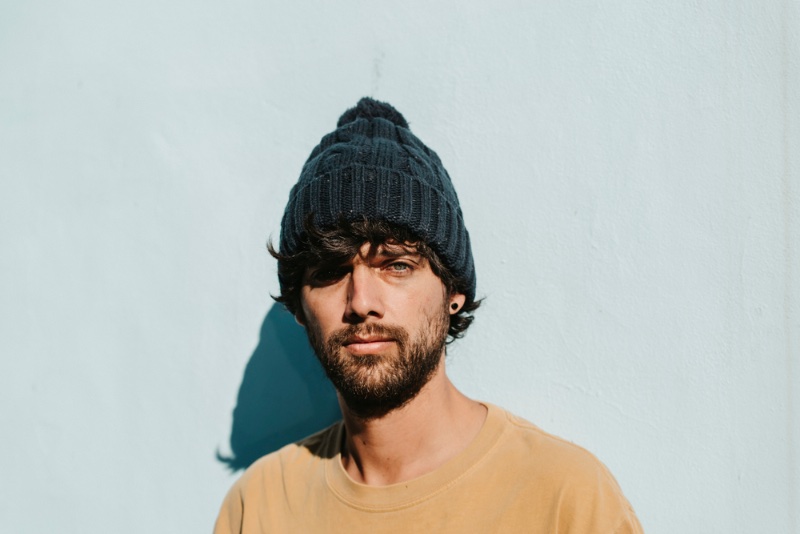 Beanies are an essential cold-weather accessory for men who appreciate comfortable and casual fits. Crafted from fleece, wool, cashmere, and other materials, these hats often feature an additional insulation layer for warmth in the cold.
Beanies come in various knit colors and styles, so it's easy to find one that perfectly matches your attire. Jughead Jones' signature hat choice in Riverdale helped fuel the popularity of beanies. These cozy winter-to-spring accessories are essential for anyone wanting to stay warm while looking stylish.
Boonie Hats
Boonie hats, initially designed for military use, have a characteristic wide brim and durable construction. Made from cotton, polyester, or a blend of both, they provide excellent protection from the sun and rain. Often equipped with mesh vents for breathability and an adjustable chin strap for a secure fit, the functional design of boonie hats makes them a preferred choice for outdoor enthusiasts.
In addition to their practicality, boonie hats have found their way into casual fashion. Their rugged appearance and ability to withstand harsh weather conditions have made them popular among hikers, fishermen, and adventurers.
Bowler Hats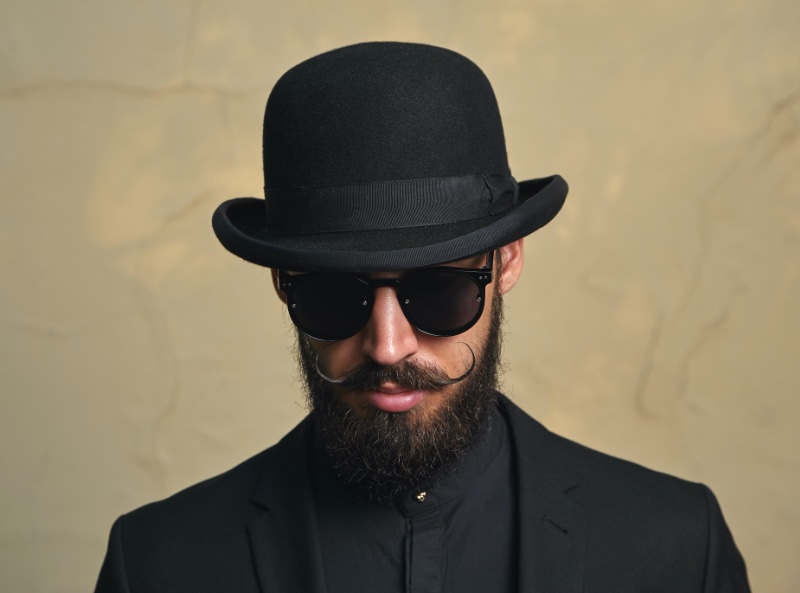 The Bowler hat, a true icon of British heritage, has long held a distinguished place in the annals of men's fashion. Recognizable by its hard, rounded crown and short, curved brim, the Bowler's unique shape has made it a standout in the hat world. Initially created in the mid-19th century as a protective headgear for horse riders, the Bowler has since transcended its practical origins to become a symbol of stature and style.
Historically associated with businessmen, politicians, and entertainers, influential figures from Winston Churchill and Charlie Chaplin have sported the Bowler hat. Though its popularity has ebbed and flowed, the Bowler's charm never entirely fades. Today, it can be seen as a retro choice for the fashion-forward man, evoking an era of classic elegance. Whether worn with a suit or casual attire, the Bowler hat lends a touch of vintage sophistication, blending old-world class with modern panache.
Bucket Hats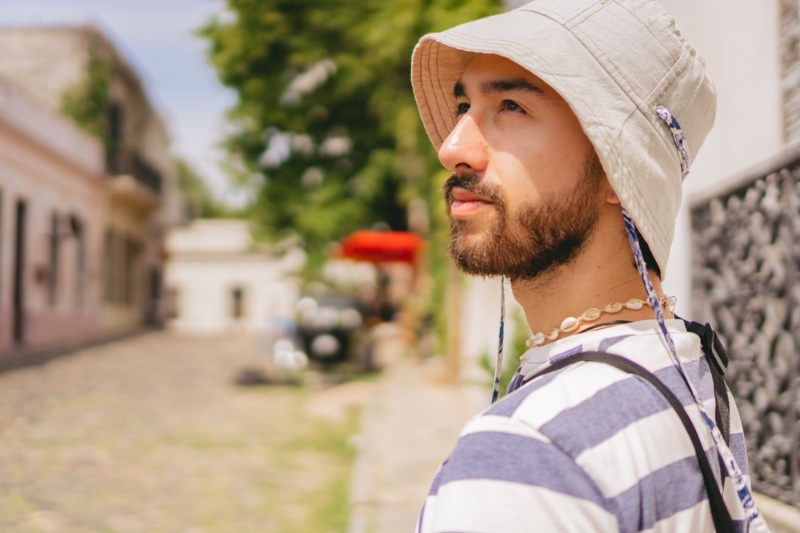 Bucket hats have been a timeless fashion trend that appeals to both men and women since the 1960s. Not only are they practical, stylish, and perfect for casual looks—they also look great when paired with jeans.
Bucket hats come in various materials, such as cotton, denim, nylon, polyester, and even leather. Cotton is the most common option due to its breathability and comfort. Getting the correct size for a comfortable fit is essential when selecting a bucket hat.
You can measure your head circumference using a soft measuring tape and compare it with the hat size chart provided. In addition, most bucket hats are adjustable at the back with either drawstrings or snaps, allowing you to customize your fit even further.
Cowboy Hats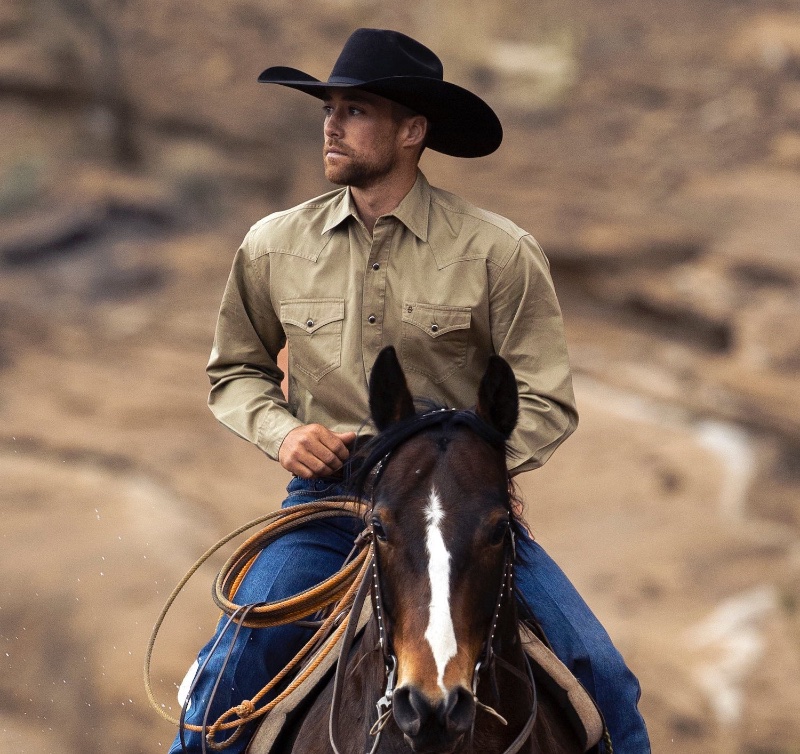 Cowboy hats, symbolic of the rugged American West, are not merely an accessory but an icon of cultural heritage. With a wide brim, high crown, and often made from durable materials like felt or straw, these hats are designed to provide shade and protection from the elements. The creases and folds in the crown can vary, allowing for individual expression and a touch of personal style.
Cowboy hats have transcended their functional origins on the ranch to become a fashion statement. They can be paired with casual and more formal attire, resonating with those wishing to channel a sense of adventurous spirit and individualism. Whether worn by a cowboy on the range or by someone looking to add flair to an ensemble, the cowboy hat remains a timeless piece, echoing the rugged charm of the frontier.
Dad Hats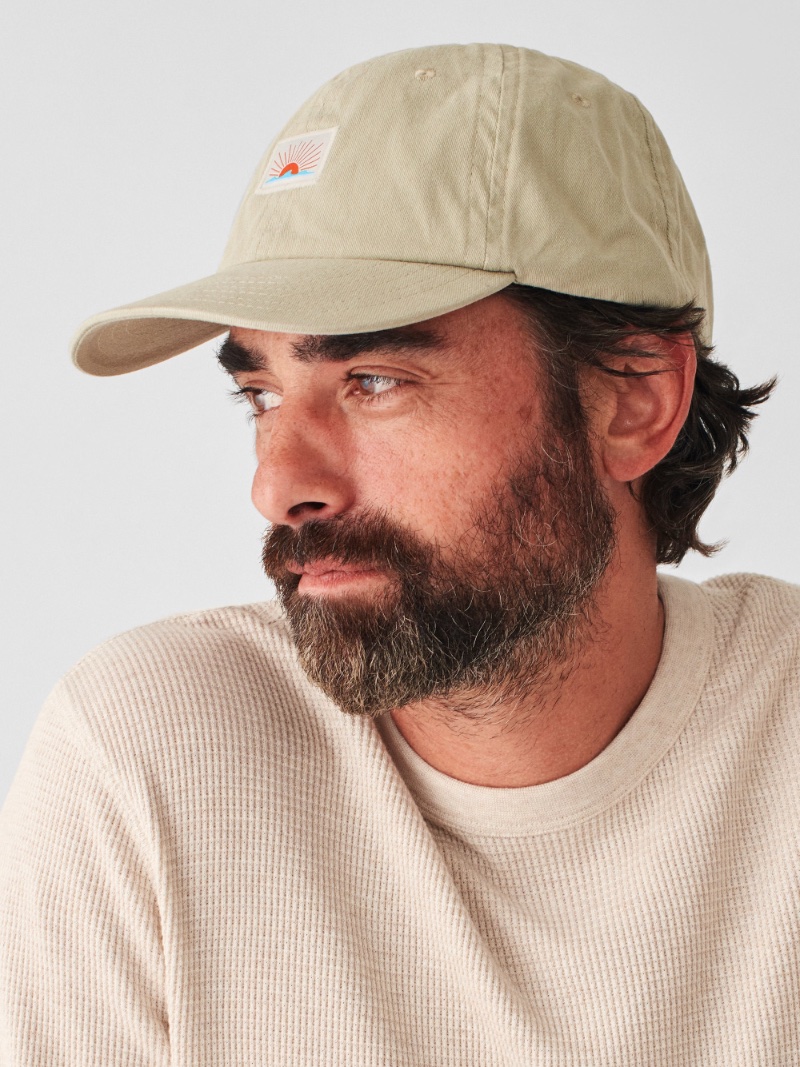 Dad hats are a recent phenomenon in men's fashion, encapsulating a laid-back, effortless style. These unstructured, slightly curved-brimmed hats are often made of soft, comfortable materials like cotton or washed denim. Unlike other hat styles' crisp and formal appearance, Dad hats embrace a relaxed, worn-in look that speaks to casual authenticity.
The name "Dad hat" conjures an image of the quintessential family man, which is part of its charm. It's a hat unburdened by the need to be flashy or trendy, yet it has become a fashionable accessory embraced by celebrities and style influencers. The appeal of the Dad hat lies in its simplicity and versatility. Whether sporting a favorite team's logo or a clever slogan, the Dad hat fits seamlessly into various settings, from weekend outings to casual days at the office.
Driving / Flat Caps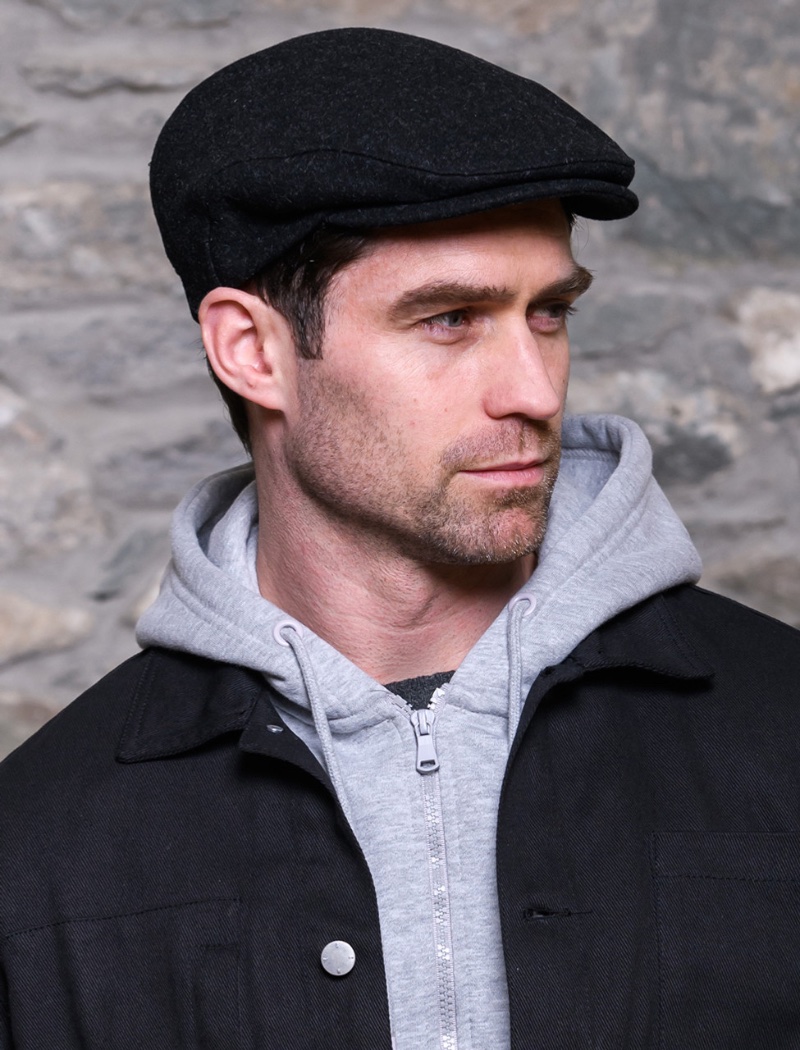 Flat caps, a classic British accessory, have significantly impacted contemporary men's fashion. Known for their rounded shape with a small, stiff brim in front, these caps are typically constructed from wool, tweed, or cotton materials. By lying close to the head, they provide a sleek and understated appearance, lending themselves to casual and more refined looks.
Once a staple in British country attire, Flat caps have transcended their rural origins to become a favorite choice in urban fashion. They seamlessly bridge the gap between casual comfort and sophisticated dressing. In an era where personal style is highly valued, the timeless appeal of Flat caps continues to resonate with those seeking an accessory that effortlessly combines elegance with practicality.
Fedoras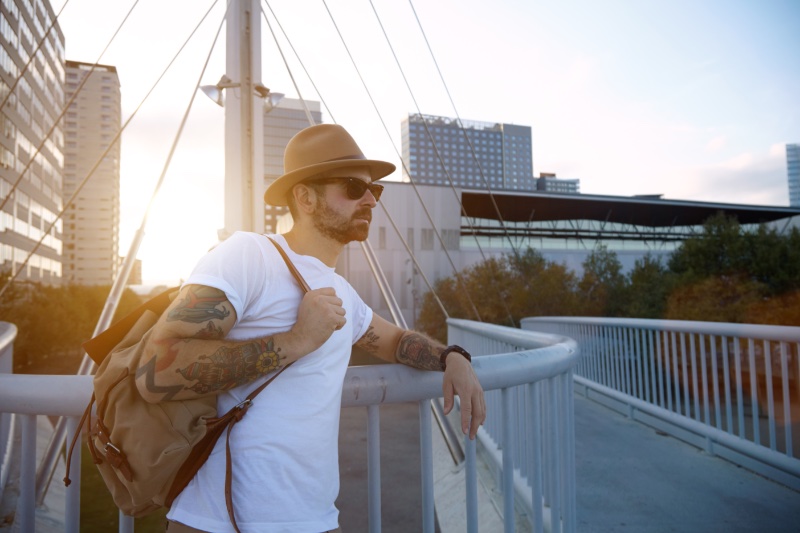 Fedoras were a fashion accessory popular during the early 20th century. These hats are usually made of wool or felt and feature a broad brim and creased crown. Men originally donned Fedoras as part of their wardrobe as an accessory that could be paired with many outfits, often seen associated with "dapper" style clothing during the 1920s and 1930s.
Today, fedoras remain a fashionable accessory for both men and women alike. They come in various colors and materials that can be dressed up or down depending on the occasion. Unfortunately, some people associate fedoras with negative stereotypes such as the "neckbeard" or "nice guy" persona; thus, leading to debates regarding when it is appropriate to wear one in specific contexts.
If you want to channel Frank Sinatra, then a fedora is ideal. This timeless hat style has been around for years and will remain fashionable in the foreseeable future.
Gambler Hats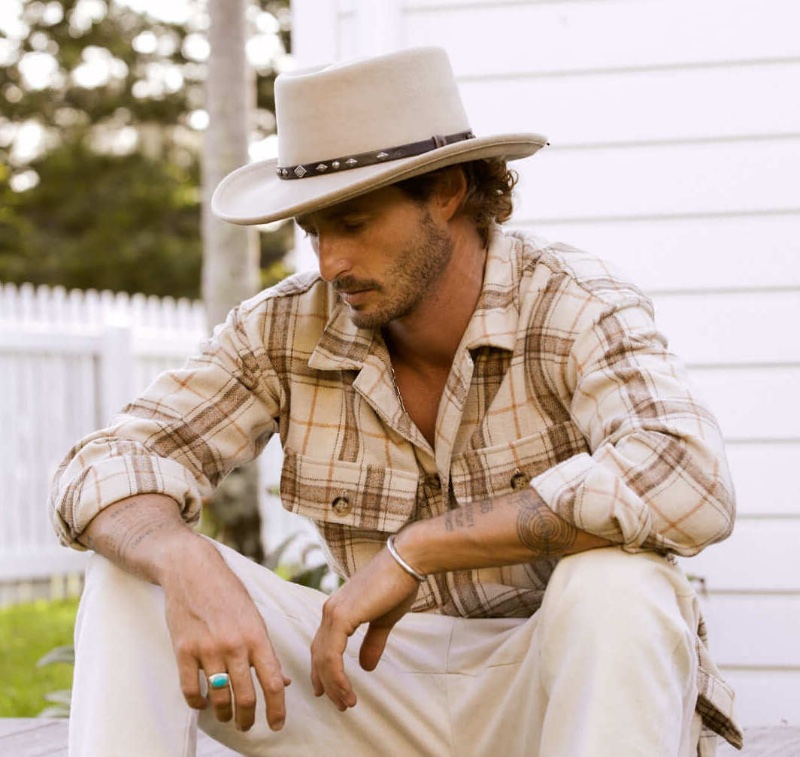 Gambler hats are distinguished by their broad brims and somewhat cylindrical crowns, often adorned with a stylish band or ribbon around the base. These hats blend comfort and visual appeal and are constructed from straw, felt, or wool materials. Their design combines the cowboy hat and the fedora elements, resulting in a unique hybrid that exudes Western charm and sophisticated flair.
With their Old West association, these hats evoke images of poker tables, saloons, and rugged outdoorsmen. The gambler hat's name hints at its connection with card-playing circles and adventurous characters. Yet, despite its rugged roots, the gambler hat has found a place in modern fashion, adding a distinctive touch to casual and dressier looks.
Homburgs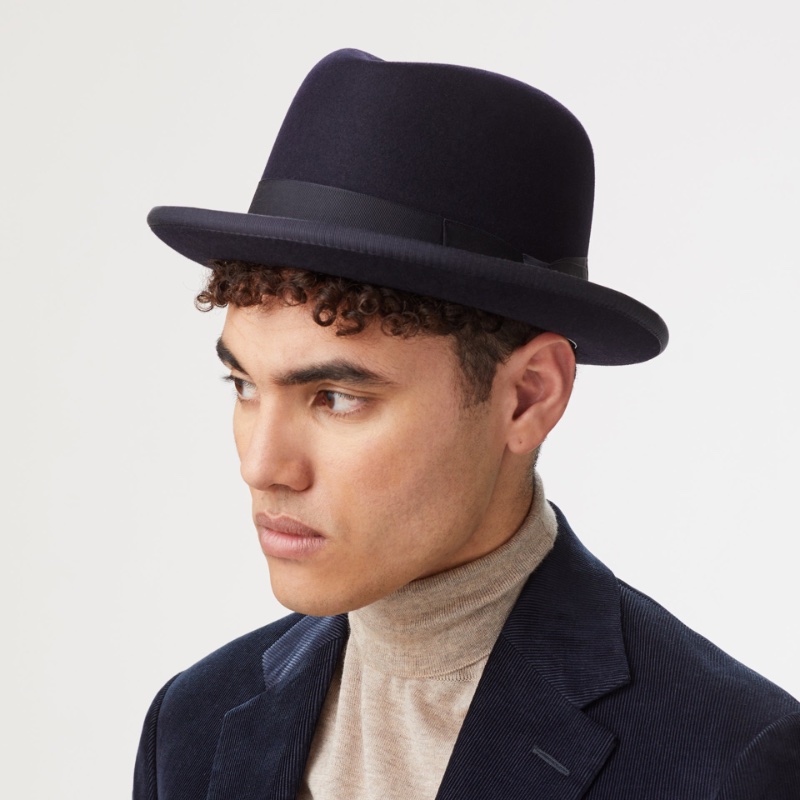 The Homburg hat, known for its distinctive single dent running down the center of the crown and a stiff, upturned brim, exudes an air of formality and elegance. Traditionally crafted from felt, this classic accessory features a grosgrain ribbon around the base of the crown, adding a touch of refinement. Its structured shape and tailored look make it a suitable choice for formal occasions, enhancing the wearer's appearance with sophistication.
Though often associated with historical figures and a bygone era of men's fashion, the Homburg hat retains a devoted following among those who appreciate timeless style. It can be spotted in the wardrobes of tasteful dressers who value quality and classic appeal, finding its place in modern fashion landscapes where elegance and tradition are celebrated.
Mariner Caps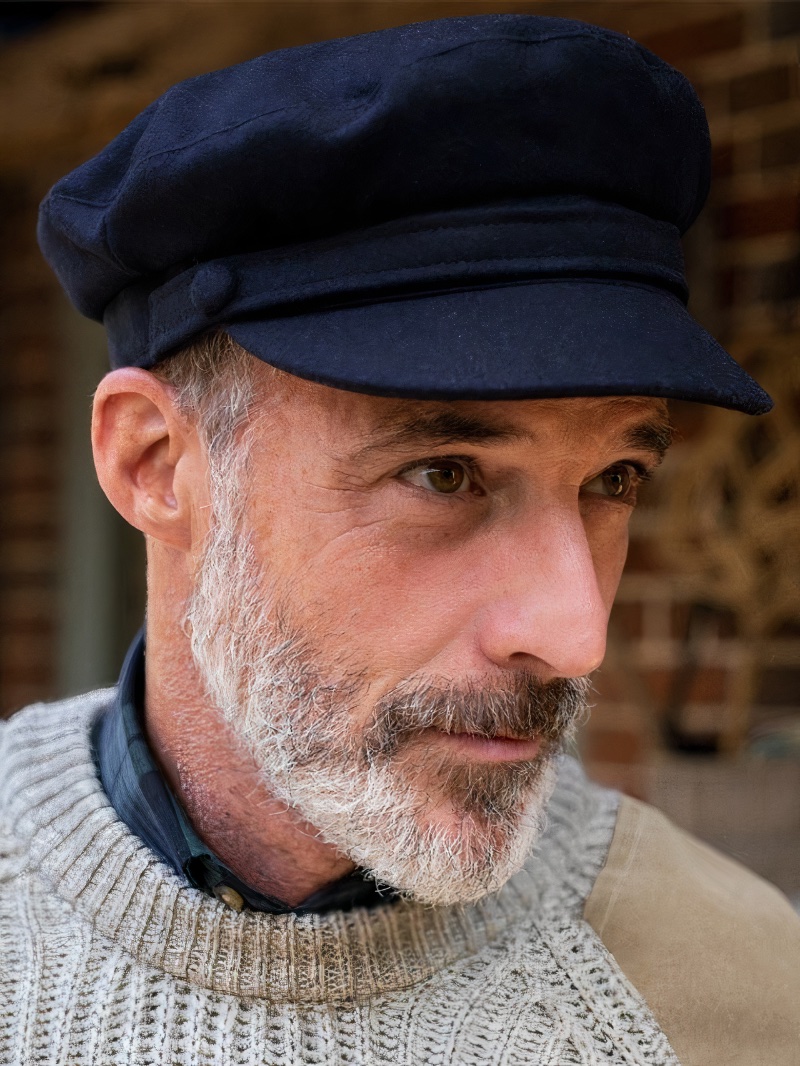 Mariner hats, also known as fisherman or Breton caps, are deeply rooted in nautical tradition. Recognizable by their wide brims and cylindrical crowns, often adorned with a decorative braided cord or ribbon, these hats were initially designed to protect from the harsh elements at sea. Usually constructed from materials like wool or heavy cotton, mariner hats are both functional and stylish.
Beyond their utilitarian origins, mariner hats have sailed into fashion and urban wear. Their classic, timeless design resonates with those seeking an accessory that blends tradition with contemporary aesthetics. Whether paired with a pea coat for a nautical-themed ensemble or worn casually with everyday attire, mariner hats offer a unique and striking way to accentuate a look.
Newsboy Caps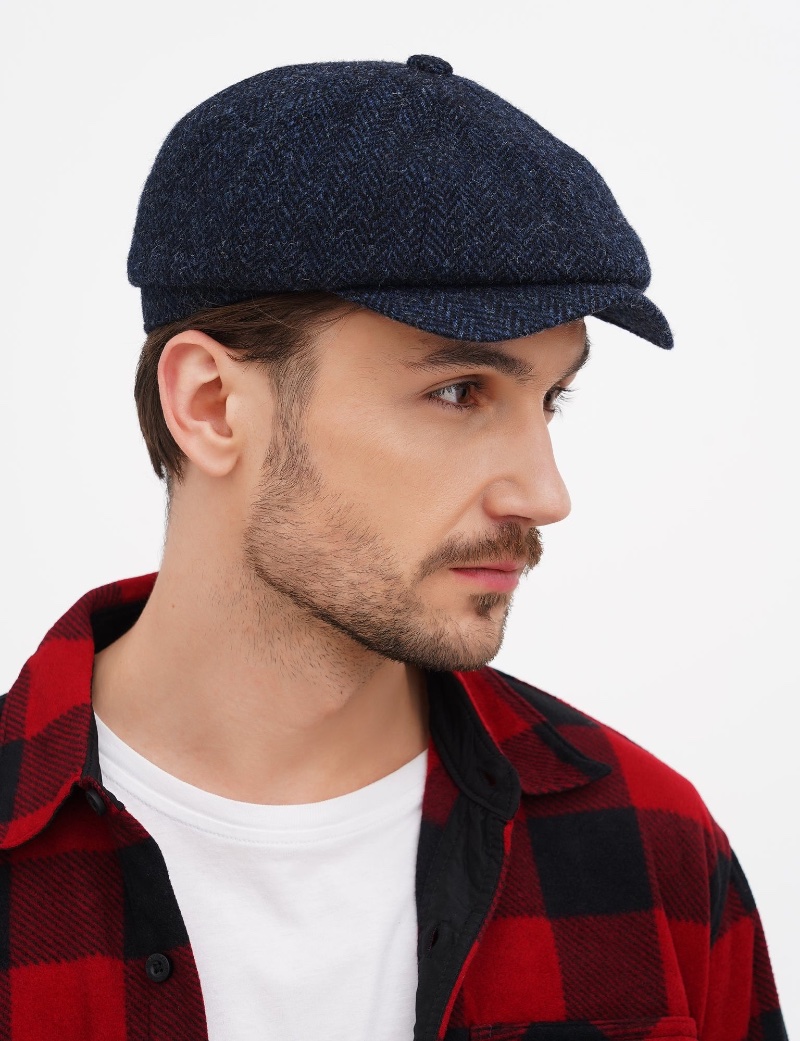 Newsboy caps, named for their popularity among newspaper sellers in the early 20th century, present a unique blend of nostalgia and romance. These hats are characterized by their fuller, paneled construction, often adorned with a button on top. The Newsboy hat evokes a sense of historical charm and early street style with a design similar to the flat cap but boasting more volume.
These hats have become synonymous with vintage aesthetics and are an excellent choice for those looking to add personality and timeless grace to their attire. Whether dressing for a formal occasion or simply seeking to enhance a casual weekend outfit, Newsboy hats offer an enduring option.
Panama Hats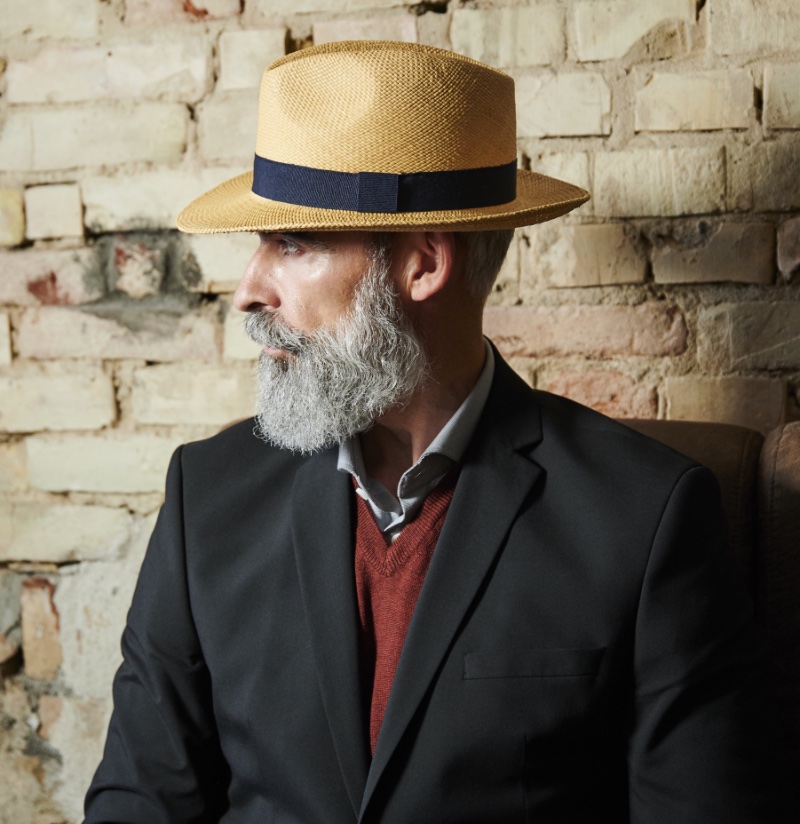 Panama hats symbolize refined elegance and timeless style, known for their lightweight and breathable qualities. Woven from the straw of the toquilla palm found in Ecuador, these hats are handcrafted masterpieces that exhibit meticulous artistry. With a medium to wide brim and a pinched crown, Panama hats provide ample shade, making them an ideal choice for hot, sunny climates.
Contrary to their name, Panama hats did not originate in Panama but gained fame during the construction of the Panama Canal, where workers and officials wore them for sun protection. Over time, this hat has become an essential accessory for the well-dressed man, pairing perfectly with summer suits and casual beachwear.
Pork Pie Hats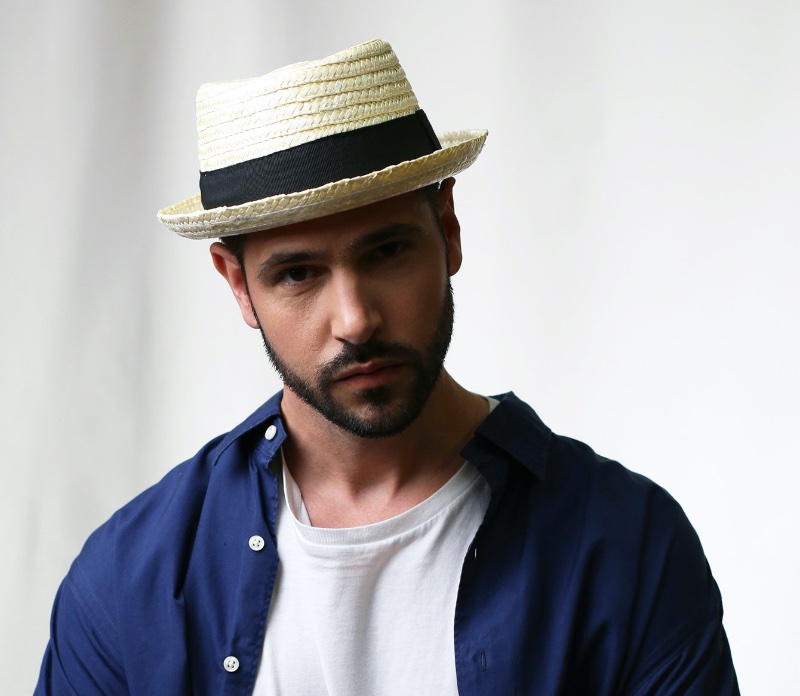 Pork Pie hats, named after their resemblance to the traditional British pork pie dish, have made a noteworthy mark in men's fashion. Characterized by their flat crown and short, upturned brim, Pork Pie hats are often constructed from felt or straw, with a decorative ribbon or band encircling the crown. Their distinctive shape sets them apart, giving them a unique and stylish appeal.
The Pork Pie hat's history is rich, with its popularity surging during the jazz era when musicians donned these hats as a symbol of cool sophistication. Today, they remain a fashionable choice, favored by those looking to add a touch of vintage charm to their ensemble.
Top Hats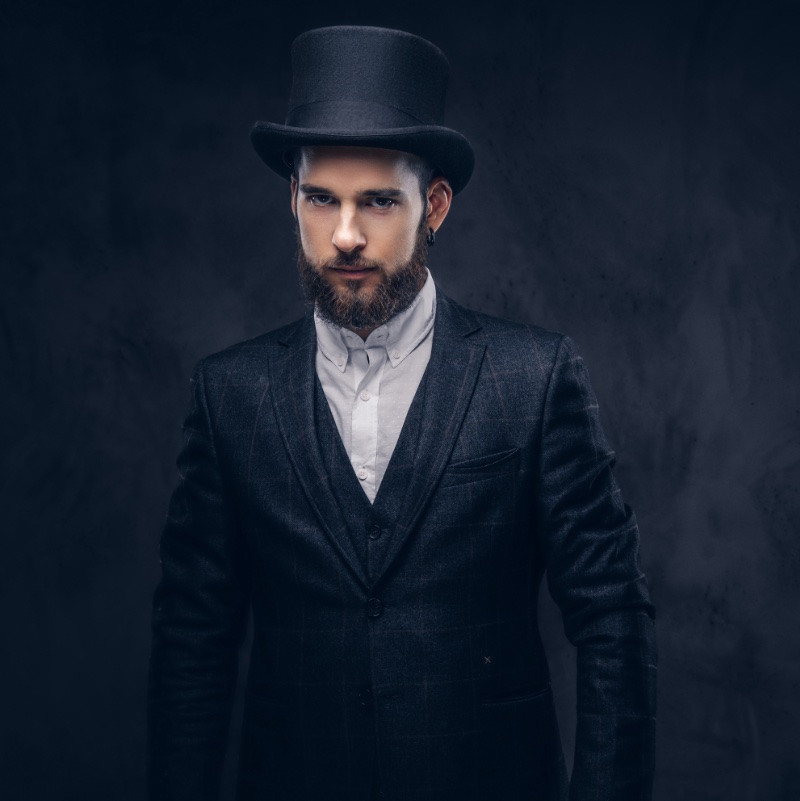 Top hats, synonymous with formal elegance, have long symbolized status and sophistication. Recognizable by their tall cylindrical crown and narrow brim, they are often crafted from luxurious materials like silk, beaver fur, or fine wool felt. Traditionally worn with tailcoats and morning dress, the top hat's grandeur is a nod to the upper echelons of society, gracing the heads of statesmen, aristocrats, and distinguished figures.
While their prominence has waned daily, top hats remain quintessential accessories for ceremonial occasions, such as weddings, galas, and prestigious events. The theatrical world also embraces top hats, adding a touch of drama and flair to various performances.
Trapper Hats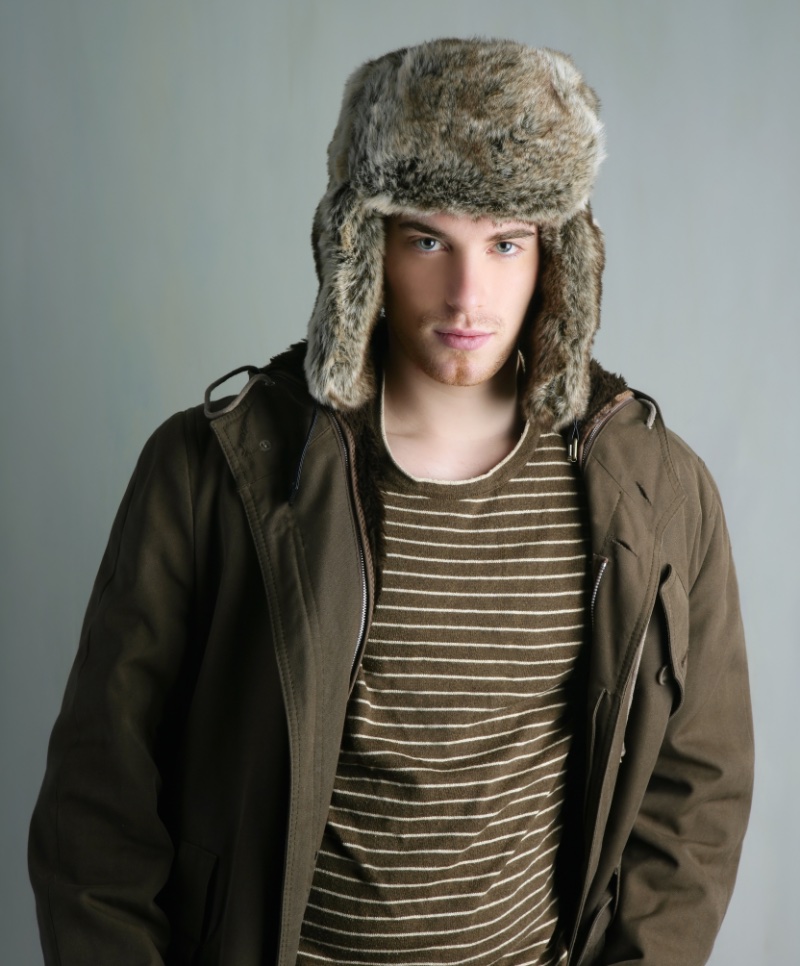 Trapper hats, renowned for their cold-weather functionality, provide a striking blend of warmth and style. Recognizable by their ear flaps and soft, insulating lining, these hats often feature rugged materials like leather, canvas, or wool paired with faux fur or shearling interiors. Initially worn by trappers and outdoor explorers, these hats offer complete protection against frigid conditions.
In contemporary men's fashion, Trapper hats have evolved beyond their utilitarian origins to become stylish accessories. They carry the essence of the adventurous outdoor spirit into urban fashion, adding a rugged charm.
Trilby Hats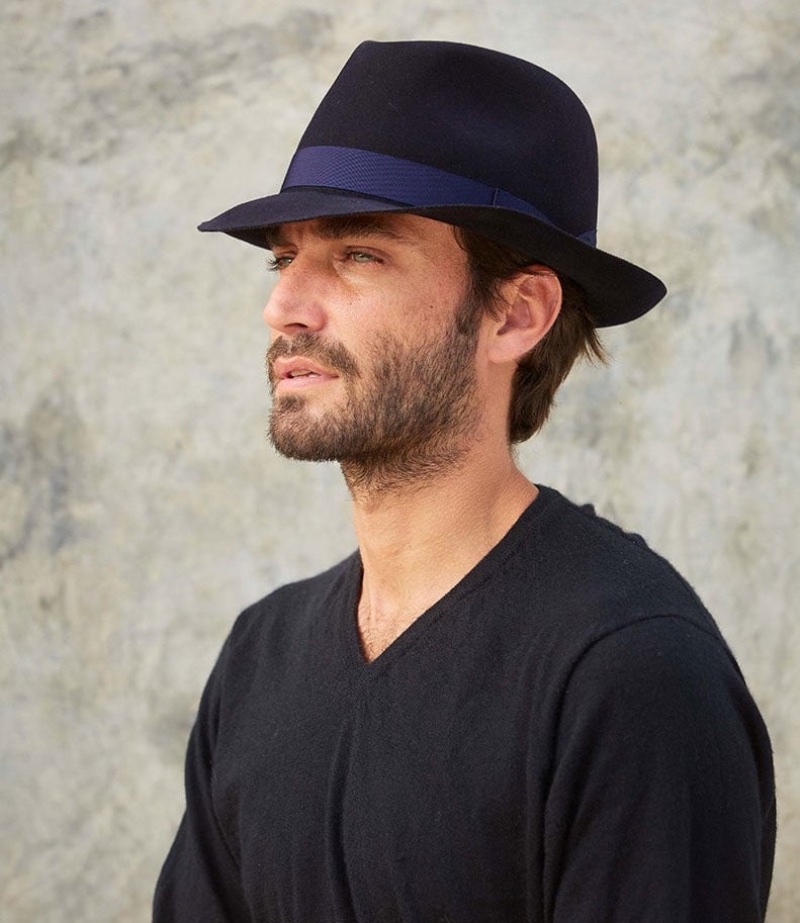 Trilby hats, often confused with fedoras, have carved a unique space in men's fashion. The Trilby offers elegance and nonchalant confidence, sporting a shorter brim that's sharply upturned at the back and a more pronounced crown. Generally constructed from materials like wool, tweed, or rabbit hair, this hat's narrow brim makes it more casual and adaptable to various occasions.
Over the years, the Trilby has become synonymous with the indie music scene and the jazz culture of the mid-20th century. Celebrities and fashion icons have embraced the Trilby as a modern and stylish alternative to the traditional fedora.
Trucker Hats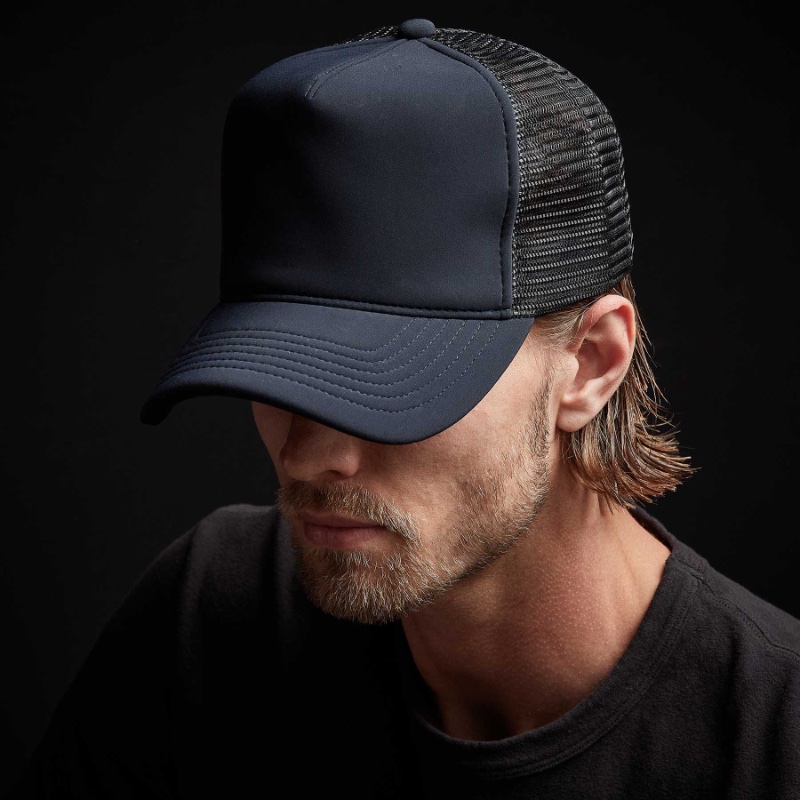 Trucker hats have been an emblem of blue-collar pride and a symbol of authentic Americana since the 1970s. Characterized by a foam front, a curved or flat brim, and a mesh back, these hats offer comfort and style. The mesh paneling allows for better air circulation, making it a favorite for outdoor activities and warm weather.
Despite the utilitarian roots, trucker hats have transcended the fashion world, becoming a popular accessory for a modern, urban look. Brands and designers have embraced this hat style, creating designs that appeal to traditionalists and those seeking contemporary flair. From classic logos to artistic designs, trucker hats have proven to be more than just a practical choice—they have become a statement piece in men's fashion.
Visors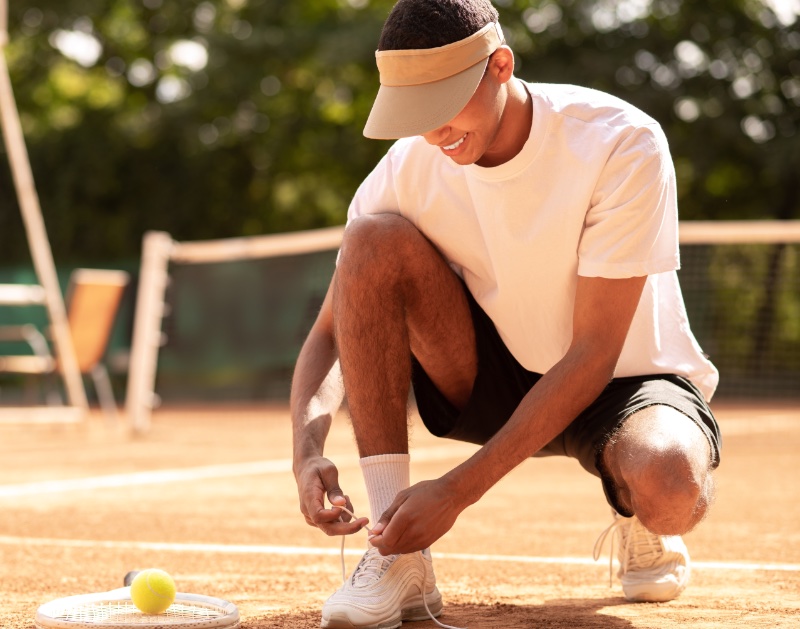 Visors are a specialized form of headwear comprising a band that wraps around the head and a brim that projects outward, exposing the top of the head. Crafted from lightweight materials such as plastic, foam, or fabric, they are intentionally designed for sun protection and offer an optimal shield against the sun's glare.
Visitors have found their niche in both the sporting world and casual fashion. Athletes in tennis, golf, and running value them for maintaining a clear line of sight, while casual wearers appreciate their laid-back, airy alternative to traditional hats.
Final Words on Men's Hat Styles
Men's hat styles offer many choices depending on the occasion, season, and personal style. Whether you prefer vintage or modern looks, casual or formal attire—there is a hat for everyone. Boater hats, beanies, bucket hats, baseball caps, snapbacks, and fedoras are famous men's hat styles to try. Experimenting with different hat styles will elevate your outfit and add personality to your wardrobe—why not give some variety?