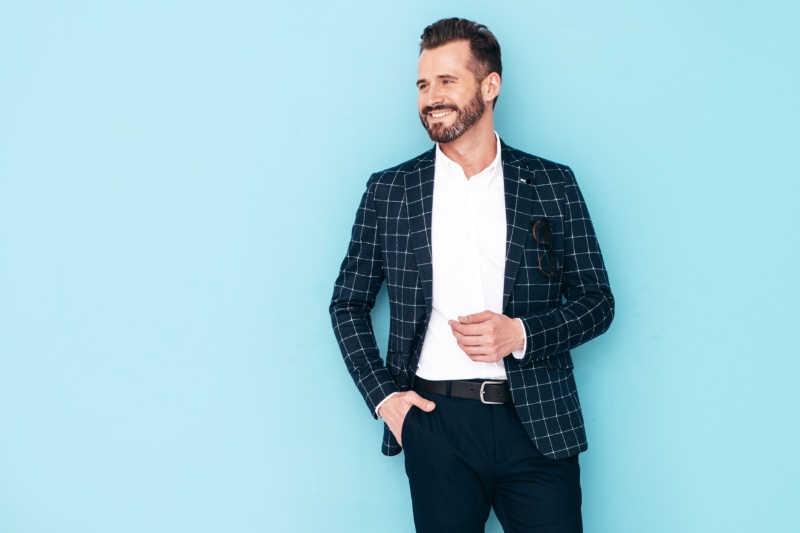 Navigating the world of men's fashion can be overwhelming, especially when it comes to choosing the perfect pair of slacks. With various styles to choose from, such as trousers and dress pants, it's crucial to understand the differences between them to elevate your overall appearance.
Choosing the right fit and style of slacks can enhance your outfit and give you a polished look. This guide is here to help you explore the different styles and cuts of slacks and provide guidance on how to wear and accessorize them for different occasions.
All About Slacks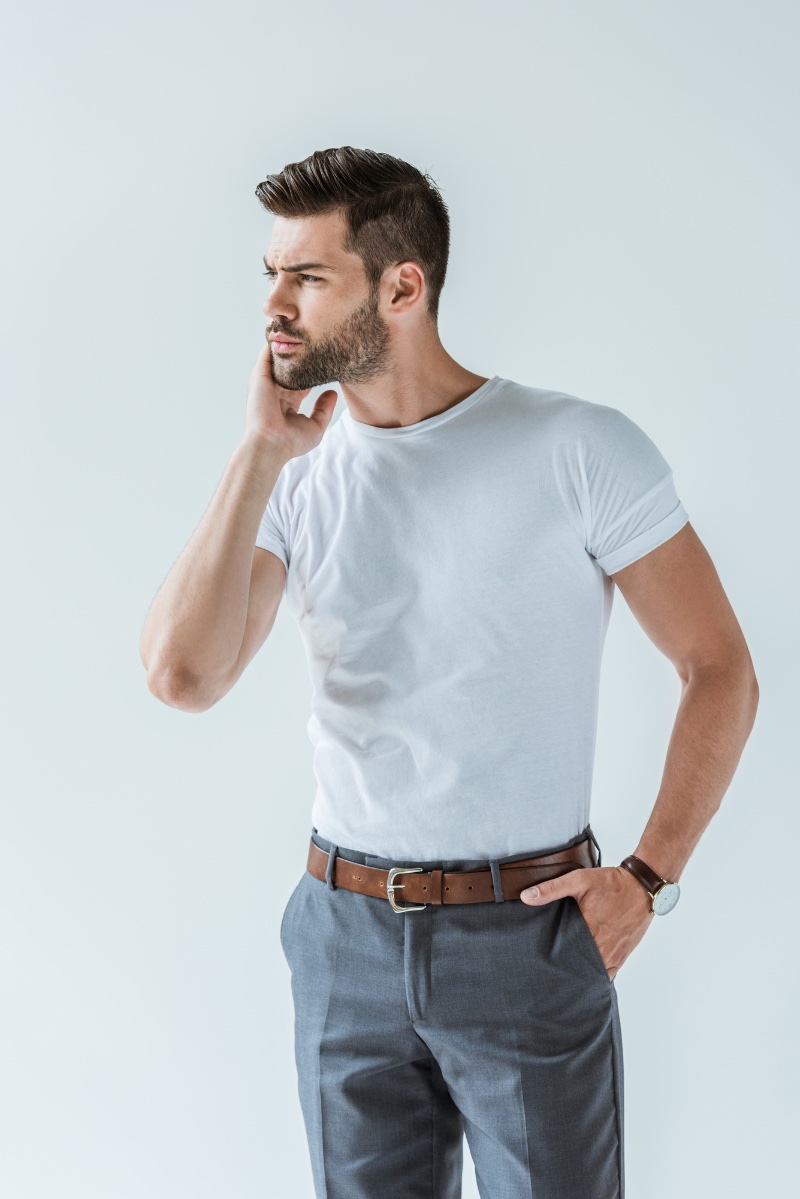 When it comes to men's fashion, understanding the differences between pant types can be confusing. To help clarify, slacks are a category of pants used to describe more formal styles, including trousers and suit pants. However, they are less formal than dress pants, such as tuxedo pants. Furthermore, here are several terms to keep in mind when shopping:
Trousers: A more formal or dressy style, typically suit trousers.
Slacks: Typically feature a straight-legged, tailored design, which makes them versatile for dressing up or down.
Suit Pants: Exist as part of a suit.
Dress Pants: Meant for formal occasions, these are usually crafted from luxurious materials such as wool or silk. They are commonly paired with a matching jacket or tuxedo jacket and may include details like pleats, cuffs, and a more defined waistband to achieve a polished look.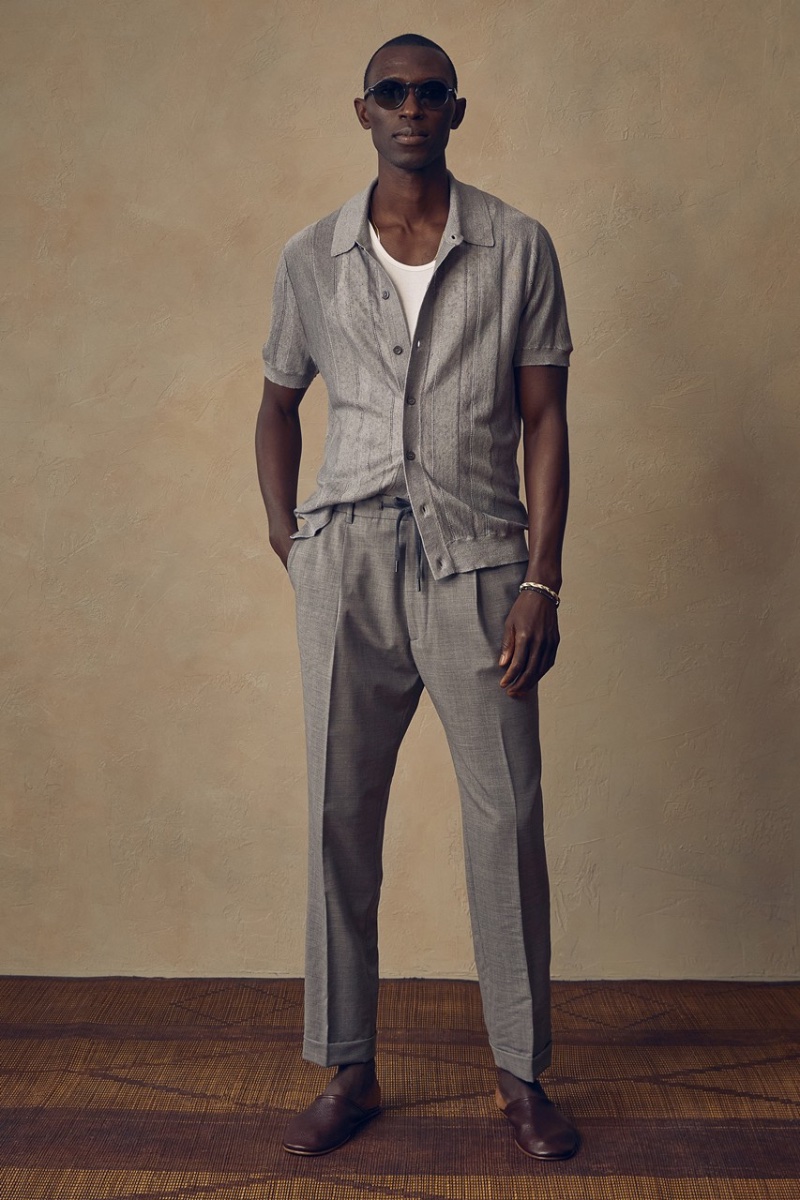 What are Slacks?
The best slacks are typically made from lighter fabrics, making them perfect for formal wear and casual occasions. They are often used interchangeably with pants and trousers, but there are some notable differences. While casual pants can describe everything from skinny jeans to cargo pants, slacks are more formal pants.
The US vs. UK
In the United States, the term slacks are commonly used to describe any casual trousers, while in the United Kingdom, the term is more often used to describe more formal, dressy trousers.
Versatility in Fabric Options
Regarding fabric options, they come in a wide variety of materials, including cotton, wool, linen, and synthetic blends. This makes them perfect for any season or climate, as you can choose a fabric that will work best for your needs.
Are Chinos Slacks?
Chinos and khakis are not slacks. Each type has unique characteristics that set it apart. Chinos are cotton twill pants that come in various colors and are often characterized by a tapered leg, slanted pockets, and a more casual, relaxed fit.
Khakis are a specific chino originating in the British military and have a slightly looser fit than traditional chinos. Slacks are a more formal type of pant typically worn in business or dressier settings, made from a finer fabric with a more tailored fit.
While chinos and slacks may seem similar, chino cloth is typically a lighter-weight fabric with a more casual, relaxed fit. In contrast, slacks are usually made from a heavier, more formal fabric with a more tailored fit.
Dress Pants vs. Slacks
While men's dress pants are more formal, they are often used interchangeably with the word slacks. Dress pants are typically designed to have a more traditional style. They usually have a higher waist and a slimmer fit, giving them a more tailored and sophisticated look. They are also often worn with a dress shirt, blazer, or suit jacket.
Dress pants are appropriate for various formal occasions, including weddings, black-tie events, and business meetings. They are also an excellent choice for job interviews or formal settings where you want to make a good impression.
Different Styles & How to Wear Them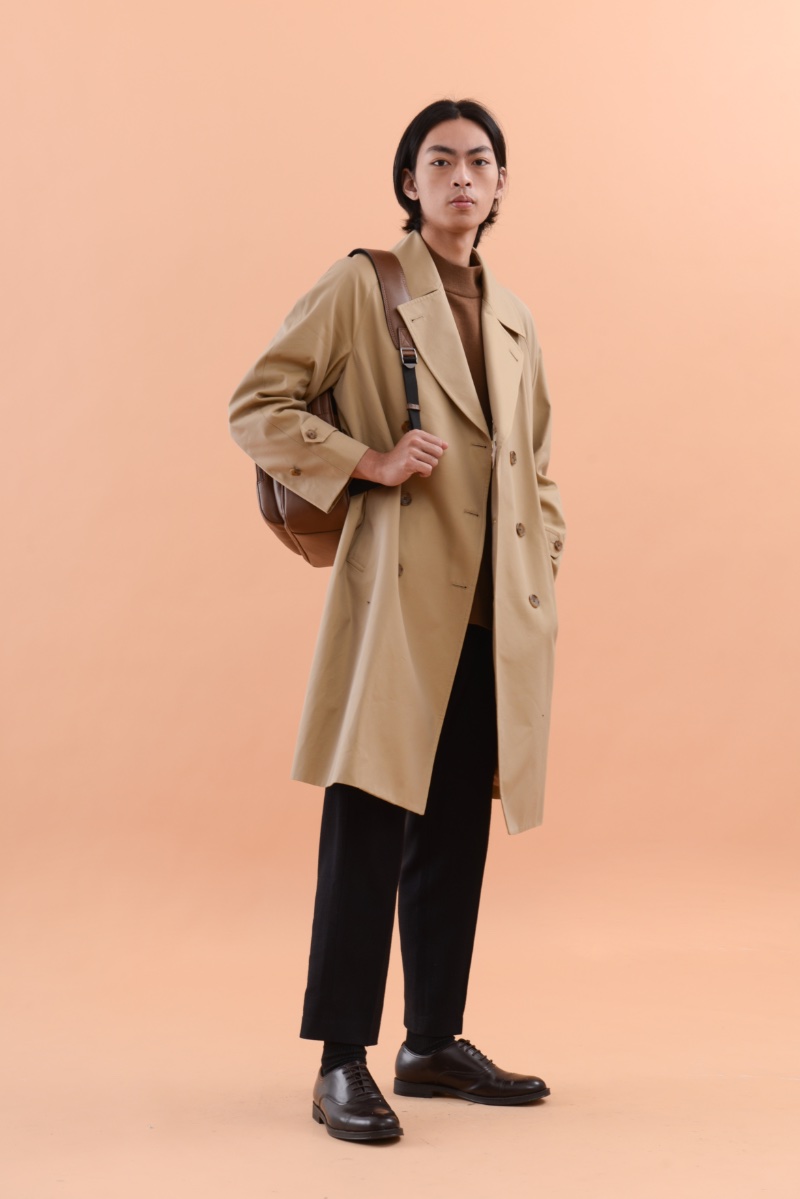 Slacks—the ultimate staple for any fashion-forward wardrobe—come in various styles, ranging from straight leg to pleated and tapered. The straight-leg silhouette is a tried classic that pairs well with different shirts and blazers.
Pleated styles, on the other hand, exude a more refined and traditional vibe, making them an excellent choice for those extra-special events. Meanwhile, tapered ones offer a more modern and slimming appearance, perfect for those who prefer a sleek and stylish look.
When selecting your slack pants, it's important to consider added features that can elevate your overall style. Some slacks boast extra fabric to the benefit of future alterations, while others come with convenient belt loops and a flat front for a streamlined, polished look. Flat-front pants, a timeless choice, add a touch of professionalism and sophistication to any outfit.
When to Wear Them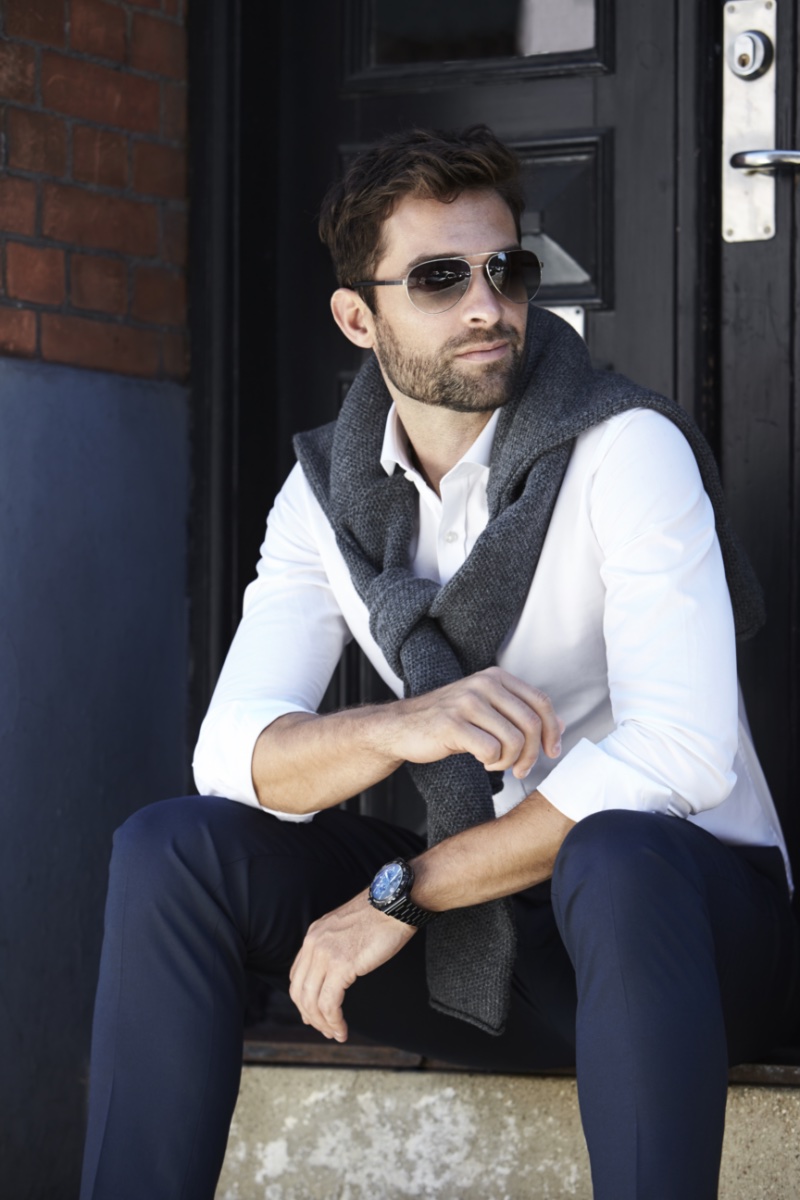 Slacks are appropriate for various occasions, including semi-formal events, business casual settings, and everyday wear. Depending on the affair, they can be dressed up or down, making them incredibly versatile.
Pair slacks with a button-down shirt and a blazer or sports jacket to dress them up as semi-formal pants or for business casual occasions. You can add a tie or pocket square for a more formal touch. Alternatively, you can dress them down with a t-shirt or sweater for a more casual dress code.
Picking Colors
Some classic options always work well when picking colors, including navy, black, gray, and khaki. These neutral colors can be paired with various shirts and blazers, making them a versatile choice for any occasion.
Smart Without Being Too Formal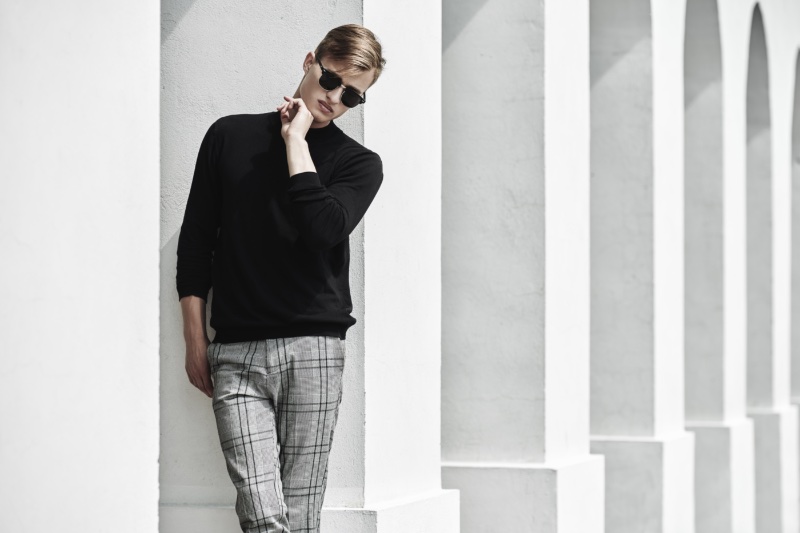 One of the best things about slacks is that they are smart without being too formal. They offer a great alternative to traditional dress pants and can be dressed up or down to suit the occasion.
Choosing Shirts & Blazers
When choosing shirts and blazers to wear with slack pants, keeping the occasion in mind is essential. A dress shirt and blazer are a classic and sophisticated choice for more formal events. A polo shirt or sweater can work well for a more casual outfit.
Accessorizing
Accessorizing is a great way to add some personality to your outfit. A classic leather belt is always a great choice, as are dress shoes or loafers. You can also add a pocket square or tie for a more formal look or a watch or bracelet for a more casual look.
Leg Shapes, Fits or Cuts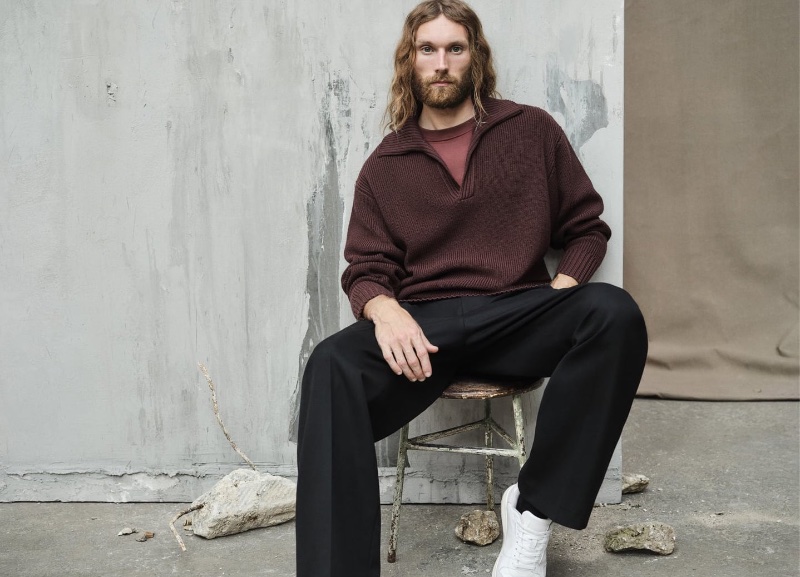 The leg shape or cut of slacks can significantly impact the overall look and feel of the garment. Here are some of the most common leg shapes or cuts and how they can affect your style.
Various Cuts
Leg shapes or cuts include straight, tapered, slim, and wide. Straight-leg pants are the most classic and timeless, while tapered and slim-leg styles offer a more modern and slimming look. Wide-leg fits are trendy and can add a touch of drama and sophistication to any outfit.
Tips on Selecting the Appropriate Cut
Consider your body type, occasion, and style when selecting a leg shape or cut. Straight-leg fits are a safe and versatile choice, while tapered and slim-fit pants may be more appropriate for formal or professional events. Wide-leg options can be an excellent choice for a night out or a more fashion-forward look but may not be the best for shorter or more petite men.
Measuring for a Proper Fit
When it comes to style, a proper fit is everything. A poorly fitting pair of pants can be uncomfortable, unflattering, and even impact your confidence. This brief guide will assist you in measuring your waist, hips, inseam, and other critical areas to ensure a good fit.
Step 1: Measuring Your Waist
To measure your waist, wrap a tape measure around the natural waistline, the narrowest part of your torso. Ensure the tape measure is snug but not too tight, and take note of the measurement.
Step 2: Measuring Your Hips
To measure your hips, wrap a tape measure around the widest part of your hips, usually about 8 inches below the waist. Ensure the tape measure is snug but not too tight, and take note of the measurement.
Step 3: Measuring Your Inseam
To measure your inseam, stand up straight with your legs slightly apart. Measure from the crotch to the bottom of the pant leg, following the inside seam. Take note of the measurement.
Step 4: Measuring Other Critical Areas
In addition to the waist, hips, and inseam, you may also need to measure other critical areas, such as the thigh, knee, and leg opening. Follow the same process as above, measuring the widest part of each area.
Choosing the Right Size
Once you have your measurements, you can use them to select the appropriate size. Be sure to refer to the sizing chart provided by the manufacturer and choose the size that corresponds to your measurements.
Tips for Tailoring or Altering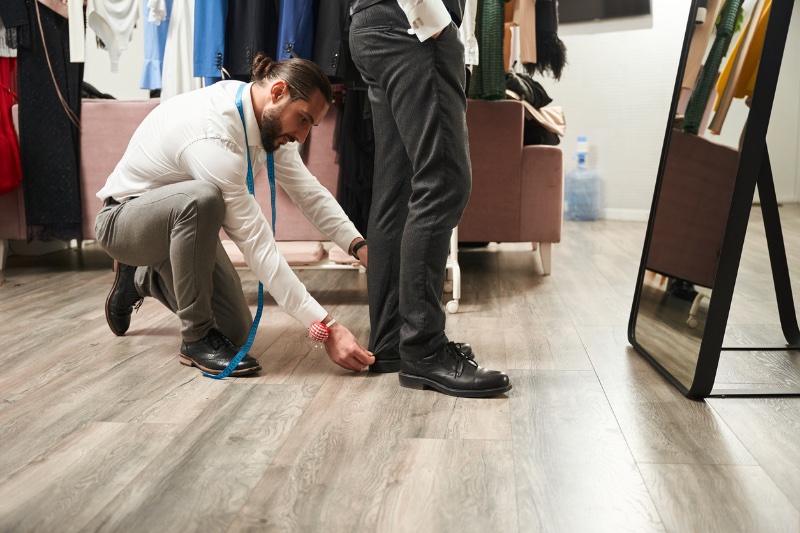 Sometimes, even the best-fitting pair of slacks may require tailoring or alteration to achieve the perfect fit. Here are some tips on addressing common fit issues and finding a good tailor.
Common Fit Issues
Common fit issues include pants that are too long, short, tight, or loose. To address these issues, you may need to have them hemmed, tapered, taken in, or let out at the waist or have the crotch adjusted.
Finding a Good Tailor
Ask for recommendations from friends, family, or coworkers to find a good tailor. When communicating with the tailor, be specific about what you want and provide clear instructions. Try the pants before leaving the tailor's shop to ensure the fit is exactly what you want.
Care & Maintenance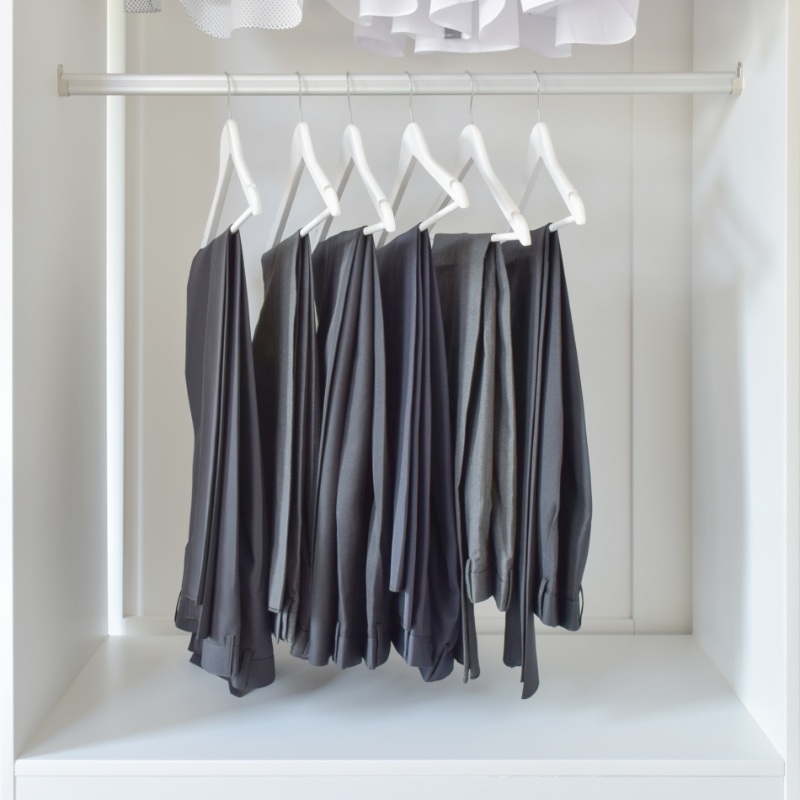 Proper care and maintenance are crucial to keep your clothes looking their best and extend their lifespan. Reading and following the care label is essential to cleaning correctly. Second, avoid wearing your pants multiple times without washing them, as this can lead to the buildup of dirt and oils. Finally, store them in a cool, dry place to prevent wrinkles and damage.
Tips on Washing, Ironing, & Storage
When it comes to washing, always follow the care label instructions. Generally, washing them in cold water on a gentle cycle is best, and hanging them to dry. Avoid using hot water or the dryer, as this can damage the fabric and cause shrinkage.
When ironing, always use a low heat setting and iron your pants inside out to prevent damage to the fabric. And when storing, hang them on a hanger to avoid wrinkles and damage. It's also a good idea to use a cloth or garment bag to protect them from dust and other particles.
Dry Cleaning
While most can be washed at home, some fabrics require dry cleaning. For example, wool or silk may need to be dry-cleaned to avoid damage to the material. If you're unsure whether you require dry cleaning, check the care label or consult a professional cleaner.
When choosing a dry cleaner, it's essential to do your research and choose a reliable and trustworthy cleaner. Look for a cleaner with positive reviews and experience working with delicate fabrics like wool or silk. And always be sure to communicate any special instructions or concerns to the cleaner to ensure the best possible care.
Selecting Footwear
Choosing the proper footwear to pair with your slacks is essential to creating a complete, polished look. Many footwear styles can be worn, from casual to formal. Here's an overview of some of the most common kinds and their compatibility with different types of pants:
Dress Shoes: The most formal option is typically worn with dress pants or suits. They come in various styles, including oxfords, derbies, and loafers, and are usually made from leather.
Boots: A more casual option but can still be worn with dress pants or slacks in certain situations. Chelsea boots or desert boots can work well with slim or tapered styles, while chukka boots or work boots can be paired with wide-leg options.
Sneakers: Sneakers can be worn with slacks or dress pants in a more casual or streetwear-inspired look. Opt for clean, minimalistic styles in neutral colors like white, black, or gray.
Loafers: Loafers are an excellent option for a more preppy or casual look. They can be worn with slacks or dress pants in various styles, including penny loafers, tassel loafers, or driving loafers.
Appropriate Footwear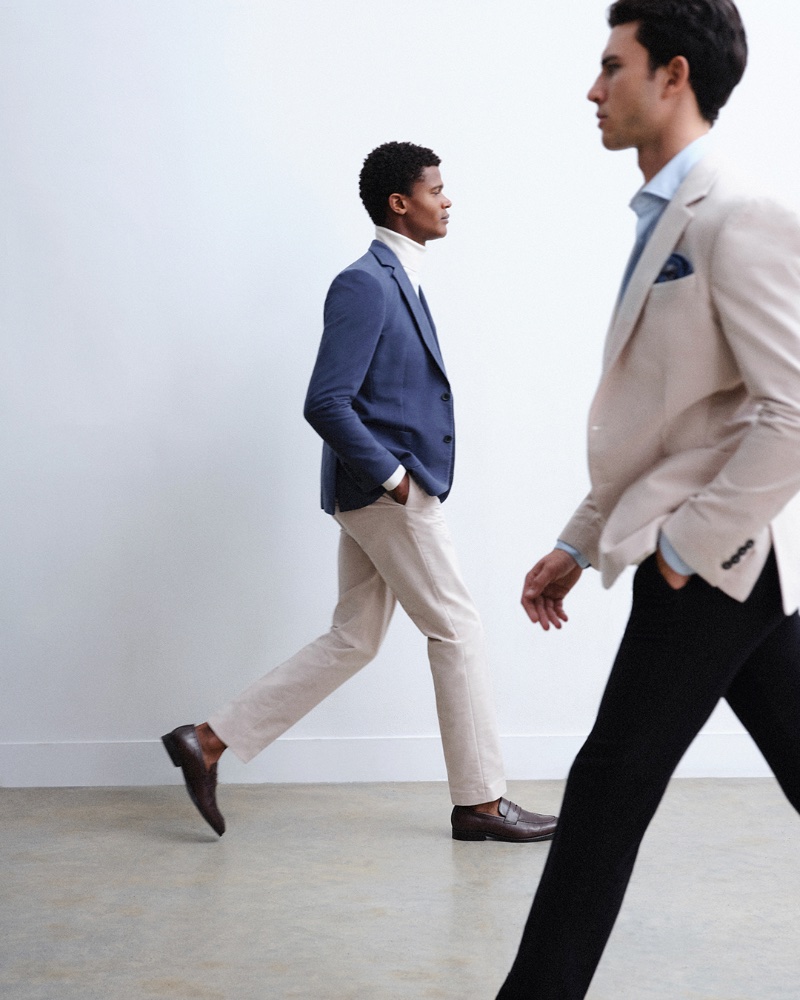 When selecting the appropriate footwear, there are a few key factors.
Color: Choose footwear that complements the color of your pants. For example, brown shoes work well with khaki or tan, while black shoes are better suited for gray or black.
Material: Consider the fabric of your pants and choose footwear that complements it. Leather shoes work well with wool, while suede shoes are better suited for cotton or linen.
Style: Consider the occasion and the type of your outfit when selecting footwear. Dress footwear is a safe option for formal affairs, while loafers or boots work well for casual events.
Final Words
Decoding the differences between various styles of men's pants can be intimidating, but fear not. With the aid of this all-encompassing guide, you'll be able to navigate the complexities confidently. The correct pair of pants can heighten your fashion and make a lasting impact.
Slacks provide an exceptional combination of panache and ease, rendering them ideal for formal and informal events. The assortment of fabric options and the adaptability to dress them up or down make them a fundamental element of any wardrobe.