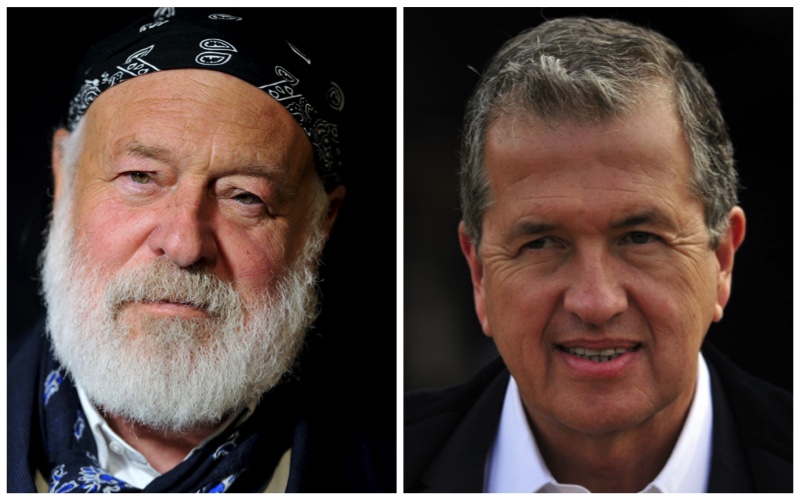 On the heels of an explosive press conference concerning sexual harassment accusations against Bruce Weber, the New York Times reports on additional allegations. Models and fashion professionals come forward with sexual exploitation accussations about Mario Testino as well as Weber. In response to the following accounts from the New York Times, Condé Nast has temporarily cut ties with both Testino and Weber. After working with Testino for years, Stuart Weitzman has severed its relationship as well.
Thirteen male assistants and models reflect on their experience being sexually harassed by Testino. Former 90s Gucci campaign star Jason Fedele recalls, If you wanted to work with Mario, you needed to do a nude shoot at the Chateau Marmont. Fedele continues, All the agents knew that this was the thing to excel or advance your career.
Ryan Locke appeared in a Gucci advertisement as well. Discussing Testino, he states, He was a sexual predator. Locke recalls a photo shoot, where he was posing on a bed and Testino ordered everyone out of the room. Locke recalls, He shuts the door and locks it. Then he crawls on the bed, climbs on top of me and says, I'm the girl, you're the boy. I went at him, like, you better get away. I threw the towel on him, put my clothes on and walked out.
Shoot producer Thomas Hargreave often worked with Testino between 2008 and 2016. Hargreave recalls, I saw him with his hands down people's pants at least 10 times. He continues, Mario behaved often as if it was all a big joke. But it wasn't funny. And the guys being placed in these situations wouldn't know how to react. They would look at me, like, What's going on? How do I deal with this? It was terrible.
A former assistant to Testino, Roman Barrett says, Sexual harassment was a constant reality. The New York Times reports that the photographer rubbed up against his leg with an erection and masturbated in front of him. Barrett adds, He misbehaved in hotel rooms, the backs of cars and on first-class flights. Then things would go back to normal, and that made you feel gaslighted. Responding to the New York Times for comment, Testino's law firm Lavely & Singer insisted that the individuals sharing stories cannot be considered reliable sources.
Fifteen current and former models talk to the New York Times about being sexually harassed by Weber. Model Terron Wood discusses his experience working with Weber. The first thing I was told about Bruce was that he puts people in really precarious situations, says Wood. He shares a similar story to Jason Boyce, who recalled the photographer's unusual photo-taking techniques.
Working for Abercrombie & Fitch brand Ruehl, Wood was summoned to join Weber in his hotel room. The New York Times explains, Mr. Weber put his hand on Mr. Wood's forehead and told him to close his eyes and breathe in deeply. Then Mr. Weber moved back and began taking pictures, telling Mr. Wood to grab his shirt, which he was to pull up or down. From there, Mr. Weber instructed him to do the same thing with his shorts.
Discussing the shoot, Wood recalls, After going as high as Steve Urkel, the only option was down. Before he knew it, Wood had exposed his genitals. The model says, It unfolded slowly. He's directing you, and the peak moment is when you're fully exposed and being told to hold it. Hold that pose. And you're wondering what the pictures are even for. Because you're not on set. You're thinking, This isn't what I'm getting paid for. Wood shares with the publication that he felt guilty, but Weber was the photographer for Ralph Lauren.
Meanwhile, model Bobby Roaché recalls a brief casting experience with Weber in 2007. After the casting, he informed his agents about Weber trying to stick his hands down my pants. To his surprise, one of his agents responded, That's all he did? You should have gone further.
Responding to the New York Times for comment, Weber denied the accusations against him. I have used common breathing exercises and professionally photographed thousands of nude models over my career, but never touched anyone inappropriately. Weber adds, Given my life's work, these twisted and untrue allegations are truly disheartening. I've been taking pictures for over 40 years and have the utmost respect for everyone I've ever photographed. I would never, ever, try to hurt anyone or prevent someone from succeeding–it's just not in my character.
Female model Erin Williams talks about Weber after working with the photographer on two campaigns for Abercrombie & Fitch. Discussing posing nude, she says, It's presented as an option, but it isn't really. Talking to the New York City Commission on Human Rights, Williams wrote, The models that didn't go nude were always cut on day two, and those who did would stay for additional shoot days. She continues, The boys who would socialize with Bruce after the shoots, alone in his hotel room, would get booked for longer with the carrot of a major campaign being dangled in front of them.