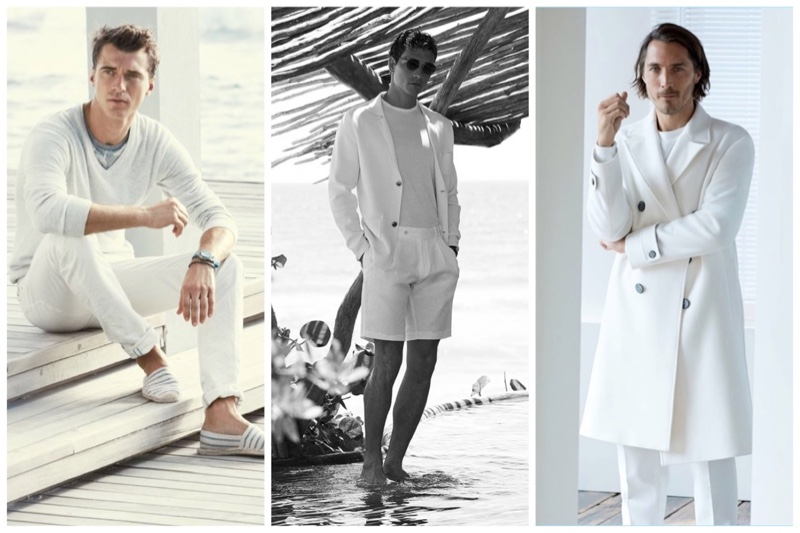 Making a stylish and timeless impression with white garments has never been easier for the discerning modern man. All-white ensembles have become a classic wardrobe staple for years to express sophistication and poise on any occasion.
Stunning on their own, with clean lines that convey purpose day to night, an all-white outfit for men is the distinctively wise choice for even more formal situations. Executing a bold and courageous look shouldn't be intimidating; our expert guide shows you how to master white attire for guys effortlessly.
All-White Outfits for Men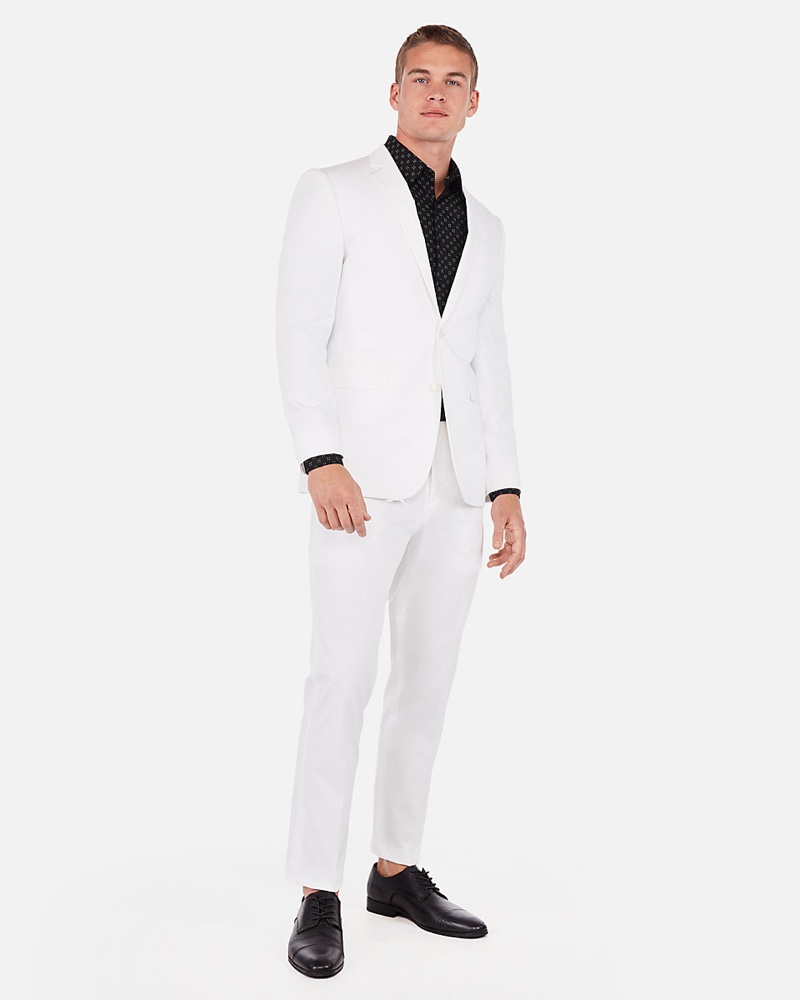 From a white blazer and slim pants to color-blocking modifications and adding additional items—let us show you precisely how to dress in a chic all-white look confidently; you won't regret it. Welcome to the unchartered world of color palettes—sartorial adventures are afoot!
Are you thinking of taking streetwear to the next level? Add white pants to your look, and make sure you stand out. After all, how chic is white streetwear for men? For those looking for a more sophisticated business style, finish it with a well-tailored blazer for a male all-white outfit.
Read ahead to discover smart ideas on how to style white outfits:
Double Denim: White Jeans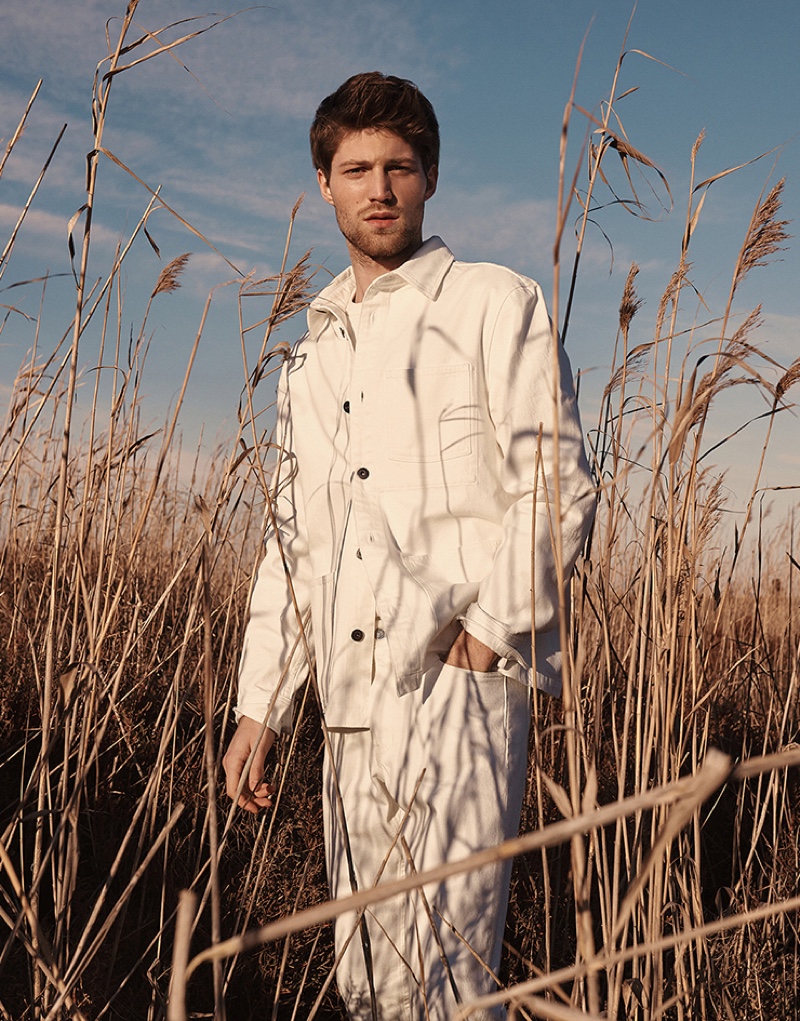 Creating a denim-on-denim look with white clothing is the definitive way to upgrade your wardrobe with timeless style. Harmonize existing pieces in your closet with fashionable new elements and strut with the confidence of an influencer.
From the classic men's jean jacket to the denim shirt and white jeans to cut-off denim shorts, there are endless ways to combine your favorite denim for men. Want to add some color to the look? Break up your double denim with a bright color in the form of a shirt or sweater.
White Outfit for Summer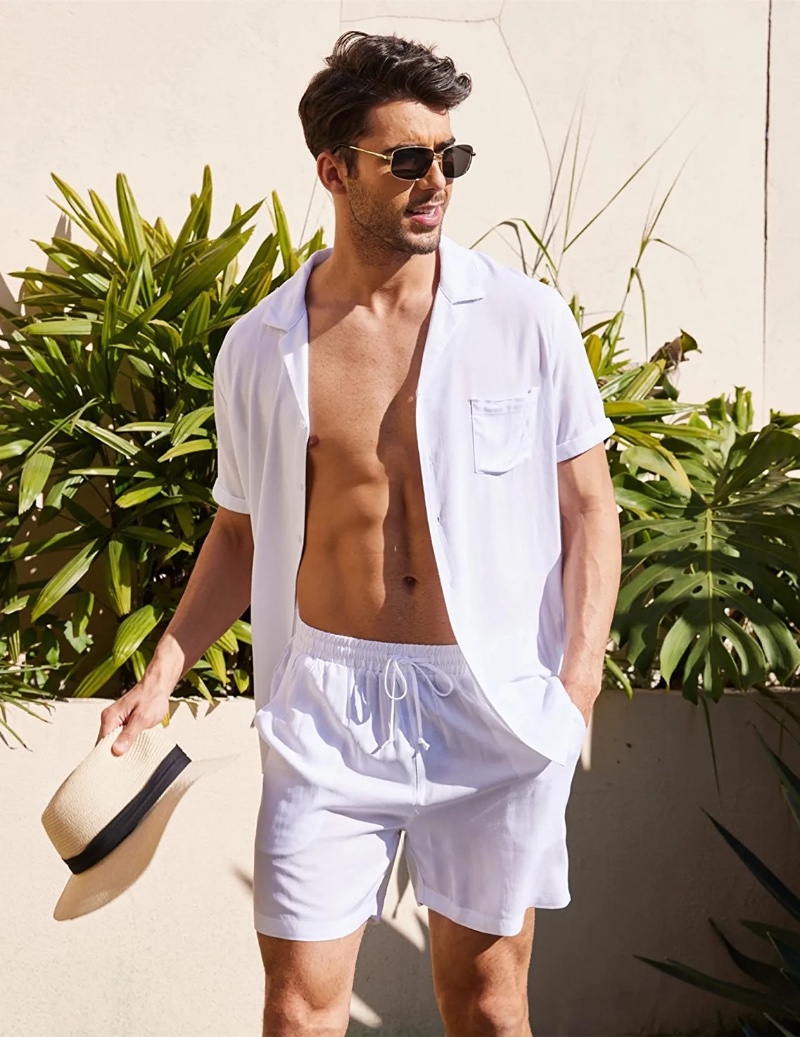 This summer, stand out with brilliant white trunks for men. Style them tastefully; pair white board shorts or trunks with a well-fitting t-shirt or a clean white shirt to highlight any look. Finally, slip into a comfortable pair of white slides while you express your unique style during a sizzling season's heatwave.
Athleisure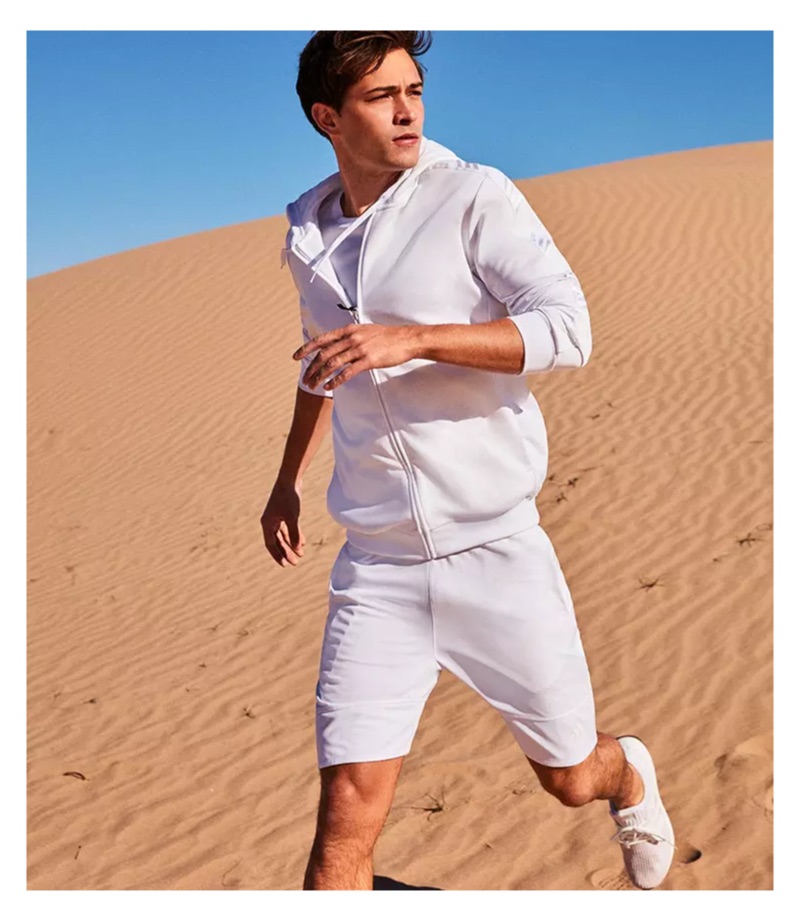 The modern man has a new wardrobe staple suitable for any occasion: white-on-white ensembles. Experience true effortless elegance with a combination of hoodies, sweat shorts, and other essentials designed for maximum comfort and elegant style.
Finished off with slide sandals, sneakers, or espadrilles, you will craft a daringly trendy white outfit. Bold enough to garner attention yet easy on the eyes, a white athleisure look will surely boost your confidence.
Formal White Party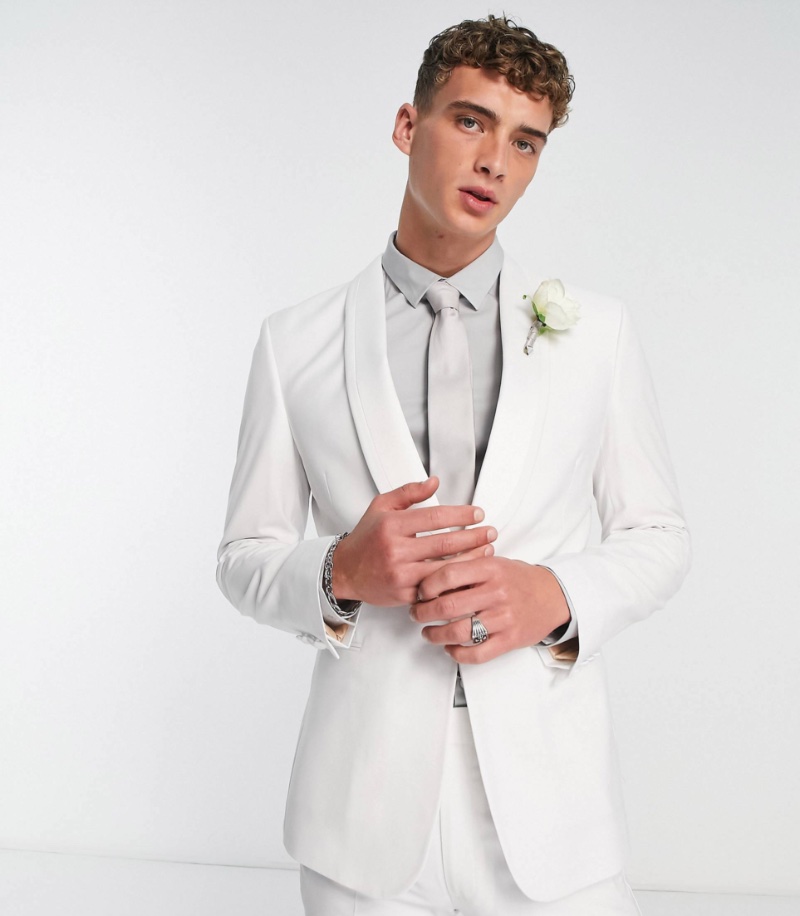 For formal occasions, wearing white outfits easily distinguishes you from other men. From a formal white tuxedo shirt to a white jacket and pants, all-white outfits are beyond sophisticated when dressing for parties.
However, white outfits also work perfectly for a semi-formal party. Whether you're dressing for a beach wedding or looking for white party outfits, nothing says chic like a white suit. Effortlessly elegant, a white suit for men begs for a dress shirt sans tie.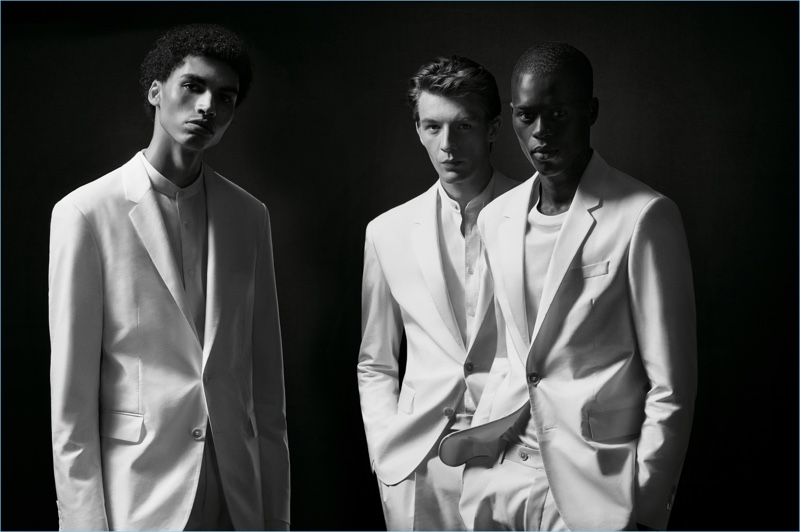 You can even mix it up with a t-shirt. Select from sneakers or loafers to add that finishing touch of sophistication to your ensemble. If you're feeling bold, just like the men's double denim look, wearing white ensembles is amazing when broken up with a splash of color, courtesy of a shirt.
Clean Winter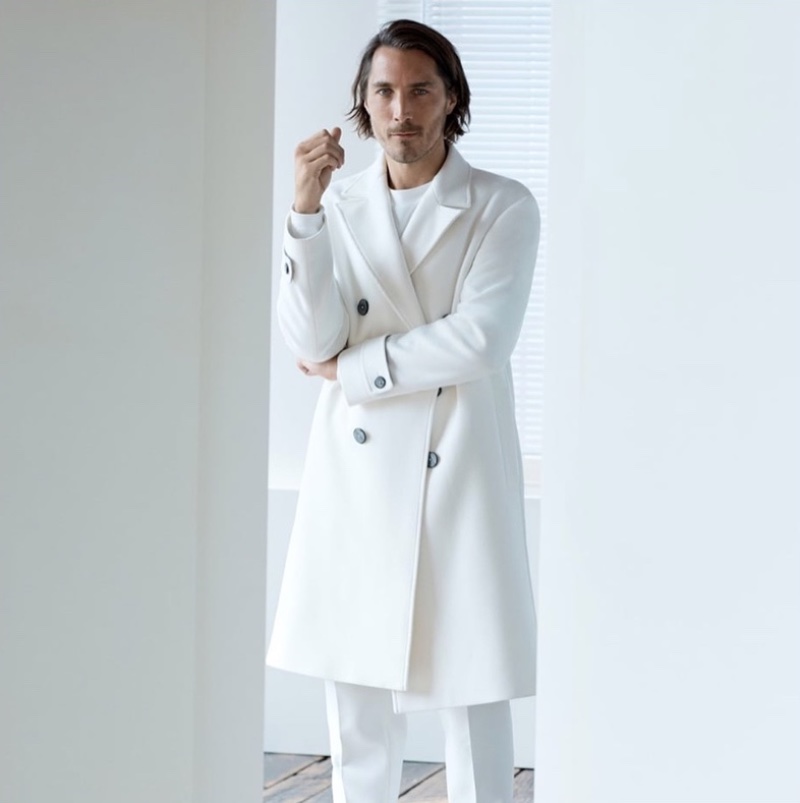 Winter has arrived like a wall of unyielding snow, and it's time to make your wardrobe stand out. Introduce white into your wardrobe for a graceful men's look that stands apart from regular fashion trends for men. Think cashmere coat or a leather biker jacket with bold cuts to mix up the classic, sophisticated whites.
Our suggestion for this season? Glamorously exciting originality through the head-to-toe white apparel! Dare to rise above the traditional conventions of fashion by presenting luxurious layering during the season. Accentuate winter whites to enjoy the season's festivities or as a smooth transition into spring.
Smart Casual Knits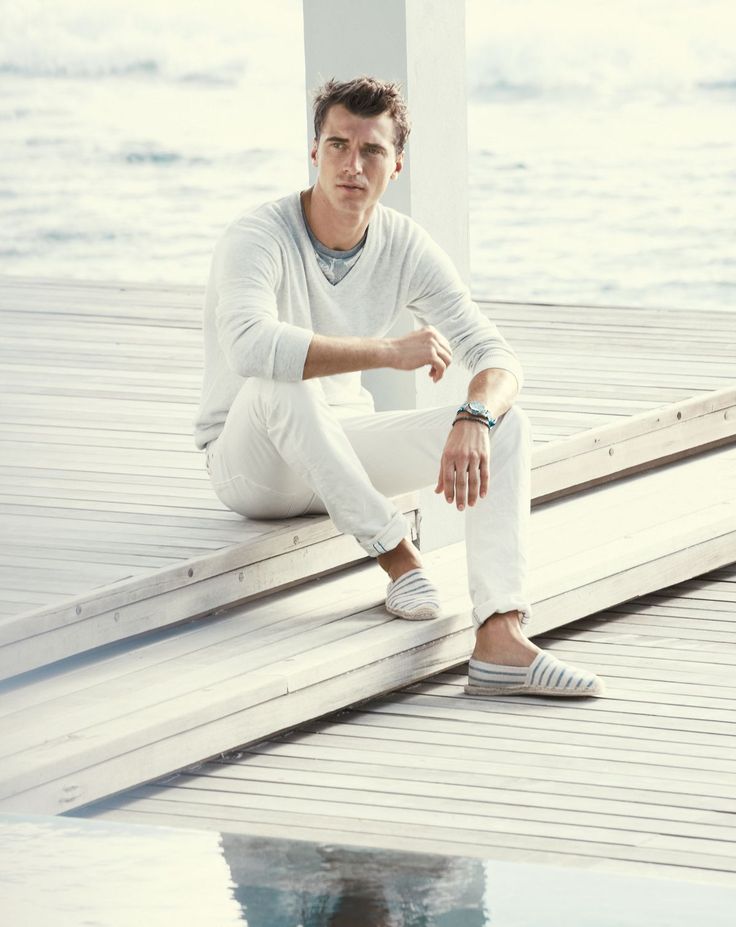 Available in a multitude of weights and materials, men's knitwear is versatile enough to wear year-round. So use white as the blank canvas to elevate your summer or winter look for men. Craft the perfect ensemble around a chic sweater, pairing it with trousers or denim for a smart casual men's ensemble.
The Short Suit
Summer is here, and that's worth celebrating! Amp up your summer style with a captivating all-white short suit for men. Get out of your fashion funk and inject some edge into your wardrobe with a blazer, dress shorts, and a crisp white tee—an effortless and intriguing look.
Embrace this bold men's look without worrying about missing out—step up your wardrobe for a striking yet elegant ensemble. Make this summer season full of unforgettable moments by investing in an iconic white short suit. Prepare to take on each adventure with ease and elegance!
Party Outfits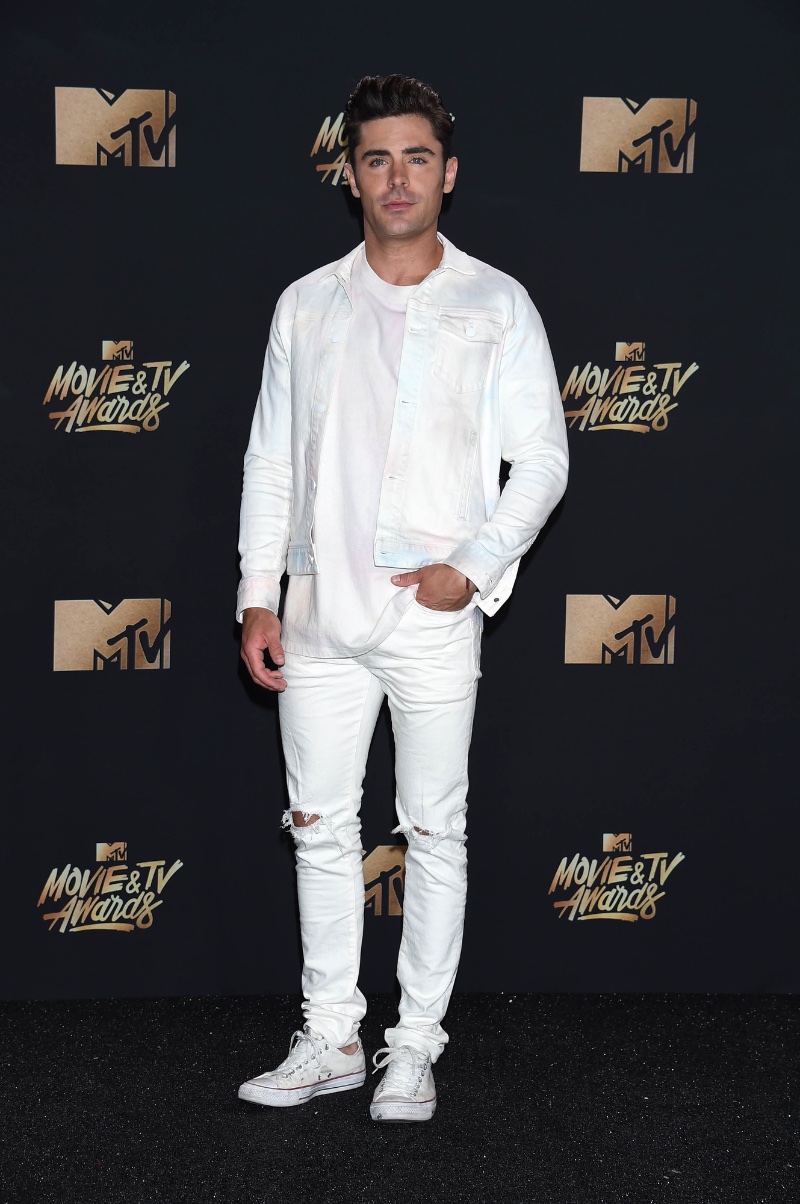 Men have a few key options when putting together an all-white party outfit. Whether you opt for a crisp, tailored suit in a classic cut or go for a more relaxed, summer-ready look with white linen pants and a breezy shirt, the key is to ensure that your pieces fit well and are made from high-quality materials.
Consider adding a bold accessory like a patterned pocket square or a statement watch to add a touch of personality and style. The ultimate goal is to exude confidence and sophistication, so choose pieces that make you feel comfortable and stylish. With the right outfit, you'll be the best-dressed man in the room, setting the tone for a chic and memorable evening.
White T-shirt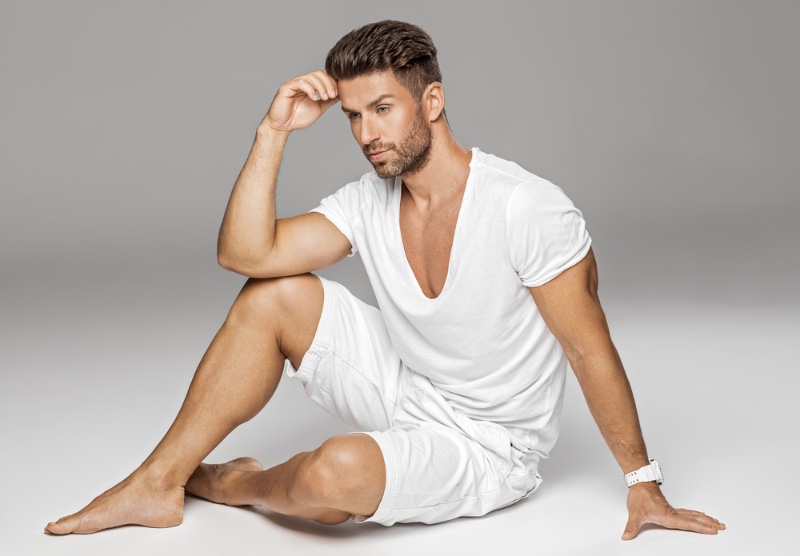 Creating an all-white look is a bold move that requires confidence and a keen sense of style. For the modern man, a white t-shirt is a must-have staple in any wardrobe. It's versatile and comfortable and provides a blank canvas for endless styling possibilities. When building an all-white outfit around a t-shirt, it's essential to consider the fit, material, and detailing.
Opt for a tailored, snug fit in premium cotton fabric to ensure comfort and a sleek silhouette. Consider adding interest with subtle details, such as a textured stitch or a branded patch. Pair your t-shirt with crisp white trousers or tailored shorts, and finish the look with sleek white sneakers or polished loafers. With these tips, you'll effortlessly exude sophistication in your all-white ensemble.
Make a Statement with White Accessories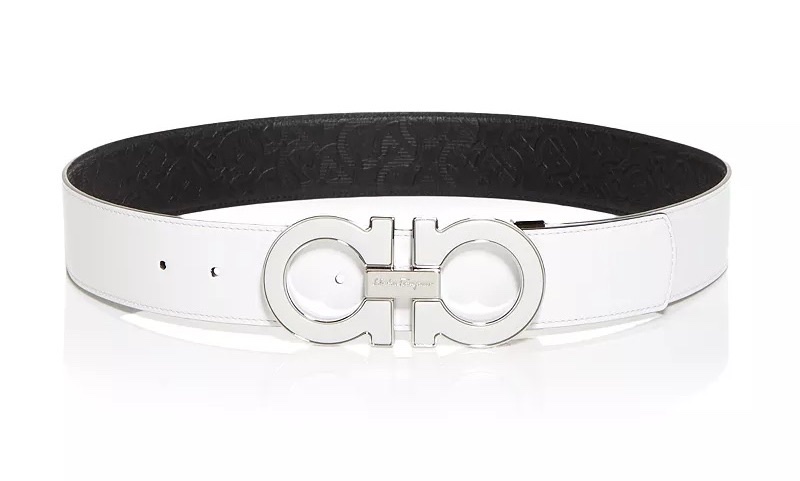 Men's all-white ensembles have recently been admired for their daring sophistication and ability to make a strong statement. The look can be elevated from casual to extraordinary with exquisite add-ons such as shoes, hats, bags, fine belts, or eyewear in perfectly complemented shades and materials.
Eyewear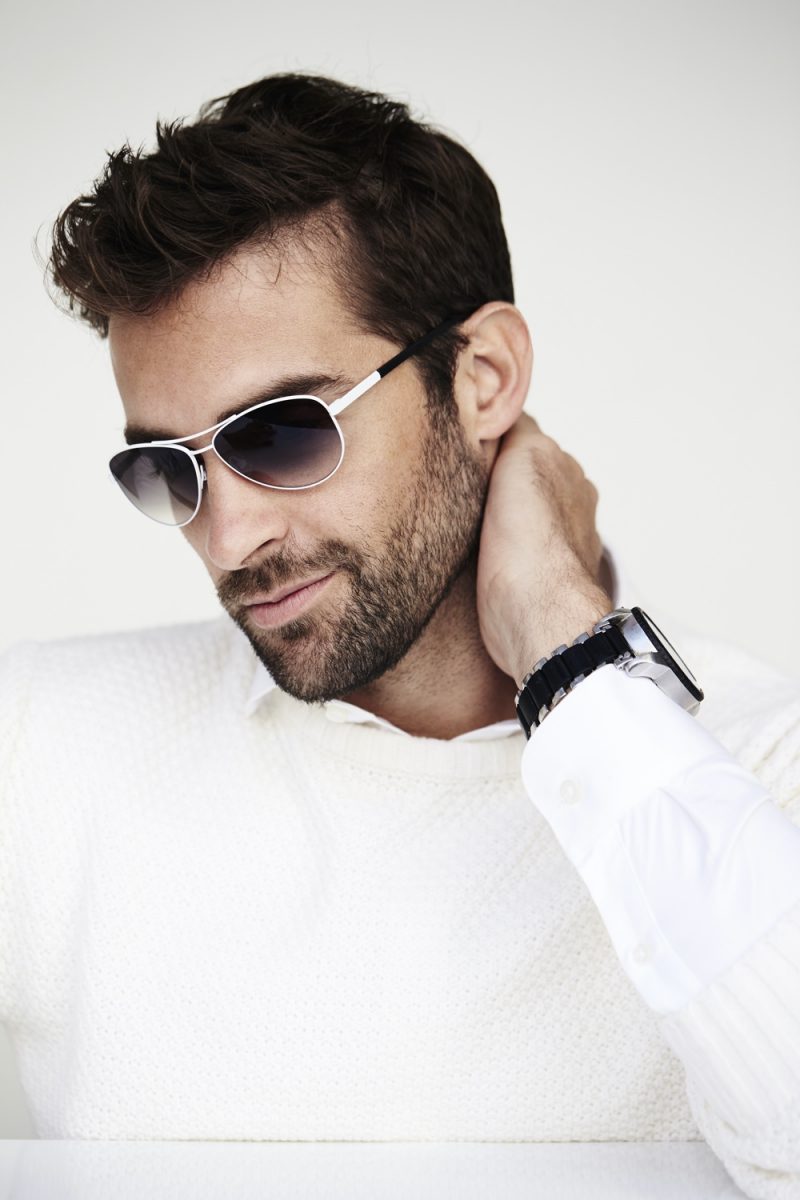 Make a bold statement with your eyewear—accessorize any all-white ensemble by introducing an eye-catching white frame. Let everyone behold the stunning contrast of the pristine whites.
Get ready to take your eyewear game up a notch! With the sheer number of stylish white frames now available for purchase online, you can easily find one that is both fashionable and functional. And with modern technology, you can even try on glasses online—goodbye to long trips to optician shops!
If blending in isn't the goal, colored contact lenses are a confident choice for making an impression. From vibrant hues to subtle shades, there are plenty of options available from sites like GlassesUSA.com.
Belts or Bags (or Better Yet, Both)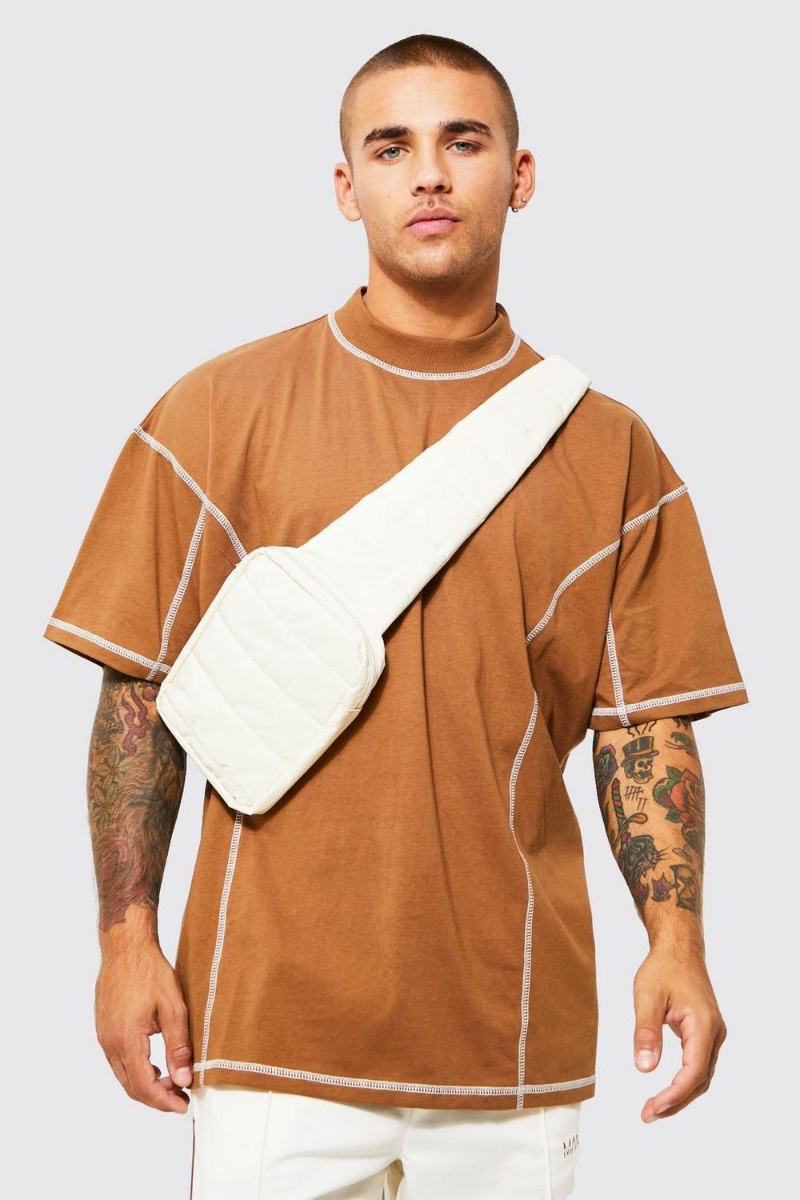 Glamorously accentuate an alluring all-white ensemble by accessorizing with meticulous care. Add contrast with your choice of accessory for white suits or outfits that lack texture. Allowing the timeless difference of off-white to frame the ensemble can create a captivating look.
You could add a messenger bag if you're on the go. Alternatively, a belt is always an easy accessory to add to a look. A light brown leather belt always looks great if you want to break up your white outfit.
Sneakers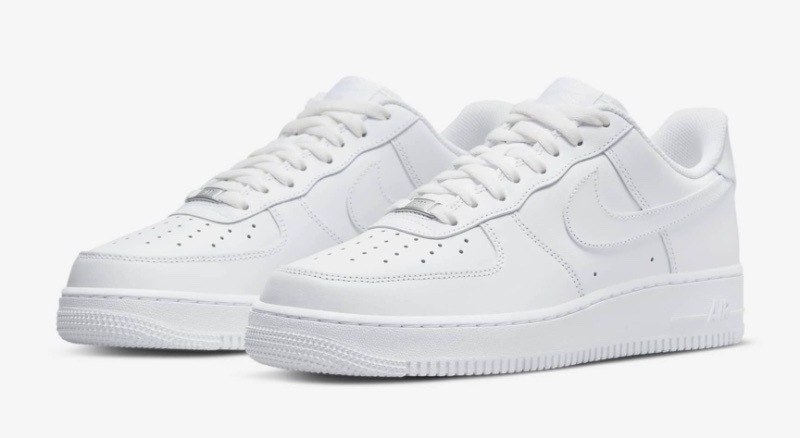 When it comes to styling your all-white outfits, remember shoes. White sneakers are easy to complete any look—especially white leather sneakers. Pair your white jeans or trousers with crisp white sneakers for a sophisticated casual look. This versatile choice is easy for staying cool and stylish.
Final Words
From winter whites to white denim or the short suit to accessorizing with items like eyewear and belts or bags—even footwear—there are endless possibilities when styling an all-white ensemble.
Whether you're looking for a sophisticated look perfect for special occasions or something more casual yet still stylish enough for everyday wear, these tips will help you create a fashionable statement that is sure to turn heads!
So don't be afraid to experiment; try adding some color if desired—the key is finding what works best for you. With this guide in hand, now's your chance to take advantage of the trend and make any occasion memorable with a special all-white outfit!