Wearing a black, blue, or grey suit with white sneakers has become a prevalent trend in the fashion industry in recent years. Initially considered a significant fashion faux pas, pairing athletic shoes or casual sneakers with formal attire has become standard on catwalks, red carpets, and boardrooms.
This innovative sneaker outfit combination has revolutionized contemporary men's fashion, allowing men to exude style and comfort simultaneously. The versatile suit and sneakers combination can be styled in various ways to craft unique looks, making it a great addition to any wardrobe.
Wearing a Suit with White Sneakers
Whether attending a business meeting, wedding reception, or even black-tie events, this trend can be adapted depending on the occasion, making it the perfect option for men looking to break free from traditional formal dress codes without sacrificing style. With this look, men can achieve an effortlessly chic appearance while maintaining a professional and refined ensemble.
Over the years, numerous celebrities, including Richard Madden and Ryan Reynolds, have flaunted this sneaker combo at various events. Hollywood's finest have wholeheartedly embraced this style statement. Additionally, renowned brands such as Louis Vuitton and Tom Ford have featured suits with sneakers in their collections, further solidifying this trend's staying power.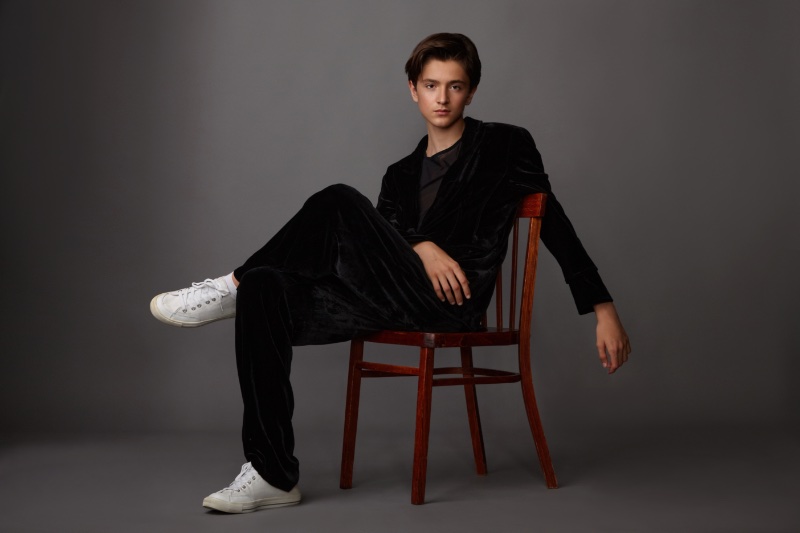 In this guide, we will explore how the suit with white sneakers trend gained popularity recently, along with valuable style tips on successfully pulling off this fashion-forward sneaker outfit without violating any style rules.
Key elements include choosing the right sneakers, such as Adidas Stan Smith or other high-quality leather options, selecting a well-tailored suit or unstructured blazer, and coordinating with a white shirt or polo shirt for a polished look. Following these simple rules and tips from style experts can ensure you make a statement the next time you step out in this modern suit look.
Matching Your Suit with White Sneakers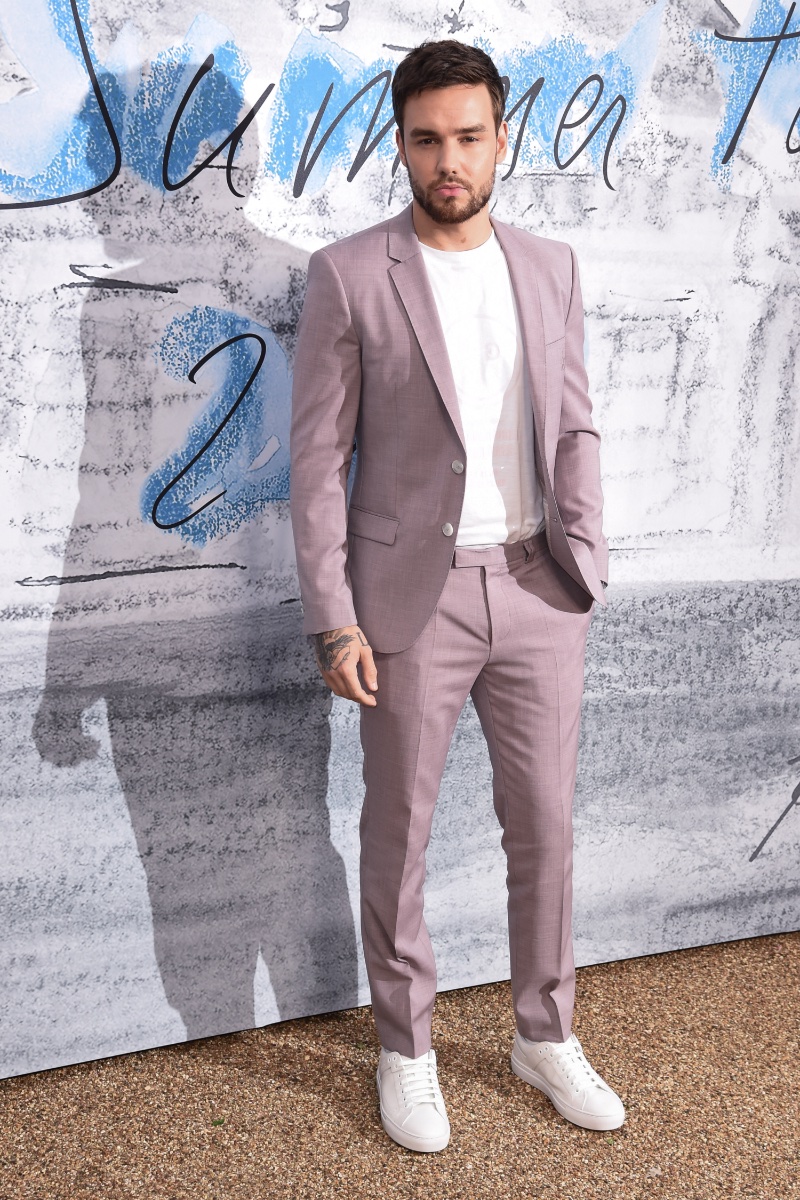 White sneakers have transcended their casual roots and now hold a prominent place in the fashion world, effortlessly complementing various types of suits. However, not all suits are equal; some work better with white sneakers than others. To achieve a successful suit and sneaker combination, it's crucial to consider the color and fabric of your suit. For instance, blue suits, exceptionally bright blue, perfectly match white sneakers.
The striking contrast between dark blue and crisp white creates a sophisticated and modern look that will make a statement. Grey suits, especially in charcoal or lighter shades, also pair well with white sneakers, offering a neutral color scheme that allows the footwear to stand out without dominating the outfit. Black suits can work, too but require careful attention to ensure the right shade of white complements the ensemble.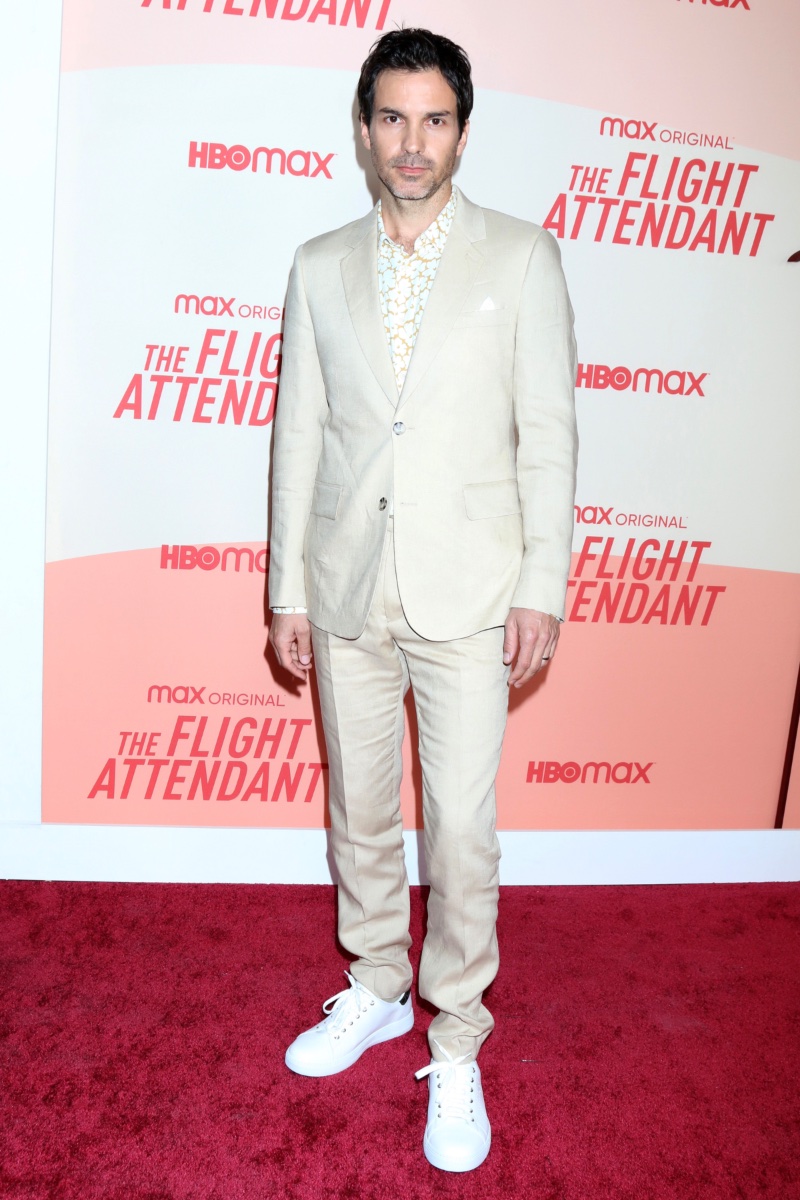 Linen suits are a great way to achieve a casual look during the summer months, with the lightweight fabric and relaxed fit pairing well with white sneakers for a comfortable yet stylish outfit. In more formal settings, double-breasted suits with peak lapels can be worn with white sneakers for a unique take on formal wear.
When it comes to choosing the best sneakers for your suit, consider the color of your shirt, as well as the dress code for the event. For a more formal look, opt for sleek, low-profile white sneakers, while chunky or high-top sneakers can add a casual touch to smart casual settings or relaxed office environments.
Ultimately, personal stylists and style experts agree that there are no fixed rules for pairing suits with sneakers. However, following general guidelines and experimenting with different combinations can lead to a fashionable and unique outfit perfect for various occasions. So, whether it's a casual Friday at work or a special event during the warmer months, don't be afraid to embrace the versatility of white sneakers and elevate your suit game.
Tailoring Your Suit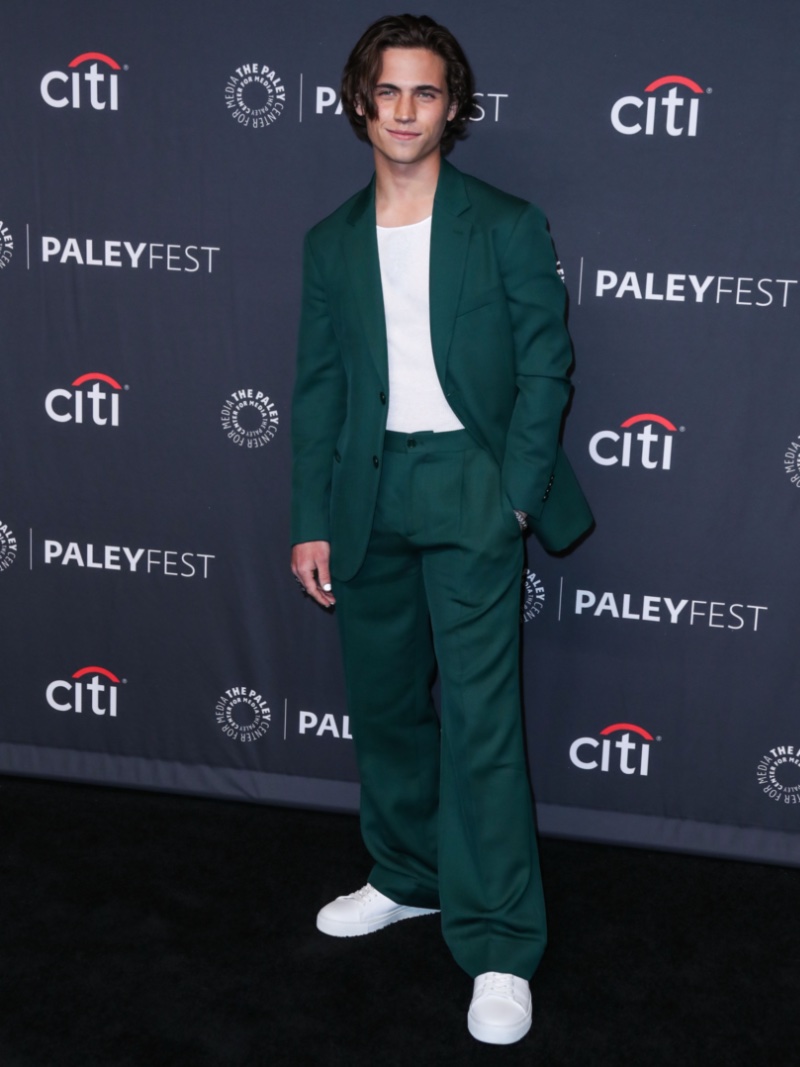 When wearing a suit with white sneakers, your suit must fit you perfectly. A poorly fitting suit can detract from the stylishness of your overall look. Additionally, pairing an ill-fitting suit jacket or trousers with sneakers can appear sloppy or unintentional. Therefore, prioritize fit and tailoring above everything else when shopping for a suit to match your favorite pair of white kicks.
Ensure it fits you like a glove without feeling too tight or restrictive in any area, such as shoulders or armholes. Similarly, ensure that the trouser length is perfectly hemmed so as not to bunch up around the ankle area while wearing them with low-top shoes like sneakers giving you fashionable yet comfortable attire perfect for any casual outing.
Adding a T-shirt
To further enhance the casual aesthetic of your suit and white sneakers ensemble, consider pairing it with a t-shirt. This seemingly unorthodox addition helps maintain the relaxed vibe white sneakers bring to the outfit while exuding a sense of sophistication. Opt for a high-quality, well-fitted t-shirt in a neutral color, such as white or grey, to keep the overall look polished and cohesive.
This combination is perfect for occasions where a more laid-back approach to formal attire is appropriate, and it allows you to showcase your unique style without compromising the sleekness of your suit. Embrace this modern twist on a classic outfit, and you'll make a stylish statement.
The Sneakers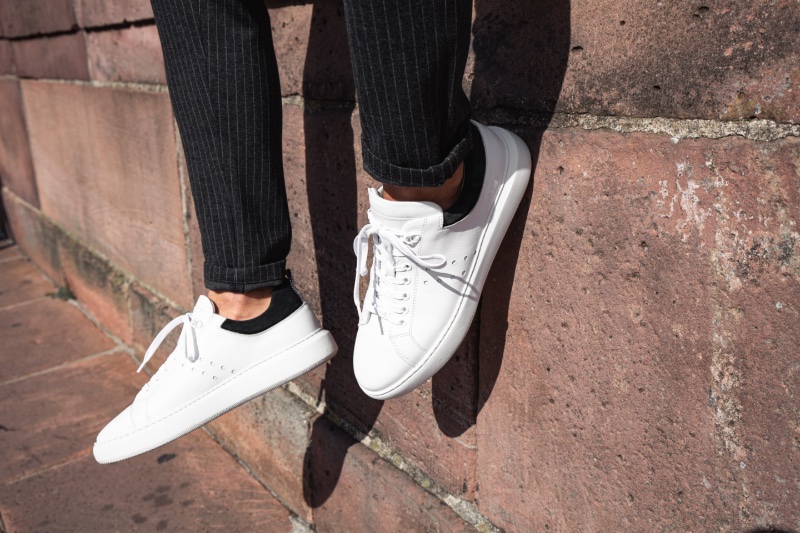 When selecting the perfect shoes for your suit, white sneakers can be a versatile option that can work with various suit styles. Several types of white sneakers can work well with a suit, including low-top and high-top sneakers. Low-top sneakers are more casual and are best paired with slim-fitting suits in lighter colors such as beige or grey.
On the other hand, high-top sneakers offer more coverage and support around the ankle and tend to work well with more formal suits such as black or navy. Another factor to consider when choosing your white sneakers is the material they are made from.
Leather sneakers offer a polished look and work well for formal events, while canvas sneakers offer a more relaxed vibe that pairs well with casual suits. Overall, it's important to ensure that your shoes complement the overall style of your suit.
Styling Tips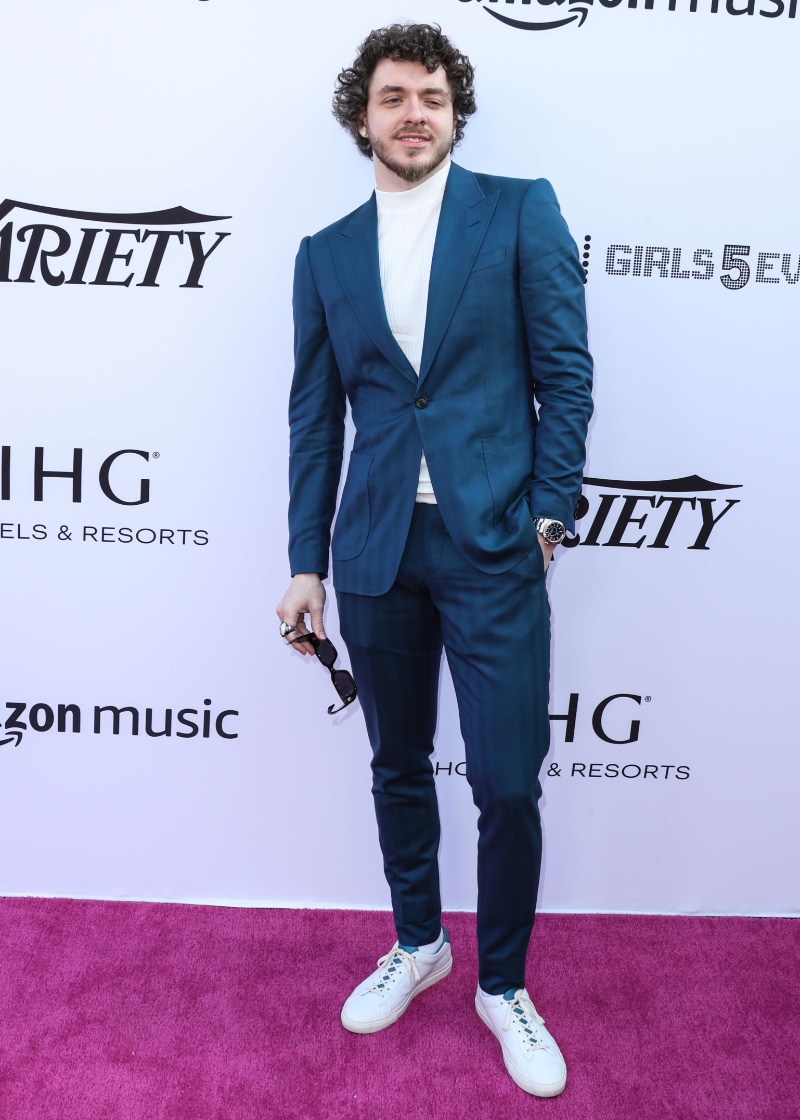 One of the great things about wearing a suit with white sneakers is that it's a versatile look that can be dressed up or down depending on the occasion. For formal events, such as weddings or black tie affairs, opt for a tailored suit in a dark color like navy or black. Pair it with classic white leather sneakers and accessorize with a minimalist watch and pocket square.
For business meetings, choose a slim-fit suit in gray or charcoal paired with white canvas sneakers. This combination exudes confidence and professionalism while remaining stylish and comfortable. Accessorize with a matching belt and watch to complete the look. For casual outings, have fun playing around with different textures and colors.
Pair your favorite light-colored suit jacket with jeans or chinos for a more relaxed feel. You can even add some patterned socks for an extra pop of personality.
Celebrity Inspiration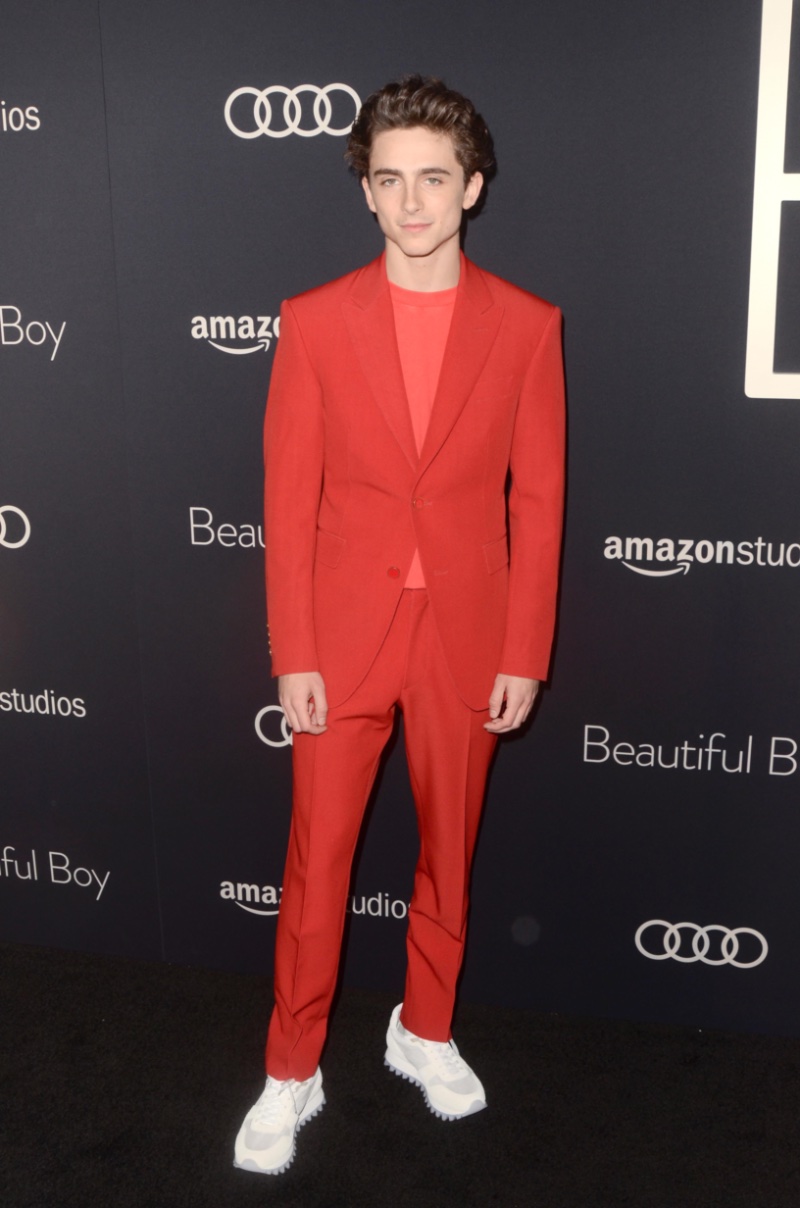 Many famous celebrities have been spotted rocking this trend on the red carpet, proving that it's not just reserved for fashion bloggers or influencers. Stars like Timothée Chalamet, Ryan Gosling, and David Beckham have all sported this look at various events. These celebrities prove that wearing a suit with white sneakers is stylish and a timeless and versatile look that anyone can wear regardless of personal style or fashion sense.
The Importance of Socks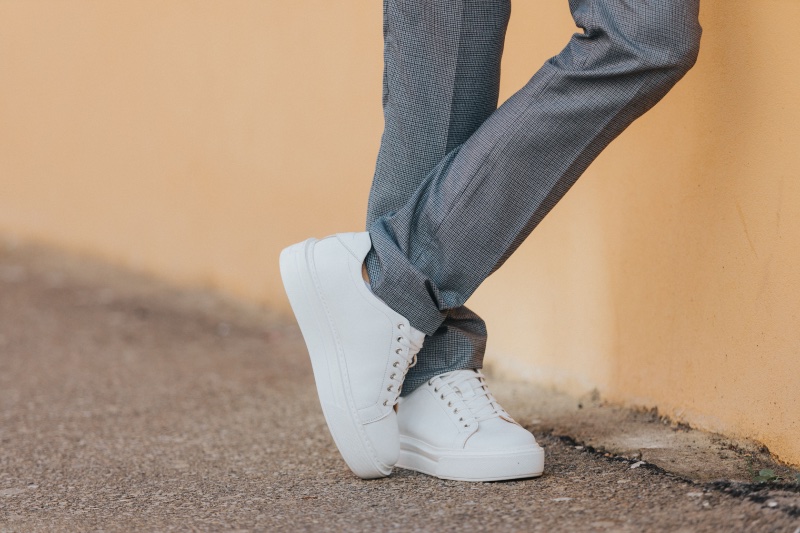 Socks can make or break the look by wearing white sneakers and a suit. The wrong sock choice can instantly cheapen an otherwise polished outfit, so it's important to consider the color and style of your socks carefully. For a formal occasion, choose a pair of dress socks that match the color of your suit pants or shirt.
This creates a cohesive and streamlined look that appears intentional and put-together. If you're feeling adventurous, you can opt for a pair of patterned socks that complement the colors in your suit or tie. Just be sure to keep any patterns subtle and subdued. You have more room to play with sock choices for casual outings.
A classic choice is no-show socks, perfect for showing off your crisp white sneakers while keeping your feet comfortable and sweat-free. Alternatively, you could try pairing colored or patterned socks with your sneakers for a playful pop of personality.
Laces Matter Too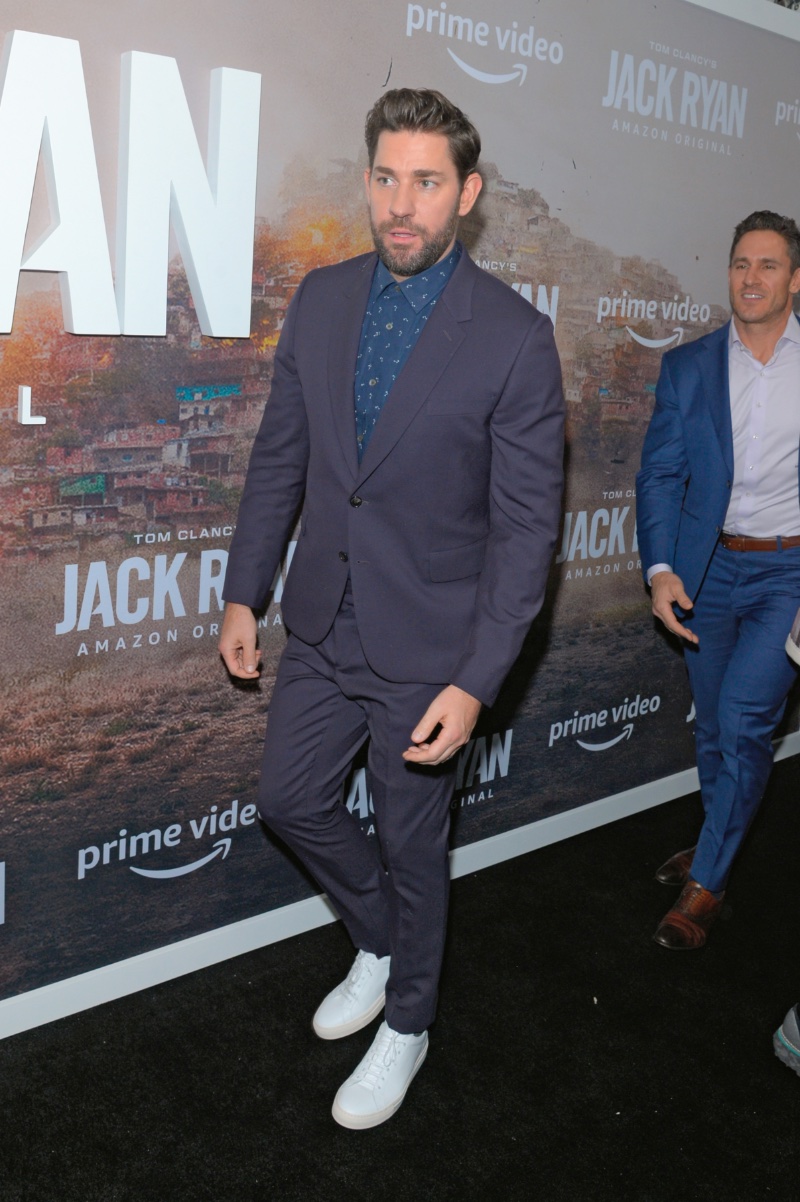 The type of laces on your white sneakers can also impact how well they work with a suit. Generally speaking, thin laces look more sophisticated than thick ones, as do round laces over flat ones. When selecting laces for your sneakers, consider the overall aesthetic you're going for and choose accordingly.
For example, if you're wearing a slim-fit navy suit and want to keep things sleek and modern-looking, opt for thin round laces in black or navy to match your ensemble.
Alternatively, if you're aiming for an edgier vibe with distressed denim jeans instead of tailored trousers paired with white sneakers under that blazer, then chunky flat laces in contrasting colors like red or yellow could add some visual interest without clashing too much against other elements in the combination.
Remember: every detail counts when achieving the perfect look, so don't overlook the small things like your socks and laces when styling your suit with white sneakers.
Final Words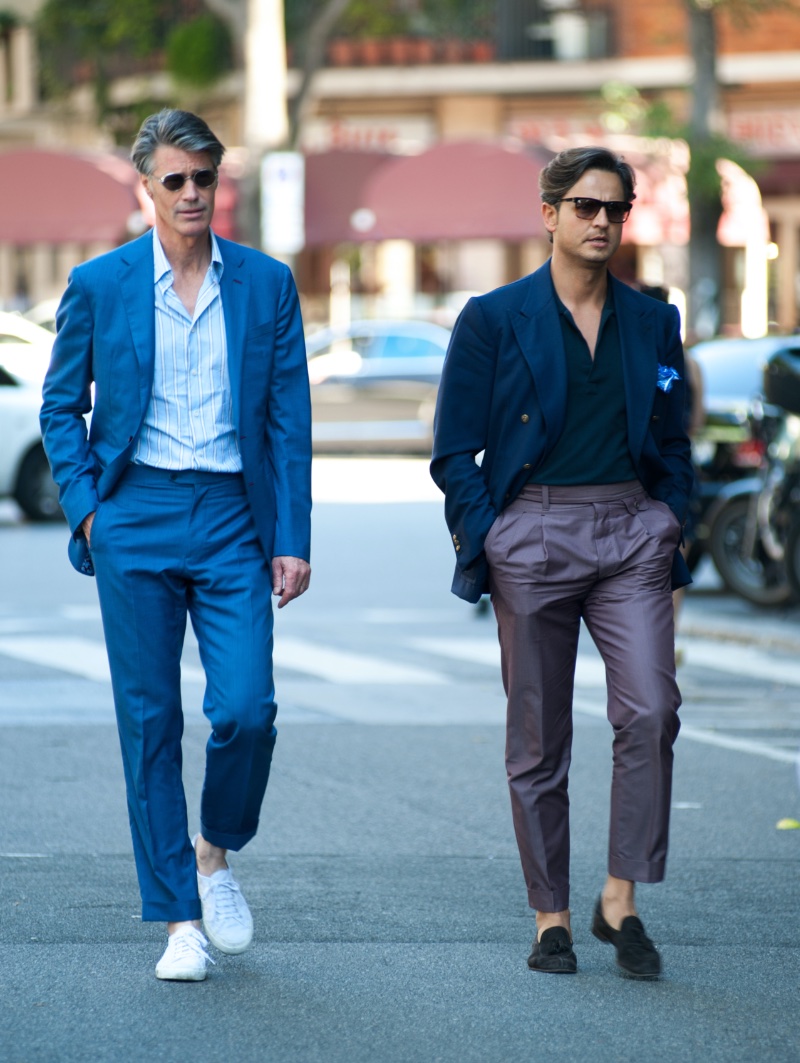 After discussing the different aspects of wearing a suit with white sneakers, it is clear that this trend has become a stylish and versatile option for men. From the different types of suits to the various styles of sneakers, there are endless possibilities for creating an outfit that fits any occasion.
It is important to remember that fit and tailoring are key components in achieving a polished look when wearing a suit with sneakers. Regarding the type of suit, navy, grey, and black are classic colors that pair well with white sneakers. However, choosing a suit that fits properly and looks tailored is important.
A well-fitting suit gives off an air of sophistication and compliments the casualness of the sneakers. There are also many styles of white sneakers, such as low-top or high-top, canvas or leather materials. Keeping your sneakers clean and well-maintained will save you from looking stylish and make them last longer.
Small details like socks and laces elevate your outfit even more. Wearing a suit with white sneakers has become increasingly popular in recent years for an excellent reason because it's stylish, comfortable, and versatile.
With so many options available in suits and sneaker styles, anyone can pull off this look regardless of their personal style or body type. So embrace this trend confidently, knowing you'll look sharp wherever you go.