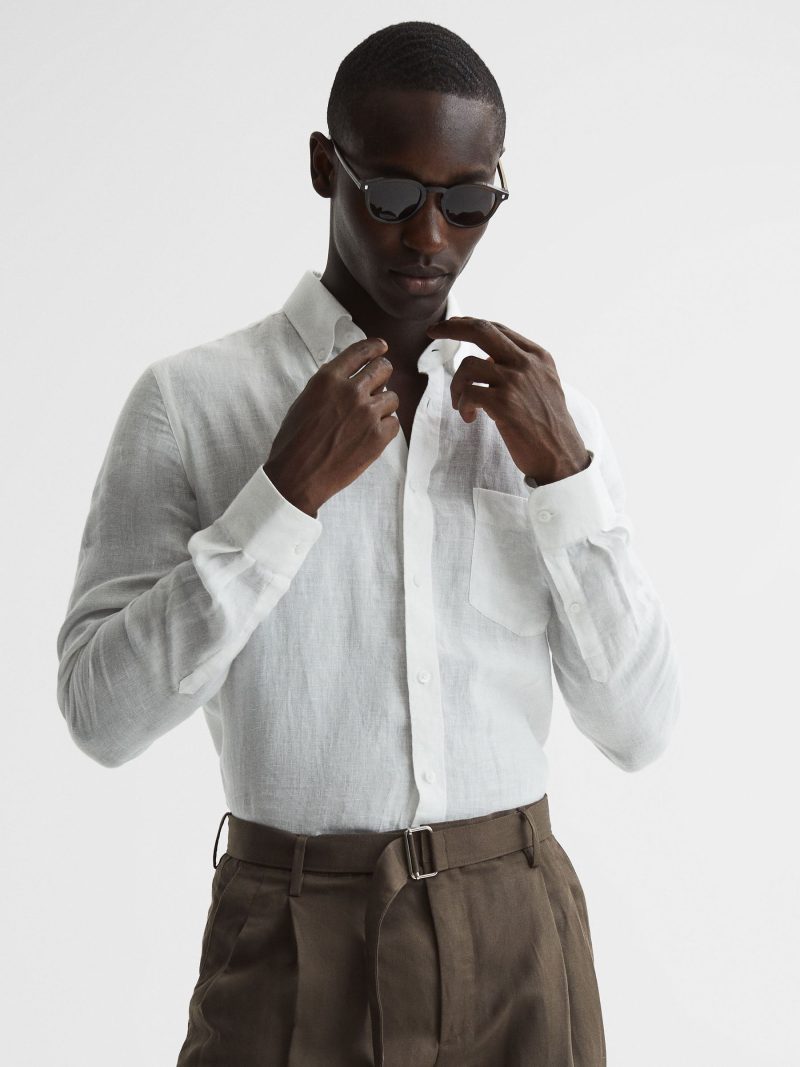 White linen has long been a classic and adaptable fabric that has graced the fashion world for ages. Its ongoing appeal is attributed to its distinct qualities, such as its nature as a lightweight and breathable fabric, making it an ideal choice for conquering the summer heat.
Linen outfits offer versatility suitable for various occasions, whether casually or formally. Combine a white linen shirt with jeans to achieve a laid-back style, or pair it with dress pants for a sophisticated appearance.
In this comprehensive guide, we'll delve into all you need to know about crafting the perfect men's white linen ensemble to ensure you both look and feel impeccable.
Men's White Linen Outfits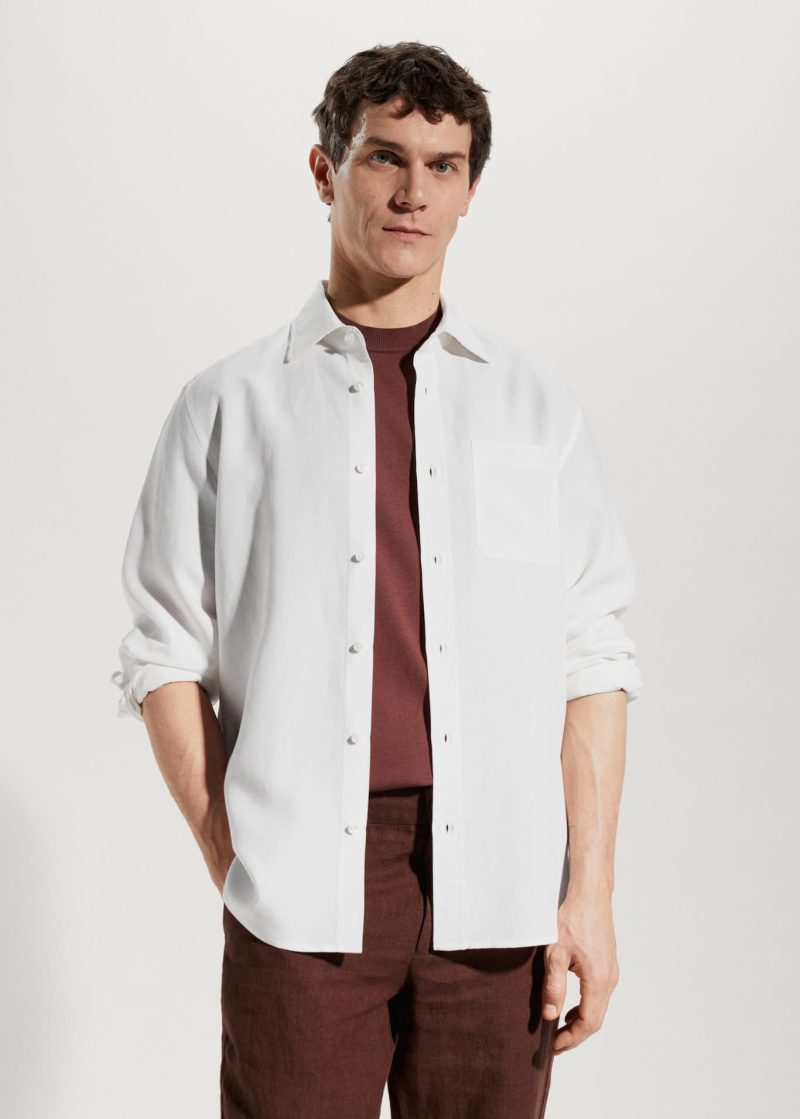 White linen's main advantages lie in its breathability and lightweight composition. Derived from the fibers of the flax plant, linen fabric is inherently moisture-wicking and quick-drying. This quality promotes air circulation, which is ideal for warm and humid climates. Adorning white linen ensures you remain cool, comfortable, and sweat-free throughout the day.
Its diverse styles allow white linen to be ada various formal or casual occasions. Pair it with a sport coat and dress pants for a more elegant affair, while shorts and sandals create a relaxed look perfect for leisurely outings.
White linen is also excellent for beach weddings or outdoor summertime gatherings. This classic and refined fabric consistently remains in vogue. The tradition of wearing white linen transcends generations, symbolizing a timeless fashion statement cherished by many.
Building Your White Linen Wardrobe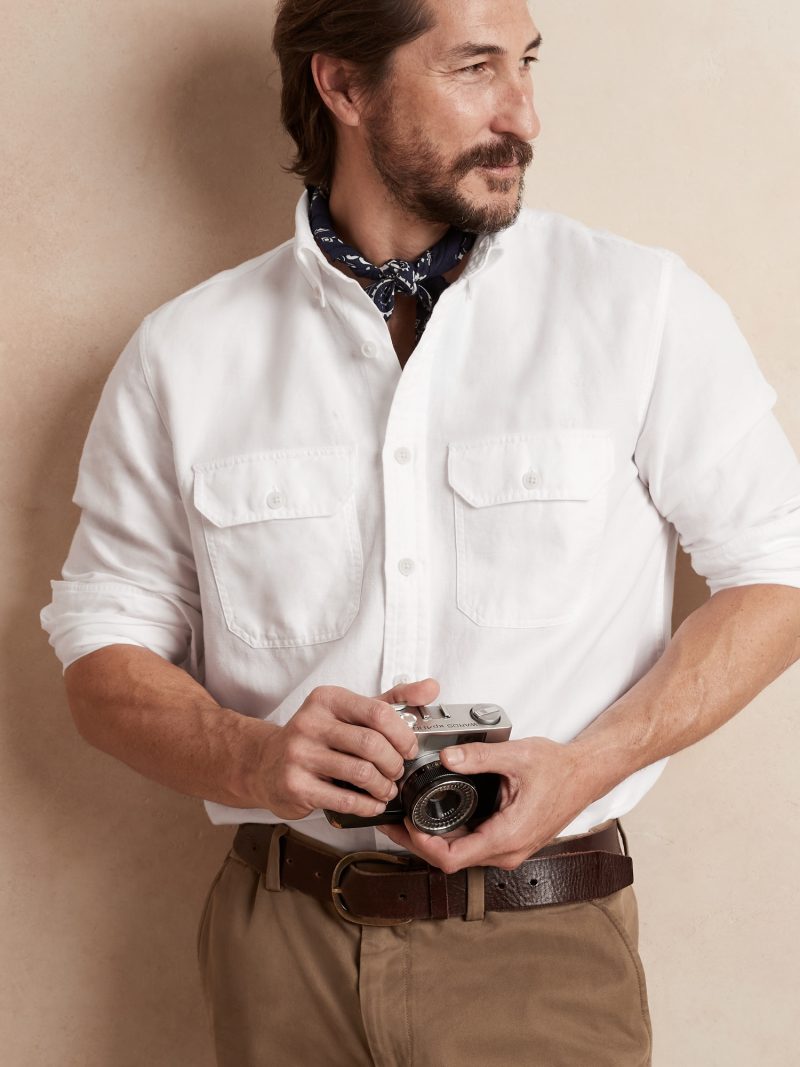 Incorporating linen shirts, pants, and suits are essential to creating the ultimate white outfit for summer. Investing in these items elevates your fashion sense and significantly enhances your comfort during the warmer months:
Linen Shirts
Linen shirts come in various styles, fits, and hues, yet a classic white linen shirt remains a versatile option that can be dressed up or down. Ideal for balmy weather, beachside nuptials, or laid-back gatherings, linen shirts boast breathability and a lightweight feel, ensuring all-day comfort.
Long-Sleeve Linen Shirts: A white linen long-sleeve shirt is ideal for cooler temperatures or occasions that require a more polished appearance. These versatile shirts can be worn with dress pants or jeans for varying levels of formality.
Short-Sleeve Linen Shirts: Short-sleeve linen shirts are an excellent choice for warmer weather or casual dressing. Pair these shirts with shorts, jeans, or khakis for a relaxed yet stylish look.
Collar Styles: The collar style of your linen shirt can significantly influence its overall aesthetic and feel. Button-down collars exude a classic and formal vibe, while Mandarin collars lend a more laid-back and casual air. Popover collars provide a comfortable and easygoing fit.
Linen Pants
Linen pants offer both comfort and style. Select a cut that complements your body shape and aligns with your fashion preferences. Ensure the pants fit you properly for optimal appearance and comfort. For a timeless ensemble, combine your linen pants with a linen shirt and a cotton t-shirt.
Drawstring: Drawstring linen pants provide a versatile, casual option for relaxed and slightly dressier occasions. They are ideal for beach trips or informal gatherings with friends.
Chinos: Linen chinos offer a more structured alternative appropriate for work or formal events. Their versatility allows you to pair them with either a button-up shirt or a t-shirt.
Tailored: Tailored linen pants are a more sophisticated choice for weddings or upscale dinners. These pants feature a fitted and polished appearance, elevating the overall look.
Linen Suits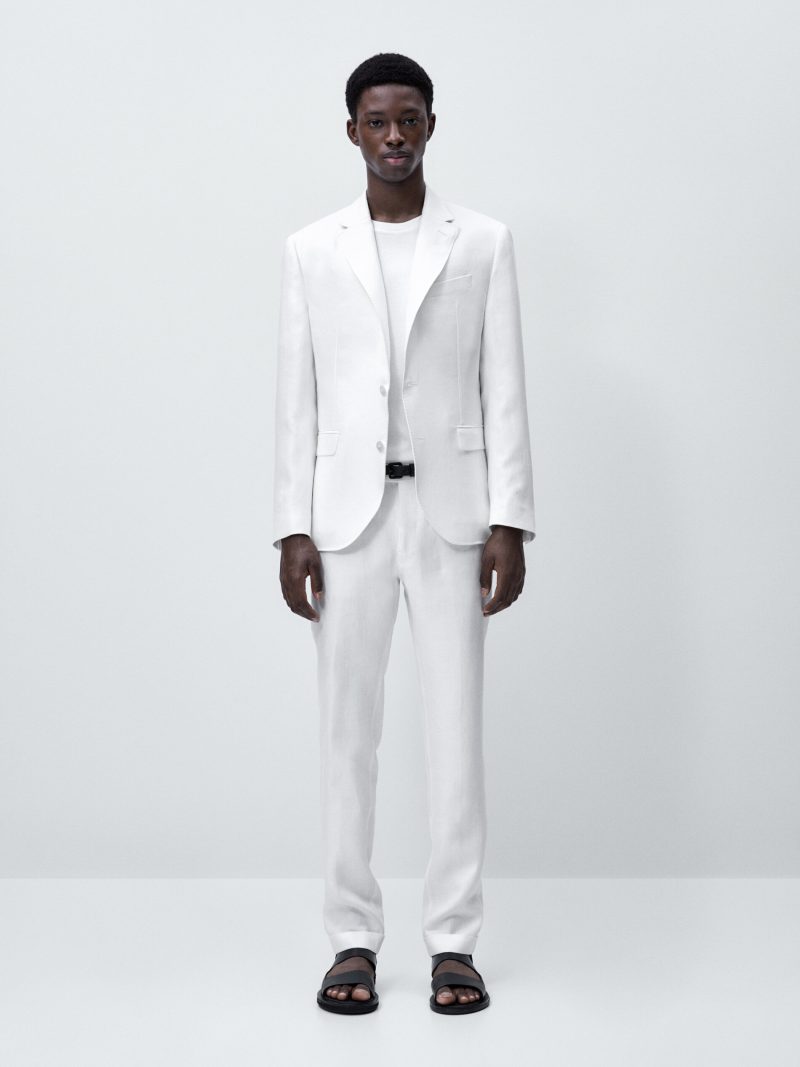 Although wool suits can be worn throughout the year, linen may be the top choice for a summer suit. A pure linen suit is an elegant addition to any wardrobe, perfect for formal occasions, summer weddings, or even a day at the office.
When picking a men's linen suit, selecting a style and color that complements your body type and personal taste is crucial. While white is a fantastic summer choice, evoking classic styles reminiscent of the 1920s and The Great Gatsby, black linen suits might be more appropriate for everyday wear.
Single-breasted: Single-breasted linen suits offer a timeless option that can be dressed up or down. They are versatile; pairing them with a crisp white shirt and loafers creates a refined appearance. For an even more polished look, consider a three-piece suit.
Double-breasted: Double-breasted linen suits serve as a more formal choice, suitable for black-tie events or weddings. They exude elegance and can be complemented with a bow tie and a pair of black leather oxford shoes for an elegant look.
Blazer & Trouser Combinations: A blazer and suit pants combination presents a more casual alternative for various occasions. This versatile option can be easily adapted to suit the event's formality.
Linen Accessories
Linen accessories, including pocket squares, scarves, ties, and hats, can effortlessly elevate any ensemble by adding a touch of sophistication. Incorporate these versatile and fashionable items into your wardrobe for a refined appearance:
Linen pocket squares offer a fantastic opportunity to introduce color to your outfit and can be paired with a linen suit, blazer, or trousers.
Linen scarves make a valuable addition to any look, providing a splash of color or an extra layer of warmth during cooler evenings.
Men's White Linen Outfit Ideas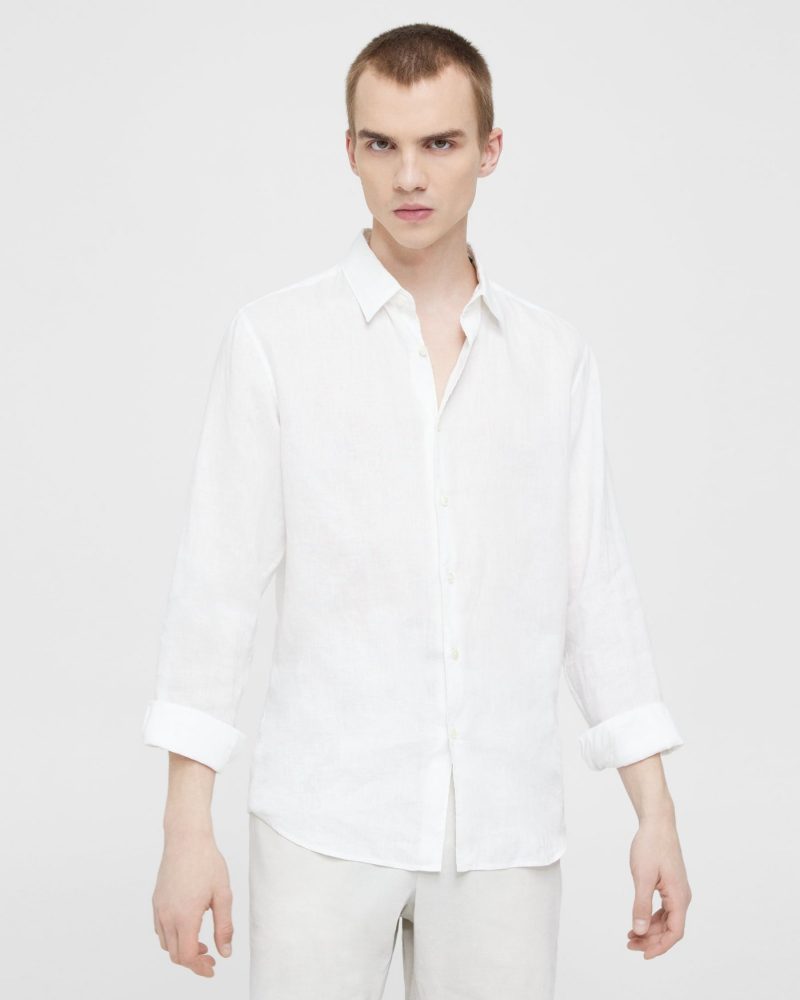 As summer approaches, it's time to start planning for those casual get-togethers, beach weddings, romantic date nights, and even informal business meetings. The key to a perfect summer wardrobe is versatility; nothing says stylish and comfortable like white linen. This lightweight and breathable fabric is ideal for various events, making it an essential addition to your summer wardrobe.
Casual Summer Get-Together
White linen ensembles are an excellent option for men's summer attire, offering a stylish and comfortable look for casual summer gatherings. When assembling a cohesive white linen outfit, it's crucial to prioritize comfort while maintaining a put-together appearance:
A white linen short-sleeve shirt is a timeless choice for a casual summer gathering—this lightweight and cozy option pairs well with either shorts or linen drawstring pants.
White linen drawstring pants make a fantastic choice for relaxed summer events. They offer comfort and style, and when combined with a white linen short-sleeve shirt, they create a harmonious look.
For footwear, slip-on sneakers provide an excellent choice for casual summer get-togethers. They offer comfort and can be worn with or without socks to suit your preference.
Elegant Beach Wedding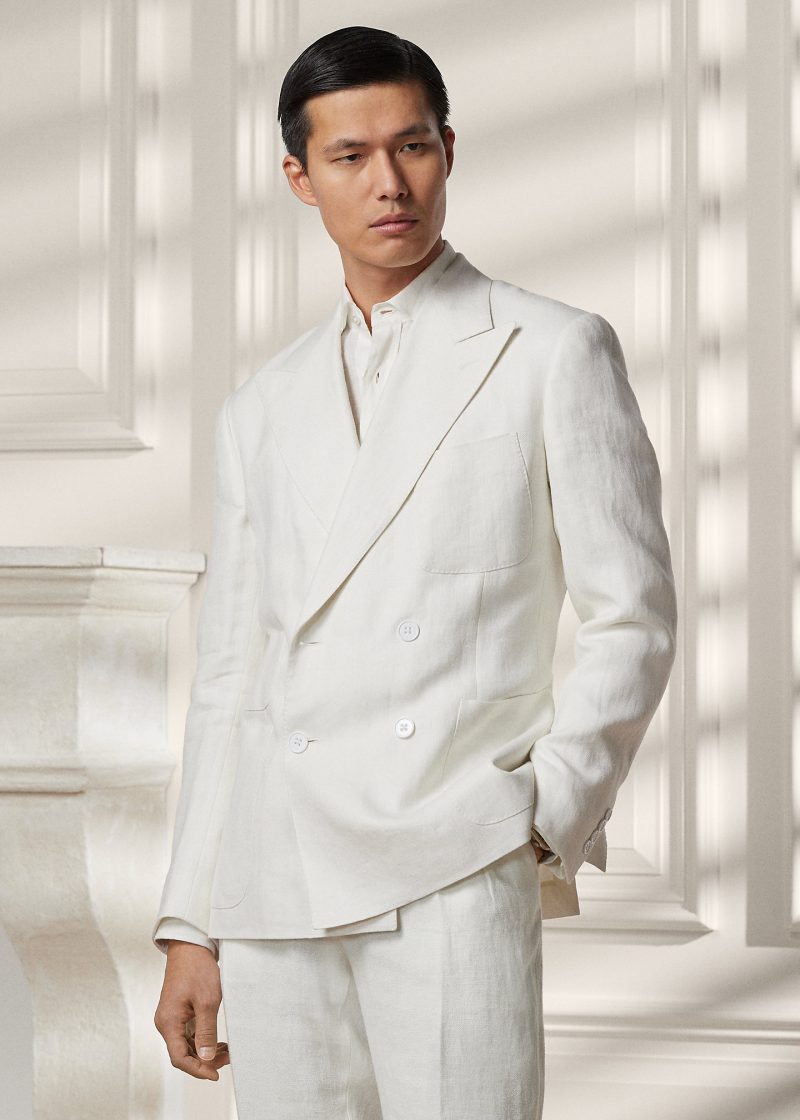 White linen ensembles are a favored selection for beach weddings due to their elegance, sophistication, and breathability as wedding suits. Below, we present some fashionable outfit ideas to help you achieve a luxurious look for your beach wedding:
A white linen suit is a timeless choice for a refined beach wedding. This sophisticated and fashionable option remains lightweight and comfortable for the wearer. Both single-breasted and double-breasted white suits can be considered, depending on your style.
A crisp white dress shirt pairs excellently with a white linen suit, providing a polished and elegant appearance perfect for a beach wedding. Opt for a lightweight and breathable shirt to ensure comfort throughout the event.
Leather sandals are a fantastic r choice for beach weddings, offering comfort and sophistication. Select stylish and well-crafted sandals that enhance your suit's overall appearance.
Date Night Outfit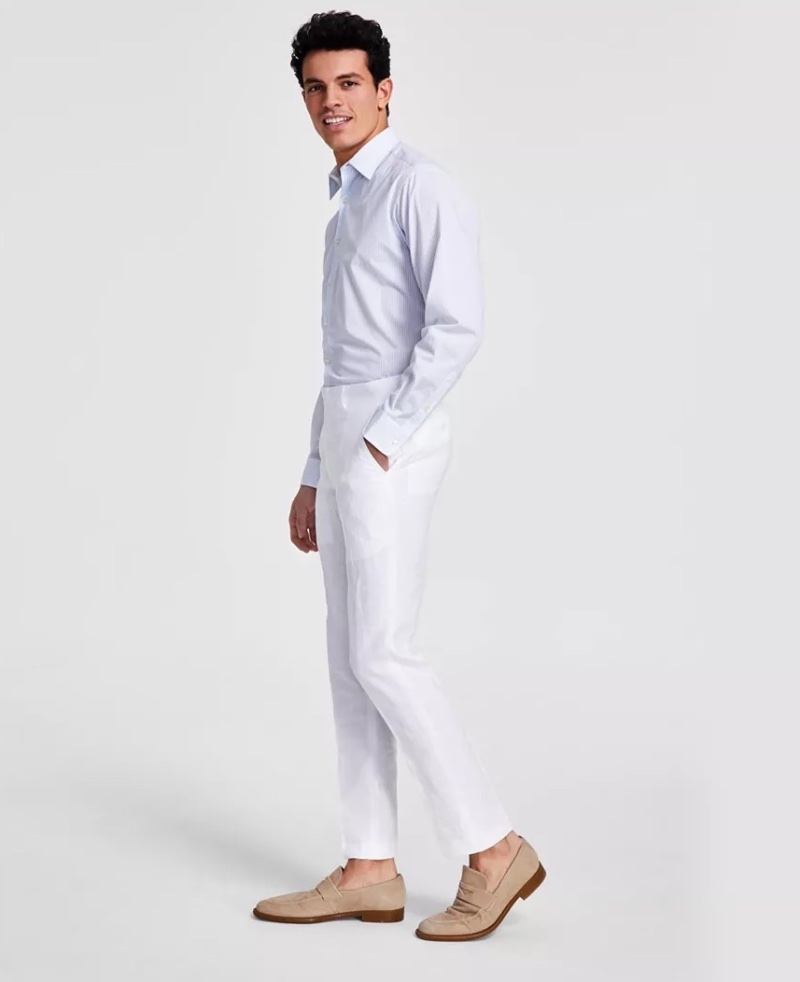 For a casual yet fashionable date night look, combine a smart shirt with white linen pants or a linen long-sleeve shirt with chino pants. This ensemble is suitable for a romantic dinner or an evening with friends. Add loafers to the outfit for a refined touch.
Business Casual
Wear a white linen blazer with a light-colored dress shirt and white linen trousers for a comfortable and polished business casual ensemble. This attire is ideal for summer meetings or business lunches. Enhance your style by finishing the look with dress shoes.
Styling Tips for Men's White Linen Outfits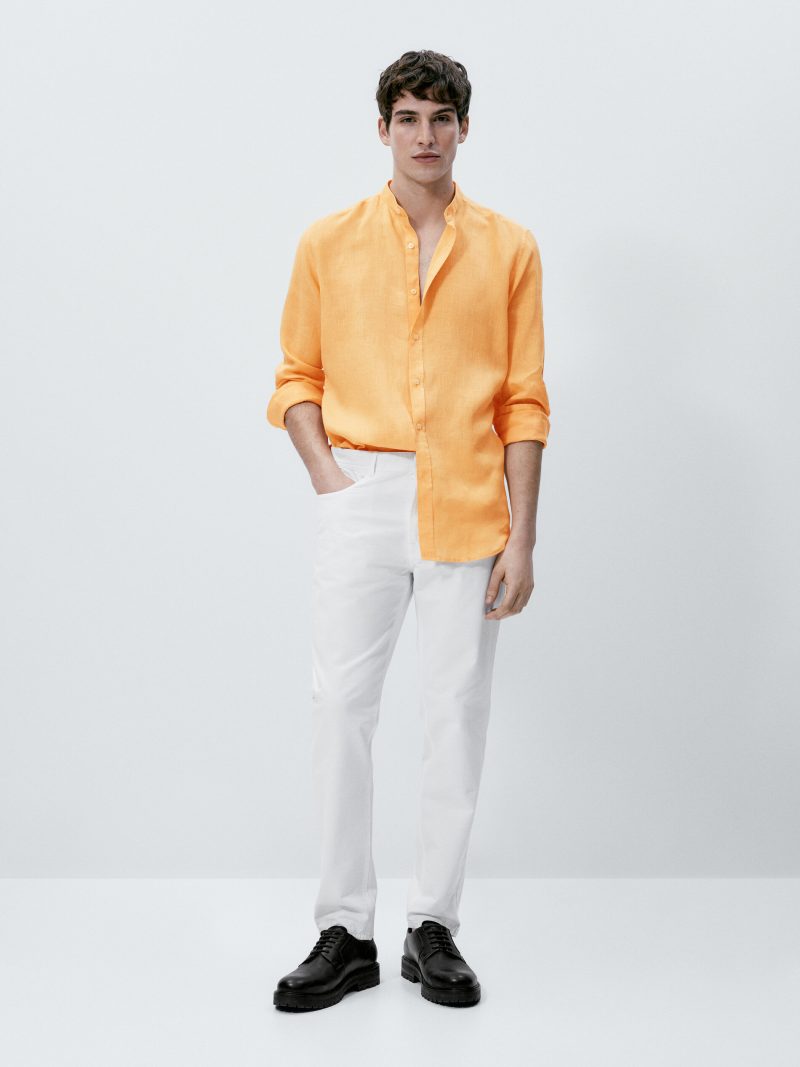 In fashion, a crisp, white linen ensemble is a sophisticated addition to any wardrobe. However, styling a white linen outfit for men can present challenges. Here are a few tips to assist you in confidently mastering this timeless look:
Pairing with Other Colors
One of the advantages of white linen is its compatibility with various colors. Pair your white linen pants or shirt with classic shades like navy blue or black for a timeless look. Introduce brighter colors through clothing choices or accessories, such as a vibrant belt or watch, for a more daring appearance.
Choosing Proper Footwear
When it comes to shoes, loafers, or boat shoes, pair flawlessly with a white linen ensemble. For a casual option, wear your linen pants with new white sneakers.
Accessorizing Your Linen Outfit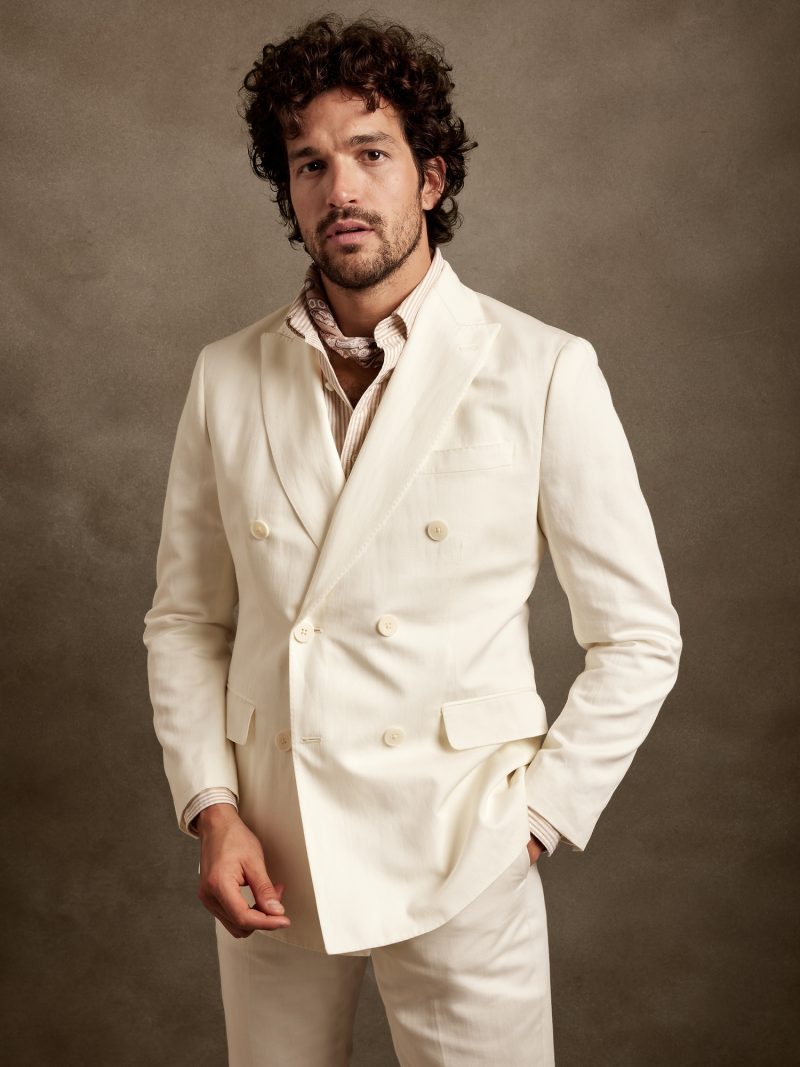 Keep things simple with a classic leather belt, or showcase your personality with a woven one. A handkerchief or neckerchief can also be a stylish accessory for a linen outfit, particularly at a beach wedding or other outdoor events.
Maintaining & Caring for Linen Garments
To preserve your white linen outfit's pristine appearance, adhere to the care instructions on the label. Refrain from machine drying your linen, which can cause shrinking and fabric damage. Instead, hang your linen pieces to dry in a cool, shaded area.
Embracing Sustainable Fashion with Linen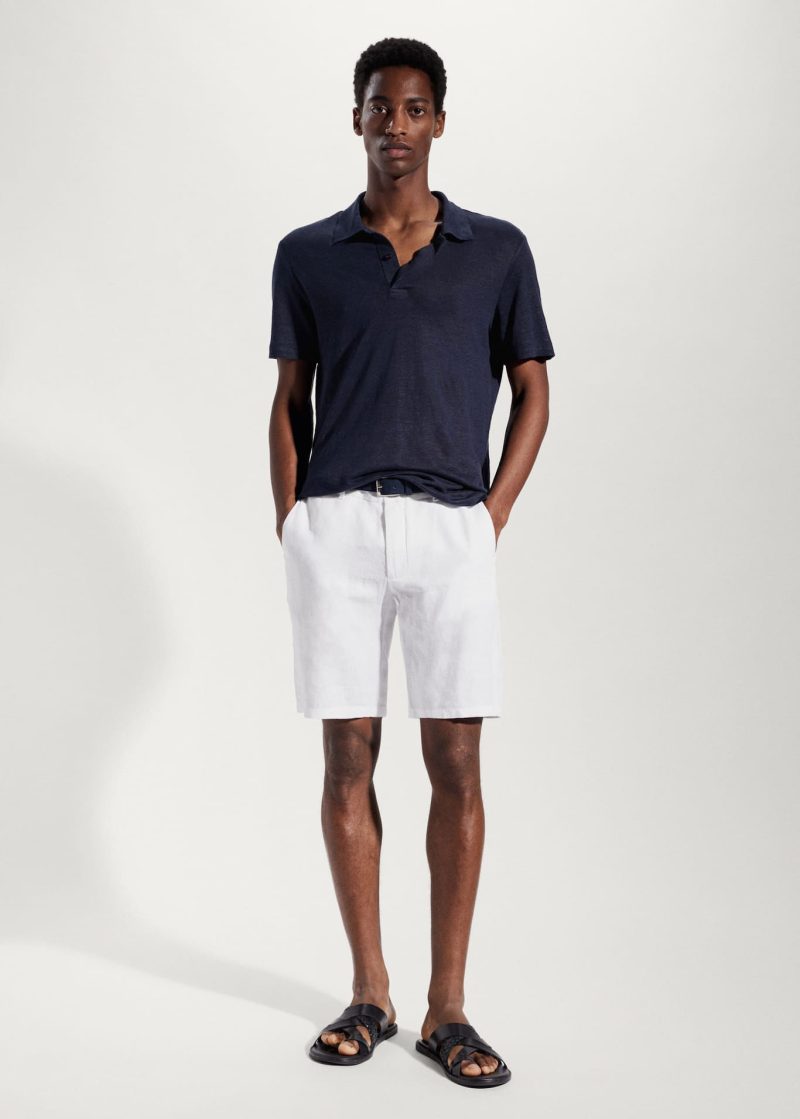 In recent years, sustainable fashion has attracted growing interest as consumers become more mindful of the fashion industry's environmental footprint. Linen has emerged as a favored material among eco-conscious shoppers, and here's the reasoning behind this trend:
Linen is an environmentally-friendly fabric derived from the fibers of the flax plant. As a crop, flax demands less water and fewer pesticides compared to other plants, making it a more sustainable option. Moreover, the production process of linen generates minimal waste, as nearly all parts of the flax plant can be utilized.
Embracing sustainable fashion involves supporting brands that prioritize eco-friendly practices. Numerous brands have incorporated linen into their collections as a sustainable fabric alternative. When shopping for linen garments, select brands emphasize sustainability and maintain transparency about their production processes.
The enduring nature of linen contributes to its appeal as well. As a durable fabric that resists wear and tear, linen is an excellent investment for your wardrobe. With appropriate care, linen clothing can last for years, continually diminishing the need for purchasing new garments.
Final Words on Men's White Linen Outfits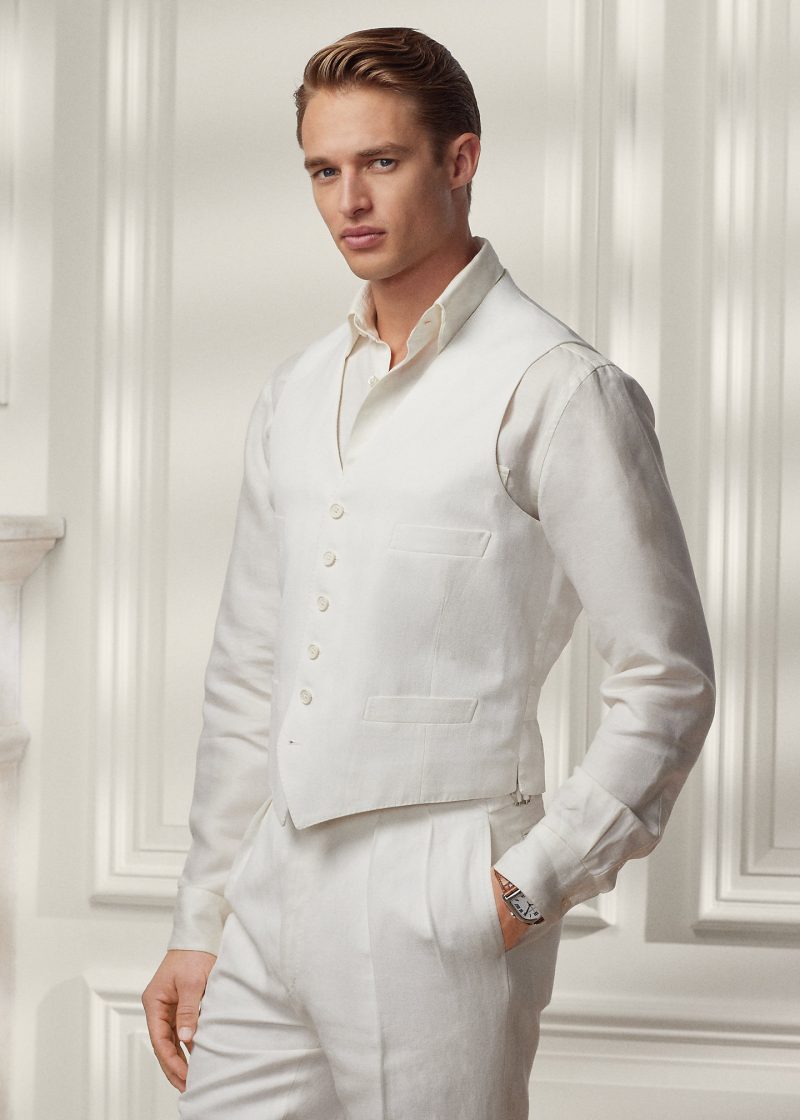 White linen is a classic fabric that effortlessly combines style and comfort. With its versatility, there are numerous ways to integrate linen into your wardrobe for casual and formal settings. By skillfully coordinating colors, footwear, and accessories, you can curate a fashionable and unique appearance suitable for any event. We've covered essential styling tips for men's white linen outfits, from pairing with complementary shades to selecting appropriate footwear, accessorizing, and maintaining linen garments.
We also delved into the positive environmental impact of embracing sustainable fashion with linen, which promotes ethical and fair labor practices by opting for eco-friendly materials, supporting sustainable fashion brands, and investing in durable clothing. So why not try it and witness the transformation it brings to your style? Whether you dress it up or down, we hope you relish exploring the world of linen fashion, looking and feeling chic and comfortable.