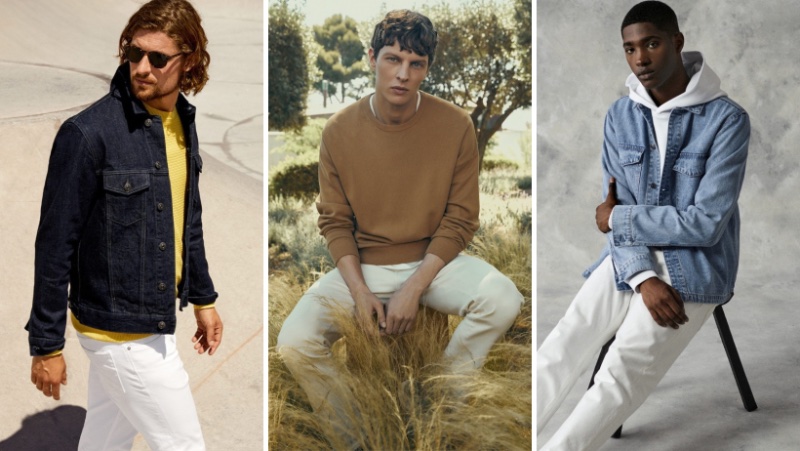 Discover the enduring appeal of men's white jeans, a wardrobe cornerstone that transcends the seasonal fashion cycle. Far from a mere summer staple, these versatile pants now command year-round attention and provide an easy route to elevated style.
The growing love for white jeans comes down to two things: they're versatile and make any outfit pop. Regarding style, white jeans are the Swiss Army knife in your wardrobe.
Dress them up with a tailored shirt and loafers for a night out. Or go casual with a graphic tee and sneakers for weekend vibes. This effortless shift from daywear to evening attire sets white jeans apart as a must-have.
What's more, white jeans add a modern edge to your look. They go with pretty much anything, letting you mix and match with different colors and patterns. Think of them as the style foundation that lets your personality shine.
Crafting Ideal Men's White Jeans Outfits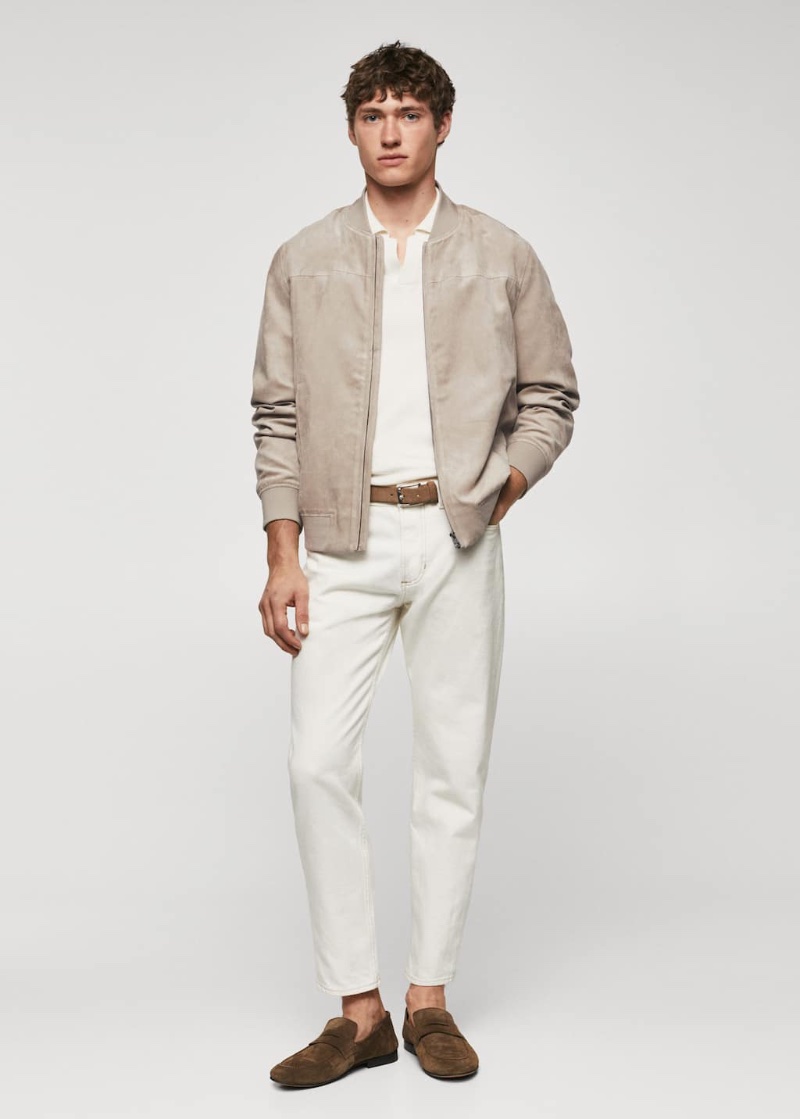 Wearing white jeans right isn't just throwing them on; it's about the whole ensemble. Think of it as a curated exhibit where your shirt, shoes, and accessories each play a pivotal role.
Choose these elements wisely, and you'll craft a look that radiates effortlessness and sophistication:
The Shirt Dilemma: The art of pairing white jeans is selecting the right shirt. Navy, black, gray, and pastels can set the tone for a refined ensemble. A white-on-white scenario risks sartorial monotony and is best sidestepped.
The Footwear Factor: Shoes are the linchpin that can make or break your look. Casual affairs call for sneakers or loafers, while oxfords or brogues lend a formal air. Steer clear of clunky boots; their weightiness can clash with the lightness of white jeans.
Smart Accessorizing: The finishing touches matter. A tasteful belt or a sleek watch injects your look with subtle sophistication. A word to the wise: excessive jewelry muddles the aesthetic.
Outfit Ideas for Varied Occasions: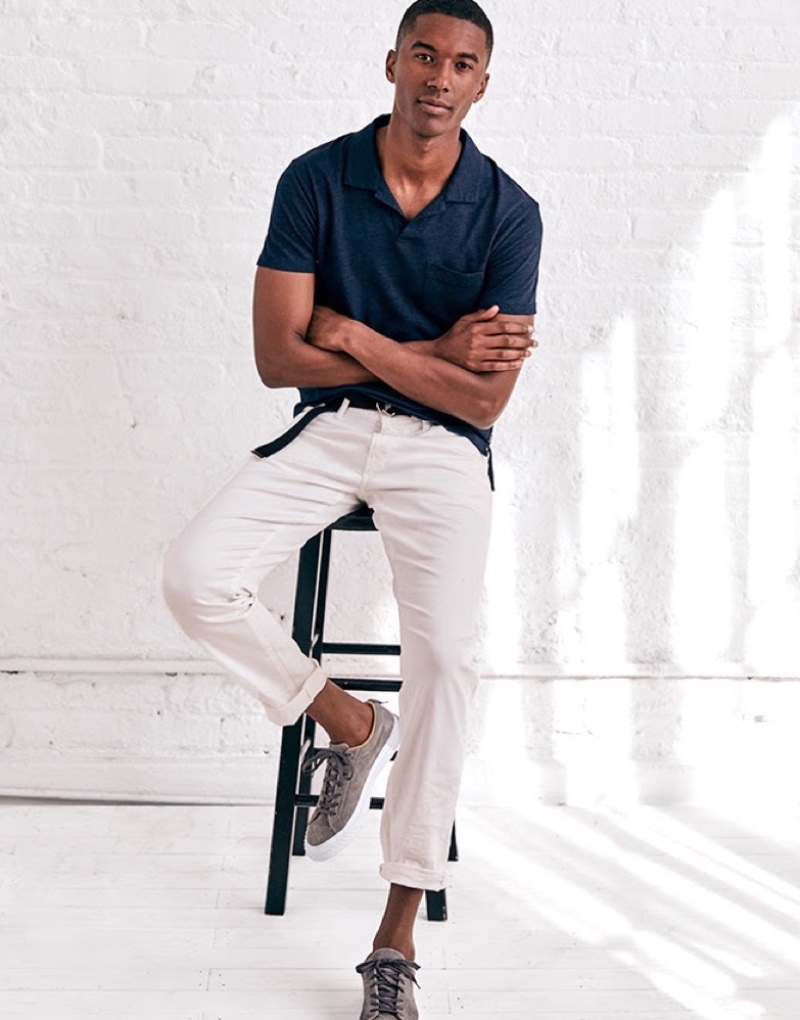 Casual: Pair your white jeans with a navy polo and fresh white sneakers. Add a navy cap to this mix for an effortlessly stylish vibe.
Semi-Formal: A light gray blazer draped over a white dress shirt tucked into your white jeans sets the tone. Opt for brown loafers and a matching belt to elevate the ensemble.
Formal: A black dress shirt, neatly tucked into your white jeans, is the backbone for a formal look. Layer on a black blazer and opt for black oxfords. A corresponding black belt seals the elegance.
Once you've mastered these principles and outfit combos, white jeans are no longer a risky move. They become a canvas for your personal style, a well-executed piece in the gallery of your wardrobe.
Shirt Combinations with White Jeans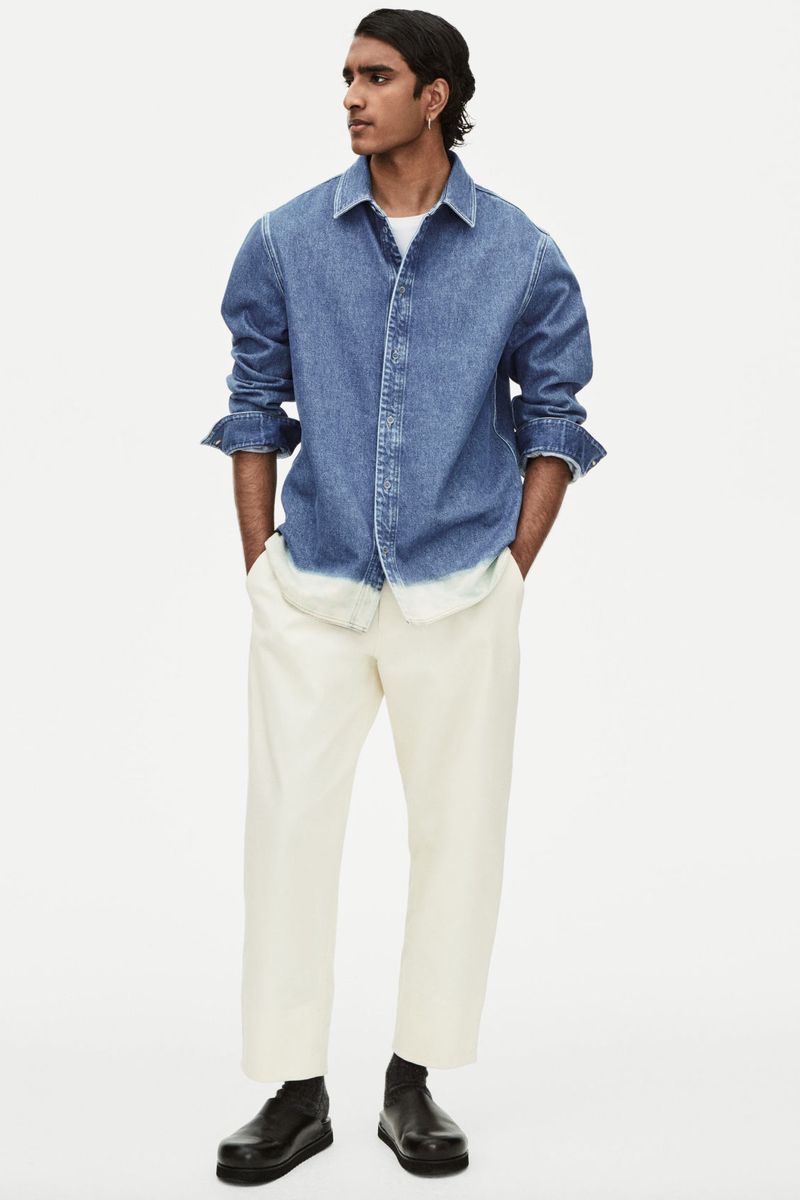 The perfect shirt is the cornerstone of an outfit, especially when paired with the transformative power of white jeans. Whether you gravitate towards the simplicity of solid colors or the bold quality of patterns, there are many choices.
Solid Colors
Neutral Palette: Shirts in black, gray, or navy offer a streamlined and timeless canvas against the blank slate of white jeans.
Vivid Hues: To construct a visually arresting outfit, wear shirts in bold colors like red, green, or yellow.
Pastel Nuances: For a vibe that whispers rather than shouts, light pink or baby blue shirts lend a youthful and fresh air.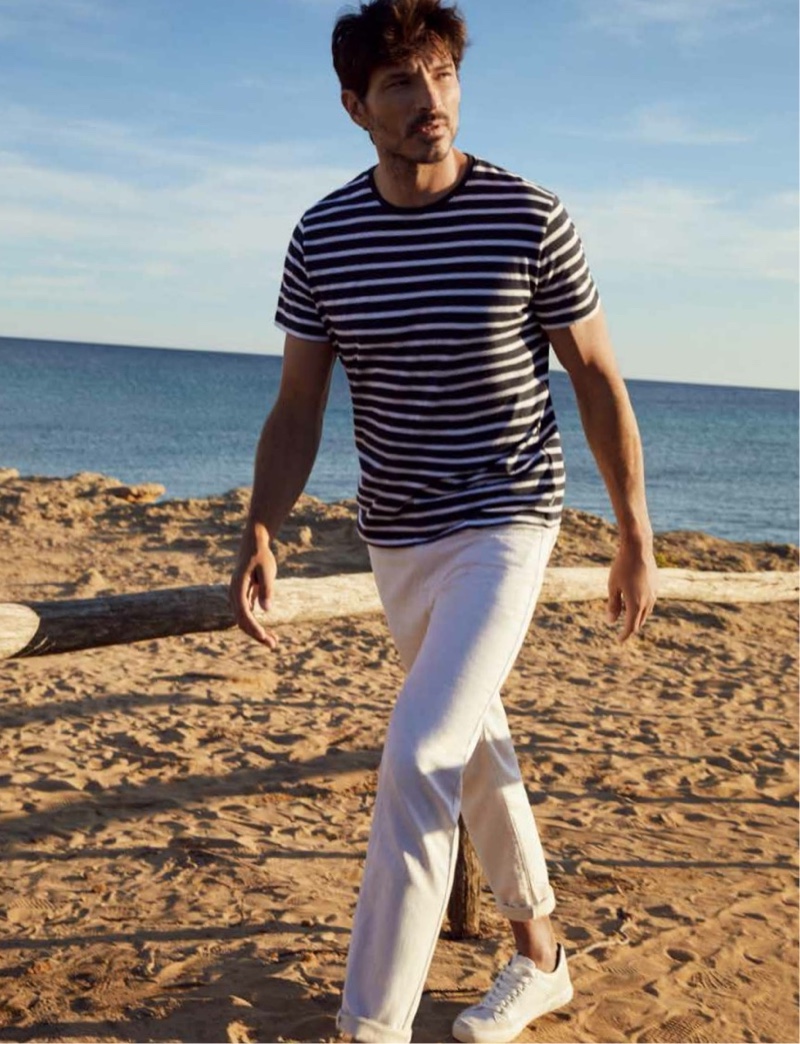 Patterns
Linear Appeal: Stripes, be they vertical or horizontal, infuse your ensemble with a layer of measured elegance.
Checkered Charm: Shirts adorned with checks or plaids exude casual sophistication.
Floral Flourish: When summer calls, answer with floral prints to strike a leisurely, sun-drenched tone.
Styling Tips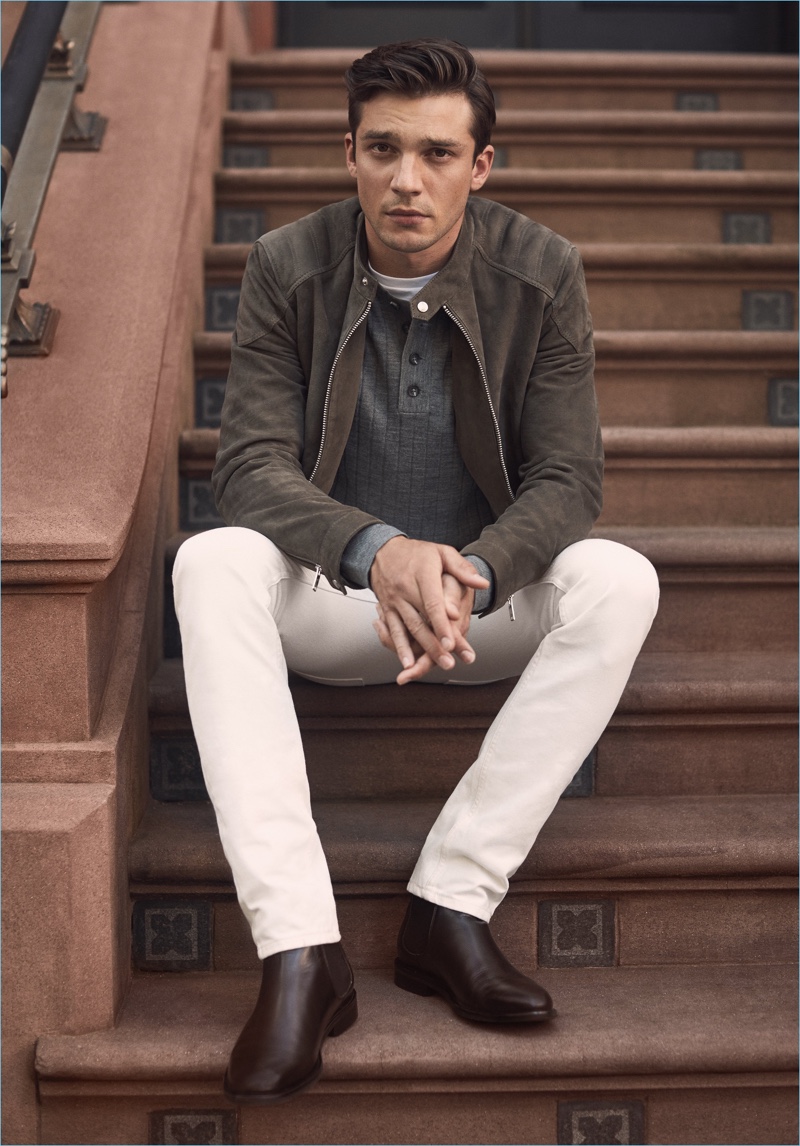 The occasion and your sartorial leanings can influence which shirt styles harmonize with your white jeans:
Polos: For an injection of low-key refinement, a classic polo shirt stands as an enduring choice.
Button-Downs: From casual to tailored, button-down shirts deliver a layered and cohesive appearance.
T-shirts: When ease is the order of the day, a simple or graphic t-shirt lays down a relaxed counterpoint to your white jeans.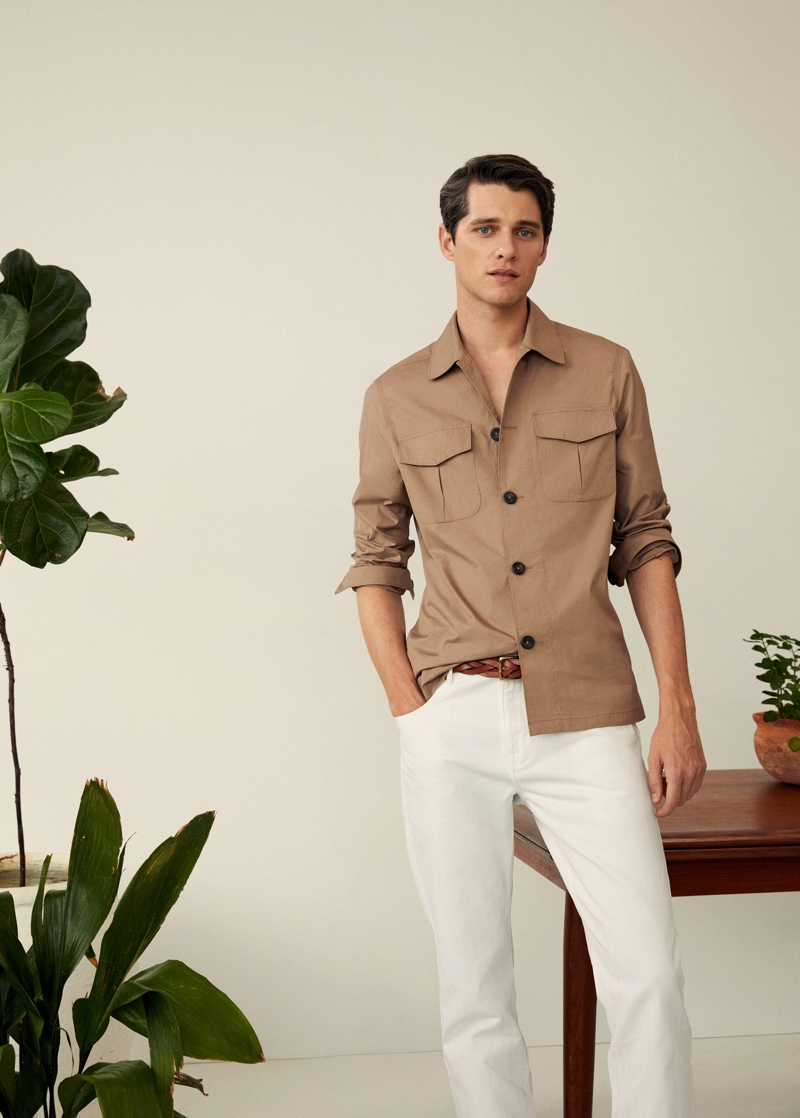 The art of pairing the right shirt with white jeans opens a portal to a spectrum of looks, each with its unique nuances. Whether aiming for the effortless casual, the middle-ground of smart-casual, or a more polished aesthetic, thoughtful shirt selection is critical.
Navigating the Seasons
White jeans are a year-round canvas that adapts to the season's mood. Fine-tuning fabric types, layering techniques, and color themes can make these versatile pants a staple in your wardrobe, regardless of the calendar's page.
Spring: A Season of Renewal
Spring beckons with the promise of new beginnings. Opt for white jeans in breathable fabrics like cotton or linen. Pair them with shirts in soft pastel hues and lightweight jackets, capturing the essence of the season's rebirth.
Summer: The Heat is On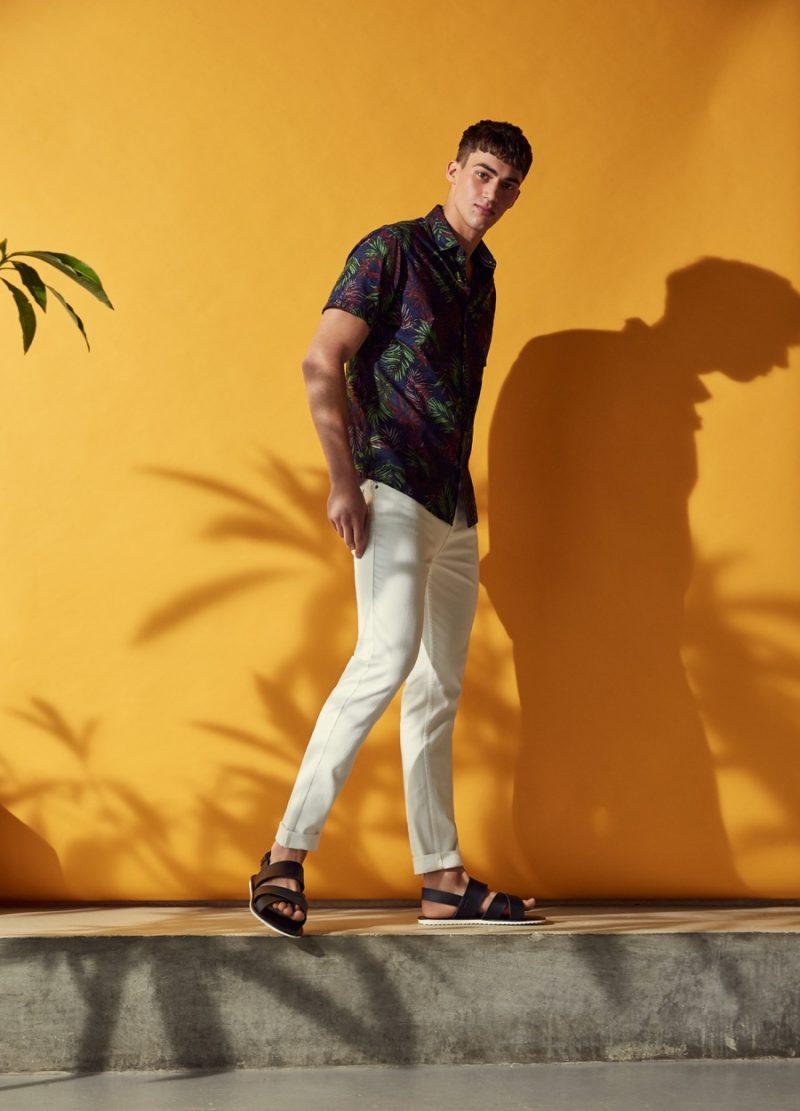 Summer isn't just a season; it's a lifestyle that demands a wardrobe balancing style with comfort. Lightweight fabrics like linen and cotton are the go-to choices for white jeans.
These materials serve as a cooling sanctuary to fight the unforgiving heat. When selecting shirts, chambray and linen function like your personal air conditioner.
Footwear anchors your entire look. Open-toed sandals channel a laid-back ambiance, while espadrilles navigate between casual and polished. Loafers lend an understated elegance that upgrades your ensemble from sunlight to starlight.
In summer fashion, white jeans are not merely an option but a statement. Their color palette may evoke dreamy locales like the French Riviera or Sicily, but they're versatile enough for any summertime setting.
Fall: A Time for Transition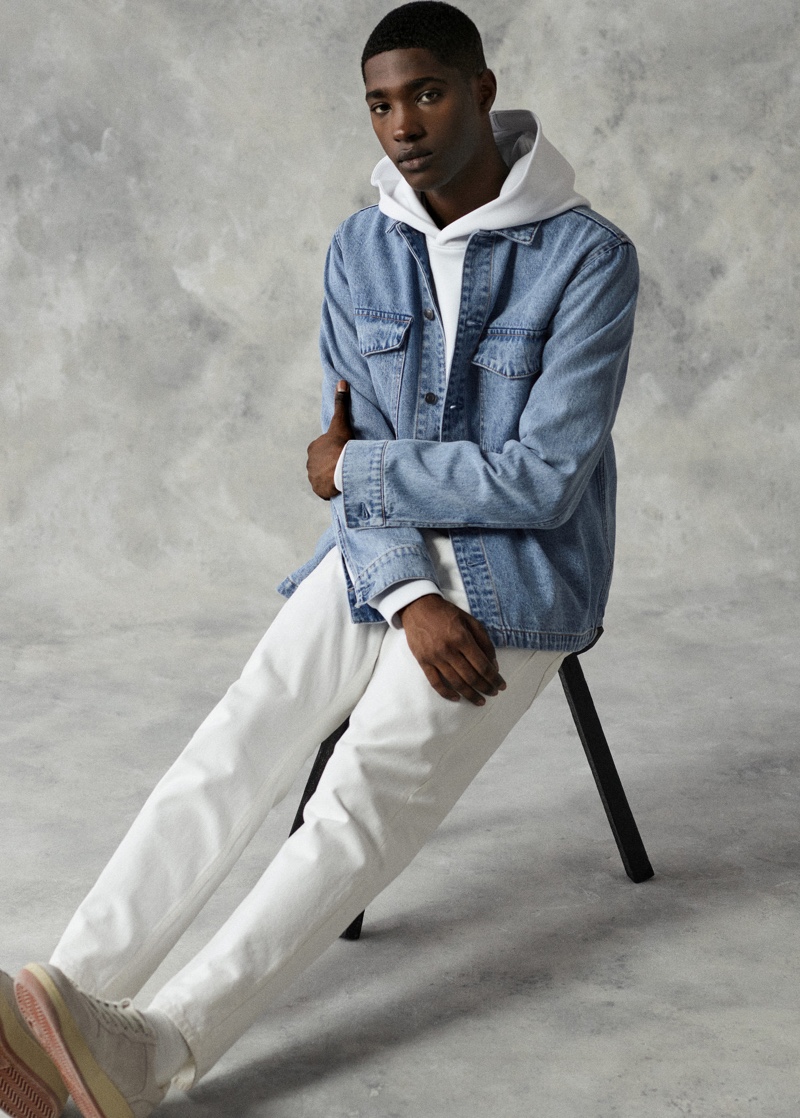 As leaves change, so should your approach to white jeans. Opt for denser fabrics like twill or corduroy.
Layering becomes more intricate, incorporating cozy sweaters, plaid shirts, and denim jackets. Earth tones and muted hues reflect the season's natural palette.
Winter: Elegance in the Cold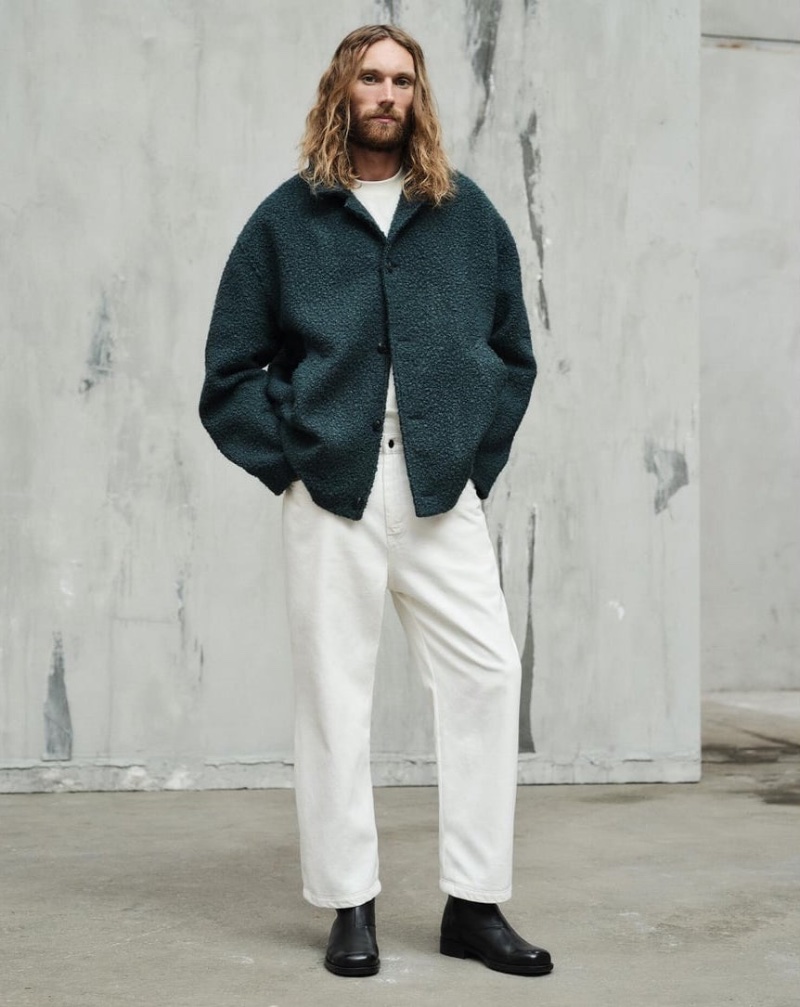 Don't let winter's chill exile your white jeans. Seek out heavyweight fabrics, possibly lined with wool or flannel. Complement these with substantial layers like chunky knit sweaters, pea coats, or leather jackets.
Colors like burgundy or navy add depth and sophistication to your winter look.
The Essence of Seasonal Styling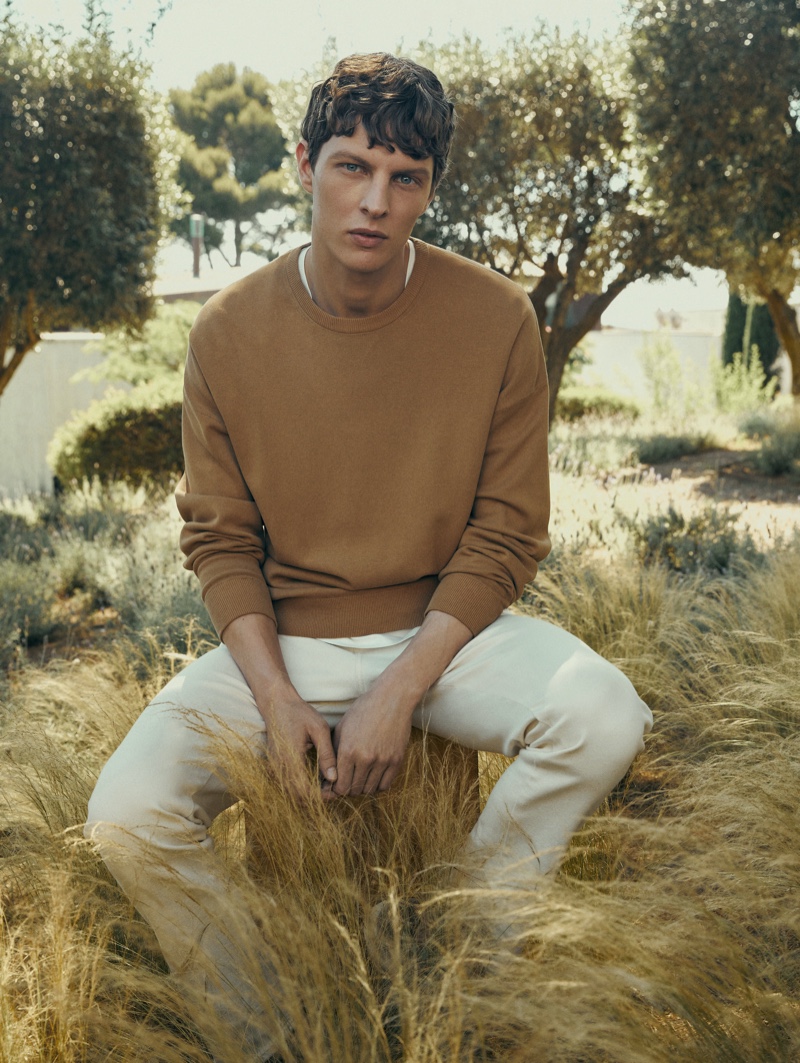 Each season offers a set of fashion guidelines that elevate your white jeans. Whether it's the fabric's breathability in summer or the layering game in fall, the details make all the difference.
Trend-driven accessories and timely color schemes can seamlessly integrate, ensuring you remain seasonally apt and stylistically captivating.
Casual Mastery: The Art of Pairing White Jeans
White jeans are a versatile canvas that effortlessly transitions from refined to relaxed. The secret sauce? It's all in how you style them. Here's your guide to mastering the casual look with white jeans.
Sneaker Strategy: Palette & Silhouette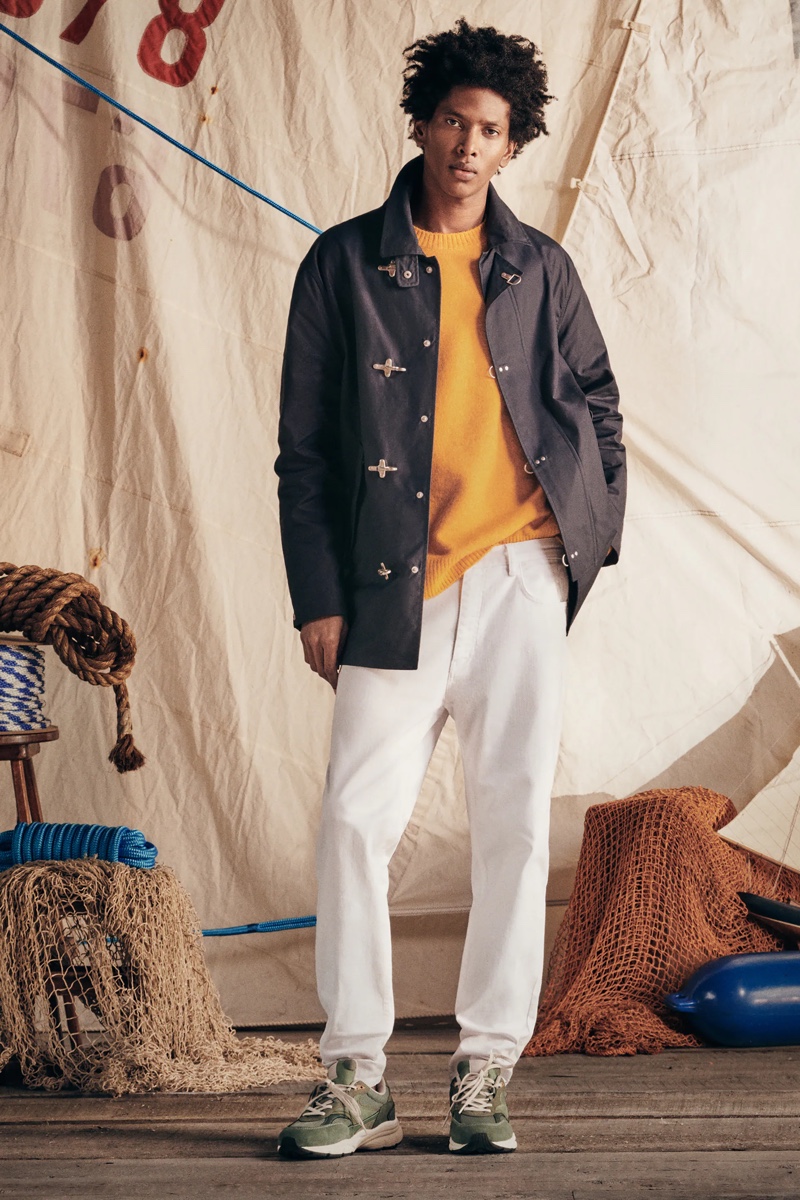 A harmonious blend of comfort and style emerges when white jeans meet sneakers. The sneaker choice can subtly complement or audaciously elevate your white jeans.
Opt for classic canvas sneakers in shades like slate gray, navy, or black for a muted elegance. These choices let your white jeans maintain their starring role.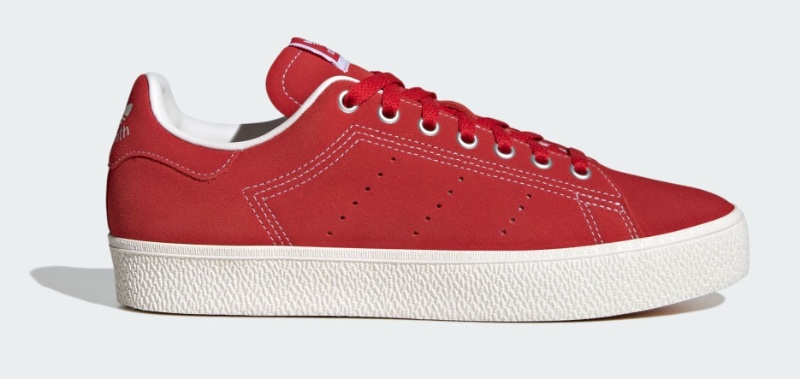 However, if you're in the mood for a more dynamic conversation between your jeans and footwear, consider sneakers in vibrant hues like red. These colors contrast, turning your feet into attention-grabbing focal points.
In terms of silhouette, classic low-tops like Converse Chuck Taylors or Vans Old Skools effortlessly sync with white jeans. For a more refined edge, leather sneakers or high-top styles offer a nod to retro aesthetics while keeping your look anchored in the present.
Accessorize with Intent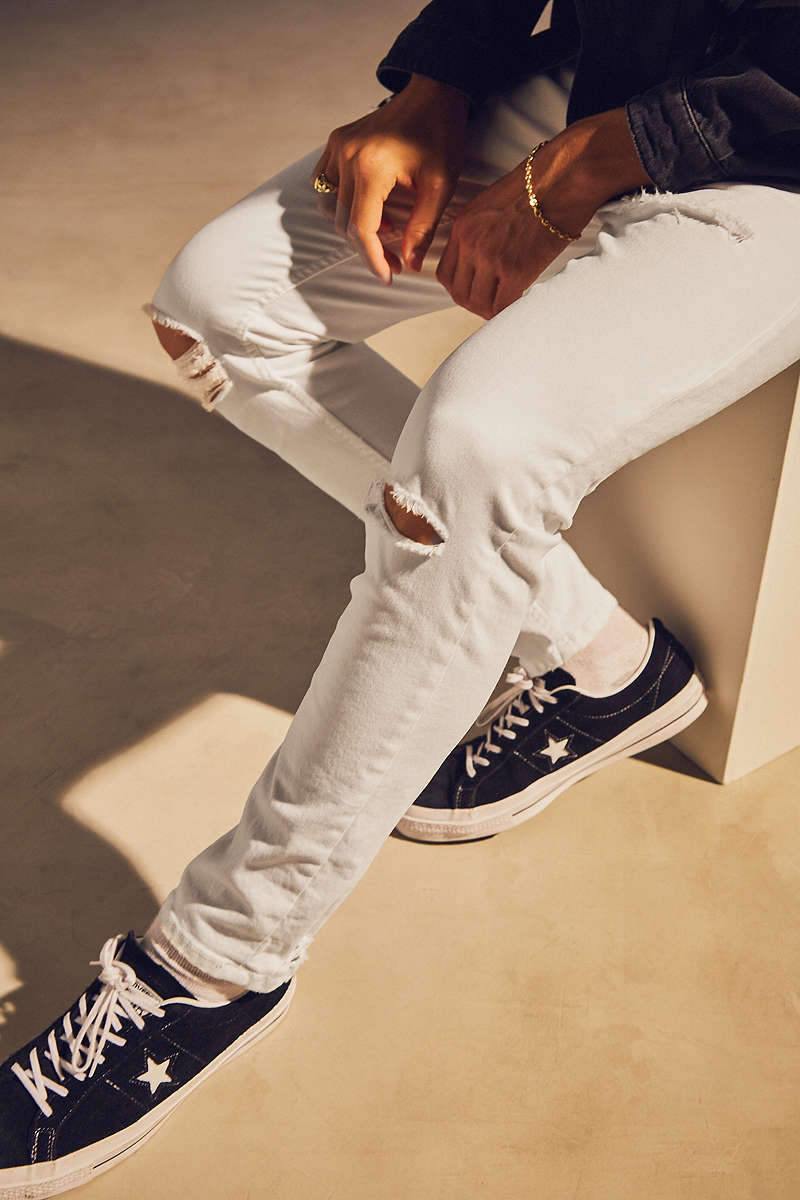 The right accessories can subtly elevate your casual look. A wristwatch or a minimalist leather bracelet adds just the right amount of flair. The key is to exercise restraint, choosing pieces that enhance rather than overwhelm your outfit.
Fit & Form
The cut of your jeans is crucial. Aim for a slim or straight cut that flatters your body shape without veering into extremes.
And don't overlook the importance of underwear color—choose shades that won't make an unintended appearance through your white jeans.
The Essence of Casual Balance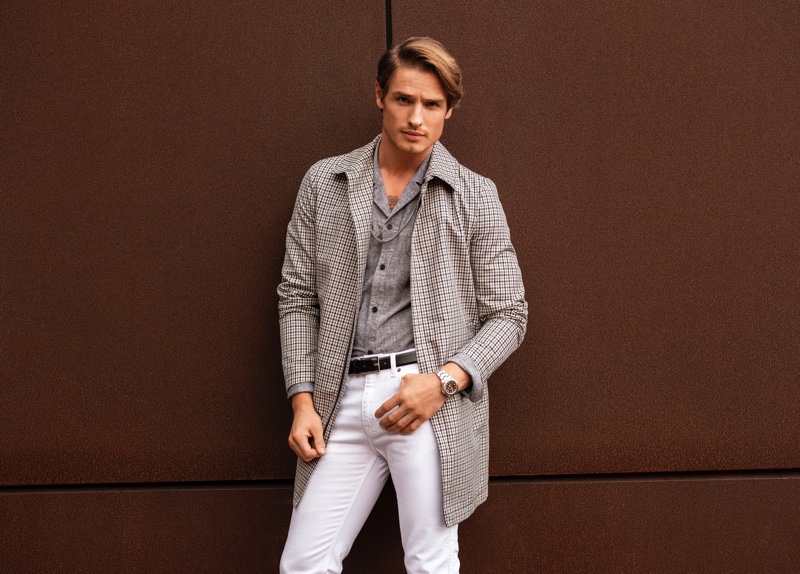 Balance isn't just a principle; it's an art form. Whether it's the fabric of your tee, the shade of your sneakers, or the subtlety of your accessories, each element contributes to a harmonious ensemble.
Paying attention to these details creates a look as comfortable as stylish.
The Art of Color: Mastering Coordination
White jeans serve as more than just a garment; they're a versatile canvas that elevates the role of color coordination to an art form. Whether you're harmonizing shades or navigating the spectrum of blue, the right palette can transform your outfit into a visual symphony.
Harmonizing Hues: The Essentials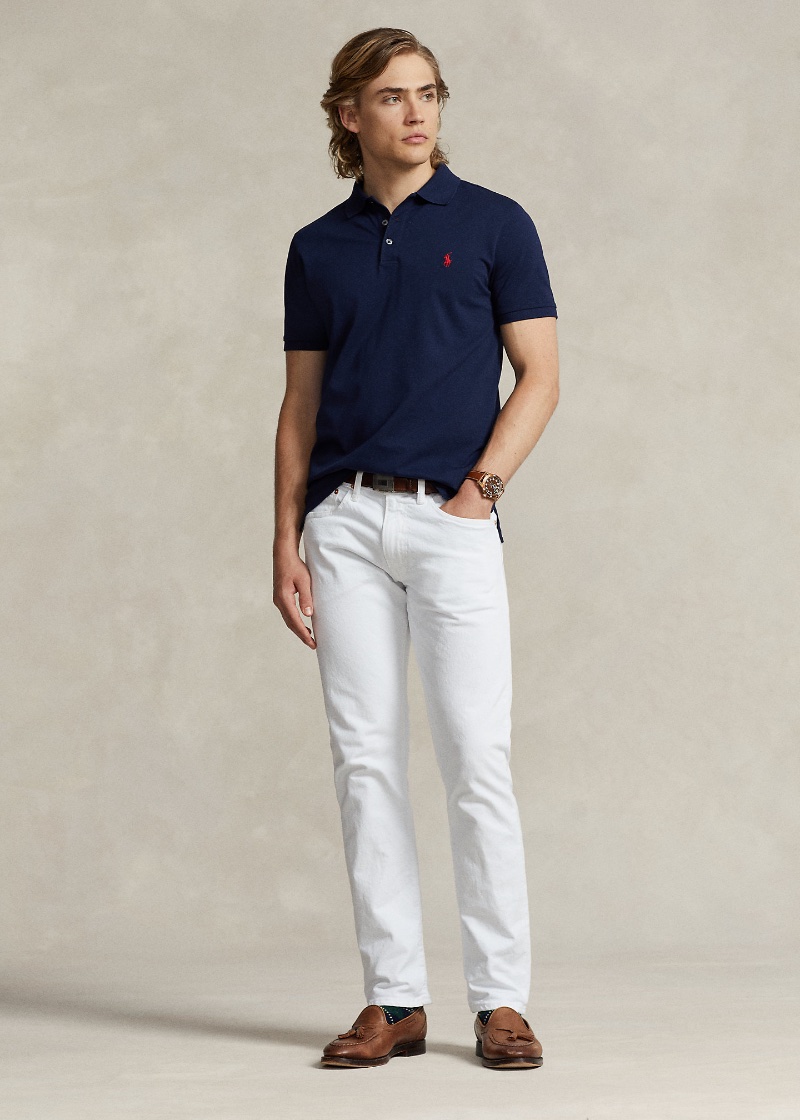 Consider white jeans the foundational note in the symphony of your style. They serve as a blank canvas, inviting other hues to join a harmonious ensemble.
Whether it's the commanding presence of a navy blue shirt or the low-key sophistication of light gray, each color contributes its voice, elevating your overall look. Simplicity is the key when orchestrating an outfit with white jeans.
White can be a demanding collaborator, often clashing when paired with too many other shades. Add just one color to your white jeans for a nuanced performance, depending on the occasion. Natural tones like brown or muted classics such as navy and gray seamlessly blend without creating discord.
The Spectrum of Blue: A Statement in Elegance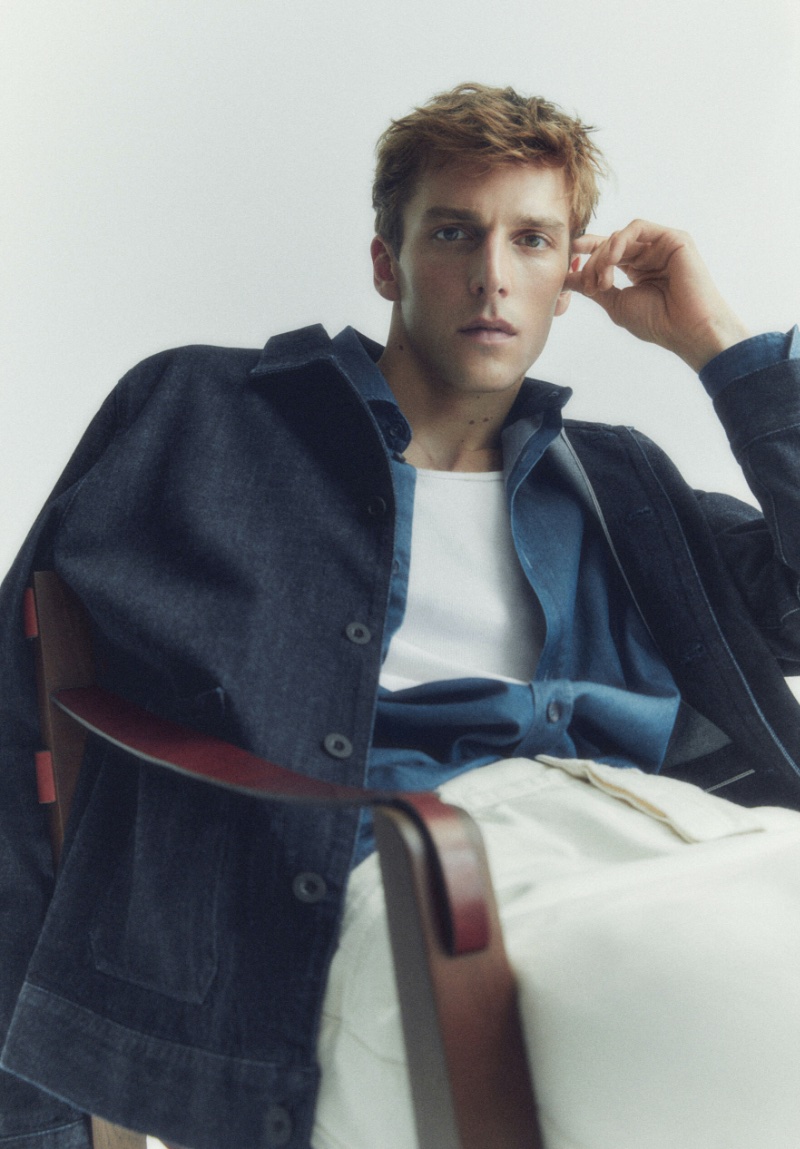 Pairing blue tones with white jeans is a statement of elegance. Whether it's the calming effect of sky blue or the depth of navy, each shade sets a mood and communicates your style lexicon.
Incorporating blue can be as simple as choosing a shirt or as nuanced as selecting blue accessories like a belt or watch strap.
Curating the Perfect Palette: Balance, Intensity & Mood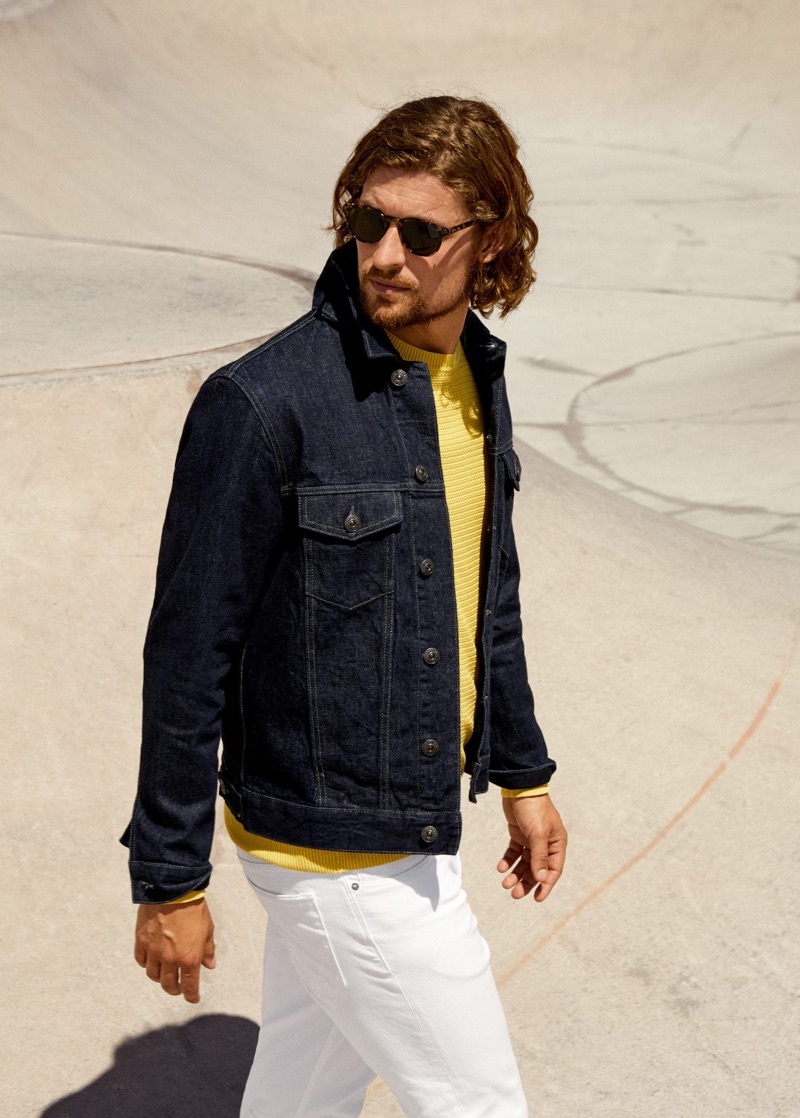 Crafting the right color scheme requires a discerning eye for intensity and tone. Opt for shades within the same color family but with different saturations for a serene, upscale aura.
On the other hand, choose colors opposing each other on the spectrum if you're aiming for a sartorial spectacle. A shirt in vivid yellow or coral against white jeans creates a compelling visual tension that commands attention.
Sartorial Alchemy: Outfit Combinations & Color Blocking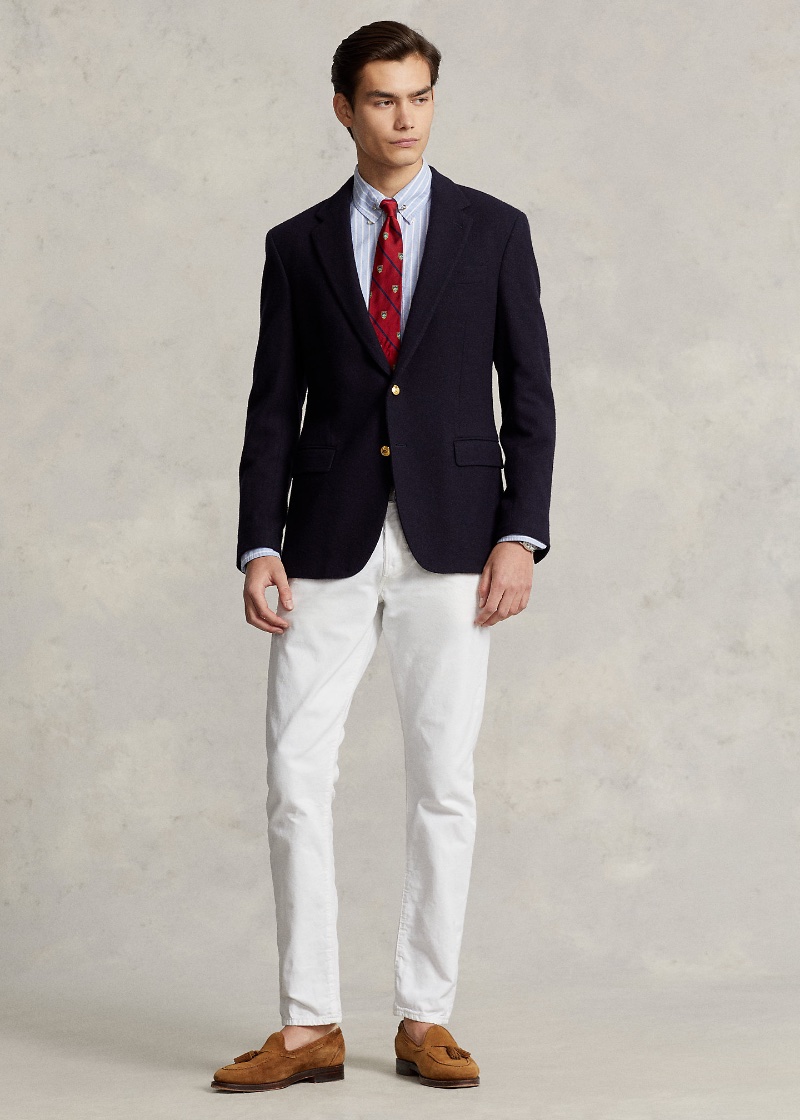 Mastering the white jean ensemble often involves skillful color blocking. Imagine pairing white jeans with a navy blazer and an azure button-down shirt for a bold yet coherent look.
On the subtler side, a chambray shirt under a slightly darker denim jacket crafts a nuanced palette.
Alternatives to White Jeans
In the quest for sartorial elegance, white jeans reign as a versatile classic. Yet, when you crave a detour on the road to stylish dressing, there are white pant alternatives worth considering that still mirror the relaxed chicness of white jeans.
The Charm of Corduroy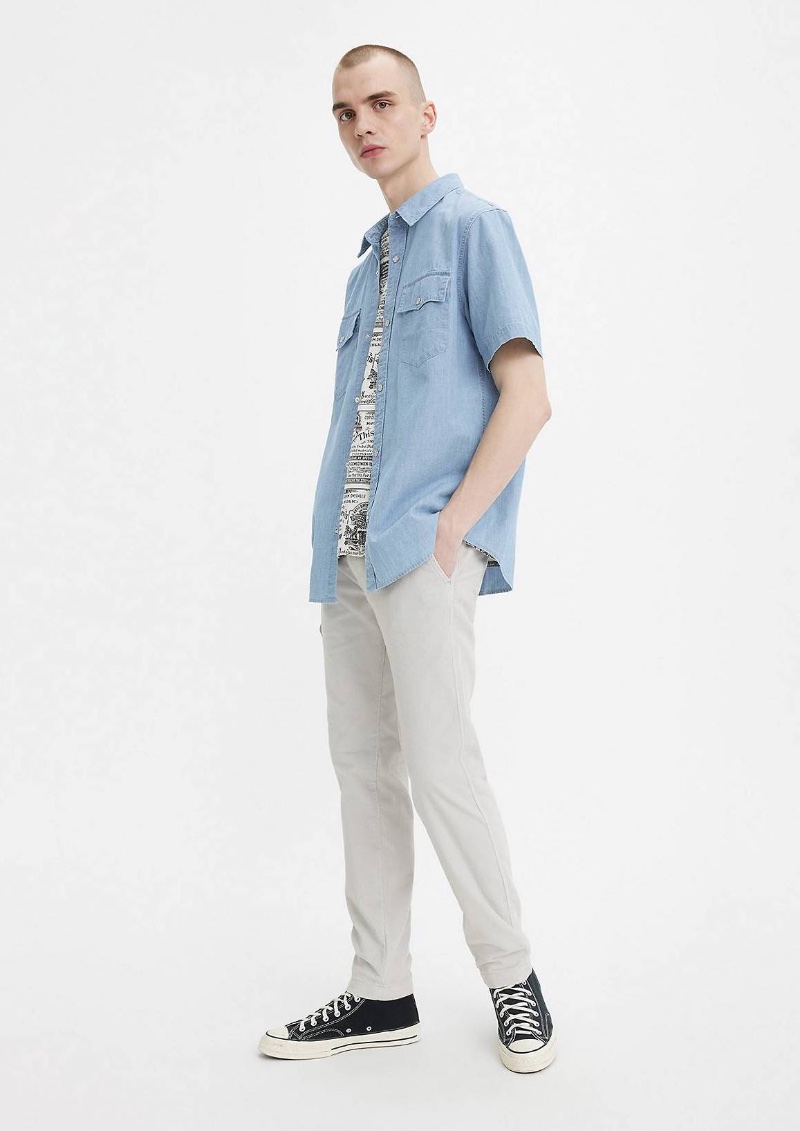 While white jeans offer a crisp, modern look, corduroy pants deliver a textural intrigue that white jeans may lack. The soft, ribbed fabric elevates the tactile experience and adds a vintage twist, making them perfect for fall and winter gatherings.
In shades like beige or light gray, corduroy pants hold the same versatility as their white jean counterparts but bring an additional layer of depth.
Exploring Khaki & Chino Territory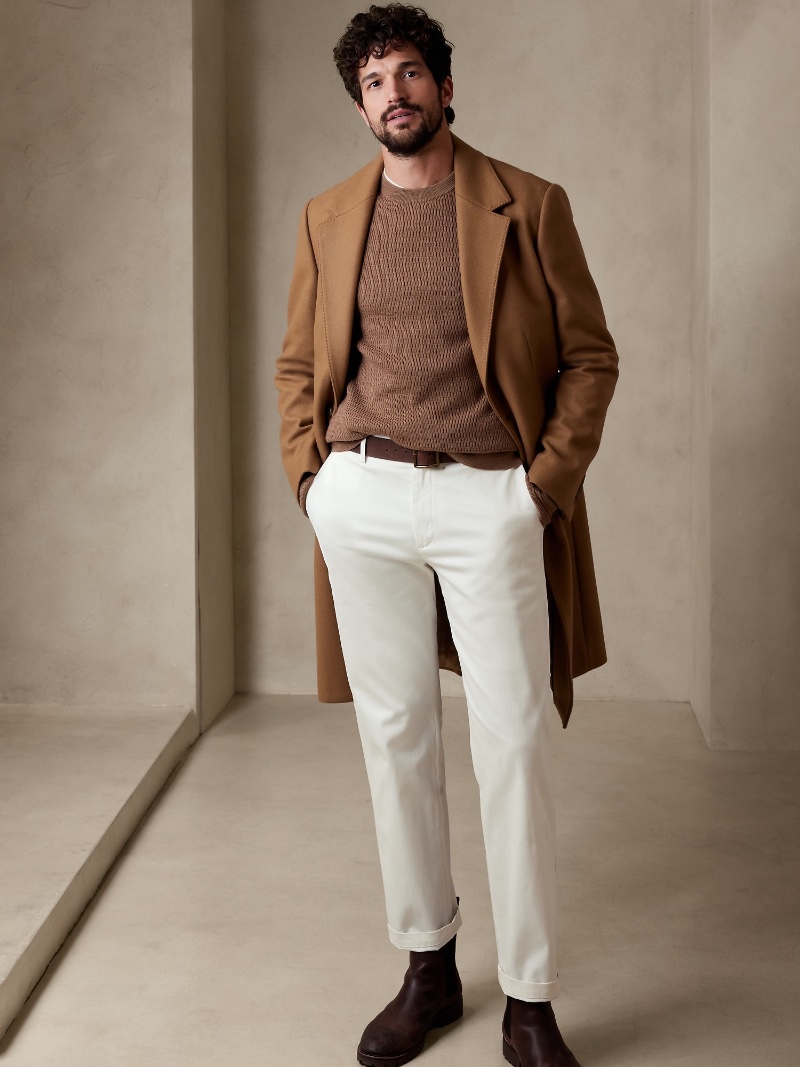 If the clean lines of white jeans appeal to you, khaki pants offer a more laid-back yet equally adaptable alternative. In tones like sand or stone, they function much like a blank canvas.
Chinos serve a similar purpose but often come in a broader range of colors. Olive or navy chinos, for instance, provide a departure from the white norm yet still blend seamlessly with the wardrobe pieces you'd typically pair with white jeans.
Shades & Tones: Beyond the White Spectrum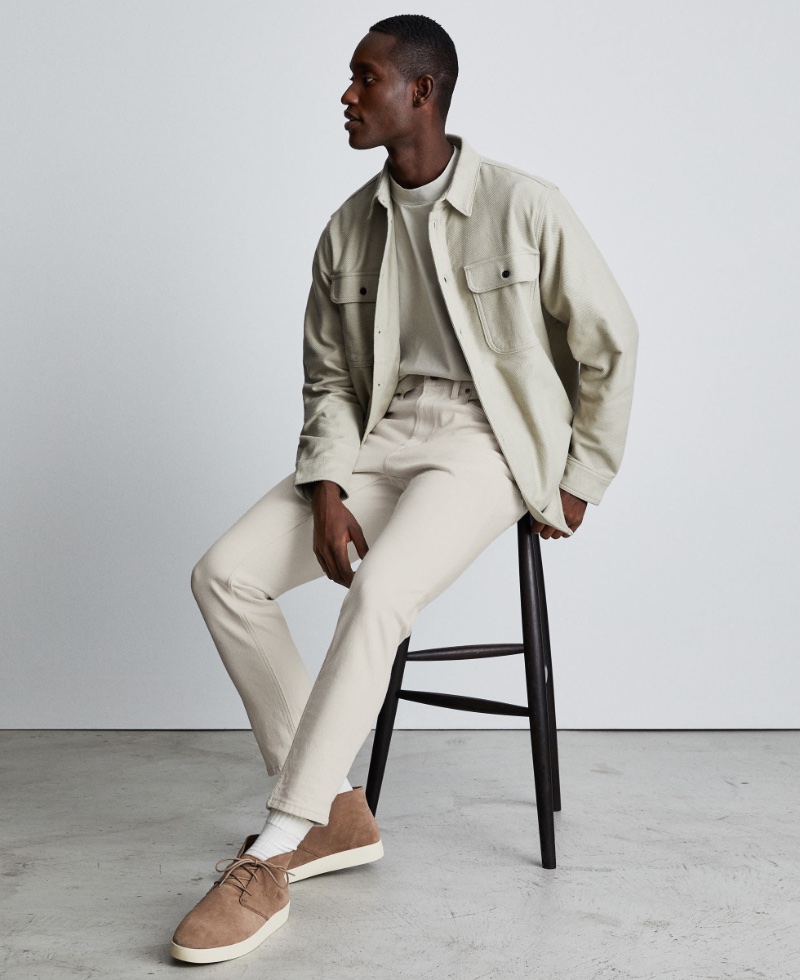 A subtle shift from pure white to off-white or ecru can be a refreshing update without entirely losing the essence of what makes white jeans a closet essential. These variants offer a nuanced take on the classic white, ideal for times when you want a look that's less crisp but equally stylish.
White Jeans: The Modern Staple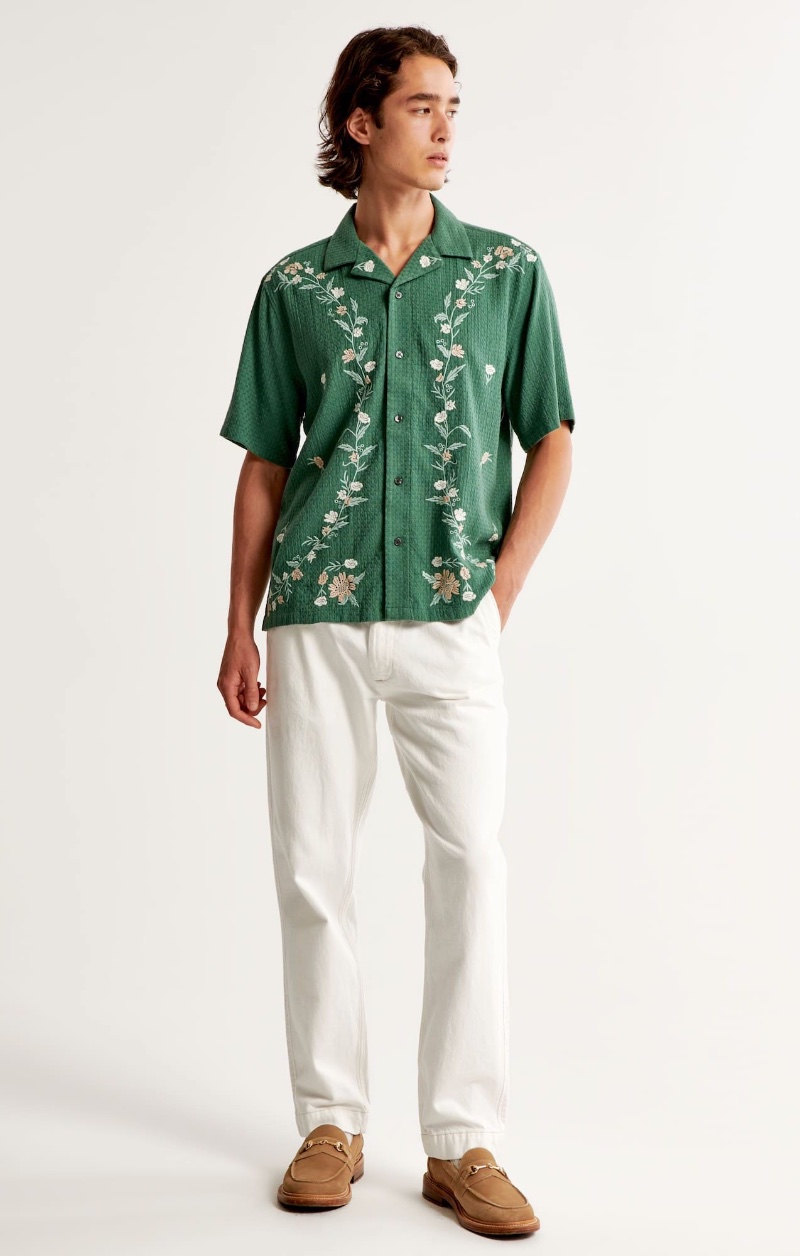 White jeans for men come in various styles and materials to match your taste. You can find everything from slim and straight-leg cuts to relaxed and bootcut options that fit you right.
The all-white color is like a blank canvas, making it easy to dress up or keep casual.
Types of Cuts
Slim Fit: Gives you a sleek, modern look by fitting closely around your legs without feeling too tight.
Straight Leg: Offers a classic style, fitting comfortably from your hips down to the bottom.
Relaxed Fit: Provides a laid-back vibe and is made for comfort, allowing you to move freely.
Bootcut: This has a slight flare at the bottom, allowing you to wear your favorite boots.
The Benefits of White Jeans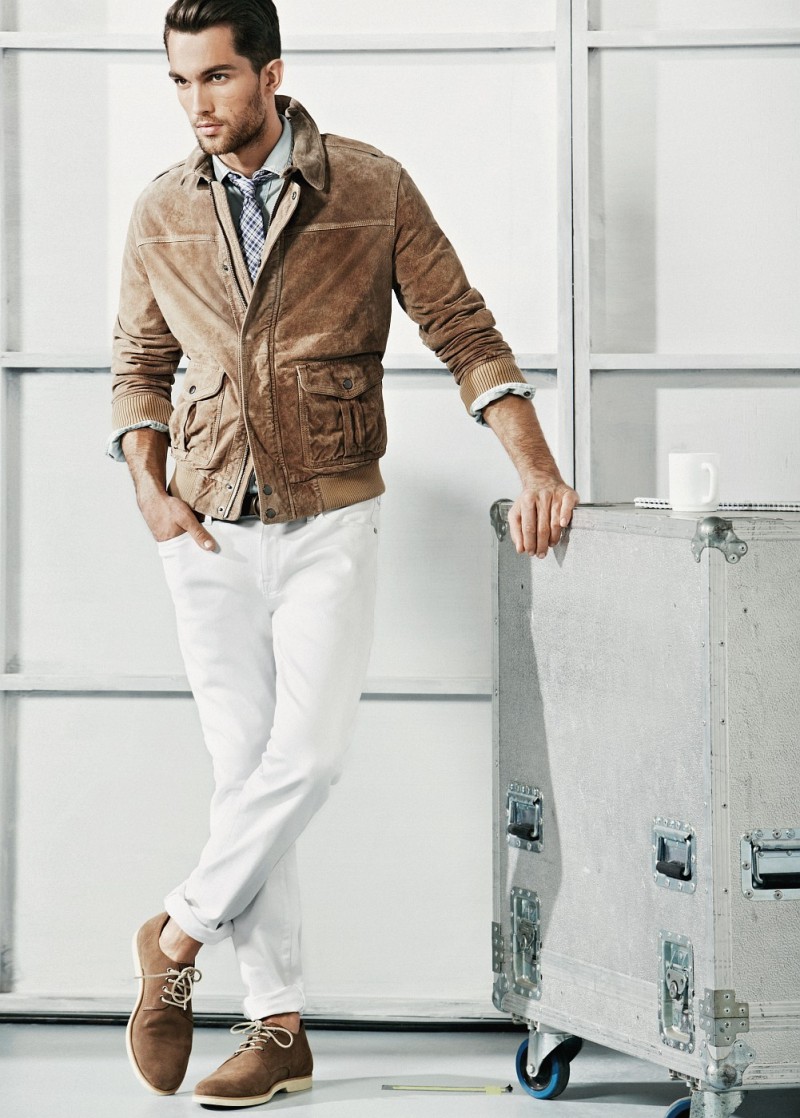 A pair of white jeans in your arsenal doesn't just offer options; it bestows sartorial power. Here's how:
Versatility: Partner them with a well-cut blazer and a sleek shirt; you're office-ready. Swap to a laid-back tee, and weekend relaxation is your game.
Seasonless: While dark denim might hibernate during warm months, white jeans are evergreen, lending themselves to any season's wardrobe.
Contrast: Their neutral canvas amplifies the impact of darker tones, creating ensembles that are as visually stimulating as they are stylish.
Statement Piece: When you step out in white jeans, you aren't just wearing pants—you're declaring style, individuality, and modernity.
As we've laid out the merits and variations of men's white jeans, the next step beckons: building an ensemble that captures your unique brand of fashion.
The Art of Men's White Jeans Outfits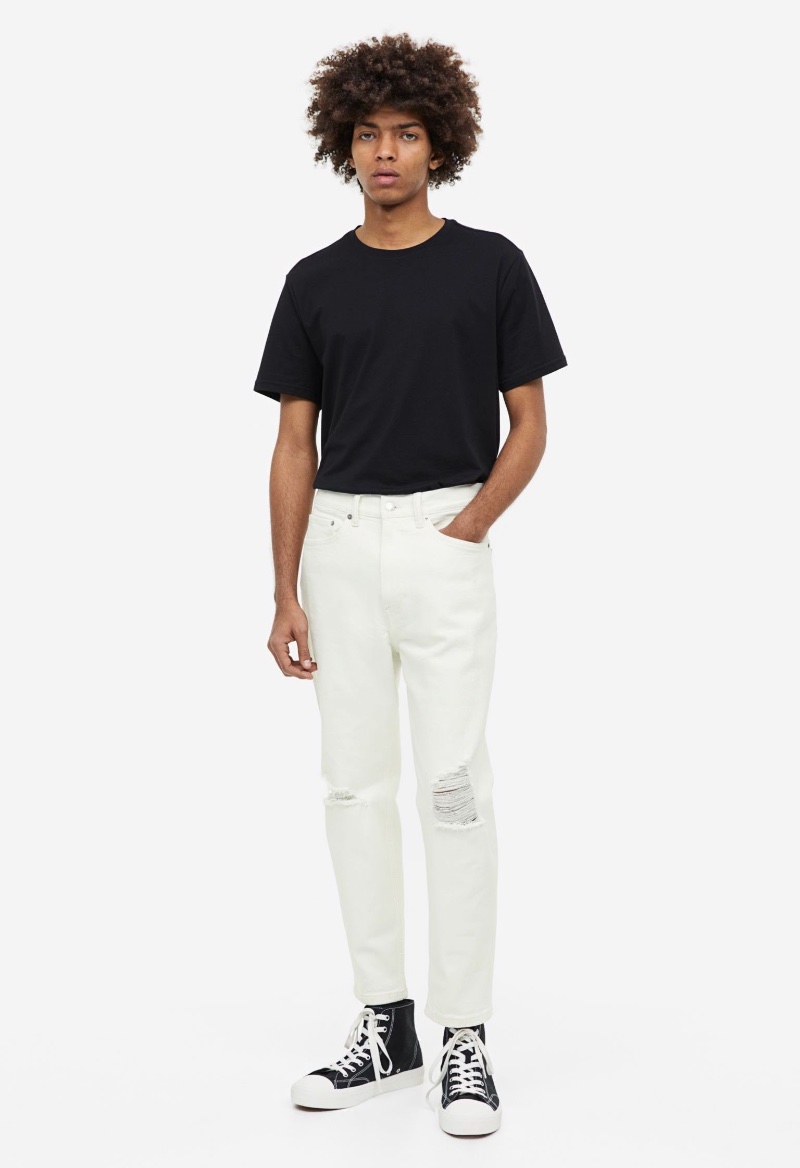 Having journeyed through the vast sartorial landscape that men's white jeans offer, it's clear that they aren't just a garment but a canvas for limitless stylistic expression. We've dissected everything from seasonal pairings and casual aesthetics to the alchemy of color coordination, equipping you with a curated playbook for mastering white jeans in any scenario.
The invitation now stands: Step out of your comfort zone, blend classic and daring elements, and craft outfits that reflect your unique personality. Your white jeans are more than just a closet staple—they invite innovation and individuality.
With their chameleonic ability to adapt to any occasion, mood, or ensemble, they beckon you to define your style lexicon boldly. So, weave these versatile threads into the fabric of your fashion identity because the only limit is the boundary of your imagination when it comes to white jeans.