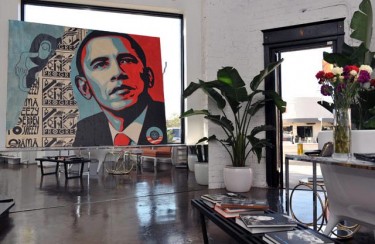 We know some people are cagey about expressing their political views, but not us—we're ALL about the Big Changes Obama and Biden are poised to bring in the coming months, and believe us, we're ready for it! In fact, we're so inspired by the prospect of seeing our country shift in a positive new direction, we've enlisted Shepard Fairey (of Obey Giant) and his team at Studio Number One to impart our own little revolution in our front windows. Here, the designer has created one-of-a-kind Progress, Hope, Vote posters for TenOverSix and any passer-bys to enjoy. Naturally, this pro-active installation will stay put until November 4 (after Election Day). We hope it ends up inspiring you as much as Obama and Biden inspire us.

And vote this year like you mean it! [TenOverSix]
If your favorite store put up a political window display in support of a candidate you don't support, how would you feel?
Information provided by Helen of Exposure