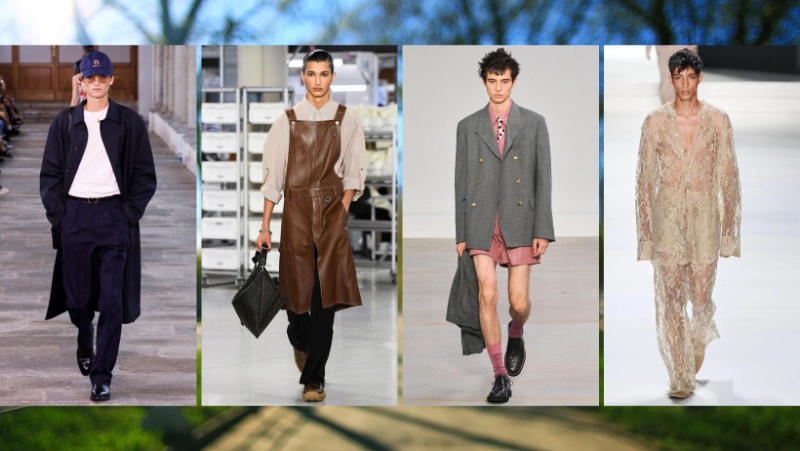 As menswear greets spring-summer 2024 with anticipation, a palpable shift toward redefined classics and innovative expressions marks the season's essence. The men's narrative for spring 2024 fashion trends unfolds with a respectful nod to the past.
Notably, the minimalist ethos of the nineties is interwoven with a forward-looking vision that challenges and reinvents traditional menswear tenets. The spotlight shines brightly on a spectrum of trends, from embracing the functionality of workwear-inspired ensembles and the sculptural finesse of tapered waistlines to the audacious transparency of sheer fashion.
Men's Fashion Spring 2024 Trends
Each trend, from the formal shorts redefining business casual to the luxury-infused workwear and the daring sheer outfits, speaks to a world where personal expression and functionality converge. As these diverse threads weave together, they present an eclectic yet coherent ode to the modern man's wardrobe.
The Return to Nineties Minimalism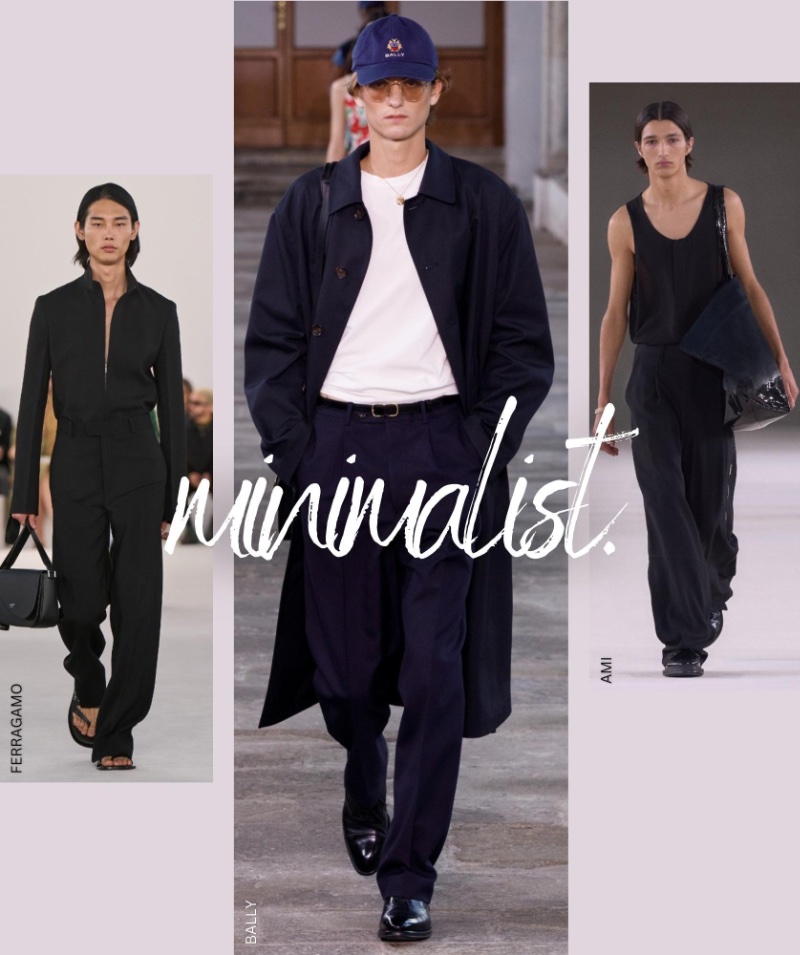 Spring-summer 2024 has heralded a resurgence of nineties minimalism in menswear, an era known for its clean lines and understated elegance. This revival, as seen in the latest collections from Ferragamo, Bally, and AMI, is a soothing counterpoint to the recent maximalist wave that swept the fashion world.
Ferragamo's offering epitomizes this trend with a sleek, monochromatic jumpsuit that exudes the simplicity and sophistication characteristic of the decade. The pared-back aesthetic speaks to a time when less was more, showcasing an appreciation for the quality and craftsmanship of well-designed pieces without the need for excess embellishments.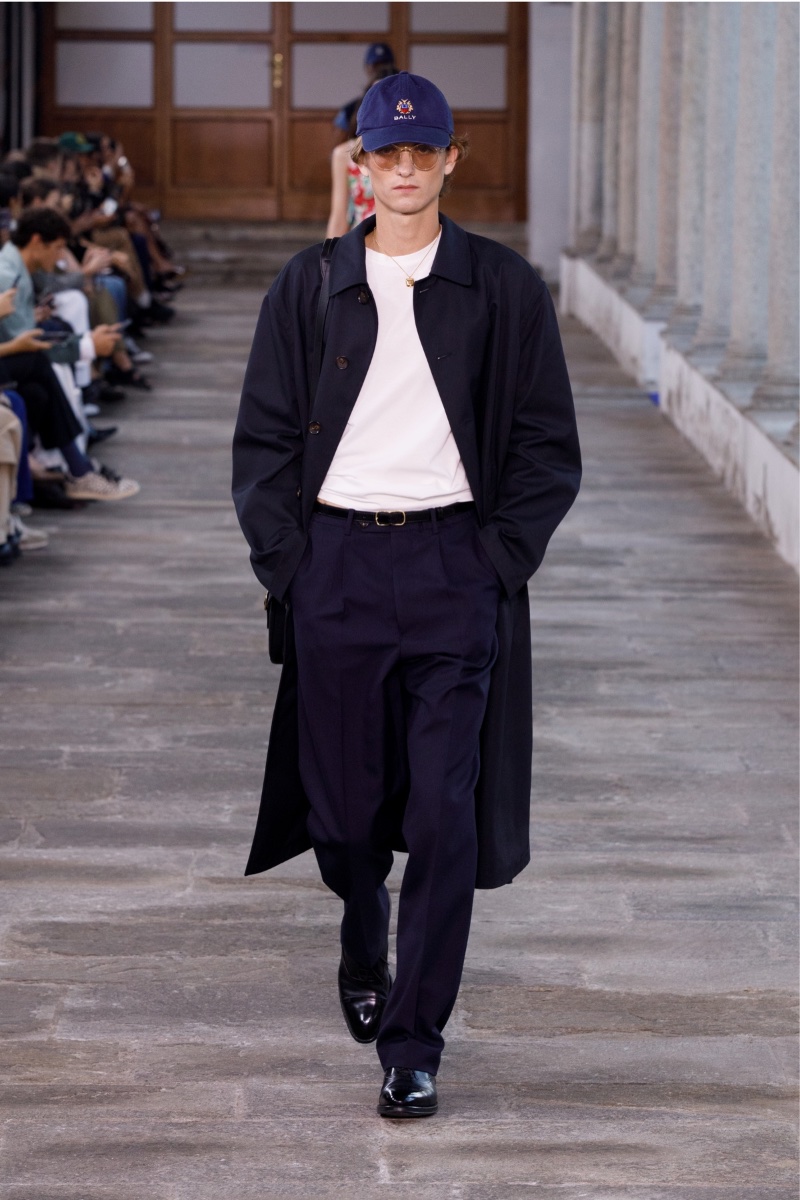 As a strategic response to the complex layering and vibrant patterns that have dominated previous seasons, labels like Bally and AMI have embraced a more stripped-down approach. Bally's ensemble, composed of a simple white tee topped with an elegantly tailored navy coat paired with matching trousers, resonates with the minimalistic philosophy of emphasizing form and function.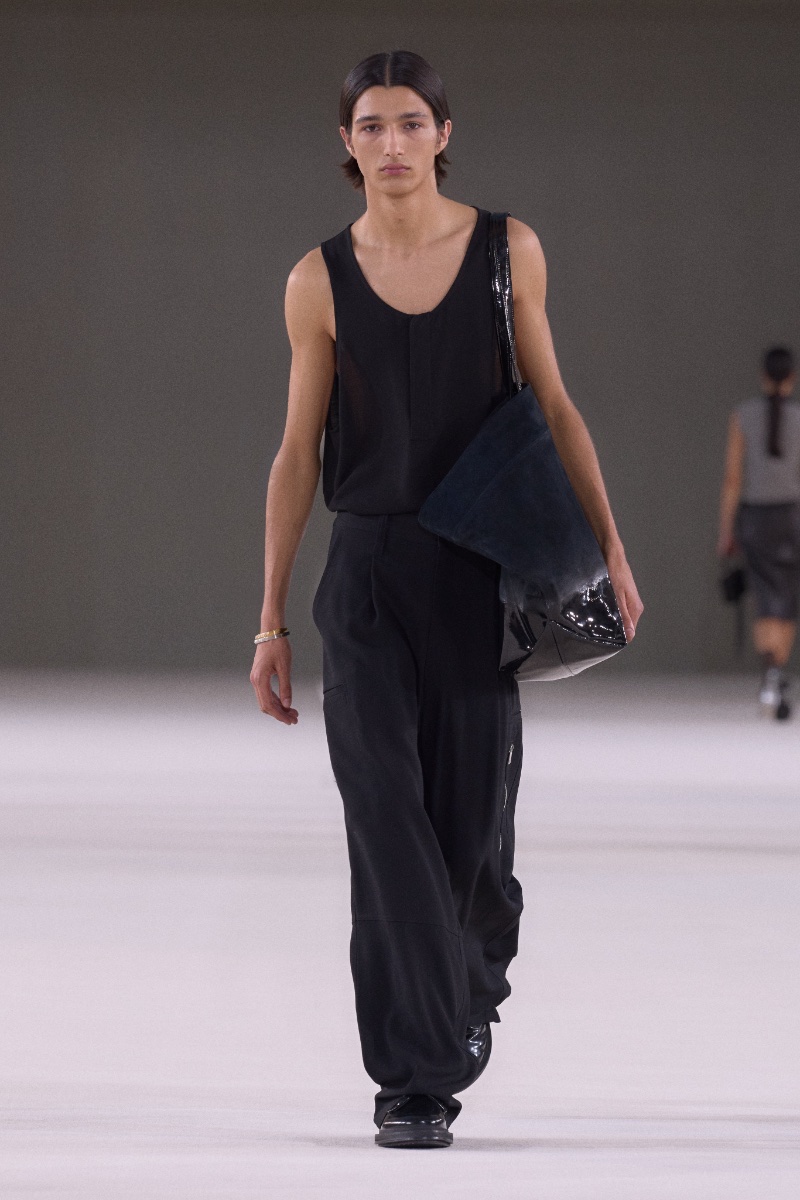 AMI continues this narrative with a fluid yet structured silhouette that focuses on the beauty of the fabric and the cut rather than excessive detailing. This shift towards minimalism reflects a broader cultural movement towards authenticity and timelessness, prioritizing enduring style over the fleeting allure of branding.
The Rise of Formal Shorts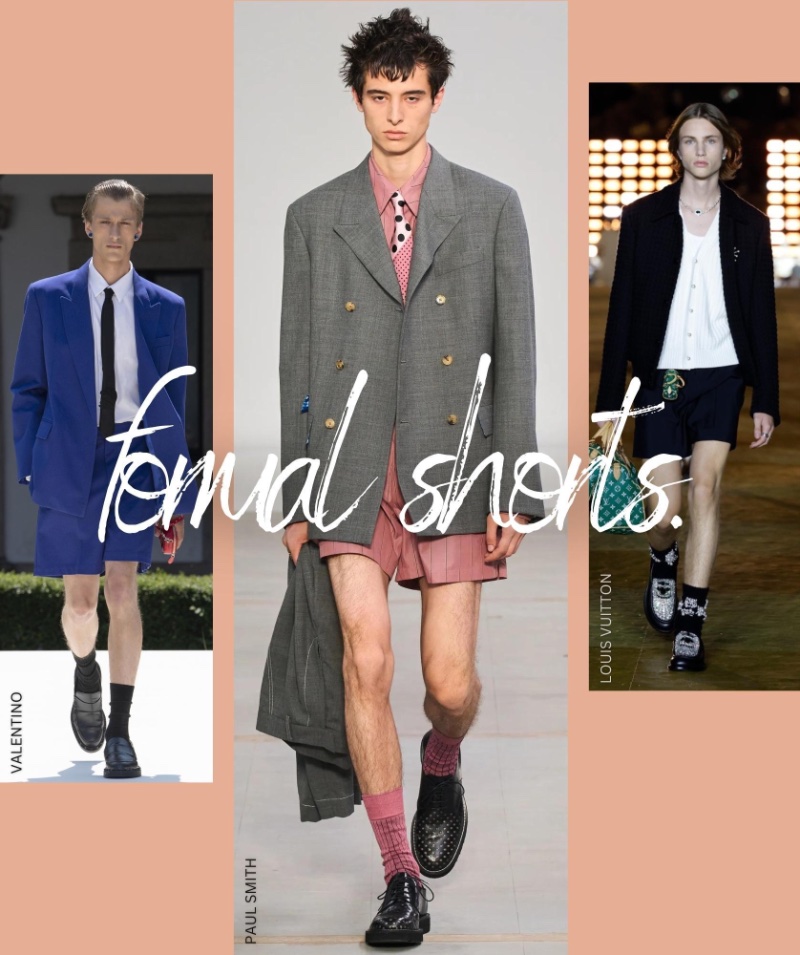 As the boundaries between casual and formal attire continue to blur, spring 2024 welcomes the formal shorts trend, offering a refreshing juxtaposition of tailored elegance with leisurely comfort. Valentino is pioneering this shift with a striking cobalt ensemble, pairing a sharp blazer with matching shorts that cut a daring yet polished figure.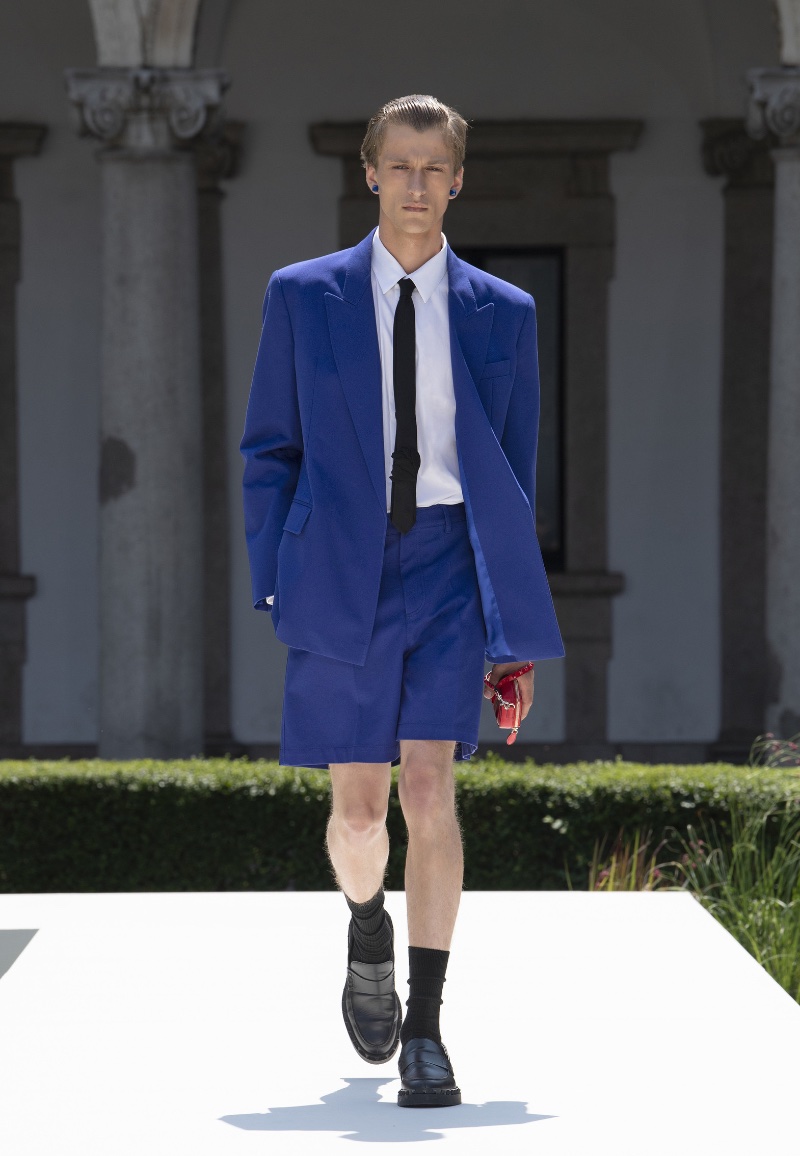 The streamlined silhouette and vibrant hue command attention, while the short length adds a playful, youthful edge. Paul Smith and Louis Vuitton follow suit, presenting their unique takes on this versatile trend.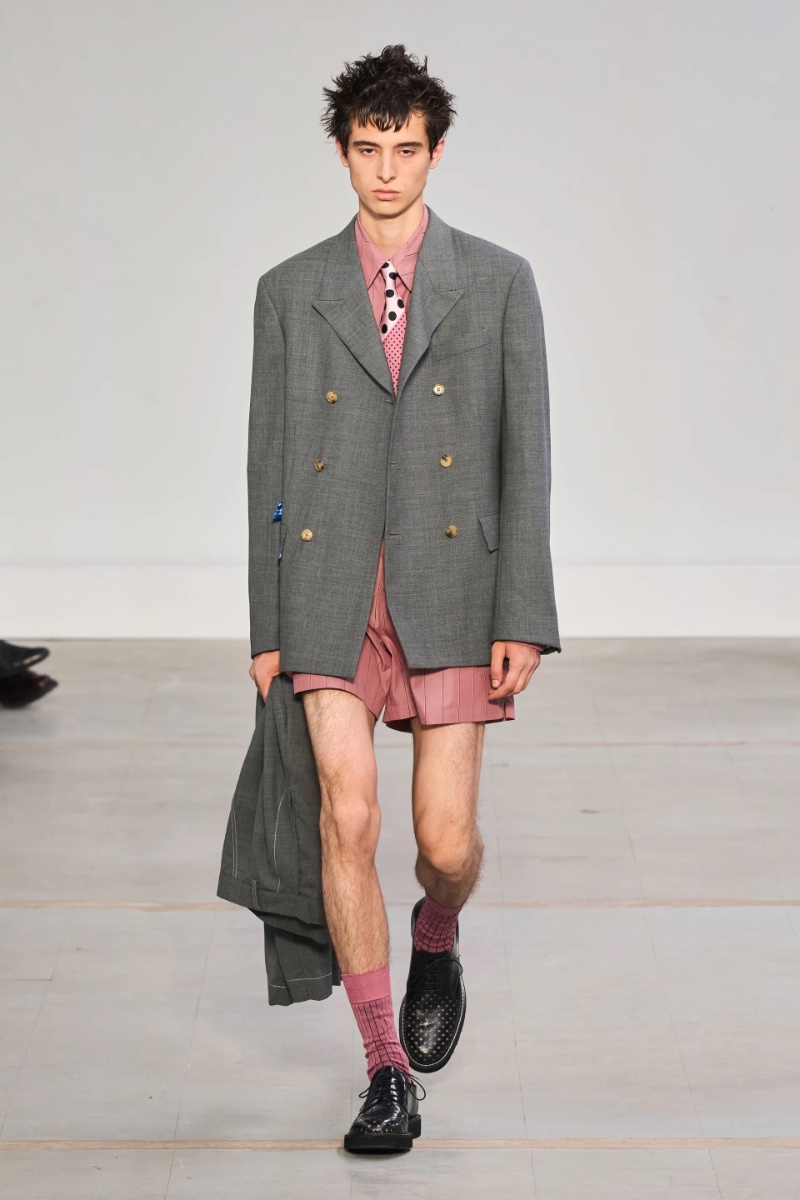 Paul Smith's design features a classic double-breasted blazer, cleverly coordinated with shorts that bear a more relaxed cut, thus striking a balance between formal and informal. The pairing with distinctive socks and classic footwear anchors the traditional look, yet the bare knees introduce an element of relaxed confidence.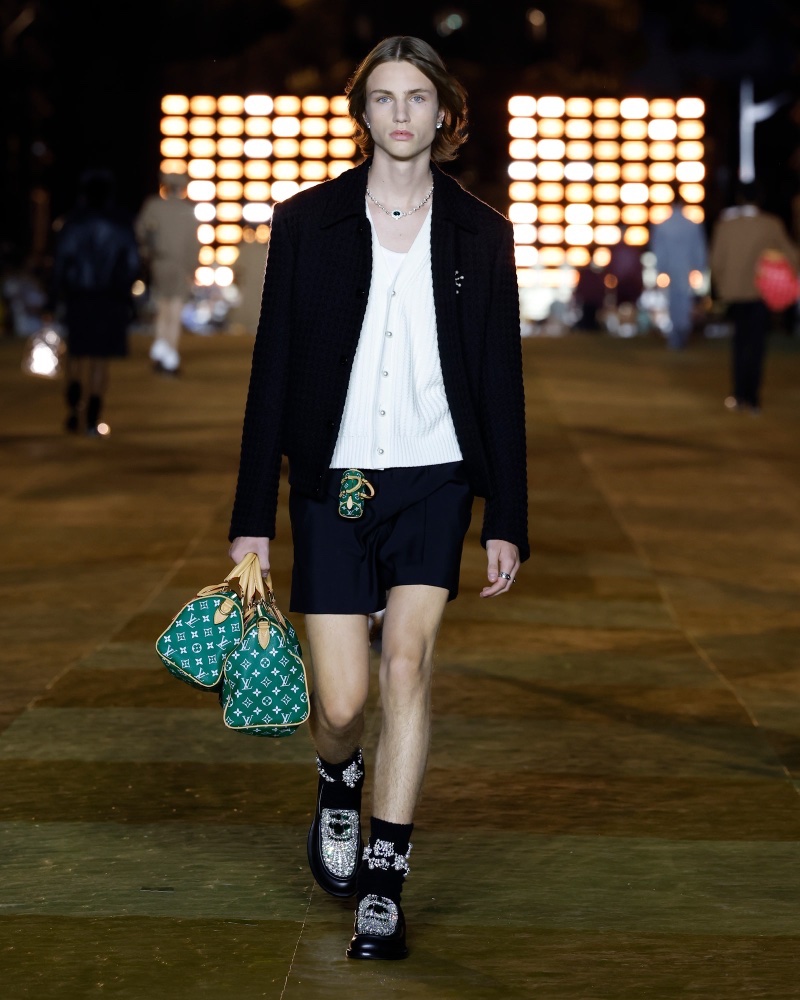 Louis Vuitton's iteration takes a more understated approach, with tailored shorts forming part of a monochromatic ensemble that exudes effortless elegance.
Refined Utility: Workwear in High Fashion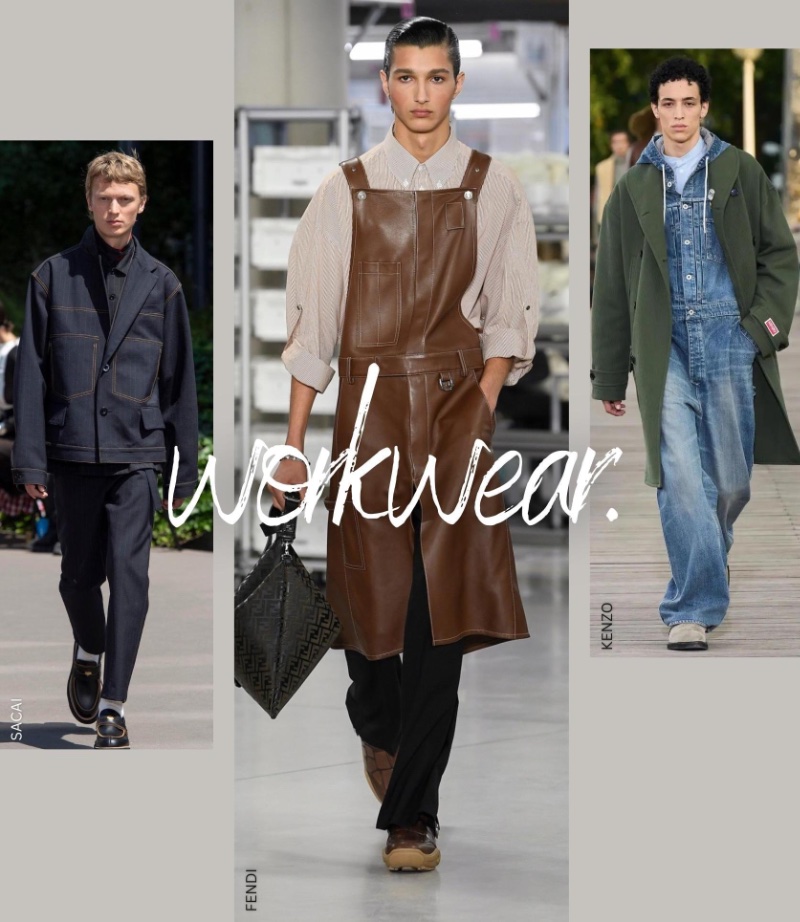 The spring-summer 2024 collections usher in a robust revival of workwear, where utility is not just a concept but a celebrated aesthetic, underpinning the essence of the trend. Sacai's interpretation channels this spirit through a structured ensemble that balances functionality and formality.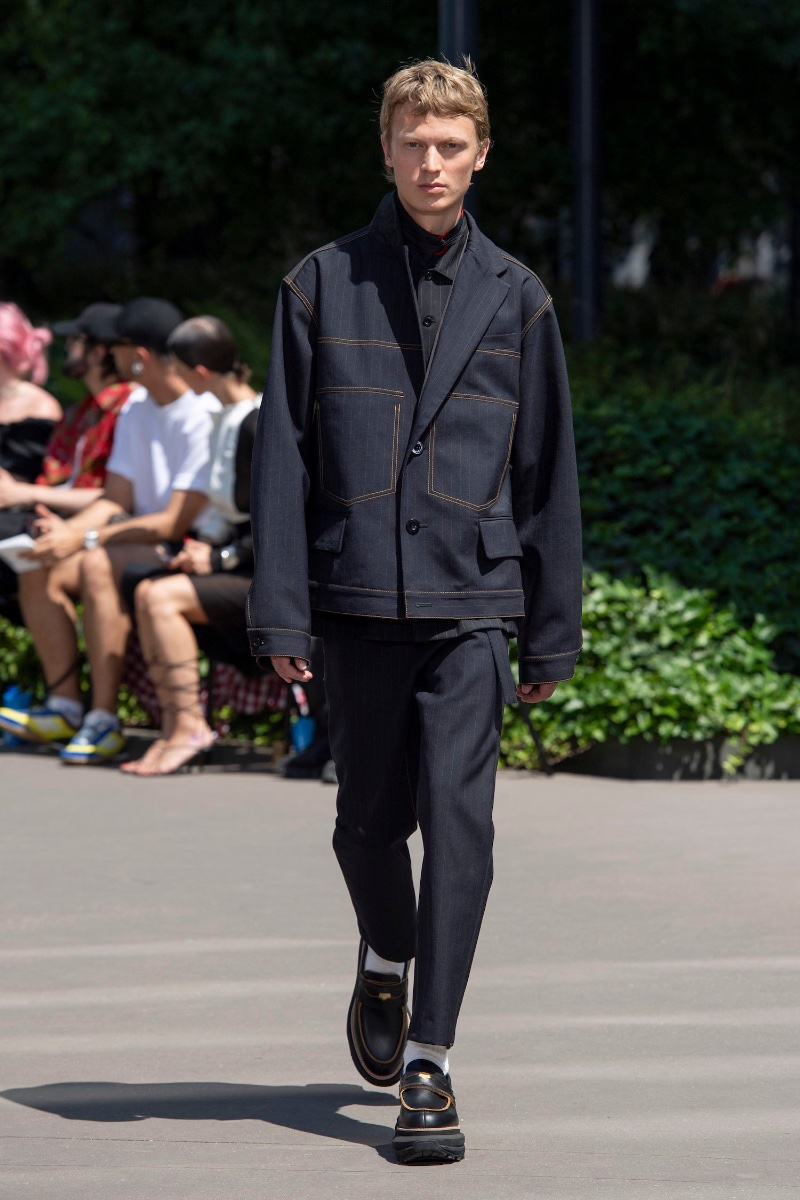 A jacket with pronounced pockets stands as the centerpiece, its sharp tailoring and utilitarian details signaling a seamless marriage between practicality demands and the desire for sartorial sophistication.
The monochromatic color scheme and clean lines elevate the look beyond the realms of manual labor, presenting an archetype of the modern worker who values utility and elegance.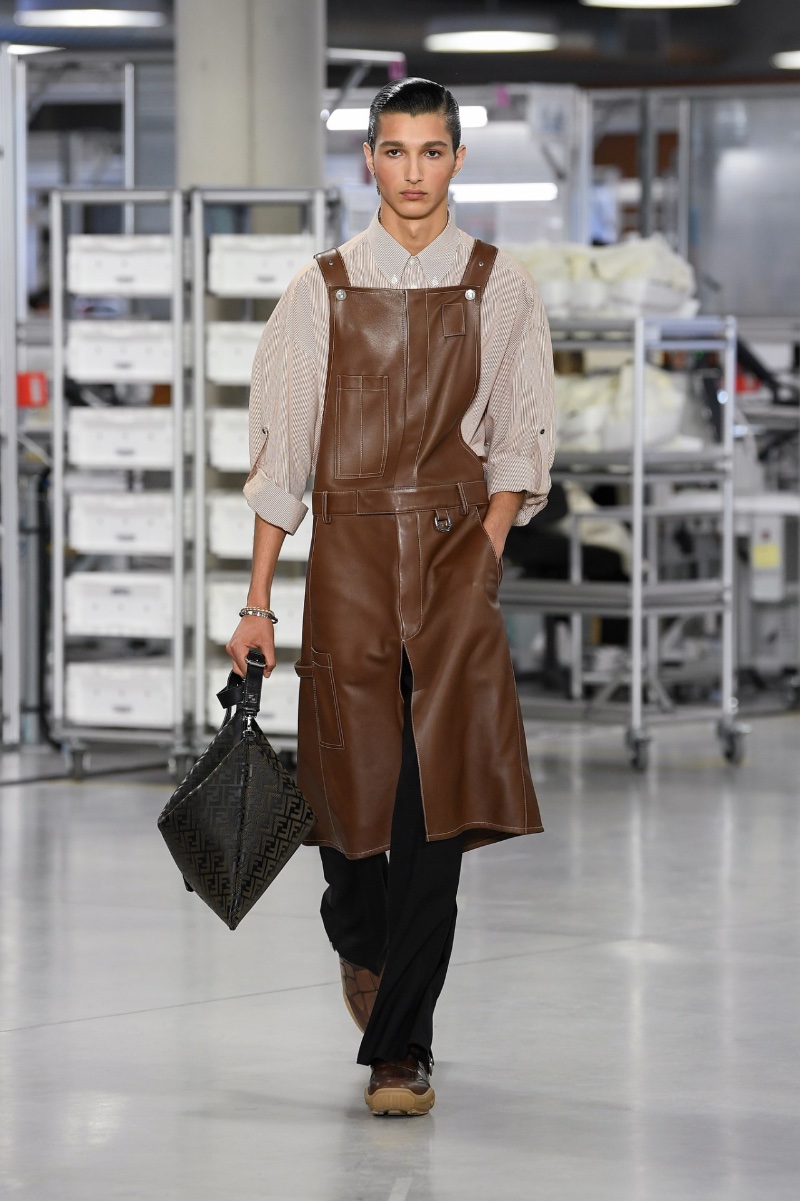 Fendi and Kenzo expand on this theme by integrating traditional workwear elements with a luxurious twist. Fendi juxtaposes a classic leather apron with a neutral-colored shirt, infusing a traditionally rugged garment with luxury through high-quality materials and meticulous craftsmanship.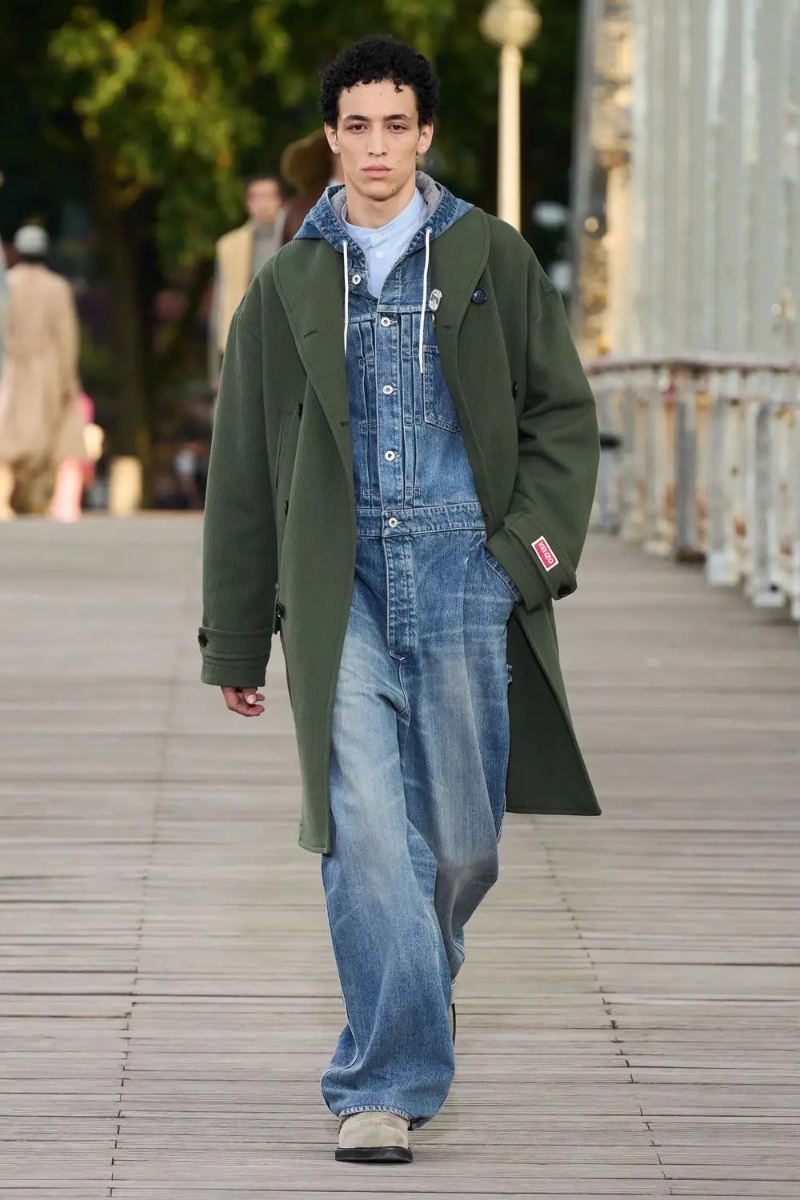 Kenzo complements this trend with a more relaxed silhouette, featuring denim and layered outerwear that mirrors the practicality of workwear while incorporating the relaxed ease of street style, signifying that utility and comfort can indeed walk hand in hand with luxury and relaxed fashion sensibilities.
The Resurgence of the Tapered Waist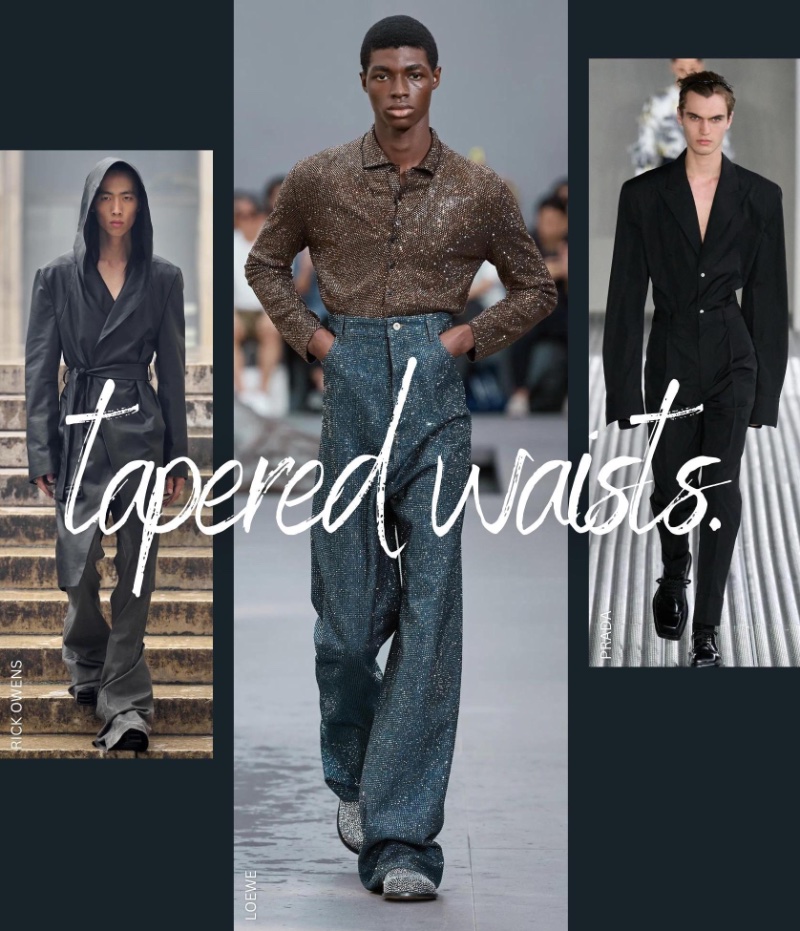 Spring 2024 sees the return of a classic tailoring element in menswear—the tapered waist—infusing traditional silhouettes with a modern energy that champions the male form. Garments are sculpted to create the illusion of an elongated torso, accentuating the natural lines of the body.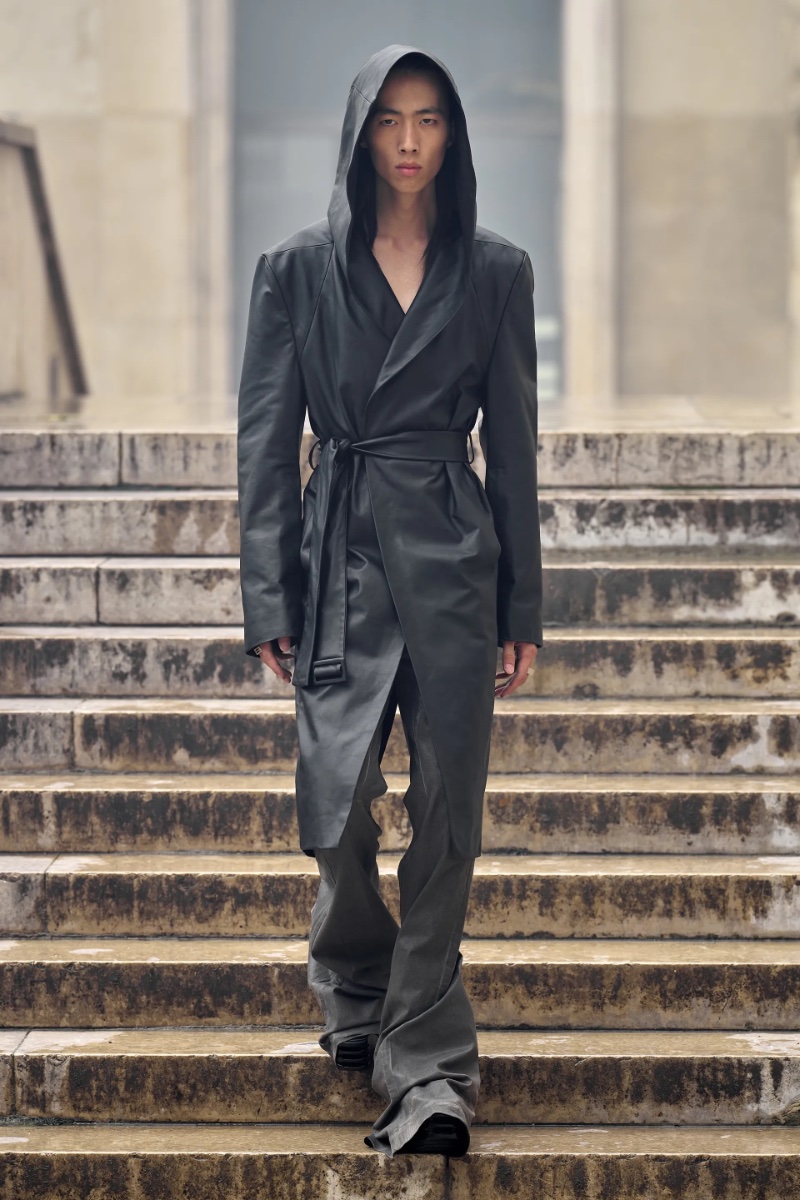 Each piece within this trend invites a conversation about the evolving architecture of menswear, making the tapered waist an essential component. Rick Owens presents this through a draped approach, cinching at the waist with a fluid yet structured jacket.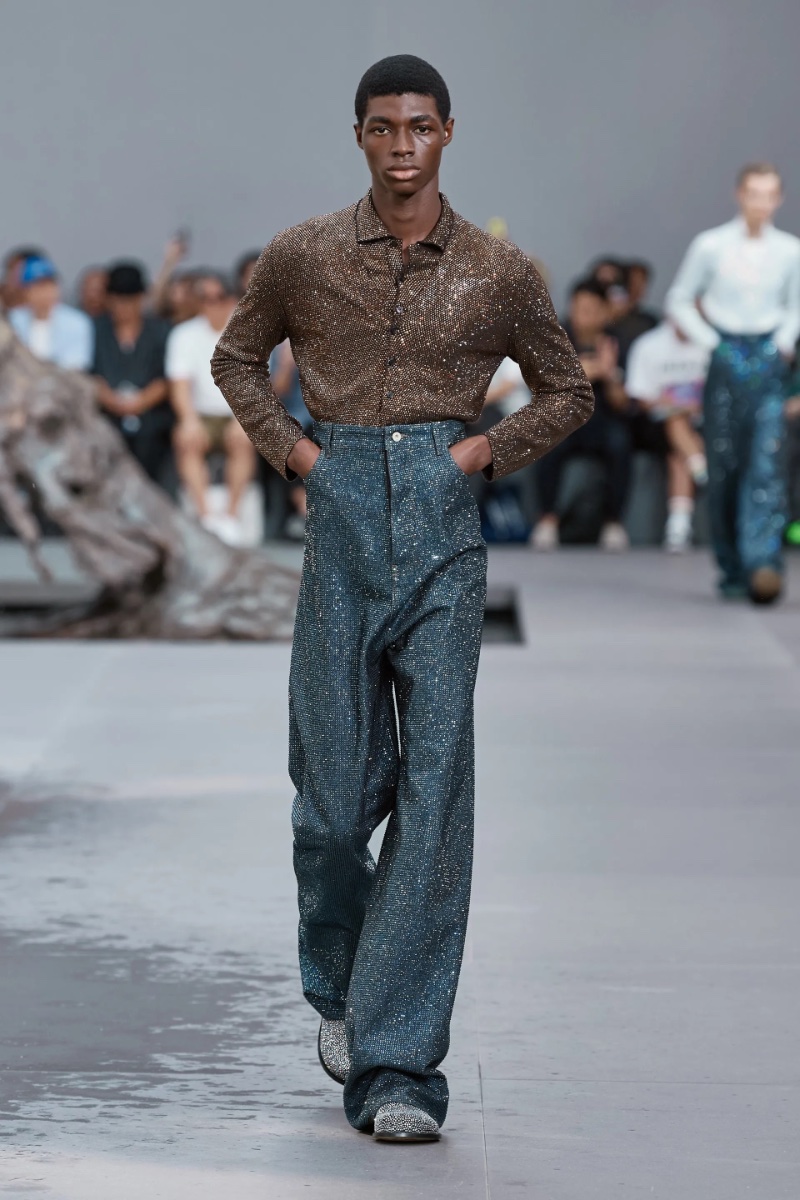 Meanwhile, Loewe elevates this trend with an unapologetic celebration of form; Jonathan Anderson's interpretation features a glittery ensemble that draws the eye to a neatly nipped waist, a bold choice that marries the allure of haute couture with the casualness of street style.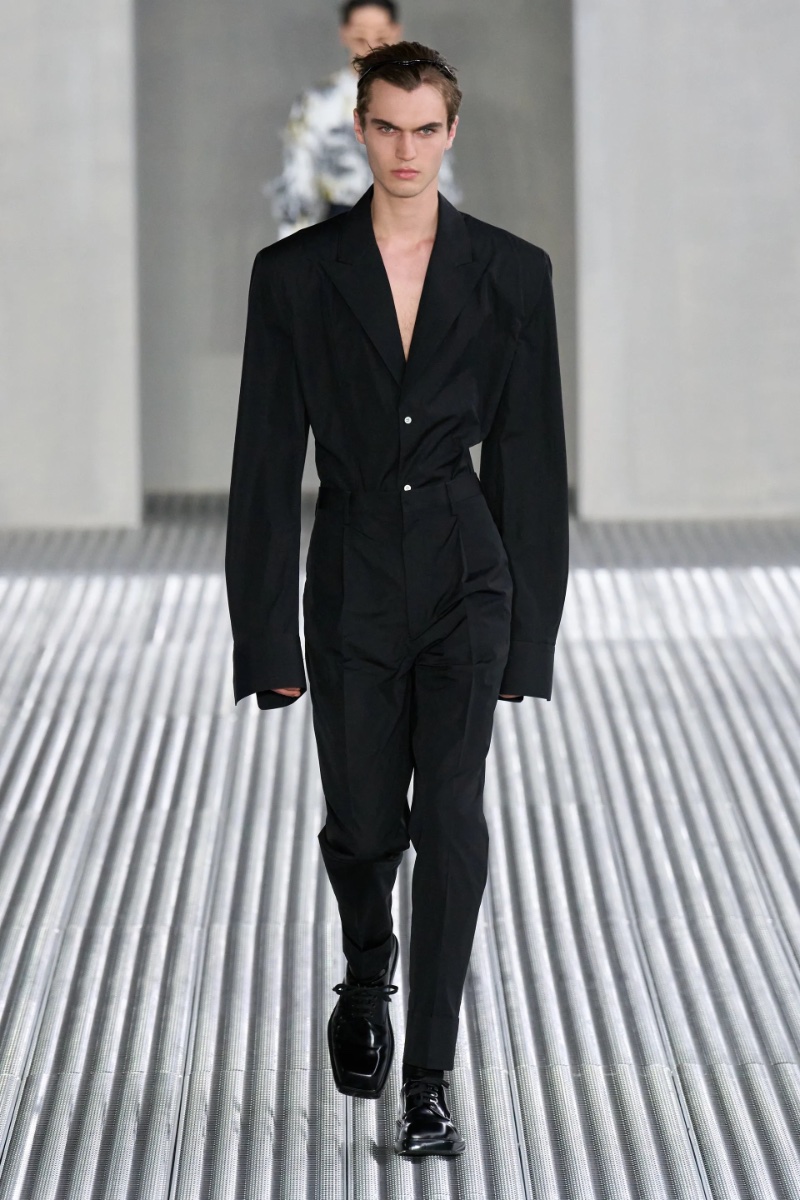 Prada's rendition punctuates this trend with a masterstroke of minimalism and precision. The label's clean lines and muted palette speak volumes as they pair a sharply tailored jacket with relaxed trousers, highlighting the waist as a focal point of the ensemble.
The Daring Sheer Trend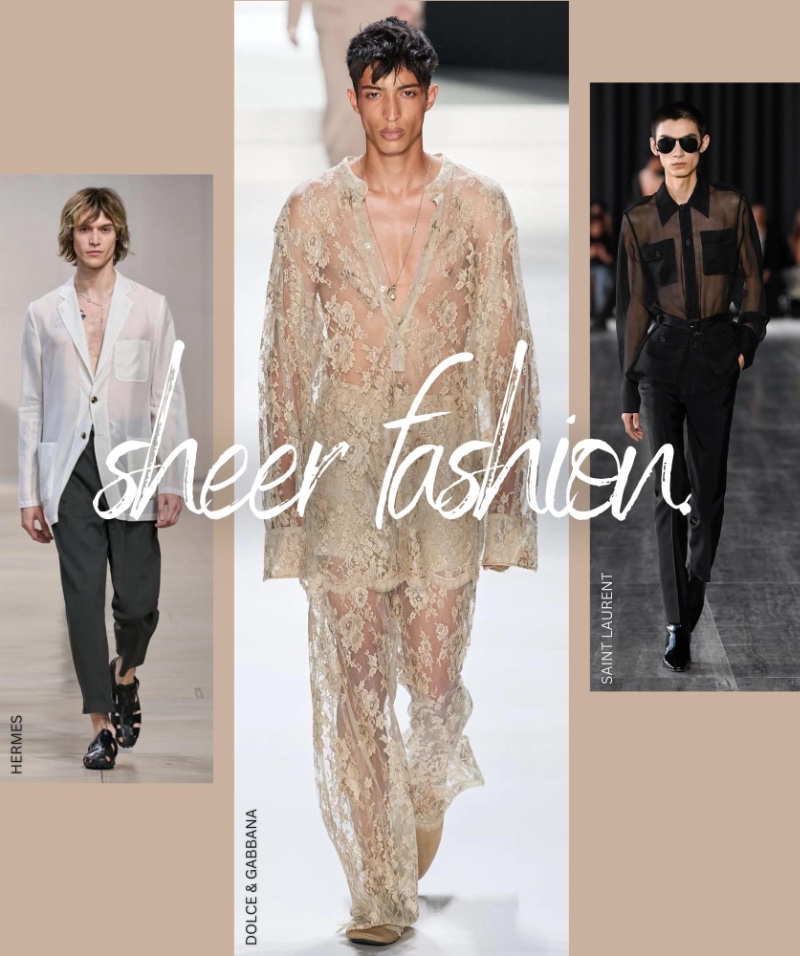 The sheer fashion trend is carving out a bold niche in men's fashion for the spring-summer 2024 collections, challenging conventional sartorial norms with its audacious transparency. Design powerhouses such as Hermès, Dolce & Gabbana, and Saint Laurent are at the vanguard of this movement, each showcasing a unique interpretation of the trend.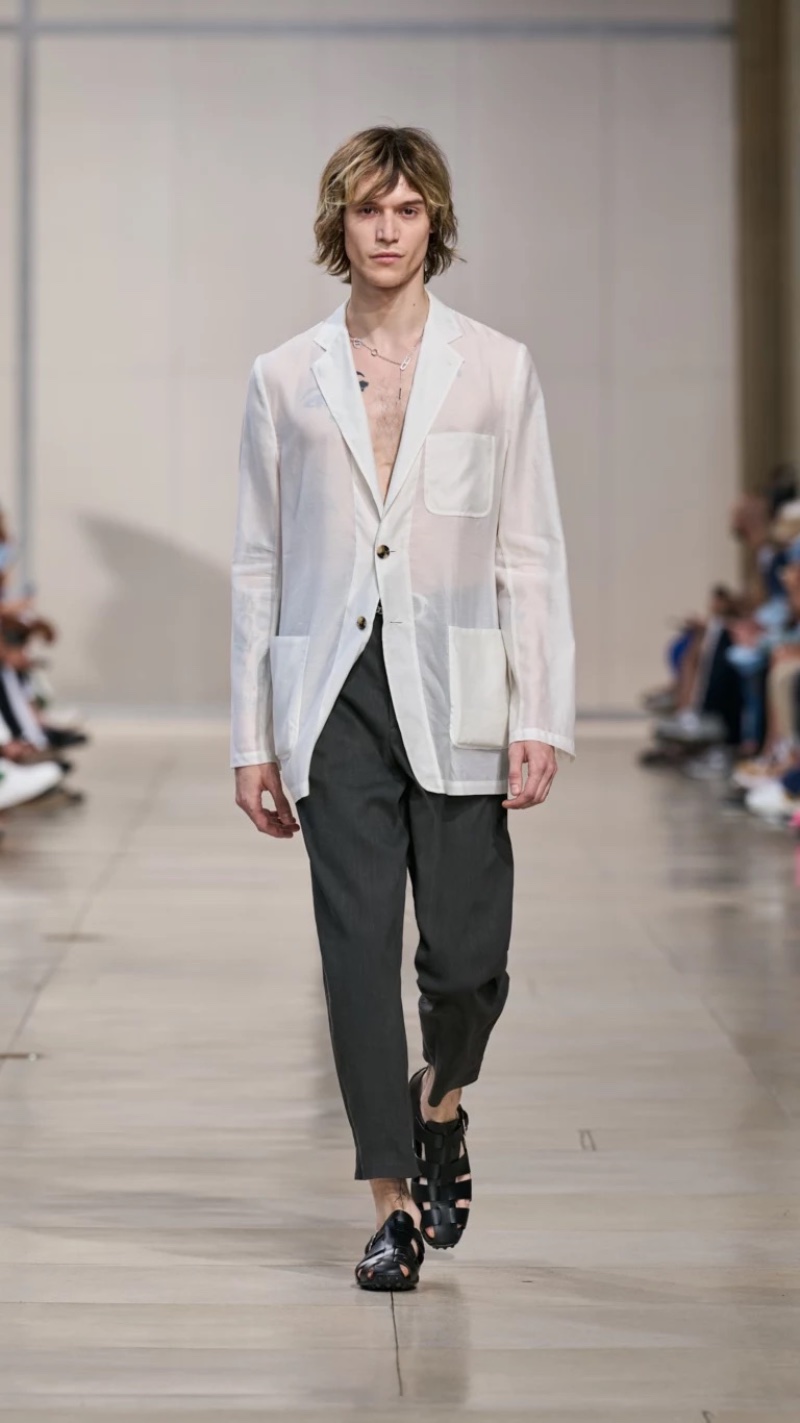 Hermès brings this trend to life through a sheer shirt that plays with the boundaries of concealment and display, creating a look that's both ethereal and anchored in masculinity. Dolce & Gabbana and Saint Laurent take the sheer trend further, each with a distinct flair.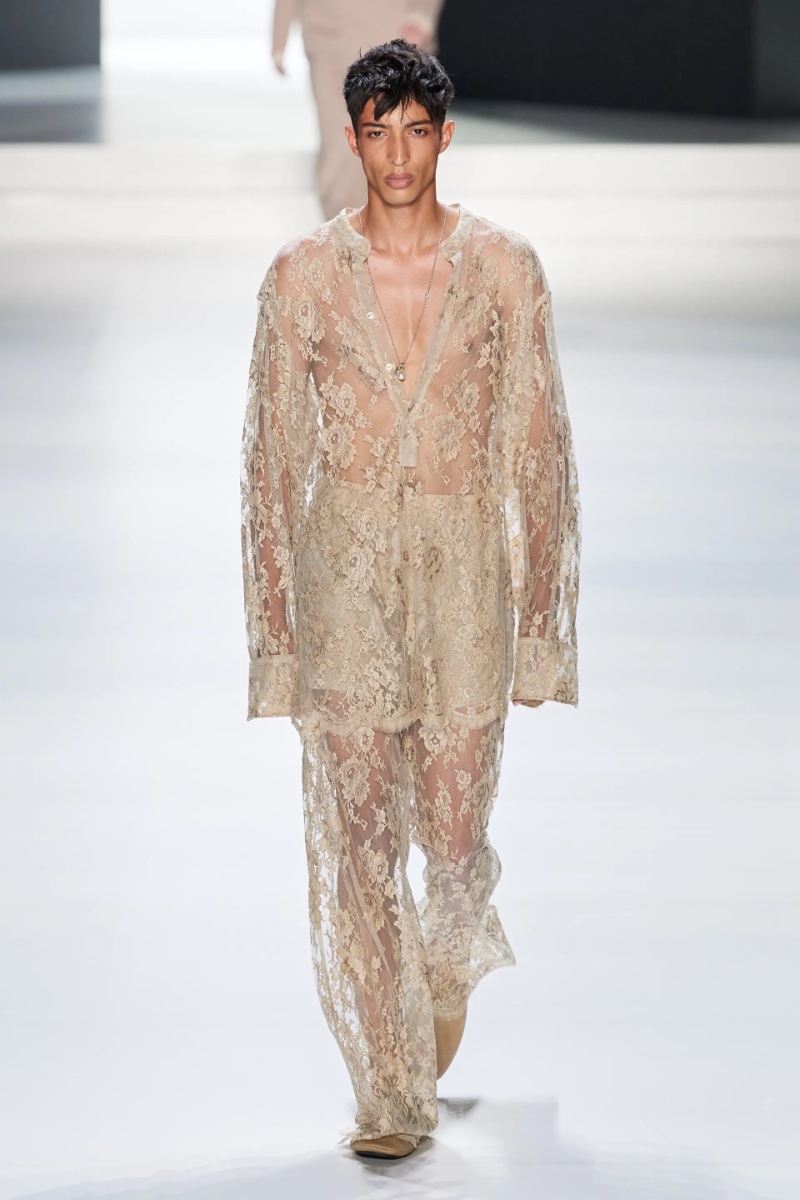 Dolce & Gabbana's ensemble features an intricate, lace-adorned set that nods to the craftsmanship of haute couture while presenting an image of modern masculinity that is confident and unafraid of embracing more fluid forms of elegance.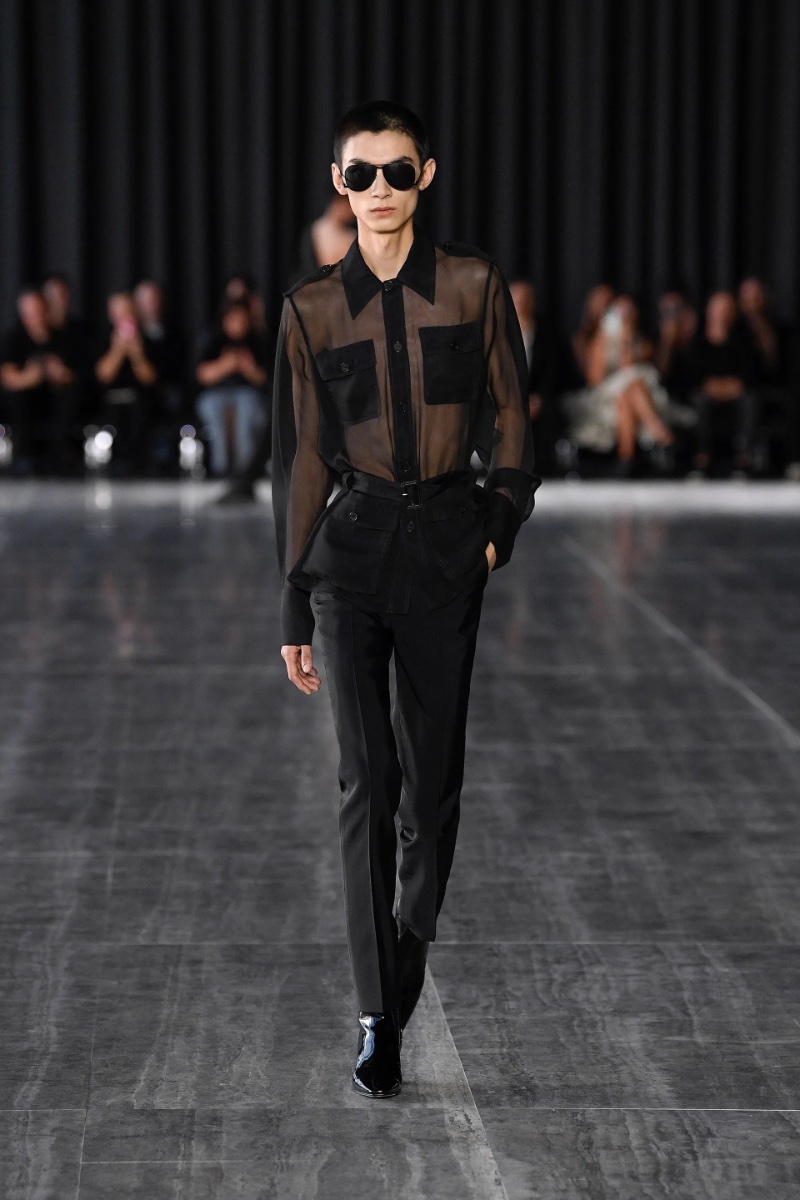 On the other side, Saint Laurent's interpretation includes a sheer shirt with precise, structured tailoring, juxtaposing sheer fabric with opaque panels, suggesting a new dynamic of male fashion that balances exposure with restraint.
Softboy Luxe: Crafting a New Paradigm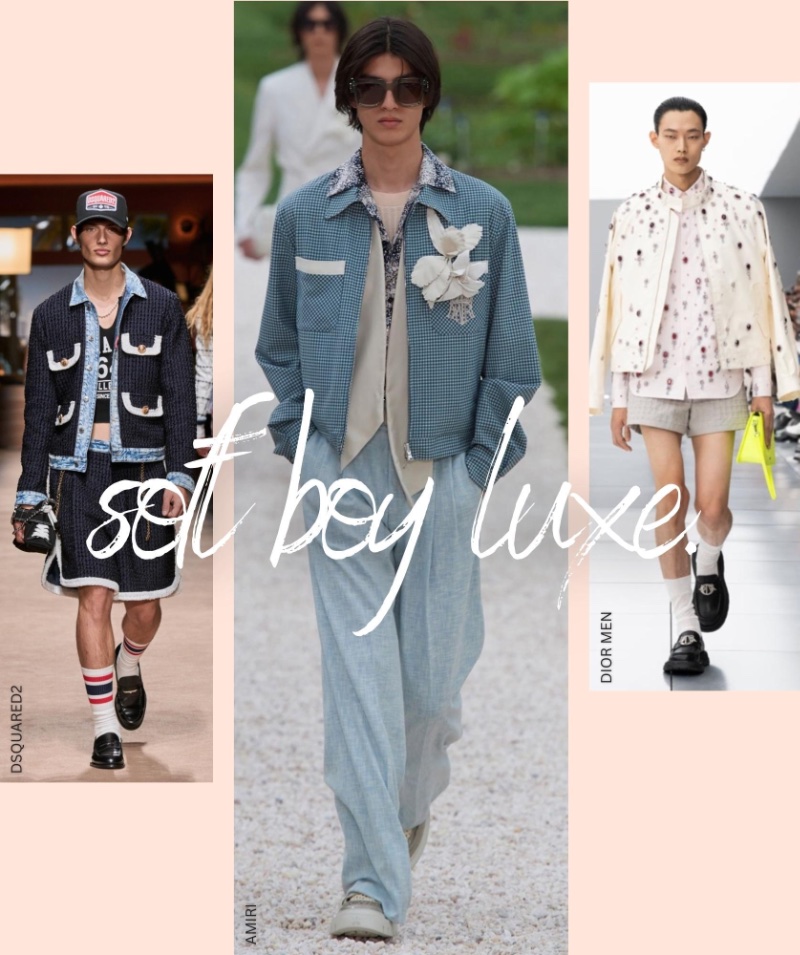 A distinctive trend emerges with a clear nod to nuanced expressions of style, and we're coining it Softboy Luxe.
This concept borrows the essence of the Soft Boy aesthetic, recognized for its embrace of gentle colors, expressive accessories, and a penchant for fluidity in gender expression, repurposing it for the man who appreciates the interplay of traditionally feminine details in his wardrobe.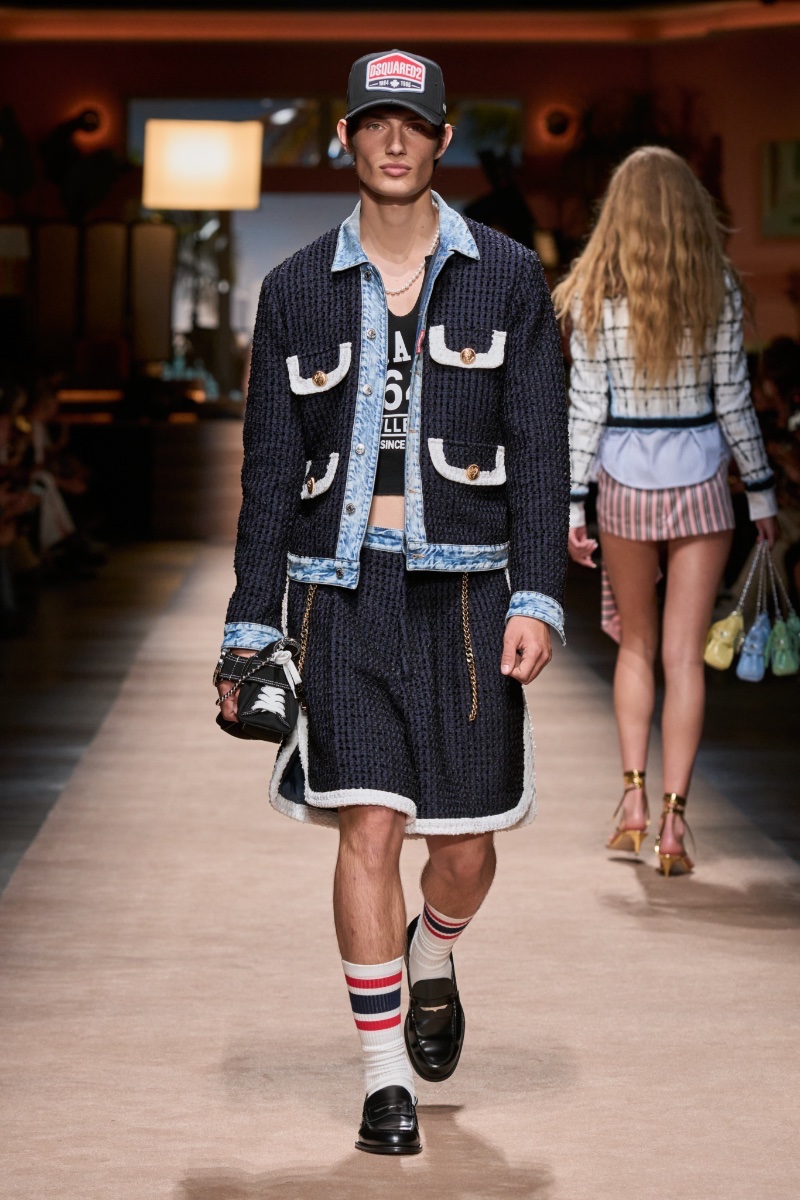 Dsquared2's offering in their spring-summer 2024 collection is emblematic of this style. They present a denim set that is textured and tailored, combining pieces that might have once been exclusively casual with elements of polished attire.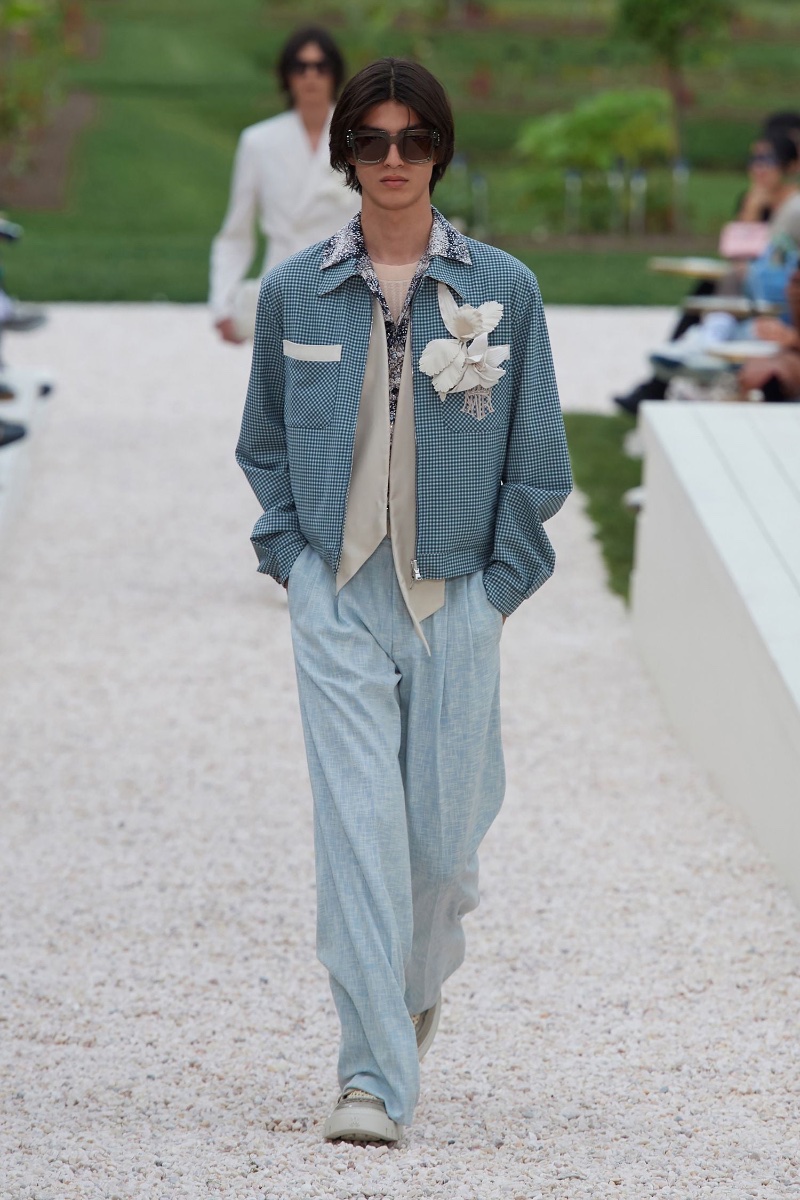 Moving to the subtler shades of Soft Boy Luxe, AMIRI and Dior Men each contribute to the dialogue with their distinct takes on luxury. AMIRI's silhouette speaks with its fluidity—roomy trousers and an oversized blouson jacket boast sophisticated ease, with the grand floral adornment injecting a bold yet graceful visual statement.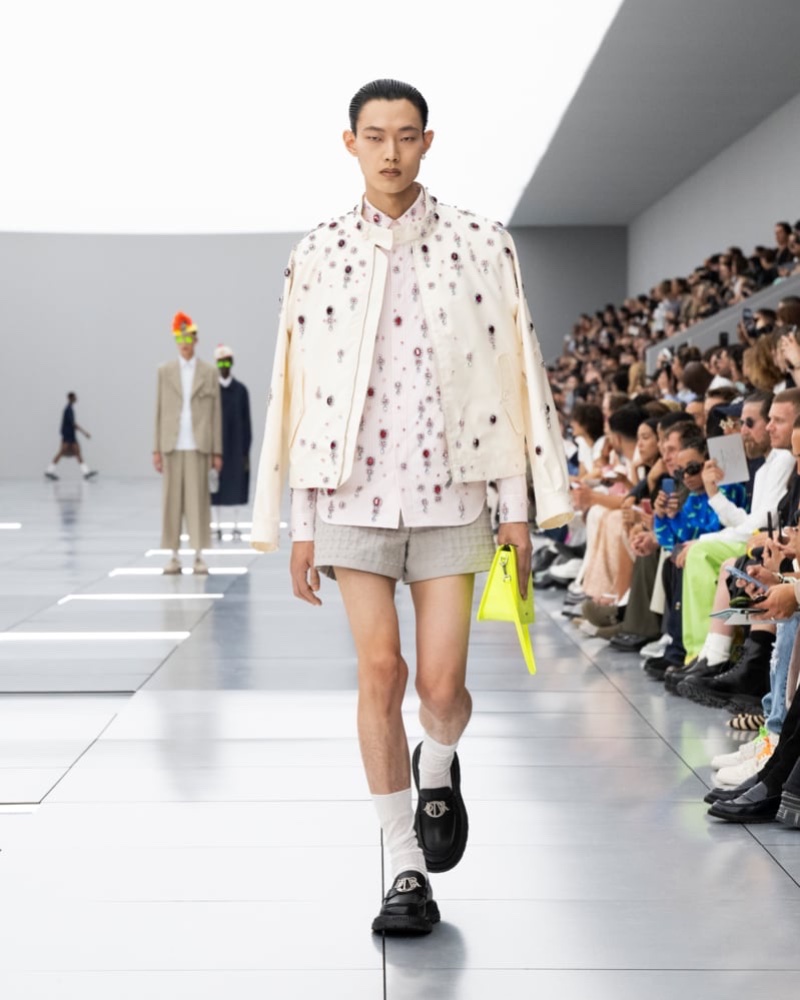 Dior Men's designs further this conversation with a sartorial blend that marries short hemlines and muted prints, presenting a delicate interplay between softness and structured formality.
The pieces demonstrate the luxurious appeal of texture and intricate patterns, offering a fresh perspective on menswear that allows vulnerability and elegance to coexist.
A Tapestry of 2024 Fashion Trends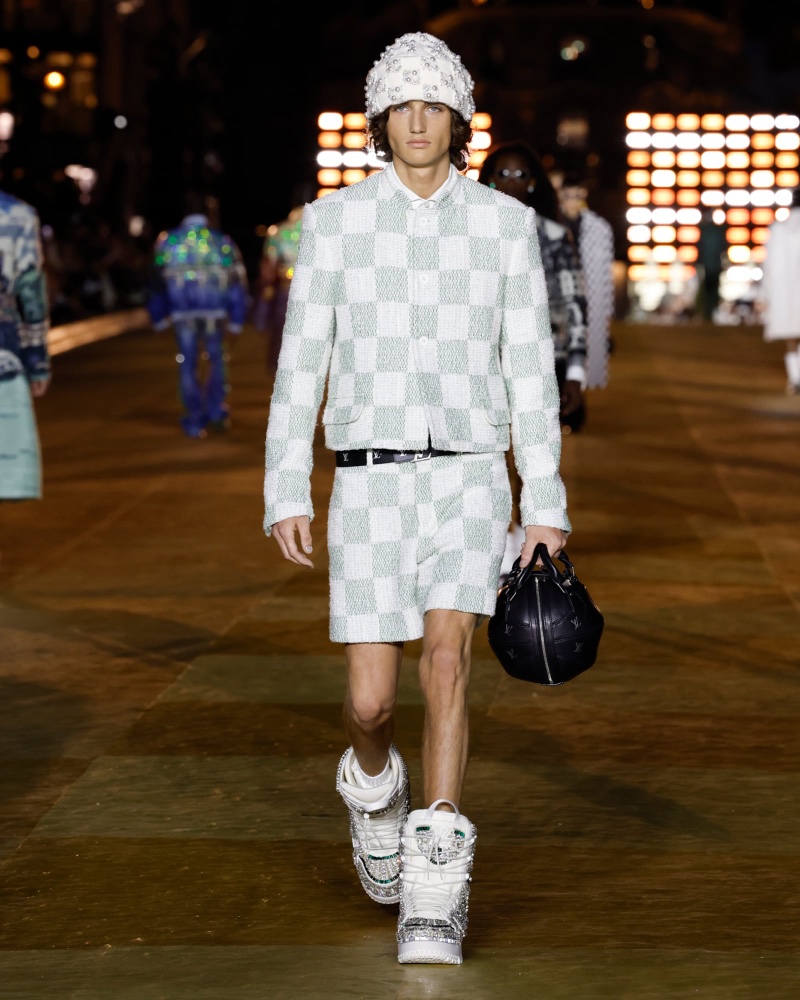 The spring-summer 2024 menswear collections present a panorama of poised sophistication, where the celebration of the male form is articulated through the tapered waist, and the sheer trend captivates with its bold transparencies.
The intersection of trends this season speaks to a harmonious blend of tradition and innovation, a balancing act between past influences and future-forward fashion.
As we take stock of these compelling trends, it becomes clear that the season speaks to a reinvention of the male wardrobe that respects its legacy while boldly striding into new territories of style and self-expression.
Each thread of innovation is interwoven with respect for tradition, crafting a tapestry of menswear that will define the aesthetics of tomorrow.