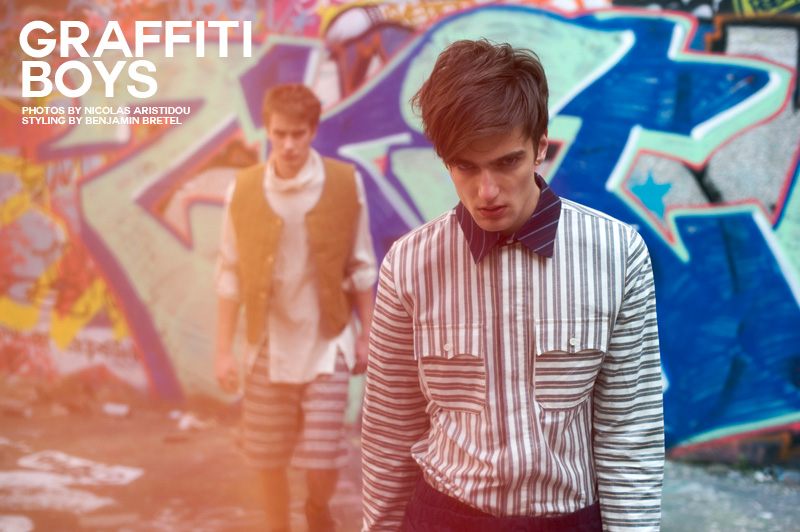 Graffiti Boys–Up and comers Marius Survila (Nathalie) and Tristan Favreau (Bananas) are recruited for our latest exclusive lensed by photographer Nicolas Aristidou. Taking to the graffiti-lined streets, the striking pair are styled by Benjamin Bretel wearing eccentric designs from bold labels such as Qasimi, Bernhard Willhelm and Laitinen. / Makeup by Mademoiselle Mu.
Left
Tristan wears blue
denim jacket
Bleu de Paname
, shirt and shorts
Rag & Bone
.
Right
Marius wears shirt
Gaspard Yurkievitch
, blue
denim
shorts
Raf Simons
and boxers
Damir Doma
.
Marius wears sweatshirt
Ground Zero
and vintage
glasses
Linda Farrow
.
Marius wears white cotton shirt Ground Zero, shorts Sansevino and short leggings Damir Doma.
Tristan wears black leather fish net tank
Qasimi
on beige cotton t-shirt
Songzio
, denim blue pants
Bleu de Paname
,
sneakers
Gianvito Rossi
and socks
Royalties Paris
.
Marius wears sweatshirt Ground Zero and shorts Missoni.
Tristan wears shirt Shaun Samson.
Marius wears navy jumpsuit Adam Kimmel.
Tristan wears blue cotton t-shirt
Bleu de Paname
, gray horse trousers
Songzio
and
sunglasses
Mykita x Moncler
.
Marius wears trench coat and drawstring t-shirt
Laitinen
, brown velvet pants
Bleu de Paname
and site
boots
Adam Kimmel
.
Tristan wears white zipper jumpsuit Qasimi.
Title – Left Tristan wears vest Bleu de Paname on beige cotton shirt Rag & Bone. Right Marius wears striped shirt Bernhard Willhelm.