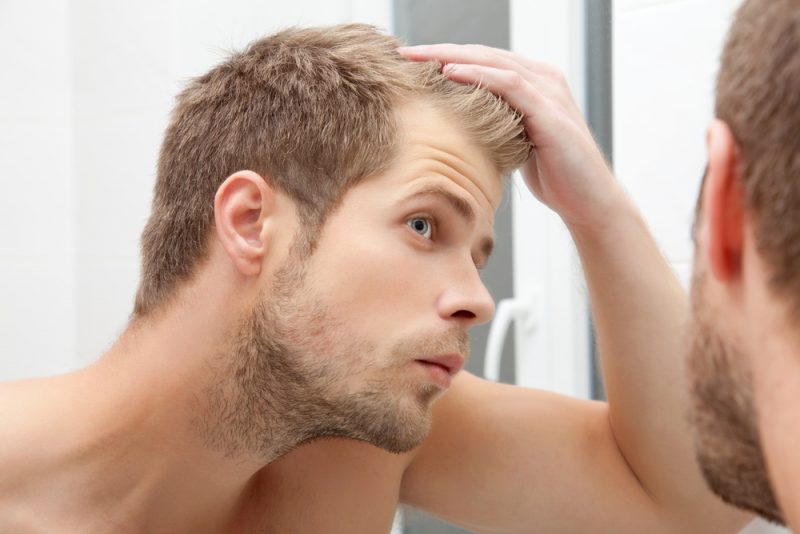 We have been experiencing challenging times since February 2020 due to COVID-19; the sudden introduction of protective face masks, social distancing, and jeopardized jobs may result in stress-related hair loss. This article talks about the causes and symptoms of hair loss and suggests modern treatment options. Let's start with the causes of hair loss:
1. Genetics
A common cause of hair loss is a hereditary condition called the fe/male-pattern baldness. This happens gradually with signs of aging. Dihydrotestosterone or DHT, a breakdown enzyme of the testosterone, triggers male pattern baldness. Over time, hair follicles are no longer capable of producing hair.
2. Hormonal Disparity
Hormonal disparities may grow into a variety of cosmetic concerns. When hormones lose their natural balance, results may affect the whole body, including hair growth.
3. Pharmaceuticals
Hair loss can be a complication of certain medications, such as those used for arthritis, cardiovascular problems, and hypertension.
4. Anemia
One of the most common causes of hair loss in women is iron deficiency. Iron is essential for producing hair cell protein, and without it, your strands may suffer.
5. Hypothyroidism
The thyroid gland helps regulate metabolism by controlling the production of proteins and oxygen distributed to the tissue. Thyroid imbalance may therefore affect hair follicles.
6. Vitamin B12 Absence
Insufficient vitamin B12 often causes hair loss as it can affect red blood cells that carry oxygen to the tissues.
7. Substantial Weight Reduction
Hair loss often follows a dramatic reduction in body weight. Nutrient deficiencies are often noticeable in the hair. It is a good idea to avoid crash diets and maintain a balanced lifestyle.
8. Anxiety
Thinner hair after a physical or emotional shock is typical. Anxiety also triggers scalp problems. These can impact hair quality; however, stress and anxiety-related hair loss are often temporary.
9. Aging
Hair loss is more common during and after menopause. It is essential to know that our hair naturally thins, which is a normal consequence of aging.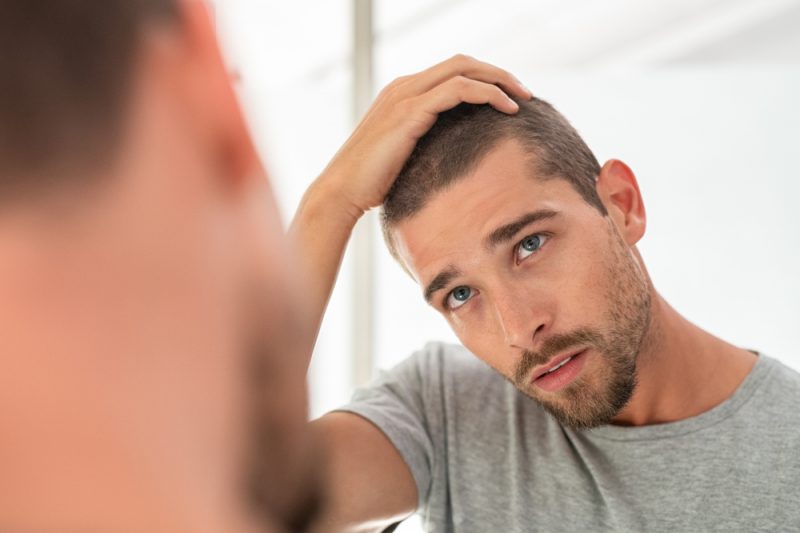 Is Hair Loss More Common in Men?
Although both men and women are affected by hair loss, it is more common in men. American Hair Loss Association states that 95 percent of hair loss in men is hereditary, and it affects about 50 percent of men by the age of fifty. Men are more prone to hair loss than women who do not have a similar genetic predisposition.
Symptoms of Hair Loss
A perceptible change in the hairline, a noticeable thinning of the hair, or excessive hair loss after brushing may be early symptoms. On average, a person loses fifty to one hundred strands of hair per day. However, if excessive hair falls out during the day, it may be a sign of male pattern baldness.
Possible Treatments & Preventive Measures
Providing a remedy for hair loss in its preliminary stages can help minimize it. There exist a few practices to control hair loss, depending on its causes. Some conditions, such as hair loss after pregnancy, are temporary and may go away independently. If hair loss is persistent, you should make an appointment with your dermatologist to determine if other conditions cause it.
Four hair loss prevention treatments are seen as best for stimulating the regrowth of dormant follicles:
1. Finasteride
Finasteride is an FDA-approved prescription medication used to prevent hair loss in men. It can be effective in preventing thinning hair.
2. Minoxidil
When applied topically as a serum or mousse, minoxidil increases blood flow to the scalp. More oxygen and nourishment are transported to the hair follicles, which promotes hair growth.
3. PRP (Platelet Rich Plasma)
At PRP hair treatment, a blood sample is spun in a separator to detach the platelets and plasma from the other blood components, then re-injected into the scalp. PRP is said to promote and enhance tissue repair and stimulate new hair growth.
4. LLLT (Low-Level Laser Therapy) or LED Light Therapy
LED light therapy, a.k.a. LLLT, is clinically approved for all genders experiencing mild to moderate hereditary hair loss. Laser therapy increases the production of adenosine triphosphates and leads to hair growth.
Can Hair Loss Be Reversed?
Reversible conditions include hair loss caused by medications, prolonged stress, and inadequate nutrition. Hair loss caused by hormonal changes associated with pregnancy and immune deficiencies may also be reversible.
Suggestions to Stop Hair Loss
Hair follicles require additional nutritional supplements necessary for hair regeneration. Hair growth can be stimulated by dermatological hair loss control products that improve scalp blood circulation and hair strength. Persons with significant hair loss are recommended to use a combination of anti-hair loss products to supply the necessary biological nutrition.
If you have tried all possible options and are still not happy with the results, then you may want to consider getting hair transplant surgery. Don't forget to schedule a consultation with your dermatologist before your operation.