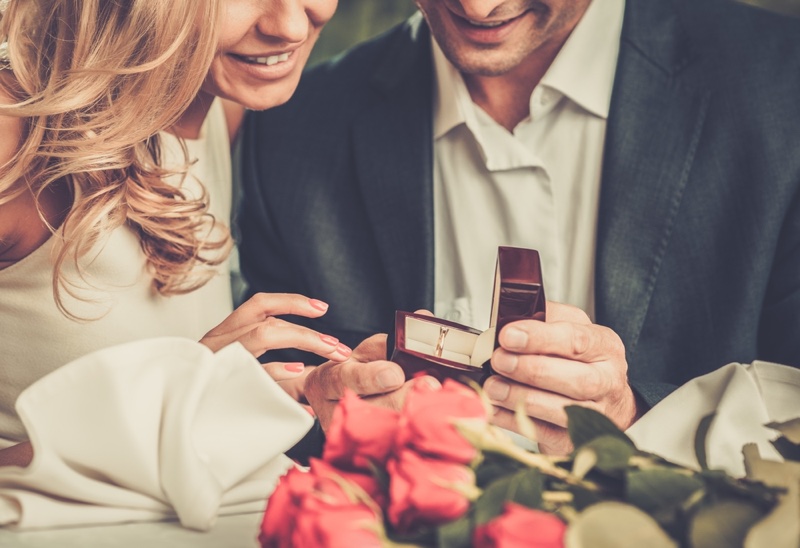 You thought shopping for an engagement ring would be easy.
Just a few quick Google searches and you'd have the ring of her dreams.
Oh, how wrong you were.
Your two or three original ideas multiplied into hundreds as soon as Google (and your mother) had anything to say about it. Now, there are numerous different colors, cuts, and metal designs to consider for her perfect engagement ring.
Jewelers and websites are vying for your attention and providing contradicting information.
You've got more questions than ever and even fewer answers.
Decision fatigue is real.
We know ring shopping is overwhelming. That's why we're taking you back to the basics with our top 5 things you need to know before buying an engagement ring.
No clutter, no crazy ideas. Just the essentials.
This article is for the simple man who wants to wow his soon-to-be bride without making engagement ring shopping a full-time job.
These top tips will help ease the decision fatigue and get you in the right mindset to pick out the engagement ring of her dreams.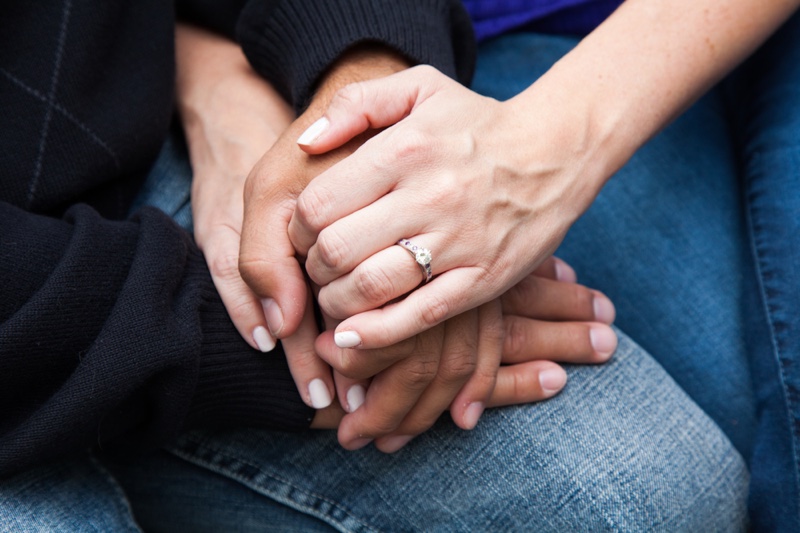 1. Know Her Ring Size
It's the moment she says, "YES!"
Her closest friends and family have just rushed out of their hiding places to surprise her. The sun is setting over the ocean, and it's the most beautiful moment. She's crying, you're crying—everyone's crying.
You take the ring from its velvety box and slide it on her finger and… it doesn't fit.
We're not going to sugar-coat it. Finding out her ring size is the most boring part of engagement ring shopping.
But it's such an important part of the big moment.
You don't want to have a hired photographer taking photos of a ring too big for her finger.
When friends and family ask to see the new bling, she'll have no proof of the engagement—because the ring has been shipped off for resizing.
Have we convinced you?
Ring sizes aren't as hard as they sound. The average ring size is between 5 and 13.
Here are some ideas for how to stealthily discover her ring size:
Find a ring she wears all the time. Compare that ring to a sizing chart or take it to a nearby jeweler to have it sized.
Ask her mom. Moms have a ring radar and sometimes wear the same size as their daughters.
We promise—slipping a perfectly fitted engagement ring onto your fiancé's finger is worth the extra work.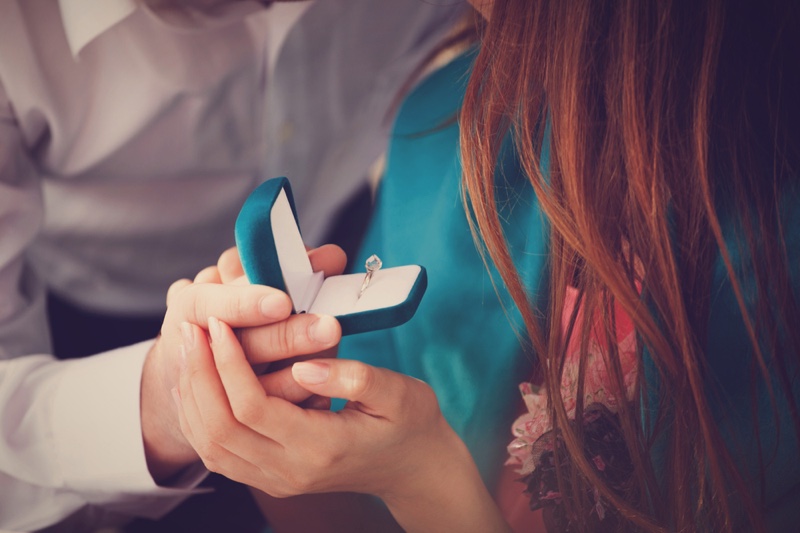 2. Research Ring Quality
There's a lot of conflicting information out there about ring quality.
There are also many companies trying to sell you low-quality jewelry for a high-quality price tag.
We've taken all the most important information about ring quality and boiled it down to just 3 things you need to know.
Order from someone you trust.
Many jewelers offer custom-made engagement rings. This means, no matter what design you want, it's easy to buy from a company you trust. You'll want a jeweler who offers free returns, resizing, ring buying guidance, and excellent customer service. This is a huge decision, and a great jeweler should support you through it. If anyone tries to rush you, run.
Examine the ring under a magnifying glass.
Hint: never buy an engagement ring from someone who won't let you examine it under a microscope. Whether you order online or from a local jeweler, make sure you examine it thoroughly for any blemishes.
Understand your engagement ring cut.
Did you know? Too shallow a ring cut can make even a top dollar gemstone look dull. Consult a guide before purchasing and ask your jeweler questions about how they cut their jewelry.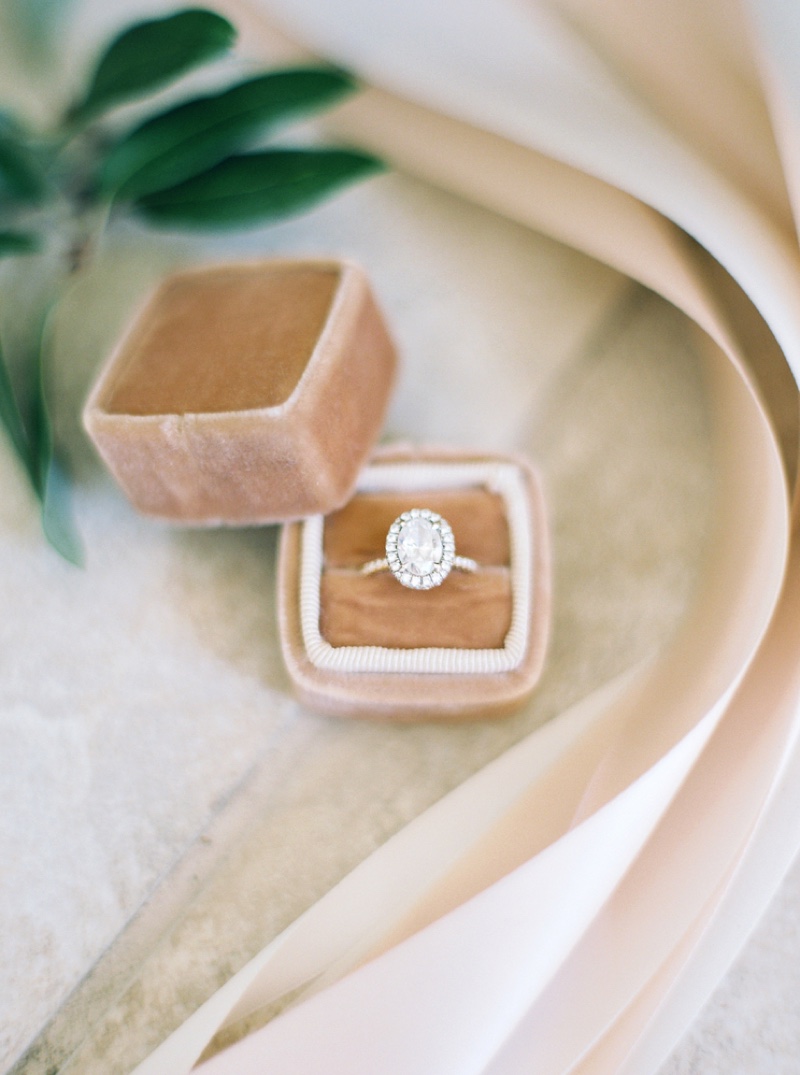 3. Stick to Your Budget
Before you begin engagement ring shopping, you'll want to establish a budget. Decide your ideal ring price. Then, add a little extra room—in case you run across something irresistible.
There, now you have the top dollar you're willing to spend on her engagement ring.
Determining your budget is necessary because it helps you rule out rings that aren't in your price range—less fatigue, more informed decision making. We love it.
While you create your budget, here are some things you should consider:
Is her heart set on a diamond or sapphire ring? Colored gemstones like rubies and emeralds are trendy and more budget-friendly. Diamond gemstones are classic, vintage, and more ornate.
Metal is simply a case of preference. You can pick white gold, yellow gold, rose gold, or black gold and other options. The price of the metal will depend on the carat weight you choose. If metal isn't a big deal to your fiancé, this may be where you save a few dollars.
The size and cut of the gemstone is a big price factor and probably the most important part of choosing a ring for her. There are a lot of options—from a small circle cut ring to a blingy princess or square cut.
If she wants a big ring, we suggest going all-out for the gem size. If you need to, cut costs with a budget-friendly stone, like black diamond or emerald.
If you're really hoping to stick to a budget, we recommend shopping for a lab-created gemstone. They're half the price, environmentally friendly, and just as jaw-droppingly beautiful as the real thing.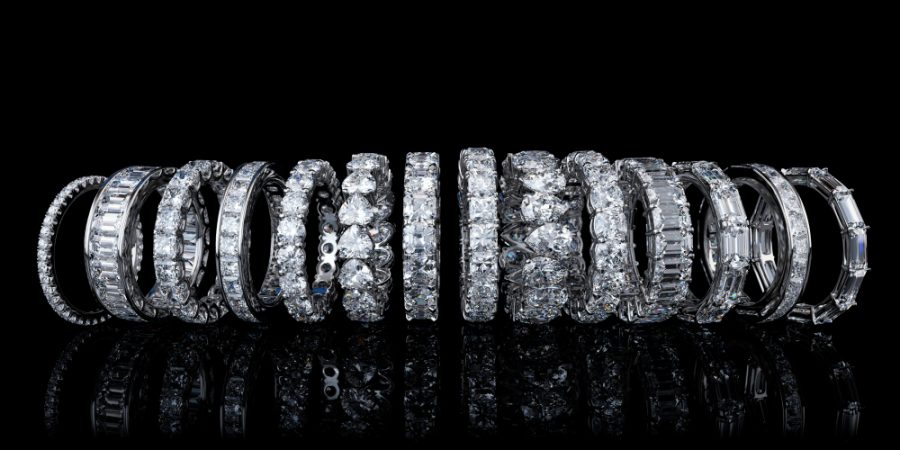 4. Consider Her Wedding Ring Design
Although it isn't essential to think ahead to the wedding ring, we highly recommend it.
This is because many engagement and wedding rings come in sets.
There's the bridal ring set, eternity rings, and matching couples bands to consider. All of these are classic and budget-friendly choices for weddings and engagements.
Even if matching wedding bands aren't being considered, your fiancé may want the option to wear both of her rings at once—no clash.
So, having a color and stone cut in mind is essential.
If this concept is too stressful, don't sweat it. Buy the ring you know she'll love and then consult your jeweler later for a custom matching ring for the wedding.
5. Roaring 2021 Ring Styles—Bold and Bling
We're almost out of quarantine, and ladies are ready to make a statement. Welcome to the roaring 20s, where we wear big bling and bold gemstones.
There's something special about buying an en vogue ring and watching it grow vintage with your love. If your fiancé loves keeping up with the latest style and fashion trends, she might be hoping for some bold bling this year.
The Knot has some swoon-worthy modern engagement ring designs you can use for inspiration. We also love these 50 engagement ring ideas for soon-to-be brides.
Put All Your Worries Behind You
Emotions are high.
You're excited. You've met your person.
She's stunning, she makes you laugh, and you can envision your forever together.
You want a ring that reflects your unique love story and encompasses everything she means to you.
We know she's going to appreciate all the time and effort you've put into choosing the ring and perfecting the engagement day details.
When you get down on one knee, put all the worries and stress behind you.
She's going to love the ring—but she'll love you more.