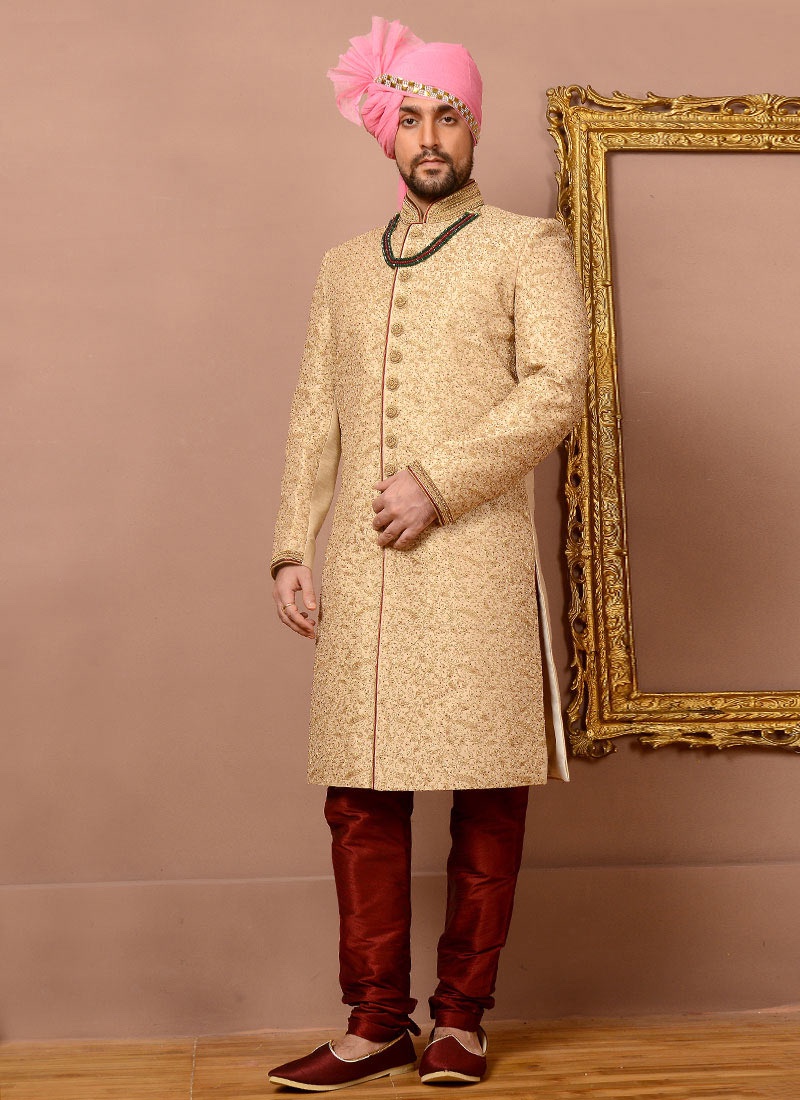 When shopping for a wedding in India not only the brides are presented with tons of options to choose their attire from but also the grooms can choose from various styles and choose the one that represents them in all the glory that they have ever dreamt of. If you've decided to wear traditional attire then you'll most probably be going to wear a sherwani. But, even in sherwani, there are many styles from which you'll have to choose from. So, here we have listed out all the different types of sherwanis that you might come across in the Indian Markets.
Achkan
Sherwani
Achkan style is the one that gets inspired by the new fashion trends the most. You'll find some of the trendiest styles that will surely please your eyes at first glance. These sherwanis are quite versatile as they can be paired up with churidars, dhoti or jackets. It will surely help you obtain that royal look that you've always desired for your wedding.
Jodhpuri
Sherwani
Although expensive, the Jodhpuri prints give a sherwani an edge over any other type of prints available for the sherwanis. These are available in some really vibrant colors and give out a royal look. These are designed by some of the most experienced designers who make sure that the designs look marvelous. The end products are finished to the finest of the details and it is made sure that everything is perfect. Due to such intricate styling, these are only available in limited pieces.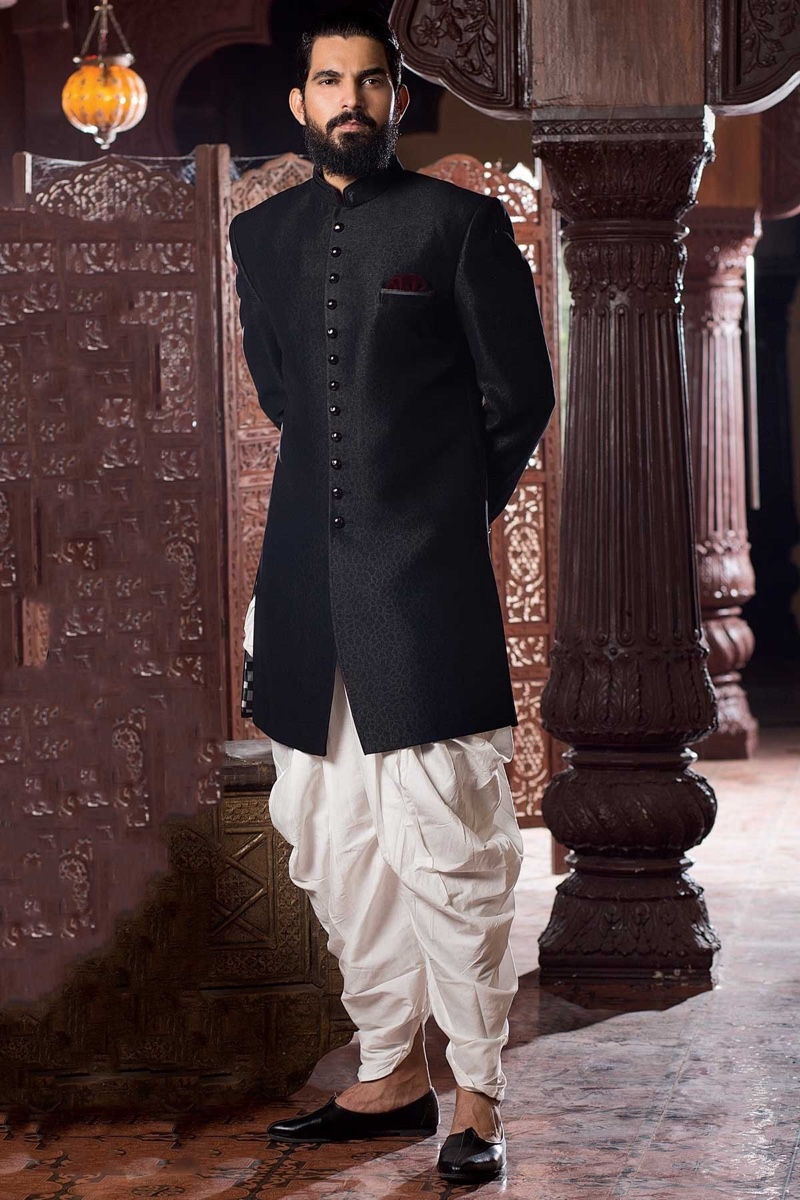 Indo-Western
Sherwani
If you want to go for a less groom traditional look then you can opt for an Indo-Western sherwani. It'll be a great blend between the casual and the traditional looks and will help to make your attire a bit modern. Sporting this attire will make sure that your look is perfectly balanced. For those who want to retain their royal look while going casual, worry not, as the various buttons, gems, beads, and other royal styled motifs will make sure that you don't miss out on the looks.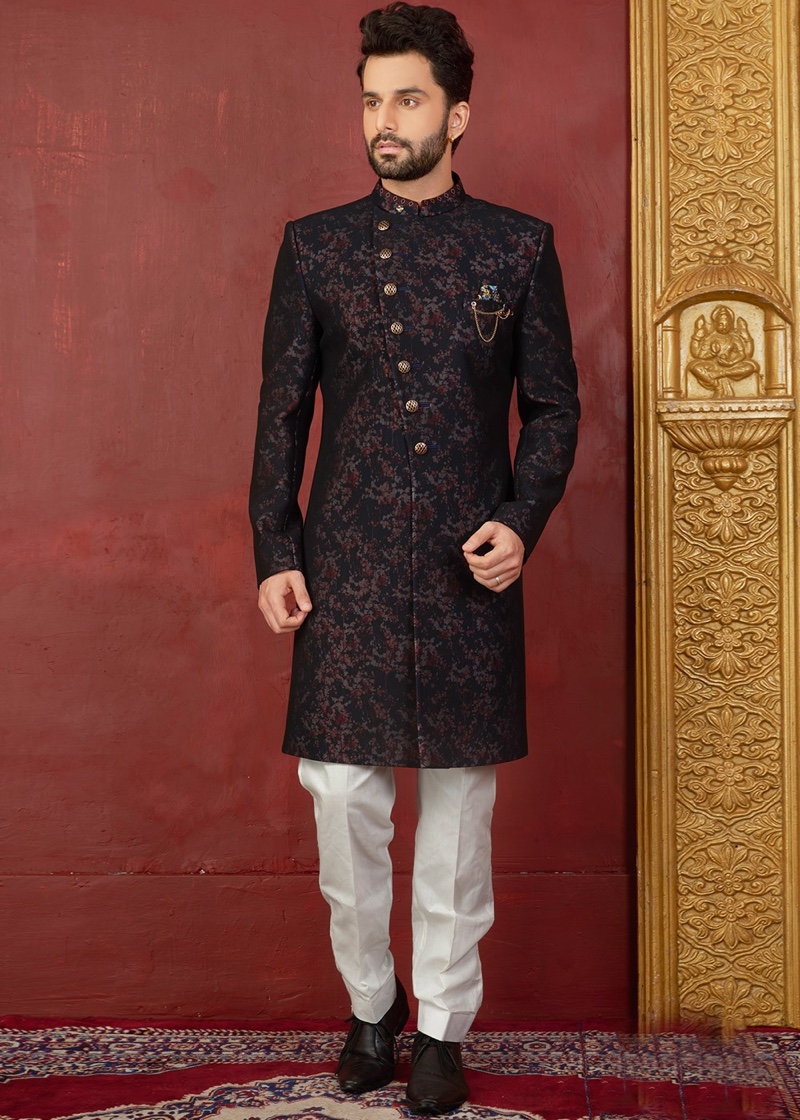 Jacket-Style
Sherwani
A jacket style groom sherwani can either be completely opened from the front or may have some buttons that can be fastened. These are generally worn over a long kurta that gives a princely look to the groom. These are generally styled with some elaborate embroidery patterns and various embellishments and look well when combined with a churidar salwar and a matching pair of Juttis.
Angrakha
Sherwani
As the name suggests the Angrakha sherwani helps flaunt your body physique. It'll be a great option if you have a muscular upper build. It is simple, elegant and a right fit will ensure that you look the best at your wedding. The only thing that can keep you away from this one is the shortage of stock of this sherwani in Mumbai or if you won't be able to find your perfect fit. So, what we can suggest is just arrange for it ASAP.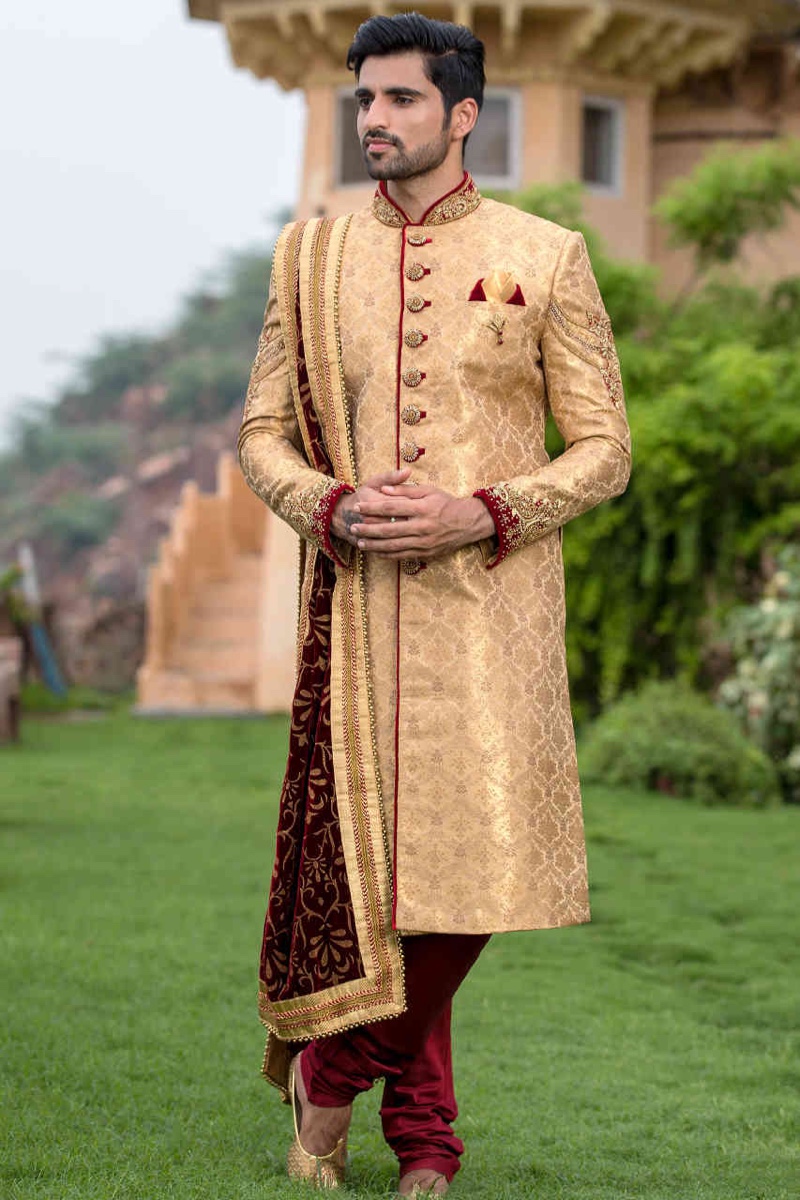 Printed
Sherwani
Nothing can get more modern than this. This is the latest trend that captured the attention of not just the Indian grooms but the grooms from all over the world setting the trend on fire. This is the perfect casual sherwani anyone can easily fall in love with. If you're someone who doesn't shy away from trying a different look then this look will be perfect for you.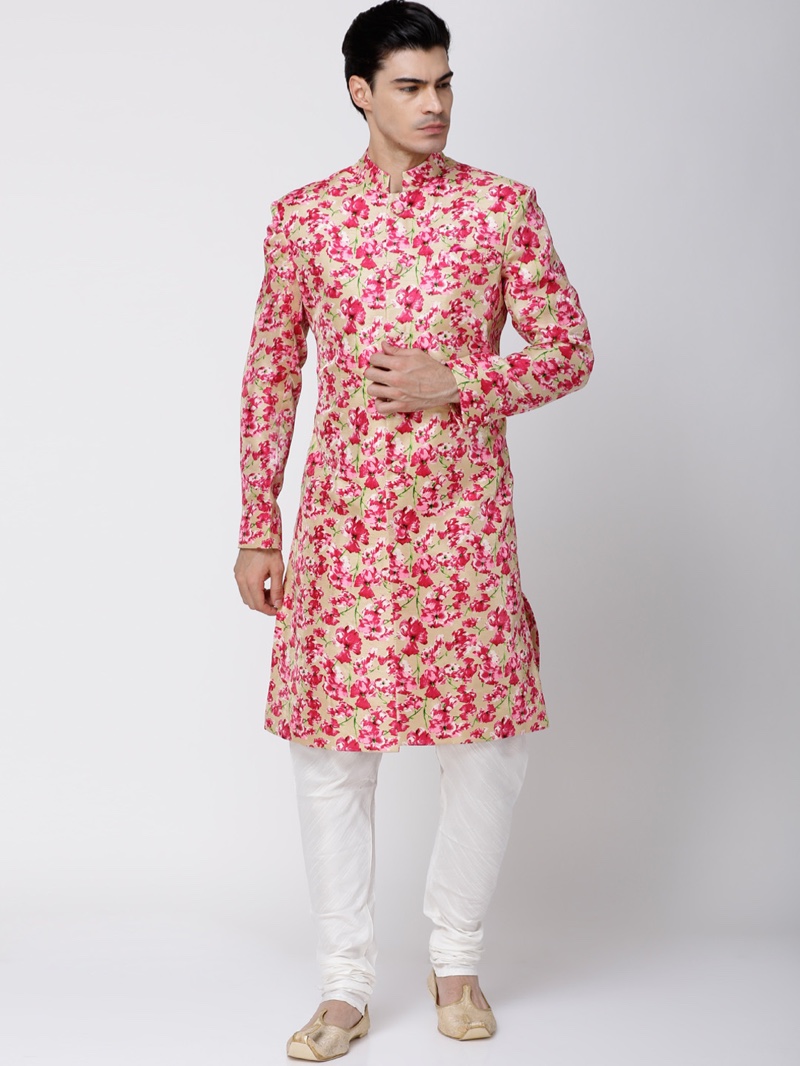 These were some of the great options in sherwanis that'll definitely look good on you and based on your personal choice you can choose to wear any of them. You'll just have to remember that the attire should reflect your personality and add up to your character. Another thing and the most important one is that the outfit you select should be comfortable enough to wear for a whole day.