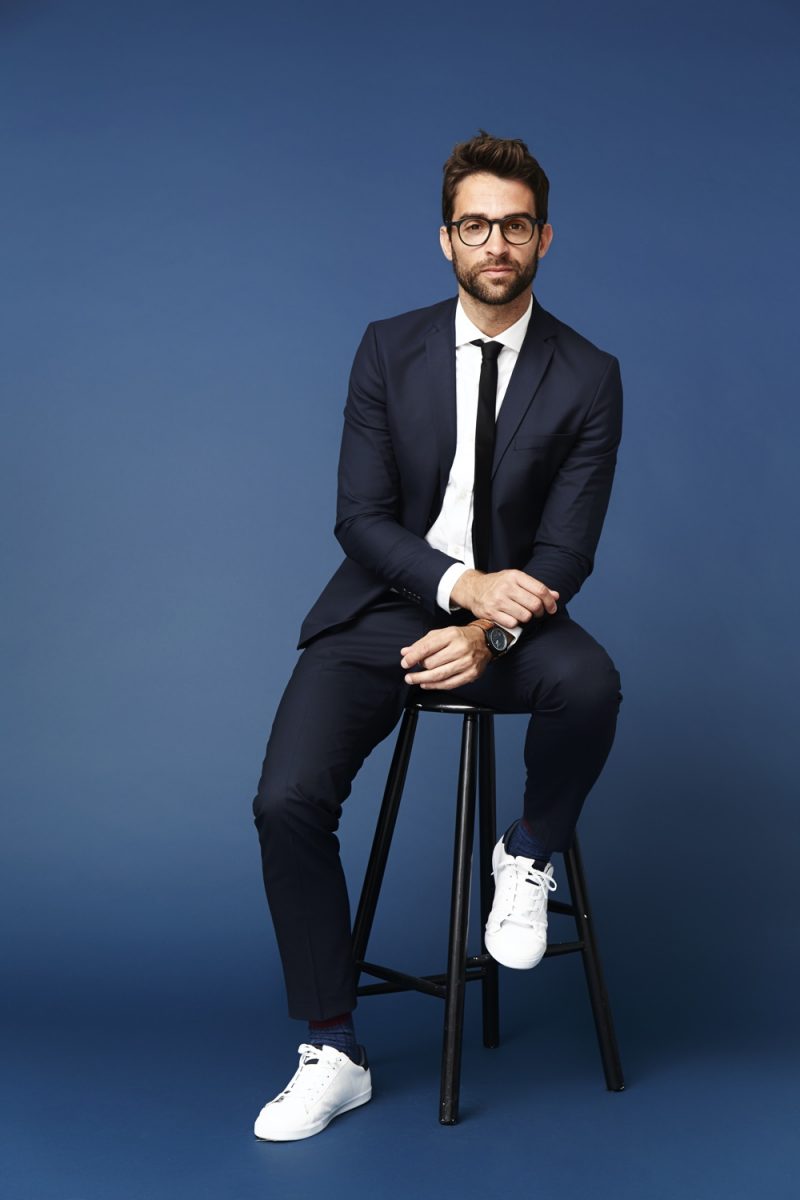 Sneakers are a type of popular sports footwear, worn daily, not only for running and gym exercises. Although they are mainly associated with casual clothing, they can also be combined with a suit and elegant styling. Check out how to choose sneakers to match your formal outfit perfectly.
Fashion trends change very quickly and can surprise even an experienced stylist. What was once considered tacky is now a real hit and the other way around. The world of fashion has its own rules, and these are constantly changing. This allows for the introduction of original style combinations. Wearing sneakers with a suit is a bold combination that is becoming increasingly popular.
How to Avoid a Fashion Faux Pas?
It is becoming less and less surprising to see a man in a suit and sports shoes. This trend is particularly popular among celebrities. This is what the film and music stars, including Robert Downey Jr. and Kanye West, wear. Many men follow the style of their idols, which makes it more and more fashionable. Despite this, the combination of sneakers with elegant styling is still considered a rather unusual combination, which means that it is easy to make a fashion mistake. Such a combination will surely stand out and immediately draw attention to you while walking on the street. To avoid making a fashion faux pas, it is important to remember that shoes are meant to complement a suit, not dominate it. That's why sneakers should be matched with a jacket and pants, not the other way around. You cannot forget about the colors. Most safe are the monochromatic styles, which nicely emphasize the character of the whole outfit.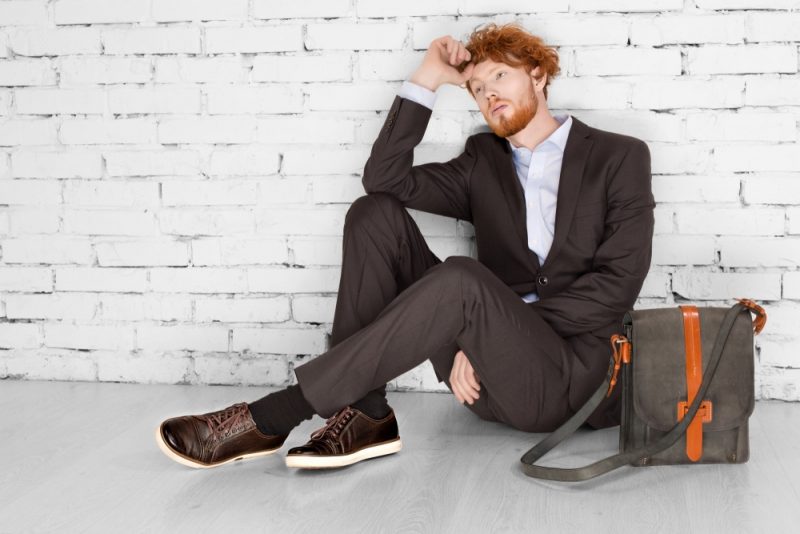 How to Match Sneakers with a Suit
A well-chosen suit is a symbol of an elegant man. To match it with sneakers, you should pay attention to the length of the pants. They cannot be too long, so they do not cover the shoes. Moreover, they should not be shorter than the models worn with classic formal shoes. This is very important because the pants must not cover the shoes. It gives a very unwanted effect, which makes the whole styling look hilarious. In the case of low-top sneakers, you should look for pants with cuffs, which will nicely expose the shoes.
A suit is not only pants but also a jacket. When looking for shoes to match it, you should choose sneakers on a thin sole and with a neat heel – such models can be found on the Marc Nolan website. The choice of colors is also important. Subdued colors, which will not dominate the entire image, are always a good choice. A tie is a frequent addition to a suit. It has as many supporters as opponents. However, if you combine an elegant outfit with sneakers, it is worth avoiding such an accessory. Instead, you can undo the shirt's first two buttons or even replace it with a smooth T-shirt, thin golf, or a light sweater. It all depends on individual tastes and preferences. Not wearing an elegant shirt will give the style a minimalist and casual character.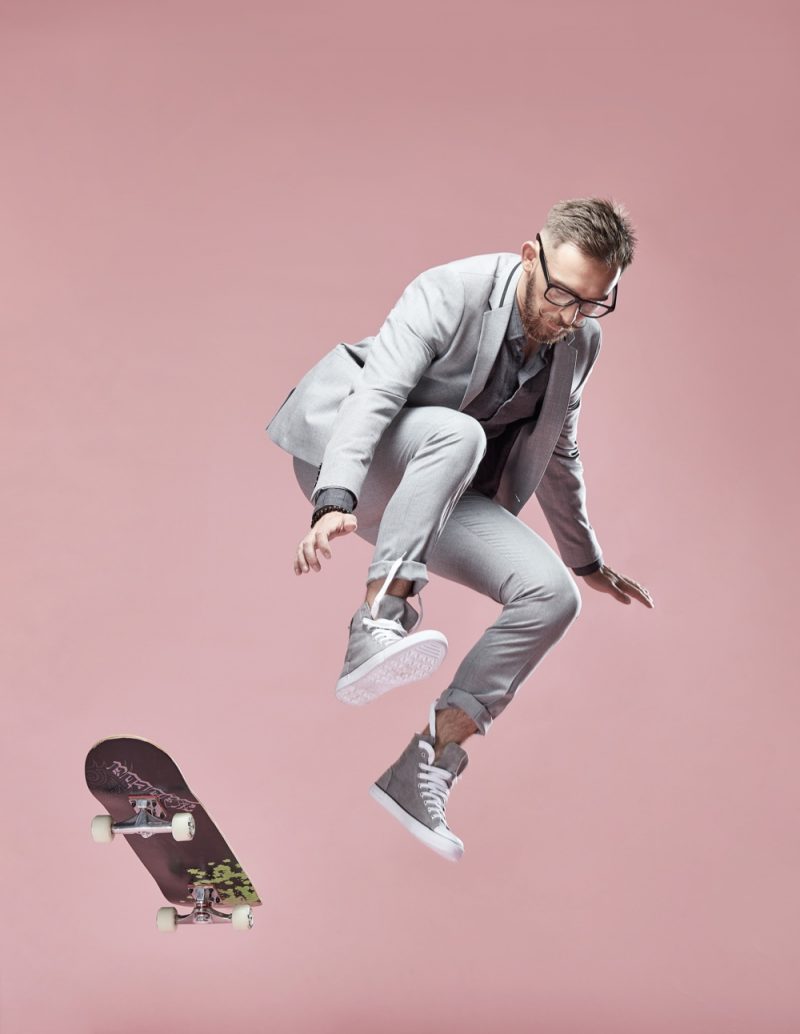 Sporty Elegance
Although combining sneakers with elegant styling is a fashion paradox, more and more people enjoy experimenting with it. The most important thing is not to overcomplicate and pay attention to the details. A fundamental rule when selecting sports shoes for a formal outfit is to follow one style. In this case, the immortal classic and the American preppy style, which began by juxtaposing sports shoes with jackets, will work best. Unfortunately, when considering controversial combinations, one should be aware that there is a fragile line between kitsch and chic, easy to cross.
Colors are important in this kind of styling. It is worth choosing sneakers in one or up to three colors. It will then be much easier to match pants, a shirt, or a jacket. These parts of the suit should be plain, or perhaps a delicate pattern can be allowed, such as a thin stripe or a small grid pattern. The overall styling will then be neither bland nor needlessly flashy. As far as the type of pants is concerned, simple models and creased ones will look good. When choosing sneakers, please pay special attention to the material they are made of. High-quality fabric or leather is elegant on its own so that it will match most suits.