You'll have seen ads all over your socials, read about it in magazines, and probably even watched a few YouTube videos to figure out what they're all about. Blue light glasses seem to have come out of nowhere to become something every person needs to have a pair of. With lots of celebrities endorsing products and launching their own lines, most of the glasses out there are geared towards females. This can make it hard for men to find the right pair, or even why they need blue light glasses.
If it's been slightly confusing for you as to why any guy would need a pair or what pair to get when there are hundreds of options out there, fear not; we're here to help. Let's look at what every man needs to know about blue light glasses and how to get them.
Why would I need a pair of blue light glasses?
If you've been working from home during everything going on in the world, you'll have spent way more time looking at your laptop screen, your phone, and possibly the Gulag if you're terrible at COD: Warzone.  All that time spent staring at screens, especially if you take your phone to bed, is causing artificial blue light exposure. Too much of it, and your eyes have a hard time being able to tell your brain it's time to get some rest.
Anyone who is up to all hours after staring at screens, or finds their eyes strained at the end of the working day, would need a pair of blue light glasses.
Are blue light glasses easy to find for guys?
You'll notice many of the ads on your socials will have girls wearing these glasses, especially the thin round frames, but blue light glasses are unisex. It's merely about finding the right pair to match your style and face shape.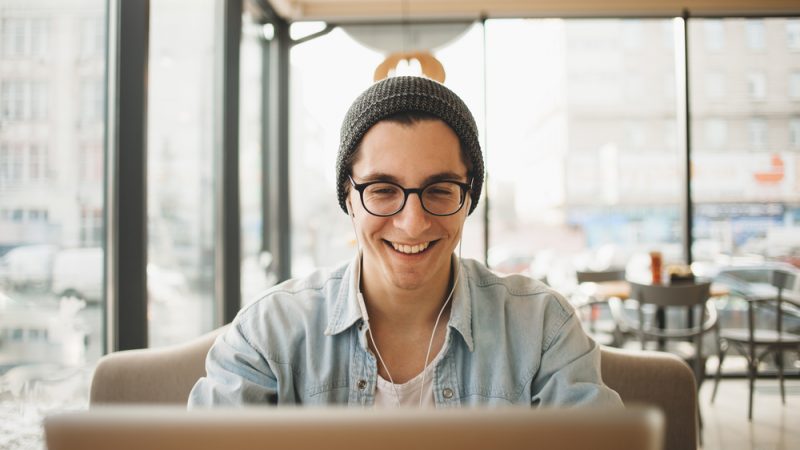 Where can I buy blue light glasses?
As with everything these days, taking the time to shop around online can help you find blue light glasses within your budget.
A pair of subscription Ray-Bans blue light glasses will start at around £125 (that's before you let them know what subscription lens you need on top of that). Other trendy brands like Kooper, Barner, and Meller sit in the £30-£50 category. If you love a bargain, I recommend keeping an eye on Kanturo blue light glasses, as they have men's frames starting at £19.
What shapes should guys consider?
Popular shapes which work well for guys include:
Horn-rimmed glasses

A rectangular top and circular bottom usually work well for men with high cheekbones.

Feather-light glasses

The one frame style which most men fear due to how thin the frames are, and how big the lenses are. If you're someone who doesn't usually wear prescription lenses, and don't mind lenses touching the cheeks, feather-light can work for you

Browline glasses

All action up top, browline glasses will have a thick top to the frame and arms, with the bottom of the lens secured with a thin underwire. They're the kind of glasses you'd want to wear when trying to look smart.

Boxy glasses

Bigger lenses pull the lens down to look more like a square than a rectangle. They work best if you have a round face and feel round frames squish your face into one big circle.
For anyone unfamiliar with frame shapes, we recommend looking at some of the sunglasses currently available on-site to get an idea of what shape may suit you best.
How do I know which type of blue lights glasses to get?
Just like standing in front of those tiny mirrors at the glasses store and not knowing which frames suit you best, the type of blue light glasses you'll need will depend on your face shape.
Some of us have egg-shaped heads. Others have square jaws, and some of us have a face that we may not realize meets at a point. Understanding the shape of your jawline and height of your forehead can help to determine whether you're better off getting rectangular, square, or round frames.
If you're looking in the mirror or quickly checking selfie-mode on your phone and aren't sure what type of face you have, take this quick face shape quiz to find out.
How much should I expect to pay for blue light glasses?
Costs will vary wildly, depending on where you look. If you check with your local opticians, they may offer a blue light coating on existing lenses, although this can be quite expensive.
Are you looking to update your wardrobe with some much-needed essentials? Visit the Essentials section of the site, where you'll find helpful articles that offer inspiration, which will help you refresh your wardrobe, especially in time for summer.