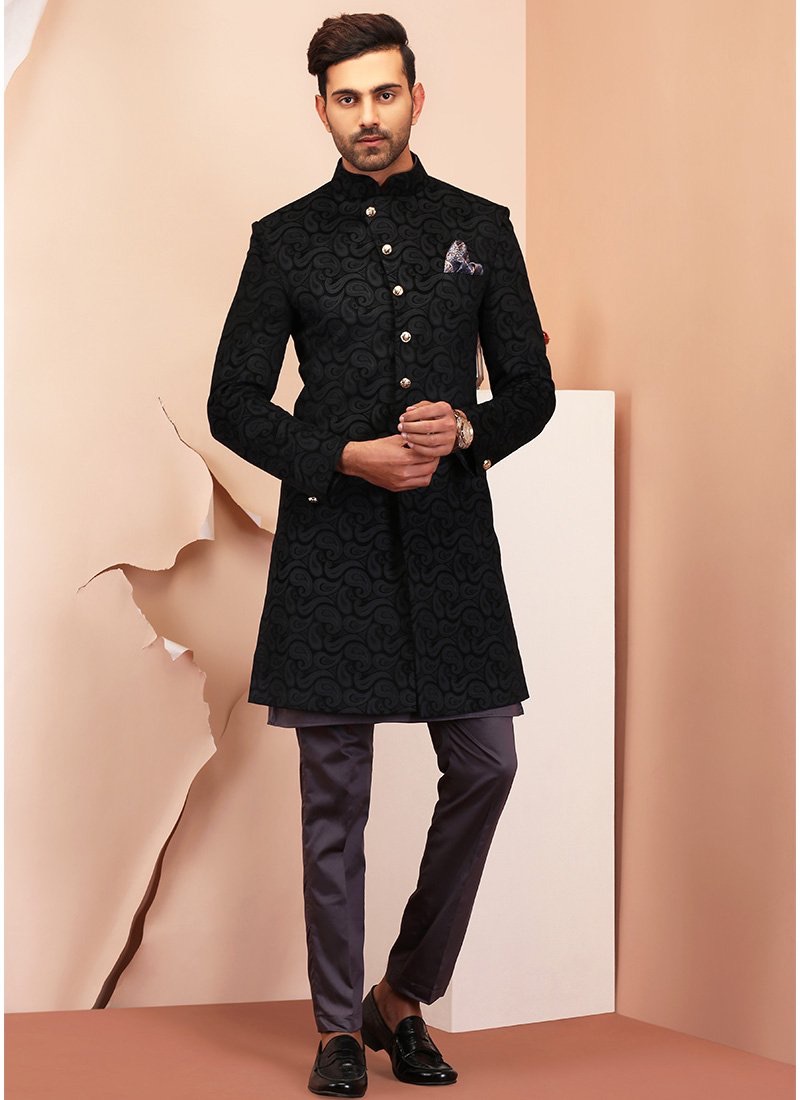 Men and wedding wear sound so dull and passe. The same old dhoti kurta, the works! Not anymore, men's ethnic wear has undergone a sea transformation in recent times, even giving competition to the fashion-forward women's ethnic wear.  Browse through the fantastic collection of ethnic wear for men's, and you will be left gawking at the traditional collection of men and marvel at its soignee savviness.
The sophisticated collection can cater to different sensibilities, so if you are looking for smart casuals or traditional formals, you will get both and steal the show your peers who prefer to stick to the Western sartorial choices. Bold is the buzzword so push the envelope and get out of your comfort zone because fashion certainly favors the brave and the bold.
Men can now teach a thing or two about ethnic fashion to their fairer peers, yes and not the other way round. So put on the fashionable cap and give into this world of style and glamor. There are just so many fashion choices to experiment with. Order ethnic wear for men's online from online portals and slay in quintessential desi style. Here are a few fashion choices you can certainly try for the next traditional outing.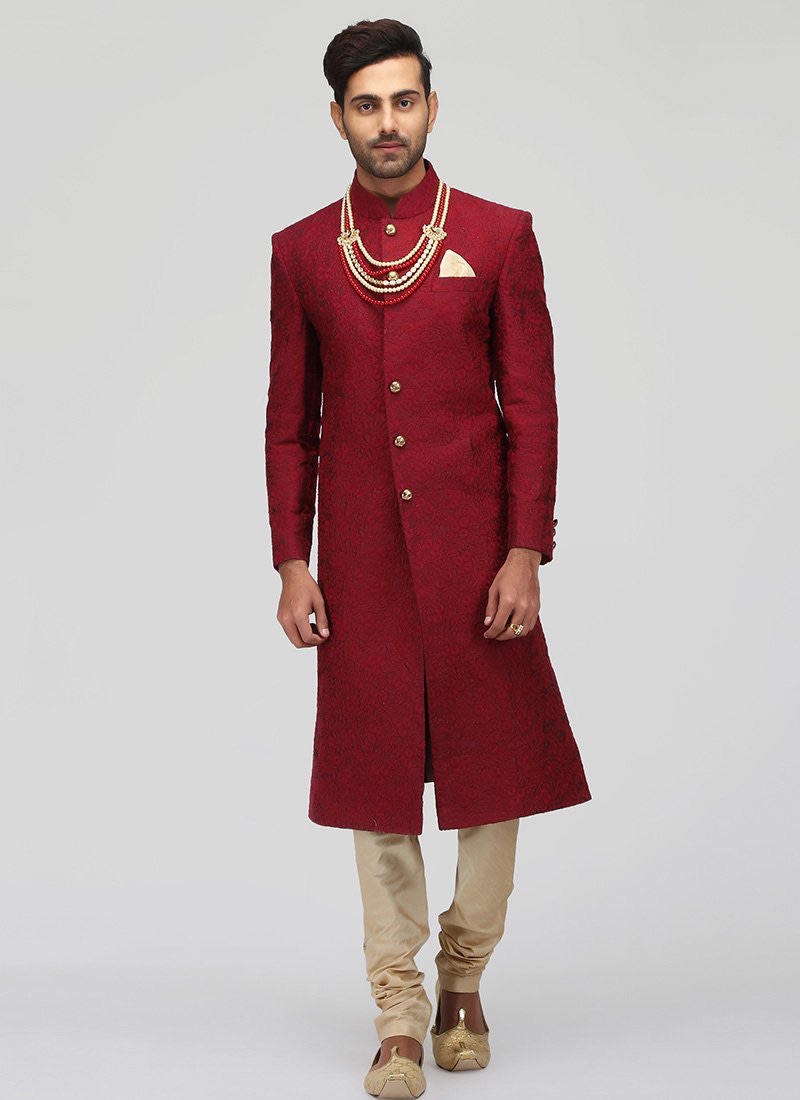 Order Men's Ethnic Wear Online – Look Your Desi Best
Are you trying to keep up with the latest men's ethnic wear?  Here are confident choices that can make your wardrobe fun and exciting.
Waistcoat for the win –

Waistcoats are winter classics. Well no longer. If you are an avid follower of Bollywood fashion, you will find brawny studs from tinsel town rocking this latest style, and they wear it at the peak of summer. Waistcoats are no longer part of three-piece suits only. You can combine them with your kurta pajamas and rock an indie-cool look in pastel shades and look your best for sangeets to many other traditional dos. If you have a thing for prints and patterns then select printed waistcoats. This summer is all about floral prints. Try color-blocking or go for lighter kurtas and deep shade waistcoats of the same color to create a sophisticated and classy look. If you are thinking pastel shades are what fashion-designers and the fashion-conscious are bonding over. Then you are right, pastel shades are love this summer, and our next segment will help you choose the right ones for your ethnic wardrobe.

Court pastel colors –

Bold colors are so passe now. Why court the garish colors when you can wear fresh spring-friendly colors. Pastel shades flatter tan skin tones with aplomb.  There cannot be a classier color than pastel shades. No prizes for guessing why the handsome, fashion-forward actor brigade give it a spin every time they step out to conquer new fashion heights. Actors like Saif Ali Khan, Shahid Kapoor, Arjun Kapoor, do the fashion panache. Team your kurtas with polished leather shoes and you are set for royal places.

Asymmetric kurta –

When was symmetry a thing? Because I so love asymmetry.  This is the hot new trend that is making fashion game scorching hot. Dull silhouettes give way to cool new styles such as asymmetrical kurtas. The beauty of this style is it can be paired with all kinds of bottom wear such as dhoti,

jeans

, salwars, churidars and so on. Cinch the fashion deal by adding exciting accessories such as scarves, a half jacket, and sneakers.

Achkan glamor –

Achkans are sherwanis that come with complete button placket in the front. They look like an Indian version of the jacket knee-length tall buttoned up right in the front putting up an attractive look. As far as the fabric is concerned you can select different types such as patterned or embroidered available in dressy fabrics such as brocade, and you can wear it with different kinds of bottom wear such as churidar pants, dhotis or salwar. If you want to put the "r" back to the royal, here's a look you need to master effortlessly.

Look like a bawse in a bundhgala –

That Chinese collared jacket that steals the show every time you wear it to classy occasions. Jodhpuri pants go best with this ensemble. These type of suits look chic with a variety of prints, mix and match them, and you look pretty much good to go. Bandhgalas are available in various type of royal fabrics like velvet and silk and are perfect choices for weddings and other classy outings.

Jodhpuri Suits –

The jodhpuri suits have been an integral part of the imperial dressing. Men belonging to royal lineage flaunt this style with a dash of panache and a pinch of flair. This style can take you from simple to sophisticated and stylish in a matter of minutes. That's why men dote on Jodhpuri suits. There is something about the embroidery, the elegant cuts and the entire look that it brings together.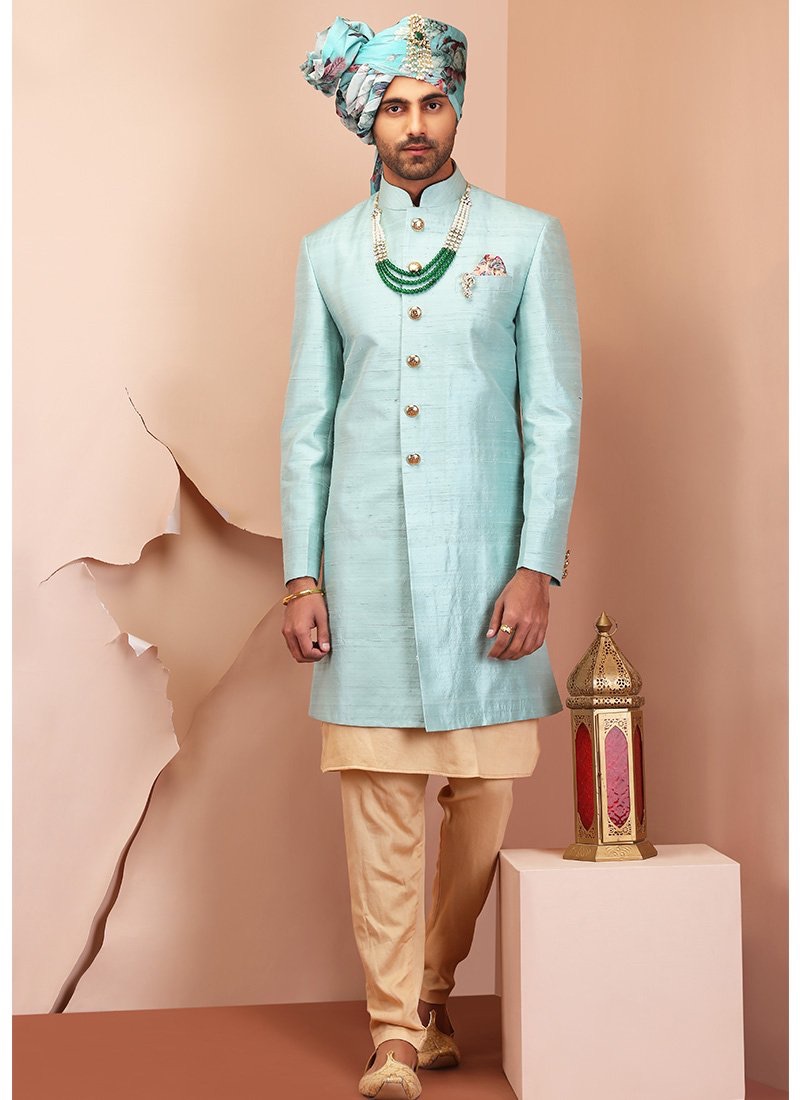 OMG! There are just too many styles to dig into. Wear these styles and flaunt your swagger for numerous traditional occasions, wedding, casual get-togethers, engagements. Put on these fantastic clothes and get your accessorize game spot on. This is what provides the final touches and enhance your look. There are myriad accessories you can choose right from scarves, right shoes, the kada, some simple chains, fashionable cuff links and you can ultimately elevate your look to the next level.
Looking good can be so effortless if you can combine some fresh looks. If you are picking a monotone kurta, you can add interesting texture by adding patterns in the form of shoes, jackets and so on or if you are wearing something that has busy patterns then tone it down by adding some monotones. This way you can add interesting elements and make your desi look complete. So, what are you waiting for? This summer change your ethnic look completely and slay like a true-blue prince!