Summer is in its full form, and you're all set for a long vacation with your family and friends. Beaches are the first thing that pops into your brain when you think about summer vacations. Beaches are not just a place loaded with sand but are also a full package of fun activities to enjoy with your loved ones. 
Before leaving your house for a vacation, don't forget to stock up your favorite summer beachwear. From beach shorts to women's swimwear, your options are endless. You can sport them while enjoying some exciting beach activities. Here are the top 5 beach activities we recommend that you can enjoy with your favorite people. 
How low can you go
When you're at the beach, don't forget to get fully into the sand as it's the most fun thing to do. As you all know that nothing can beat the fun of playing the game of 'how low can you go.' Let everybody hop into the competition and dig holes in the sandy ground. 
See who can dig the deepest hole in the ground, deep enough for a human being to fit in. This is fun when played with several people; however, don't forget to cover up all the holes so that it's safe for other people on the beach. 
Water bucket relay
Now, have you ever tried how agile and flexible your body is? Get into this game to know. All you need to grab are some buckets, and you're good to go. Ask all the participants to fill their buckets and run to the other end of the area to empty it into another vessel. 
The only rule to be followed while playing this is that the water shouldn't spill out when you're running, and you must come with the maximum amount of water to the endpoint. The person with the highest level of water in their container wins.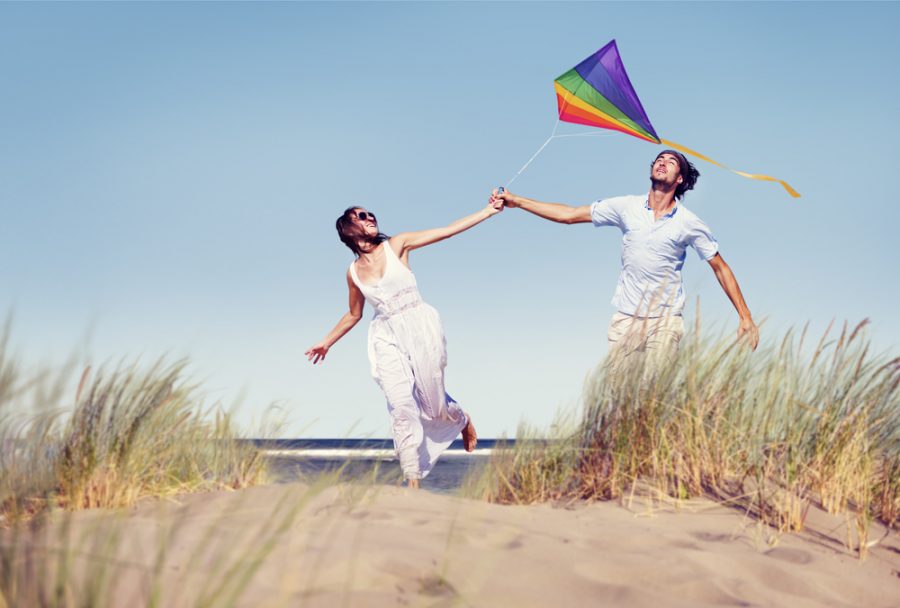 Fly a kite
Who doesn't love to fly a kite under the open sky? Blue waters and white sand incorporated with colorful kites is a deadly combination. Everybody loves flying kites, let it be a child or an adult. The sky filled with mesmerizing and colorful kites is altogether a fantastic experience.
You don't even have to invest much when you're choosing this beach activity. All you need are the kites that can be purchased from the toy stores before you visit the beach. Running and enjoying the colors is all you want while flying kites, and thus, it is one of the most common beach activities. 
Beach balling
Going to a beach is incomplete without piling up the bottles either of soft drinks or beers. So, why not make use of these empty bottles to make your vacation even more rejoicing? Line up these cans or bottles and don't forget to get your stock of pins and balls to play without any worries. 
The best thing about the beach activities is that you not only enjoy yourself at the moment but also take back some ultimate memories with your friends and family. However, don't forget to line up toddlers and kids closer to the pins. 
Tug of war
Last but not least comes the classic beach game of tug of war that brings together people from all generations and ages in the family. You can use the shipping rope or even the towels tied together. Now, divide the people accordingly into two teams and commence the game.
Don't forget to tie a handkerchief in the middle of your rope. The best part about the tug of war is that no matter who wins or loses, everybody ends up in the water. So, enjoy your summer time and don't forget to have a great time doing these beach activities for a great time under the sun.