It's always a momentous occasion when a man gets to own a bachelor pad! The freedom of making a place look precisely how you want and to live by your own rules is truly liberating and exciting. Still, this means that you'll have to figure out a few things along the way, like cooking, cleaning, and, just as important, furnishing.
Getting a couch and T.V might be high on your list of priorities, but don't neglect the importance of a great bathroom. If you have a long grooming routine, then you could end up spending an hour or more in the bathroom every morning to get ready for the day. This means that your bathroom shouldn't just be finished with a shower, toilet, and basin, as you'll need a lot more essentials to make it feel complete.
To help you out, we think these are five of the essential items that are a must-have for every man's bathroom.
SOFT, FLUFFY & LUXURIOUS TOWELS
Not just perfect for when you have guests staying with you, luxurious towels make getting out of a hot shower bearable! Get rid of those scratchy, old towels, and upgrade to soft and fluffy towels from a brand like Frontgate Resort. They feel great and absorb moisture much better. If you care for your hygiene, go for a Mizu antibacterial towel. Mizu luxury bath antibacterial towel sets are made with anti-bacteria technology to eliminate dirt. These hyper-absorbent towels are created with the finest Japanese design and perfect when it comes to keeping you and your loved ones safe. Of course, don't forget to hang it up again! Similarly, ensure you've got a soft and thick bathmat for your feet when stepping out of the shower. Trust us; it makes all the difference.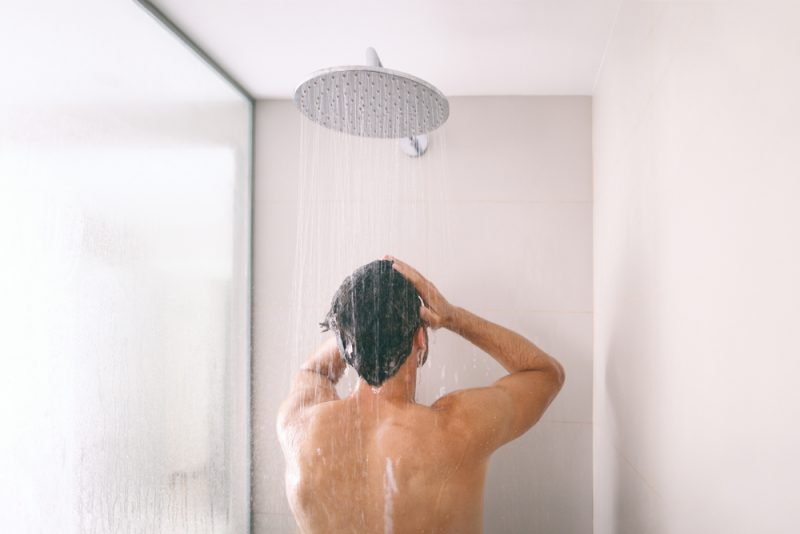 RAINFALL SHOWERHEAD
No one likes to stand in the rain, but what if that water was gentle and warm? Now you're talking. Rainfall showerheads and dual shower heads are becoming increasingly popular in bathrooms across the world, as they can turn an average shower into a spa-like experience. Also great for taller people, rainfall showerheads mimic the rain coming from the sky, but in a far more luxurious manner. Many showerheads come with an additional hand showerhead, which means you can turn to something else if you need to direct the water flow.
On the subject of showering, many people have an issue with overall water pressure. If you're renting and need a quick fix or looking for an affordable solution, we have one. You need to look for the best shower head for low water pressure. With the right model of a pressure booster shower head, you will be back to enjoying your bathing time with great ease and little effort.
QUALITY SOAP
Many men spend ages picking the best body wash, toothpaste, shaving cream, shampoo, deodorant, styling products, and so on, but there's the one vital thing you should be considering: soap. Whether it's hand soap or the good old bar version, ensure you've got one for your basin and another for the shower. Pick a white bar soap and start stocking up, as it's always a good thing to have laying around.
ANTI-FOG MIRROR
Unless you're growing a beard (never a bad idea), you're probably someone who likes to shave and moisturize in the bathroom every morning to make sure you're looking tip-top for the day ahead. This is a potential issue if you can't see yourself due to the mirror fogging up after the shower! Invest in an anti-fog mirror and save yourself the hassle of trying to see your face through all the steam.
BATHROOM ÉTAGÈRE
This is a fancy word for mainly bathroom shelves, but they look great and store all your items in an attractive and tidy way. Having a vanity helps add extra storage space and place items like spare toilet paper and styling products out of the way, but an étagère keeps the whole room looking on-point. Don't forget a wicker laundry basket, either, as you don't want your smelly clothes placed all over the room!