Dressing for Your Face Shape: A Guide to Choosing Your Glasses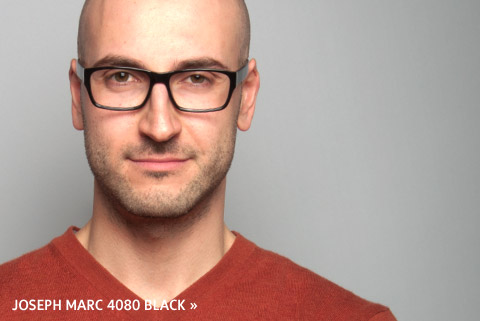 Every day when we choose our clothes we are making a statement about ourselves. Whether it is, "I will make this deal happen", or "Hey, it's laundry day", what we wear says something about who we are. And what you wear on your eyes is no different.
With more brands than ever offering you a slice of chic on sites such as LensWay, choosing between the pretty Pradas or the dashing D&G's can be tough. However, as Gok Wan would say, it's all about dressing for your shape. And this applies to choosing your specs as well. Here is a rundown of the different types of face shapes and some pointers on how to choose a pair that will work for you.
Square
Stars such as Keira Knightley and Demi Moore, have the classic square-shaped face, typified by a broad forehead and square chin. If your face is a similar shape then try oval or round frames to soften the face and give a warmer look. Avoid angular, thin or square styles as these can make the face look harsh.
Round
Round faces are, unsurprisingly, round – with the head being almost the same width and height. The trick here is to give the illusion of length in order to elongate the face, so choosing frames that are longer than they are wide will help to achieve this. Also, angular as opposed to curved frames will help balance out the roundness of the face.
Oval
Also known as the ideal face type, it is little wonder that three of the planet's most beautiful women – Angelina Jolie, Beyoncé and Megan Fox – all have oval faces. Annoyingly for every other face type, those in possession of an oval face will suit almost any style and shape of glasses, so long as they are proportionate to their head size. So be bold in your choices, but be warned: this 'anything goes' rule might not apply to something akin to one of Elton's more outlandish numbers.
Rectangular
Similar to square face shape but with an elongated length, if you have a rectangular face the aim is to try to shorten the length of the face and create a broader face with a softer jaw line. This is achieved by opting for frames that are a little wider and have curves. Sandra Bullock recognises this and sticks to a shape that works for her.
Oblong
An oblong face shape is typified by it being longer than it is wide, usually with a rounded jaw line. Sarah Jessica Parker and Colin Farrell are good examples of famous oblong faces. For them, a pair of glasses should make the face appear shorter. This is achieved by opting for tall or broad frames. Thicker arms – possibly even with design detailing – can also help strike the right balance.
Triangular
One of the world's most desirable men – Mr. Johnny Depp – has a triangular face and he gets it right by opting for glasses that have a more oval shape and a thick rim. This frame choice adds a height to the top of the face, whilst the peaks at the side of the frame where the arms sit, help add much-needed width to the top of the face.
Heart-shaped
Whilst Leo Di Caprio doesn't wear glasses in real life, we can see that whoever styled him in his last film J.Edgar, adhered to the face shape rules. Leo's heart-shaped face means that a rounded frame that is wide below the eye line helps complement his wide forehead, high cheekbones and narrow chin. The Ray Ban Clubmasters are a perfect choice for this face type.