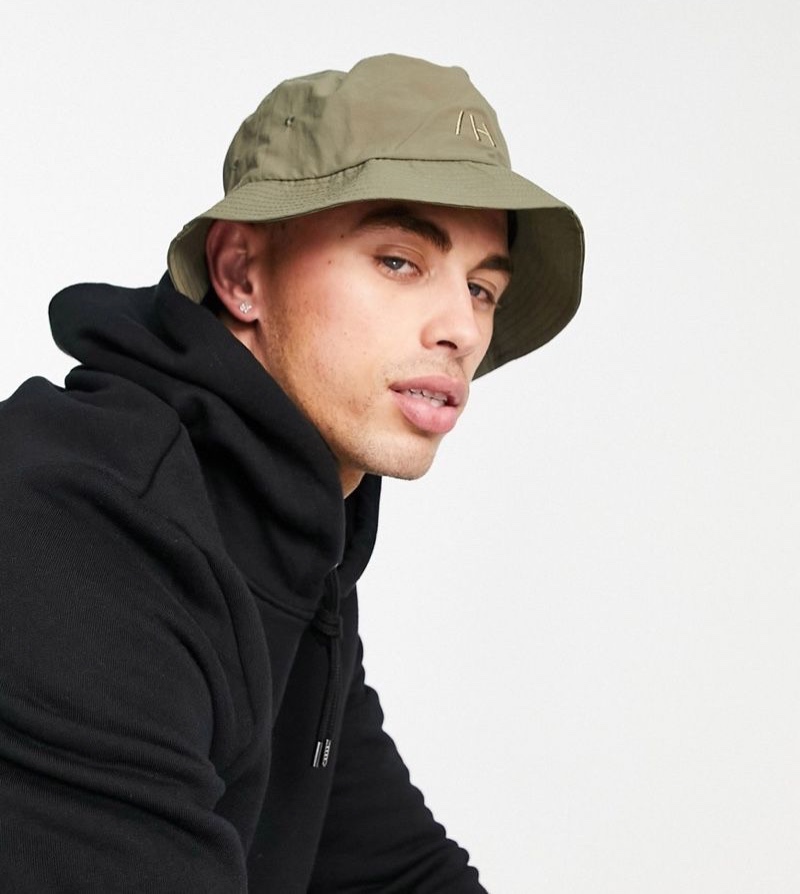 Think bucket hats are a forgotten trend of the '90s? Nope. Men's bucket hats are returning with brands such as POLO Ralph Lauren and retailers like ASOS, and it's about time. Not only are bucket hats a stylish complement to streetwear fashion, but they also protect your eyes from the glare of the sun and let you go that extra day without washing your hair.
Even though it seems obvious, you may be wondering what a bucket hat is or how to wear bucket hats. First and foremost, bucket hats for men resemble the shape of a bucket with a brim that slopes downwards.
If you're searching for a new bucket hat, you may come across another name for the iconic style; a fisherman's hat. Please remember not to confuse Boonie hats for men with bucket hats. Boonie hats are wide-brim hats regularly used in the military. While it's comparable to the bucket hat, it has a stiffer brim.
Suppose you don't own one of these bucket hats yet. In that case, you're potentially missing out on a great accessory that could elevate your (otherwise mediocre) outfit to the next level. So without further ado, here are three cool bucket hats for guys that you can use to level up your fashion game.
Gucci Bucket Hats
Gucci bucket hats are the way to go when you want to add an extra element of sophistication to your outfit, provided you have the cash to spare. Some may even consider Gucci bucket hats for men the best bucket hats.
Just remember that Gucci bucket hats usually hover around the $500-$700 range, but they're well worth the stylish effect it creates. Gucci bucket hats come in a wide range of colors and designs. Still, perhaps the most classic would have to be the GG canvas bucket hat, which makes good use of the Gucci trademark shade of brown overlapped with a belt and the double G logo.
Prada Bucket Hats
Suppose you prefer a more minimalistic look over the classy one that Gucci's bucket hats exude. In that case, Prada's bucket hats may be a better choice for you. Prada's Re-Nylon bucket hat is a wonderfully simple yet classy look. This bucket hat, in particular, is black all over but has the simple triangular Prada.
This bucket hat costs $495, manufactured from purified plastics collected from the ocean. So by purchasing one of Prada's Re-Nylon bucket hats, you're helping the environment and amplifying your style simultaneously – talk about killing two birds with one stone!
Nike Bucket Hats
Let's face it; although having a wide range of designer bucket hats would be nice, they're sometimes too expensive. This is where Nike's bucket hats come in handy, as they're reasonably priced and pack the design you need to make a statement simultaneously.
Nike bucket hats are priced around the 50 dollar mark, which is one-twelfth the average Gucci bucket hat cost. Sure, they aren't the same type of status symbol, but it's no denying that they go with pretty much everything.
Another benefit that Nike's bucket hats have over its designer brand competitors is that you don't have to fret about them getting stolen or lost due to their relatively low cost. So if you're starting to experiment with style and don't have a solid idea of what type of bucket hat you want, we recommend starting with a Nike bucket hat!
Add a Special Touch
If you are looking for a more elaborate finishing touch to your bucket hat after deciding which one to choose, you can apply custom lapel pins. Delicate and durable pins are a great way to show off your attitude and style. You can use pins as a way to express your ideas and perspectives.
Similarly, several hat brands choose to customize pins for giveaways. Alternatively, you can always create a custom pin for gifts. Companies like GS-JJ can meet any of your requirements and have professional designers design any style for you. They also offer a free online design system where you can easily turn your ideas and design into pins.
Final Words
You'll see all three bucket hats mentioned above worn by celebrities, as they are, after all, the trendiest at the moment. Right now, bucket hats are in due to their great simplicity and potential if worn with confidence. We hope this article gives you an idea of what you want.
It's up to you to choose your favorite – have fun finding the perfect fit!