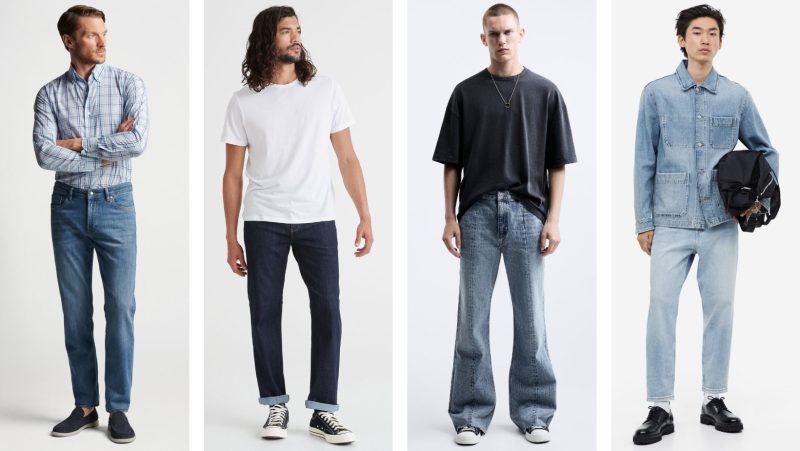 The world of men's fashion is vast and varied, with countless styles and designs. But if there is one garment that has remained a constant staple in every man's wardrobe, it's a good pair of jeans. A well-fitted pair of jeans is a timeless classic, offering versatility, style, and comfort.
However, finding the perfect pair can be daunting with an array of jeans available. From loose to skinny, bootcut to straight, the options are endless. This guide is here to help you navigate the wide world of denim and find the ideal fit that suits your body type and personal style.
Understanding the Types of Jeans for Men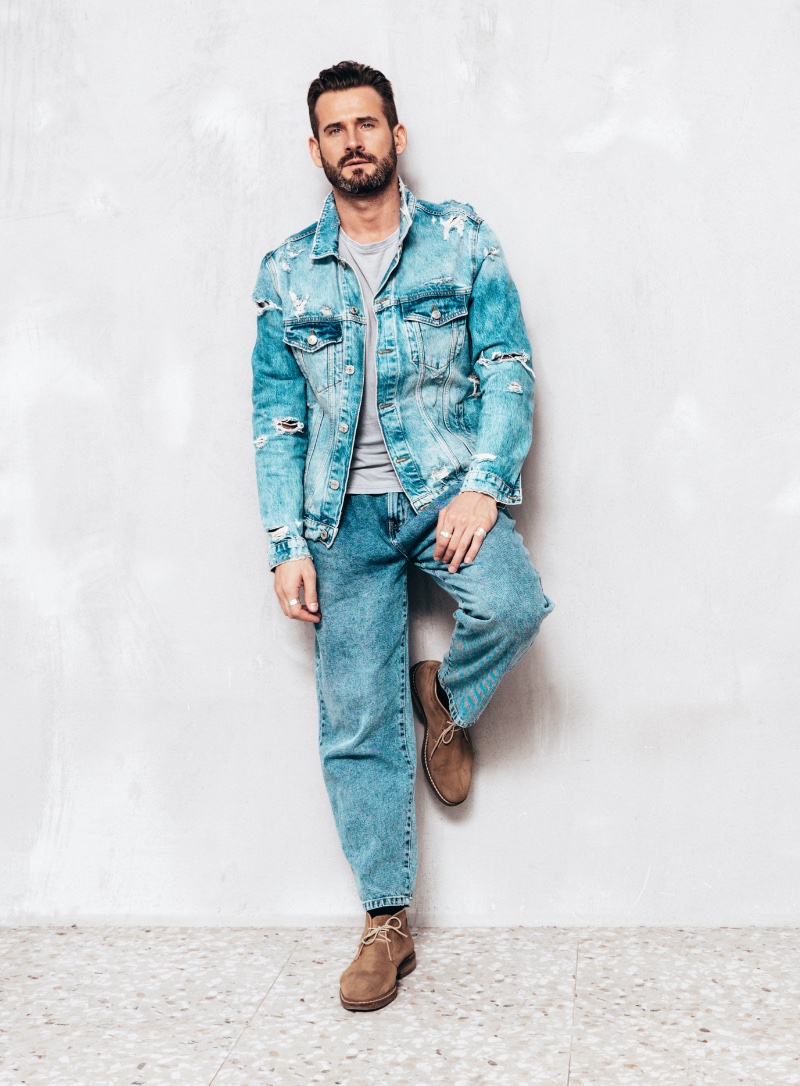 Before diving into the specifics of different types of jeans, it is essential to understand the basics. Jeans have several key components, such as:
Denim Material: Denim is a durable, cotton-based fabric known for its strength and breathability. It's the primary material used in making jeans.
Fit: The fit of jeans refers to how the garment sits on your body from the waist to the thighs. Comfort should be your top priority when considering the fit.
Wash: The wash of jeans refers to the color and texture of the denim. It can range from raw, untreated denim to shades of blue, black, grey, or bold colors like red or green.
Cut: The cut of jeans refers to the garment's shape from the hip down to the ankle. This can significantly impact the overall look and style of the jeans.
Remember, when it comes to finding the perfect pair of jeans, the key is to find a balance between comfort, style, and fit.
Different Fits of Jeans
Dive into the vast array of denim fits, each offering a unique contribution to fashion. This guide will spotlight various jean styles tailored to different body types, comfort levels, and style stories.
Regular Fit Jeans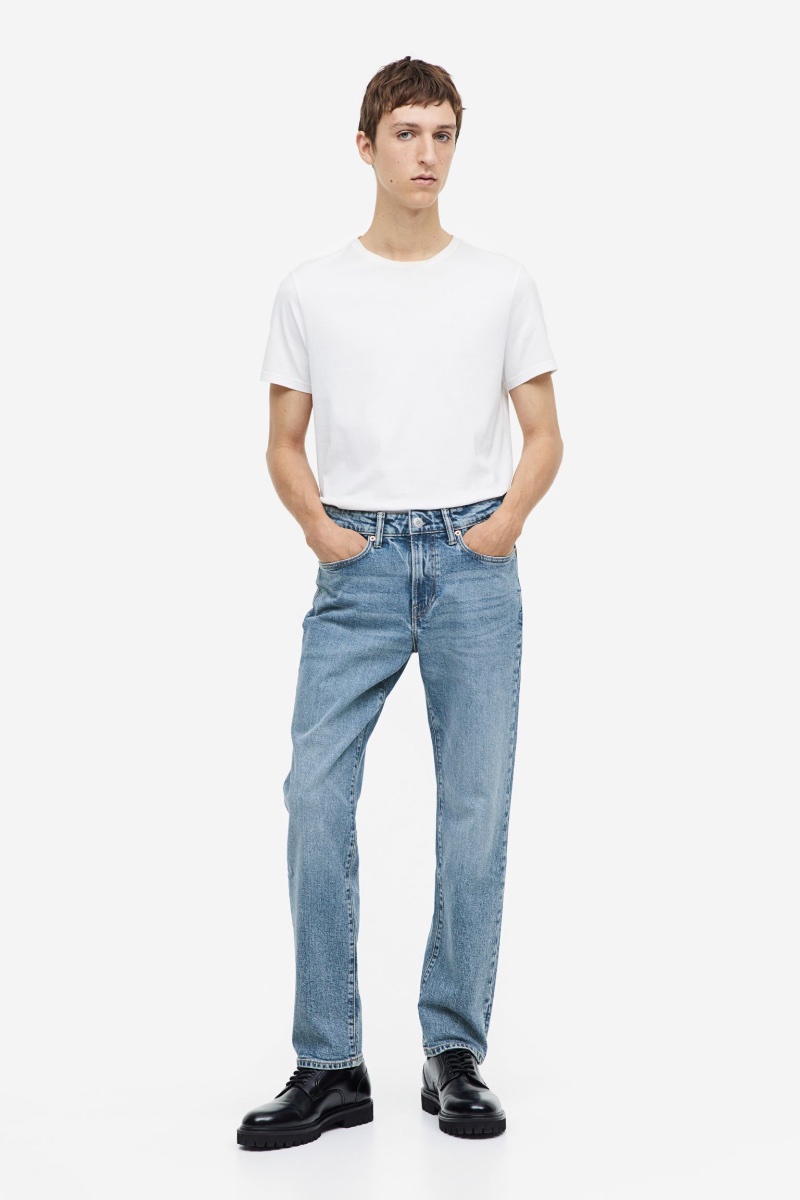 Regular-fit jeans are arguably the most classic and versatile of all types of jeans. They're crafted with a straight cut extending from the hip to the ankle, ensuring a comfortable and well-balanced appearance.
Regular-fit jeans are not too tight or loose, offering a perfect middle ground that suits most body types. They are typically mid-rise with a wide leg opening, making them an ideal choice for men who aren't skinny or muscular.
Slim Fit Jeans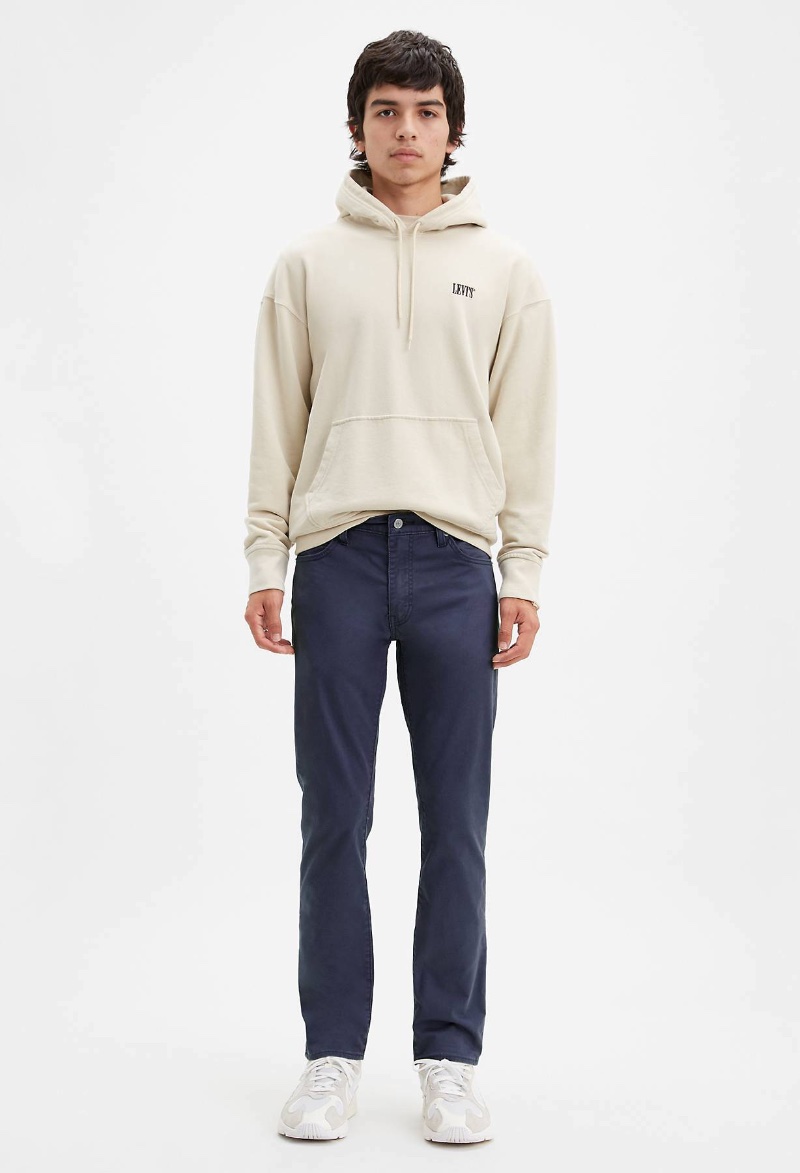 Slim-fit jeans are a popular choice for men with a lean or athletic build. They are designed to accentuate the body shape without sacrificing comfort. Slim-fit jeans offer a more modern and stylish appearance than their loose-fitting counterparts. They feature a tapered leg opening and a snug fit around the thighs, offering an ideal blend of comfort and style.
Skinny Jeans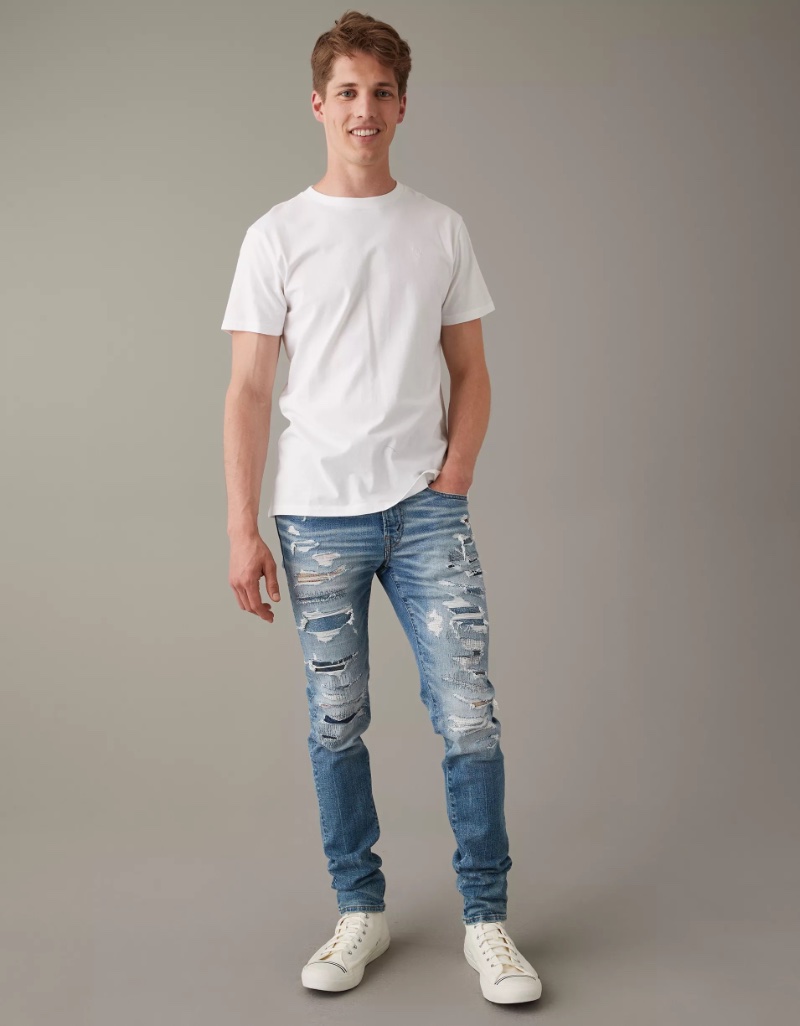 Skinny jeans are a step above slim-fit jeans in terms of tightness. They are designed to hug the legs tightly from the waist to the ankle, creating a sleek and streamlined look. Skinny jeans are often worn as a fashion statement and are not recommended for larger men as they can be too tight. However, skinny jeans can create a trendy and edgy look when styled correctly.
Relaxed Fit Jeans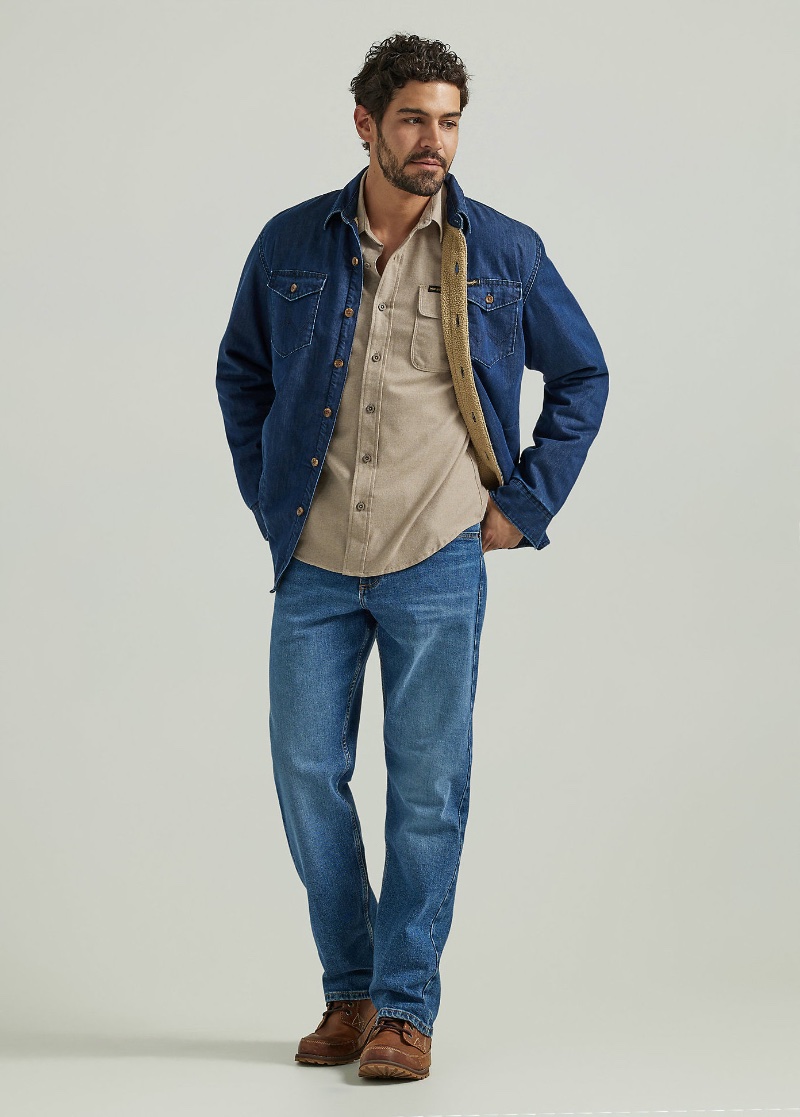 Relaxed fit jeans, as the name suggests, offer a relaxed, comfortable fit. They're designed with a looser fit around the thigh and calf area, providing ample room for movement. These jeans are perfect for men with thicker thighs or prioritizing comfort over style.
Loose Fit Jeans
Loose-fit jeans are designed to provide maximum comfort. They feature a baggy fit around the thighs and buttocks, ensuring they don't stick too tightly to the body. Loose-fit jeans are ideal for larger men, offering breathability and room for movement.
Bootcut Jeans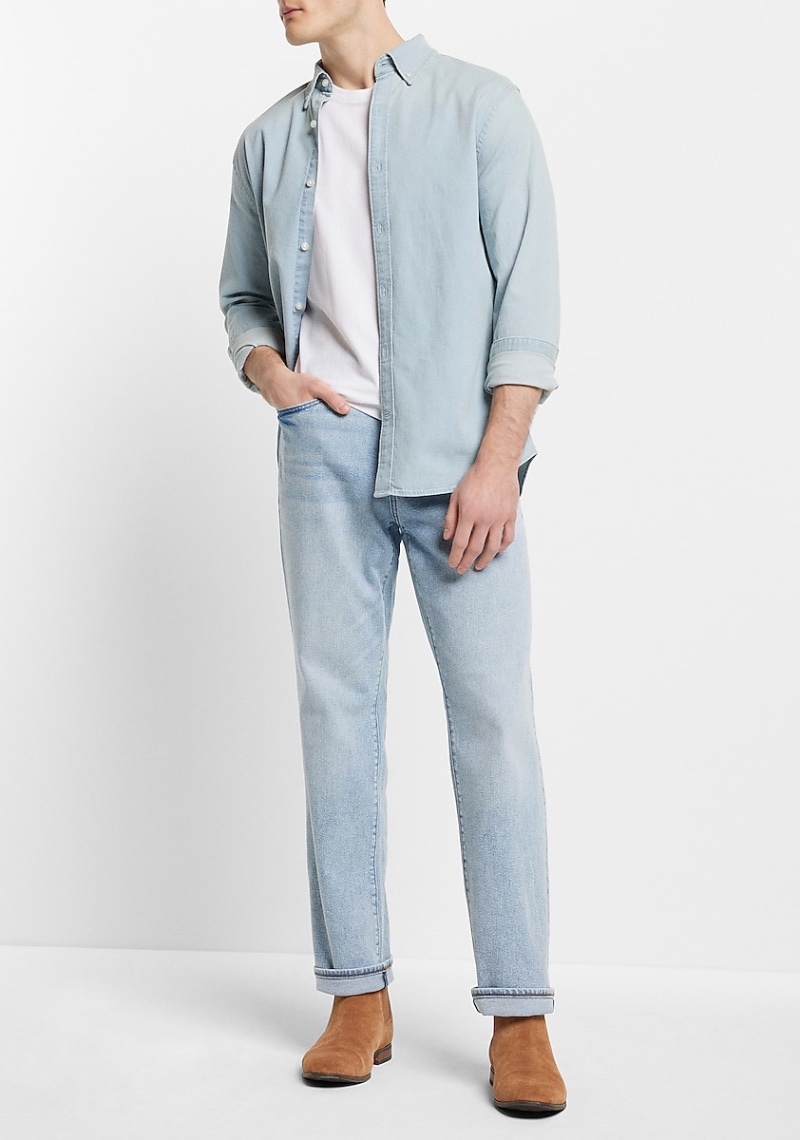 Bootcut jeans have evolved into a mainstream fashion staple, originally designed to fit over a pair of cowboy boots. They feature a slight flare at the bottom of the leg, allowing them to accommodate boots or shoes with a wider sole. Bootcut jeans are ideal for men who prefer a rugged, laid-back style.
Tapered Jeans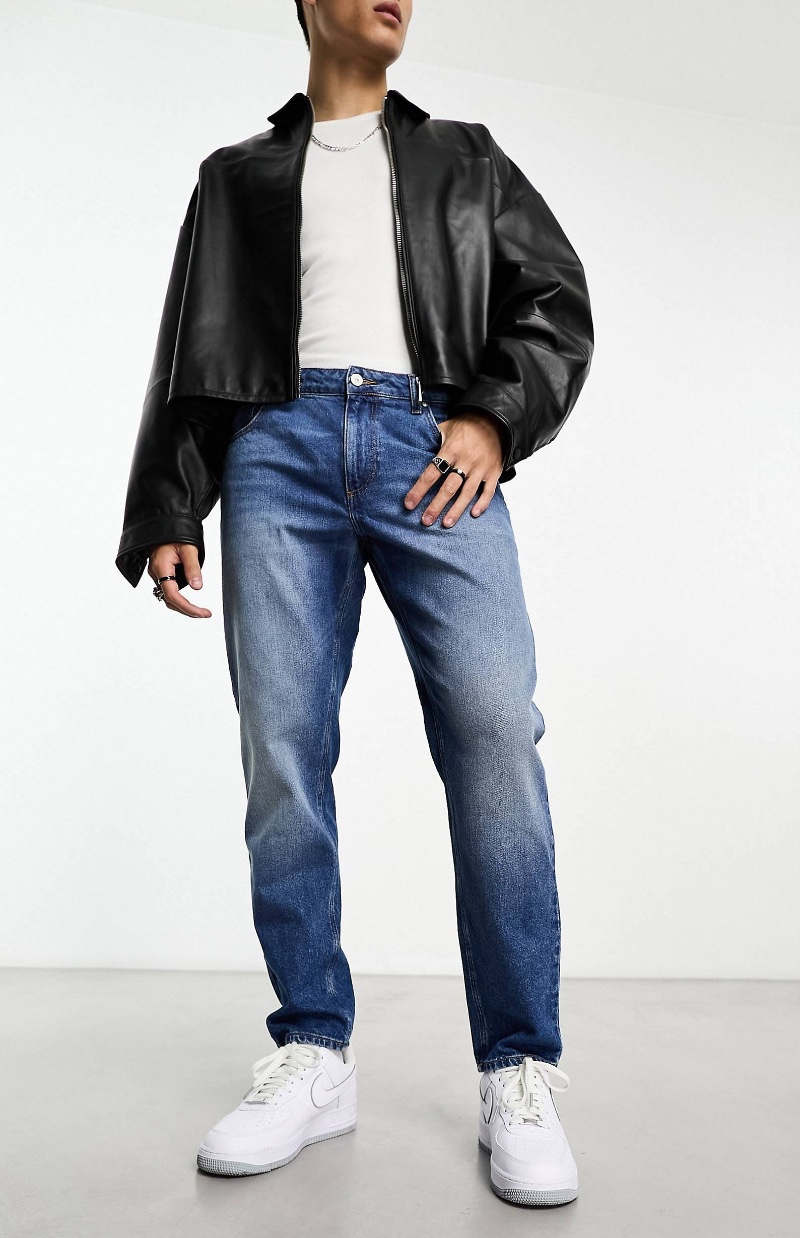 Tapered jeans are a hybrid between straight and slim-fit jeans. They start with a straight cut around the waist and thighs, gradually tapering towards the ankles. Tapered jeans are perfect for men who require more thigh room but desire a more streamlined look towards the ankle.
Slim Straight Jeans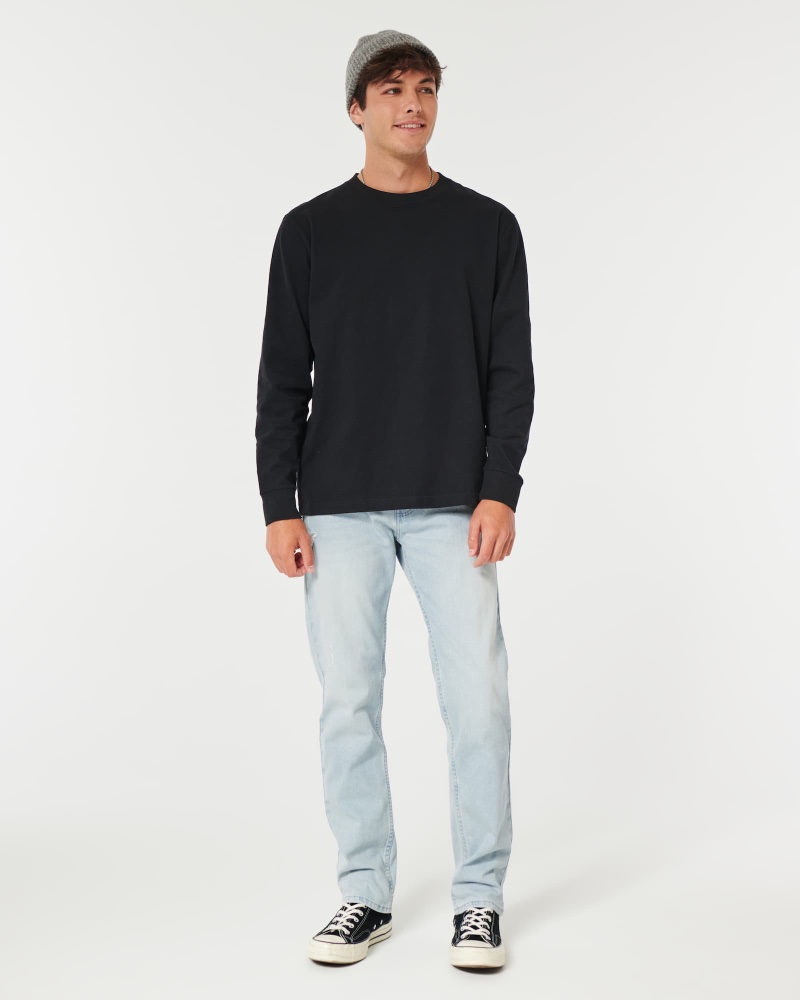 Slim straight jeans offer the best of both worlds—the snug fit of slim jeans and the straight cut of regular jeans. These jeans are slim at the top and straight through the knee, offering a balanced and stylish look.
Straight Taper Jeans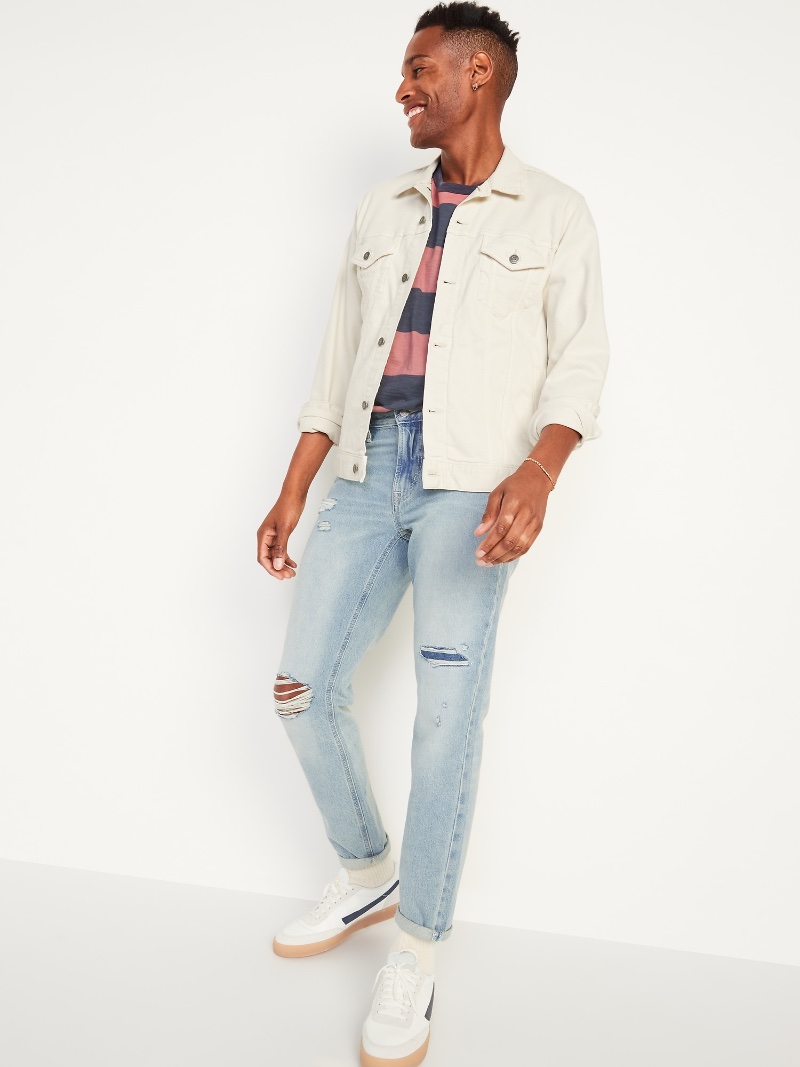 The straight taper jeans are a modern interpretation of the classic straight jeans. They start straight from the waist to the thighs and gradually taper past the knees. This fit is great for men who need more thigh room but want a cleaner leg.
Carrot Fit Jeans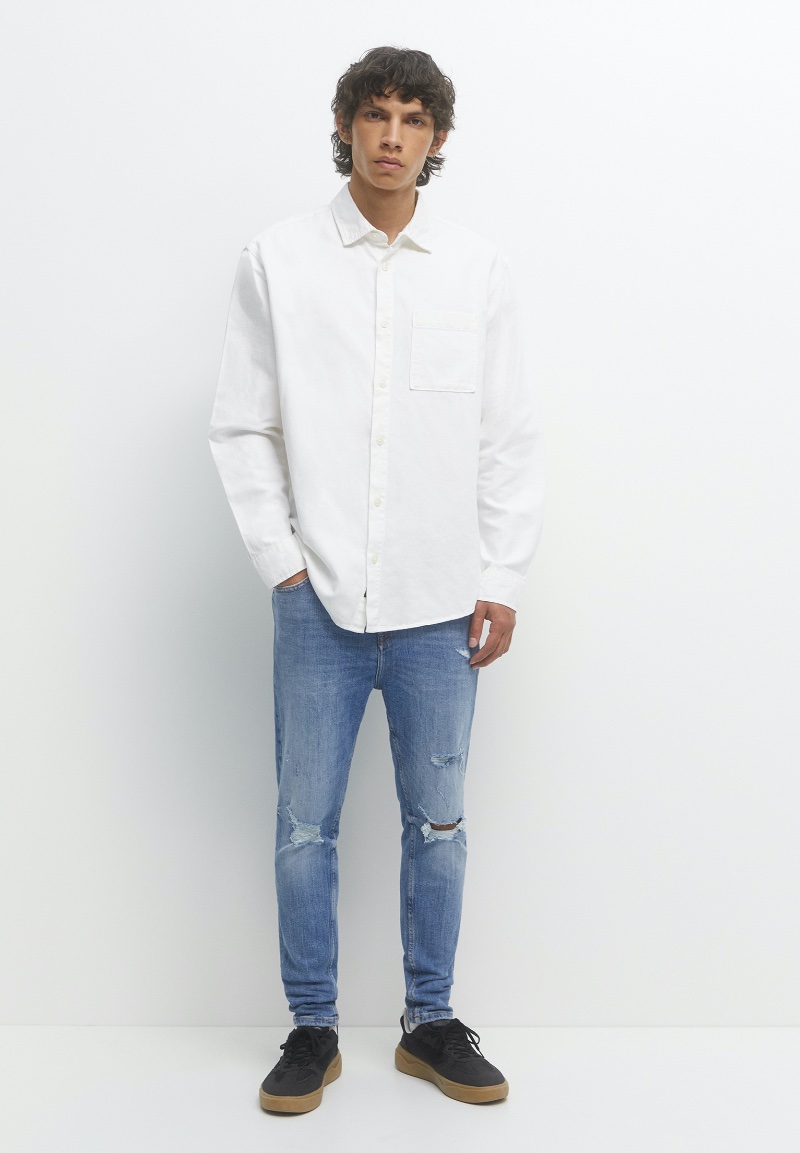 With an intriguing name that's true to its form, Carrot Fit jeans are a unique style that men across various body types have started to embrace. They're cut more generously around the thighs and hips, gradually narrowing down to the ankle, mimicking the shape of a carrot.
Perfect for men with a more muscular build, these jeans balance comfort and style seamlessly. They offer the room you need, where you need it while maintaining a stylish, tapered silhouette towards the ankle.
Dad Jeans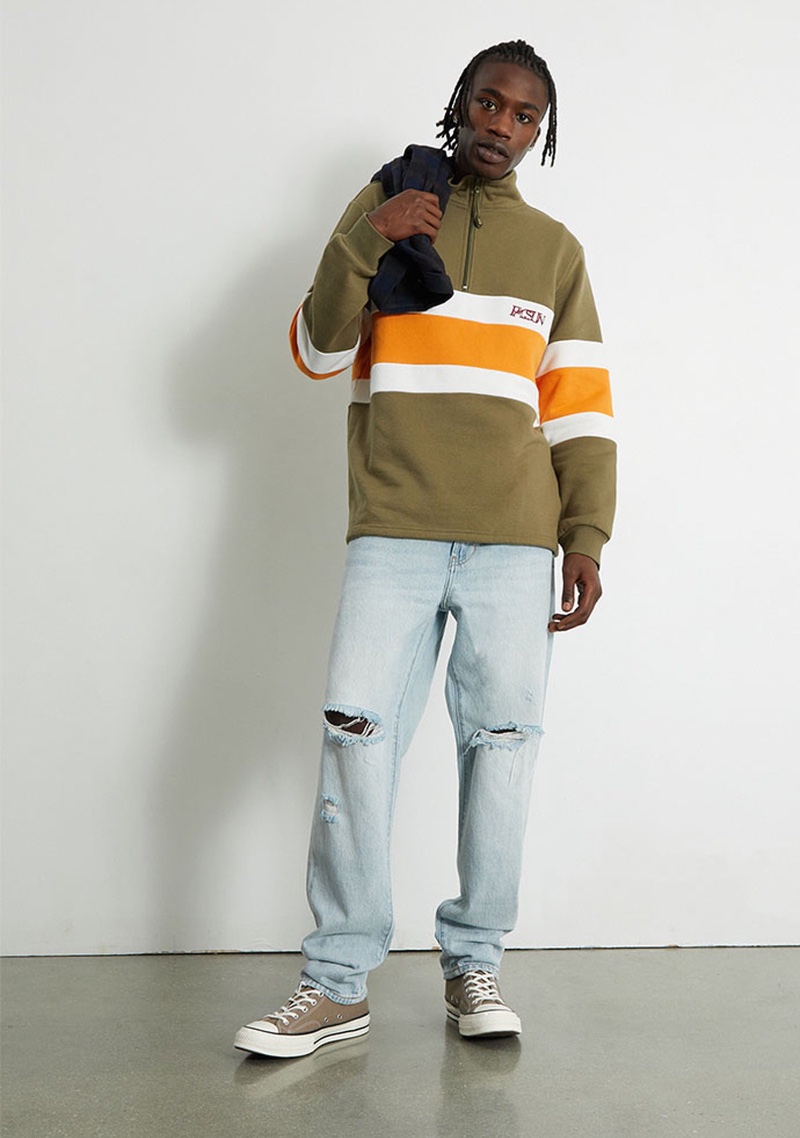 Turning back the clock on fashion, Dad Jeans are making a remarkable comeback. These high-waisted, slightly relaxed-fit jeans are straight from the late '80s and early '90s, offering a refreshing departure from the reigning skinny or slim fits.
This vintage silhouette is favored by the younger crowd seeking comfort paired with an old-school style edge. Pair them with a graphic tee for a truly nostalgic look, or elevate them with a crisp shirt and loafers for a more refined outfit.
Athletic Fit Jeans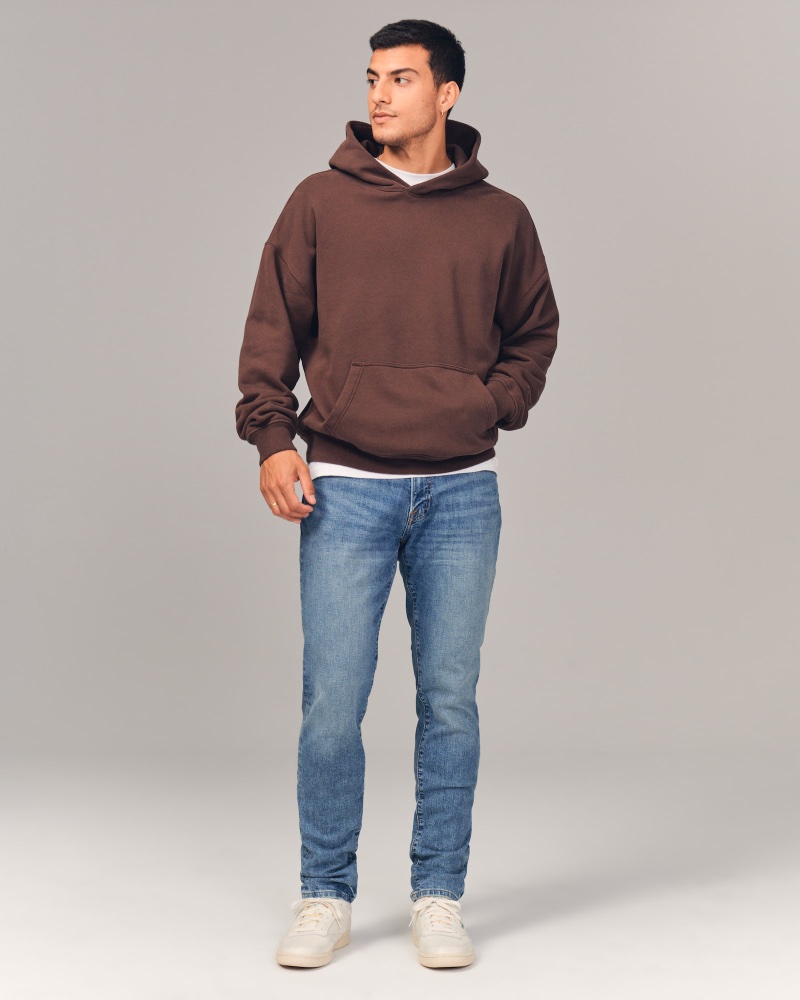 Athletic fit jeans, a relaxed taper, are designed for men with muscular legs. These jeans offer a roomier fit above the knee and taper below for a tailored fit, showcasing and accentuating powerful legs.
Baggy Fit Jeans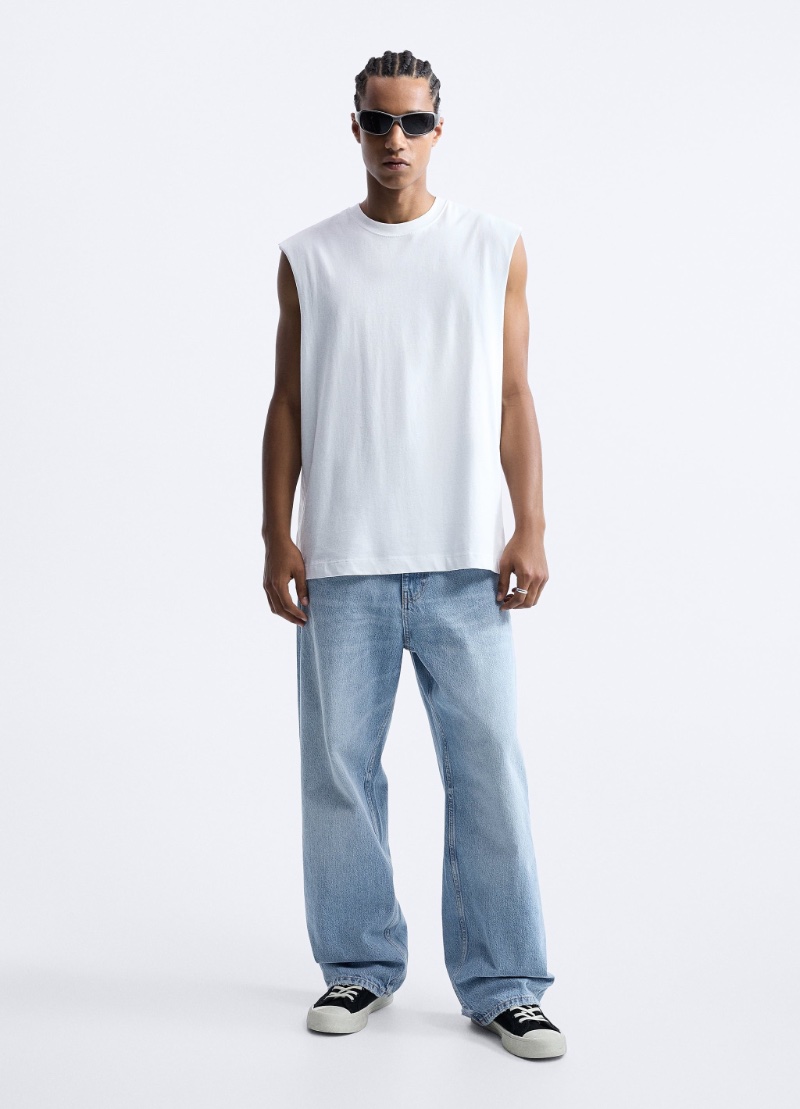 Entering the fashion arena, baggy jeans disrupt the norms of typical denim. They feature an oversized fit from the waist to the ankles, pairing adventurous aesthetics with supreme relaxation.
Coupled with a fitted top, these jeans orchestrate a contemporary, striking, unique, and notable appearance. Perfect for the bold and fearless, baggy jeans are an attention-grabbing item that injects an individualistic flair into any outfit.
Cropped Jeans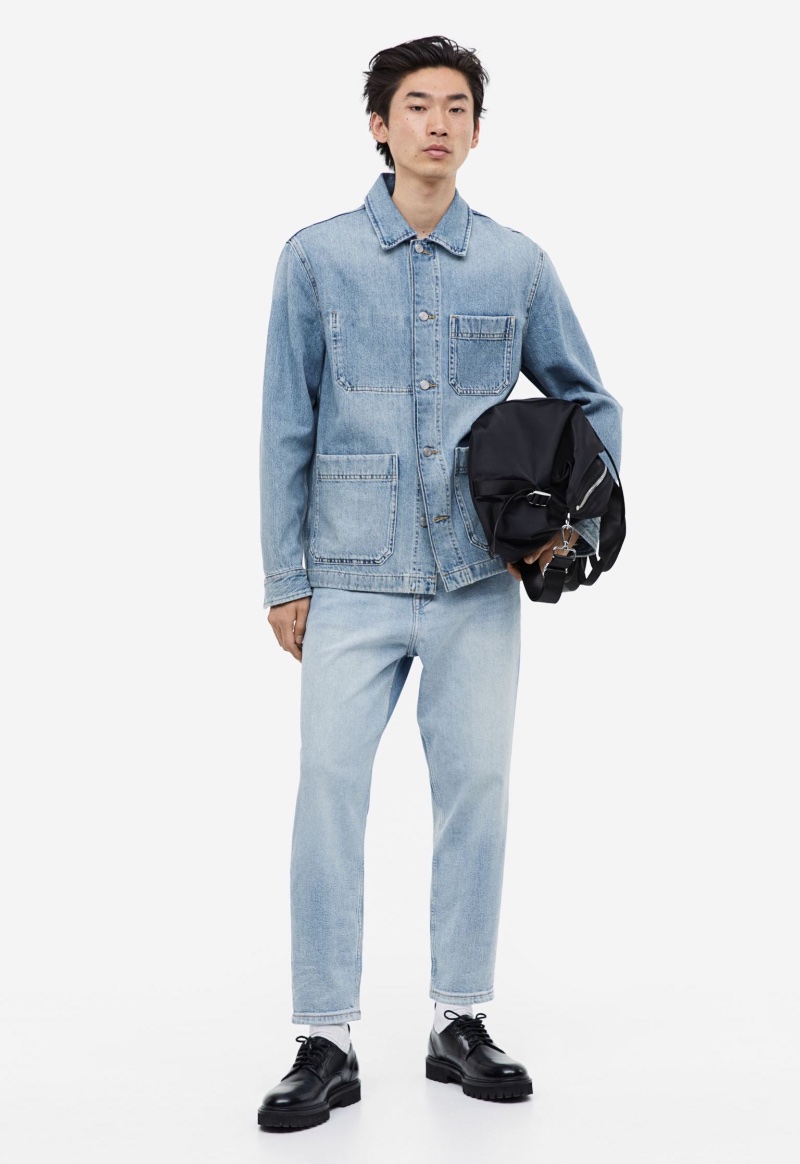 When you want to add an edge to your look or show off those new sneakers, Cropped Jeans are the way to go. These jeans, which end above the ankle, add a fashionable twist to any outfit. Drawing attention to your footwear offers a unique opportunity to elevate your style game.
Understanding Jean Rise
Rise is an essential aspect to consider when choosing jeans. The term refers to the distance from the crotch to the top of the waistband. You'll find three main types: low, mid, and high.
Low Rise
In the early 2000s, low-rise jeans dominated the fashion scene. These jeans rest on the hips, a couple of inches below the navel. The resulting look is casual, even bordering on rebellious. Low-rise jeans could be a viable choice if you've got a lean body type or a preference for a laid-back style.
That said, low-rise jeans have a risk. It's no secret that they tend to reveal too much when sitting or bending over. If you prefer your shirts tucked in, this rise might not be the best option, as the shorter zipper area often leads to a less neat tuck.
Mid Rise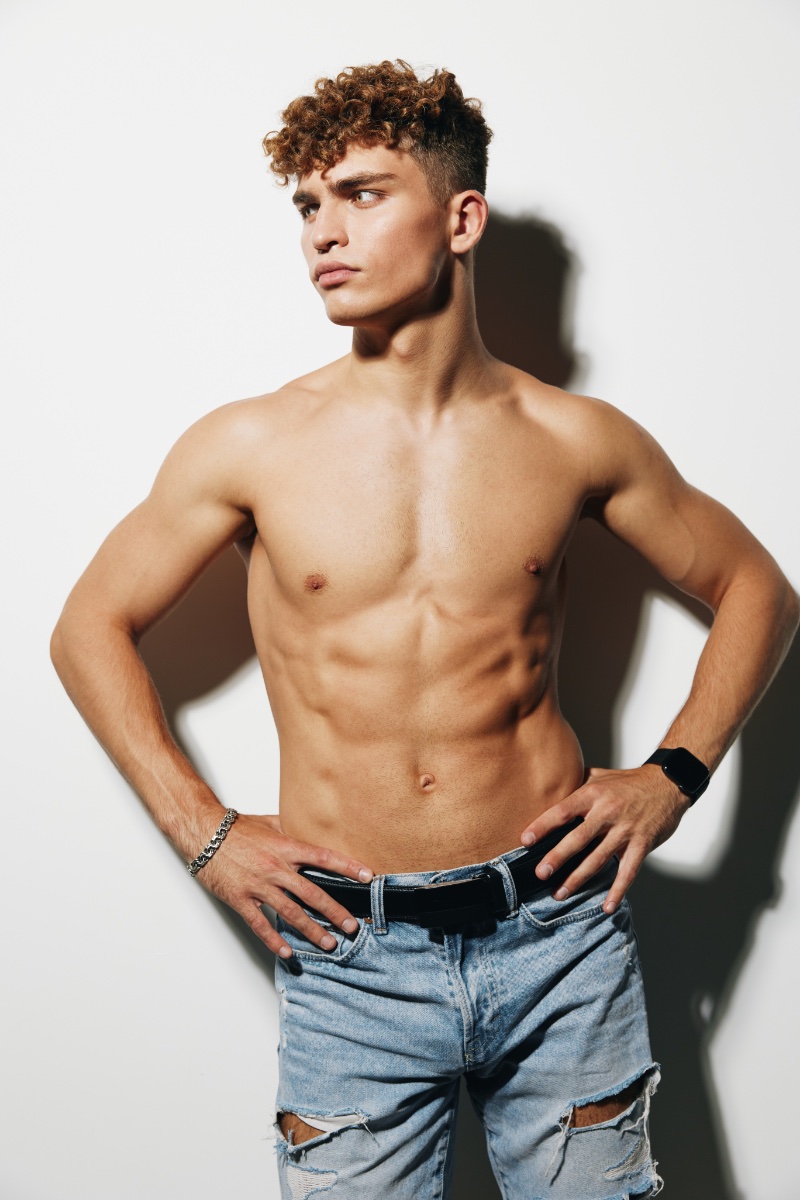 Mid-rise jeans are the everyday workhorse of the denim world. They sit just below the navel, balancing style and comfort. Mid-rise jeans are versatile enough for casual and semi-formal outfits and work well with various body types.
A significant advantage of mid-rise jeans is their ability to make the torso appear longer. This can be particularly beneficial for men with shorter torsos who want a more balanced silhouette.
High Rise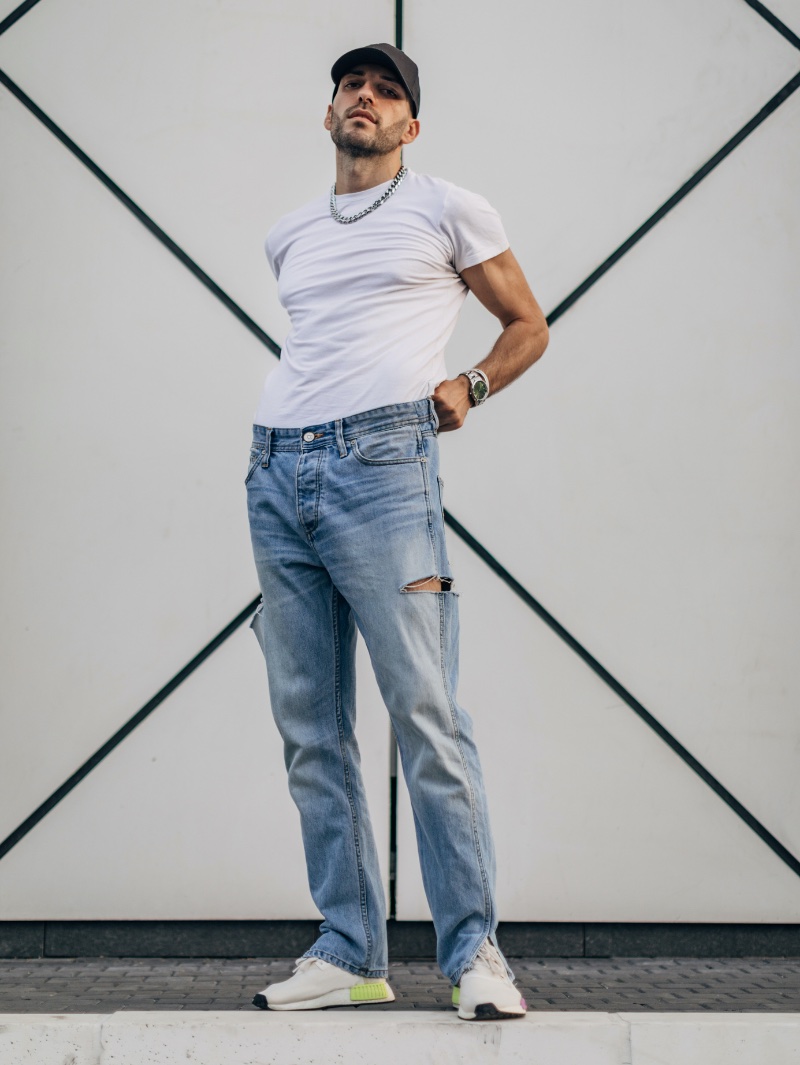 High-rise jeans, often associated with vintage style, are coming back in vogue. The waistband sits on or above the navel, creating a sophisticated, put-together appearance. High-rise jeans are an excellent choice for men with longer torsos or a more traditional look.
Notably, high-rise jeans provide a neat solution for tucking in shirts. With a larger zipper area, the tucked-in shirt remains smooth and less prone to bunching. They also help conceal a protruding belly, offering an overall slimming effect.
Picking the Right Rise
As you consider the different rises, consider your body shape, comfort level, and the look you aim to achieve. Jeans should complement your style and fit well with your wardrobe.
Remember, fashion is personal. What works for one may not work for another. The right pair of jeans is the one that makes you feel good and confident. Choose a rise that matches your style preferences and body type, and you're well on your way to crafting a top-notch look.
Different Types of Jean Cuts
In the intricate world of denim, a jean cut refers to how the fabric contours to your body from the waist down. This aspect, crucial to your denim's appearance and comfort, shapes the silhouette and overall style statement. Understanding jean cuts and their impact on your look is integral to choosing the right pair.
Straight Cut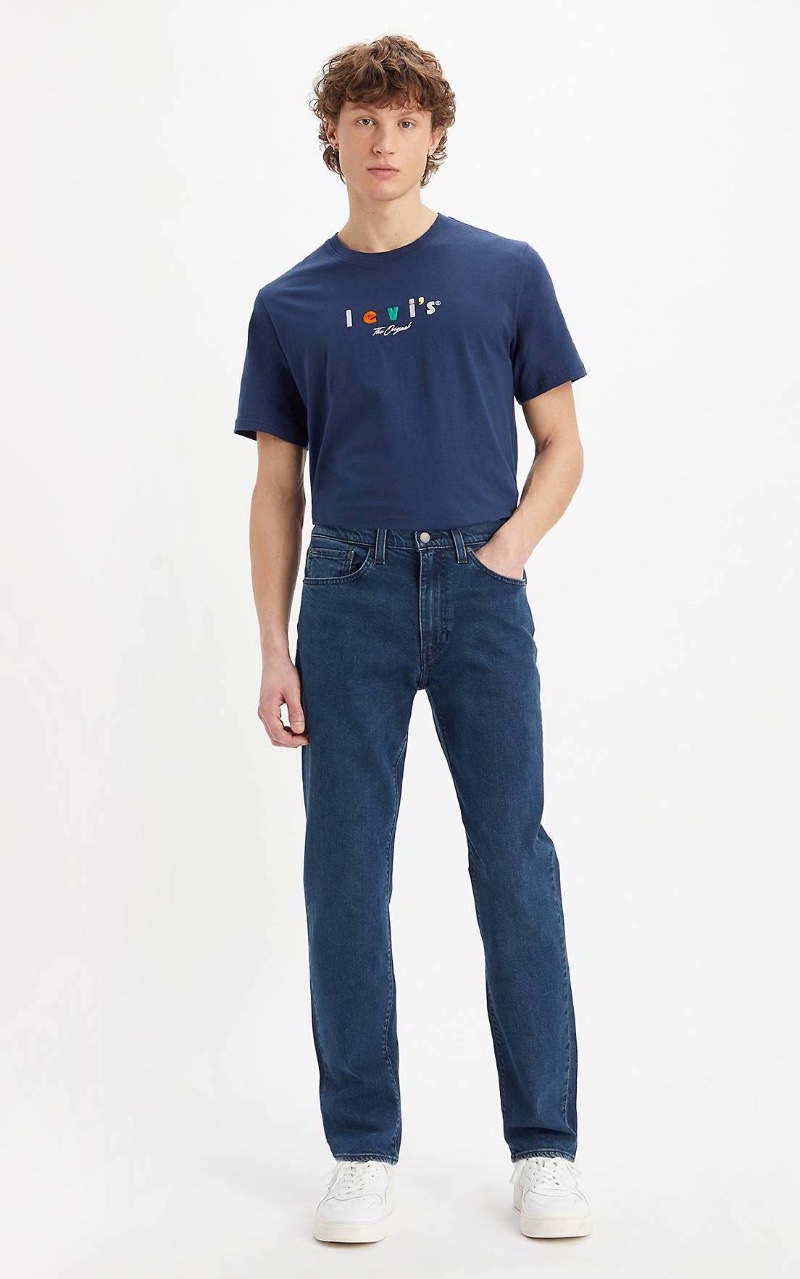 Uncomplicated and timeless, Straight Cut jeans remain a staple in men's wardrobes. With a uniform width from the hips down to the ankles, they lend a balanced, versatile look that complements various body types. Not too loose, not too tight—the Goldilocks zone of denim, if you will.
Bootcut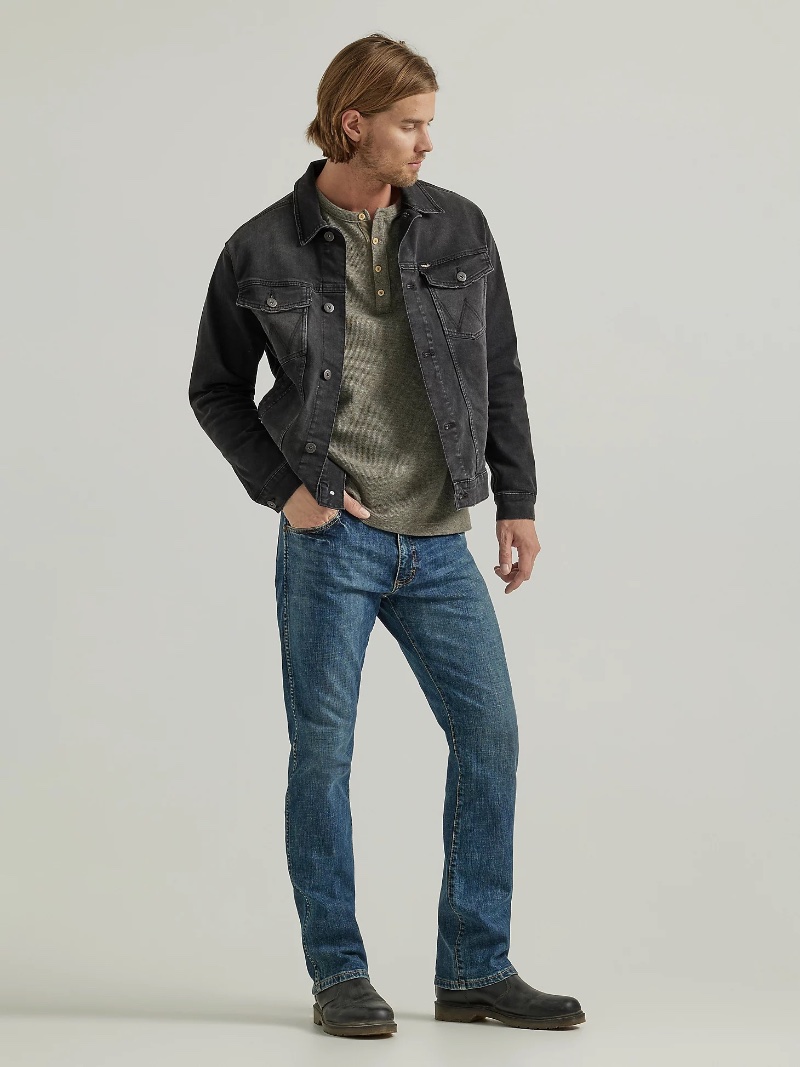 Crafted with a nod to practicality, Bootcut jeans, as their name suggests, were initially designed to accommodate cowboy boots. They maintain a straight fit through the thigh and subtly widen from the knee down, creating enough room to slip over a boot. They're a choice that offers an effortless, laid-back aesthetic.
Flared Cut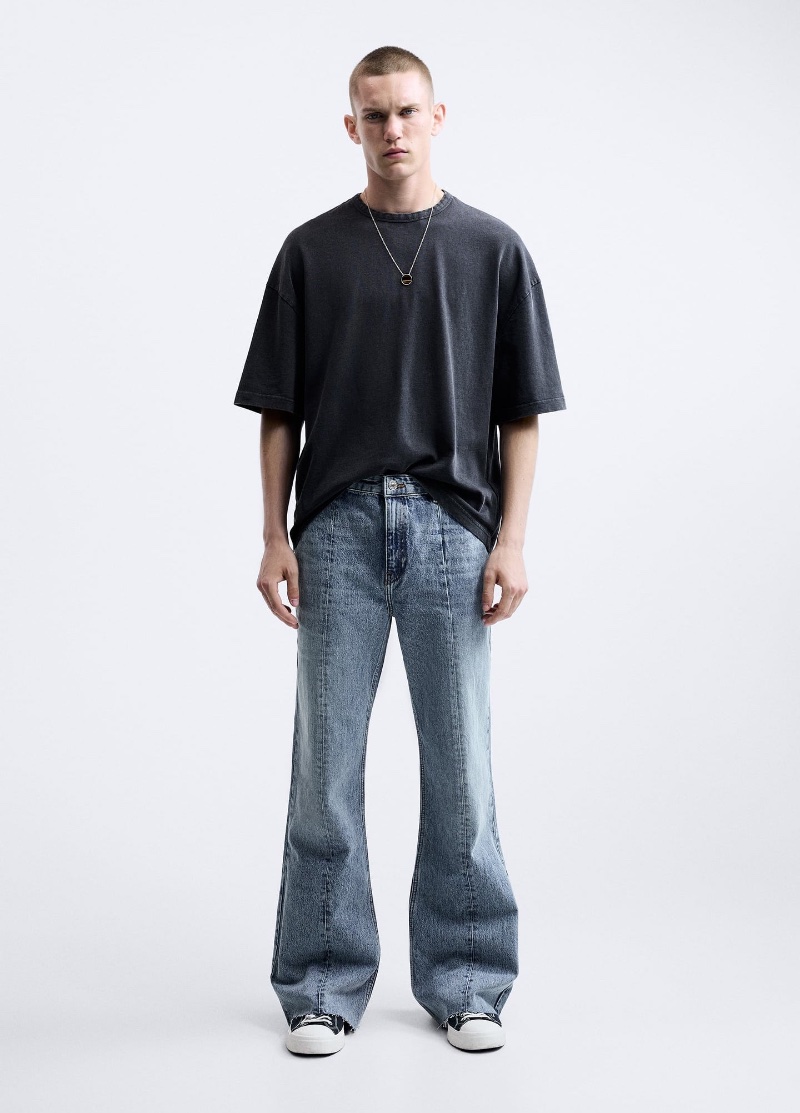 A style that peaked in the '70s, Flared Cut jeans are characterized by a dramatic widening from the knee to the ankle, creating a distinctive bell-like shape. Despite their fluctuating popularity, they can add a dash of vintage flair when styled thoughtfully.
Tapered Cut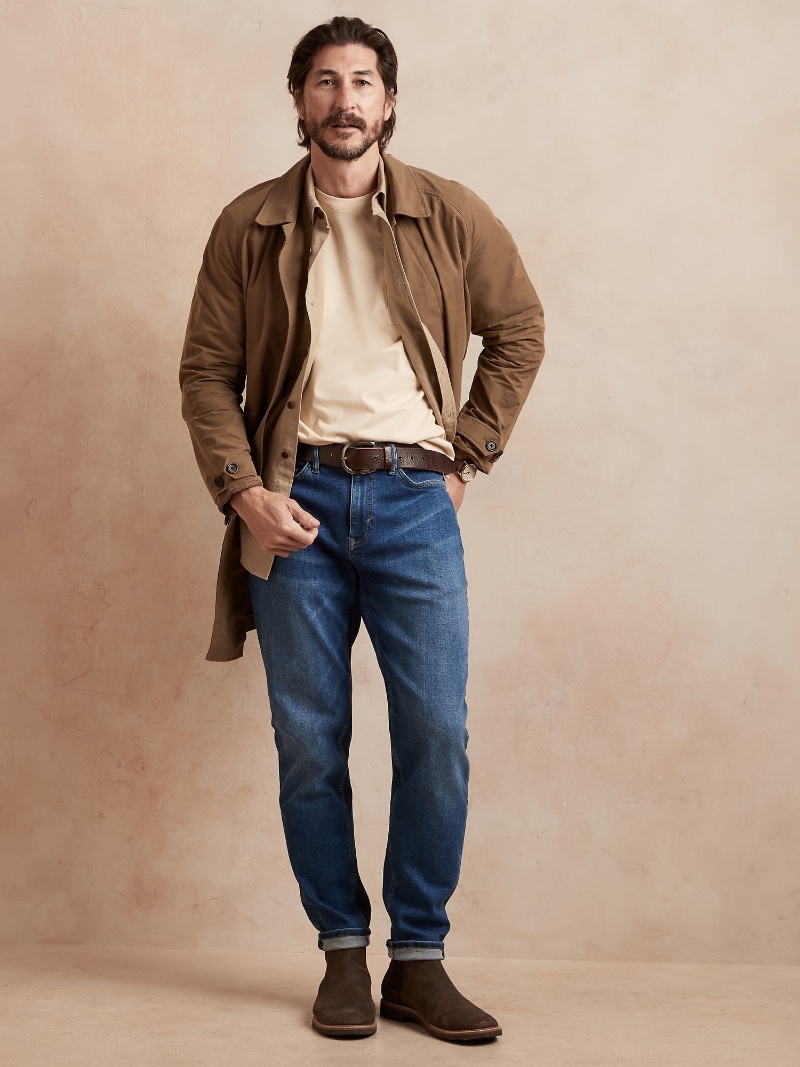 Tapered Cut jeans, also known as carrot cut, blend style with comfort seamlessly. They're wider at the top, around the hips and thighs, and gradually narrow towards the ankles. This creates a contemporary, fitted look that suits various body types.
Skinny Cut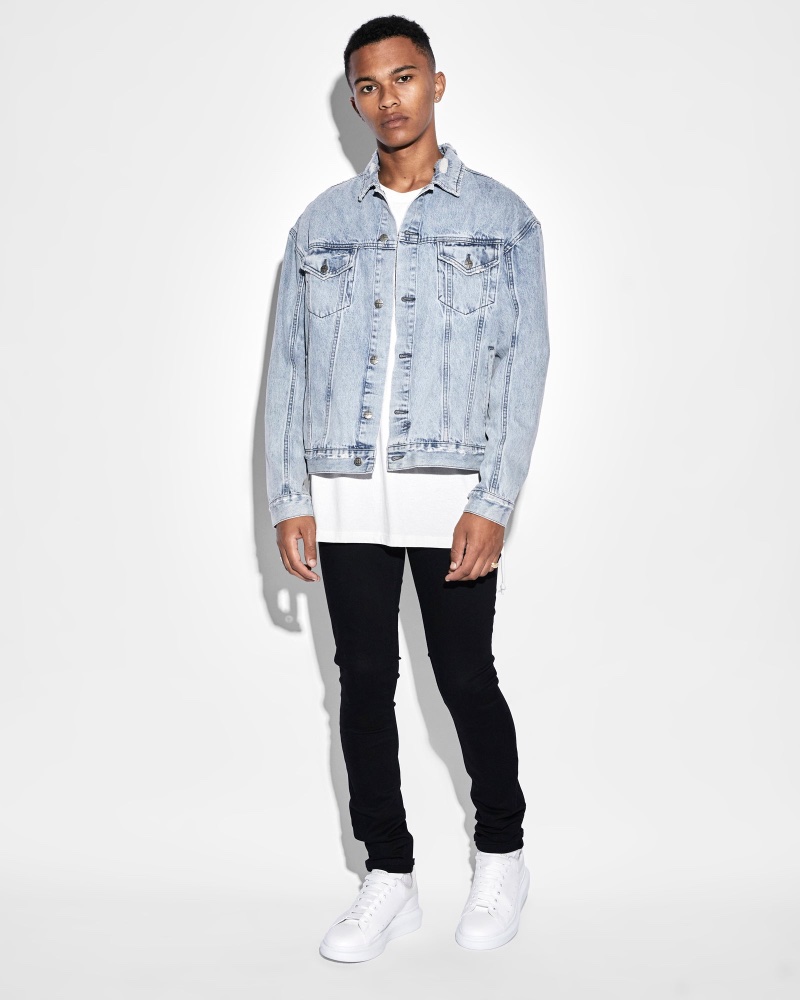 Riding the wave of modern fashion trends, Skinny Cut jeans are made to hug your body closely from the waist to the ankle. This cut highlights the shape of your legs and creates a sleek, streamlined look. Ideal for those with slimmer or athletic builds, Skinny Cut jeans can provide an edgy touch to your outfit.
Denim Fabric: A Deep Dive
Whether you're a denim enthusiast or a casual wearer, understanding the fabric behind your jeans can enhance your appreciation and help you make the right style decisions. Fabric and material play an instrumental role in defining comfort, longevity, and the overall aesthetic of your jeans.
The Wonders of Pure Cotton Denim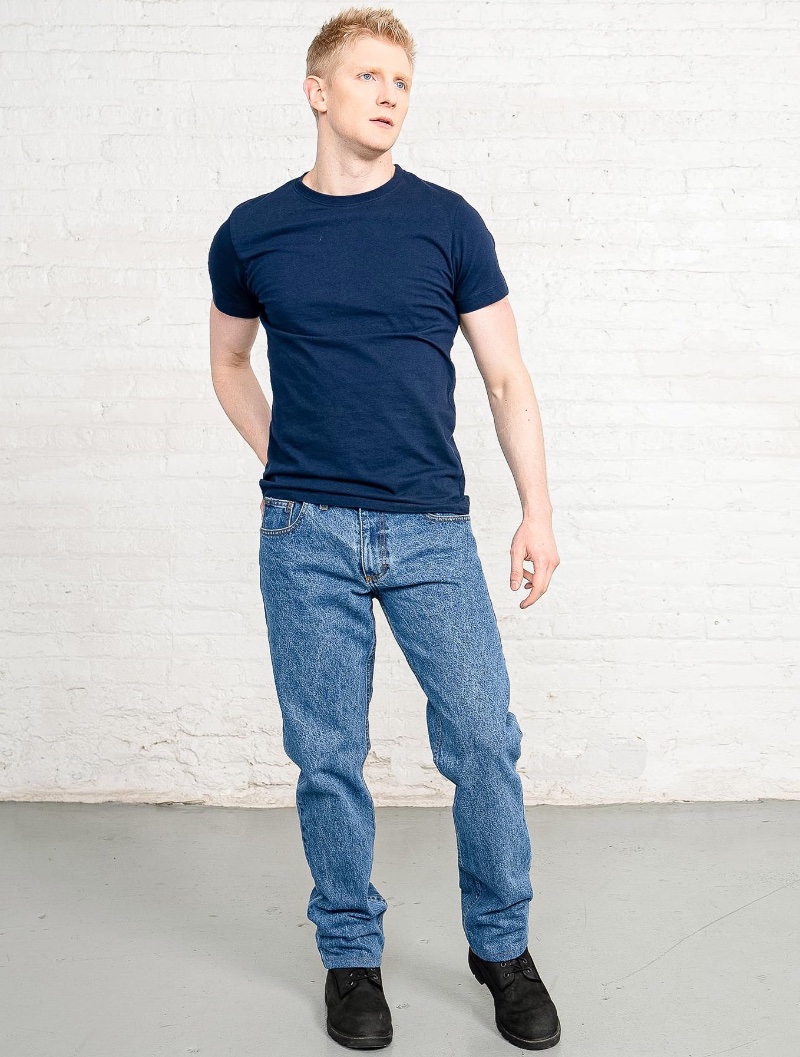 Steeped in tradition, 100% cotton denim offers an authentic and timeless appeal. It's known for its durability and classic stiffness, which gradually molds to your body, developing a unique wear pattern or fade. Cotton denim can be the perfect canvas for the rugged cowboy or street-style connoisseur look.
Embracing Flexibility: Stretch Denim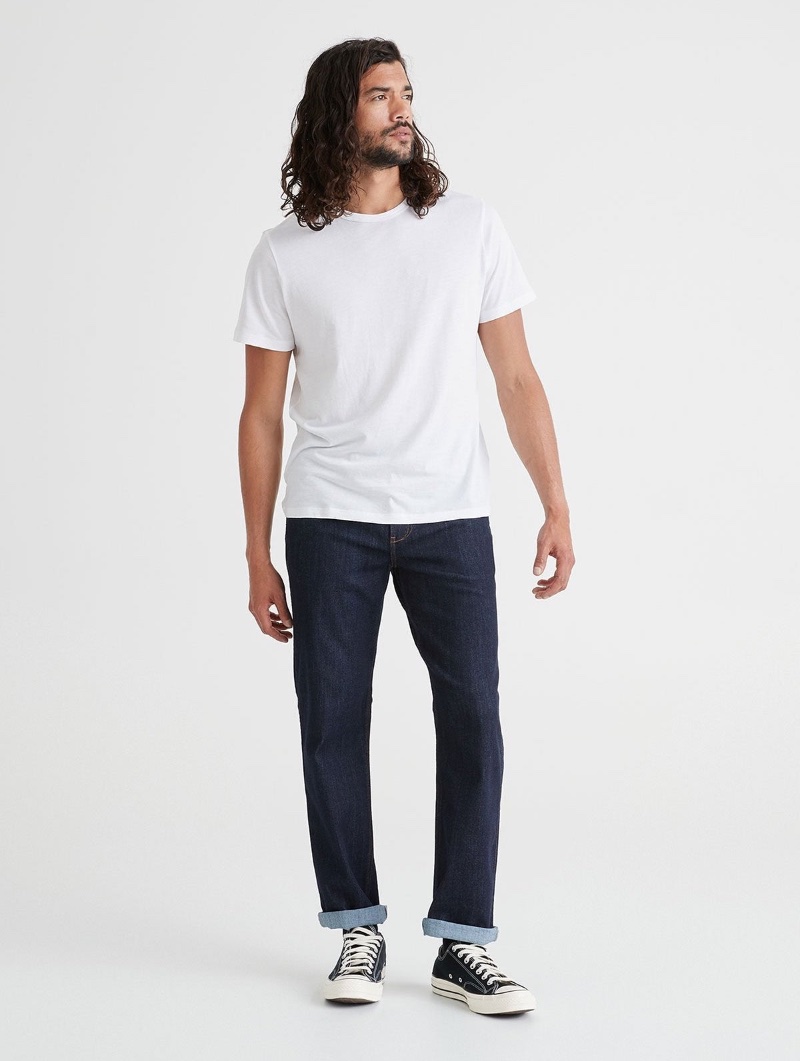 By weaving in a bit of elastane with cotton, we arrive at the game-changing stretch denim. With the elasticity, these jeans offer greater mobility and comfort, perfect for those seeking a snug fit without constriction. From slight to comfort to extreme, stretch levels vary, each promising a unique blend of comfort and style.
The Rolls-Royce of Denim: Selvedge Denim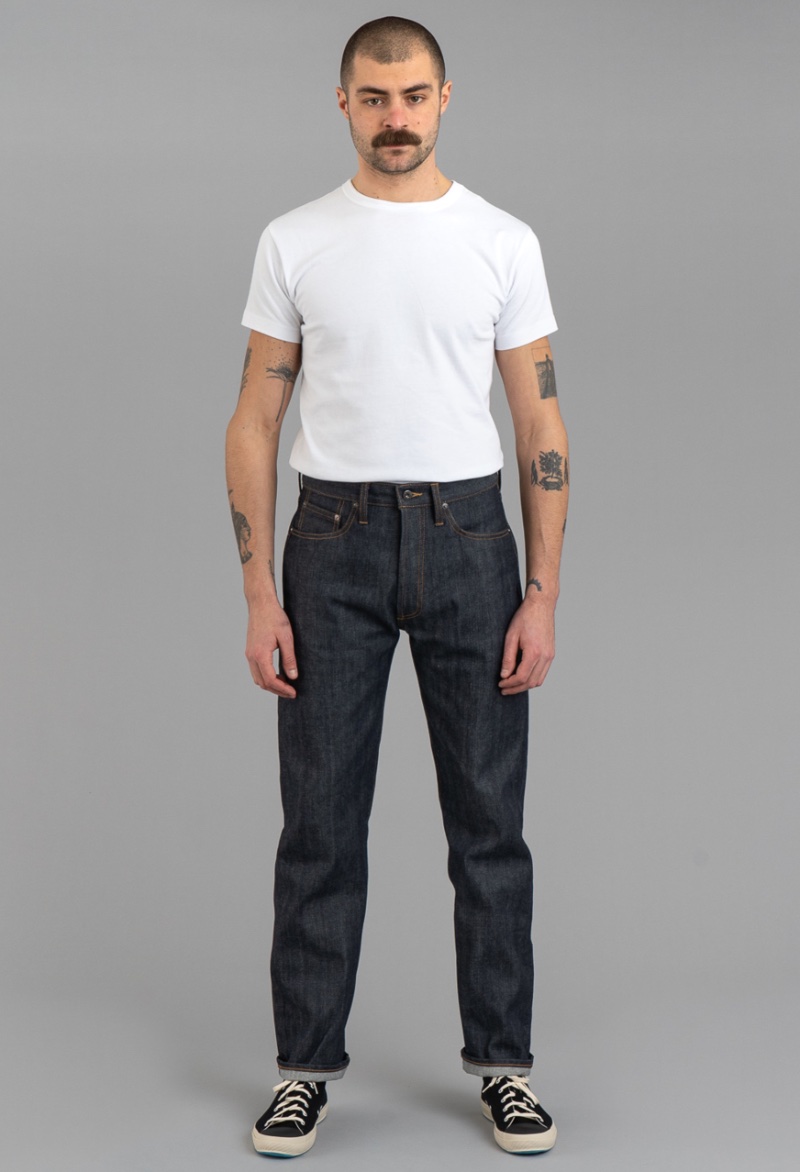 Selvedge, short for self-edge, refers to denim woven on old-style shuttle looms. The result is a cleaner edge that doesn't fray, synonymous with high-quality craftsmanship. While it often comes with a higher price tag, selvedge denim promises durability and a unique wearing experience that develops a personalized fade over time.
Delving Into Brand Specific Fabrics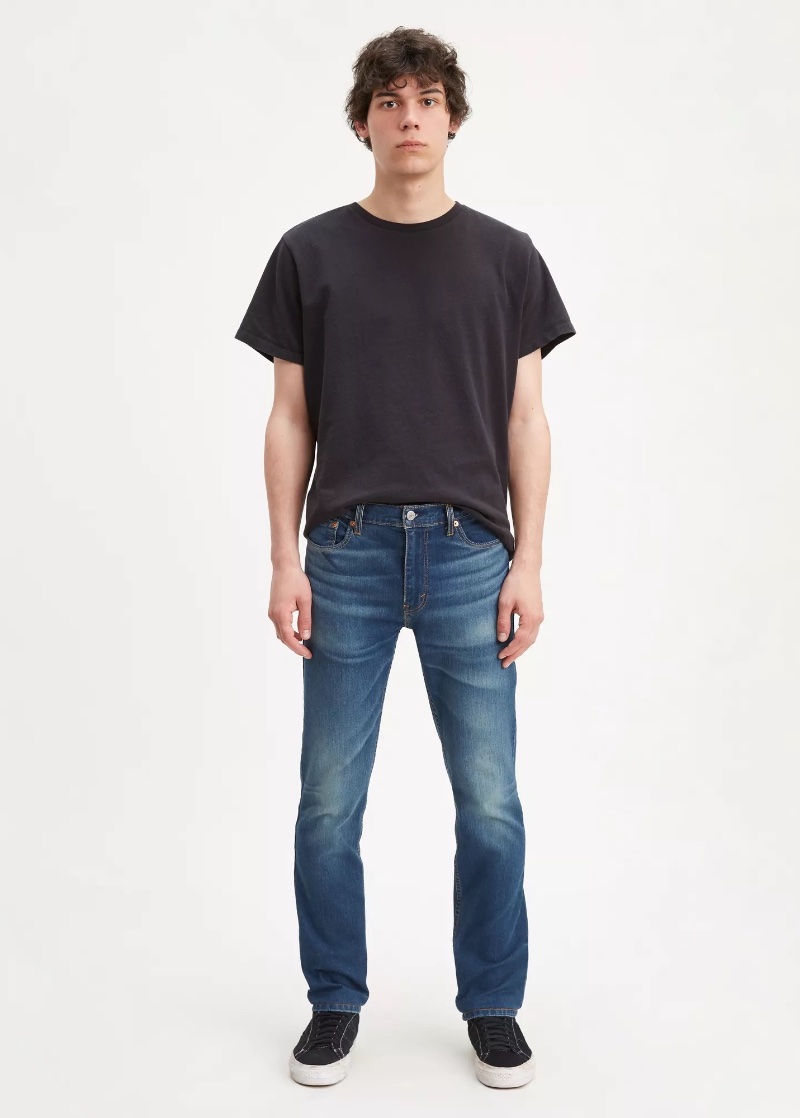 Many labels have their own unique denim blends, pushing the boundaries of what's possible with jeans. From innovative stretch combinations to eco-friendly fabrics, these variations can offer nuanced fit, aesthetic, and sustainability differences. Remember, no two pairs of jeans are the same—the brand-specific fabric plays a vital role in that uniqueness.
Fabric Weight
In denim parlance, weight refers to the heaviness of the fabric, measured per square yard in ounces (oz). While lightweight denim (under 12oz) promises comfort and ease, heavier denim (over 16oz) provides unparalleled durability and distinct fade patterns. Choose based on your comfort preference, climate, and desired aesthetic.
Denim Fit: Waist & Inseam Sizing
Understanding waist and inseam measurements is essential to wear jeans that look good and feel comfortable. These two numbers define the size of your jeans and are the primary determinants of how well they fit you. The first number indicates your waist size, and the second represents the inseam length.
The Waist Measurement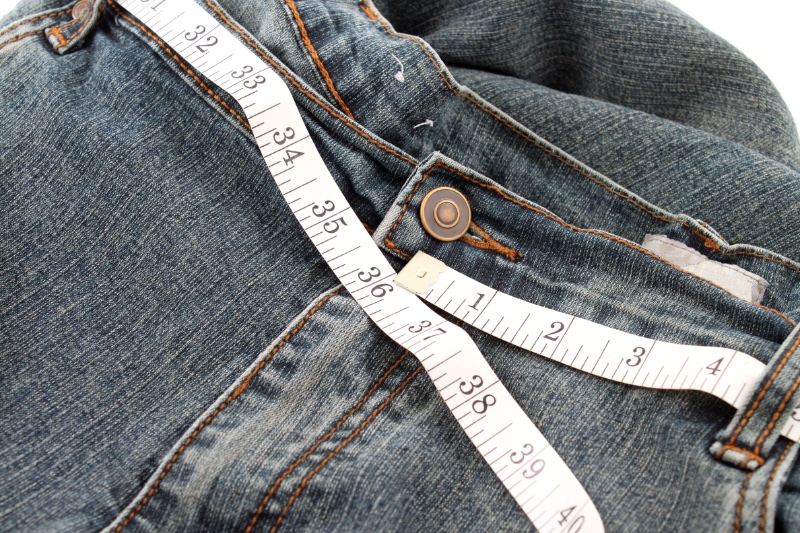 The waist size is the circumference of the jeans at your waistline. It's measured in inches and typically ranges from 28 to 40 for most men's jeans. A good fit around the waist is vital for comfort and style. Jeans that are too tight can be uncomfortable and unflattering, while jeans that are too loose may lack structure and look untidy.
To measure your waist, use a flexible tape measure. Wrap it around the part of your body where you like your jeans to sit. Some men prefer wearing their jeans higher, around the natural waist, while others might like them a bit lower, on the hips. Keep the tape measure level, and don't pull too tight—you should be able to fit a finger comfortably between your body and the tape.
The Inseam Measurement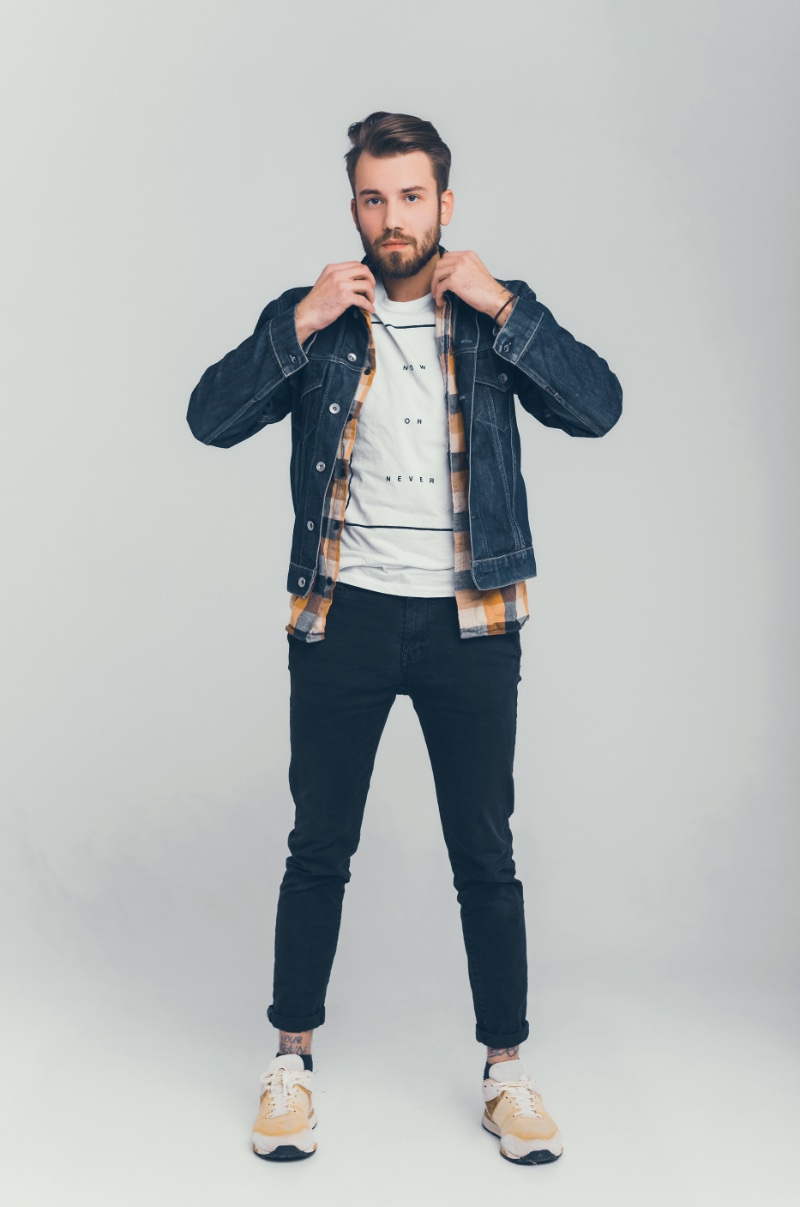 Inseam refers to the length of the jeans along the inner part of your leg, starting from the crotch down to the bottom of the leg. It determines where your jeans will end relative to your shoes and significantly influences the overall appearance of the jeans.
You'll need a pair of pants that fit you well to measure your inseam. Lay them flat and measure from the crotch seam to the bottom of the leg. The resulting number, in inches, is your inseam.
The Break
Here are the three standard jean lengths, each resulting in a different "break" or crease where the jeans meet your shoes: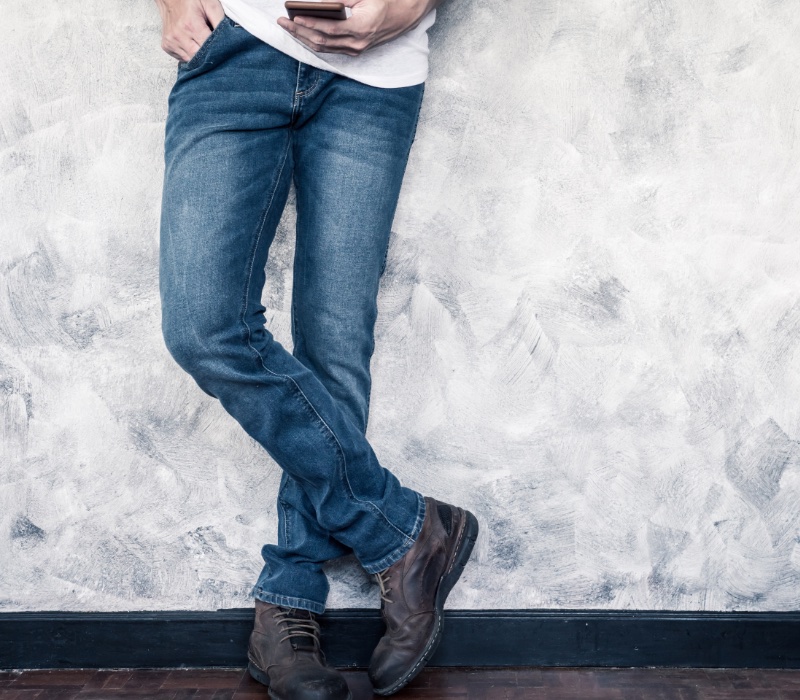 Full Break: If you prefer a more traditional style, go for a full break. The jeans cover most of your shoe, resulting in a noticeable crease. Ideal for regular and relaxed fits.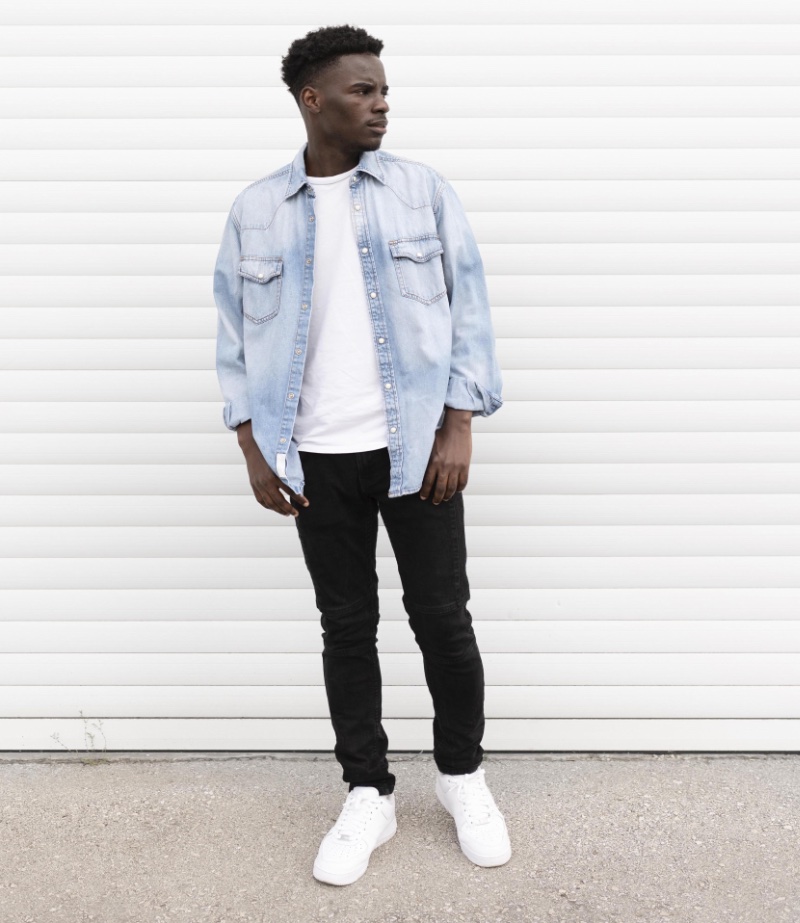 Half Break/Slight Break: Choose a half or slight break for a more modern, versatile look. The jeans reach the top of your shoes, causing a small break in the fabric. Works well with various types of jeans and shoes.
No Break: Opt for no-break jeans for a clean, contemporary look. These meet your shoes without creating any creases. Best suited to slim or skinny jeans paired with low-top shoes.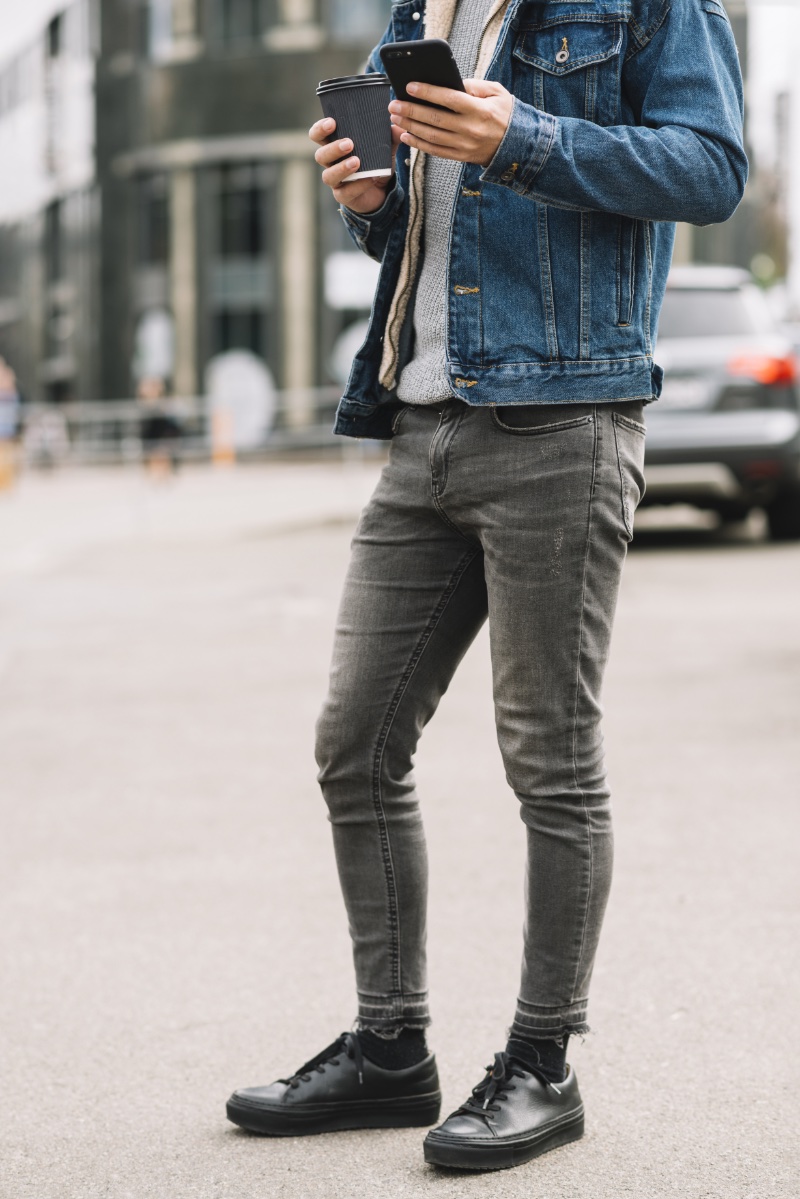 Let's not forget Cropped Jeans. Shorter than standard lengths, these jeans end above the ankle, perfect for showcasing your footwear.
Choosing the right waist size and inseam length guarantees a well-fitted pair of jeans, enhancing your comfort and style. Various options let you mix and match based on your mood, occasion, and style. So, explore the world of denim fits and find your perfect pair.
Exploring Denim Washes: An Exercise in Style
In the dynamic and multifaceted world of denim, washes play a significant role in defining the personality of your jeans. Wash is the treatment process applied to denim to achieve a particular look, texture, or color.
Each wash offers a distinct aesthetic, adding a unique dimension to the overall style narrative of the jeans. Below, we venture into the common types of denim washes that fashion-forward men should know about.
Raw or Dry Denim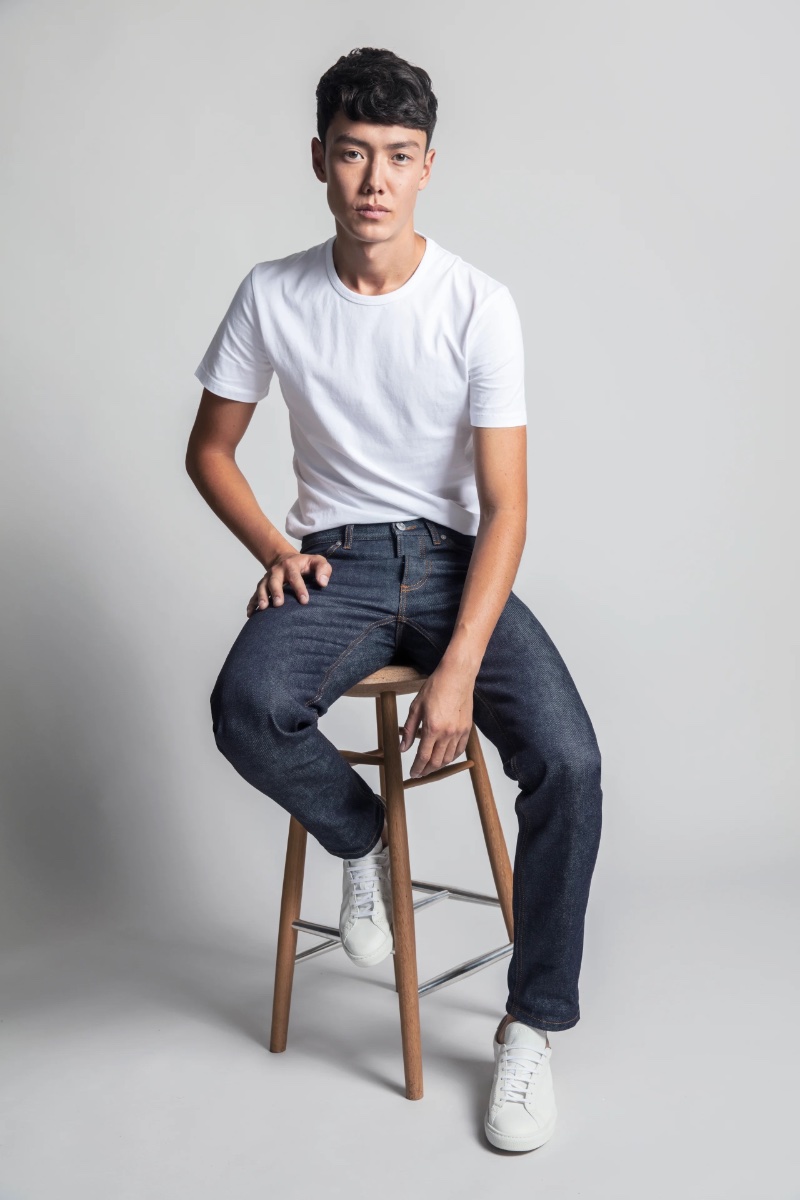 Raw or Dry Denim is the purest form of the fabric. Absent any post-dyeing wash process, these jeans retain the original denim's pristine, rich indigo color. Stiffer and heavier, raw denim evolves with wear, developing a personalized patina that reflects the wearer's lifestyle.
Stone Wash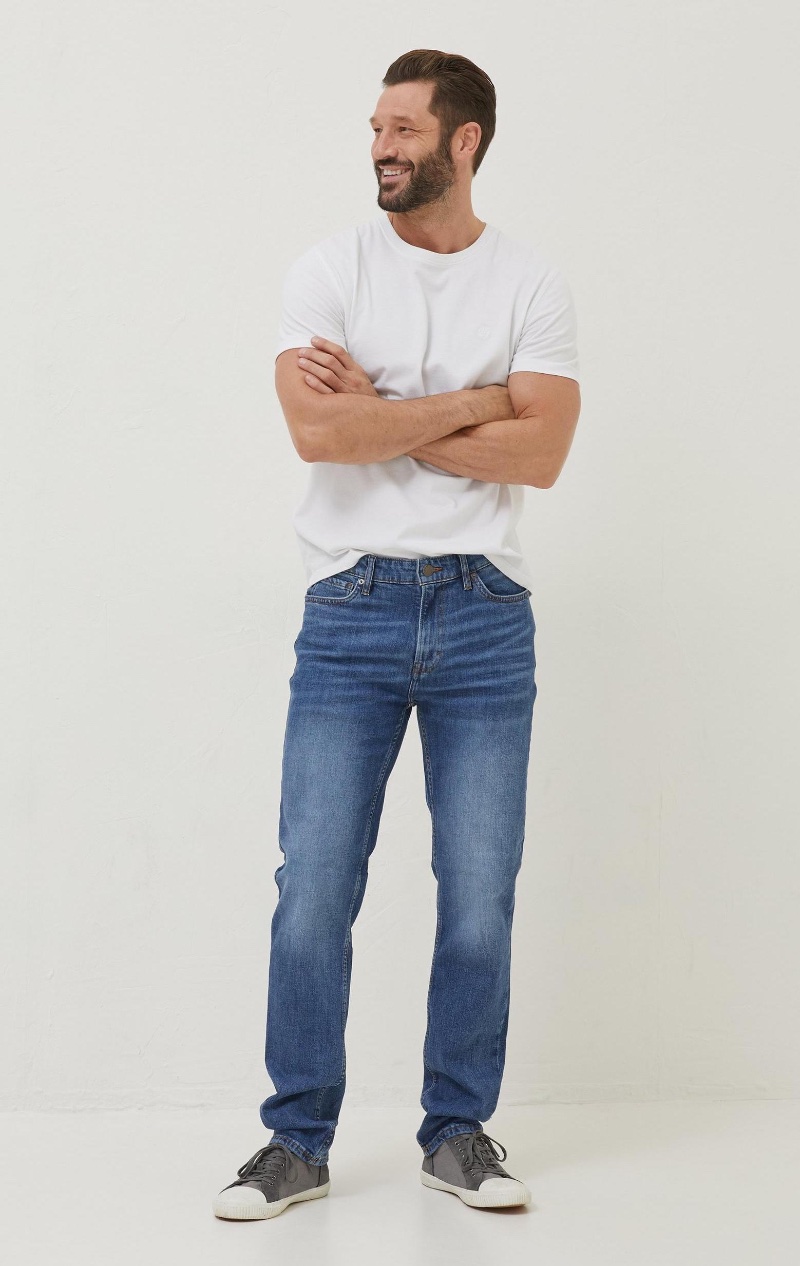 For a worn-in, comfortable feel, Stone Wash denim comes into play. Subjected to a wash process with pumice stones, the fabric acquires a faded, textured appearance. The result is a pair of jeans with a well-loved, vintage vibe that's supremely comfortable from the first wear.
Acid Wash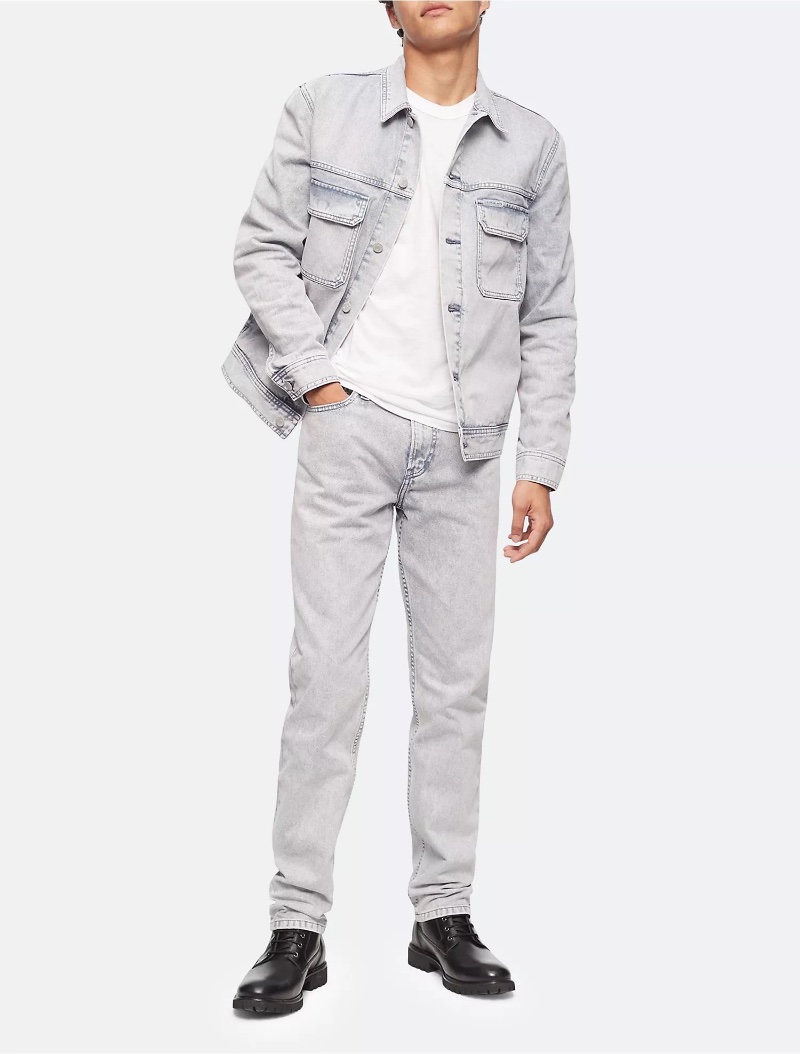 Acid Wash denim leaps into the bold and dramatic. In this process, the jeans are soaked with pumice stones in a chlorine mixture, strikingly contrasting the original blue and the white threads underneath. This bleach-splattered effect, wildly popular in the 80s, brings an edgy touch to your denim ensemble.
Rinse Wash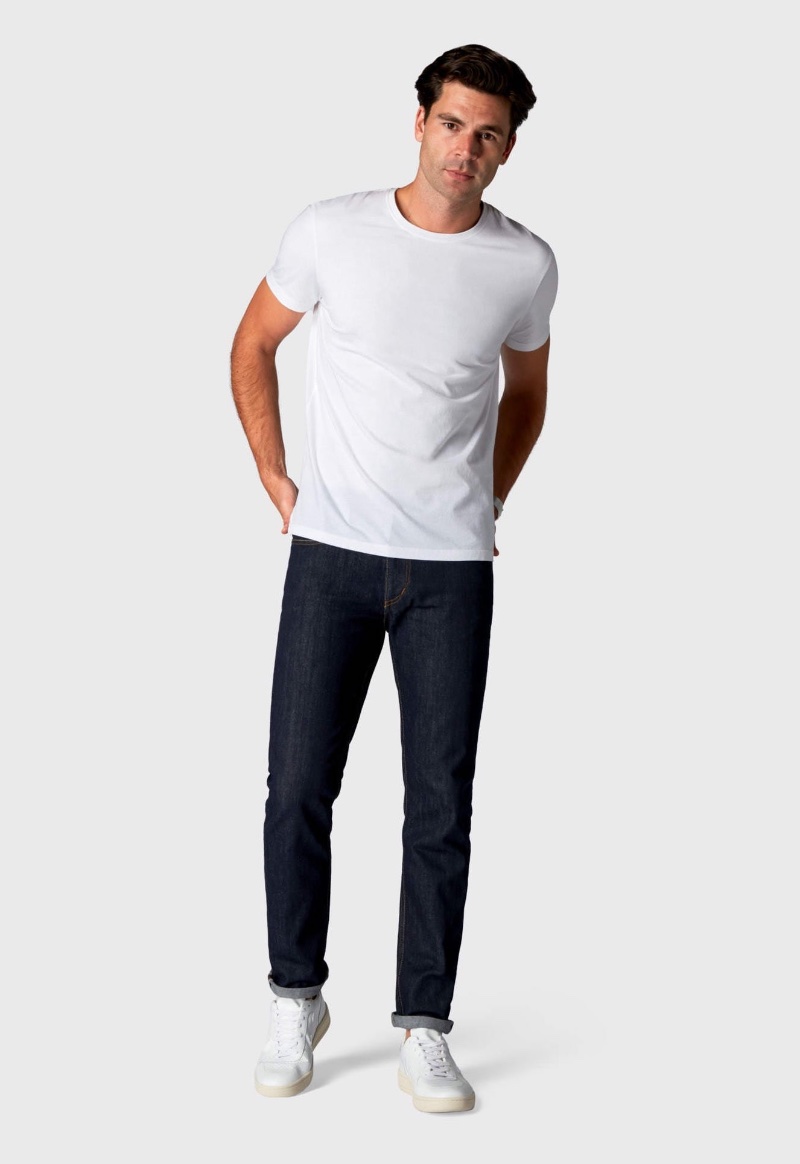 Rinse Wash is a minimalistic approach to treating denim. The jeans are rinsed in water to remove excess dye post-coloring. The result is denim that retains much of its original dark blue hue but gains softness and eliminates potential shrinkage.
Vintage or Distressed Wash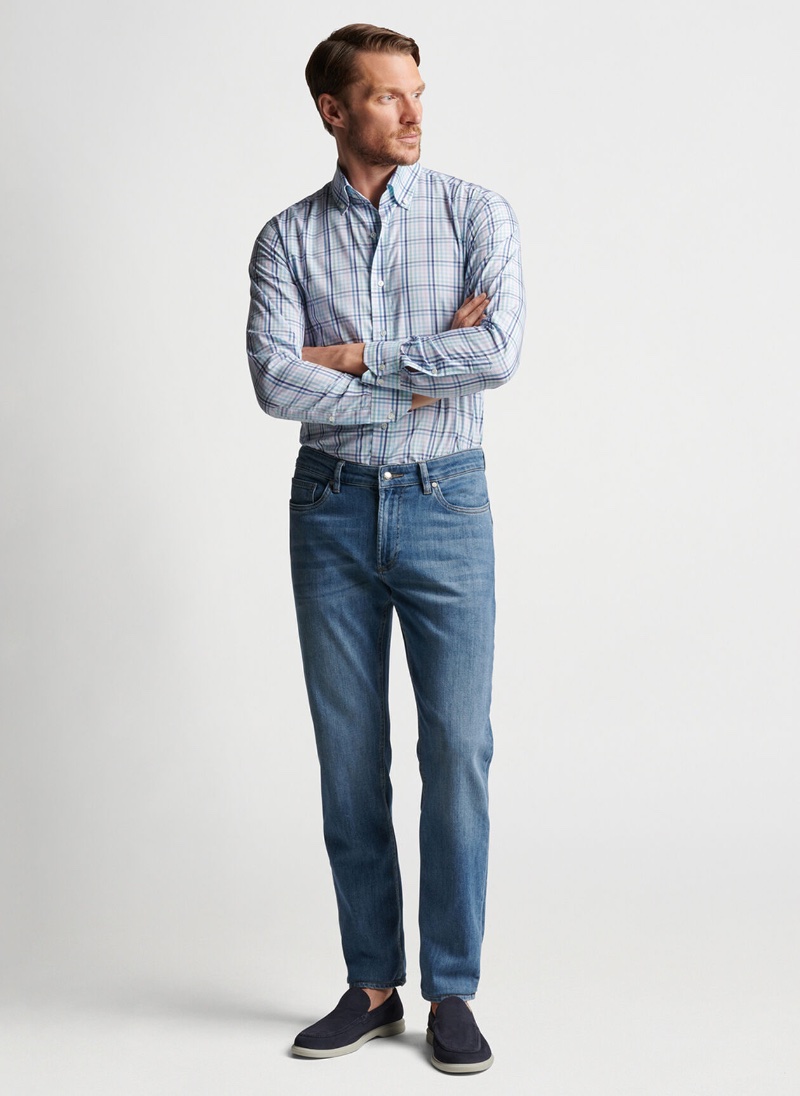 Looking to channel a rustic, rugged aesthetic? Vintage or Distressed Wash is your go-to. Techniques like sanding, ripping, or bleaching create an aged, worn look, packing your jeans with character and a sense of history.
Dirty Wash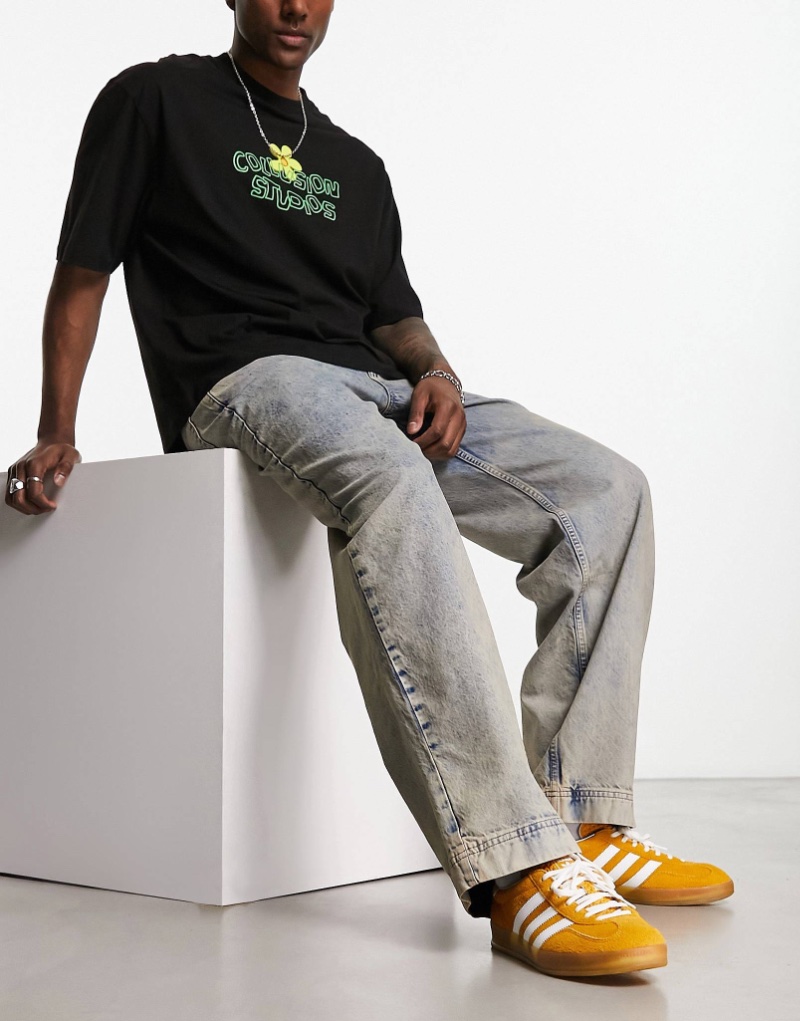 Dirty Wash introduces a rebellious streak to the denim narrative. Jeans undergo a treatment that lends them a soiled or tarnished appearance. A yellow or brown tint is applied during the wash process, resulting in a gritty, grunge-inspired aesthetic.
Black or Grey Wash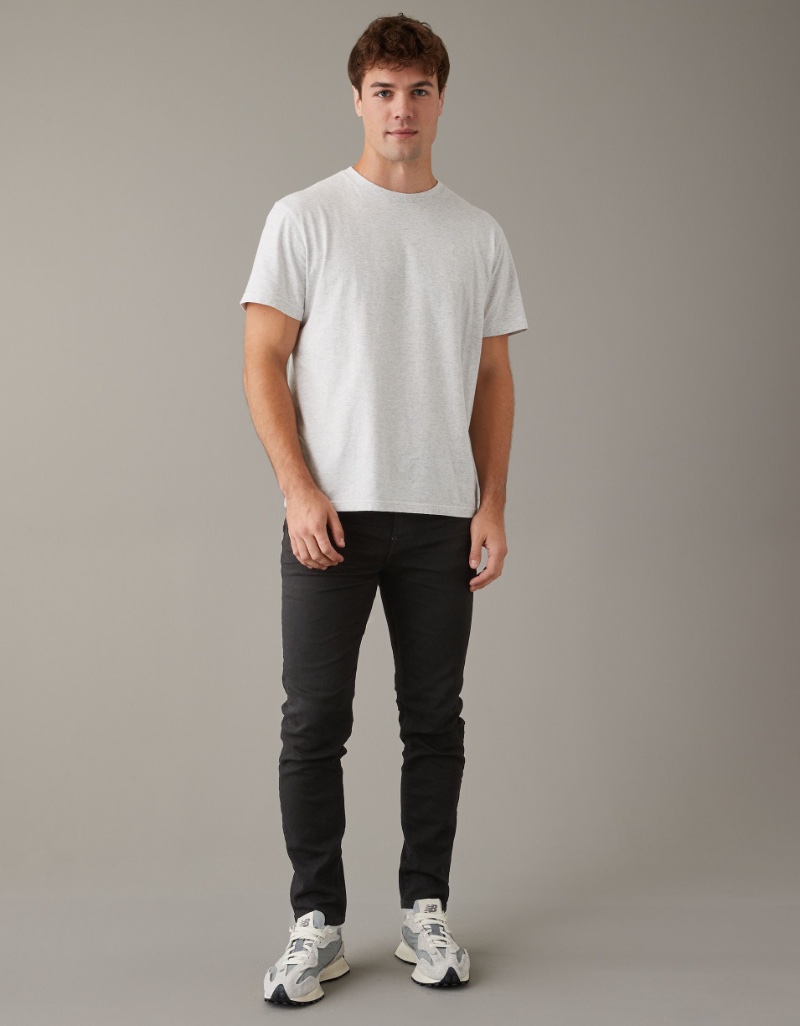 Offering a detour from traditional blue, Black, or Grey Wash jeans presents a monochromatic palette. These jeans, dyed in shades of black or grey, can range from a deep, midnight hue to a lighter, softer grey, depending on the washing process.
White Jeans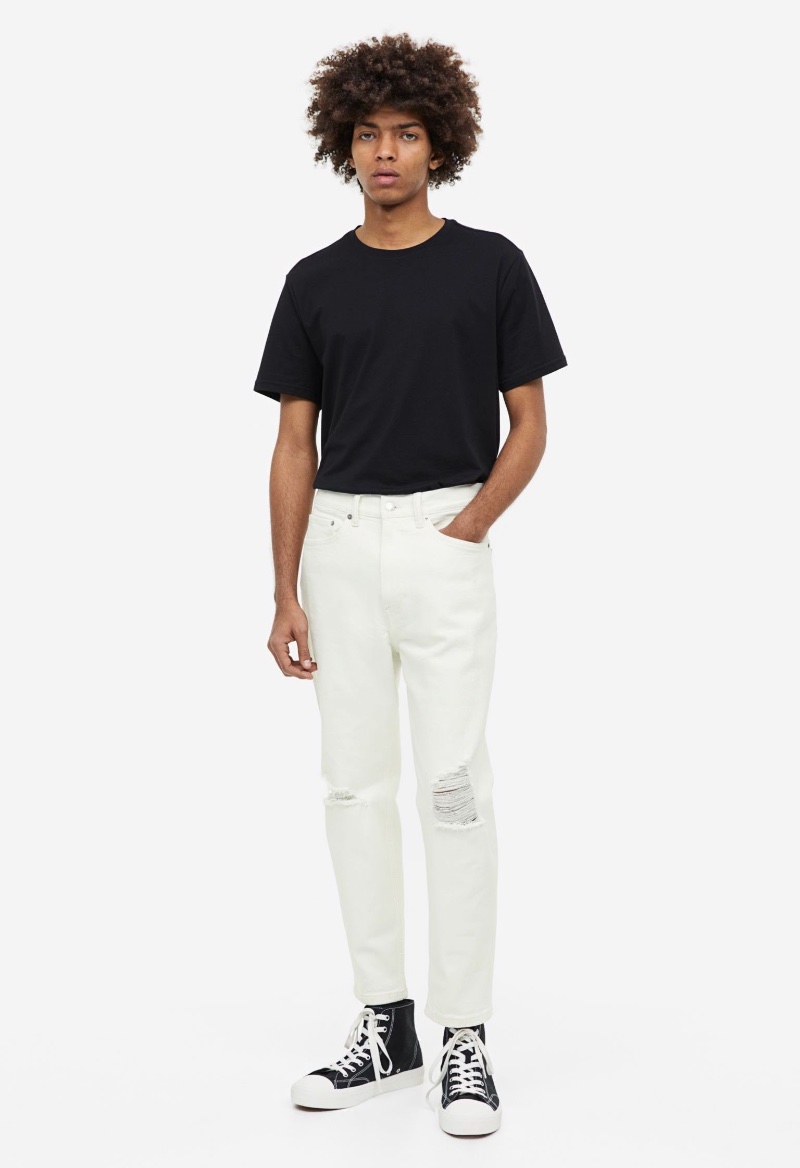 White jeans offer a sartorial reset, emerging as an anomaly in a world steeped in washes and treatments. They sidestep the complex dance of dying and fading, landing squarely in a pure, untainted canvas realm.
As we journey through the myriad of washes, it becomes evident that each provides a unique opportunity to express your style through denim. So, next time you're shopping for that perfect pair of jeans, consider the wash – it's more than just color; it's a statement.
Final Words
In the world of men's fashion, denim continues to reign supreme. With a broad array of fits, cuts, materials, and washes, finding the perfect pair of jeans might seem challenging. Still, armed with knowledge, this task transforms into an engaging sartorial journey.
Understanding these various jeans elements is paramount, from how they fit your body to how they've been cut, from the fabric that forms their essence to the wash that defines their character. While this guide offers an in-depth understanding of the complexities of denim, remember that the perfect pair is the one that resonates with your style and offers comfort.
The ultimate choice always remains yours, whether a slim straight or a bootcut, pure cotton or a blend. Embrace this voyage of denim discovery, and remember—the ideal jeans are the ones that strike the right balance for you, transforming your every step into a stride of style. And don't forget, caring for your jeans is just as essential; explore our guide on how to care for jeans to keep them looking their best.