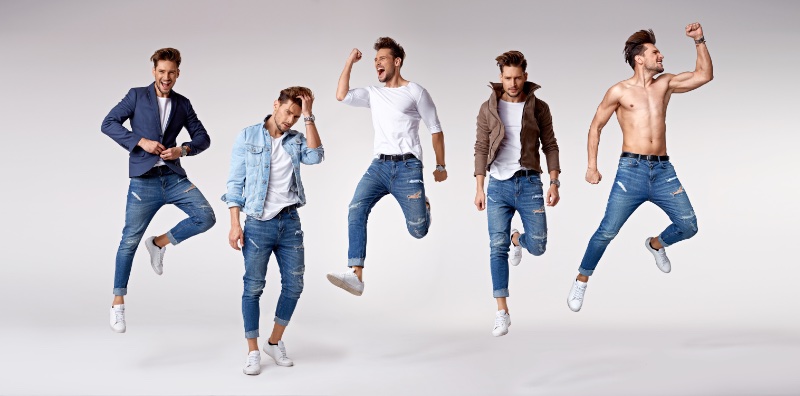 Men's fashion presents an array of timeless pieces, and denim jeans have proven to be a wardrobe staple. From cowboys to rockstars, jeans have been the go-to attire for men everywhere. Yet, with so many different denim styles, the question of how should jeans fit is a puzzle many face.
Quick Tips for Achieving the Perfect Jeans Fit
Selecting jeans tailored to the body's shape without feeling restrictive offers a superior balance between style and comfort. This approach respects the body's natural contours, providing a fashionable, sophisticated, and fresh look.
The Two-Finger Test
The Two-Finger Test is a strategic approach to the waist sizing of denim jeans for men. To employ this technique, slide two fingers between the jeans' waistband and your body. The fit should be snug, allowing the fingers to slide with a bit of resistance. This simple method helps ensure a perfect fit at the waist without feeling tight or slipping down.
Detailed Fit
Waist Mastery: Your jeans should fit securely at the waist without a belt. Utilize the "Two-Finger Test" at the waist to ensure they do not feel tight or slip down.
Seat and Shape: Opt for jeans that provide gentle contouring around the buttocks without restriction.
Thigh Wisdom: Choose jeans that allow easy movement in the thigh area without losing shape.
Calves Comfort: Look for a fit that feels snug but comfortable around the calves without constriction.
Length Precision: Strive for a modest break (the slight fold where the jeans meet the shoe) to eliminate excessive fabric at the ankle.
Taper Techniques: Consider a subtle cuff, which adds a touch of flair, especially when wearing selvedge jeans (jeans made with a self-finished edge that prevents unraveling).
Decoding Specific Styles: How Should Jeans Fit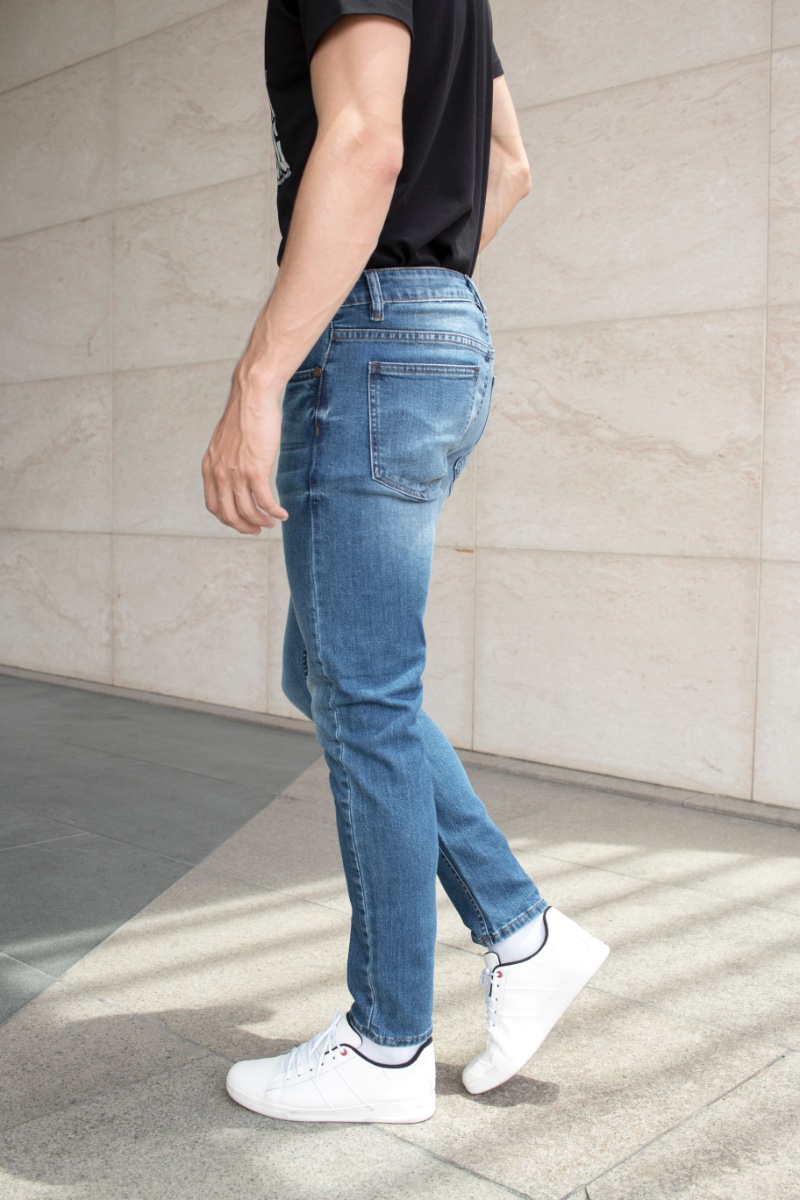 Navigating men's denim jeans requires understanding various styles and how each should fit:
1. Skinny Jeans: Skinny jeans should embrace the legs without being too tight. Look for a snug but comfortable fit around the waist and thighs, with a length that extends an inch or two beyond a classic fit.
2. Slim Fit: A slim fit offers a tailored appearance without hugging too tightly. The thighs should feel comfortably close, with a gradual tapering towards the ankle, allowing for ease of movement.
3. Straight Fit: Ideal for those seeking a more traditional look, straight-fit jeans offer a uniform width from hip to hem. They should feel neither too loose nor too tight around the thighs and calves.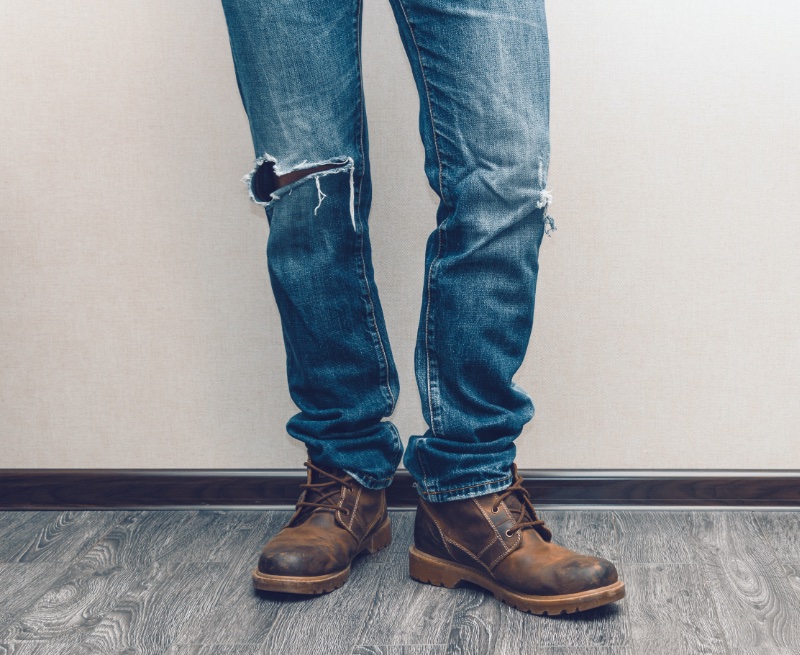 4. Boot-Cut: Boot-cut jeans are designed to accommodate boots, flaring slightly at the hem. They should fit comfortably at the waist and thighs, with enough room at the ankles for the chosen footwear.
5. Relaxed Fit: Relaxed fit jeans provide extra room throughout, ideal for those valuing comfort over a tailored appearance. The fit should feel easy across the waist, hips, and thighs without appearing baggy.
The Perfect Jeans Fit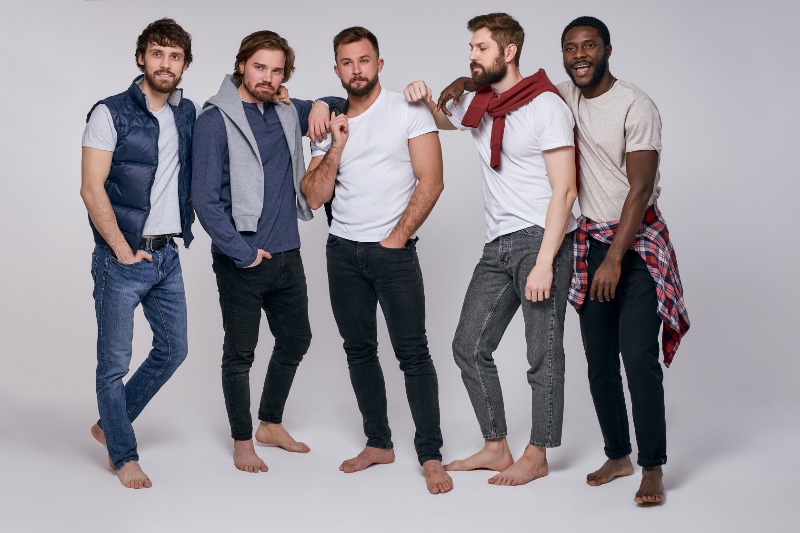 The right fit for jeans is an essential consideration for men, reflecting an intersection of comfort, style, and personal preference. Here are a couple of tips for recognizing if jeans are too loose, too tight, or fitting perfectly:
Identifying Loose Jeans: Jeans may be considered too loose if they necessitate a belt to stay in place or if there are excessive fabric bunches in the legs.
Recognizing Too Tight Jeans: Jeans might be too tight if:
There's discomfort or pinching around the waist, hips, thighs, or knees.
Movement is restricted, causing difficulty in walking, sitting, or bending.
The fabric pulls or creates unflattering lines on the body.
They leave marks or imprints on the skin after removing them.
If any of these signs are present, it would be prudent to consider sizing up or choosing a cut with more room in the necessary areas.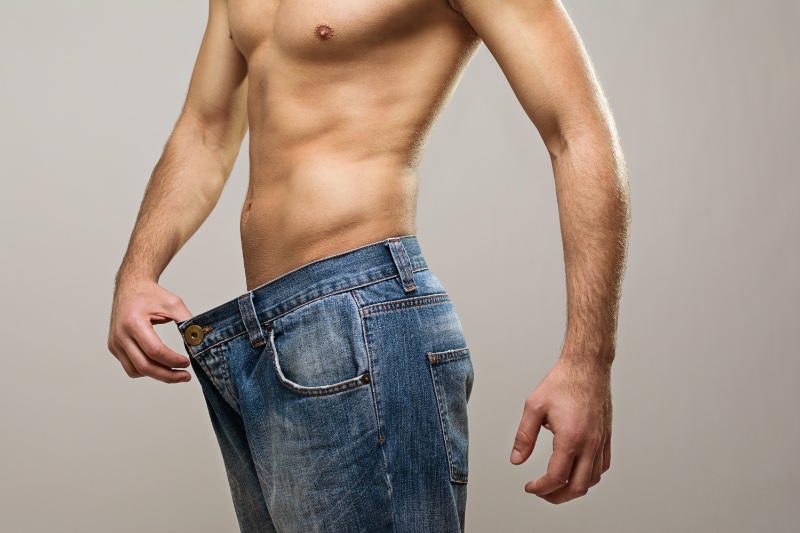 Sizing Considerations:
Sizing Down: This option may provide a sleeker appearance but should be done carefully to avoid the issues associated with too-tight jeans.
Sizing Up: If in doubt, sizing up and then tailoring for a precise fit can be a wise choice.
Stretch Factor: Remember that some initial tightness may ease with wear, as many men's jeans contain stretchable fabric.
Tailoring Jeans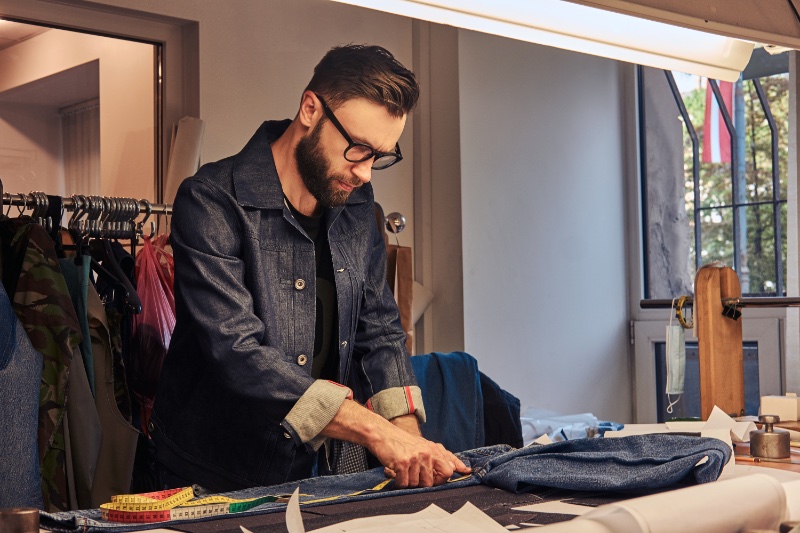 Tailoring jeans is a specialized craft that can significantly enhance the fit and appearance of this wardrobe staple. Here are the common alterations that a skilled tailor can perform on jeans, providing both a comfortable fit and the desired look:
Waist Adjustment: If the waist of the jeans is too loose or too tight, a tailor can take in or let out the waistband.
Hemming: Altering the length of the jeans is one of the most common requests. Whether the goal is to have a specific break over the shoes or a cropped look, tailors can cut and finish the hem to the desired length.
Tapering the Legs: Tapering involves narrowing the jeans from the knee to the ankle. Depending on the client's preference, this creates a more fitted look and can transform a straight or relaxed fit into a slim or skinny fit.
Adjusting the Seat and Thighs: If the jeans are too loose or too tight around the hips, buttocks, or thighs, a tailor can adjust the seams to provide a more flattering fit. This alteration requires careful attention to preserve the natural contouring of the body.
Repairing Damages: Skilled tailors can mend holes, tears, or worn areas in the fabric. Techniques such as patching or darning can prolong the life of a favorite pair of jeans while maintaining character.
Altering the Rise: The rise of the jeans (the distance from the waistband to the crotch) can be adjusted to suit individual comfort and style preferences. However, this is a more complex alteration and may not be possible with all jeans.
Adding or Altering Details: Whether adding decorative stitching, altering pockets, or attaching custom patches, a tailor can personalize jeans to reflect individual tastes. These customizations can transform a basic pair of jeans into a unique fashion statement.
Resizing Jeans After Weight Changes: Significant weight gain or loss might necessitate completely resizing the jeans. Though complex, skilled tailors can often reconstruct the jeans to fit the new body shape.
Adjusting for Special Needs: For individuals with unique body shapes or physical disabilities, tailors can make specific alterations to accommodate these needs.
Reinforcing Areas of Stress: For those who wear their jeans in more rigorous environments, tailors can reinforce areas prone to wear and tear, such as the crotch or inner thighs.
The Art of Proportion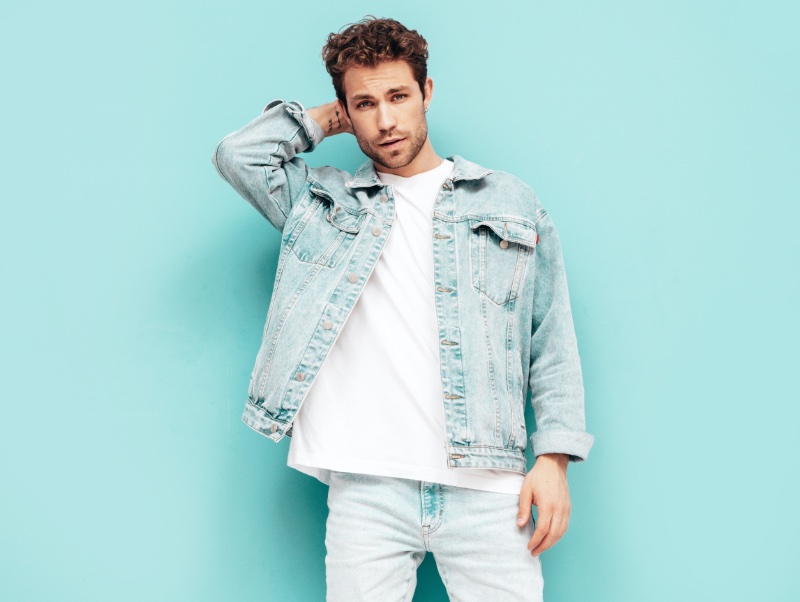 The ideal jeans fit is about striking the correct balance, not only with the jeans but also with the rest of the attire. For instance, pairing a bulky sweater with slim jeans ensures a harmonious look. In contrast, looser jeans complement a slim-fit shirt, maintaining a perfect upper and lower body balance.
Caring for Your Denim
A perfect pair of jeans is an investment, one that requires understanding and attention to detail in its care. Washing denim only when necessary and using cold water are techniques that preserve the fit and color. One key aspect of this care is preventing shrinkage. Jeans can shrink when exposed to hot water or a hot dryer, altering the fit's appearance and comfort.
To avoid shrinkage, it's advisable to air dry your jeans. This method allows the fabric to retain its original form and prevents the constriction of fibers that leads to shrinkage. By embracing these techniques, you can preserve both the elegant form and the expressive character of your denim, ensuring that each pair continues to provide the perfect fit and style that makes them uniquely yours.
Final Words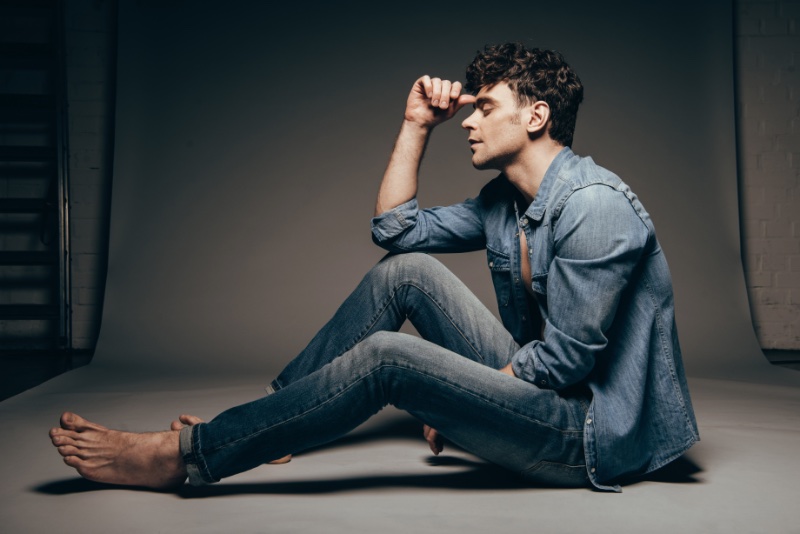 Denim jeans, a quintessential part of men's fashion, offer an adaptable style that caters to both the sophisticated and the youthful. The perfect fit is an art form balancing comfort and elegance, traditional appeal, and contemporary flair.
One creates a personal statement by recognizing the body's unique shape and choosing the appropriate style–skinny, slim, straight, boot-cut, or relaxed. Coupled with mindful care and understanding of proportion in pairing with other attire, jeans become more than just a garment. They evolve into a symbol of individuality and taste, reflecting a well-curated wardrobe.