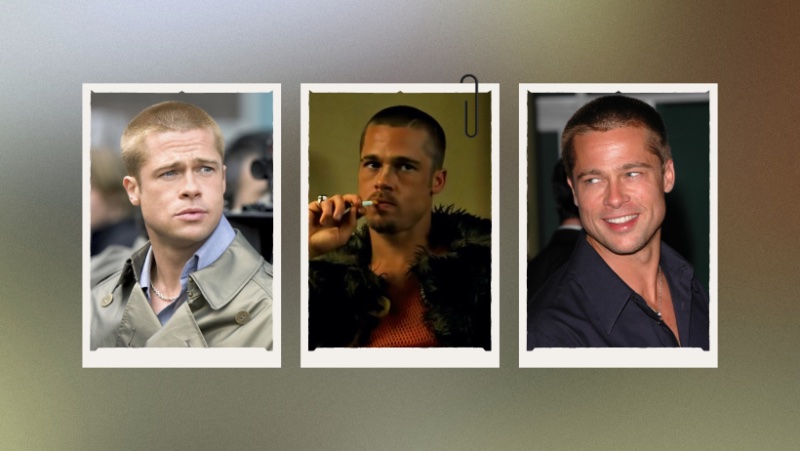 A name synonymous with Hollywood, Brad Pitt has consistently captivated audiences with his performances and dynamic style choices, notably his frequent adoption of the buzz cut. Over the years, Pitt's hairstyles, from flowing locks to neatly trimmed appearances, have contributed to his iconic status.
The buzz cut, characterized by its short length and uniformity, stands out for its rugged simplicity and effortless charm—a look Pitt has seamlessly integrated into his diverse aesthetic repertoire.
Brad Pitt's Buzz Cut Hairstyles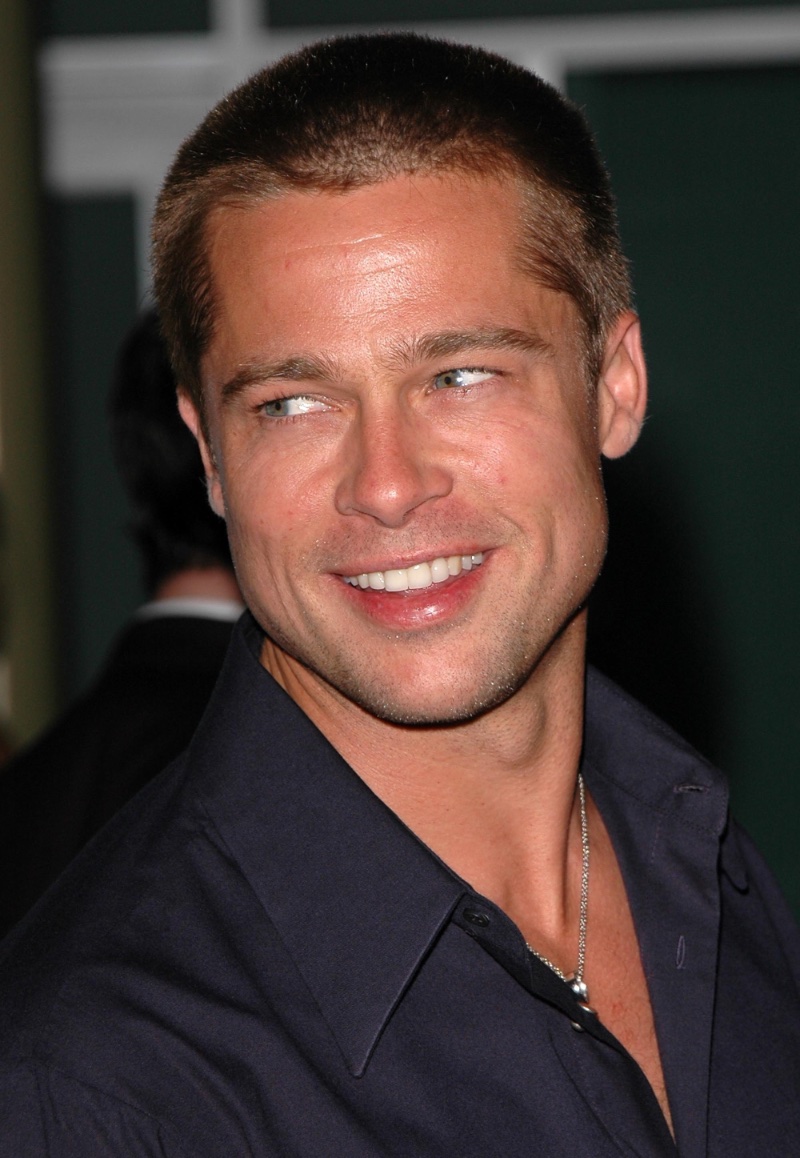 Brad Pitt's journey through Hollywood is marked not just by his versatile performances but also by his dynamic hairstyle transformations. Among these varied hairstyles, the buzz cut is a particularly prominent choice and has become emblematic of some of Pitt's most iconic characters.
Pitt's buzz cut has featured in several notable films, each adding a distinct edge to his characters. Taper Godz says, "This style really works with the actor's tough good looks." The Colorado barber shop adds, "It's a cut that's all about cool and rugged but understanding the contours of the head—working with natural hair growth patterns to create a look that's effortlessly stylish."
Fight Club Buzz Cut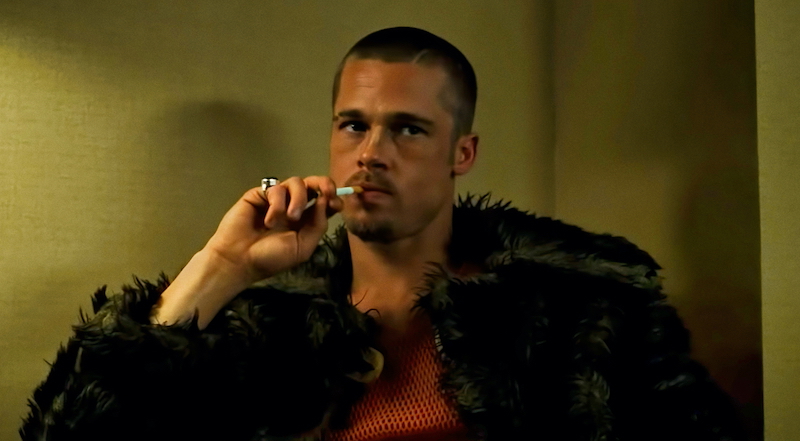 Pitt's portrayal of Tyler Durden in Fight Club is enhanced by his buzz cut, symbolizing Durden's raw, unfiltered rebelliousness. This hairstyle aligns perfectly with the character's anti-establishment ethos and his role as a charismatic, anarchistic leader.
The buzz cut in this context represents Durden's rejection of societal norms and conventional standards of beauty and grooming. The sharp, edgy look of the buzz cut complements the gritty, underground world that Durden inhabits, making it an integral part of his defiant and influential persona.
Mr. and Mrs. Smith Buzz Cut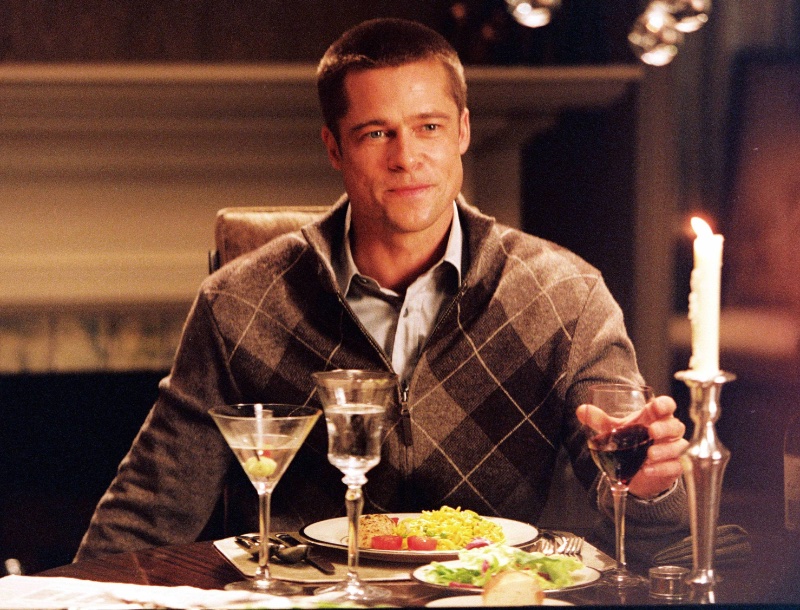 In Mr. and Mrs. Smith, Pitt's sophisticated assassin character adopts the buzz cut as part of his sleek, lethal appearance. This style accentuates the character's duality—a polished, charming facade masking a dangerous, skilled hitman.
The buzz cut here reflects the character's precision and efficiency, mirroring his systematic approach to his covert profession. It contributes to the film's stylish and high-octane aesthetic, highlighting the character's cool competence and suave danger.
Ocean's Twelve Buzz Cut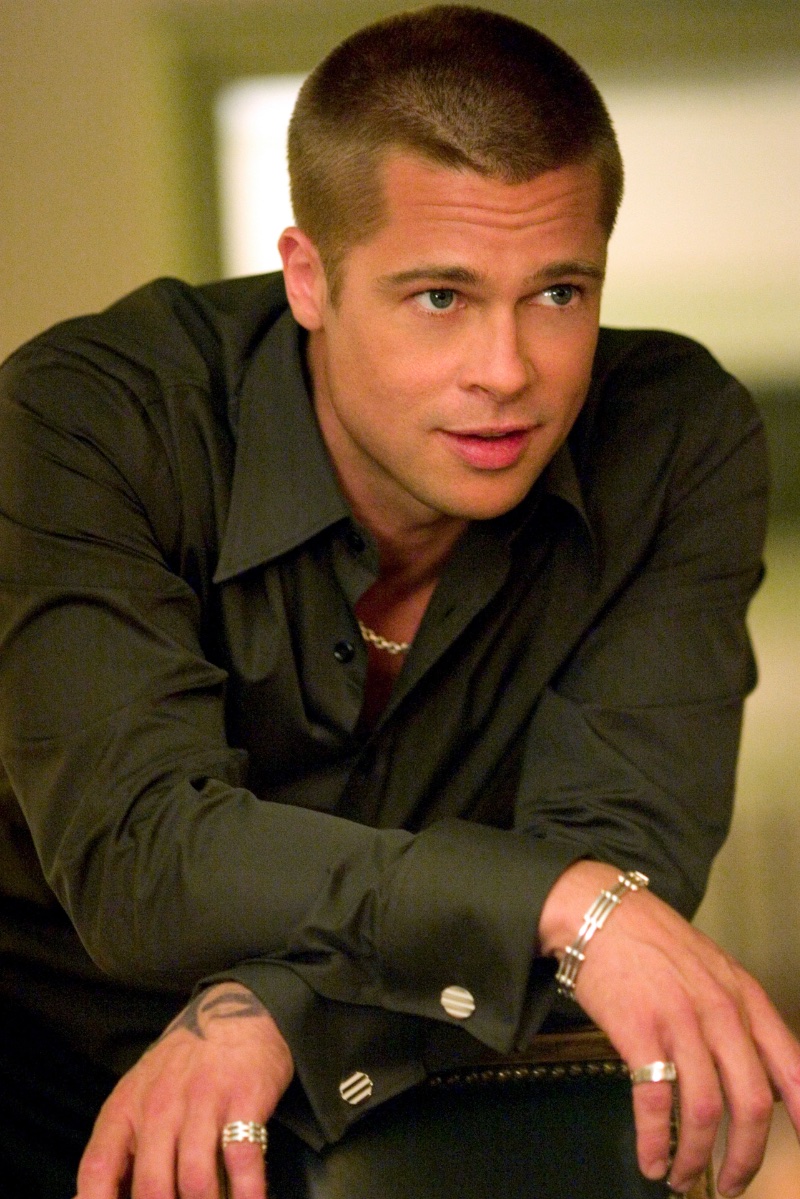 For Ocean's Twelve, the sequel to the heist film Ocean's Eleven, Pitt reprises his role as Rusty Ryan. The buzz cut in this film complements Rusty's cool, calculated demeanor. It adds a layer of sophistication and nonchalance to the character, fitting perfectly with the film's stylish and sophisticated tone.
The hairstyle reflects Rusty's laid-back yet sharp-witted nature, a mastermind who is always one step ahead in the game. In this context, the buzz cut enhances Pitt's portrayal of a charismatic and cunning con artist, contributing significantly to the film's aesthetic.
A Buzzworthy Cultural Impact
The cultural significance of Brad Pitt's buzz cut, particularly in the late 1990s and early 2000s, finds renewed relevance as men's fashion experiences a resurgence of these era-specific trends.
This resurgence reflects a broader cultural movement embracing the simplicity and unpretentious elegance that defined the turn of the millennium's style. With its straightforward maintenance and classic appeal, the buzz cut aligns perfectly with the current trend of revisiting and reinterpreting past fashion staples.
Great Versatility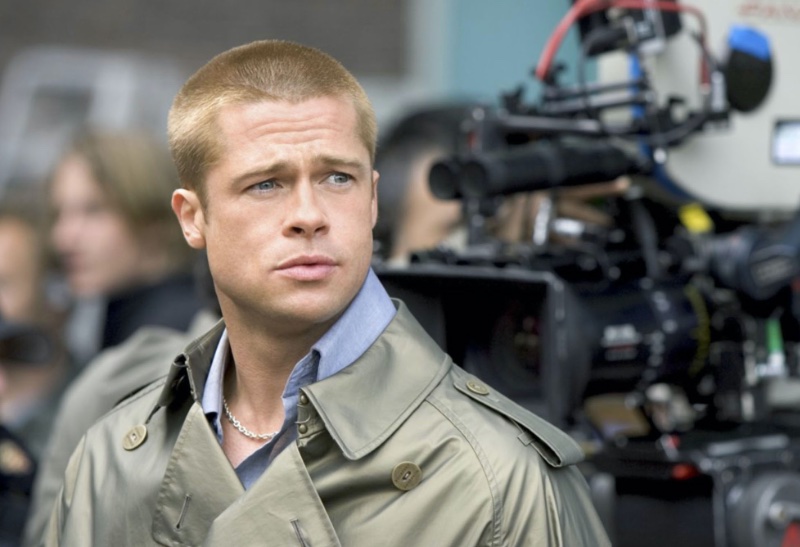 The adaptability of the buzz cut, as demonstrated by Brad Pitt, reflects its enduring appeal. This hairstyle is timeless and suits various age groups and face shapes. Pitt's varying interpretations of the buzz cut have shown how it can be tailored to enhance features and complement various looks.
For younger men, the buzz cut offers a fresh and energetic appearance, while it provides a sophisticated and dignified look for older individuals. Its suitability for different face shapes is another aspect of its versatility.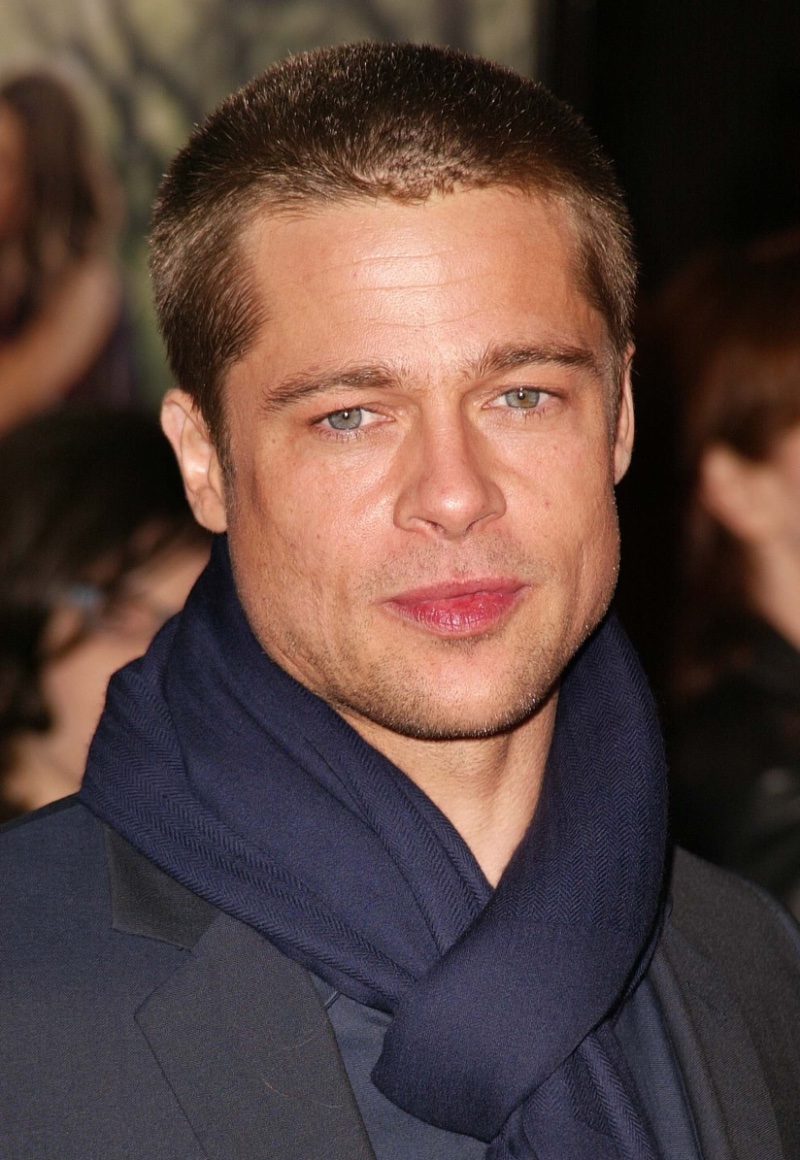 Like Pitt's, the buzz cut adds definition and highlights the jawline, enhancing masculine features on oval and square face shapes. For rounder faces, it can create an illusion of length and structure.
The buzz cut's adaptability extends to blending with different fashion styles. Whether paired with a formal suit or casual attire, it maintains its distinctive appeal, making it a versatile and practical choice for men from various walks of life.
Brad Pitt's diverse portrayals while sporting a buzz cut have played a significant role in showcasing this versatility, influencing men's grooming choices and solidifying the buzz cut's place in the canon of classic men's hairstyles.
Adopting the Buzz Cut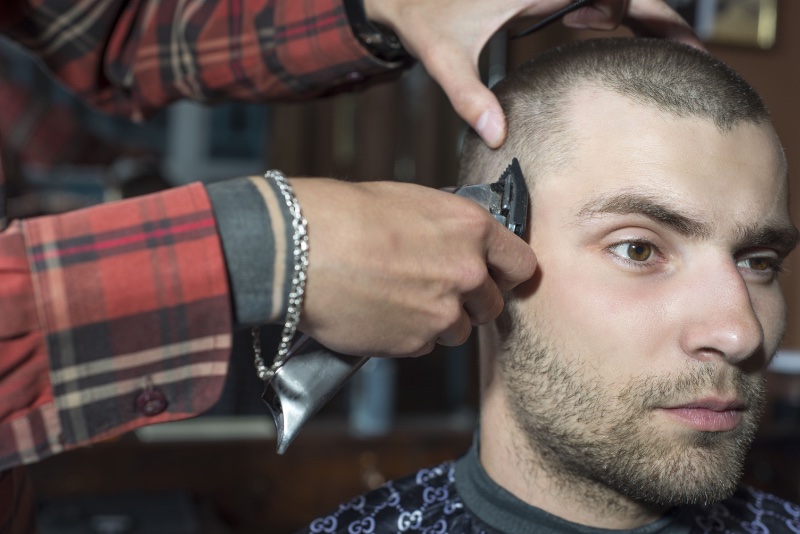 When visiting the barber for a buzz cut, it's crucial to communicate your preferences clearly while also considering professional advice. Discuss with your barber the specific look you aim for, referencing Pitt's buzz cut style if necessary.
Barbershop Taper Godz explains, "The trick is to pick a length and style that suits your hair type and face shape. Like, if you've got a rounder face, you might do well with a bit more length on top—kind of like how Pitt tweaks his buzz cut for various roles."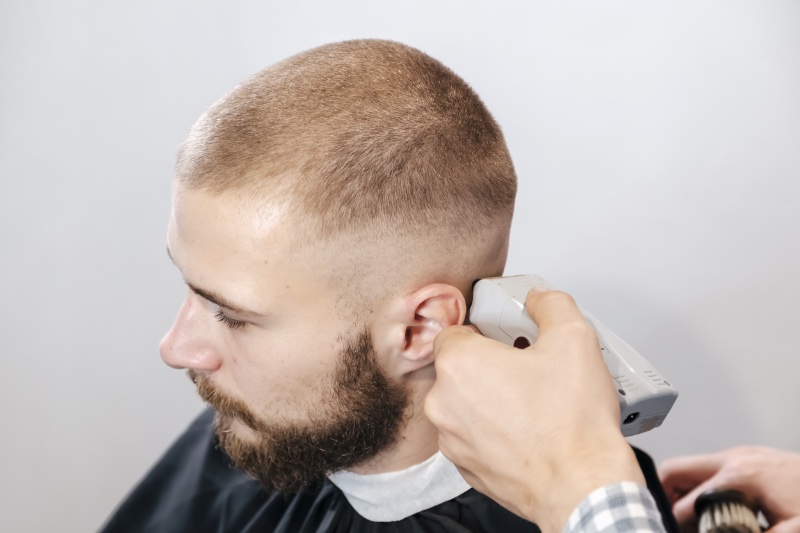 During the haircut, your barber will use professional clippers to achieve a uniform and precise cut, similar to Pitt's neatly groomed appearance. Your barber can also offer suggestions on subtle variations, like adding a fade or defining the hairline, to personalize the buzz cut.
It's essential to discuss maintenance tips with your barber, such as the frequency of trims needed to keep the buzz cut looking sharp. Regular visits to the barber are essential, as the buzz cut can grow out quickly, losing its crisp appearance.
Additionally, inquire about scalp care, especially if you have sensitive skin, to ensure your scalp remains healthy and well-maintained after the haircut.
The Timeless Appeal of Brad Pitt's Buzz Cut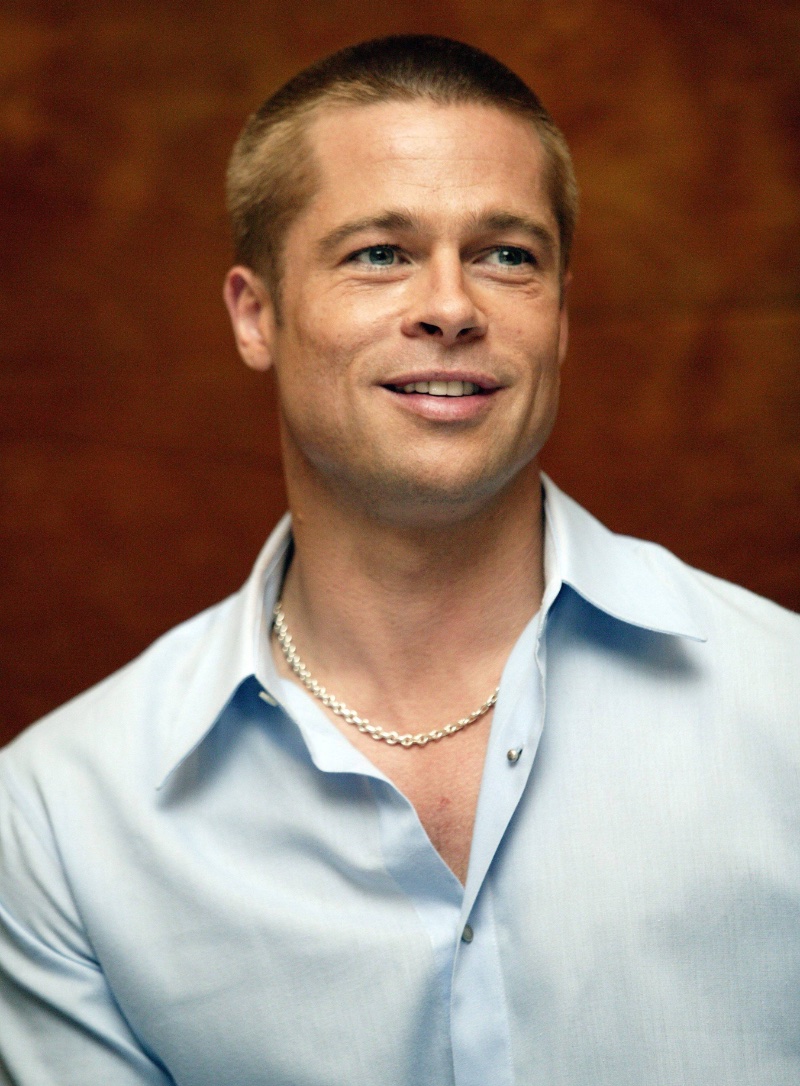 Brad Pitt's journey with the buzz cut is a narrative of cultural influence, versatility, and personal expression. His adoption of this simple yet striking hairstyle left an indelible mark on men's fashion trends, particularly around the Y2K era.
Today, as fashion circles back to embrace minimalist aesthetics, Pitt's buzz cut remains as relevant and stylish as ever. This hairstyle's adaptability across different age groups and face shapes highlights its timeless appeal.
Altogether, the buzz cut is a statement of simplicity, elegance, and versatility. As men's fashion continues to draw inspiration from the past, the buzz cut, much like Pitt's enduring legacy in Hollywood, is a testament to the allure of understated refinement.