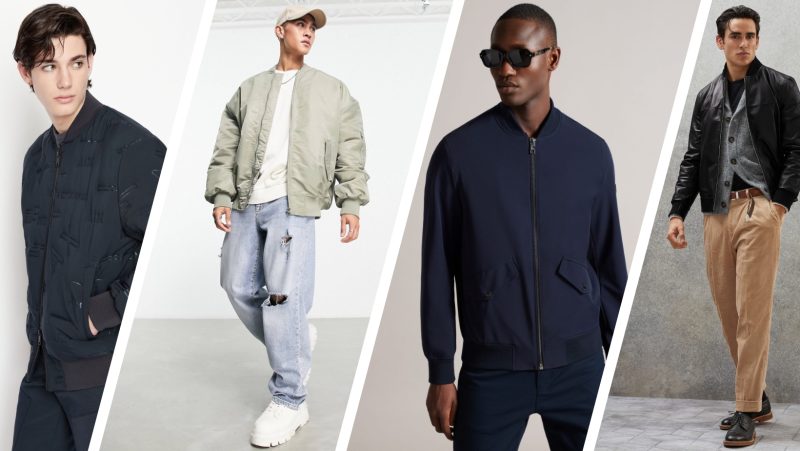 The bomber jacket, a timeless menswear piece, is more than just an outerwear item—it's an emblem of style and versatility that has stood the test of time. From its military origins to its current status as a fashion staple, bomber jackets have a rich history and a flair for adaptability, making them a must-have in every man's wardrobe.
In the rich tapestry of men's fashion, bomber jackets hold their own, asserting their undeniable significance. They don't just blend into the background. No, they shape the narrative, offering a stylistic focal point for many ensembles. This is where the art of crafting bomber jacket outfits for men comes into play, opening doors to exciting vistas of sartorial exploration and expression.
The Origin Story of Bomber Jackets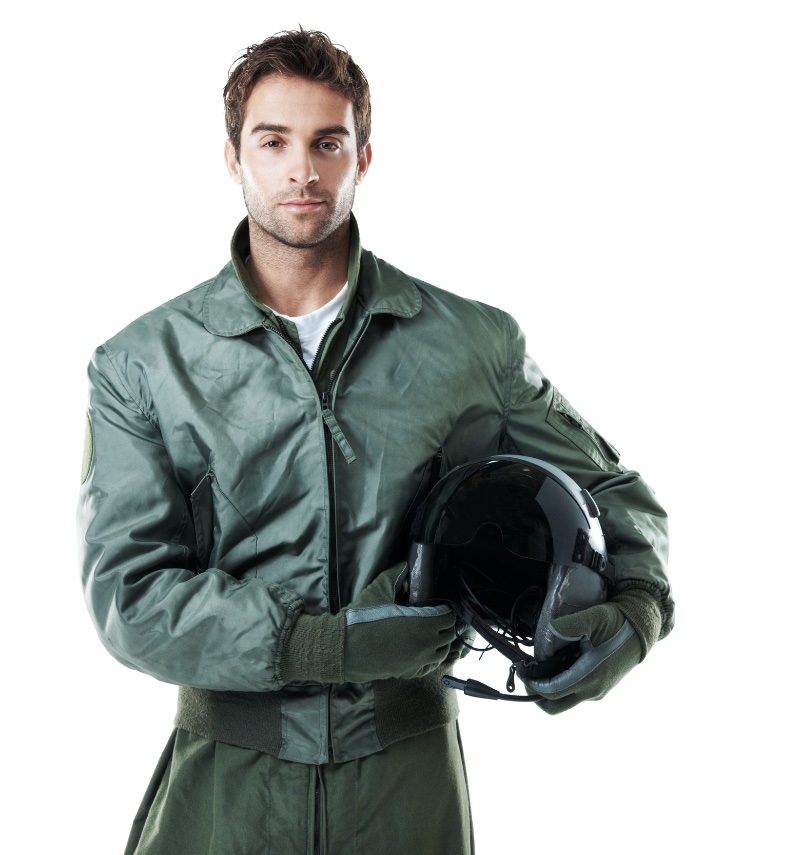 As we know it today, the bomber jacket is firmly planted in military wear. Bomber jackets were a crucial piece of gear that combined functionality with style, designed during World War I to protect fighter pilots from the harsh conditions in uninsulated, open-air cockpits.
Developed by the US Army Aviation Clothing Board, the jackets quickly gained popularity among soldiers. Over time, bomber jackets transitioned from the battlefield to the fashion world, becoming a staple in mainstream fashion.
The Timeless Appeal of Bomber Jackets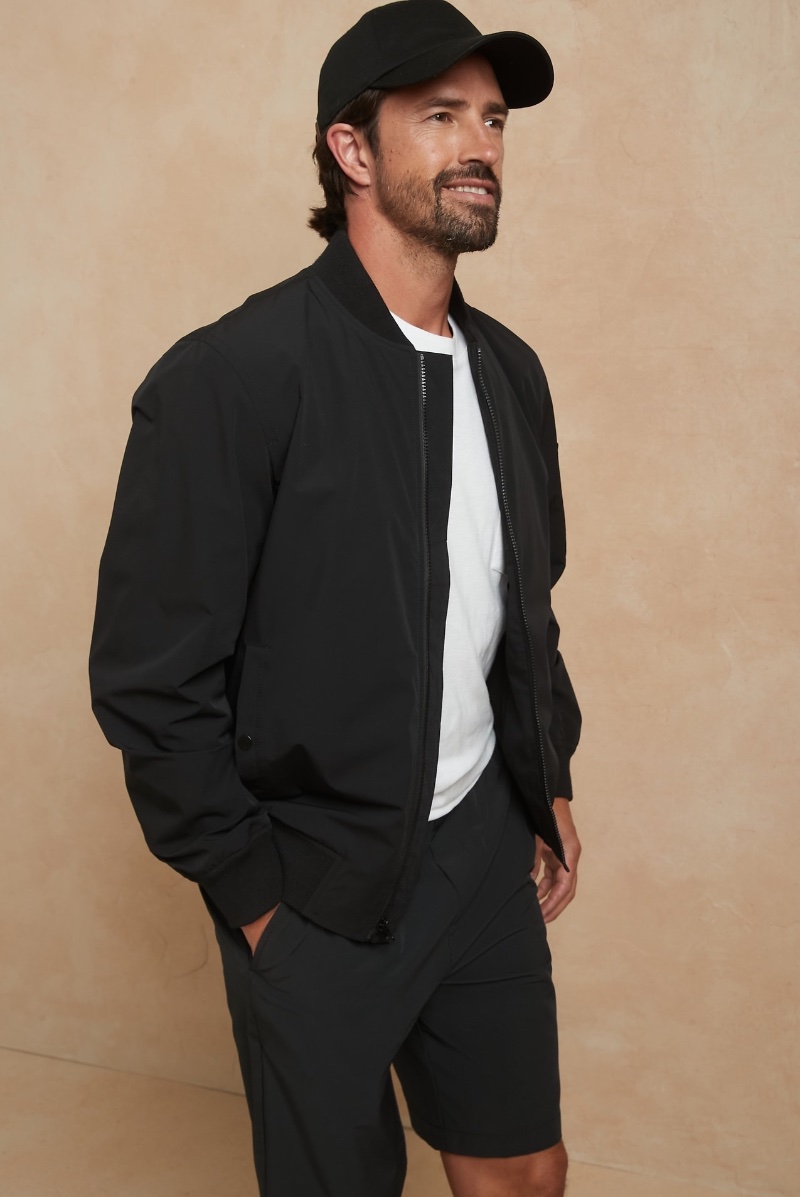 There are several reasons why bomber jackets have remained a favorite among men for over a century. Firstly, their functionality is unmatched. Whether it's a leather bomber for colder climates or a lightweight nylon bomber for milder temperatures, the jacket's adaptability to various weather conditions makes it a practical choice.
Secondly, bomber jackets exude an undeniable sense of style. The classic silhouette, coupled with the plethora of materials and colors available, makes it a versatile piece that can be dressed up or down. Whether aiming for a casual look or a more formal ensemble, a bomber jacket can be the perfect finishing touch.
Picking the Perfect Bomber Jacket
Bomber jackets, with their versatile and timeless appeal, come in many materials. Leather, suede, and nylon are some of the most popular choices, but there's also a wide array of other options like cotton, wool, polyester, silk, shearling, and denim. Understanding the distinct characteristics of these materials and the role of color in personalizing style can guide you toward the perfect bomber jacket that aligns with your fashion sensibilities.
Leather Bomber Jackets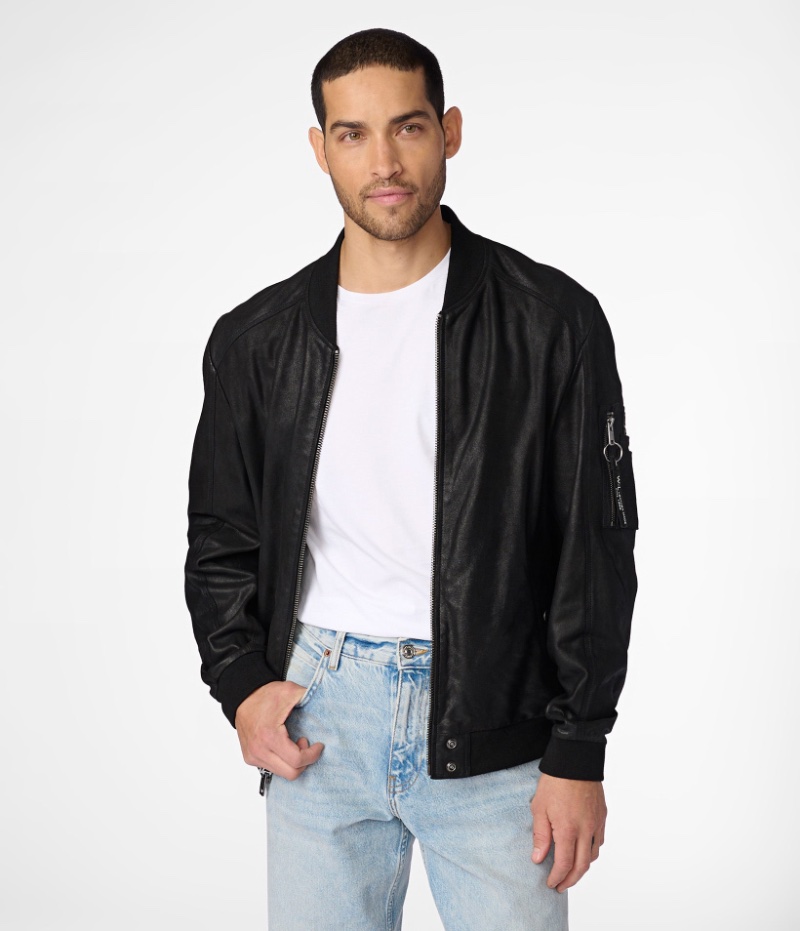 Leather bomber jackets are a staple in men's fashion, offering a blend of rugged appeal and timeless style. These jackets perfectly match the cooler seasons, providing warmth and a distinctive edge to your outfit. For semi-formal occasions, leather bombers can be paired with a crisp white shirt, dark jeans, and boots for an effortlessly cool look. The natural sheen of leather adds a touch of luxury, making it a standout choice for those who appreciate a bold, confident aesthetic.
Suede Bomber Jackets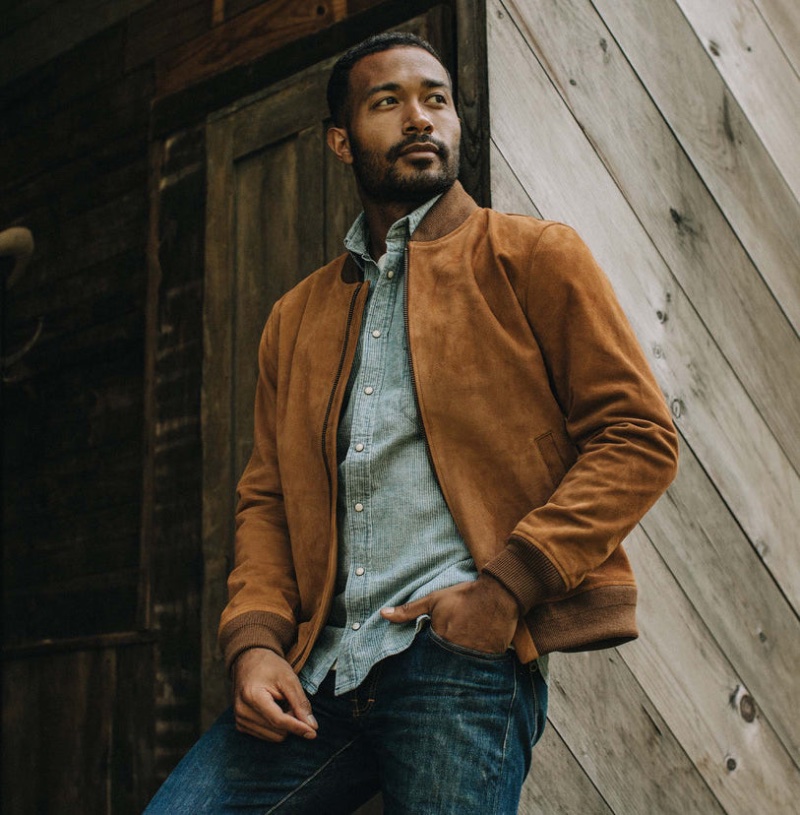 Suede bomber jackets bring a touch of elegance and sophistication to the bomber style. The suede texture gives these jackets a unique, tactile appeal, setting them apart from their leather and nylon counterparts. These jackets are perfect for formal events or smart-casual outfits, offering a refined look that doesn't compromise comfort. Pair a suede bomber with a turtleneck and tailored trousers for a modern ensemble.
Nylon Bomber Jackets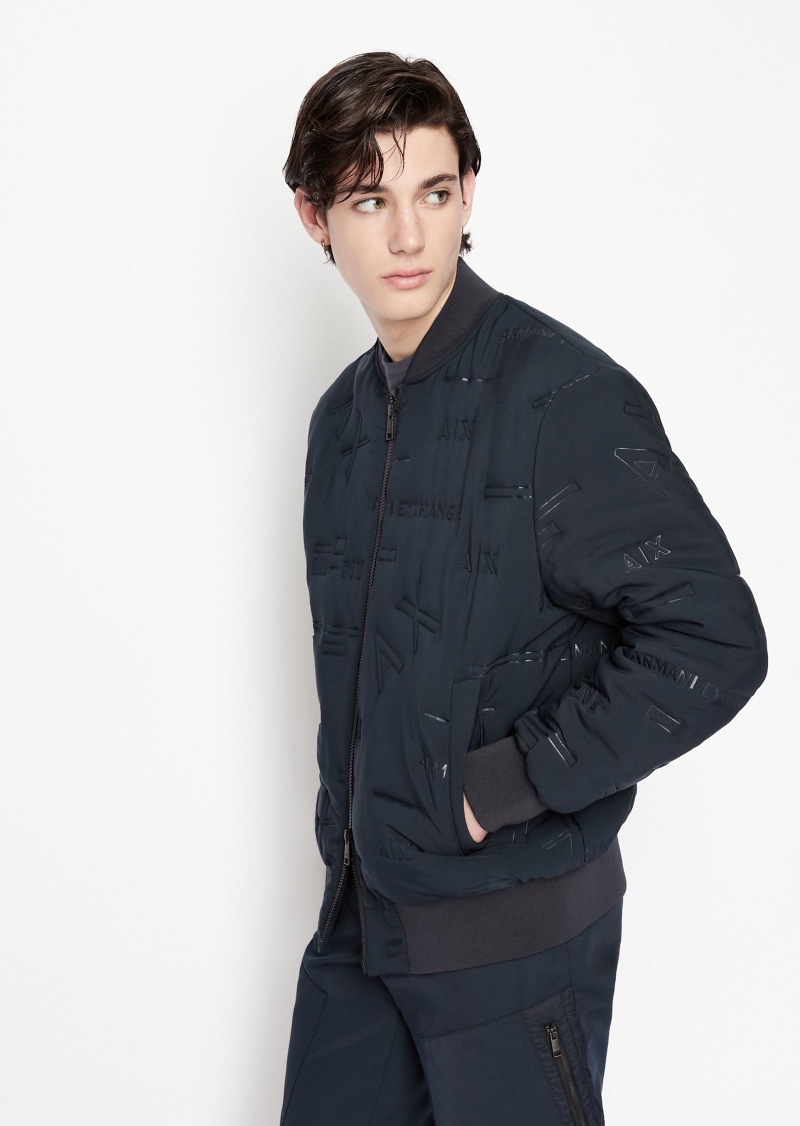 Nylon bomber jackets are the embodiment of casual, sporty style. Lightweight and versatile, these jackets are a go-to for athletic or streetwear outfits. The glossy finish of nylon adds a contemporary twist to the classic bomber design, making it a standout choice for those who appreciate a modern, laid-back aesthetic. Pair a nylon bomber with a graphic tee, joggers, and sneakers for a stylish and comfortable look.
Color Choices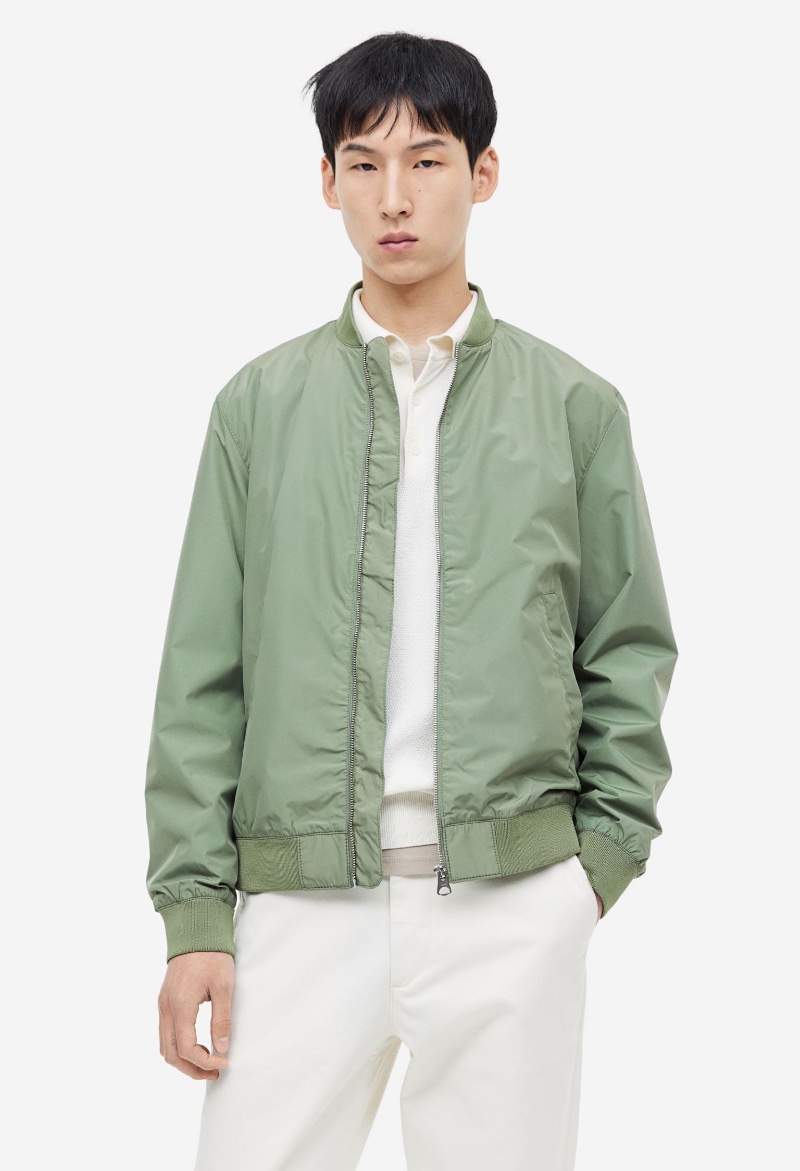 Regarding color, bomber jackets offer a wide range of options. Classic shades like black and olive green are always a safe bet, providing maximum versatility and a timeless appeal. These colors can be easily integrated into various outfits, making them a practical choice for any wardrobe.
However, the world of bomber jackets is not limited to these traditional hues. For those who wish to make a statement, bolder shades like burgundy or navy can add a vibrant pop of color to your outfit. These colors can elevate a simple look, adding a touch of personality and flair. Whether you prefer the understated elegance of classic shades or the bold impact of vibrant colors, a bomber jacket perfectly suits your style.
Styling Casual Bomber Jacket Outfits
When it comes to casual outfits, bomber jackets are a no-brainer. Their laid-back vibe effortlessly complements a wide range of casual pieces.
Layering Mastery: The Bomber & Jean Jacket Combo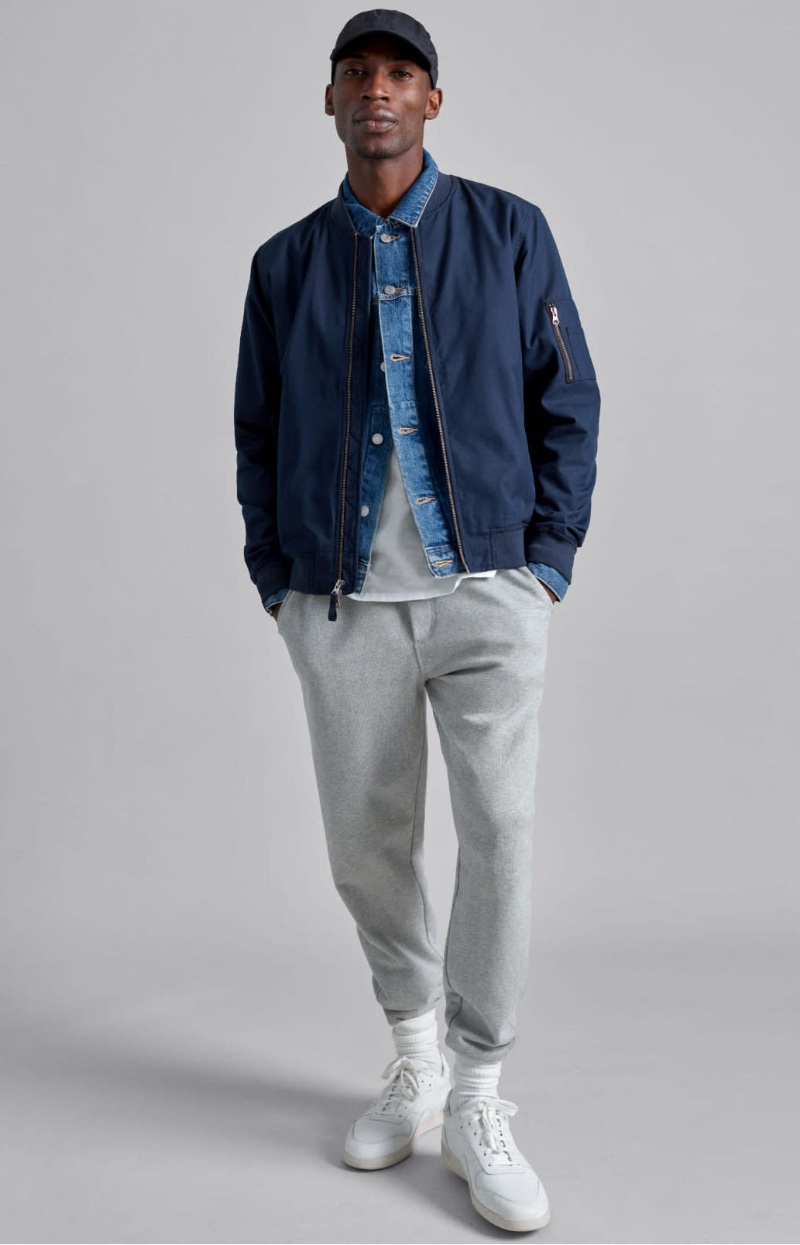 Master the art of layering by pairing a bomber jacket with a jean jacket for an outfit that exudes effortless style. This combination creates a dynamic look that plays with textures and adds depth to your ensemble.
Opt for joggers to keep the outfit relaxed and comfortable, perfect for a casual day out or a laid-back evening. The finishing touch? White sneakers. These shoes maintain the outfit's casual vibe while adding a clean, crisp element that balances the ruggedness of the jackets.
Casual Cool: The Bomber Jacket & Ripped Jeans Ensemble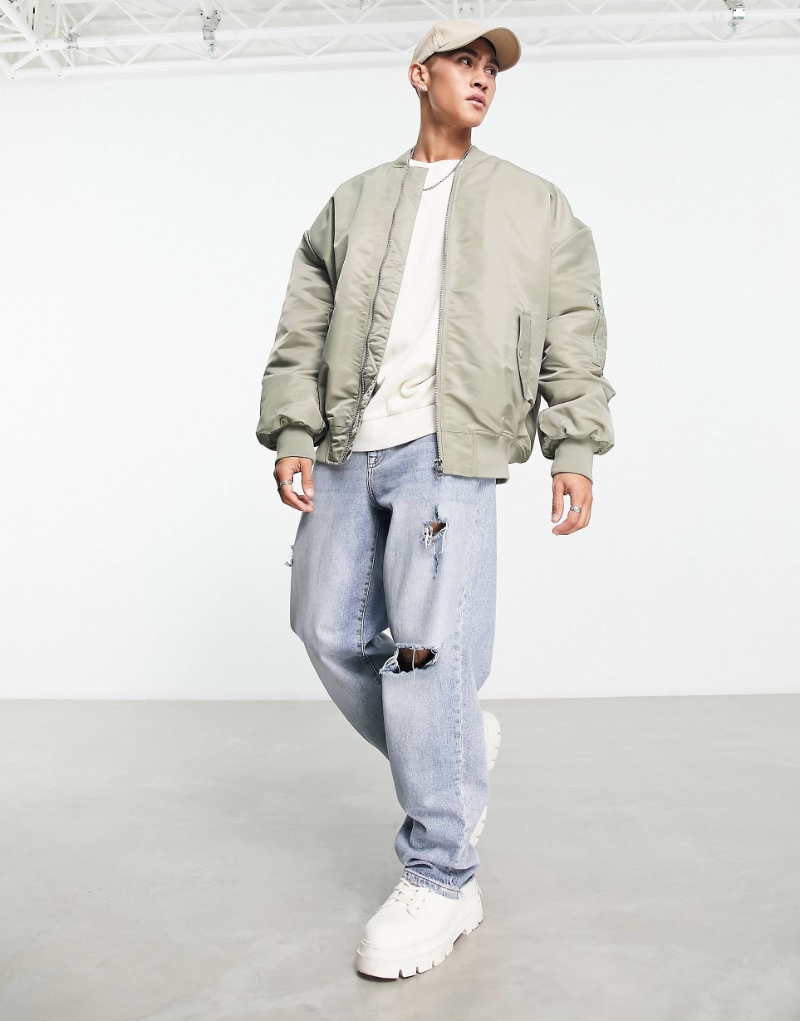 Embrace the casual cool aesthetic by pairing a bomber jacket with a simple t-shirt and ripped jeans. This outfit epitomizes laid-back style, perfect for those who appreciate an edgy, relaxed look. The t-shirt keeps the outfit grounded and comfortable, while the ripped jeans add a touch of rebellious charm. Top it off with a cap for a sporty touch and a pair of boots for a rugged finish.
Urban Sophisticate: The Bomber Jacket & Tapered Chinos Mix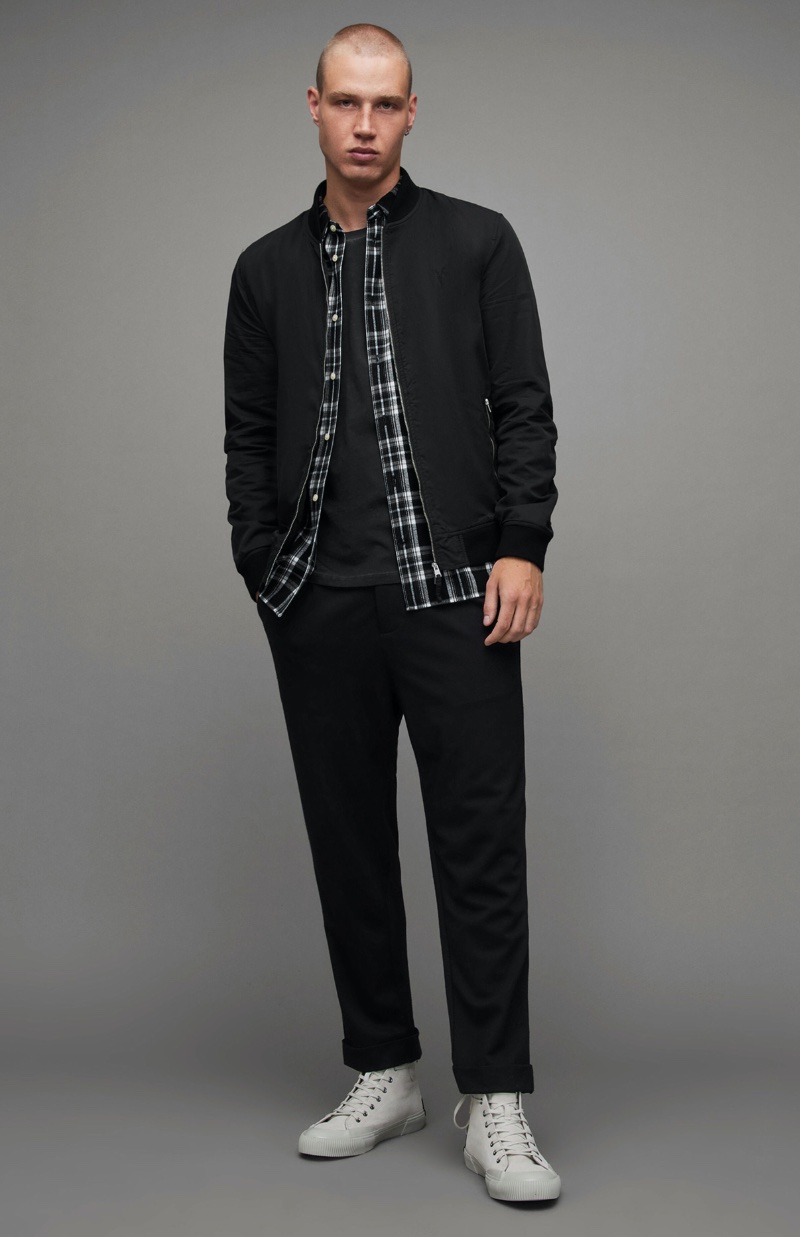 Elevate your streetwear game by pairing a bomber jacket with an open button-down shirt, a t-shirt, and tapered chinos. This ensemble balances casual and polished, making it versatile for various occasions.
The open button-down shirt adds a layer of sophistication, while the t-shirt keeps the outfit relaxed. Tapered chinos lend a smart-casual vibe and pair perfectly with the bomber jacket's sporty appeal. Finish the look with high-top sneakers for a contemporary touch.
How to Wear the Bomber Jacket: Semi-Formal Outfits
Despite their casual origins, bomber jackets can indeed be dressed up. With the right pieces, a bomber jacket can become part of a polished, refined outfit.
Monochromatic Elegance: The Suede Bomber & White Jeans Ensemble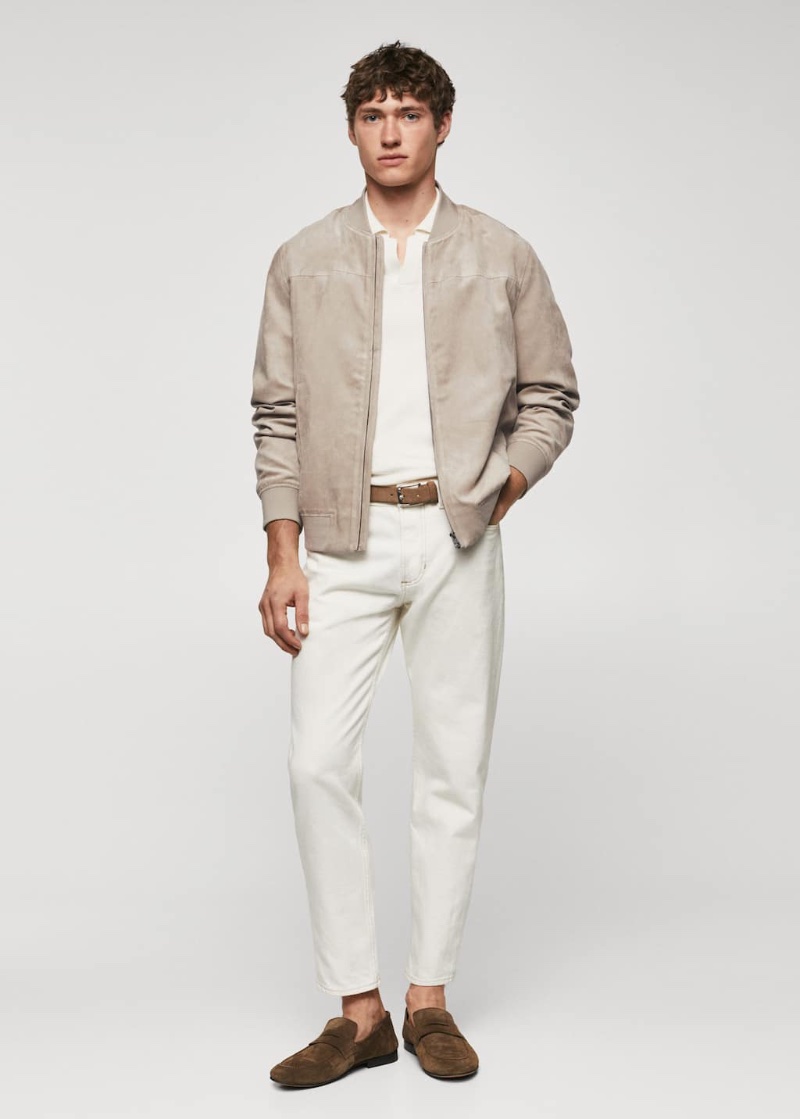 Experience the allure of monochromatic elegance by pairing a tan suede bomber jacket with a polo, white jeans, and rich brown suede loafers. This ensemble exudes a refined yet relaxed vibe, perfect for a smart-casual occasion.
The tan bomber jacket and brown loafers create a harmonious neutral color scheme, while the white jeans add a crisp, clean contrast. The polo shirt, a classic staple, complements the sophistication of the suede jacket and loafers.
Classic Charm: The Leather Bomber & Corduroy Look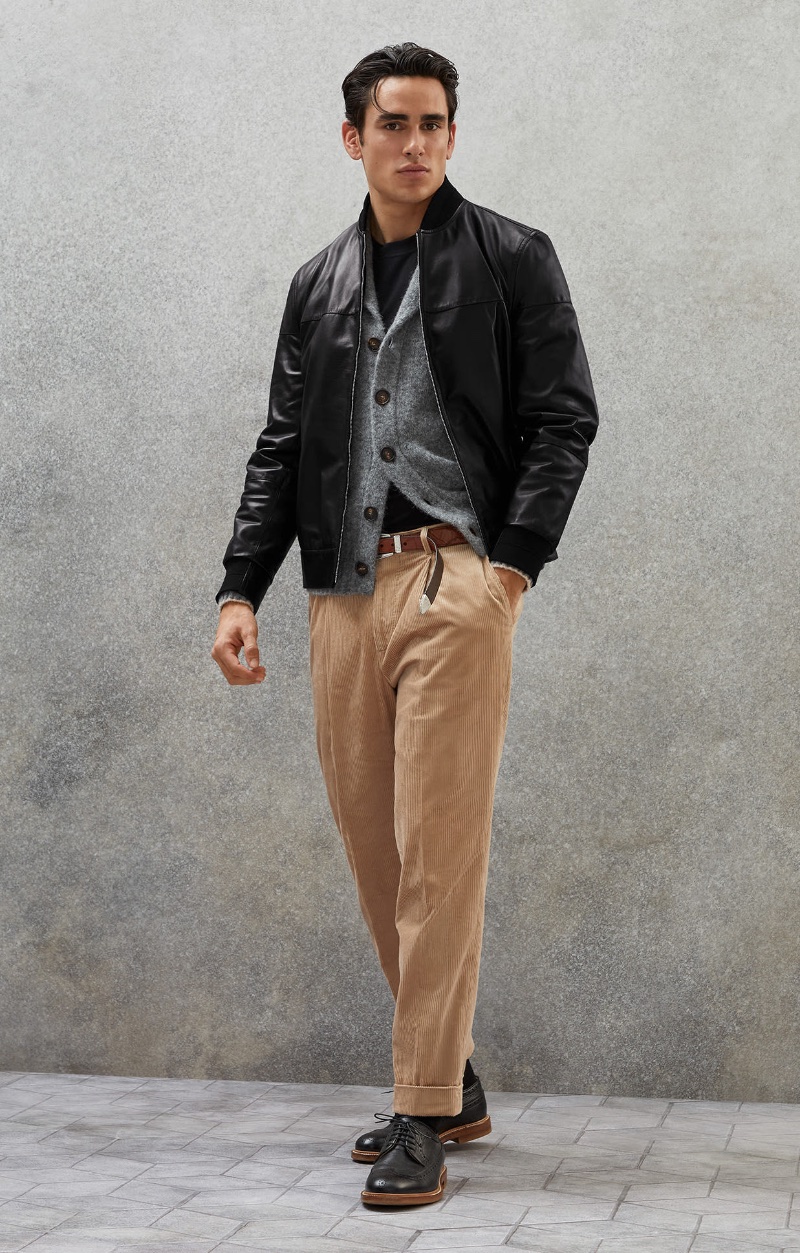 Channel classic charm by pairing a leather bomber jacket with a cardigan sweater, corduroy pants, and Oxford shoes. This outfit blends traditional and modern elements to create a stylish and timeless look.
The leather bomber jacket adds a rugged appeal, while the cardigan sweater provides warmth and sophistication. Corduroy pants contribute a vintage touch with their unique texture, and Oxford shoes lend a polished finish.
Modern Sophistication: The Suede Bomber & Pleated Trousers Pairing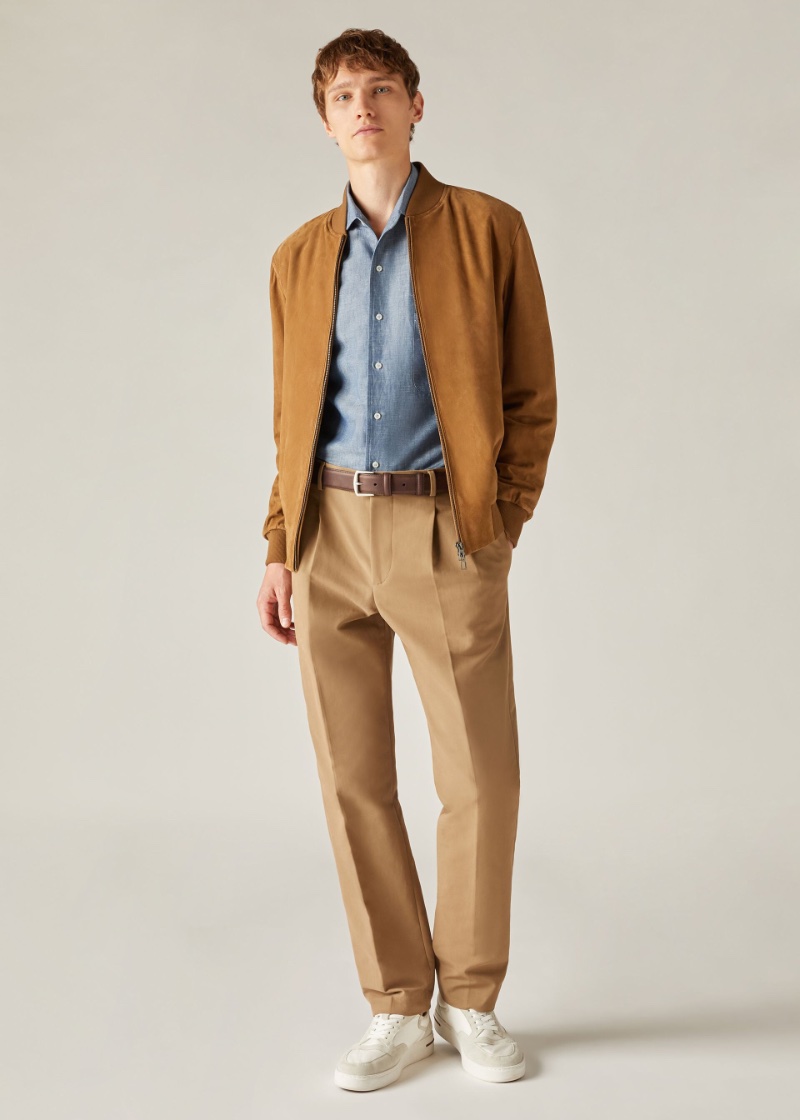 Embrace modern sophistication by pairing a suede bomber jacket with a dress shirt, pleated trousers, and minimal sneakers. This ensemble balances formal and casual, making it versatile for various occasions.
The suede bomber jacket adds a layer of luxury, while the dress shirt and pleated trousers maintain a smart, polished look. The minimal sneakers add a contemporary touch, providing a casual counterpoint to the more formal elements of the outfit.
The Perfect Fit: How Should a Bomber Jacket Fit?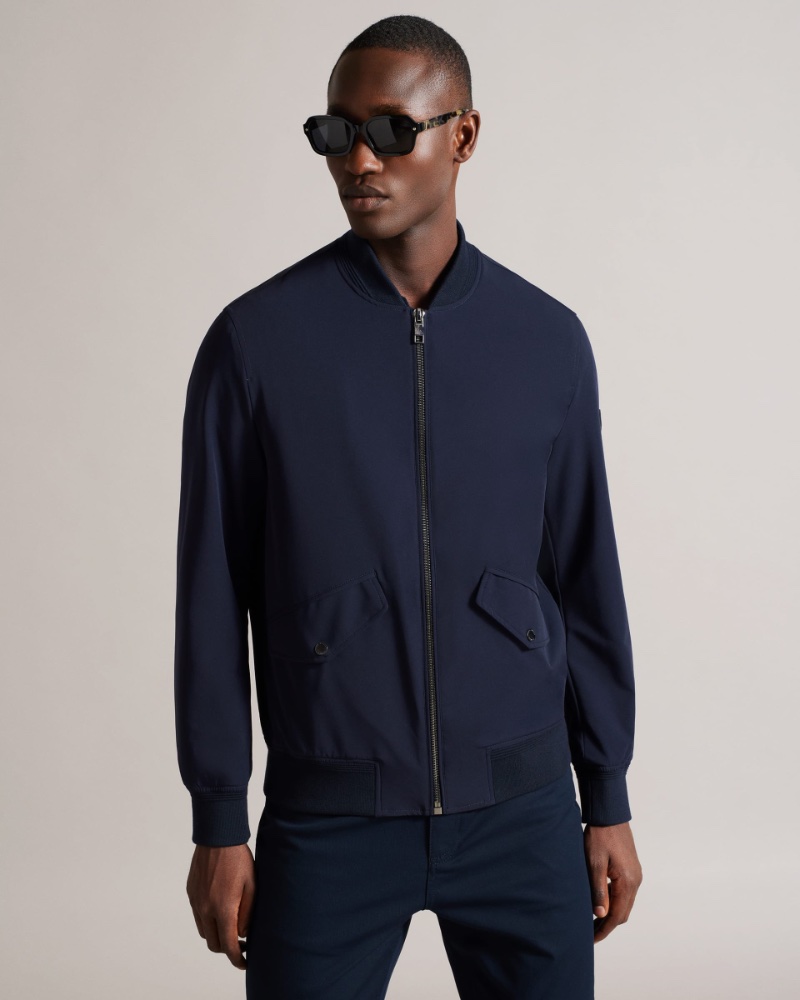 When it comes to the fit of a bomber jacket, it's crucial to get it right. A well-fitting bomber jacket should hug your body closely, with the waistband landing just at your waistline. The sleeves should extend slightly beyond your wrist bones. The jacket should fit snugly but comfortably, allowing room for layering without appearing bulky.
Final Thoughts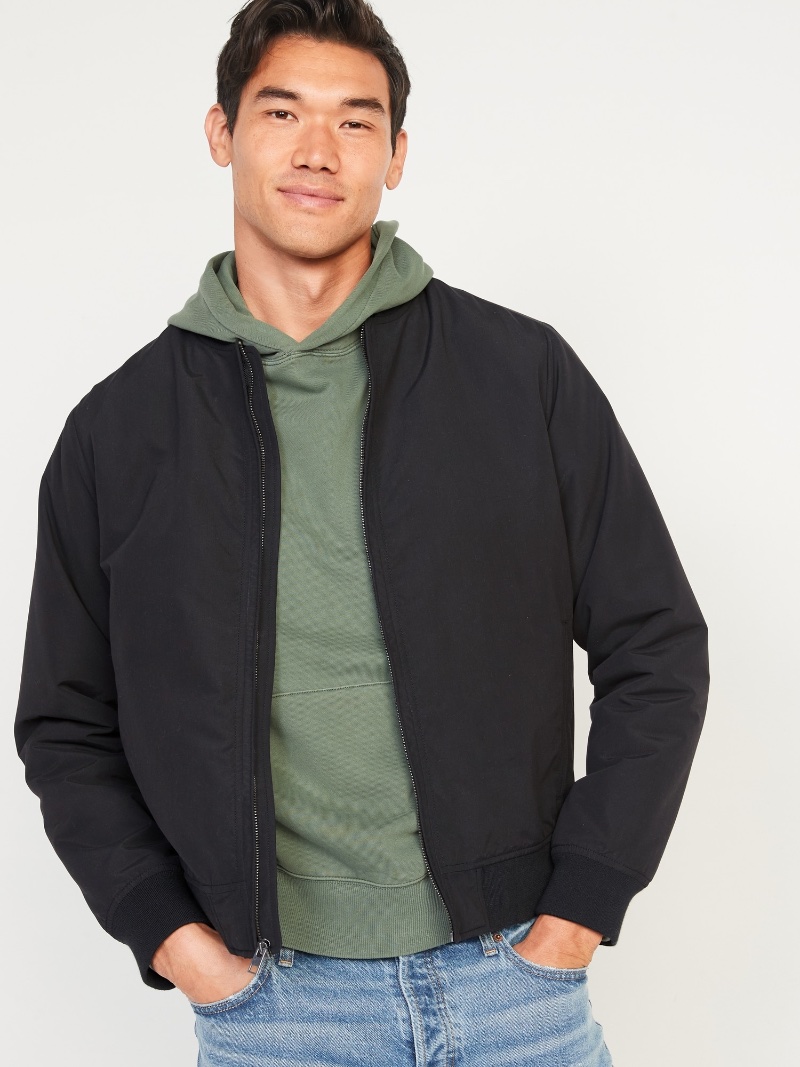 With their rich history and timeless appeal, bomber jackets are a worthwhile investment for any man. Whether dressing up for a semi-formal event or running errands on a casual weekend, a bomber jacket outfit is perfect.
So go ahead, embrace the bomber jacket. Experiment with different styles, materials, and colors. Use this guide as a starting point and infuse your flair into your bomber jacket outfits.