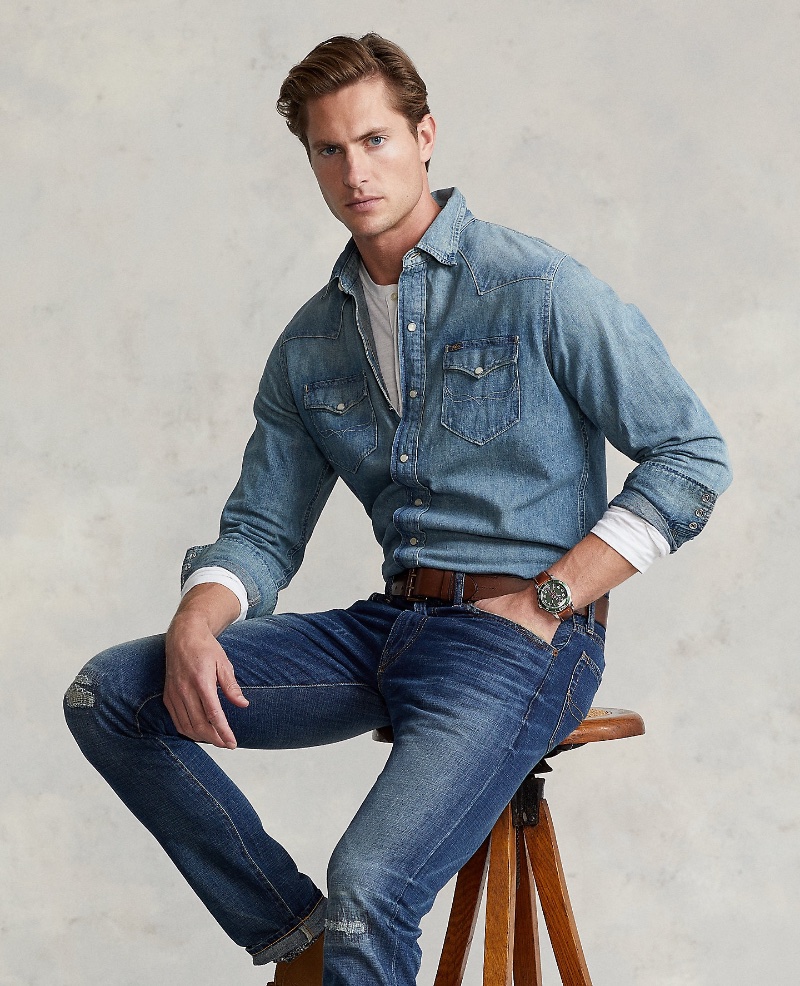 The western shirt, a timeless symbol of American frontier style, has reemerged as a highly sought-after fashion staple. No longer confined to vintage clothing stores or costume racks, the shirt has proven to be a versatile and fashionable addition to any modern wardrobe.
Gone are the days of rough and rugged cotton shirts reserved only for rodeos and ranch life. Today's western shirts come in various materials, from crisp cotton to luxurious silk, adorned with intricate embroidery, beading, and other embellishments.
Whether paired with a sharp blazer for a dressed-up look or jeans and boots for a more casual feel, this shirt never fails to turn heads and exude a relaxed cool.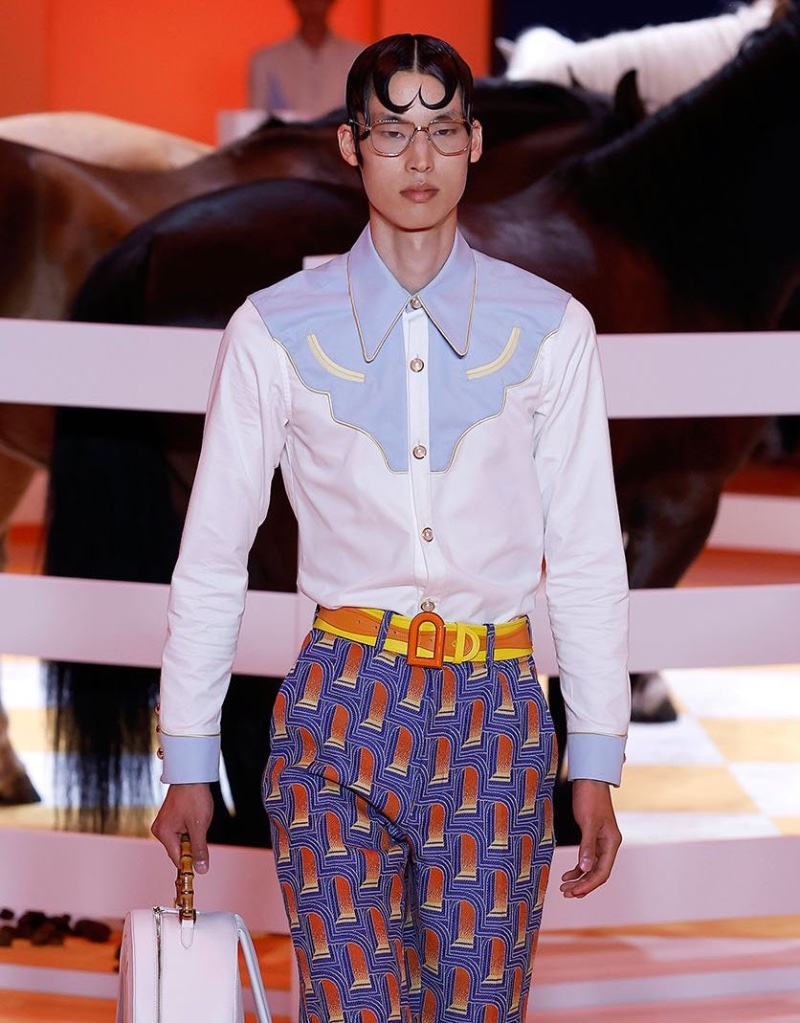 For those seeking a subtler nod to the trend, understated western shirts in neutral hues provide a sophisticated take on the classic style. Meanwhile, bolder interpretations featuring vibrant prints and patterns offer a playful and eclectic twist on a timeless icon.
In an age where fashion is constantly shifting and evolving, these shirts are a timeless essential. So whether you're a cowboy, a rancher, or just a lover of classic Americana, embrace the enduring appeal of the shirt and make it a staple in your wardrobe today.
What Defines a Western Shirt?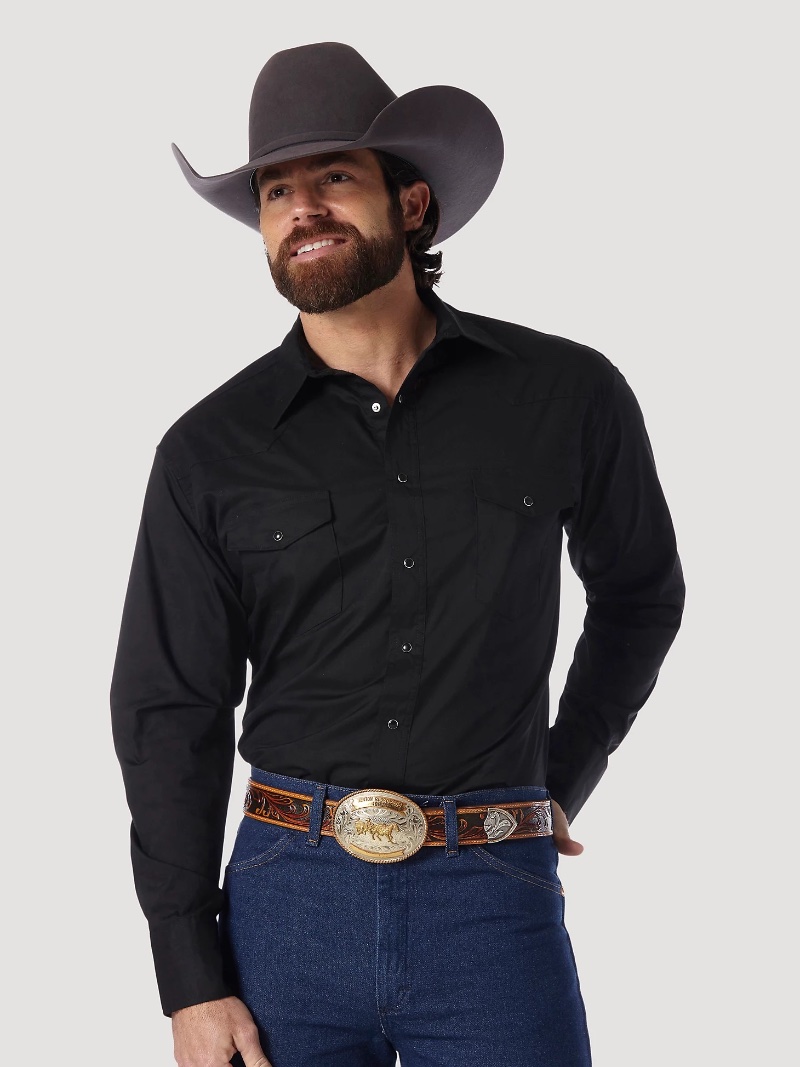 For western shirts, certain defining features set them apart from traditional shirts. While optional, snap buttons, with their distinct clicking sound, are an element that adds rugged charm to the shirt, paying homage to its western roots. 
Another defining characteristic is the pointed collar, which gives the shirt a sharp and sophisticated look. The presence of yokes on the front and back, intricate embroidery designs, and unique pocket details distinguish western style shirts from conventional shirts. 
Furthermore, the fabric and fit of these shirts are also essential factors to consider, with a slimmer cut through the body and sleeves and typically a comfortable, lightweight cotton or cotton blend fabric making it a timeless and versatile wardrobe staple.
Western Shirt Brands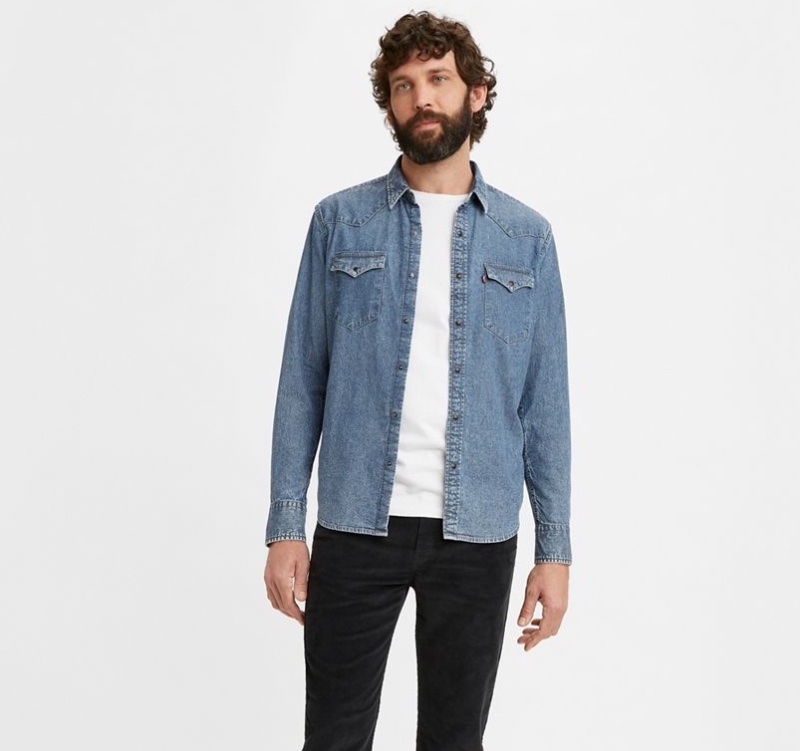 Levi's and Wrangler are synonymous with the western shirt, representing the epitome of frontier style. Despite the availability of shirts from a wide range of brands, from well-known names to lesser-known labels, Levi's and Wrangler remain the go-to brands for those seeking the classic, authentic western shirt experience. 
Other highly rated men's western shirt brands include Ariat, Cinch, Rockmount Ranch Wear, Panhandle Slim, Roper, Stetson, and Scully, all of which have received positive reviews for their quality and style.
Western Shirt Styles
When it comes to western style shirts for men, there are several styles to choose from: 
Classic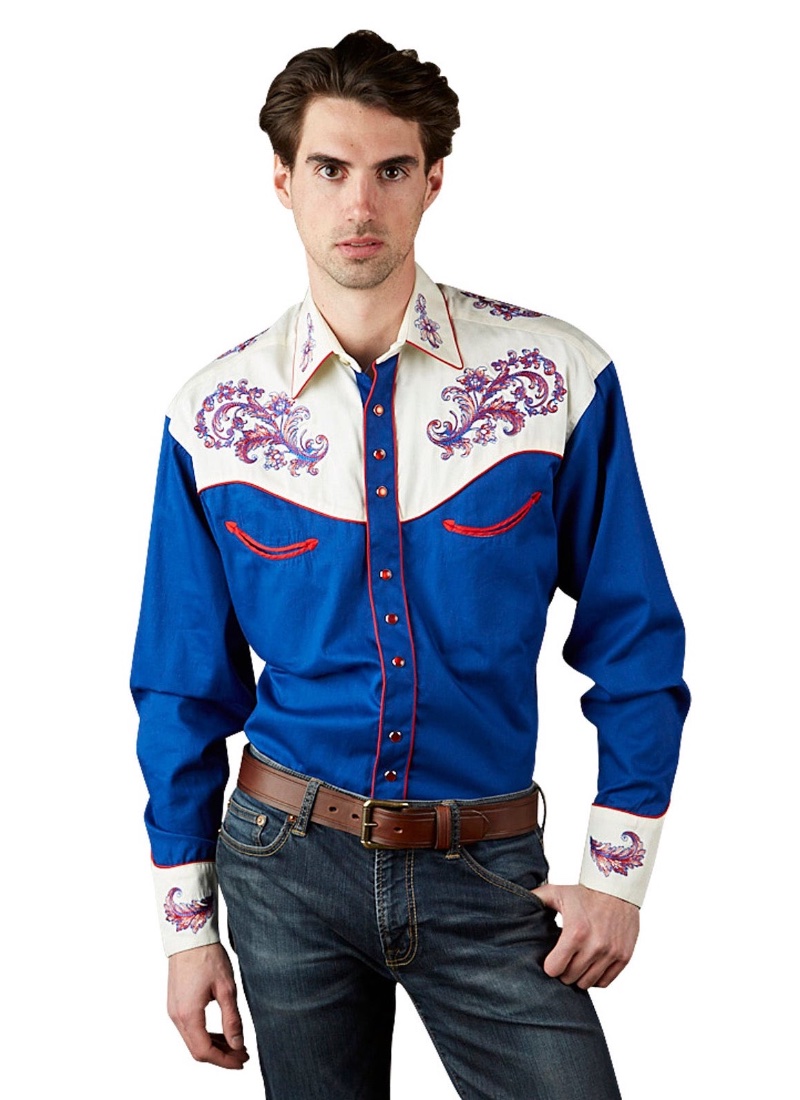 A classic western shirt is a timeless option, featuring traditional western detailing such as pearl snaps, yokes, and embroidery. This style is ideal for those who want to channel the rugged, vintage vibe of the old west.
Modern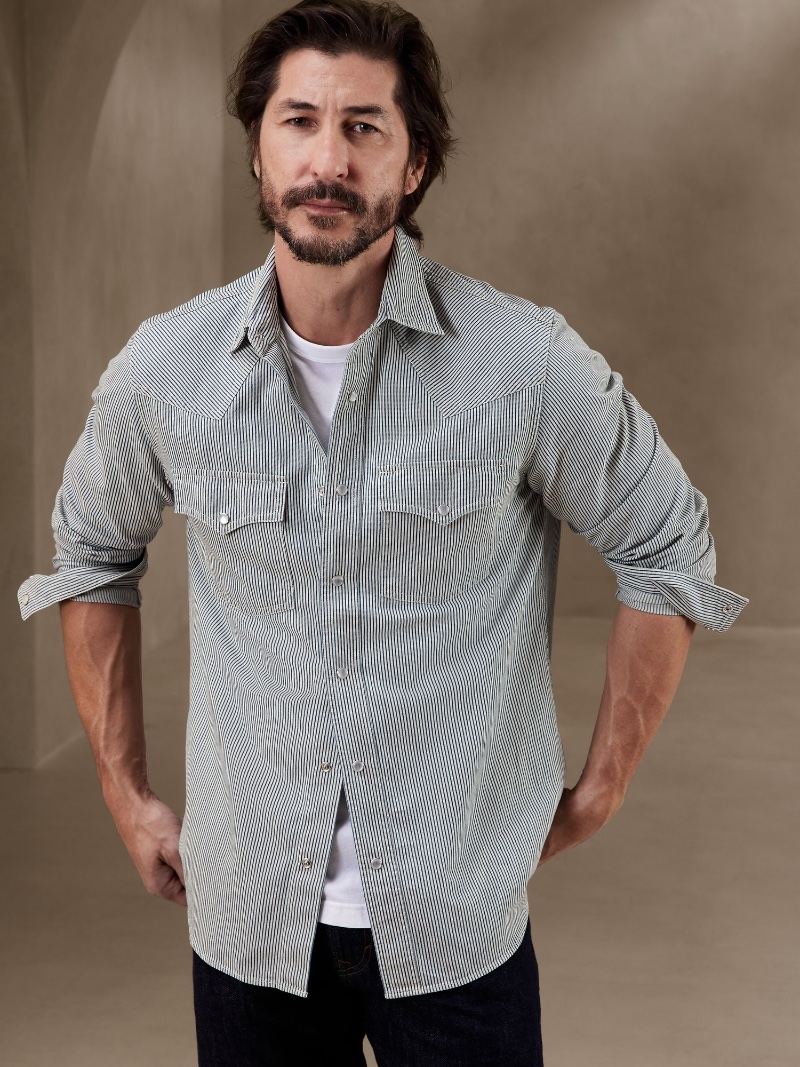 The modern western shirt features clean lines, minimal embellishments, and a sleek, modern cut for a more contemporary look. This style is ideal for men who want to incorporate western elements into their wardrobe without sacrificing a modern look.
Trendy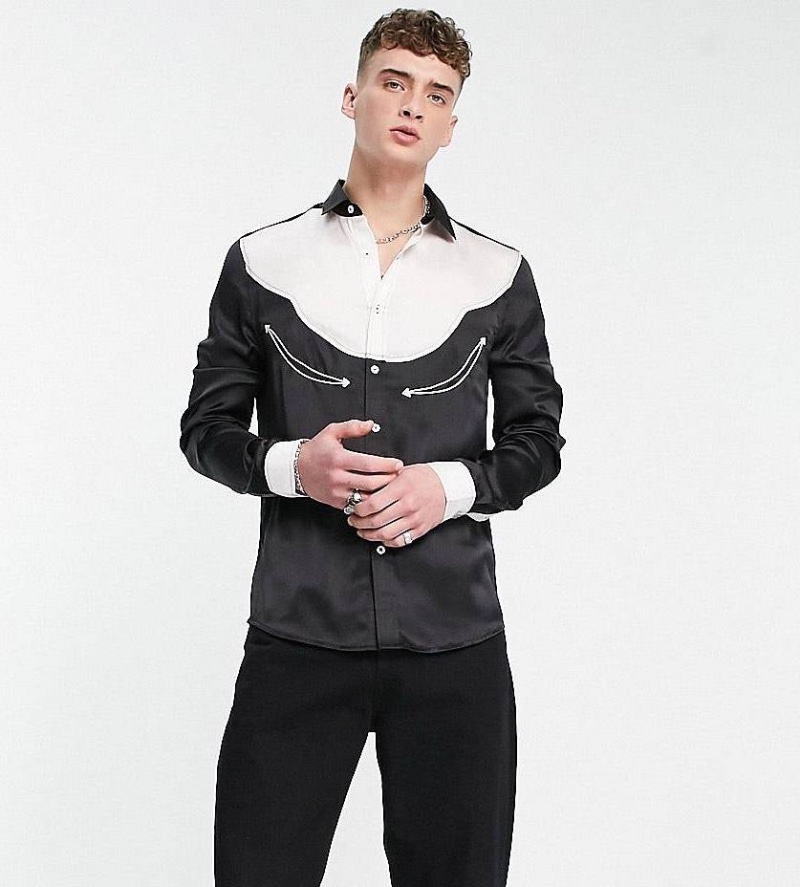 For those who like to stay on-trend, the trendy western-styled shirt features bold prints, bright colors, and unique design details, perfect for making a statement. 
Workwear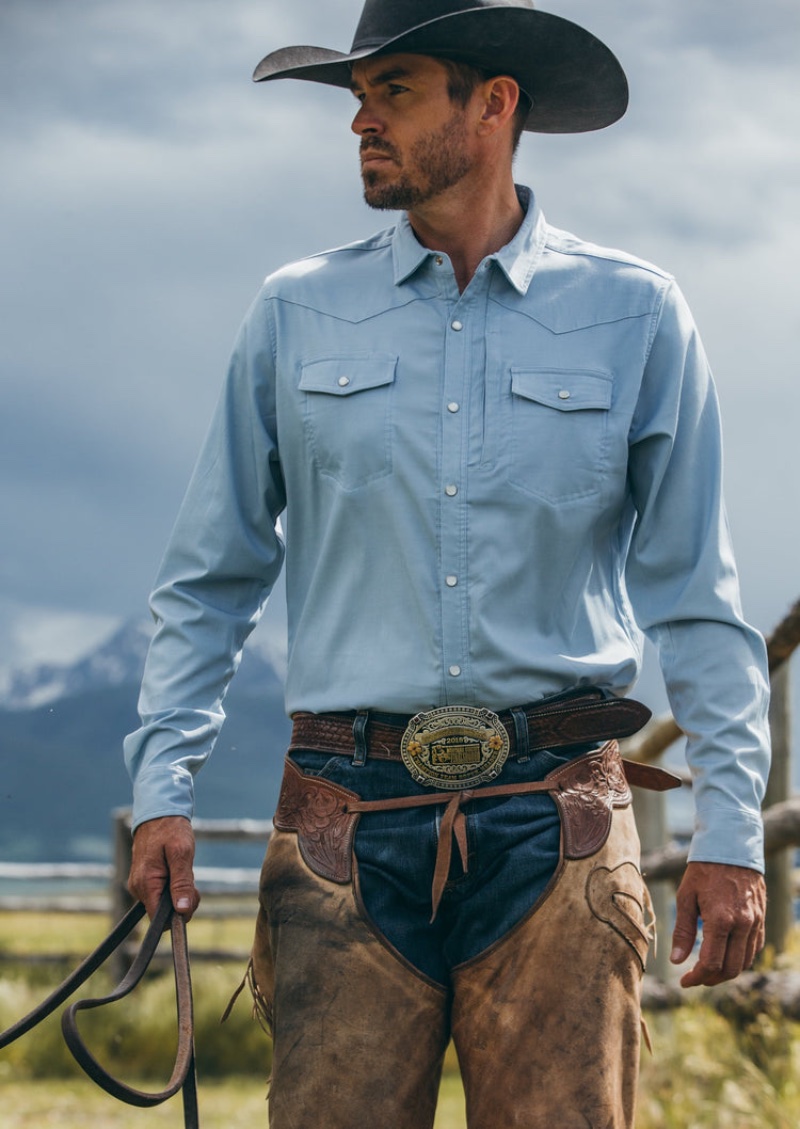 Finally, the workwear shirt is a practical and durable option designed for rugged outdoor activities and features heavy-duty materials, reinforced seams, and functional pockets. No matter your style, there is a shirt to suit every taste and occasion.
A Case for Quality
If you're seeking a shirt that will last and endure, it's worth investing in a quality piece. Although numerous options are available at varying price points, purchasing a well-made shirt will ensure its longevity and performance over time.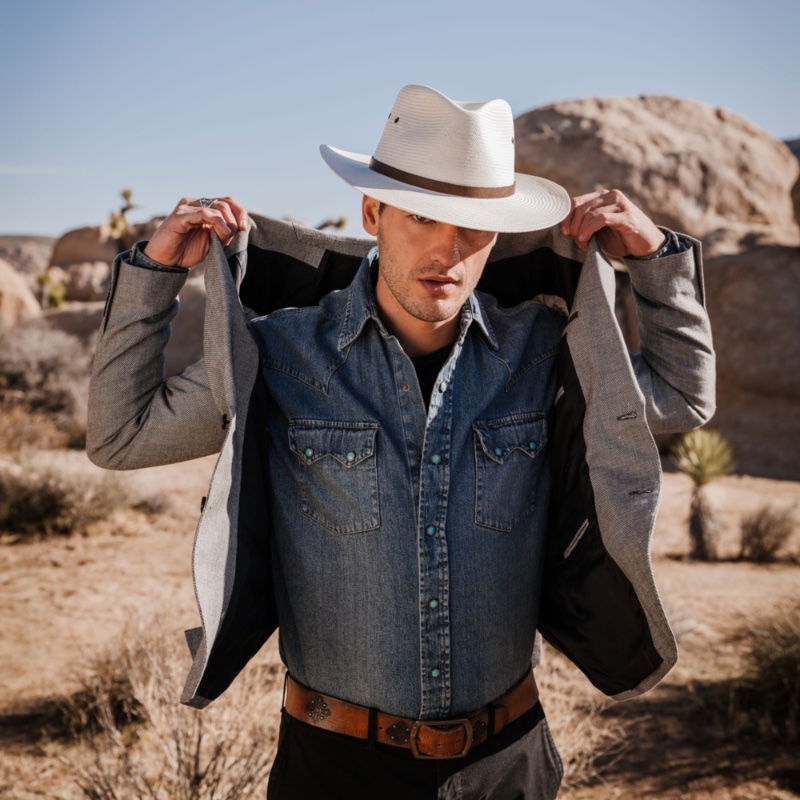 First and foremost, quality shirts are comfortable and made from soft, breathable materials that allow easy movement. Additionally, these shirts last, with durable construction and high-quality materials that can withstand the wear and tear of daily use—meaning that they will last longer and retain their shape and appearance over time. 
Furthermore, high-quality shirts are versatile and suitable for various occasions and styles. Whether you're wearing them casually, on a night on the town, or at a formal event, you're sure to find that they provide the perfect blend of comfort, style, and practicality. 
Finally, western shirts are known for their classic, timeless style, with a wide range of colors, patterns, and designs, making them a versatile and stylish addition to any wardrobe.
How to Wear Western Shirts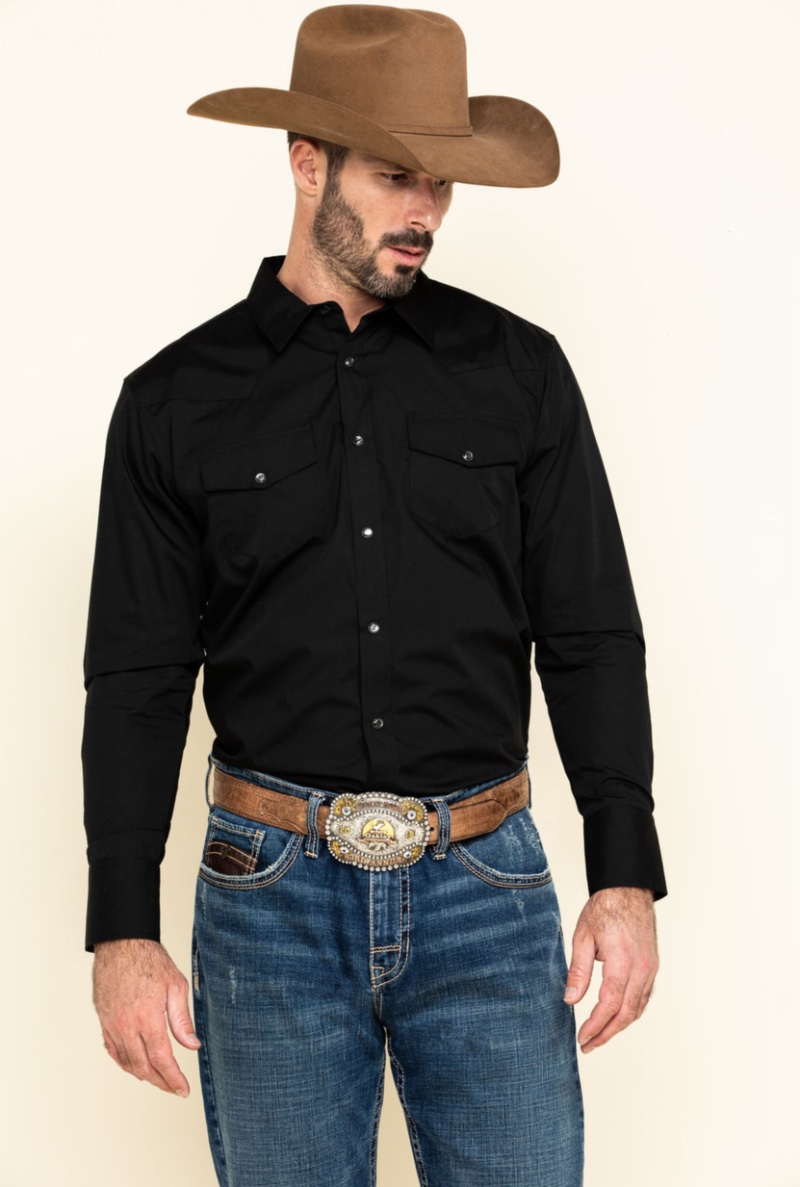 Plain and western shirts may differ in appearance, but both embody the practical spirit of functional fashion. These versatile shirts can be worn in many styles, making them a great addition to any wardrobe. When it comes to styling western shirts for men, there are many options to consider:
Casual Outfit
Pair a shirt with distressed denim jeans, boots, and a leather belt for a casual look. This classic combination is perfect for weekend errands or informal gatherings.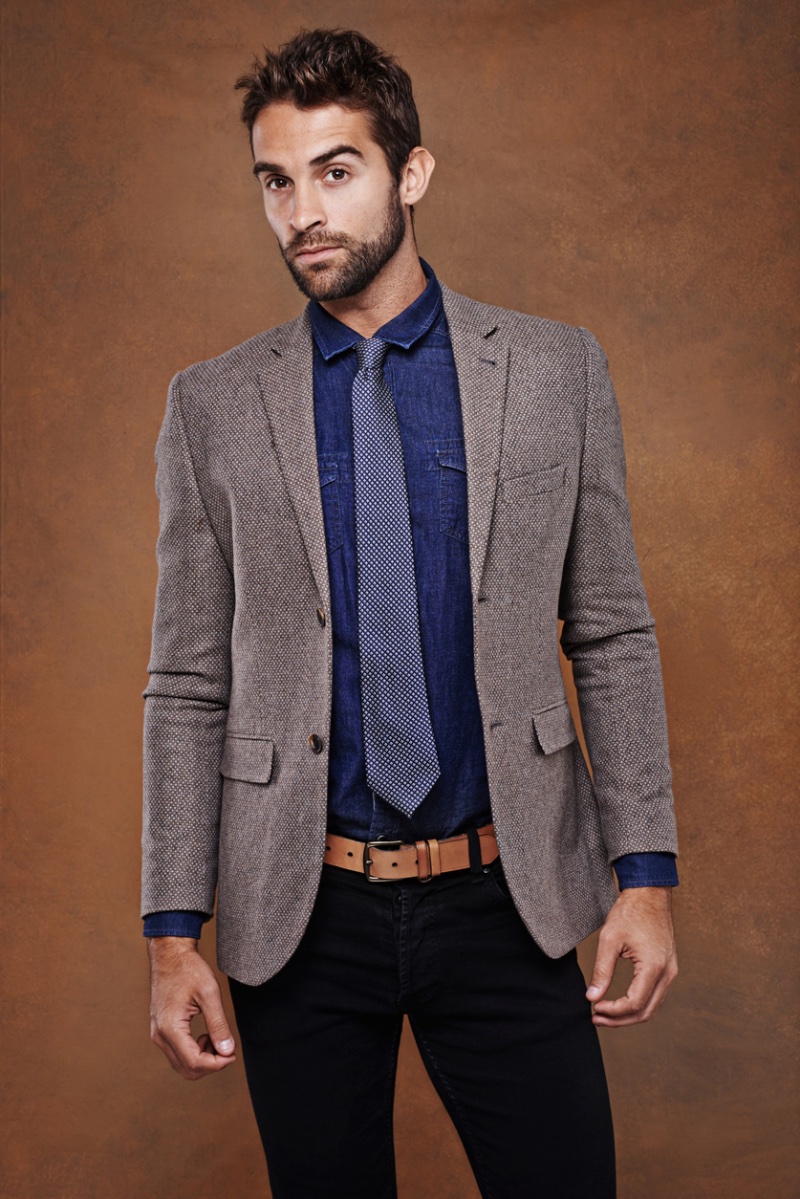 Formal Outfit
For a formal occasion, tuck a shirt into dress pants, add a blazer, and finish off with dress shoes. This look is excellent for weddings, business events, or a night out on the town. 
Layering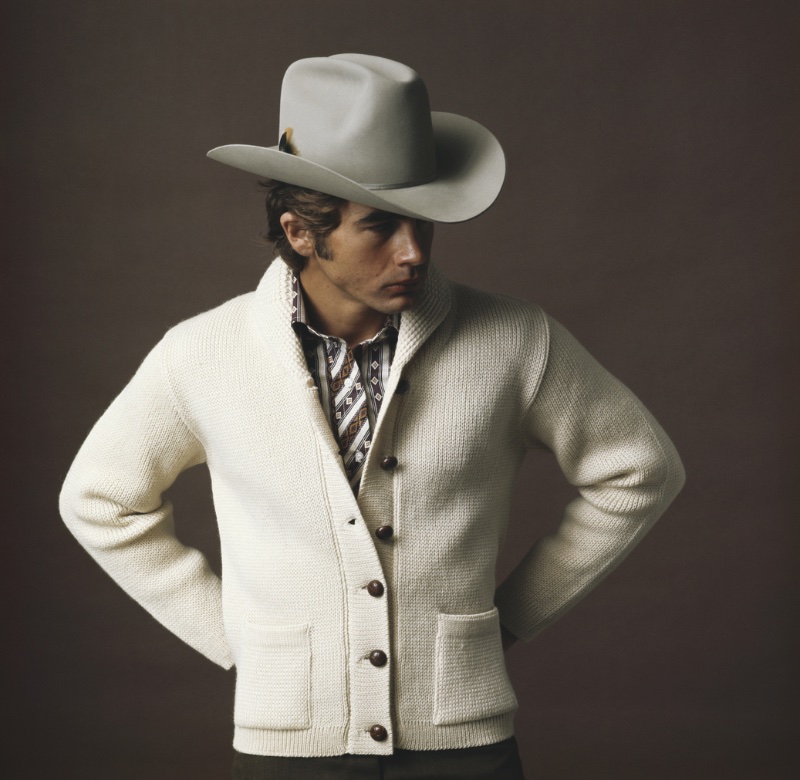 Another great way to style a shirt is by layering it with knitwear or outerwear, such as a denim jacket or a leather vest—this adds extra warmth and texture to your outfit, making it perfect for cooler weather. 
Accessories
Finally, accessorizing with a hat, belt buckle, or jewelry can take your shirt to the next level and make a style statement. With so many options for styling western shirts, the possibilities are endless.
The Popularity of Western Shirts
The popularity of western shirts has grown in recent years, driven by several factors. One of the most significant contributing factors has been the endorsement of these shirts by celebrities and fashion icons, who have helped to bring this classic style into the spotlight. 
Western-style shirts have also been featured prominently in pop culture, appearing in movies, TV shows, and music videos, further fueling their popularity. As a result of this increased visibility, western shirts have been widely adopted by mainstream fashion, with many high-end and fast-fashion brands offering their own versions of the classic shirt.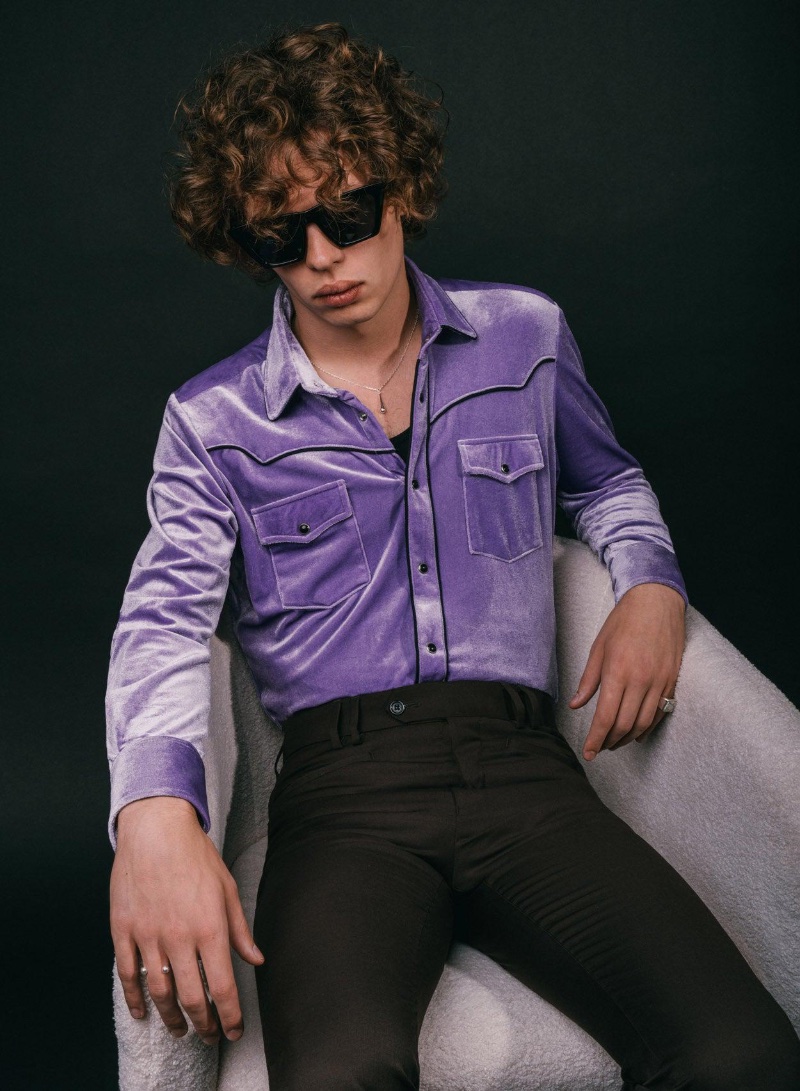 This widespread adoption has helped to make these shirts a staple of modern fashion, appealing to a wide range of people, from fashion-conscious young people to older generations who remember the classic western style from their youth. 
Whether you're looking to make a fashion statement or want a comfortable, stylish shirt, western shirts are a popular and versatile choice.