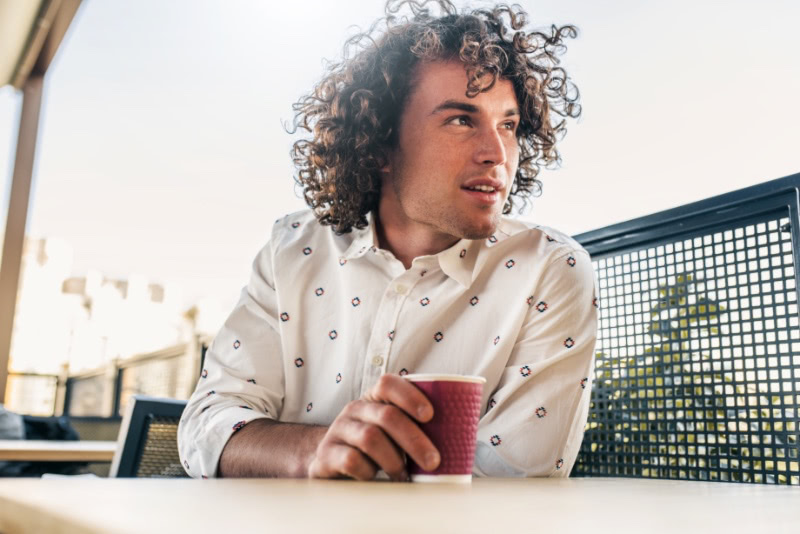 Curly hair can sometimes feel like a nightmare to deal with, as it might be difficult to tame and can suddenly become frizzy. Nevertheless, a curly men's hairstyle can be one of the most eye-catching things for a man when cared for and styled well. Learning to style curly hair correctly can take time and practice, but once you get the technique down, there will be no looking back.
The Best Curly Hair Tips for Guys
Step into your true self and confidently show off the beauty of your curls! To help you on this journey, we have created a comprehensive list of curly hair tips for guys to care for your curly hair to achieve a fantastic look. Learn how to properly style and maintain it and discover which products are best suited for achieving that effect.
Embrace Your Look
Firstly, the most crucial step you can take is to embrace your curls. If your hair is naturally curly, there is no point in looking at the best straight hairstyles for inspiration, as they will never work with your natural texture and hair type.
Although it's possible to straighten curly hair, it can only make your life more difficult and frustrate you. You will probably spend ages in the morning trying to style your hair, which can damage it, mainly if you use many tools, such as hair straighteners.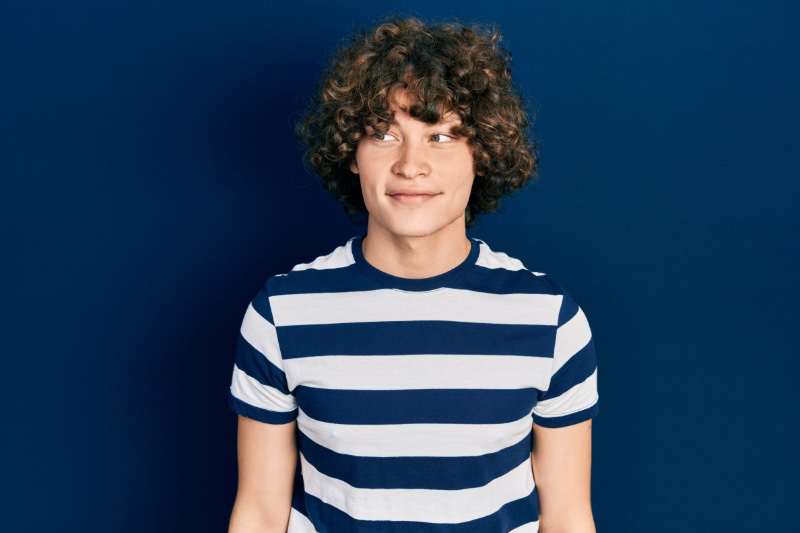 Look for Curly Hairstyles
As a result, the best thing you can do is to look for men's hairstyles that are appropriate for your hair type. For example, at Men's Flair, you can explore a selection of men's hairstyles for curly-haired men and learn more about the latest haircut trends and product reviews.
This will help you find a suitable hairstyle that complements your head shape and natural features. Whether you have thicker curls or flowing wavy locks, you are guaranteed to find the right option to look sleek and modern for the perfect hairstyle.
Invest in Curl-Defining Products
Another crucial step in learning how to style curly hair is to get the right hair products to use on your hair. There are things to consider, like what kind of curl type you have, as this will determine your ideal product.
For example, you may want to use men's sea salt sprays or curl creams for looser curls and waves. Alternatively, if you have tight curls, you will need something with a stronger hold, such as hair gels, pastes, and men's hair pomades.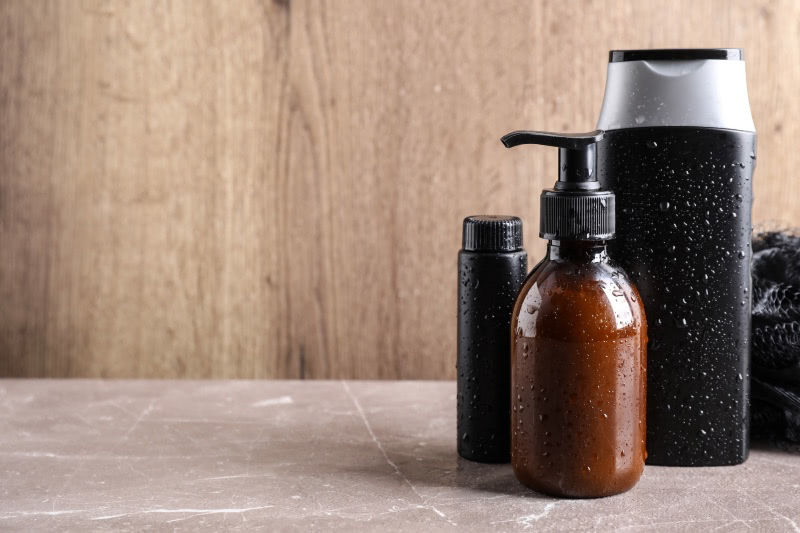 Wash Day
A regular wash day routine for those with curly hair is essential. Establishing a routine for washing, deep conditioning, and styling can help maintain moisture, reduce the chances of tangles, and promote healthy curls overall. You can find tips and tricks from experienced curly hair veterans on social media and natural hair blogs to ensure you care properly for your curls. Maintenance can go a long way in keeping healthy, beautiful curls later.
Upgrade Your Shampoo
If you want your curly hair to stay healthy and not dry, you cannot use the typical shampoo filled with harsh chemicals. Ideally, it's best to find a moisturizing shampoo that will add moisture to the hair and not strip it of its natural oils.
In general, curly hair can become drier faster than other hair types, so keeping it adequately moisturized will prevent it from getting damaged. That is a personal choice for those men wondering how often you should wash your hair. However, using the correct products will make a massive difference in how your hair feels.
Choose a Good Conditioner
Most people may use either shampoo or conditioner or all in one. Although this might be a good choice for some men, choosing a good conditioner is essential for curly hair, so you shouldn't skimp on that part.
Incorporating a conditioner into your routine is critical to stopping your hair from becoming dry or frizzy. You can also use a leave-in conditioner several times weekly, so you may not need to wash your hair as often.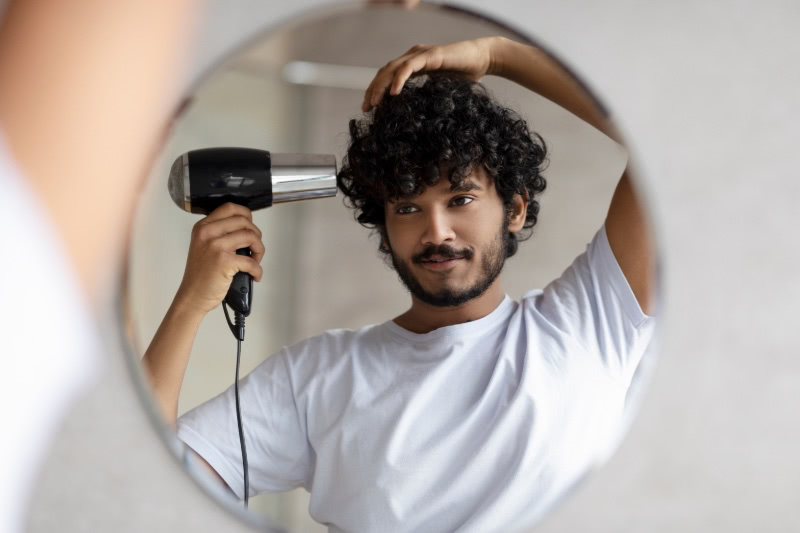 Use a Blow Dryer Correctly
When using a blow dryer, it's crucial not to go too high with the temperature. Using a blow dryer on medium heat is advisable, as using too much heat can ruin the volume and definition of your curls. Because of this, you should avoid using too much heat on your hair and ensure you protect it when you blow dry it.
You can also use a diffuser, precisely one designed for curls, to limit the damage from the heat and dry your hair more quickly without disrupting your curls. However, let your hair air dry for the best results if possible.
Never Use a Regular Towel
Please don't dry your hair with a regular towel, which can be incredibly rough. While the coarse materials of towels might be fine for our bodies, it's not the same for our hair.
Over time, you may notice that too much friction has caused the basic structure of the hair to weaken. It can be especially damaging, as curly hair is already prone to brittleness.
Instead, you should find a microfibre towel that will minimize the amount of friction on your hair, ensuring your curls can stay healthy in the long run.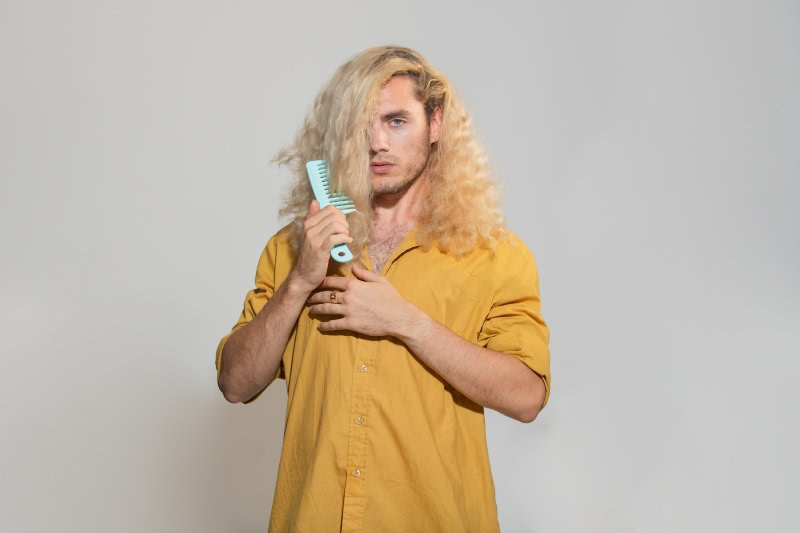 Find the Right Comb
Moreover, it is no surprise that looking after curly hair means that a regular men's hairbrush won't cut it either. You should find a suitable men's hair tool, such as a wide-toothed comb, to ensure that your curls look defined instead of like a massive frizz ball.
With its wide teeth, this comb will untangle your hair without changing the shape of the curls. If possible, try to comb your hair only when wet; otherwise, combing it when dry might lead to breakage and split ends.
Control Longer Curly Hair
If you have long curly hair, you may want to find different ways to keep it out of your face. For example, keep an elastic hairband on your wrist to tie it up in a bun. You can try using bobby pins to secure the bun in place. 
To ensure your hair stays healthy during the day, it might be beneficial to add extra pomade. Please rub it into the hair on the sides and top of your face. It's best to leave the pomade to air dry to achieve the best hold and shine.
Final Words
The key takeaway from our curly hair tips for guys is to take extra care of your hair. While it may take a few days to get used to the new routine, you must stick with it for the best results. Find products that suit your hair type, use them correctly, and keep your curls looking healthy and happy!