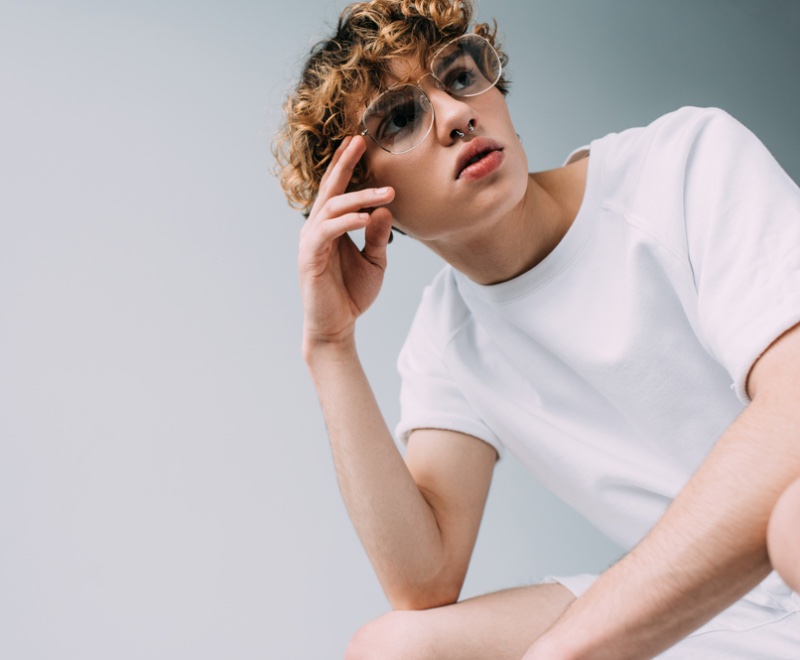 Do you sport a head of curls and wear glasses? Well, it's time to up your style game by matching the two. Believe it or not, there's an art to making sure your specs complement your luscious locks. 
Glasses aren't just functional; they're also a chance for guys to show off their personalities. By considering your hair type and style, you can easily pick a frame that will leave a lasting impression.
Floppy hair frames the face, and straight hair accentuates it, but curly hair has entirely different rules when choosing flattering and on-trend glasses. And if you're a glasses wearer who loves showing off your natural curls or experimenting with stylish perm looks, how do you select the right pair of frames?
This guide will explore the basics of matching glasses to curly hairstyles for guys—from flattering shapes to chic color combinations. When completed correctly, these styles should result in an effortless synergy between your curls and eyeglasses, perfect for every event, from day wear to night occasions.
Read on for all the best tips on how to find the ideal glasses for curly-haired men:
First, Understand the Type of Curly Hair You Have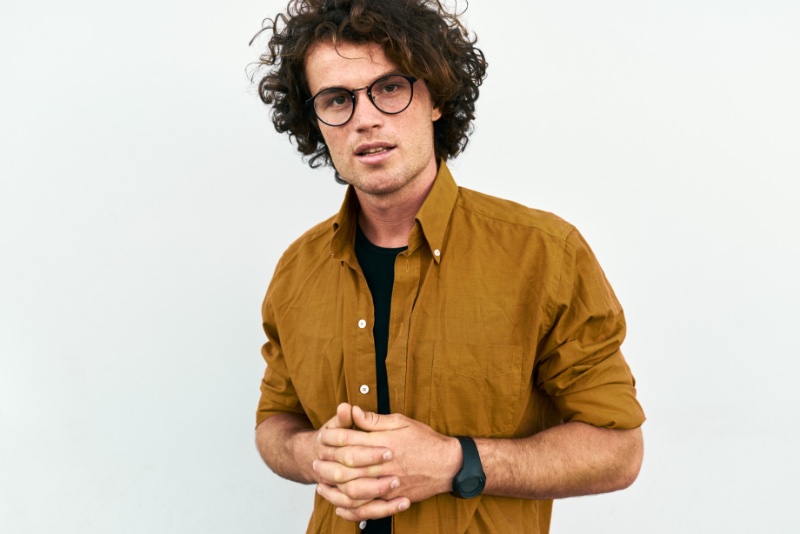 Understanding the type of curly hair you have is the first step to choosing the right style of glasses for your specific look. There are three types of curly hair:
Spiral: These curls have a tube-like or zigzag texture that almost appears like waves when brushed out.
Corkscrew: These curls look like tight spirals with a sharp zigzag pattern that forms an S-shaped figure when wet or dry.
Wavy: These curls are more curly than spiral or corkscrew. They have more straight fibers, often appearing in a wave-like pattern from root to tip.
Look at celebrities or other public figures with these hair types to see what glasses suit them well. For example, large rounded lenses with thin metallic frames complement men with spiral curls. Guys with wavy hair tend to go for square glasses with thicker frames.
Which Hairstyles Do You Sport the Most?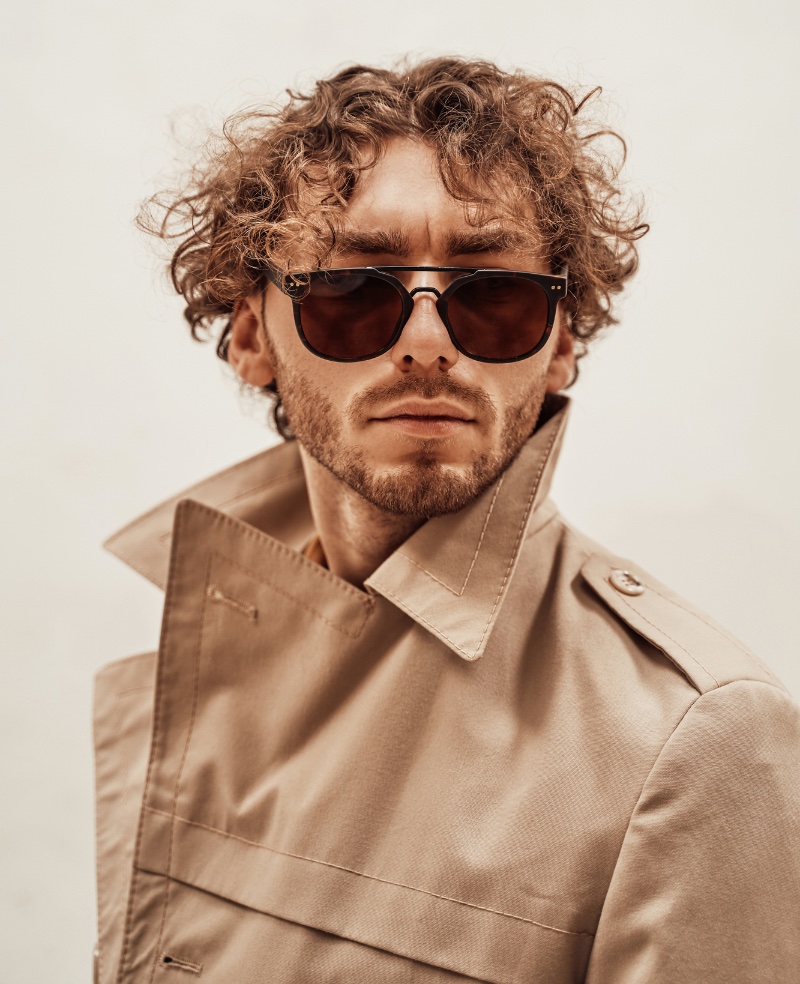 Most people with curly hair like to try different hairstyles. But the hairstyle you wear the most will affect your choice in the glasses you choose. Guys with big locks or ringlet curls should wear big and bolder glasses. Men with shorter cuts may use aviator glasses to accentuate their features, especially if they have a strong jawline.
Beach waves are incredibly trendy, especially for people who have lighter hair. Sunglasses with dark brown or black lenses would suit this style of hair. No matter your hairstyle, you can find various frames and lens shapes at Glasses USA. From funky shades to trendy specs, there's a pair of glasses for everyone.
Popular Hairstyles for Men & Glasses That Go with Them
Curly hair with a quiff: Wayfarer
Long wavy hair with a fringe: Clubmaster browline
Slickback wavy style: Aviator square
Wavy hair with tapered undercut: Rectangle rimless
Short afro curly cut: Hingeless
Choosing the Right Glasses for Your Hair Style & Type
Choosing the right glasses for your hair can be a challenge. However, you can quickly become an expert with some easy style tips. Here are some helpful hints to match glasses with your hair:
Keep It Simple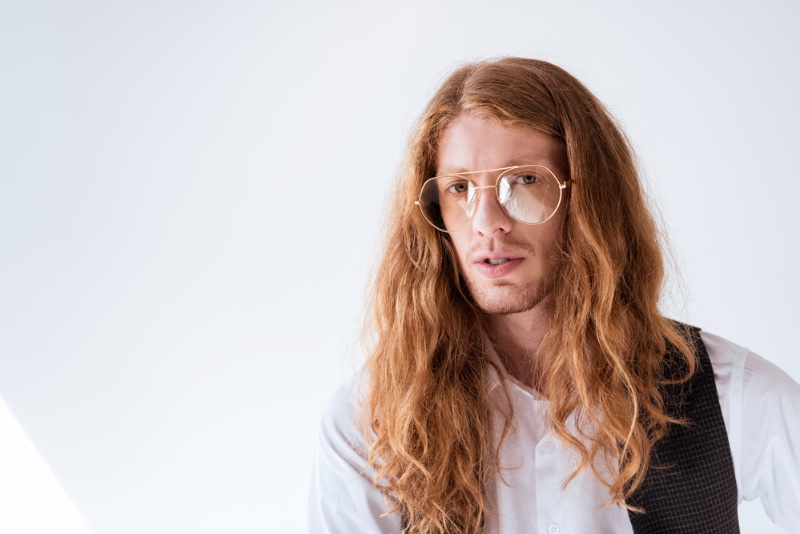 Go for frames that keep it simple. Choose smaller frames or flexible materials like plastic or metal that are less heavy on the face. Avoid large, bulky frames because they add too much weight around the eyes and take away from the natural shape of your curls.
Color plays a role as well. Pick neutral colors such as black, brown, or silver to match your hair color, or do the opposite to create an exciting contrast between your hair and eyewear.
Explore Other Frame Shapes
Once you've considered frame size, start exploring other shapes. Diamond-shaped frames can add charm and energy to any look. Oval-shaped frames soften and elongate features, and rectangular-shaped glasses create drama and emphasize power.
When selecting potential pairs of fashion eyewear frames, consider which frame shape will work best depending on your face shape, skin tone, and hair styling preference.
Go Big or Go Home
If simpler models must fit your personality or are straying too far away from your signature look, go bolder! Try something unique like round retro glasses or futuristic shapes to make a statement with your opticals!
A giant pair of spectacles is precisely what you need if you feel like experimenting with colors such as bright blue hues or yellow tortoiseshell patterns to show off your style while still complimenting your curls!
Final Words
When it comes to an outfit, every element is crucial, and that includes eyewear. To make a statement, take note of the colors in your clothing and choose frames that either match or contrast for an even more attention-grabbing look.
While people with curly hair can rock any glasses style, like aviators or large round frames, ensuring they match your outfit is essential. Use the tips in this article to integrate your eyewear into your overall look flawlessly.