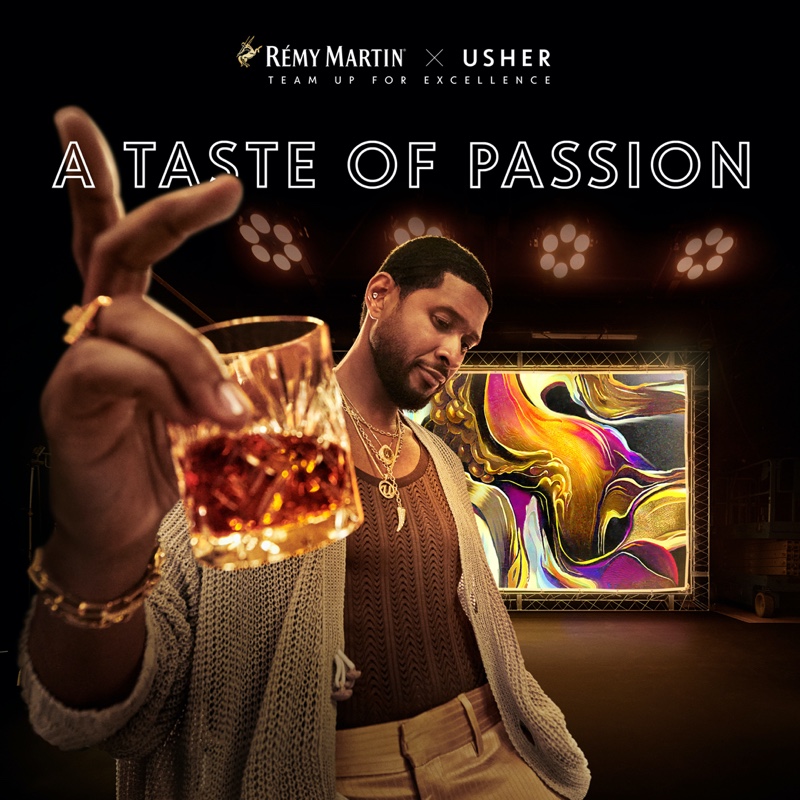 Usher partners with Rémy Martin, the creator of cognac-fine champagne, and launches a new campaign entitled Usher x Rémy Martin 1738: A Taste of Passion. The collaboration includes a special limited-edition bottle and NFT inspired by A.I. integrated technology. The Rémy Martin 1738 Accord Royal bottle, Usher x 1738 A.I. Powered, has a modern bottle design and coincides with the launch of A Taste of Passion Experience. This multi-sensory, interactive experience will accompany Usher's My Way residency in Las Vegas.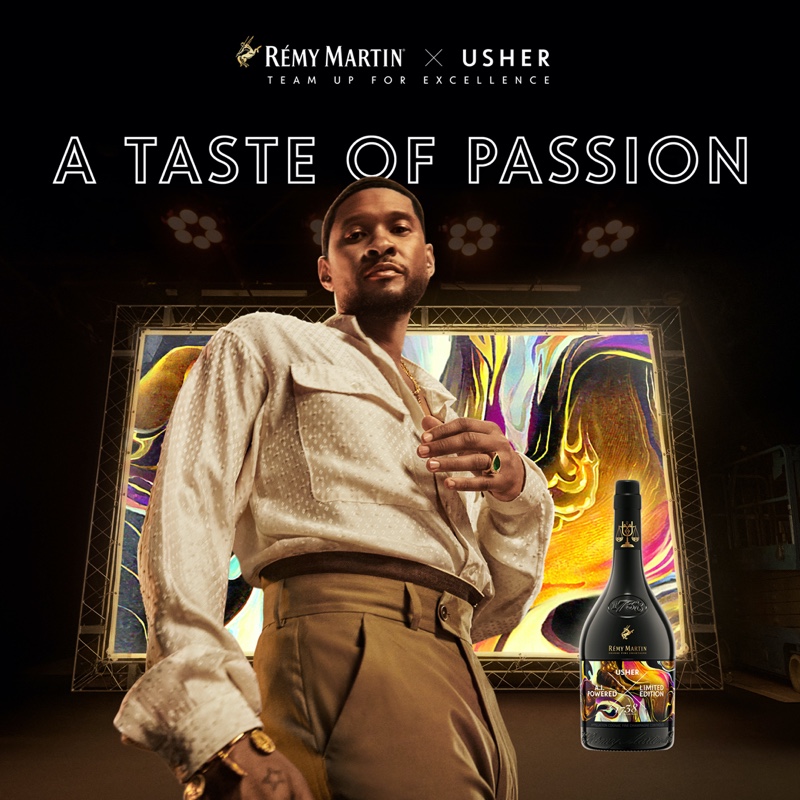 For "Usher x 1738 A.I. Powered," the musician employs his musical lexicon to describe the taste of Rémy Martin 1738 Accord Royal. The use of Generative Adversarial Neural Networks and Contrastive Language-image Pretraining, artificial intelligence technologies, results in the portrayal of taste notes that translate Usher's words into artwork, making the unseen visible.
"I'm an artist at my core, so transforming an abstract sensory experience like taste into something visual really spoke to my creative process," comments Usher. "I leaned into the exemplary Rémy Martin 1738 Accord Royal that flowed through me and am so impressed by the visuals that came out of the A.I. process – they truly represent the medley of tasting notes captured in the flavor. It's rewarding to see those words translate to real-world artwork that my fans can engage with while bringing taste front-and-center."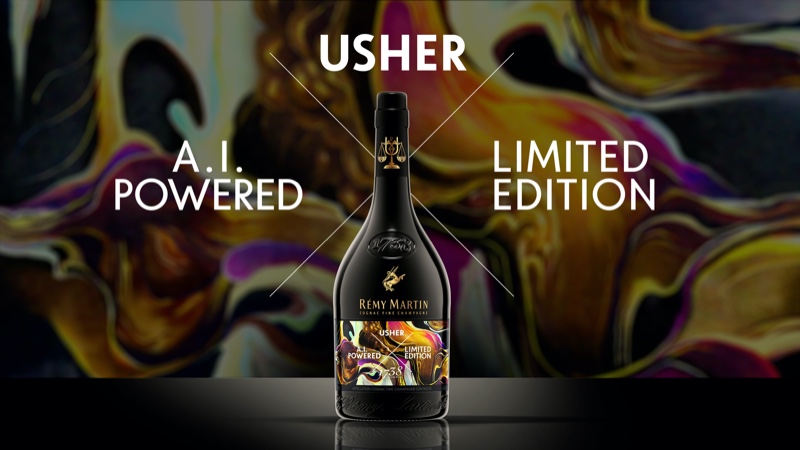 The Usher x Rémy Martin collaboration produced 50 limited-edition bottles. 25 Usher x 1738: A.I. Powered limited-edition bottles will be available on BlockBar.com, the first direct-to-consumer NFT marketplace for premium wines and spirits.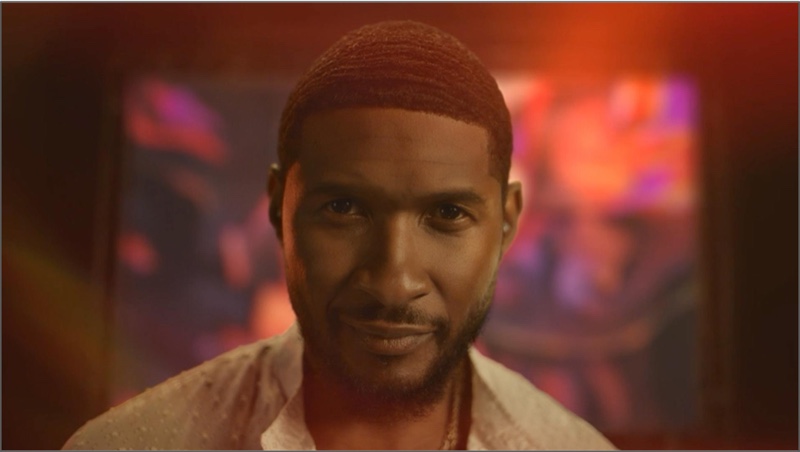 The exclusive collaboration drops at 10 AM EST Friday, July 29, 2022. Each NFT costs a suggested retail of $500 in ETH or credit card. First-time bottle-reservers get 10 minutes to check out at 10 AM.
Users who successfully check out get an NFT verifying ownership of the physical bottle, which BlockBar stores until redemption, beginning October 2022. Usher and his staff will get the remaining 25 bottles to honor My Way's 25th anniversary.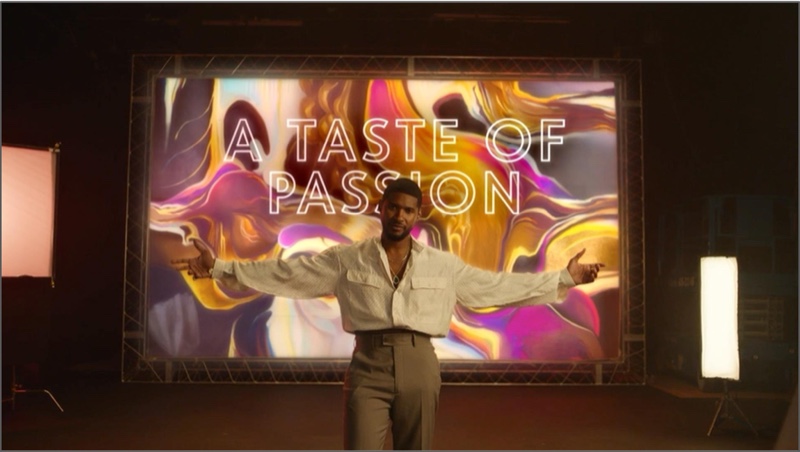 "For nearly 300 years, excellence has been at the core of Rémy Martin, and through this partnership we've reached an incredible milestone, where we see brilliance breakthrough at the intersection of art, fine cognac, and technology," shares Amaury Vinclet, Global Executive Director of Rémy Martin.
Vinclet explains, "As a brand that has been a long-time collaborator with Usher and shares the same values, we are proud to have him launch the first limited-edition bottle design for Rémy Martin 1738 Accord Royal. This bottle is a first for the spirits industry in how the technology was used and gives spirits aficionados and Usher fans alike a rare collectible they'll treasure forever."