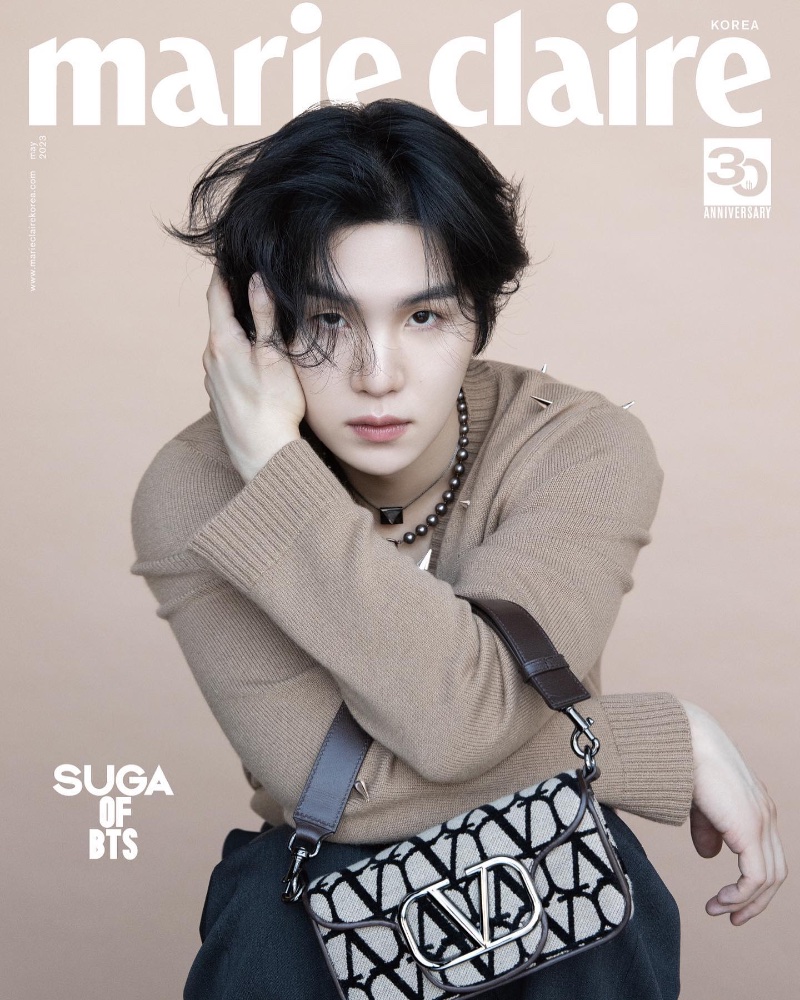 Suga commands attention as he graces three covers for Marie Claire Korea's May 2023 edition, capturing the essence of modern sophistication. The celebrated BTS sensation is captured through the adept lens of photographer Kim Yeongjun.
As an esteemed brand ambassador of Valentino, Suga proudly sports ensembles by the Maison. Embracing the spotlight, Suga promotes his new album, D-DAY featuring the anticipated track HUH?! in collaboration with fellow BTS member, J-Hope.
Suga Marie Claire Korea May 2023 Cover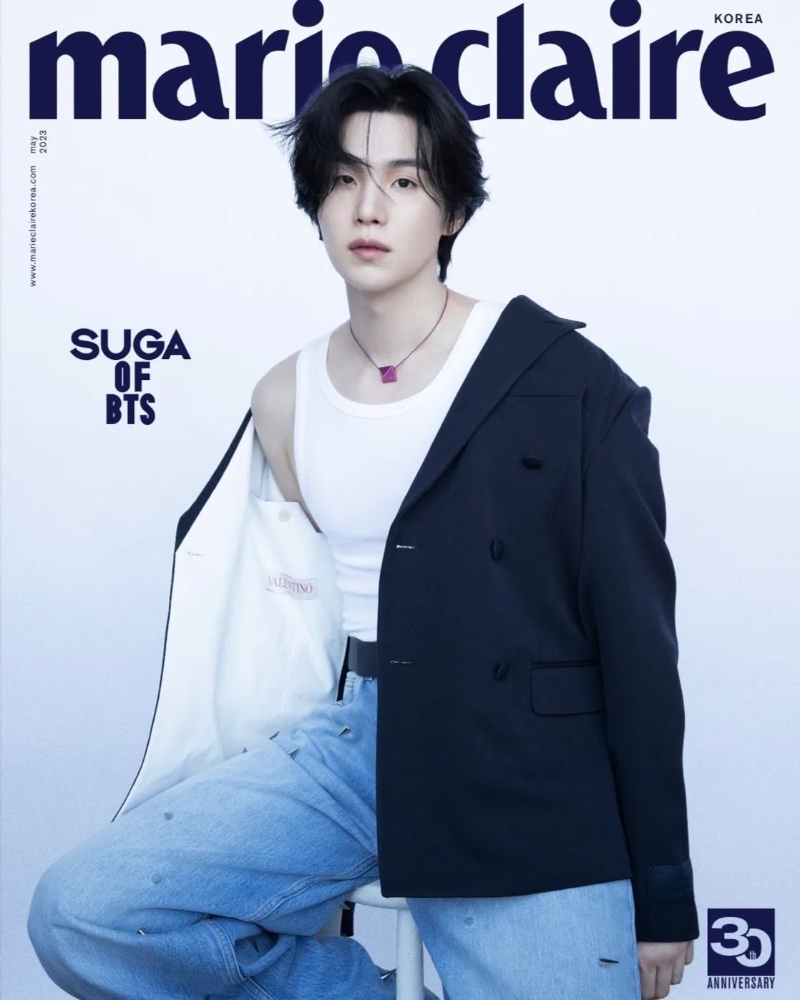 Stylist Kim Youngjin meticulously curates an array of sartorial masterpieces for Suga, drawing from Valentino's versatile offerings. In one instance, he dons a double-breasted suit jacket harmoniously paired with distressed jeans, striking the perfect balance between refined elegance and contemporary nonchalance.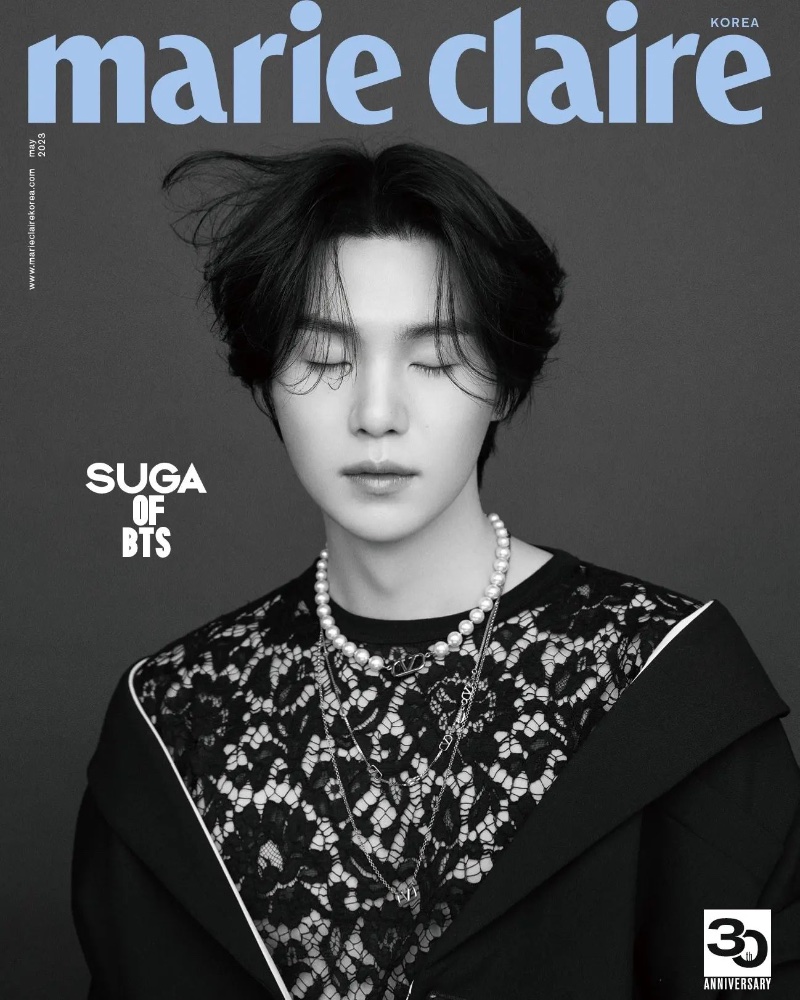 For another Marie Claire Korea cover, Suga dons a chic pre-fall 2023 outfit from Valentino. Flaunting a black lace top, he skillfully juxtaposes his edgy persona with the romanticism of the fabric, while a strand of pearls adds a touch of modernity. Complementing his striking ensembles, Suga's subtly windswept tresses are artfully styled by Baek Heungkwon, and makeup artist Choi Sooil emphasizes his natural radiance.
Suga as Valentino Brand Ambassador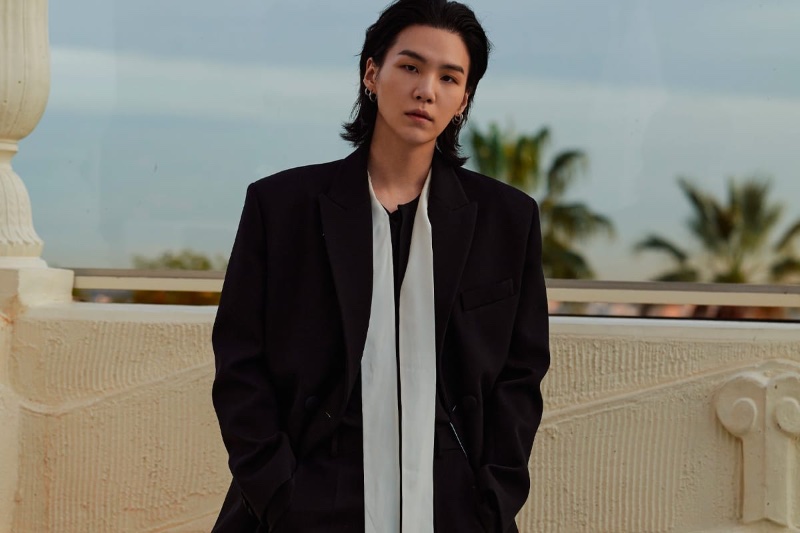 In January 2023, Valentino unveiled Suga as the latest star to join their group of influential ambassadors, the Di.VAs—an acronym symbolizing Different Values. These icons epitomize various virtues, from diversity and inclusivity to creativity and passion.
The esteemed creative director of Valentino, Pierpaolo Piccioli, shared with WWD the essence of Suga's appointment as an exemplary embodiment of the Di.VA ethos. Piccioli says the BTS member is "a multifaceted artist; he is an interpreter and uses his talent and his work to express himself with energy and authenticity."
Suga for Maison Valentino Essentials Campaign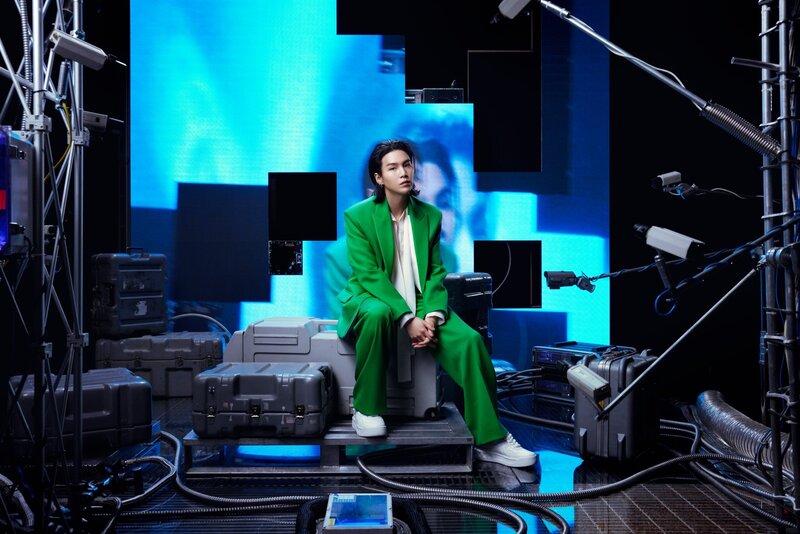 In his first official collaboration with Valentino, Suga infuses the Maison Valentino Essentials campaign with his unique charisma, embodying the essence of the spring-summer 2023 collection. The synergy between the K-pop sensation and esteemed photographer Charlotte Rutherford results in a series of contemporary, striking images that radiate the season's freshness.
The Essentials line, meticulously shaped by Valentino creative director Pierpaolo Piccioli, reflects a commitment to sartorial subtlety and refining quintessential elegance. Piccioli juxtaposes monochromatic elements and voluminous silhouettes. The Essentials collection embraces the sheer magnitude of his design prowess, as the clothing cascades effortlessly on Suga's modelesque frame.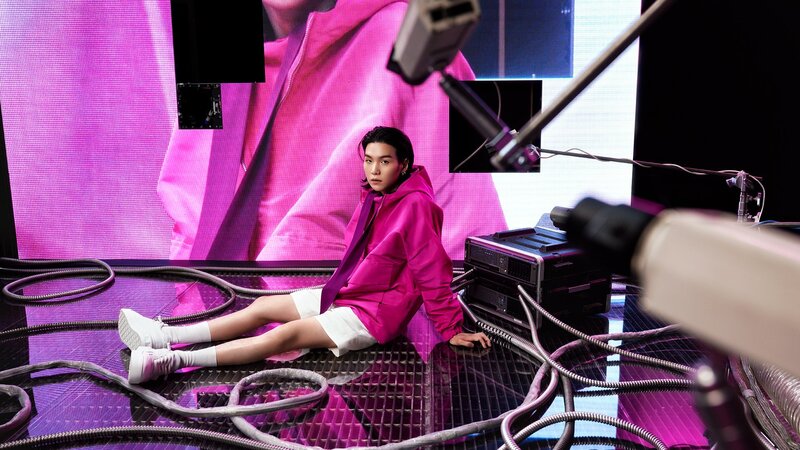 The potent fusion of Suga's magnetic presence and Valentino's artistry culminates in an unforgettable season. The Essentials collection excites unwavering confidence and refined minimalism, with every stitch, seam, and fold breathing new life into the storied legacy of the illustrious fashion house.