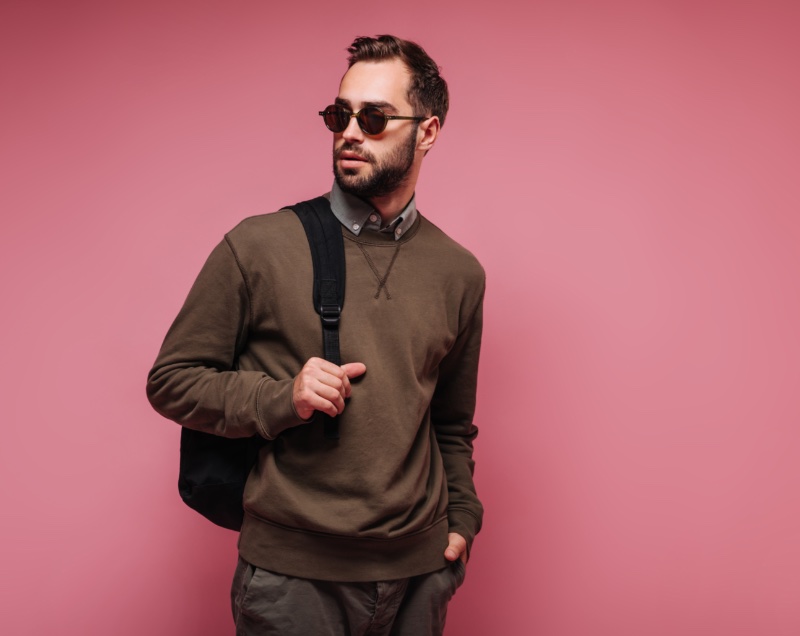 In the dynamic, fast-paced fashion world, minimalist fashion principles embody the mantra of "less is more." This trend eschews the latest trends and emphasizes timeless pieces and classic styles, serving as the antithesis to fast fashion.
At its core, minimalism champions simplicity, functionality, and elegance, transforming these values into a streamlined and aesthetically pleasing minimal wardrobe. A minimalist wardrobe for men encapsulates this ethos by combining versatile clothing items that withstand the test of time and can be mixed and matched for any occasion.
This comprehensive guide will delve into the hallmarks of a minimalist wardrobe, explore specific clothing items every man should have, and offer crucial considerations for cultivating your minimalist fashion approach.
Principles of a Minimalist Wardrobe for Men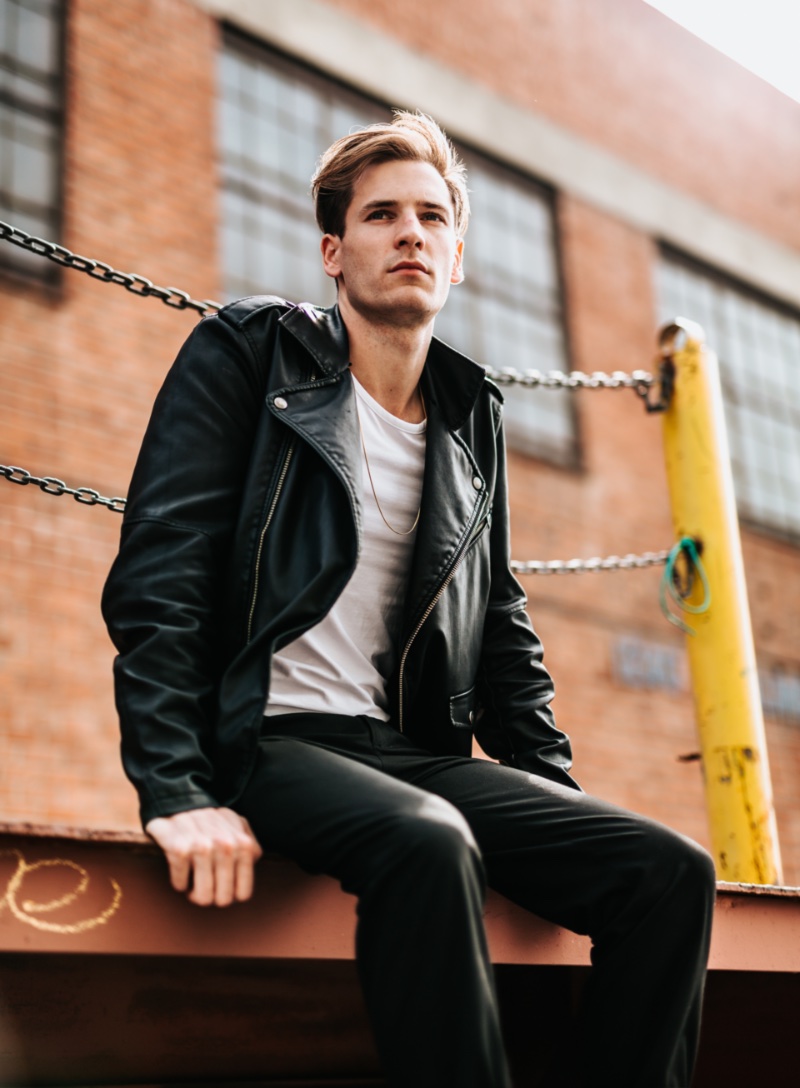 When crafting a minimalist wardrobe, embracing the principles of versatility, neutrality, appropriateness, and quality is essential.
Versatility: The Beauty of Multipurpose Clothing
A minimalist wardrobe excels in efficiency. Each piece should be versatile, serving multiple functions and occasions. Whether it's a sport coat that looks equally sharp with jeans or chinos, versatility is vital. The goal is to create a wide range of outfits from a smaller pool of clothing items.
Neutrality: The Power of a Unified Color Palette
Neutral colors—navy, gray, brown, black, and white—are the bedrock of a minimalist wardrobe. These hues mix and match in their quiet elegance, creating a seamless and cohesive look across your outfits. Though incorporating a pop of color can add a personal touch, the essence of minimalist fashion primarily thrives on the understated luxury offered by these neutral tones.
Appropriateness: A Wardrobe Tailored to Your Lifestyle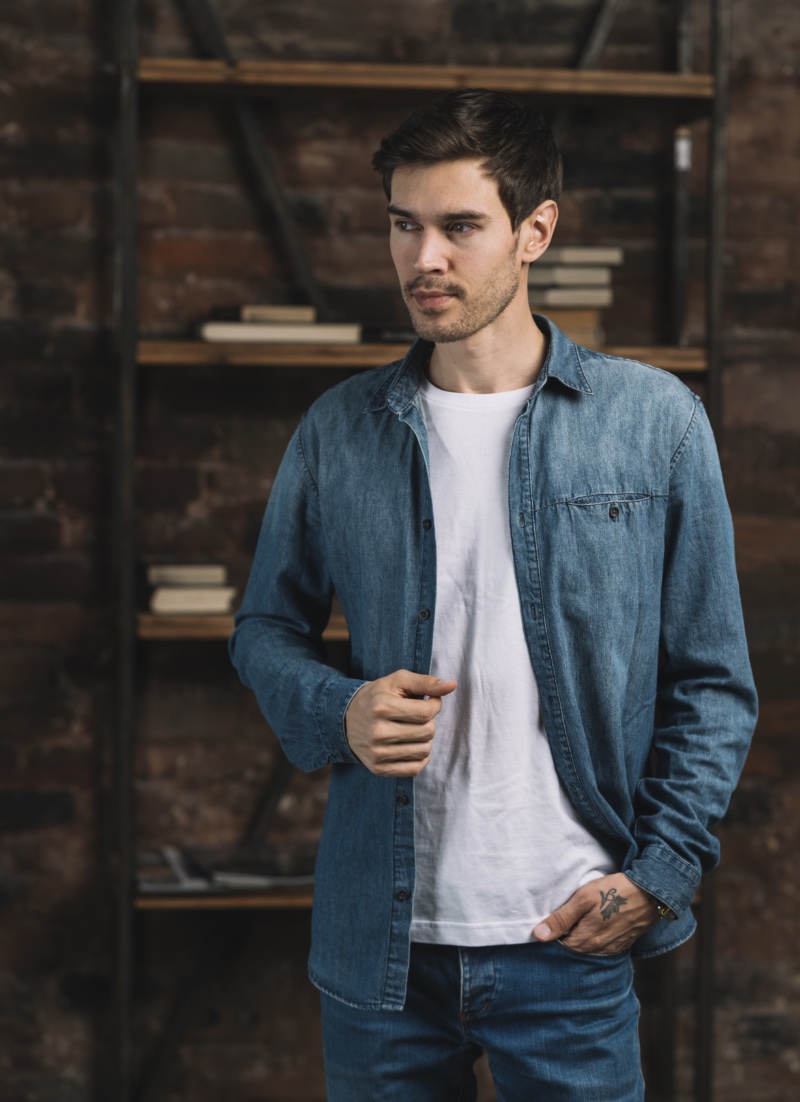 The pieces in your wardrobe should align with your lifestyle and professional needs. Hoarding suits make no sense if you work in a casual environment, for example. Instead, invest in pieces that transition smoothly from weekdays to weekends, from casual outings to semi-formal events.
Quality: Investing for Longevity
Each piece in a minimalist wardrobe will be worn frequently, hence the importance of quality. Investing in well-constructed garments made from durable materials ensures your wardrobe stands the test of time while radiating sophisticated confidence.
Essential Pieces for a Men's Minimalist Wardrobe
Tops
A Simple T-Shirt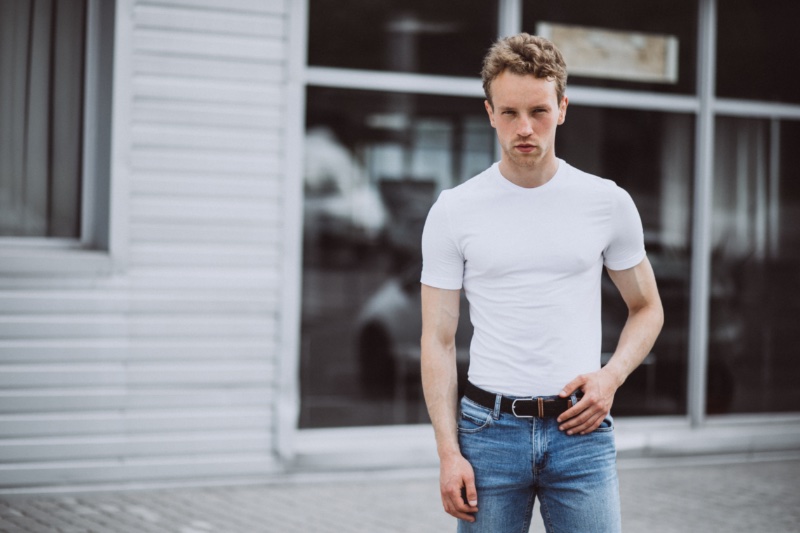 In minimalist fashion, the value of a high-quality, easy-to-wear t-shirt in a neutral color cannot be overstated. These simple yet stylish pieces form the basis of countless ensembles, serving as a versatile staple in your wardrobe. The classic white t-shirt is uniquely positioned among the array of neutral tones, offering unrivaled adaptability.
Whether layering it under a jacket for a casual day out or wearing it on its own for a relaxed weekend at home, these t-shirts provide endless styling possibilities. Ensuring these garments are made from premium, breathable materials will help them withstand repeated washing and frequent wear, maintaining their shape and comfort.
A Casual Button-Down Shirt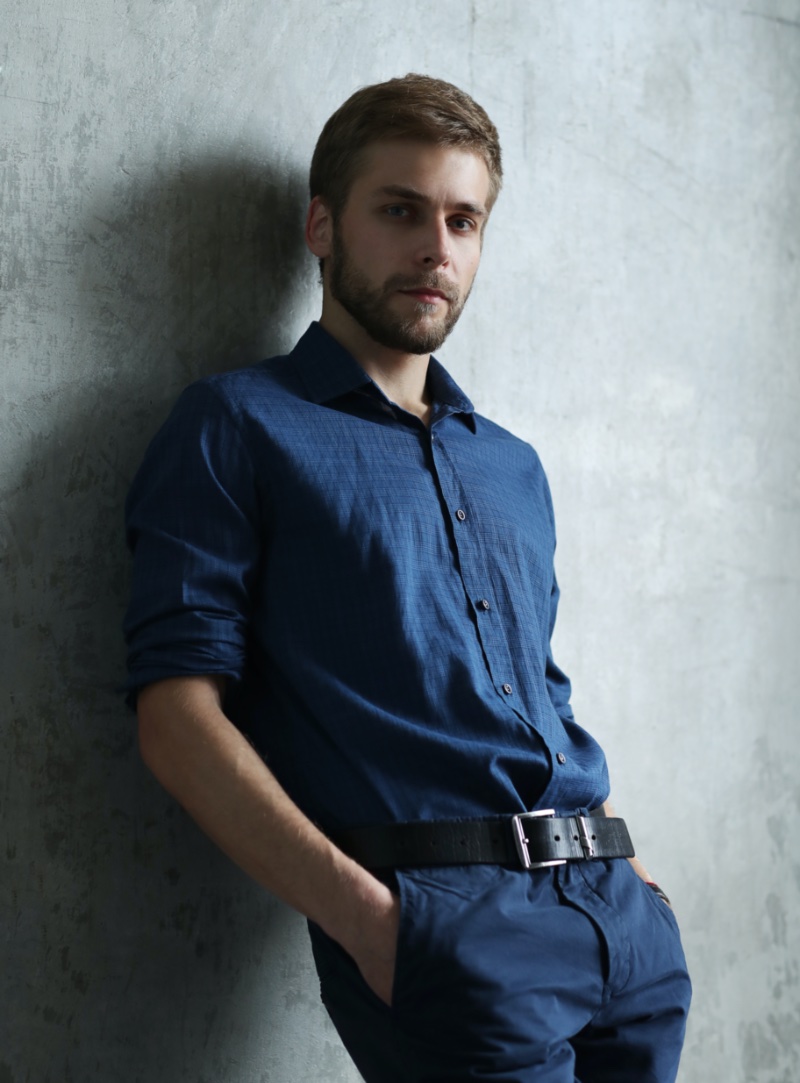 A notch less formal than a dress shirt but a step above a t-shirt, a casual button-down shirt strikes a perfect balance for occasions in the gray area between formal and informal. Its versatility allows it to be dressed up with a blazer, dress pants, jeans, or shorts, making it a worthwhile addition to a minimalist wardrobe. Again, neutral shades reign supreme for compatibility with other wardrobe items.
A Basic Sweater or Sweatshirt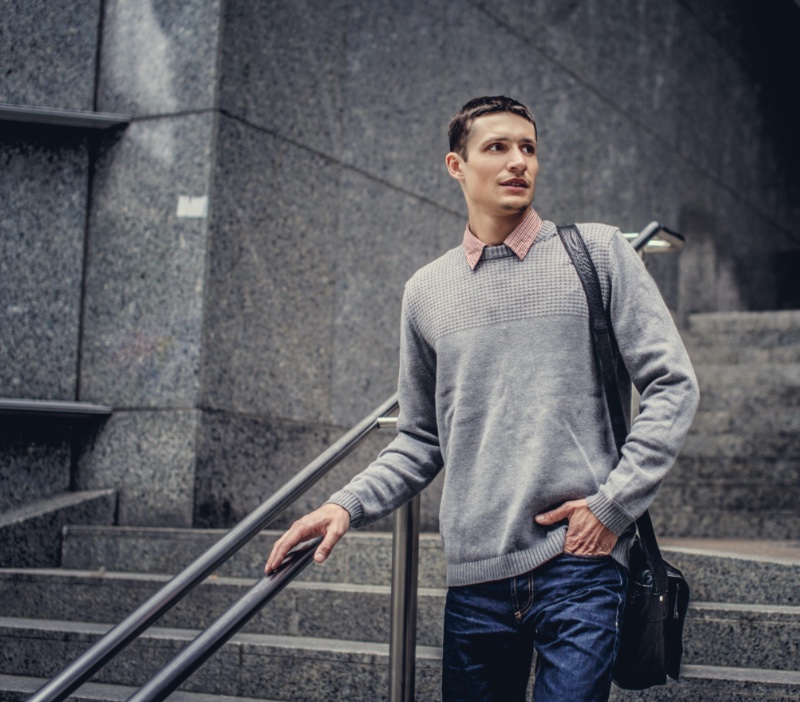 A basic sweater or sweatshirt in a neutral shade such as black, gray, or navy epitomizes minimalist versatility. This functional piece offers the opportunity for layering in cooler weather or serving as a standalone item during transitional seasons.
Its adaptability lends itself well to numerous style combinations, whether matched with casual jeans for a laid-back weekend or with chinos for a slightly elevated look. Investing in a well-fitted, quality piece that retains shape and texture over time is critical.
Bottoms
The Perfect Pair of Jeans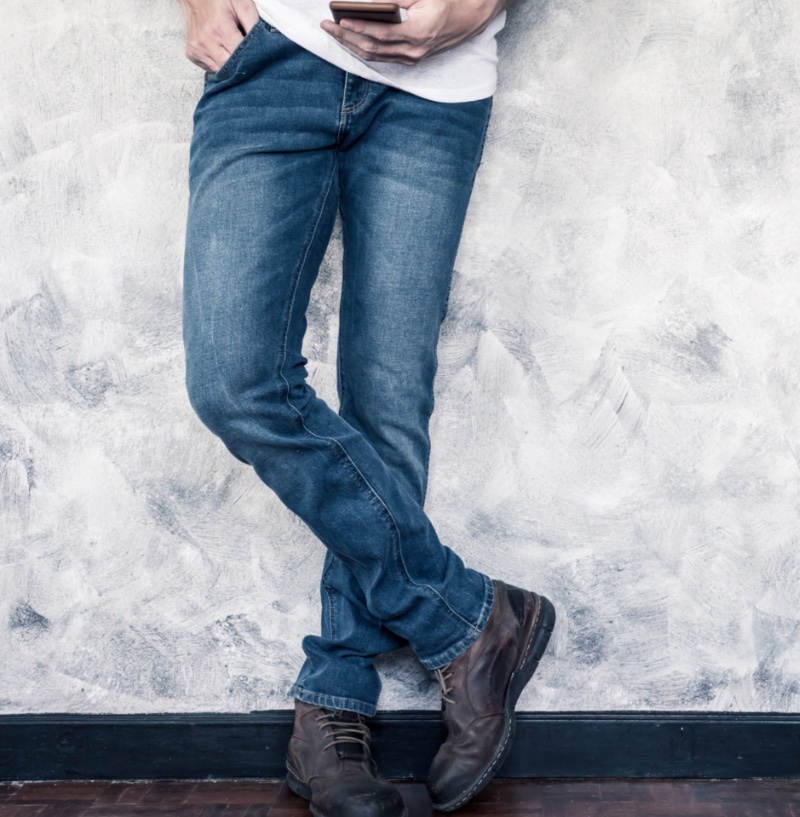 A well-fitted pair of slim-fit jeans is vital when curating a minimalist wardrobe. The beauty of denim lies in its wide array of washes, each carrying a distinct style statement. Whether you prefer a classic dark wash for a more refined look, a mid-blue for everyday wear, or a light wash for laid-back days, the right pair of jeans can effortlessly adapt to your outfit needs.
Of course, the timeless elegance of black jeans should not be overlooked as a versatile option that seamlessly transitions from casual outings to semi-formal events. The key is gravitating towards denim washes that resonate with your style and comfort. Remember to invest in a durable pair that maintains its color and shape over time, ensuring their lasting presence in your minimal wardrobe.
Shorts
While heavily dependent on location and personal preference, a well-fitted pair of shorts can be a valuable asset in your minimalist wardrobe. Perfect for warmer weather or everyday leisure activities, shorts partner well with casual button-up shirts, t-shirts, or even a neat sweatshirt, making them a versatile addition during appropriate seasons. Opt for a neutral or subdued color palette for the most effective use in a minimalist wardrobe.
Chinos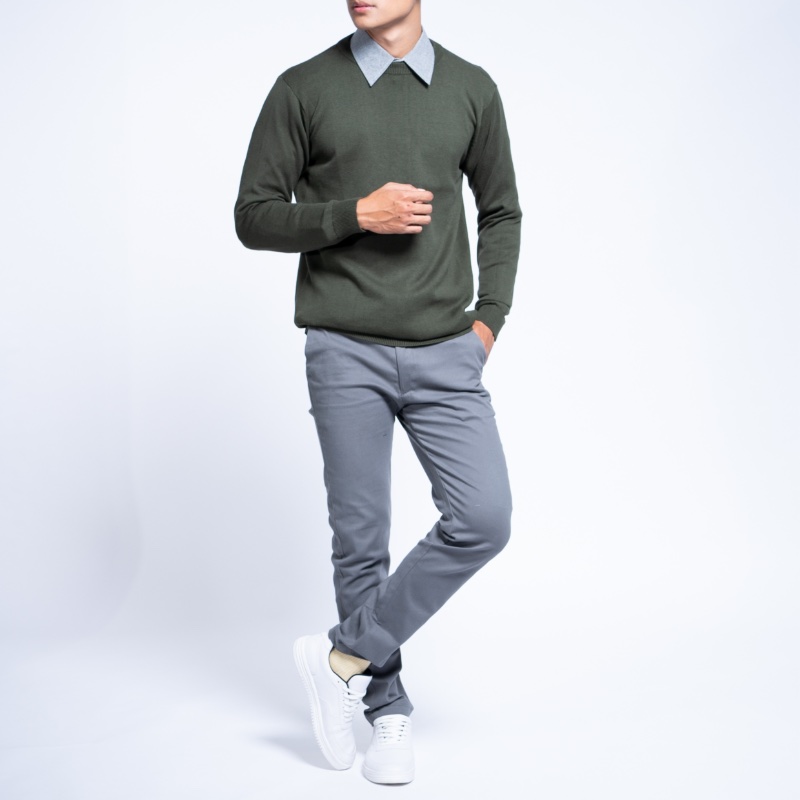 Chinos strike a happy balance between the formality of dress pants and the casualness of jeans, making them an invaluable asset in a minimalist wardrobe. A pair in a neutral color such as khaki, navy, or black offers the same versatility and ease of pairing.
They can be dressed up with a blazer and dress shirt for a smart-casual look or down with a simple t-shirt for a relaxed aesthetic. Ensure to invest in a well-fitted pair made from quality fabric for comfort and durability.
A Quality Leather Jacket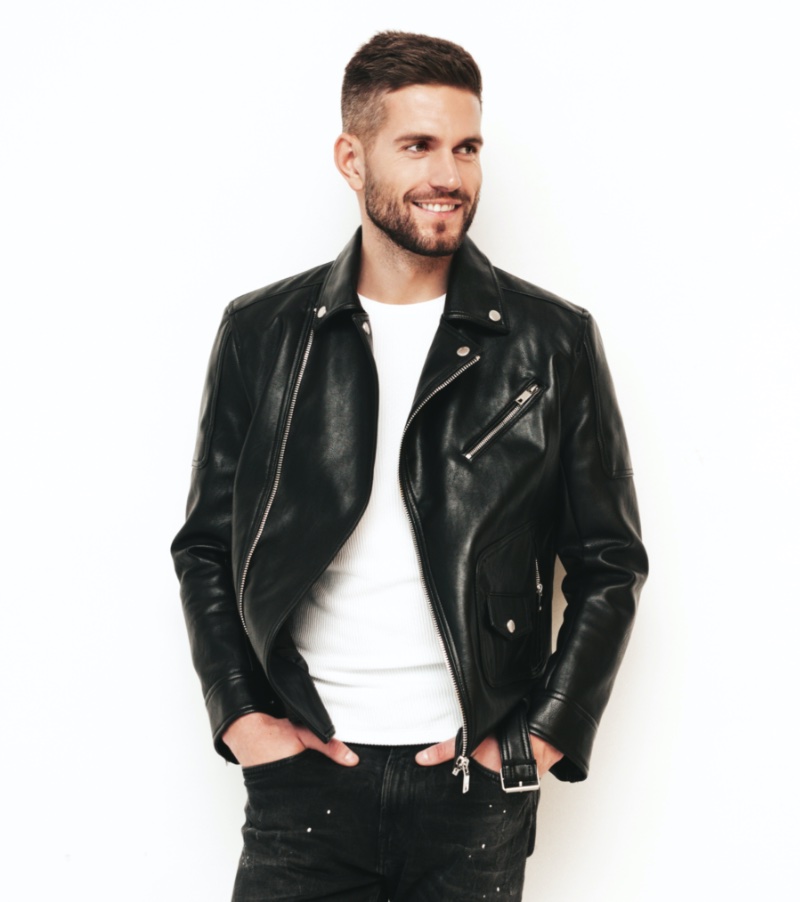 A leather jacket is not just a clothing item—it's an attitude. A high-quality leather jacket in a timeless cut can instantly add a touch of rugged elegance to any outfit. A black or brown leather jacket is incredibly versatile, whether paired with jeans for a biker chic look or chinos for a smart yet edgy style.
When selecting a leather jacket, pay close attention to the quality of the leather and the craftsmanship, as a good leather jacket is an investment that can last a lifetime with proper care.
Semi-Formal/Formal Attire
The Classic White Dress Shirt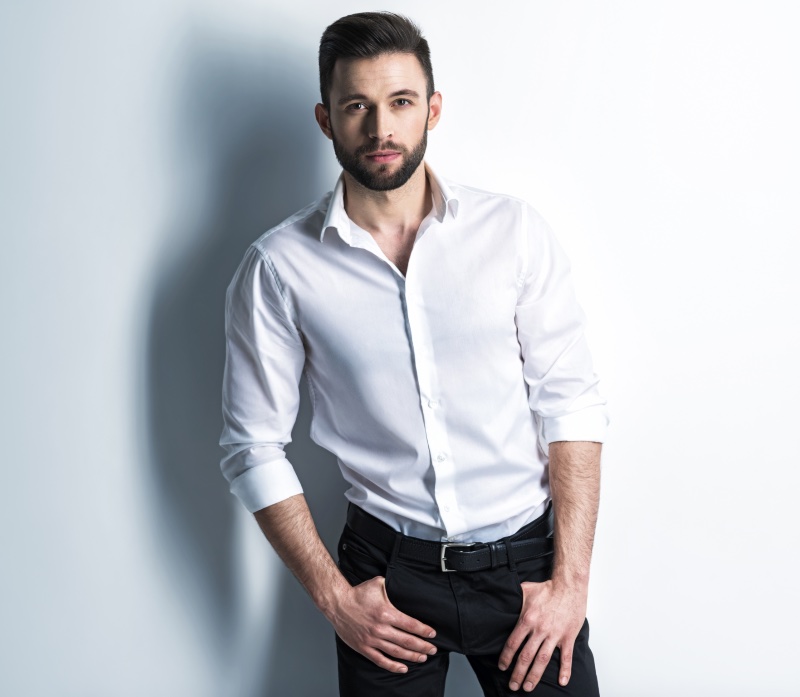 A well-fitted white dress shirt is a timeless staple that sets a minimalist wardrobe's tone of simplicity and elegance. Its crisp, clean lines can serve as a blank canvas, enabling a variety of style combinations. This versatile piece transitions well from professional to casual settings—pair it under a blazer for a formal look or with chinos and jeans for a relaxed yet refined outfit. Investing in a high-quality fabric that resists wrinkles and offers comfortable wear will ensure longevity and regular use of this wardrobe staple.
A Versatile Blazer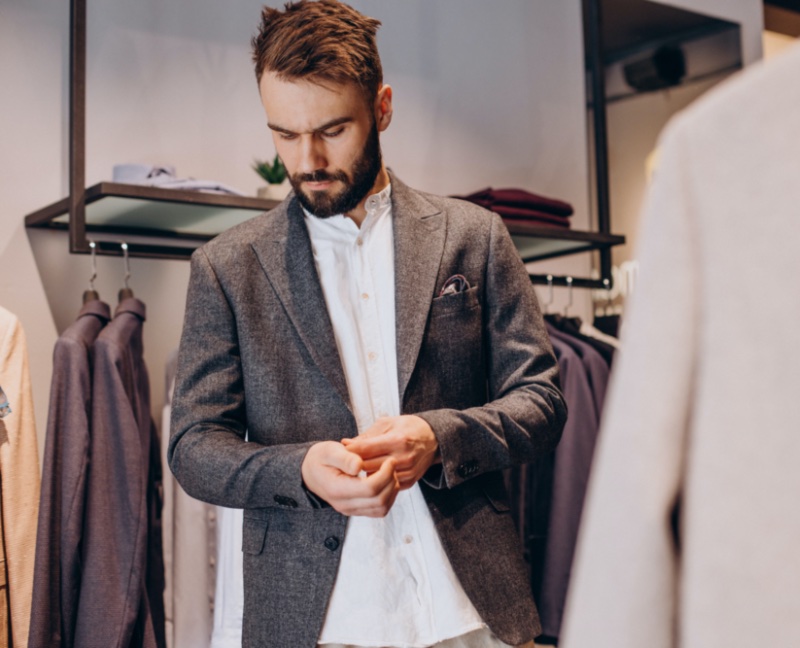 The blazer, especially in a neutral color, is a cornerstone of the minimalist wardrobe, serving multiple functions with elegance and ease. It can be dressed up with a tie and dress pants for business settings or a pair of jeans or chinos for a more casual but still sophisticated look.
When selecting a blazer, it's crucial to prioritize fit and quality. A well-fitted blazer flatters your body type and exudes an air of polished refinement, while a high-quality material ensures durability and a better drape on the body.
A Well-Tailored Suit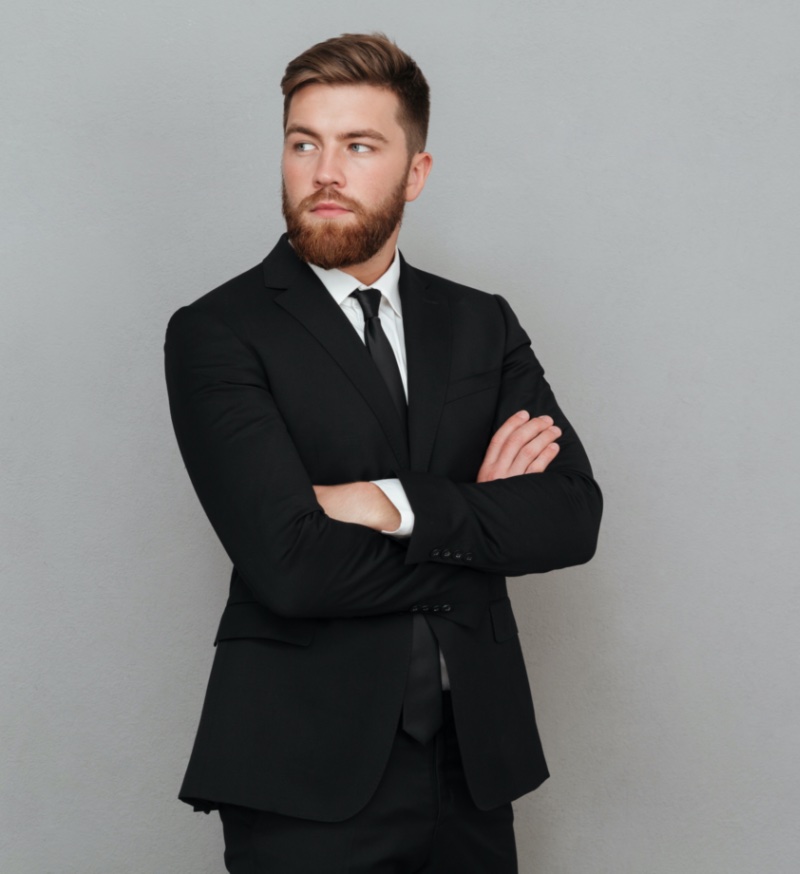 Owning at least one impeccably tailored formal suit is essential to a minimalist wardrobe regardless of your day-to-day lifestyle. The suit, preferably in classic black or navy, is a savior for unplanned, formal occasions, be it weddings, funerals, or high-stakes job interviews.
Although not frequently used in a minimalist wardrobe, this cornerstone item underlines the principle of preparedness and appropriateness in clothing.
Versatile Outerwear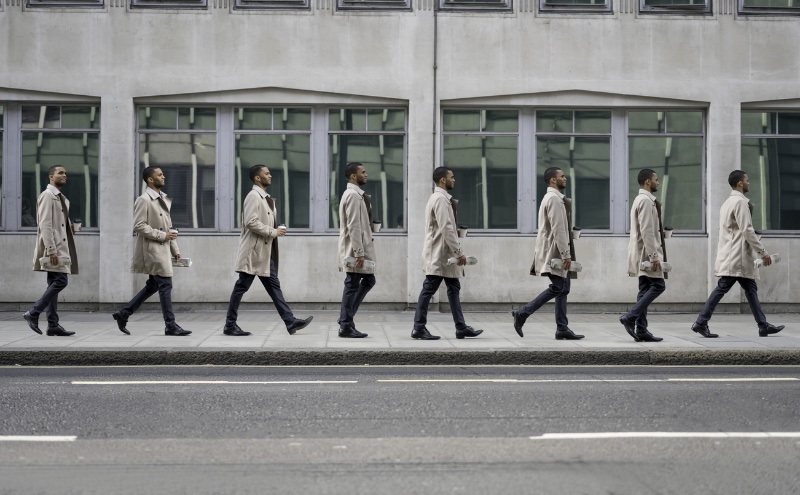 Outerwear selection is highly contingent upon local climate conditions, but a versatile option like a trench coat or a parka can provide both style and comfort in colder weather. These pieces serve as a final layer, harmonizing with the rest of your wardrobe items for added warmth while enhancing the overall aesthetic of your outfit.
Undergarments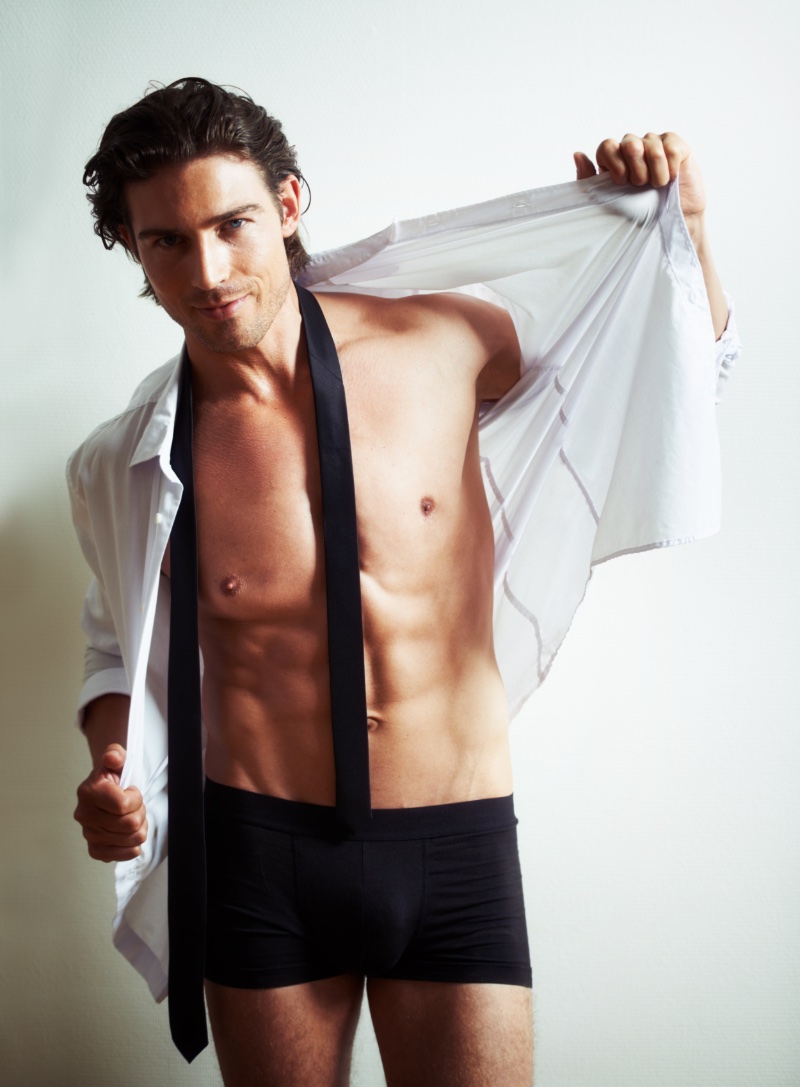 Often overlooked but critically important, high-quality undergarments form the very foundation of every outfit. Comfortable, well-made socks and underwear are essential for personal comfort and influence the fit and look of your outerwear. Though hidden from view, these important pieces should not be an afterthought but an integral part of a minimalist approach to fashion.
Footwear
Comfortable & Stylish Sneakers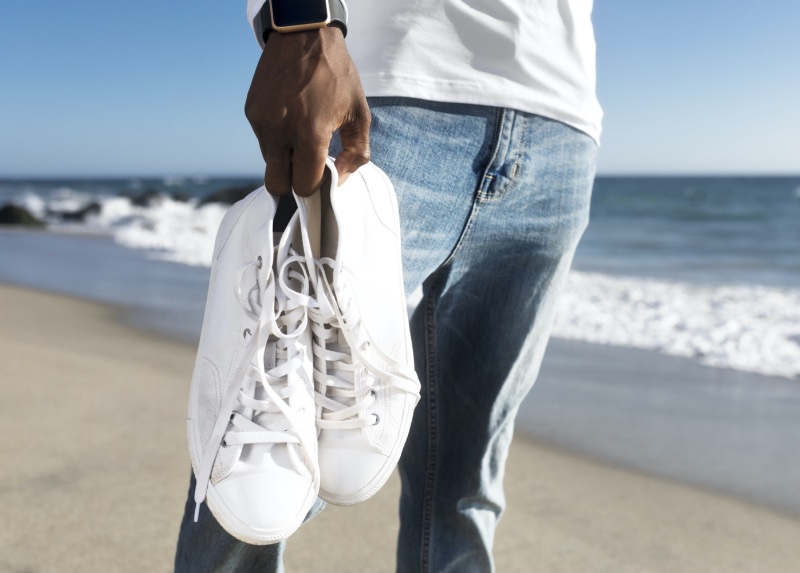 While dress shoes lend a polished finish to formal attire, high-quality, comfortable sneakers—mainly black and white—are essential for everyday casual wear. These versatile shoes are suitable for pairing with jeans, chinos, or even shorts, making them a necessary element in a minimalist wardrobe. When choosing sneakers, opt for a timeless design like white sneakers that complements your existing wardrobe, underlining the principle of versatility.
Dress Shoes that Make a Statement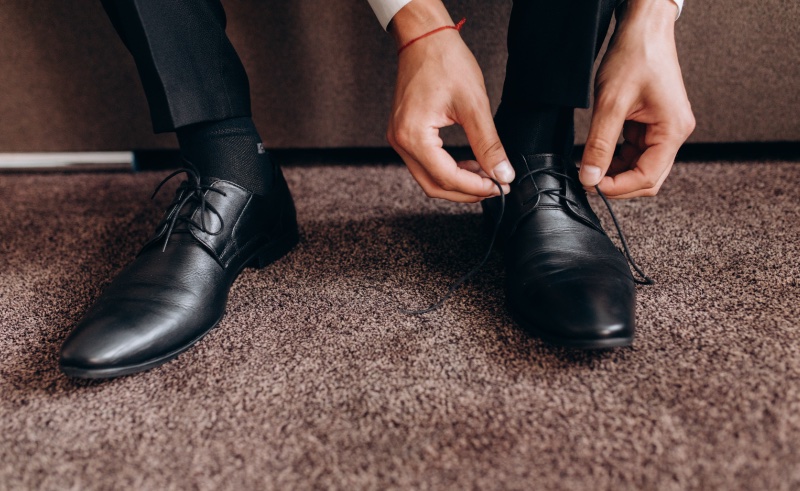 A statement doesn't have to be loud. A pair of high-quality leather dress shoes in a classic design is a testament to this. Choosing a versatile color like black or brown ensures these shoes coordinate with most of your minimalist wardrobe.
Not only do they elevate any outfit, but a well-crafted pair also provides the comfort necessary for extended wear. Prioritize craftsmanship and materials that promise durability to make this investment worthwhile.
Enhancing Minimalist Style: Key Pieces
The Casual-Yet-Refined Polo Shirt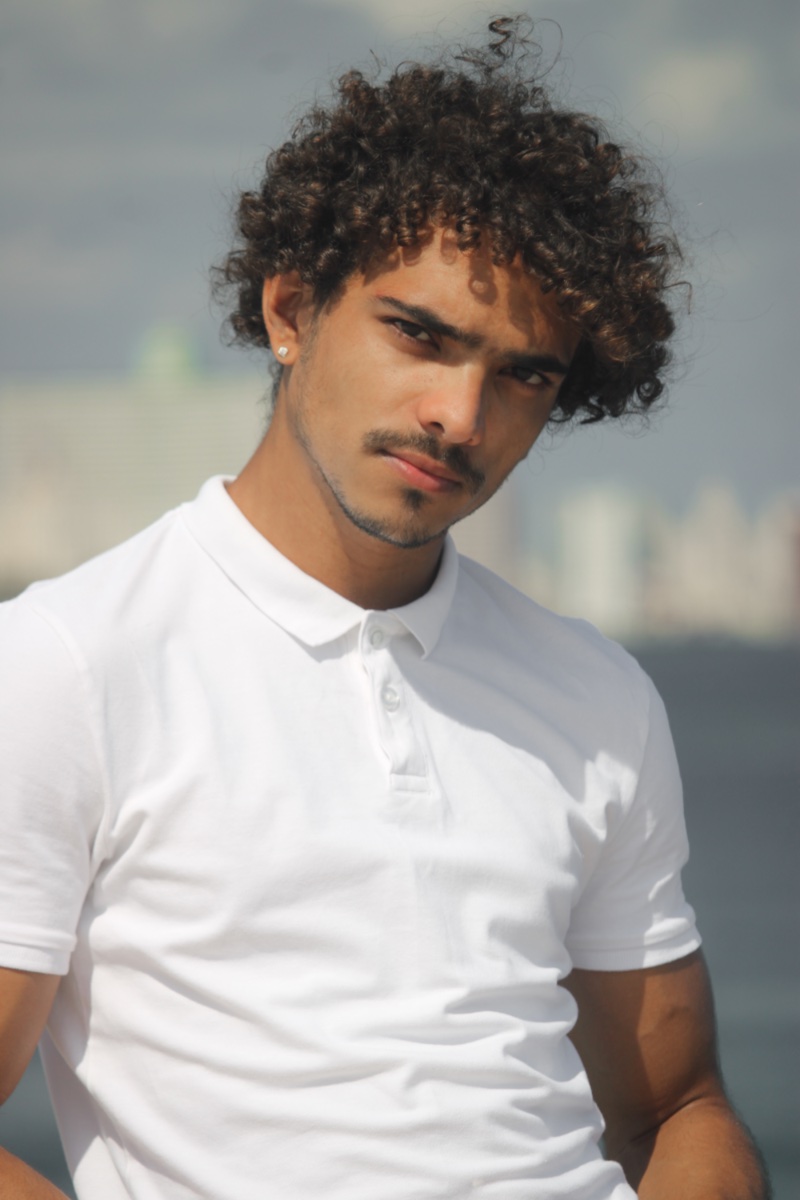 A well-fitted polo shirt, preferably neutral, brings a unique blend of casual and formal wear to your minimalist wardrobe. Its collared design elevates your look while retaining the comfort and ease of a t-shirt. The material choice of a polo shirt also plays a significant role in its versatility—opt for high-quality cotton or blends that offer breathability, comfort, and durability.
The Multipurpose Grey Suit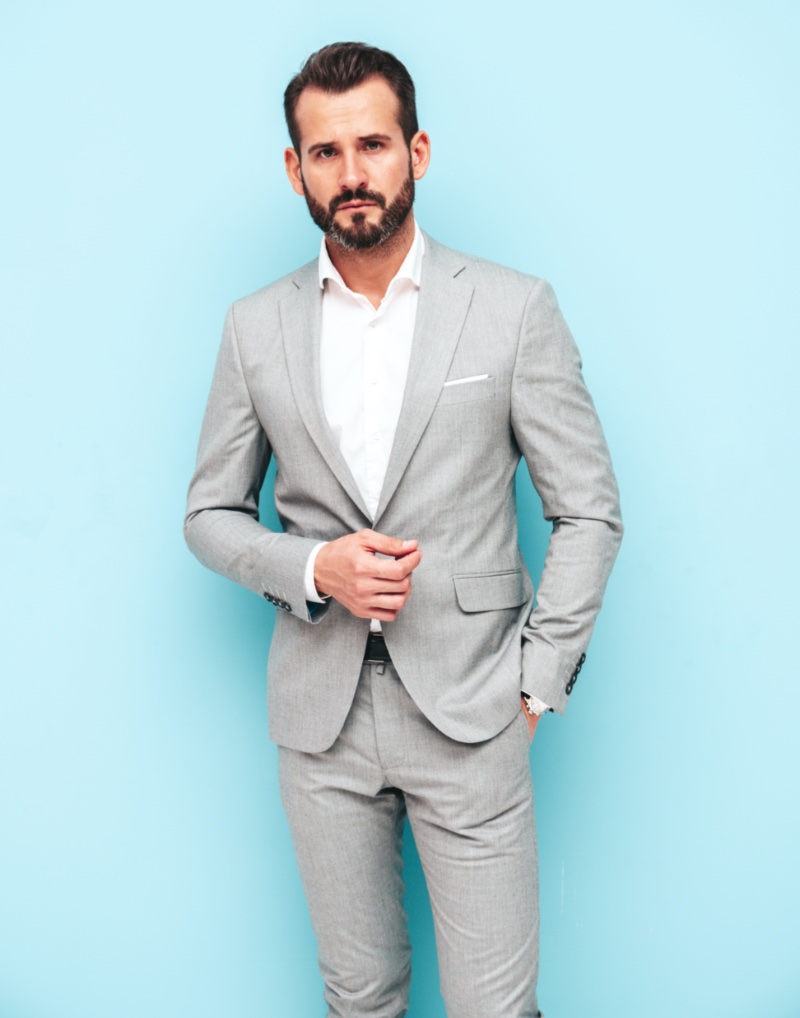 Adding a grey suit can significantly boost your formal outfit options. Its neutral color and polished silhouette make it a versatile asset for events that require a more sophisticated look. While the traditional black suit is an undisputed classic, the grey suit offers a softer, professional, and stylish alternative. Moreover, the components of a grey suit—jacket, and trousers—can be worn separately, increasing their utility in a minimalist wardrobe.
The Denim Jacket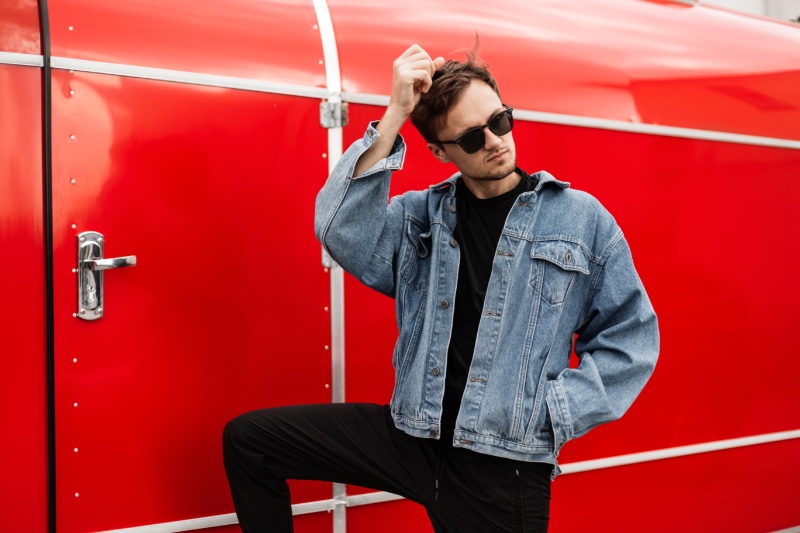 A denim jacket infuses a bit of ruggedness into your minimalist wardrobe. Its compatibility with other clothing pieces, from basic t-shirts to button-down shirts, broadens your ensemble possibilities. Choose a medium to dark wash for maximum versatility, and ensure the jacket fits well—not too loose or tight—for the best aesthetic and comfort.
The Flannel Shirt
A flannel shirt is a great layering piece in cooler weather. Known for its warmth and comfort, a flannel shirt can be worn over a t-shirt or under a jacket, adding a touch of texture and interest to your outfit. As with the button-up shirt, opt for neutral colors or timeless patterns to maintain the minimalist aesthetic while maximizing pairing possibilities.
The Unstructured Blazer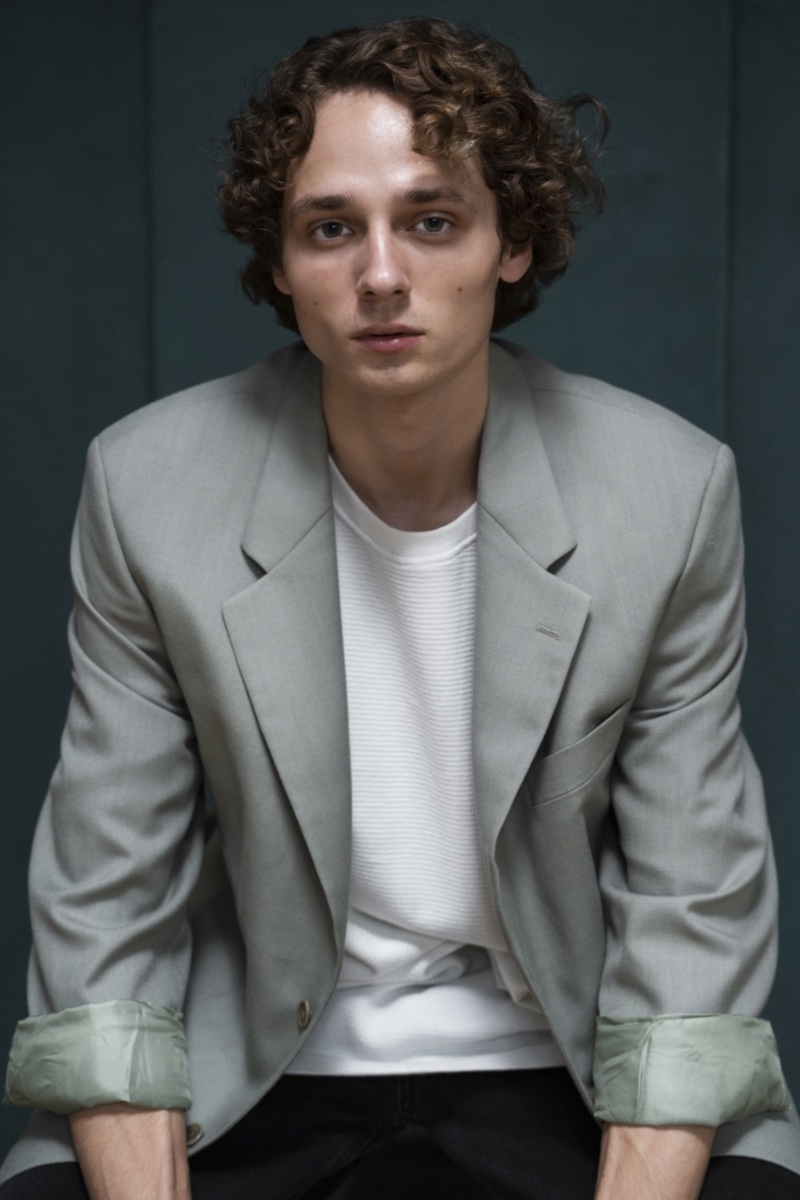 Lastly, an unstructured blazer bridges the gap between formal and casual. With its more relaxed tailoring, this piece transitions effortlessly from a day at the office to an evening out, embodying the principles of minimalist fashion—simplicity and adaptability.
Unstructured blazers, made without the usual internal reinforcements of regular blazers, offer a softer, more relaxed look while retaining the smart silhouette of a traditional blazer, making them perfect for less formal occasions or smart casual attire.
Building a Minimalist Wardrobe: Essential Considerations
Quality Over Quantity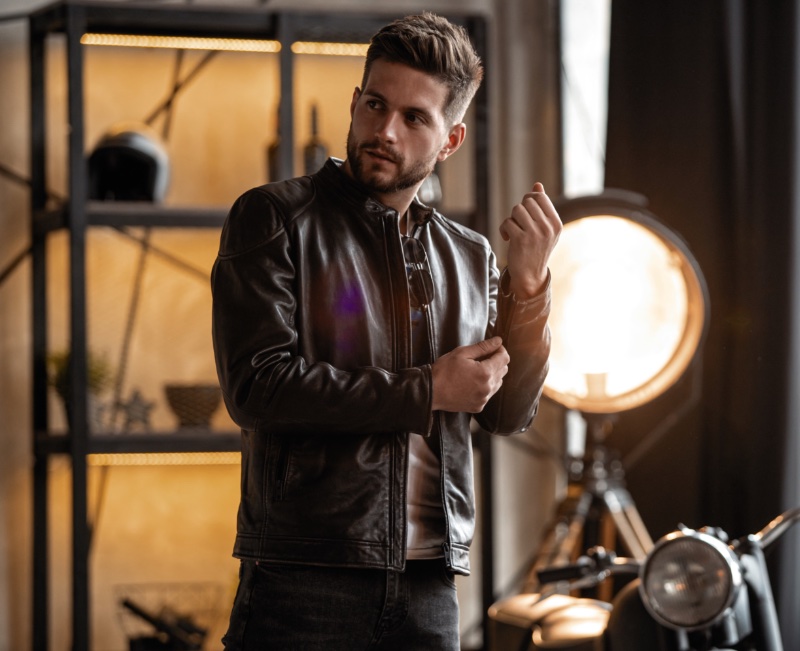 The minimalist wardrobe is built on the philosophy of quality over quantity. Invest in a few high-quality garments rather than purchasing many cheaply made items. While more expensive upfront, these pieces will stand the test of time and maintain their shape, color, and structural integrity even with regular use.
Cohesive Color Scheme
Neutrals should be the backbone of your minimalist wardrobe. Colors like black, white, gray, navy, and brown can be effortlessly mixed and matched, simplifying your decision-making process each morning. While incorporating some color is perfectly fine, sticking to a cohesive color scheme ensures that all your items work together harmoniously.
Functional Versatility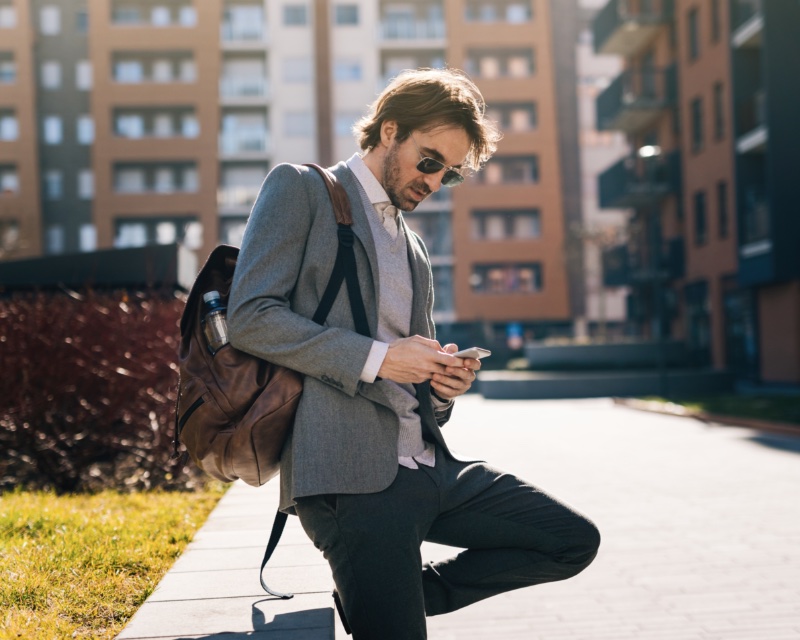 Each piece in your wardrobe should serve multiple purposes. A well-structured blazer, for instance, should work well with a dress shirt for formal occasions and a t-shirt for a casual outing. This principle of versatility allows you to create a variety of outfits from a smaller collection of items, maximizing the value of each piece.
Adherence to Lifestyle
Ensure your clothing aligns with your lifestyle. If you spend your days in a corporate setting, you'll need a good selection of dress shirts, blazers, and dress pants. Conversely, if you work in a creative or casual environment, you might prefer high-quality jeans, t-shirts, and casual shirts.
Accessories: The Finishing Touches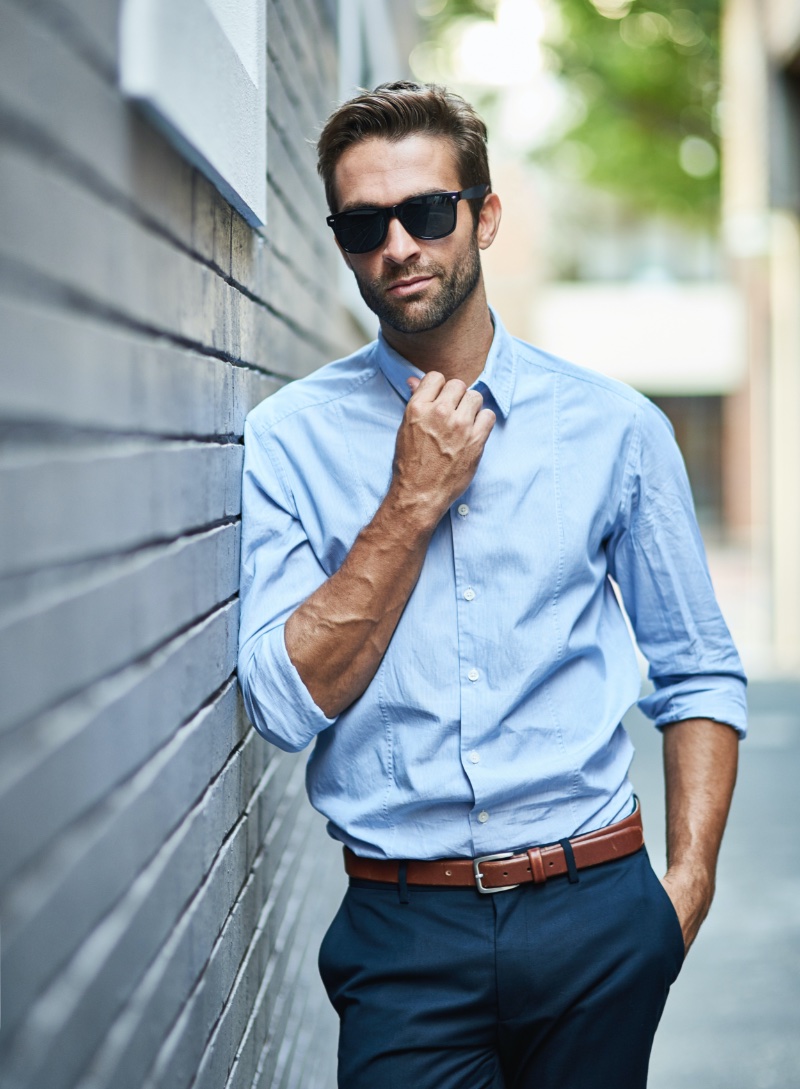 Accessories can play a vital role in your minimalist wardrobe. From watches and belts to pocket squares and ties, these items can add a layer of sophistication and personal touch to your outfits. Opt for timeless designs that complement a wide range of outfits, further emphasizing the essence of quiet luxury that a minimalist wardrobe offers.
Maintenance & Organization
The final step in mastering the art of a minimalist wardrobe is proper maintenance and organization. Regularly assess your wardrobe and declutter items that have worn out or no longer serve a purpose. Keep your closet space tidy and accessible, ensuring every piece is visible and within reach.
Final Words
A minimalist wardrobe is a refined collection of essential, versatile, high-quality items that speak of quiet luxury. It's not about having less; it's about making each piece count. With a well-curated minimalist wardrobe, you will simplify your daily outfit selection and cultivate a sense of confidence and understated elegance in your style. So, embrace the simplicity and sophistication of a minimalist wardrobe and savor the freedom it brings.