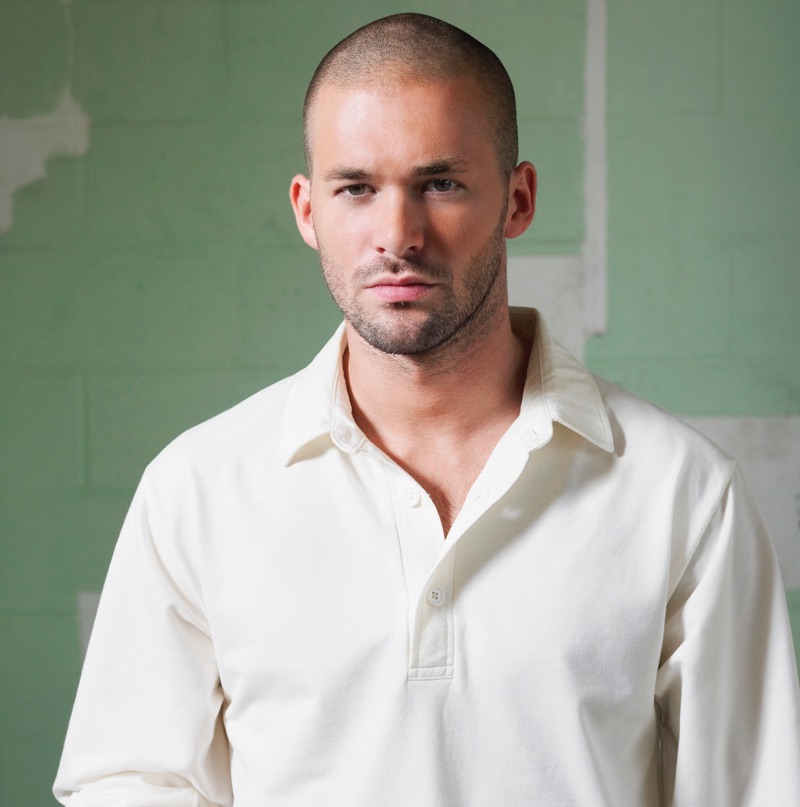 A buzz cut appears different on different hair and head shapes. That means that if two guys with different face shapes wear the same buzz haircut, they will always look different. However, with so many variations, you cannot miss getting your favorite haircut. Thus, the question remains what is the right buzz haircut that will look great on you?
Before you go to your barber, explore some of the classic types of buzz cut variations to have an idea of what you need. Some buzz haircuts are more creative than others, so it is upon you to choose how far you want to go with your haircut. Here are some options you will find useful:
Induction Buzz Cut
Among all the buzz cut styles, this is the shortest and most uniform style. It was made famous by the military. When recruits join the military, they shave their hair uniformly, hence the name induction. You can rock the same haircut by cutting your hair 0.5 or 1 inch long.
As described by hairstyle experts here, the induction cut is an excellent way to reset your "canvas" if you want to look unique with your grown out dyed hair. Complement it with a fresh and close shave and bring out the contrast with a days-old beard. You can also grow whiskers as they too bring out a sharp contrast with the hair on the top.
Burr Cut
The burr haircut takes things to a different level compared to the induction cut. You can still style it for yourself, and you should set the guard at a 1 or 2 setting. You will achieve a uniform mowing that is short enough.
This is an excellent option if you don't have thinning hair since it highlights it. So, you need to rock it cautiously. What is great about the burr cut is that you can trim the hair shorter if you want to change to something shorter like an induction. So, this could be the best hairstyle to start with and graduate down to other short haircuts for men see on Pinterest you might need to rock.
Butch Cut
This is a suitable pick for men with textured hair. Here, you need to raise your guard to a 3 or 4 territory. You will also notice that you can dust it over using some styling fiber or putty. It looks great when paired with a mustache.
Fade Cut
The fade buzz cut is not so much concerned with the length, but it is stricter when it comes to style and execution. That is to mean you can rock a faded butch haircut or short crew that ends in a burr territory.
When it comes to the fade buzz, the main aspects are that the hair on the sides starts short-sometimes from the skin, or at zero guard. Then the hair is faded upwards promptly to the top, where the hair is actually styled at a uniform length. However, this is a high maintenance style, since you will need to go to the salon for touch-ups every two weeks because the shaved part below grows out fast. However, when it is fresh, it appears so beautiful…good enough to wear on any occasion.
Crew Cut
With the crew haircut, the lines are blurred completely. Most fade haircuts are in the crew cut category. The crew cut includes a blending on the sides, but there is enough texture on the hair at the top. You can tell your stylist to scissor cut the manes at the top or ask him to buzz it using a lighter guard if you need something short but still stylish. This is one of the universal buzz cut styles in 2019.
Ivy League Buzz Cut
This ivy league is referred to as buzz since it is cut using a scissor. However, the manes on the lower side are kept short enough to be buzzed, but the fading is maintained skin tight as you would expect with an ivy league. It is maintained low on the sides because the scissor blending begins around the temp. It is a great and reliable haircut, especially for men whose manes grow out looking a bit boxer on the upper parts.