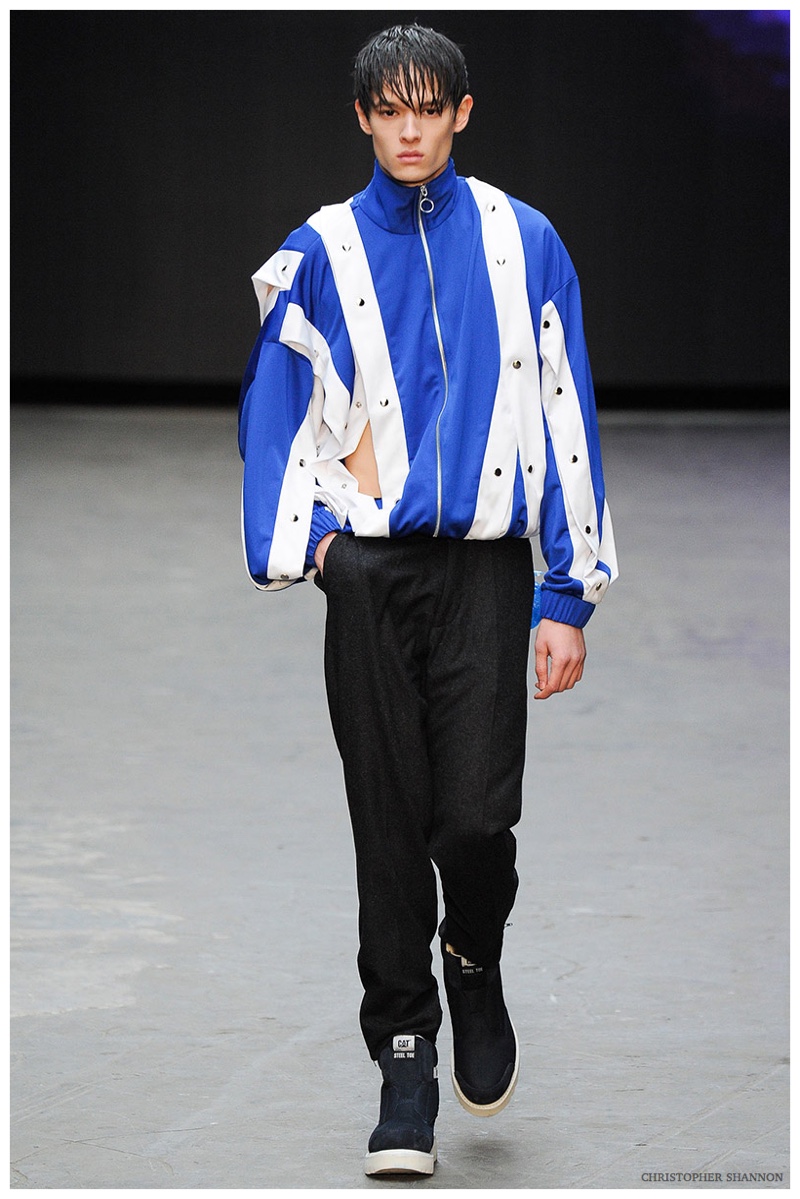 Active, sporty fashions play an integral role to London Collections: Men and there's no need to look any further than designers Christopher Shannon, Astrid Andersen and Shaun Samson for highlights of the season at hand.
Christopher Shannon Fall/Winter 2015 Collection
Tackling the United Kingdom's economic problems, Shannon weaved a sick humor into his colorful collection. From Save Me to Thanks for Nothing slogans, Shannon's man was down with the times, but his collection was fun nevertheless, revealing track pants reinvented as striped jackets, graphic pullovers and a plethora of colorful bars gone awry.
Astrid Andersen Fall/Winter 2015 Collection
Delivering an aggressive version of her signature aesthetic, designer Astrid Andersen was inspired by the warrior texts of Hagakure. Armed with baggy pants, NIKE sneakers and berets, Andersen's men presented a new, aspirational image for the urban man of style. Here, blacks and grays mixed with pink, prompted a strong lineup of sweatshirts, pullovers and jackets with relaxed, sporty fits and a rebellious attitude.
Shaun Samson Fall/Winter 2015 Collection
Shaun Samson made a statement for the working class with tops and aprons, decorated in powerful slogans. Worn with worker boots, tartan adorned jackets, shirts and shorts solidified a laid-back approach to style. Adding elements of contrast, color blocking made an impact, while oversized mittens and scarves aided a humorous effect.