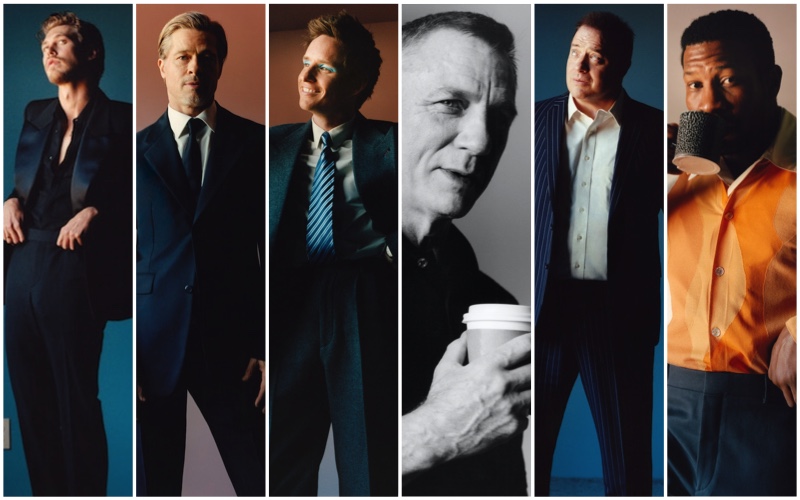 W magazine mesmerizes us yet again with its 2023 Best Performances issue, and its cover stars are more captivating than ever—Austin Butler, Brad Pitt, Eddie Redmayne, Daniel Craig, Brendan Fraser, and Jonathan Majors. Sitting down for an interview about their latest cinematic triumphs with W, the actors appear before photographer Jamie Hawkesworth; these distinguished actors exude charm and charisma. Styled by Sara Moonves, each star delivers a unique flare to this iconic photo shoot.
Austin Butler W Magazine Cover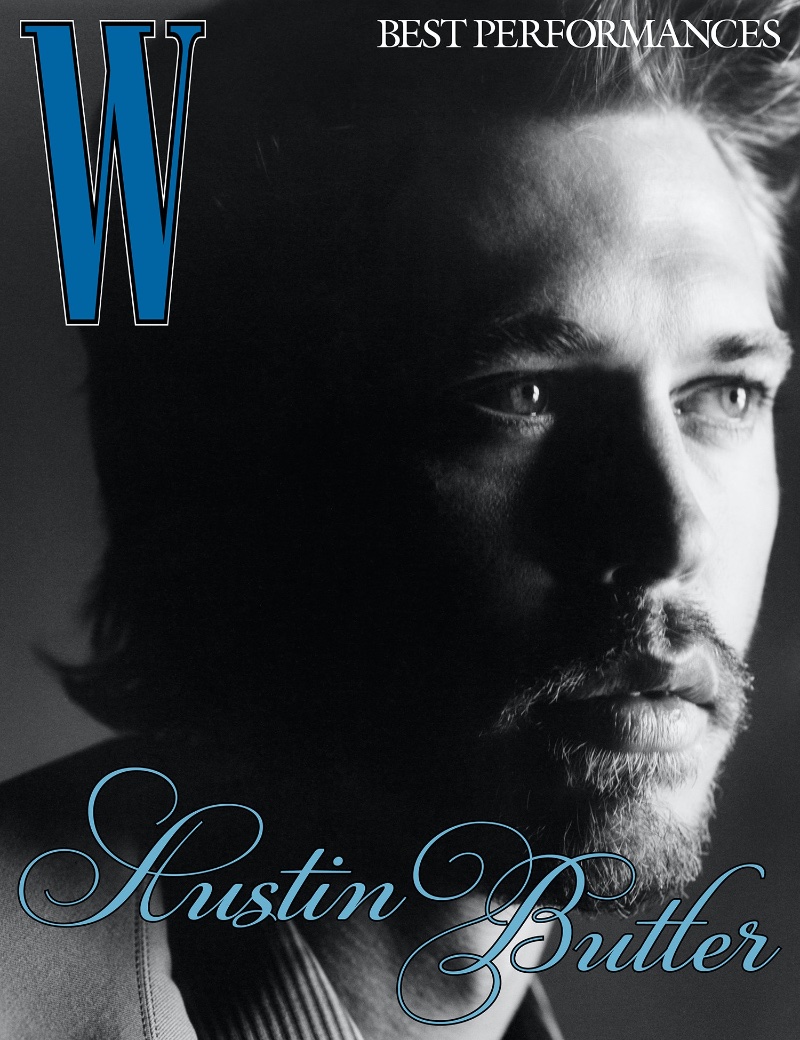 For W magazine's moody portrait, Austin Butler sports a Celine ensemble. Recently awarded the 2023 Golden Globe for Best Actor for his starring role in Baz Luhrmann's Elvis biopic, Butler recalls his initial audition experience. After enlisting singing, acting, dialect, and movement coaches, he did an audition tape with him singing Love Me Tender—yet it didn't feel authentic enough.
Butler sought a personal connection with Elvis, and that's when he stumbled on the fact that Elvis had lost his mother at age 23. "That's how old I was when my mom passed away," says Butler. "I ended up having this nightmare that my mother was alive, but then she passed away again."
Butler recounts, "I woke up with all this emotion, and I thought Elvis would put this in a song. I sat down at the piano and imagined singing to my mom. I was still in my bathrobe and set up the camera, and started playing. That's the tape I sent. Six months later, Baz called me—he woke me up, actually—and said, 'Hey, Austin. Are you ready to fly, Mr. Presley?'"
Brad Pitt W Magazine Cover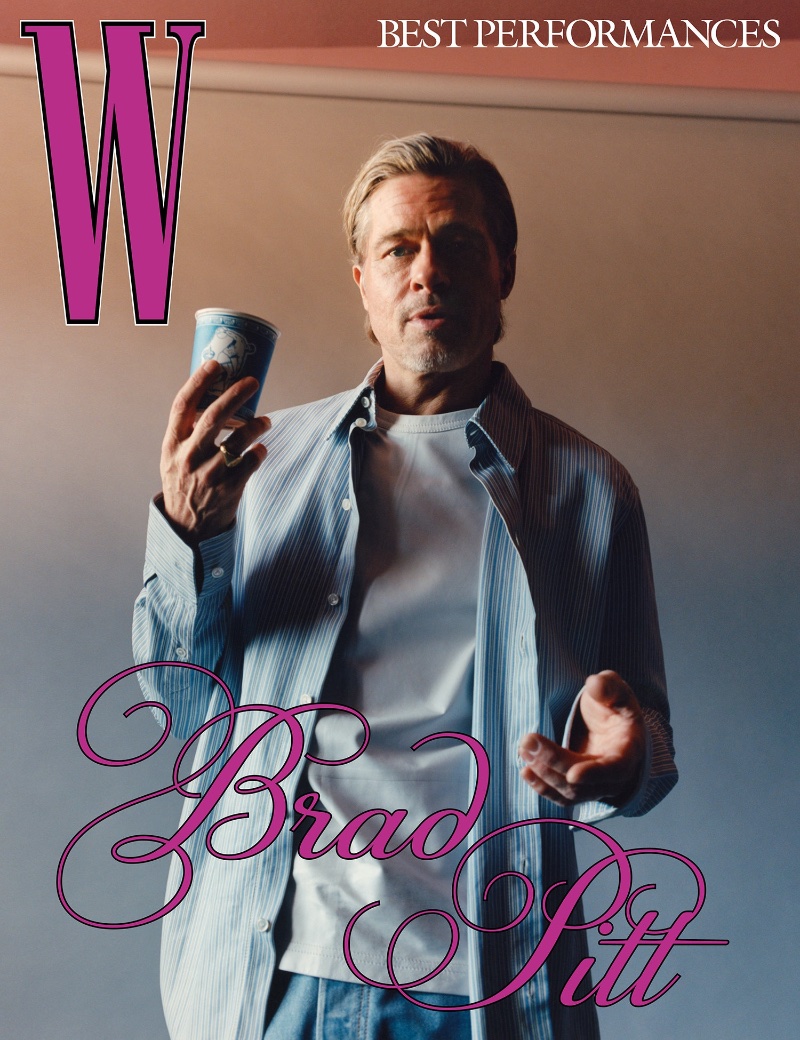 In the latest issue of W magazine, Brad Pitt balances business casual vibes with his style in a striped Bottega Veneta shirt, alongside a t-shirt and jeans from his closet. In Damien Chazelle's Babylon, Pitt portrays an actor facing the end of the silent film era, exploring what this character goes through emotionally. "Sadly enough, that melancholy may be my natural mode of being," explains Pitt.
"Some congenital melancholy. But no, I think there's a weariness that takes over with the character as he moves on. There's a world-weariness that I can certainly relate to a little bit. At this time, more of us are trying to tear each other down than help each other up. I get a little weary."
Brendan Fraser W Magazine Cover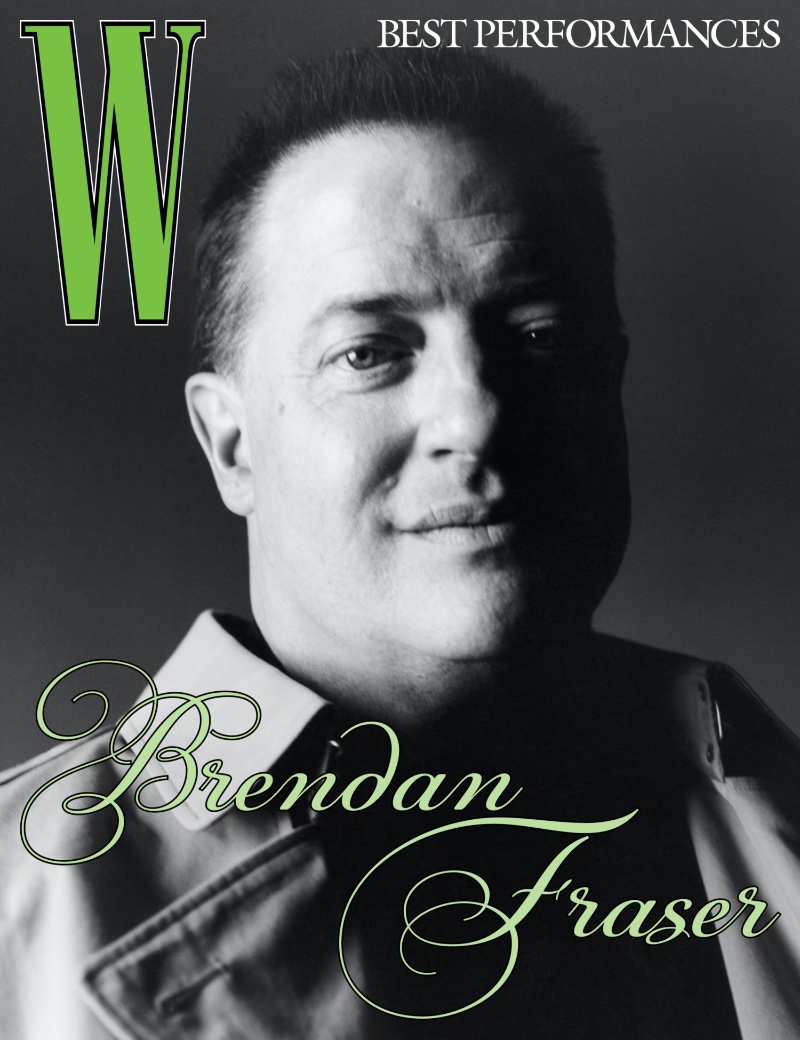 Brendan Fraser appears on the cover of W magazine in a timeless Burberry trench coat as he talks about his triumphant comeback role with Darren Aronofsky's The Whale. Preparing for the part of Charlie, who is housebound, depressed, and overweight, Fraser remembers how he met with people struggling from such disorders who spoke openly about how they had gotten thus far—weighed down so much that it was restraining them.
Fraser explains, "The common denominator was that someone spoke cruelly to them when they were very young. Years ago, I was in Bangkok visiting a temple, and there was a small sign that said, 'Painful Indeed Is Vindictive Speech.' I thought of that often. Because there are serious ramifications when our confidence gets challenged by others who speak in a recriminating way. It can reinforce habits that could lead to real consequences. But it gave me a sense of purpose to be the voice for those we so often disregard in our society."
Daniel Craig W Magazine Cover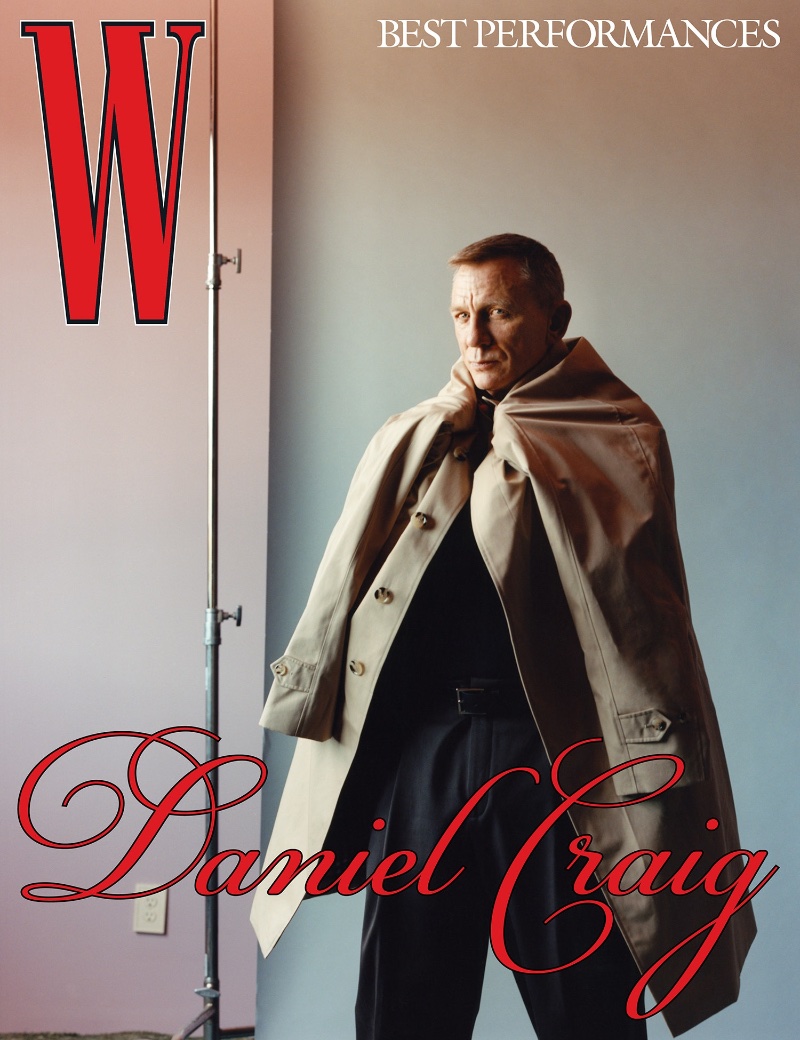 Taking center stage, Daniel Craig is draped in a Burberry trench coat and wearing Hermès trousers with an R. Turbow leather belt. His recent return as detective Benoit Blanc in the sequel to Knives Out, Glass Onion: A Knives Out Mystery has made quite a stir among fans!
Craig's portrayal of Benoit takes a stylish turn with fashion-forward looks in the movie. As Craig puts it, "I wanted him to be a combination of Cary Grant in To Catch a Thief and Jacques Tati in Monsieur Hulot's Holiday with a dash of my superbly dressed agent, Bryan Lourd."
Craig indeed highlighted the importance of having an outfit that is instinctive. "Most important, no matter how outlandish the outfit, I wanted to make the clothes feel organic. I recall that for Goldfinger, the director, Guy Hamilton, told Sean Connery that he should go home and sleep in the gray suit that he wears in the film. He wanted Connery, as James Bond, to have the kind of natural elegance that comes from living in the clothes."
Eddie Redmayne W Magazine Cover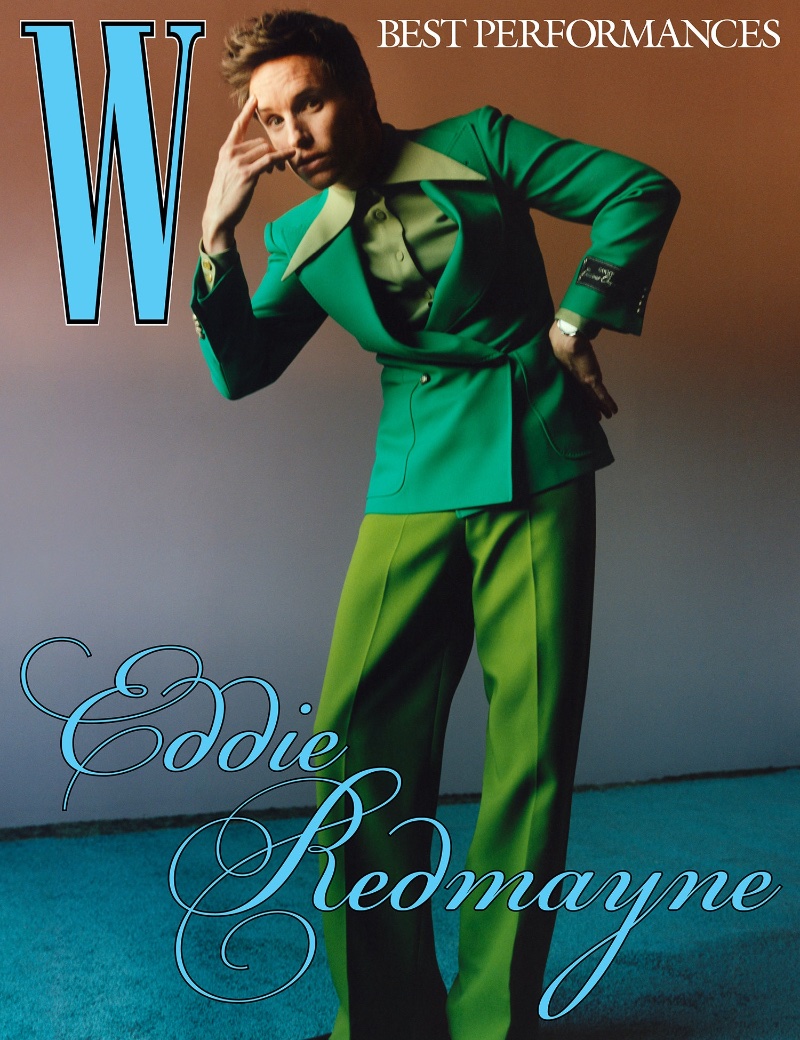 Daring to make a bold fashion statement, Eddie Redmayne covers W magazine in an eye-catching and stylish Gucci ensemble. Representing Omega as one of the company's ambassadors, he pairs his look with one of their treasured timepieces. Recently nominated for a Golden Globe, Redmayne takes on the role of Charles Cullen, a serial killer, in The Good Nurse, painting an intriguingly dark portrait that cannot be ignored.
Redmayne's unexpected decision to take on this role was driven by his rejection of the idealization of killers. He further discussed, "Our film is not just about this monster—it's about the hero who stopped him. And she stopped him by using compassion and empathy rather than through violence. That felt like an important message."
Jonathan Majors W Magazine Cover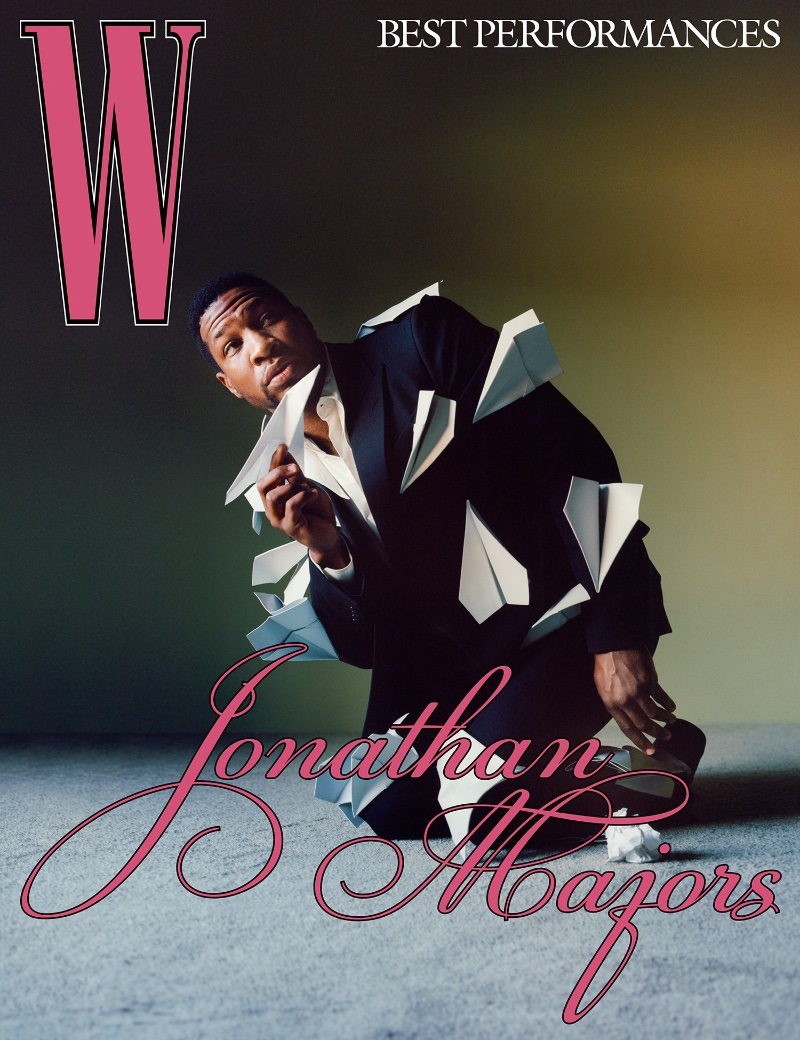 Jonathan Majors stars in Devotion, a film about the remarkable story of Jesse L. Brown—the first black naval airman. In honor of his performance and for W magazine's Best Performances issue, Jonathan has donned an impeccable ensemble from Louis Vuitton along with Adidas sneakers to bring a more relaxed feel to the look. As he speaks on Devotion in interview excerpts, it is clear that this movie is about love.
"One of the things that I found so intriguing and unique about the project was that the big love story is not between Jesse and flight; it's not between Jesse and Tom Hudner, played by the beautiful Glen Powell," jests Majors. "It's actually the relationship between Jesse and his wife, Daisy, played by the beautiful Christina Jackson. The love between Jesse and Daisy is what propels us to the end of the film."