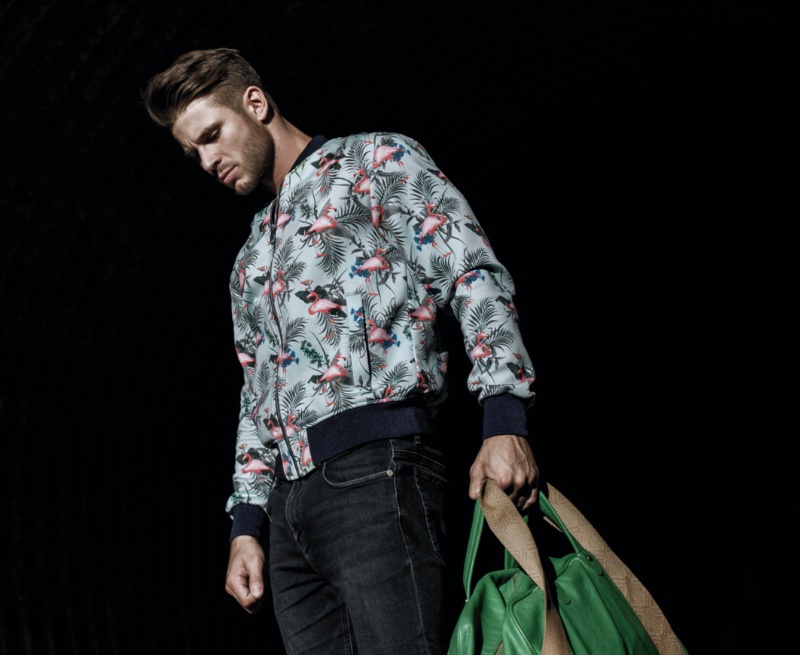 Classic men's outerwear is always a great choice when transitioning from season to season. From the timeless trench coat to the stylish bomber jacket, plenty of transitional outerwear options can be dressed up or down depending on the occasion.
The denim jacket is another classic piece of outerwear that never goes out of style and can easily be layered for extra warmth. A pea coat or an overcoat also make excellent choices when dressing for cooler weather in style.
Transitional Outerwear
Whether you're looking for something casual and comfortable or more formal, these pieces will provide you with both fashion and function during transitional months.
1. Bomber Jacket
The bomber jacket, which initially started as a military style before transitioning to civilian streetwear in subsequent decades, is the perfect choice for any casual occasion. Wear it when you're running errands or grabbing drinks with friends—pair it up with a t-shirt and jeans if that's your usual aesthetic. If you're feeling adventurous, why not elevate your look by styling the classic bomber jacket with tailored slacks, loafers, and no-show socks?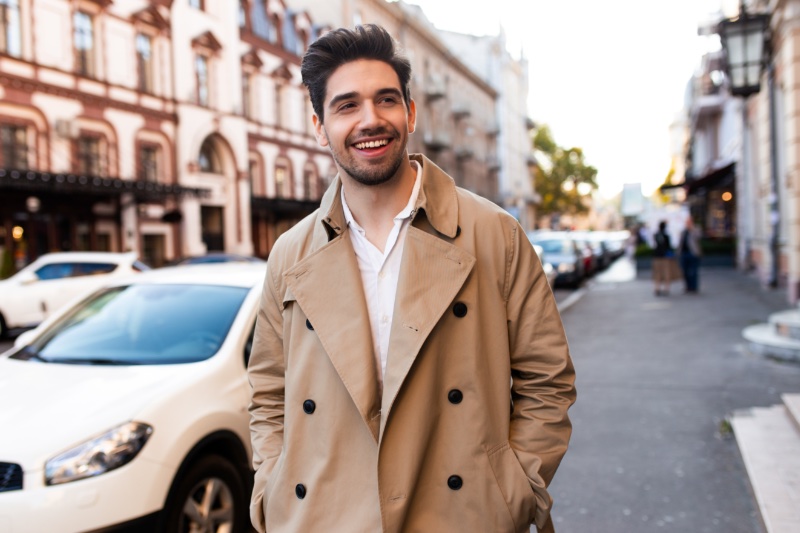 2. Trench Coat
The classic trench coat has come a long way since it was introduced to military personnel during the First World War. The traditional full-length style includes a wide lapel and belt, allowing for formal and casual styling. For an effortlessly relaxed look, opt for a larger size with more room underneath to add thicker knits—perfect for men who want versatility in their wardrobe.
3. Overcoat
As temperatures have been milder during the winter, people have chosen to forgo wearing overcoats for warmth and opt for a more fashionable approach. Fortunately, you can still purchase these classic men's coats in lighter wool fabrics like tweed or check patterns. Whether you want an informal look with light denim jeans and a t-shirt or something elegant like slacks paired with a buttoned-down shirt, there is no wrong way to wear your new coat.
4. Parka
Whether winter or summer, parkas provide comfort and protection from the elements. Usually lined with fur for an extra layer of warmth, these seasonal coats can also be purchased without fur if you need something lighter.
Technical fabrics are designed to protect better against rain and wind, while down-filled parkas work best in colder temperatures due to their insulation properties. To achieve optimal results when wearing a parka, buy one that fits slightly loose, allowing more room for sweaters or button-downs underneath your t-shirt.
5. Raincoat
Many parts of the world are experiencing more rain than snowfall. Therefore, investing in a good quality raincoat is essential to staying dry. When shopping for one, ensure it's slightly larger than your size so you can comfortably layer up underneath! For optimal water resistance, opt for technical fabrics—they're guaranteed to keep you safe from any downpour that comes your way.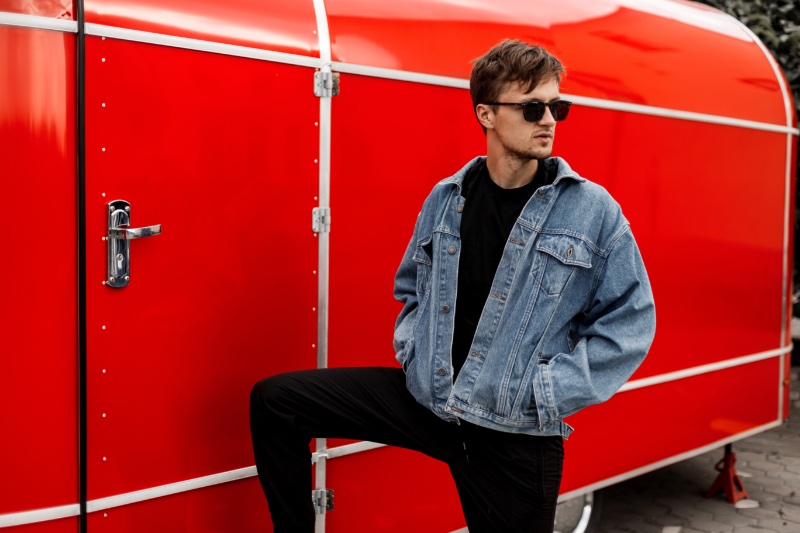 6. Denim Trucker Jacket
These timeless men's denim jackets are perfect whether you're attending a casual gathering or just out for the day. Choose a design with sherpa lining for added warmth. Rock your jacket with jeans in various shades of denim to create an effortless look—or pair it up with khakis, chinos, or other pants. With endless styling possibilities, this classic piece is sure to be your year-round go-to.
7. Windbreaker
This winter season, keep warm and stylish with a windbreaker jacket! You can find one that suits your fashion sensibilities in various styles. Choose from snap buttons or the classic zipper closure paired with sleek minimalist designs. Layer it over a t-shirt and hoodie for extra warmth on those blustery days—perfect when worn with jeans, corduroys, or khakis.
8. Shacket
When the temps drop but you don't feel like bundling up in a full-on jacket, reach for the shacket: an ideal way to add warmth without feeling weighed down. You can easily style it with your favorite flannel button-down, t-shirt, and jeans.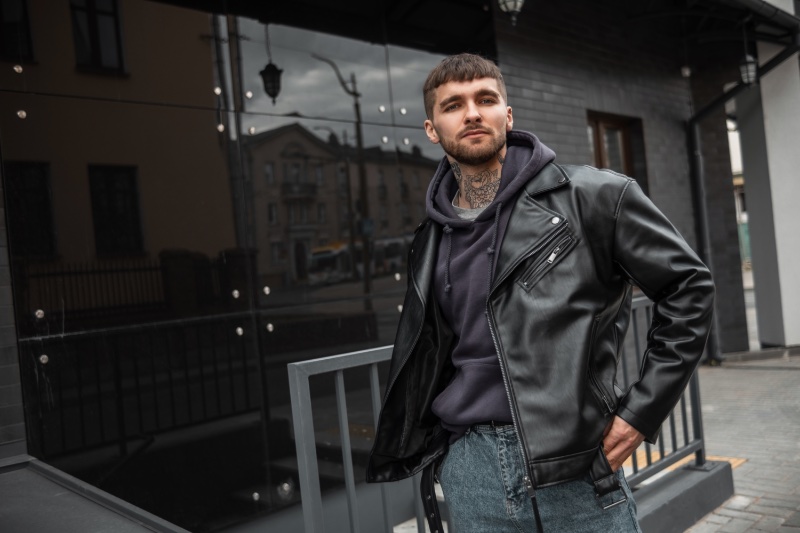 9. Leather Biker Jacket
A leather biker jacket is a bold, stylish choice for date night or an evening out with friends. It looks great paired with t-shirts and jeans, but you can also take it to the next level by wearing it over a shirt, tie, and slacks for an unexpectedly formal look sure to make heads turn. Also, be on the lookout for biker jackets in suede and cotton.
10. Puffer Jacket
Have you ever thought about how can a puffer jacket be versatile? Fret not, as designers have crafted more refined and lightweight versions of the standard puffers that are perfect for those cooler days. And because these jackets come in many colors, you'll have plenty to choose from when styling yours.
Final Words
No matter what the season or occasion, there is a men's jacket that can help you stay warm and look stylish. From versatile overcoats to trendy shackets and timeless biker jackets, we have covered ten of the most popular transitional outerwear designs for any man who wants extra warmth and style to his wardrobe.